Find out how to make your room more chic with your own hands! TOP-100 of the best photos of the interior design of the hall in the apartment from leading designers. Living Room Tips.
The hall or, as is customary to say, the living room is the real face of the apartment or house. It is here that friends gather in a cozy and warm company, here after a hard working day the whole family settles down to talk and relax. Therefore, the main task that is assigned to the interior design of this most important room is the organization of a comfortable and cozy recreation area.
Content
One conclusion can be drawn from the above: carefully selected interior design of the hall must certainly combine the preferences of all tenants of the apartment, and also include your own place for each of them.
Getting rid of the past: design options in a small apartment
Such a coveted apartment in the 70s today turns into a rather small housing amid growing, like mushrooms after the rain, new buildings, the footage of which does not cease to amaze. One way or another, not everyone can change the apartment for a new one, and it's not necessary to do it if you know how to properly organize the apartment design so that even vaunted living rooms of 25 square meters can envy it.
Such apartments have a small and common, and living area, so when drawing up the design of the hall, you need to pay attention to whether this is the only room in the apartment or not.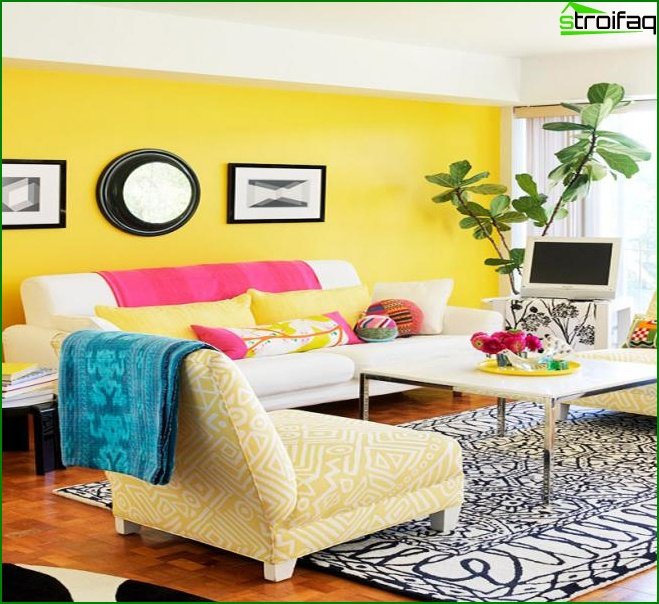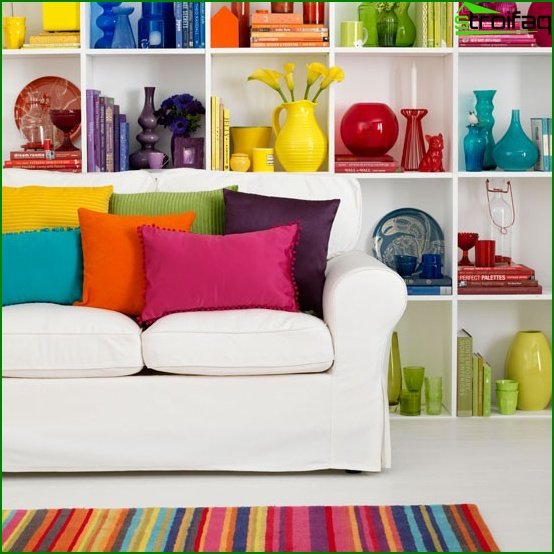 Hall interior in a studio apartment
The hall in a small apartment with a single room is about 18 square meters of space, which should certainly fit in and bedroom, and, in fact, the hall.
There are 2 OPTIONS for increasing space:
In fact, many designers recently aimed at tinkering with one-room apartments studio apartments, because in this way you can quite well expand the space. However, there is still a minus – this is depriving apartment owners of additional spaces. One such minus will seem even a plus ("think, anyway small kitchen was "), while the latter sincerely think about another scenario.
Read more about kitchen design.
Quite often in one-room Khrushchev there is a small pantry in the corridor, which will help get rid of many problems, because you can build a good wardrobe in it, which means to free up some more such valuable space in the room.
The design of the hall in a one-room apartment is based on such "THREE CHINA":
shine;
ergonomics;
functionality.
Such a design can be done in any style, but for the "odnushka" the Scandinavian style or minimalism is most suitable.
The best options for interior elements
Pastel shades
Help make a small room wider
Bright color or highlight
Will be able to set the necessary living room tone
Furniture transformer
Save a place that can be used for movement
Read more about the design of a studio apartment here.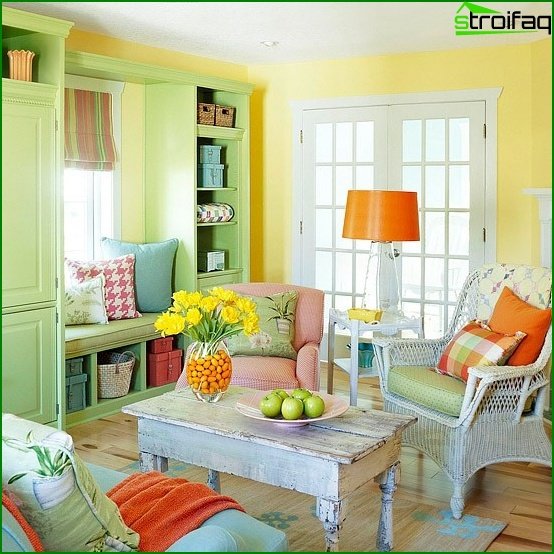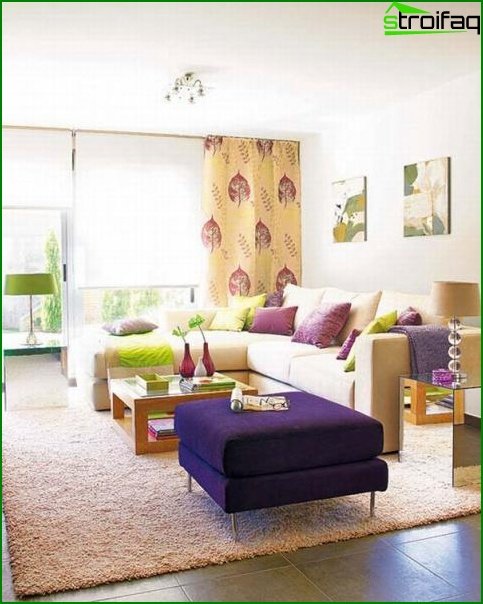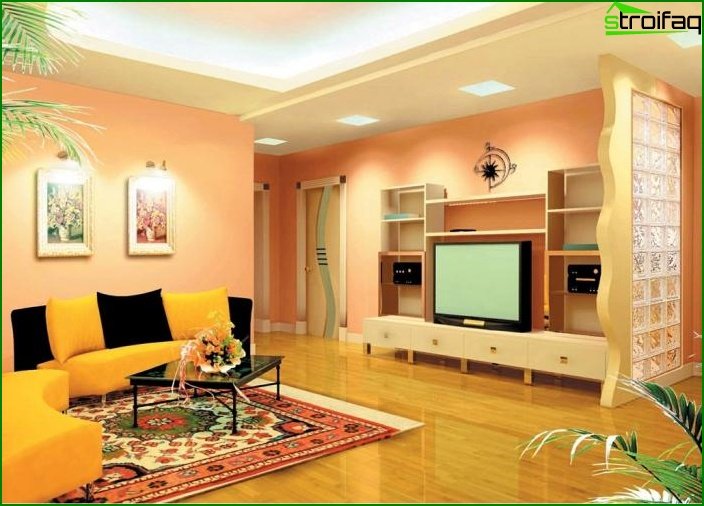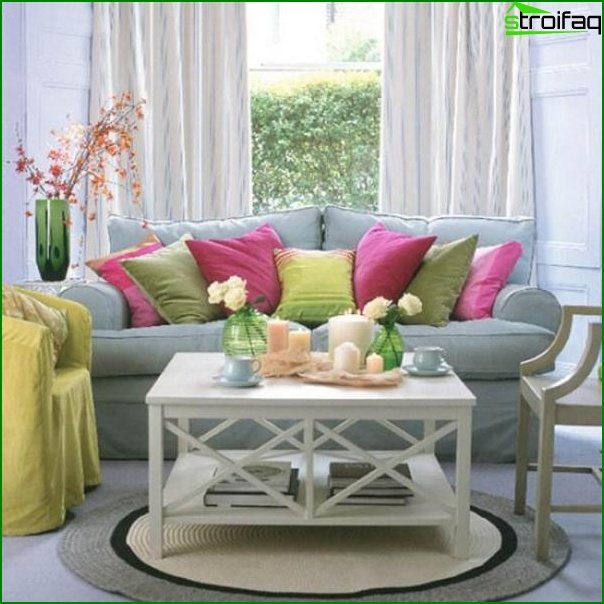 Passage Room Design
Such a design should be as comfortable as possible and must be accommodated on a small area (from 14 to 17 square meters) of a two-room apartment of Soviet planning. Unfortunately, not all of the footage can be used efficiently, so you should approach the layout as thoughtfully as possible.. For example, the passageway and the space that is located between the two doors, almost all designers consider lost for the interior.
No less chagrin is that in the total volume of such a room this space is large enough, but negligible that at least some furniture could fit on it.
As for the corner, it IS ONLY TO DECORATE. You can:
install a small floor lamp (or oblong lamp of your choice);
to hang a picture;
put a vase.
By the way, this part of the room can also be separated by any partition (mobile, drywall or even brick). Ah, you say, it will significantly reduce the room! Yes, but it will become much more comfortable and more complete..
The undoubted advantage is the huge window, which occupies most of the wall on which it is located. Light curtains made of translucent material will emphasize such a dignity of your room without unnecessary worries, so they can gently scatter light.
Provided that you prefer a glossy or mirror partition in such a room, select modern style for interior design. It is he who, like no other, will be able to emphasize all the advantages of the main room in the apartment.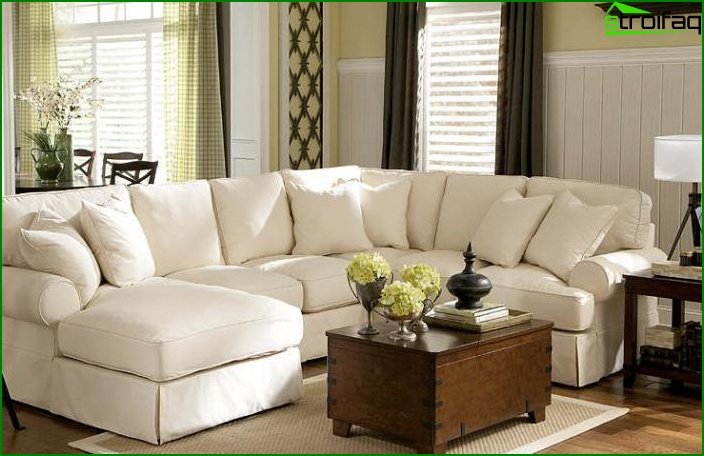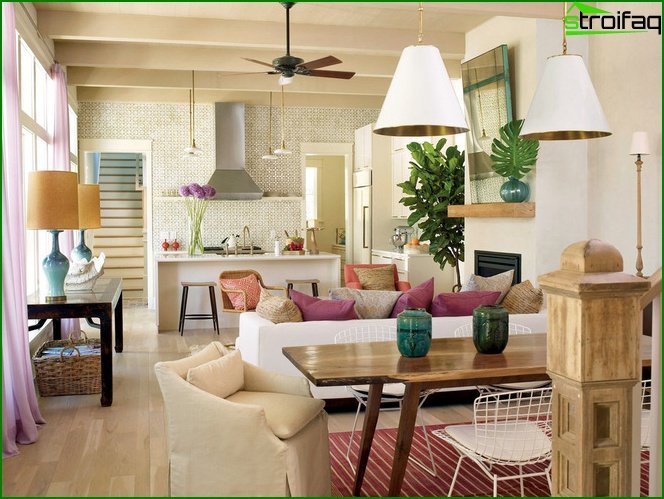 Association is also welcome. hall with kitchen for more space.
For such a hall, the use of voluminous furniture will become an obvious bust. Small is best cushioned furniture. The location of the sofa along the wall is too boring for such an interior, it will be much more interesting if it appears, for example, near the window.
It is not necessary to be too eager to get involved in drywall constructions, because they can turn an already not very large room into a tiny cage. As for lighting, large chandeliers are also not suitable here, it is better to prefer a sconce or a floor lamp.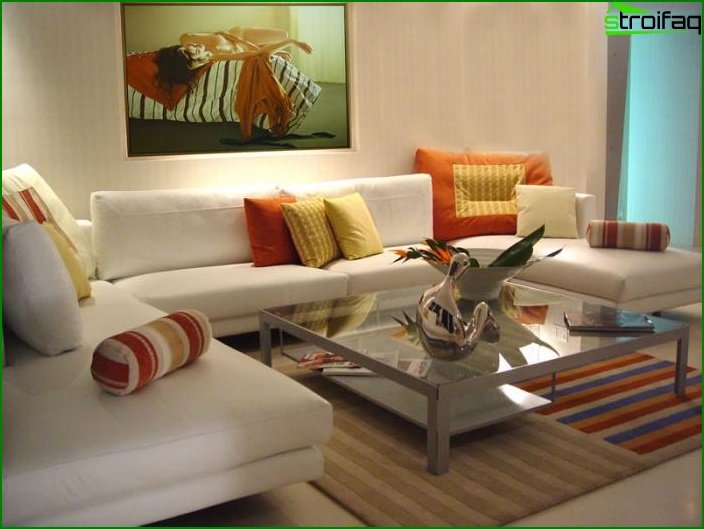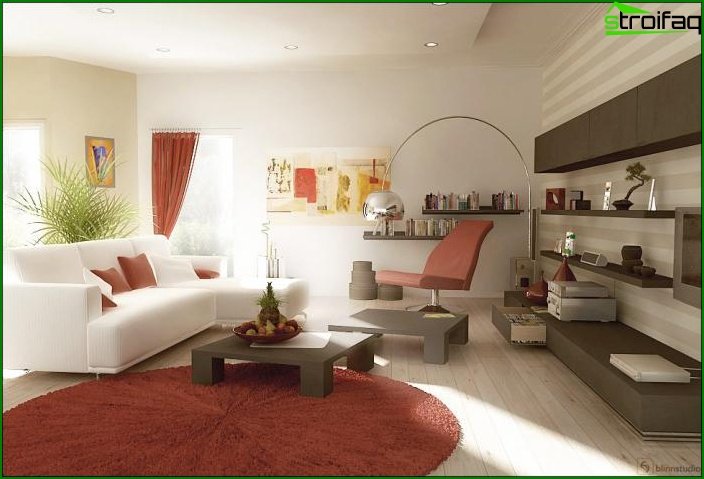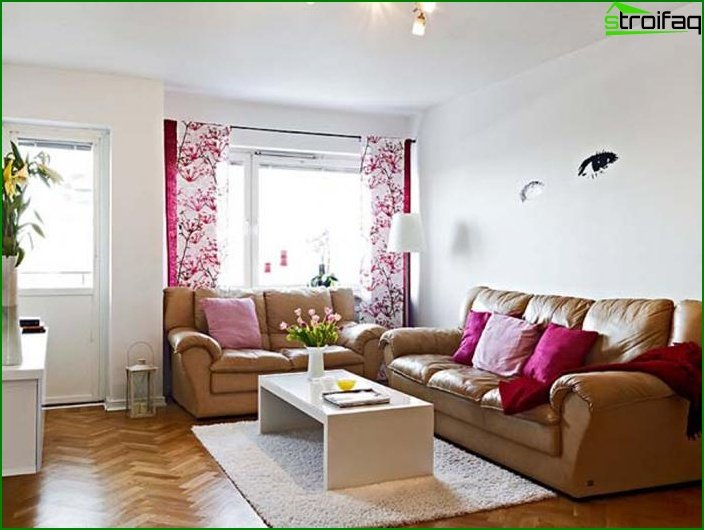 Separate living room interior
Such a hall is a typical solution for planning three-room apartments, as well as a rather rare variation of a "two-room apartment". Of course, such a room will be slightly larger than its previous comrades (up to 18 square meters), but it is also not worth cluttering it with ridiculous and too large furniture. A wonderful addition to such a hall can also be a false fireplace, which will be more than appropriate on so many square meters and will be able to give the room a real cosiness.
Welcome to a private house
The design of the hall, which is located in a private house, is quite seriously different from its apartment variations. We can safely say that such a design, first of all, focuses on the house itself, rather than on existing fashion trends.
It is no secret that the owners of the house think over the arrangement of the hall with the most meticulous attention. It is important to remember these rules when developing such a design:
the hall should become comfortable for all family members;
the situation in the room should be focused on the interests of each family member;
the amount of space occupied by furniture and free space should be in a ratio of 50:50.
As mentioned above, absolutely all the interests of each member of the family must be observed during the planning. So, if small children live in the house, then it is better to choose furniture that does not have sharp corners for the hall. And the type of house should be given no less attention, because it is known that the external design must necessarily be in harmony with the internal situation. For example, if the house is a panel, then you definitely need to finish the walls (alignment, plastering) before proceeding with the design. But the walls of a wooden house are better left in their original form, only giving preference to a suitable style inside.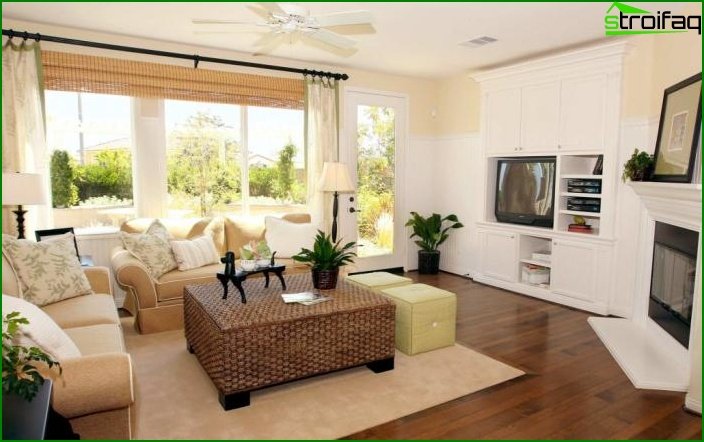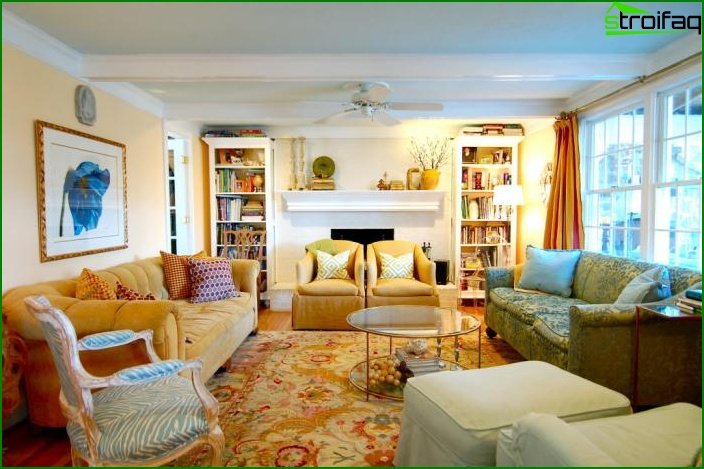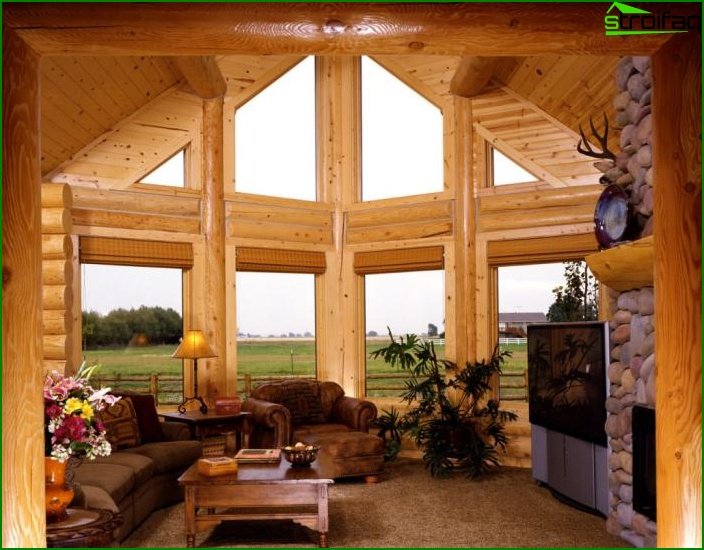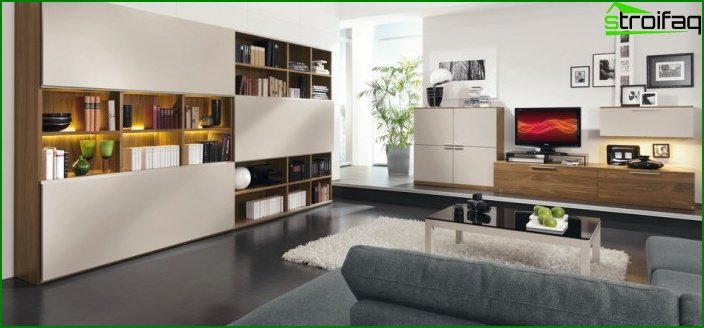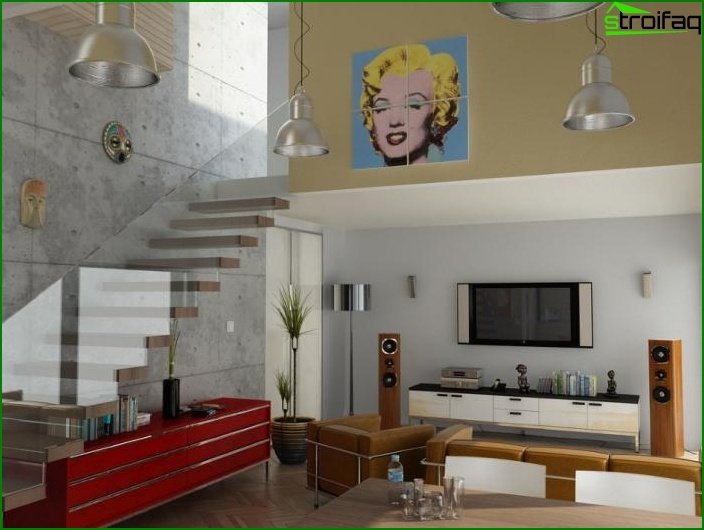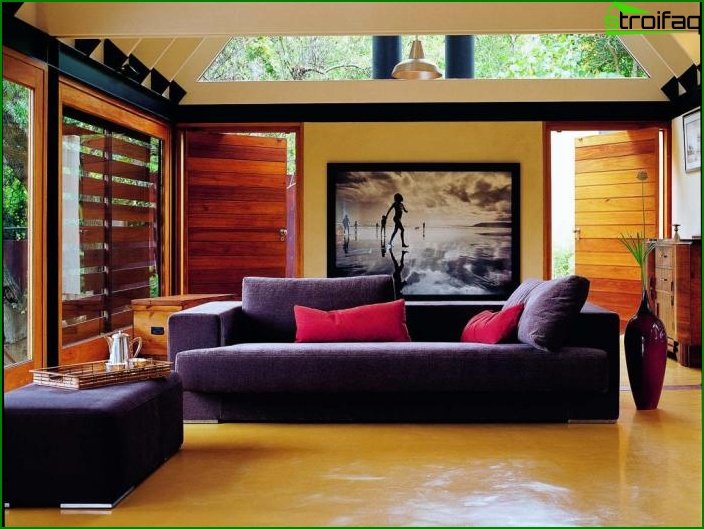 Fireplace in the interior
In order to make a truly cozy interior of the hall, it is important to remember all the rules that were discussed above, as well as choose a suitable fireplace. This detail of the interior really cardinally transforms the interior, creating peace, coziness and unthinkable family unity in the house. It's not for nothing that the fireplace is considered a symbol of the hearth.
With the correct arrangement of parts, the fireplace can play the role of the main decoration of your home, and can become a highlight of the interior. He has an amazing ability to attract the eyes of everyone who is in the room, thanks to which it is customary to gather around the fireplace as a family, as well as to arrange celebrations.
Like it or not, the installation of a full-fledged fireplace can be carried out only in a private house, and even then, provided that the living room in it is at least 20 square meters. In addition, such a house should have a fairly strong floor, which will be able to withstand the rather heavy construction of such an important element of the interior. And, of course, installing a real fireplace is an incredibly complex process that you must definitely entrust to specialists in order to be 100% confident in quality and safety.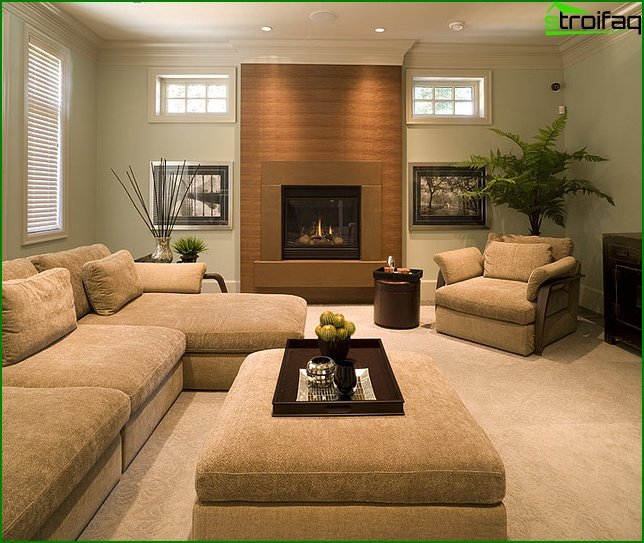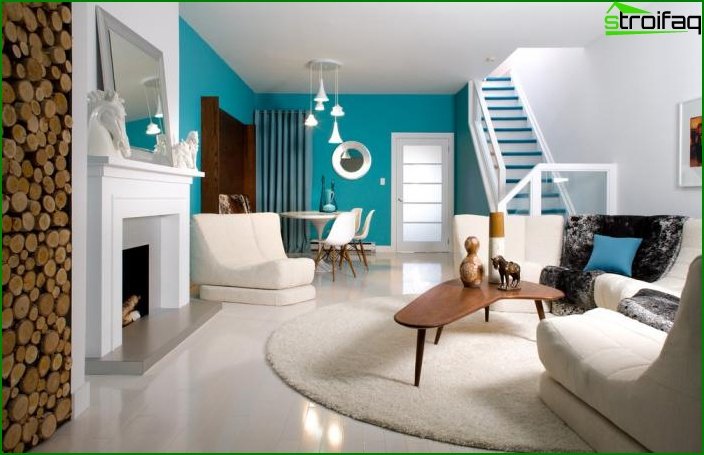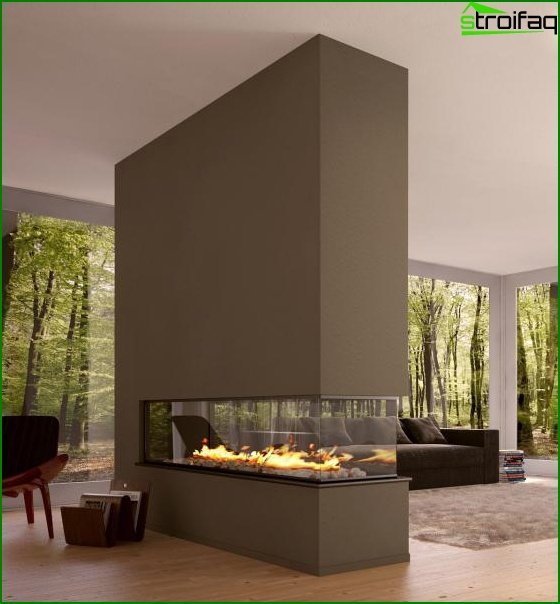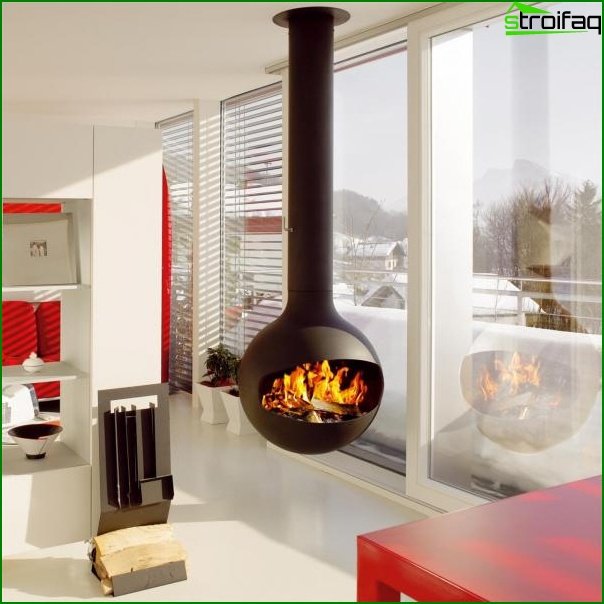 True, residents of city apartments should not be upset either, because no less spectacular electric fireplaces have been created for them, the diversity of which is today amazing. By the way, such fireplaces perform not only the role of a heater, but not only a decorative function.
Their advantages are as follows.:
aesthetic
are safe;
incredibly easy to handle;
there is a possibility of temperature control.
When choosing a fireplace, pay attention to ensure that it fits well into the interior and does not fall out of the existing room concept. Often, designers prefer the classic interiors of halls with a fireplace.
The best furniture option for such a hall will be upholstered, as well as small coffee tables. While TVs are advised not to be placed next to the fireplace. Family photos, clocks and figurines will look perfect on the fireplace.
What wallpaper will fit?
Wallpaper selection in modern building stores is so large that sometimes it's very difficult to decide on their choice even when you were almost sure what you want before entering the store.
When considering a choice, you need to consider such factors.:
cost;
fashionable trends;
parameters of your room;
material.
Of course, fashion has a huge impact on our tastes, and the construction industry is by no means an exception. But, fashion passes and the best options, as experience shows, do not cause such delight over time. But in the decoration and selection there are always options that will be universal and will look no less advantageous even after a few years.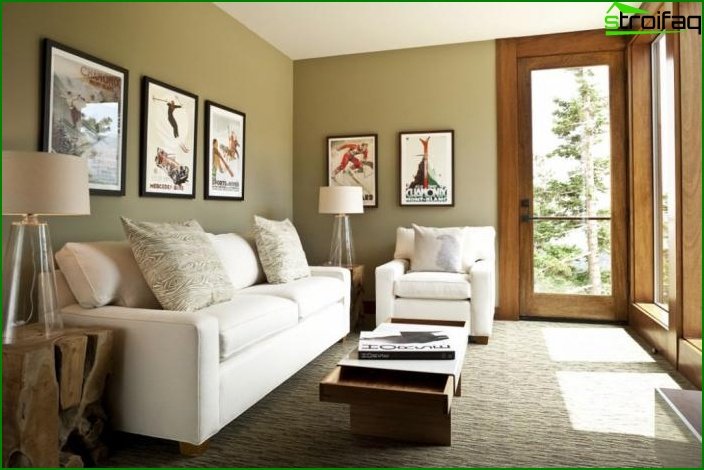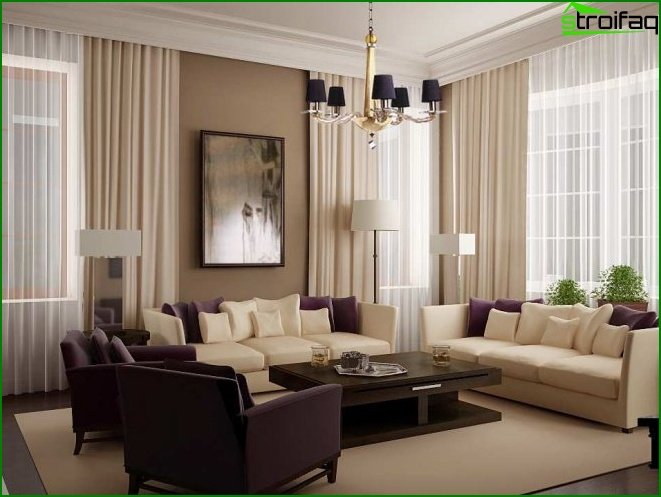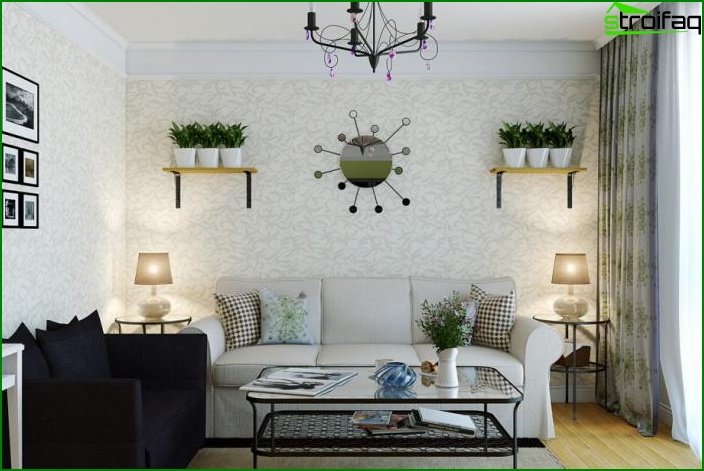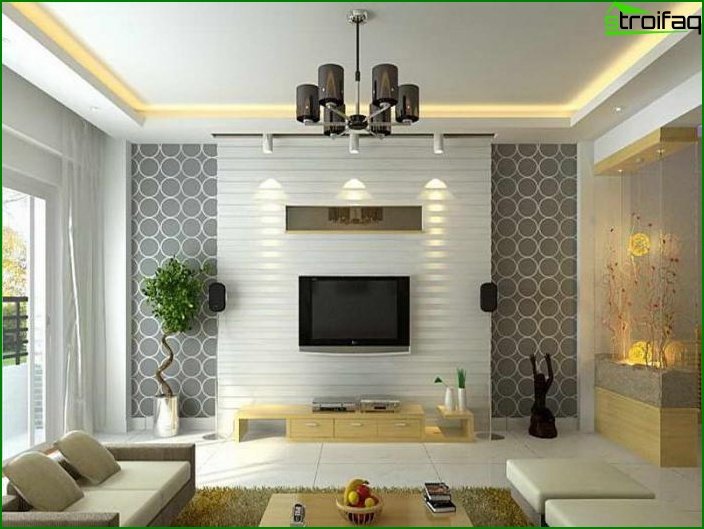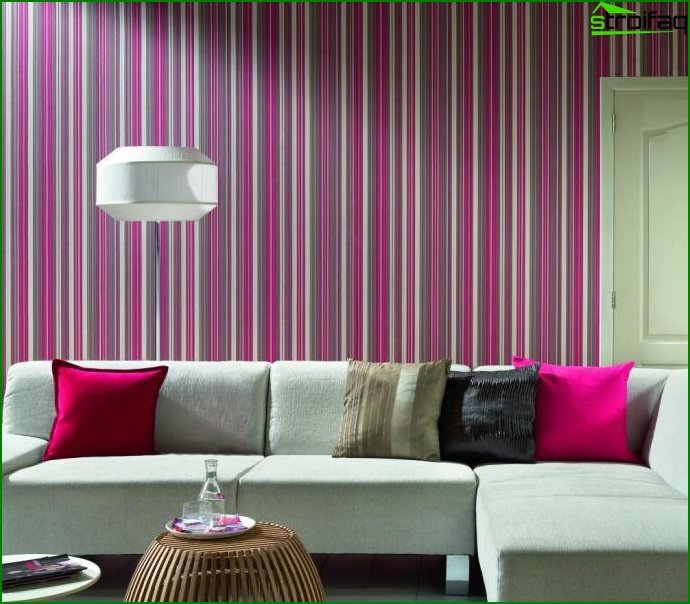 When choosing the color and texture of the wallpaper, you must take into account the illumination and size of the room, as well as places that you need to either hide or highlight. Bright colors are ideal for interiors of light and large rooms. So, for example, purple, blue, green, burgundy will give strength and create a good mood for the owners.
True, the advice of all designers comes down to the fact that you do not need to abuse bright colors, so when choosing bright wallpapers, it is better to choose a moderate color scheme for the interior.
For small rooms with low ceilings, light wallpaper colors should be chosen. A small ornament can decorate such rooms, so you can expand the space. But, if you want to increase the height of the room, it is better to choose a wallpaper with vertical stripes.
More photo wallpaper for the hall.
Choosing a wallpaper, you determine the style of the room, so you need to adhere to the principles of your type of interior.
For a modern style, wallpapers of soft, light, pastel colors will be preferable..
If the interior is decorated in a classic style, then give preference to expensive wallpaper with a graceful pattern, floral motifs, gilding or painting.
For the Art Nouveau style, muted natural shades decorated with ornaments are suitable..
English style will be perfectly complemented by textured wallpaper.
But in the interior, decorated in the style of Provence, cream, milk or beige shades will fit perfectly.
Read about the new popular form of wallpaper – liquid wallpaper – here!
Textured splendor: ceiling design for the living room
Modern and unique ceiling design help create a unique interior of the hall. It is not difficult to do this, because the finishing materials offered by modern repair shops are able to realize any desire of the owner of the apartment.
No doubt, the ceilings must emphasize the existing interior and fully complement it, so it makes sense to initially determine the overall design of the hall.
In order to add volume to the room and visually increase it, choose a glossy stretch ceiling. Quite often, stretch ceilings are chosen for the interior of small living rooms, largely due to their mirror features. Provided that the hall is quite large, you can choose multilevel ceilings made of plasterboard. Thanks to such ceilings, it is also possible to carry out zoning of the room, at least visual.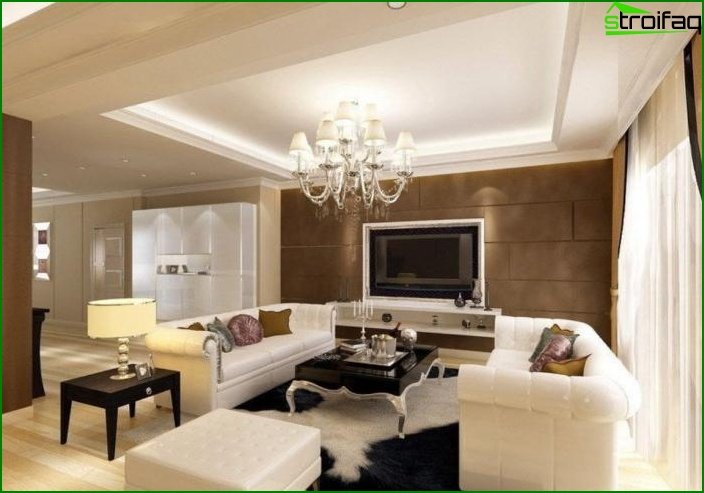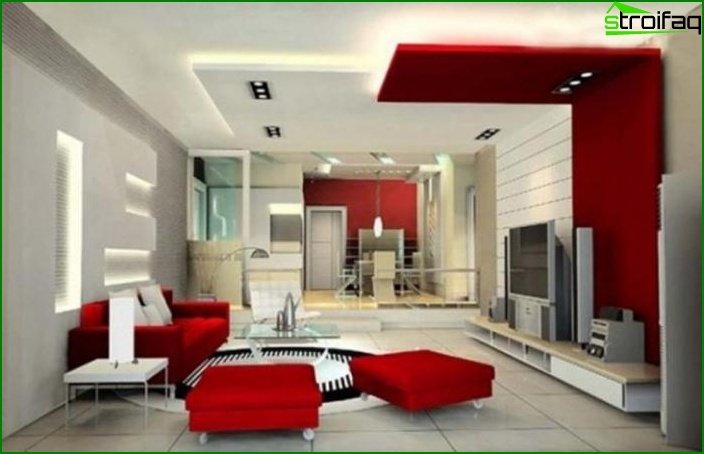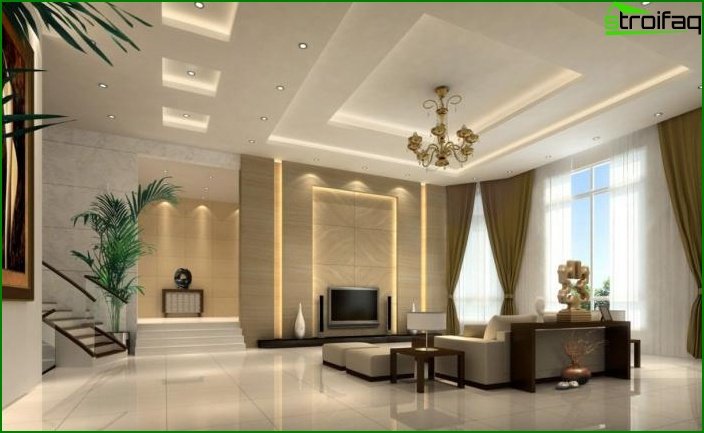 Also, quite traditional options, such as painting and stucco molding, are ideal for ceilings, they do not lose their relevance.
Modest and tasteful: choose furniture
Since family members spend most of their time in the hall, then the furniture for it must be chosen appropriate – functional and practical. Previously, the hall was intended exclusively for receiving guests, so the furniture was chosen expensive and solid, which could show the wealth of the owners. Times have changed, today the hall can easily be such an apartment "Napoleon", combining the functions of a living room, bedroom and study.
Traditional hall designs include upholstered and incredibly comfortable furniture, which can be presented in the form of a sofa and two armchairs (a modern interpretation also allows a corner sofa). True, the time has long passed when such a set of furniture was considered simply necessary.
Our domestic interior plans most often mean a set of furniture means upholstered furniture (exactly the one we talked about a little higher), a wall and a coffee table. Western manufacturers expanded this understanding of design a little by adding a dining table with chairs and chests of drawers, because in their understanding the hall is also a dining room.
Conditionally all living room furniture can be divided into:
Such options are certainly present in modern interiors, and in more traditional ones. Modern cabinet furniture is incredibly diverse in its design, because it is distinguished by its light construction, due to which it does not look bulky at all. But, even taking into account such a truly royal choice of furniture, you should certainly be guided by a sense of proportion and your own taste, not giving preference to too bold options.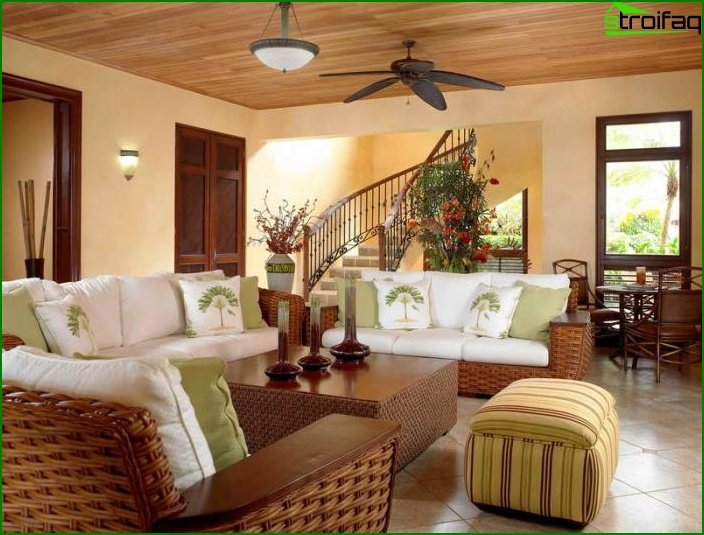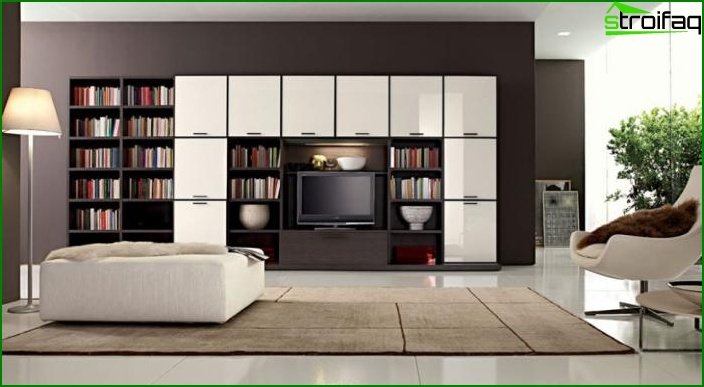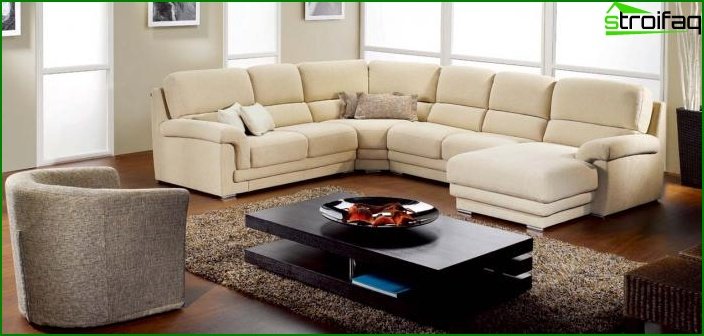 Comfort and beauty: what style to choose?
The priority when choosing a style, of course, should be the opinion of the owners. But, it happens that it's quite difficult for you to decide on a suitable style, because you like it, and it's very good. All the family members would like to find a common solution, nevertheless, so that the banal repair does not turn into a real bone of contention for your friendly family.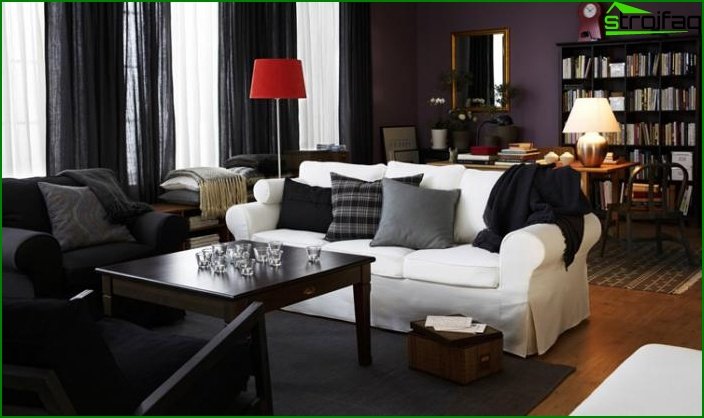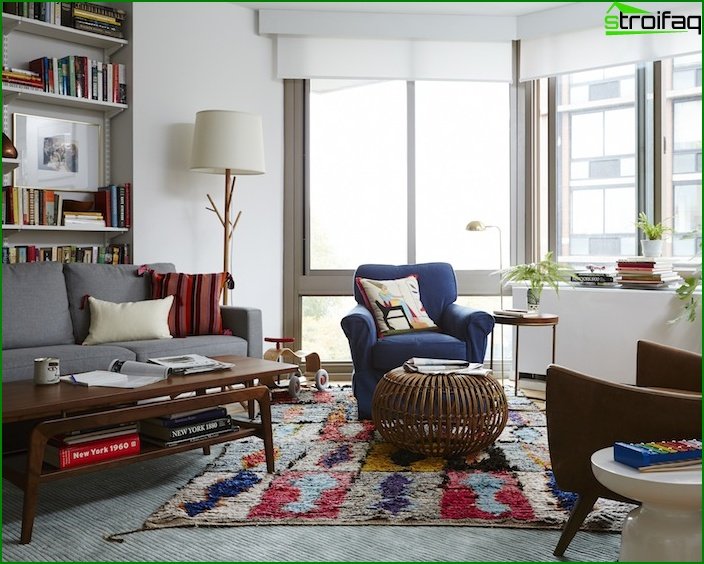 Modern style
The modern style for your living room should become a real decoration, breaking established stereotypes. No need to be afraid of experimentation, because this is how you can create a unique design that everyone will envy.
Choosing a color for the interior in a modern style, pay attention to the fact that it forms a single composition with all accessories and furniture. The most relevant are soft and calm tones, while flashy and catchy can reflect the poor taste of the owners.
Furniture in a modern room should be functional and ergonomic. Prefer beautiful upholstered furniture with a small number of pillows (multi-colored can be).
Lighting can emphasize the elegance of a modern style. A hidden dim light is perfect for watching TV, for reading it is local lighting installed, for example, near your favorite armchair, and for general use a chandelier. A minimalist layout is in fashion, because the design of modern halls should not be cluttered. Designers refuse any extra accessories in the room, as well as choose transforming furniture.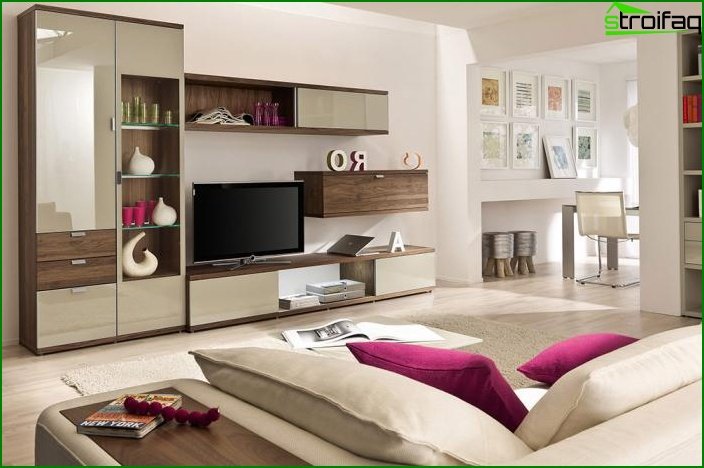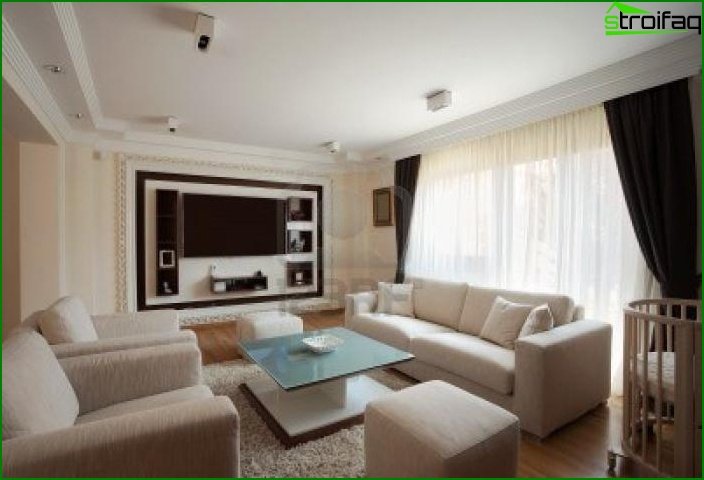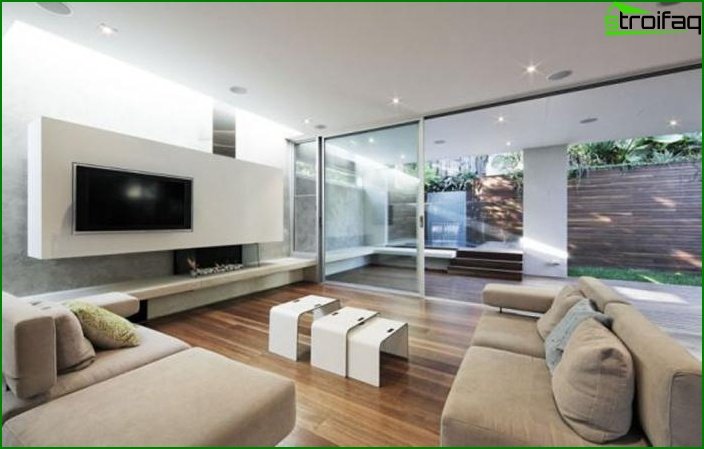 As for materials, it is worth giving preference to metal and glass in the interior (of course, everything should be in moderation). Perhaps a real hit of modern decoration can be considered various shelves and niches made of drywall. In addition, due to the almost limitless possibilities of such a material, it is possible to create a variety of designs.
Hi-tech style
This style of interior is quite young, so it is constantly undergoing various additions that allow rooms in this style to look harmonious and cozy..
Key Design Elements high-tech hall:
Living room in a similar style should be composed of fairly simple forms. The main components of this design can be considered a competent alliance of lighting and brilliance of metal. The presence of small decorative elements is not typical for this style, moreover, all interior items should be as simple as possible, drawing eye-catching with clear forms. Bulky and heavy cabinets in the hall should be replaced with light racks that are equipped with both closed and open niches. Cases made of textured glass using mirrors will be a fantastically correct solution for this design.
Thanks to this style, you can even expand the room visually. This can be done very simply by using mirror surfaces in the interior. But glass or doors made of transparent plastic are ideal as a partition.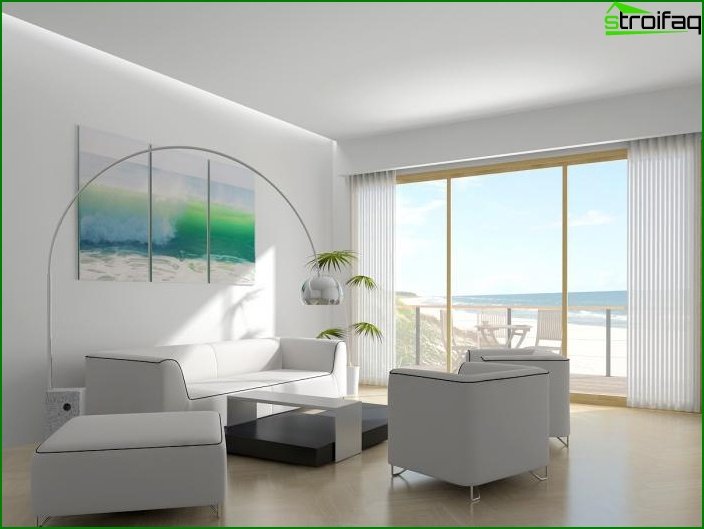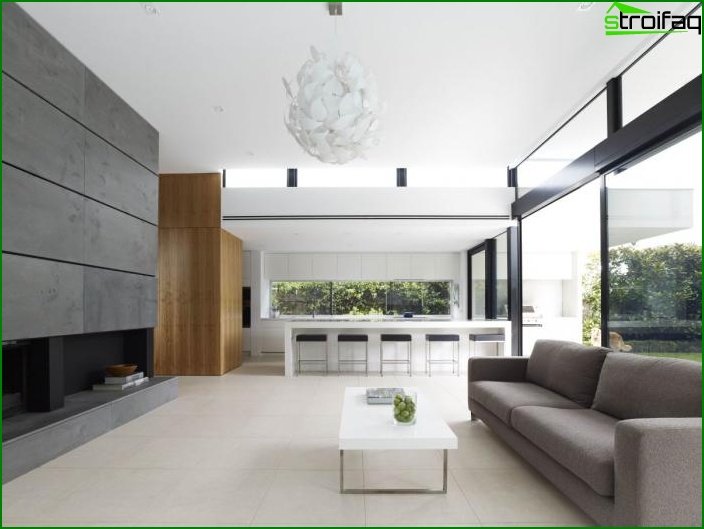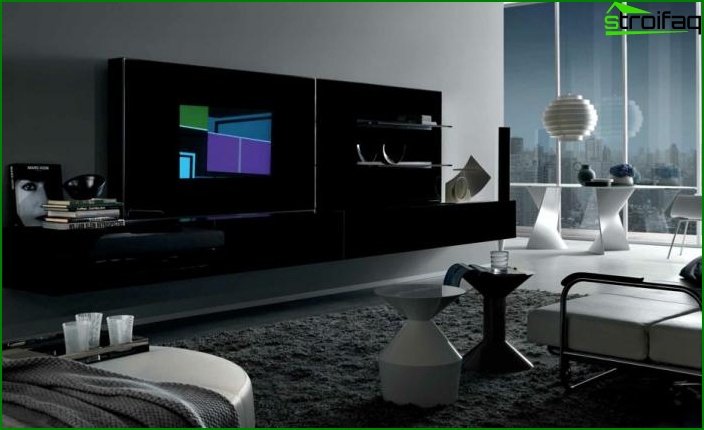 Classic style
This type of style is considered to be the most common and universal solution for all types of apartments and houses. Who would argue, because the classic is always out of time and, besides, it is not subject to unforeseen fashion trends.
The main feature of the classical style in the interior is the rigor of the style, which includes a clearly defined structure of all the elements that are present in the interior and decor. Cheap items in this style have no place, so forget about them!
Various stained glass inserts that can expand the space, as well as stained glass windows instead of windows that always look advantageous, will be quite appropriate in such an interior. But it is very important not to cross the thin line of moderation when choosing accessories for the interior, because this can completely ruin the overall impression.
The noble white color in the interior of the living room will help create an impression of luxury, in addition, it goes well with other elements of interior design in a classic style. Feel free to use also blue, beige, light green and turquoise colors, as well as soft shades of light colors.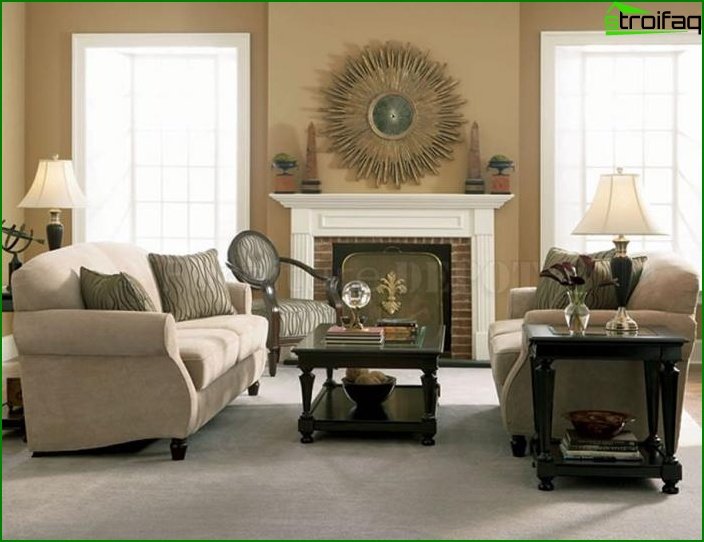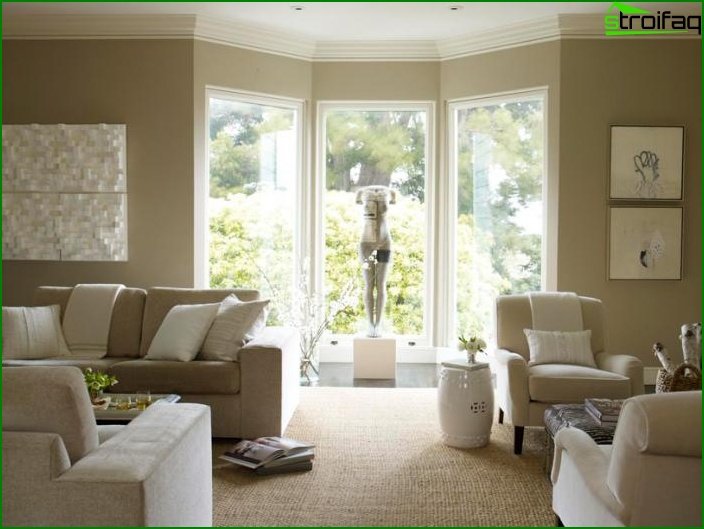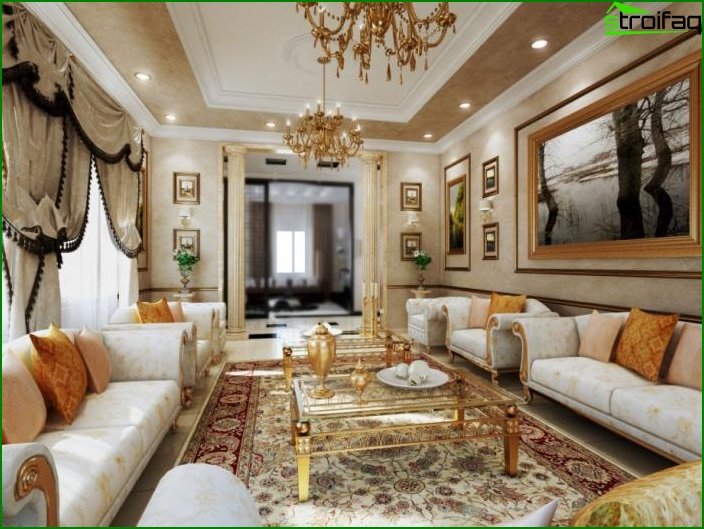 A difficult choice: curtains for the hall
Curtains should complement the overall design of the hall, as well as emphasize the coziness and comfort that surely reign in this room. When choosing this element of the interior, you must definitely consider the lighting of the room and its color scheme.
For this room both shortened curtains (in variation to the windowsill) and long ones are suitable. Provided that you are the owner of a small apartment, choose curtains in the color of the walls, because they can visually expand the room. Prefer plain curtains or their variations with a medium-sized pattern. Curtains decorated with ribbons will also look very interesting..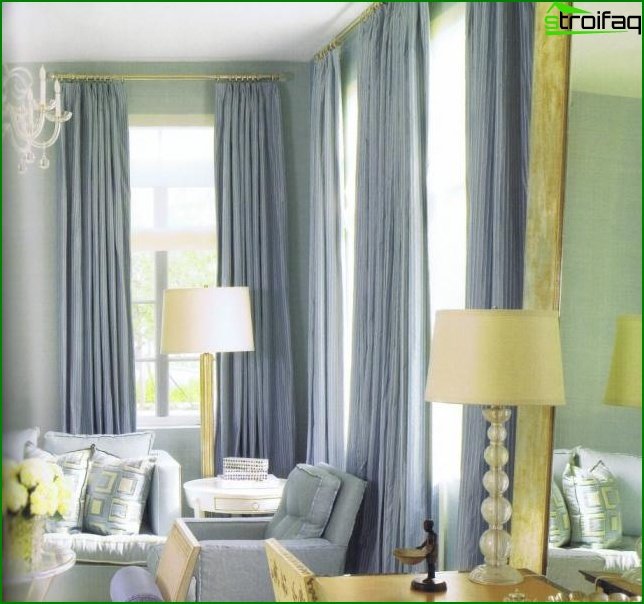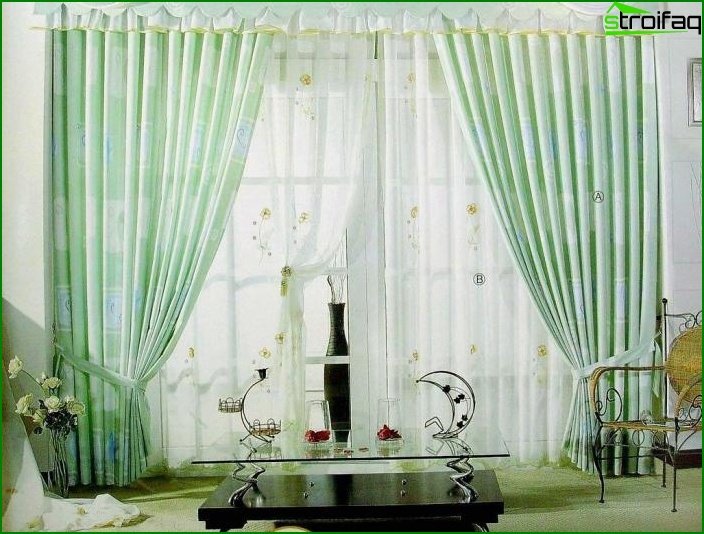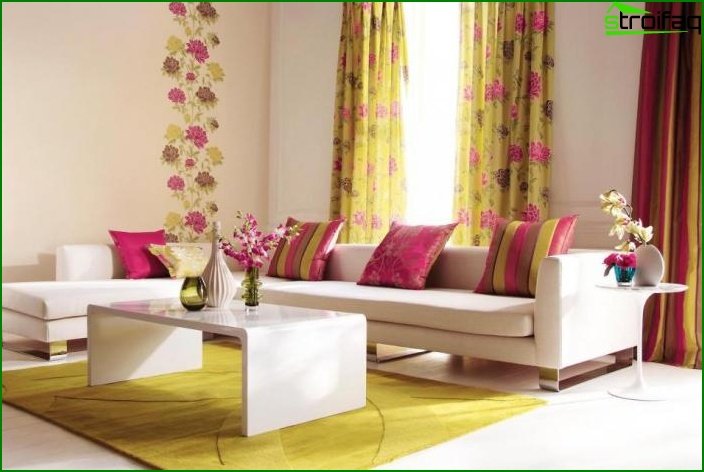 Where to start: about repair
Of course, all the breathtaking design ideas can be realized only after a quality repair. Specialists recommend the reconstruction of the living room to begin with the replacement of windows and doors. Provided that the floor of your apartment is covered with good parquet, you can not dismantle it, it will be enough to cycle well, after which it should be varnished. Believe me, it will look no worse than the new.
If the flooring still needs to be replaced, then the best option is a laminate, the color and texture of which must certainly be in harmony with the general design solution of the room. Communication layout is the next item on the plan, which you should definitely worry about. Next, you need to start decorating the walls (first there is a primer, after which the starting putty, and then the finish).
When the repair is completed, you can begin to realize your wildest fantasies regarding the design of the hall.