TOP-120 photo of furniture for the living room. Various styles for every taste. Tips for choosing upholstered furniture and storage systems. How to place accents? How to furnish a small living room?
Living room furniture can be very different: classic and retro, in Provence and in a modern style. And how much all this can be found – look at our photos!
Content
The general style of the living room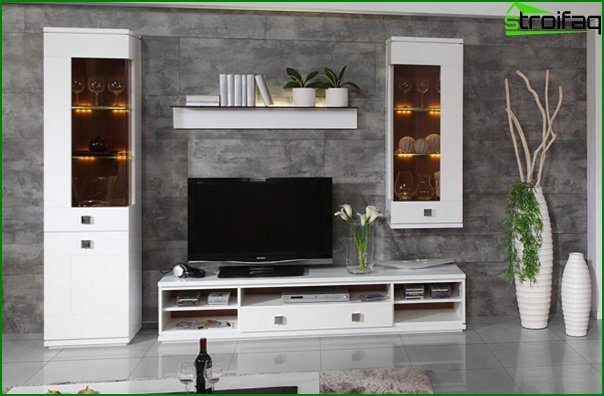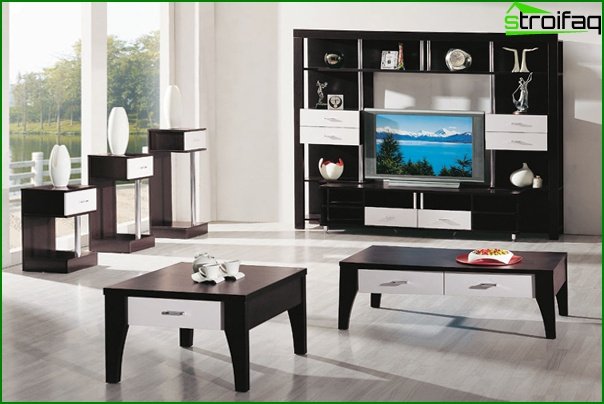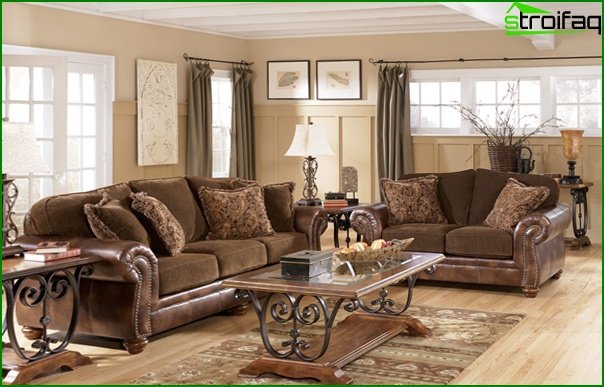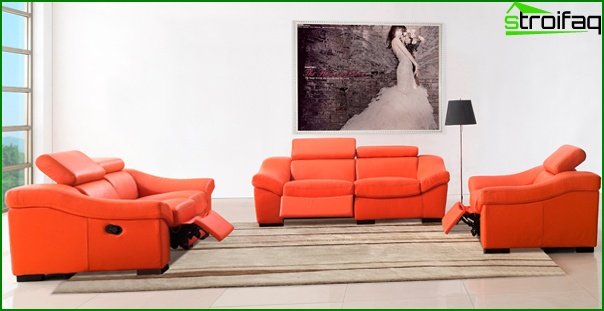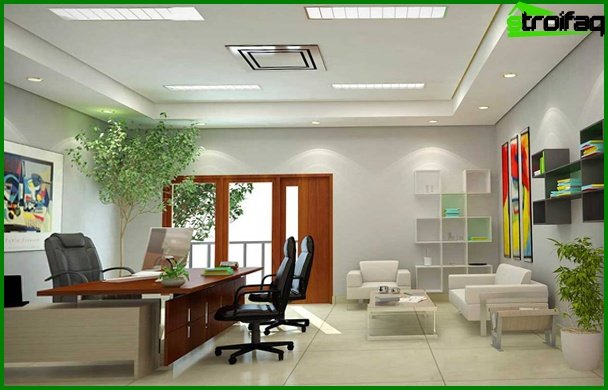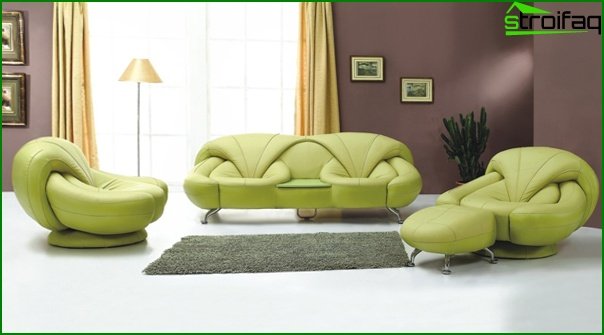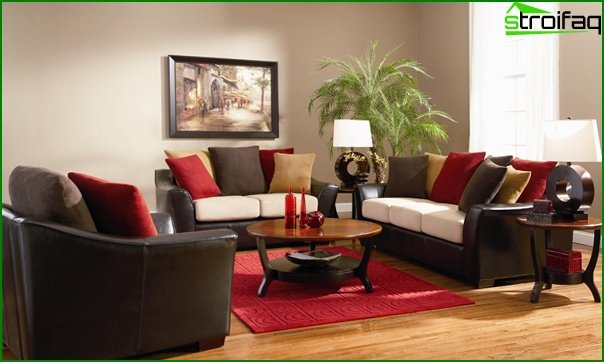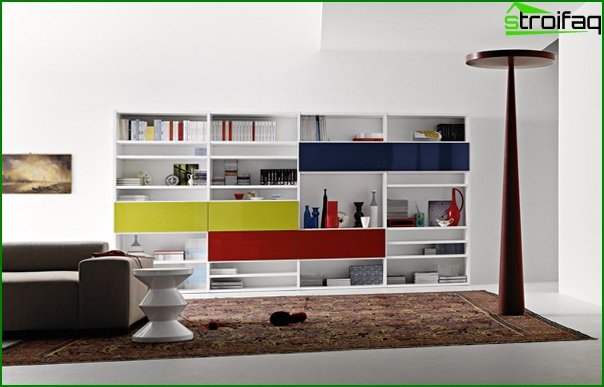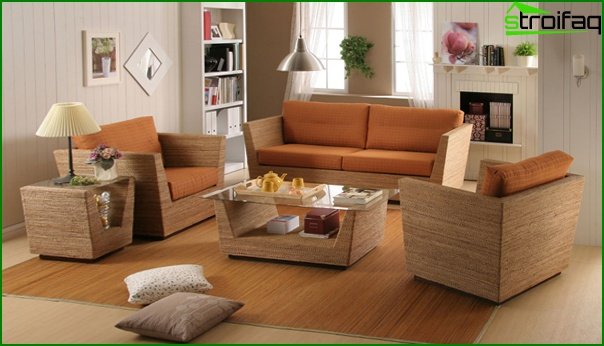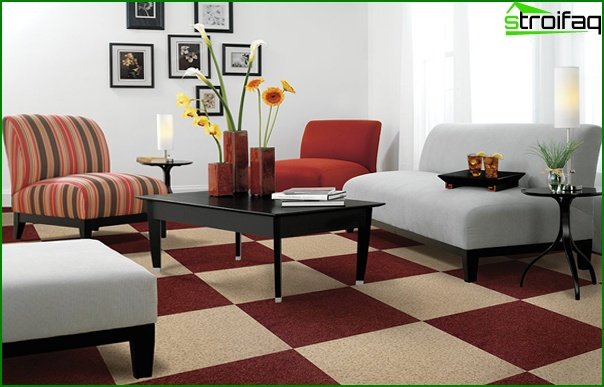 Classical
Classics are unshakable. Its charm is that even after decades, the living room will not lose its relevance and style. The classic living room is based on the use of natural materials, and above all – wood. It is advisable to use natural shades of wood, but they do not have to be light – dark tones will look very expensive and elegant.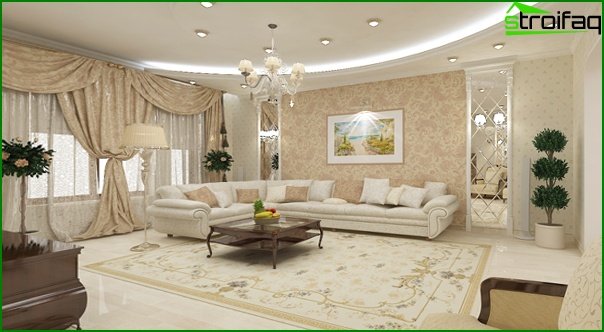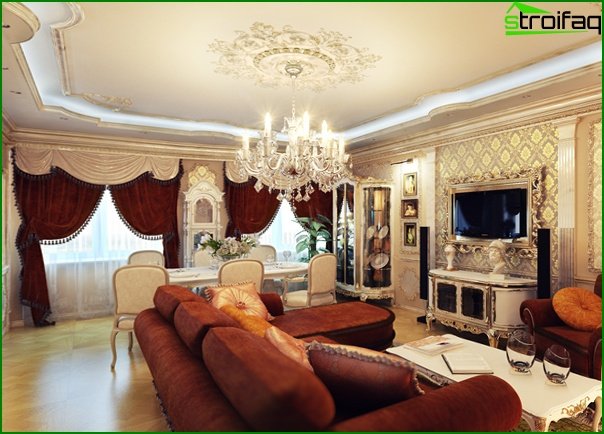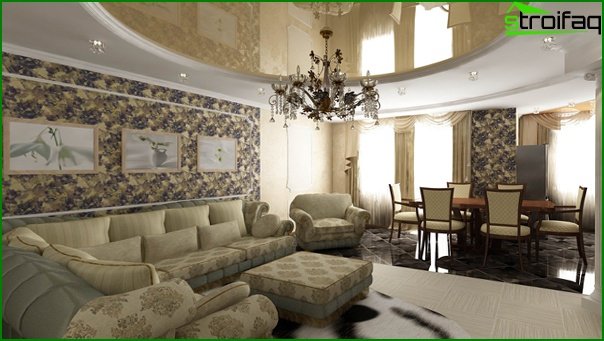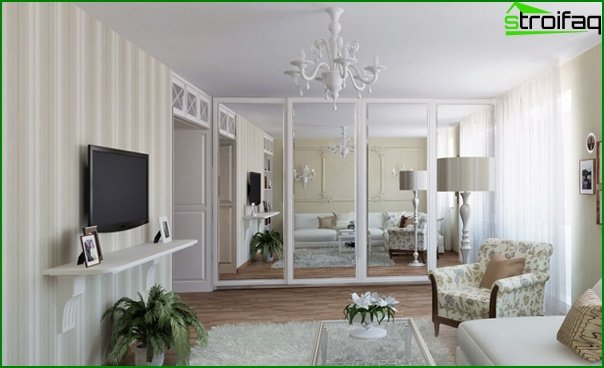 Modern style
IN contemporary style It's not important to adhere to the canons of the organization of space. Furniture from the most unusual materials will fit perfectly into such a living room:
Glass
Plastic
Metal
Acrylic
There are no strict rules regarding the color scheme. Such a living room is suitable for courageous and decisive people who are used to keeping up with the times..
In the conditions of rapid development of science and technology, "modern" styles more and more quickly begin to become unfashionable and irrelevant. Therefore, equipping the living room in this style – do not overdo it. Otherwise, soon you will have to make repairs again.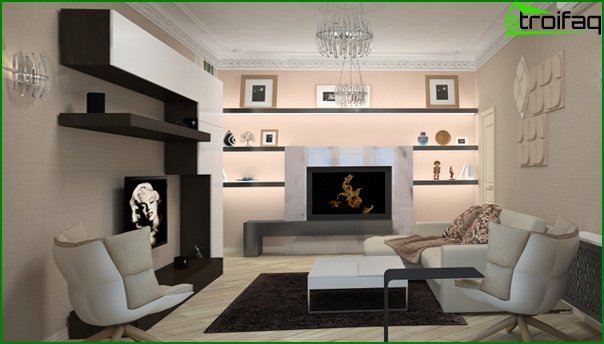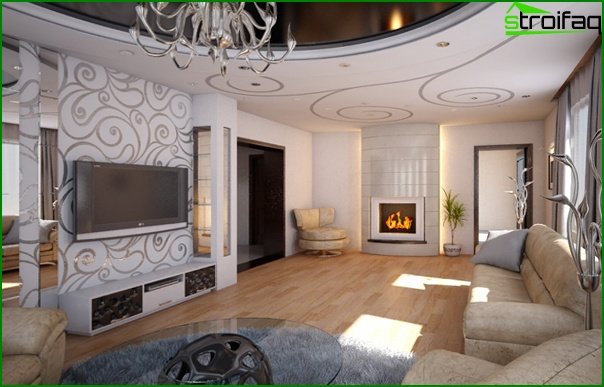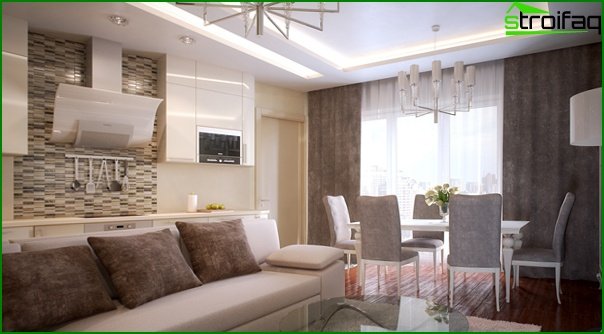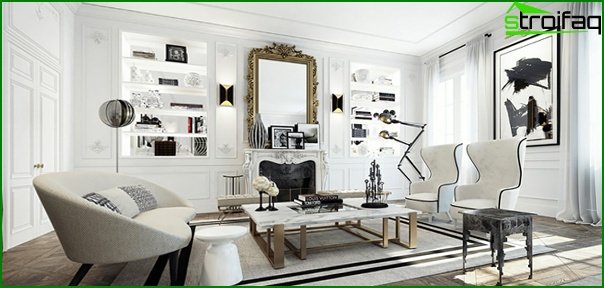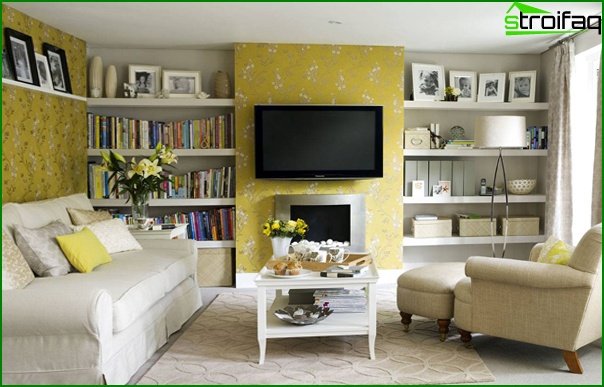 Provence
Provencal style is a peculiar branch of the country style. But it is much lighter, lighter, airier. This is not surprising, because Provence is a southeastern region of France, which is located on the sea coast. Stunning landscapes of lavender fields, the beauty of waves caressing beaches and the sun (a lot of sun!) Became the main leitmotifs of the Provencal style. Here life flows measuredly, therefore, getting into the living room in the Provence style, you plunge into the atmosphere of relaxation.
Read also about charms kitchens in provence style.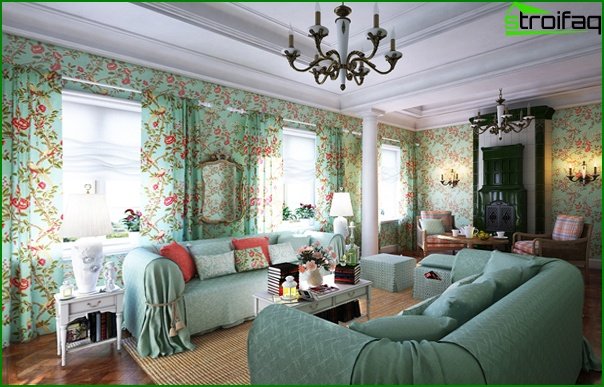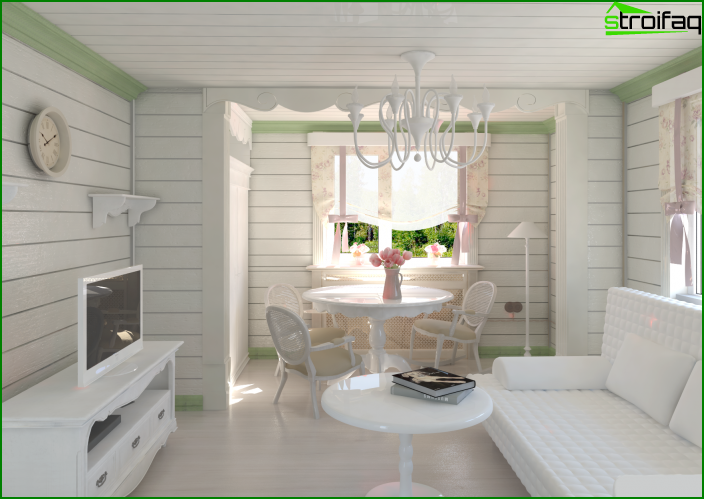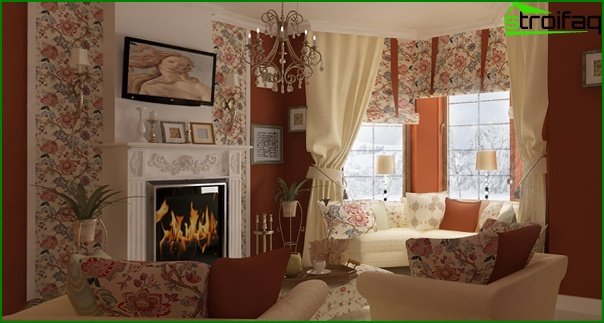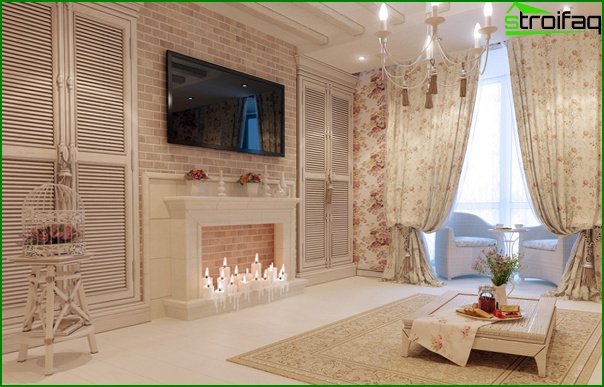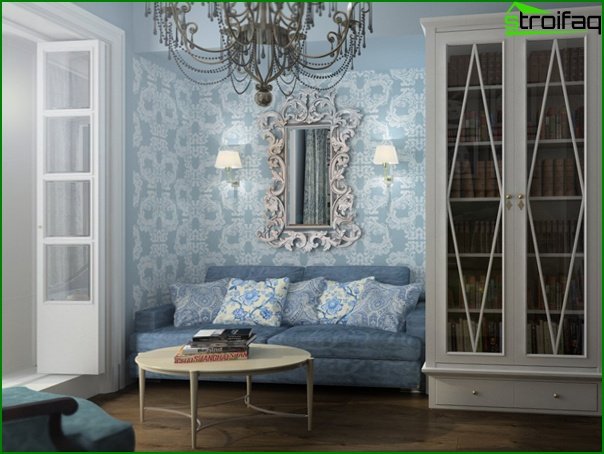 Retro
Everything is better from the past – the motto of the design of the living room in retro style. Refinement and refinement, passion and recklessness – the main landmarks of retro style. Despite, it would seem, the specificity and narrow focus of this style, everyone can choose something for themselves. Stylish forties or violent seventies, delightful fifties or original sixties – every decade is a whole era that has its own originality and appeal.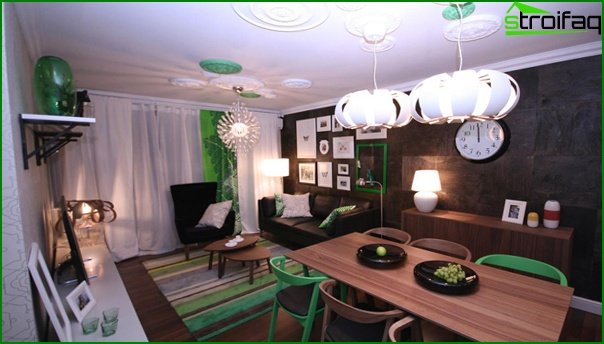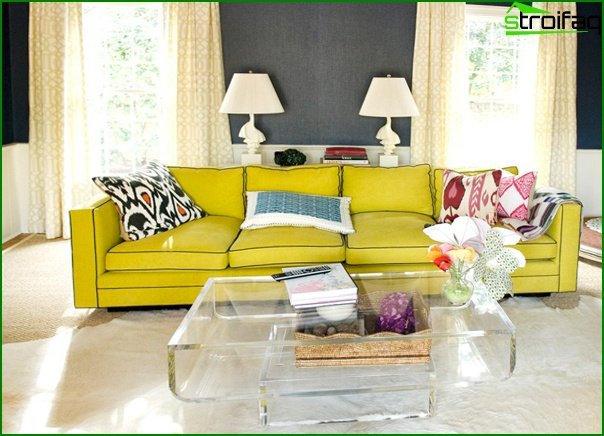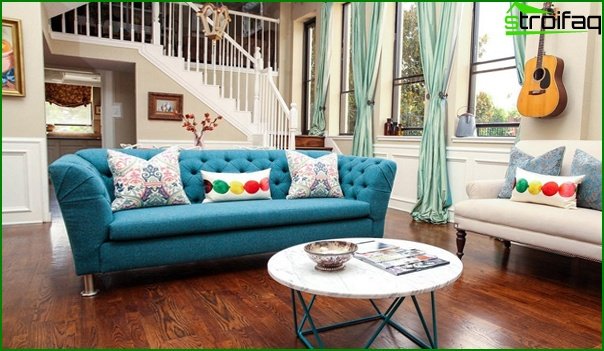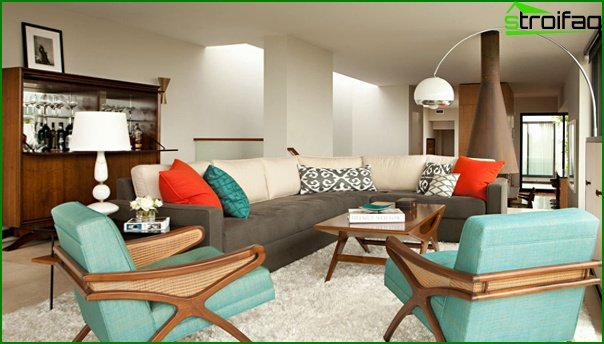 Eclecticism
Are you a fast-paced and creative person who does not tolerate monotony in spirit? Then your style is eclectic. Mixing, combining, mixing everything with everything is exactly what you need! But remember that everything should be in moderation, otherwise stylish eclecticism will easily turn into a lurid bad taste.
To get an elegant eclectic living room – mix several styles. A combination of no more than four is considered ideal.
Experts recommend highlighting several elements that will be combined in one style. These may be elements such as:
Storage furniture
Walls
Accents, accessories, details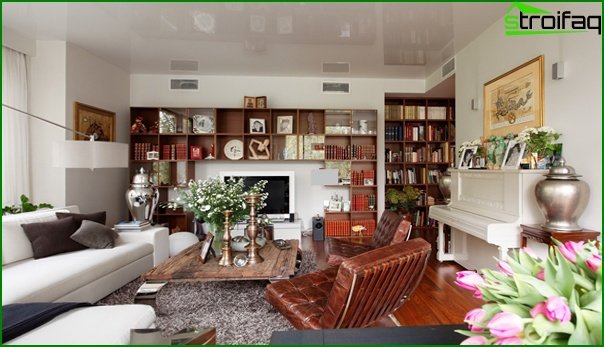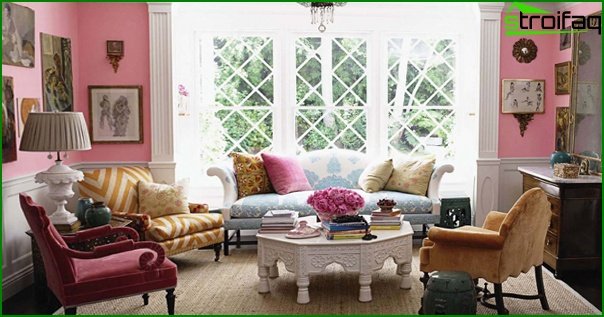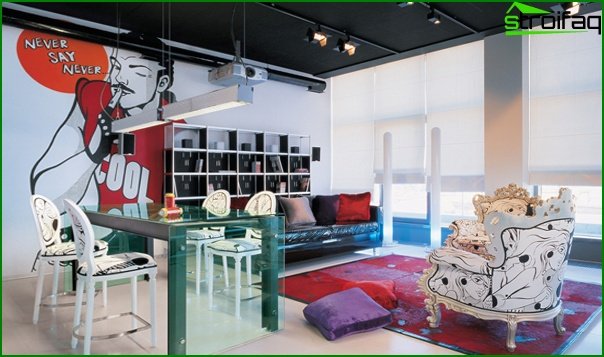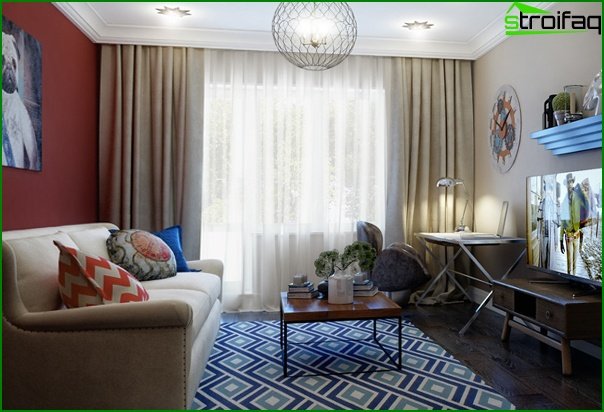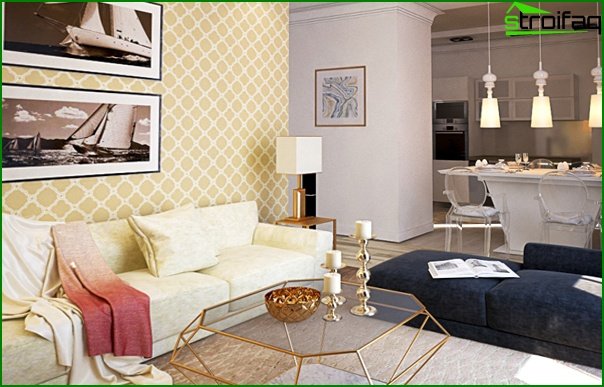 Choose upholstered furniture
Sofas
Sofas come in two main types:
From whether your living room to also perform the function of a bedroom – a lot depends. For example, that in the unfolded form the sofa will occupy almost twice as much space as in the folded one, which means that everything that will be around it will have to be done somewhere.
If you have a sofa exclusively for gatherings, then you can already dream up here. If the living room is medium in size, it is quite possible to replace one large sofa with two smaller ones..
Corner sofas look very stylish. Moreover, if you place the sofa so that it would enclose part of the room, it can be used as a solution for zoning the room. But such sofas will fit well only in large and spacious rooms.
A sofa with legs makes the design visually lighter. However, note that all dust and dirt that will accumulate underneath it requires regular cleaning..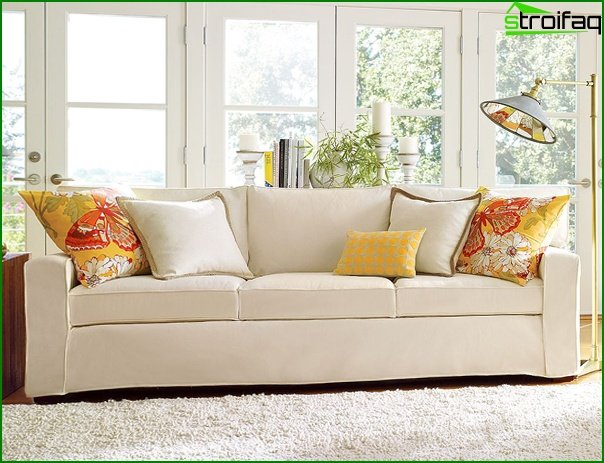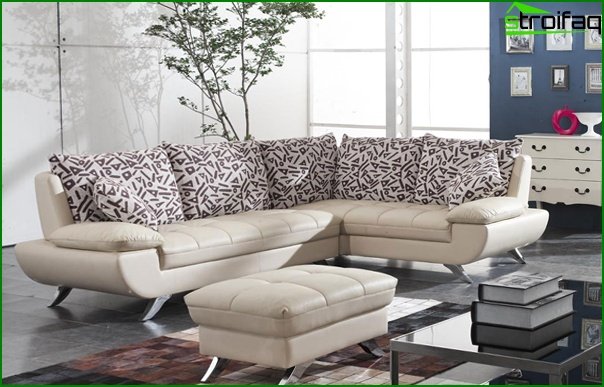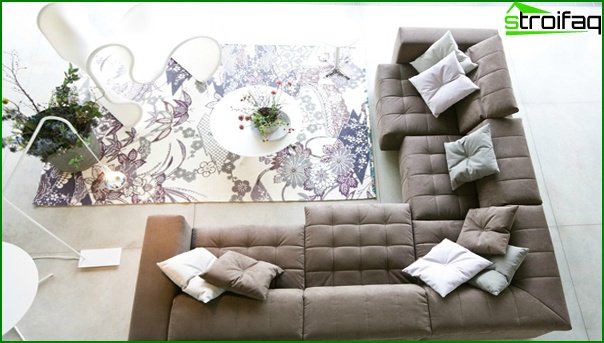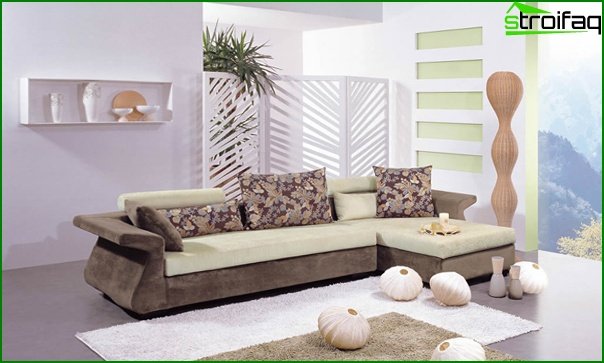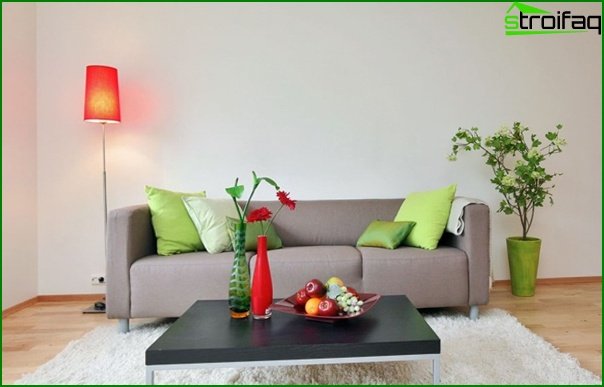 Armchairs
A wide range of chairs allows you to make the living room not only comfortable, but also stylish. Armchairs can both complement the sofa and completely replace it.
For a living room in a classic style, traditional armchairs on the base, neutral shades are suitable.
In the living room in a modern style, stylish legged armchairs will look good. They can be plastic, and can be covered with jacquard or flock of an unusual shade. For a large youth company, frameless bean bags can be a great solution.
Original and popular chairs today are swing chairs. They can be used not only for the living room in a modern style, but also as furniture for the children's room.
To create a stylish living room in a country or ethnic style, armchairs with a patterned and bright upholstery fabric are suitable.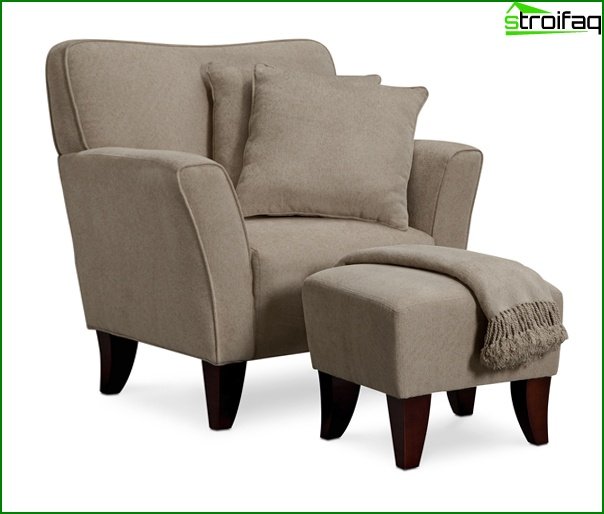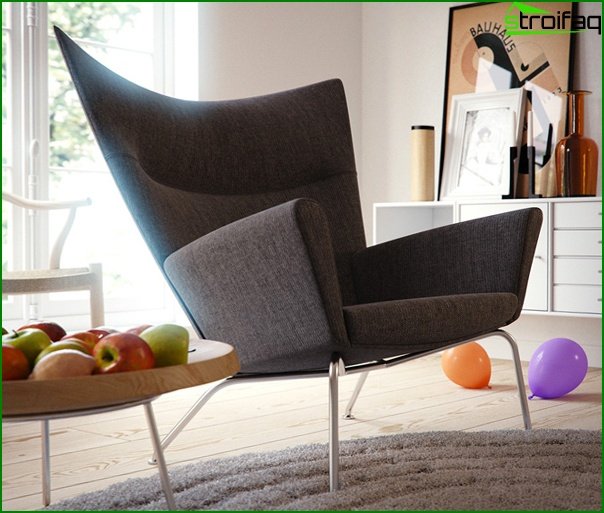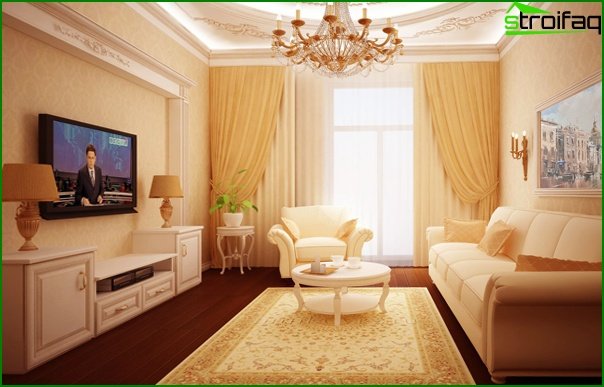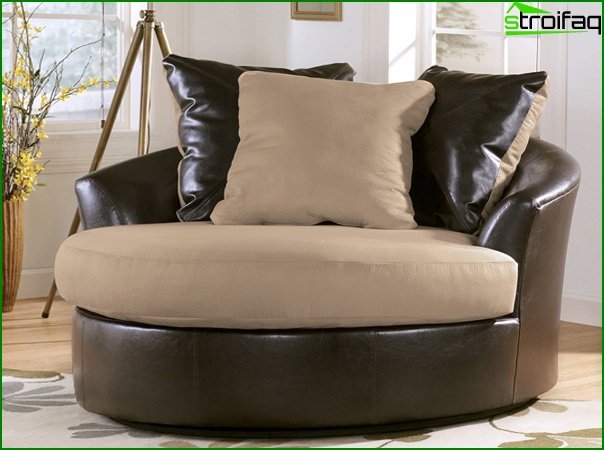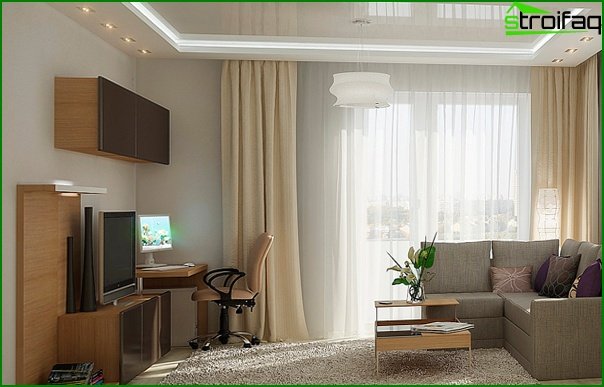 Chairs
In terms of convenience and appearance, modern chairs not only are not inferior to chairs nowadays, but can even soon supplant them..
In the catalog of many giants of the furniture industry, you can find an incredible variety of chairs: from the simplest, perfectly fitting into the style of minimalism, to unimaginable in shape and color, more like a royal throne than an ordinary household item.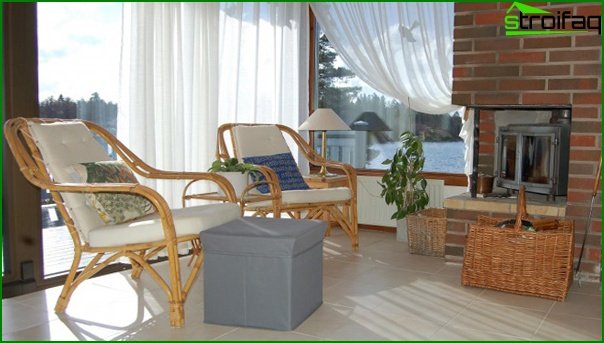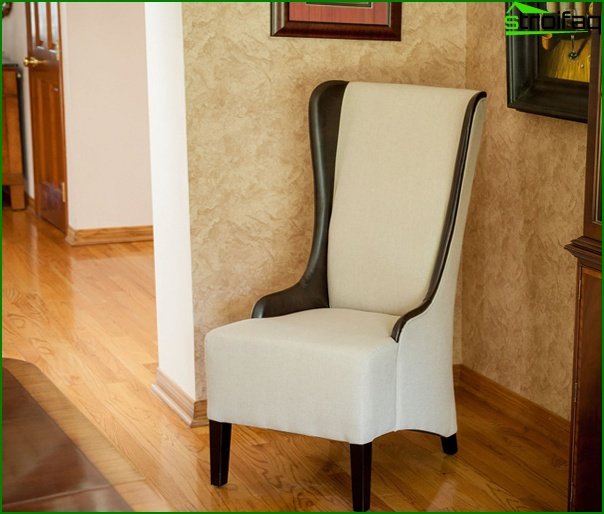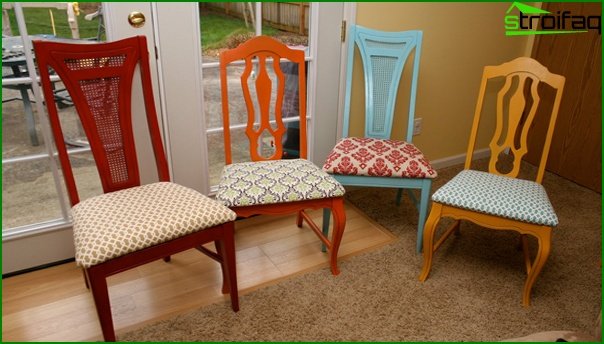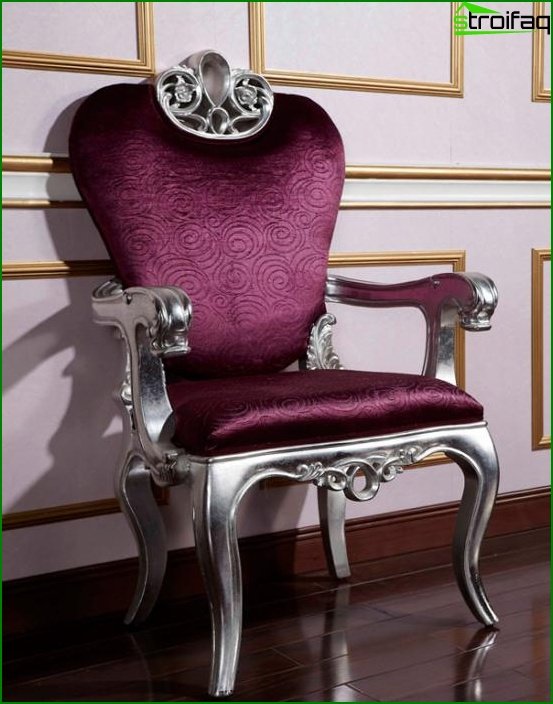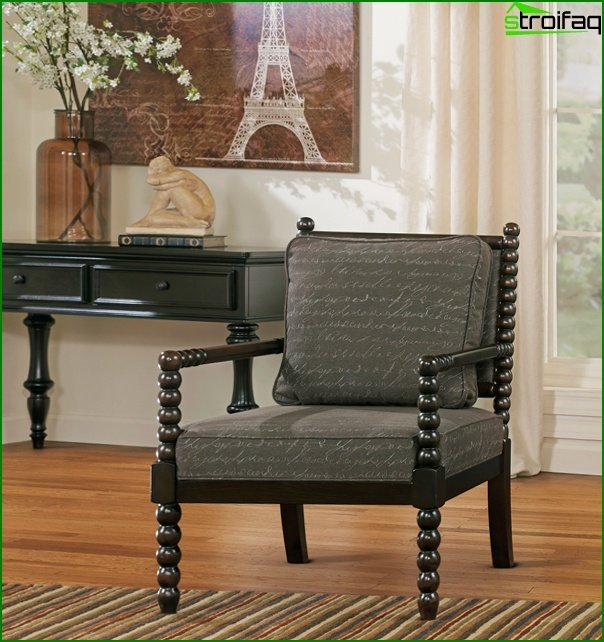 Coffee table for living room
If your living room is not provided full dinner table, then you certainly can not do without a coffee table. On the one hand, it is convenient to put cups on it during tea drinking and some sweets or treats for friends. And on the other hand, a coffee table can be a great place to store all sorts of small things: just equip it with small shelves from the bottom.
It is also important to remember that there is always a need to put or put something somewhere. It is for this that the coffee table is designed primarily.
A small vase of flowers on the coffee table will make your home cozy and sweet..
If there is a need to constantly move the table, give preference to models with wheels.
A universal option for the living room can be a transformer coffee table, which in a matter of minutes turns into a full dining table.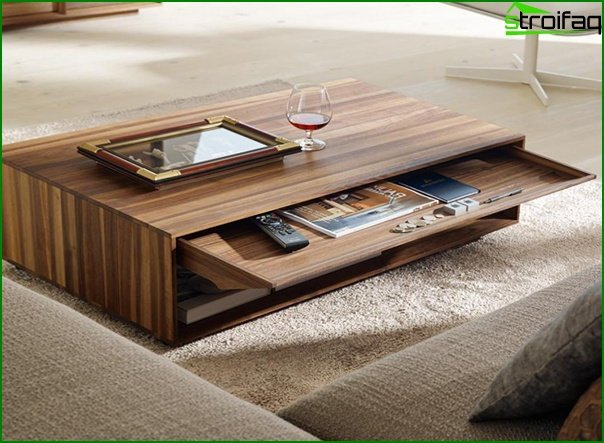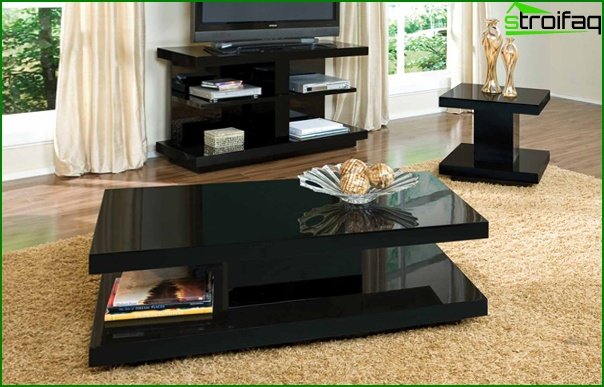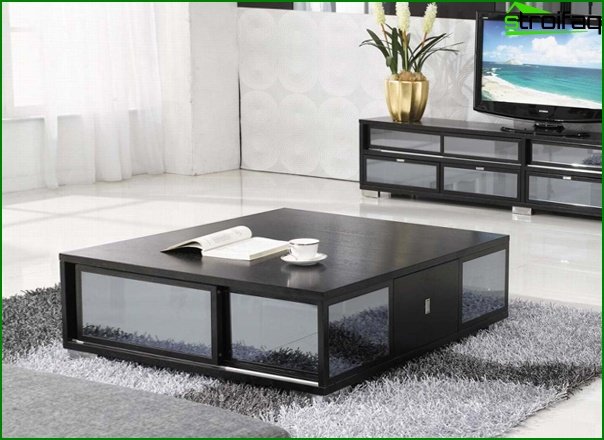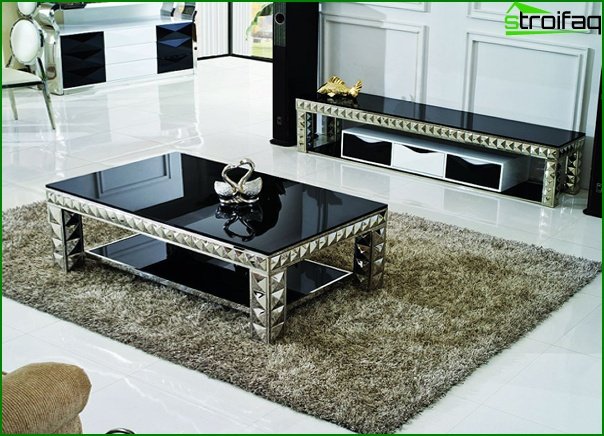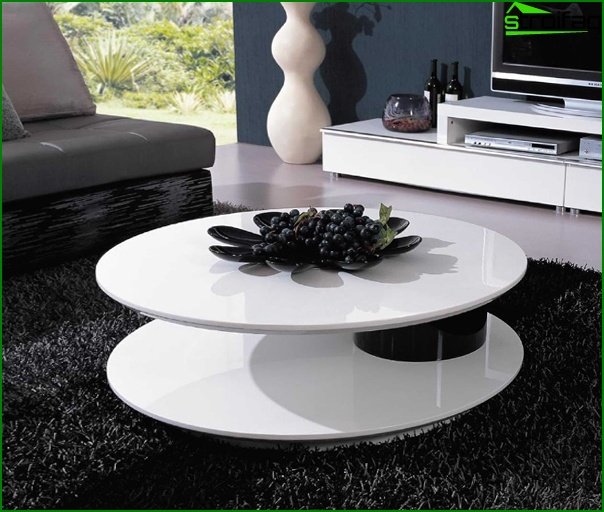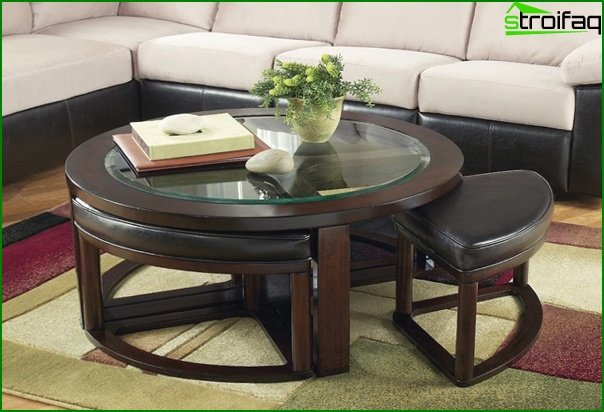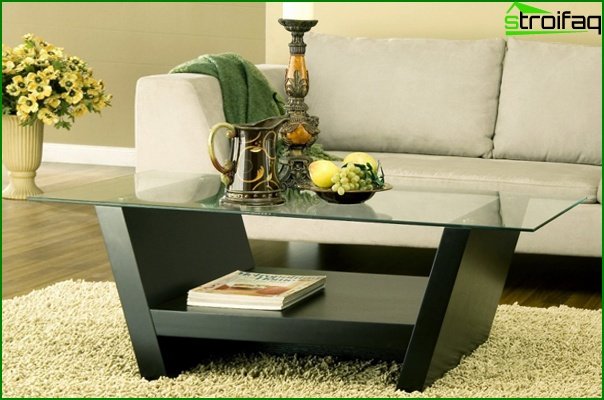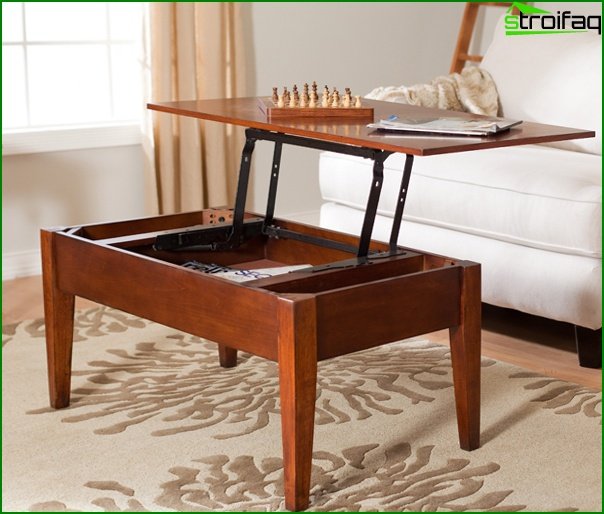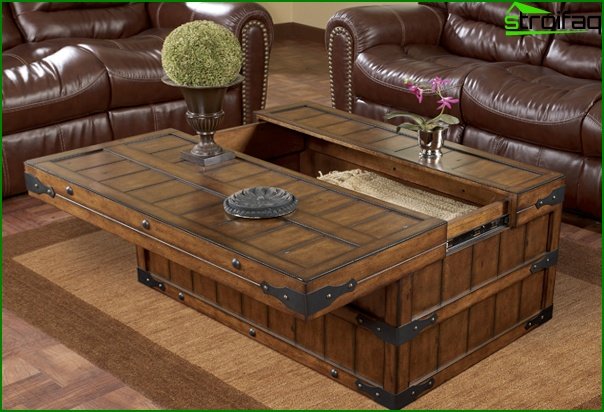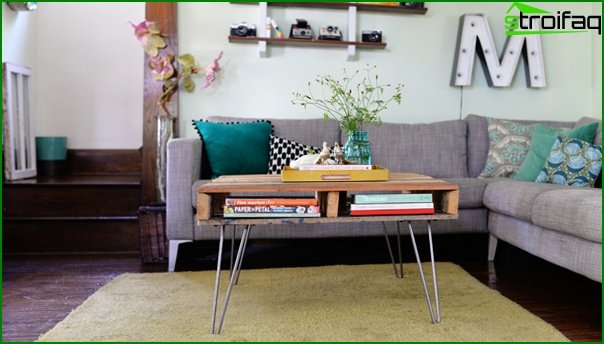 Cabinet furniture for the living room
Modern walls
Unlike their predecessors, which were used exclusively for storing things, modern walls were initially equipped with TVs and all related equipment. Also an undoubted advantage of the modern wall for the living room is that in most cases – it is modular. Modular furniture assumes the presence of different modules that can be arranged as necessary for your living room. The situation is the same with the price as with the furniture for the kitchen – the smaller the step size of the module, the more expensive the headsets will cost.
Some modules that you purchased, but for some reason decided not to install in the living room, do not have to be sold – they can be used as furniture for the hallway.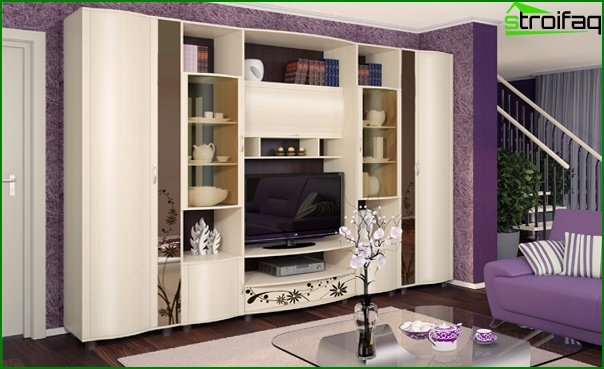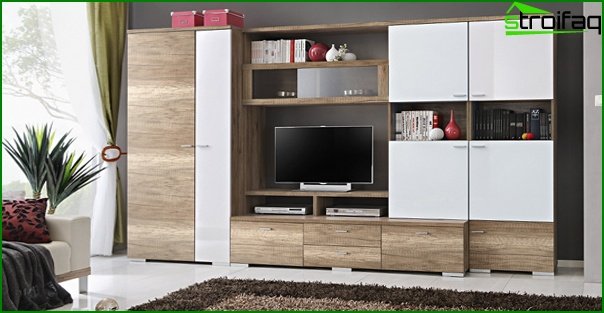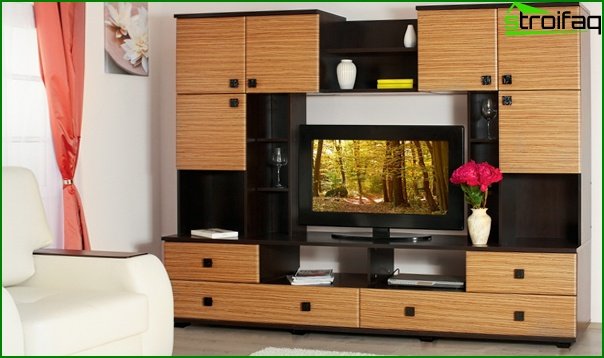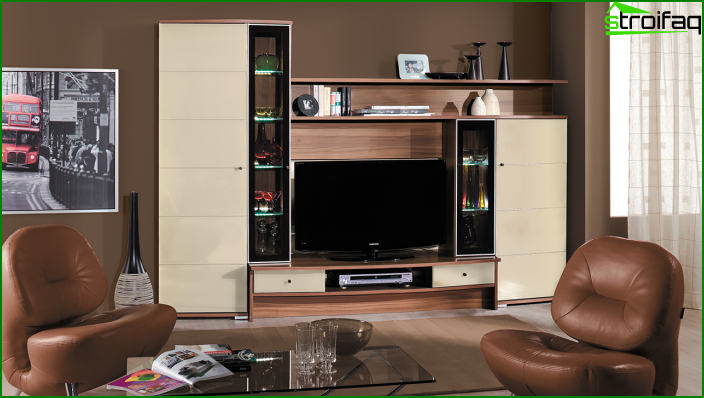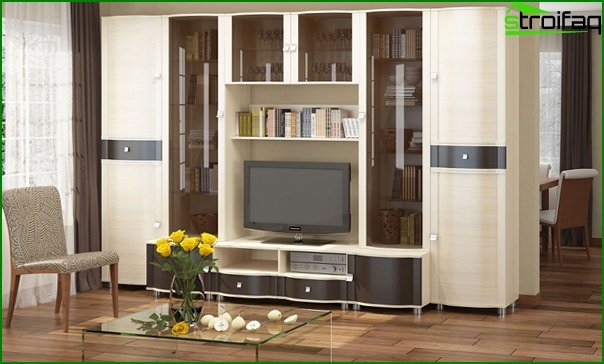 Shelving
Open shelving in a modern living room is probably not a necessity, but a decorative element. In rare cases, books are placed on them, but nowadays they are increasingly using them to store all kinds of charms, favors and other decor.
The rack does not have to be installed near the wall – models of the latest generation of shelves are also designed for installation in the middle of the room. It is very convenient to use for zoning in the living room and dividing the space into several functional zones (especially if the living room acts simultaneously as the master bedroom).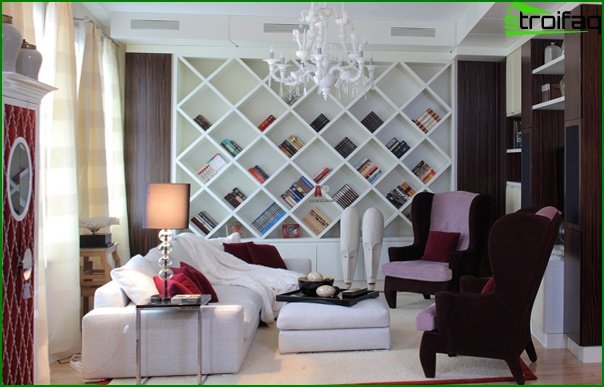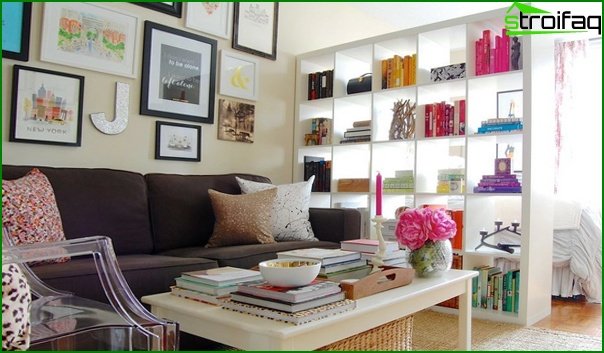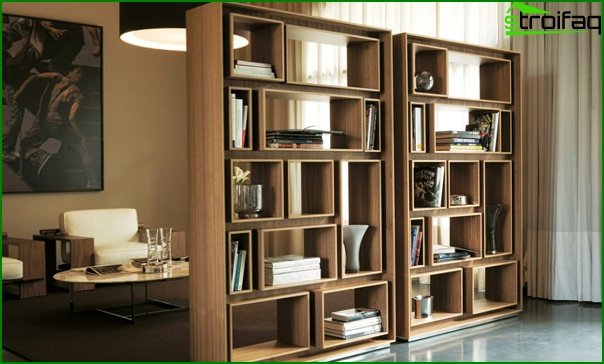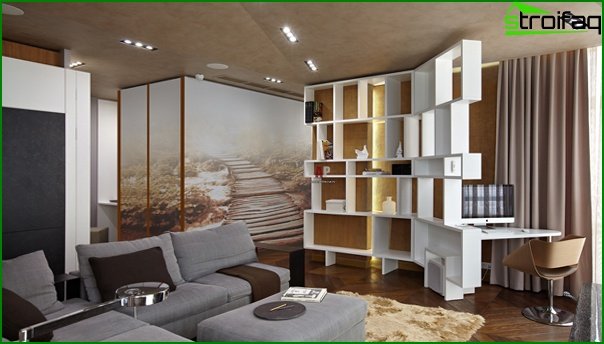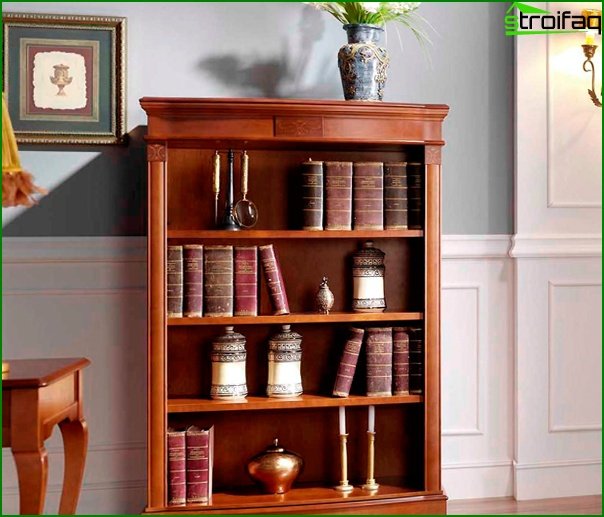 Pedestals
Furniture for bedrooms extremely rarely includes thumbs. Except for bedside.
In the living room you can use an unlimited number of cabinets for a variety of purposes:
First of all, the stand can be used to install a TV.
Secondly, the cabinet can be used to store various bulky items. In private houses and huge apartments, this may not be so relevant, because there, as a rule, a small pantry is provided. In modern apartments, it will be convenient to store anything in the cabinets, starting from movie discs and ending with a fan that goes only in the summer.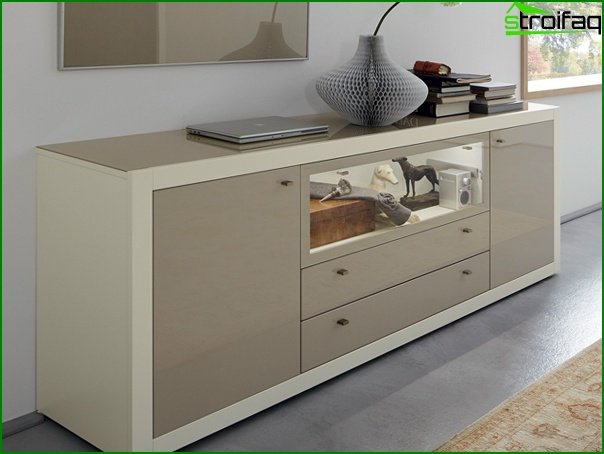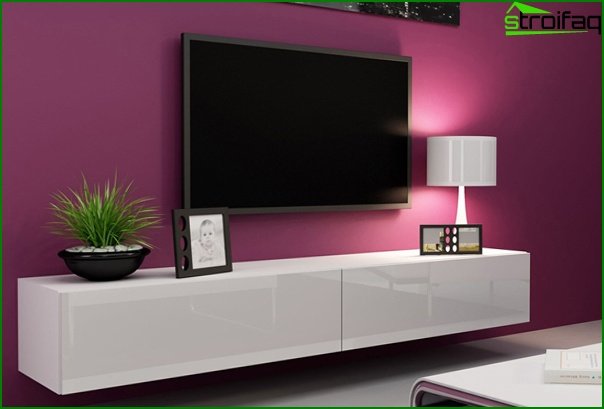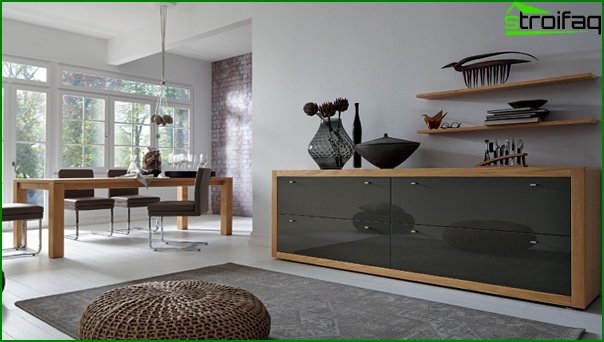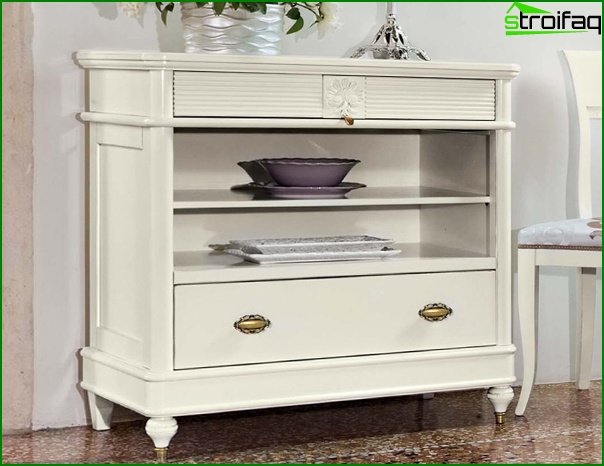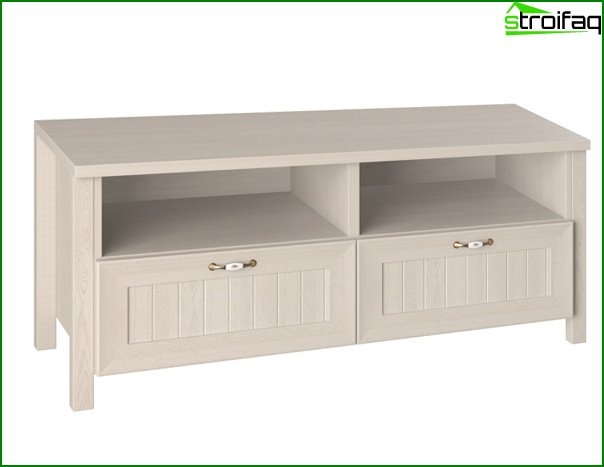 Cabinets
The old wardrobes with hinged doors were replaced by modern wardrobes that fit perfectly not only in the design of the bedroom, but also in the living room.
Mirrored doors of the wardrobe will visually expand the space of the room.
Modern manufacturers offer a wide range of doors for wardrobes, which can be designed in accordance with the theme of the interior. Today it's quite inexpensive.
Cabinets can be installed both as a separate module and in a special niche, due to which the facade of the cabinet will simultaneously act as a room wall.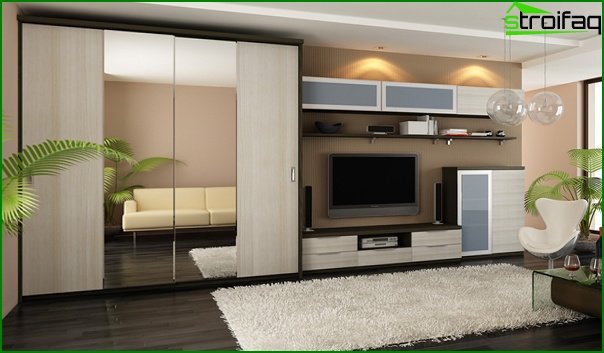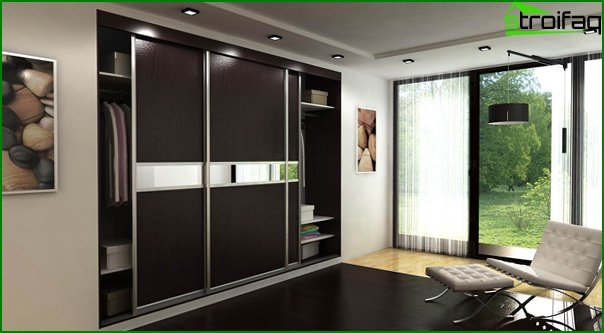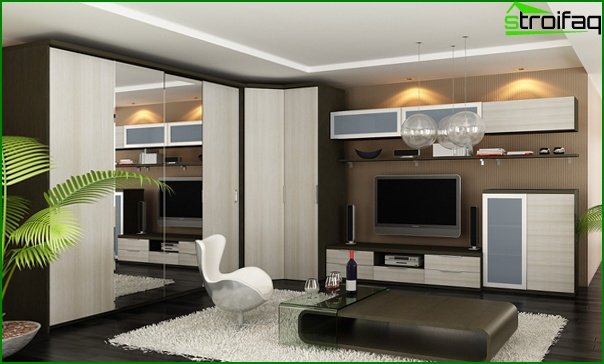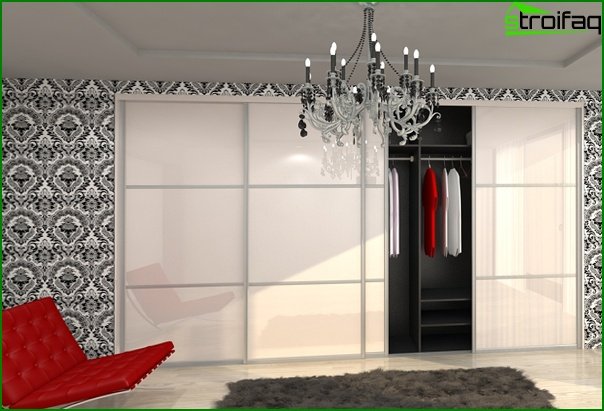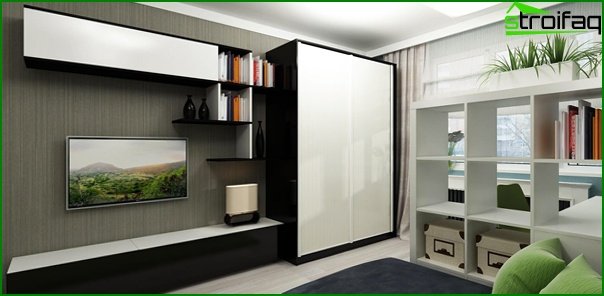 Modular living room furniture
In general, as already mentioned, modular furniture consists of various modules. Its use has many advantages.
Unlimited headset options for the living room. Even if your tastes coincide with someone from close friends and you like the furniture of one model line, thanks to the use of different modules your living rooms will be alike, but each is unique and unique in its own way..
The modular system allows you to perfectly "fit" the furniture into the dimensions of your room. Thanks to this, there is less likelihood that ugly gaps between furniture and walls will remain..
Each family has its own needs, which are difficult to fit into one model of furniture (as it often happened before). Now this problem is solved: you need more cabinets – choose cabinets, you need more cabinets – choose cabinets. If only you were comfortable!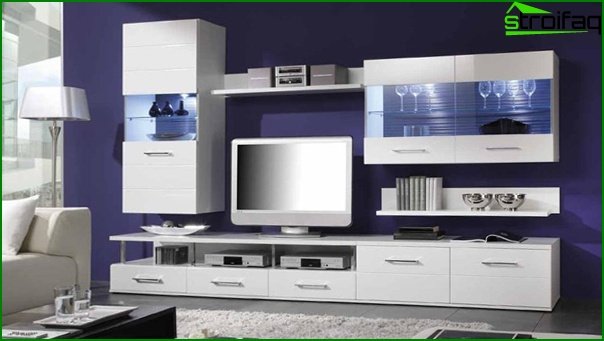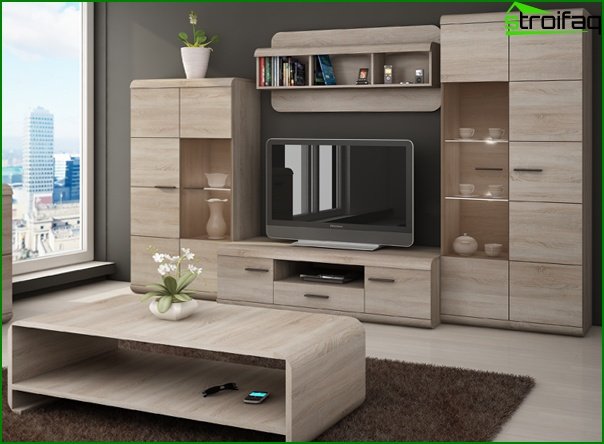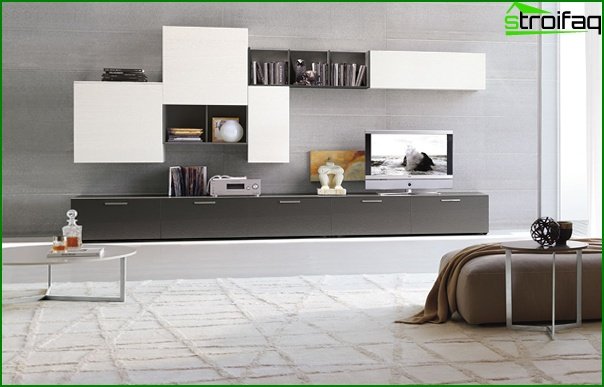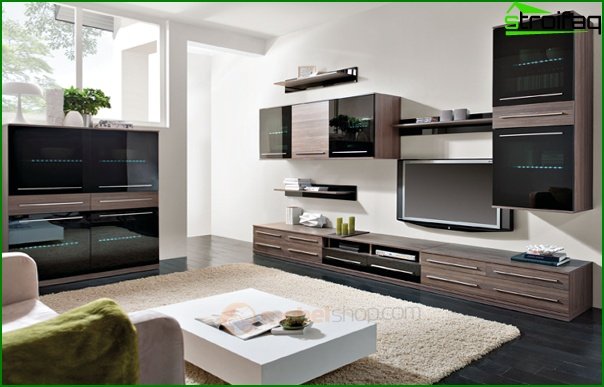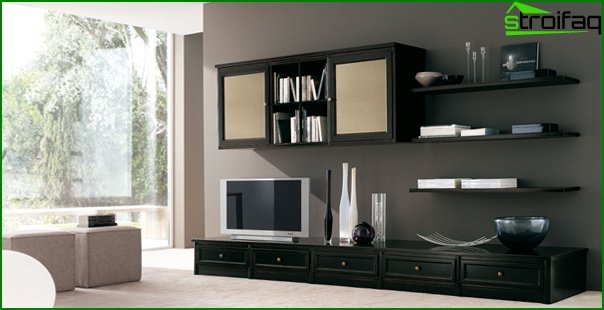 Living Room Zoning Options
It often happens that in one room there are several functional areas. This is especially true for one-room apartments, in which one room can simultaneously be a sleeping area, a reception area and a dining area..
You can select as many zones as you really need.
You can share them with each other in different ways..
You can visually divide a zone using different wall decorations: combining different wallpapers or different materials, combining colors, etc..
Can be zoned with textiles and curtains. This option was invented by our grandmothers. It is convenient from the point of view that, if necessary, the curtain is easy to assemble and how to restore the visual integrity of the room.
Partitions – the most popular option for zoning today. Anything can be used as a partition: a rack, a bar counter, an aquarium or special panels.
You can separate it completely, or only at the bottom of the room – this option is acceptable for a small space.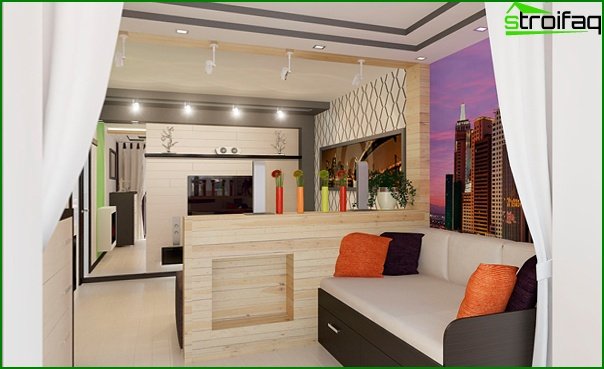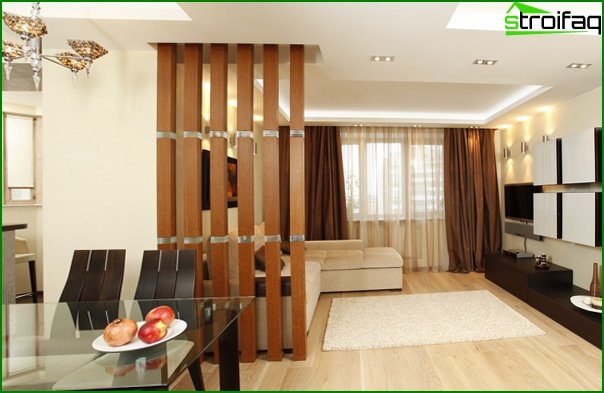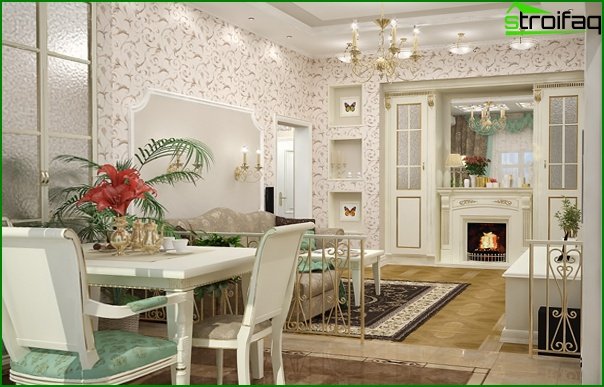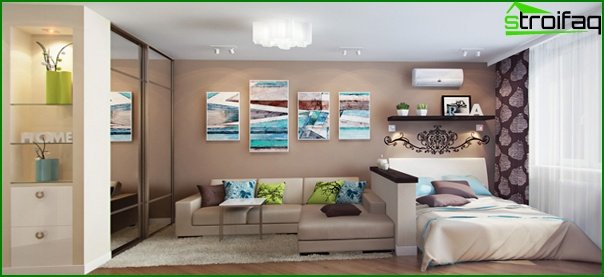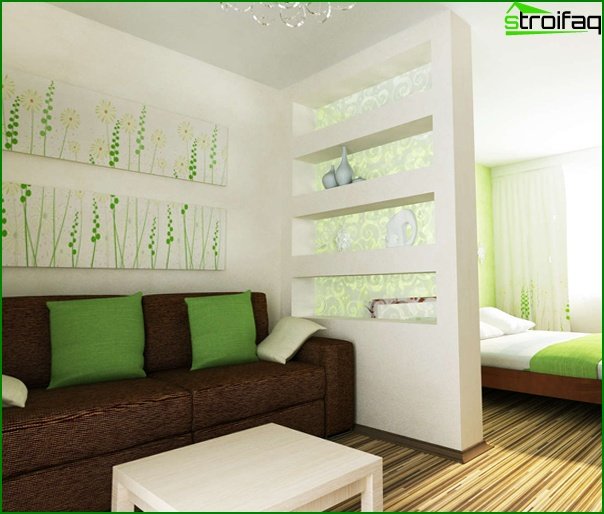 Furniture for a small living room
I even want to make a small living room cozy and sweet, so that friends and relatives would like to return to it again and again.
In a small living room, it is best to arrange furniture in parallel lines – this will visually increase the space.
Light furniture will look better, since it will not focus on itself.
For convenience and comfort, it is better to choose models with smooth lines and rounded corners – so, even in the case of "bumping" into them, the likelihood of injury is reduced to a minimum.
You should not install tall pieces of furniture directly near the entrance to the room – this will automatically block the view and visually hide a lot of space. Such furniture is best installed in the corners..
To give the room extra lightness, give preference to furniture on small (and preferably unusual) legs.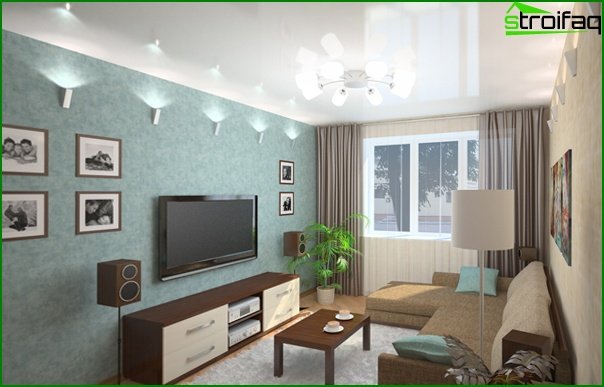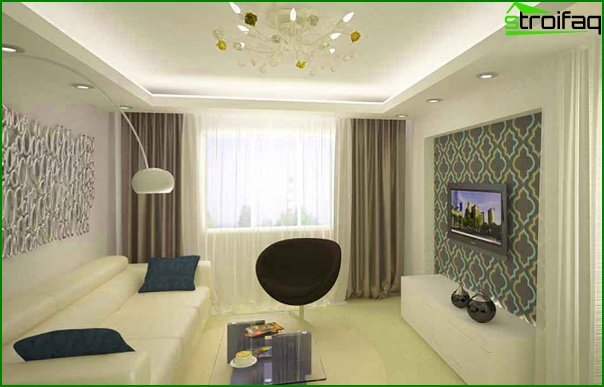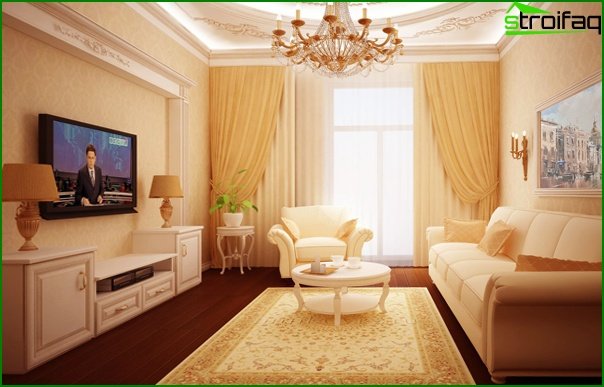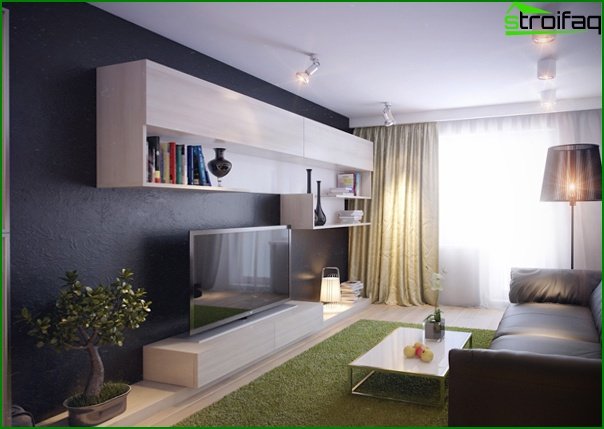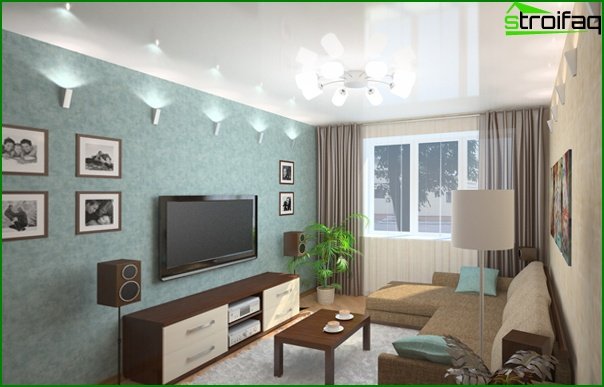 Interesting design nuances
Fireplace
A fireplace and a rocking chair nearby are the dream of many romantics. Agree, it's nice to relax in the evening with your favorite book and a cup of hot mulled wine in your hands near the fireplace, admiring the dance of mischievous flames of flame. But for a full-fledged fireplace, high-quality ventilation and a chimney are necessary, which today is unacceptable luxury even for many private houses.
However, dreams just have to come true! And today, thanks to modern technology, a fireplace in a city apartment is not something extraordinary, but quite a stylish and sophisticated accessory. The thing is that modern fireplaces do not work on wood, but on …. Electricity! And on the built-in plasma screen, you can watch how brightly a flame burns or coals smolder. Moreover, such fireplaces perform their direct function – heating the room. Here are just the fires and the release of chad gas with such a fireplace you will not be afraid.
Most modern fireplaces are decorated in a classic or country style. But if you look hard, you can probably find a fireplace made in a different, more original style.
When placing a fireplace in the interior of the living room, remember that it will become the main decoration of the wall, so you need to free it as much as possible and not litter it with other pieces of furniture or large accessories.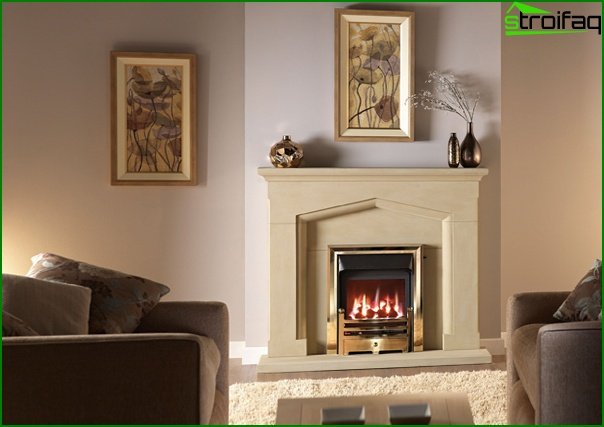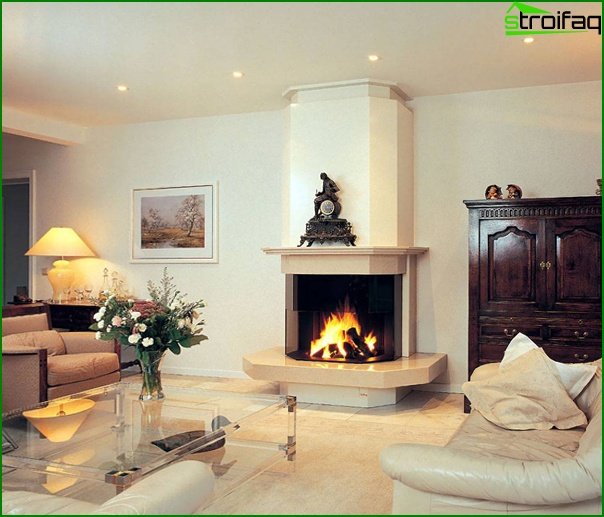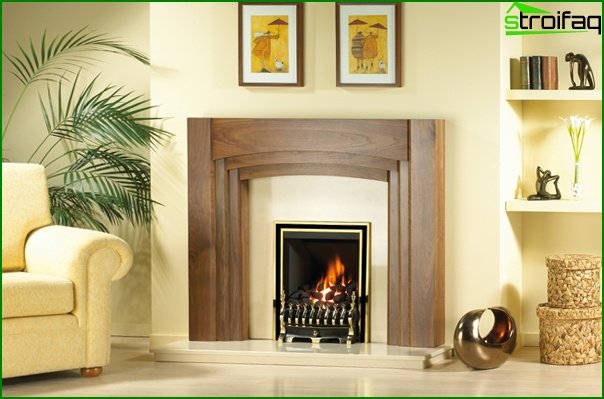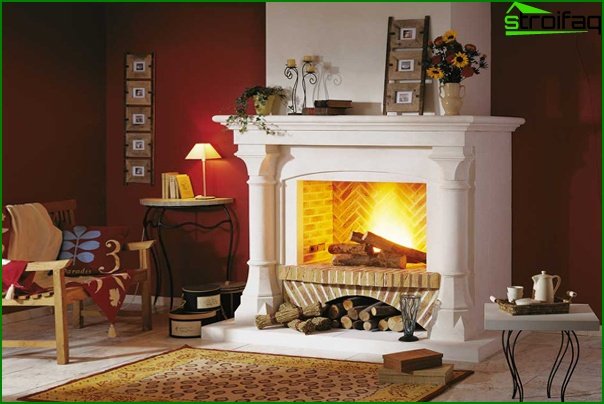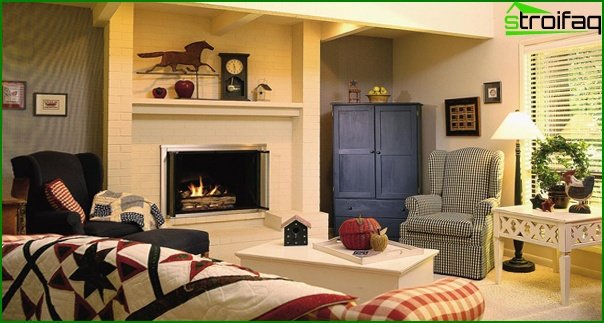 Aquarium
A person can endlessly look at three things: fire, water and how another person works. And if you can enjoy the fire in the fireplace, and the work of people during the repair, then what about water? Everything is very simple! Aquarium needed!
Aquariums are tiny, for one fish, and there are giant, almost the entire wall.
Volume of aquariums

| | |
| --- | --- |
| tiny | 3 l |
| little | 10 l |
| middle | 25 l |
| big | 100 l |
| huge | 200+ l |
The aquarium can be a wall decoration (like a fireplace), and can be used as a partition between functional areas.
If the aquarium is backlit, at night it may well serve as a lamp.
However, fish, like any other living creatures, require careful care. And if you yourself are not ready to deal with it – you have to hire a person.
But the place of the aquarium, you can use special lights in the form of a bulb with bubbling bubbles. They also soothe and relax, but do not require any personal care..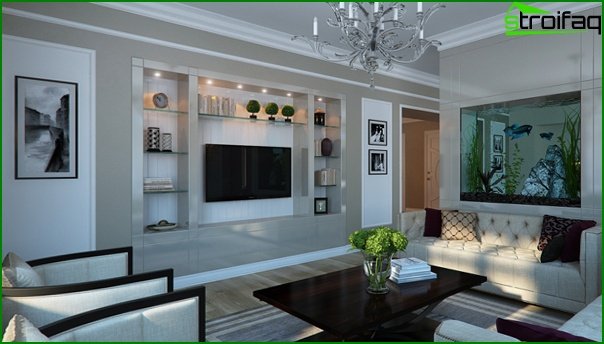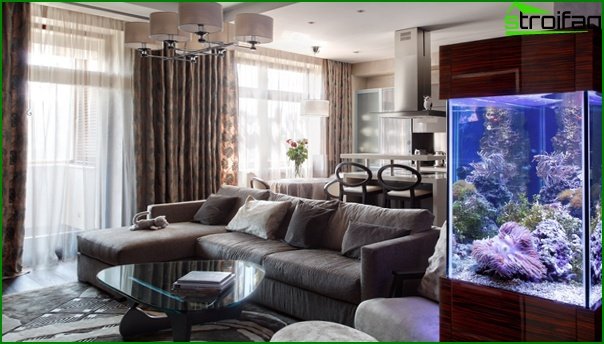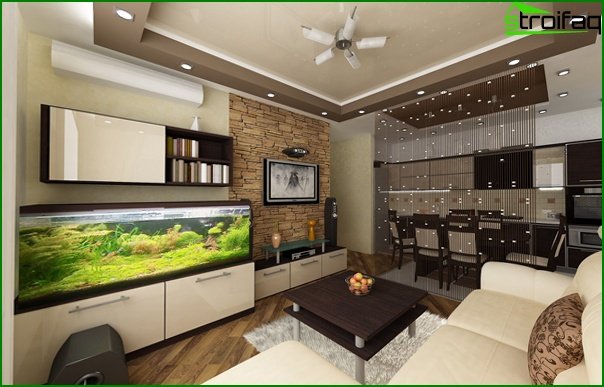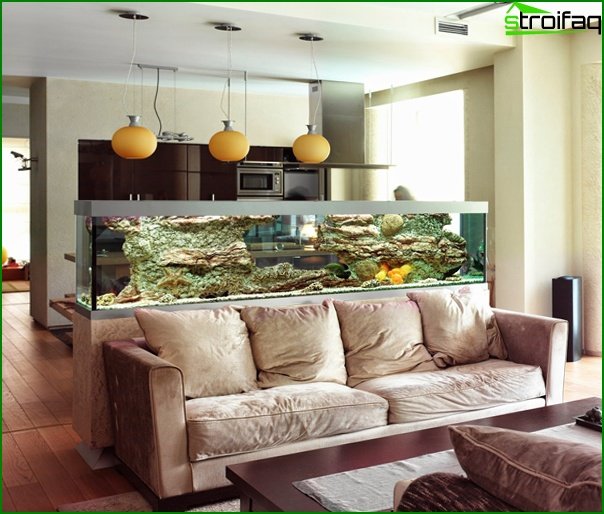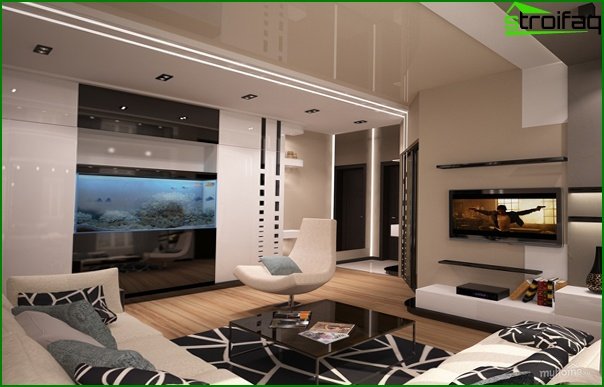 Bar counter
Bar counter in the interior of the living room is a very bold decision. However, this is an attribute of a bachelor's room rather than a house with many children..
At the same time, it is very convenient for working, for example, behind a laptop – a narrow countertop is just enough to accommodate it.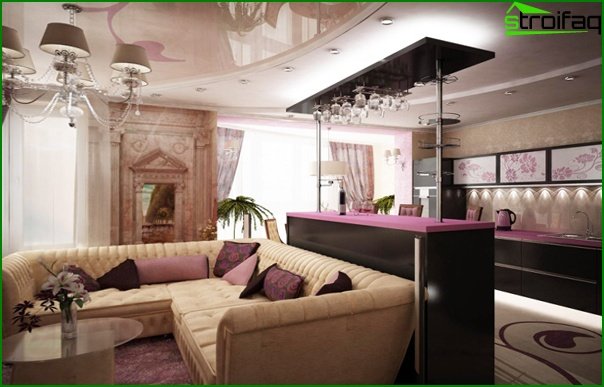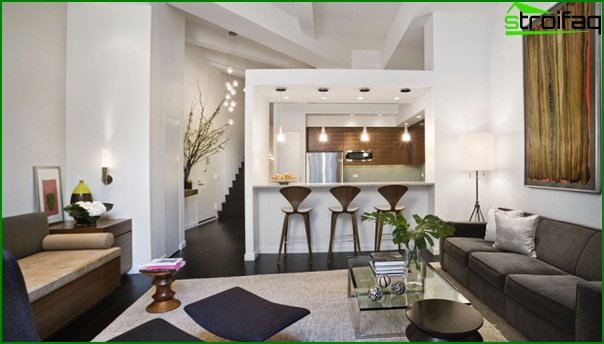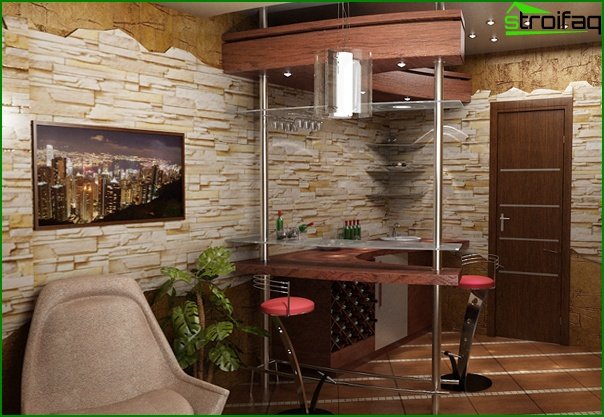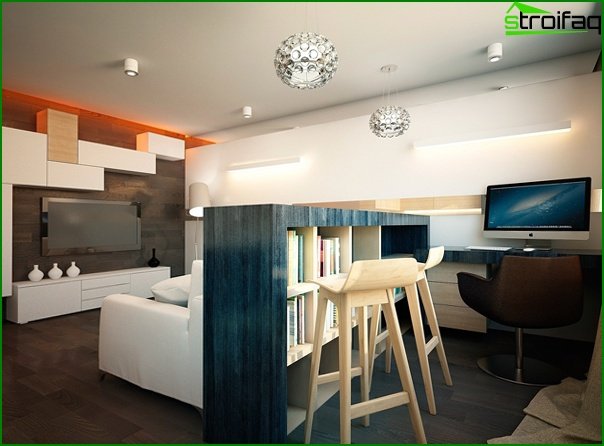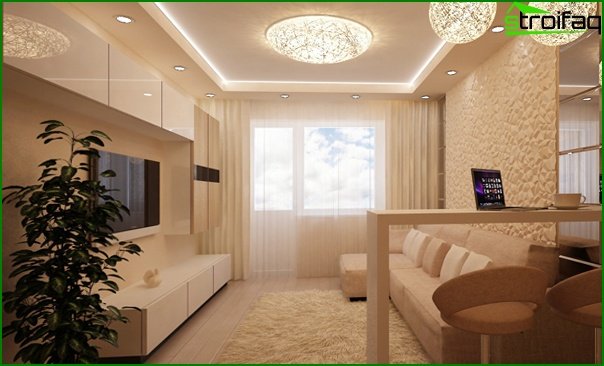 Current Trends 2020
In 2020, designers in the design of the living room recommend giving preference to light, almost white tones. If you wish, you can make bright accents or shade some details in the interior, such as textiles. In this case, the colors should be "base palette" – blue, yellow, red, green.
In general, there is a new wave of appeal to nature: colors, shapes, materials.
Designers also try to move away from decor and small details in favor of practicality and functionality..
Emphasis in 2020 is made not only and not so much on visual sensations, but on tactile ones that designers successfully implement in the form of stylish accessories.