Find out which living room design style is best for your room! 175 best interior photo ideas for the living room.
Which room do you spend the most time in?
I'm sure your answer is "IN THE LIVING ROOM!".
That's why living room design needs to be made flawless..
It's time to finally decide on the style of the interior, the color of wallpaper and ceiling, the location of furniture, curtains. That is what we will do with you now.
Photo 175 ideas for the interior of the living room, living room projects 16, 18 and 20 square meters. As well as convenient infographics, thanks to which it will be even easier to choose the right design.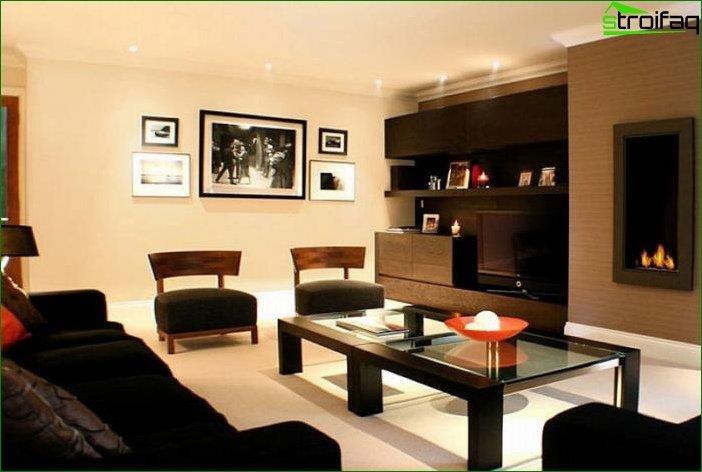 Content
Living room design in a small apartment
Is it possible to make a stylish and memorable living room in an ordinary small apartment? Today we will answer this question "Yes!". In this we will be helped by modern technologies in repair, materials and innovative ideas.
We offer a look at a few striking examples of the interior of a guest room in such an apartment.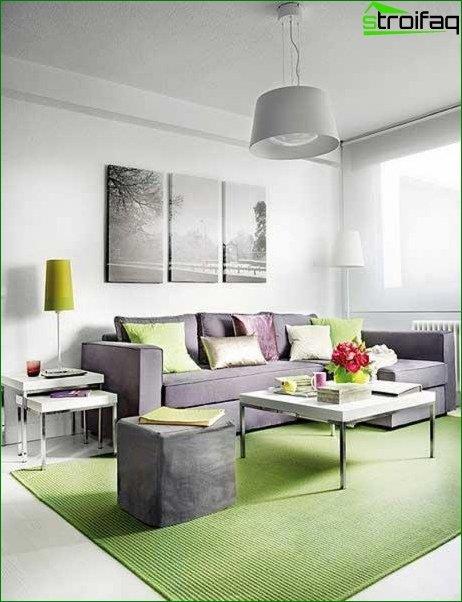 The style of this design is reminiscent of the 60s. A green carpet, a floor lamp and pillows on the sofa, a bouquet of flowers on a common white background – all these are echoes of the hippie movement. The colors of nature in everything and in the interior as well. Simple furniture, a modest chandelier, bare walls with paintings in black and white are perfect for a small room.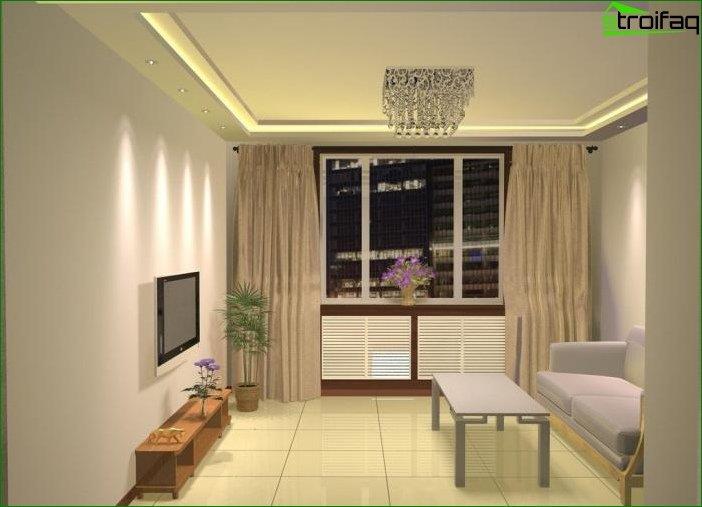 This minimalist style interior is also good for a living room in a small apartment. A small sofa, a table, a TV shelf take up little space, this is just what we need. In this case, there is no feeling of emptiness, in the room there are exactly as many things as are needed for the living room.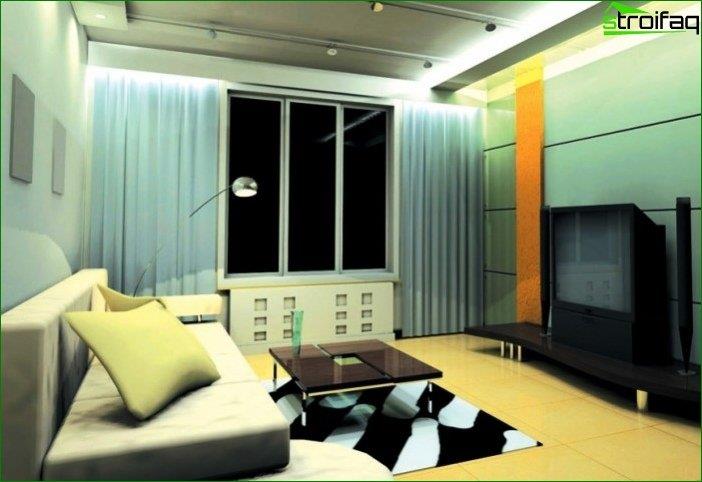 The smooth, shiny surfaces of cabinet furniture, walls and ceilings merge into one, and the whole room forms a complete laconic form.
In the first version, we see an example of a perfectly matched contrast of white and gray with pale green. The absolute absence of curtains makes the room even more spacious. If such a window seems too "naked" to someone, it can be slightly covered with a light tulle of light green or white color, and in a big city, beige or white blinds are also acceptable..
In the second version, indoor flowers add a twist to the living room, they look better than any artificial decor. The living room lighting has been especially well chosen: the light is directed to the walls, and this visually enlarges the room. The most chic element of the interior is a large chandelier. At first glance, it stands out from the general style, but without it the living room would look too simple.
In the third photo we see an example of the design of a small high-tech style living room. And this is a really interesting find for such a space. Here, in fact, there is not the slightest extra detail. The severity of the hi-tech style is softened by the pale blue curtains and pillows on the sofa, but this does not stand out from the big picture, but adds charm to it.
To summarize. What will make the interior of our small living room a success?
Highlights:
plain, smooth walls;
simple forms;
decentralized lighting (desirable, but not necessary);
minimum furniture and decor;
concise window design.
The interior of the hall in a private house
The owners of the house can only be envied by white envy, because they have a lot of opportunities for the most unusual ideas.
The main advantage of the living room in a private house is the windows.
Most often there are several, and they are large. And with them, not even the most spacious hall will look luxurious. The combination of these two factors makes the living room unforgettable. You don't have to think about the design for a long time, the main load will be borne by the view from the windows, well, the proper design of the walls.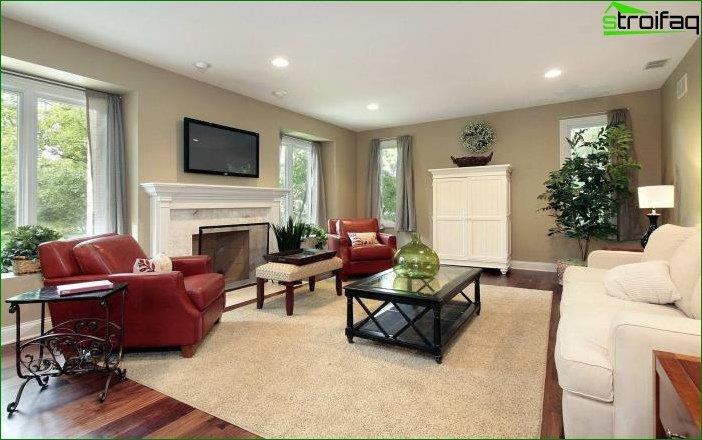 In the photo, the design of the living room in retro style. Upholstered furniture, tables, antique wardrobe create a cosiness that may not be enough in a large room. Interestingly used the contrast of a white sofa and red armchairs.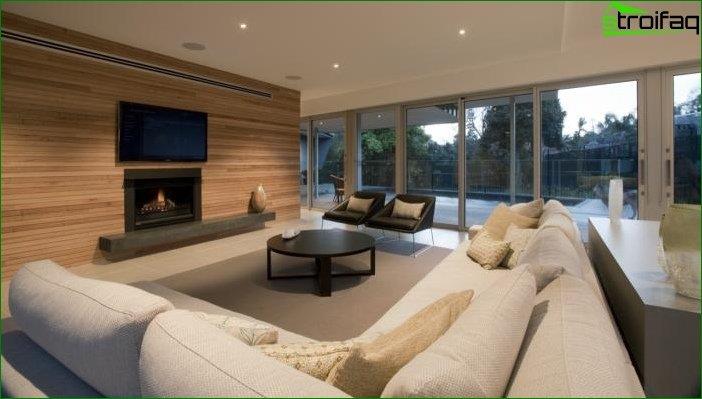 Fans of ultra-modern design will appreciate another type of interior, emphasized minimalist. There are no decorations, everything is functional and simple: a huge soft sofa, where a large company can fit to watch TV and chat, a round black table and compact chairs.
The first option uses contrasting furniture. In any interior, certain elements should be highlighted. In a small room, insignificant details look better against a light background, in a spacious room you can focus on anything. In the photo, these are red leather chairs. They highlight the center of the room – the fireplace. Walls and curtains, by contrast, are very restrained and do not attract attention. In general, the living room is very comfortable and pleasant..
The core of the second living room is a fireplace and a TV. French windows also attract attention. The designer, as it were, wants to say: we do not need additional decor and bright colors. All this makes up for a great view of the garden..
Choosing the design of the living room in a private house, we can not be limited to anything. Any ideas and styles will look advantageous..
Some tips:
Select no more than two interior elements.
Distribute furniture evenly throughout the room.
Use no more than three primary colors.
Fireplace in the living room interior
A rare owner does not want to transform the living room of his house with a fireplace. Where, no matter how in the house, you can relax by the fire, lying on a soft sofa or sitting in an armchair?
The burning fireplace attracts and fascinates, you can look at it for a very long time. If you want guests to constantly gather in your house, equip the living room with a fireplace.
Types of fireplaces:
classic (open, heated with wood);
closed with a cast iron firebox;
gas;
electric.
All modern fireplaces are very popular with owners of private houses. Closed with a cast-iron firebox and gas fireplace, you can enjoy the view of a real flame and crackling firewood. What could be nicer on winter evenings?
In addition, it is well heated, they can calmly heat the room. Unlike its predecessor, the classic fireplace, they are safe and have good heat dissipation..
An electric fireplace is a device similar to a heater that simulates the appearance of a fire. Nothing really burns there. This type of fireplace can be put in any apartment and in the house as a decor. And it is most often found in living room interiors.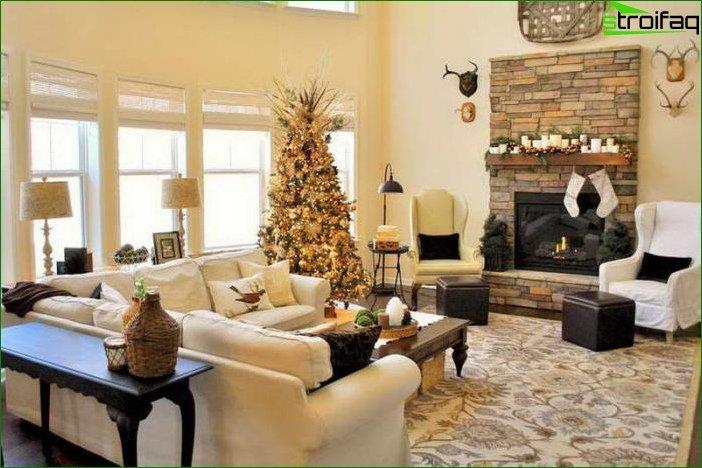 In this photo we see a living room in a classic style with a real closed fireplace, lined with bricks. What is not a hunting lodge of a nobleman?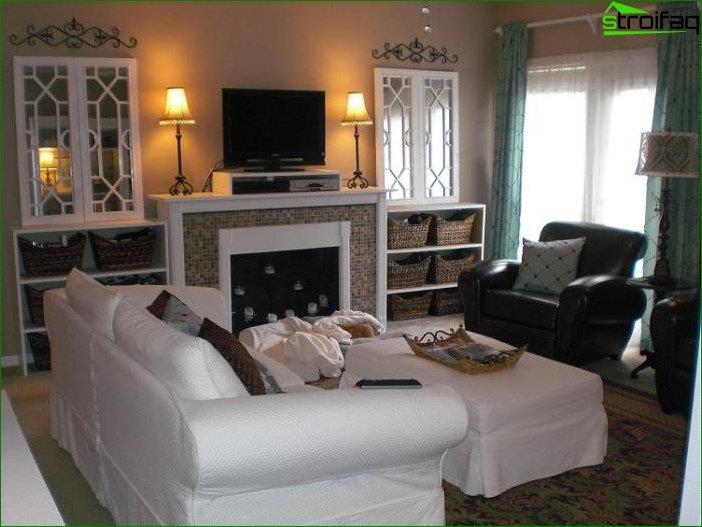 A small room can also be decorated with a decorative fireplace. Retro furniture, lamps, original mirrors imitating windows create an atmosphere of a cute rustic living room for a narrow circle. At first glance, the fireplace seems real, but this is only a successful styling..
This picture shows a modern living room with an electric fireplace and a flat-screen TV on the wall. In this case, the fireplace does not even remotely resemble a hearth, which gathers relatives and friends around itself. It is "cold" and carries no meaning..
Choose a wallpaper
More recently, the sticker on the wall was a mandatory part of apartment renovation. Now we know that smooth light plain walls can be beautiful on their own. However, the choice wallpaper for the hall so great that it makes you want to try them on the walls of your home. Moreover, most ordinary people find a room without wallpaper not cozy enough. However, you should not argue about tastes.
Add a peppercorn to the interior, give the room a personality – this is the main goal of any design.
We already know that the way of decorating the walls depends on the chosen style..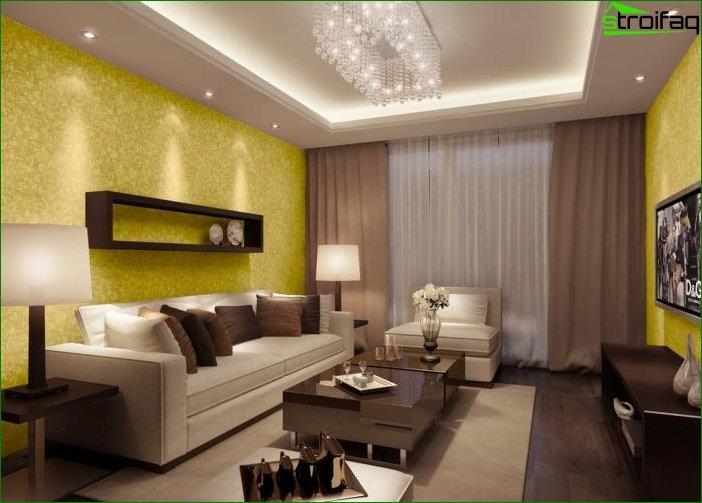 In this photo, green wallpaper with a picture "dilutes" a modest interior in the style of minimalism. This is a bold decision that reflects a creative imagination..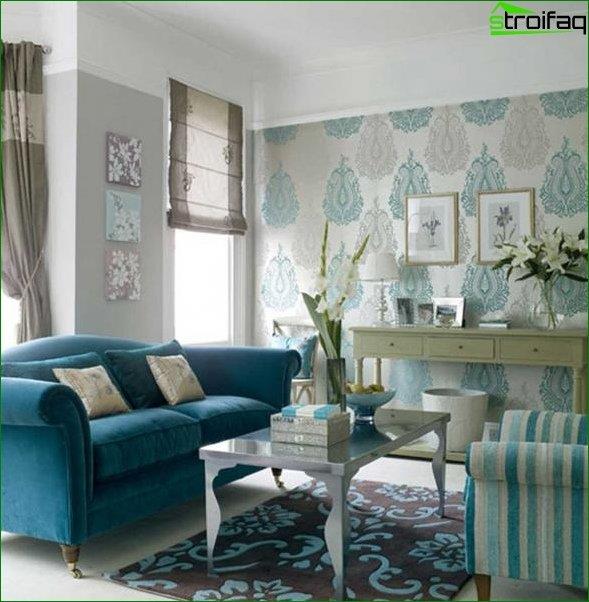 Connoisseurs of classic style should not ignore vinyl wallpapers of pastel colors and delicate shades with patterns. They necessarily have something in common with the color of furniture and carpet, but do not merge with them, but only beat.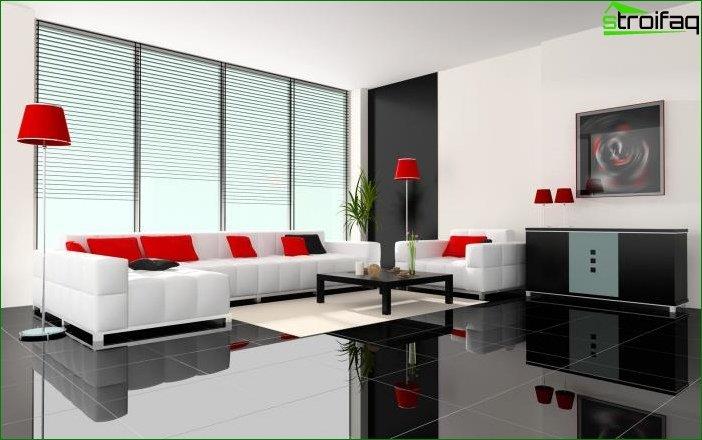 High-tech style is generally not typical for wallpapers, and this also has its own harmony.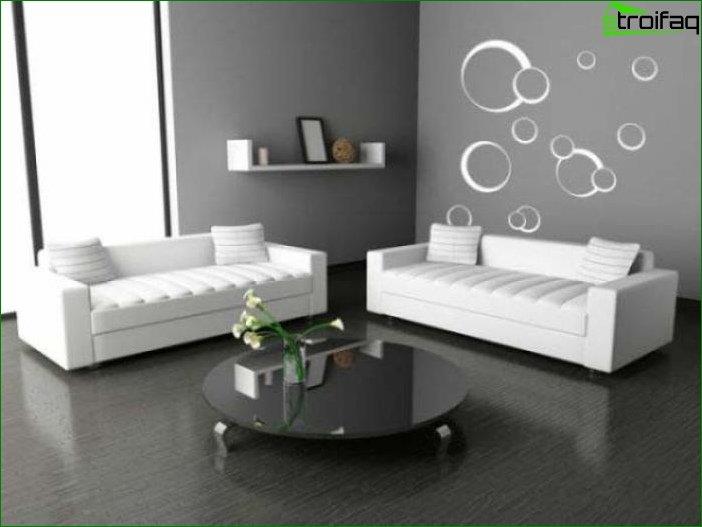 Here we see an example of the style of minimalism, where gray-tone floor wallpapers are complemented by a graphic pattern in the form of circles of various shapes. Without them, the design would seem incomplete, unsaid.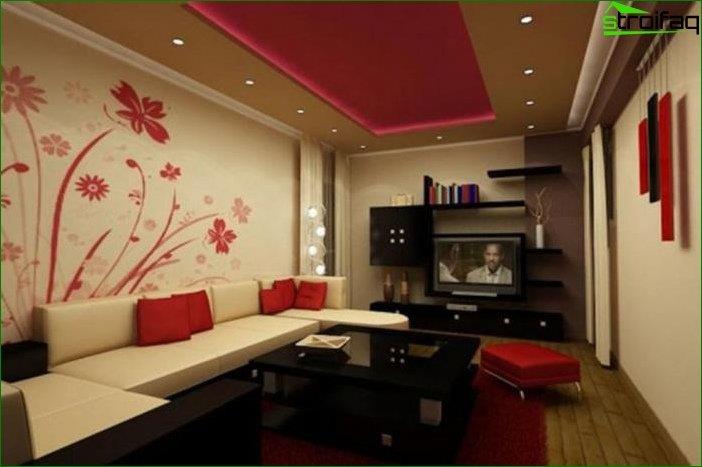 Very relevant wallpaper in the form of a huge pattern throughout the wall. A large number of red and black tire the look, this design is suitable for very dynamic personalities.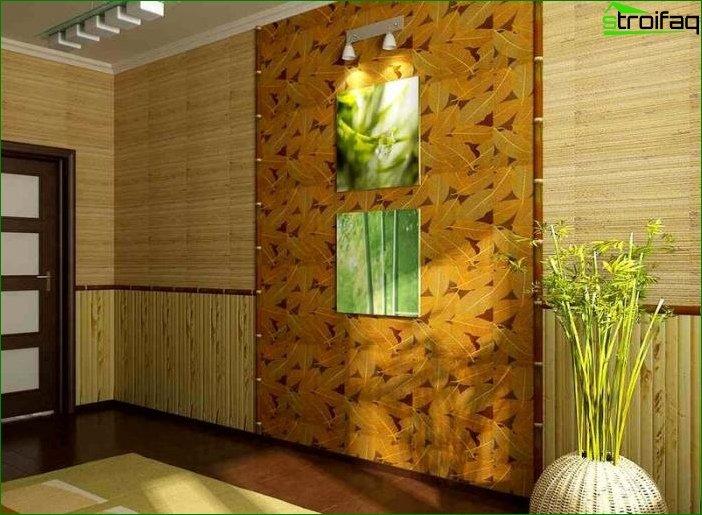 Recently, for the design of the living room, so-called natural wallpapers have been used, which are made from cork, bamboo, straw, reed, etc. This is an environmentally friendly material, pleasant to the touch and easy to clean. But its main advantage, of course, is extravagance. Living room with such wallpaper looks unusual and stylish..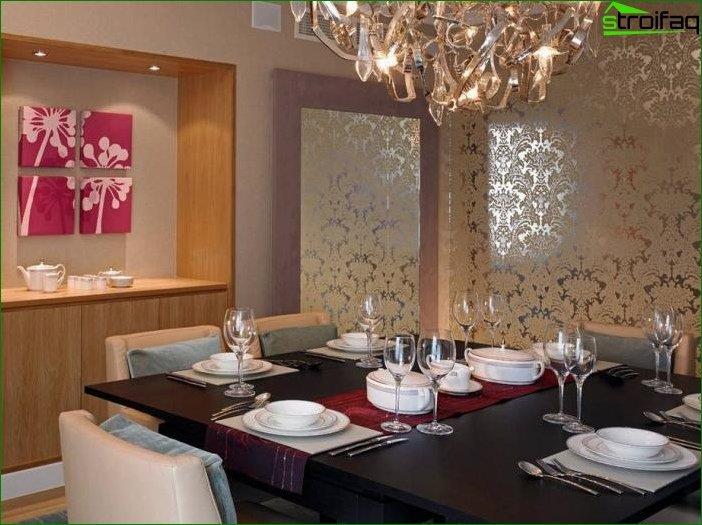 Thanks to them, you can create an exclusive luxurious design of the living room. They will add gloss to the "dry" modern style, as well as decorate the high-tech living room..
The main types wallpaper for living room:
vinyl;
non-woven;
natural;
metallized.
Another type of fashionable wallpaper is metallic wallpaper, which is made of thin aluminum foil..
Ceiling design
The ceiling should "shine" in the same way as the entire living room as a whole. To overlook it means to make a big mistake.
The ceiling can be just white and even, or it can be a real sculptural composition. It all depends on the taste and perceptions of beauty.
Most often we meet such types of ceilings:
tension;
outboard;
painted;
treated with decorative plaster;
Each ceiling has its own advantages and disadvantages. Let's look at the photos.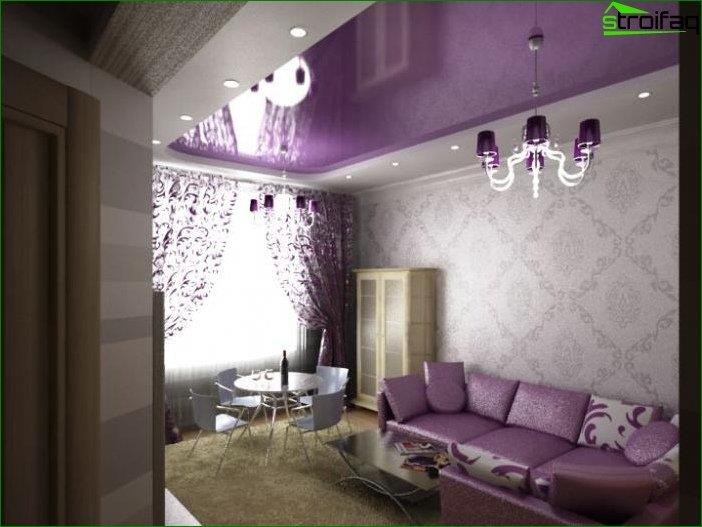 Stretch glossy ceiling in purple looks unusual, this idea is interesting and, of course, acceptable for the design of the living room in lilac colors. For some, it will be "cool", and someone will be horrified at the dark "crushing" ceiling.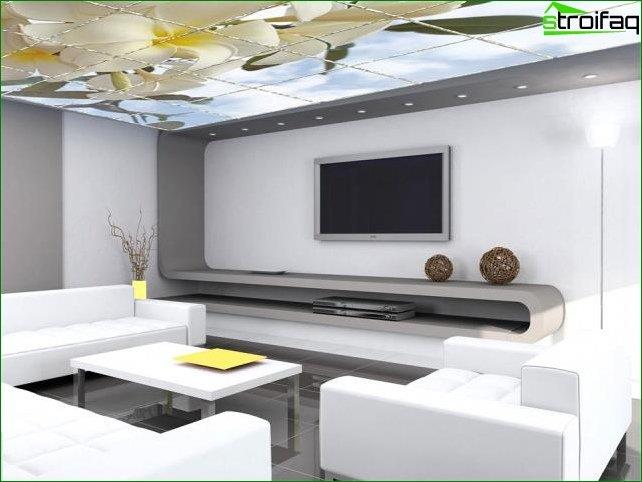 This photo shows an example of a very spectacular suspended ceiling in the form of a picture. This option is good for a large room with a high ceiling, in a small living room it will look ridiculous.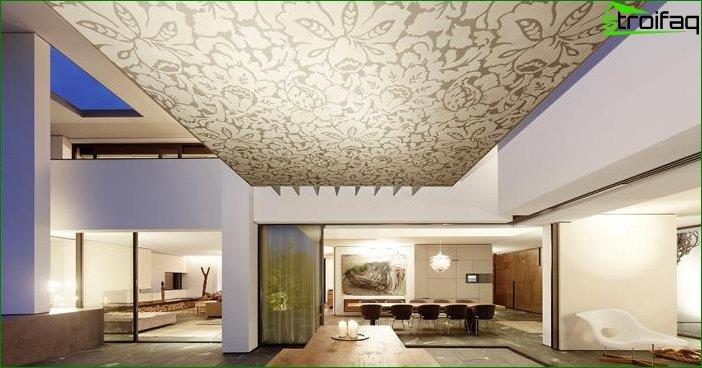 Beautiful and expensive have always been and will be ceilings painted with decorative plaster. Drawings and colors can be chosen for every taste. With the help of such a ceiling you can create a bright individual interior.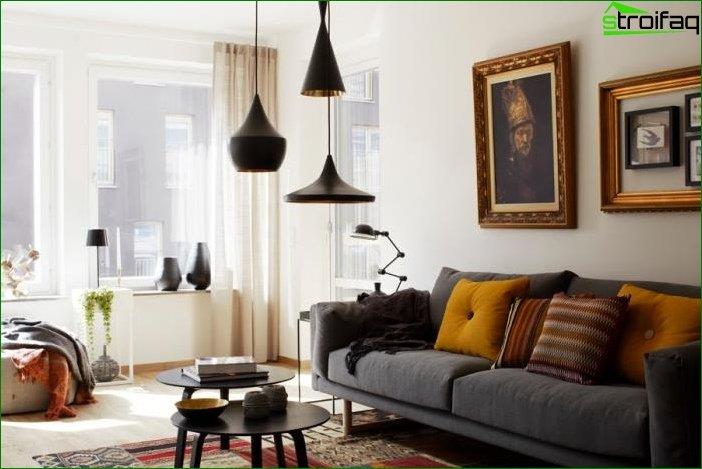 A simple whitewashed and painted ceiling always looks good!
As for the purple ceiling, then a white or light lilac ceiling would have looked more "soft" and would not bore the look. However, we repeat that the design of the house reflects the inner world of the owner, and such a solution can have its fans. If there is no money and desire to invent something, opt for it. Such a ceiling will definitely not ruin anything!
We follow simple rules:
We avoid complicated options for a small living room (hanging, two-level).
We respect the unity of style.
Prefer neutral colors.
Kitchen-living room interior
Fans of space and convenience prefer to combine living rooms with kitchens. This is done in both small and large apartments. The division of the room into functional parts is conditional. To do this, they came up with designing zones in different colors, multi-level ceilings or floors, as well as decorative partitions or using furniture.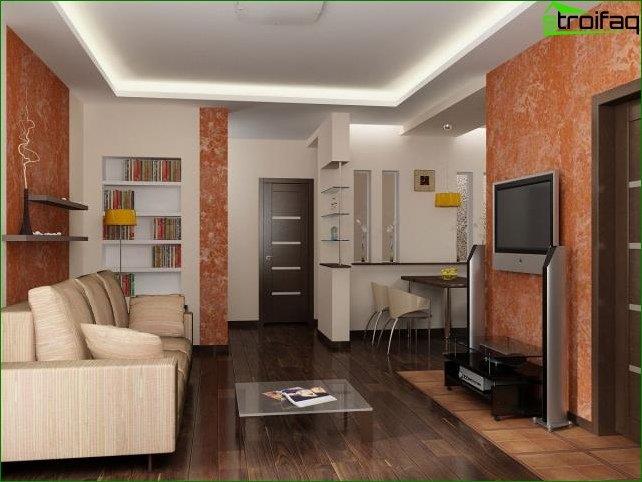 In this photo, the recreation area is made in orange and the kitchen in white. A small partition separates it from the hallway, serving at the same time as shelves for all sorts of details. Everything is very thoughtful and convenient..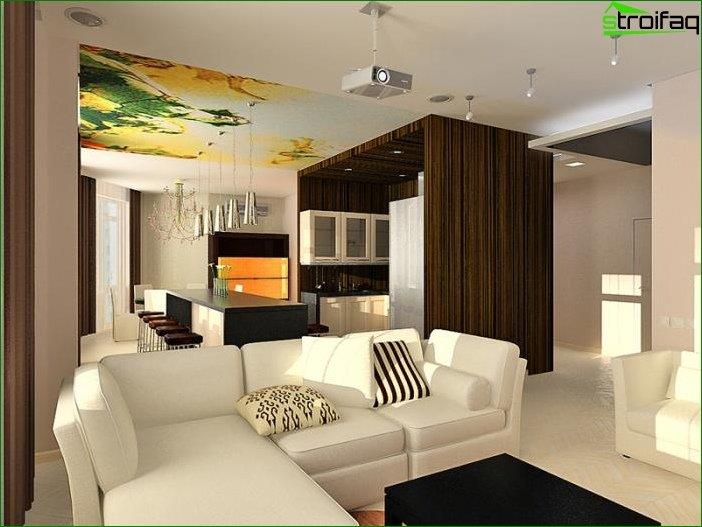 This is an example of design where the kitchen and living room are divided in half using a sofa. In addition, the ceiling of the kitchen is glued with bright wallpaper and ceiling lamps of a completely different style hang from the dining table than in the room. Here we see the combination of kitchen, dining room and lounge.
More photo of the kitchen-living room.
Living room-bedroom decoration
If the kitchen in the one-room apartment is isolated and the room is quite large, then we can safely allocate a place for sleeping and for receiving guests in it. Making it as easy as a living room kitchen.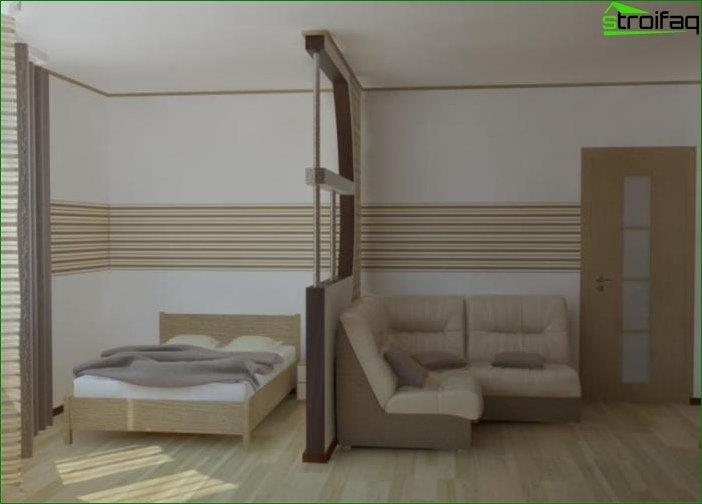 For example, we make such a simple partition. Stylish and tasteful! It will be no less original to put a bright screen between the sofa and the bed. This is the cheapest but no less powerful option..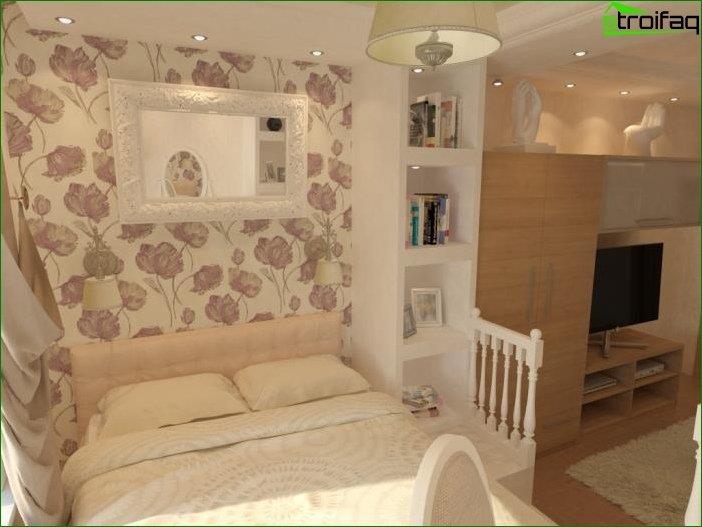 It looks very nice combination of different styles in the design of the bedroom and hall. A mirror in a frame above the bed, flower wallpaper, draped curtains, a chandelier with a round shade, a railing – all this belongs to the classical style, but the living room is a normal modern style.
Classic style living room design
Only wealthy people can afford classics in the interior, because a prerequisite of this style is the use of only natural materials.
The main features of the style:
parquet;
furniture made of expensive wood;
upholstery from velvet, silk, velor;
mirrors in carved frames;
sculptures;
decorative columns;
fireplace;
wallpaper from textile or plastered walls.
It is not necessary that all of these elements are present, just a few are enough to consider the interior a classic.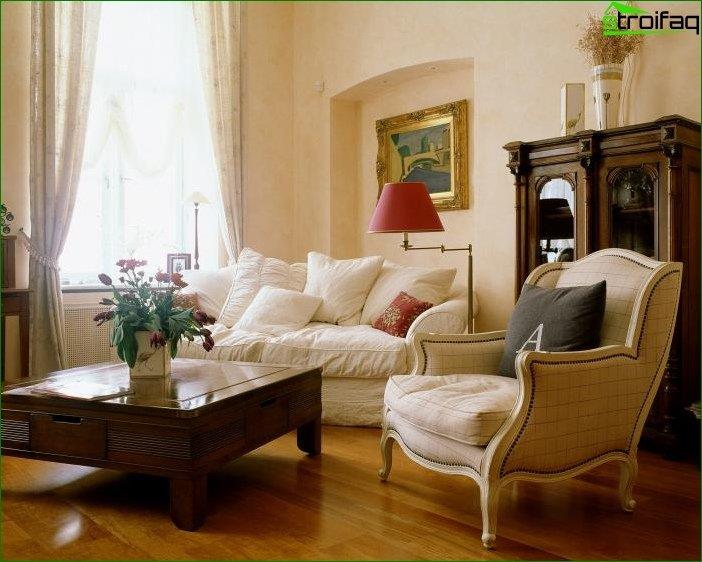 A white soft sofa, a wooden armchair, an old sideboard, a picture in a gilded frame will not allow to confuse this design with any other.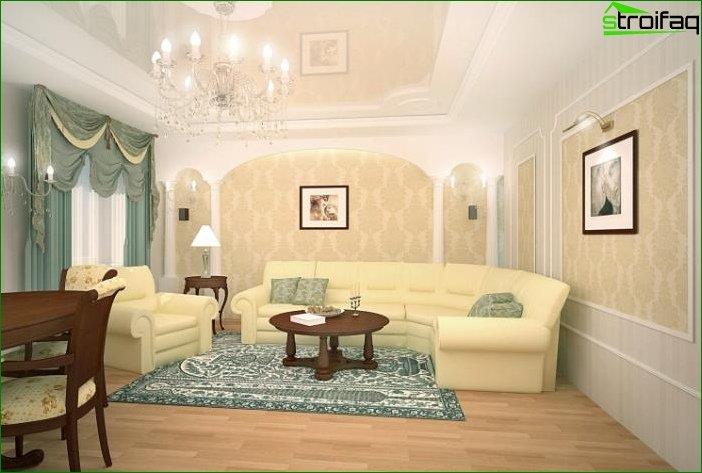 And in this living room there are also decorative columns, a luxurious crystal chandelier and characteristic curtains with a lambrequin and drapery.
High tech living room
What is typical for a living room in this style?
metal and glass materials;
clarity of lines and shapes;
smooth and shiny surfaces;
modern technologies;
minimum jewelry.
This setting resembles a plot from a fantasy world. Everyday life of a person contains a bunch of details and details that do not seem to fit into this design.
But this is a matter of taste and perception of the world. Perhaps a creative, spontaneous person in such a framework will be difficult, but a hi-tech is just right for a pragmatic, disciplined person.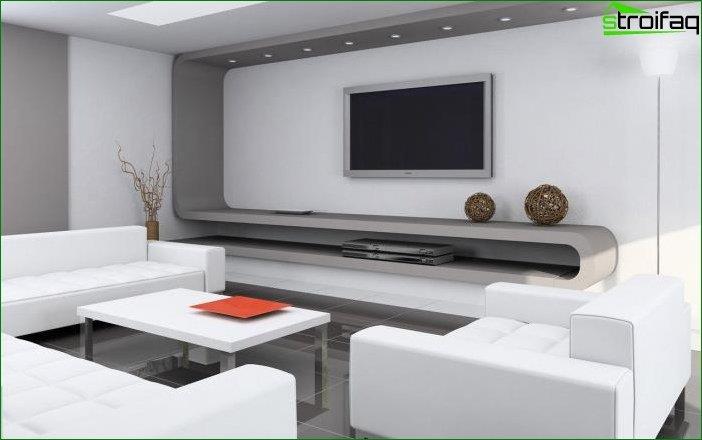 Here we see a slight attempt to embellish the decor with a bouquet and balls of different sizes. Here you can add bright pillows, a pair of vases or a table lamp.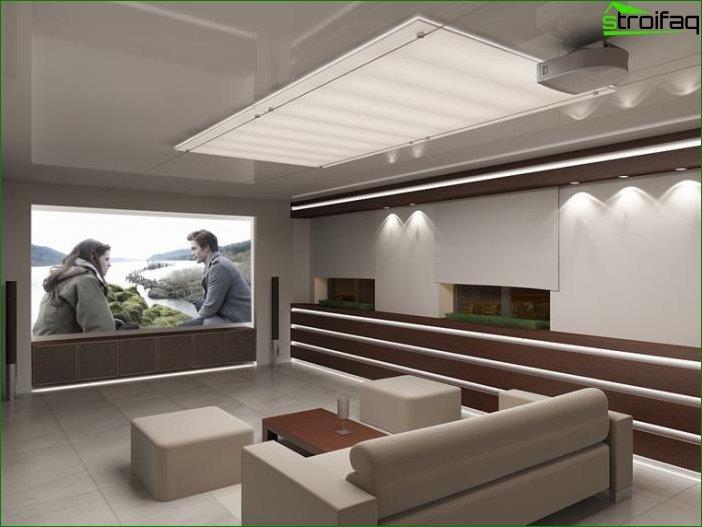 Such an interior is suitable for a home theater. In this case, everything is subordinated exclusively to the functionality of this room.
Interior design in a modern style.
In general, modern style is a mix of minimalism, modern and hi-tech.
Including all their features, it is a design where there is a functional concise furniture, simple decor, contrasting tones, stylized drawings and ornament are acceptable, as well as simple geometric shapes.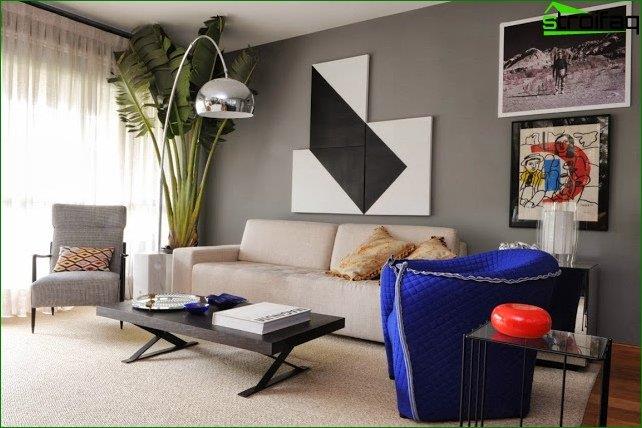 Ways of decorating the various living rooms
Curtains
Wallpaper
Ceiling
Furniture
Living room in a private house
dense, multilayer or blinds
various options are possible
multi-level, with a chandelier and spotlights
large, impressive
Living room in Khrushchev
light, translucent, neutral
light and pastel shades, preferably plain
painted or stretched (not multi-level)
compact
Living room-kitchen
jalousie, Roman curtains or light tissue
contrasting
regular or tension
compact, multifunctional
Living room-bedroom
light curtains with blinds
bright, plain
any
compact, multifunctional
Design of living rooms of different sizes
Living room 16 square meters
What can you advise the owners of such a living room? The choice of furniture and decoration allows a very profitable use of space. Let's look at examples of the interior, starting with the simplest.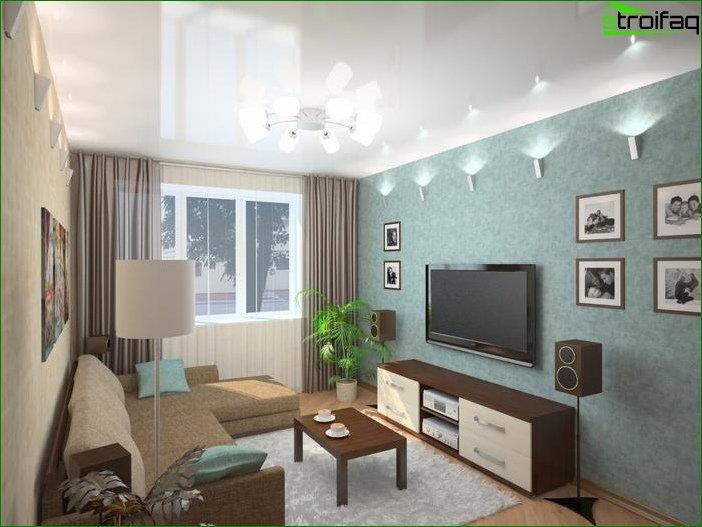 This design has its own zest: interestingly selected lighting in the form of wall lamps. They are reflected in a glossy stretch ceiling, and the effect is a high, multi-level ceiling. Photos in dark frames on one wall and colorful paintings on the other make the design complete.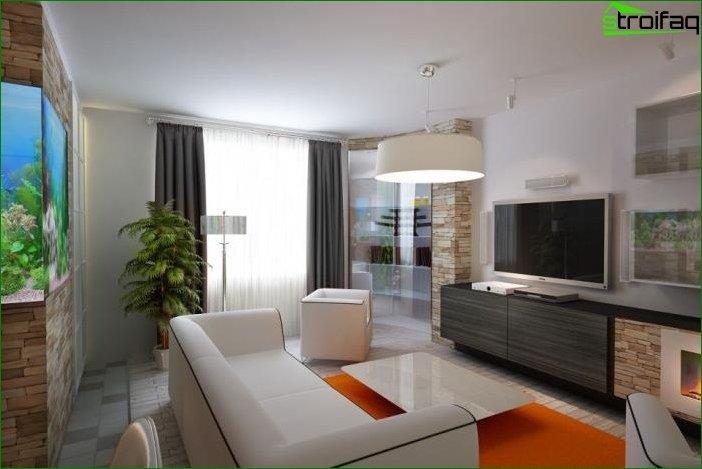 The following photo shows a more complex design. One partition is converted into a stone wall with an aquarium. Stone built-in closet with glass doors and a fireplace.
In the first photo, all the rules of the design of a small room are observed:
light shades (two main colors are beaten: beige and blue);
compact furniture;
even plain canvas curtains.
The second photo is based on the hi-tech style:
a rock;
glass;
plastic;
emphasized simplicity of wall and ceiling decoration.
No design will be memorable without individual elements. In the second project, the significant details are the aquarium and the cabinet. Such an interior is unlikely to go unnoticed.!
Living room 18 square meters
If to 16 square meters. m. add two more get a good room! One and the same area may look different if it is square or rectangular. Let's consider both options.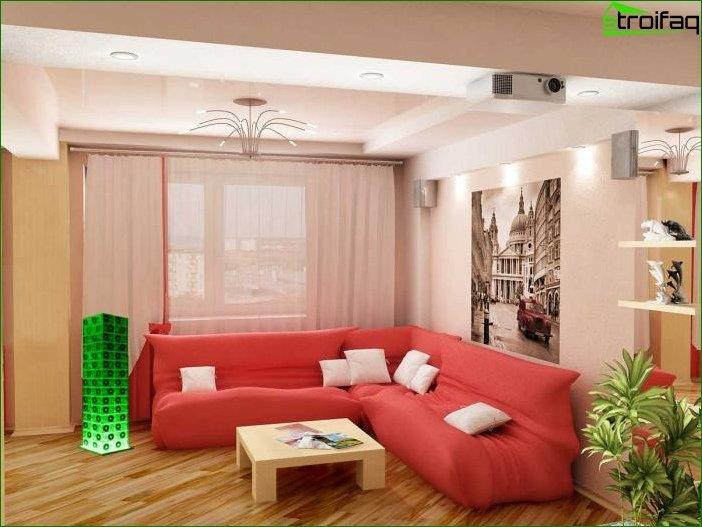 This living room easily fit a corner sofa, a table and an extravagant lamp. And the place seems a lot more. Such a layout is certainly beneficial. Coral sofa and photo wallpaper with urban landscape look very elegant..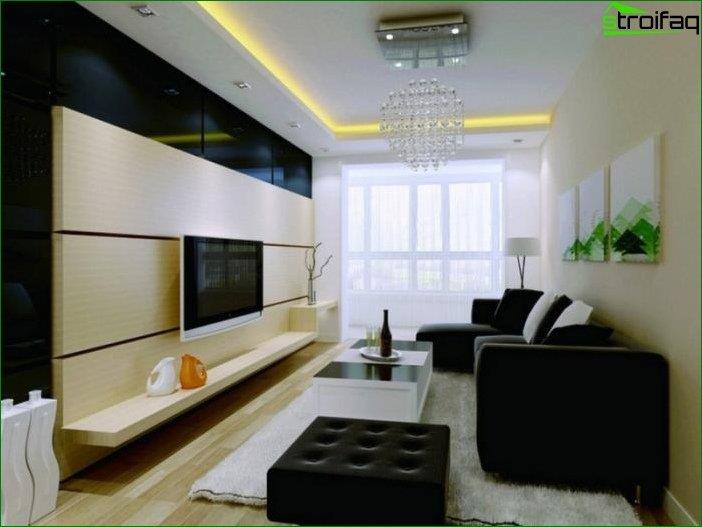 An elongated room is much more difficult to design. Furniture can only be placed along the walls, and in the middle of the living room there is very little space. Nevertheless, the room does not seem crowded and crowded. This is achieved thanks to the right furniture, wall and ceiling decoration.
In the first version, it is also worth noting that the green lamp echoes the living flower. The color scheme was chosen very well: soft discreet shades look vibrant, but do not bother looking.
In the second example, the lead, of course, is the window. If it were covered with curtains, the effect would be a dark, gloomy room. And so the snow-white window literally glows and illuminates the whole situation. This is important when designing in black and white..
Spot lighting "dilutes" heavy furniture (like on the second one). As a result, the living room looks stylish and a bit mysterious..
Living room 20 square meters
The larger the room, the easier it is to breathe! And the designer as well. You can safely use various color schemes and arrange furniture freely.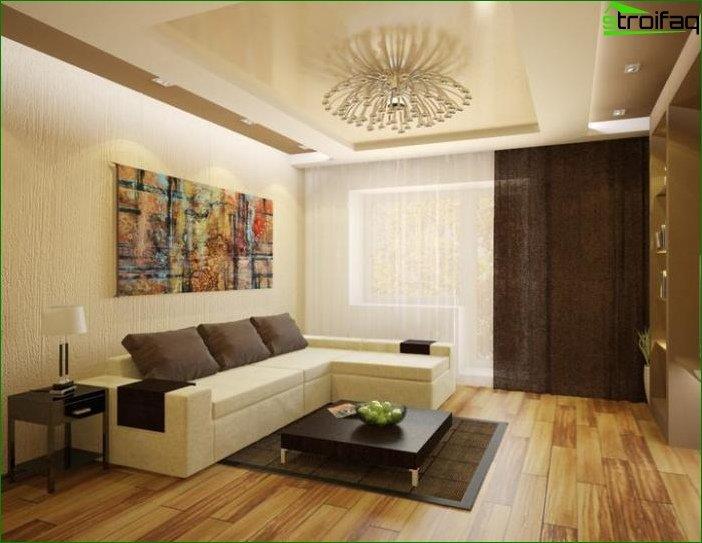 Brown color is associated with comfort, stability and prosperity by many, so it is welcome in the interior. In the living room, several shades from beige to chocolate are played. Smooth transitions create a complete, complete picture..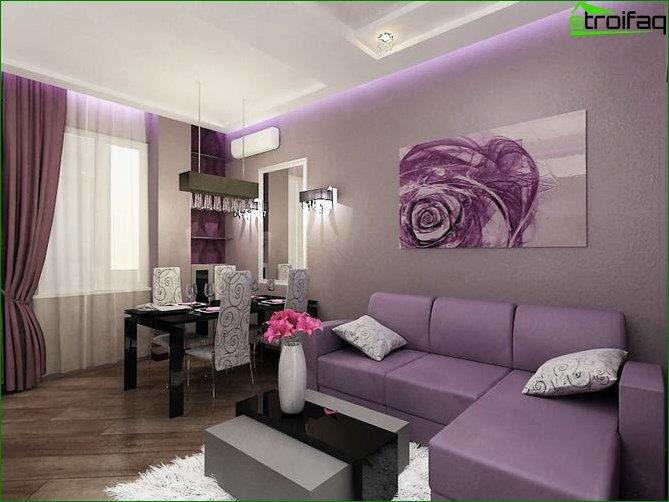 This is an example of a "cold" interior. Several shades of lilac with gray create an elegant and fairly formal atmosphere. The dining area is in gray, and the relaxation area is lilac. In general, there is also nothing to complain about..
In both versions, perfectly matched colors, laconic furniture and decor elements. Everything is very concise, modern and functional..
We choose curtains for the hall
We will select curtains for the general interior of our room. Agree that the blinds will look ridiculous in the classic living room, and draped curtains with golden tassels – in a modern design.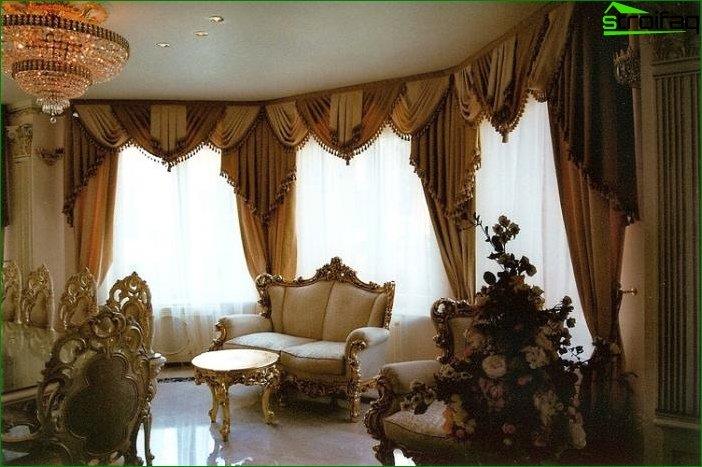 This is a large classic-style living room with a bay window. Accordingly, luxurious golden curtains are chosen to match the furniture..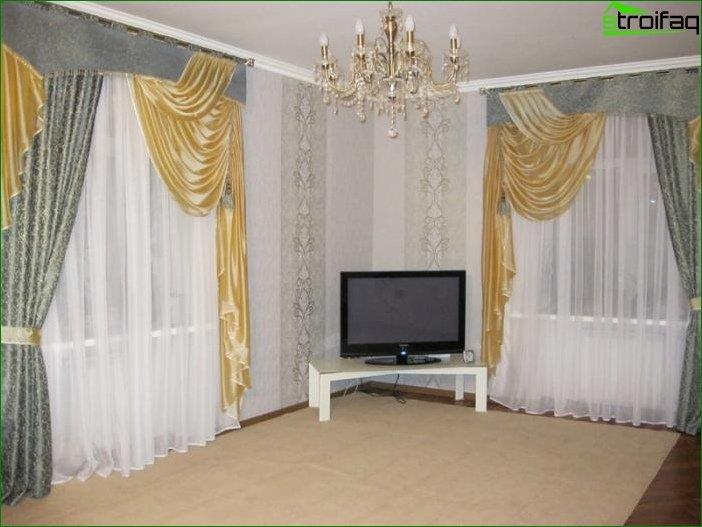 In the following photo, a more modest classic interior of a living room with two windows.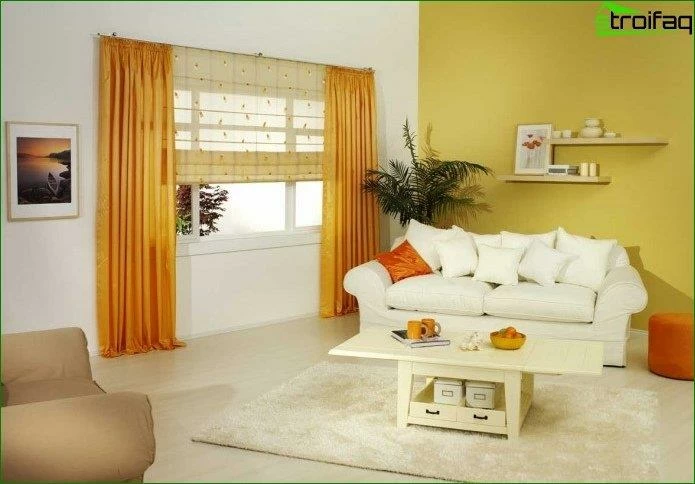 For the living room in retro style, bright curtains are combined with wall decoration, and Roman curtains. In this design, the emphasis is on the window.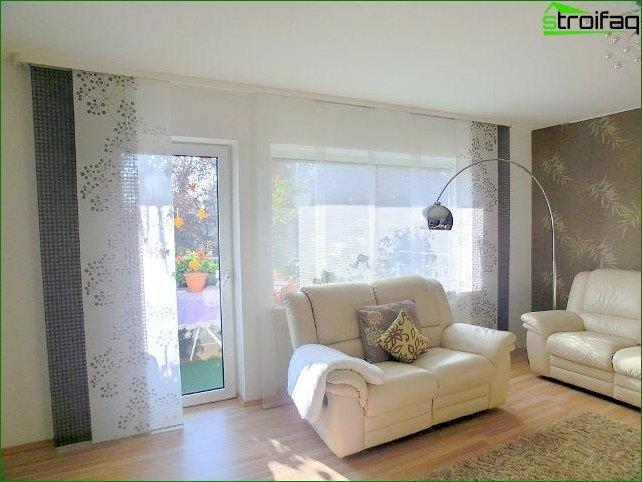 Samples of curtains in a modern style. Recent Japanese curtains.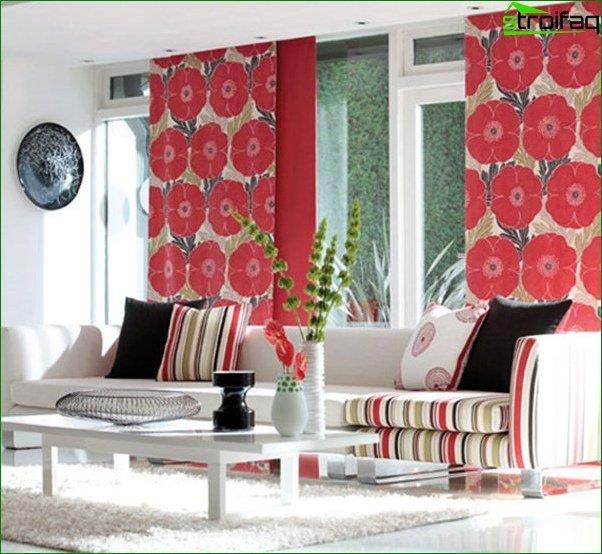 And another example of Japanese curtains.
In this video you can see examples of curtains for the living room.
In conclusion, we can say that there are no taboos and strict rules in the design of the living room. Any solution that suits your taste is acceptable. Favorite color and style you like can be adapted to a house of completely different types and sizes.