Which wallpaper is better to choose for the hall, expert advice. Selection of the best photo design wallpaper for the hall in the apartment
For decorating the walls of the halls, wallpaper is most often used, the most affordable and easiest to use material. But regardless of the taste and benefits, you should adhere to several rules for choosing a wallpaper, so that the end result will please and not disappoint you. With our help, you can navigate a huge assortment of wallpapers, choose the most suitable for you in all respects, avoid mistakes that are most often repeated when glued.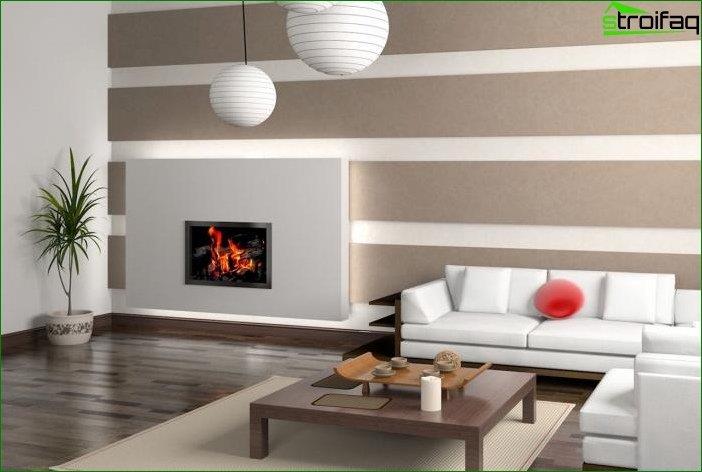 Content
Types of wallpaper for the hall
paper. Most popular in the last century. However, then they were the only ones. Now they are in demand only because of their cheapness and huge selection. Can be glued in rooms with low humidity.
vinyl. Due to its qualities, it is most often used in the corridor and in the kitchen. They are rarely used in the design of the hall due to the small assortment and poor air permeability. A variety – silk-screen wallpapers, in the upper vinyl layer of which silk thread is added.
non-woven. The most popular modern wallpaper. Used as standalone wallpapers and as a basis for painting. The perfect combination of price and quality. Read more about wallpaper for painting!
acrylic. An alternative for the price of paper. And at the same time more durable and moisture resistant.
textile. Two-layer wallpaper. Natural fabric is applied over a paper or non-woven backing: linen, cotton, silk. Today, there are two types of textile wallpaper – filament and solid fabric. There are several varieties of textile wallpaper: jute; silk; linen; velor; felt.
photo wallpaper. Ideal option to make any room individual and inimitable. In addition to aesthetic pleasure, they solve many design problems in the visual editing of space imperfections..
metallized. They appeared as protection against electromagnetic radiation. Reliably shield radiation from tele-, radio devices, cell phones behind the wall, neutralize radiation from power lines. Consist of two layers – the bottom paper and the top of aluminum foil.
liquid. Wallpaper of the future. Initially, they are in powder or liquid form. They are diluted with water-based paint and applied to the walls with a spray gun or roller. Created on the basis of cotton, cellulose, textiles.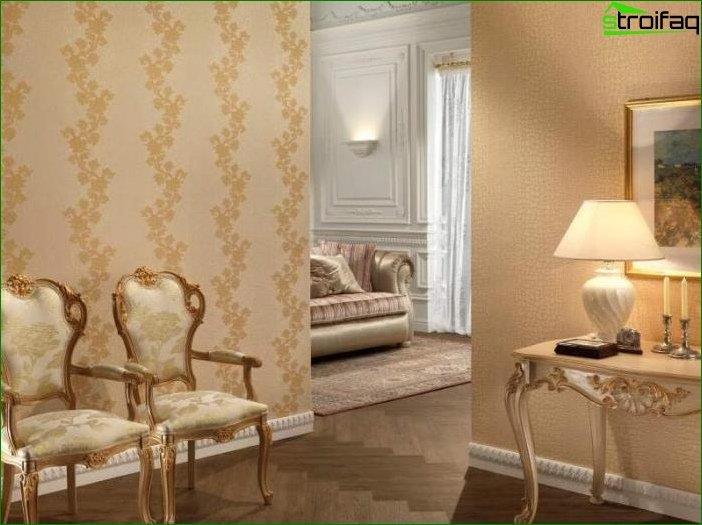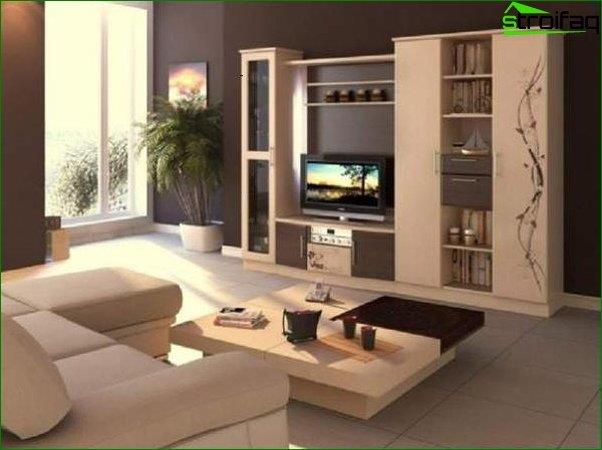 See more hall design photos.
Below is a table of the advantages and disadvantages of each type of wallpaper
| Types of Wallpaper | Advantages | disadvantages |
| --- | --- | --- |
| Paper | Cheap, easy to glue, a large selection, hide small flaws in the wall | Wash quickly, do not wash, burn out in the sun. |
| Vinyl | Durable, embossed, moisture resistant, have very interesting decorative qualities | Expensive, heavy in sticking, airtight, have a specific smell that is felt several days after sticking. |
| Non-woven | Reasonable price, environmentally friendly, "breathe", easy to wash, can be painted, hide cracks in the wall | Small assortment, transparent, medium sound and thermal insulation |
| Acrylic | Eco-friendly, "breathe", practical, washable | Small assortment, afraid of moisture |
| Textile | Natural, good sound and heat insulation, antiseptics, very beautiful, no joints | Very expensive, require professional gluing, dust collectors, strongly absorb odors, only dry cleaning |
| Photowall-paper | A wide range of images, original, universal. Acceptable price | They require professional gluing, do not hide the imperfections of the wall |
| Metallized | High level of sound and heat insulation, protection against electromagnetic radiation from television and radio devices, easy to care for, resistant to water, detergents | Very expensive, do not "breathe", poorly tolerate mechanical damage |
| Liquid | Environmentally friendly, high sound insulation, do not fade; lack of seams and joints | Dear, little choice, you can't wash |
The choice of wallpaper based on furniture design
If the furniture is light
The choice of wallpaper in this situation depends on your imagination. You can play with color and texture. Focus on contrasts. A wallpaper with a large pattern looks very impressive and original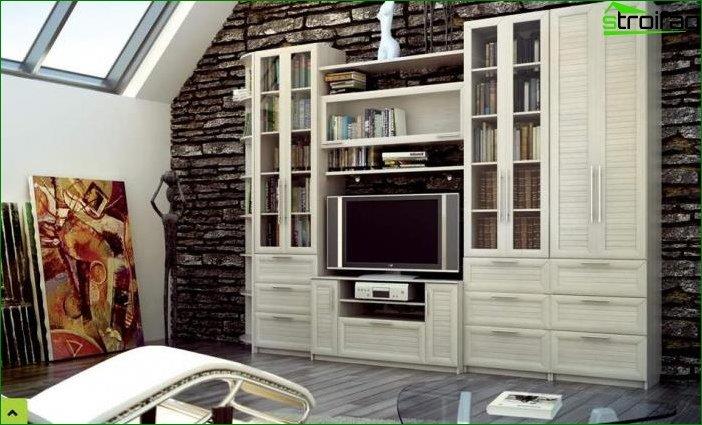 In the photo above, an example of a hall with bright furniture.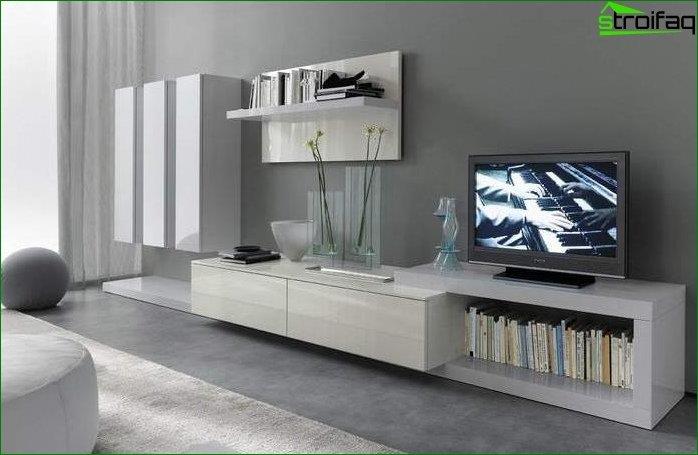 If the furniture is dark
Wallpaper should be lighter and not "flashy". Undesirable choice of wallpaper with a large pattern. You can add an accent element in color in tune with the color of the furniture.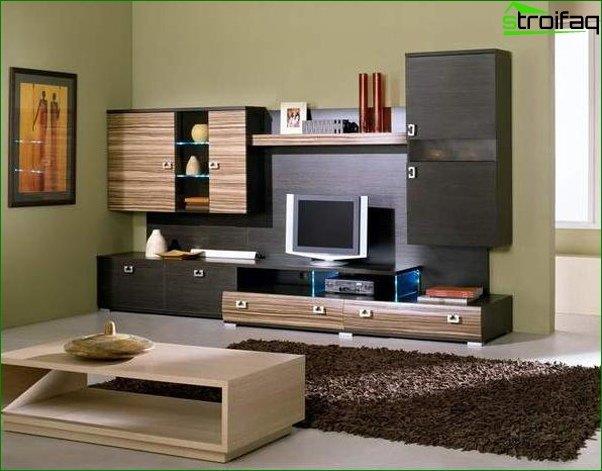 In the photo above, an example of a hall with dark furniture.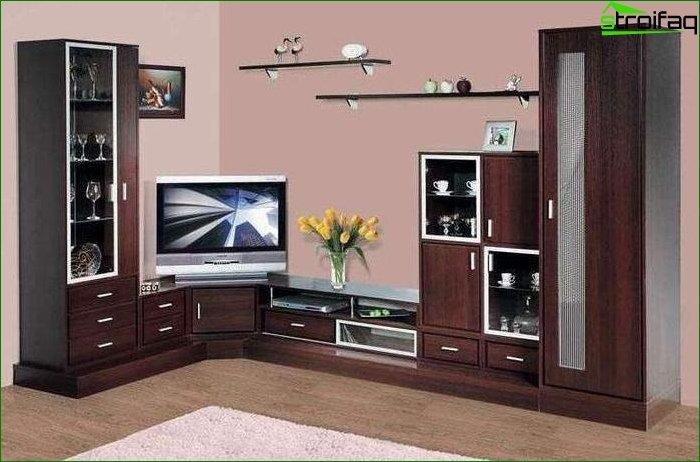 If the color of the furniture is very saturated and bright
Wallpaper should muffle it a little. If you are a supporter of bright contrasts – use wallpaper complementary colors to the color of furniture. Then they will strengthen each other.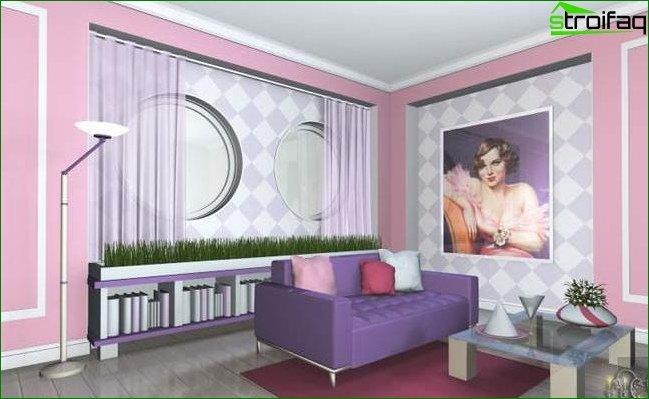 If the furniture is two-tone
Often, furniture manufacturers use two colors in their designs. Such furniture is suitable for a neutral color of wallpaper, lighter or matching the color of the facades. The contrasting color of the furniture will create an interesting effect, showing only contours in the merging color of facades and walls..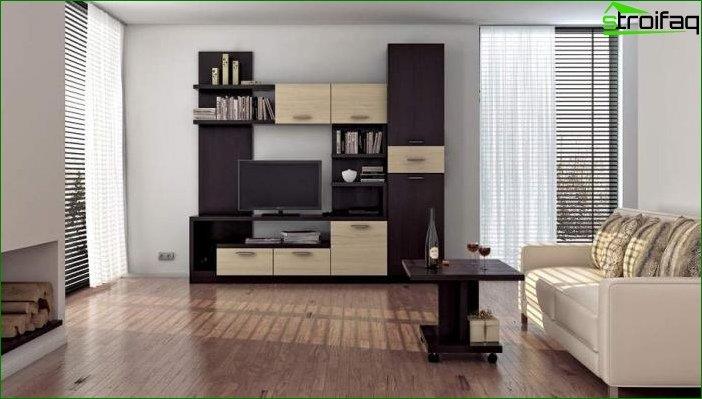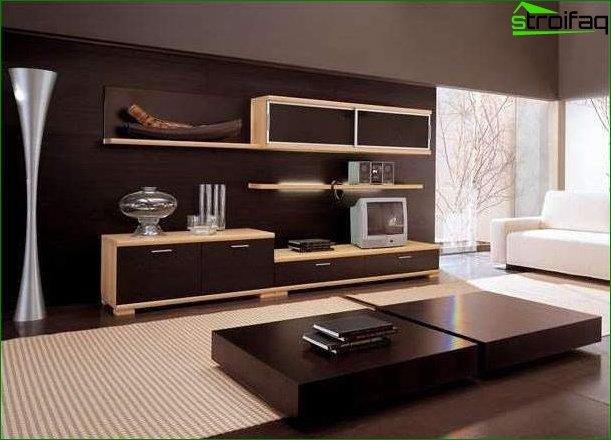 If the furniture has more than two colors
In this case, the most optimal option is a neutral gray color of the wallpaper, since the emphasis in the room is supposed to be on the furniture itself. It is desirable that the picture was small and discreet or completely absent.
The choice of wallpaper, taking into account interior styles
Classic
Not always the area of ​​the hall allows you to create a classic interior there in its textbook sense. And in this case come to the rescue wallpaper, which will become accent in the decor and will not make you doubt that we are in the classics. After all, they are distinguished by bright colors and unusual patterns: monograms, damask, royal lilies floral ornament.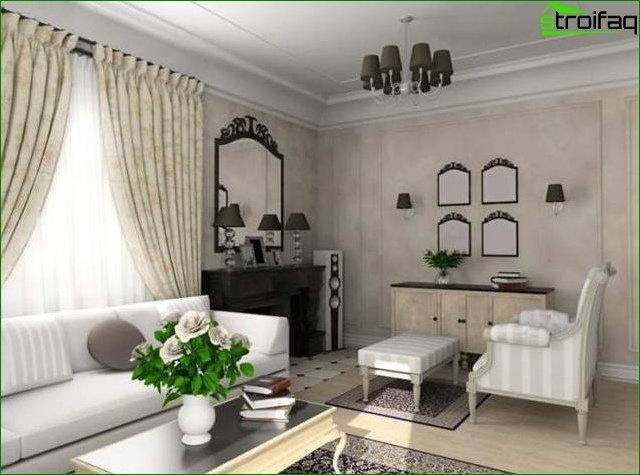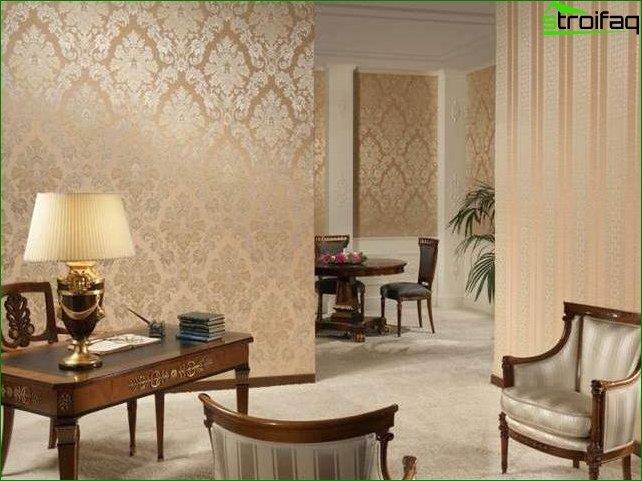 Modern
Warm, pastel shades of Art Nouveau wallpaper color mesmerizing plasticity and grace of the lines of their ornaments. Common topics: plants, waves, swans, wind.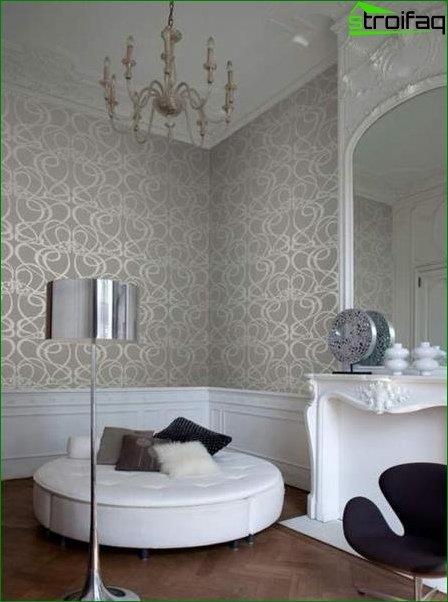 Provence
The French style, named after the province, is distinguished by its simplicity and modesty. Wallpaper in Provence style with light, warm shades with a floral pattern reminiscent of an old chintz. Along with the straightforward composition of all kinds of bouquets and flowers, there is naturalness and similarity to the original. They are characterized by plenty of sunlight and cheerfulness..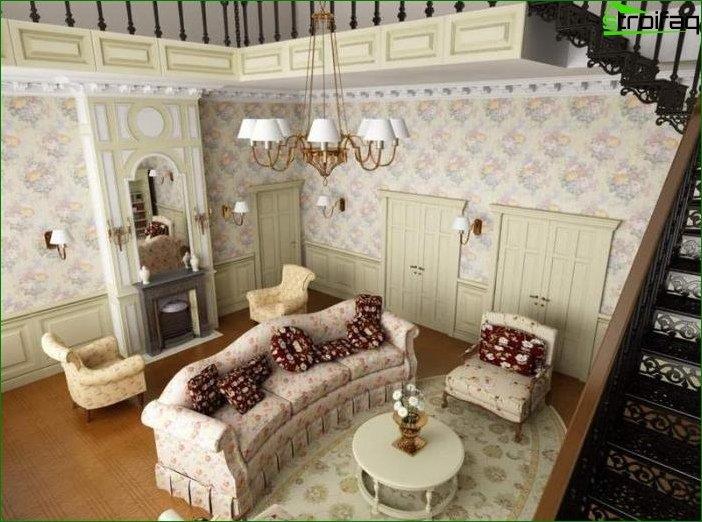 Loft
Translated from English, this style denotes an attic. The task of wallpaper in this style is to create an atmosphere of old walls, contrasting with modern furniture. Necessarily in the room the presence of the unplastered part of the wall or its successful imitation in the wallpaper. Wallpaper itself imitate natural plaster.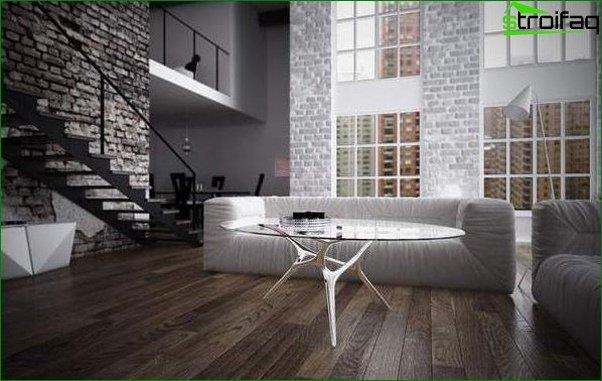 Country
A style of simplicity and nostalgia for a simple village life. AND wallpaper do not differ pretentiousness and complexity of the picture. Light pastel colors in a cage, strip, discreet geometric pattern or modest flower.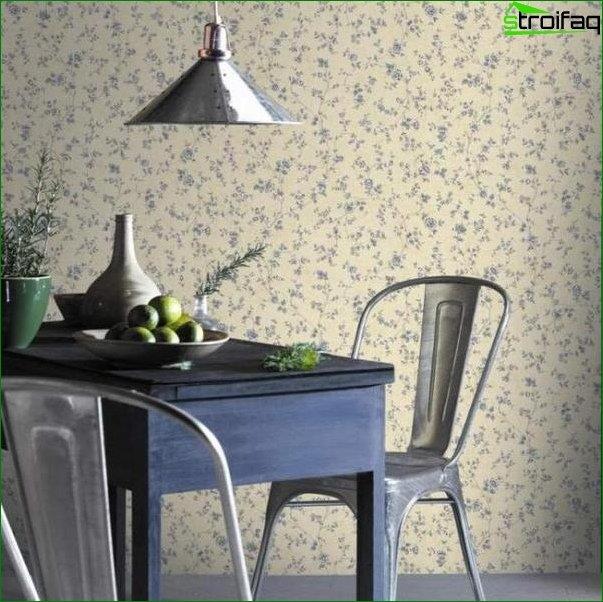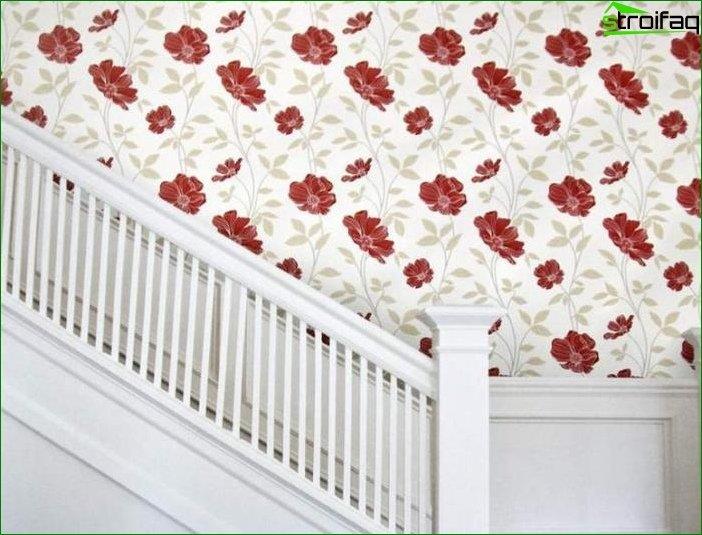 Japanese style
The location to everything natural in the Japanese style was determined by the material from which the wallpaper is made. This is rice paper, silk. The depicted drawings are always traditional, characteristic only of Japanese culture: fire-breathing dragons, blooming sakura, cranes or hieroglyphs. The color scheme, like life itself, is calm, peaceful, and relaxing..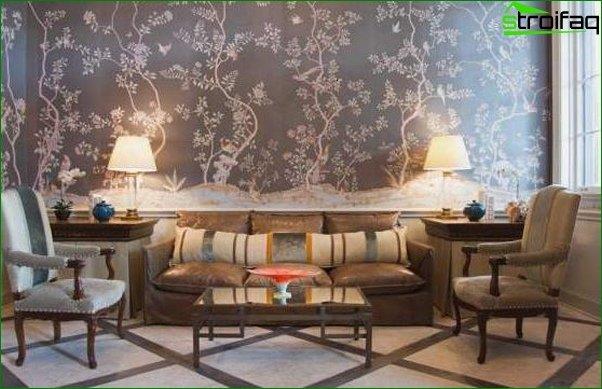 Read also about the choice of curtains for the hall.
Wallpaper color selection
The choice of the color scheme of wallpaper for the hall should be given special attention. After all, each color has its own influence on perception and, improperly selected, it is able to visually change the space or make the stay in the room not very comfortable.
Therefore, before deciding on the color of the wallpaper, please familiarize yourself with each of its values: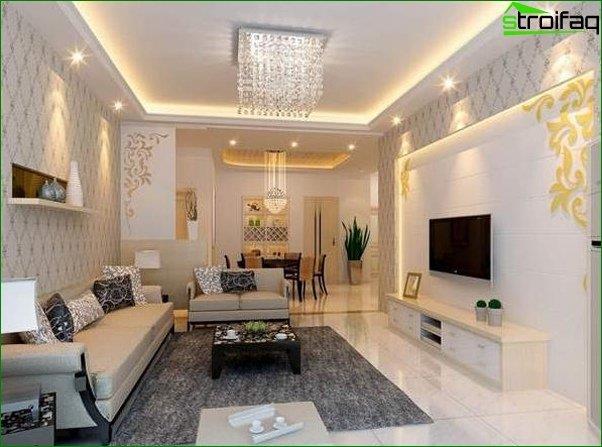 White is an active life-affirming color, a symbol of purity and chastity. It causes peace, peace. It is rarely used in its pure form. It has all kinds of shades, warm and cold. The interior is used as a neutral color, when the emphasis is on furniture.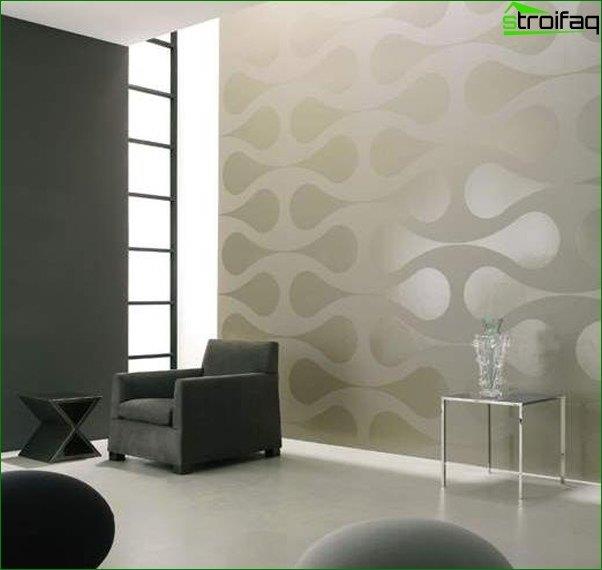 Black is a complex color, a symbol of power. The symbol of infinity. Excess black in the room causes drowsiness. It is more appropriate in the bedroom than in the hall. You can combine black with a different color for a bold solution and breakdown of space.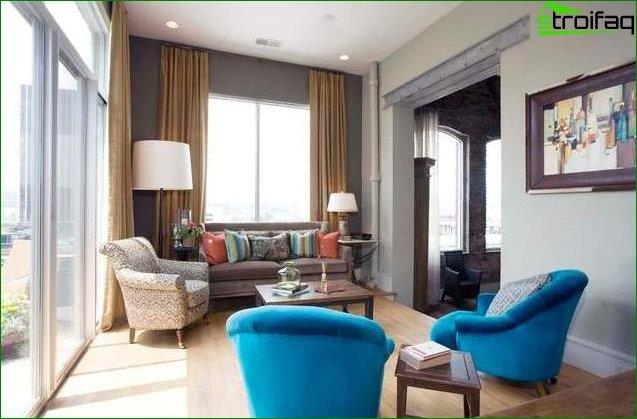 Gray is a neutral, universal color, consonant and harmonious with any other. Itself can be very interesting if you make a mix of several of its shades or textures. Of all the colors, it has perhaps the largest number of shades. May be a link between several inconsistent colors.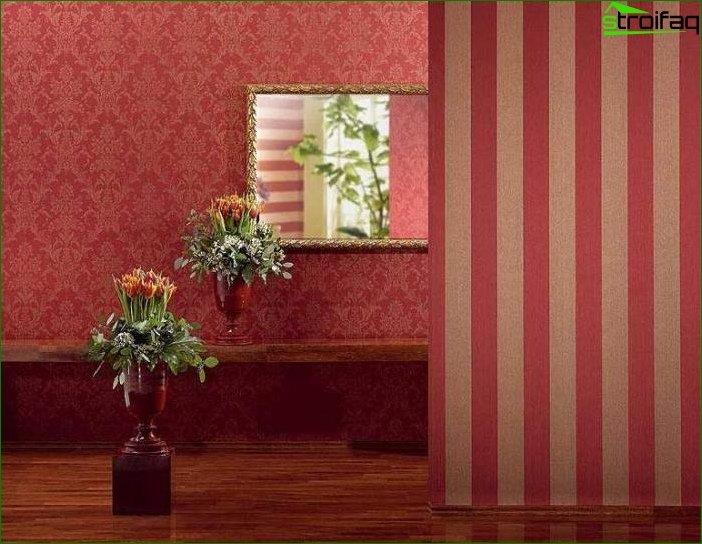 Red is the color of energy, momentum. It quickly tires and causes anxiety, palpitations, increased blood pressure. Very hot color, considered a symbol of passion. The interior is a sign of wealth and luxury. It is recommended to apply red color and all its spectral shades fragmentarily, as the strongest accent.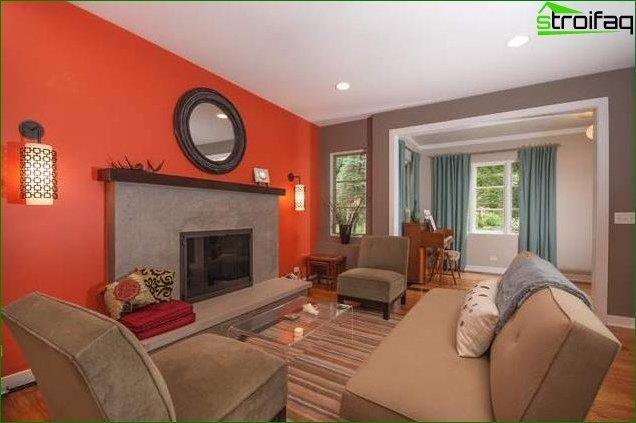 Orange is the most dynamic, fun. The effect is the same as from red. More suitable for youth.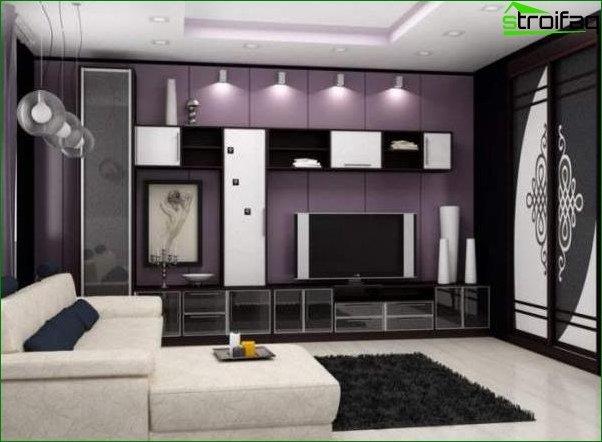 The violet color is depressive, inspires depression, acts depressingly on the nervous system. Pure purple is considered the color of solitude. But this does not mean that you should abandon it in interior design. Shades of purple combine wonderfully in bold decisions with other colors, more balanced and life-affirming..
yellow – cheerful, optimistic, stimulates vision and nervous system. Good medicine with a predisposition to phobias and low self-esteem.
green – calms, relaxes, suggests relaxation. The most neutral color, the most pleasing to the eyes. When yellow is added, it becomes joyful and life-affirming;
blue is a cool, phlegmatic color. Relieves stress and blood pressure. The color of peace and tranquility.
The combination of several colors also has its own meaning. Poorly perceived by the eyes of the combination:
Blue with white
Black with yellow;
Black with red;
Red with yellow;
Orange with white.
The dependence of the color of the wallpaper on the side of the world:
In rooms oriented to the north, preference is given to color from a warm range. Warm colors will not only create a feeling of warmth and comfort in the room, but also visually make the room larger. Paste your room with yellow, golden, coffee or orange wallpaper, and you will immediately feel that the room has become 5-7 degrees warmer.
In southern rooms, where there is so much heat, it is worth diluting it with cold shades of the color palette. These are all shades of blue and cyan, gray. This rule should be followed in rooms facing east, southeast and southwest. Important in such rooms to cover the walls non-fading wallpaper.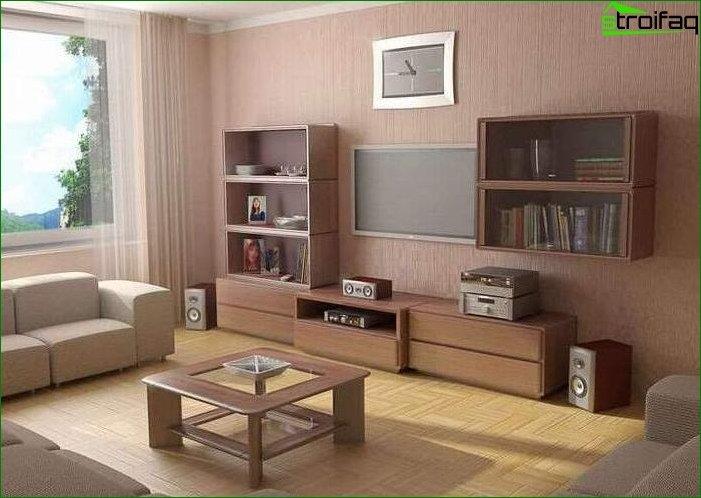 For a person, visual perception is very important. Sometimes he is guided only by him in order to make an impression, to cheer up or to increase his efficiency. People have long noticed that in a room with warm and bright walls it seems warmer even in very cold weather, and in the summer heat it is more pleasant to hide in a room with cold colors. The temperature is the same, but the eyes are cooler.
Each color, as a person, has its own psychotype. There are extrovert colors: yellow, orange. They give their energy away. And there are introverts. Blue, green are a source of potential energy. Only with the right color of wallpaper will you feel comfortable indoors.
Sometimes the color corresponding to the psychotype of the owner of the room strengthens its dominant qualities. In a yellow room, a sanguine or choleric can become more emotional, poorly focused. A melancholic or phlegmatic person in a blue or green room will become depressed and depressed. Because sometimes it's worth applying the law of physics, that opposite charges are attracted, and compensate for emotionality with blue calmness, and the tendency to daydreaming with yellow love of life.
Combined wallpaper for the hall
Some interior styles require the use of combined wallpaper. In Victorian style, for example, the walls are covered with horizontal stripes of two consonant types of wallpaper, separating them with a border tape.
Combining several types of wallpaper today is a great option to show your personality and show off your taste. In modern design, you can see combinations of not only different colors, but also textures, drawings.
The most successful of them, according to professional designers, are presented in the table:
The most successful combinations
Colour
brown and beige

olive and orange

burgundy and pink

green and yellow

blue and white

purple and gray

golden and milky

lilac and silver

texture
matte and glossy surface

rough and smooth surface

picture
geometry and abstraction;

stripes and floral ornament
Sometimes wallpapers are combined to make one wall or part of it accentuated. And the rest is covered with a neutral color of wallpaper. Two options are relevant here:
Accent wallpaper is distinguished from the rest by a saturated pattern. The color of the base is the same;
Accent wallpapers contrast with the rest. In this case, to achieve a stronger effect, you need to take complementary colors. The table below shows the pairs of complementary base colors, but derivatives can also be considered complementary:
Complementary base color pairs
Violet
yellow
red
green
blue
Orange
When using complementary colors, you should be careful, otherwise you may get a very saturated interior, quickly tiring your eyes. Designers often use derivatives of primary colors.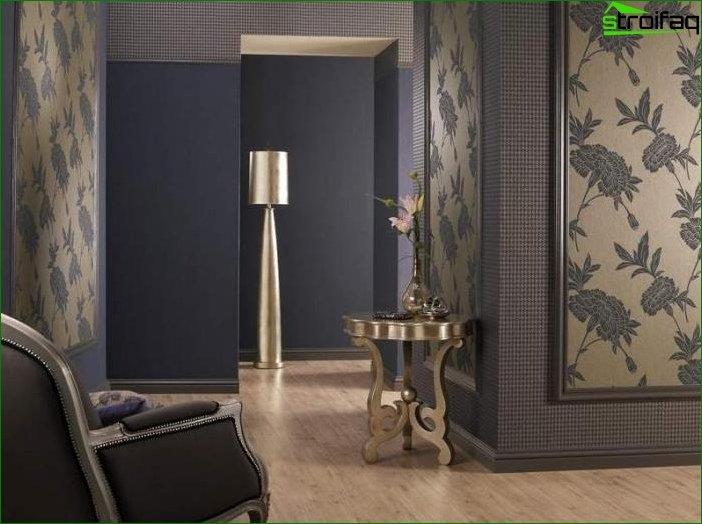 Most popular see wallpaper combinations
Monophonic wallpaper of one color, but its different shades
They bring a twist to the interior for fans of plain walls and the lack of decor
Plain patterned wallpaper
It is used if you want to decorate a room with a large panel or if there is a large picture on the wallpaper. What is unacceptable in small rooms
With various patterns
The most complex form of combination. Usually, two types of wallpaper are taken with a different pattern, but in tune with the background color. Most often they use geometry in combination with abstraction, a floral ornament with a strip
Wallpaper of different colors
The main rule is that one color should be neutral
Horizontal division
Bottom – striped wallpaper, top – in a small pattern;

Bottom – plain or small pattern, top – stripes, large pattern;

Bottom – large drawing, top – plain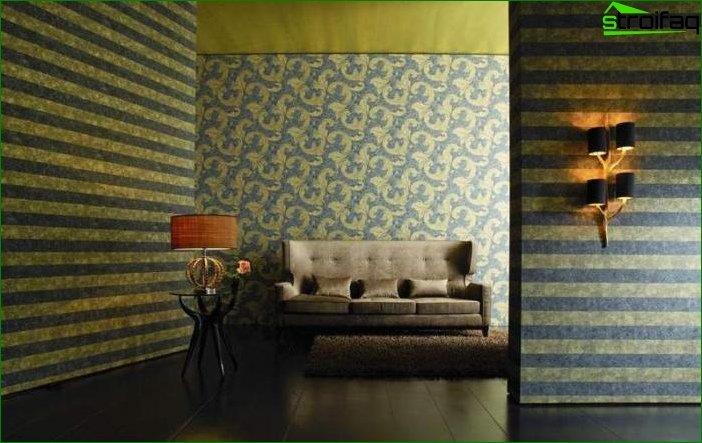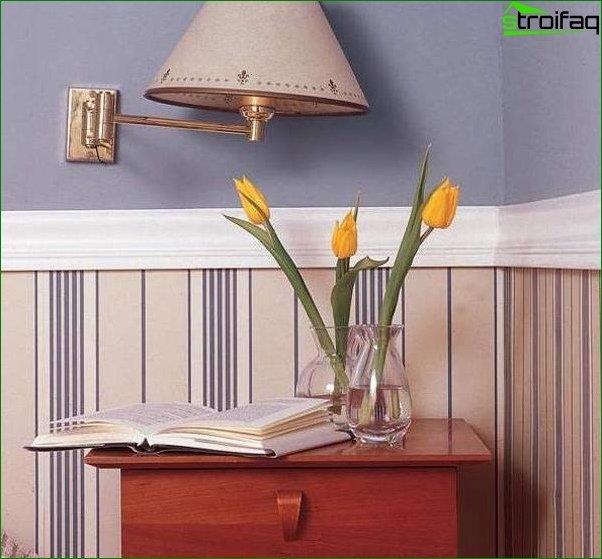 What wallpaper to choose in a small apartment
The hall in Khrushchev performs at least two roles – a guest room and a gathering place for the whole family to spend time together. And therefore, it should be as comfortable as possible for households, have the appropriate look for receiving guests. First of all, so that the room does not seem crowded when several people are in it, you should choose the right wallpaper for its decoration. There are several rules by which you can visually enlarge a room, add air and space to it:
light shades of wallpaper;
cold color;
medium-sized drawing;
horizontal stripes expand the room, vertical stripes raise the ceilings;
combination of several types of wallpaper with accents that break the space.
Do not be upset that small rooms largely limit the flight of your imagination in their design. As they say – the spool is small, but expensive, from a small hall area you can make an ultramodern room, cozy for the residents of the house and pleasant for guests.
Fashionable wallpaper for the hall in 2020
Consider several aspects by which the fashion for wallpaper is determined: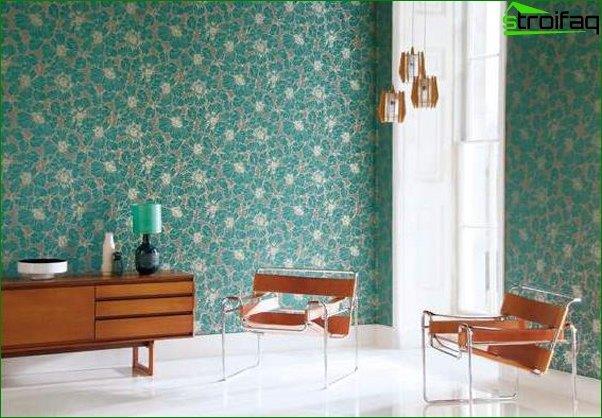 Colour. Usually the emphasis in the color scheme of a certain year is guided by the color of the eastern calendar. This year is the year of the blue horse, and therefore the blue color should to a greater or lesser extent be present in the wallpaper. It does not have to be pure blue. After all, there are colors created on the basis of blue. Green for example.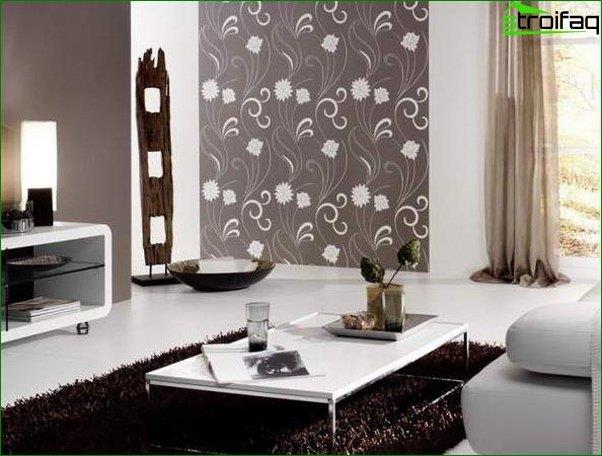 Picture. Drawings with floral ornaments are more fashionable than ever.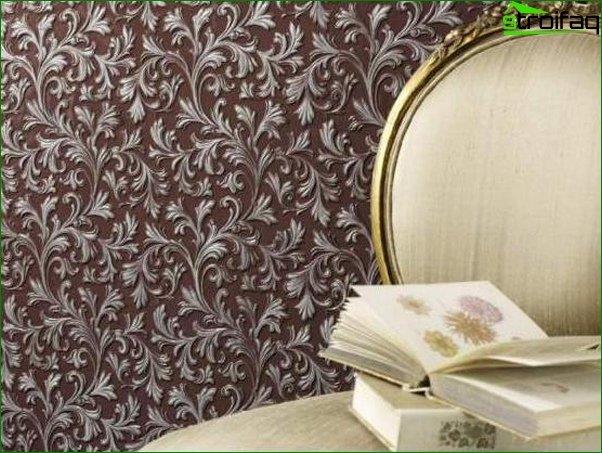 Texture. Volumetric figure protruding above the canvas. Smooth surfaces are a thing of the past.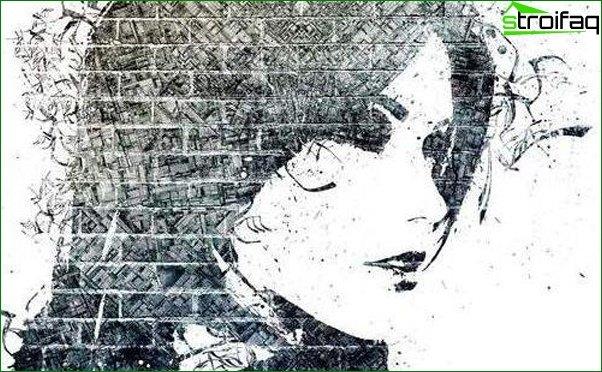 Wallpaper with a thematic image, photo wallpaper. In addition to ready-made wallpapers, with the theme proposed by the manufacturer, you can purchase original ones at the companies that apply the drawing to order. Now in fashion are wallpapers with portraits. It can be famous personalities, just beautiful faces or the image of one of the successful photographs of family members.
Photowall-paper
Wall mural very quickly won the favor of people. This is due to their huge range. In addition, they are relatively inexpensive and easy to glue. Just a little effort and accuracy is enough to have a panel with all kinds of images on the wall. In addition, murals do a good job of visually expanding the space and correcting it. Today you can order wall murals according to an individual sketch, or photos.
In addition to the already familiar paper, whose life expectancy is not as long as we would like, and the quality of the joints leaves much to be desired, there are non-woven and vinyl murals on sale. They are printed on dense material with various textures: sand, stone, plaster, canvas. To continue the life of photo wallpaper, in order to avoid rubbing and staining, a special varnish or laminating film is applied to their surface. Film application is best provided to a professional. This is a rather difficult job and requires certain skills..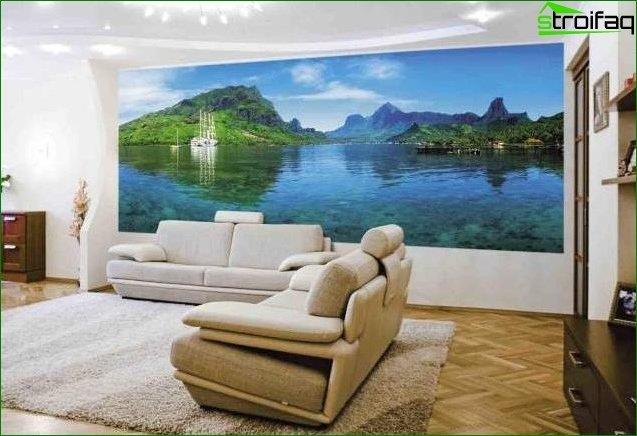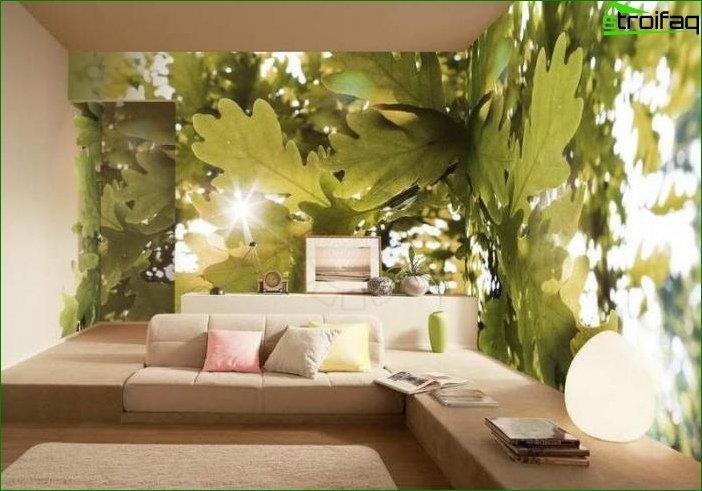 How to glue the wallpaper to avoid defects
If your choice fell on paper or non-woven wallpaper, you can glue them yourself by watching the video course.
If you purchased metal, textile wallpaper, then it is better to contact a specialist. For their sticking you will need certain skills and abilities.
The choice of wallpaper for the hall is always a very exciting and interesting process. One has only to remember that in a roll and on a wall they can look completely different. And therefore, if there is an opportunity – try to deploy at least two rolls next to the store in order to understand how harmoniously the picture in the canvas looks, and not on a narrow strip a little more than half a meter wide. If the wallpaper you like seems a bit overloaded with the picture – it doesn't matter. You can always combine them with others that are consonant in texture or color. It's even better – no one will have a room with such a wall design.