Liquid Wallpaper – 75 ideas for a unique design. Unique interior with your own hands. Help in manufacturing and application technology
Here you will learn what liquid wallpapers are, what pros and cons owners will encounter with such home decoration, how to create liquid wallpapers with their own hands inexpensively, and also get acquainted with photos of professional decoration and design of a bedroom, living room and children's room!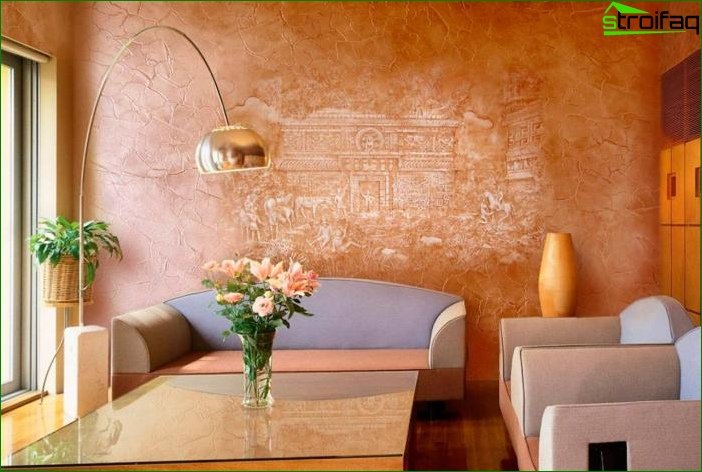 Content
The choice of finishing materials, from decorative plaster to liquid and glass, becomes more and more diverse, so it becomes more difficult to choose an alternative to paper roll classics. Let's try, without deviating from advertising, to fairly understand all the advantages and disadvantages of liquid wallpaper, the methods of applying them and the options for decorating them in various rooms. First, find out what they are.
What is liquid wallpaper?
There is no clear opinion of what is the difference between decorative plaster and liquid wallpaper. Some people think that liquid wallpaper is a type of finishing plaster, others, on the contrary, that liquid wallpaper Is a mixture combining the properties of plaster and paper wallpaper. One thing is clear: do not equate these concepts – they meet different requirements, have different textures and are applied to the surface in different ways.
The composite basis of liquid wallpaper is cellulose fiber and glue. Depending on the decor, cotton and silk fibers, dyes, as well as various relief elements – wood shavings, algae and plant mica, sand and much more can be added to the composition.
By the way, their composition determines the first and main advantage of liquid wallpaper – a huge variety of colors, patterns, textures, so that they can be used as decoration for almost all premises of a house, office or public premises.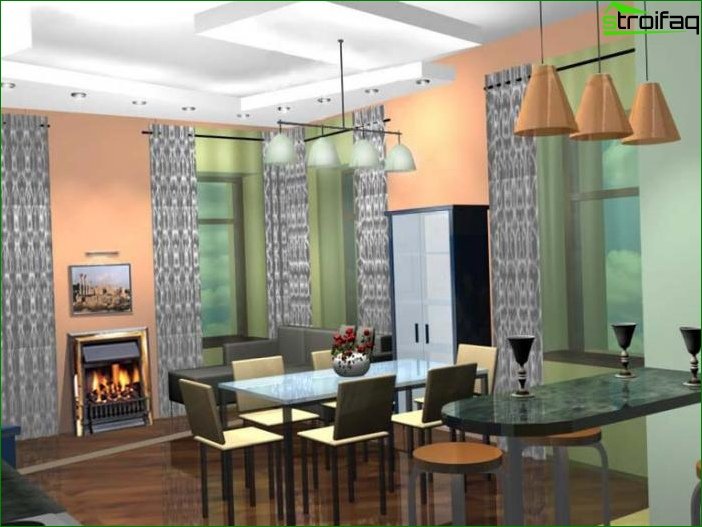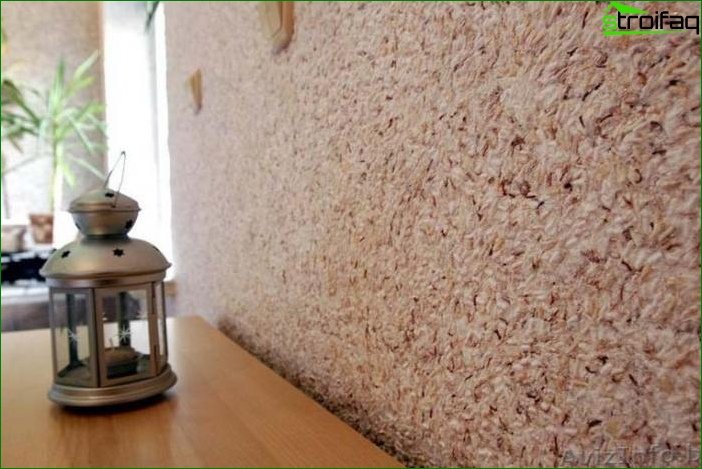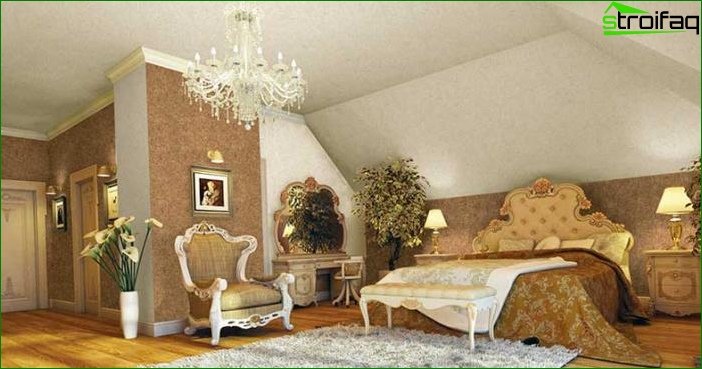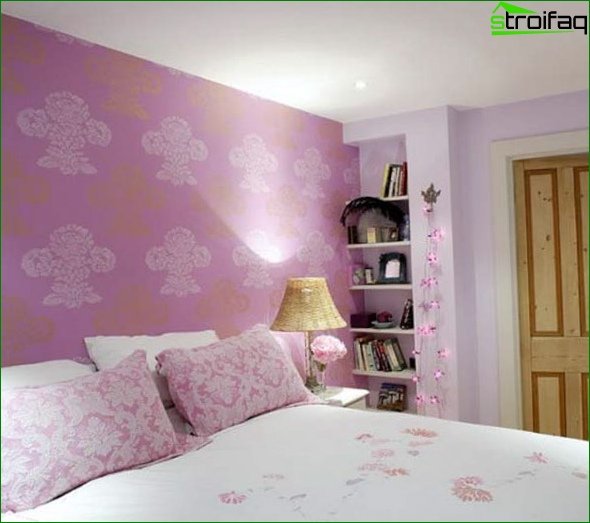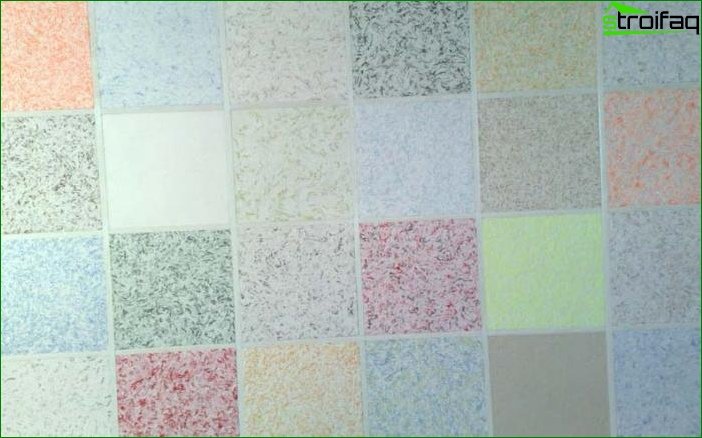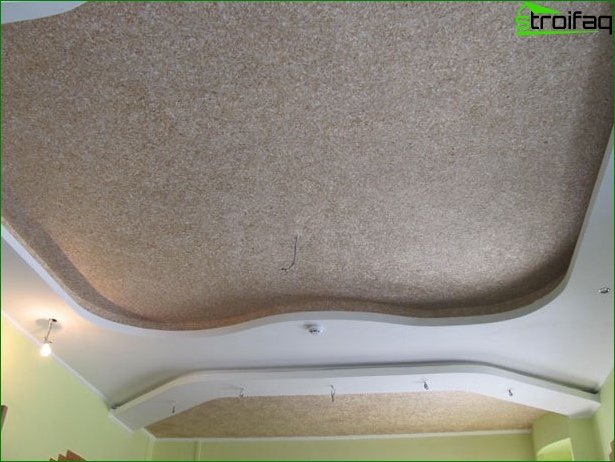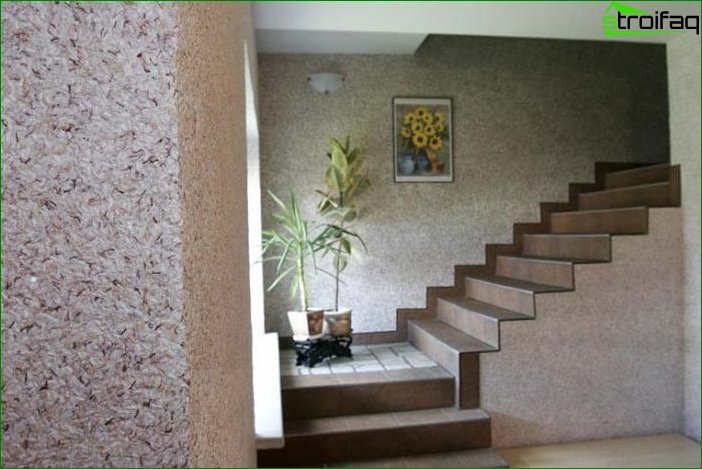 The pros and cons of decor using liquid wallpaper
In order to competently weigh all the pros and cons of liquid wallpaper, we suggest that you turn to the comparison table and visually see how many characteristics fell on the scales "for" and how many "on".
| Benefits | disadvantages |
| --- | --- |
| Resistance to frost and sharp change t °, can be used in poorly heated rooms. | They are afraid of moisture, which facilitates their dismantling, but absolutely does not allow their use in the bathroom. |
| Do not fade in the sun, unlike paper wallpapers. | Only dry cleaning (vacuum cleaner or dry rag), therefore it is undesirable to finish kitchen walls that are quickly contaminated by grease and soot. |
| When applying, the surface is corrected (cracks, holes, etc.), therefore, preliminary processing of the surface with plaster is not required (of course, if we are not talking about completely uneven surfaces). | Relatively high price compared to regular wallpaper |
| Easy to apply on the wall and also easy to dismantle. | |
| Isolate sound, heat. | |
| Absolutely environmentally friendly, non-toxic, do not emit hazardous substances. | |
| Do not accumulate dirt and dust | |
| Walls, unlike vinyl, do not accumulate moisture, do not become damp and do not create a greenhouse effect in the apartment. | |
| They can be used on hard-to-reach, non-standard surfaces, i.e. where paper wallpaper will have to be trimmed, glued, patched with decorative elements. | |
Obviously, the advantages of liquid wallpaper far outweigh the shortcomings, but not everything is so simple.
Consider the pros. Leaning to this type of finish, think how smooth your walls are, whether they require pre-treatment and whether differences and roughnesses in the composition of the surface are noticeable. After all, liquid wallpaper is able to smooth out only minor flaws, but does not align the walls in any way, as plaster or drywall could do.
Turn to the cons, especially the issue of cleaning. On the one hand, wet cleaning of liquid wallpaper simply dismantles them, so it is simply impossible to remove pollution with moisture. On the other hand, if for some reason you dirty a piece of the wall, you can easily dilute the wallpaper mixture and apply it to the contaminated area. It will be inconvenient only in a place where the walls are constantly polluted (for example, in the kitchen), in all other cases it is much more convenient and aesthetic than cutting a piece of contaminated wallpaper and sticking a new one.
Along with paper and vinyl wallpapers, liquid wallpaper have a rich assortment of colors and textures, so you can realize all your design abilities and combine several types of mixtures in an intricate pattern or picture, whatever you could achieve using ordinary paper wallpapers.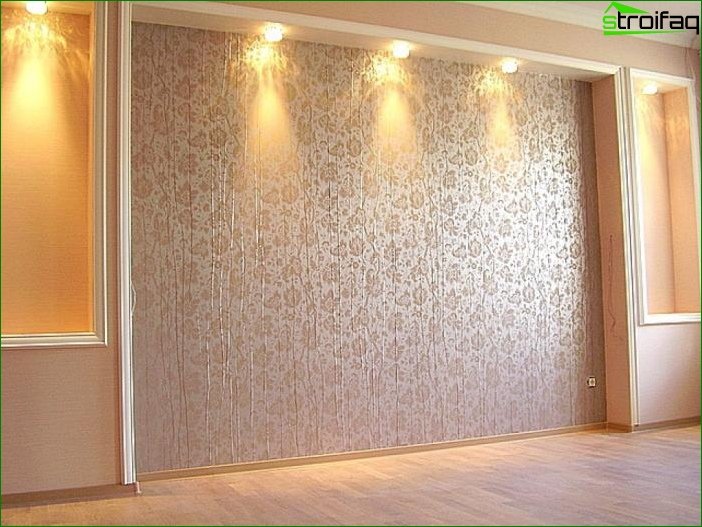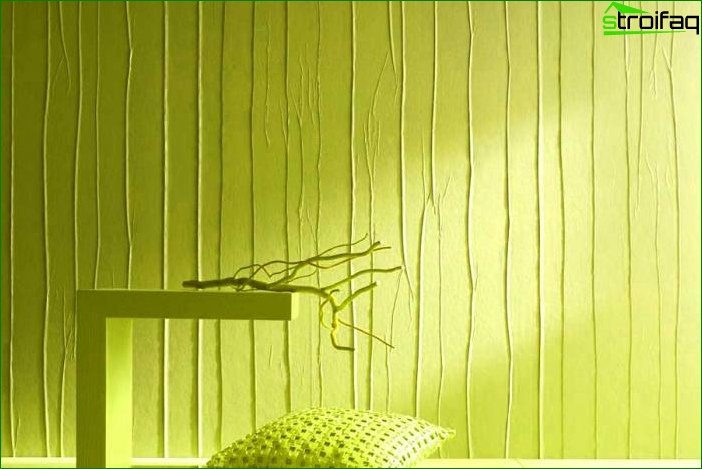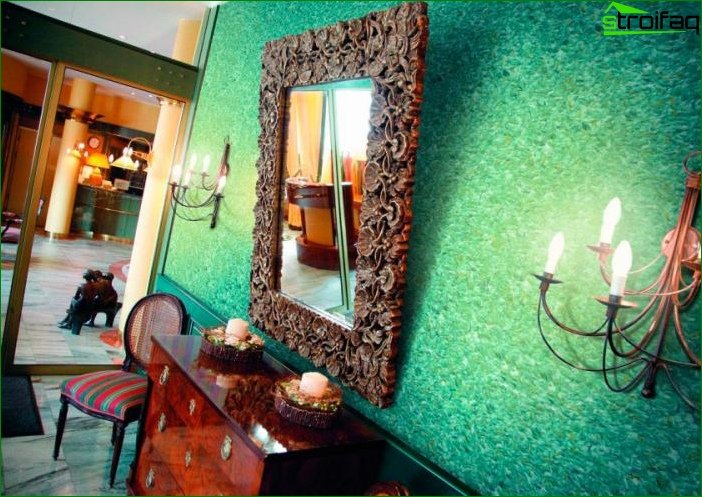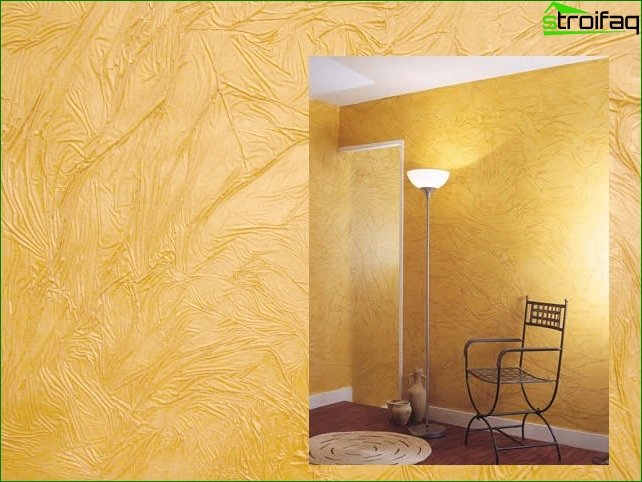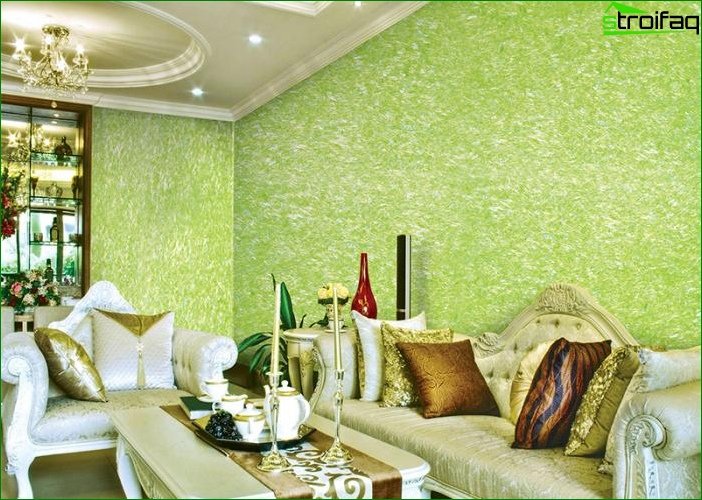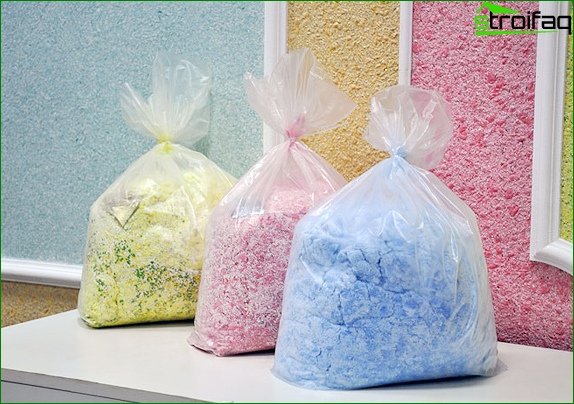 How to make liquid wallpaper at home with your own hands
Here is the life hack of making liquid wallpaper at home, and this method proves that the disadvantage of "high price" is very relative. If you use a little ingenuity and creativity, you get this option:
We take paper (even a regular A4 is suitable, you can even stained drafts). We cut it in a chaotic manner, the smaller the better. On average 3-4 cm pieces.
We fill it with water in a container, in which our mixture will continue to be, i.e. on the principle of "this bucket is not a pity." Water should completely cover the paper, but not in excess so that the solution does not turn out to be too liquid. Leave it for 2-3 hours until the paper is completely wet.
With a construction mixer, grind the soaked sheets into the most homogeneous mixture..
Add color, gypsum, PVA glue (proportions per 1 sheet of paper – 1 teaspoon of gypsum and 5 ml of glue), mix again. You can add decorative elements – shavings, sparkles, etc..
We apply an iron spatula to a dry prepared surface with a layer of 3-4 mm, allow to dry.
Such a simple master class will allow you to originally decorate the walls almost for free.
Technology for applying liquid wallpaper
The rules for applying liquid wallpaper are indicated on each package, so it makes no sense to dwell on what proportions and how to dilute the finished mixture. We'll talk a little more about some of the subtleties that will improve the aesthetic appearance of the finish and help to avoid various "mistakes" of repair.
Features of applying liquid wallpaper
After diluting the dry finished mixture (according to the instructions), it must be allowed to infuse for 12 hours. Stir again before application.
The initial and subsequent stirring is best done manually, since the mixer can destroy the structure and the effect of the wallpaper will be completely different from that in the picture.
The mixture must be applied with a metal spatula, while pressing should be optimally unchanged and uniform – not excessive so as not to disturb the texture, but also not weak so that the coating does not fall off.
One wall should be from one batch, otherwise there is a risk of visible transitions;
The total layer should not be more than 4-5 mm. Ideally – 2-3 mm on the rough layer, 2 mm – on the finish.
Do not forget to leave the finished wall for drying for 48-72 hours, depending on the humidity of the room.
Features of drawing drawings and patterns
Put a rough pencil drawing on the wall;
Apply a mixture with a small rubber spatula 2-5 cm and rub it along the outline of the drawing, trying not to protrude beyond the borders;
After drying (3-4 hours is enough) apply the next color;
Try to apply all colors in the same layer..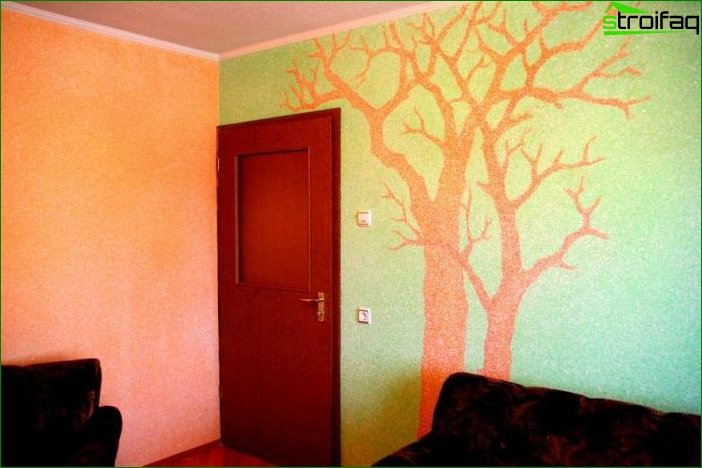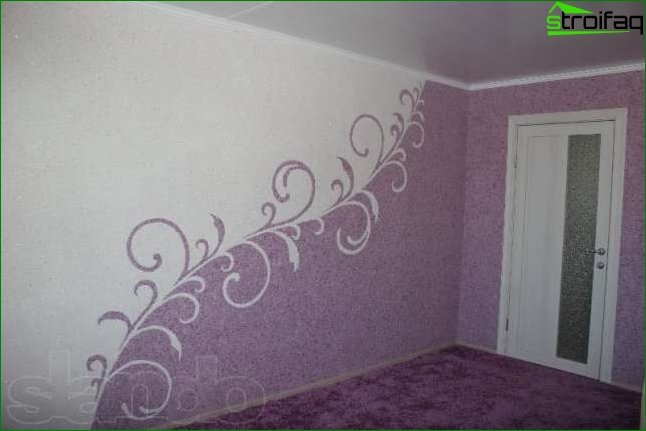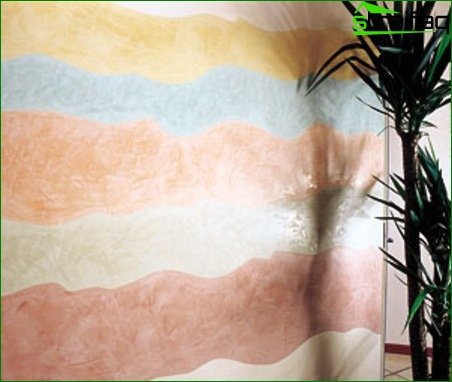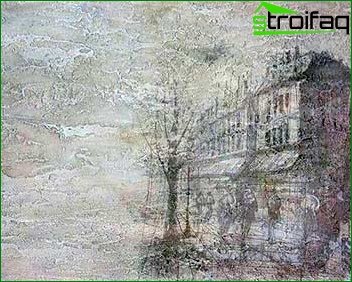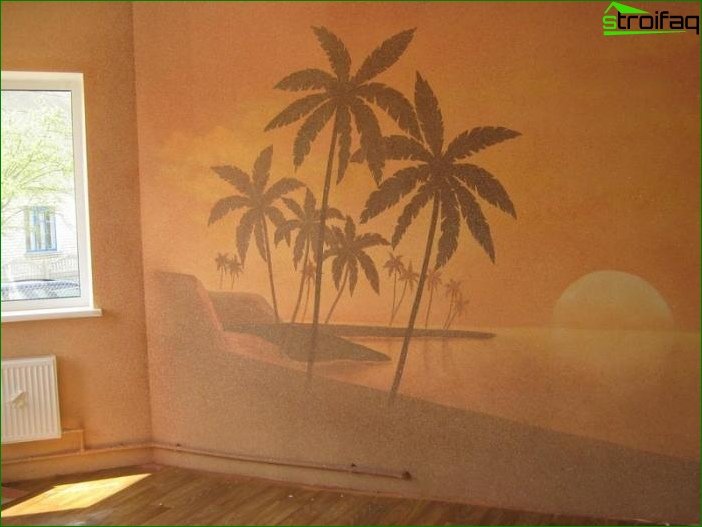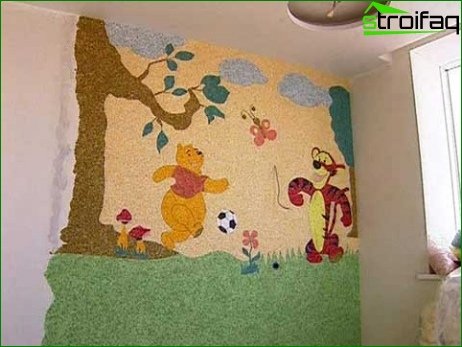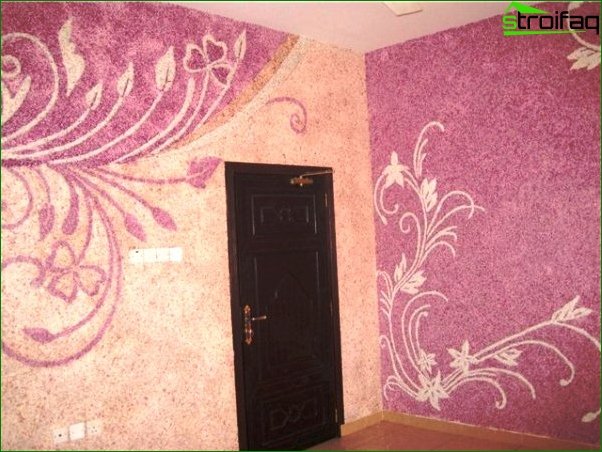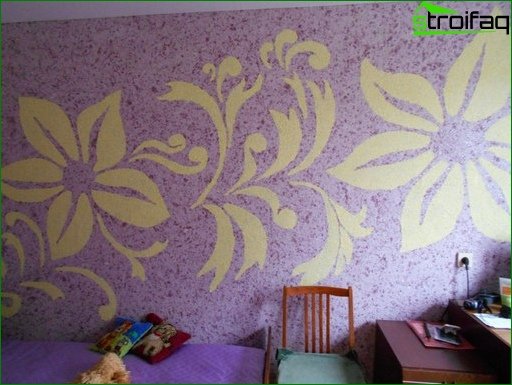 Liquid Wallpaper Care
Remember that care for liquid wallpaper is only possible with dry cleaning, no wet rags or brush stains!
If you have a problem with contamination, carefully wet the damaged area, remove the old layer with a sharp knife or spatula and apply a new layer of the mixture of the same color and structure. At the beginning, the updated piece will differ in color, but after drying you will not notice the difference.
Where to apply this finish
Liquid wallpapers are good for ceiling finishes and walls of the bedroom, children's room, living room or corridor, it is not recommended to use them only in the bathroom (with high humidity) and the kitchen (where there is a high risk of pollution).
Living room and bedroom
Liquid wallpaper is ideal for decorating the bedroom and living room, both from the aesthetic side and tactile sensations. Pleasant to the touch and interestingly textured is the finish for silk plaster – liquid wallpaper, which contains silk and cotton fiber. With them, the room will look very comfortable, as if covered with textile.
For more originality, a little sparkles or even fluorescent paint can be added to the composition of the mixture, causing gentle flickering in the light and glow in the dark.
You can also originally select one of the walls (in the living room – this is the wall on which the gaze from the sofa will rest, in the bedroom – this is the area at the head of the bed) using textured plaster or liquid wallpaper with a large heterogeneous texture.
Golden Venetian stucco ("marble dust") looks rich and stylish classics. It creates a unique deep light of the walls, a cozy glow, the play of chiaroscuro along with barely appearing cracks and veins. No one will remain indifferent to such a design of a living room or bedroom.
Adding granules and flock will allow you to create three-dimensional images and revitalize the plain surface of the walls. In addition, this design trick is used to visually expand the room..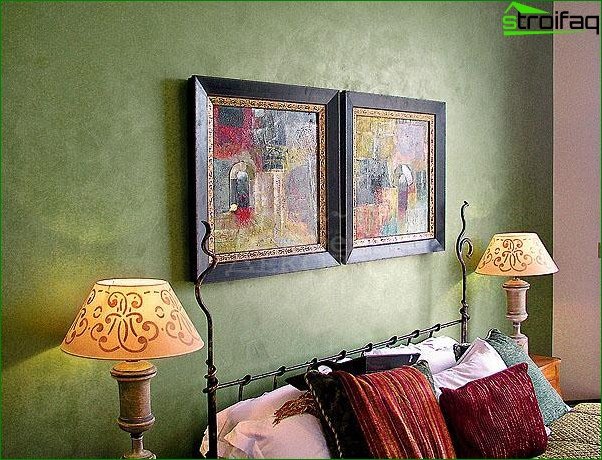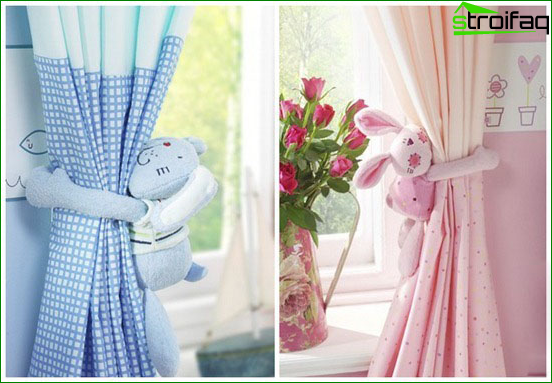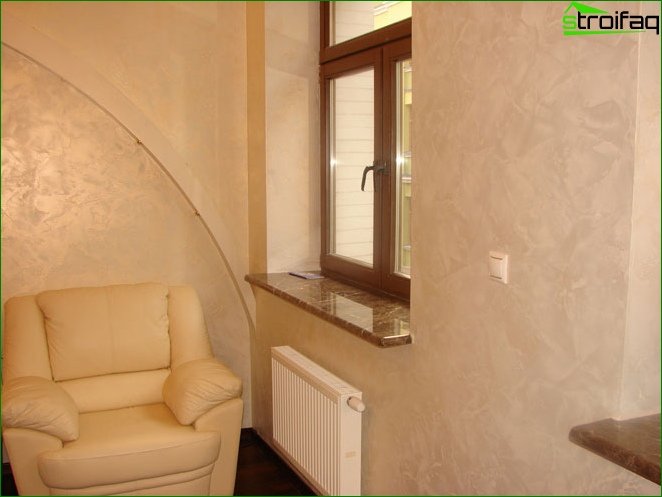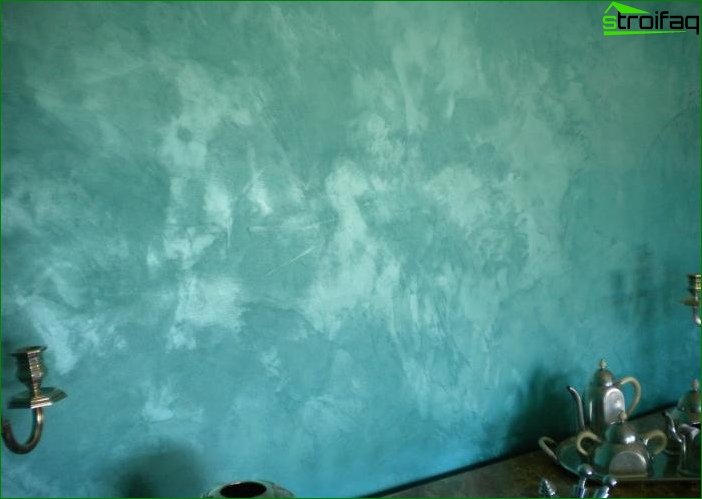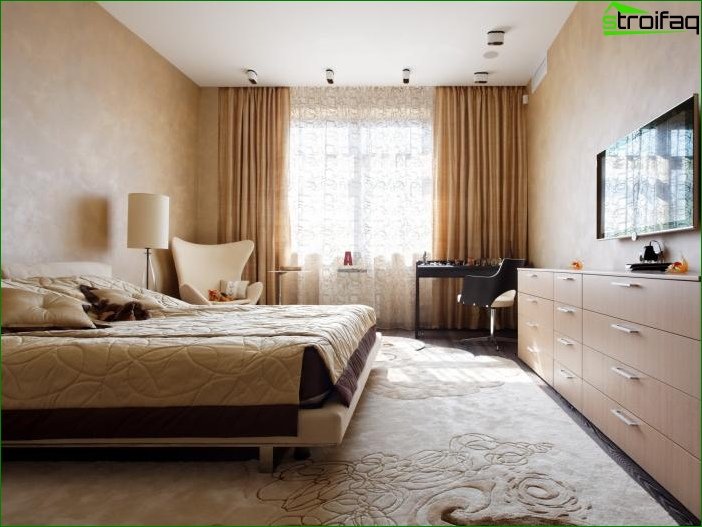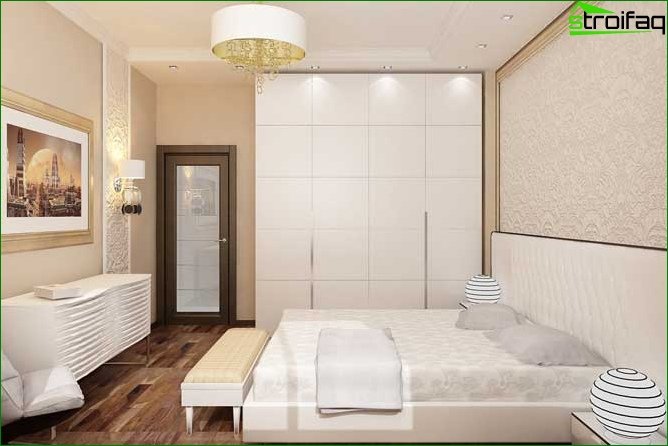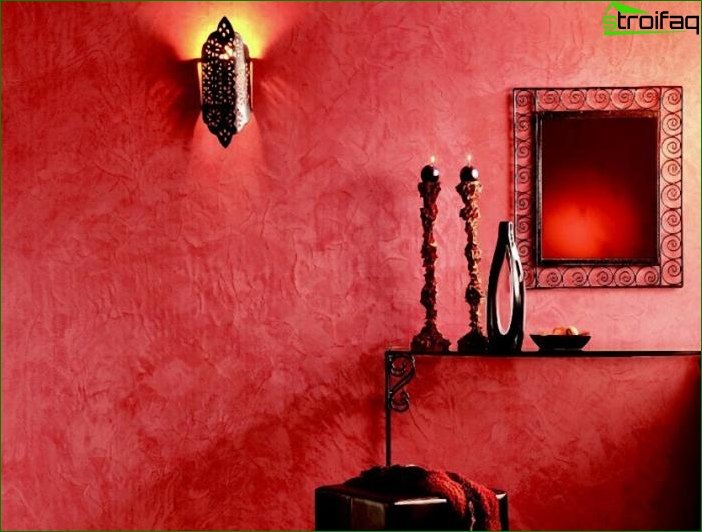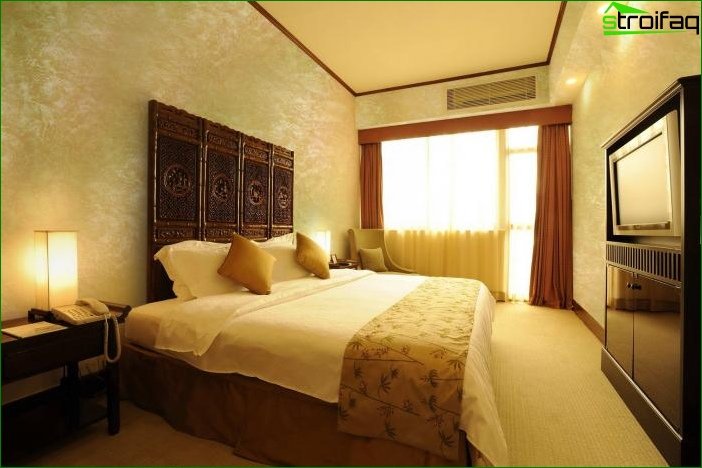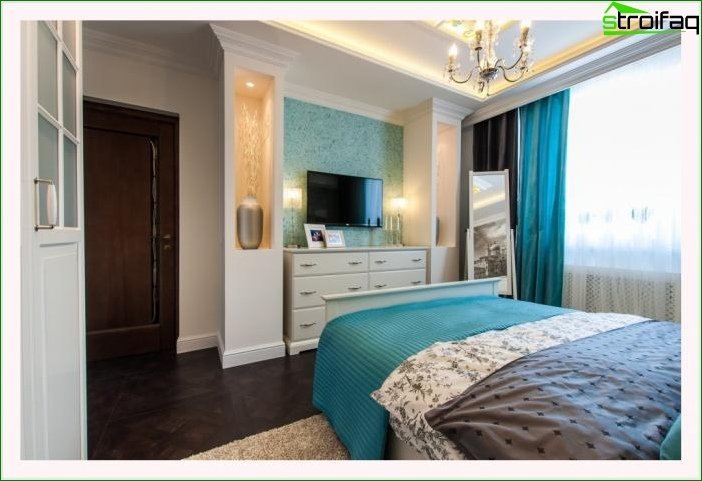 Children's room
How else can you original make a nursery, except using liquid wallpaper. Such a room:
It is safer – the walls here breathe, do not create a greenhouse effect and do not accumulate dust;
More interesting – unlike the paper alternative, here you yourself create any drawing you like and you can even invite your child to work. A room made with liquid wallpaper will look much more comfortable than a painted one. Relive it with decorative elements, sparkles, fluorescent paint.
Always ready for children's experiments and "surprises." If you don't always clean up "children's creativity" from ordinary wallpapers, then in the case of liquid wallpapers you can always close up a wall decorated with a child.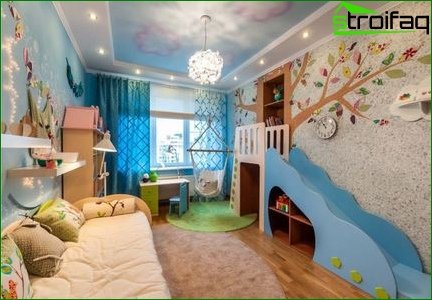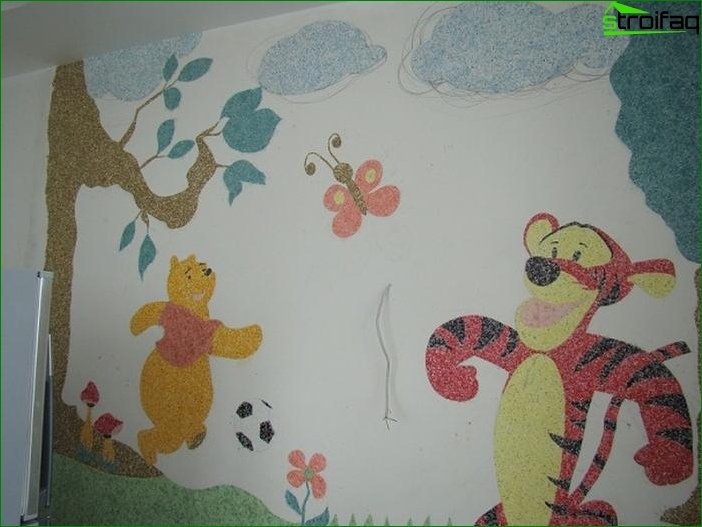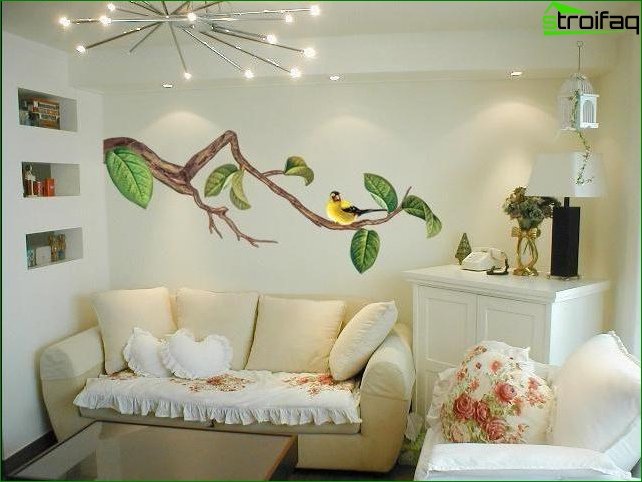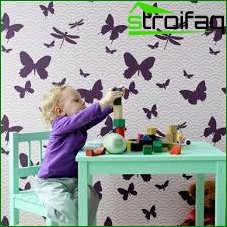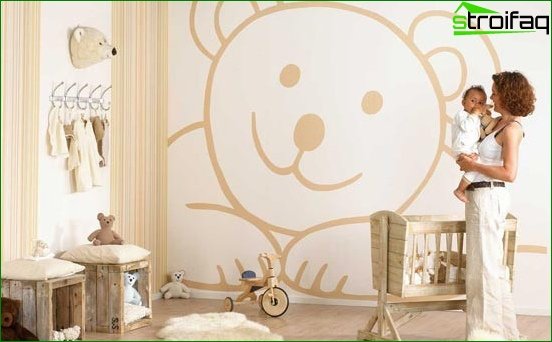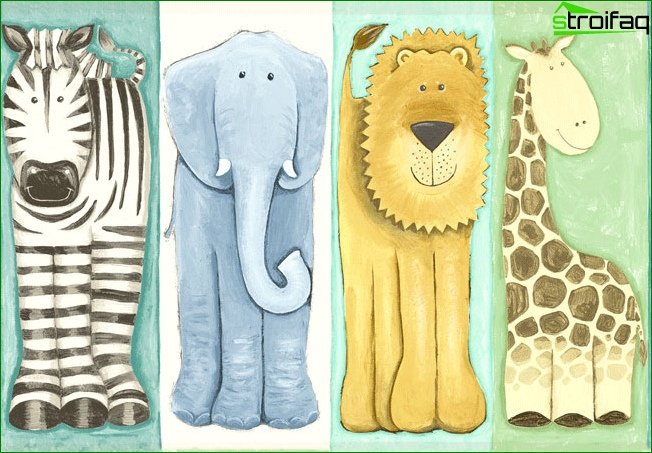 Photo in the interior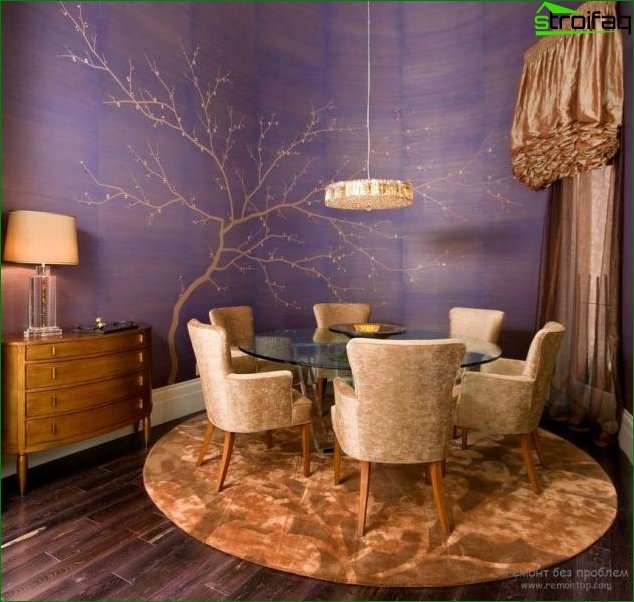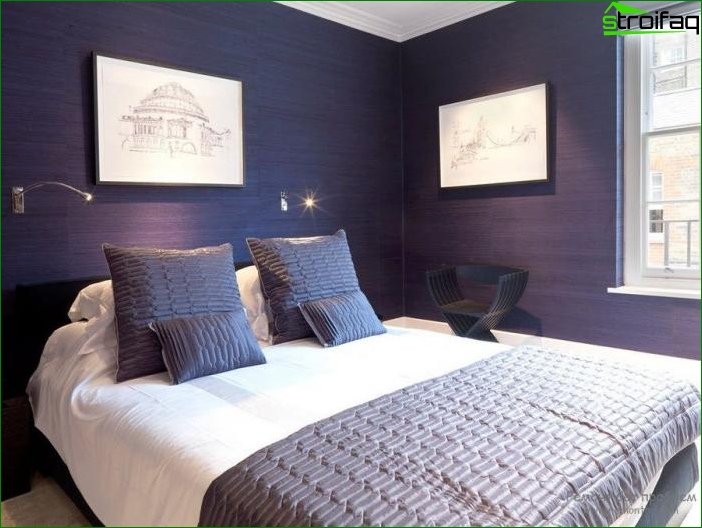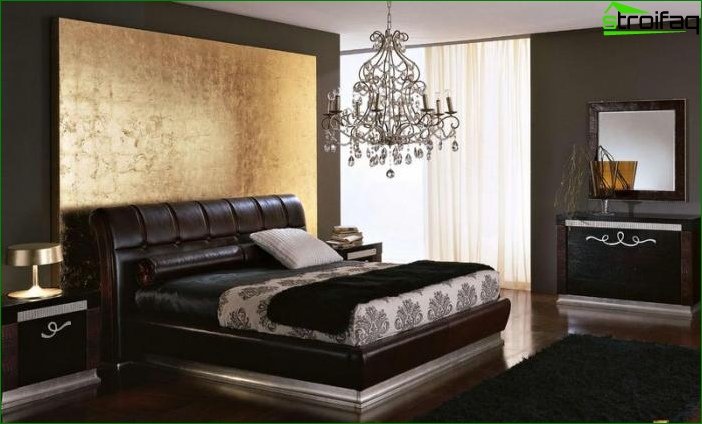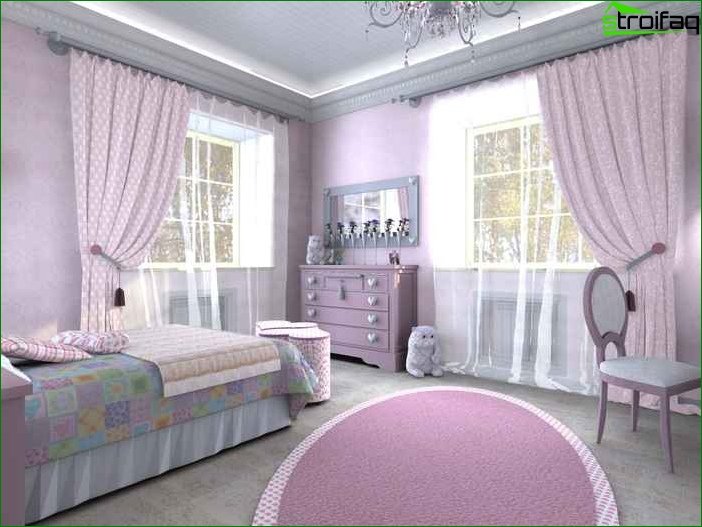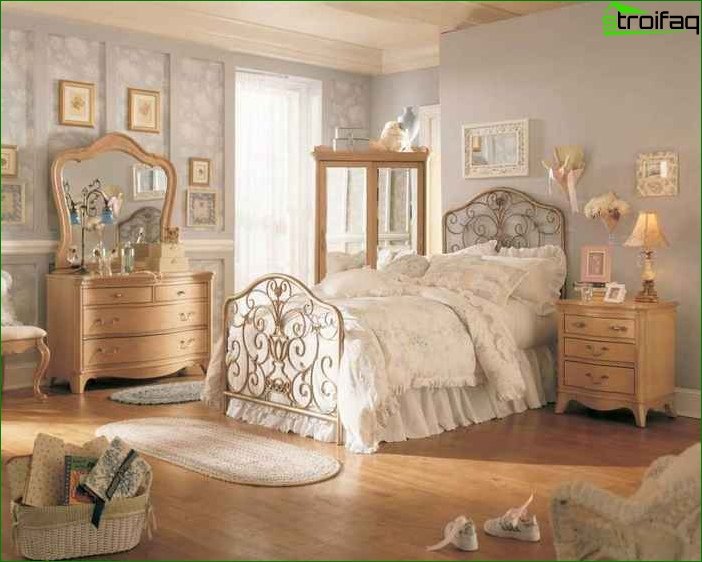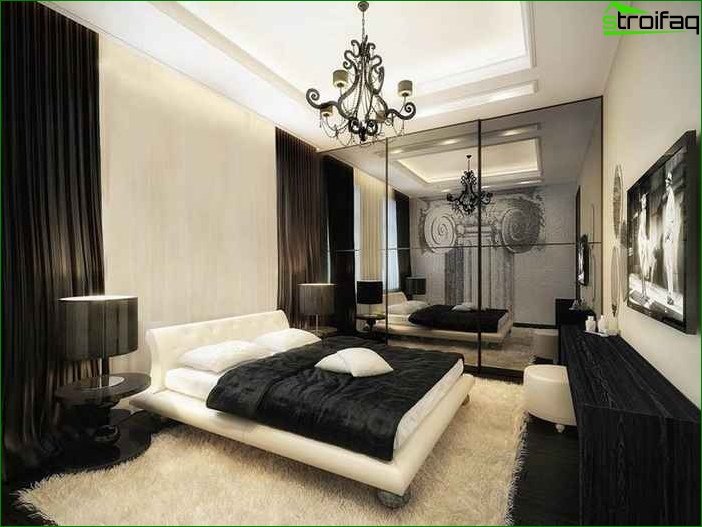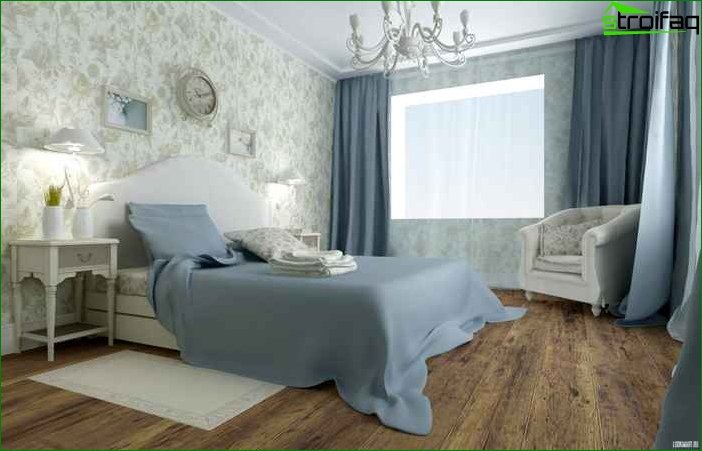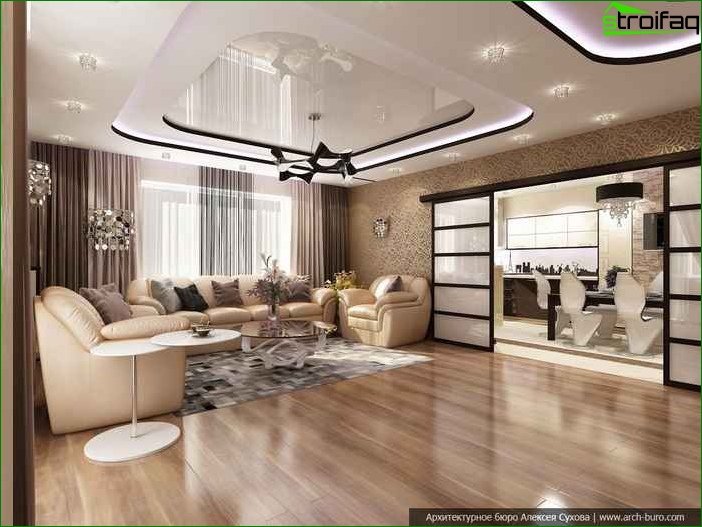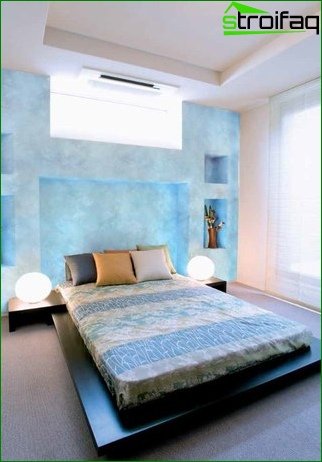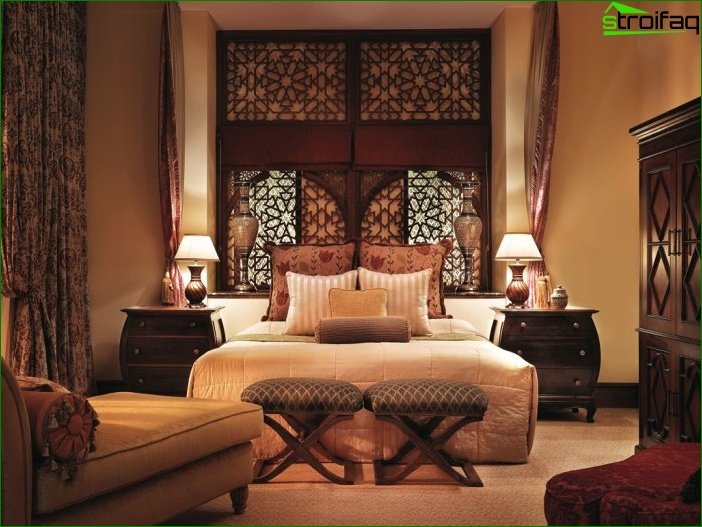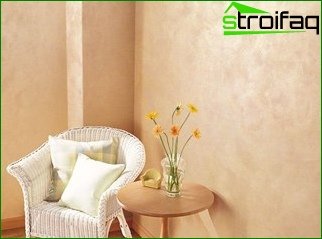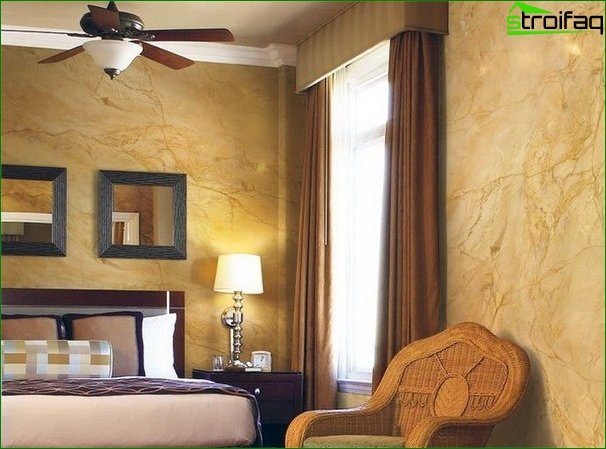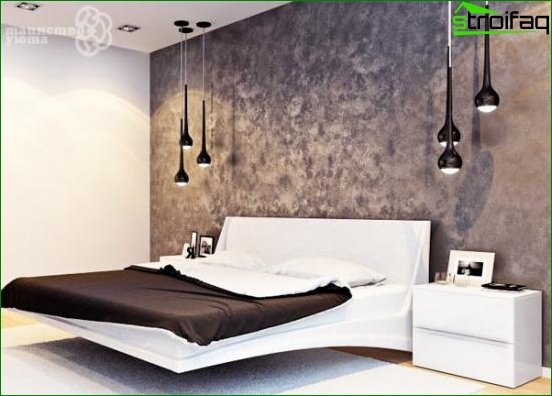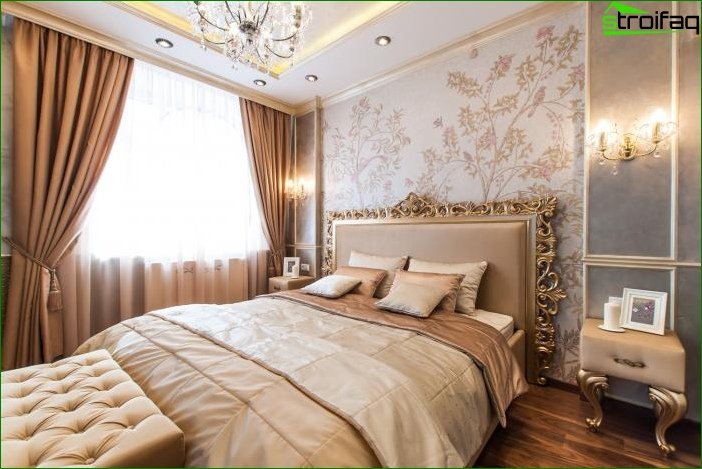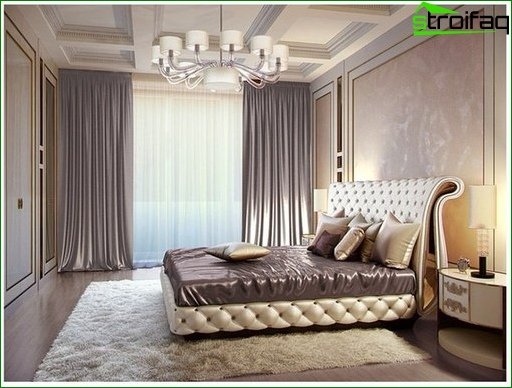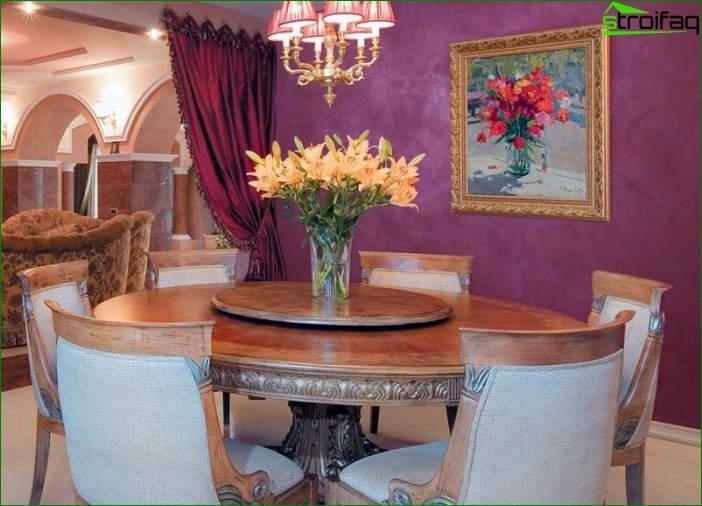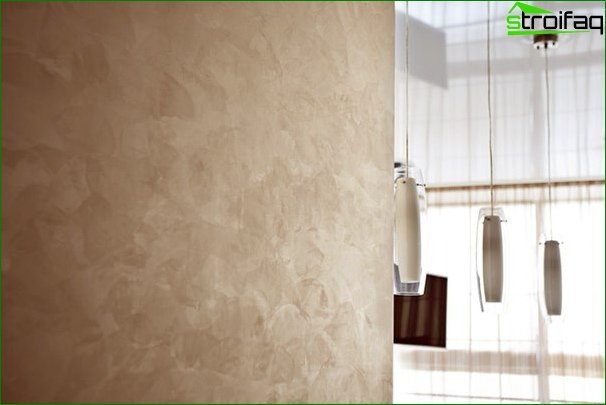 Do not forget to read our detailed article on interior applications. wallpaper for painting.