50 photos of non-woven wallpaper in the interior of your apartment. How to choose and how to glue. Help in sticking non-woven wallpaper of various types.
Non-woven wallpaper is a popular option for decorating walls. This wallpaper has many advantages. Which ones – let's understand below. At the same time, we will find out what types of non-woven wallpaper are there and how to glue them. Photos of interesting interiors with non-woven wallpaper are attached.
Content
About types of non-woven wallpaper
Flizelin – what is it? This is a material that was originally used in the textile industry. Non-woven fabric makes the fabric an order of magnitude stronger, in addition, it allows you to give the clothes the necessary shape, which, for example, is very important in the manufacture of collars and lapels of the jacket. In the market of building materials, non-woven is used only a little more than ten years. The manufacture of non-woven fabric is based on paper and fabric fibers, which are bonded with an astringent chemical composition. All these components are pressed, after which a rather durable material is obtained..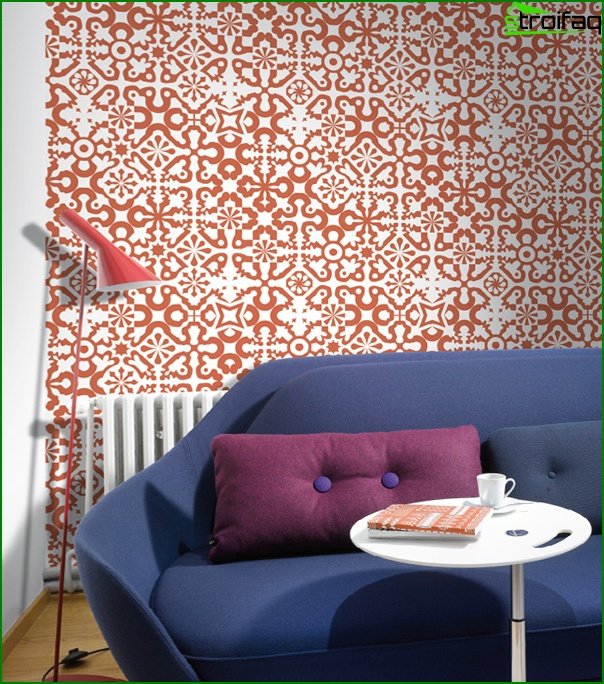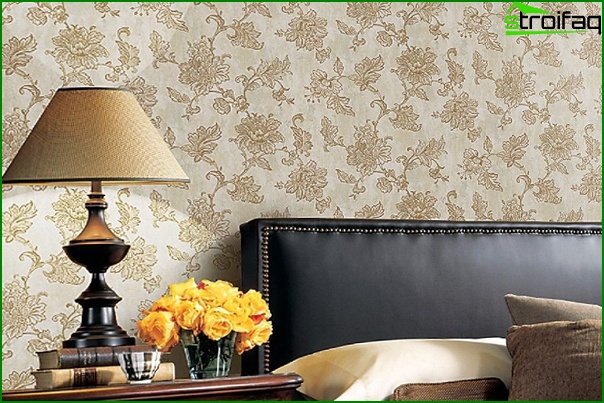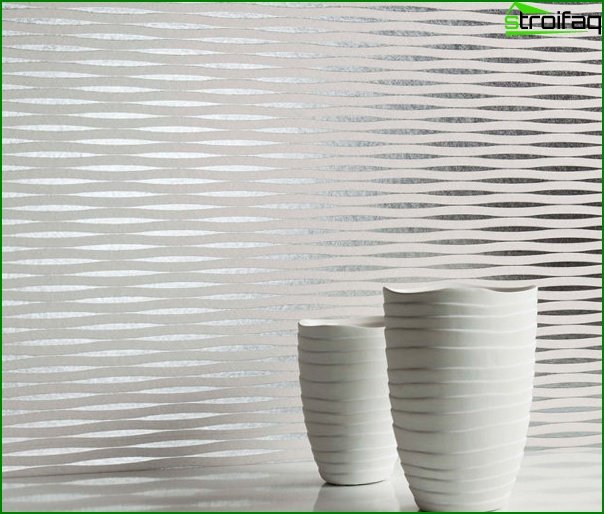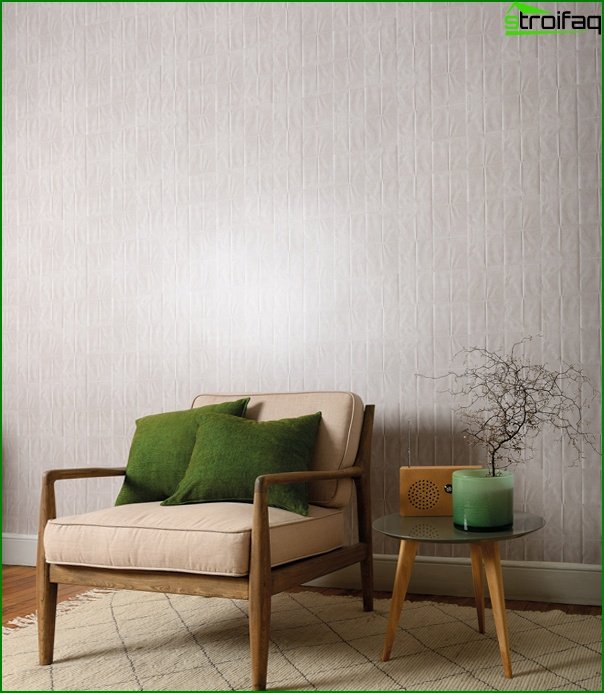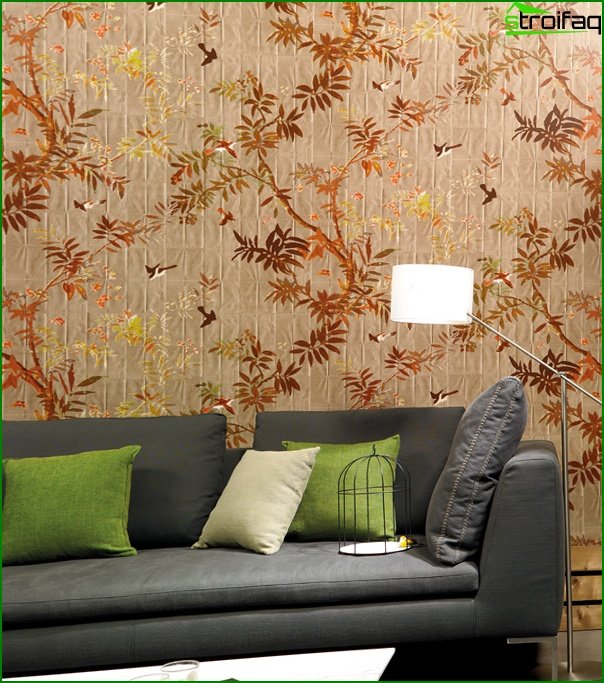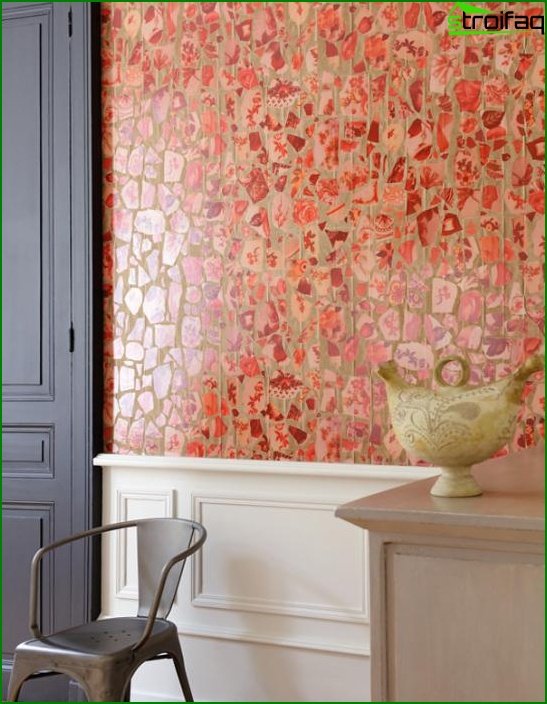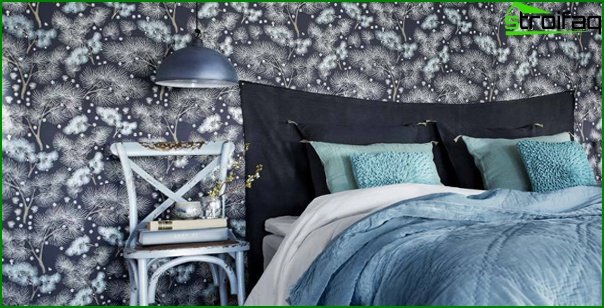 There are three main types of non-woven wallpaper:
Each of these types of wallpapers solves certain problems. Therefore, which is better to choose – you must determine directly based on your needs.
Fully non-woven wallpaper
Fully non-woven wallpaper consists of several layers of non-woven. Due to its manufacturing technology, such wallpapers are pre-impregnated with glue (an astringent chemical composition) and therefore, for gluing them, it is necessary to smear only the walls with the glue, not the wallpaper itself. In turn, this allows you to work with a dry canvas, so the wallpaper:
Don't shrink
Do not soak
Tear less
Do not lose their appearance
Determining what kind of wallpaper you have in front of you – paper or non-woven – is extremely simple: make a little tear and look at the edge. If the edge is soft, fibrous – this is non-woven wallpaper. And if the tear line is sharp, with notches – paper.
Non-woven vinyl wallpaper
The mark "on a non-woven basis" indicates that the main layer of these wallpapers is non-woven, but the top decorative one can be anything – paper, textile, vinyl.
Vinyl wallpaper on a non-woven basis is today the most popular, because vinyl spraying gives the appearance of wallpaper a special texture and sophistication.
Be careful when choosing vinyl-coated wallpapers! Poor quality vinyl may lose its appearance during the gluing process.
Non-woven wallpaper for painting
If you don't know which is better – to paint the walls or decorate them using wallpaper – the answer is extremely simple: use wallpaper for painting! On the one hand, thanks to the wallpaper (especially non-woven), the walls will gain additional heat and sound insulation, and on the other, you can change the interior of your room without much effort, major repairs and significant financial impacts.
Non-woven wallpaper for painting allows you to repaint walls up to ten times!
The approximate cost of non-woven wallpaper

| | |
| --- | --- |
| Non-woven wallpaper for painting | From $ 5 / roll |
| Non-woven vinyl wallpaper | From 15 $ / roll |
| Fully non-woven wallpaper | From 25 $ / roll |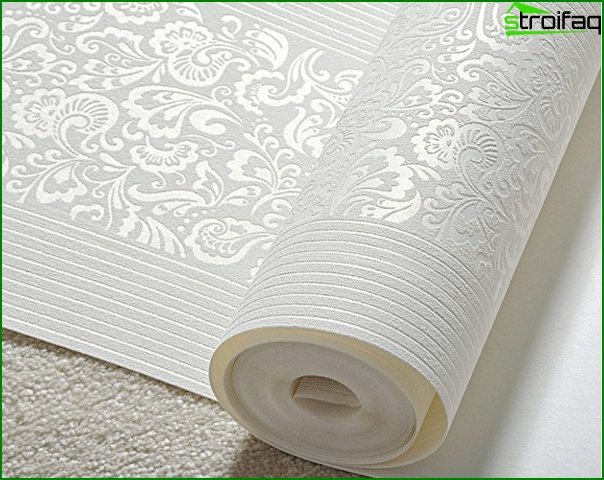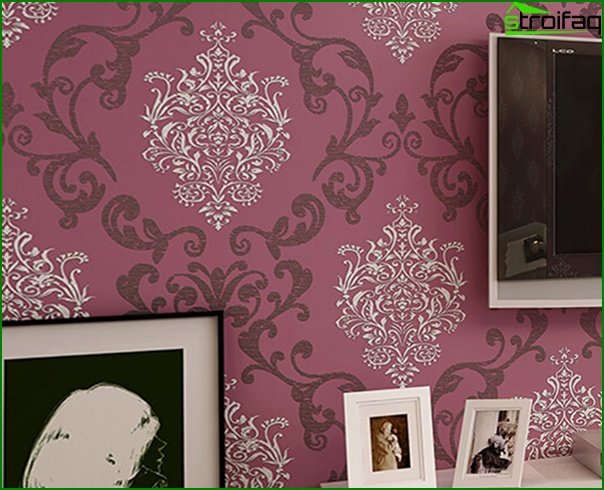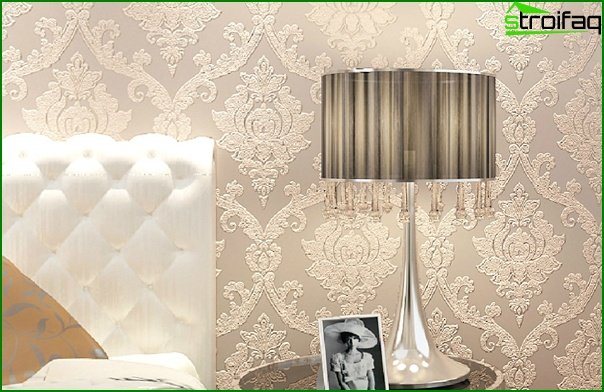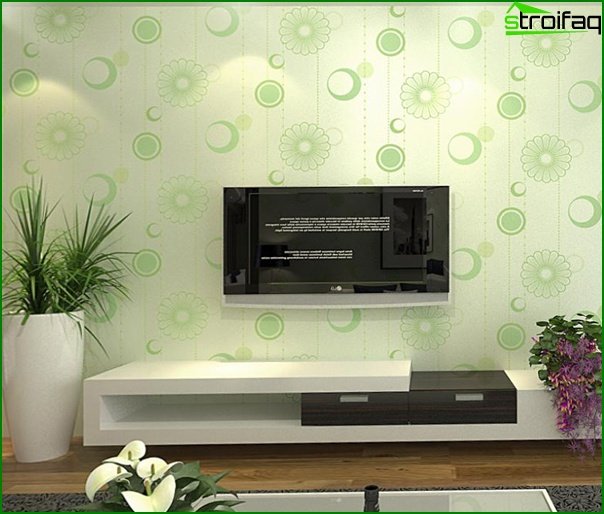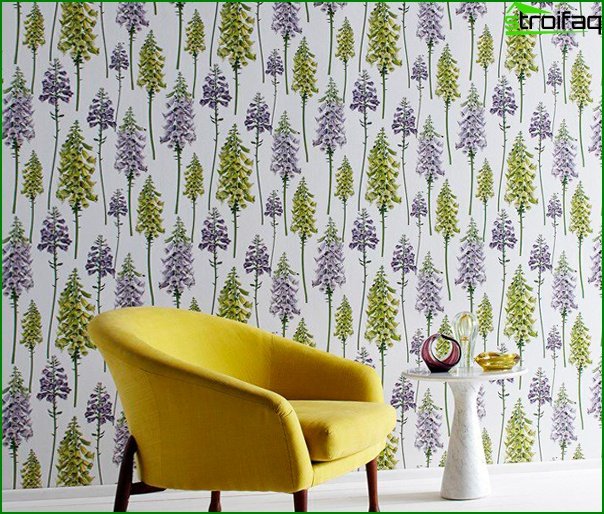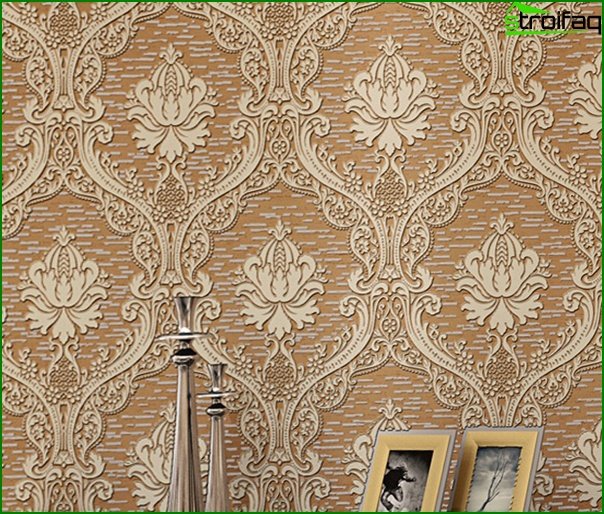 Pros and cons of non-woven wallpaper
Specialists distinguish the following advantages of non-woven:
Due to the density of non-woven wallpaper, there is no need to make perfectly smooth walls, to repair small cracks and roughness – they simply remain invisible under the layer of wallpaper.
Non-woven wallpapers are highly fire resistant, therefore they are safer.
Extruded structure for free air circulation.
Stunningly comfortable to operate. As already mentioned, non-woven wallpaper does not require impregnation with glue, does not soak, so it is glued much easier and faster.
Since there is no need to apply glue to the wallpaper, the places for their installation need much less than for paper.
The width of the canvas is almost twice as large as that of paper, which also reduces the time it takes to stick them.
Non-woven wallpaper is not prone to accumulate dust, so they are recommended to be used for decoration of people suffering from allergies or asthma.
The moisture resistance of the non-woven wallpaper allows you to care for them with an ordinary wet rag.
The non-woven wallpaper is not afraid of the sun, they do not fade and retain their appearance for many years.
If this wallpaper is for painting, then you can easily change the interior as soon as possible – just repaint them.
However, there are some disadvantages:
Vinyl coating is very fragile. Therefore, working with him, you must be extremely careful.
If vinyl spraying is very embossed, then dust and dirt can accumulate on it. Such wallpapers will not be very appropriate in the kitchen. For allergy sufferers and asthmatics, they are also harmful..
Wallpaper for painting will require double costs: wallpaper and paint. In addition, if you hire people to perform the work, then you will have to pay separately for gluing and separately painting. However, in future you can save on repairs.
The price of non-woven wallpaper is slightly higher than paper.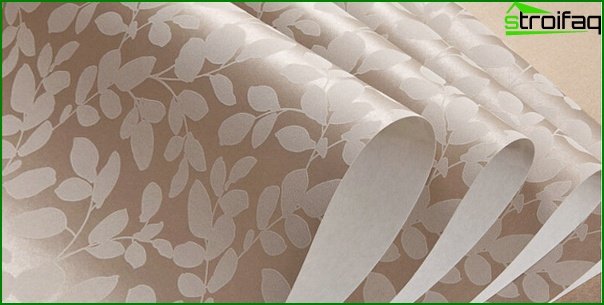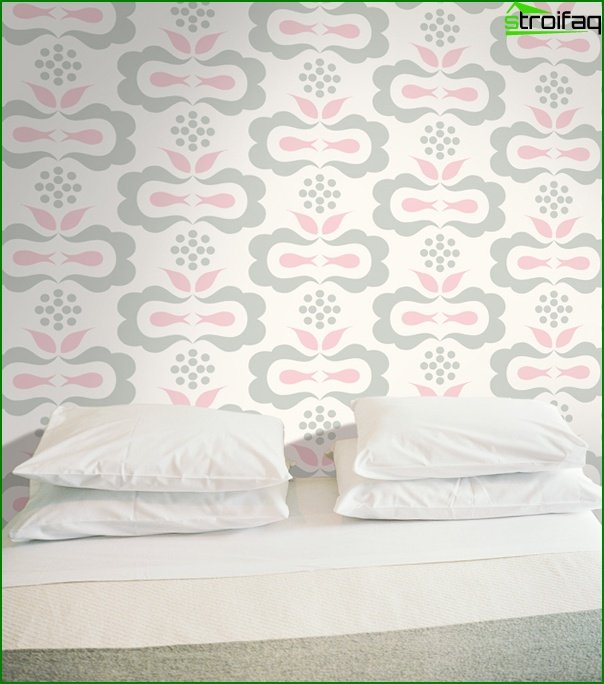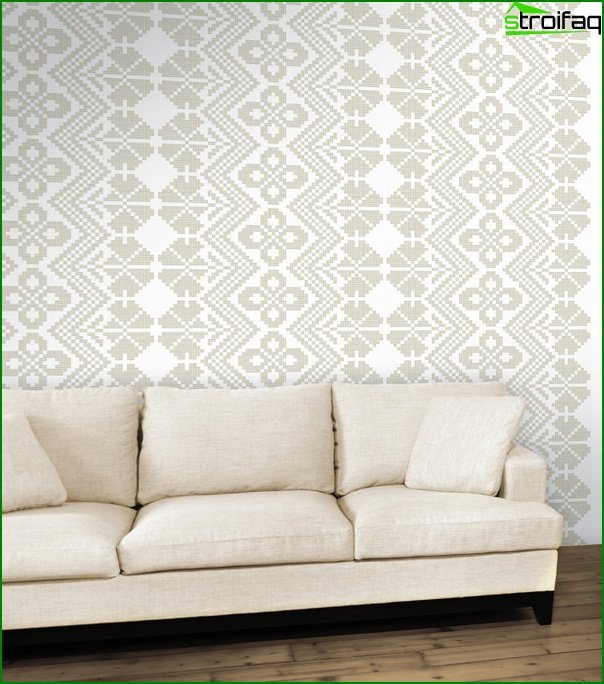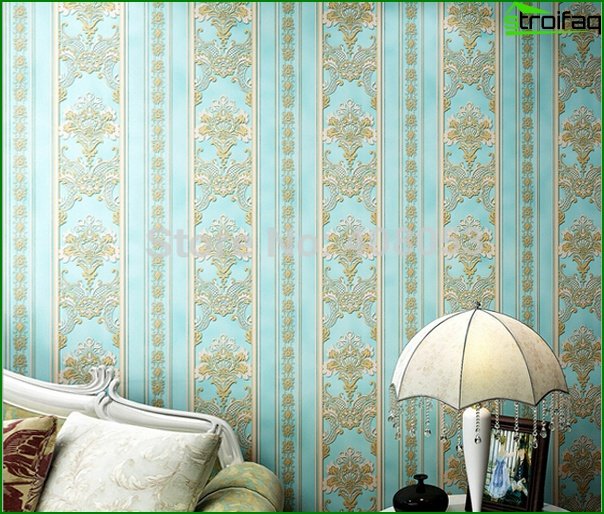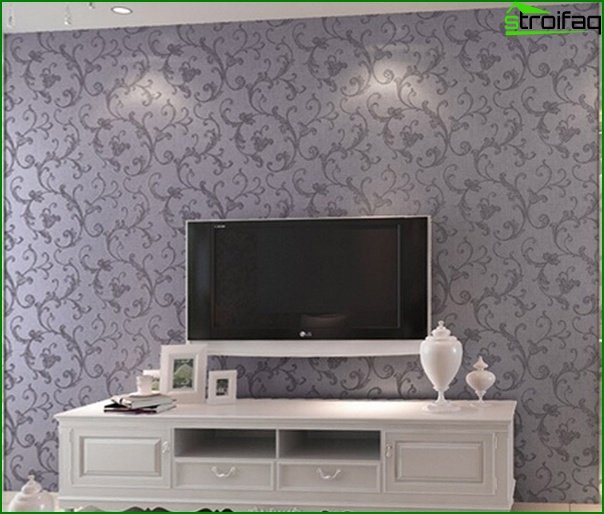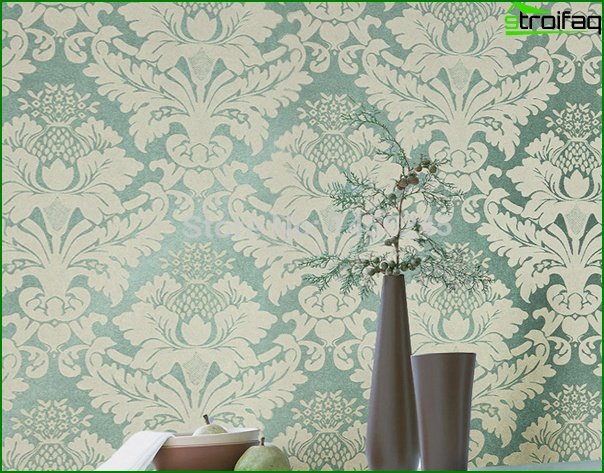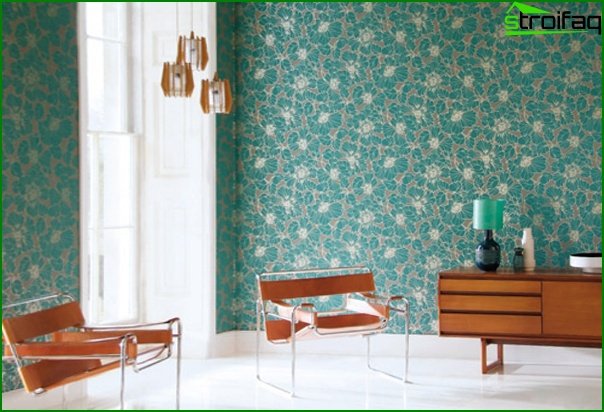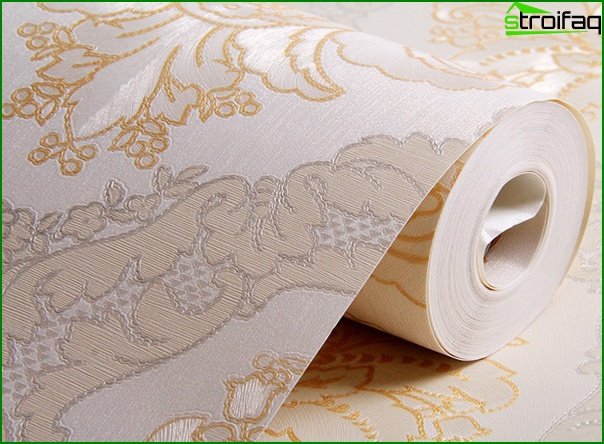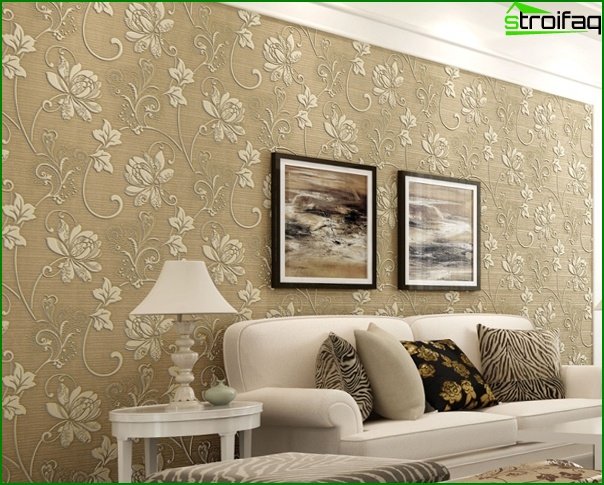 How to glue non-woven wallpaper?
First of all, you need to prepare the wall for gluing:
Take off old wallpaper
Remove old paint or sand it with sandpaper (medium)
Level surface
Primer
After that, cut the wallpaper. If your wallpaper doesn't have a picture or you don't need to adjust it, it's enough to cut the wallpaper into strips equal to the height of the ceilings, plus 5-7 centimeters from the top and bottom. If there is a picture on the wallpaper, you need to cut the wallpaper so that when the sticker the picture matches.
Next, you should prepare a special adhesive for non-woven wallpaper in accordance with the attached instructions. As a rule, glue needs to be infused from fifteen minutes to half an hour. When the glue is ready – apply it to the wall.
Canvas wallpaper is mounted on the wall dry. The strips are glued to the joint. It is better to start from the corner from the window – then the seams will be practically invisible.
After the strip of wallpaper is pasted on the wall – cut off the excess wallpaper on top and bottom, remove excess glue with a rag. Wipe glue with vinyl spraying very carefully, because it is very fragile!
Read more: How to glue wallpaper?
Non-woven wallpaper in the interior
In the bedroom
For walls in the bedroom designers recommend the use of soft colors soothing shades. This will allow you to relax and rest as much as possible. Soft green, blue, peach colors will look good. Warm or cold range – depends on which side of the house is the bedroom. In the room, it is better to use cooler shades on the south side, while warmer colors should be preferred on the north side. If you want an extraordinary solution for your bedroom, you can make one of the walls bright and saturated, best of all – at the head of the bed. Then the interior will be interesting, but minimally annoying, because most of the time you will be with your back to a prominent wall. To decorate it, you can use wallpaper with an avant-garde pattern, flashy flowers or photo wallpaper.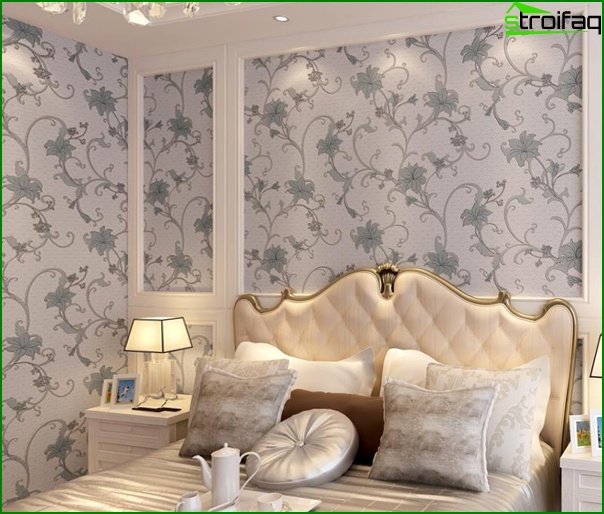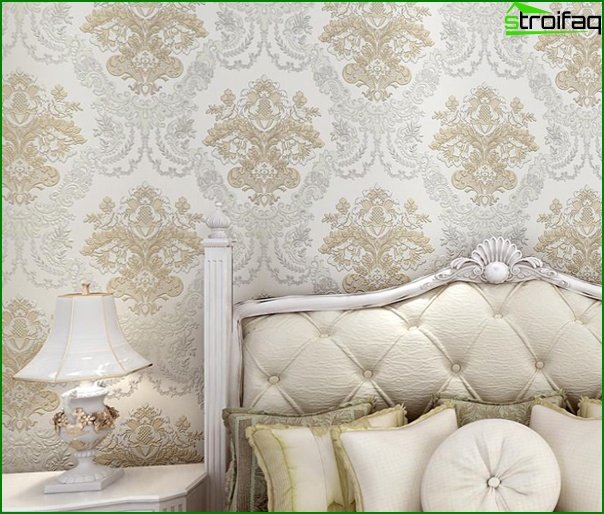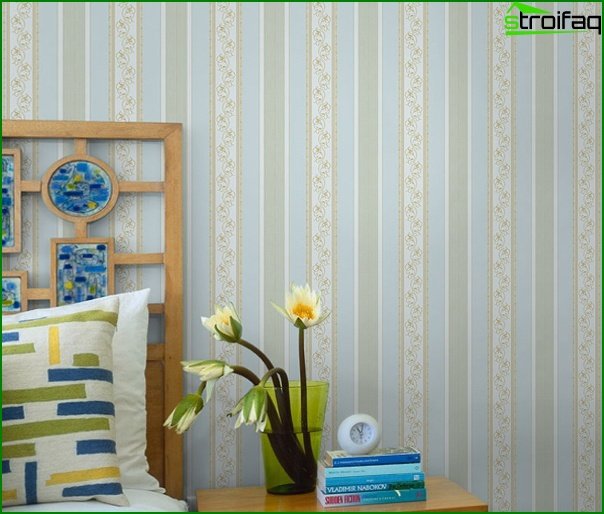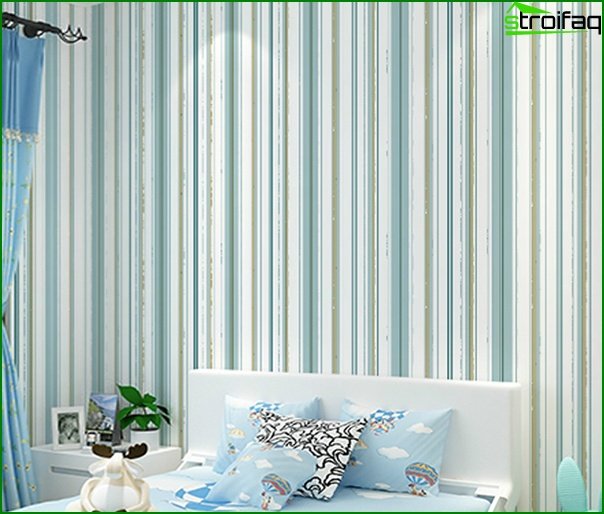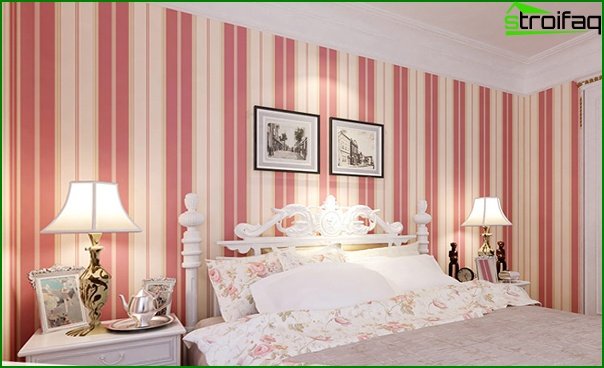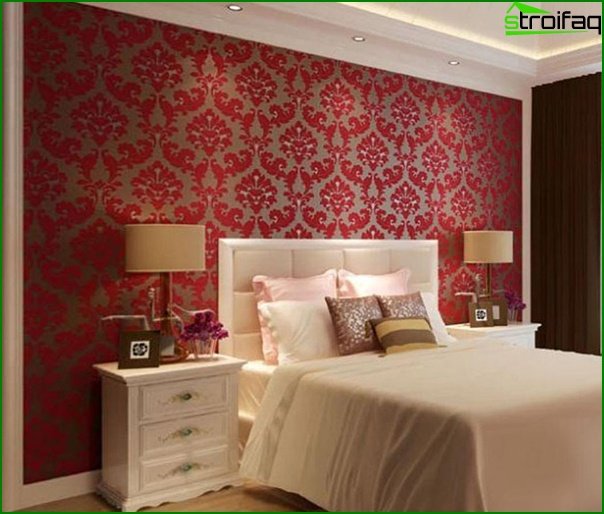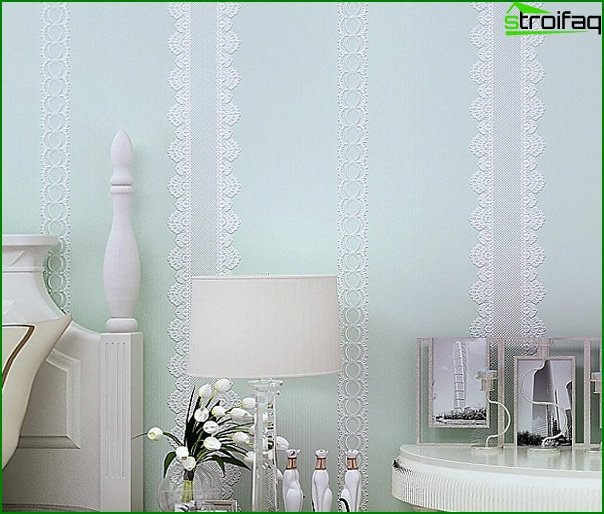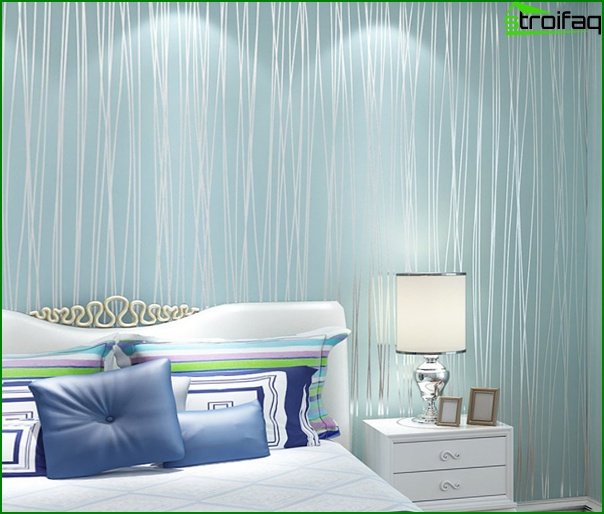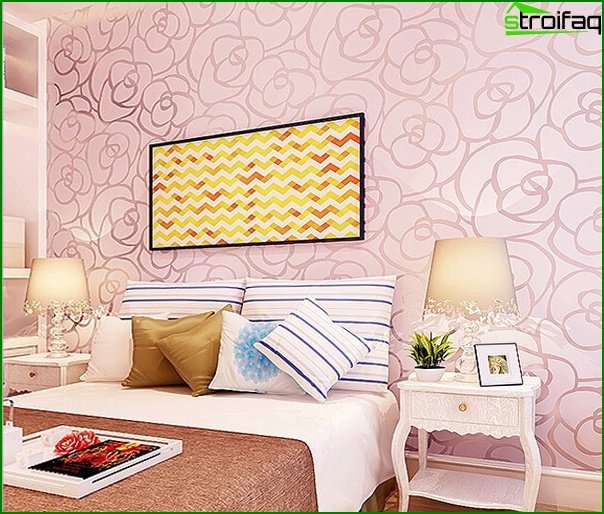 In the living room
IN living room You can use a variety of colors and textures of wallpaper, because this room is designed to be stylish and fashionable. By combining different wallpapers, you can conditionally divide the living room into different zones. This is very true for the combined studio apartments, as well as for small one-room apartments. With the help of various drawings, you can achieve the most diverse, and sometimes unexpected visual effects. For example, vertical stripes visually raise the ceilings, while horizontal stripes expand the narrow space. For decorating the ceiling can be used liquid wallpaper.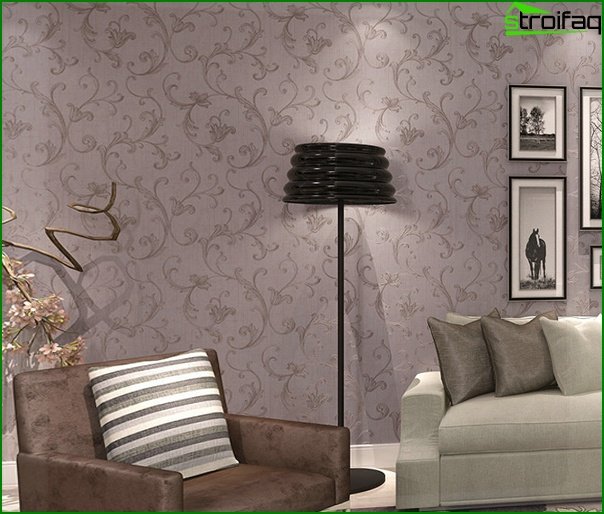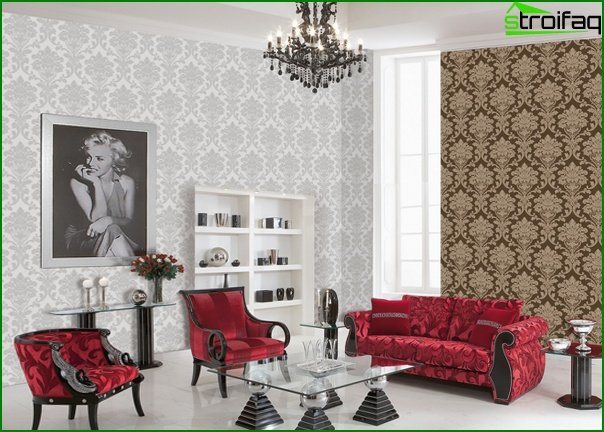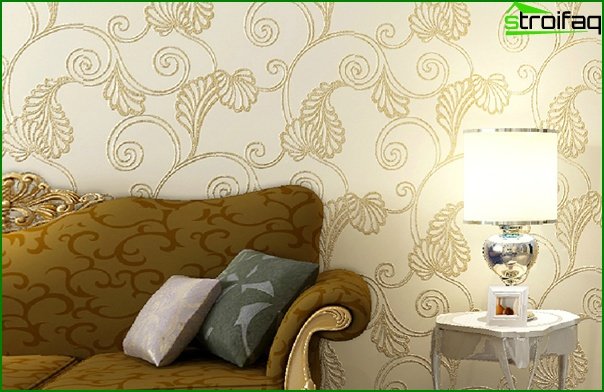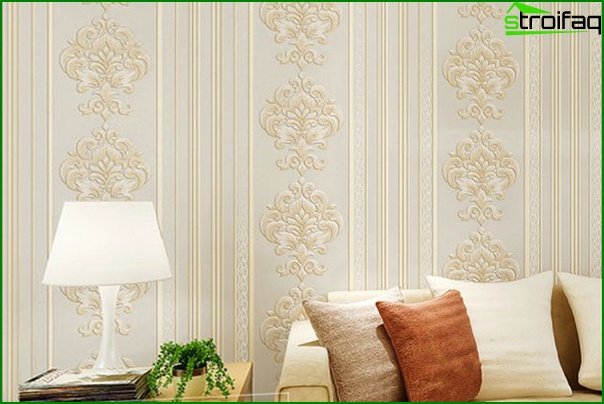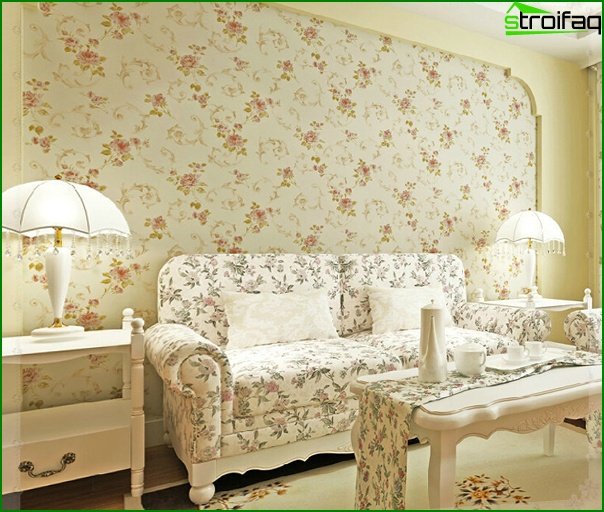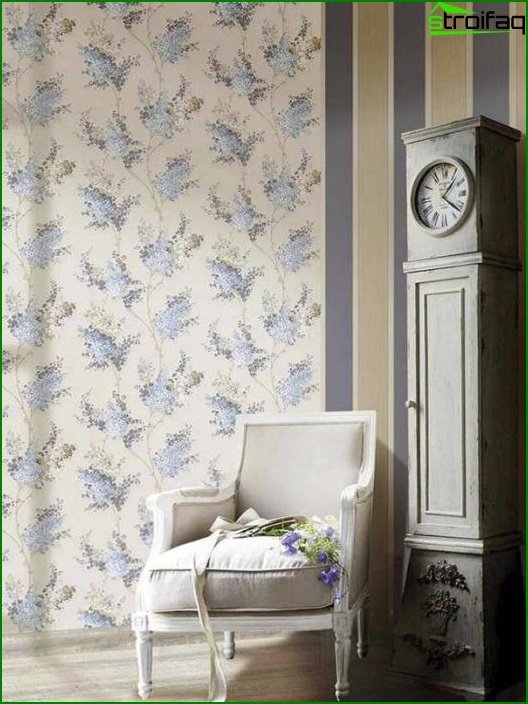 On the kitchen
In fact, in the kitchen it is better to use tiles or washable panels, because due to the constant cooking, the kitchen walls are subject to constant pollution, as well as constant exposure to temperatures and moisture. However, from such materials you can only make a working zone in the kitchen, while the rest of it (in particular, a zone for eating with dining table) decorate with wallpaper. Non-woven wallpaper is quite durable and wear-resistant, besides they can be washed. For the kitchen, it is best to choose non-woven wallpaper without vinyl spraying. An alternative can be the use of glass.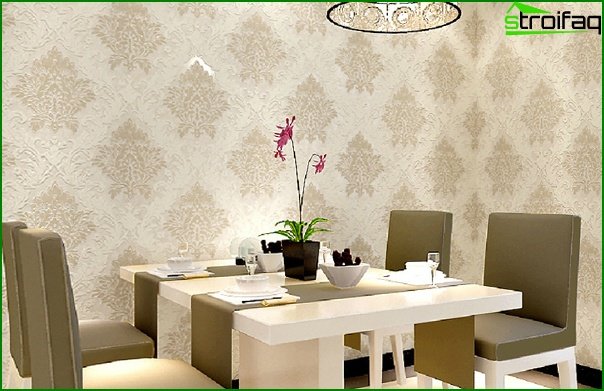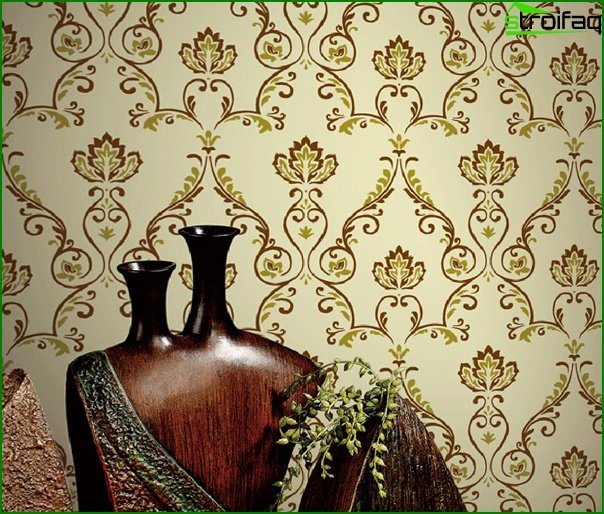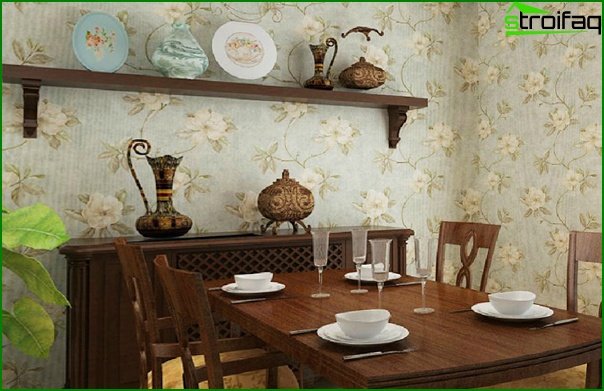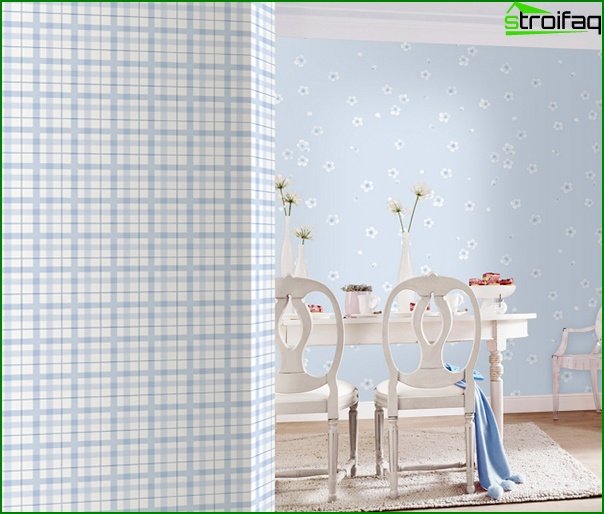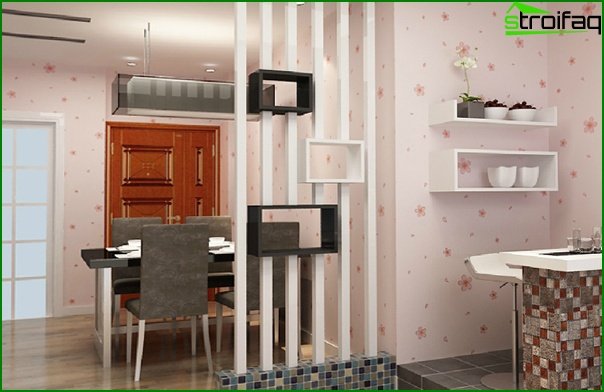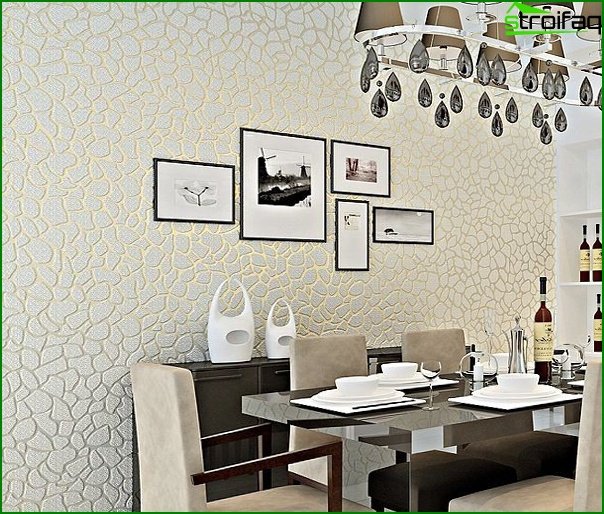 In the nursery
A wide range of non-woven wallpapers for kids room allows you to make fabulous even the most unpretentious and tiny room. In the sleep zone, it is better to use more moderate and neutral colors of the wallpaper, but in the zone for games you can show and realize all your imagination! Themed design of a children's room in the form of a sailboat, a castle, a dollhouse or a football field will look great. You can design a room in your favorite colors of the child. Using wallpaper for painting, on the wall, you can draw geometric shapes or your favorite cartoon characters. But the most important rule, which absolutely all parents are obliged to follow when decorating a room for their child – first of all, he should like it! Therefore, be sure to consult what exactly the child would like to see in his room.