Content
Where to place the dining table?
On the kitchen
In the living room
What material to choose?
From glass
From metal
From wood
Made of plastic
What table shape to choose?
Rectangular shape
Oval shape
Round form
Square shape
Original forms
Transformer Tables
Dining table for a small kitchen
Custom dining table
Do-it-yourself dining table: drawings
Where to place the dining table?
It is advisable to have a dining table where you plan to communicate with your guests. It can be a kitchen or a living room.
On the kitchen
Placing a dining table in the kitchen is a very standard option for interior decoration. Of course, a lot depends on its size. The small kitchenette is unlikely to fit a large and spacious table, most likely, it will be designed for the number of people from two to six. At such a table, they not only and not so much receive guests as they have breakfast / lunch / dinner in a small family circle. In addition, it can be used as a kitchen table for cooking. To receive guests, the dining table in the kitchen can only be used if there is enough space. Otherwise, it's better to put a table in the kitchen somewhere in the corner so that it does not interfere, and if necessary, take it to the hall.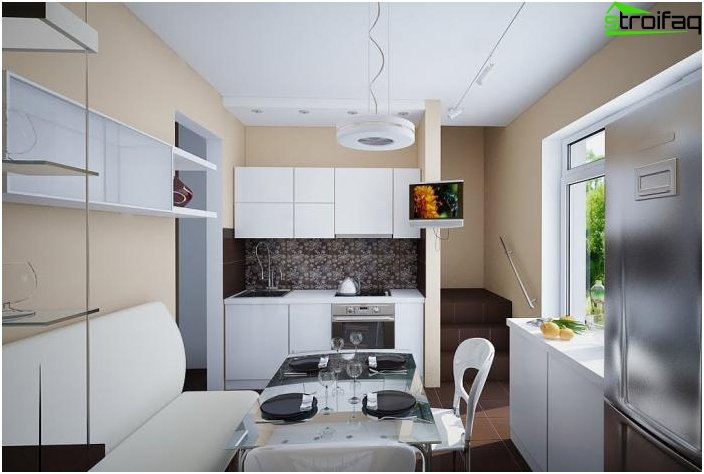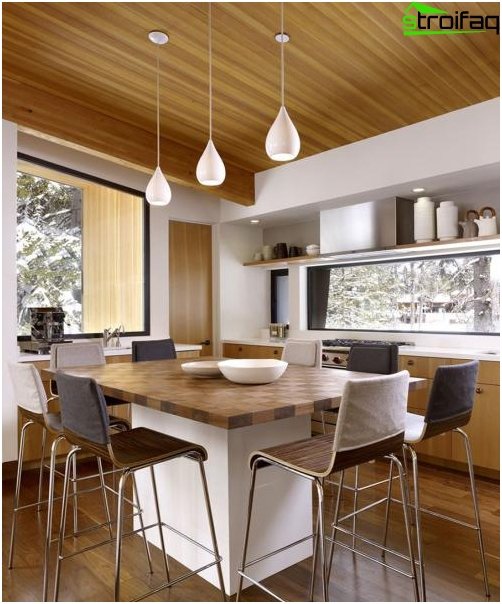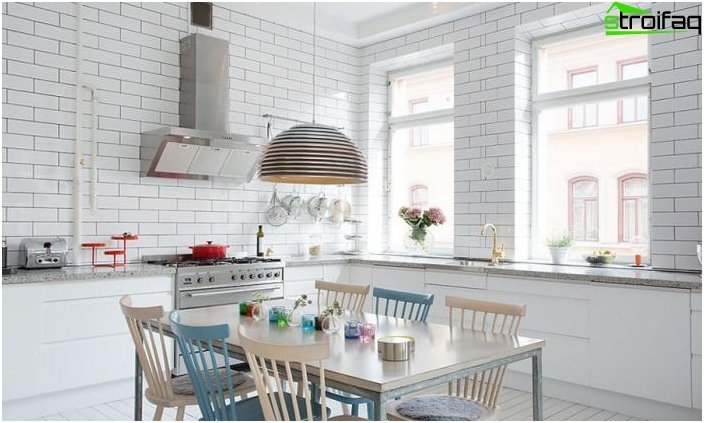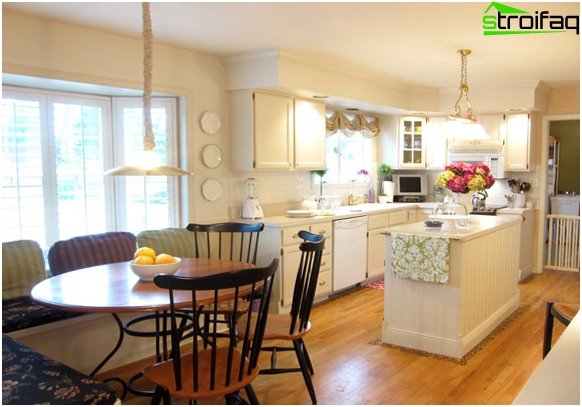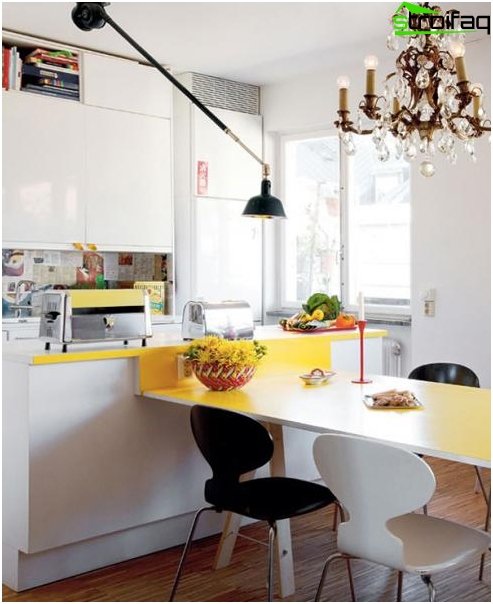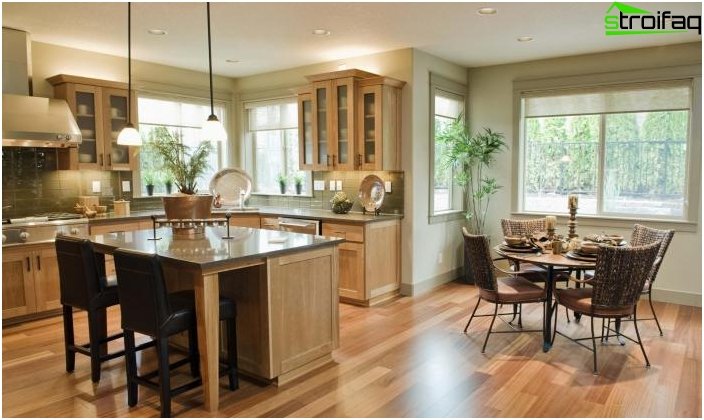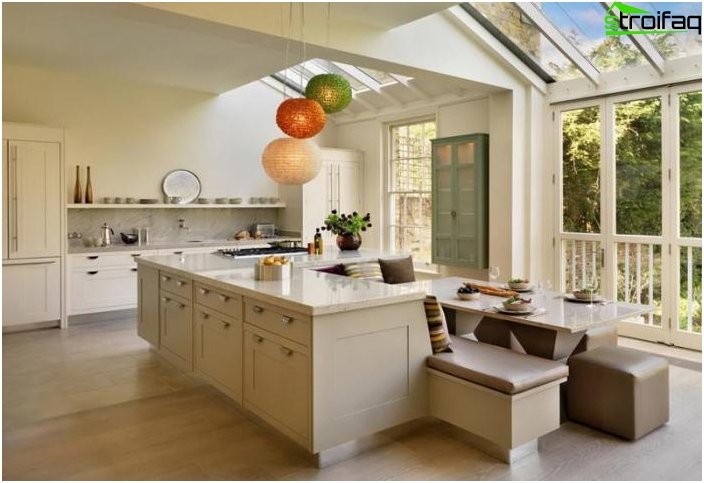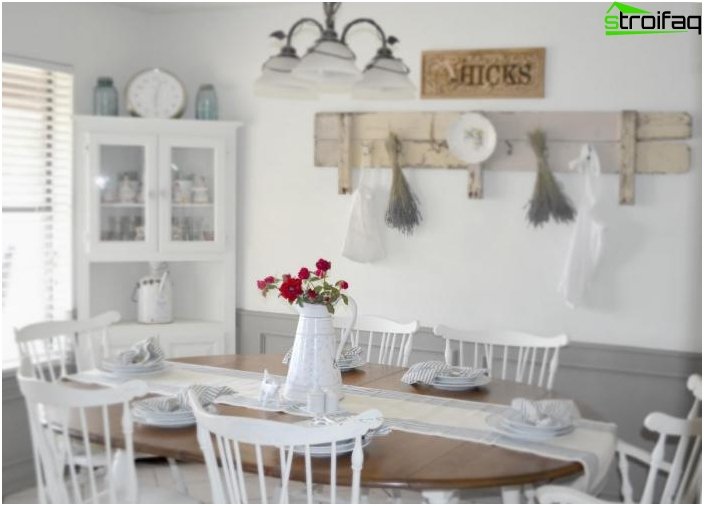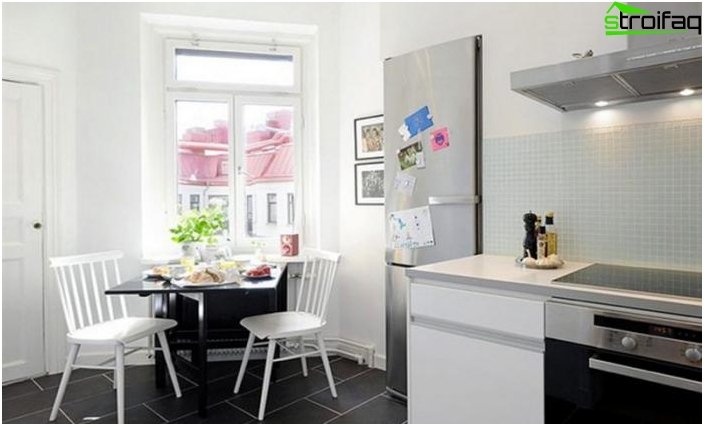 In the living room
If post dining table in the living room, then it is less likely that it will be used as a work surface and will be less susceptible to all kinds of contamination. Therefore, such a table can be not only spacious and functional, but also perform a decorative function. It can be of a non-standard shape, made of unusual materials, or simply decorated with a beautiful elegant tablecloth with napkins – it all depends entirely on your tastes, preferences and imagination.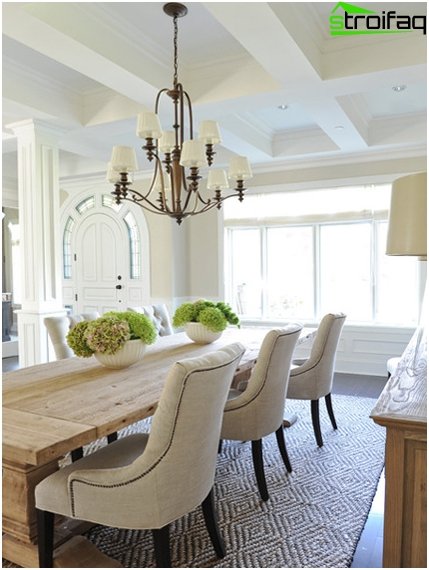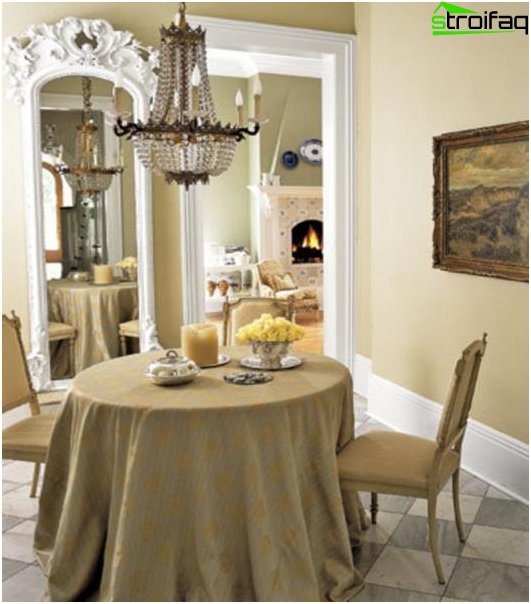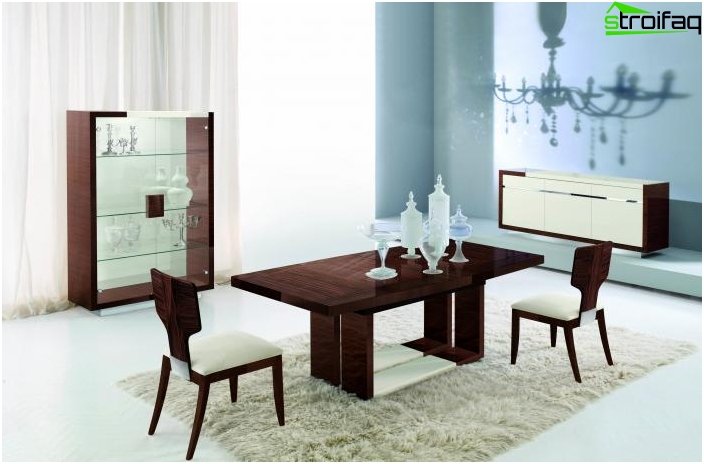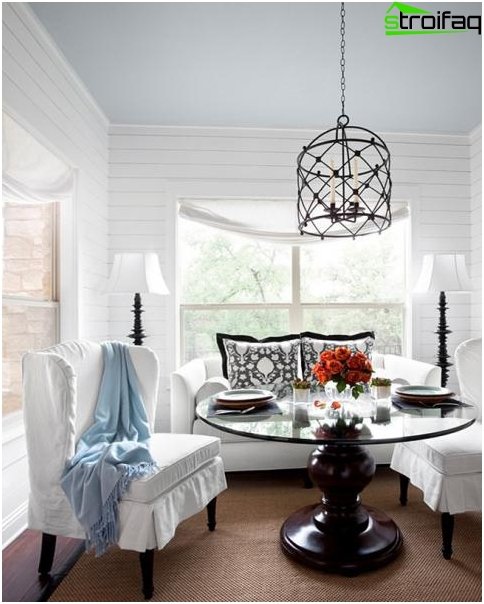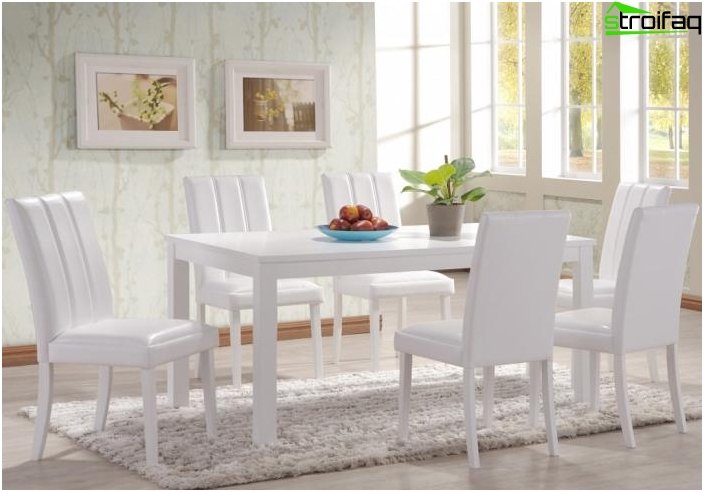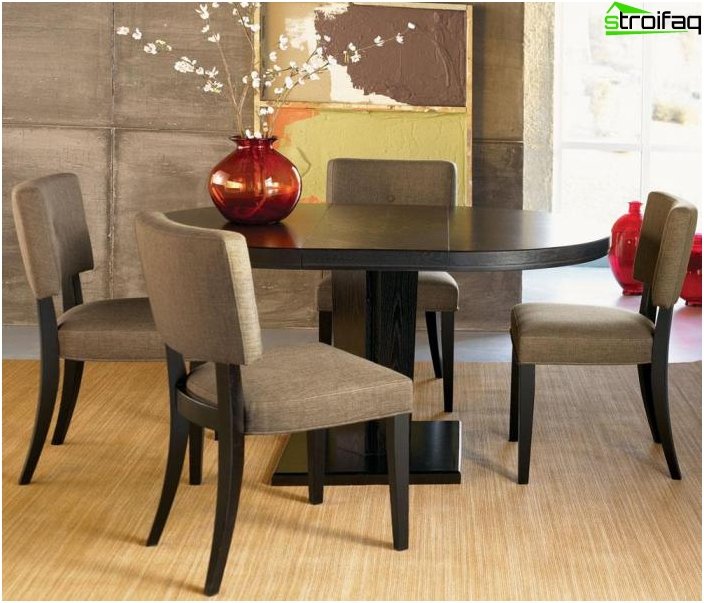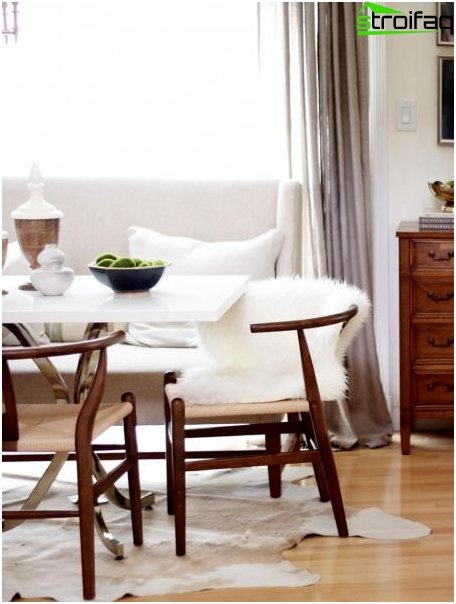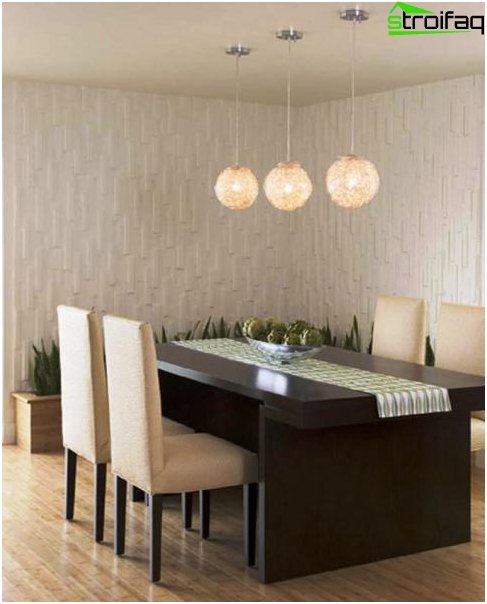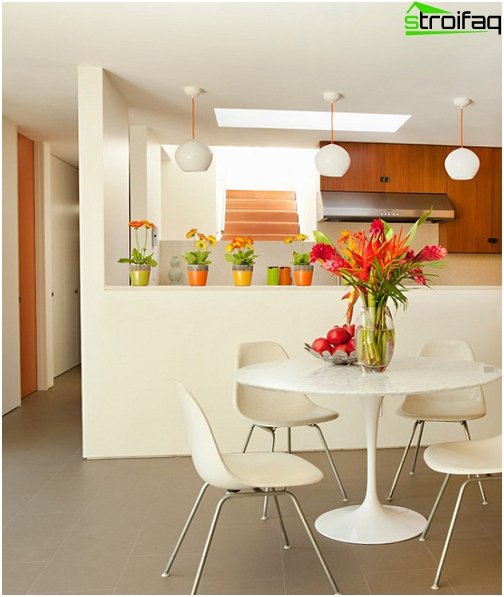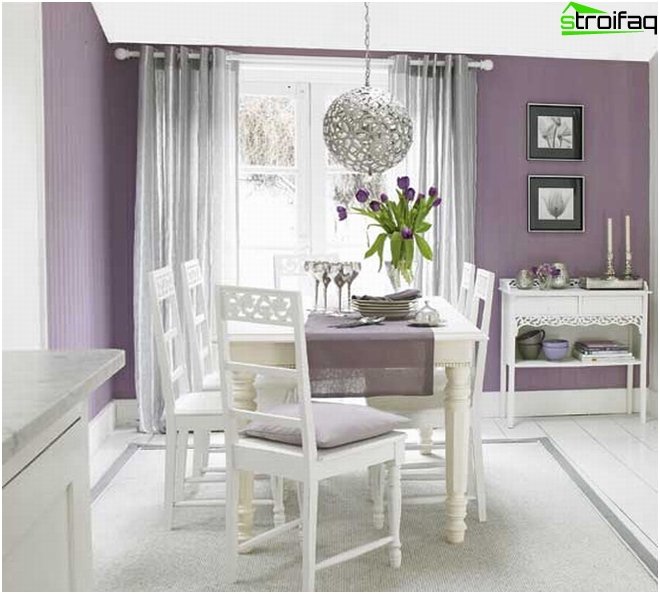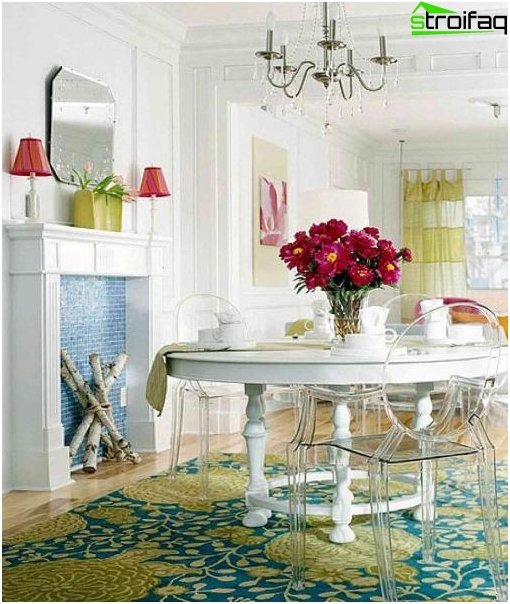 What material to choose?
Traditional materials for the manufacture of dining tables are:
Each of these materials has its own advantages and disadvantages. Let's consider them in more detail..
From glass
Glass tables – light, weightless, not cluttering up space. They successfully fit into almost any room. A table with a glass top will look beneficial in the styles of minimalism, high-tech, industrial and futuristic.
But this type of table has a number of disadvantages:
The glass top must be carefully looked after, because on its surface the smallest smudges, spots and even fingerprints are visible. At the same time, you will need not only a rag, but also special glass care products – only in this way you can achieve a result that is brilliant in every sense.
The surface of the glass table is cool to the touch, which is not always and not everyone is pleased.
The glass table, in contact with solid objects (and there are a lot of them in the kitchen!) Makes a very specific sound.
Transparent surface. Yes exactly. Dignity comes at the same time as a disadvantage, because not everyone will like to admire their own legs during a meal.
It makes no sense to buy a glass table if you are going to cover it with a tablecloth. A compromise option is a table with an opaque glass top.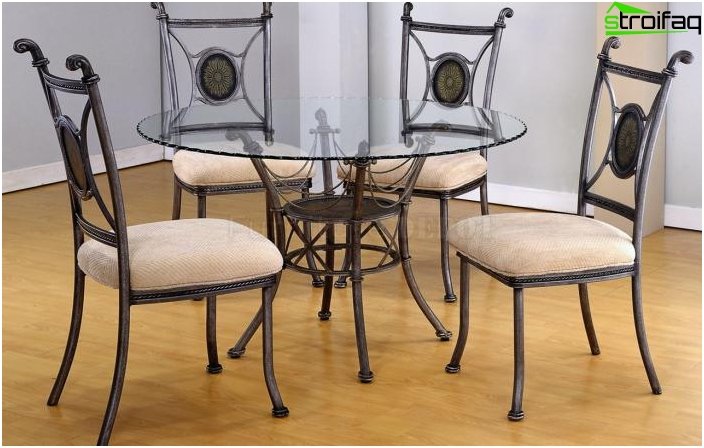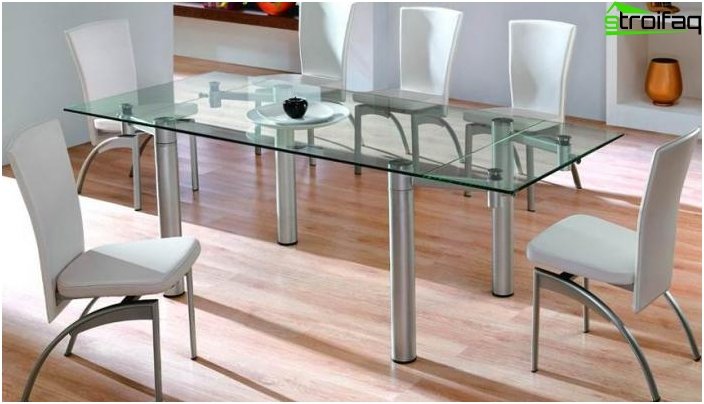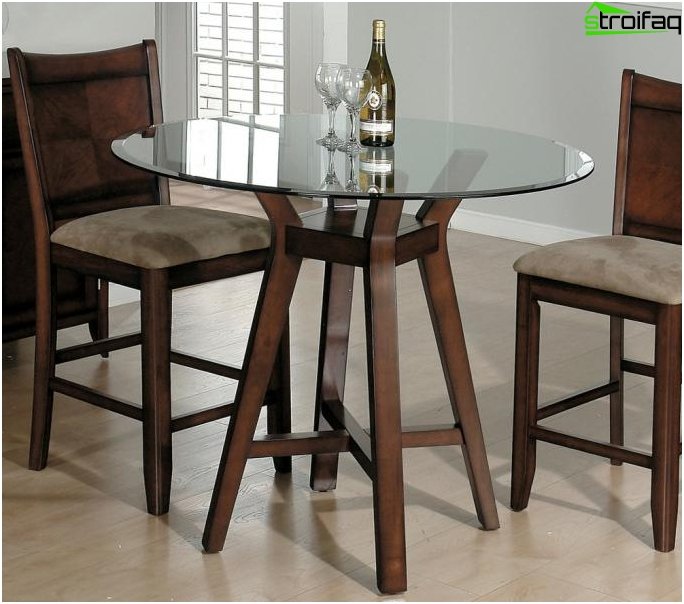 From metal
Dining tables made of metal are incredibly durable, and modern models look amazingly stylish. However, such a table will be quite heavy, so constantly changing its location is very problematic.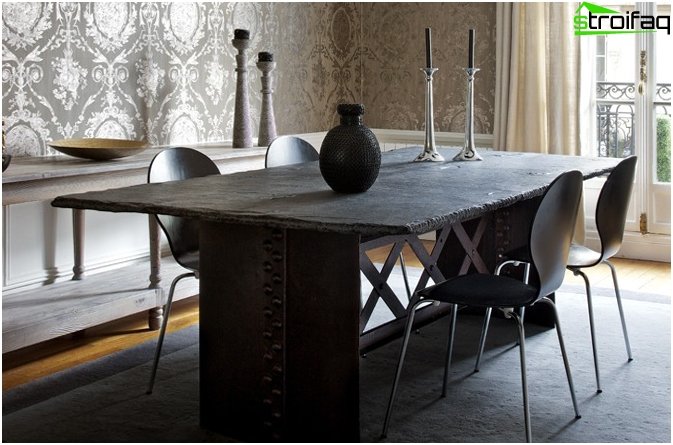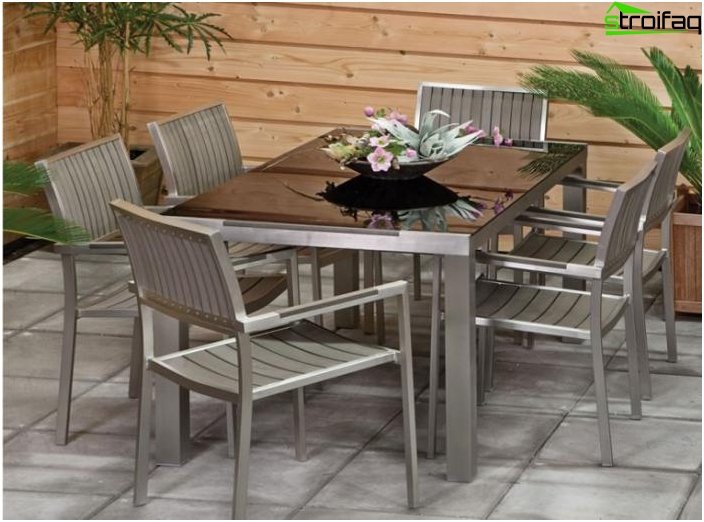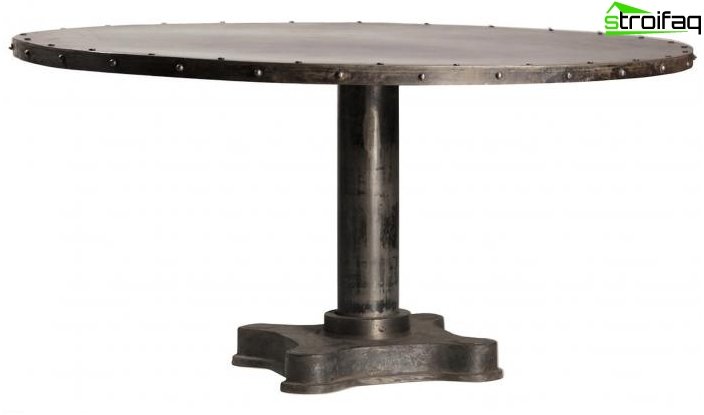 From wood
Wooden dining tables are the choice of adherents of traditions and classics. The cost of such a table is quite high, and weight limits mobility. If the question rests on the price, you can choose a more budgetary option: a table with a worktop from chipboard. True, such a table is unlikely to last you long..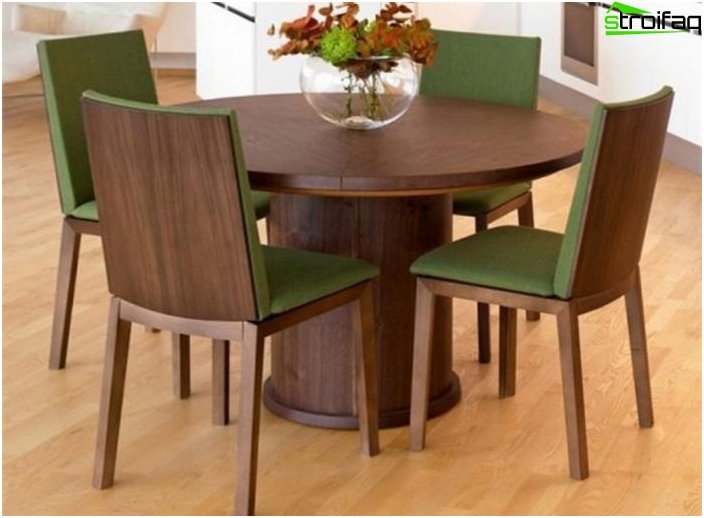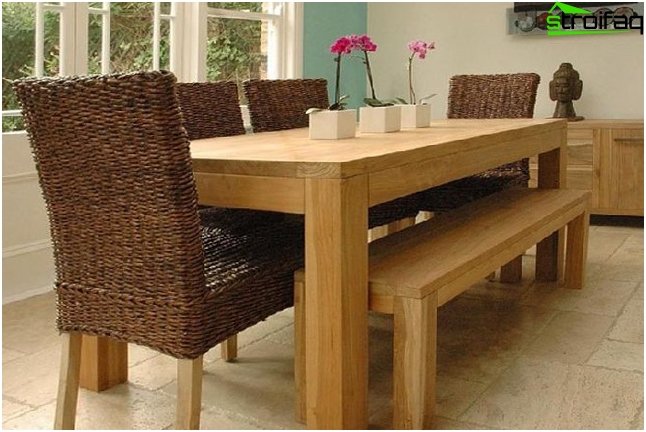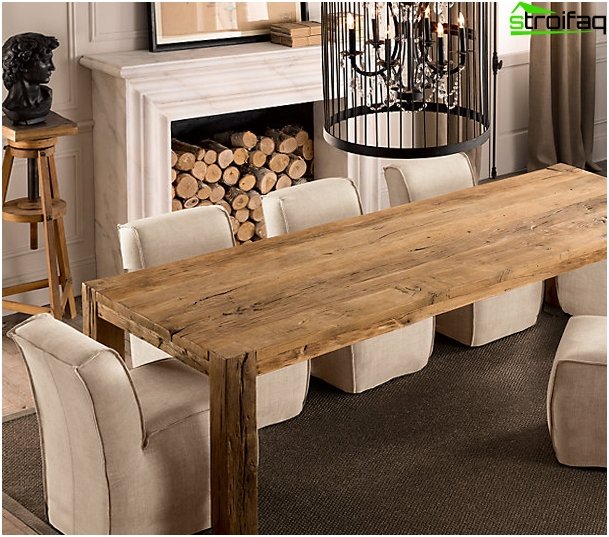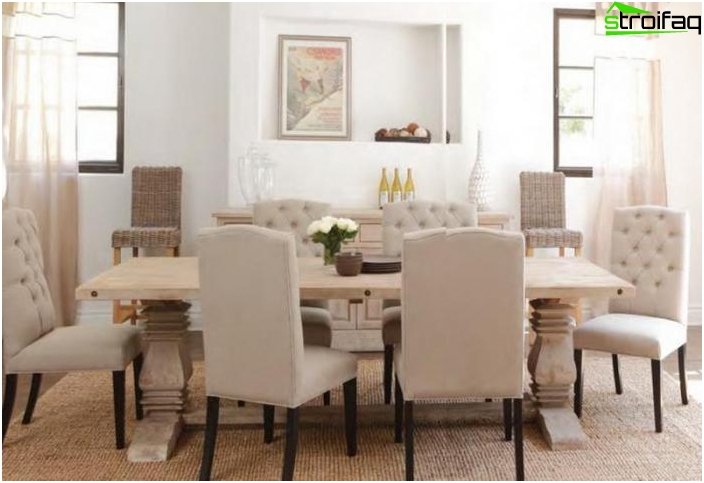 Made of plastic
This is one of the most popular types of dining tables. Its main advantages are as follows:
Plastic tables are the most inexpensive, to purchase it will require minimal costs.
Plastic tables are easy to clean, so even heavy pollution (which, naturally, will arise during meals and, especially, stormy feasts) you will not be afraid.
Plastic tables are the lightest and you can always easily transfer it from one room to another
Plastic tables can be unusual and even fantastic colors, because this is the most malleable material. In addition, you can make a custom tabletop with photo printing and your table will definitely not be equal.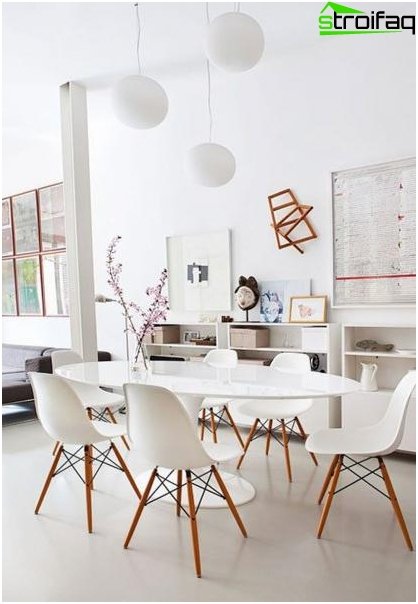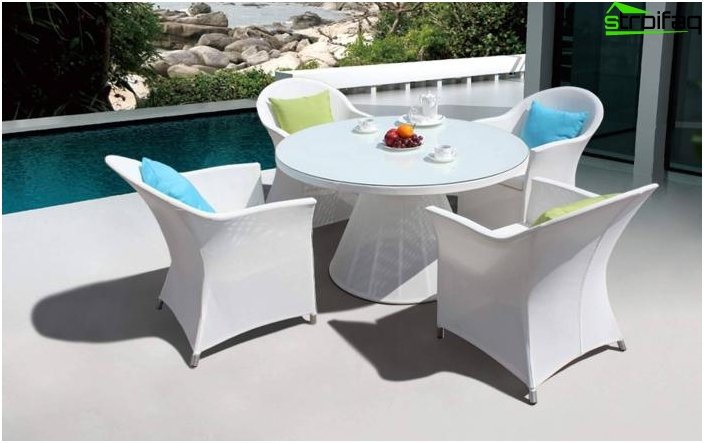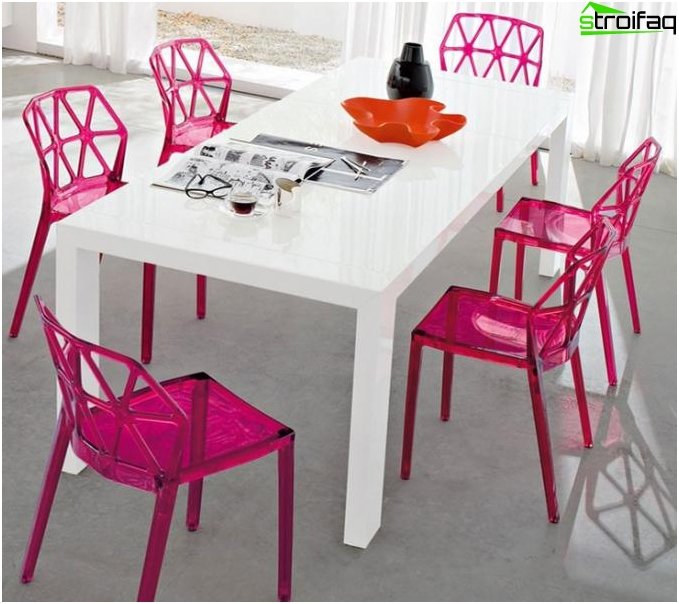 What table shape to choose?
Have you decided to buy a new dining table, but don't know what criteria to choose? Our tips will help you.!
Decide where your table will stand. So you will know exactly what maximum permissible dimensions should be at the table and which options will not fit.
Decide whether to move the table from place to place. Thanks to this, it will be easier for you to navigate with the choice of shape and materials for the table.
Decide how many guests you have and how often they come to you. If your house is constantly reigning fun and noisy companies gather, then you will probably need a spacious table. If guests do not come to you often, you can limit yourself to a table based on: all family members plus one or two extra beds.
At a table with empty chairs, dining is not comfortable, so buying a huge table for three people is not the right decision. The best option is a transforming table, which at any time can be increased to the festive size.
Rectangular shape
The rectangular shape of the table is the most common option not only for dining, but also for the kitchen, coffee, writing, etc. From the point of view of placement, such a table is inferior only to a corner one, however corner tables are designed for one (maximum – two) people, while at the dinner table going three or more.
A rectangular table can be very narrow: a tabletop width of 75 cm is enough to comfortably place dishes on the table and people at the table. Too wide tables look too formal.
Sizes of a rectangular table and number of seats
| | |
| --- | --- |
| 90 cm * 60 cm |  Up to 4 people |
| 150 cm * 90 cm | Up to 6 people |
| 200 cm * 110 cm | Up to 8 people |
| 260 cm * 110 cm | Up to 10 people |
| 320 cm * 110 cm | Up to 12 people |
You can save space by placing a table near one of the walls, but at least one seat will be lost.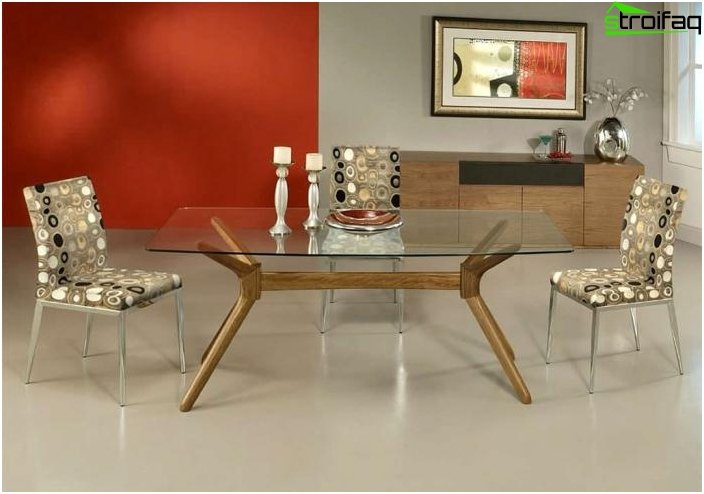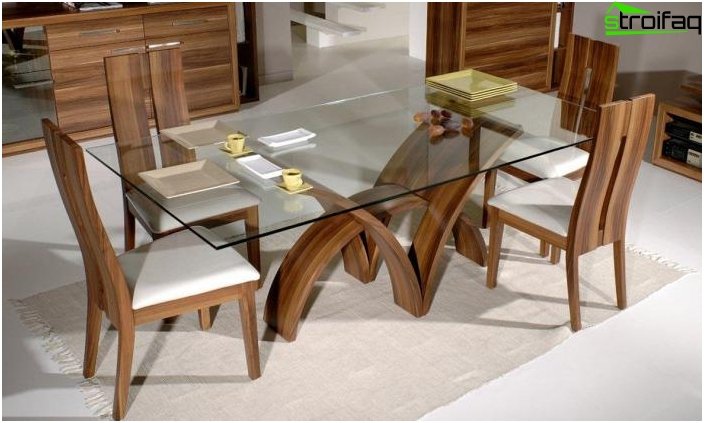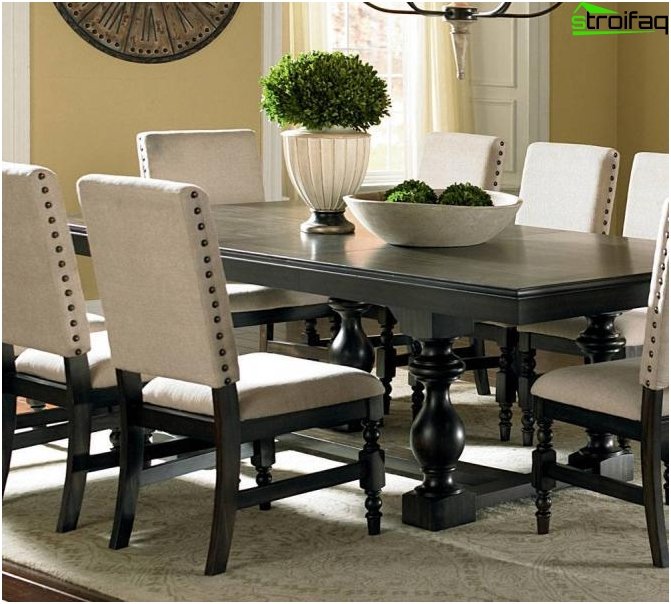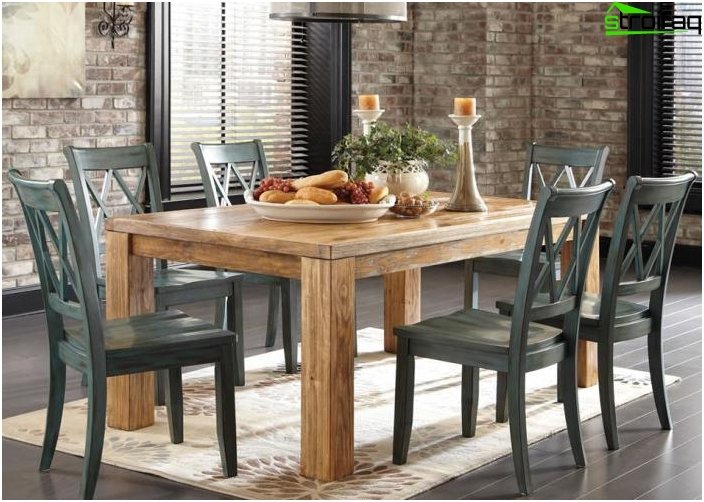 Oval shape
An oval table is a worthy alternative to a table with a rectangular countertop. It is no less roomy, but due to the lack of angles, the number of seats is easier to vary. In addition, such tables are less traumatic, which is especially important for families with small children..
When choosing the size of the table, remember that the width of one seat at the table ranges from 70 to 80 centimeters (depending on the physique of the guests).
So that the table legs do not bother anyone, modern manufacturers present a wide range of tables on one leg, which are not only convenient, but also look incredibly stylish.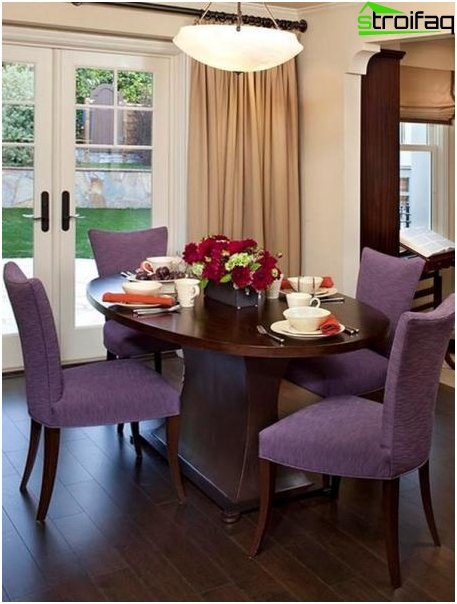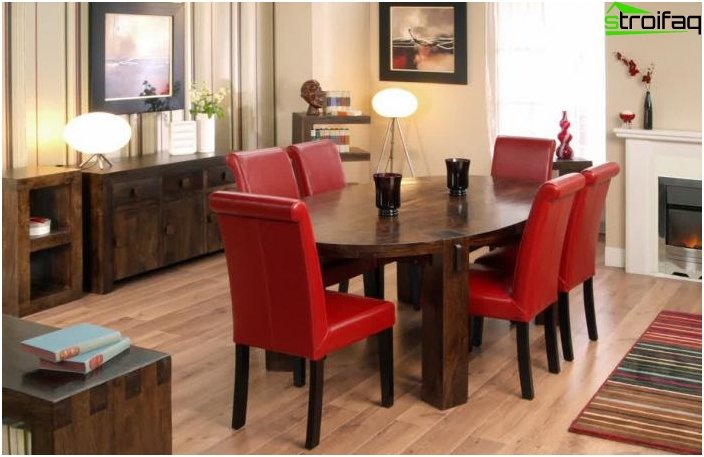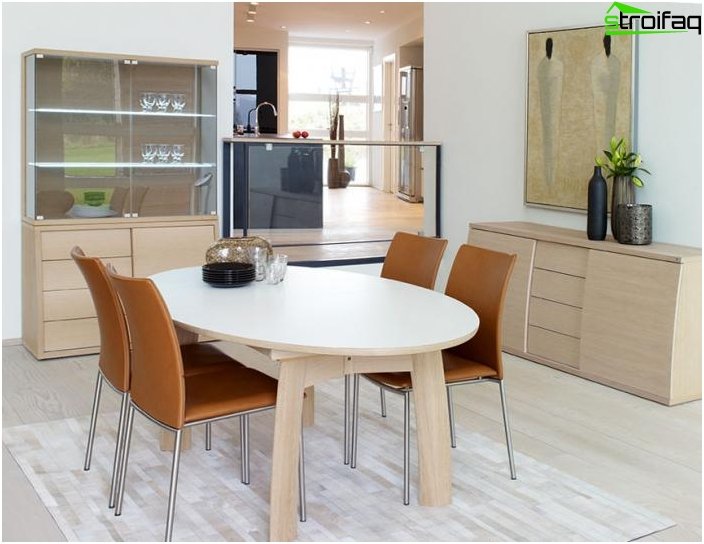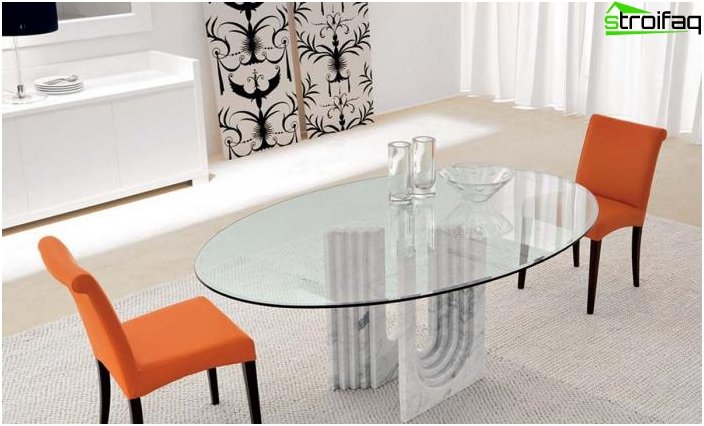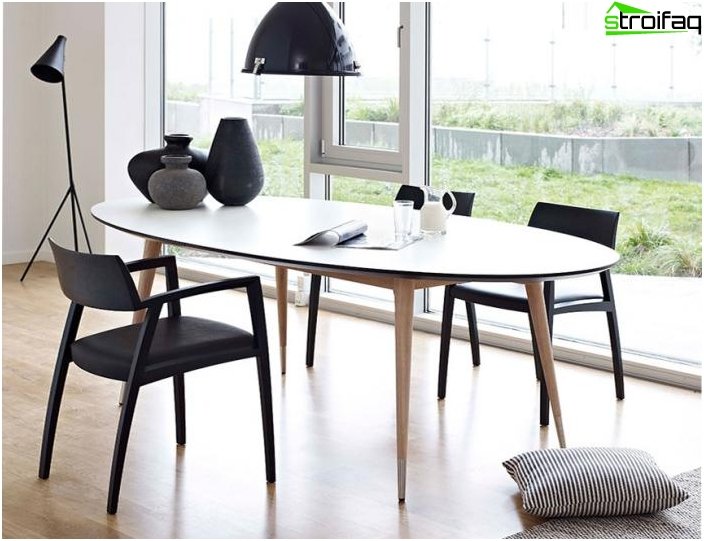 Round form
King Arthur and his knights had a round table for a reason: thanks to this form, the king emphasized the equal rights of all those present. Indeed, if you want to create a trusting atmosphere, this is exactly what you need. At the round table, each person will be able to see absolutely everyone sitting and less likely that the holiday will turn into a "grouping" of interests.
The streamlined shape will allow you to safely move around the small kitchen, however, the minimum diameter of the countertop for convenient use (so that nobody is crowded) should be 95 cm, and if you take into account the need to put cooked dishes on the table, then even 120 cm.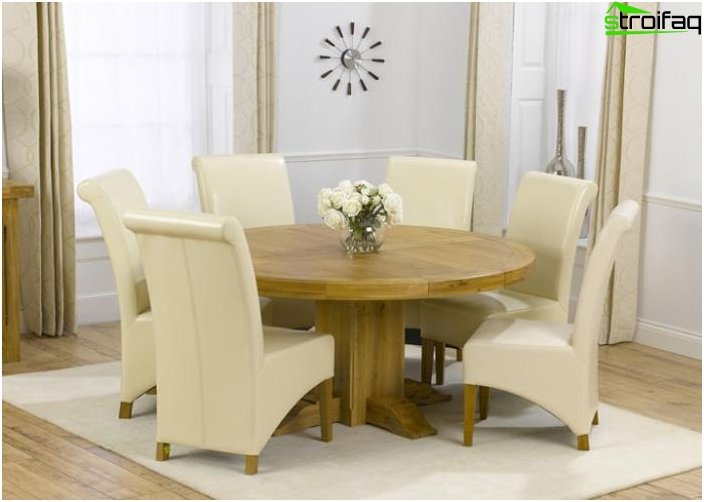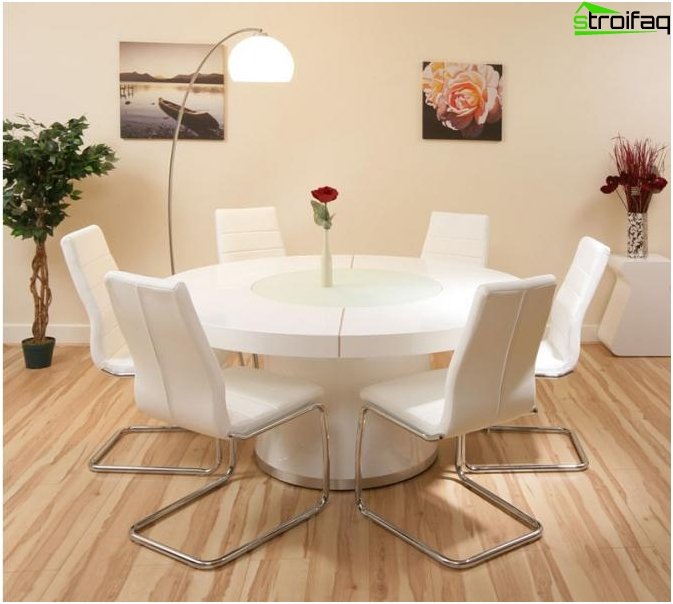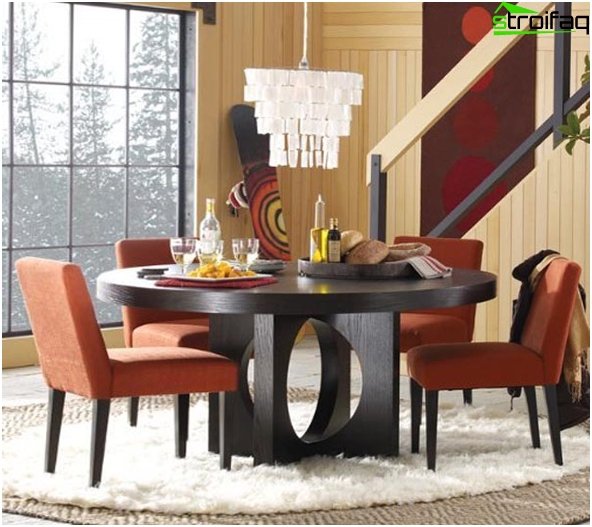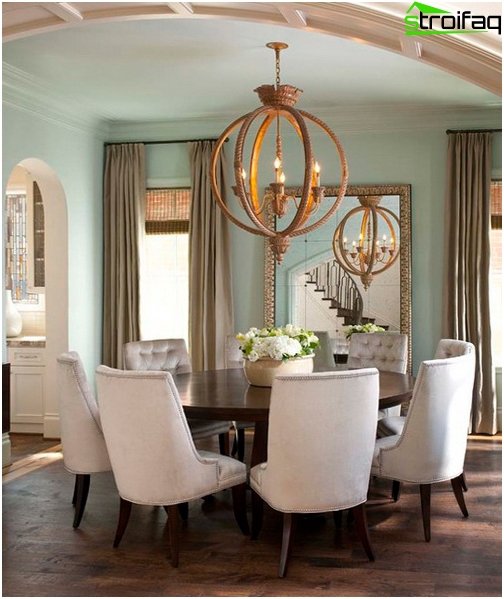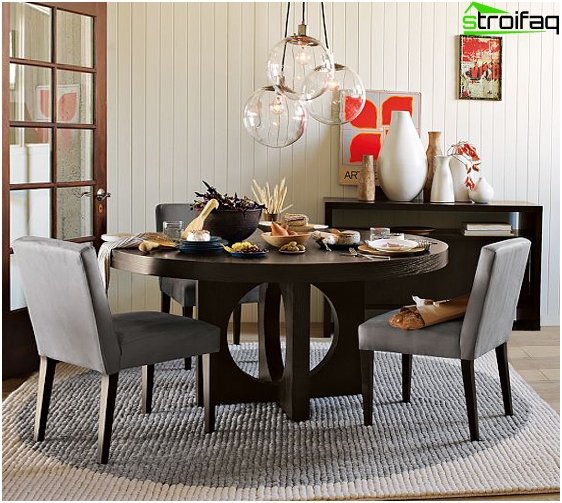 Square shape
On the one hand, a large number of guests can be placed at a square table. On the other hand, guests will be far from each other, which will complicate communication and hand-to-hand transfer of dishes. In addition, such a table occupies a very impressive space, so it is advisable to place it only in a spacious room or kitchen. Small square tables are suitable for a family of two. The optimal size of a square dining table for home use is a table with four or eight seats.
When calculating the dimensions of the space for placing the table, remember that it includes not only the area of ​​the countertop, but also a place for chairs that should move freely (so that a sitting person can stand up from the table without hitting others).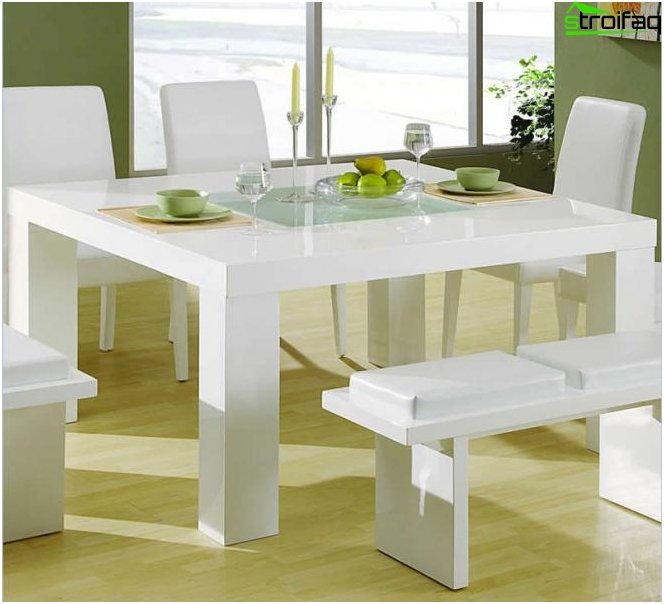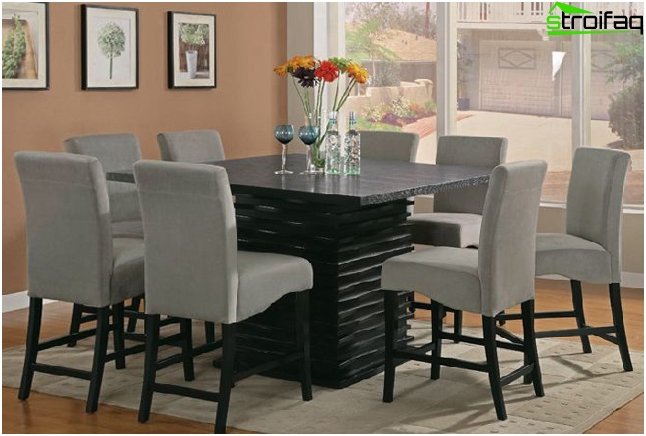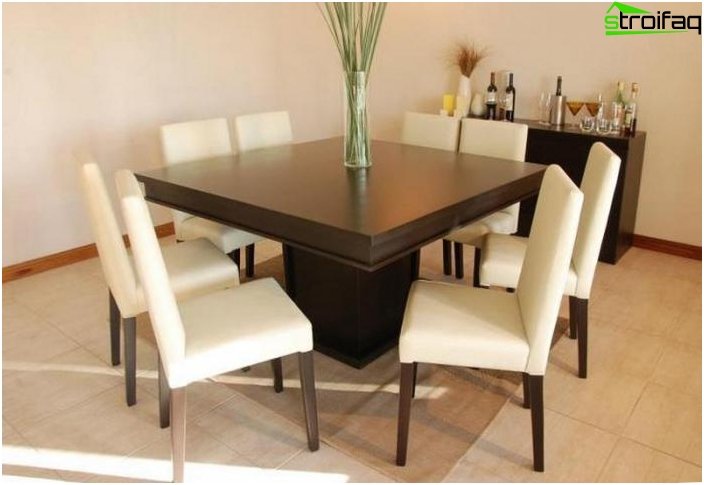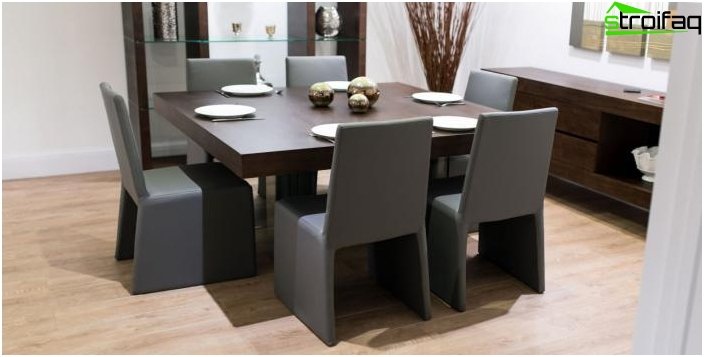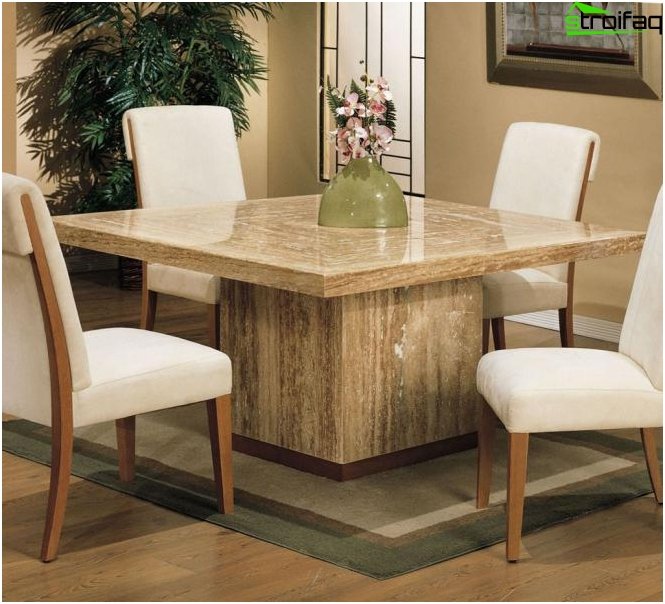 Original forms
You can express your extraordinary, passion for originality, desire to shock the audience in the form of a table. It can be a tabletop in the form of a triangle or a polygon, a wave, a leaf – anything. The main thing is that there is enough space to accommodate your guests and that invitees do not injure themselves, bumping into sharp corners.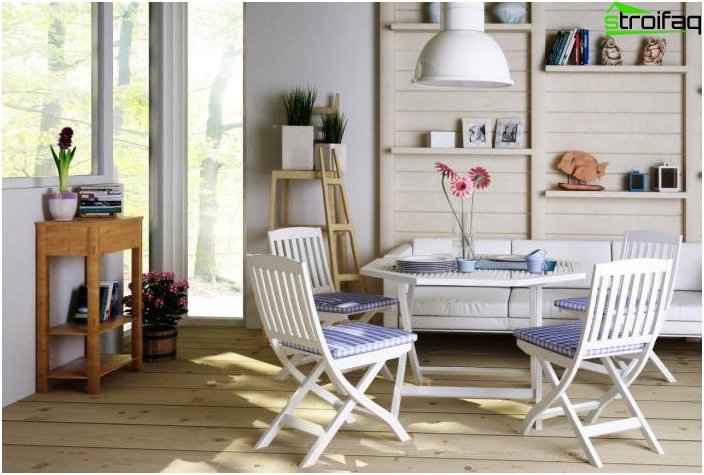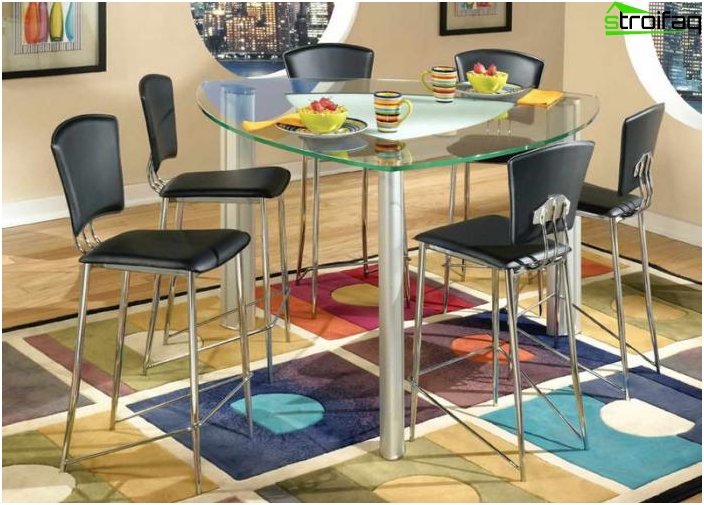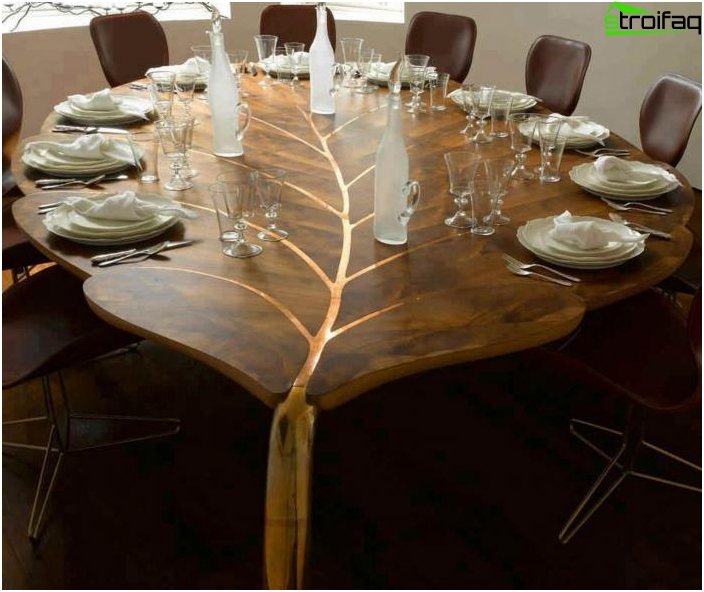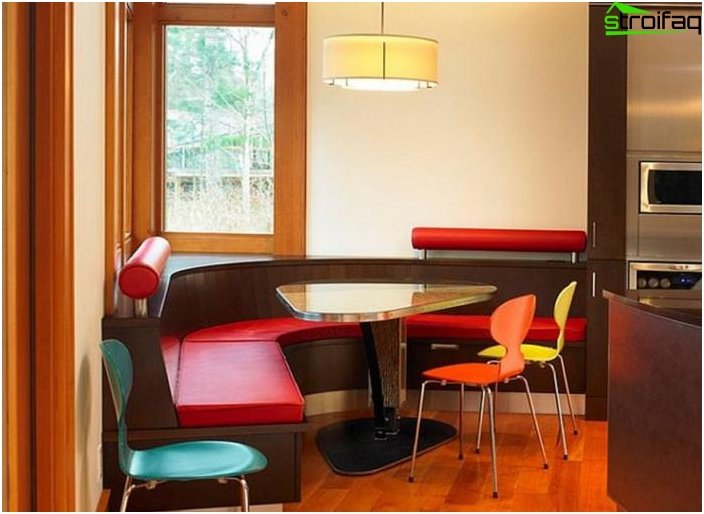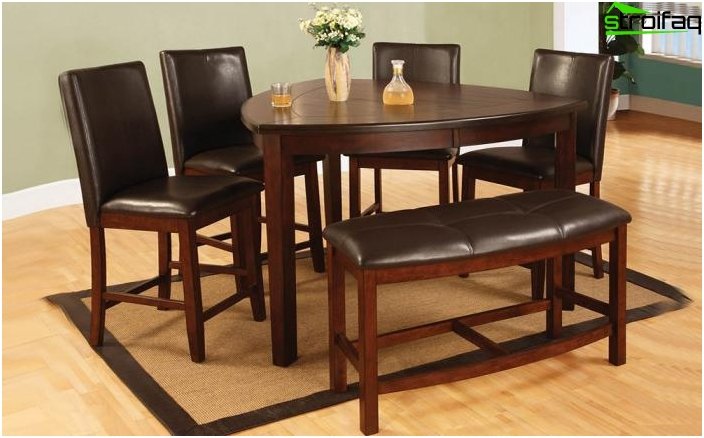 Transformer Tables
Perhaps one of the main achievements of the modern furniture industry is transforming tables. In our country, most of the dwellings do not differ in such luxury as open space. Therefore, the most important task that is faced when choosing a dining table: how to accommodate many guests during the holiday, but not to limit their comfort on weekdays? And today it is possible thanks to transforming tables.
Transforming tables are of two main types: sliding and folding.
Sliding tables increase their area due to the countertop, which can be moved apart and "delivered" another part. When folded, such tables are very small in standard size and are also used as a dining table. Most often, the shape of the countertops is rectangular or oval.
Folding tables are more compact. Unlike sliding ones, when folded, they can act as a coffee table or even bedside tables (for example, a table-book). These tables are light and mobile, they can be moved from room to room without much effort.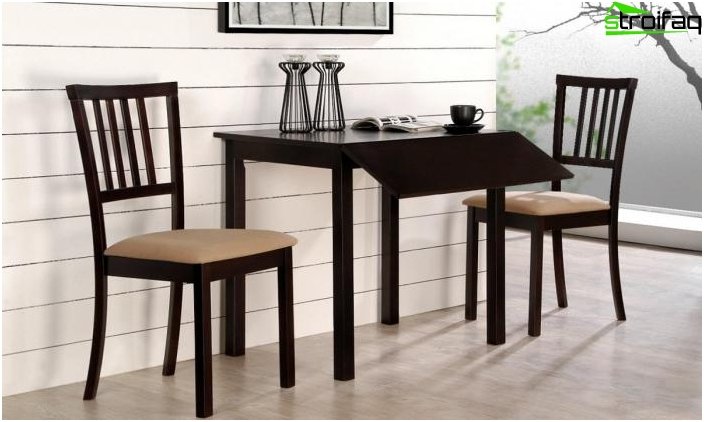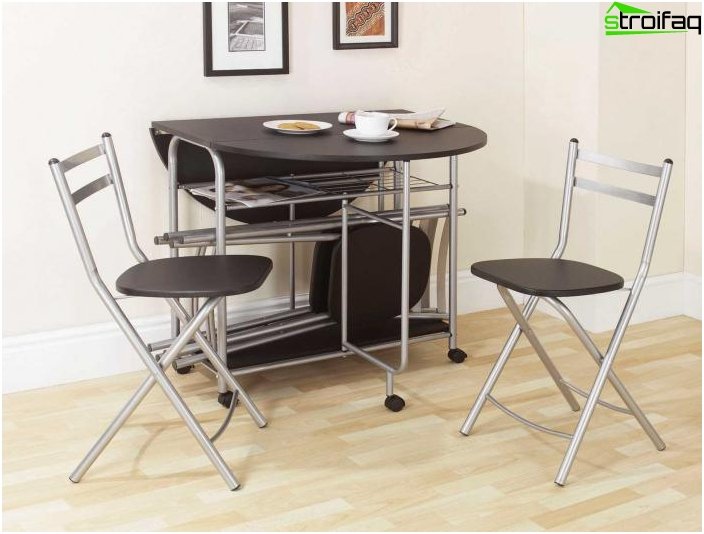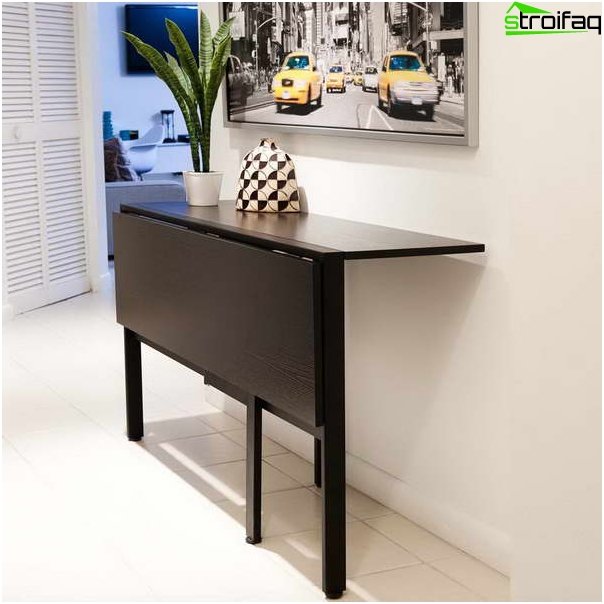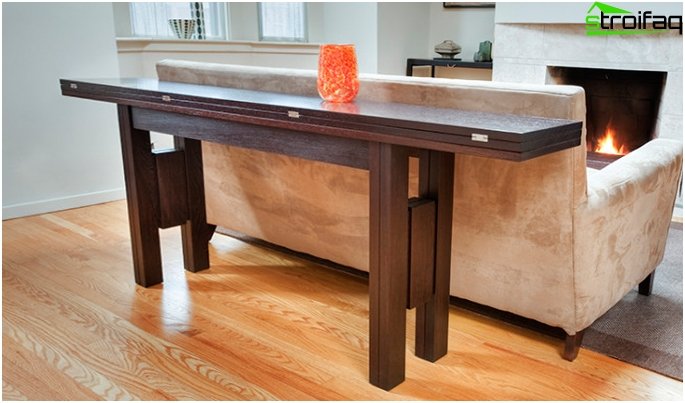 Dining table for a small kitchen
Choose a table for small kitchen – The task is not easy. But there are no unsolvable problems in the world!
Firstly, if you plan to use the table not only for family dinners in a narrow circle, but also for the holidays – it is better to choose a transforming table.
Secondly, try to avoid right angles. The rounded shapes of the countertops allow you to more safely balance and move around the kitchen.
Thirdly, choose chairs with a low back, and even better – give preference to stools. This will allow you to hide them under the table after eating, which will free up space in the kitchen.
Fourth, give preference to light shades, which visually eliminates the crowding of the room.
A stylish and original solution for a small kitchen can be the combination of a table with a windowsill.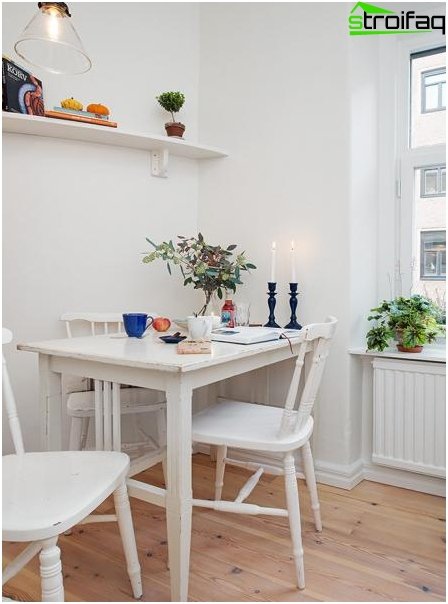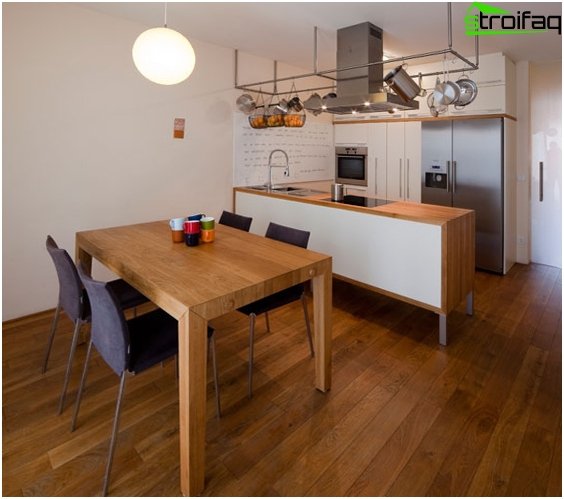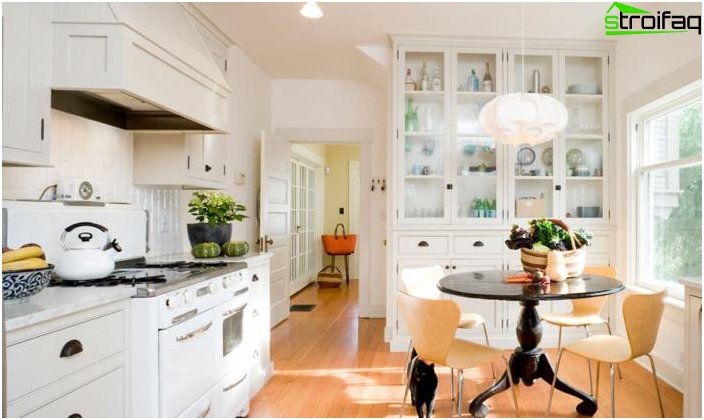 Custom dining table
Despite the wide range of furniture in stores, it is not always possible to choose the perfect option. It happens that the shape fits, but the size does not fit, it happens that the size suits, but does not like the color, etc. It is for such cases that there is a custom-made furniture production, thanks to which all the nuances and wishes will be taken into account.
When ordering a table, determine the place, number of seats, materials, shape and type of structure (if it is a transformer table).
Estimated cost of making a custom dining table
| | |
| --- | --- |
| Plain tree | From 100 $ |
| Plain glass | From 200 $ |
| Plain plastic | From 30 $ |
| Plain metal | From 150 $ |
| Table transformer | From 120 $ |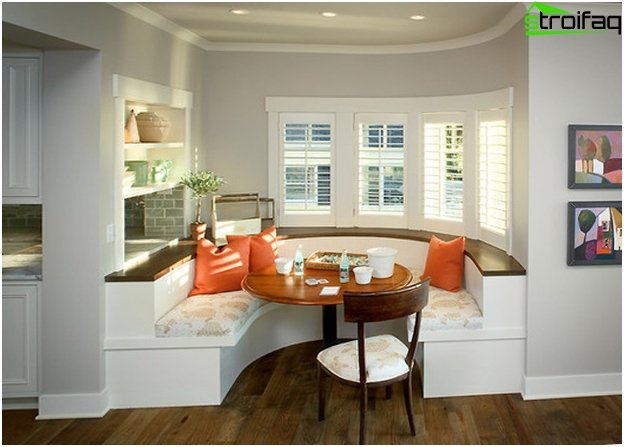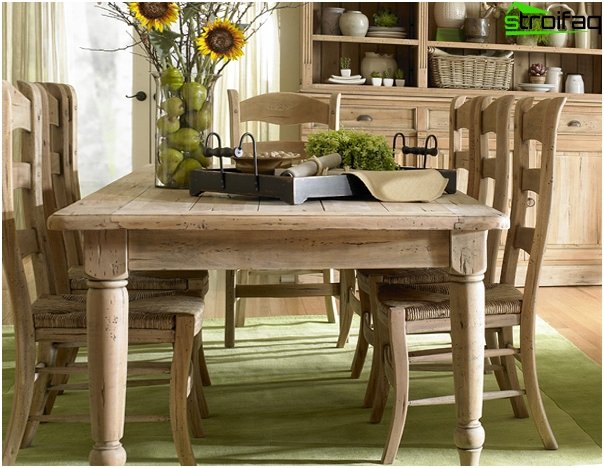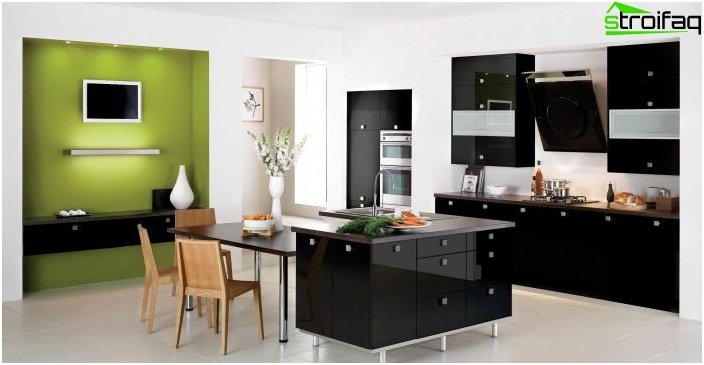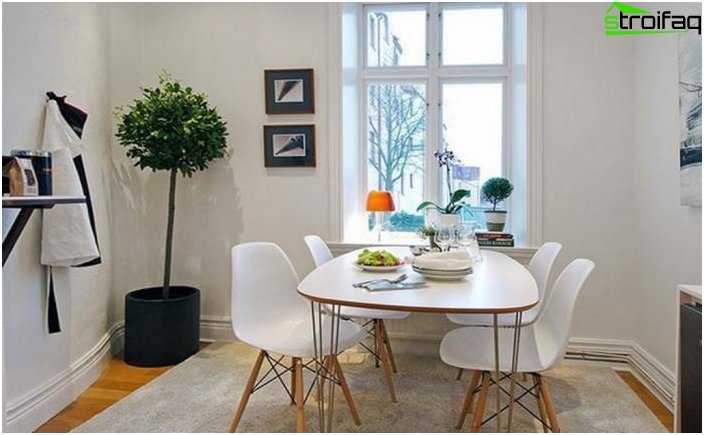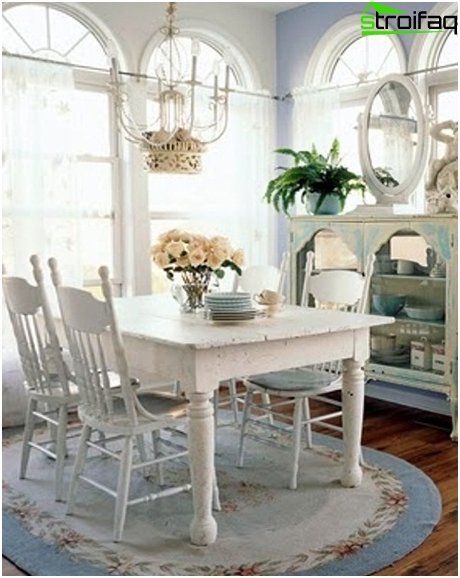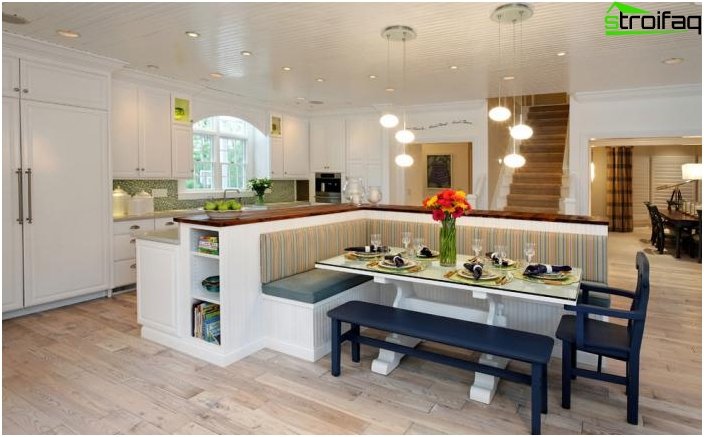 Do-it-yourself dining table: drawings and videos
Want to make your own dining table? Drawings of future details can be created in special computer programs, but there are a lot of ready-made ones on the Internet.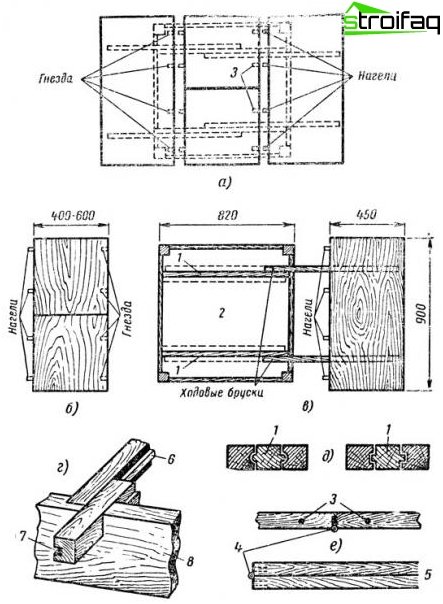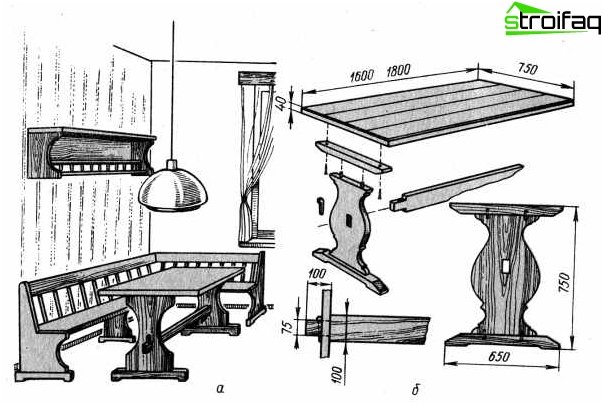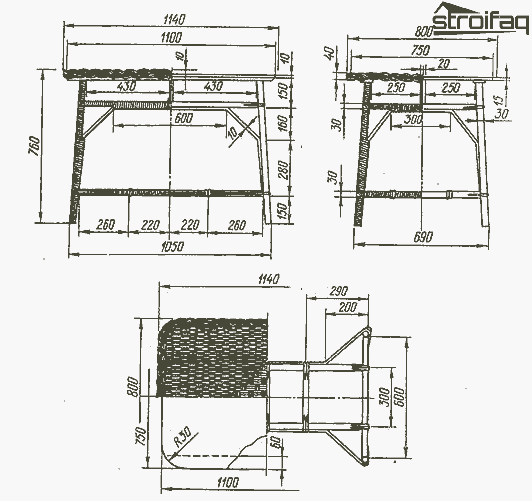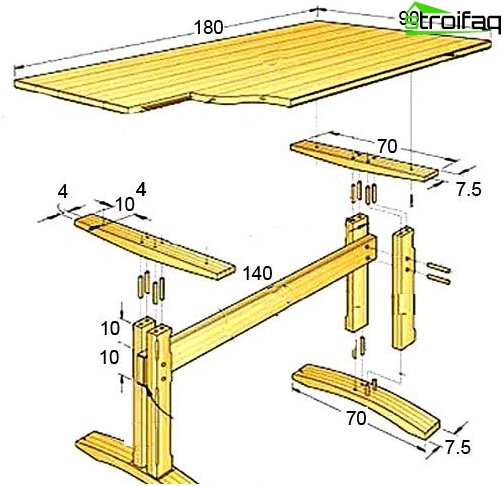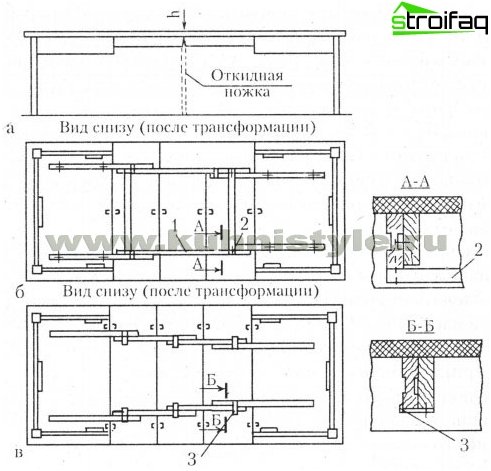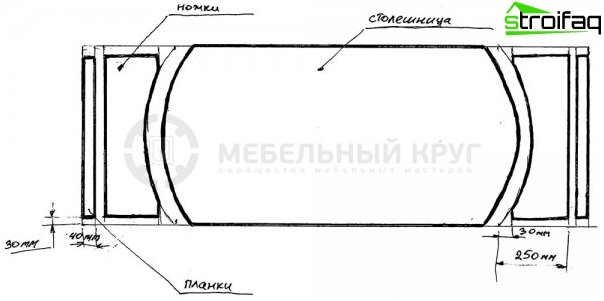 To make the simplest, rectangular dining table without folding or sliding elements, you will need:
Worktop (size is selected according to your needs)
Legs (you can buy ready-made in building materials stores)
2 boards for fixing legs
Wood screws (30 mm)
You can buy a worktop in a store or make it yourself.
All materials must be prepared: sanded and polished.
After the wood parts are prepared, assembly can begin. To begin, the legs are connected by cross members. Please note that you need to drill the legs so as not to pierce them through. It is advisable not to be limited to screws and additionally glue the connecting parts. After that, the countertop is screwed to the finished base.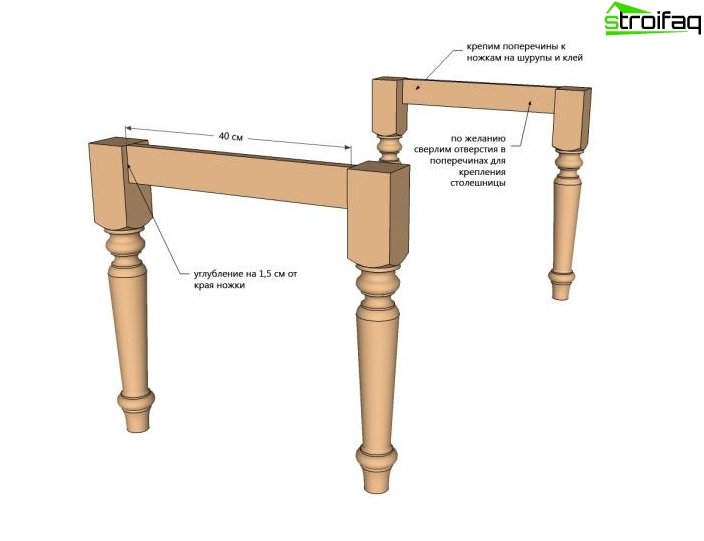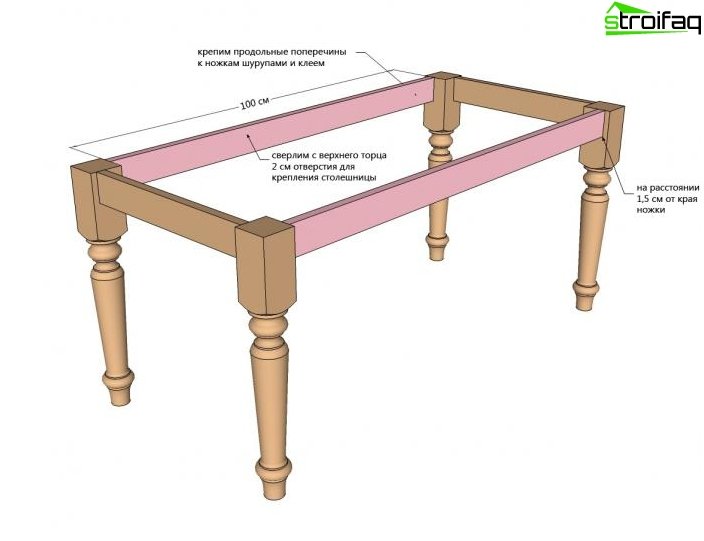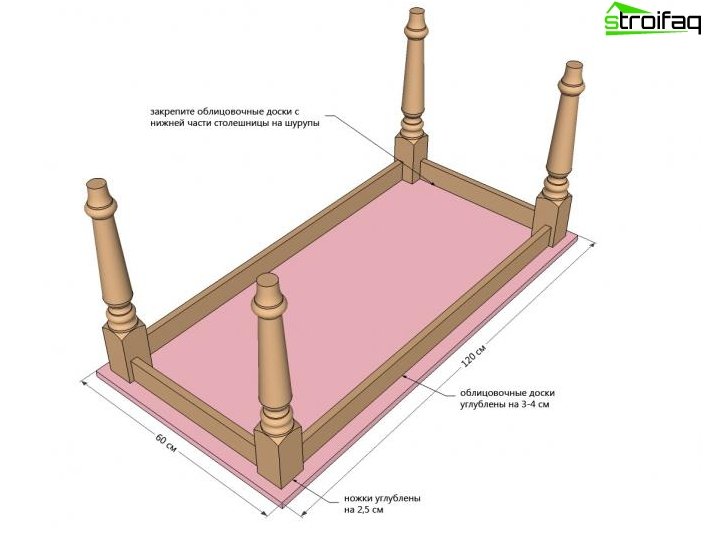 When the table is assembled, it can be varnished or decorated at your discretion.