Content
Choose a general style
Classic style
Minimalism
Ethnicity
Provence
High tech
Choose a color scheme
Bright hues
Yellow / Orange
Green tones
Blue tones
Dark tones
Bright colors
Choose materials
Wood
MDF / Particleboard
Metal
Plastic
A rock
Choose a table
By function
Dinner table
Cutting table
By placement in the kitchen
Table by the wall
Island table
Storage system
Furniture for a small kitchen
Kitchen furniture to order
2020 fashion trends
Choose a general style
Classic style
Out of time and out of fashion – furniture in a classic style. Such furniture will be relevant even after decades, because its key characteristic is style and sophistication. Kitchen furniture is exposed to many influences, so it is better to give preference to the hardest types of wood:
Ash
Oak
Beech
Hornbeam
Maple
For kitchen design in the classical style, the furniture should not be painted, the tree should retain its maximum natural shade. Furniture pieces made of forged metals or stone will perfectly fit into the interior as individual elements. However, the main ensemble must be made of wood.
A more affordable option for decorating a kitchen in a classic style can be furniture made of chipboard or MDF.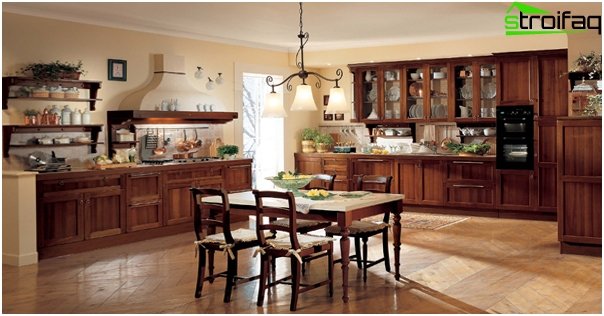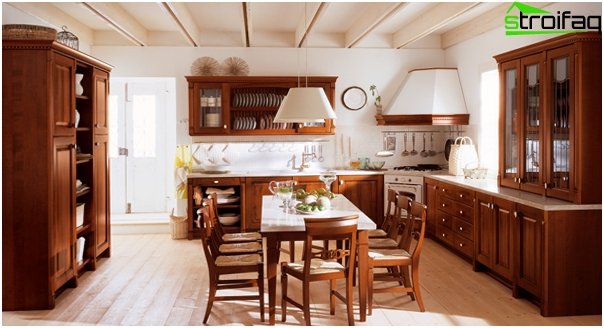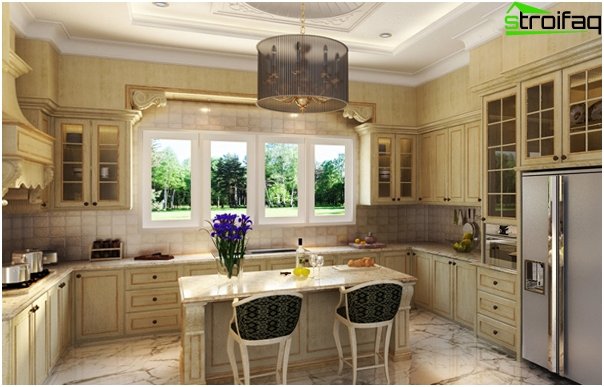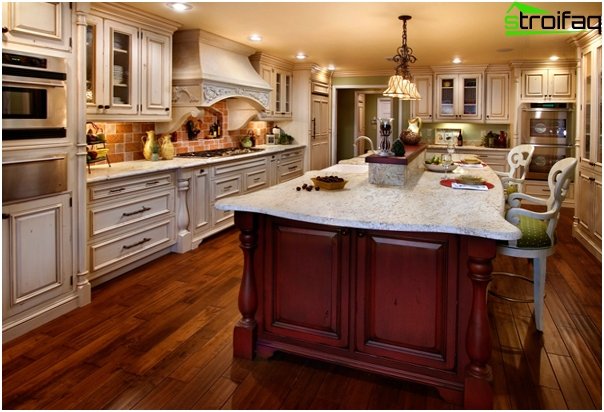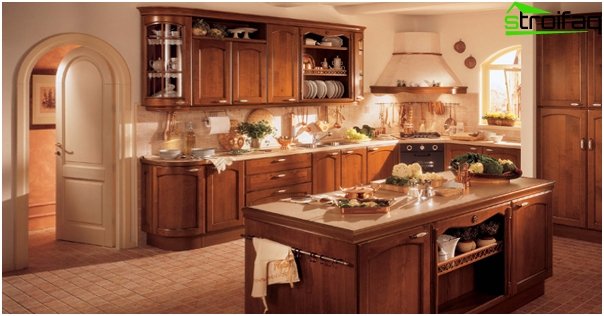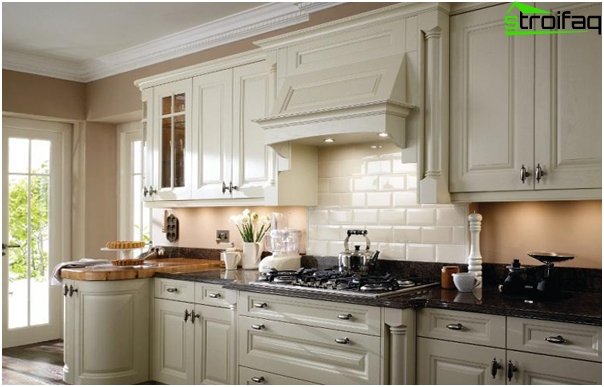 Minimalism
Minimalism style is a good solution for any kitchen. On the one hand, if it is used in a small kitchen, such a room will not be overloaded with details and a feeling of free space will remain. On the other hand, in a large and spacious kitchen, all unnecessary details will be hidden from prying eyes..
Convenient kitchen furniture in a minimalist style and from a practical point of view. Since decorative details (curls, carvings, reliefs) are not typical for such furniture, it will be quite easy to remove dust, dirt, soot and grease from its surface, which will settle on it in one way or another.
A kitchen set in the style of minimalism can be made of the following materials:
In some cases, for example, for the manufacture of countertops in the style of minimalism, stone (marble) can be used.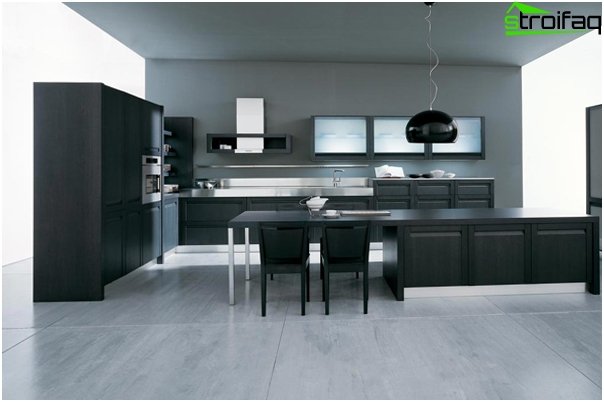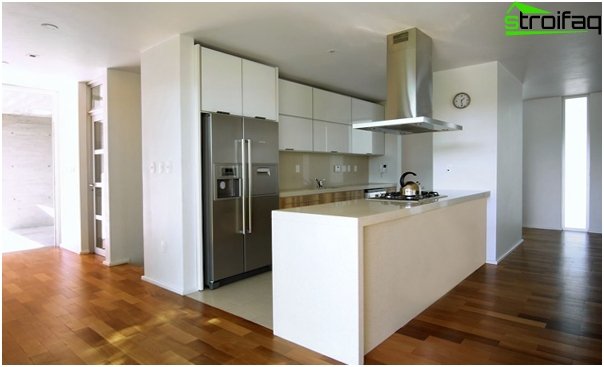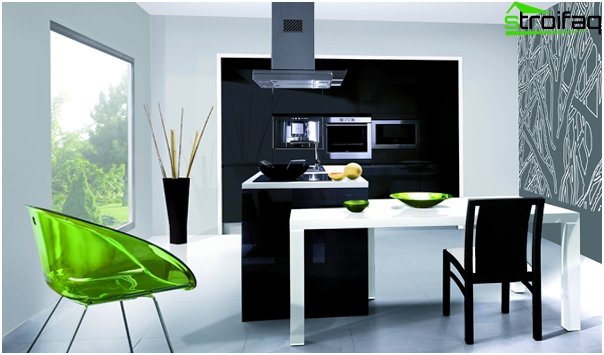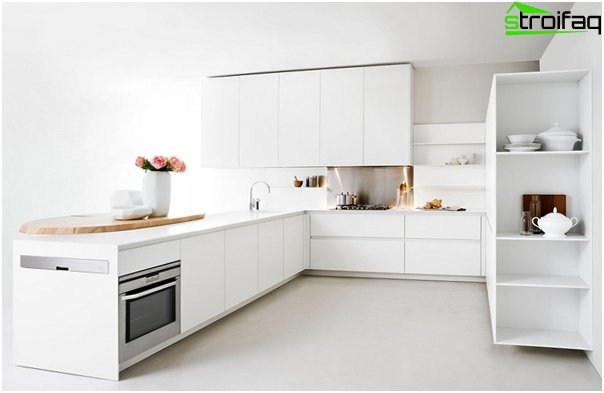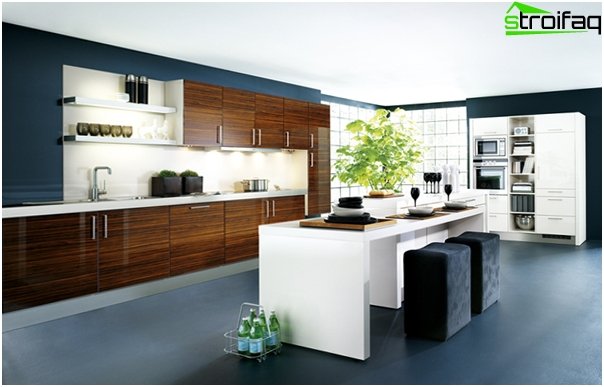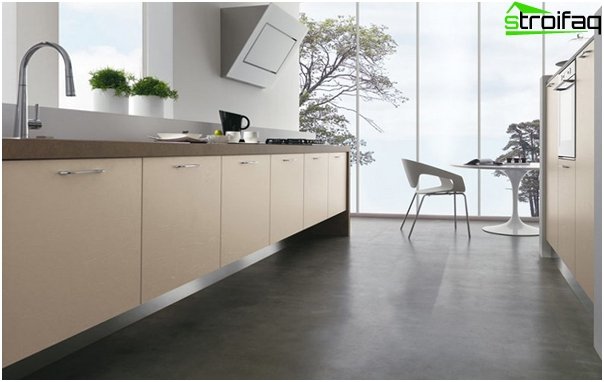 Ethnicity
Ethnic-style interiors are becoming more and more popular today. It can be either local national features of the decoration of the premises, or exotic overseas:
African
Native American
Indian
Japanese
Australian etc.
When choosing furniture, this primarily affects the dominant materials used for its manufacture, as well as the color scheme. For example, for a kitchen decorated in an African style, wooden furniture painted in bright colors is well suited. Furniture in the Indian style can be made with elements of gilding, and in the Indian – with the obligatory use of animal motifs. For Japan, the severity of lines and the clarity of forms are more characteristic, therefore, furniture should be appropriate.
A tribal totem is one of the pillars of Indian culture. This can be successfully beaten in the design of individual pieces of furniture in the kitchen.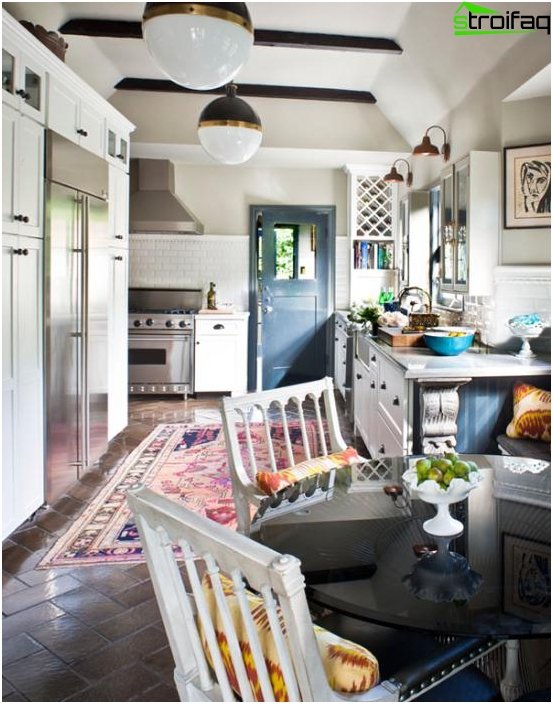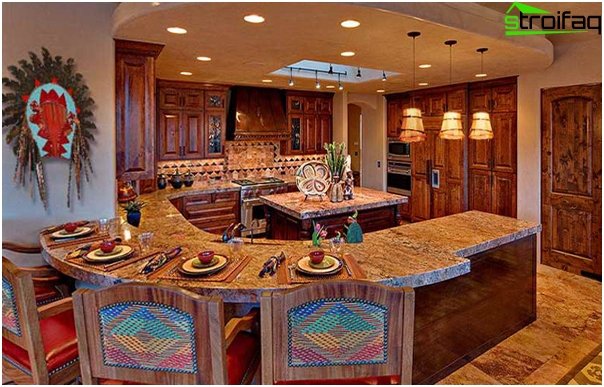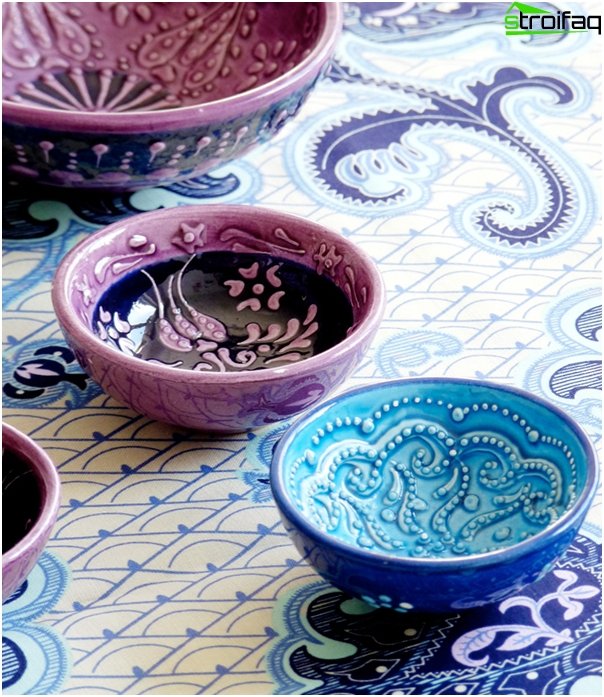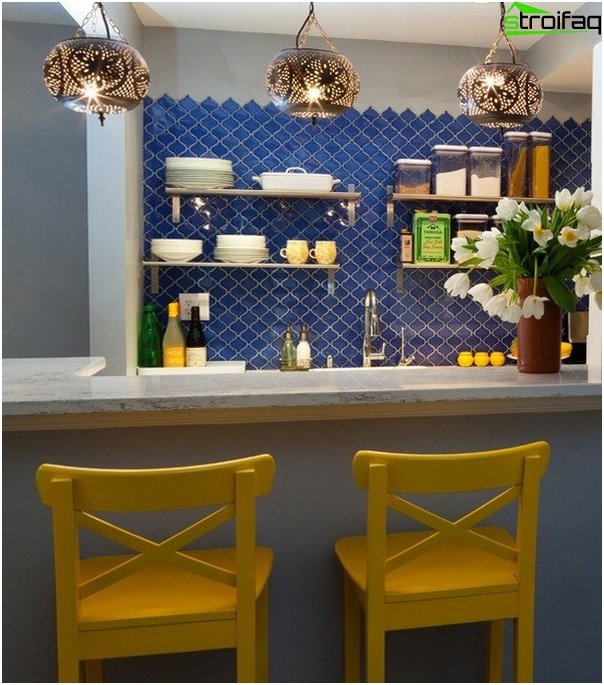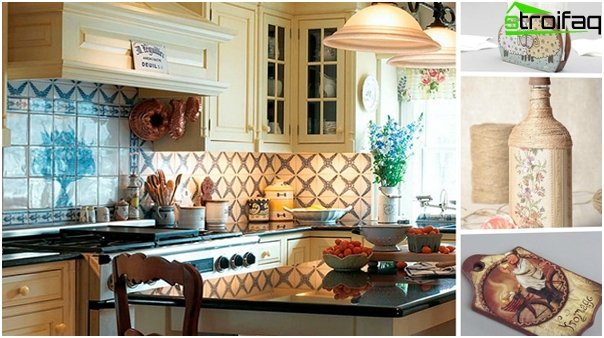 Provence
The rustic style of the outskirts of southern France – Provence – is one of the varieties of country style. This style is simple and light, the purpose of which is unlimited relaxation and rest, comparable to a measured and beautiful life on the sea among lavender fields.
Provencal-style kitchen furniture should be made of natural materials. Artificial colors and shapes are not permissible – everything should be as natural as possible. Perhaps a slight effect of "aged" furniture, however, it should not be evident.
"Scuffs" are not a hallmark of the Provence style. Fanciful forms, curls and carvings on the "old" tree are characteristic of the Shebby-chic style. Provencal furniture should be simple, perhaps even a little rude.
Unlike a typical country, the Provencal style prefers light, soft, pastel shades, as if faded under the rays of the scorching French sun.
Lavender fields or the sea coast can be chosen as a thematic motive. However, for the design of the kitchen, of course, floral motifs will be more appropriate..
Read our detailed article on how to arrange Provence style kitchen.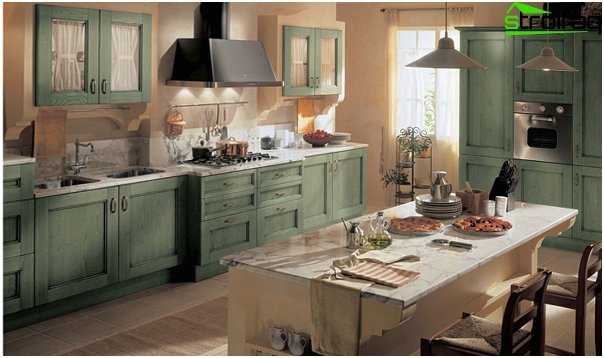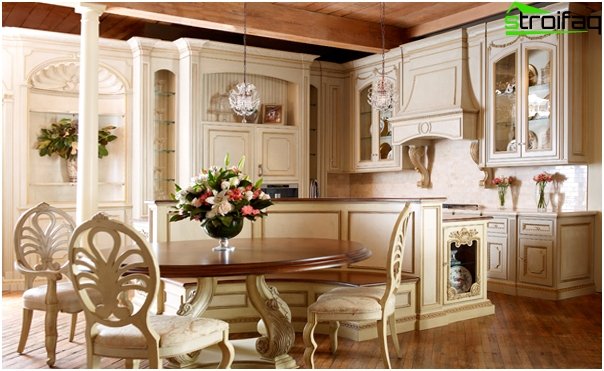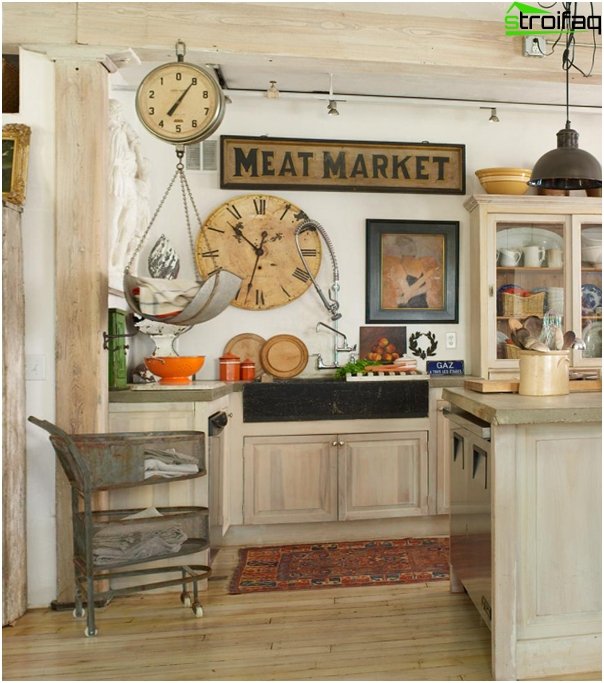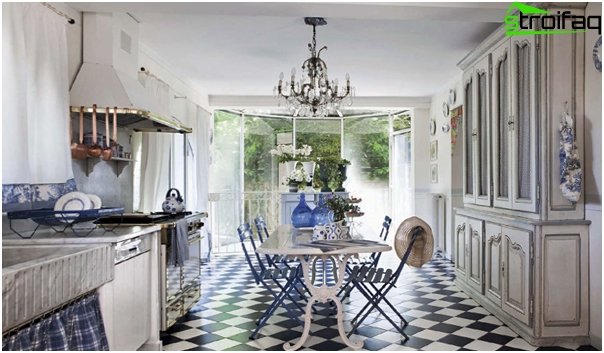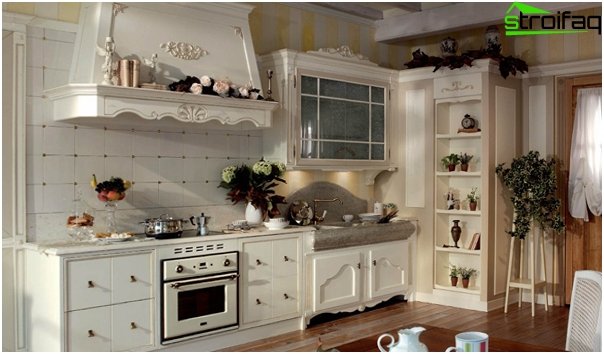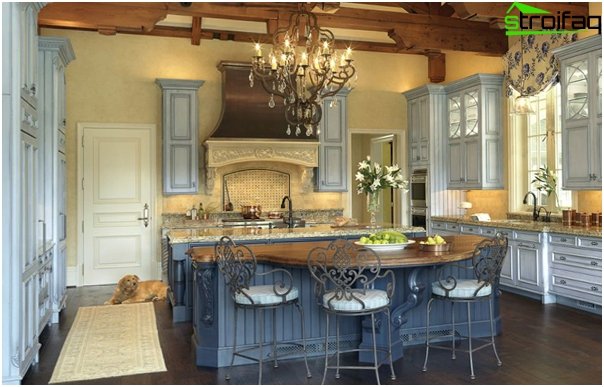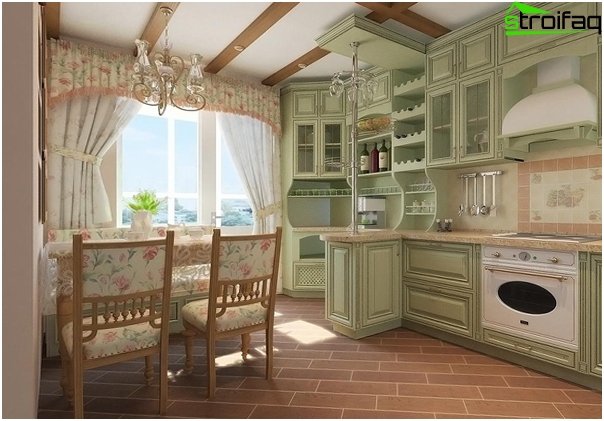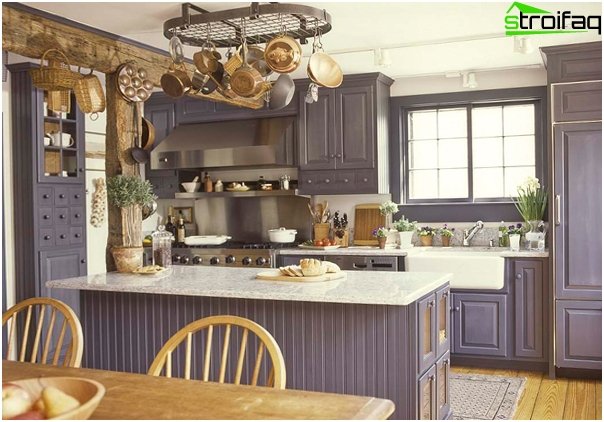 High tech
If you want cutting-edge cuisine, then high-tech style is just for you. This style seeks to get away from everything traditional and use only the latest, most modern materials. In addition, this style will become a brilliant ensemble for the placement of household appliances, which will organically fit into modern forms.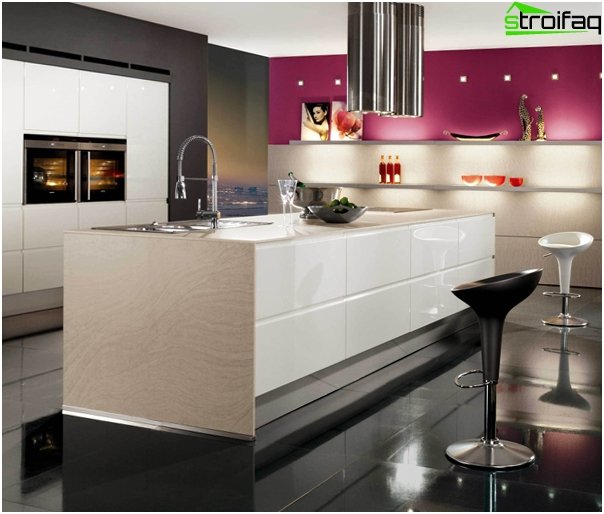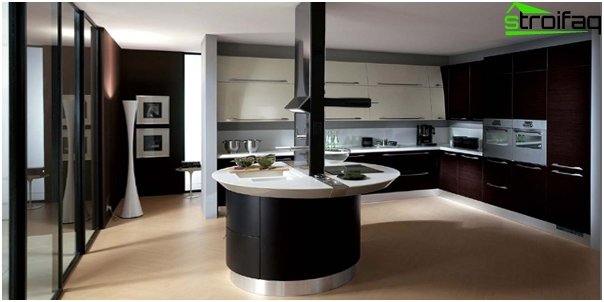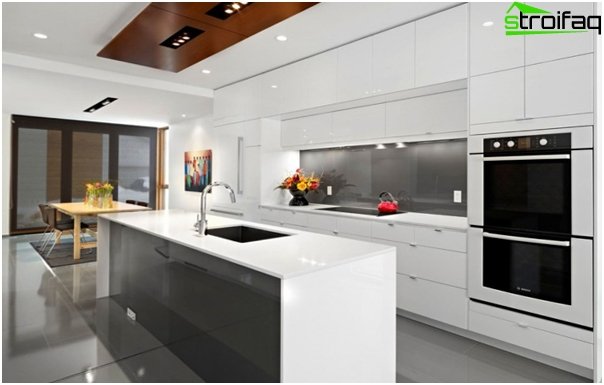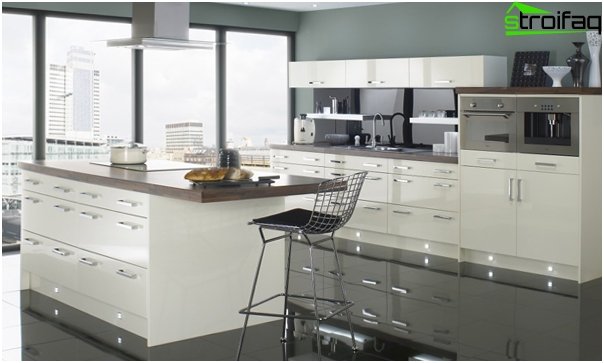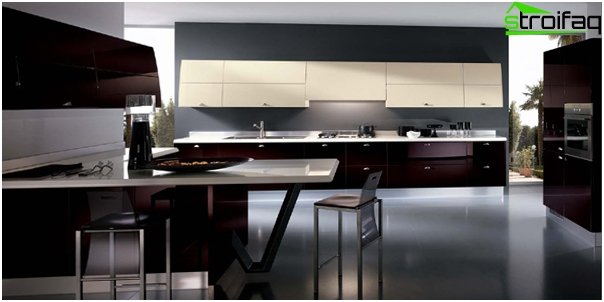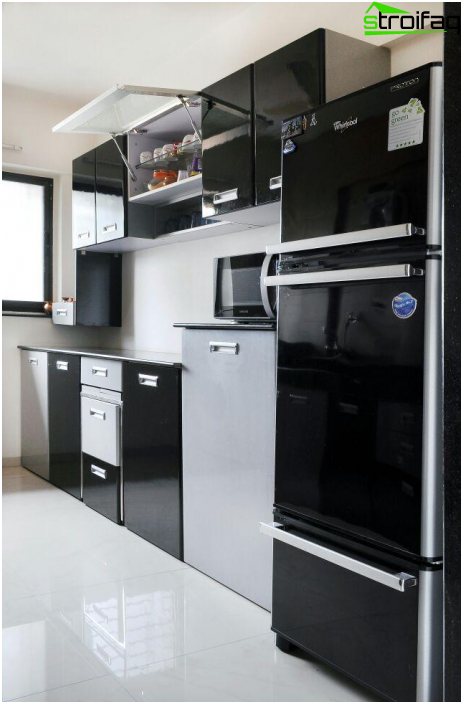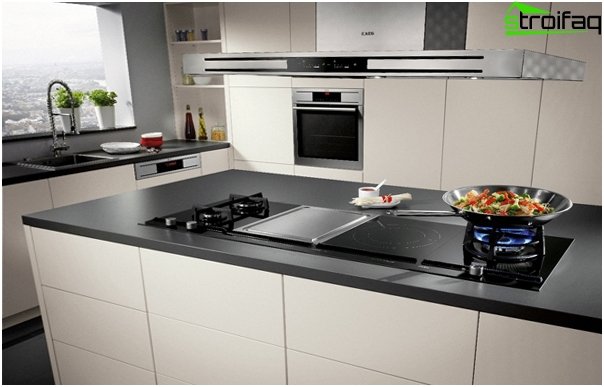 Within this style, furniture from:
The color scheme can also be the most unusual, saturated, bright, neon colors. Although, if you like something more moderate, many manufacturers of the furniture industry, for example Ikea, They offer a wide range of high-tech kitchen furniture in basic colors: white, black, steel gray, etc. Saturated colors can be made separate furniture modules or panels.
Please note that the ultra-modern furniture in high-tech style, due to the rapid development of science and technology, can lose its relevance in a short time. And the more rapidly progress develops, the faster everything super-fashionable and supernova will seem like a relic of the past.
Choose a color scheme
Bright hues
Light colors for decorating the kitchen will look good in a small room (up to 6 meters). Thanks to light tones, the room will seem more spacious, light and light. It doesn't have to be white furniture, it can very well be light cream, beige, sand, and ivory.
Light furniture, in contrast to pure white, is much more practical to use: dirt and grease that appear during cooking are less noticeable. For the same purpose, it is better to use not plain furniture, but in a small ("pockmarked") picture.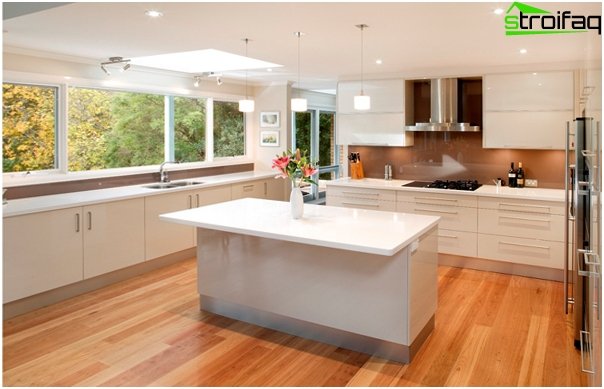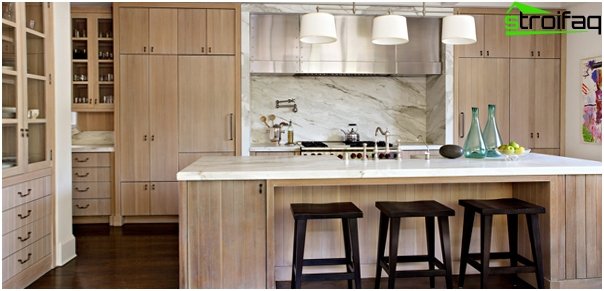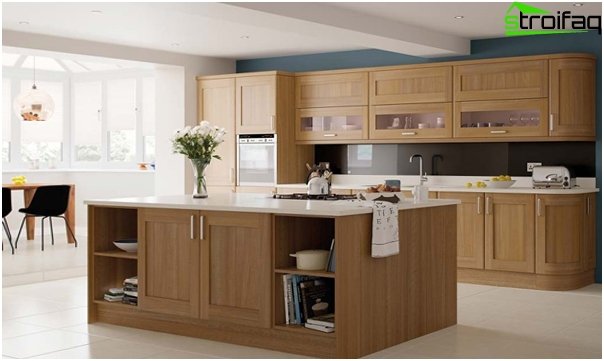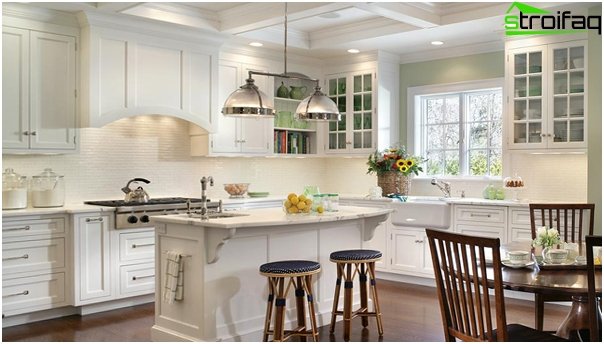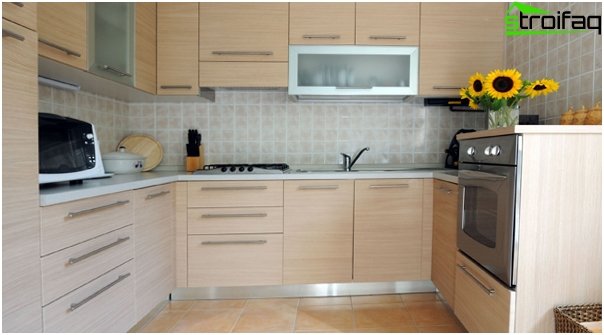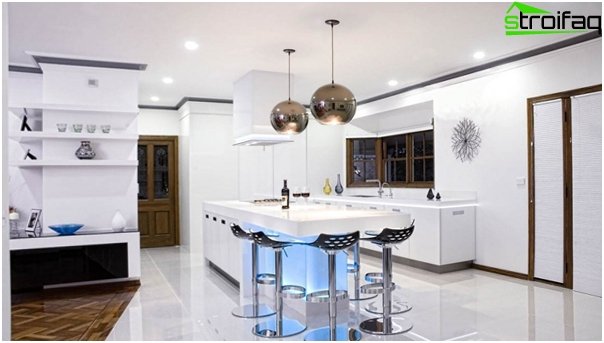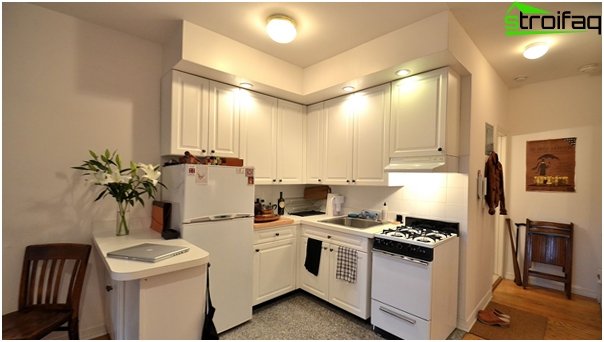 Yellow / Orange
Yellow or orange shades are an ideal solution for a room in which there is not enough light and sun. They will also be relevant for kitchens on the north side on the lower floors, where it is very cold. Thanks to these colors, it seems that the room is slightly warmer than it actually is..
And also, yellow is the color of inspiration and energy. Entering such a kitchen, you will always want to create something new. In addition, unlike bedroom furniture, kitchen furniture is designed for action (cooking, washing dishes, etc.), and not for relaxation, so bright and rich colors will be more appropriate here than anywhere else.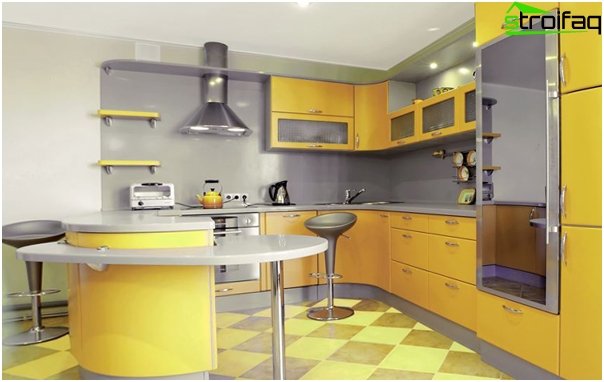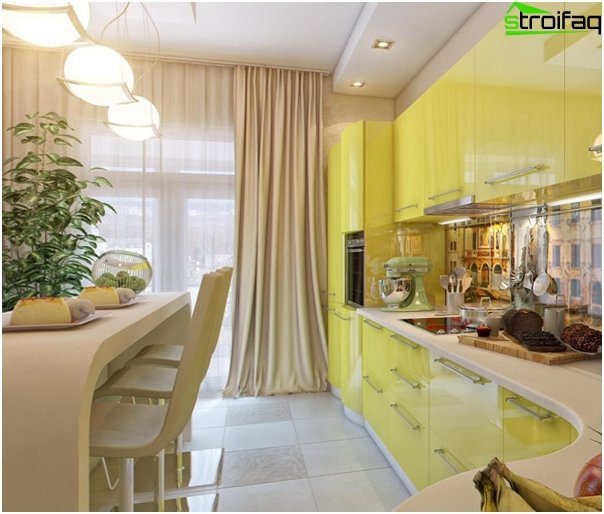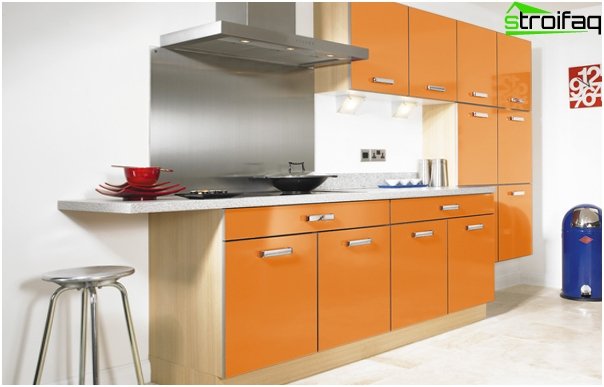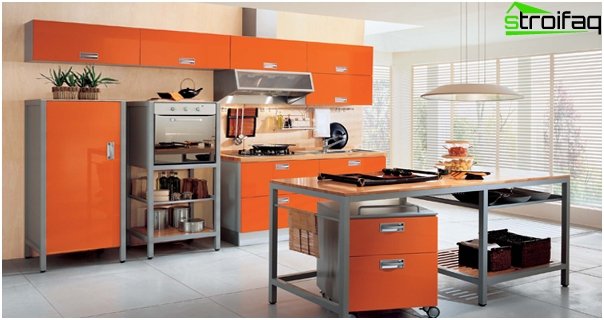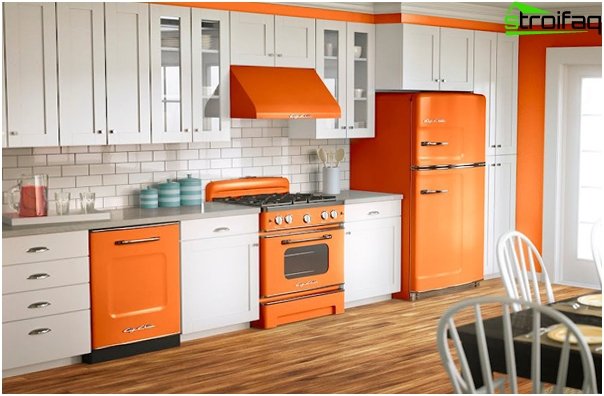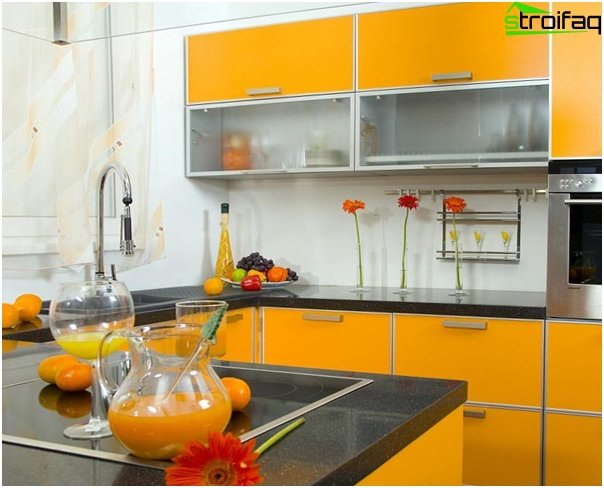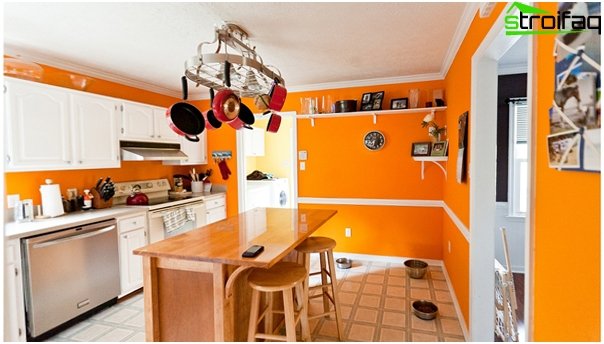 Green tones
Green is the color of nature, harmony, life balance. This color can be soothing (for example, emerald or marsh green), and vice versa – giving strength (such as, for example, herbal, pistachio or spring green).
Green color can be used for wall cabinets, upholstery, apron for the kitchen in an ensemble with a kitchen worktop, etc..
Saturated green is best used for high-tech, ethnic or minimalist kitchens, while faded colors will fit perfectly into a classic, provence or country-style kitchen..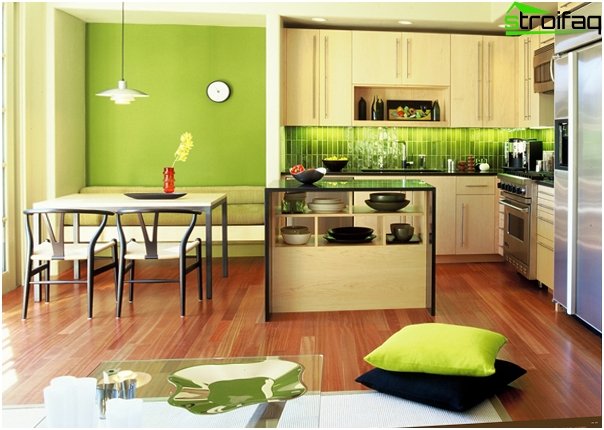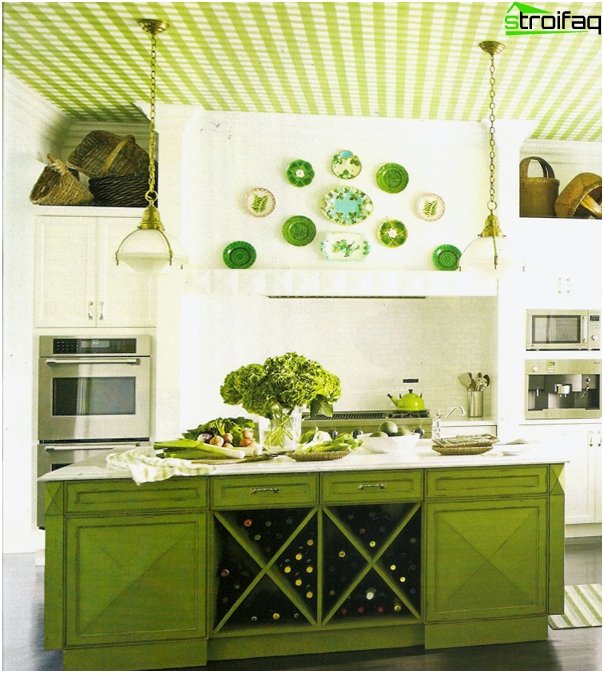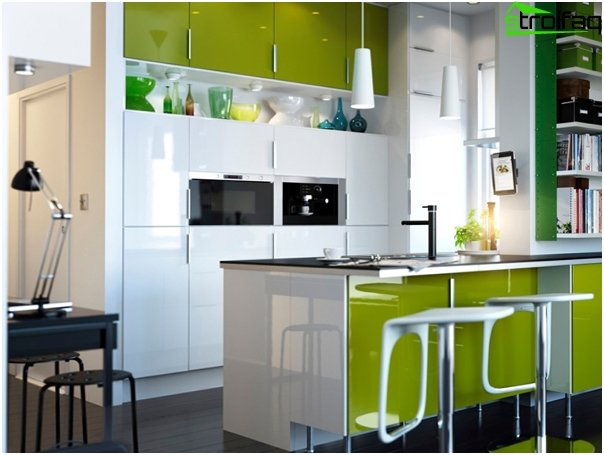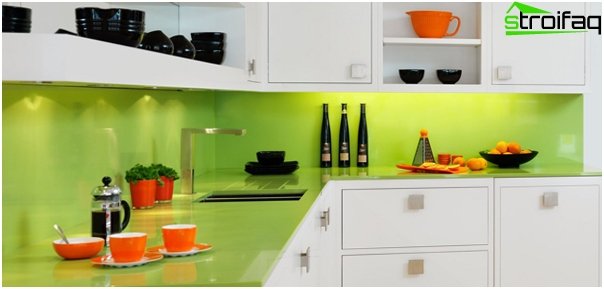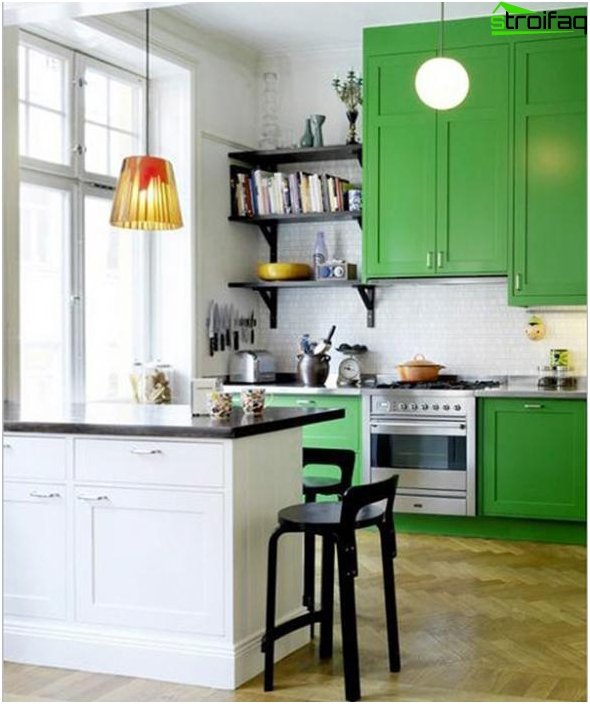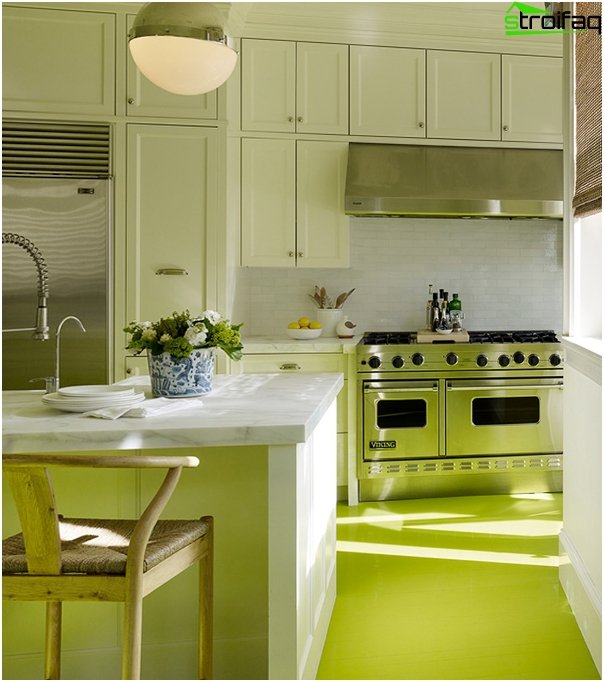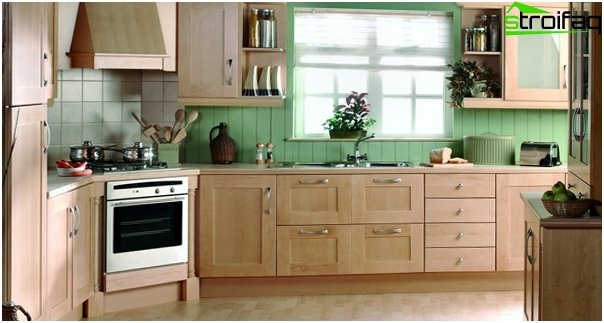 Blue tones
A wide palette of blue shades – from sky blue to the night sky allows you to use this color in the design of kitchens of various styles. For furniture made of wood, lighter, pastel shades of blue are suitable. More saturated blue colors will look good in stylish furniture made of plastic or metal.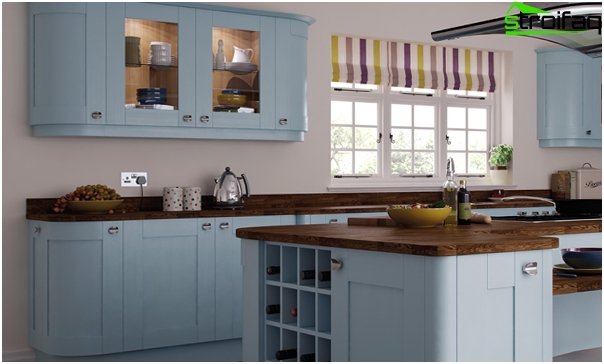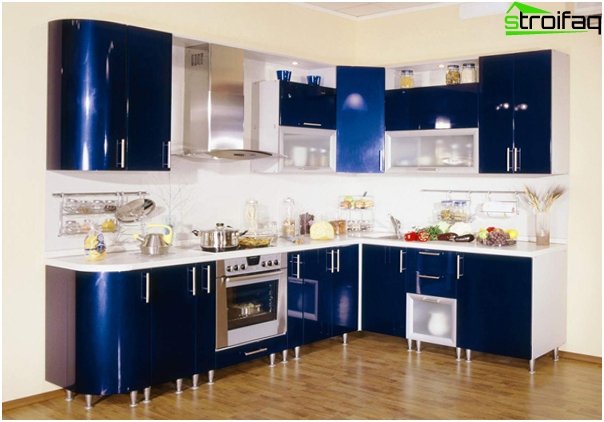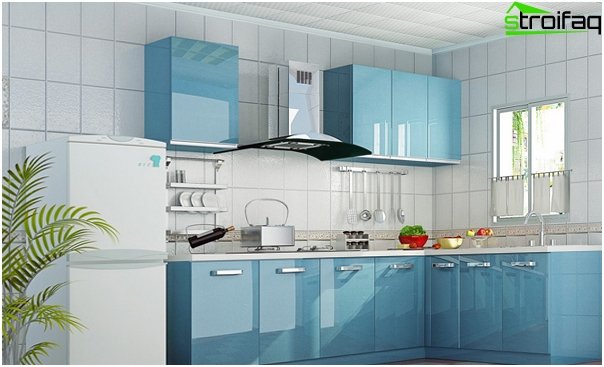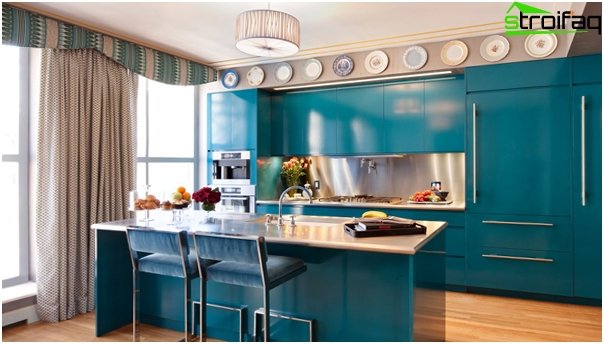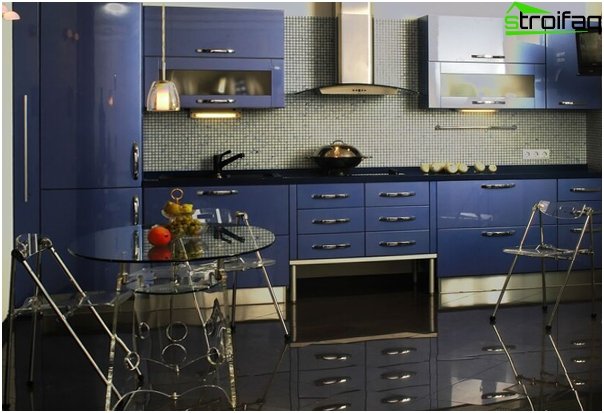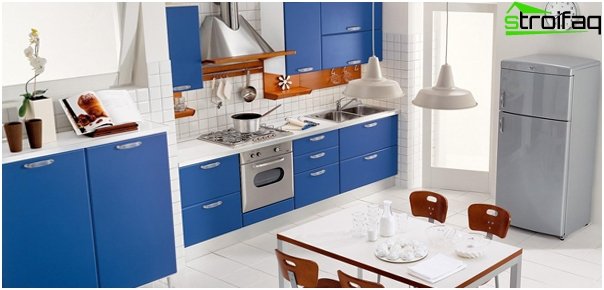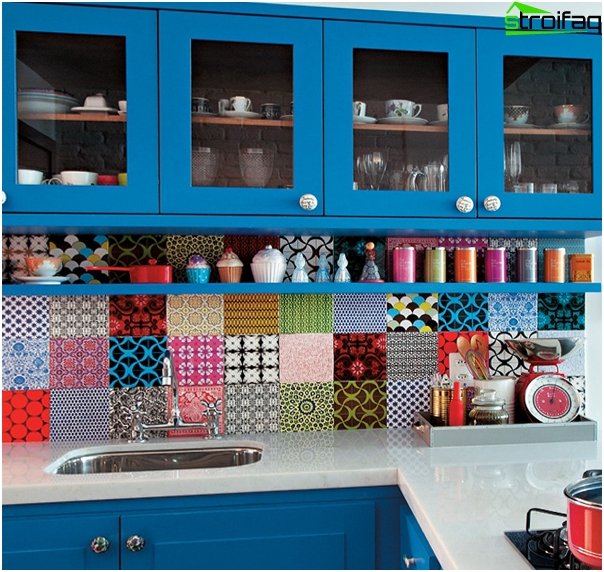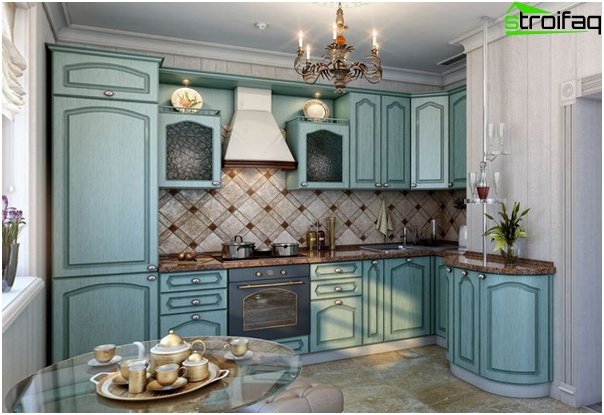 Dark tones
Dark shades of kitchen furniture – perhaps the most practical in terms of cleaning. On such furniture, dirt, grease and soot are almost invisible (however, this does not mean that it is not necessary to care for such furniture!). Besides, they ate your table for the kitchen of a dark color – coloring juices from berries and fruits (for example, grapes, blackberries), which, if not wiped off on time, can damage the surface of the furniture for a long time.
Dark shades of furniture are most characteristic of the classic style and country style..
However, you should not use such colors for a small kitchen – they will make heavier and narrower the already tiny space.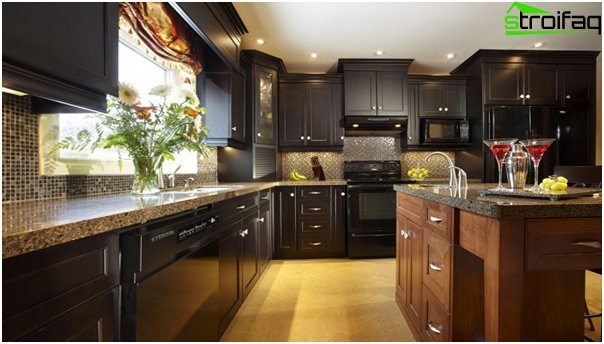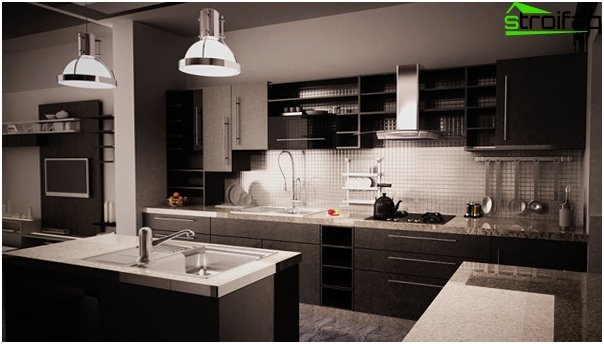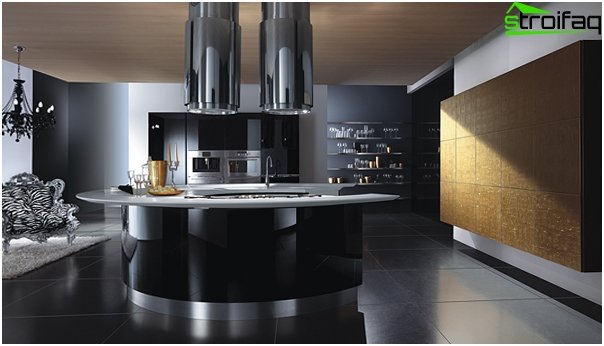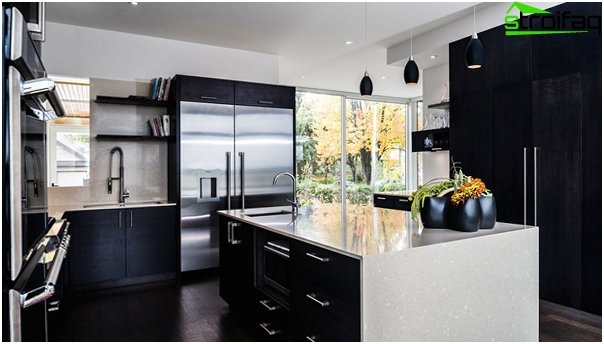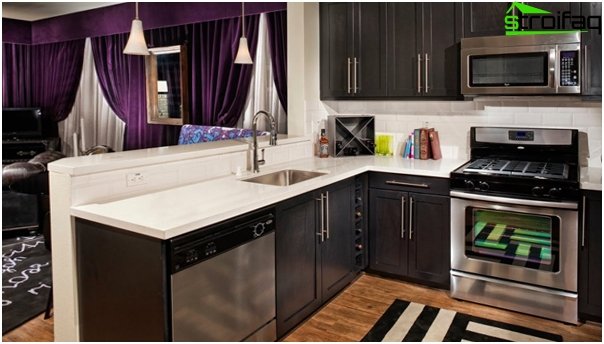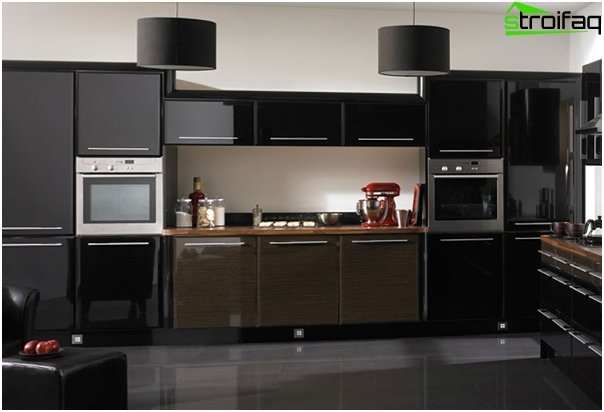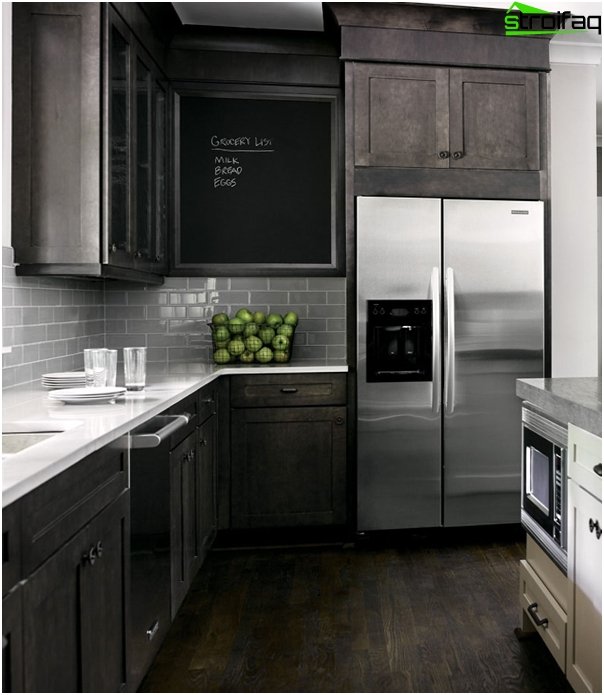 Bright colors
For youth cuisine, there is nothing better than a kitchen of bright and saturated colors. Courage, originality, exclusivity – these are just some of the characteristics of such furniture.
In addition, such furniture will appeal to those who are fed up with the usual "GOST" furniture. In the post-Soviet space, where most of the furniture was of the same type, "carbon-copyed", there was practically no room for self-expression and manifestation of one's own personality. Today, this is not a problem – in the catalog of any giant of the furniture industry you will definitely find photos of kitchen sets of the most incredible colors.
If your budget is limited and you want to make your kitchen design extraordinary – there is nothing easier! Order a couple of cans of super-resistant enamel in bright colors on the website of the Leroy Merlin online store – and repaint your old furniture in new colors.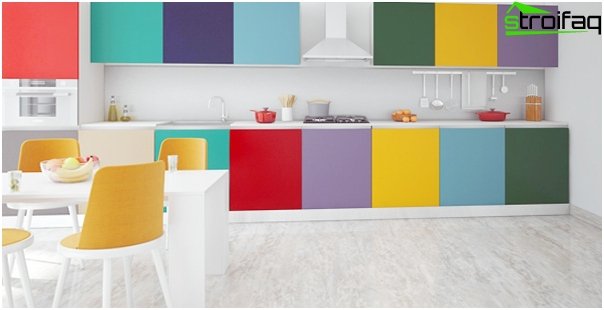 Choose materials
Wood
Wooden furniture looks very stylish and very rich, and with proper processing – it will last you more than a dozen years. In particular, the cabinet for the sink and all adjacent wood surfaces must be carefully treated with moisture repellents. Otherwise, the wood will soon swell, crack, begin to rot, due to which it will lose both its appearance and functional properties (for example, doors will stop opening well or completely close).
Another factor to consider when using wooden furniture in the kitchen is the effect of temperatures. To reduce the risk of fire, wooden surfaces should be located at a sufficient distance from the source of open fire and be treated with fire-fighting chemicals. Flammable varnishes and paints for such furniture is better not to use.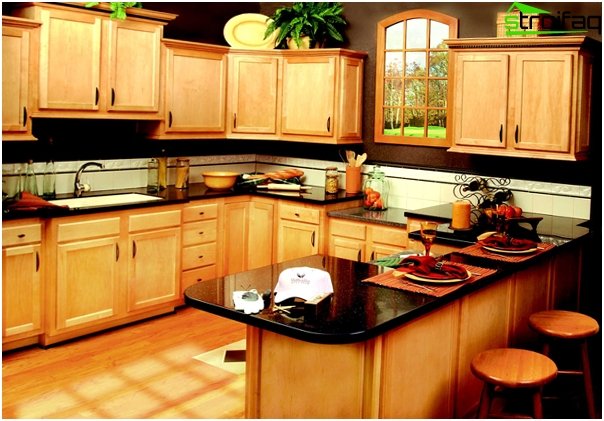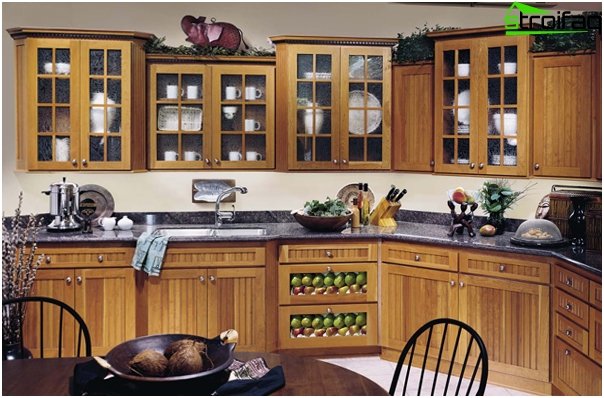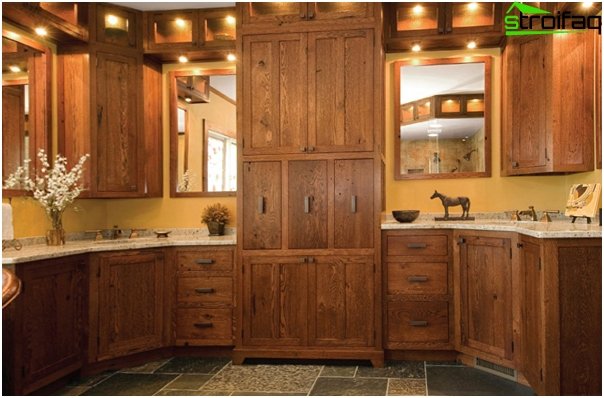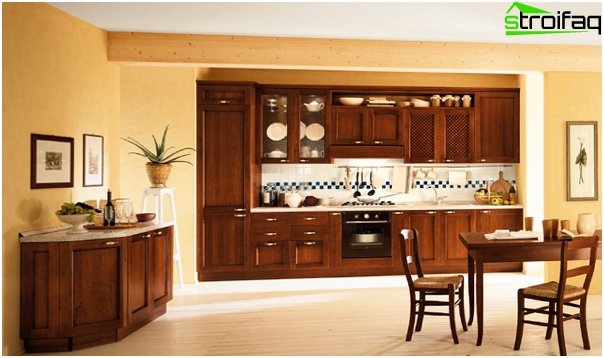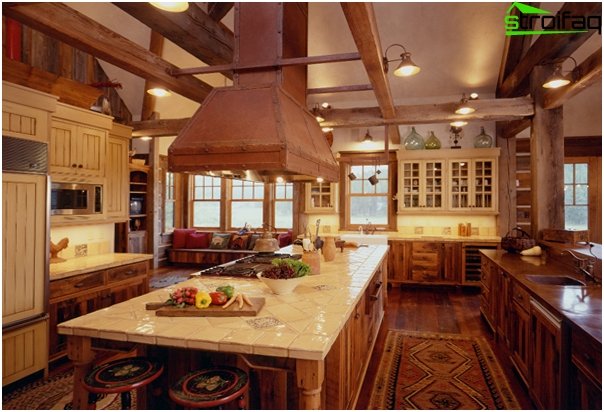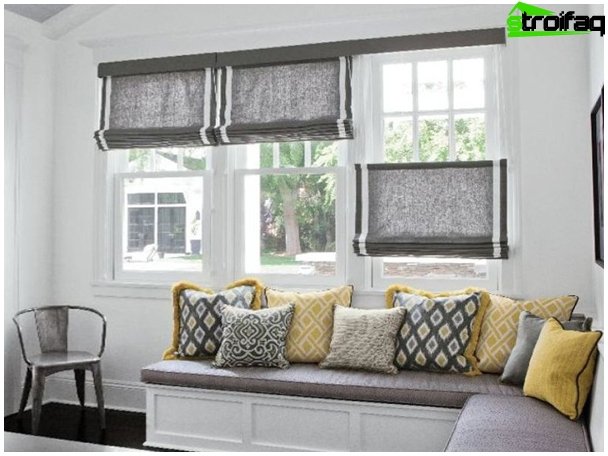 MDF / Particleboard
An alternative to wood can be MDF go chipboard. These materials imitate the appearance of natural wood, but the price is several times lower. But the technical specifications are slightly worse. For example, if wooden furniture in the washing area should simply be treated with special compounds, then the joints and sides of furniture made of chipboard or MDF must be carefully treated with sealants so that water does not get into the stove and it does not swell. If this is not fundamentally furniture for the living room, then in the kitchen, where interior items are constantly exposed to water – this is a critical moment.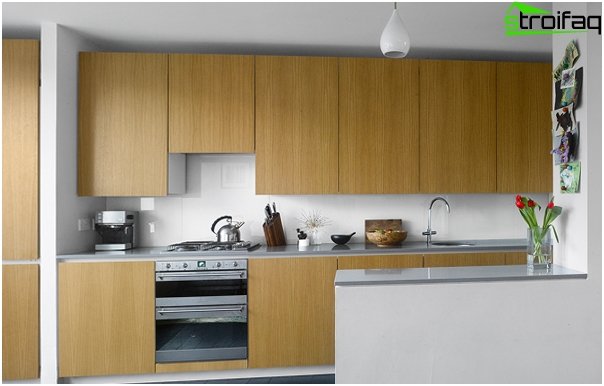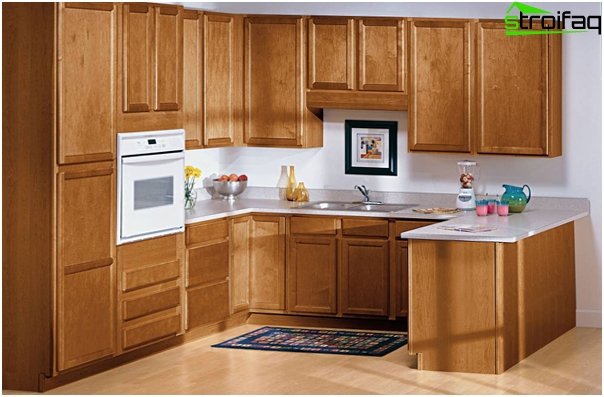 Metal
Metal furniture in the kitchen can be either forged or with modern chrome surfaces.
To make your kitchen look even more stylish and fashionable, we recommend using furniture that combines metal and glass.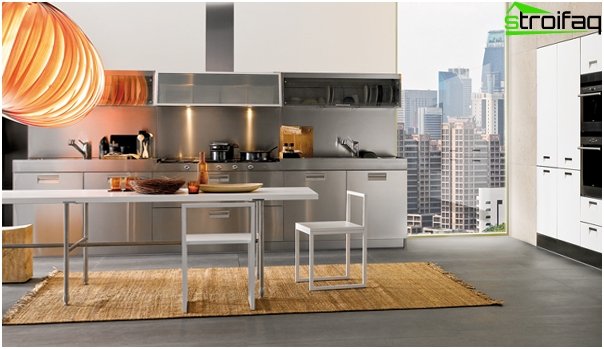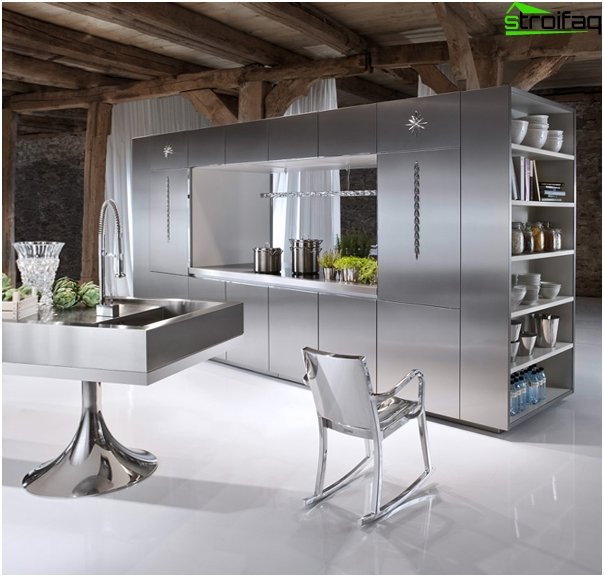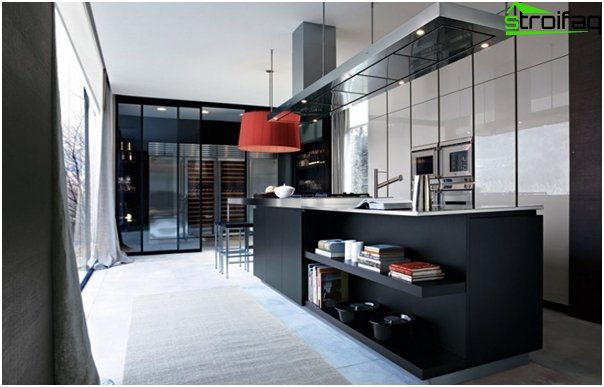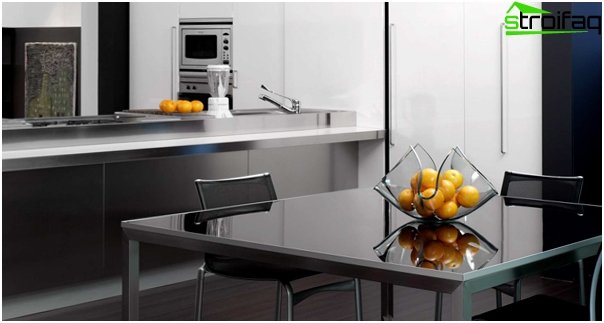 Plastic
The most practical, in terms of cleaning and care, material. Plastic is not afraid of moisture. In addition, due to its synthetic origin, almost no fungi and mold are bred on plastic.
Plastic tables and chairs can be given any shape and color. However, under the influence of high temperature and, especially, direct fire, such furniture may darken or completely change its shape..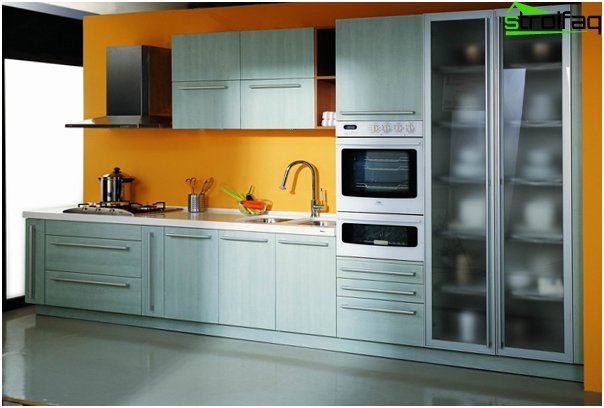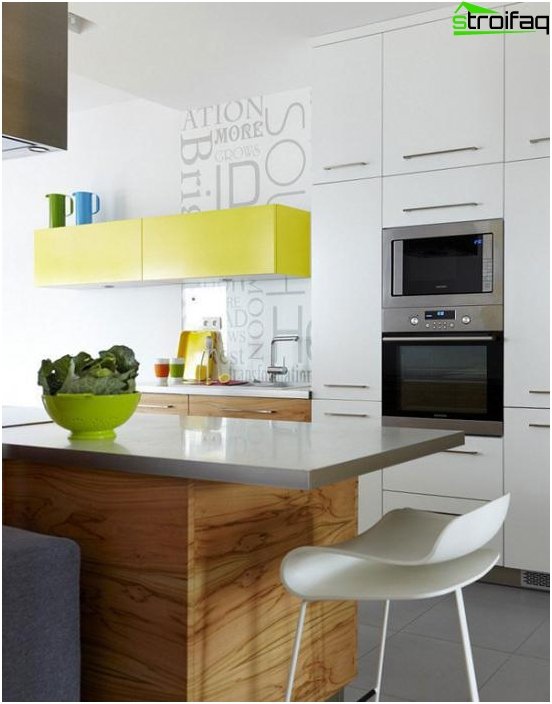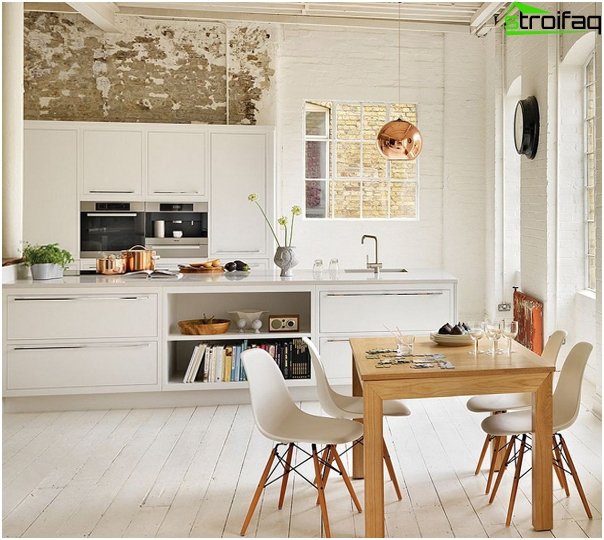 A rock
Due to its characteristics, stone for kitchen furniture is best used for countertops or decorative panels that do not need to be regularly moved. Such surfaces will be appropriate to look both in country and provence styles, as well as in ethnic.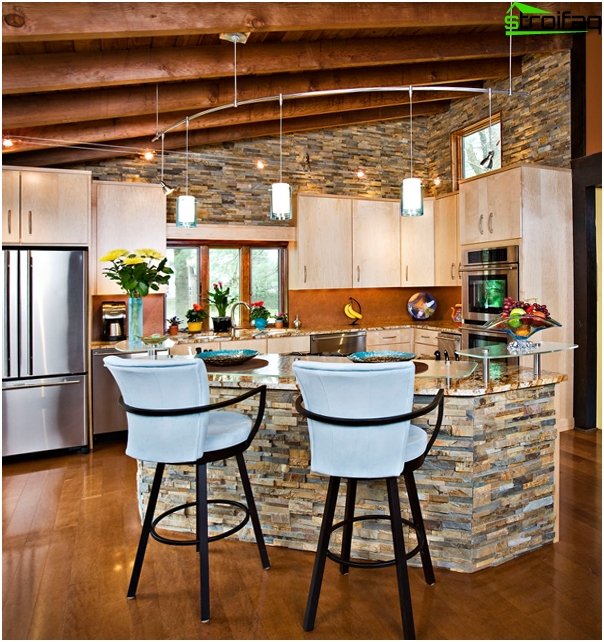 Choose a table
By function
Tables for the kitchen can perform different functions.
Dinner table
Dining table – designed for making a meal. Its dimensions directly depend on two factors:
Kitchen size
The number of people who regularly dine with him.
In a kitchen that is too small, it might be better to do without a dining table so that it does not clutter up the space.
It is acceptable to combine the functions of both a dining table and a cutting table in one table. However, this is not always convenient, since during cooking, everything should be at hand, and during the meal – nothing got in the way.
The number of people at the table
1-2 people
60 * 60 cm
2-4 people
90 * 60 cm
4-6 people
90 * 90 cm

120 * 60 cm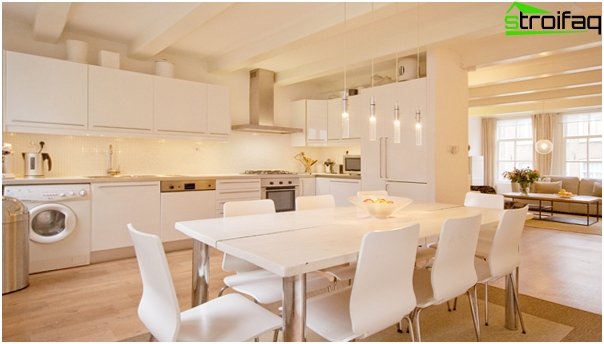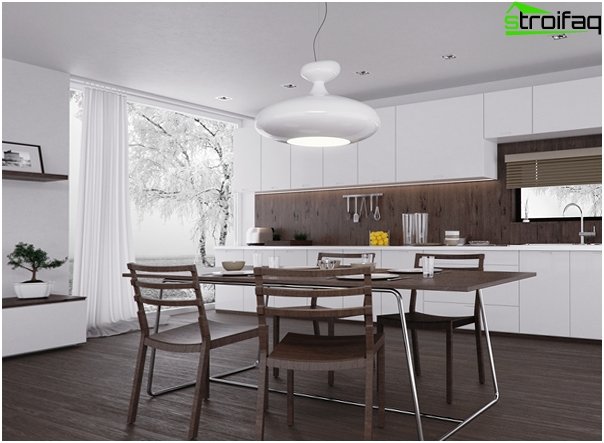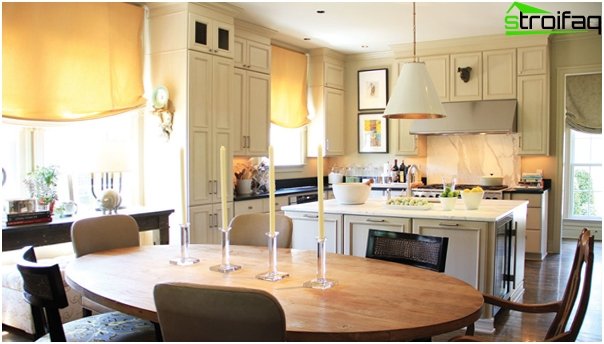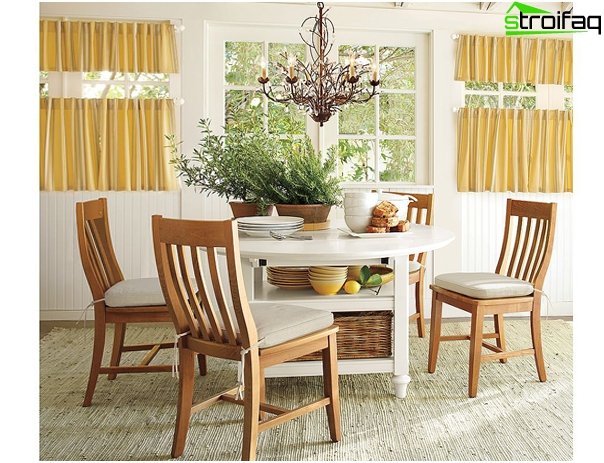 Cutting table
In such a table – its functionality is extremely important. On the one hand, there should be enough space to cook a wide variety of dishes (for example, it will be inconvenient to cut a Christmas goose on a tiny table). On the other hand, all kitchen utensils and accessories should be at hand. This will significantly save time during cooking and reduce the space over which dirt will spread..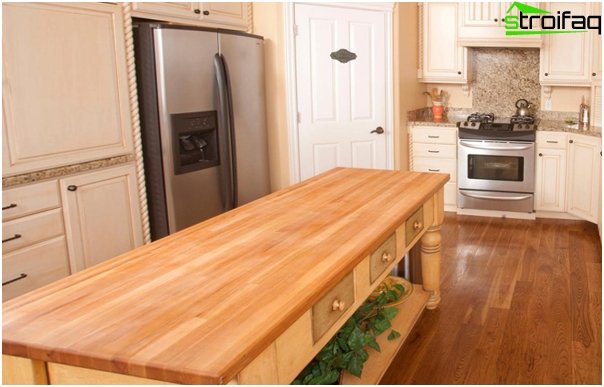 By placement in the kitchen
Table by the wall
Such table placement is a great option for a cutting table (it is unlikely that several people will work at the same time at the same time), but for a dining table this option is suitable only in small families – from one to three people. For larger families, a table by the wall should be placed only if it is long enough.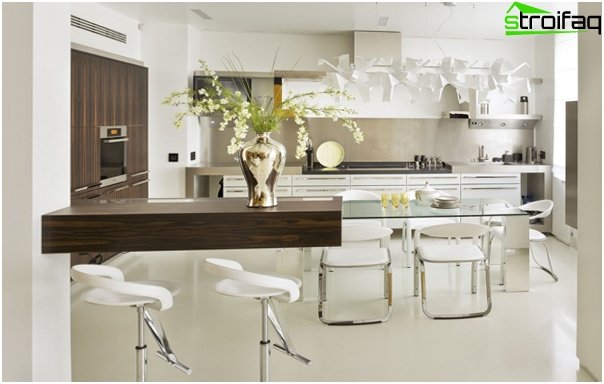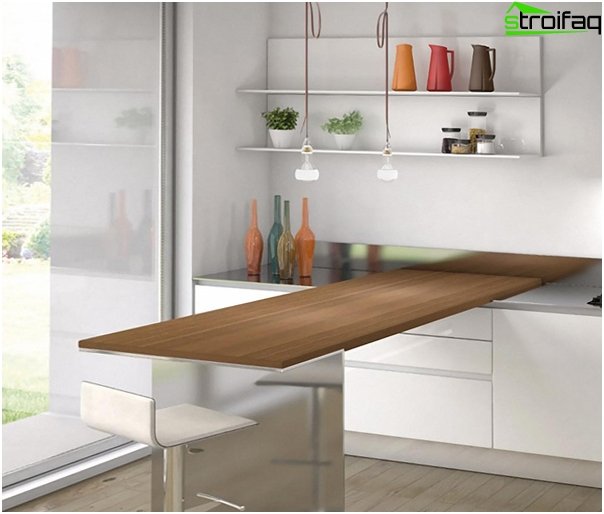 Island table
If the table is set so that it can be approached from either side, this is an island type of accommodation. It allows the most productive use of the entire surface of the table, both during cooking, and in the process of its absorption. However, you won't be able to store kitchen utensils nearby: if you put storage cabinets at the bottom of the table, then there will be nowhere for the sitting to put their feet.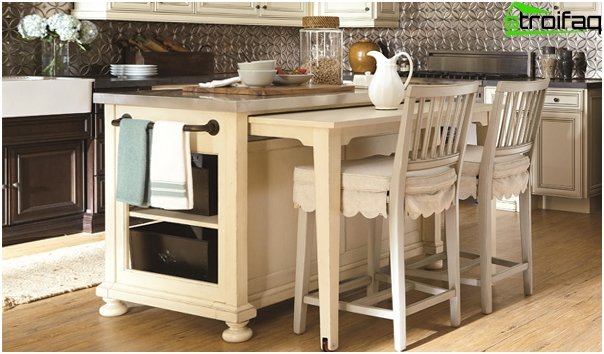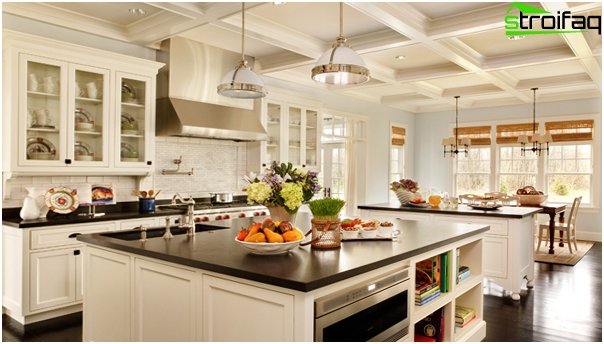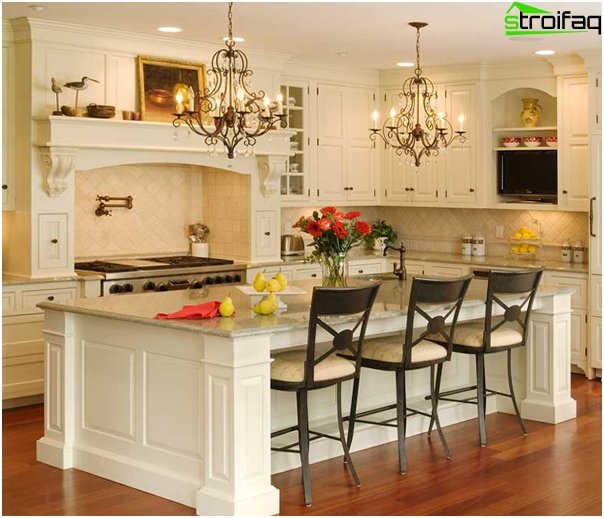 Storage system
In hanging cabinets at eye level it is convenient to store spices and small dishes. In order not to have to rummage through them for a long time, it is better to choose lockers that are not deep.
Transparent doors make the space easier visually, but show all the contents.
Drawers suitable for small kitchen utensils.
To store large dining sets and small household appliances, it is better to use floor cabinets and cabinets.
A kitchen sofa can become an additional place for storing dishes and products, which is especially important for a small kitchen, where it is not possible to place large cabinets.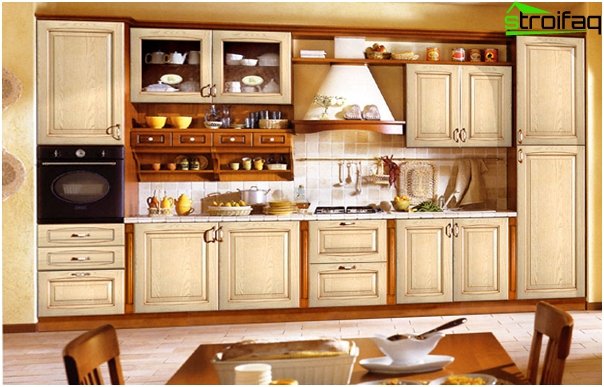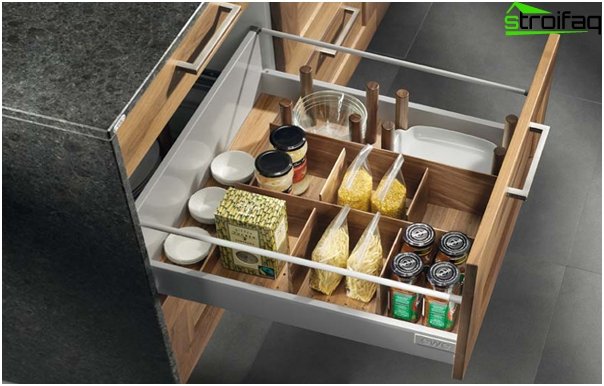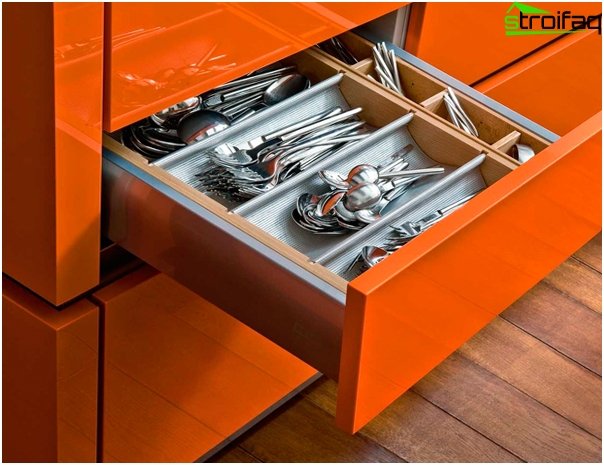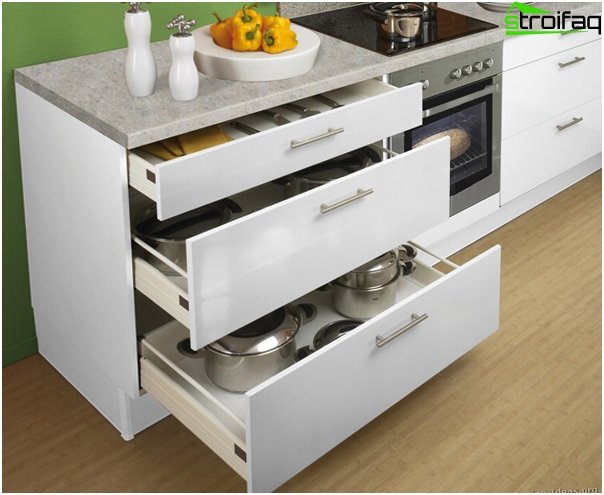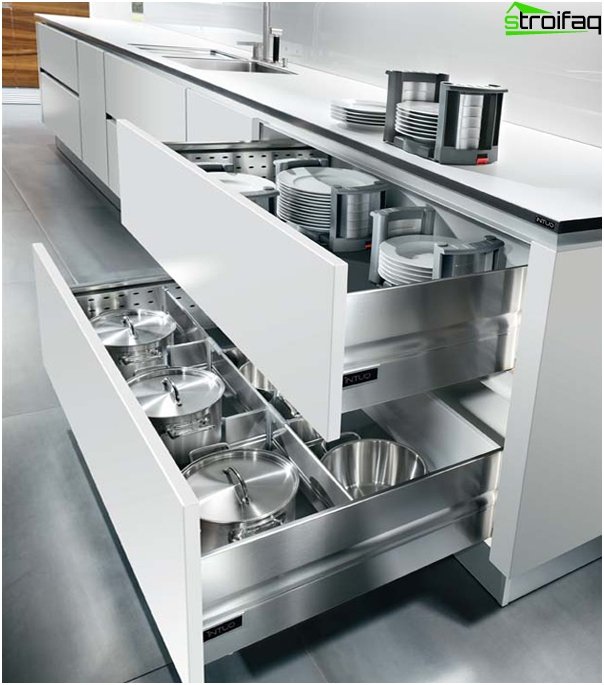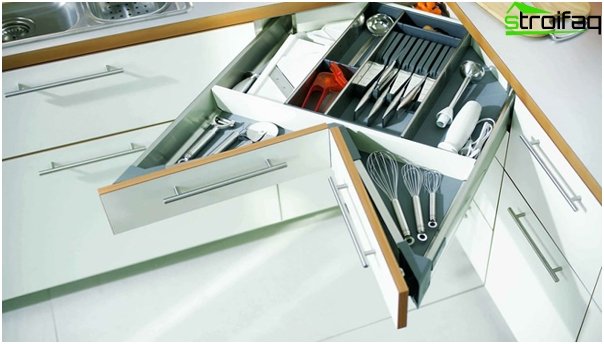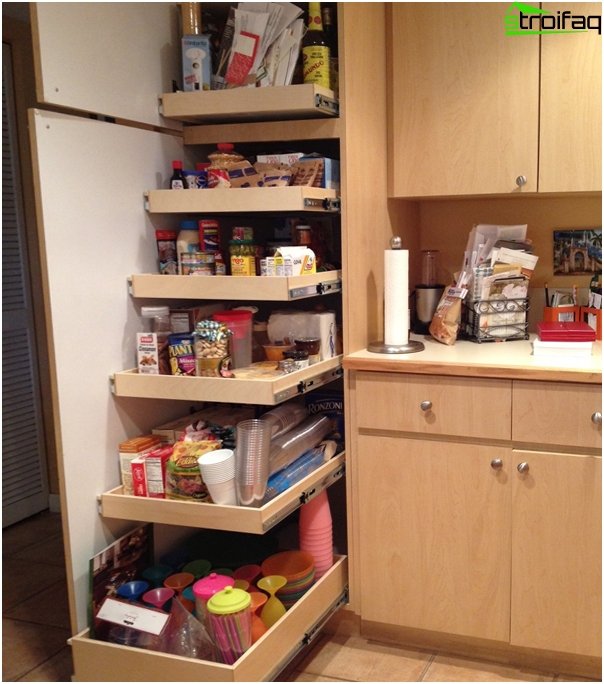 Furniture for a small kitchen
1. For small kitchen it is best to use light-colored furniture.
2. It is necessary to place furniture so that during the opening different modules do not interfere with each other.
3. In order not to bump into furniture, it is advisable to choose a model with rounded flowing shapes.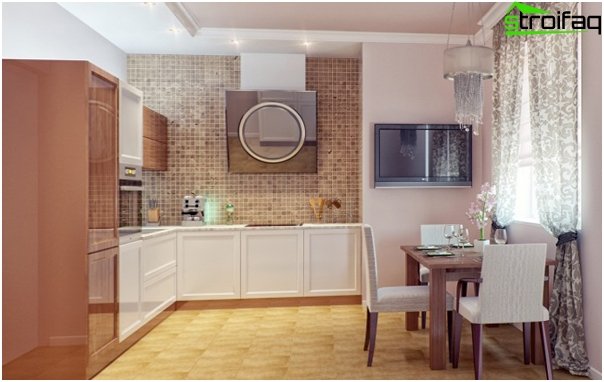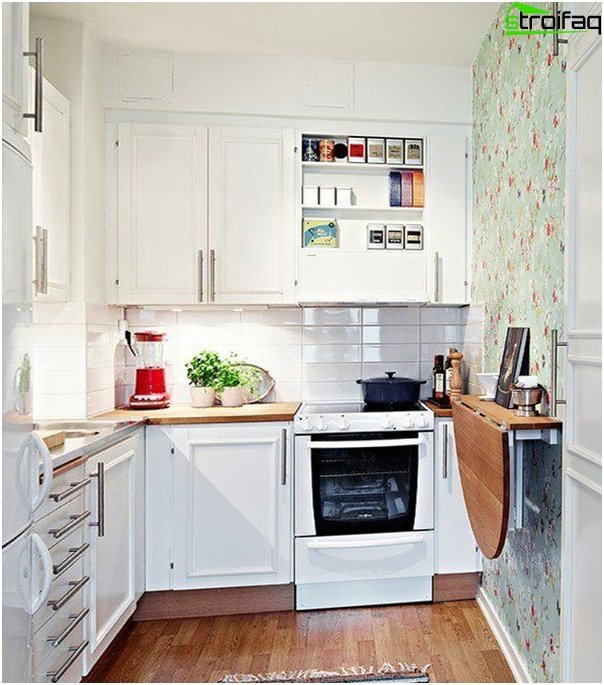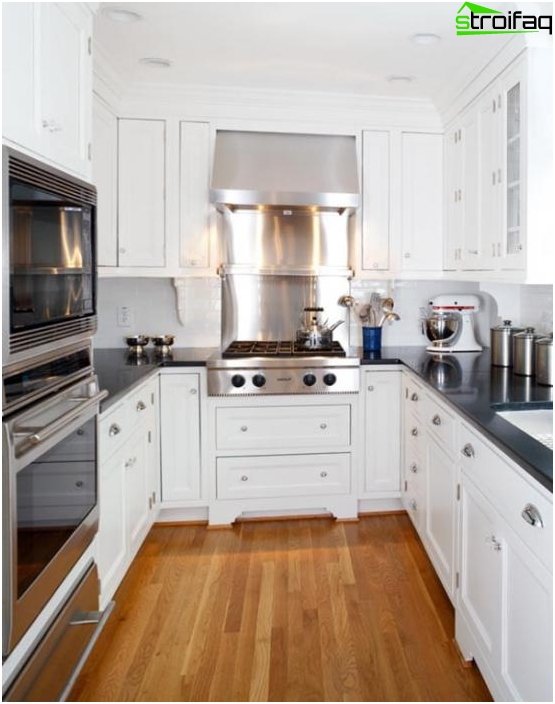 Kitchen furniture to order
To order, you can make not only wardrobes, but also kitchen sets. This will allow you to organize the space as convenient as possible for you, and a wide range of materials – to make it stylish and tasteful. Custom kitchens are an individual solution for each client..
2020 fashion trends
2020 fashion trends, see our photos below!