Content
What wallpaper for the kitchen to choose?
Washable wallpaper
Liquid wallpaper
Vinyl wallpapers
Non-woven wallpaper
Acrylic Wallpaper
Cullet
Stylish wallpapers: from loft to provence
Provence
Country
Loft
Japanese style
Minimalism
Modern
Choosing a wallpaper: the most popular colors with examples
Sky blue
Calming green
Refined gray
Creative orange
Classic white
In harmony with nature: how to take into account the cardinal points when choosing colors
Choosing a wallpaper for the kitchen-living room
Combined wallpaper: practical design solution
The best wallpapers of 2020 to create a fashionable kitchen
Wall mural: make your kitchen special!
DIY wallpaper in the kitchen!
What wallpaper for the kitchen to choose?
The kitchen is a territory of high humidity, and this must be taken into account when choosing a design. Wallpaper should not only please the eye, but also be practical, not absorb the aromas of the kitchen and be unpretentious in care. For this purpose, it is better to leave the surfaces above the stove and the sink unpainted and lay them out. tiled or other decoration materials.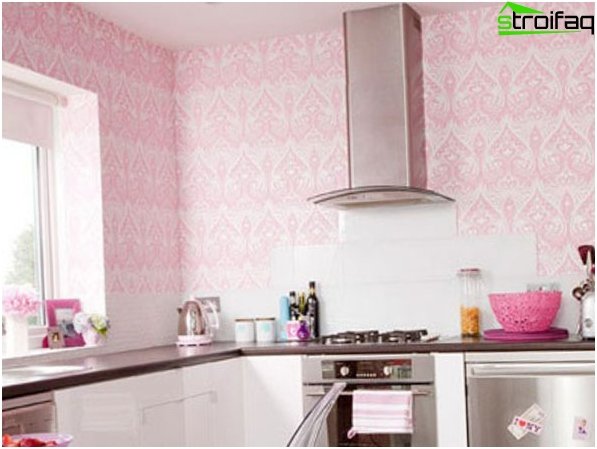 According to its structure and properties, there are several types of wallpaper, then we will dwell on each of them in more detail.
Washable wallpaper
This type of wallpaper for the kitchen over the past few years has become the undisputed leader among materials for wall decoration. They are easy to clean, tolerate humidity and constant temperature changes. No matter what happens, they won't tear, wrinkle or crease.
Liquid wallpaper
This is a variety of finishing materials, which is a special mixture of powders made from cotton fibers, adhesive binder, mineral chips, cellulose, pigment dyes. Before use, this mixture is diluted with water and gently applied to the walls. An obvious plus of liquid wallpaper is their ability to discreetly mask all imperfections on the walls and not leave seams on the surface after application. If any part of the wall is damaged – the coating can easily be replaced with a new one.
To increase the service life of liquid wallpaper, cover the finished walls with a protective acrylic solution.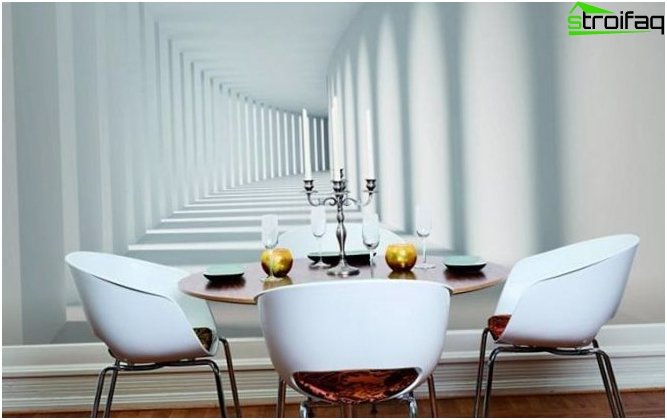 Vinyl wallpapers
This wallpaper is suitable for fans of plain wall decoration. Such a coating has a high density, does not fade in the sun and generally lasts long enough: the walls can be easily scratched, shuffled with a brush and rubbed with a damp cloth. Vinyl wallpapers also best hide all the bumps and roughness of the walls. There are special varieties that also have disinfectant and bactericidal properties, preventing the appearance and reproduction of mold and fungi. Agree, for the kitchen it's just perfect?
Attention! On wallpaper with three-dimensional images, dirt will be difficult to wash. To simplify your cleaning and do not regularly redo repairs, it is preferable to choose a wallpaper with a smooth coating.
Non-woven wallpaper
Wallpaper material is 70% cellulose fiber. Non-woven wallpaper perfectly fit onto the walls, do not sit down, do not tear, do not wrinkle, carefully cover all dents and cracks on the surface. This is a real find for the kitchen: they are moisture resistant, durable, easy to clean..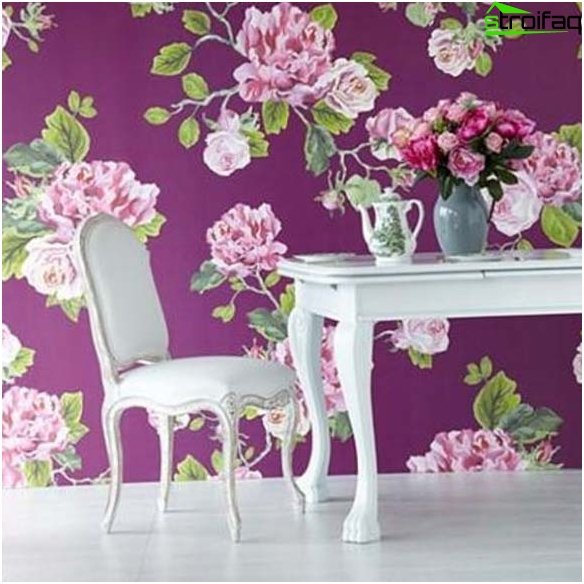 Acrylic Wallpaper
They consist of a two-layer material created on the basis of thick paper and covered with a thin layer of acrylic. This paint provides free air exchange in the kitchen, does not contain harmful substances, and, unlike benzoates in other finishing materials, does not negatively affect human health. Wallpaper has a delicate relief pattern, so when washing you can not use hard rags, detergents.
Cullet
Made exclusively from environmentally friendly natural materials. These wallpapers are ideal for masking all cracks and bumps. They do not tear and do not pass moisture, interfering with the development of fungal microorganisms. Cullets, if desired, can be repainted in other colors (up to 10 times), and their structure will be preserved.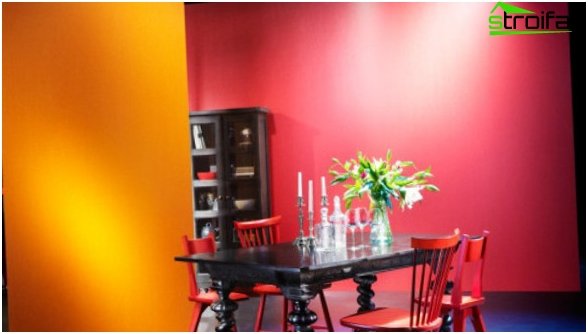 Stylish wallpapers: from loft to provence
Provence
The kitchen, decorated in the Provence style, is most often bright wallpaper with a pattern in a vertical strip, a check or a flower, as well as all wallpapers with images in the style of European cafes, provincial motifs (houses, animals, rustic utensils). As a rule, these are muted shades: mustard, olive, lavender, wheat, beige, sand. Also, wallpapers that create the effect of cracked plaster or a barn board will look good..
Below is a photo of wallpapers in the style of Provence. Learn more about Provence style in kitchen design can be here.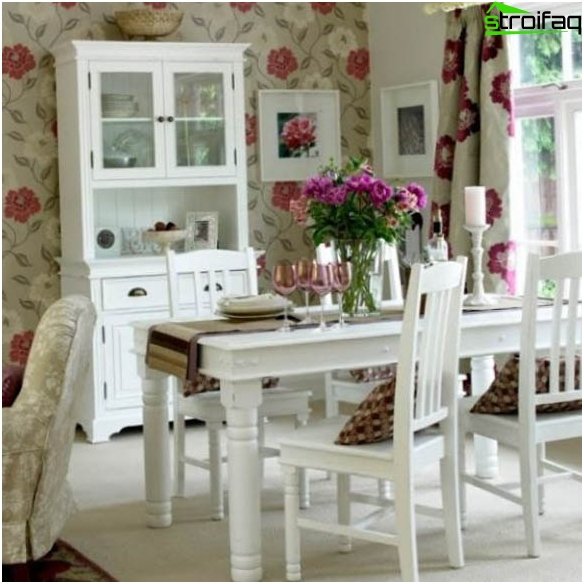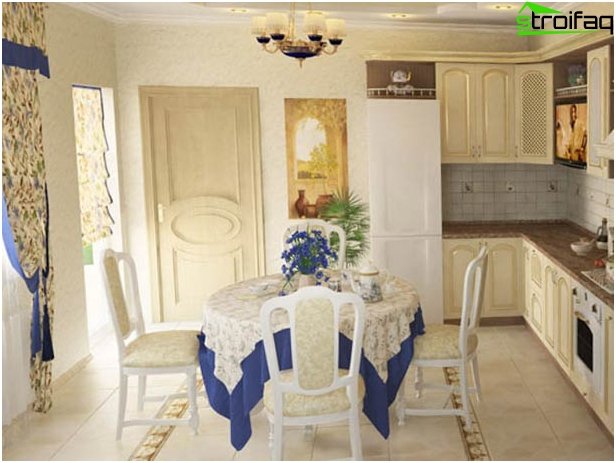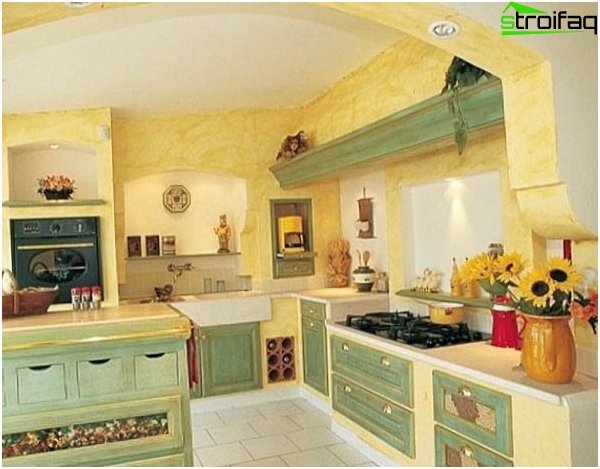 Country
Country-style kitchens are designed to create a cozy atmosphere of the hearth. For this, wallpapers of calm muted shades are best suited: green, beige, terracotta, soft yellow, brown, soft pink, crimson, blue. This style is natural, in such a kitchen wallpaper will look great under simple natural materials: stone, wood, etc..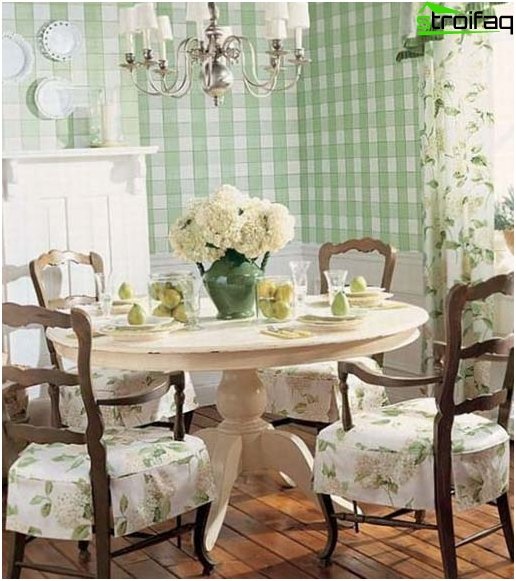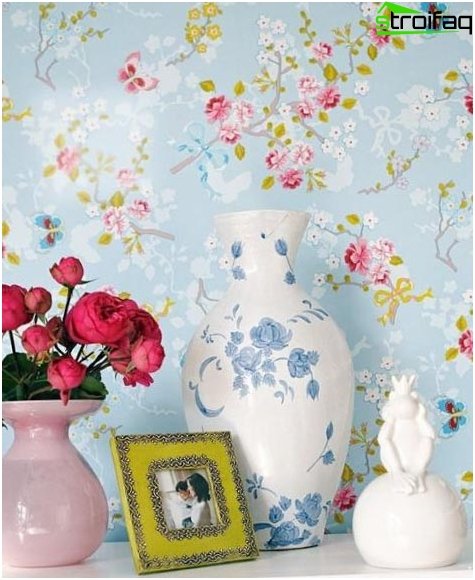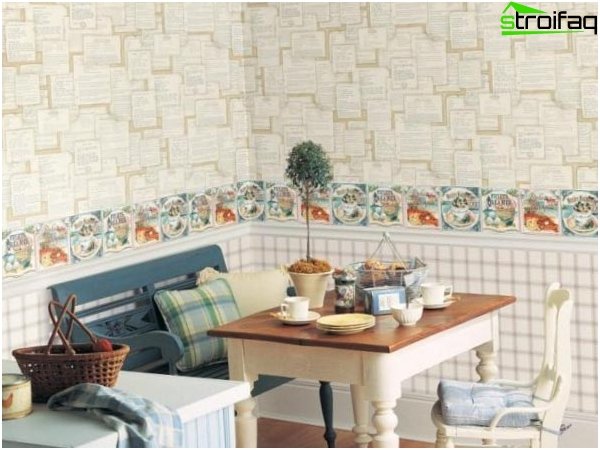 Loft
For creating kitchen interior in the loft style there are two finishes: bare walls without any processing or their imitation using wallpaper depicting brickwork, pipes, rough plaster. Rich deep color wallpapers are also able to recreate a bohemian "factory" atmosphere..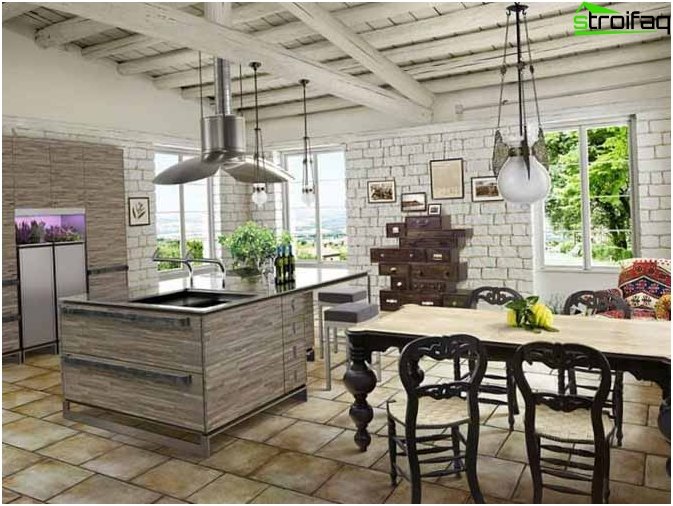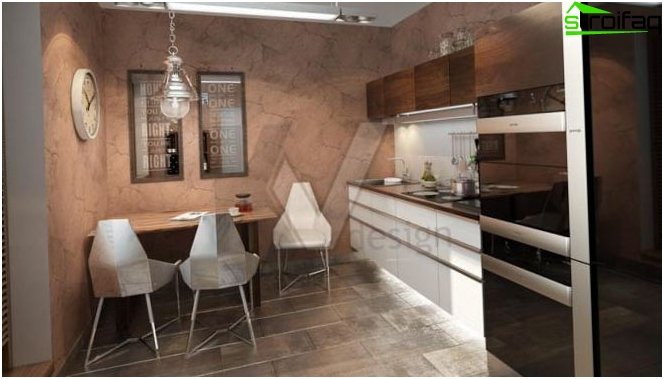 About the bar counters in the kitchen read here.
Japanese style
Japanese-style cuisine is a place of relaxation, relaxation for body and soul. To create a relaxing and relaxing interior, natural colors like ocher and green are best suited. The kitchen will be revived by wallpapers imitating bamboo masonry or murals with ethnic motifs and calligraphy, drawings with exotic flowers and birds. You can choose a design in the spirit of Japanese minimalism, or you can prefer bright colors by choosing wallpapers that contrast with the furniture.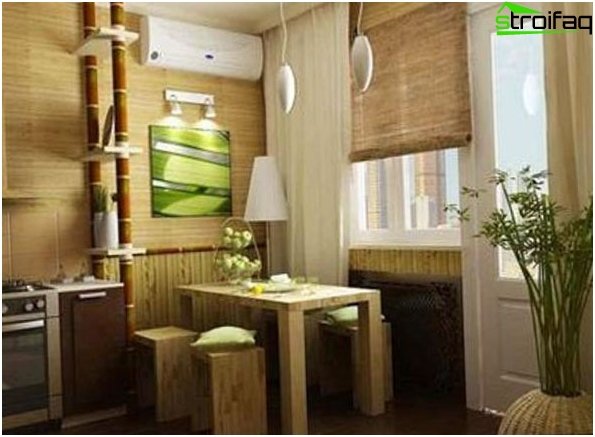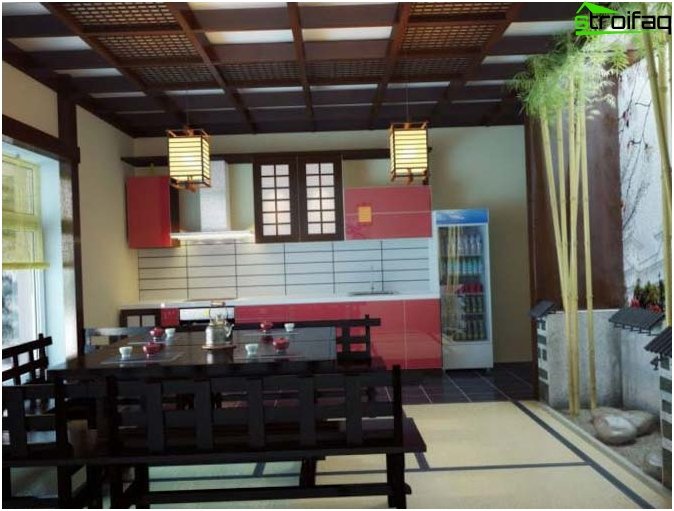 Minimalism
Conciseness, rigor, simplicity, purity, functionality, maximum light and space – these are the cherished canons of the kitchen in the style of minimalism. Monotonous simple wall decoration, possibly with a small smooth pattern, will help to realize all these tasks in one interior. The traditional solution for minimalism is to use the contrast of gray walls and a white headset in the interior. In fact, the dominant color can be anything, but light colors are still preferable. The main color can be effectively emphasized with the help of stone, metal, natural wood.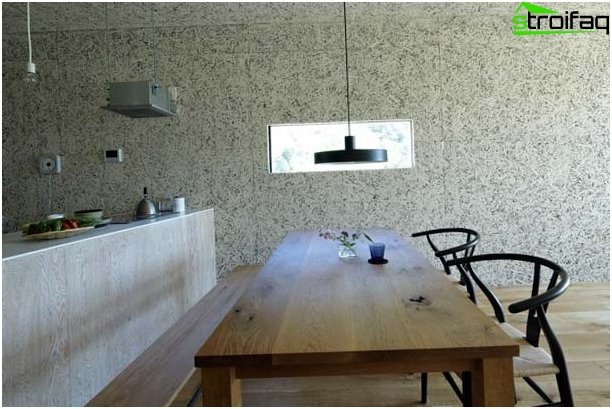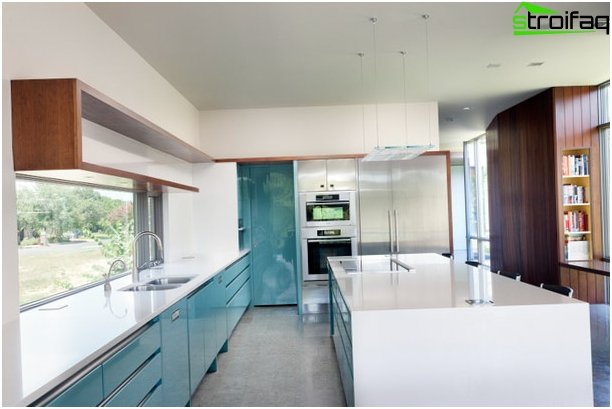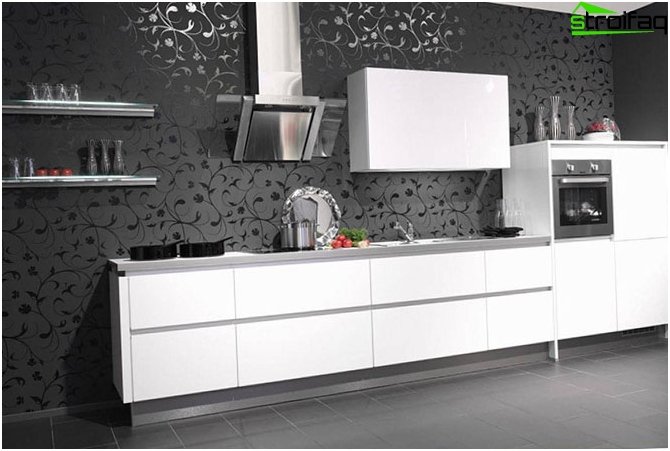 Modern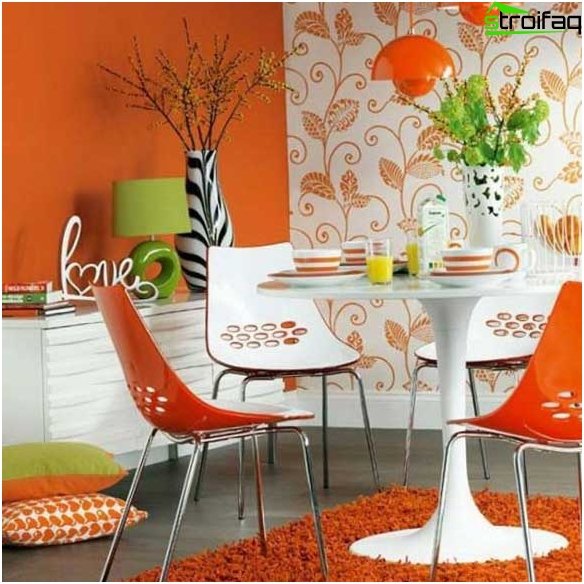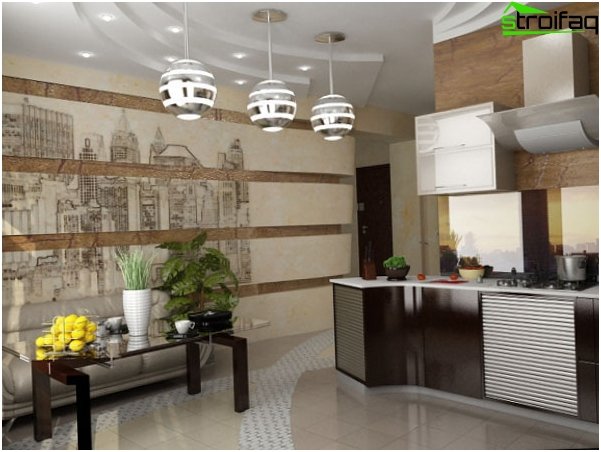 Choosing a wallpaper: the most popular colors with examples
Sky blue
Blue wallpapers are best suited to people who are active and energetic: a gentle, calm gamut has a calming effect, helps to relax and unwind after a long working day, as well as create a relaxed atmosphere of romance and a carefree holiday.
Soothing wallpaper colors of the summer sky will blend perfectly with yellow kitchen set and accessories. Another popular combination is blue wall covering., white curtains and furniture, diluted with blue decor in the role of bright accents.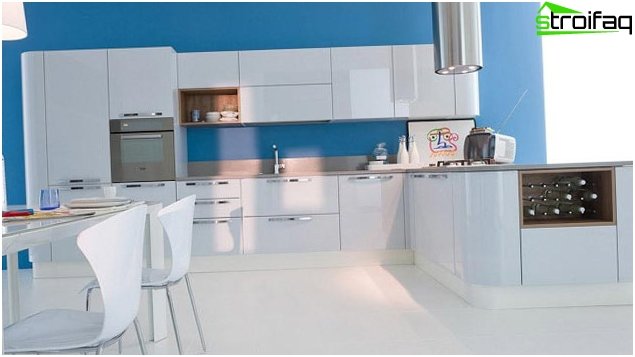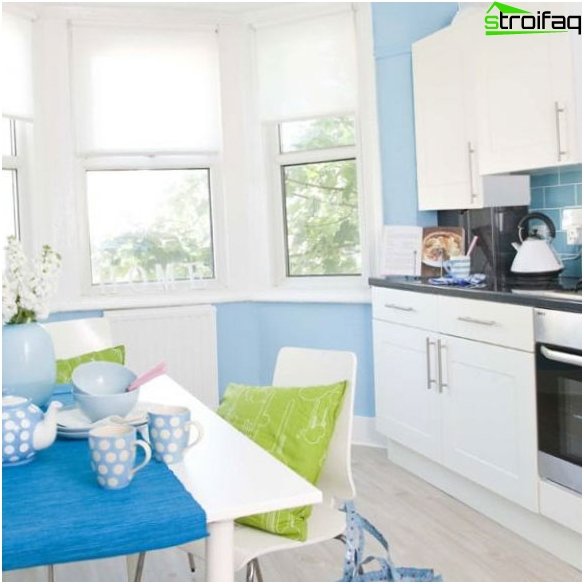 Calming green
This color has countless shades, with the right selection of which you can create a truly impressive light and summer interior. Especially effective in the kitchen look green wallpaper in combination with a brown, beige, orange, gray or black suite. A green background always shades color very favorably apron, refreshing the interior and creating a calm, harmonious atmosphere in the kitchen.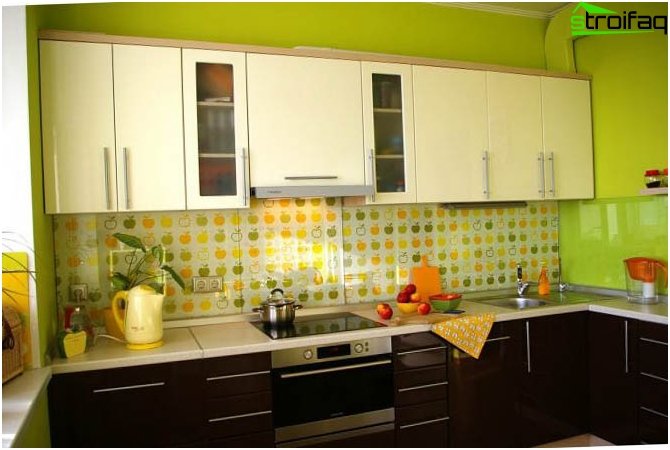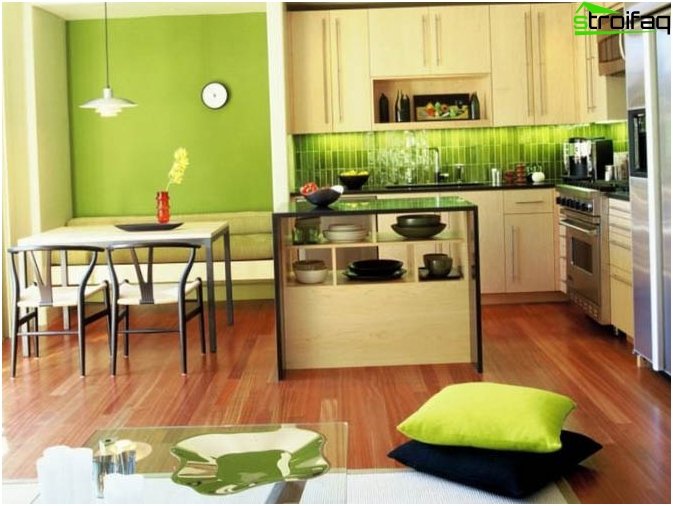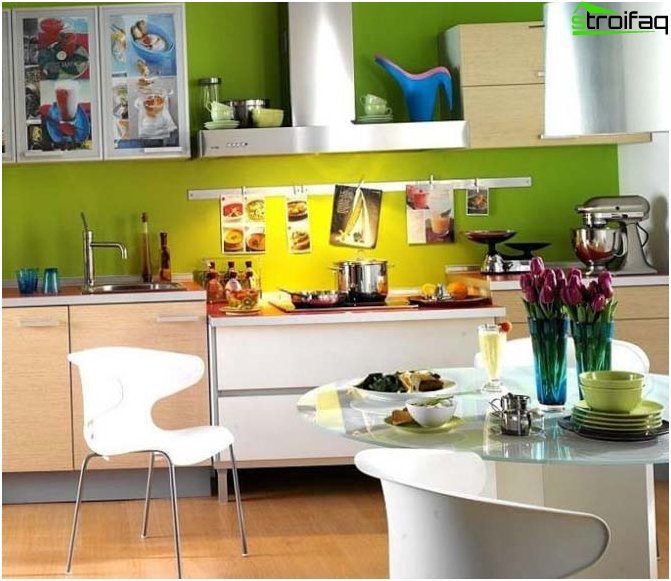 Refined gray
Gray wallpaper in the kitchen looks aristocratic and stylish. This color will never look boring, on the contrary, it will diversify any color gamut. Gray is easy to combine with other colors. Most often it is used in high-tech kitchen interiors..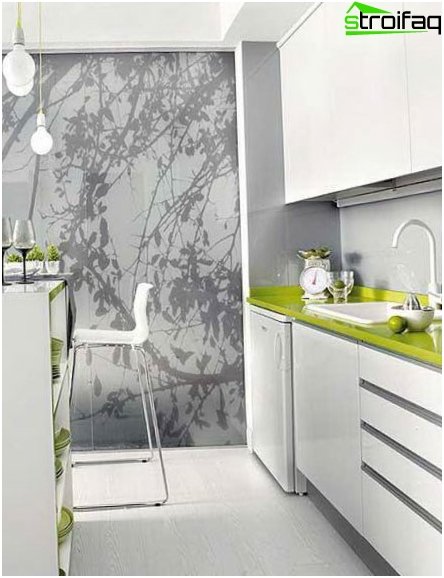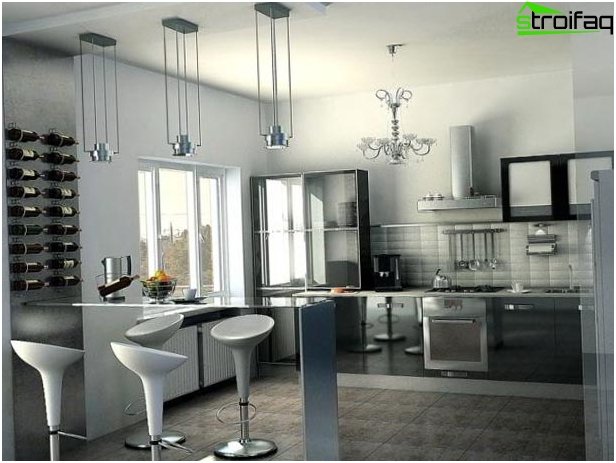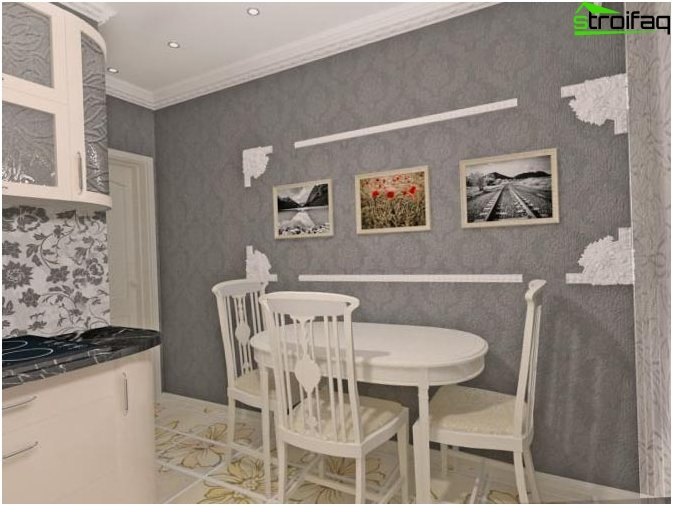 Creative orange
A wide range of orange colors – coral, peach, amber, orange, salmon – will help create a friendly atmosphere in the kitchen to facilitate communication. Citrus tones in the interior cheer up and increase appetite. Orange wallpapers will be best combined with warm blue, green, black colors.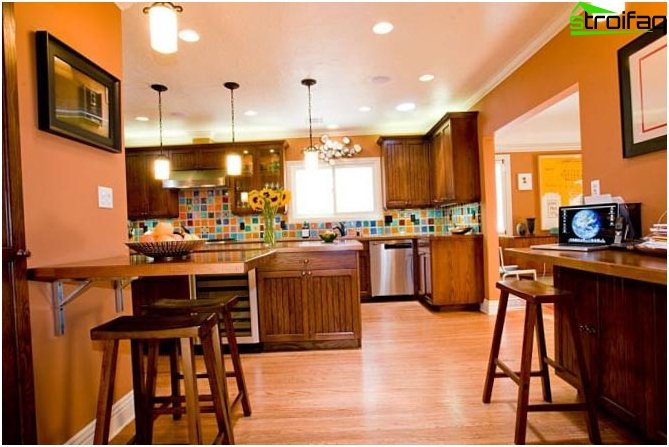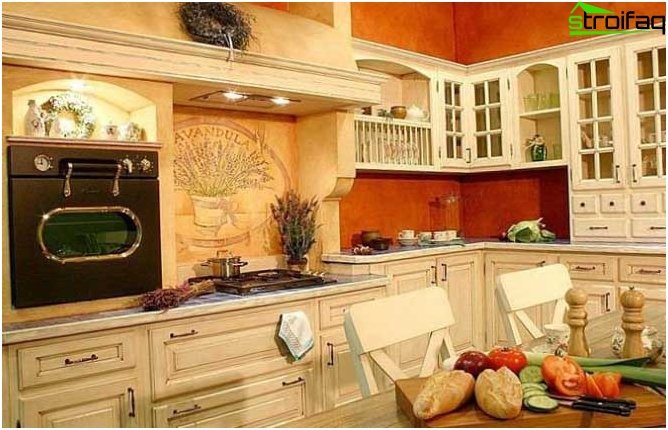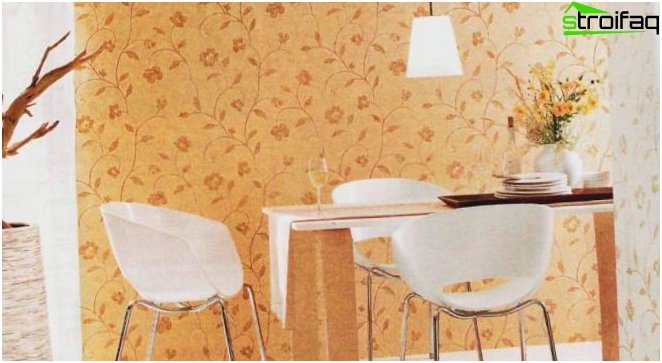 Classic white
White kitchen is a classic of a minimalist interior. Light colors visually give your room more light and free space. To prevent the kitchen from looking boring, add bright accents to its interior, for example, combining white wallpapers with green, orange or even black.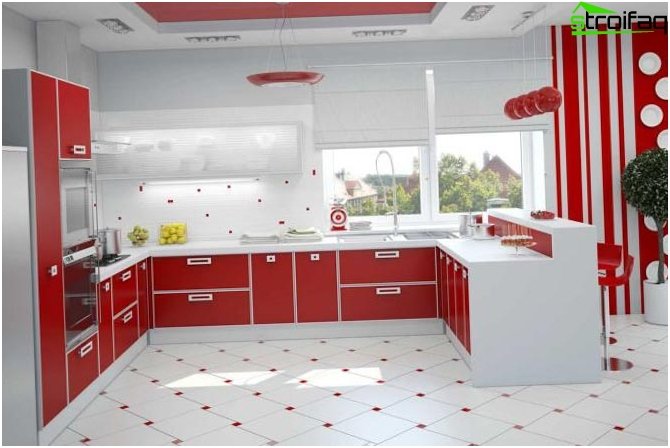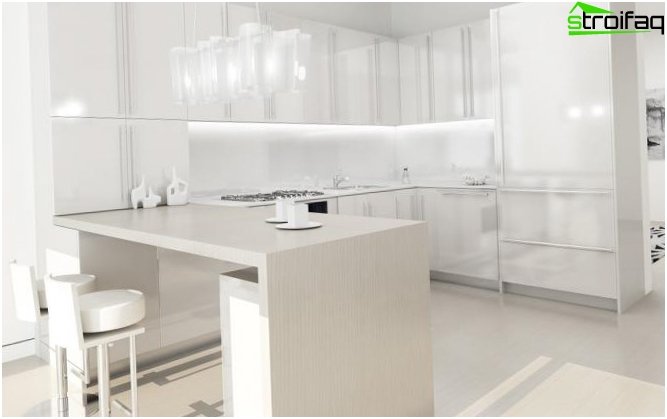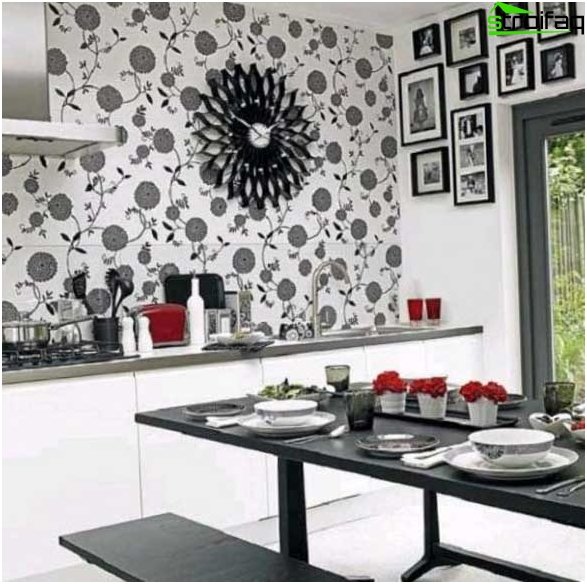 In harmony with nature: how to take into account the cardinal points when choosing colors
The side of the world, which faces the windows of your kitchen, can serve you as a small clue when choosing the color scheme of the interior.
Where the windows go Problem Recommendations on the color of the wallpaper
| | | |
| --- | --- | --- |
| North side (northwest, north, northeast) | Lack of sunlight in the room | Baby blue, yellow, white, light green, golden |
| South side (southwest, south, southeast) | Too much light, the room needs "cooling" | Dark Blue, Green, Silver, Blue |
Choosing a wallpaper for the kitchen-living room
In the combined studio room, it is necessary to correctly select the colors and the combination of drawings so that the decoration of the living room and kitchen harmonizes with each other. Designers recommend choosing standard washable wallpapers for the kitchen area, and elegant and expensive ones for the living room. For living room kitchen small size is better to pick up wallpapers of light colors. You can try to use the colorfully decorated murals in the wall decoration, which should coincide with the general style of the kitchen-living room.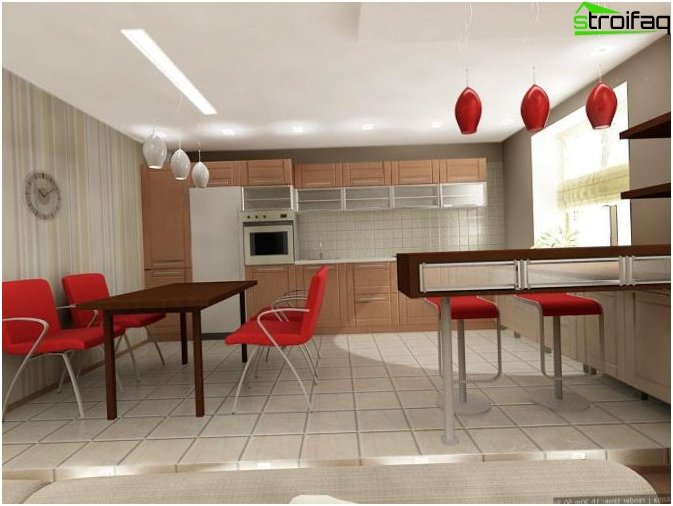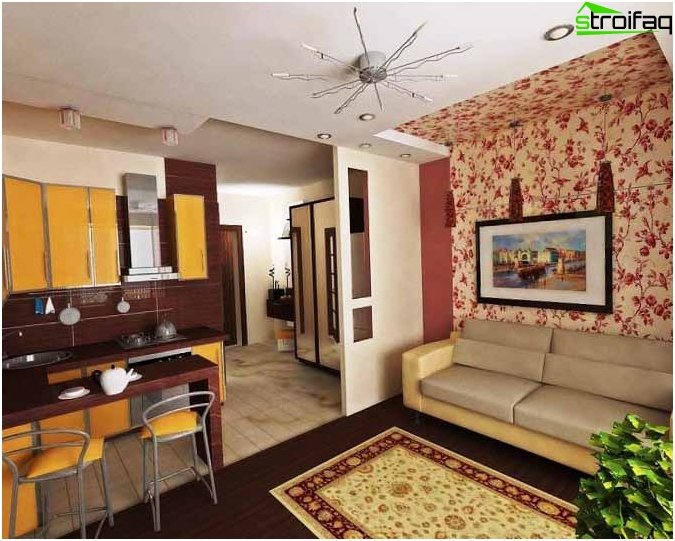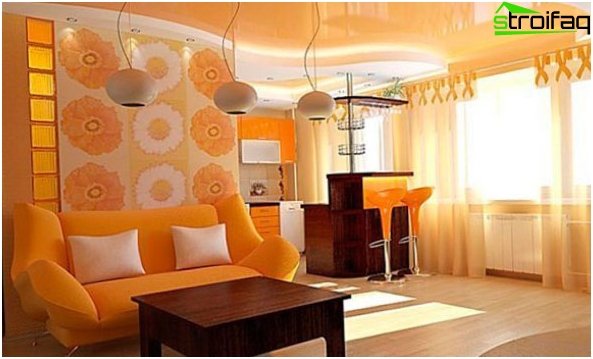 See more photo wallpaper for the hall.
Combined wallpaper: practical design solution
Using this decorating technique helps to solve several interior tasks at once:
zoning space;
visually add light to the room;
visually increase the ceilings and expand the walls;
mask design flaws.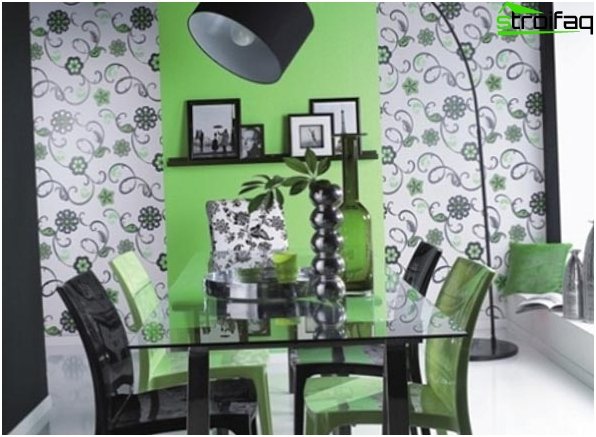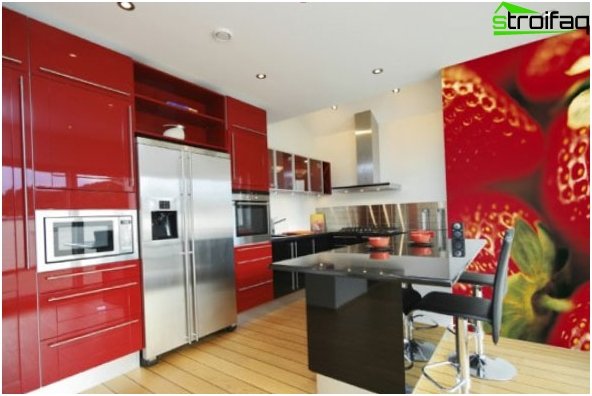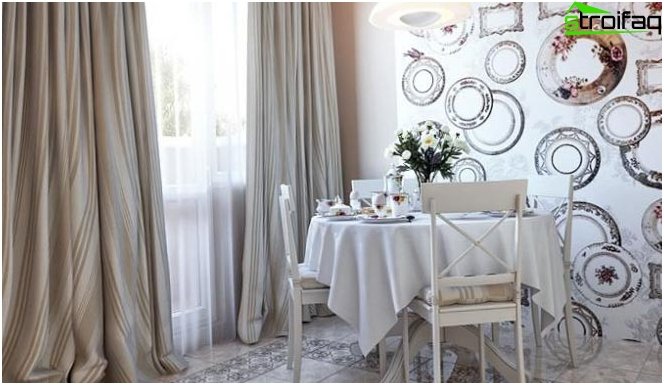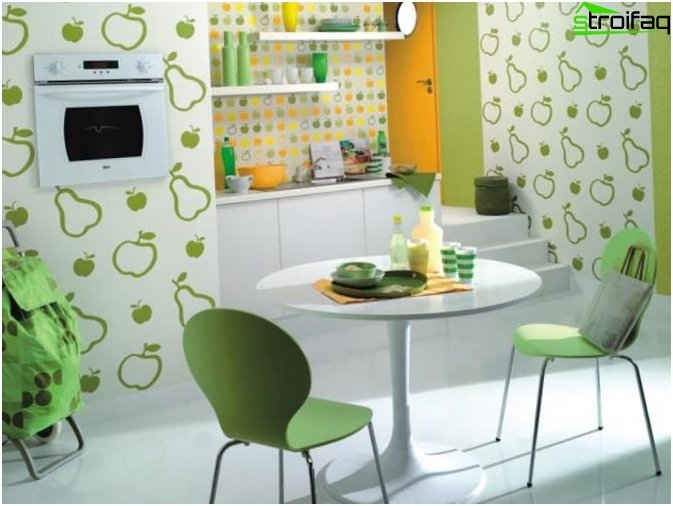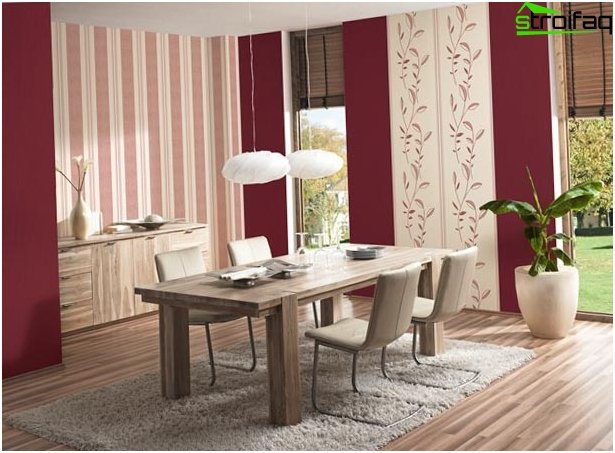 To choose the right wallpaper and radically transform the interior, you need to consider the following points:
Wallpaper should correspond to the general style of the interior;
Try to choose wallpapers of the same quality and one price category;
Make sure that the wallpaper is equal in thickness;
Alternate vivid patterns with plain colors, balance saturated colors with more calm ones;
The abstract pattern will go well with the geometric, wood texture – with patterns of flowers.
The best wallpapers of 2020 to create a fashionable kitchen
The modern market of finishing materials for the kitchen is replete with all kinds of colors, ornaments and creative design solutions for every taste and budget. Here are the main trends for this season: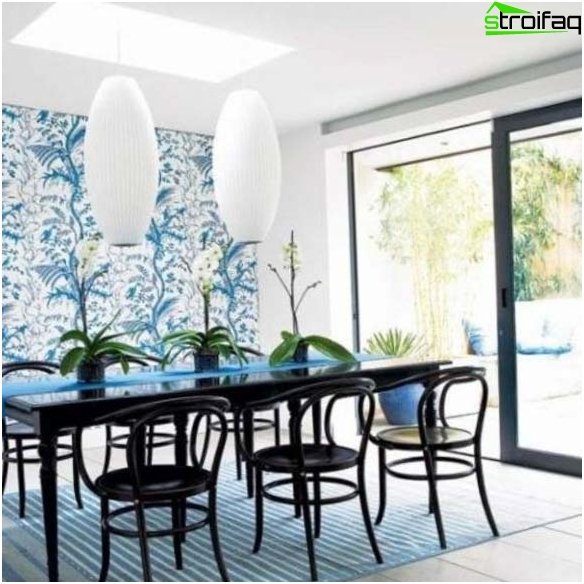 Luxurious ornaments. Decorators do not get tired of coming up with more and more new ones, stunning with their fabulousness and bizarre forms of collection. Proud peacocks, outlandish plants, lace frills, wicker textures, ancient letters – these wallpapers I just want to call a work of art! Make your kitchen royal cheeky and stylish!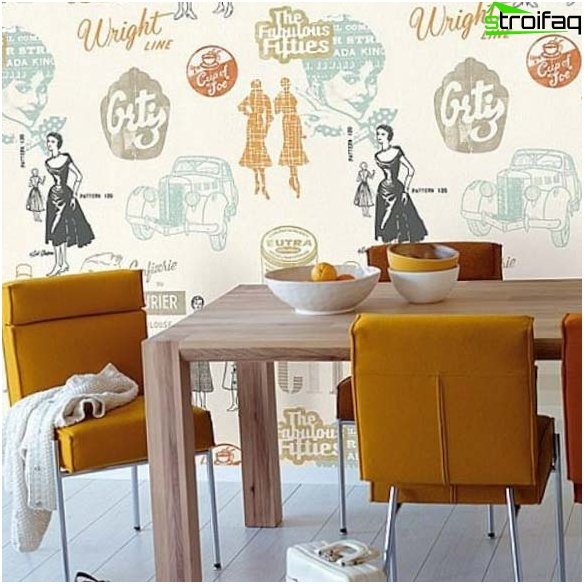 Creative accent. Bright and fashionable images instantly attract attention: these should be the wallpapers that adorn the accent wall of your kitchen! Emphasize the exclusivity and sophistication of your interior by choosing wallpapers from new design collections..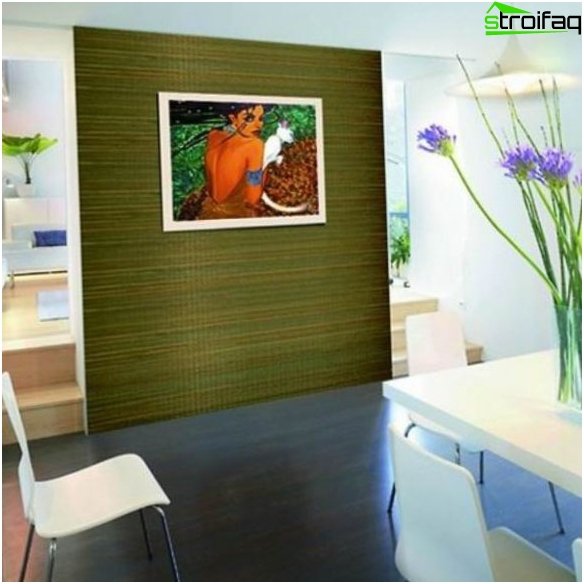 Made in Africa. Ethno-theme is still at the peak of popularity. So, boldly decorate your walls with prints of zebras and tigers, images of giraffes and crocodiles, leopard paw prints and other drawings that can turn ordinary kitchen into a picturesque savannah full of mysteries and adventures!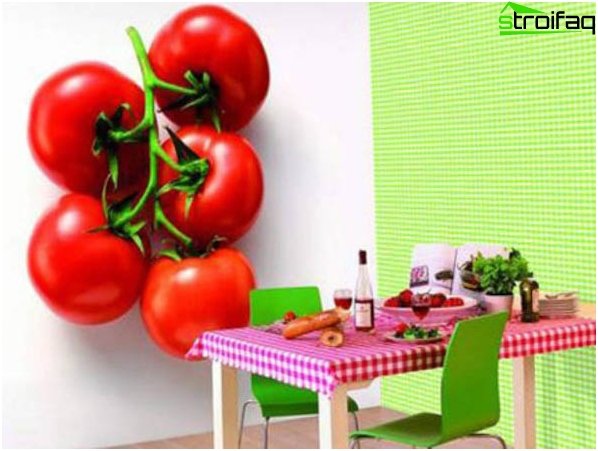 Great drawings. Surprise! Decorate your wall brightly, let it attract attention! Modern coatings and trendy contrasts will make your interior truly outstanding.!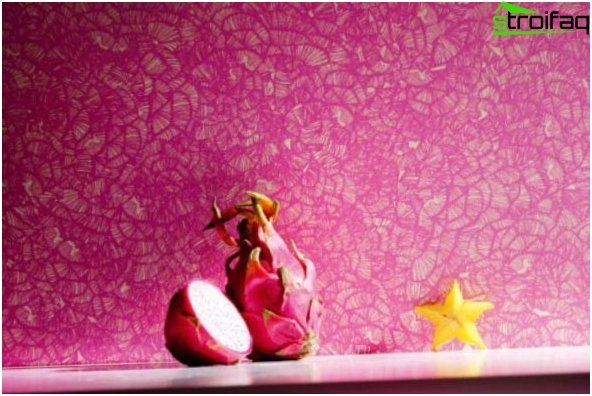 Hypnosis. Modern technology for painting wallpaper can achieve a space effect. Such fantasy patterns catch the eye and do not allow to come off.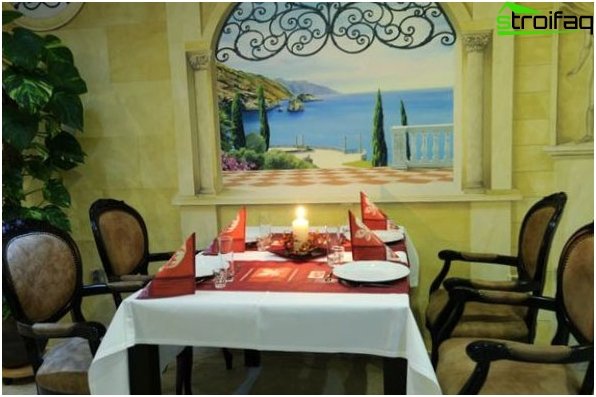 Time travel. The atmosphere of an old Parisian cafe or a flourishing Italian province will help you create modern murals.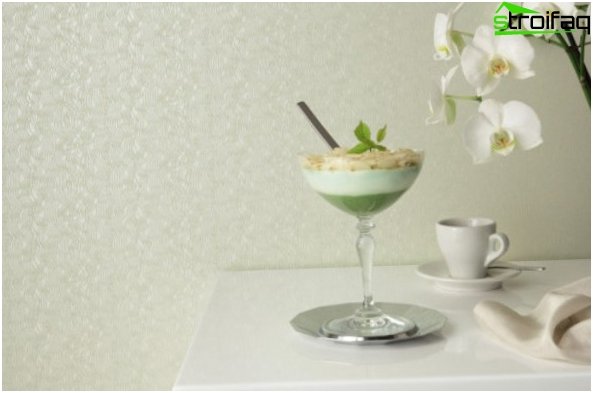 Spectacular monochrome. To make the kitchen look stylish, it is not necessary to choose wallpapers of bright and artsy colors. A great alternative for lovers of classics – monochrome art deco style wallpapers with the effect of relief and roughness, reminiscent of shark skin.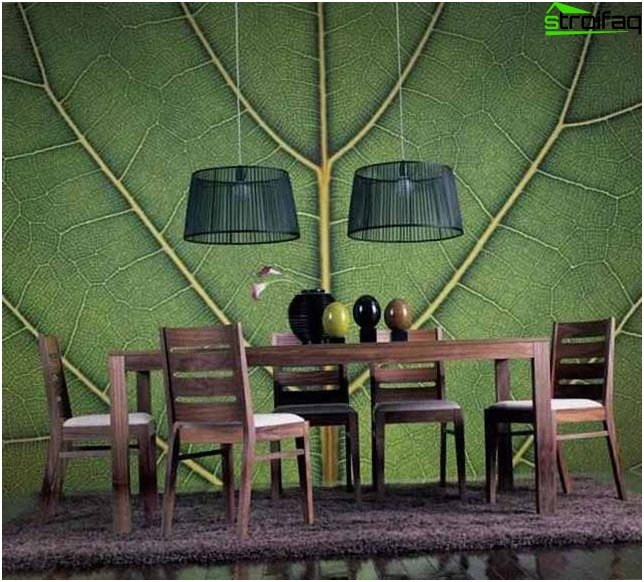 Nature. The best way to create an atmosphere of tranquility and tranquility in the kitchen is to choose wallpapers that resemble the fauna world in texture. Artistic images of natural landscapes will look great in the interior of any style.
Wall mural: make your kitchen special!
This, of course, is one of the most fashionable and spectacular ways to decorate your kitchen space. In terms of its decorative capabilities, this element of wall decoration simply has no equal! Tastefully selected wallpapers seem to expand the boundaries of the room and create the illusion of perspective. A familiar wall suddenly turns into a summer garden, a cozy foreign street or the ocean coast.
Photographic images require a lot of space for themselves and will look best in the interior of minimalism: a neutral background, a minimal amount of furniture and decor elements.
Often photowall-paper is used in spacious kitchens-living rooms for zoning the space, creating unusual visual effects. But this does not mean that they cannot be used on small kitchens. In this case, it is important to select a photo image, taking into account the dimensions of the room, so as not to create a feeling of lopsided and inappropriate decor. About how to decorate the living room interior with photo wallpaper, read our article.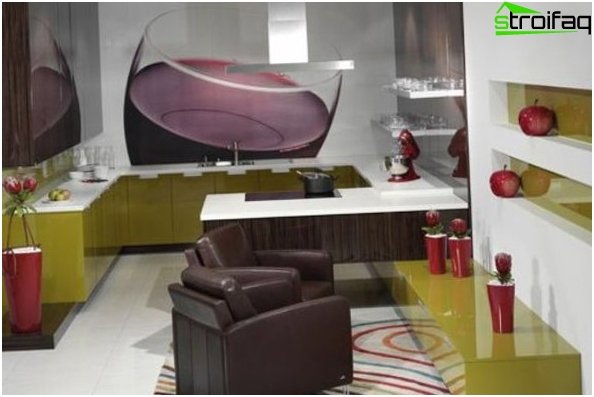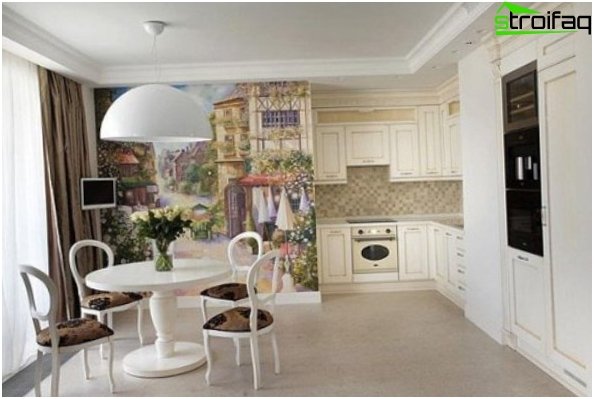 DIY wallpaper in the kitchen!
Realizing all your design ideas is not so difficult as it might seem at first glance.
Be sure to read our article on the correct wallpapering the walls!
Read also the article about the choice jalousie for kitchen.