Content
Types of Kitchen Design
Japanese precision or Scandinavian comfort – how to get right with the design?
Japanese style
Hi-tech style
Provence style
Scandinavian kitchen design
Country in kitchen design
Small kitchen – a punishment or a gift from apartment planners?
Pioneer past: radically changing the kitchen in Khrushchev
Corner kitchen design – elegant perfection
Kitchen comfort in a private house
Choosing a project, taking into account the size of the kitchen
Project for an area of ​​6 sq m
Project for an area of ​​9 sq m
Project for an area of ​​10 sq m
The nuances of the design of the kitchen-living room
Competent selection of furniture
We emphasize using curtains
An element of luxury or a clear necessity: bar counter
The highlight of the kitchen interior – wallpaper
Optical illusion or how to make the ceiling higher?
We save money while maintaining quality: competent repair
Types of Kitchen Design
Whatever you say, but the best option for distributing space in the kitchen will be one in which they clutter up a minimum of space. Based on this, it is safe to say that the design of the kitchen must certainly be as functional as possible. Perhaps that is why in the modern world kitchens are so popular, combining cabinets and tables with drawers.
The most popular today are 6 of these kitchen repair options:
Kitchen Design Options
| | |
| --- | --- |
| Single row kitchen | This option is considered the most suitable for small kitchens, since the working wall is placed on one side, and the second side can then be used for cooking and / or eating. |
| Double row kitchen | In this version of the kitchen design, to maximize the preservation of the working space, the sink and tiles are distributed on one side, and the refrigerator is located on the opposite side. |
| L-shaped kitchen | Perfect for both small and large areas, since the distance between the working surfaces can be adjusted. |
| U-shaped kitchen | Suitable for large spaces, since work surfaces are along three walls. In addition, in the design of this type it is very important to correctly observe the parameters (the back wall should not be less than 2.5 meters, and the free space between the walls ranges from 1.2 to 2.8 meters) |
| Peninsular kitchen | Thanks to this design, you can, for example, separate the dining room from the kitchen using a cabinet with a sink or stove. |
| Island kitchen | This design can only be seen in large kitchens. Its main element is the addition in the center of the L-shaped or U-shaped kitchen taken as the basis. |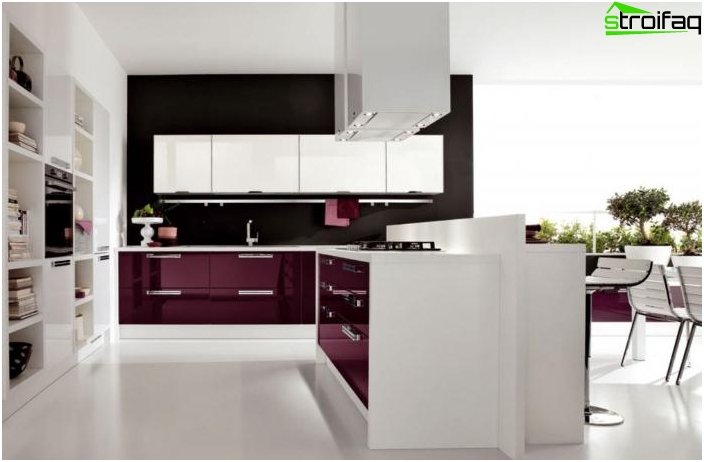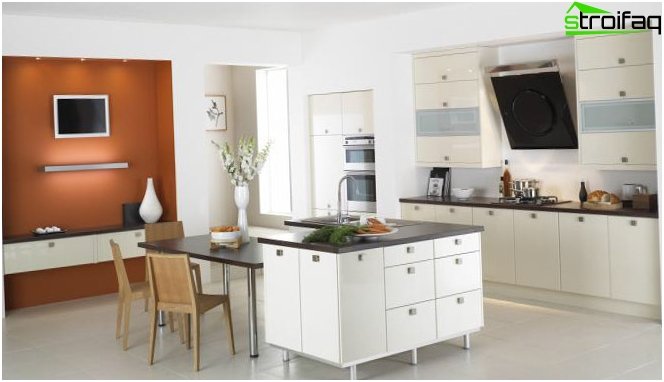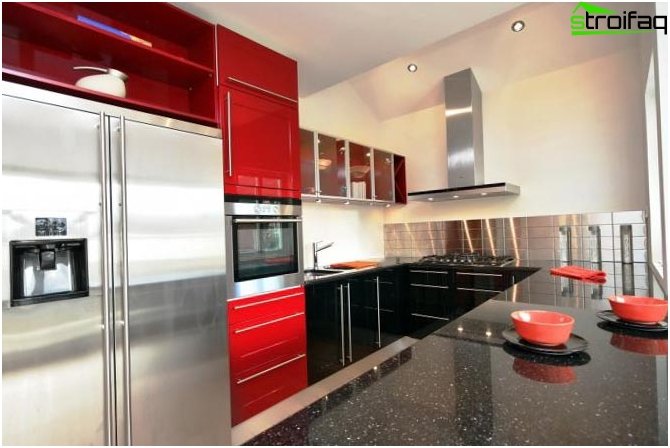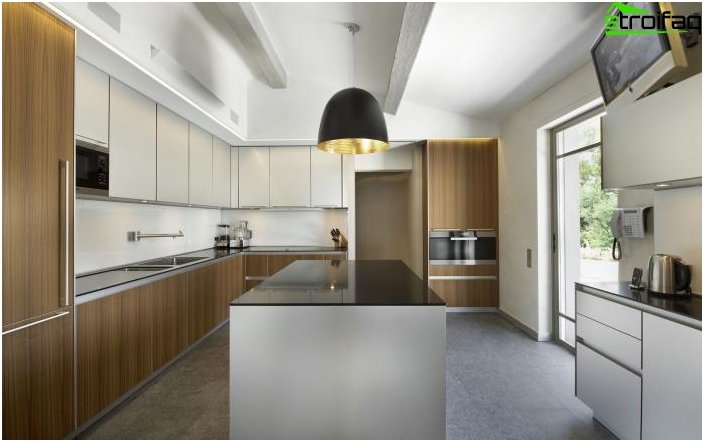 We also recommend looking at kitchen interior with balcony, here you can find many ideas for balconies and loggias.
Japanese precision or Scandinavian comfort – how to get right with the design?
Of course, the choice of style for the kitchen is a task feasible only to the owners of the apartment. Some people like the kitchen to be cozy and truly homely, so they prefer the rustic style and in the urban jungle they form a little rural rest. Others, on the contrary, recognize only modern technologies, not even wanting to take a look at the style of the last century, confidently choose high-tech. But, nevertheless, there are several recommendations for the creation and design of the design, let's consider them.
Japanese style
This design is at the peak of apartment fashion today. This interior will be ideal for small kitchens.
The basis of design is:
minimum number of parts;
high quality natural materials;
daylight.
The main law is functionality and simplicity, so without regret we get rid of unnecessary things and even the slightest mess. And at the same time, in such a room should be absolutely everything that is needed, including only modern equipment.
The natural color scheme is most suitable for such an interior, so feel free to choose pearl, white, milk, sand, beige and brown shades. Great shades will be all shades of green and red..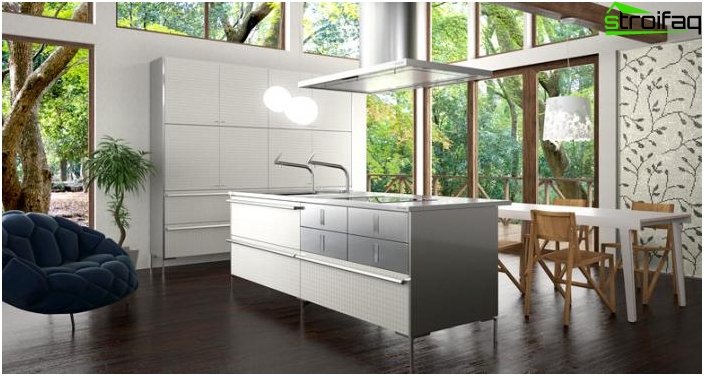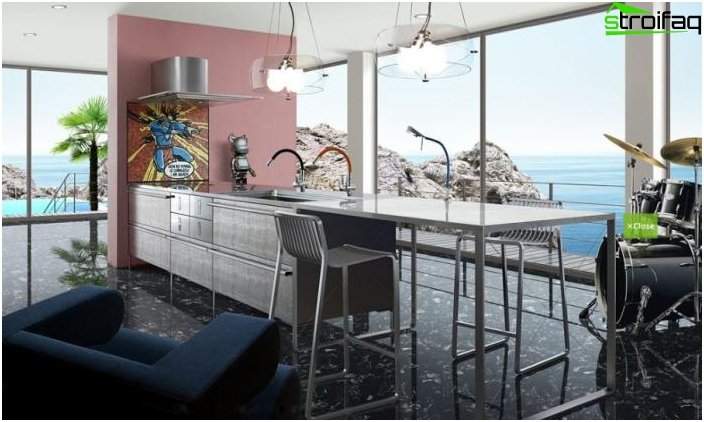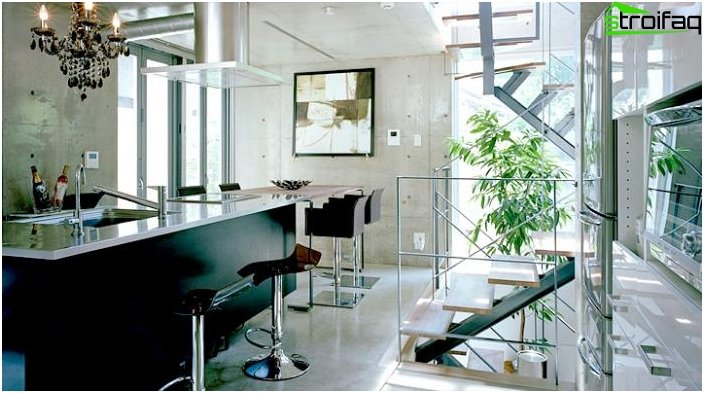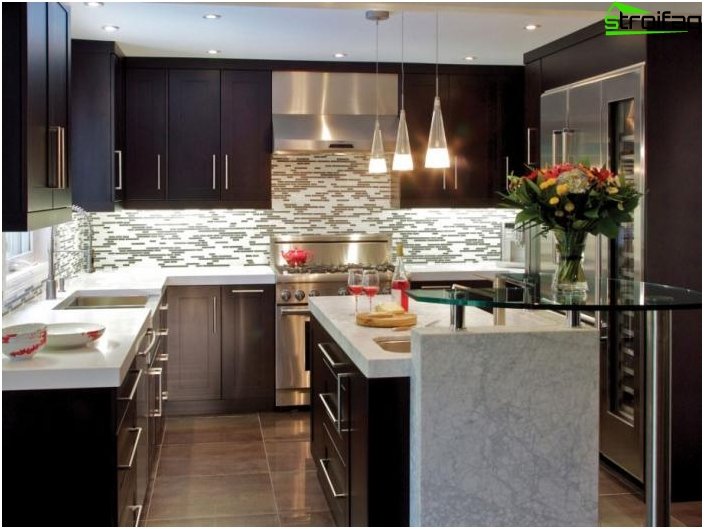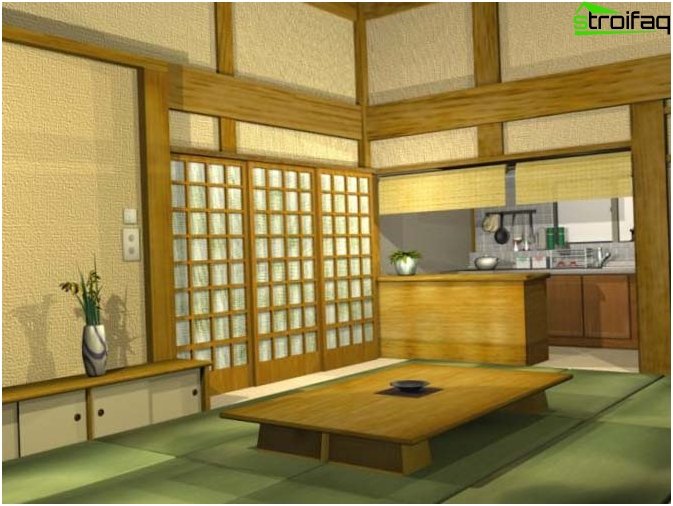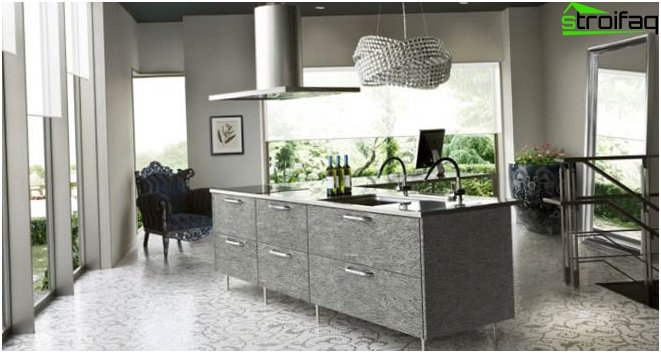 Hi-tech style
First of all, when we imagine such a kitchen, stainless steel elements appear in the imagination, which are rightfully considered the basis of style. Steel furniture or shiny surfaces, as well as small kitchen utensils and sinks made of stainless steel, will fit perfectly into such a design. To many such ultra-modern kitchens may seem sterile and perhaps faceless, but true connoisseurs will see genuine beauty here..
The design uses an incredible amount of metal, which skillfully combines with glass, wood and modern "smart" materials-composites, so this kitchen looks relevant and stylish.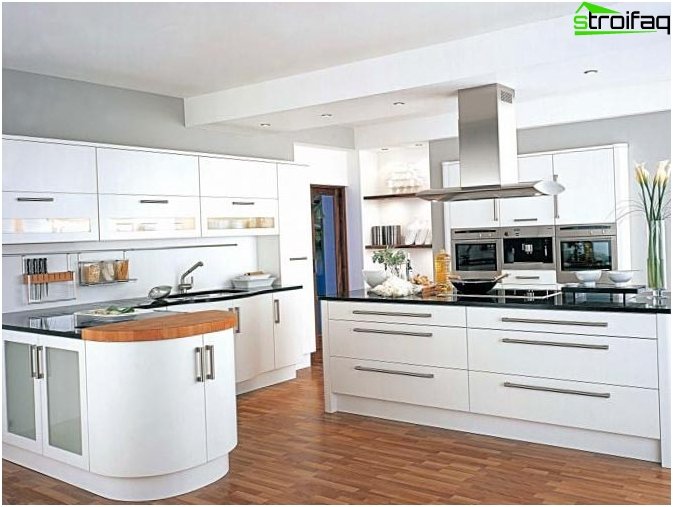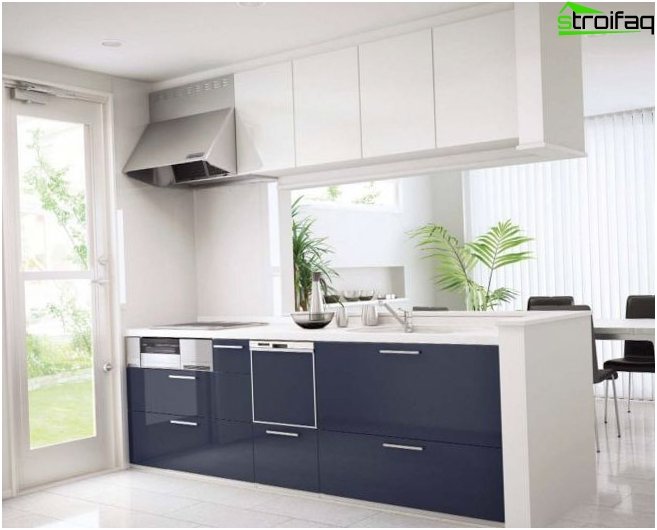 Provence style
For many years, such cuisines have not lost their relevance and popularity, because it allows you to create real Mediterranean comfort even in the Russian outback. This is the real embodiment of a pleasant family tradition and home comfort. Ideal for people who think modern styles are soulless and cold..
The basics of provence in the interior are:
natural stone;
natural wood;
warm terracotta;
dull metal.
Professional designers skillfully emphasize this style with an authentic, expressive texture. Ideal for such a kitchen would be the use of brick, colored glaze, decorative painting and colorful mosaics. It is better to use pastel, muted shades (light brown, sand, beige, gray and white) for such an interior. Actually, this is an excellent background for the multicolor French province. You can learn about all the intricacies of the design of a Provence style kitchen. in our article.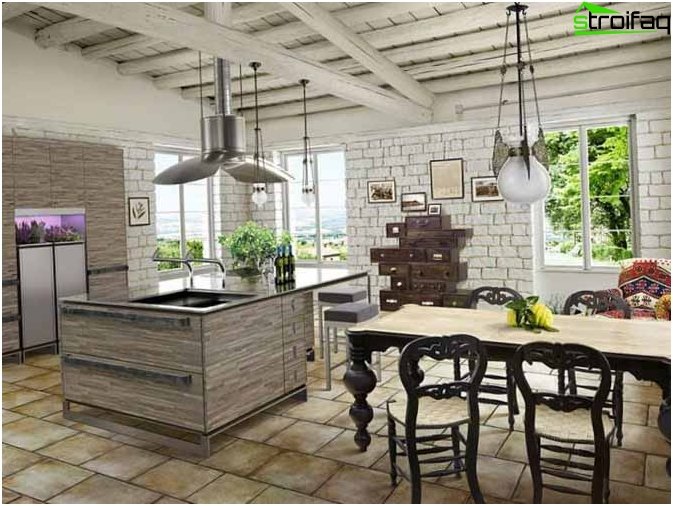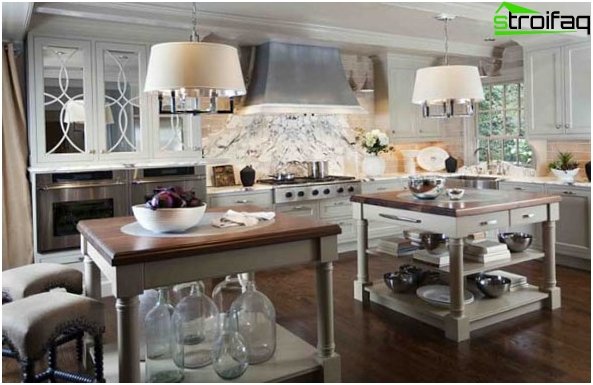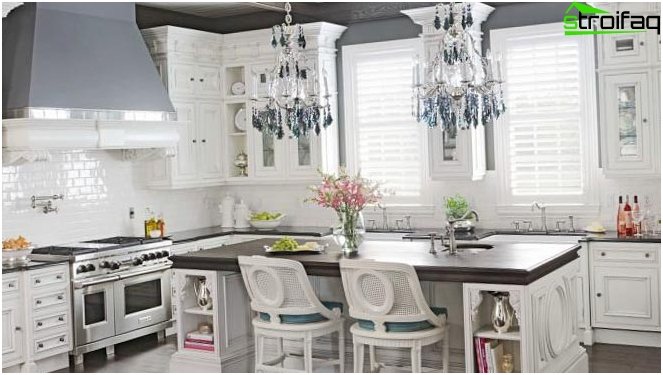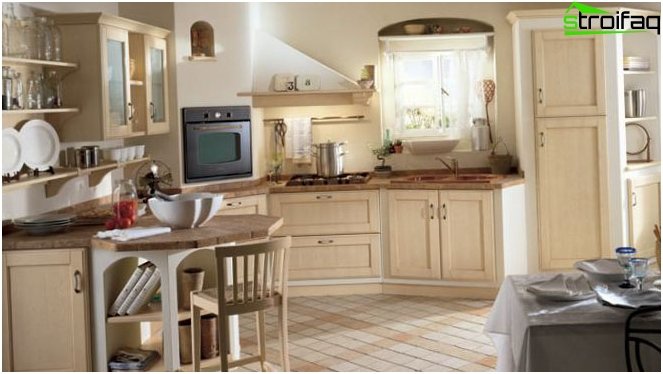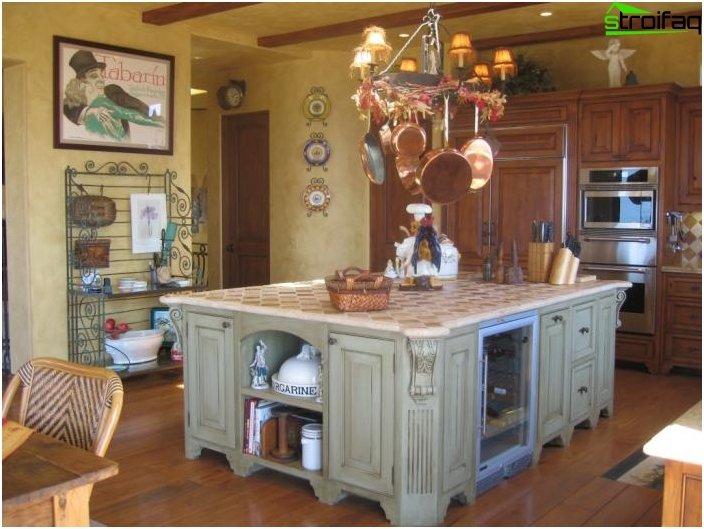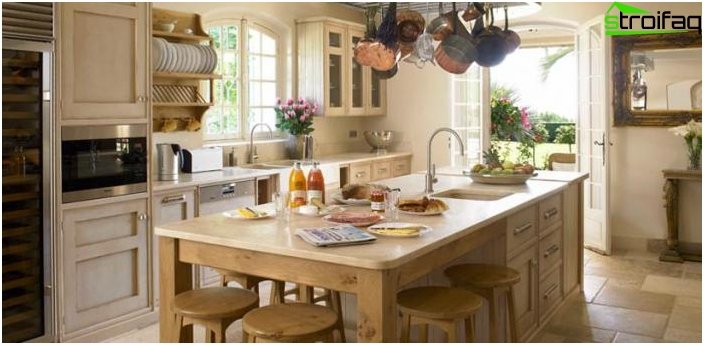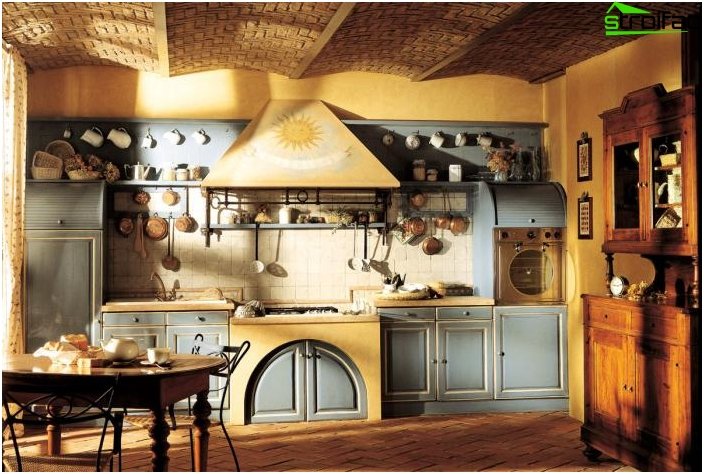 Scandinavian kitchen design
Along with the style, Scandinavian Provence is also full of coziness and comfort. It represents a competent and thoughtful use of space. This style includes a natural and pleasant color scheme, as well as a large number of natural materials. It is worth avoiding any clutter, using a little furniture and a minimum of accessories.
The natural wood in the Scandinavian interior perfectly coexists with various wicker, metal and glass elements. Use in the interior is recommended muted, calm colors (shades of gray, brown, blue, white, sand and beige). Bright accents will give real Scandinavian warmth and coziness (for example, amber yellow or turquoise).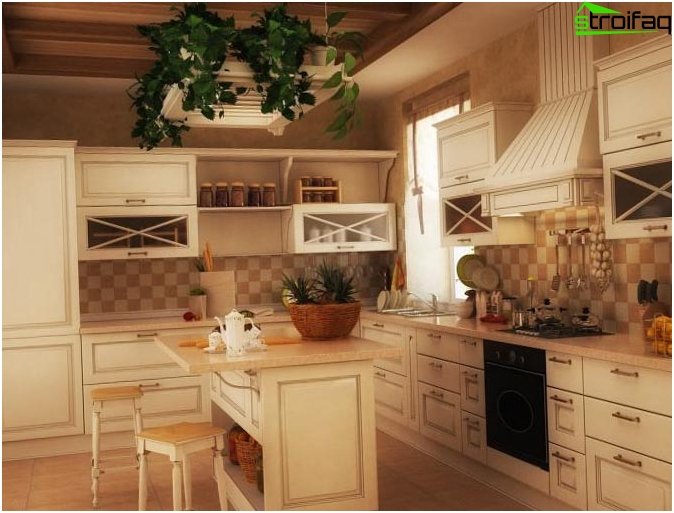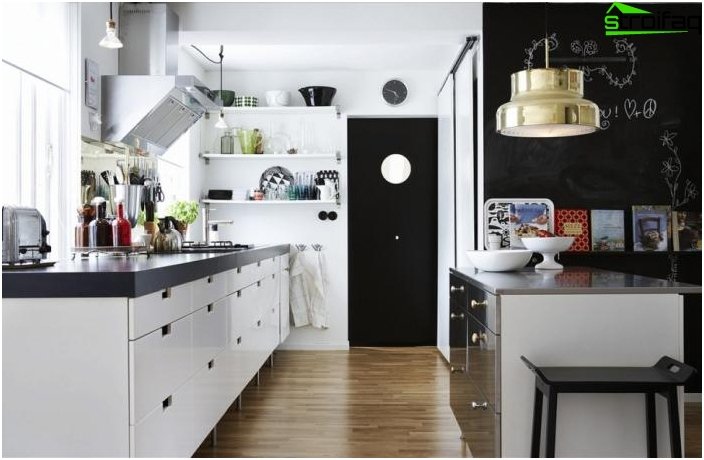 It is no secret that classic Scandinavian furniture is made of light wood, so this is the shade that will become predominant for kitchen furniture. It will not be shameful to use cognac and light brown furniture. For greater resemblance to Scandinavia, sometimes the surfaces of the cabinets can be coated with a matte paint of transparent shades.
Country in kitchen design
French country has a special charm and magic in design, in which real French grace and peasant quality are rationally combined. Such cozy kitchens are suitable for true connoisseurs of family traditions. Such interiors only contribute to the pleasant communication of friends and relatives. Here you do not just want to cook and eat, here you want to enjoy this process.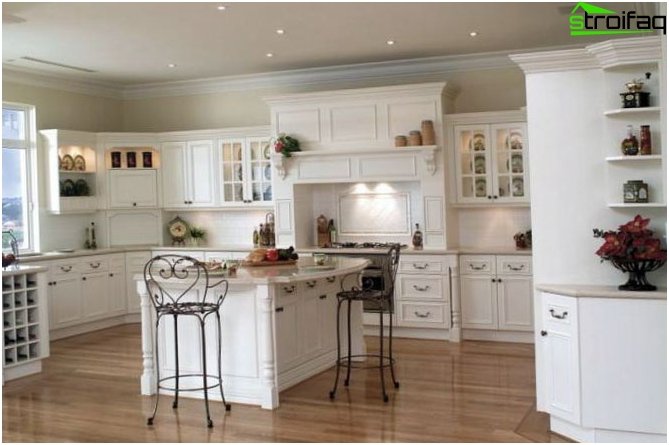 The interior uses exclusively environmentally friendly, natural materials such as stone, wood, ceramics and metal. Practical accessories and cute trinkets that add to the Scandinavian style of perfection play an incredibly important role..
Small kitchen – a punishment or a gift from apartment planners?
Many owners of small apartments constantly complain that the space in such a kitchen is very difficult to organize. In addition, they are almost sure that in order to expand it at least visually, you need to use small accessories, small furniture and, of course, white walls. However, this is not at all true! It turns out that there are several rules that even with a small kitchen can make a real masterpiece.
Professional designers so skillfully use small rooms, mainly due to the correct optical illusion. After all, you can visually stretch the space that after such a design, even a large, but ineptly designed with your own hands kitchen will seem cluttered.
neutral and calm tones will be able to visually push the boundaries and reflect the light, so you can safely "dress" your kitchen in bright, it will only benefit it;
colored and dark accents will help make the room more interesting.
Artificial or natural (that's even better!) Lighting will help make your kitchen truly luxurious. Especially if you used a rich and deep color as the primary.
The advice of designers in this case is as simple as possible: use a lot of small local lamps in the room (LED backlighting will also be nice) and translucent curtains.
By the way, if the kitchen is not separated by doors with an entrance hall or some kind of adjoining room, then to increase the space it will not be superfluous to combine them. To do this, you just need to paste the walls with the same wallpaper or paint the walls at least in similar colors. Such a trick will help you get not two small rooms, but one huge and, by the way, functional.
Read more about small kitchen design.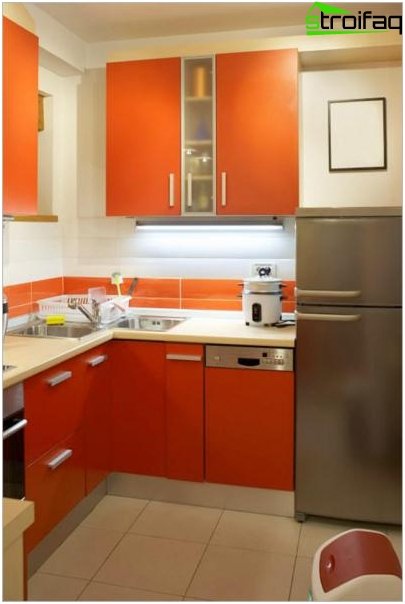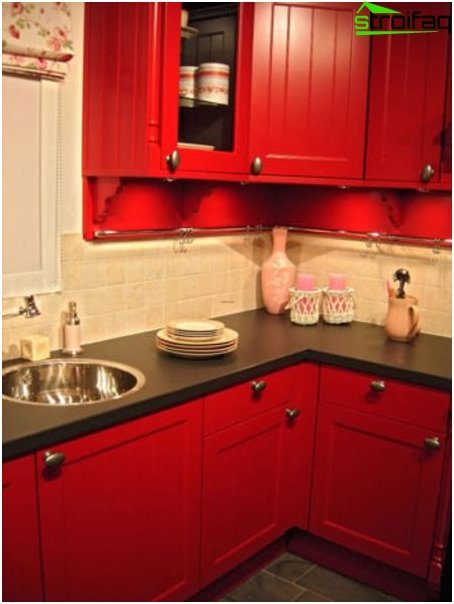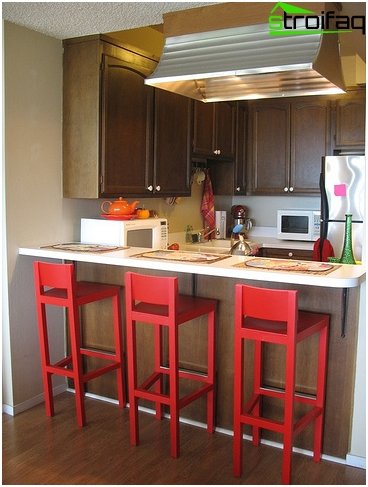 Pioneer past: radically changing the kitchen in Khrushchev
Khrushchev's cuisines quite often bring their owners more grief than joy, because of the advantages of the modern world there is absolutely nothing in them. However, it is possible to radically change such a space, while making a kitchen that even owners of large-scale new buildings will envy. This can be done thanks to the competent selection of lighting, color and, of course, materials..
Designers recommend for kitchens in Khrushchev to choose light shades for both furniture and decoration materials, since this way you can achieve maximum expansion of the space. The use of chrome or glossy finishing materials, as well as glass, which will not interfere with the passage of light, will significantly change the visual perception..
The use of various decorative elements, such as photographs, ceramics or decorative dishes, will help to make the kitchen interesting and exotic. But it is worth remembering the unity of style, so you do not need to sculpt accessories from different styles.
Lighting will be able to make a truly spectacular kitchen, so the multilevel placement of lamps will be ideal.
Advantages and disadvantages of design changes in Khrushchev
| | |
| --- | --- |
| Benefits | disadvantages |
| the ability to organize the workspace rationally | high costs for the modernization of the interior of the kitchen |
| the presence of a large number of potential design options | the need for professional intervention for the competent distribution of space |
| probability of introducing functional lighting and zoning | communication and lighting transfer |
Perhaps a really good solution in the design would be the placement of the mirror. The ideal place in the kitchen for him would be the wall opposite the window.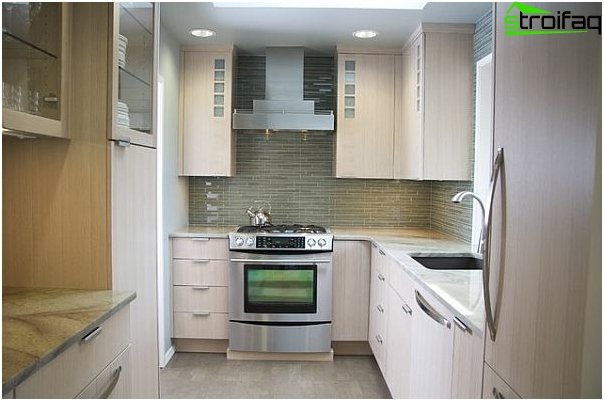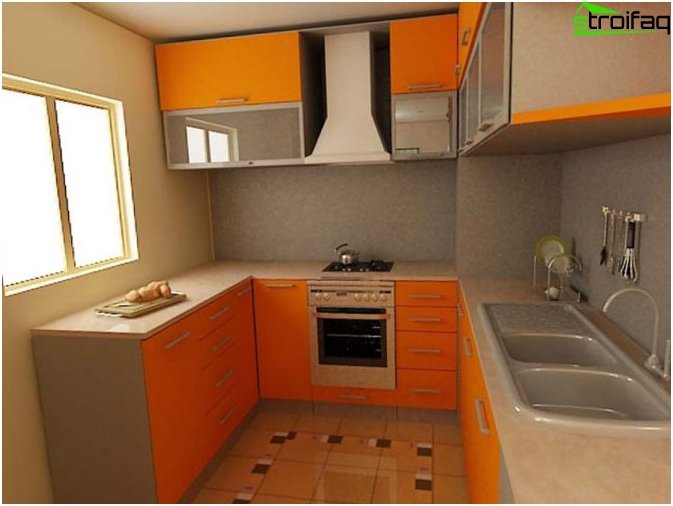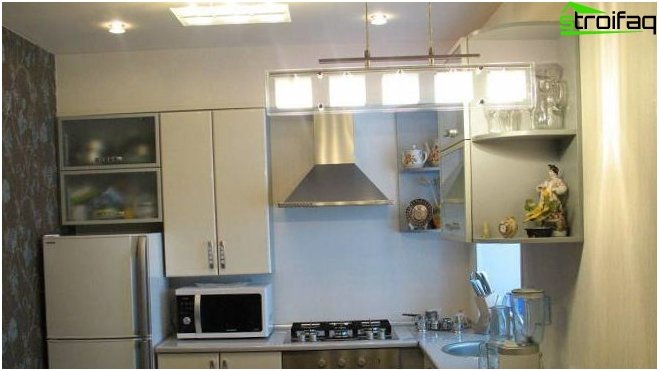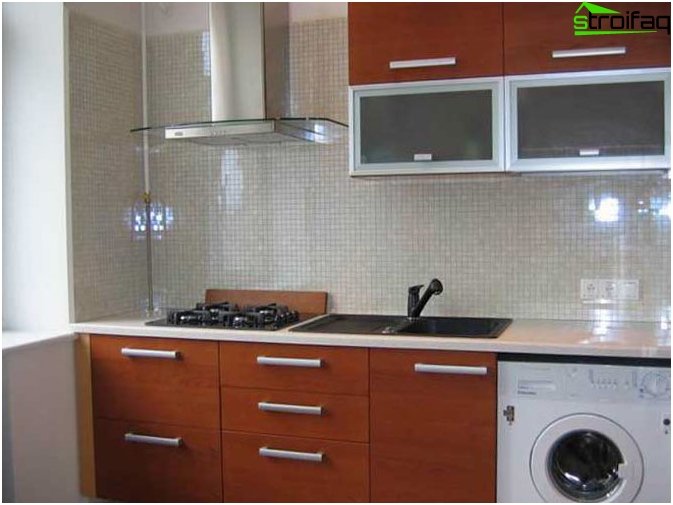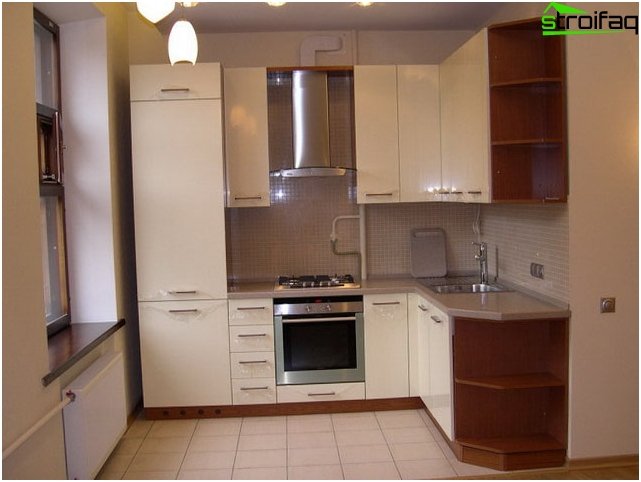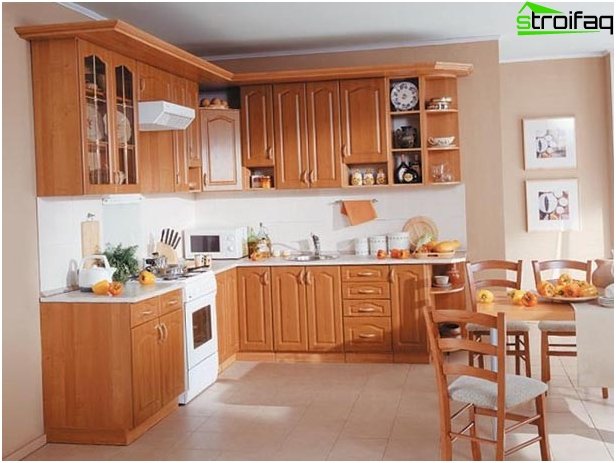 Corner kitchen design – elegant perfection
Such a layout will be ideal for small spaces, but owners of more spacious kitchens will also find many arguments in their favor.
The main advantages of corner kitchens:
they are COMPACT, thanks to which they occupy a minimum of space, which is really true for small apartments;
the layouts of such kitchens are extremely ERGONOMIC, because they form a classic triangle, convenient for the hostess (stove-sink-refrigerator);
this configuration makes it easy to DIVIDE SPACE into functional zones.
Thanks to modern modular corner headsets, you can turn the corner of the kitchen into a sufficiently functional storage space. Quite often, a sink is placed in the corner, if desired, there can also be a hob.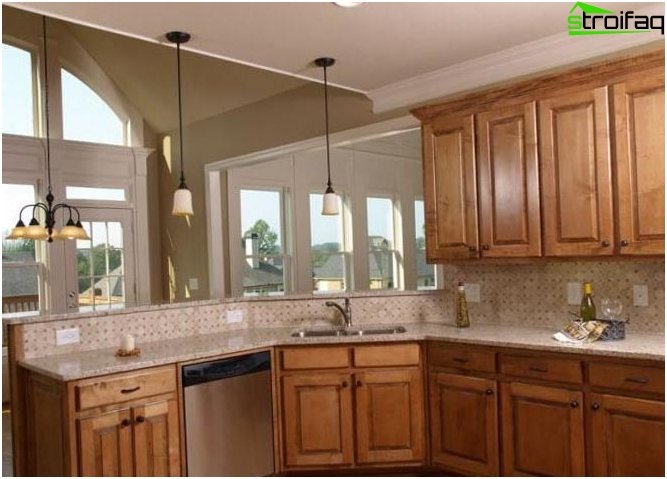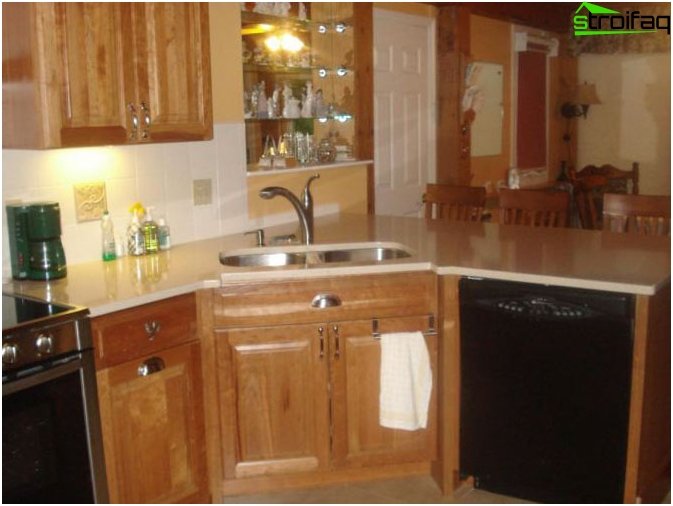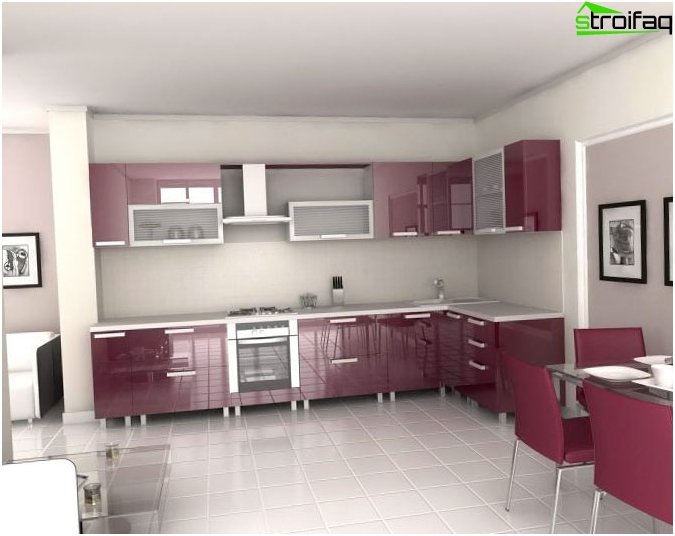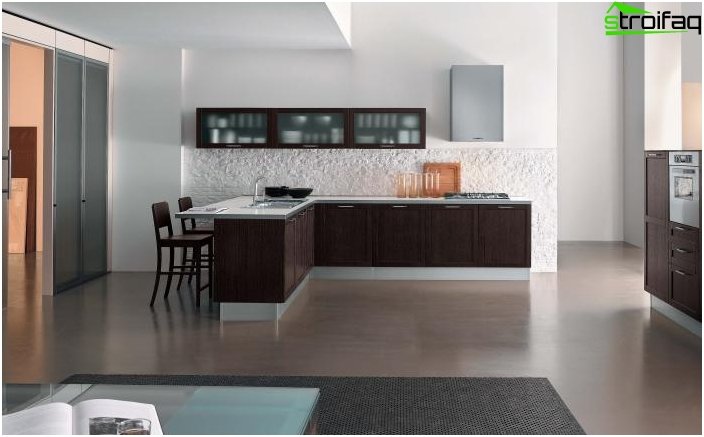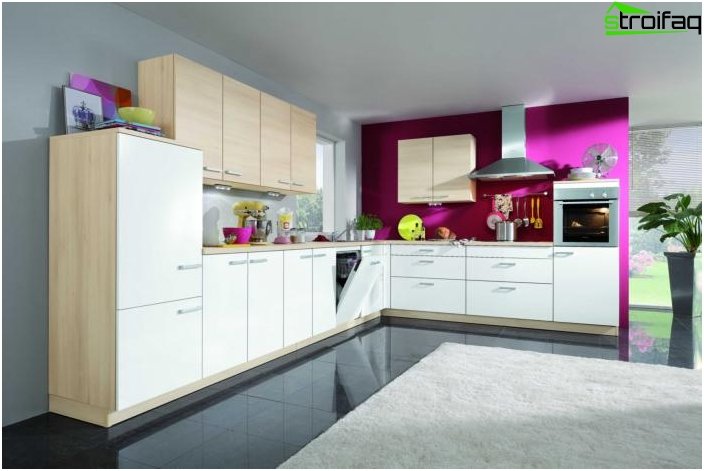 We recommend to see more corner kitchen photo.
Kitchen comfort in a private house
Everyone knows that there is simply a huge difference between kitchen in the apartment and in a private house. This difference can be in size, layout, as well as in functional content. The interior of such a kitchen is simply obliged to take into account a lot of features that should be basic even at the planning stage of a house.
It should be noted that cooking is a painstaking task, so good attention should be paid to the main attention. It is in this regard that the main work surfaces should be placed directly at the light sources, it is best if it will be natural lighting. In those places where natural lighting is not enough, you need to install additional lighting, but it is worth remembering that the light should in no case be blind.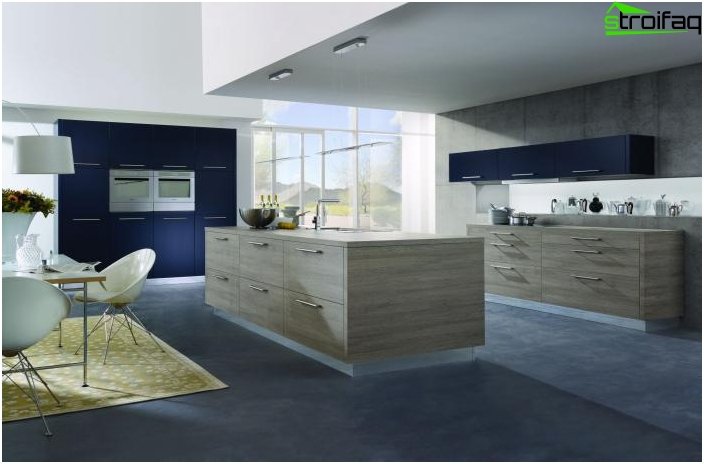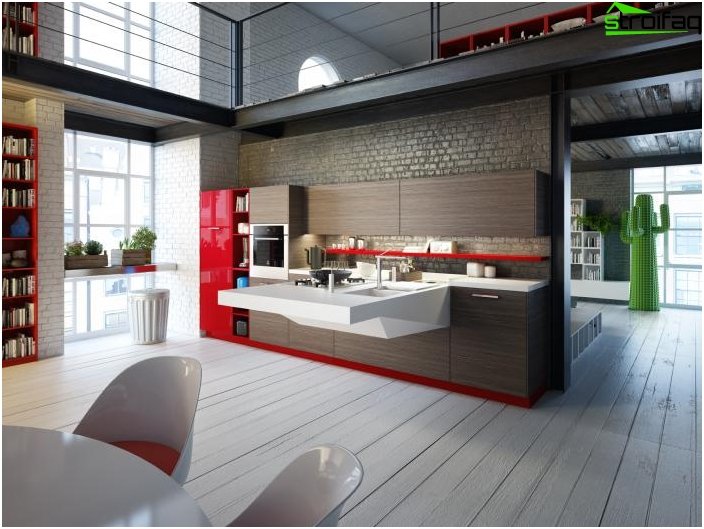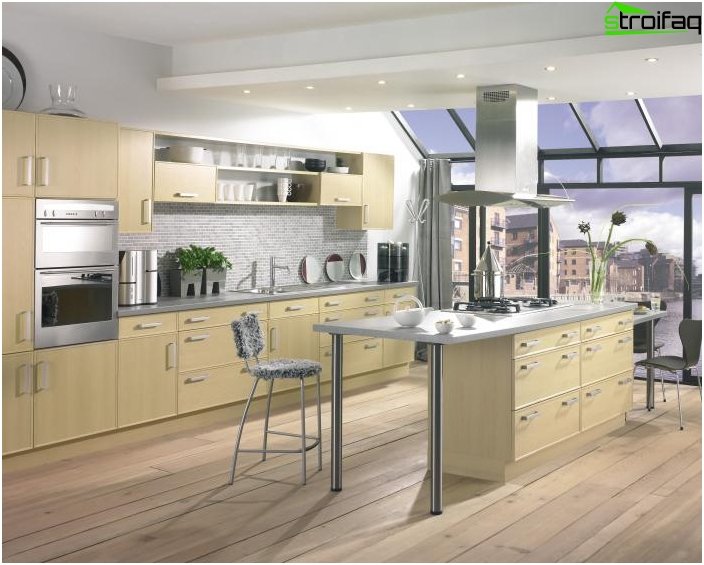 A stove, regardless of its type, is best installed next to the duct, so you can organize a more healthy atmosphere in the room, and the effect of heat and steam on the walls will decrease by several times.
Choosing a project, taking into account the size of the kitchen
When choosing a kitchen project, its size is of no small importance, therefore it is precisely on it that you need to pay most attention. Let's take a closer look at suitable projects for kitchens.
Project for an area of ​​6 sq m
Making a really decent design, given this size, is not easy, but the difficulties never scared us, right? In fact, a rational arrangement of furniture and accessories will help to create a truly cozy, functional and comfortable interior that will delight its owner. The most appropriate style option would be high-tech, which is incredibly contrasting and controversial. Use textured cladding materials for walls, as well as glass, metal and stone for furniture, so you get a really relevant design.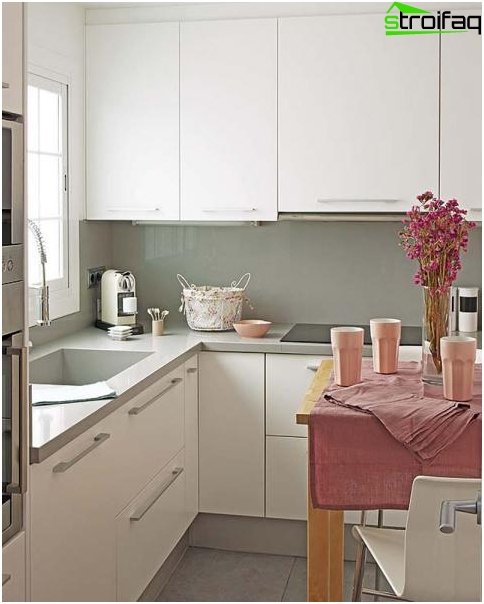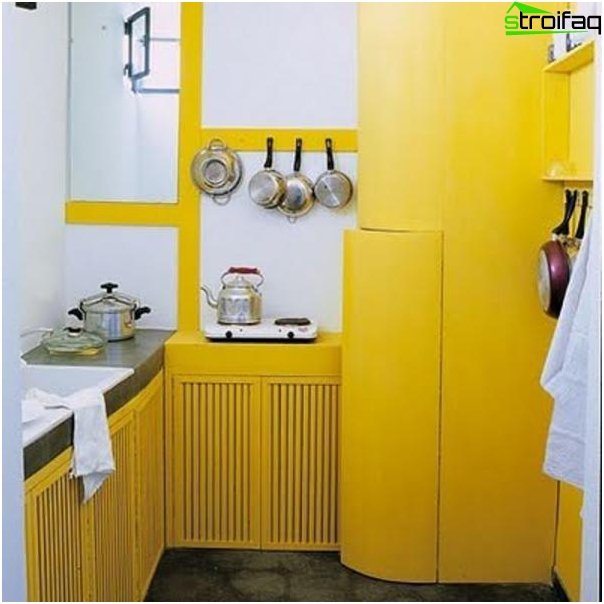 Project for an area of ​​9 sq m
Such an area also cannot boast of dimensions, which, of course, is its drawback. However, a functional and comfortable room can be made here, however, this process will be quite time-consuming. One of the most suitable styles will be country, Provence, English or Scandinavian styles, which are dominated by traditional textures and warm shades of materials that can increase the space and give it much more light..
Read more about kitchen design with an area of ​​9 sq m.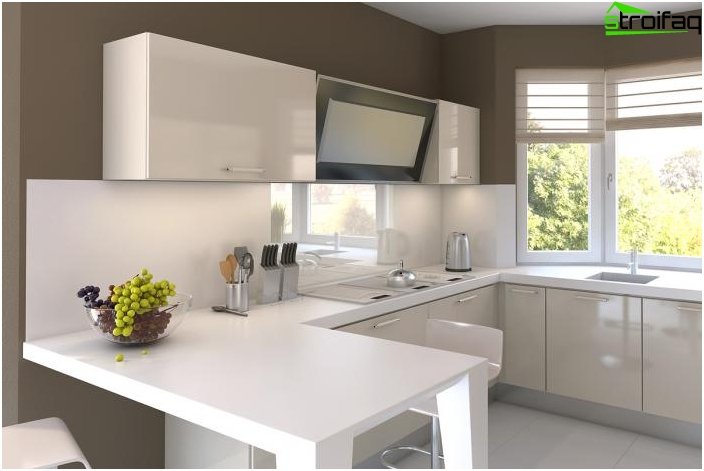 Project for an area of ​​10 sq m
To make such a kitchen comfortable and modern will help using the latest technology and beautiful furniture. European styles will be most suitable, and you can diversify the interior with laconic details and calm forms.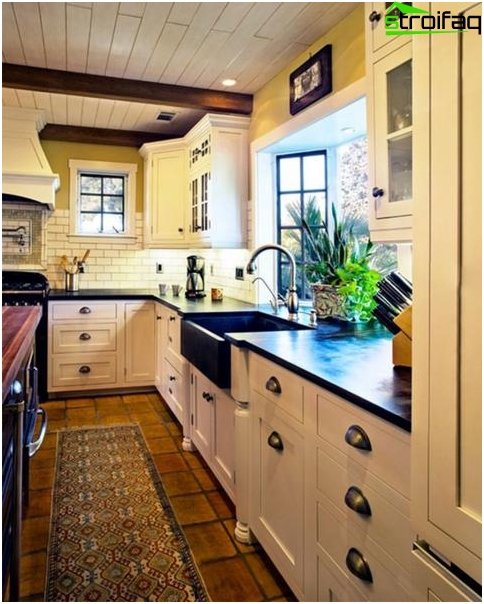 An ideal lighting option would be a suspended ceiling and several spotlights that will most competently distribute light throughout the kitchen.
More kitchen design photo 10 sq m.
The nuances of the design of the kitchen-living room
It is really knowledgeable to combine the room and the kitchen, while making the room more convenient and, of course, to increase the space, it is difficult, but, as they say, there is nothing impossible!
Sometimes such a combination of kitchen and living room requires a fairly large redevelopment, given the complete or partial demolition of the wall. Such work, of course, requires strict adherence to existing building codes, as well as official approvals. Yes, and at least part of the wall can be demolished only when it is not bearing.
Provided that there is no wall between the room and the kitchen, suitable zoning options must be provided. It will be important not only the design decision, but also the convenience of using such a kitchen-living room.
More about the interior kitchen combined with living room.
For the kitchen-living room, it's quite difficult to single out any one way of zoning, because, in fact, it all depends on the characteristics of specific rooms: this is the height of the ceilings, and the total area, and the presence of lighting. It is better to make a specific decision individually, evaluating all the factors professionally..
Read also about how to equip a kitchen on a loggia.!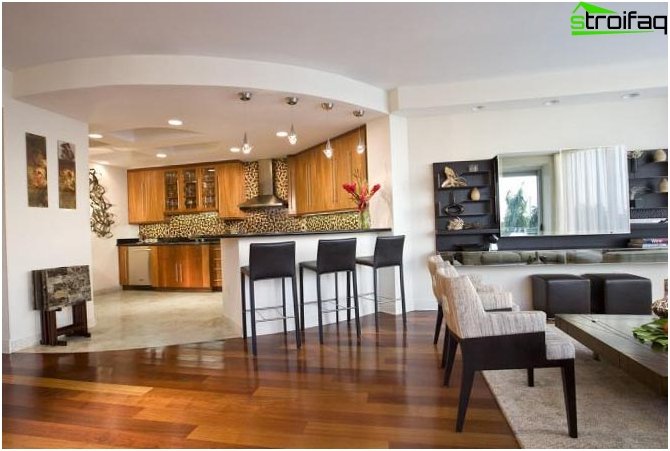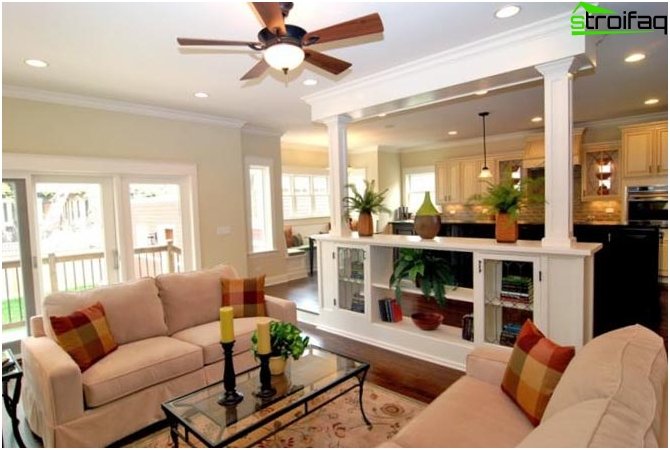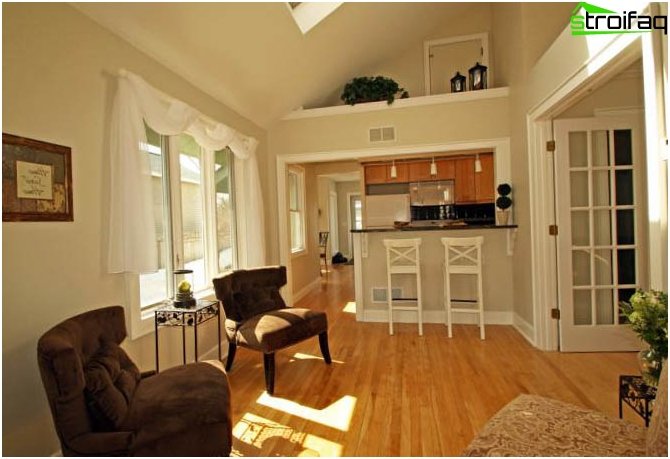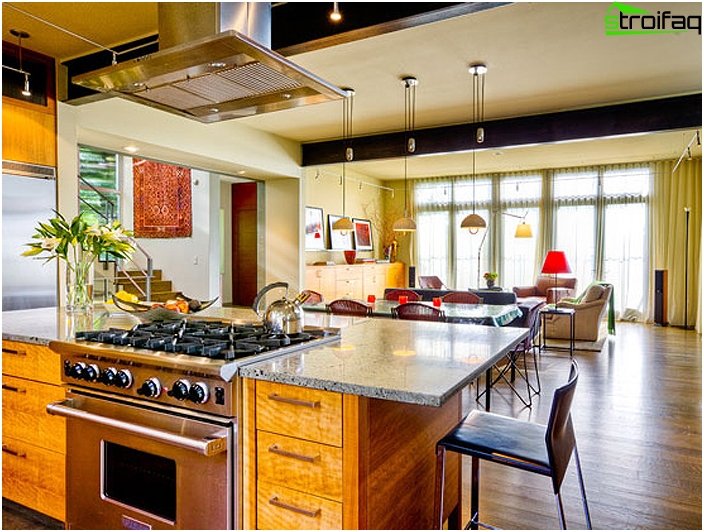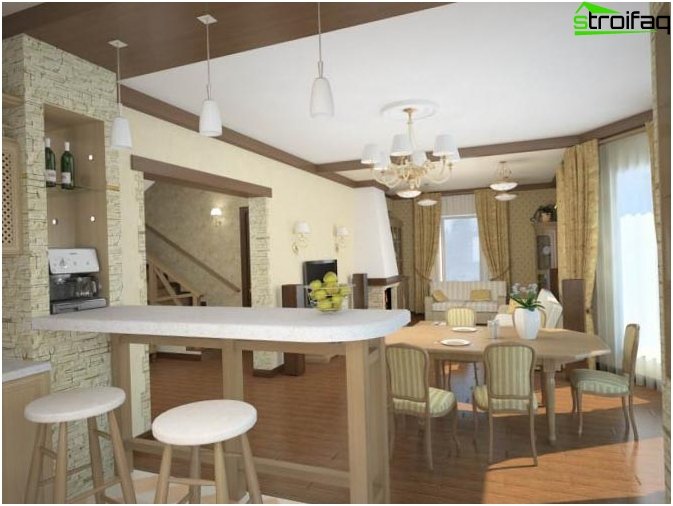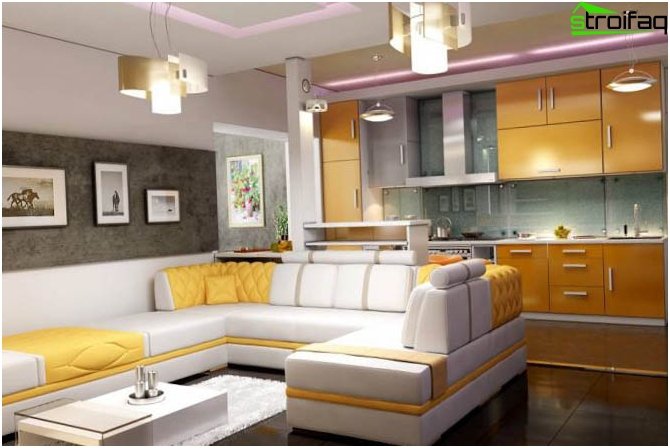 Competent selection of furniture
In order to make work in the kitchen easier and more comfortable, you need to rationally place all the functional elements. Undoubtedly, maintaining order is also a big job, which can be minimized by choosing the "right" furniture, as well as placing it in the same "right" places. That is why it is extremely important to have storage systems with which furniture should be equipped. It can be rotary or pull-out baskets, containers, drawers and drying dishes. Such simple elements will allow you to save free space and, of course, make your kitchen space clean and organized..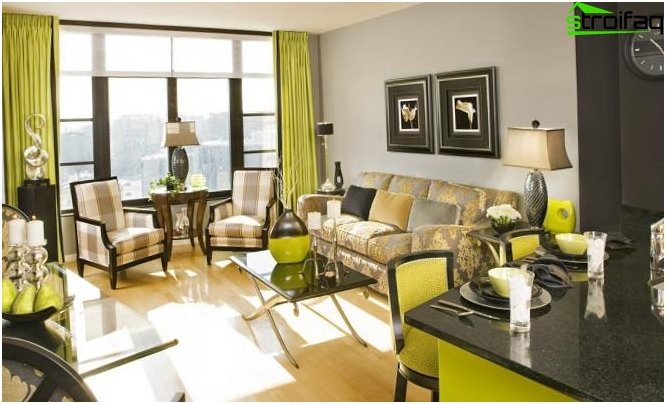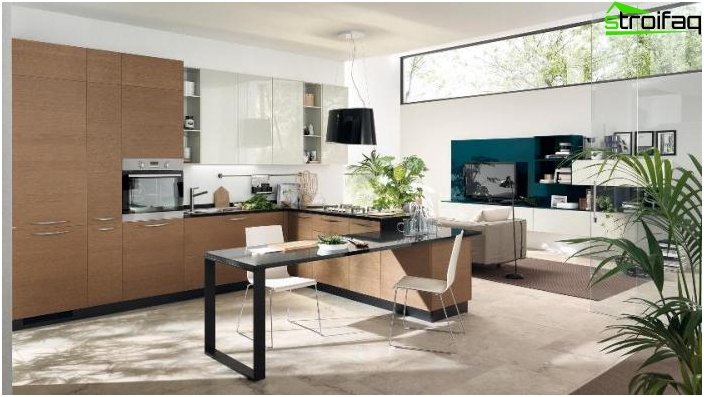 We emphasize using curtains
Often enough to update the interior in any room, just change the curtains. It's only important to choose truly relevant and fashionable curtains, who can decorate the window. Blinds of all shades of gray and brown are extremely popular today (at the peak of popularity, for example, the color of wet asphalt is saturated and unique).
For several consecutive years, its eco-theme has not ceased to surrender its position, which is especially relevant for residents of megacities. Forest colors are undoubtedly in trend, so choose the colors of autumn grass, fallen leaves, all kinds of shades of green and brown.
Saturated violet is also considered a fashionable color, which, alas, is not universal, therefore it is not suitable for all kitchens. It's not easy to choose a successful background for it (it should be light colors), but if you succeed, then you will be delighted.
Non-standard solutions and unusual textures were and remain popular. The only trend that has not changed for several centuries is the quality of the fabric, which should be very high.
Read more about kitchen curtain design.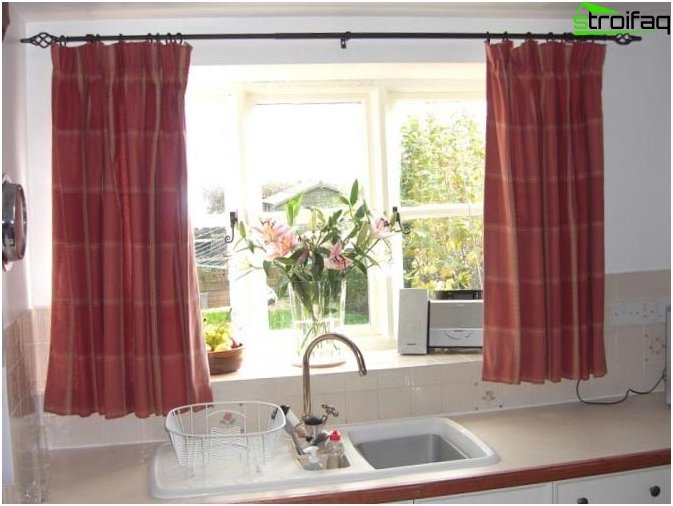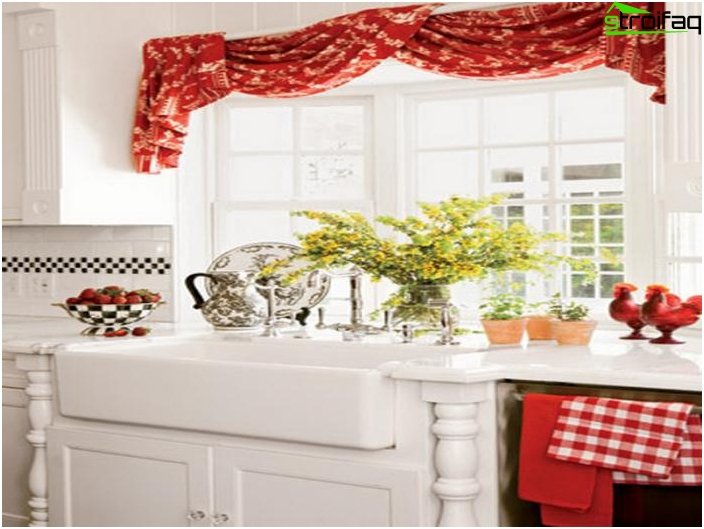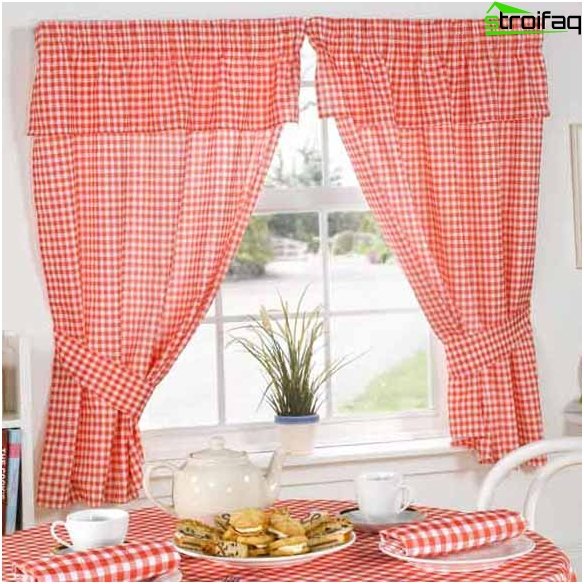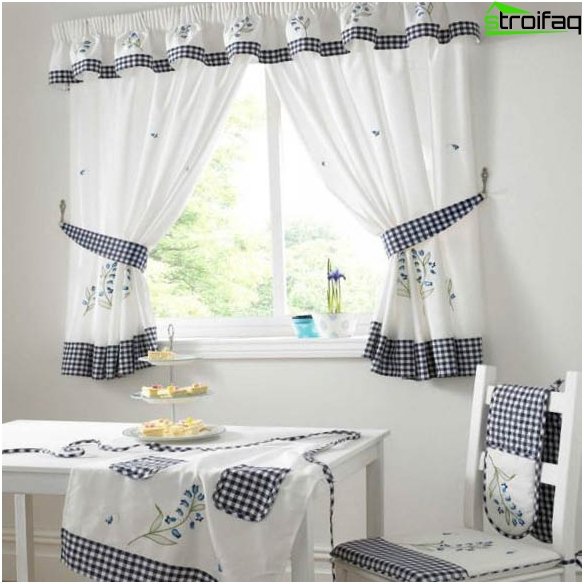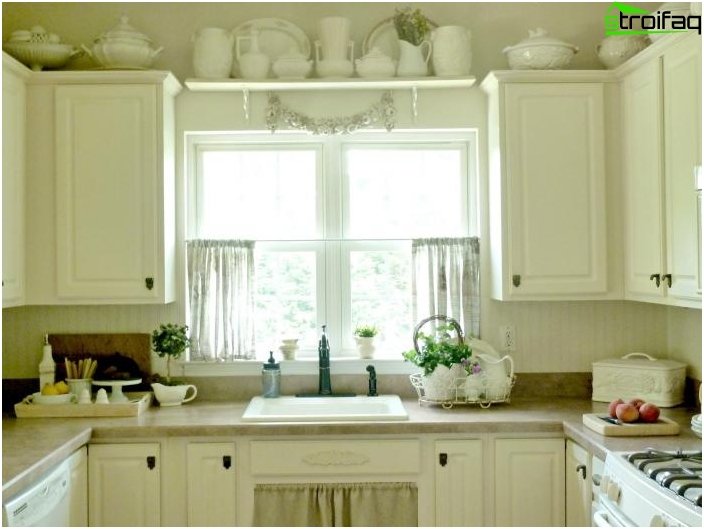 An element of luxury or a clear necessity: bar counter
This element of decor, perhaps, will suit exclusively large kitchens, because it is practically impossible to place a bar counter with all accessories in a small Khrushchev's kitchenette. True, an alternative may be a mini-rack, which is now actively offered by almost all fashion designers. Such a bar can even replace table and become a comfortable place to chat and relax.
See more photo of bar counters for the kitchen.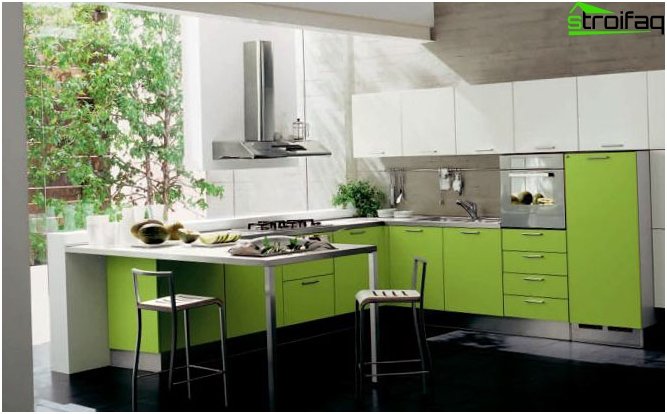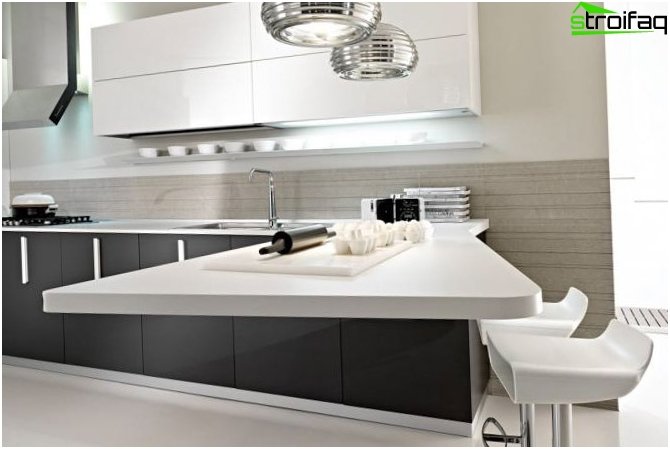 The highlight of the kitchen interior – wallpaper
Sometimes wallpapers can be just a faded background for the floor and furniture, but in the right hands they can get the main roles, becoming the main decoration of the kitchen.
The easiest way to use wallpaper is pasting with plain-colored wallpaper that has a fine texture. In this case, the wallpaper serves only as a good background, and in the kitchen they often do not require any additions.
You can effectively decorate the kitchen if you use inserts from wallpaper with a bright pattern or a more contrasting color. Such coatings can successfully dilute a boring, monochrome interior. But do not forget that the company can make bright wallpaper exclusively laconic furniture..
More about choosing a wallpaper read here.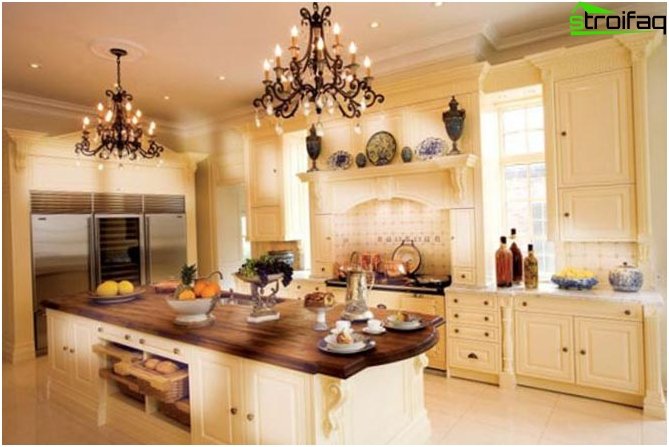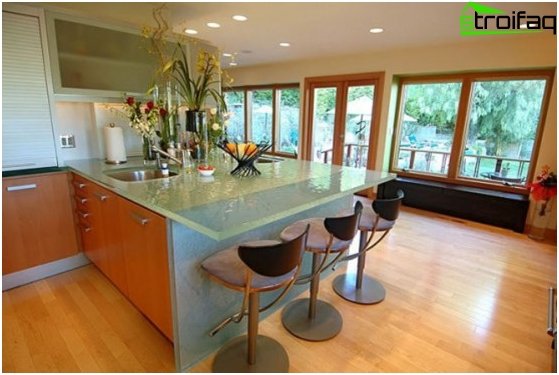 Optical illusion or how to make the ceiling higher?
The ceiling is one of the main decorations. Well, when it is tall, then you do not need to think about its design, because almost anyone will look advantageous. But low ceilings can be a big problem, which can be eliminated by several design tricks:
glossy shine;
level creation;
play of light;
distraction from the ceiling.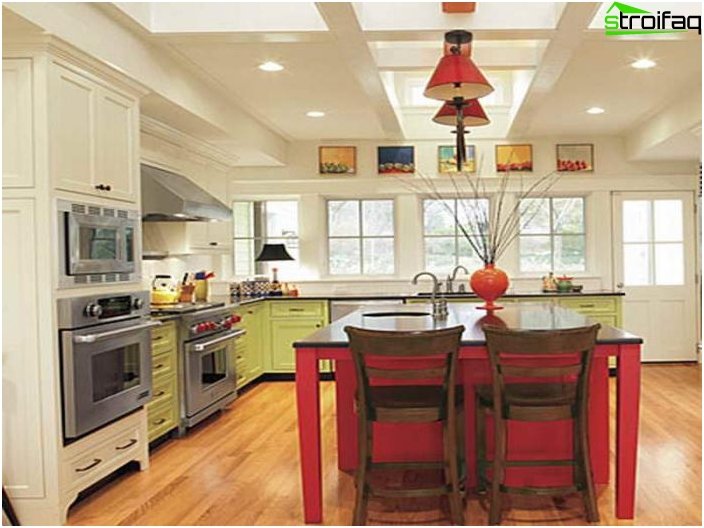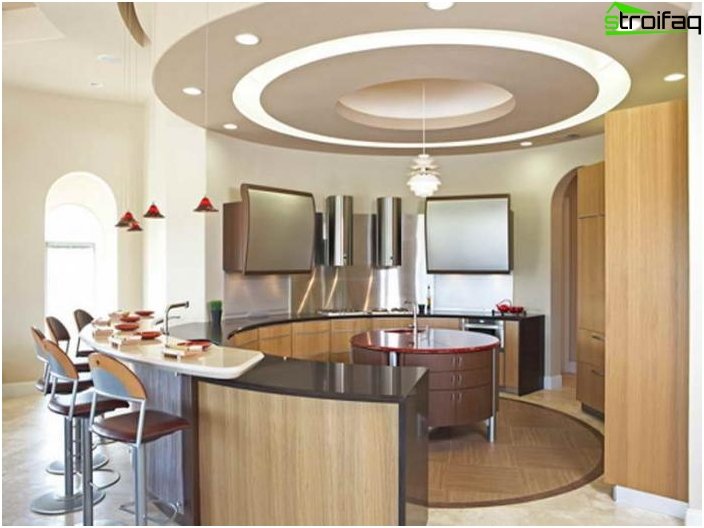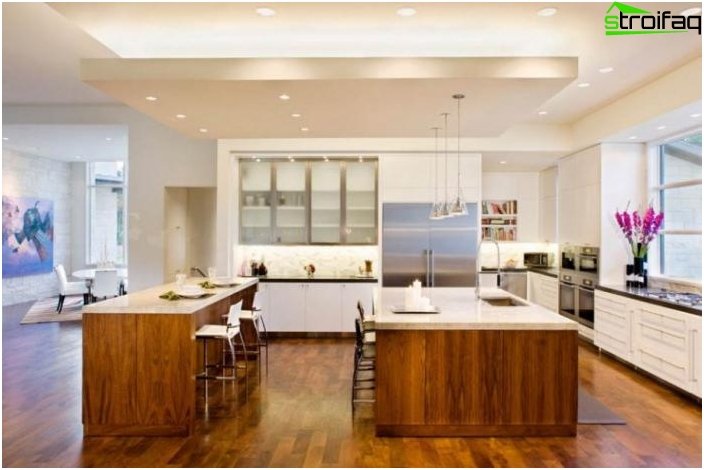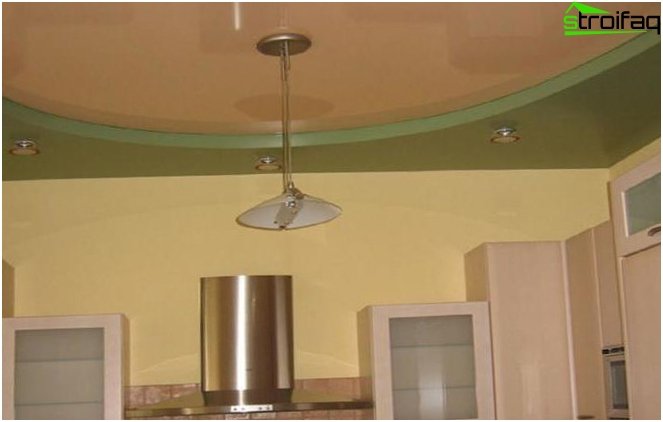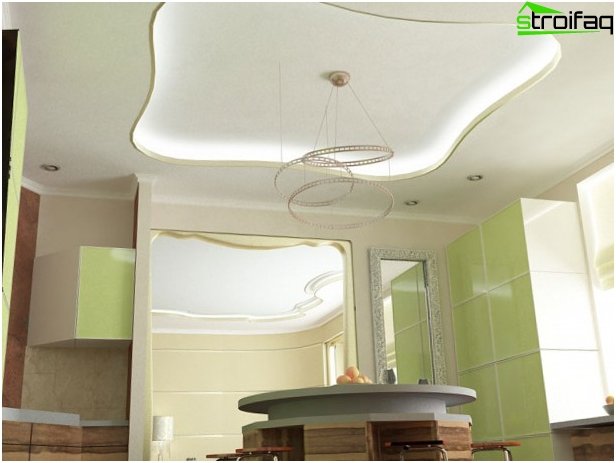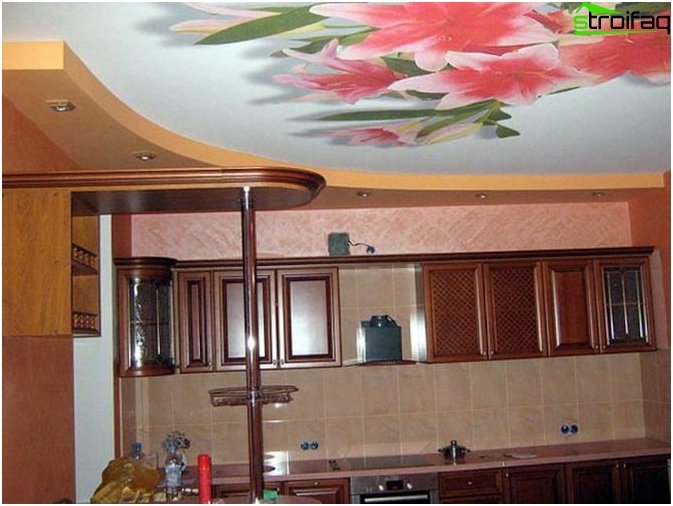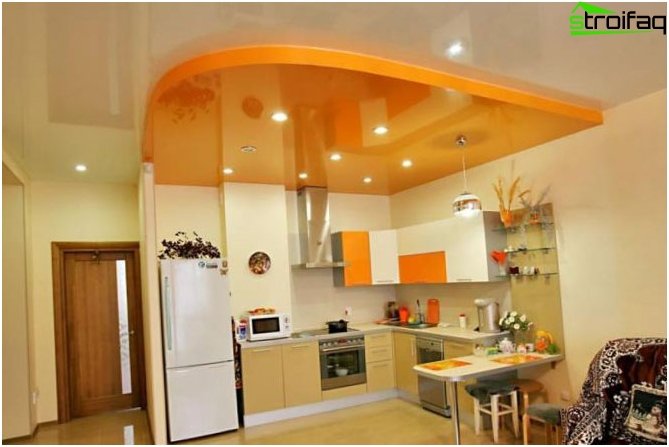 We save money while maintaining quality: competent repair
Repairing is always an incredibly exhausting task not only for us, but also for our wallet (if you do not do it yourself), so it is very important to organize everything in such a way that with the minimum of effort and cost you get the maximum result. If necessary, the first step is to dismantle the communications, windows, floor and ceiling. Then you should proceed to the construction of the necessary walls, partitions, their alignment, painting, and only after that – pasting wallpaper or tile.
Next on the agenda is the finish of the floor, for which it is better to use waterproof materials (natural stone, tile or linoleum is suitable). Only after that you can safely proceed to the implementation of design solutions in your kitchen.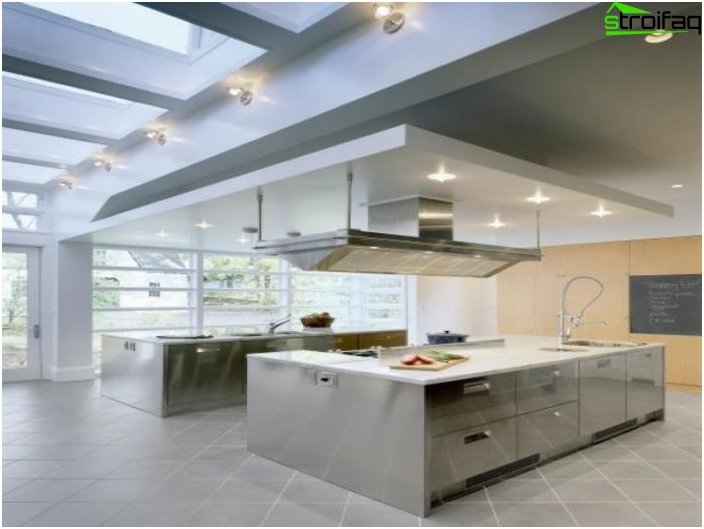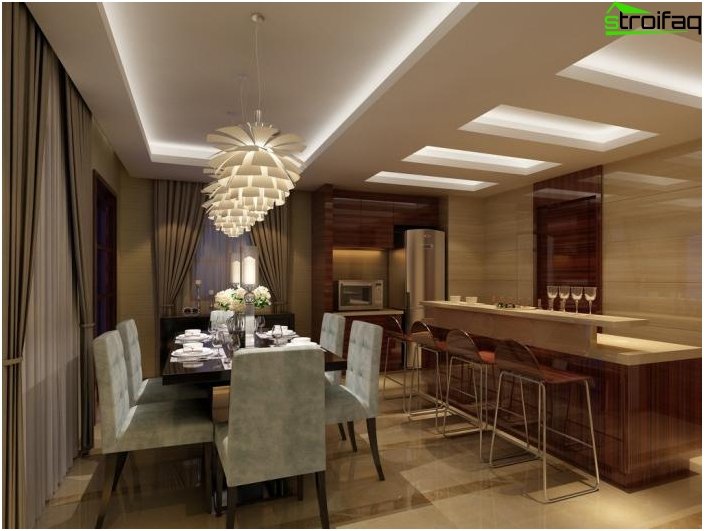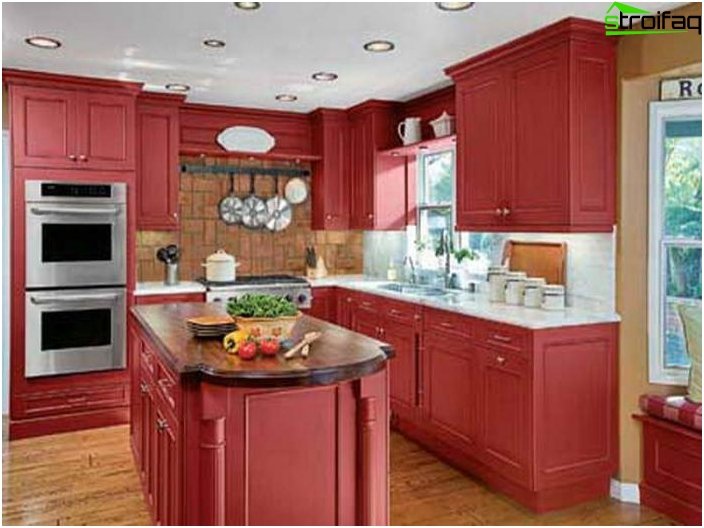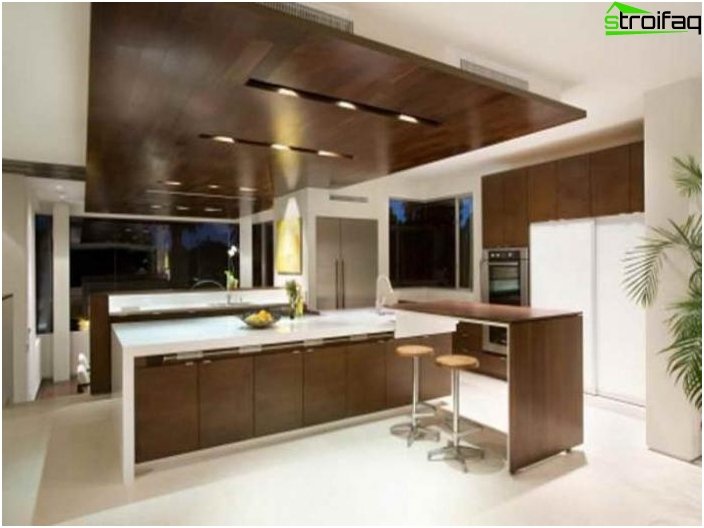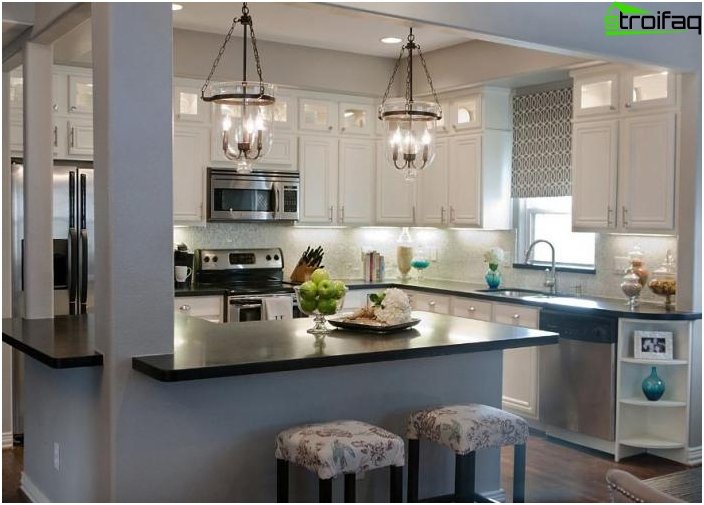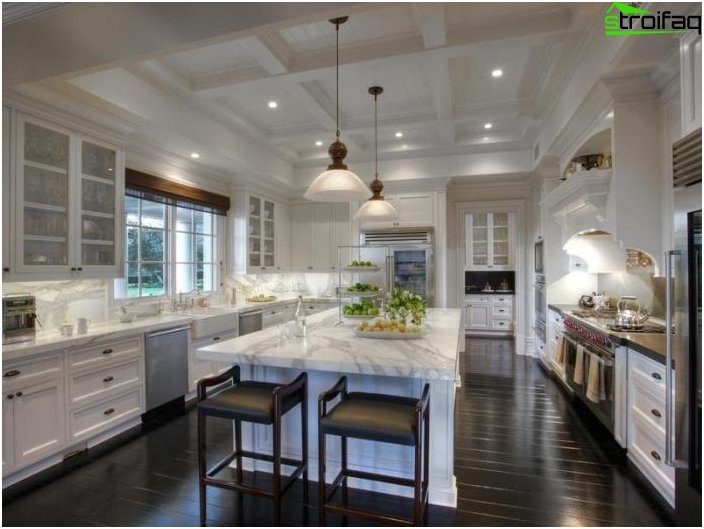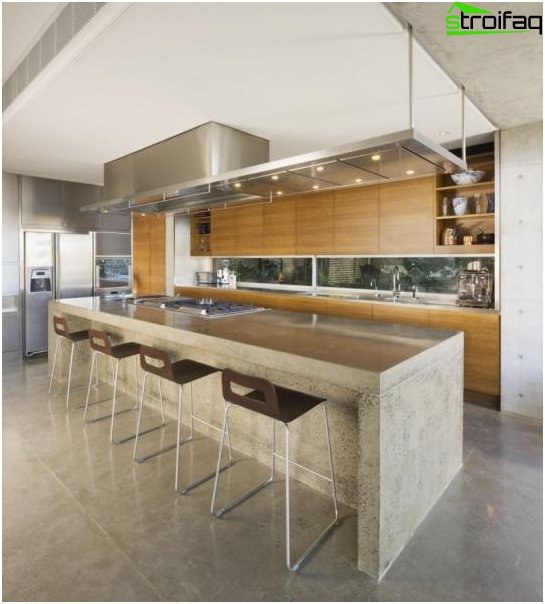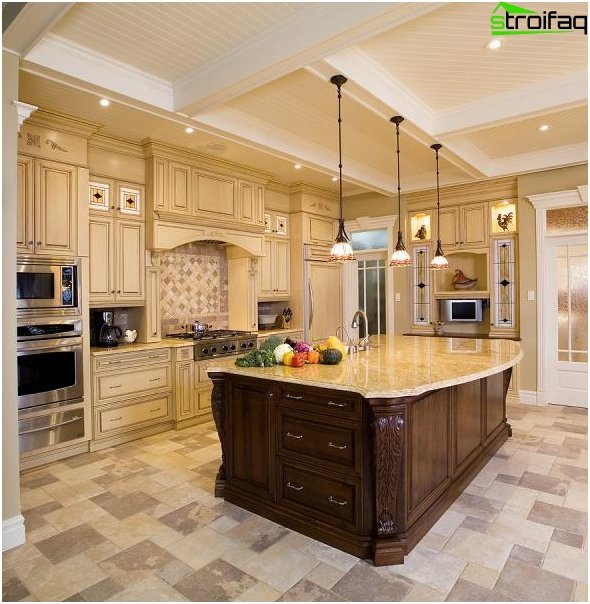 Read about the latest kitchen design trends!