Content
What is the hood for the kitchen for?
Types of hoods
Classic range hood
Built-in range hood
Dome hood
Retractable hood
Island hood
How to choose a filter for hoods?
Oil filters
Carbon filters
Cooker hood control panel
Push button control
Slider control
Touch control
Communication Connection
With duct
No duct
Other selection criteria
What is the hood for the kitchen for?
At first glance, it may seem that the hood is absolutely useless in the kitchen. However:
During cooking, combustion products and harmful fumes can be released. This is, first of all, relevant for gas stoves, because during their operation a huge amount of carbon dioxide is released (and if the burner suddenly goes out, the kitchen can quickly fill up with household gas that is hazardous to health). However, when working with electric stoves, pollution and harmful fumes are no less – soot and grease are released. And all these fumes must not only be filtered, but also completely removed.
In addition to safety, during cooking you have to deal with "aesthetic" nuances, namely, the smell. Not all products smell pleasant during cooking. So, for example, the fishy smell is not only very specific, but also eats up for a long time in everything that occurs on its way. But this question is especially relevant if a pregnant woman lives in the house.
One can talk endlessly about the delights of toxicosis, but intolerance to all kinds of odors is one of its most frequent and unpleasant manifestations. Therefore, getting rid of all the smells in the kitchen while cooking during this period is very important.
Grease, soot, fumes settle on furniture, walls, and ceilings. This spoils the look of the kitchen. And if furniture, appliances, etc. can be washed, but this number will not work with walls and ceilings – with a large number of fumes, repairs will soon have to be made, since even with rare and short-term use of the stove (especially gas!) they turn yellow and become an inarticulate and ugly shade.
In order to avoid all of the above, an exhaust hood is needed.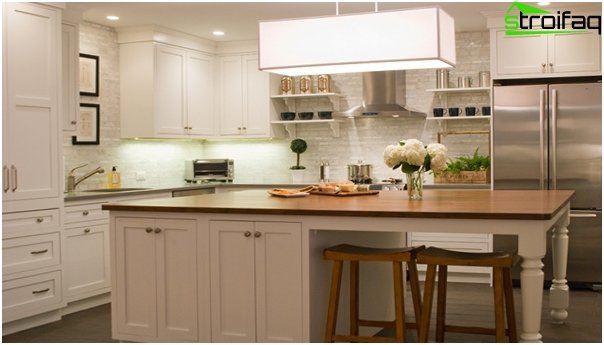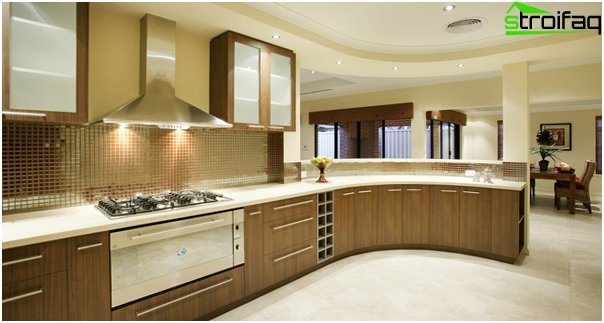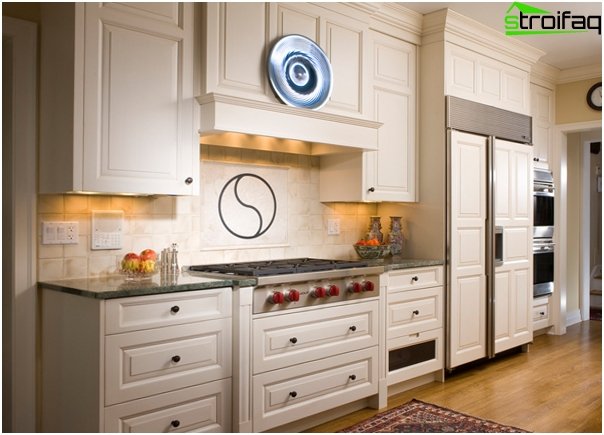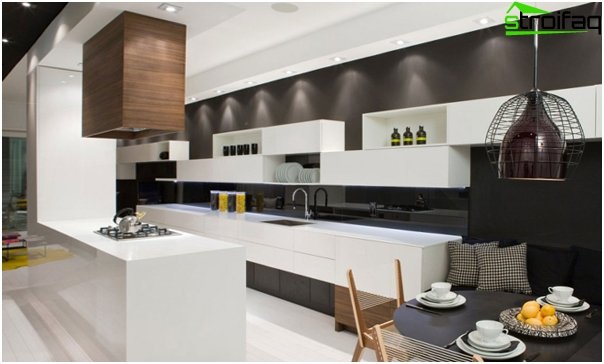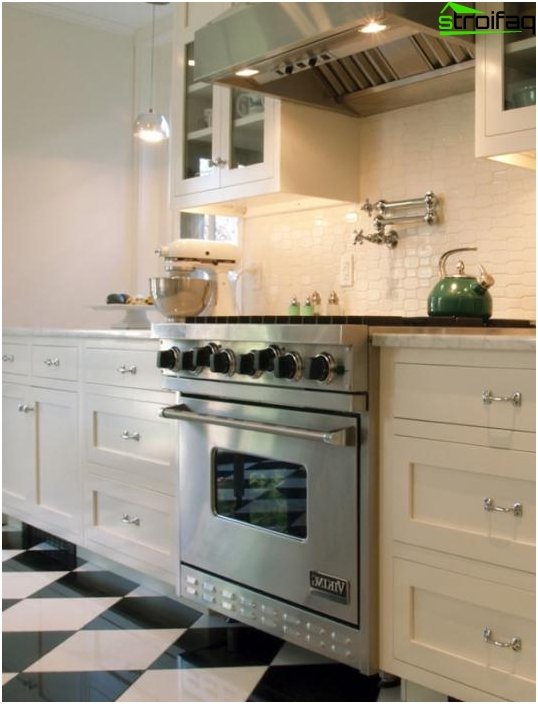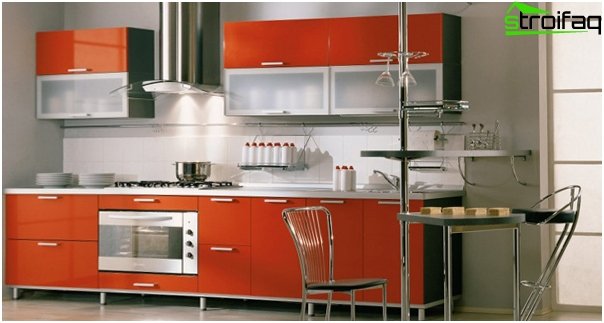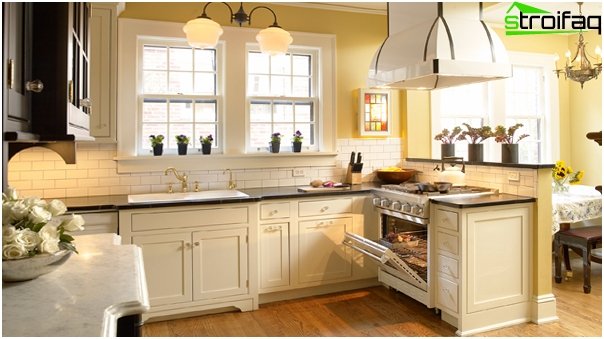 Types of hoods
Classic range hood
An ordinary range hood is a medium-sized unit that is mounted above a stove (gas or electric). It can be located both independently and under various objects. kitchen interior, for example – hanging cabinets. Its main advantage is the most affordable price among all types of hoods.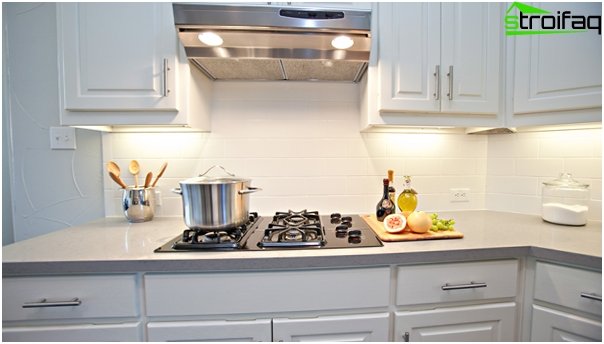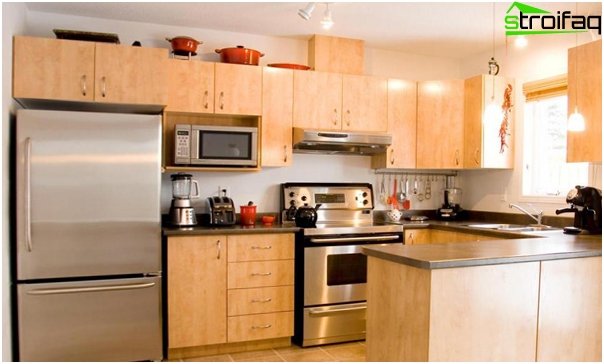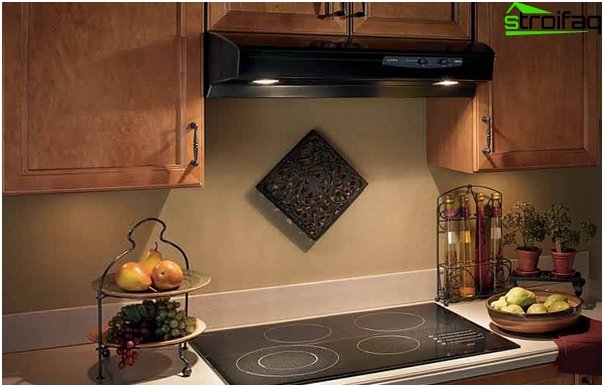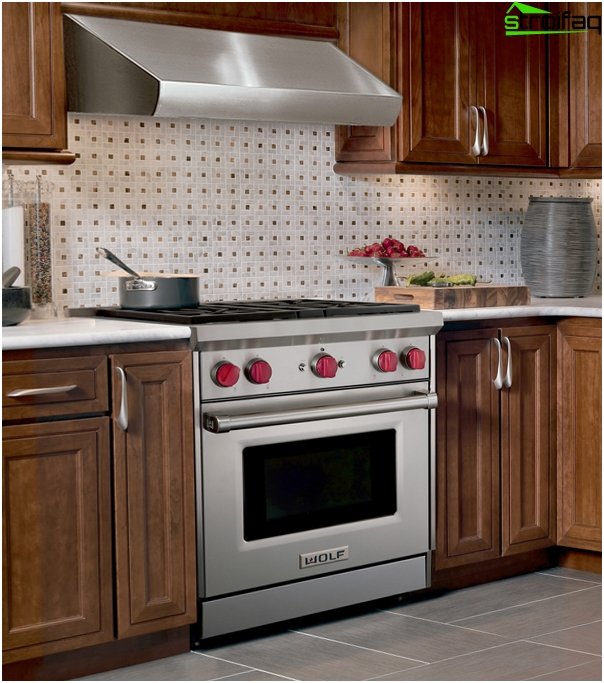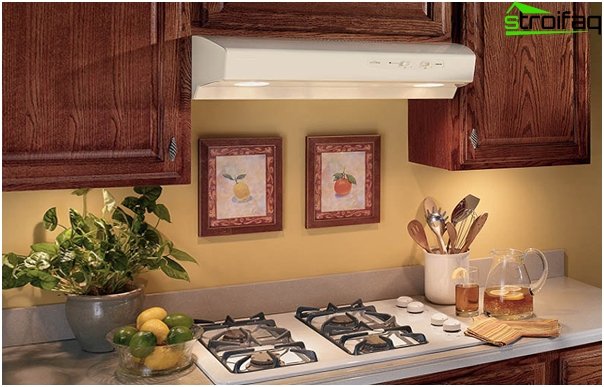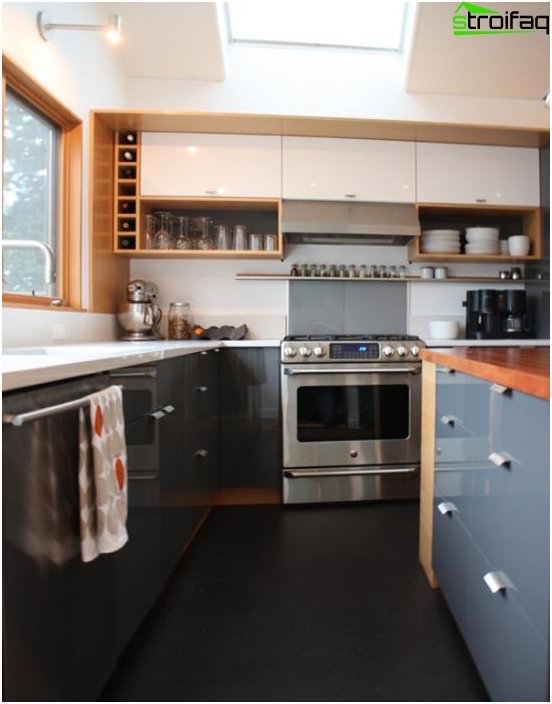 Built-in range hood
The ultra-thin built-in hood is practically not noticeable. All its parts are designed in such a way that they are not actually visible. Such a hood is mounted in a cabinet above the stove (in Ikea, for example, you can order special shelves with a niche for the hood). Its main advantage is that it does not in any way spoil the appearance of the kitchen.
The most relevant is the built-in hood for miniature kitchens, where every cubic centimeter of space counts.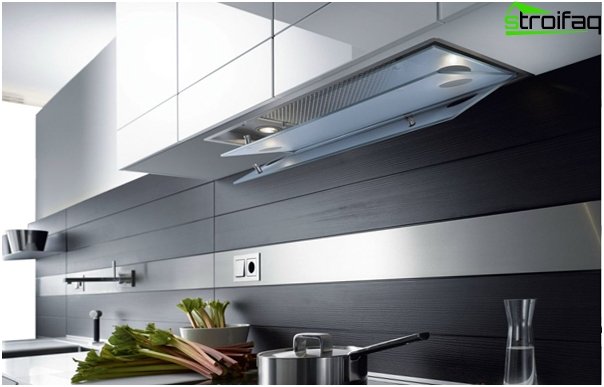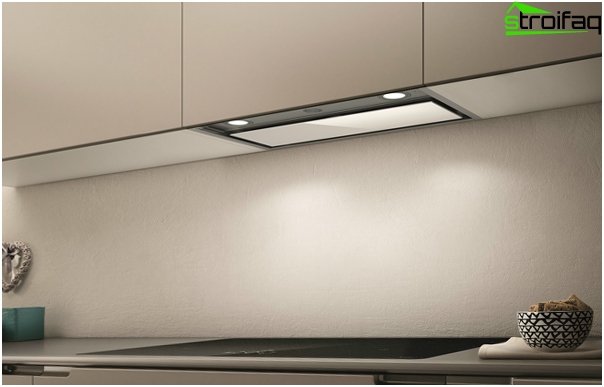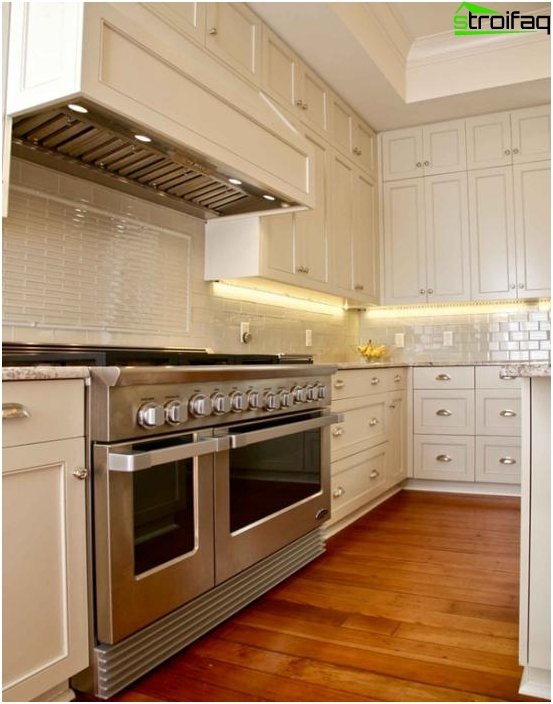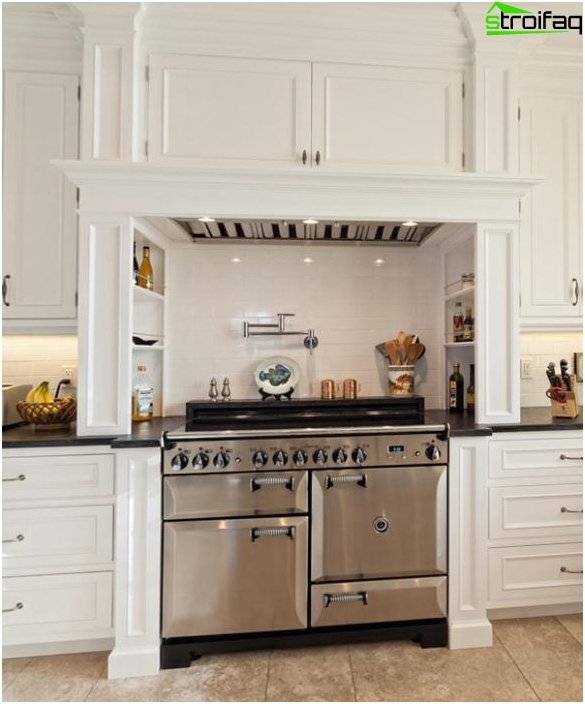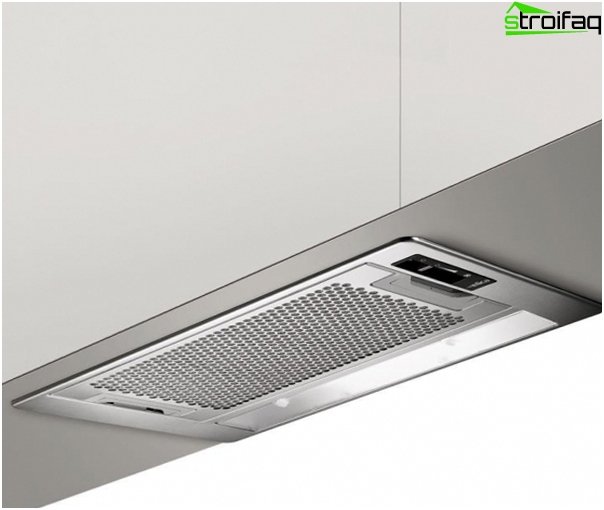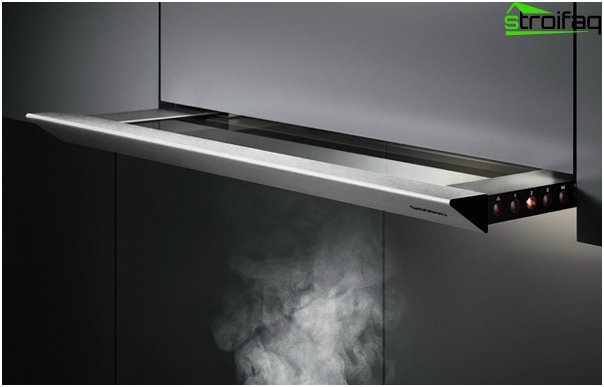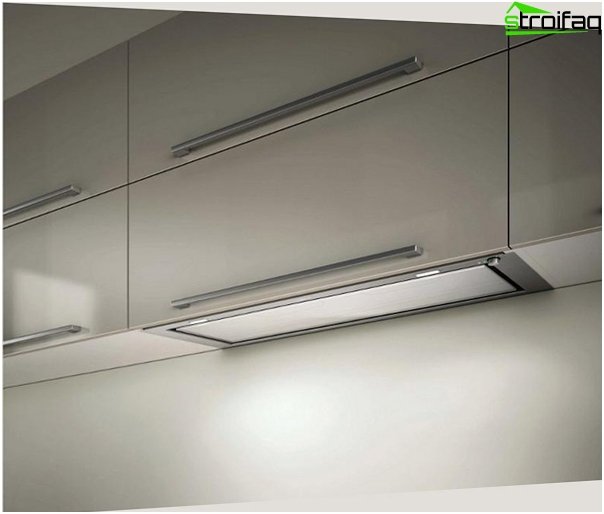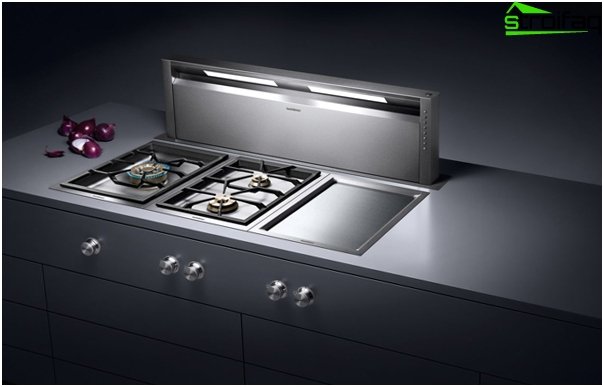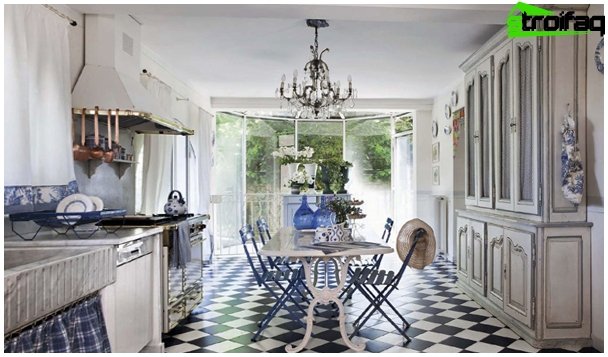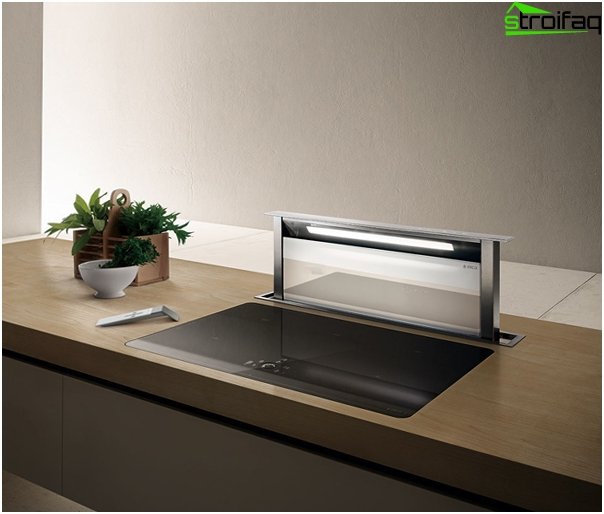 Dome hood
The hood hood is mounted so that it hangs over the cooking zone (stove). She may be:
Trapezoidal shape
Cylindrical shape
Cone shaped
Parallelepiped
In addition, dome hoods are:
Inclined hoods are considered a more modern option. Its main advantages, which are distinguished by both specialists and ordinary customers, are:
Actual noiselessness compared to a standard flat hood. In inclined hoods, the engine runs much quieter, as it is more advanced from a technical point of view.
Small sizes (from 50 cm) allow you to "squeeze" such a hood even in a tiny kitchenette.
The inclined hoods have touch control, and there is also the possibility of remote control (usually).
Inclined hoods are very easy to assemble. To assemble it, it is not necessary to call specialists, it is quite possible to do it yourself.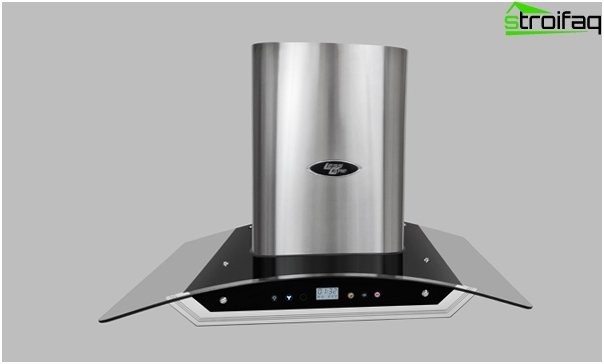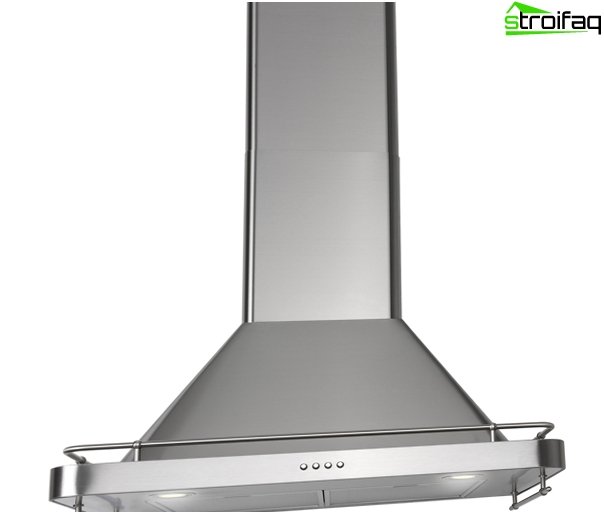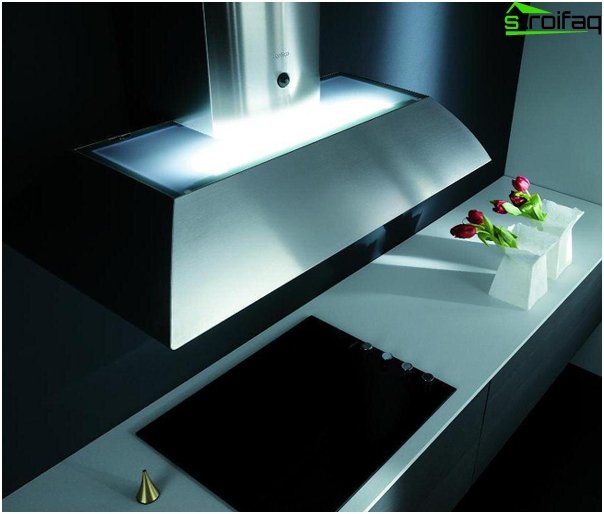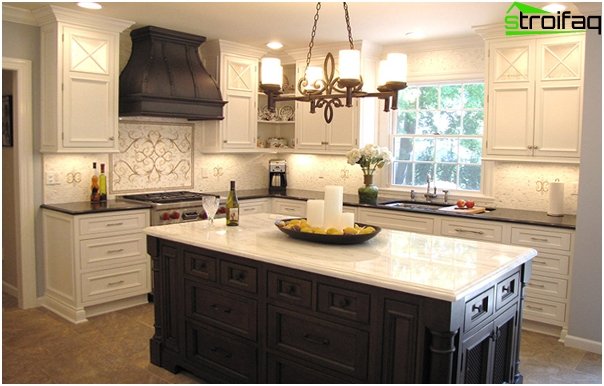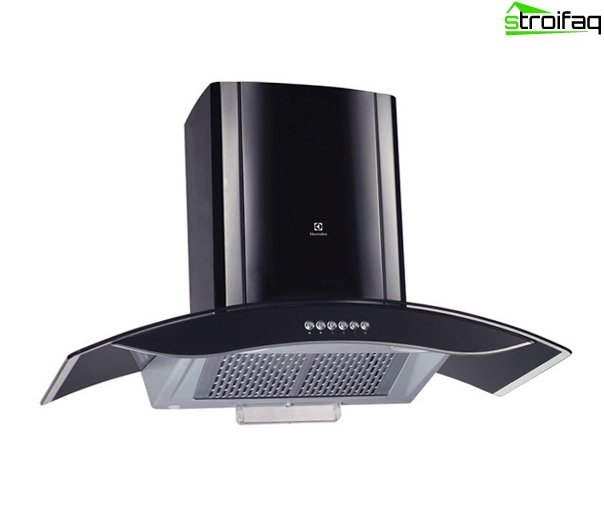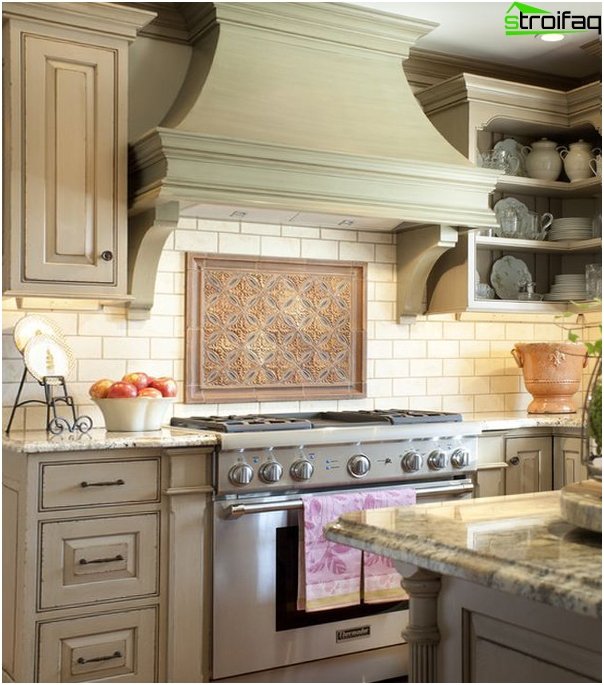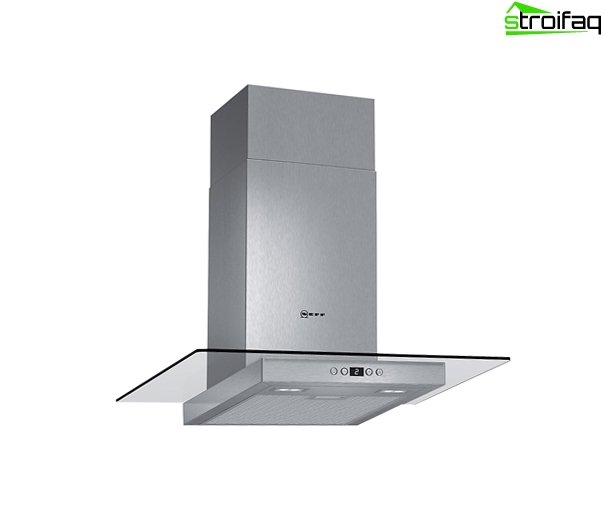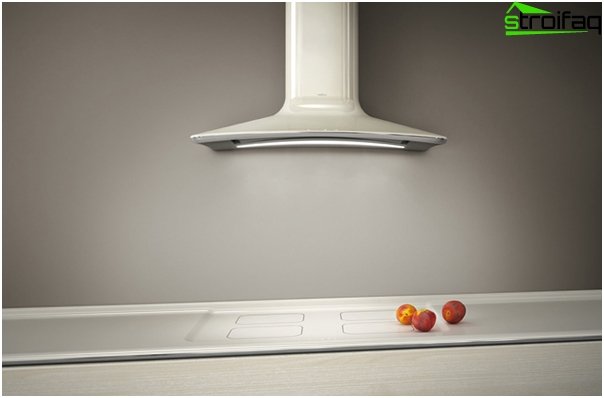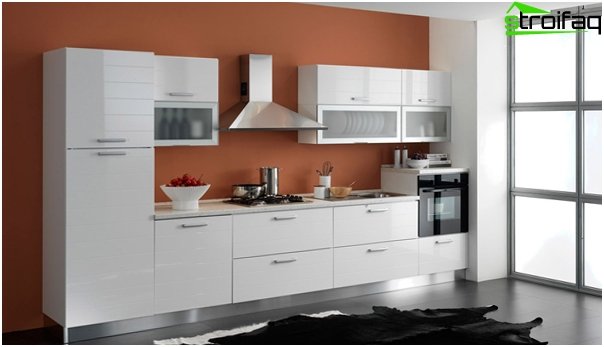 Retractable hood
Retractable hoods are also called telescopic hoods, because it is thanks to the telescopic mechanism that they extend over the cooking zone. They are tiny and easily fit even in the tiniest gap above the stove. As a rule, such hoods do not connect to the duct.
Island hood
The island hood is mounted in the ceiling above the cooking zone. This is especially important in spacious kitchens (for example, in a huge private house), where the island layout may include the installation of a dishwasher in the corner, but a gas or electric stove – in the center of the room. It is very important that the hood is located exactly above the stove. If a the ceilings very high – the hood should be as powerful as possible.
How to choose a filter for hoods?
Regardless of whether or not your hood is vented into the ventilation, there must be filters in it.
Oil filters
Oil traps are designed to filter fats and oils that are released during cooking. The thing is that in the melted form they are very light, but if they cool down – oils and fats turn into a sticky black drying oil with a disgusting smell. It not only spoils the appearance of your wallpaper and ceiling, but is also harmful to the operation of the hood motor. Therefore, so that the hood does not stop its work in a matter of months, it is necessary to install oil traps in it. They are:
In the first case, materials such as:
Acrylic
Synthetic winterizer
Non-woven
In appearance, these filters resemble a small soft rug. Change them as needed.
Never wash a disposable soft oil trap! Even for the sake of economy! After washing, these synthetic materials will lose their properties under the influence of water, temperatures and detergents, and thus, you will only harm your hood!
In addition to disposable filters, there are also reusable oil traps. They do not need to be changed (only in case of mechanical damage) and they are intended for operation throughout the entire period of use of the hood.
Outwardly, a reusable oil trap filter resembles a metal grill with a multitude of thin foil mesh. It can (and should!) Be washed periodically. It is for this that it is intended.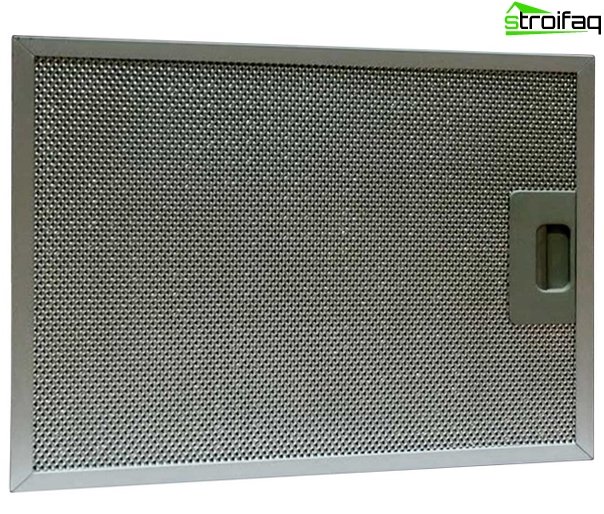 Carbon filters
Activated carbon is the basis of carbon filters. It is its absorbent properties that are used to purify the air in the kitchen. The photo below shows such a filter.
Charcoal filters also deal with grease and oils, but their main task is to neutralize odors. The presence of a carbon filter reduces the productive power of the hood by about twenty percent. And the longer it stands, the worse the air will circulate. Therefore, the average duration of operation of the carbon filter should be no more than three (maximum – four) months. Although, different manufacturers may have their own recommendations on this subject..
Hoods with charcoal filters are recommended to be turned off not immediately after cooking, but to leave them working for a few more minutes. In this case, all excess moisture will be removed from the filters and they will last longer.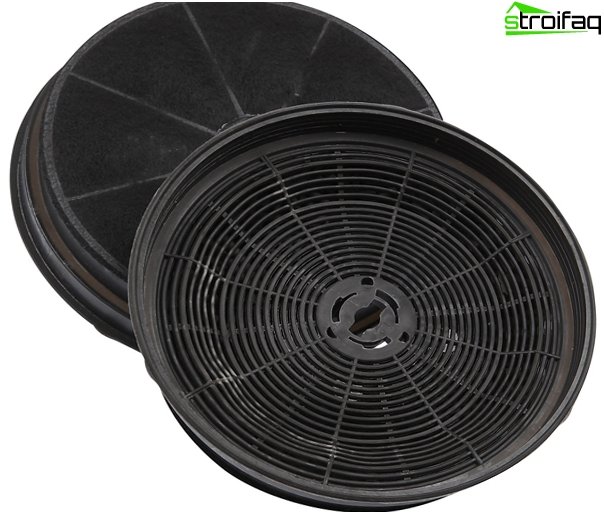 Cooker hood control panel
Push button control
Historically, the very first type of hood control. Its principle is extremely simple – each button corresponds to a particular function / mode of operation. Buttons have only one drawback, if they are not washed periodically, the layer of fat accumulated on them can cause the buttons to "stick" and work worse.
Slider control
This control is based on moving the slider from one position to another. It can be fixed (that is, when there is a certain number of modes) or be smooth (when there are no certain provisions and you can adjust the modes at your discretion).
Touch control
The most modern control of cooker hoods is touch. It involves adjusting the operation of the hood using the touch screen. With just one touch in the required sector of the screen, you can adjust the operation of your hood. However, it is better not to work with such a panel with wet or dirty hands..
Communication Connection
With duct
Having an air duct determines whether your hood works as a hood or as a simple air cleaner. Air can be vented or directly into the street. In this case, the air exchange is an order of magnitude higher, however, along with all the excess fumes from the kitchen, especially in winter, the heat will also go away.
The smoother and more uniform the duct walls, the better it works..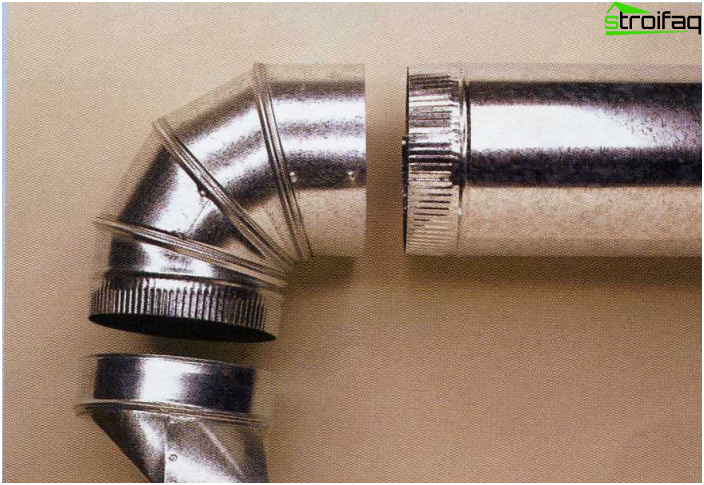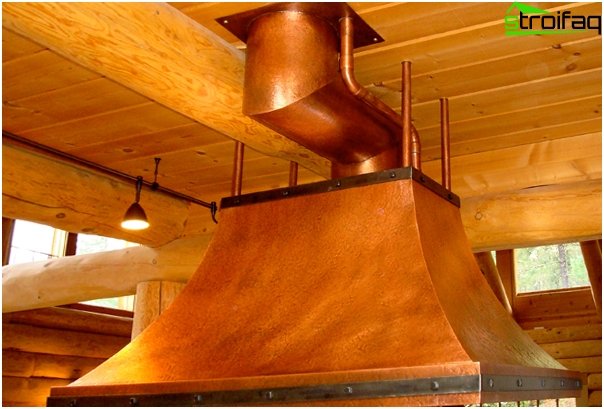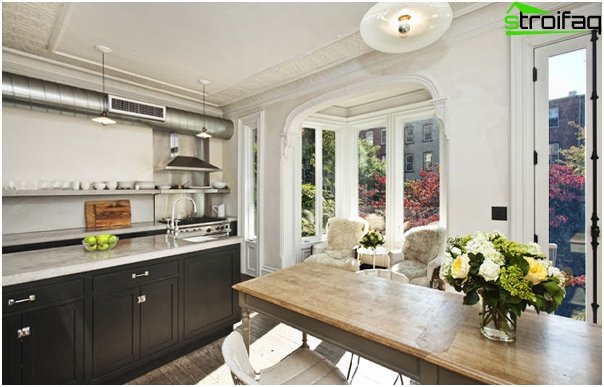 No duct
Such an extract works on the principle of air recirculation using filters. This ensures that heat is retained in the kitchen, but does not completely remove harmful fumes and excess moisture..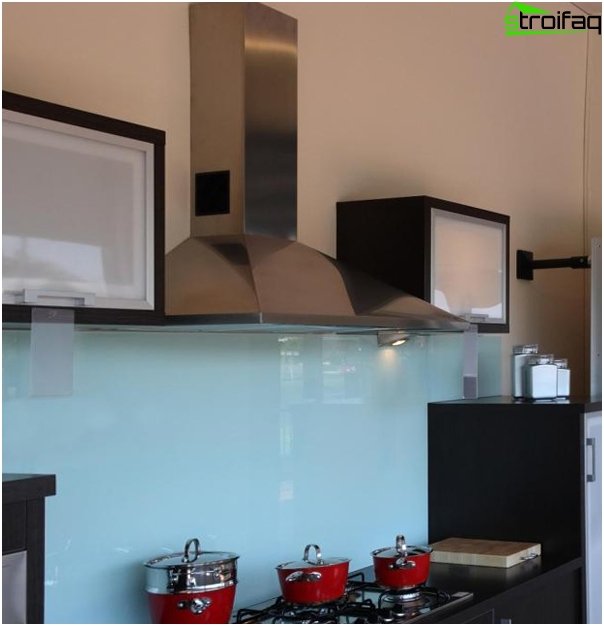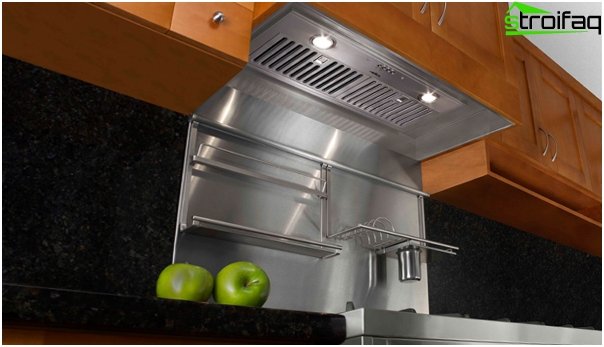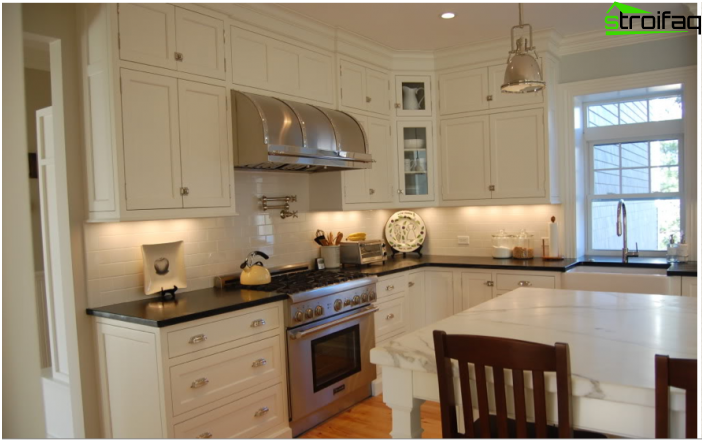 Other selection criteria
Each buyer has a rating of criteria and expectations when choosing a cooker hood, however, pay attention to the following points:
1. According to the current sanitary standards, there is such an indicator as the air exchange rate. In short, this is a criterion for how often air should be completely renewed in a room within one hour. For each functional space, it has its own (see table below). After all, hoods are not only kitchen hoods, recently hoods in the bathroom are gaining special popularity, to remove excess moisture from the room. For the kitchen, the air exchange rate should be at least 7 times per hour.
Air exchange rate in accordance with sanitary standards
Type of premises
Air exchange rate
| | |
| --- | --- |
| Restroom | 7-14 |
| Bathroom | 4-7 |
| Living room | 2-4 |
| Kitchen | 7-12 |
| Office | 3-6 |
| Meeting room | 5-7 |
| Bar | 14-22 |
| Garage | 3-8 |
In order to understand whether the hood will cope with the task, it is necessary to calculate the volume of the kitchen (for this we multiply the height of the ceilings by the area of ​​the kitchen), multiply the resulting number by 7 (the minimum number of air exchanges per hour, for convenience you can multiply by 10) and compare with the power of the hood, which is indicated in its technical characteristics.
2. The larger the hood area, the faster it will clean the air.
3. Offline periodic inclusion is very useful if you cook a lot and often. If you have such a function, you won't worry whether the hood is on or not, the technique will do it instead of you. Moreover, in many models you will be able to independently configure the inclusion period.
4. So that the operation of the hood does not annoy you, it should be as noisy as possible.
5. Hood lighting will allow you to cook without overhead light. However, remember that poor-quality lamps can mislead you about the degree of product readiness, which we often determine by its color..
6. Another important point when choosing a hood is the presence of a remote control. Due to this, it will not be necessary to regulate the process of air exchange and filtration directly near the hood – you will be able to do other things in the kitchen, while controlling and regulating its work.