Content
An island of comfort – we equip a small balcony
Ideal furniture for a small balcony
Tribute to time – modern design of a balcony in Khrushchev
Not a single kitchen: design features of a balcony in the kitchen
Garden of Eden on the balcony
Remember the balcony from your childhood in Khrushchev? Surely, in the memories of everyone there are cluttered up with all sorts of things (there is no doubt that "incredibly necessary"). Here and the bike that you sat on last time in about 7 years old, and the skates that you don't put on from grade 5, and your father's jack, and mother's spin … In general, everything that was not needed a long time ago was removed so as not to spoil interior of the apartment. It is not visible on the balcony, though?
Today, a balcony is no longer a cemetery of useless things, but a completely independent part of the apartment, which, thanks to the correct design, can be turned into an office, a kitchen, and an incredibly cozy place for tea after a hard day. You still do not believe that it is possible to achieve a beautiful design of a balcony? Read on, you will definitely not have doubts!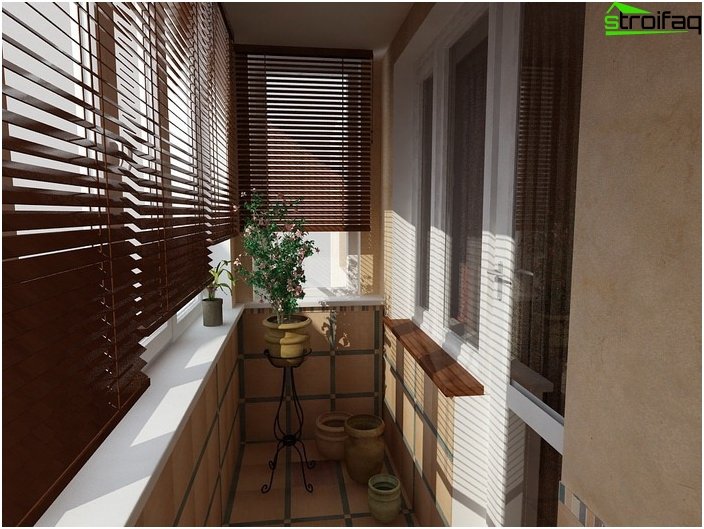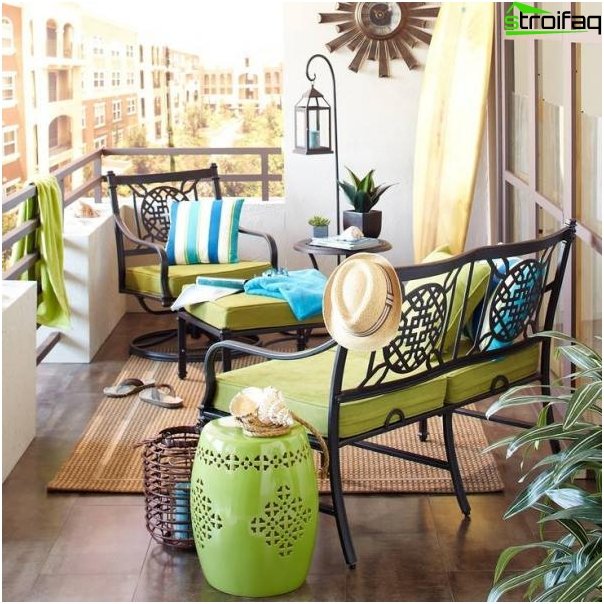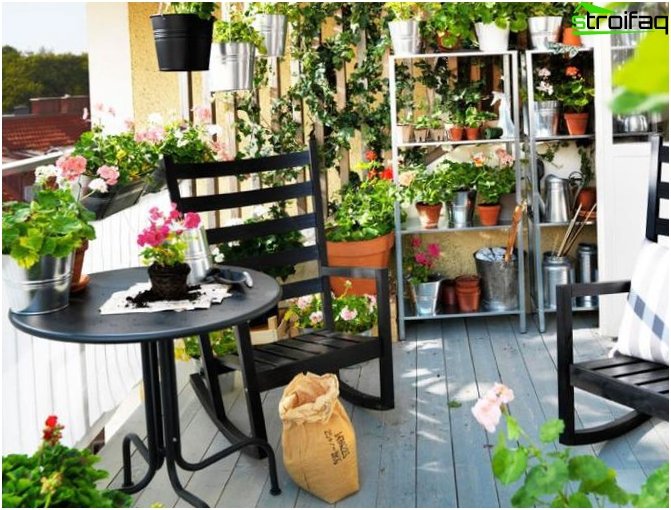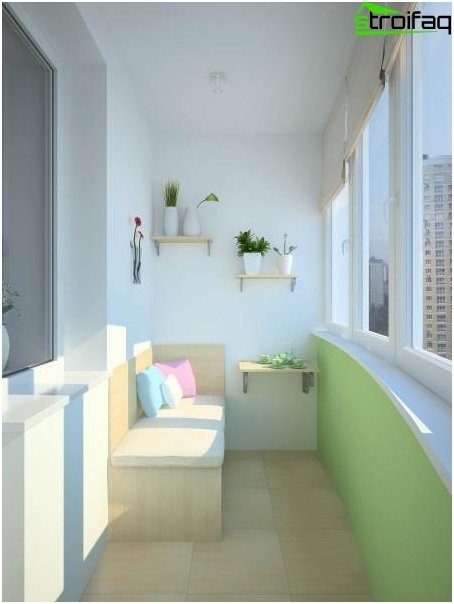 An island of comfort – we equip a small balcony
In fact, equipping a small balcony for a pleasant pastime is a whole science, which (alas and ah!) Not everyone can do. Just a few TIPS will help you organize the space of even the smallest balcony. To make a really high-quality design, you will have to change a lot, but believe me, the result will be worth it.
The most important moment for our recreation area, which we equip, will be the choice of new, beautiful and suitable furniture that can maximize the space, while ensuring comfort and coziness. In addition, the furniture on your small balcony must certainly fit the chosen design. Upholstered furniture can give maximum comfort to the balcony, so a small sofa or a small folding chair will make the interior relaxed and truly homely..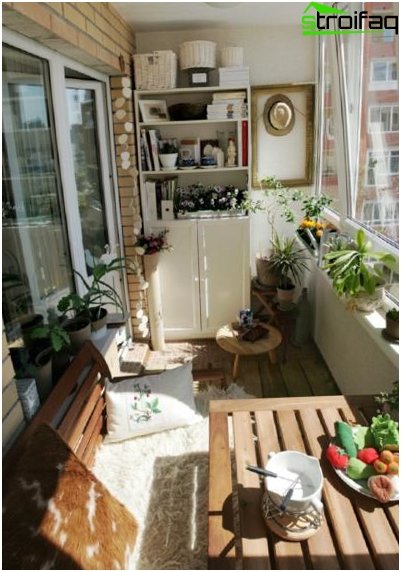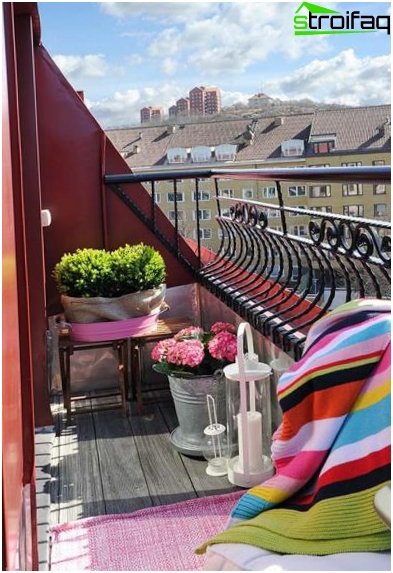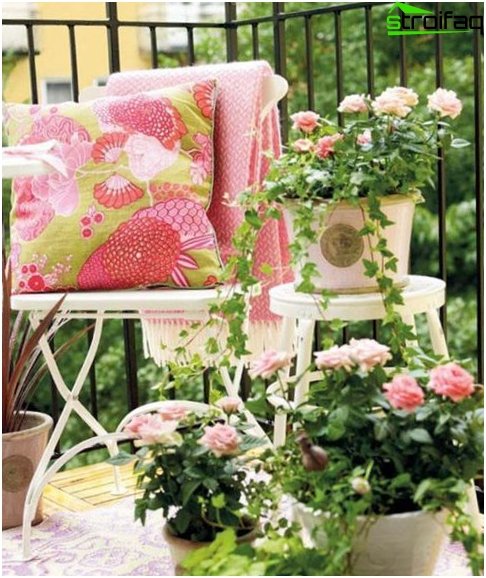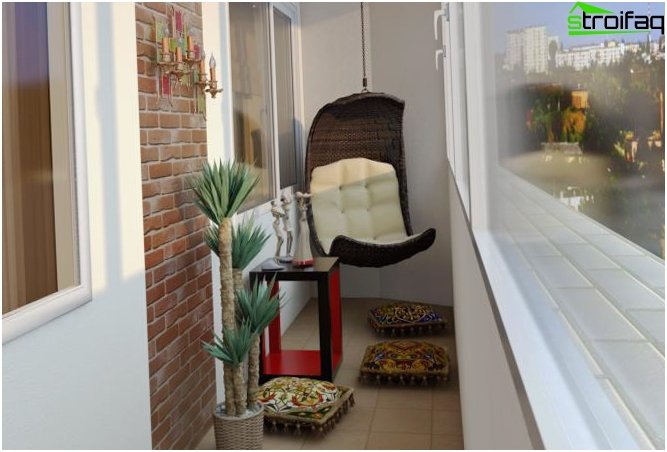 Ideal furniture for a small balcony
In order to refresh and give at least a little grace to a balcony with limited space, you need to choose folding furniture. Believe me, this function for such balconies is worth its weight in gold. This applies to tables and chairs, as well as a variety of whatnots, ottomans and other interior items.
It is worth noting that this type of furniture can easily transform the space at any time according to your desire. The best option, of course, will be built-in or pull-out furniture, which can greatly save space.
As for the design of the walls of a small balcony, then your imagination can take off, however, in the prescribed framework. The fact is that well-known designers advise instead of the usual (and, frankly, already pretty annoying) wall painting to make the finish incredibly fashionable in modern interiors with cork panels or, alternatively, plastic.
The floor coverings on the balcony can also be different, you can safely choose a cork floor, and elegant wooden parquet, and the usual laminate.
Fresh and vibrant design can be complemented by choosing modern and trendy materials..
Natural materials such as cork and wood can keep warm and be as useful as possible..
As for the windows, many designers have different recommendations for their design, so listen to them and then make them your own way..
You can decorate the blinds windows made of various materials in harmony with the surrounding design..
You can elegantly get rid of the hot sun using a beach umbrella or a beautiful screen on the balcony.
Be sure to adhere to the integrity of style on your balcony, choosing decorative pillows that harmoniously complement the interior.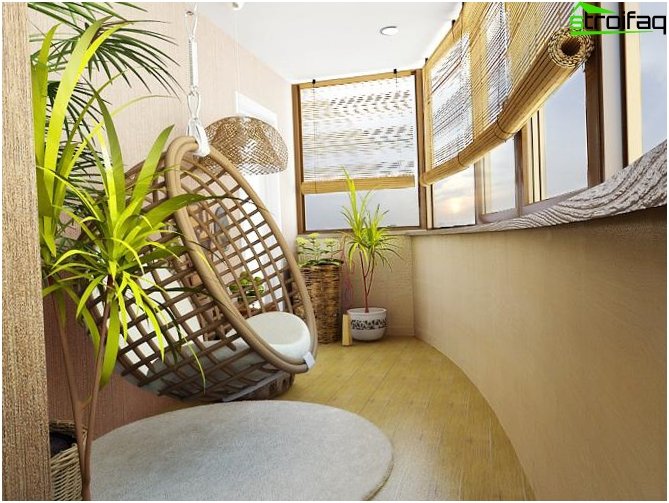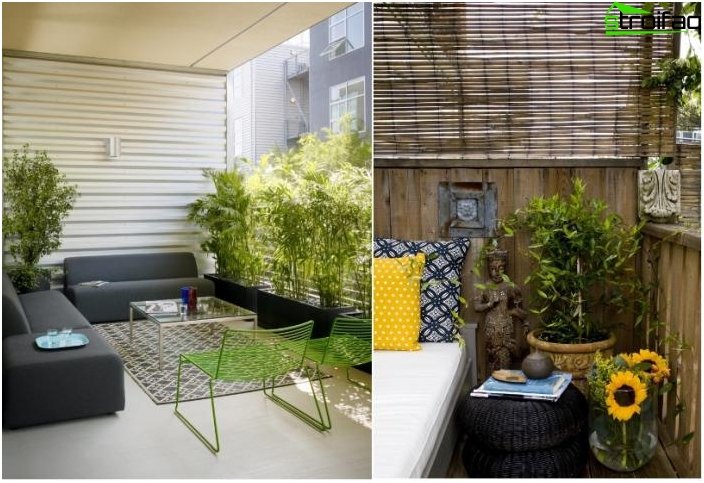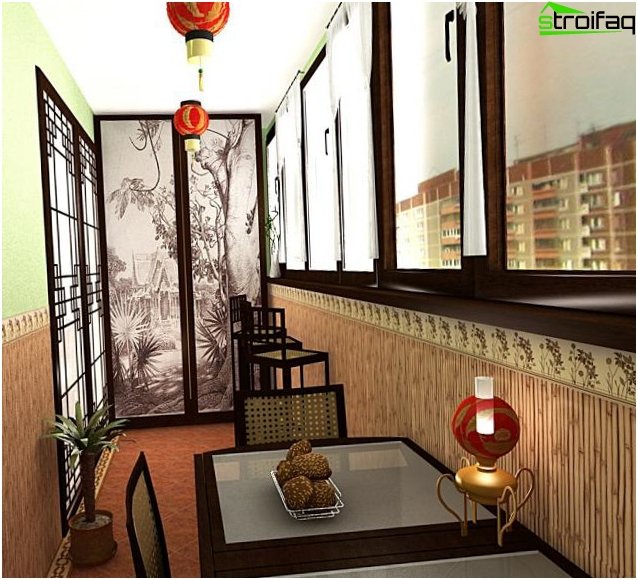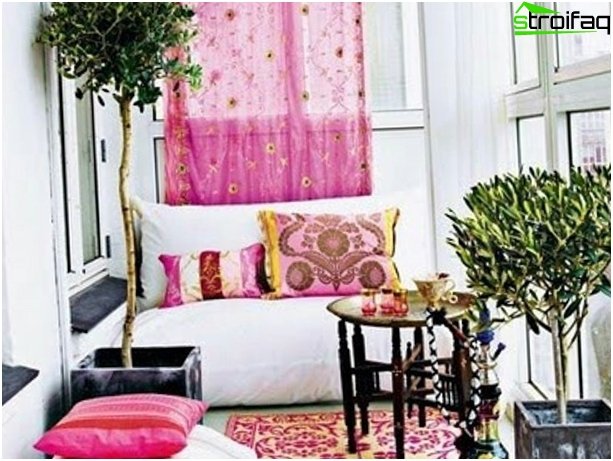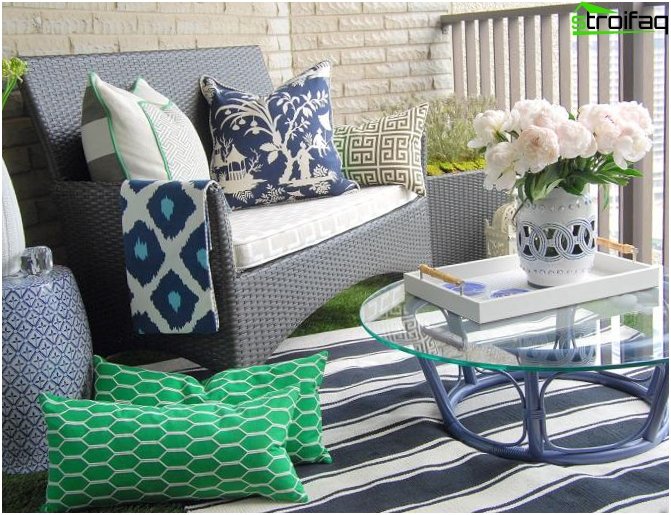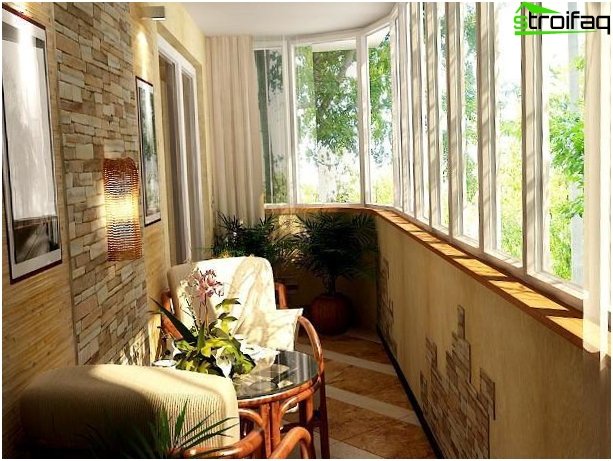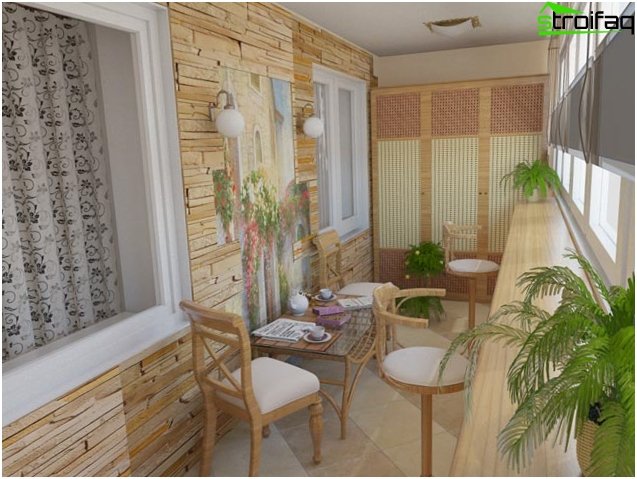 Tribute to time – modern design of a balcony in Khrushchev
Time runs at an amazing speed, changing our preferences and goals. And, if 30 years ago, getting an apartment in Khrushchev was the ultimate dream of many, today such a living space creates many problems for its owners, being inferior in size and quality to balconies in new buildings. Therefore, quite often the owners of such balconies have an urgent need to radically change the design, and sometimes completely rebuild this space.
Of course, before embarking on an internal design, you need to take care of the balcony and the outside, carrying out work on strengthening, as well as warming and glazing. In such a case, you should definitely turn to professionals who will do everything not only with high quality, but also maintain safety.
As for the interior, it can be improved independently. So, porcelain tile or laminate is most suitable for the floor, the use of tiles will not be shameful. Walls fit perfectly with wood or plastic panels.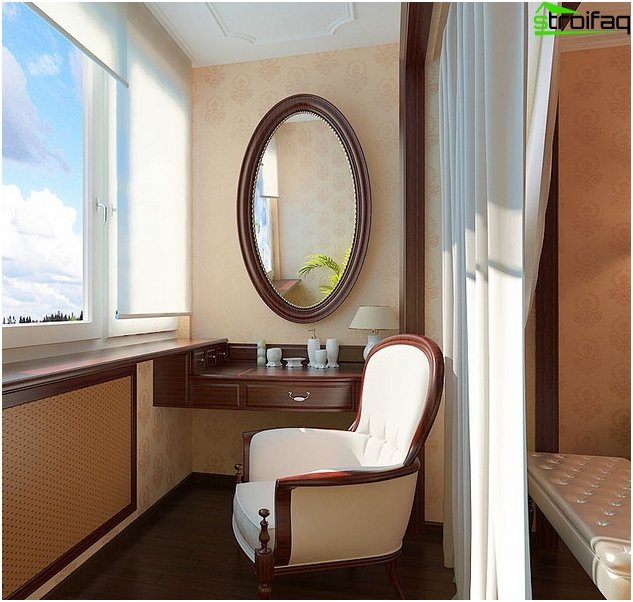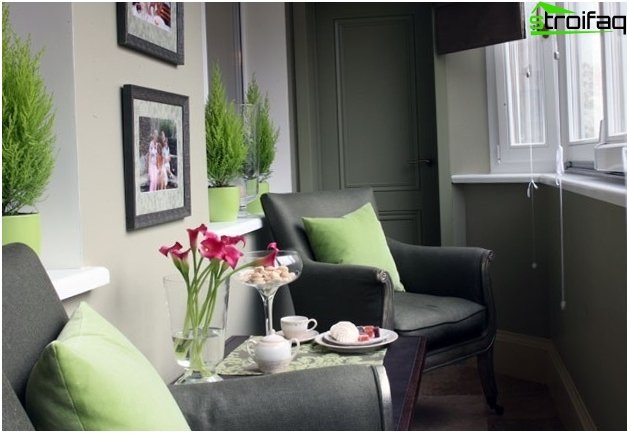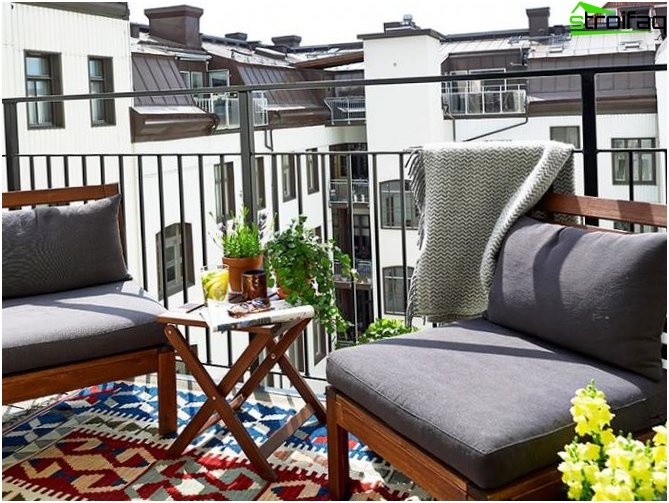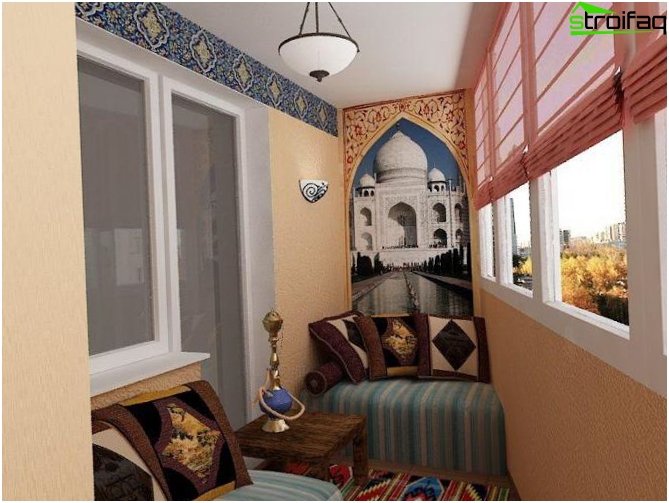 Today, balconies are a full-fledged living space, therefore, along with a change in design, you should try to maximize the functions of the balcony, paying attention to every centimeter that should be functional after repair.
For example, you can expand the functionality of the balcony by using a window sill as a table (you can come up with a finish for it yourself, based on your design).
But provided that the balcony doors open to the bedroom, the rocking chair or an elegant sofa that can be decorated with beautiful decorative pillows can give it maximum comfort. More vibrant interior will make flowers and various greens.
Concerning curtain selection, then you can finally decide on their choice by watching the video:
For lovers of reading at sunset or dawn, you can re-qualify the balcony into a full library by putting a bookcase and cozy furniture. Needlewomen can remodel the balcony into a full-fledged workshop.
Choosing a color for this small full-fledged room, it is worth paying attention to those colors that are able to visually expand the space, while playing the role of a conductor in a room that is adjacent to the balcony. Designers are confident that absolutely all shades of gray, as well as white, beige, purple and amber, will become ideal helpers in this regard.
Not a single kitchen: design features of a balcony in the kitchen
Often a balcony can be a faithful companion of the kitchen, but many owners are not very happy with this neighborhood. But in vain! There are not so few options for using such a balcony. Firstly, you can make an excellent grocery pantry out of it, even sending a refrigerator there, which took up a lot of space in the kitchen with a massive cold lump (however, in the case of such a link, the balcony must be insulated so as not to damage the technique by temperature differences).
See more kitchen design photo.
A radical reorganization of the space is capable of unrecognizable changes in the balcony, as well as making the kitchen much larger. True, in this case it is better to adopt specialists who will help, for example, remove the wall between the balcony and the wall, thus uniting the space. As a result, you get not just a kitchen, but a real mini-dining room.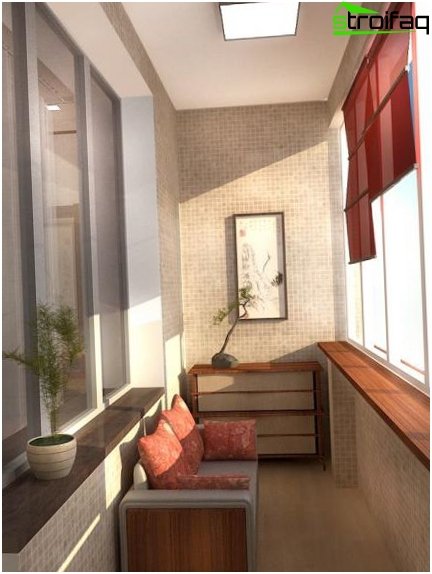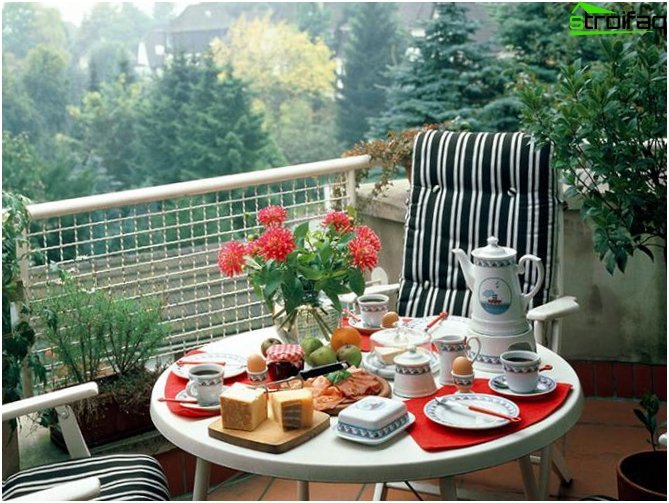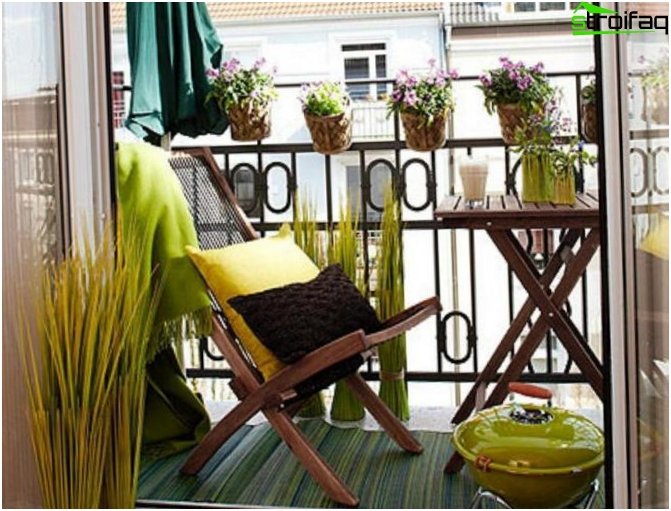 Sometimes, unfortunately, the hostesses, the space in the apartment is really small, and so many things I want to put. Then a really interesting solution will be not just the expansion of the kitchen, but its transfer to the balcony, because you can get another whole room this way. For experienced designers, this work will not be difficult. True, it is very important that the balcony is not too small. For example, a balcony in Khrushchev is unlikely to become a worthy refuge for the kitchen, but a 4-meter balcony of a new building in this business will suit the hostess much more. But, even if you and your cat can hardly fit on your balcony, you should not be upset, because expanding the balcony is an incredibly popular procedure that a lot of construction companies offer today.
IMPORTANT! When dismantling the balcony wall, you need to remember that it is a carrier, and its destruction (even partial) can threaten both your safety and your neighbors, so trust this work exclusively to specialists.
As for the furniture for the kitchen-balcony, the most successful solution will be the choice of sets of stools that can be cleaned under each other. Properly selected furniture will help to completely change the space of your balcony, no matter what function you assign it to..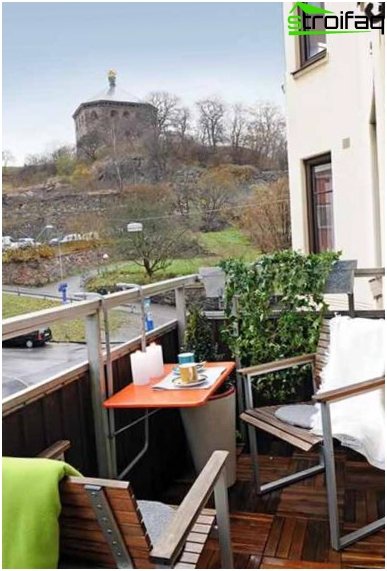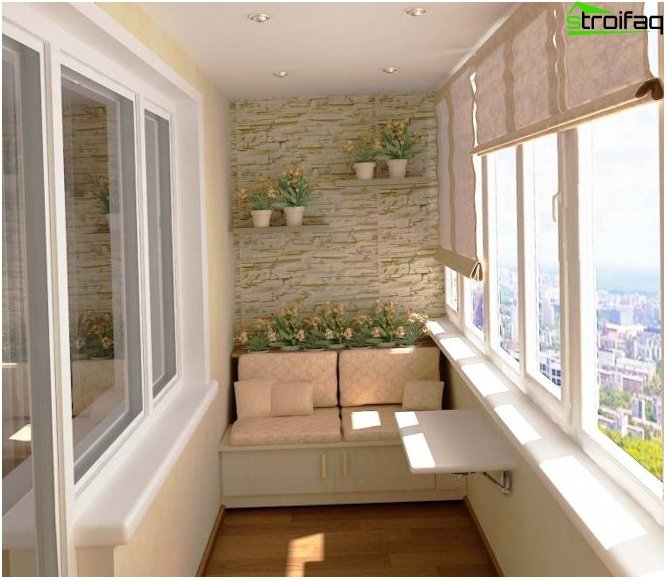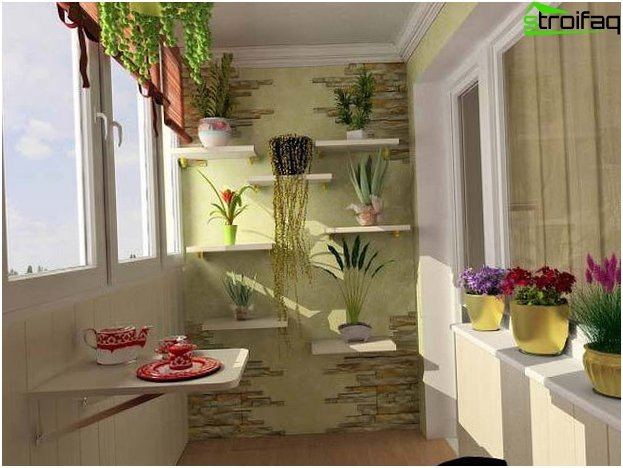 Garden of Eden on the balcony
Incredibly interesting and, undoubtedly, one of the most beautiful design options for a balcony with access to the kitchen is the transformation of the balcony into a green garden. Provided that your balcony is insulated, such a garden will easily please you with greenery even in the most severe winters. On such a balcony you can even place a table with chairs, because in the garden among the greenery it is really nice to dine.
Designers advise: "When creating a garden on the balcony, choose a glass door or a large window to the floor, so you will achieve the effect of the presence of plants directly in your room".
There is an unwritten rule that all experts in this field adhere to – do not clutter up the balcony with a lot of equipment. Firstly, it's quite unsafe, even if the best builders have expanded your balcony. And, secondly, the balcony will give the kitchen additional lighting, so there is no point in blocking this light.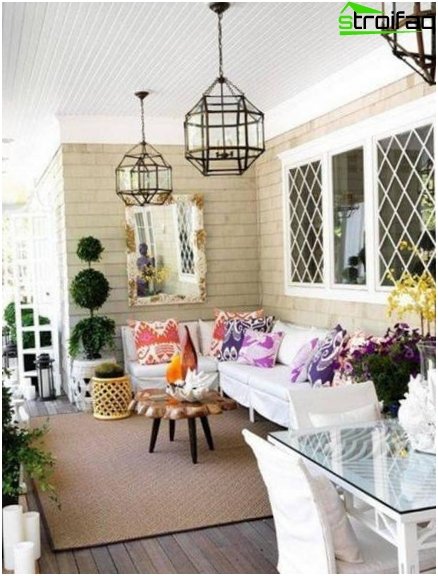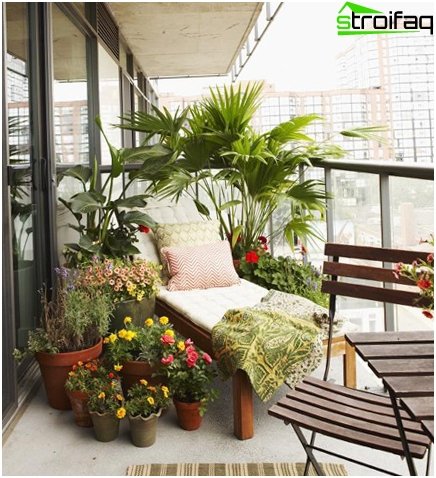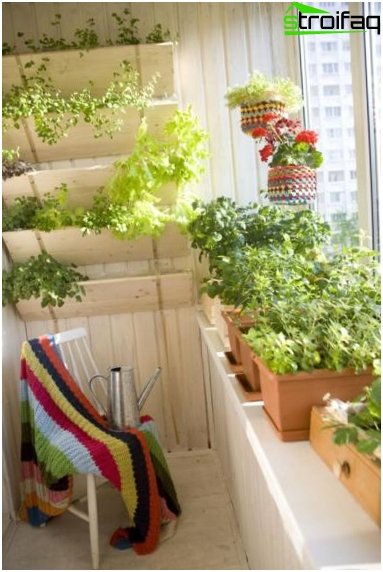 The space between the kitchen and the balcony can be divided by fabric blinds, so you will feel much more comfortable. Provided that the windows of your balcony are facing east, because of which only in the morning you can enjoy the warm sunshine, it is best to choose warm colors for the interior, and also place mirrors on the walls.
Balcony Design Options
| | |
| --- | --- |
| Canteen | It will be enough to put a table and several chairs, as well as allocate space for bedside tables with dishes. |
| Cabinet | A small computer table and a comfortable chair in the alliance with an interesting design will make your work area really wonderful! |
| Workshop | Be sure to put a few nightstands, a closet and a convenient workplace that best suits your occupation. |
| Garden | The best solution would be to make one of the walls mirrored by installing flower stands on it. |
The design of balconies of any functionality is, as they say, a master's business, so it is up to you to decide what it will be, making your apartment even more comfortable.
And finally, check out the remaining 20 photos.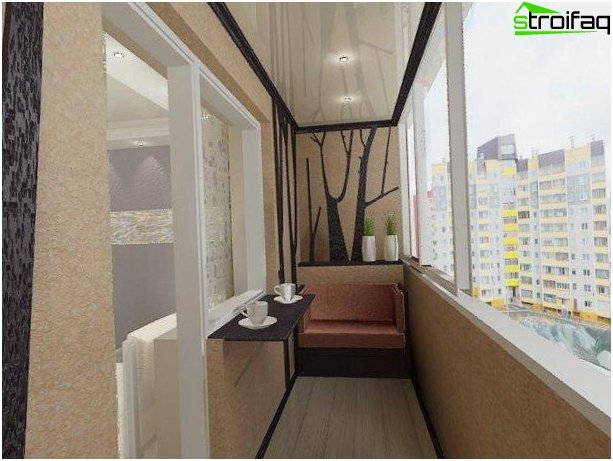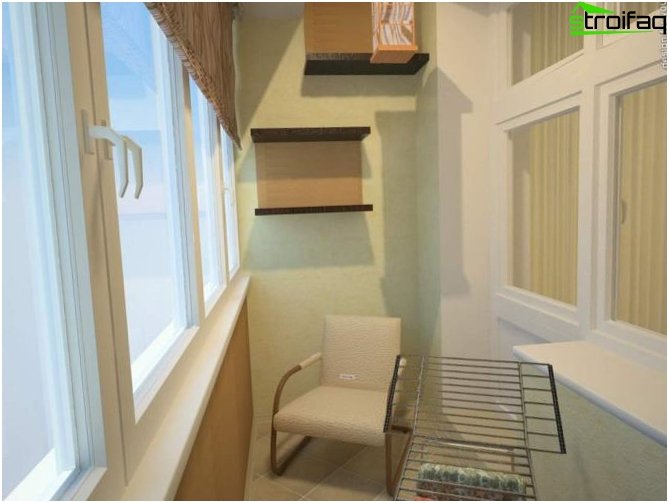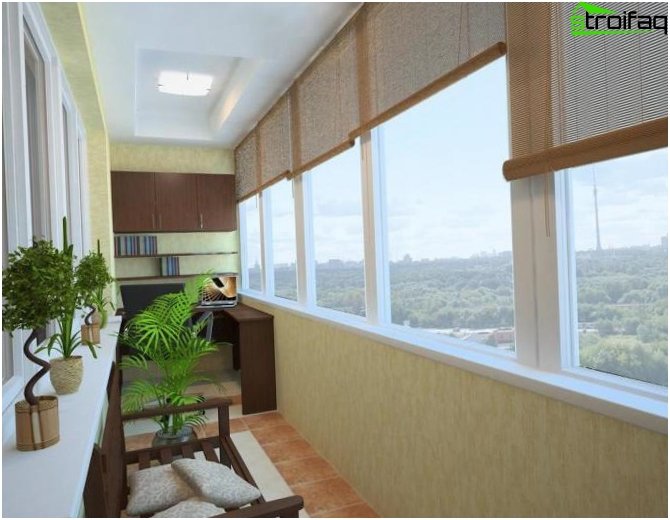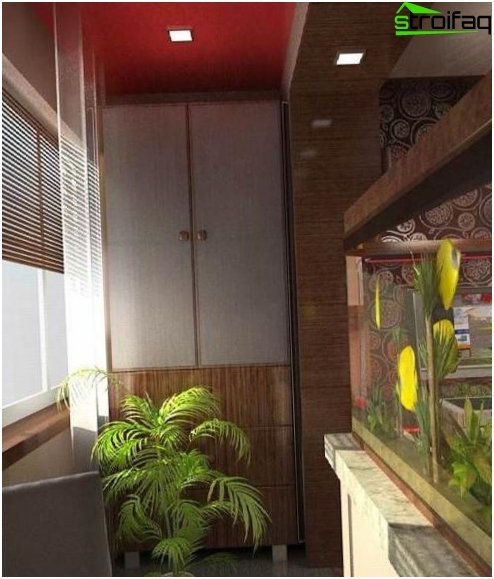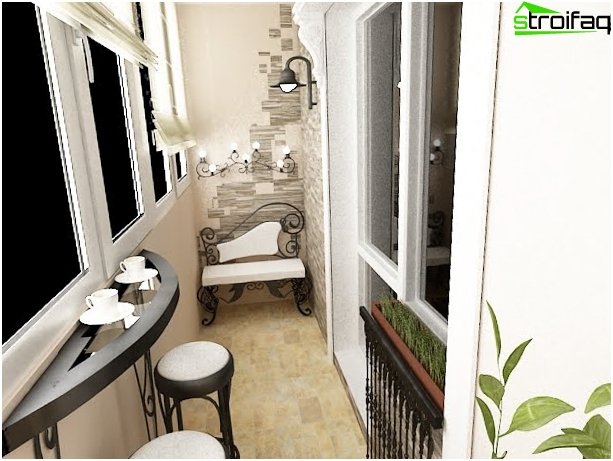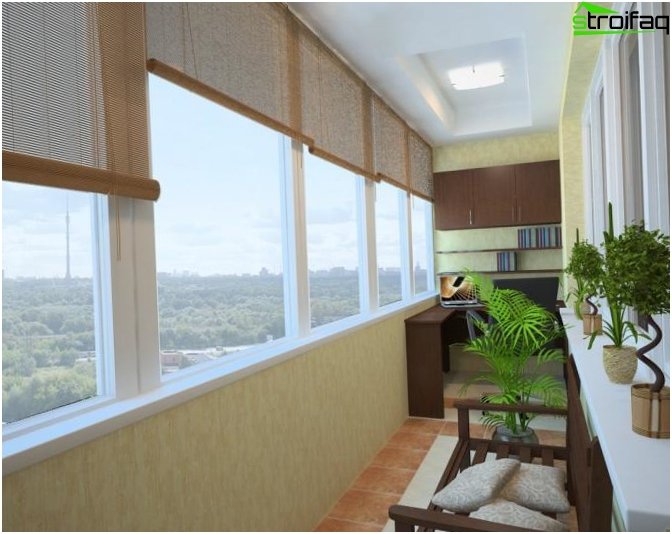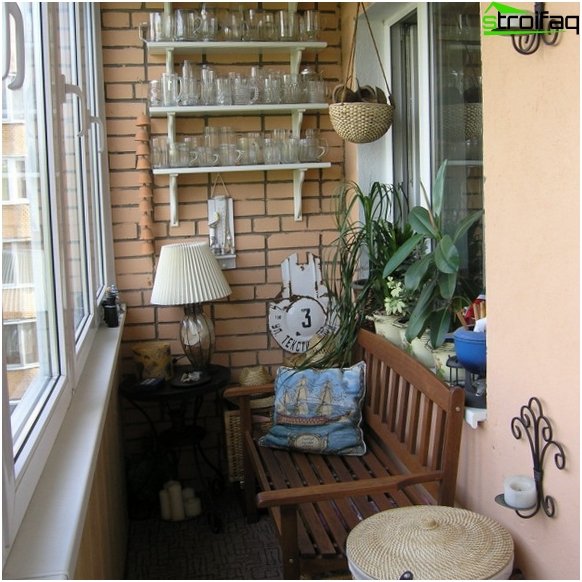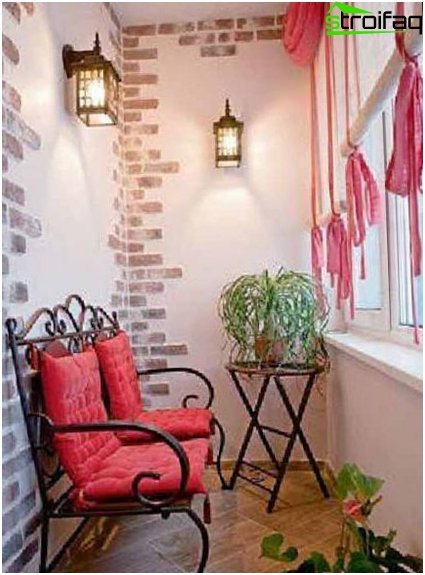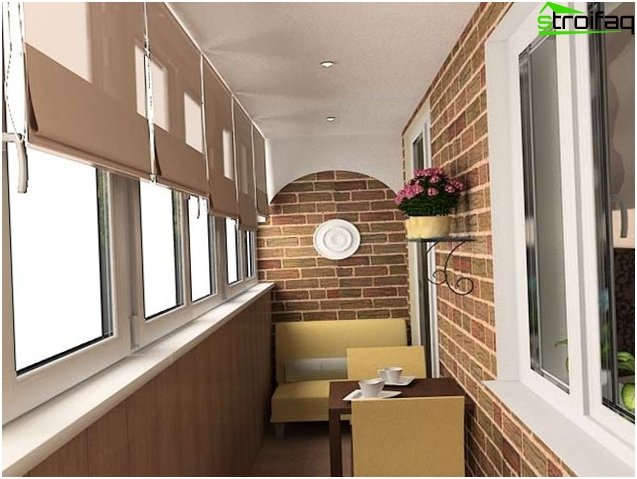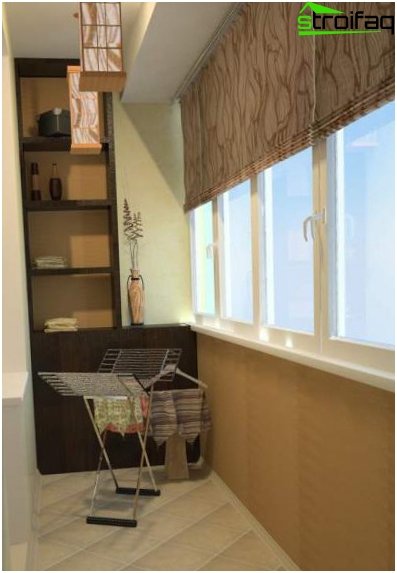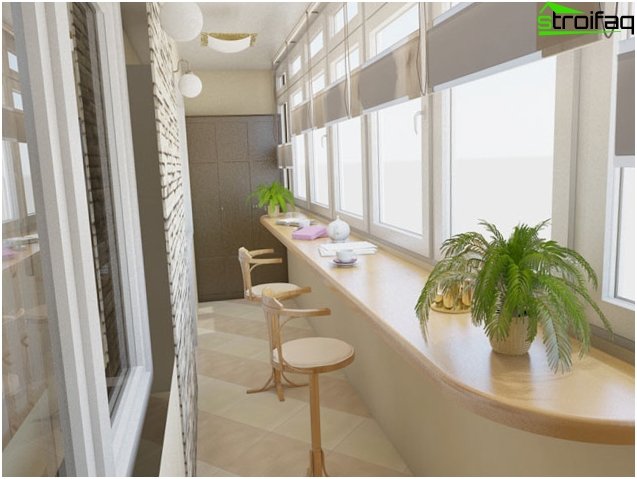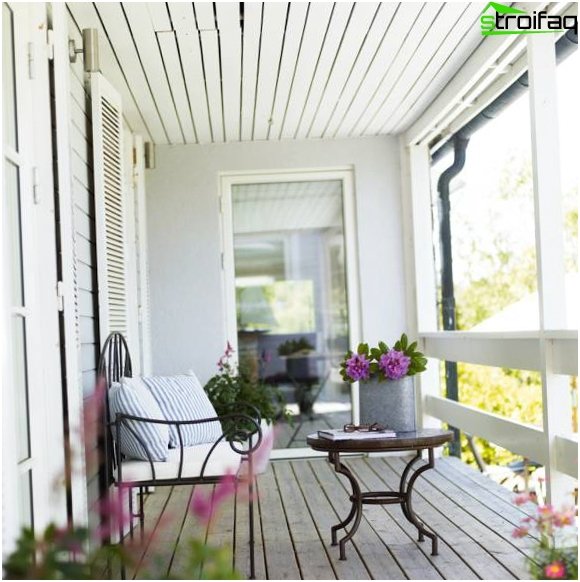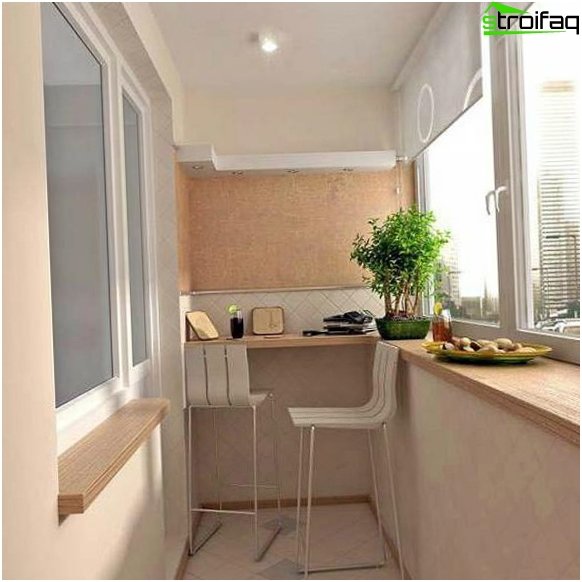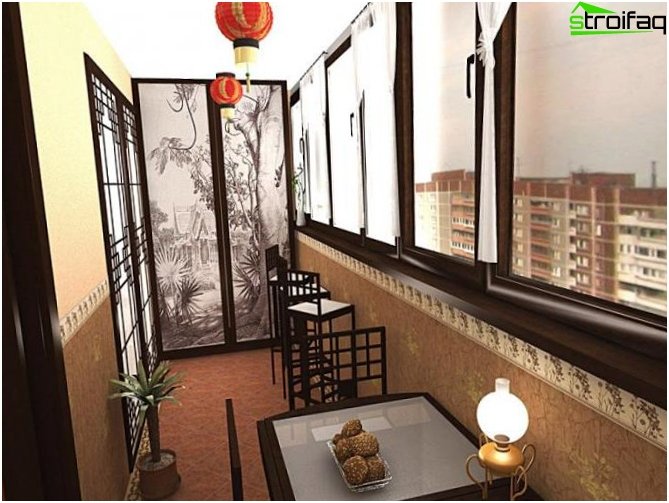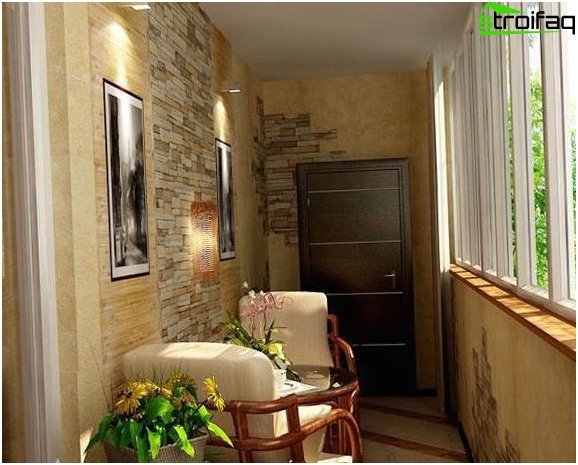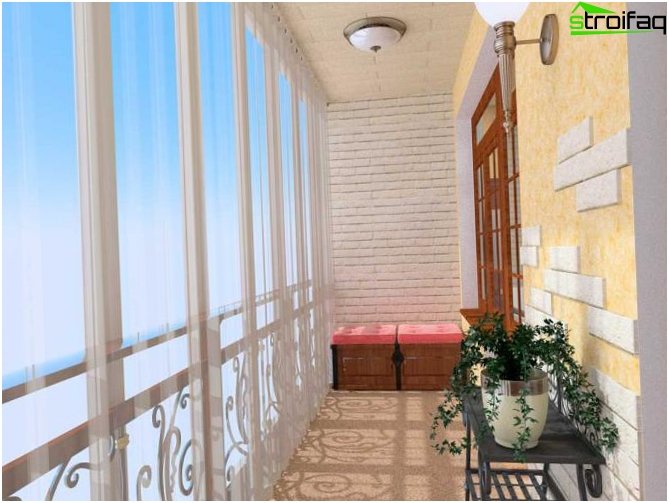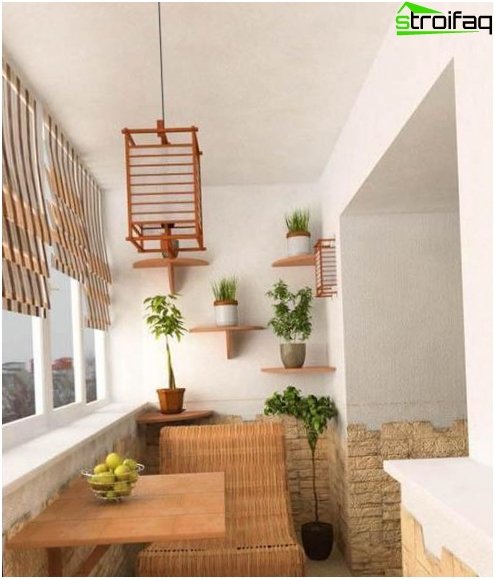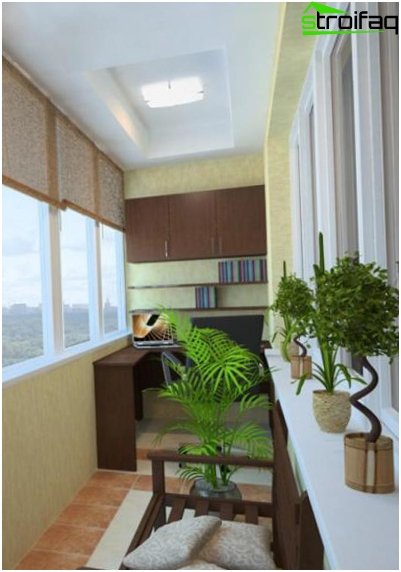 Read also our article on the design of the loggia!