Content
Types of Roman Curtains
Classic Roman Curtains
Cascading curtains
Frameless Curtains
Materials for the manufacture
Linen Roman Curtains
Cotton Roman Curtains
Synthetic roman curtains
Blended Roman Curtains
The use of Roman curtains in different styles of interior decoration
Colonial style
Sea style
Retro style
Minimalism
Roman curtains in the interior of different rooms
For the living room
For children
For the bedroom
For kitchen
How to make roman curtains yourself
Roman curtains (also known as rolled) arose several thousand years ago, but they not only did not lose their relevance, but also confidently occupy leading positions in the textile materials market. Everything ingenious is simple! And this golden rule is one hundred percent consistent with Roman curtains.
Types of Roman Curtains
Roman curtains are rectangular (less often – square) smooth paintings that are mounted on a cornice. In parallel with the cornice, the frame rods are evenly distributed in the fabric, thanks to which, using a lace or a special chain, the height of the curtain is adjusted. This is the basic principle of functioning of a roller blind, which can be upgraded at your own discretion. We will understand the features of the most common types of Roman curtains..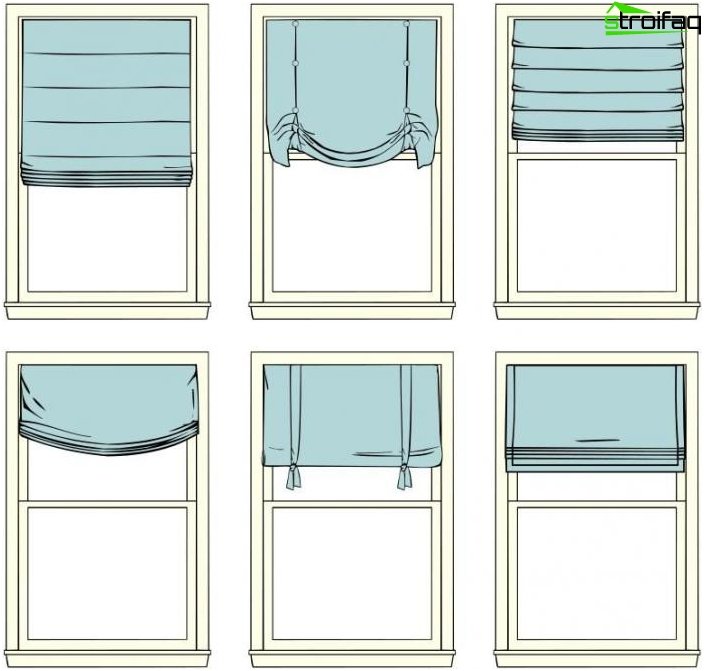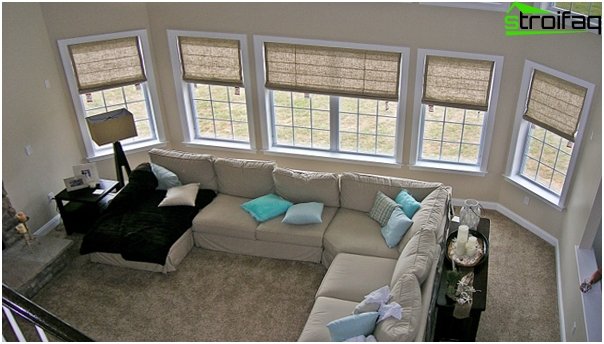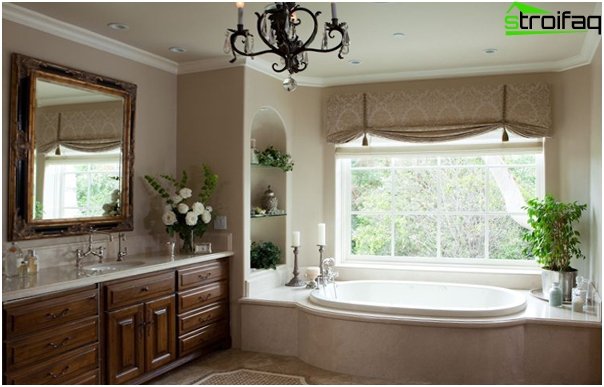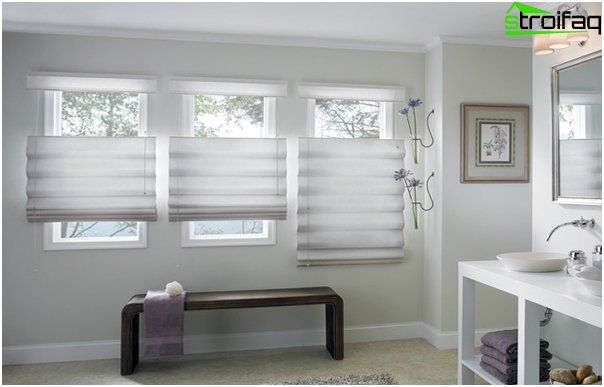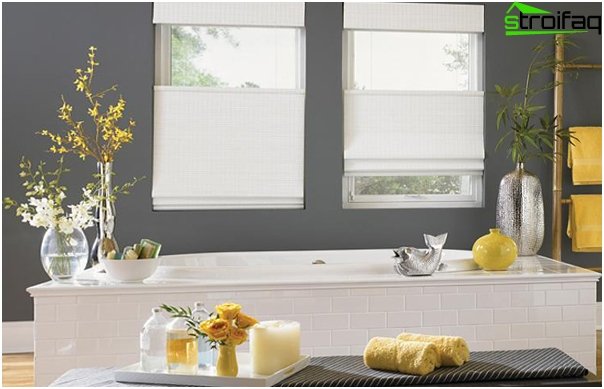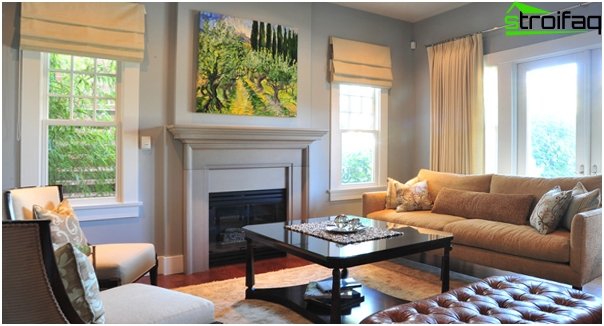 Classic Roman Curtains
Classical Roman curtains completely correspond to the mechanism described above. There are no special "bells and whistles" in them – they simultaneously embody simplicity and elegance. When folded, the curtains lie in beautiful horizontal folds, and when unfolded – almost perfectly even. These curtains will look great in the kitchen or in the nursery.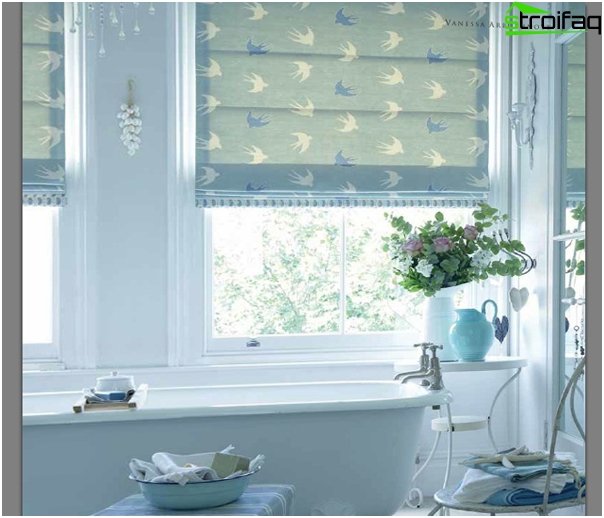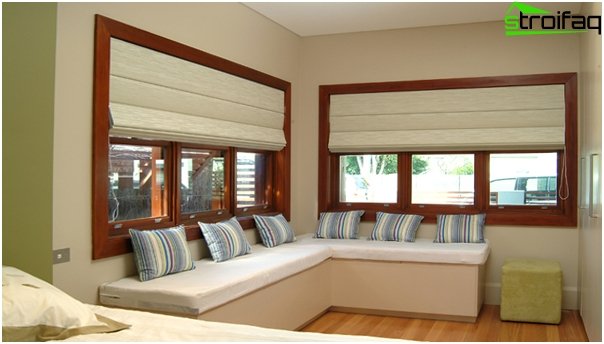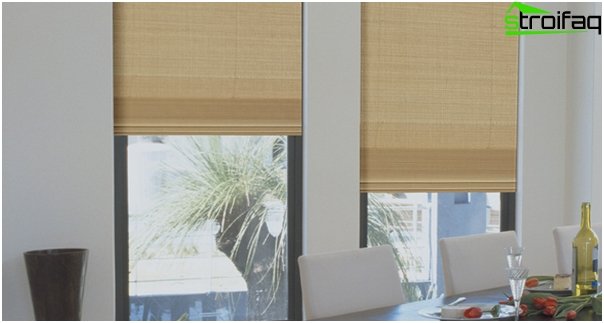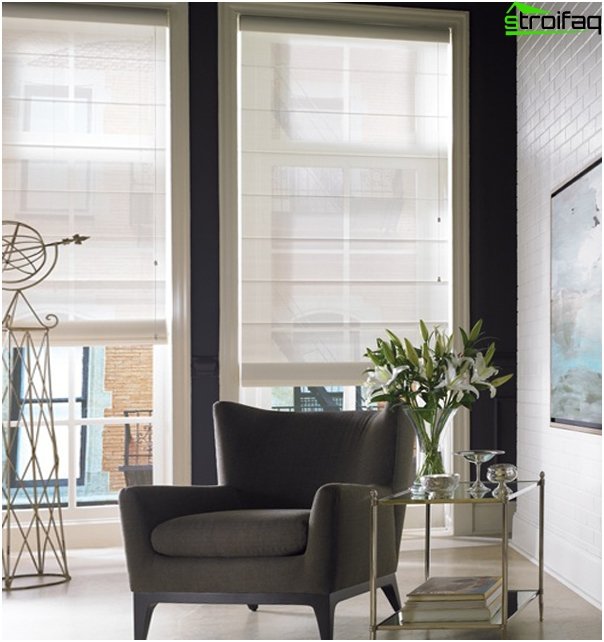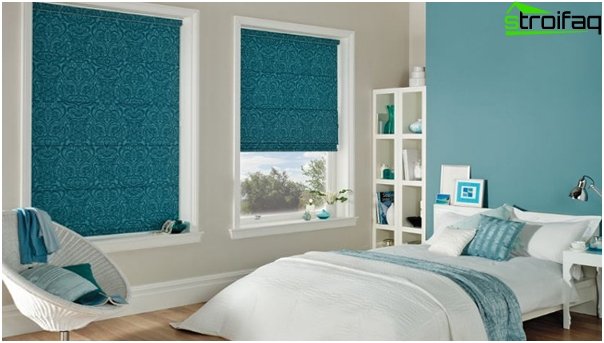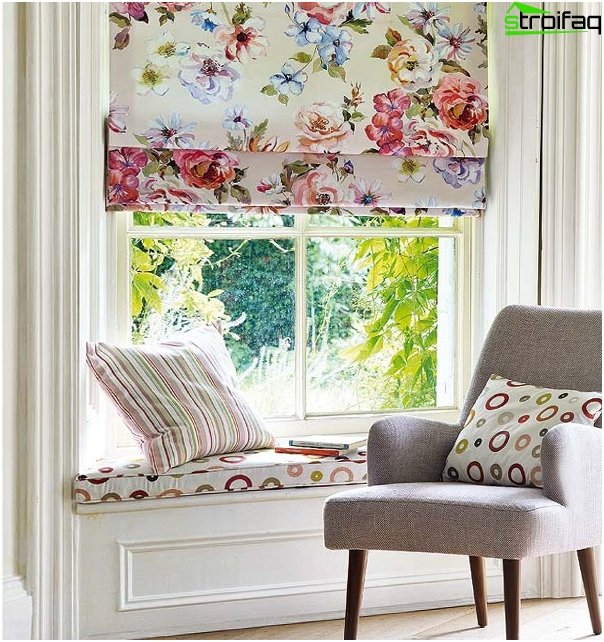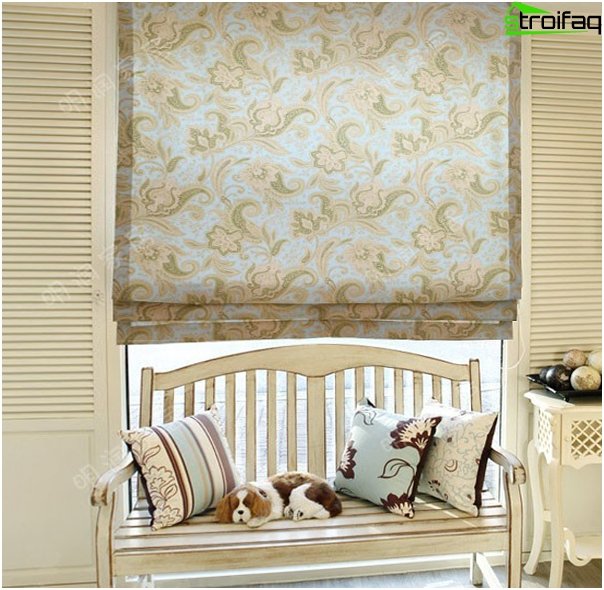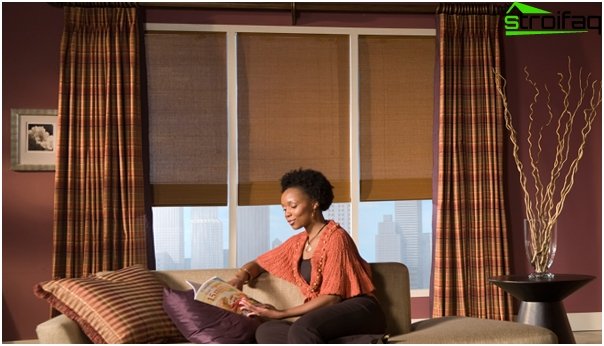 Cascading curtains
Unlike classical ones, such curtains form waves and draperies from fabric even when they are completely dissolved. This type of roller blinds looks gorgeous in the living room or in the bedroom. It is best used in interiors that are made in the styles of Provence, country, shabby chic.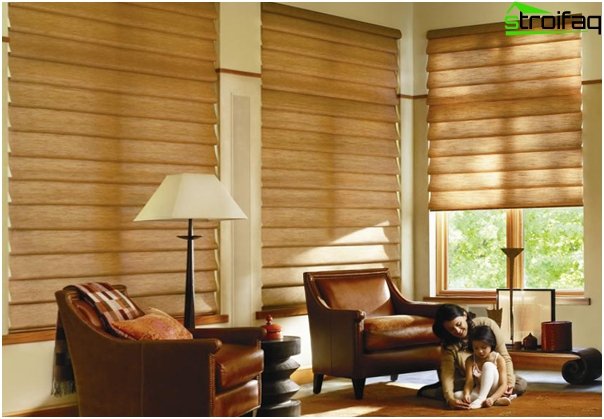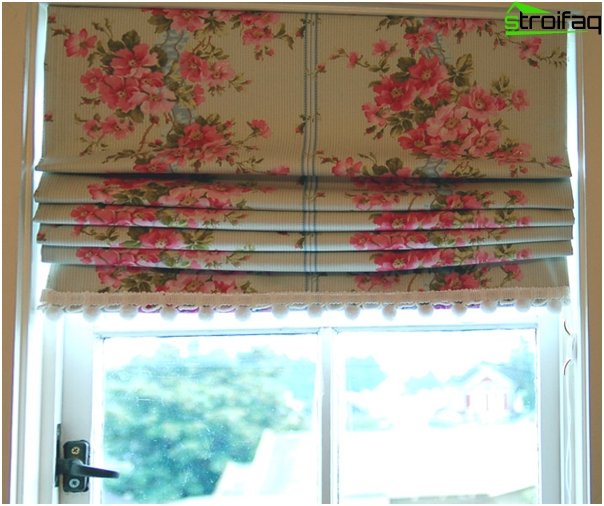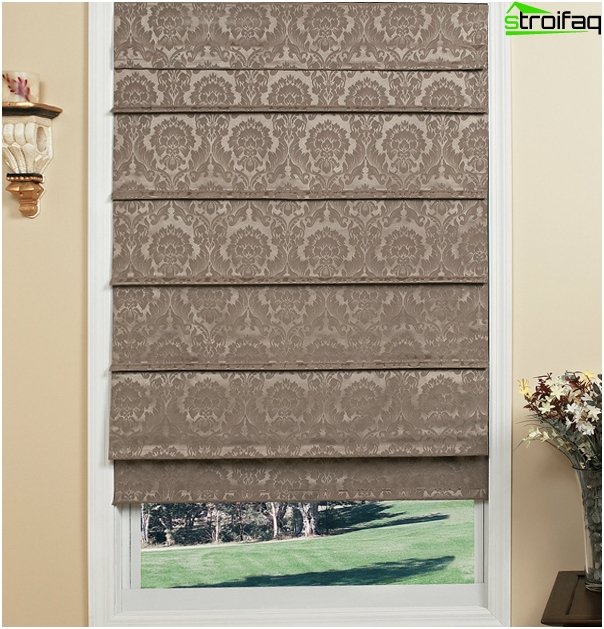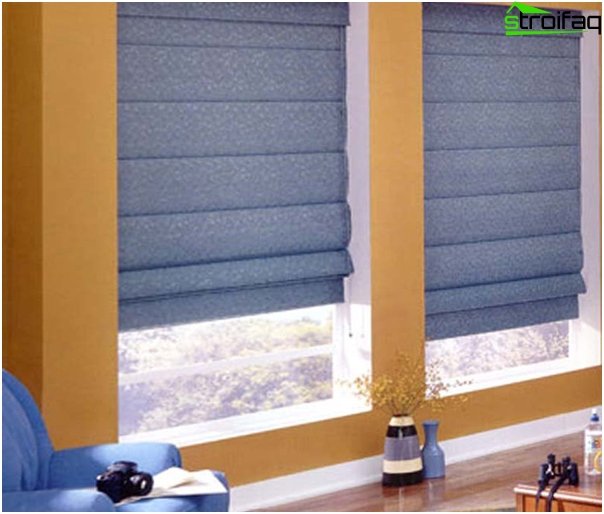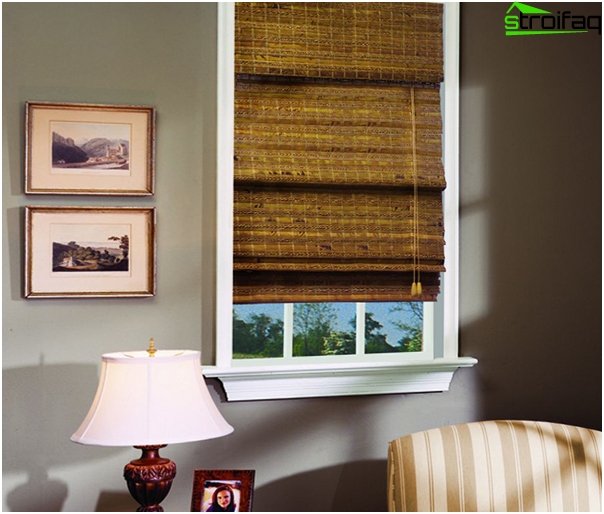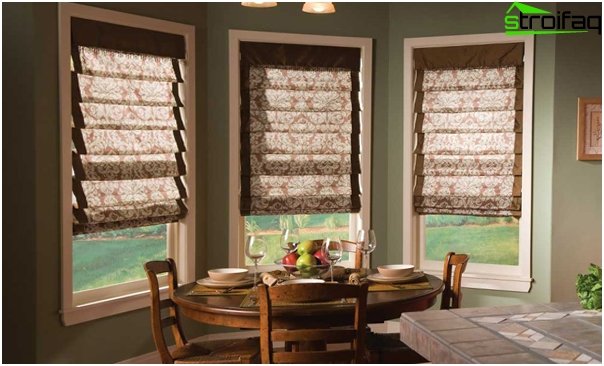 Frameless Curtains
This type of curtain is the lightest, most elegant, almost weightless, because it does not have hinges.
Frameless Roman curtains – a simplified version of roller blinds that can easily be sewn yourself.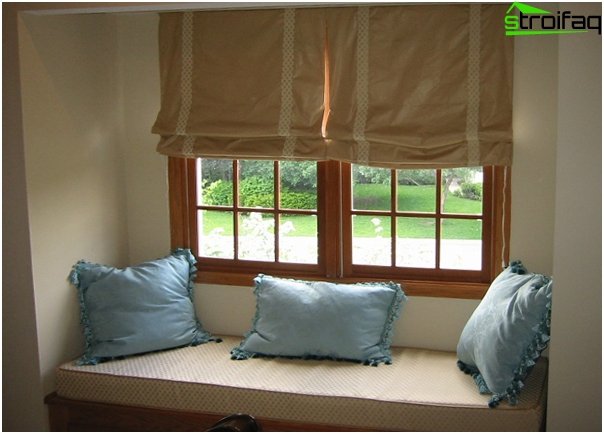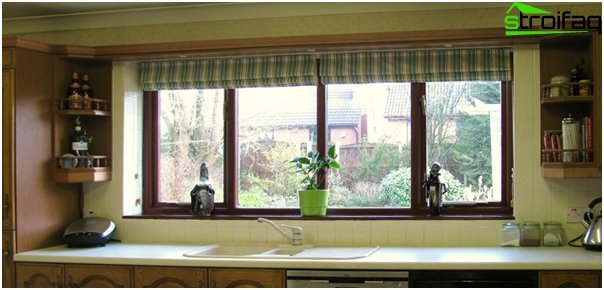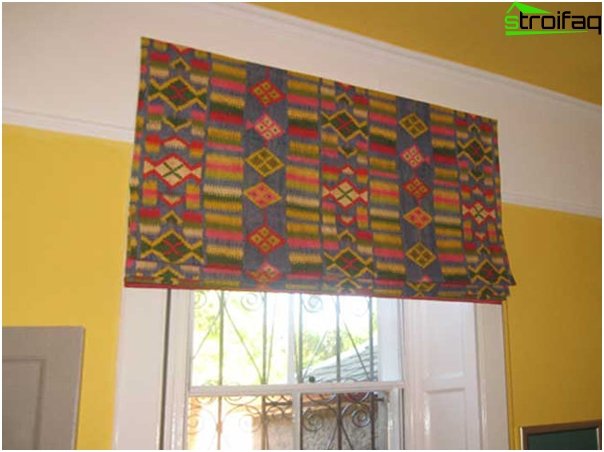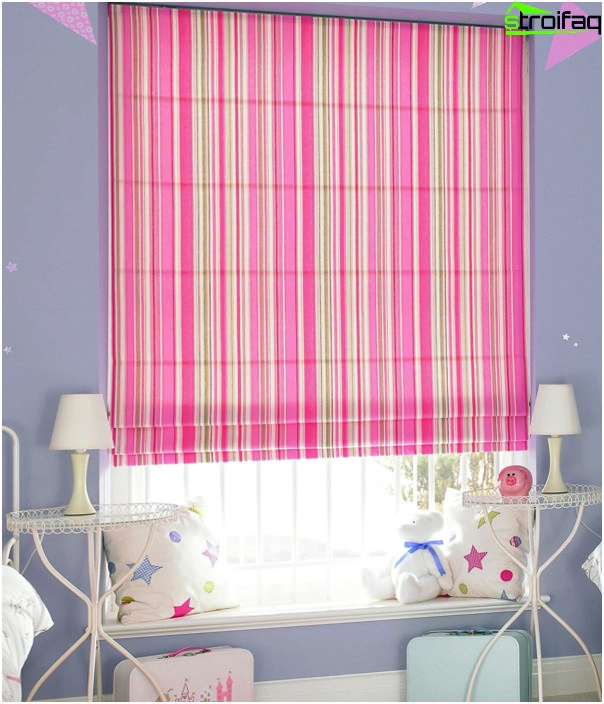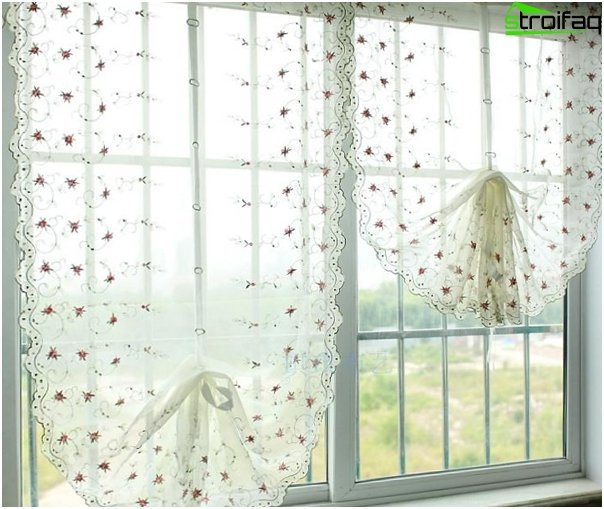 Materials for the manufacture
The field of how you decided on the type of Roman curtains, you need to pay special attention to the fabric. And the question here is not even in the figure, which will be most successfully combined with your non-woven wallpaper, but in the material itself, because different fabrics have different densities and different light transmission.
Density of curtains depending on the type of fabric
| | |
| --- | --- |
| Linen | 190-270 g / m² |
| Cotton | 140-230 g / m² |
| Synthetics | 110-360 g / m² |
| Blended fabric | 120-390 g / m² |
Linen Roman Curtains
Linen fabrics have been known for their quality since time immemorial. We give only the most important advantages of linen fabrics:
Environmental friendliness
Strength
Keep fit
Smooth
Easy to care
Antistatic
Do not sit down during washing
Of course, the very first thing that catches your eye is their naturalness. Therefore, most often linen curtains are used in such styles as country, Provence, Mediterranean, classic. In the manufacture of linen curtains, printed patterns are not used. As a rule, the aesthetics of such curtains is their texture.
Due to its density, linen curtains have medium light transmission, therefore, such curtains are good to use in the living room or in the kitchen.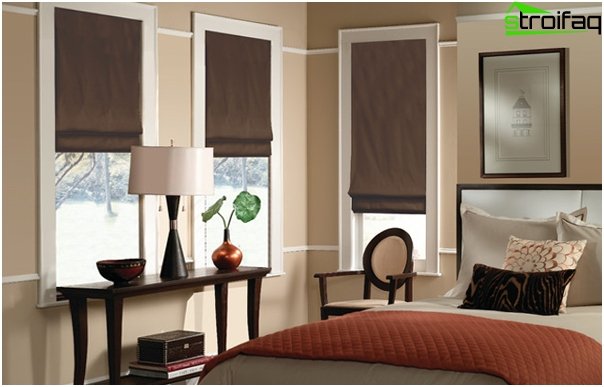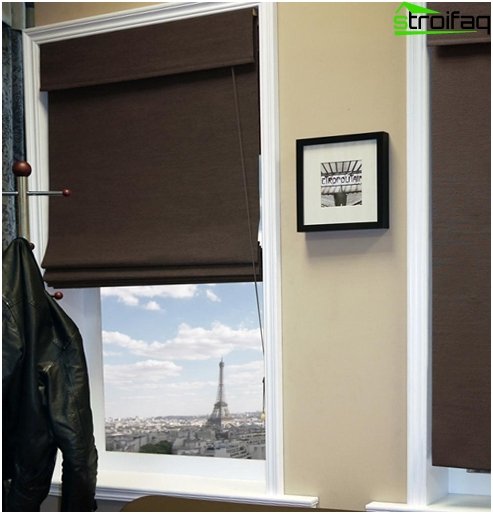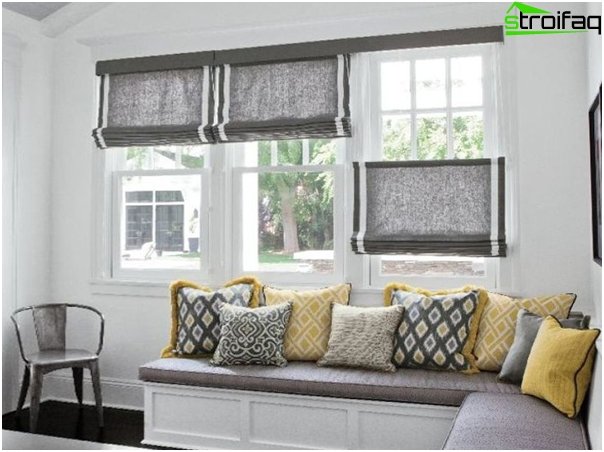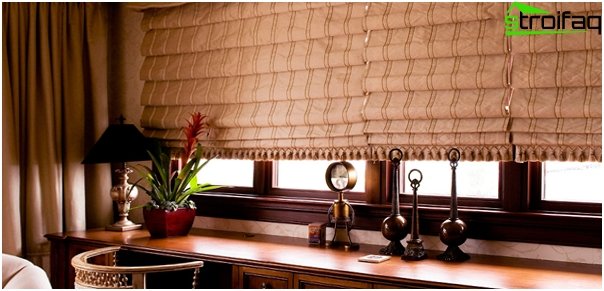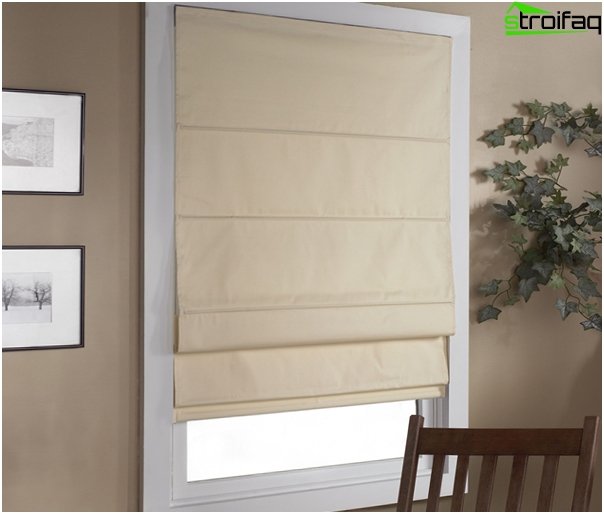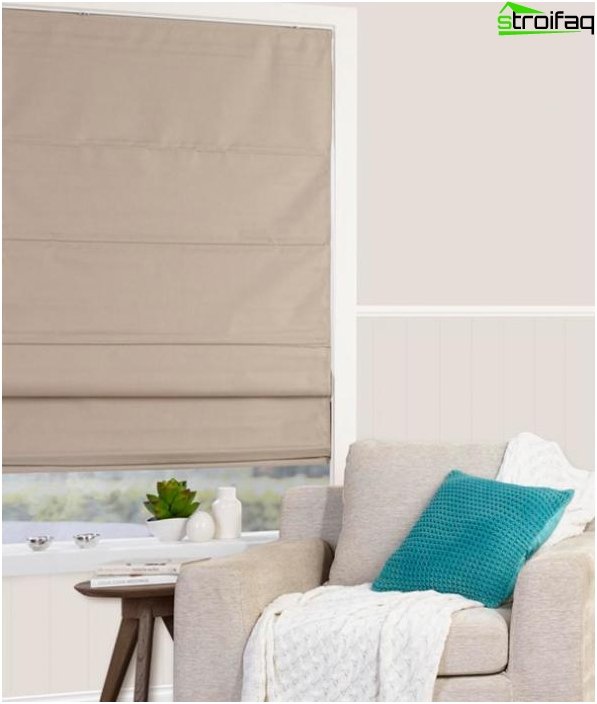 Cotton Roman Curtains
Cotton is another material demanded by its environmental friendliness for the production of textile products. Among designers, this fabric is popular due to the fact that it is ideal for printing printed patterns. Among the advantages of cotton Roman curtains are:
Bright saturated colors
Wear resistance and durability
Softness
Resistance to thermal and chemical influences.
However, there are disadvantages:
Easy to crumple
Seats a little while washing
May turn yellow under constant exposure to sunlight
Such fabrics will be appropriate for the manufacture of curtains for the kitchen and children's.
Read about the design of the children's room for girls!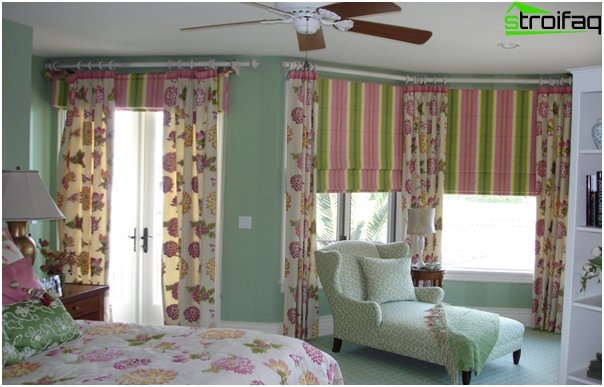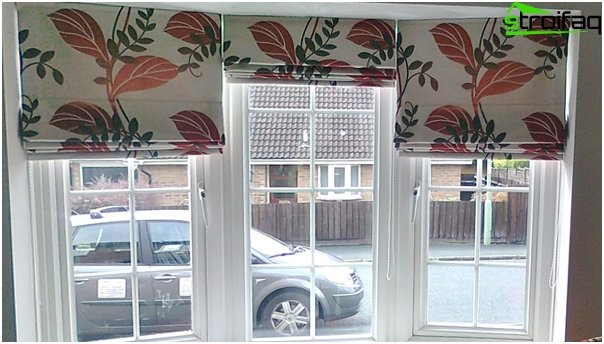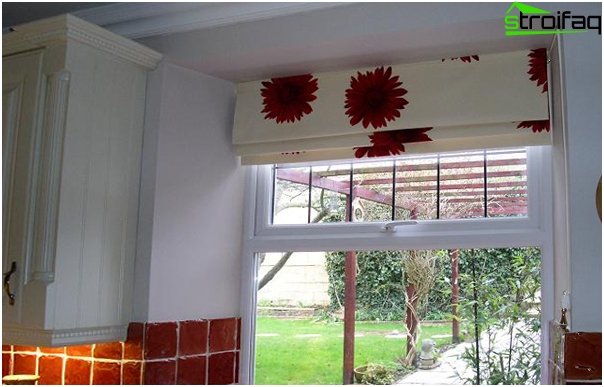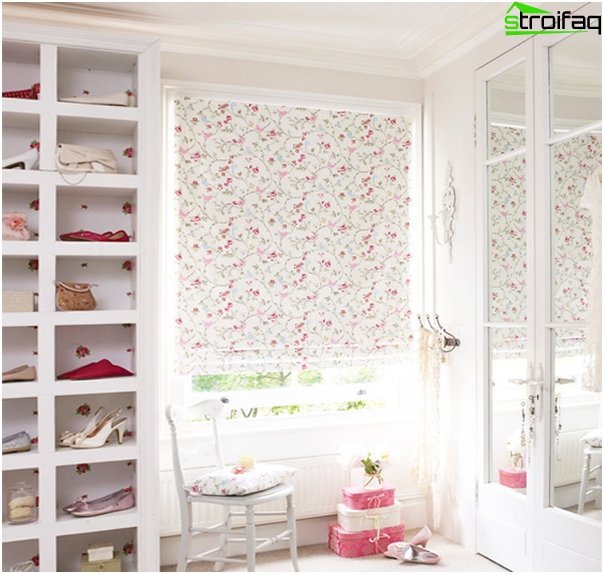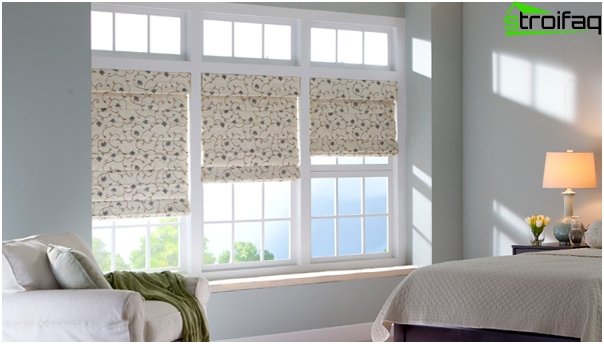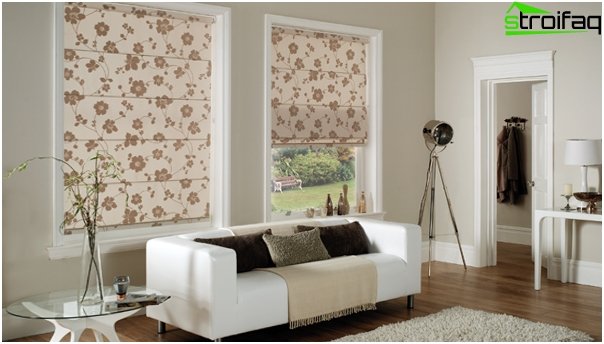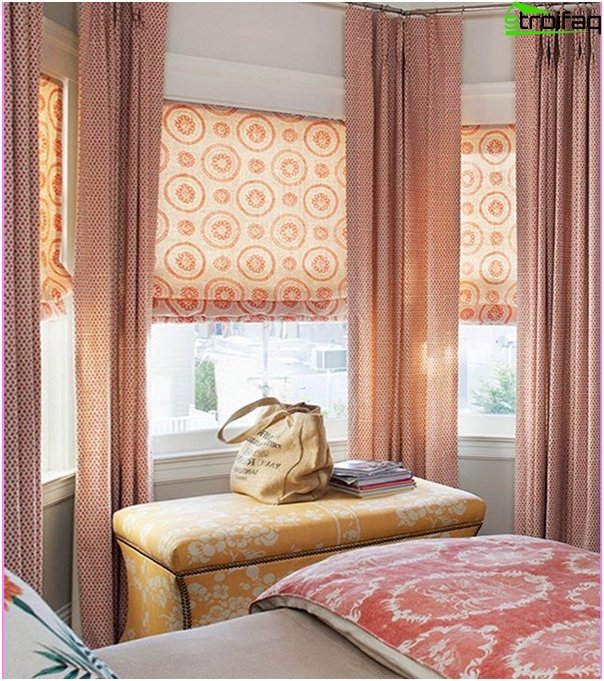 Synthetic roman curtains
Curtains made of synthetic fabric are made of polymer fibers that do not exist in nature, so they can have the most incredible properties that are not characteristic of natural fabrics. For example:
Do not crumple
Repel dust, bacteria and microorganisms
Easy to erase
Very light
But remember that under the influence of temperature (for example, from a radiator or a battery), such a curtain may be deformed!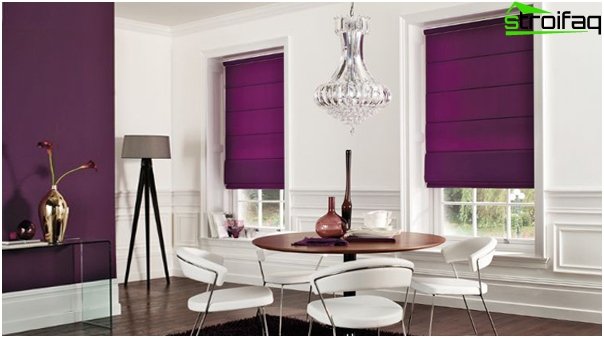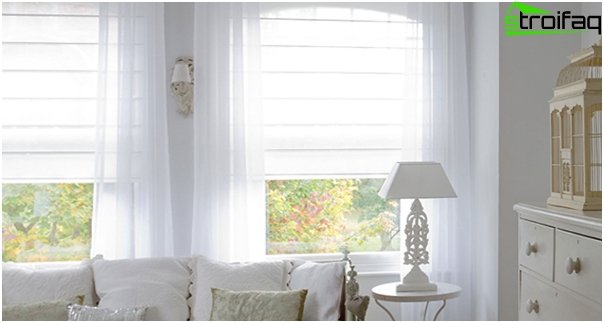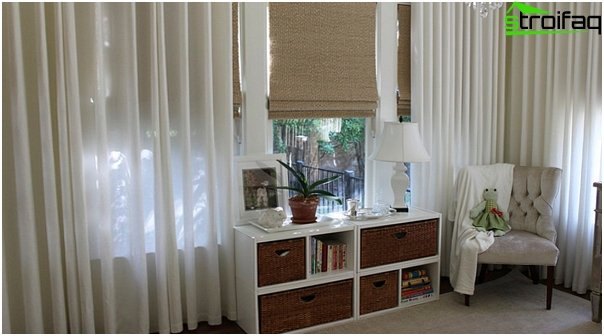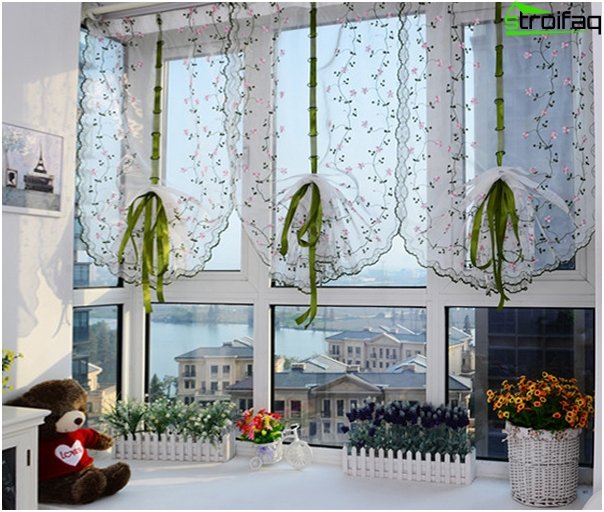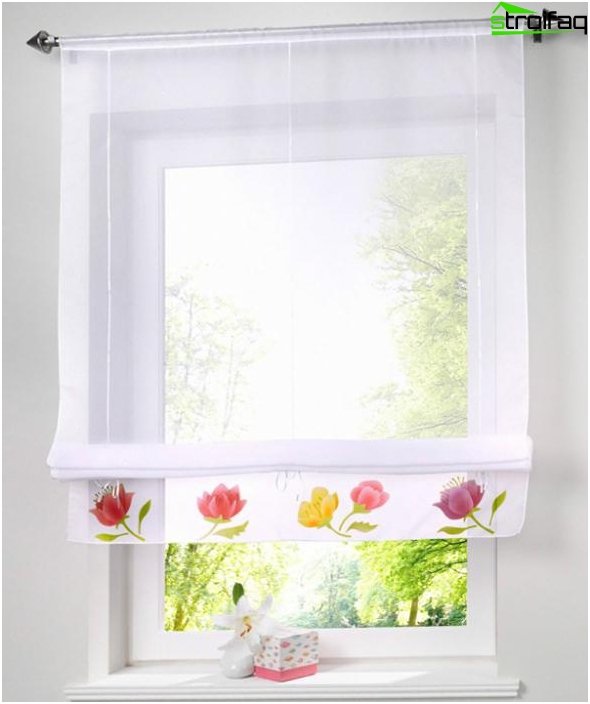 Blended Roman Curtains
Blended fabric is a fabric that is made from fibers of different properties. In one fabric mixed fabric can be used natural fibers (for example, cotton, silk), artificial or synthetic. The variety of such combinations gives rise to a wide selection of fabrics, from the lightest and almost transparent to heavy and opaque.
Light fabrics can be used in the kitchen, while dense mixed curtains are best used in the bedroom and the nursery (especially if it is located on the sunny side of the house).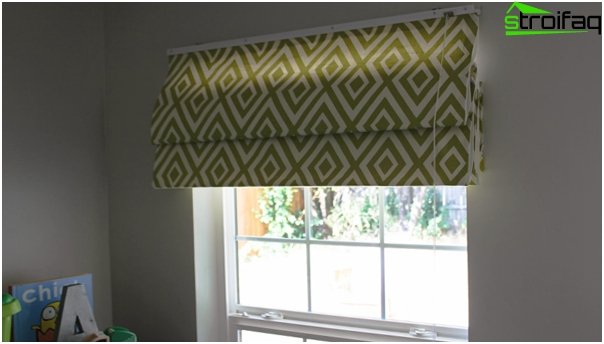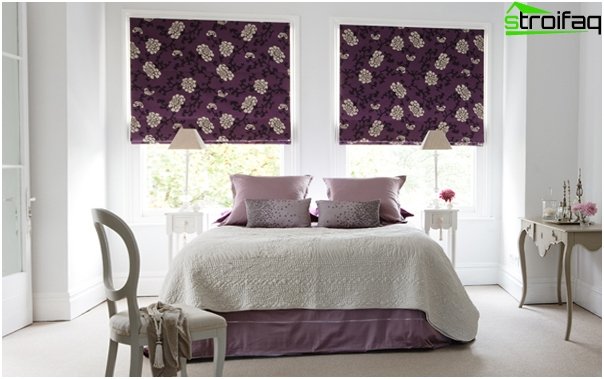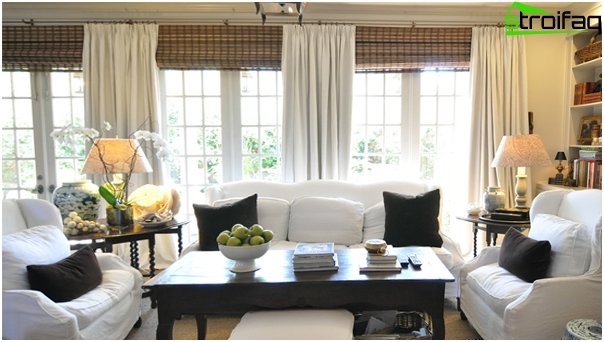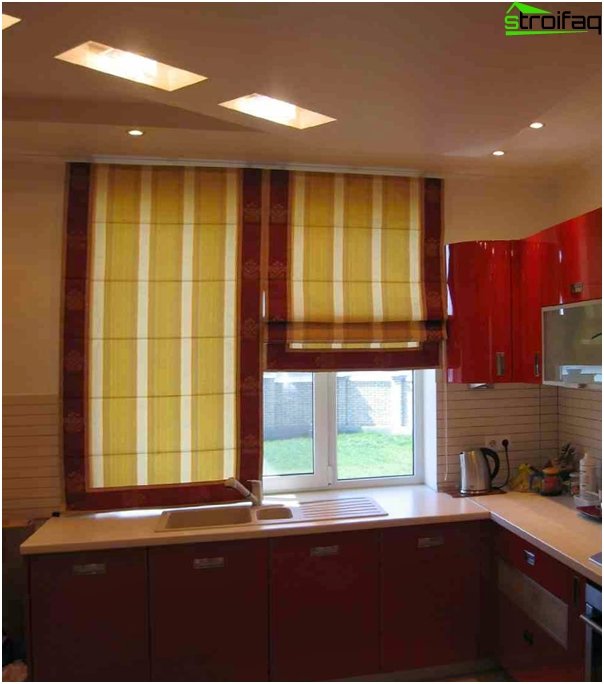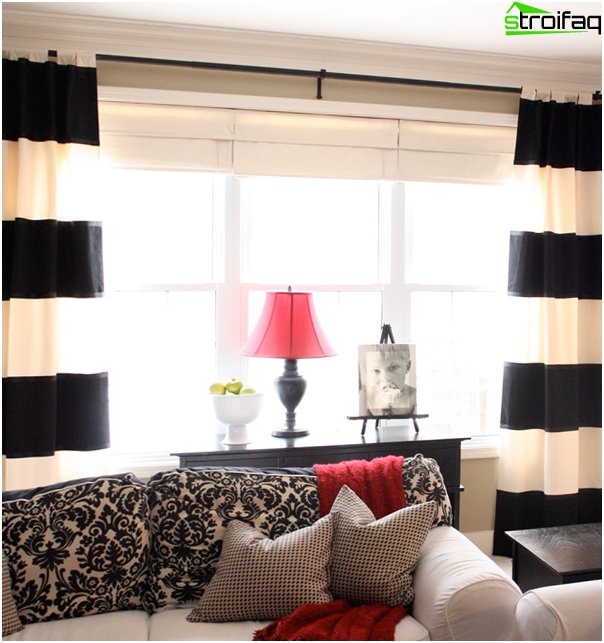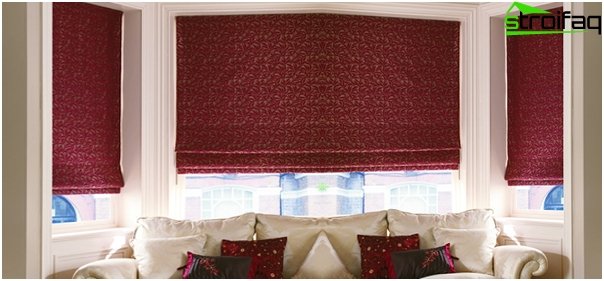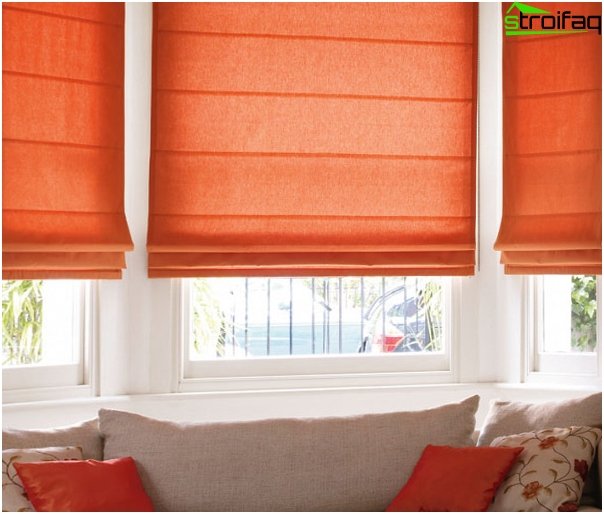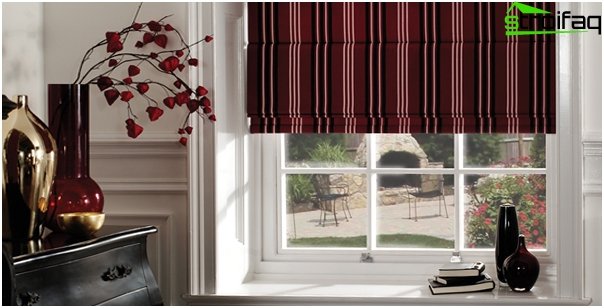 The use of Roman curtains in different styles of interior decoration
Colonial style
The colonial style of decoration of the premises as such arose in the era of the great geographical discoveries. It was at this time that Europeans were actively conquering the world and founding more and more colonies (hence the name of the style – colonial). As a result of this, the classic European style of interior decoration spread throughout the world, but began to acquire exotic features and local flavor. Since the main directions of research and geographical discoveries were aimed at the southern and eastern lands, the colonial style combines European and Middle Eastern or African features.
The colonial style is characterized by soft, pastel neutral colors. It is permissible to use curtains for decorating a room in a colonial style only from natural fabrics of the most natural shades, however, you can dilute the monotony with some exotic pattern, ornament or print.
Colonial style is not tied to a specific territory (such as Provence), however, for a harmonious and seasoned style, it is better to choose one theme and adhere strictly to it to avoid absurdity and bad taste.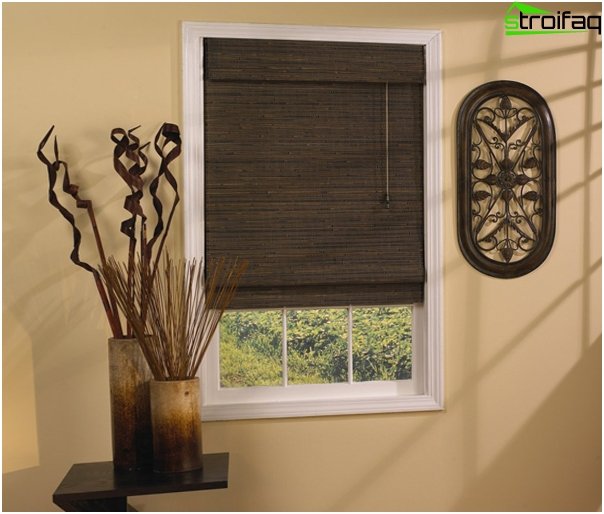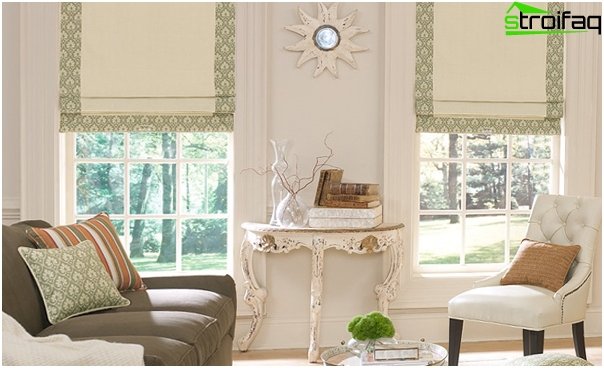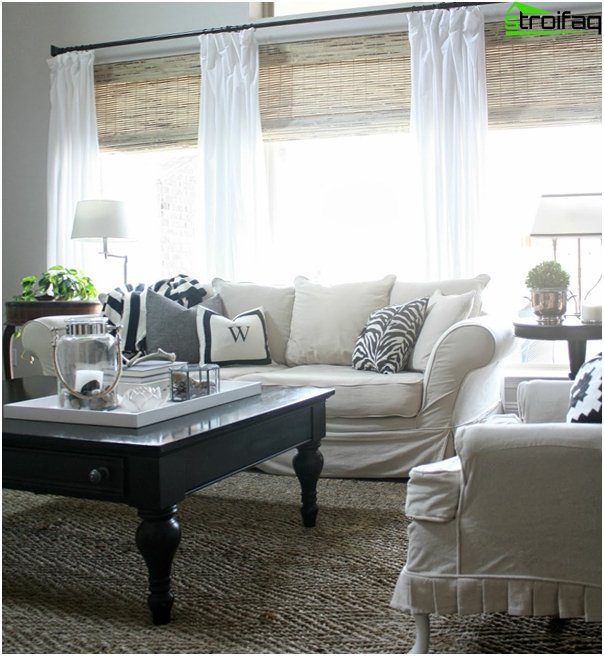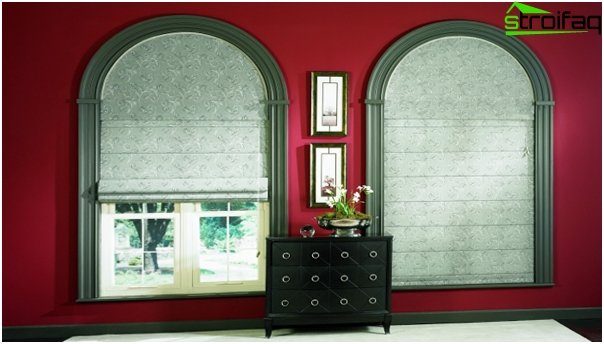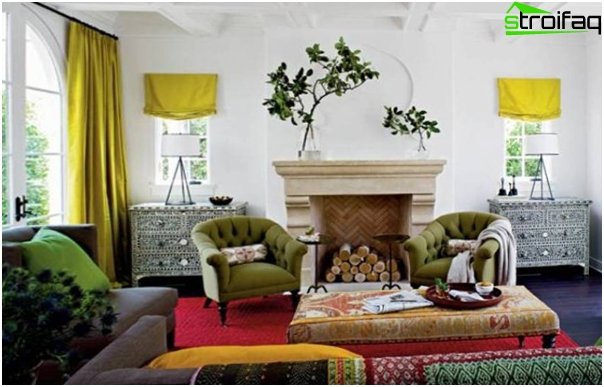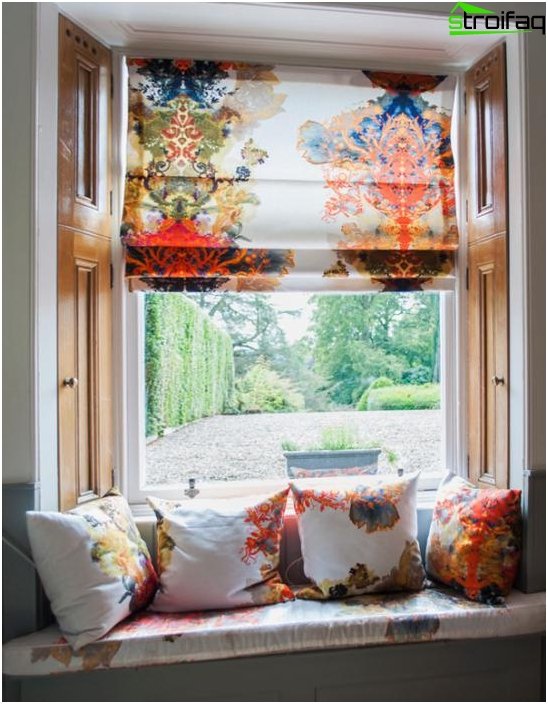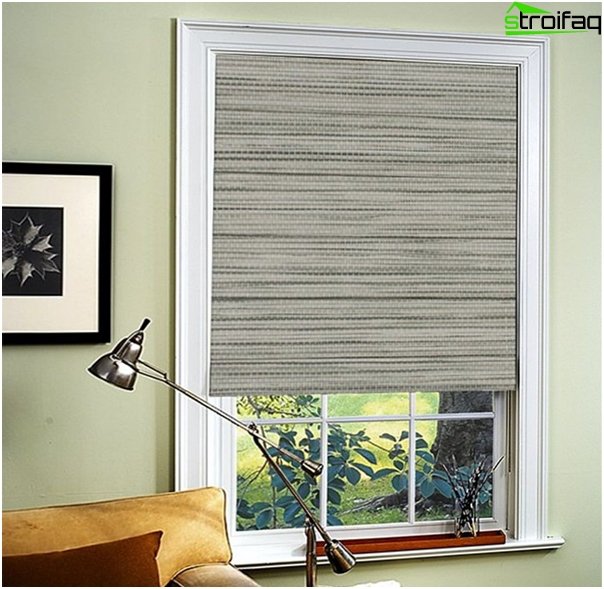 Sea style
It is difficult to imagine a style in which Roman curtains would look more appropriate than in the sea. And this is not surprising, because the technology for manufacturing roller blinds was borrowed specifically from sailors who, using transverse cords, assembled and straightened sails.
In the marine style, light curtains of all shades of white, pale blue or blue will be appropriate. It is better to refrain from bright and catchy drawings, especially floral motifs. On the contrary, images of shells, gulls and sailboats, stripes, but they should not be flashy and provocative colors, will be appropriate. Bright cascading Roman curtains will look great.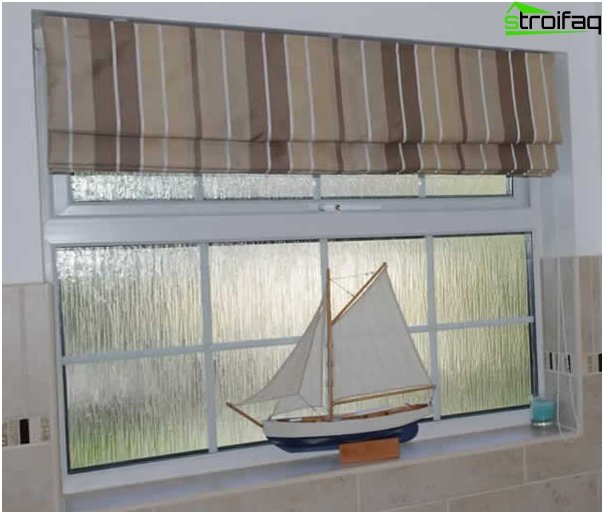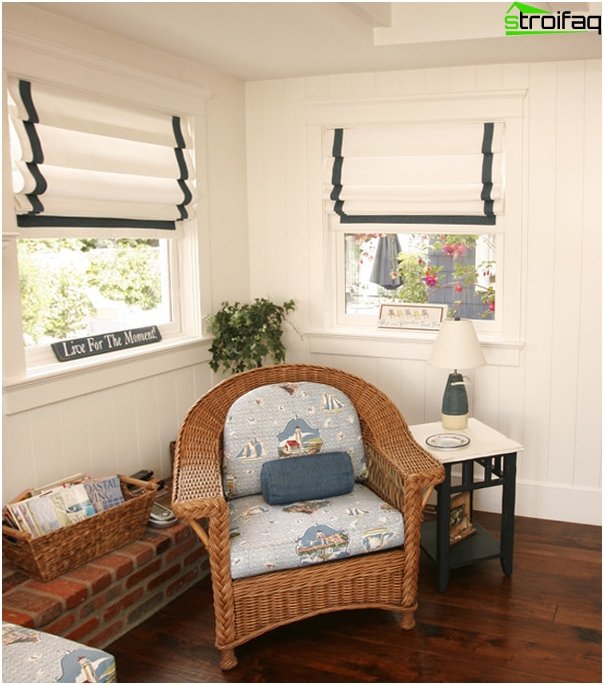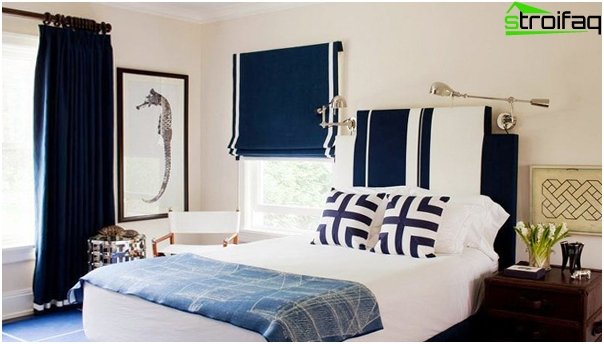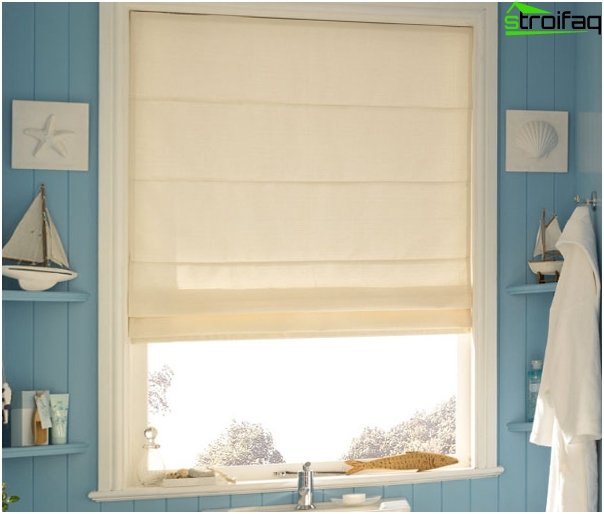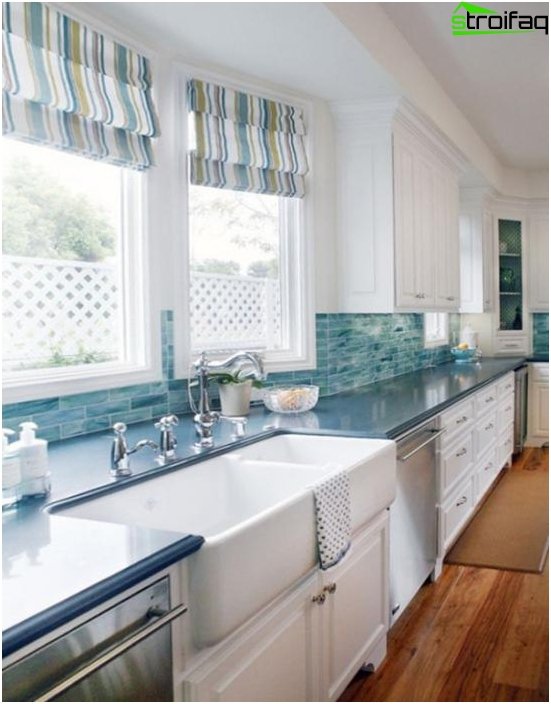 Retro style
The retro style is perhaps one of the most interesting and unusual styles of interior design, since you can find real things from the era: vintage figurines and caskets, antique furniture (instead of ultra-modern furniture from Ikea), antique mirrors. However, textile products rarely retain their original appearance, so it's unlikely that you will be able to hang grandmother's curtains on plastic windows.
If you are going to buy Roman curtains for a room in a retro style, carefully study what colors of fabrics were in demand in the decade by which you stylize your interior. It can be stripes, cages or floral prints..
Retro is a very refined and sophisticated style, so rough fabrics to create curtains will not work. As it will not be appropriate to use flashy neon colors.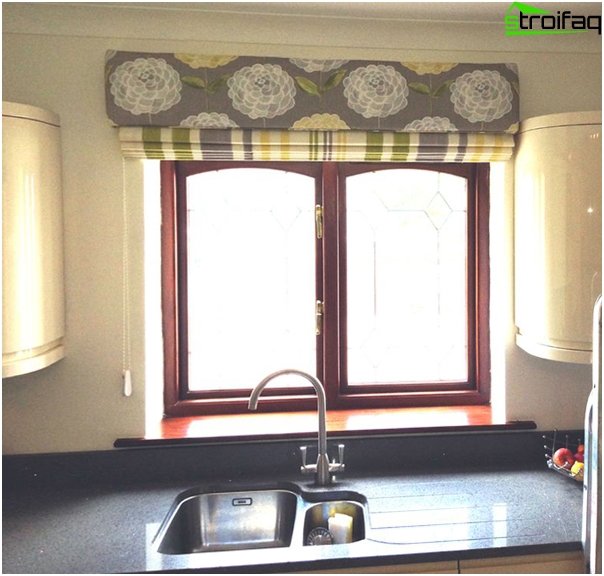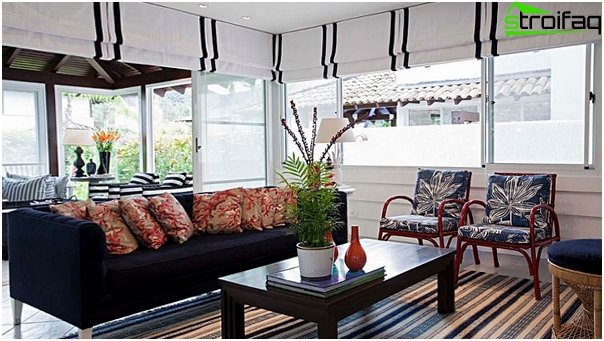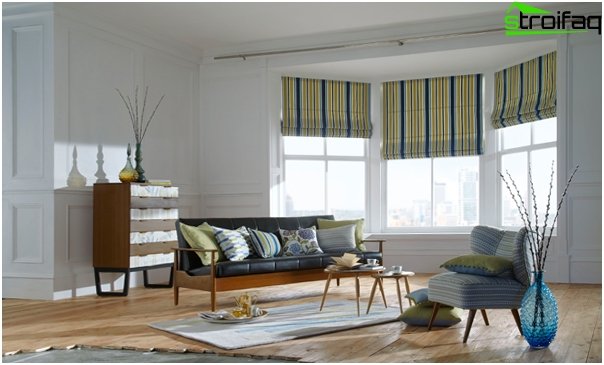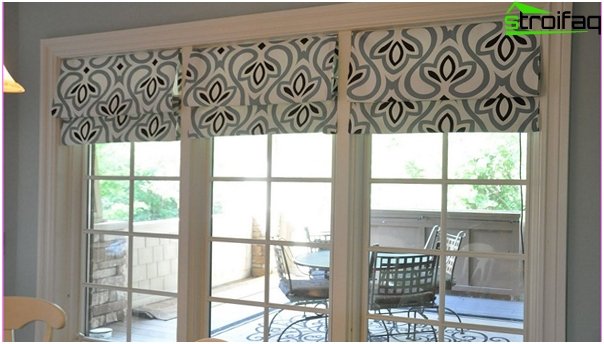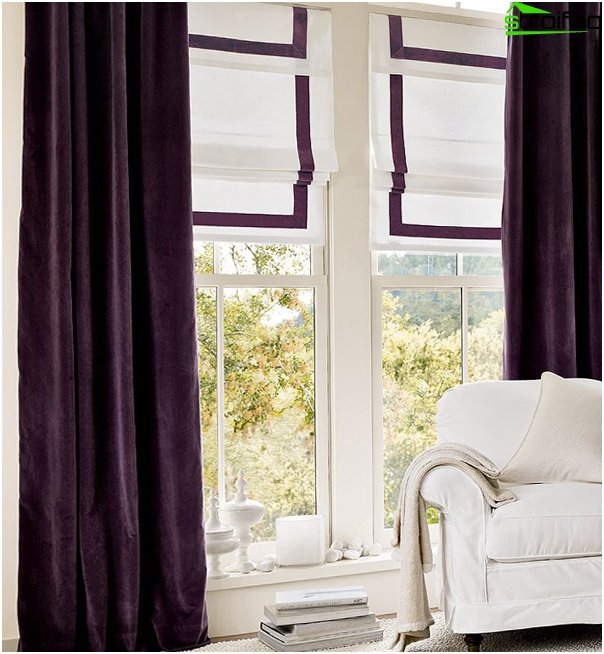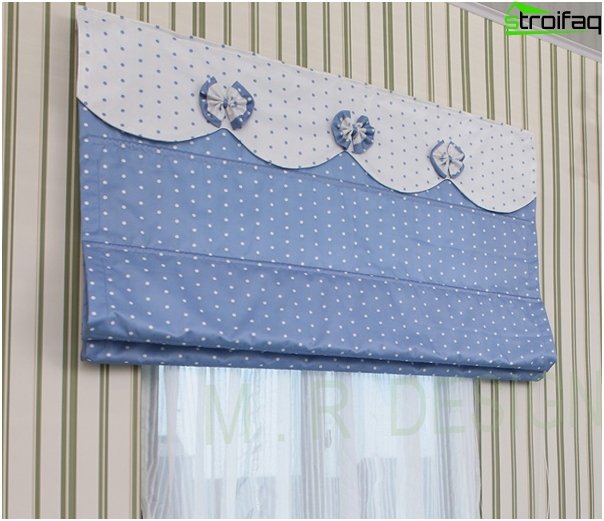 Minimalism
Despite the fact that there are very few textile products used to decorate a room in the minimalist style, Roman curtains of the classical type will ideally fit into this style, because they are deprived of unnecessary details, quilling, frills and draperies. Plain or plain striped fabric is appropriate..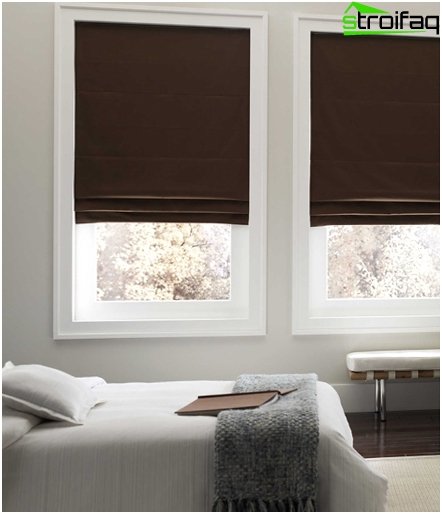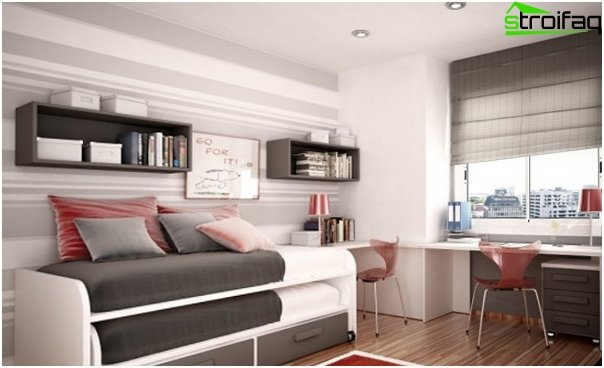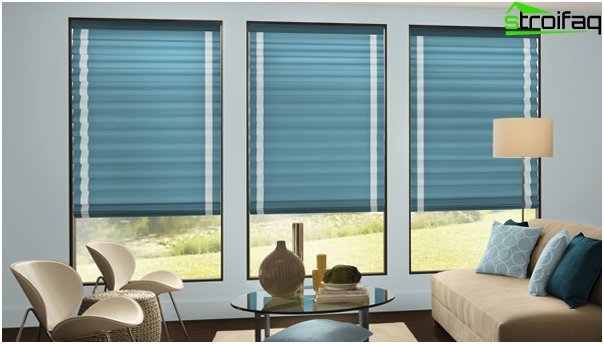 Roman curtains in the interior of different rooms
For the living room
Roman curtains for the living room can be used both as an independent element of decor, and in combination with traditional curtains (in this case, the curtains will serve as blinds).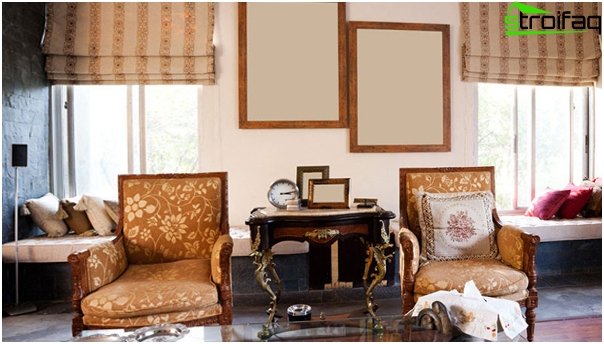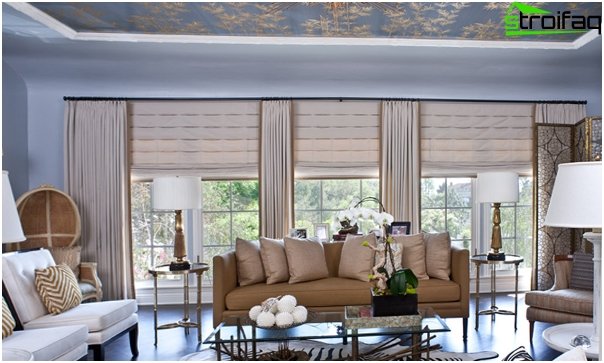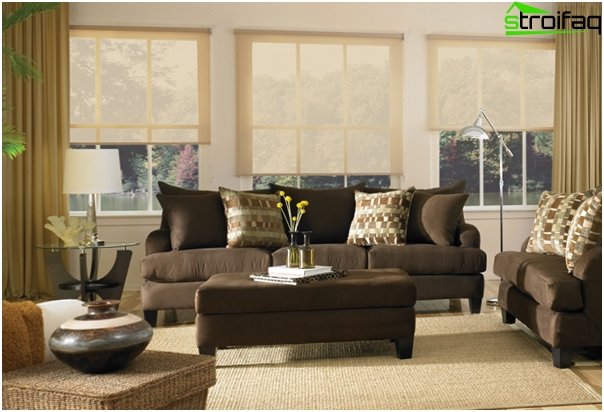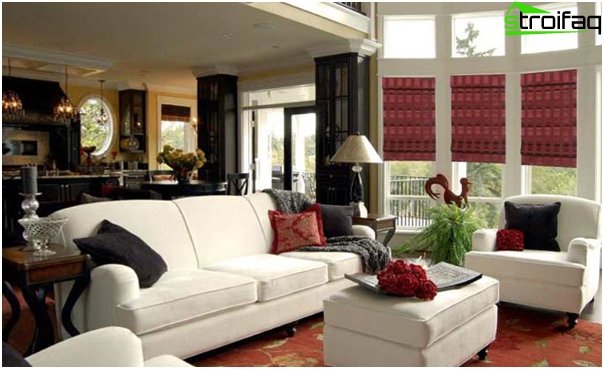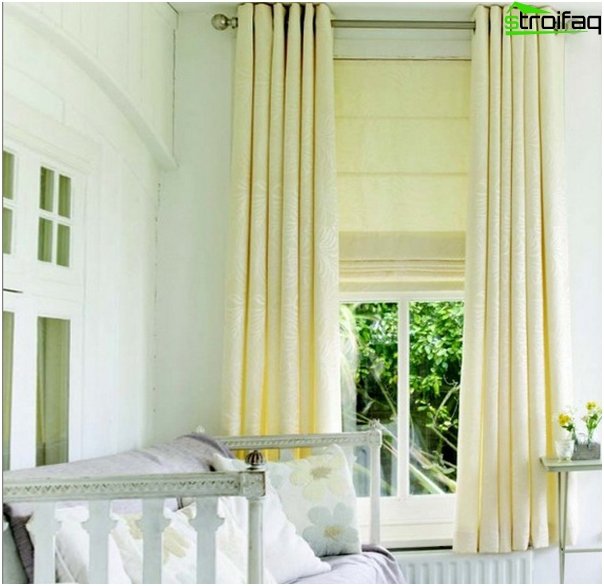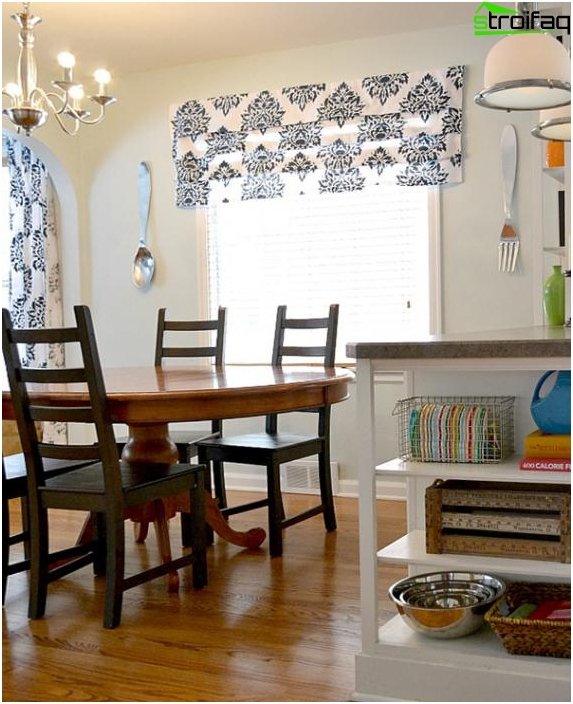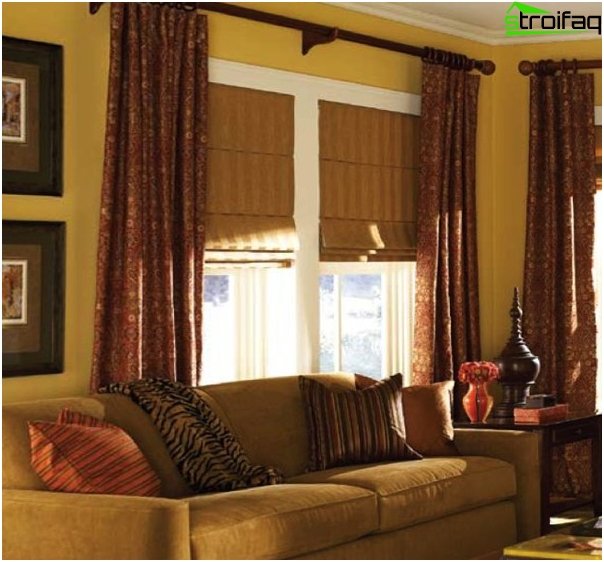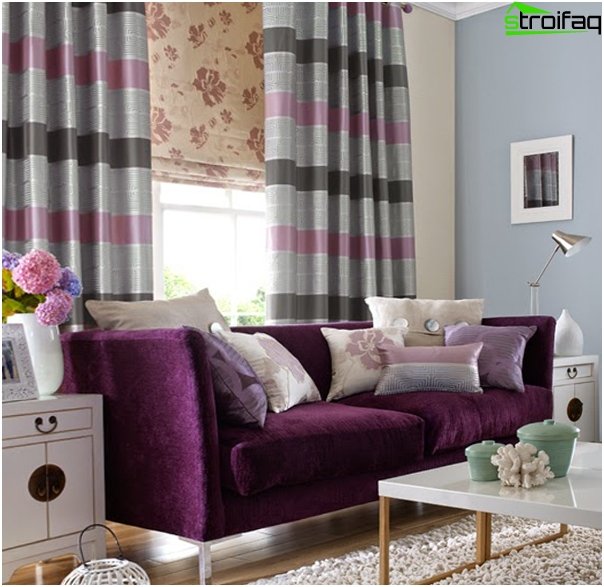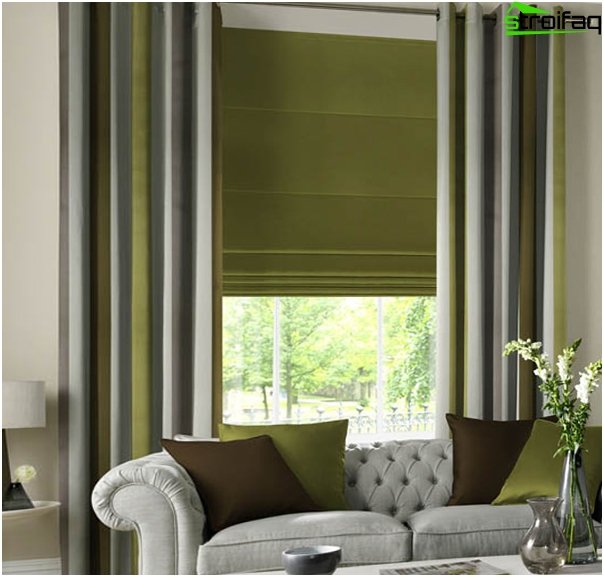 For children
For a nursery, it is better to use a Roman curtain of bright colors, but it should be very dense so that nothing could disturb the baby's sleep (both day and night). Convenient to use in children's synthetic fabrics.
Be sure to read about how to equip a nursery for two children!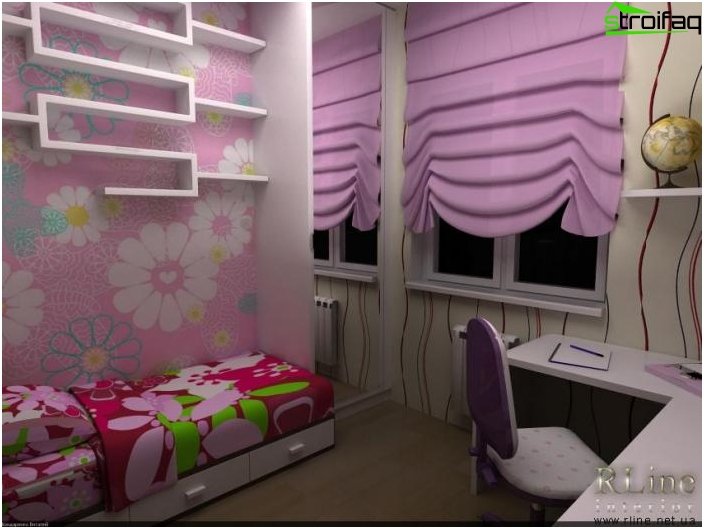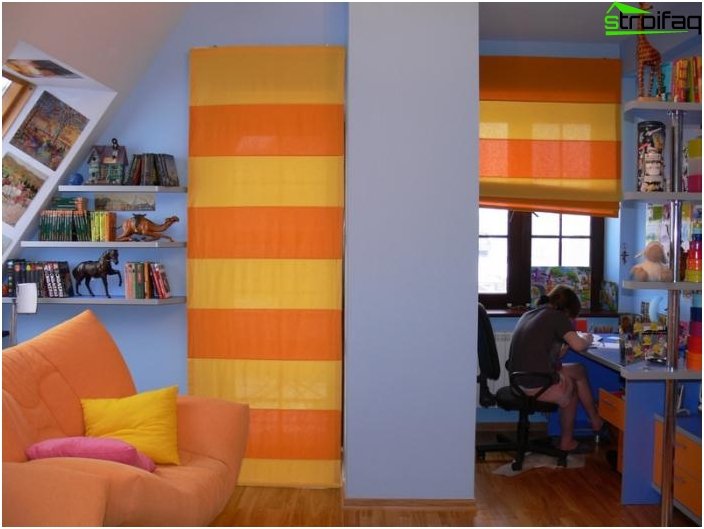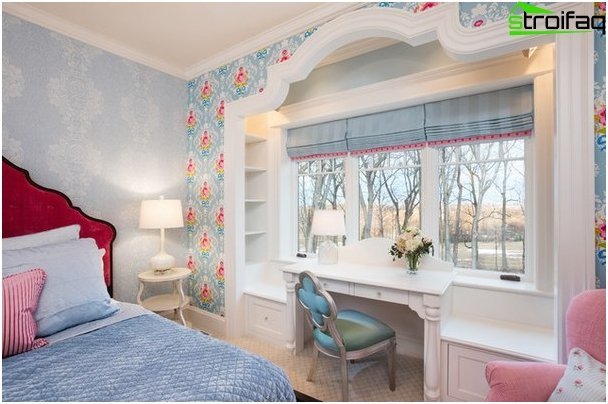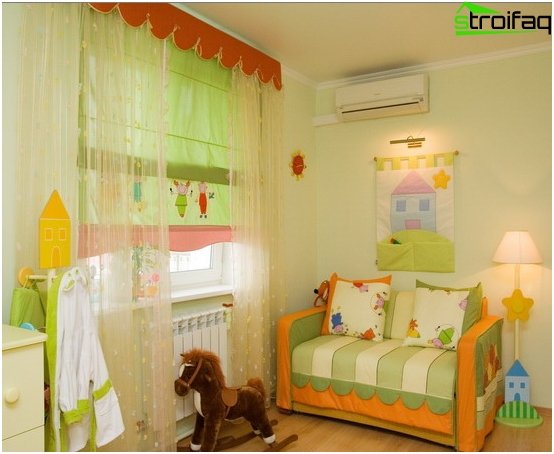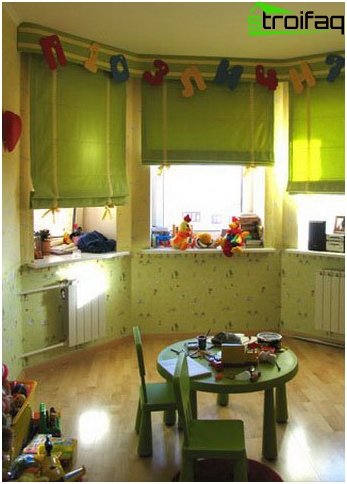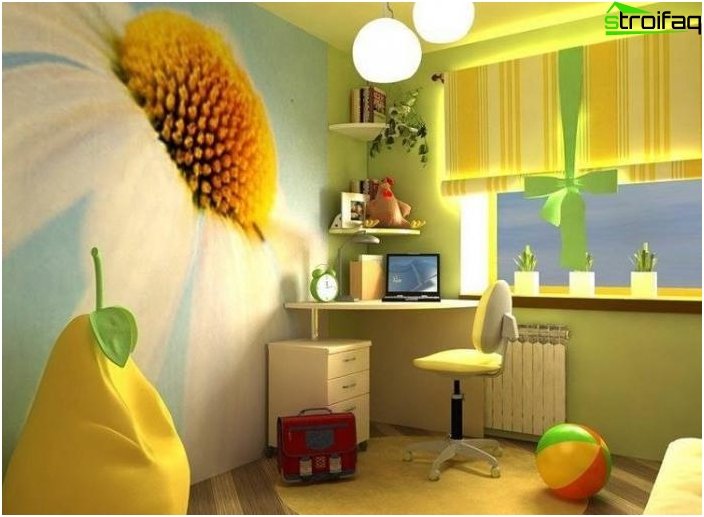 For the bedroom
As well as for the nursery, the curtains in the bedroom should be tight. This will help maintain a good sleep and create all the conditions for relaxation after a hard day's work..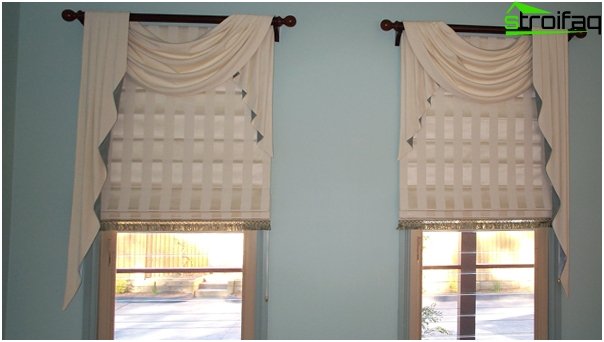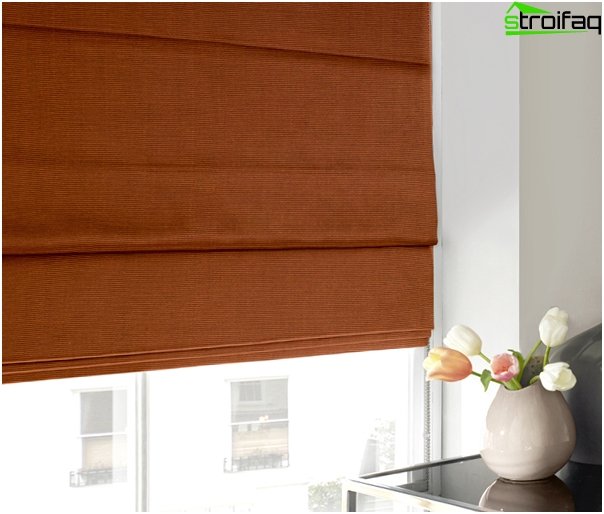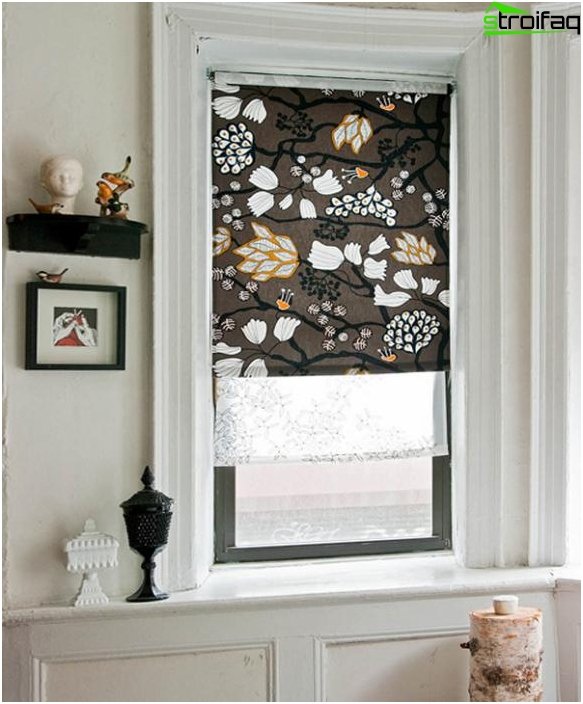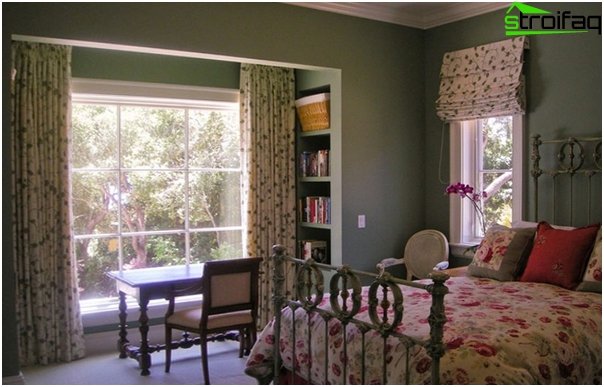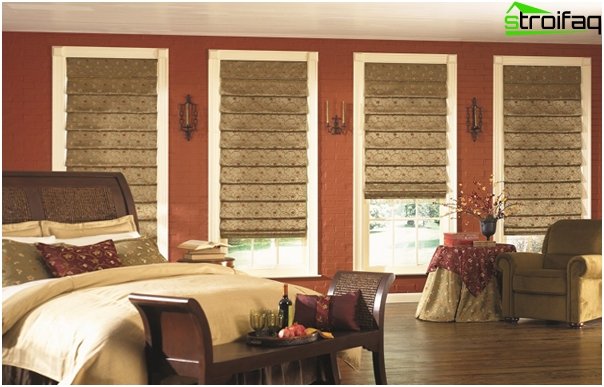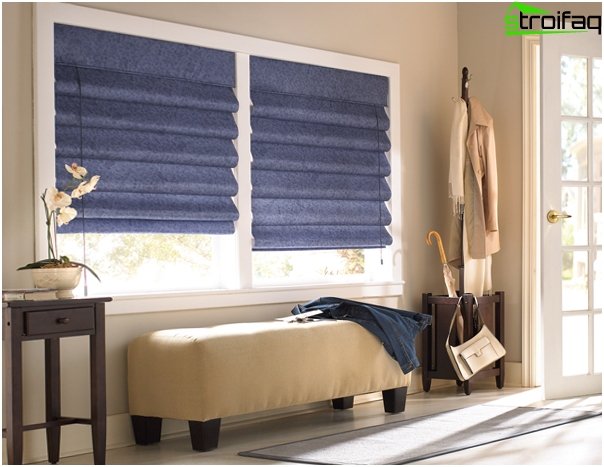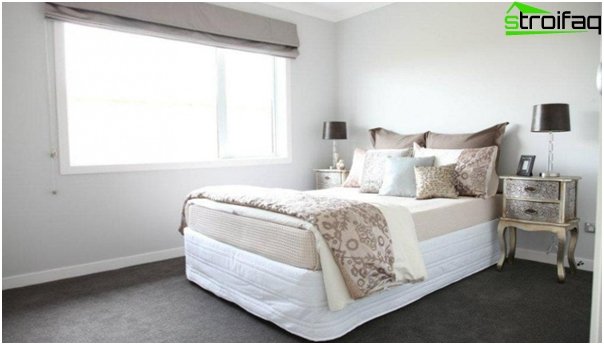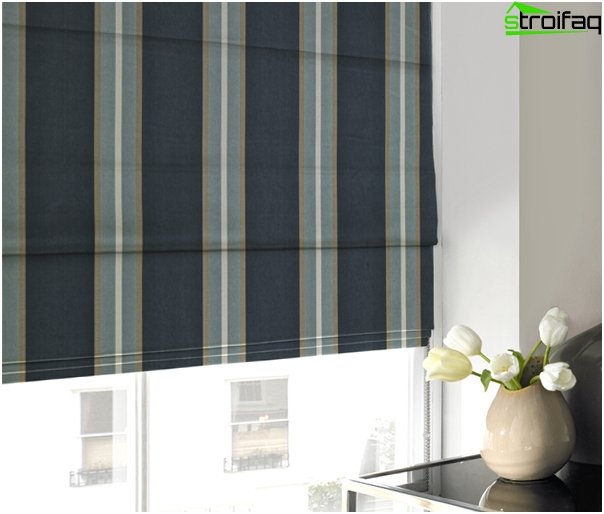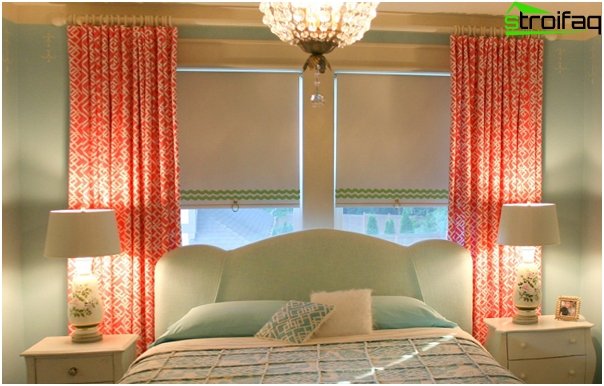 For kitchen
In the summer, on the south side, especially during cooking, it will be unrealistically hot in the kitchen, therefore, in this case curtains better to use dense. In all other cases, you can limit yourself to light and weightless curtains.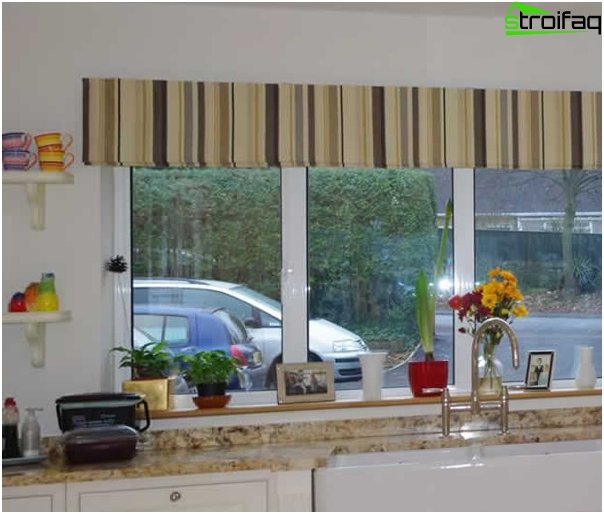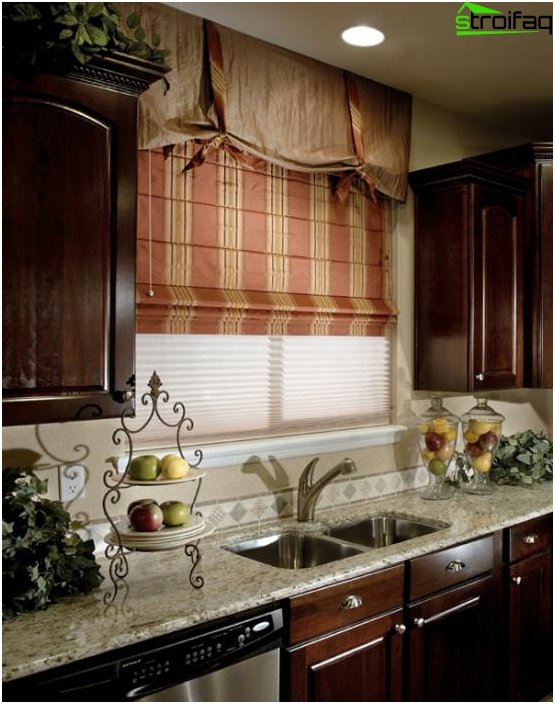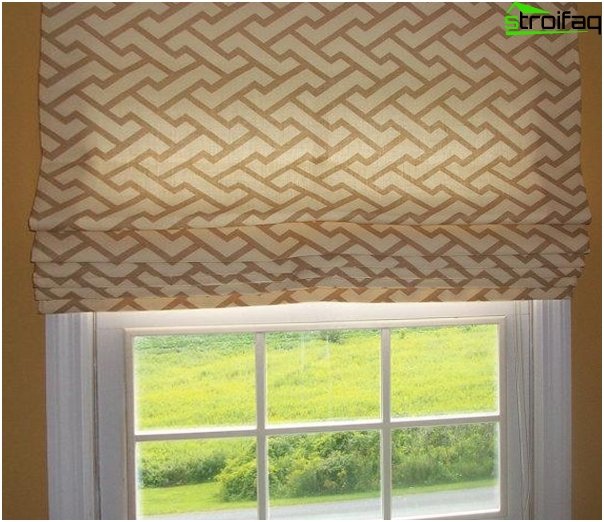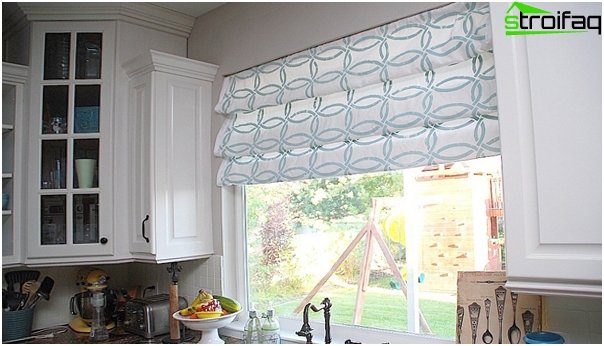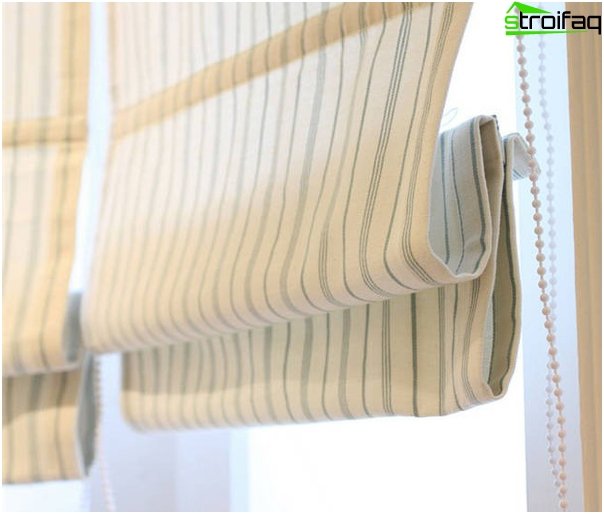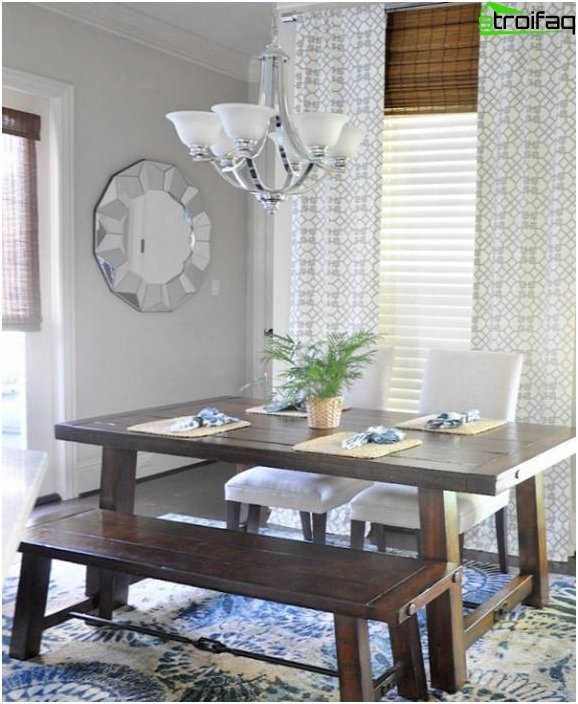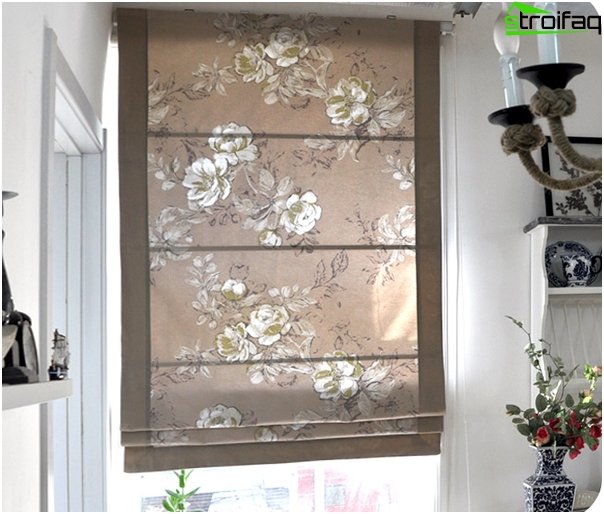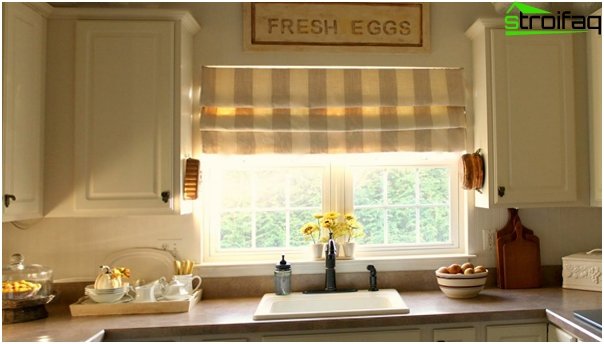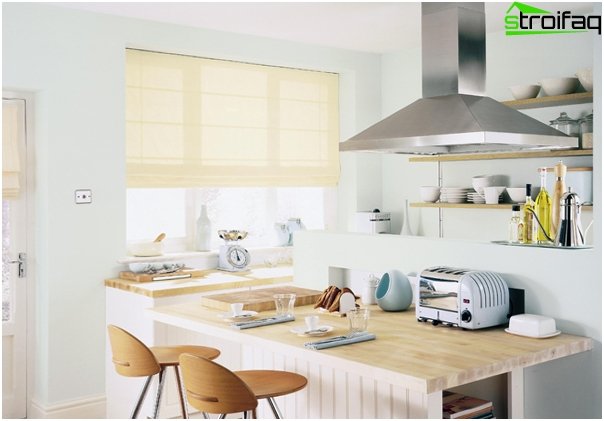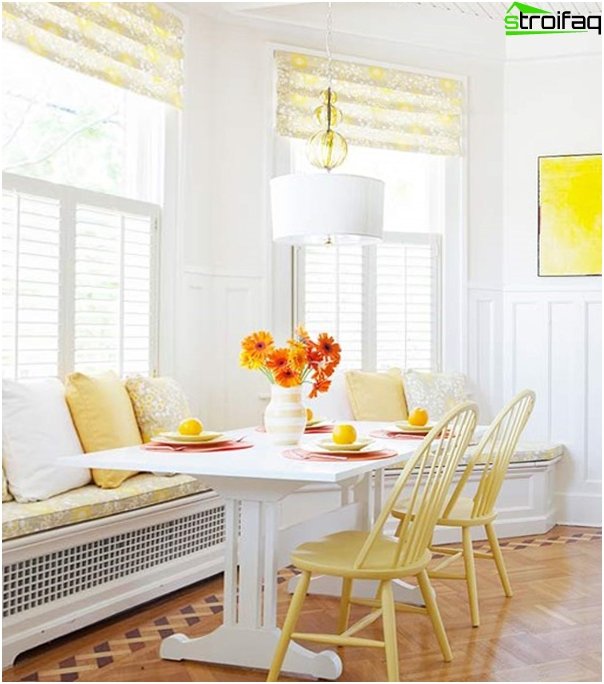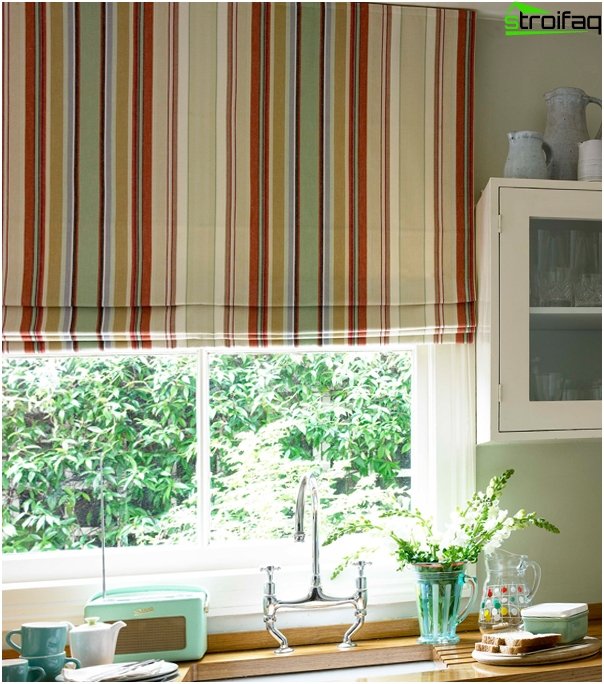 How to make roman curtains yourself
Do it yourself step-by-step instructions for making a Roman curtain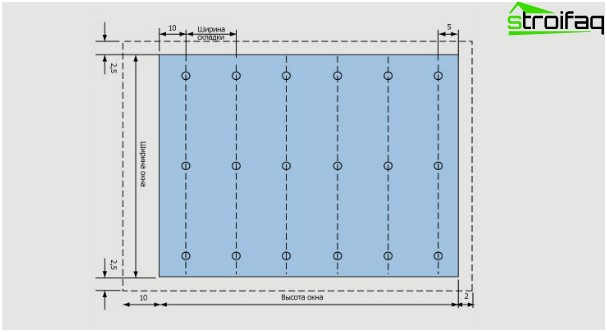 Calculate fabric consumption: window opening size + 15-20 cm in height + 5 cm on the sides.
Decide on the choice of fabric: dense, transparent, light, heavy, etc..
On the back of the fabric, at the same distance from each other, mark the placement of the rods and rings for the cord.
At the top and bottom of the curtains, make a Velcro upholstery so that it is worn on the cornice (top) and on the weighting bar (bottom). Then you can easily remove the curtain for washing.
Take the lining fabric to the curtain on the back, sew around the marking for the rods so that a gutter is formed between the seams into which the rod can be inserted (metal or wooden slats can be bought in the Leroy Merlin online store).
Sew the rings manually, thread the cord through them (vertically). Your curtain is ready!
To hang the Roman blind without drilling, attach it to the casement.