Content
What is a kitchen set?
Assembly
Dimensions
Lines
Bottom line
middle line
Top line
Vertical lines
Kitchen items and materials
Facades
Countertop
Cabinets
Layout of the kitchen
Linear
L-shaped
U-shaped
Island
Technical equipment for the kitchen
Built-in appliances
Cooker hood
Filling drawers and cabinets
Complete kitchen in different rooms
5-6 sq.m
8-9 sq.m
12-15 sq.m
Possible styles
Minimalism
Retro
Country
Ethnicity
Kitchen set for a small kitchen
Custom made kitchen
What is a kitchen set?
Kitchen furniture It must not only be beautiful, it must be functional. If you work with an experienced designer, then you should not worry about anything: armed with your wishes and tastes, needs and preferences, he will create a kitchen furniture design that will be custom-made according to individual sizes.
But the current situation is such that not everyone can afford to use the services of a professional designer. Therefore, many take control of the situation and decide on the purchase and placement of kitchen furniture on their own..
What you need to know about kitchen sets, if you started a repair yourself?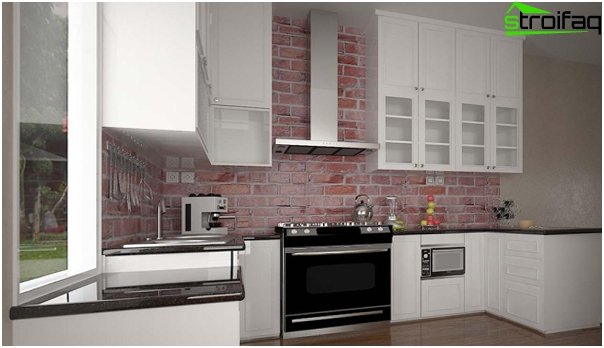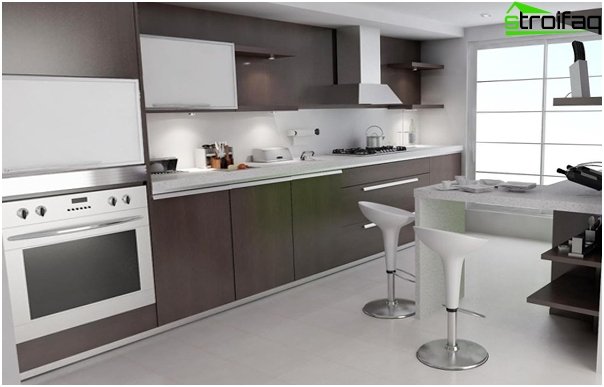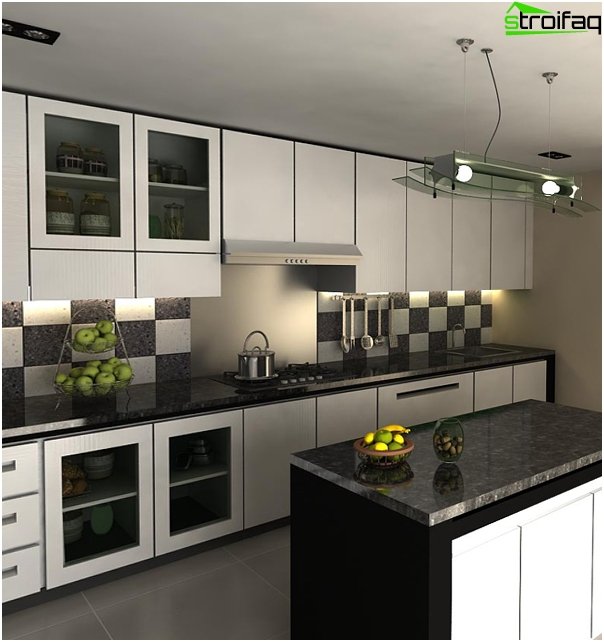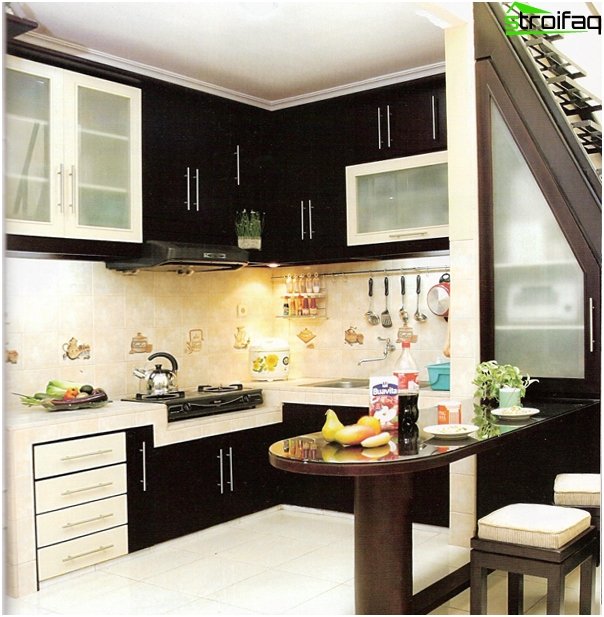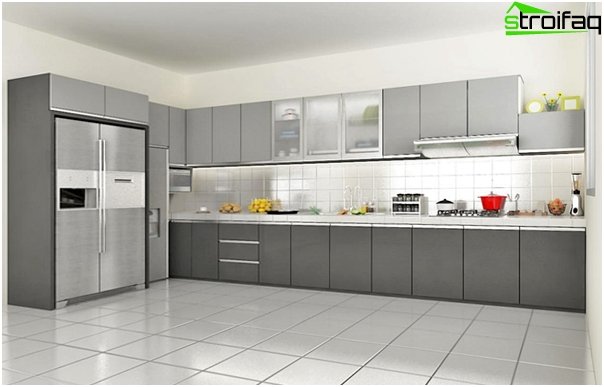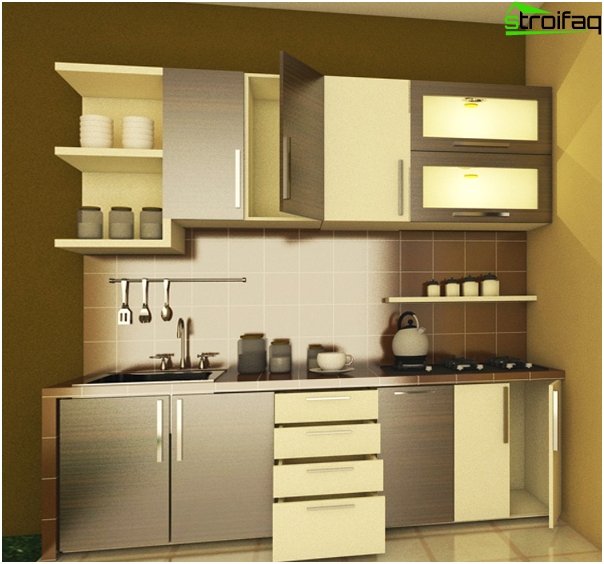 Assembly
The assembly of a kitchen set can be of three types:
The most expensive kitchen furniture, in particular Italian and German, is delivered to the buyer in any corner of the globe in a finished (i.e. assembled) form.
Medium-price kitchen furniture comes to our country disassembled, after which it is assembled and delivered to the customer in assembled form at an authorized production facility (subsidiary, representative office or franchise).
Kitchens of economy class are delivered to the customer unassembled and assembled on site..
As a rule, manufacturers relieve themselves completely of responsibility for the improper assembly of kitchen sets. Therefore, if you do not hire special workers, your claims may well be rejected…
Dimensions
In order to make a kitchen set suitable for you, kitchen furniture is not one huge and multifunctional item, but a lot of a wide variety of modules, from which you can assemble exactly what you need. For example, kitchens may be with a sink in the corner, or may be with a sink in the middle of the room. Kitchen modules suggest a solution for both the first case and the second.
The smaller the step size of the module, the more expensive the kitchen will cost.
To avoid ugly gaps between furniture and walls, the modules should fit perfectly into the size of your kitchen. If it is not possible to purchase custom-made kitchens for individual sizes, it makes sense to "try on" modules from different manufacturers, with different step sizes.
Equally important are the dimensions of the cabinets for the integrated technology..
Remember, they are purchased only after all the equipment is available! Otherwise, you will not select furniture for appliances, but vice versa (for example, choose a refrigerator, focusing on its size, not function).
Technique and cabinet width
| | |
| --- | --- |
| Standard technique | 60 cm |
| Narrow technique | 45 cm |
Lines
Despite what modules your kitchen will consist of, all kitchen sets have elements similar in functions, which are conditionally called lines.
Bottom line
The bottom line represents all the elements of the kitchen set in the lower part. As a rule, this is the storage area of ​​everything:
Bulky
Not presentable
Heavy
Not regularly used
The bottom line is also called the base. The cheapest thing is to do the bottom line with the doors opening. But this is not always convenient, especially in a small kitchen, since the distance between all pieces of furniture should be sufficient so that the doors swing open completely.
Sliding doors, like sliding wardrobes, require space on the sides of the module, which is also not very convenient in terms of space organization.
Drawers are considered the best option, which helps to cover all their contents at a glance.
middle line
It includes all work surfaces:
Cutting table
Cooking zone
Oven (more convenient if it is at eye level and not below)
Top line
To the top line in the kitchen are hanging cabinets. They are both visually and functionally smaller. Upper cabinets are conveniently placed on the level. It is recommended to store here what should always be at hand and quickly be:
Seasonings
Kitchenware
Flatware
To visually make the upper line easier, part of the cabinets can be replaced with open shelves. However, everything stored on them must be kept in perfect order.
In order not to bump into the open doors with your forehead – use vertically opening mechanisms: it will save space and nerves.
Vertical lines
An alternative to dividing the kitchen into upper and lower lines can be vertical cabinets-columns. As a rule, they are a design for the entire skyscraper of the kitchen: from the floor to the ceiling. In such cabinets it is convenient to store both household appliances and products (especially if these are "strategic" groceries). But such furniture will fit well into the interior only in a spacious room, in small kitchens it is better to refuse it.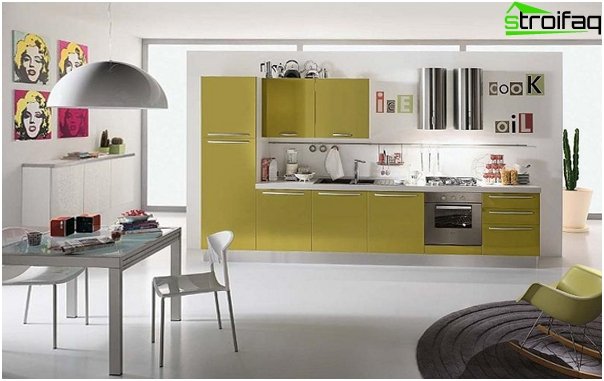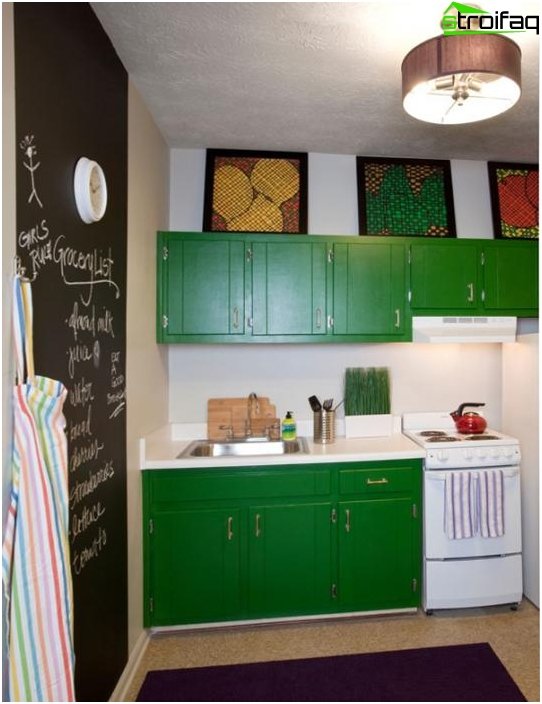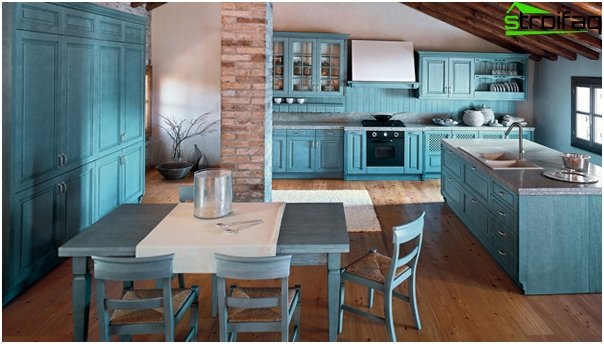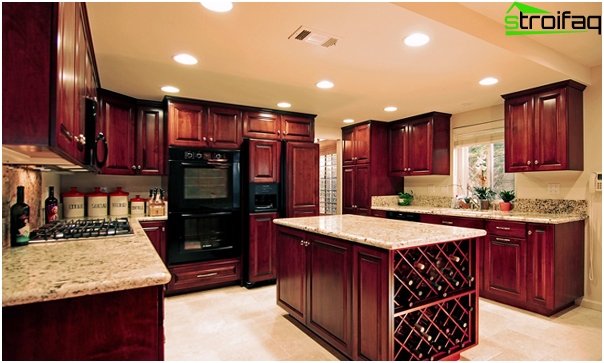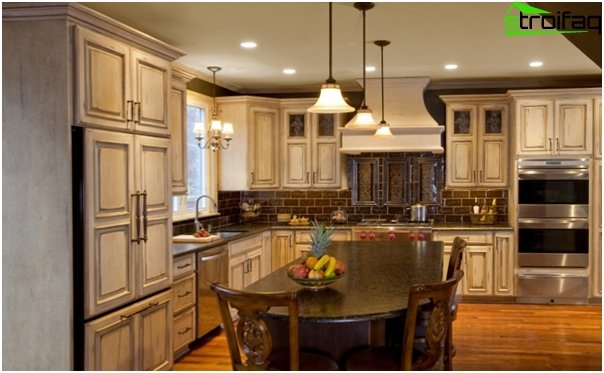 Kitchen items and materials
Facades
In a properly installed kitchen, the ends of the modules should not be visible. Therefore, by and large, no matter how they look. But what you should pay attention to is the facades. Since they are a kind of "face" of the kitchen, their part from the total cost of furniture is very significant.
The more original the facades, the more expensive they will cost you.
Facades can be made of:
Tree
Plastic
Glass
Metal
Particleboard / MDF
Glass is most often used for the top line of a kitchen set, because, thus, it becomes visually lighter.
All decorative details also come at a price. The more of them, the more expensive the kitchen set will cost you. However, this may not always be convenient from the point of view of hygiene, because the soot and ashes deposited on them will be an excellent environment for the growth of bacteria.
Smooth facades in rich colors are the perfect solution for any kitchen.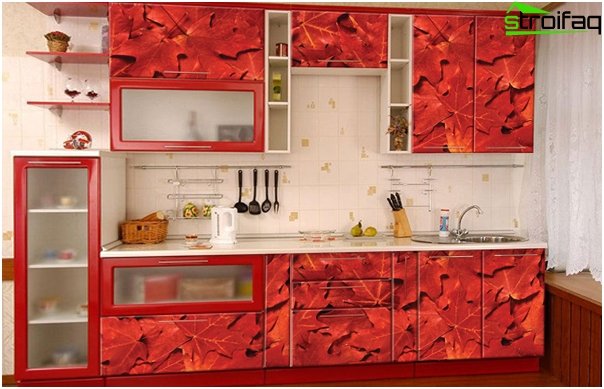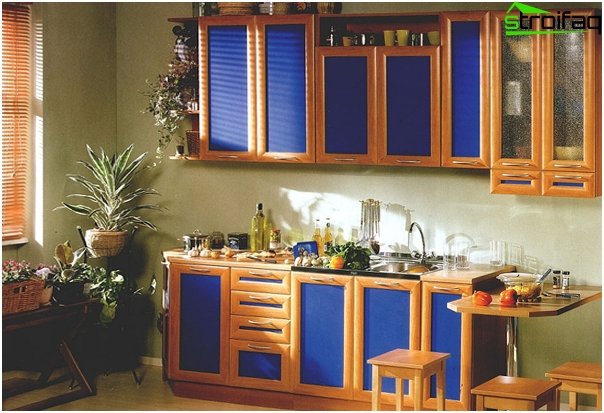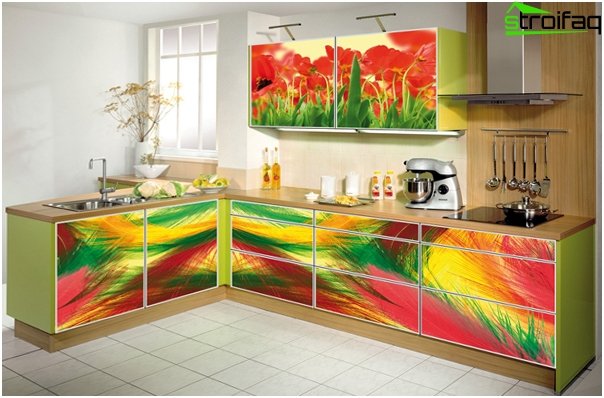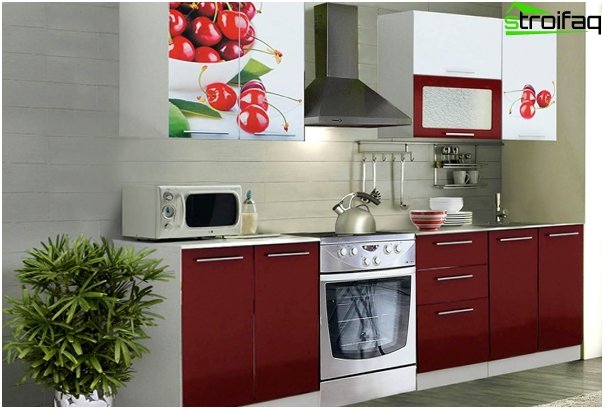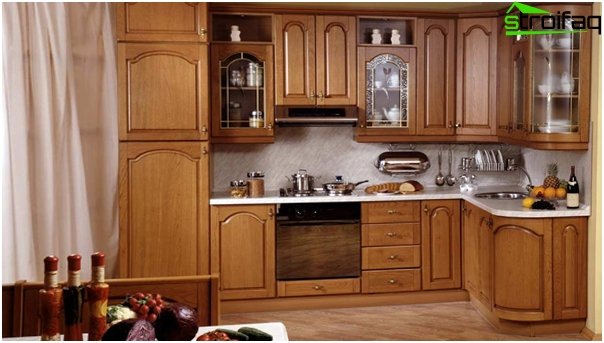 Countertop
The functionality of the countertop directly depends on what material it is made of.
Laminated chipboard is the most affordable option. However, such a countertop will last you ten years, after which it will have to be changed. Particular attention should be paid to all joints: they should be well crafted. Otherwise, water may get inside, from which the countertop may begin to rot..
Stone countertops are considered the most practical. Natural stone is quite porous and prone to accumulate water. An artificial stone countertop is more practical from this point of view, but experts do not recommend putting anything hot on it.
Professional chefs prefer stainless steel countertops. They are easy to clean, do not absorb water, their appearance does not particularly deteriorate during operation. But the aesthetics of such a countertop is conditional. It is more likely to fit into a hi-tech or minimalist kitchen than into a romantic Provencal cuisine.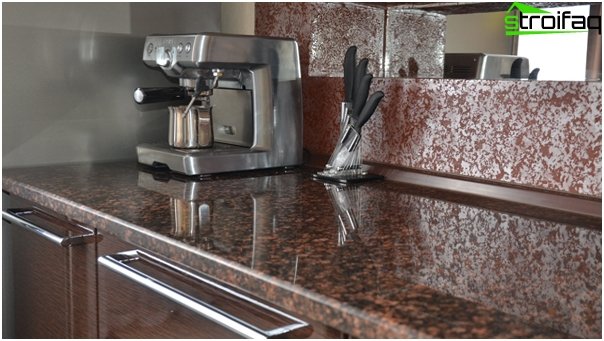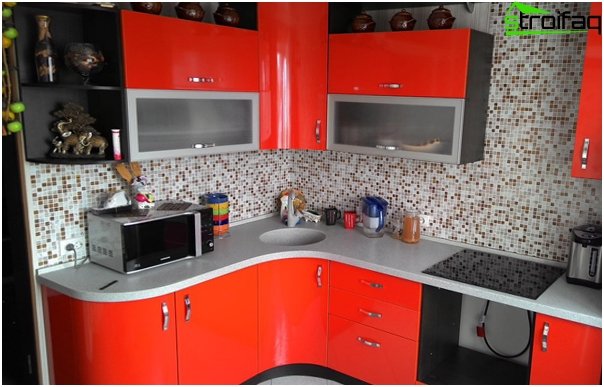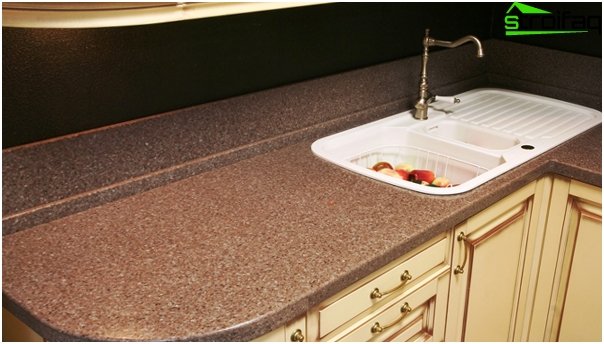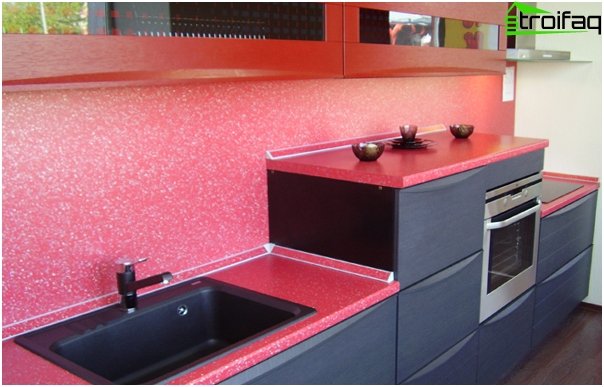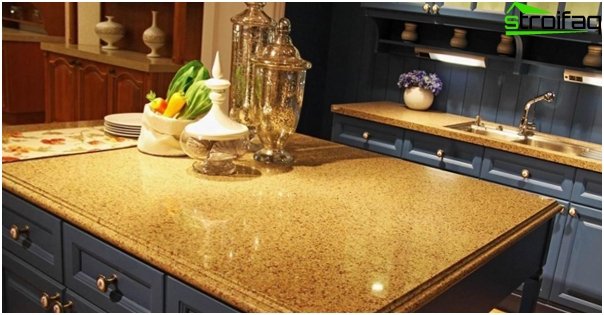 Cabinets
As already mentioned, in a properly assembled kitchen – the ends of the furniture are not visible, so their appearance is not so important. More important than practicality..
Chipboard / MDF modules are not intended for reassembly. Having assembled such a kitchen once, it's better not to disassemble it (even in case of moving!).
But sometimes it happens that the ends remain visible. In this case, you can install special end cabinets, pencil cases, which will smooth the right angles of the main modules. If you are worried about the price, then remember – shelves without doors will cost less than closed cases. Also, the price depends on the shape: semicircular lockers are more expensive than triangular.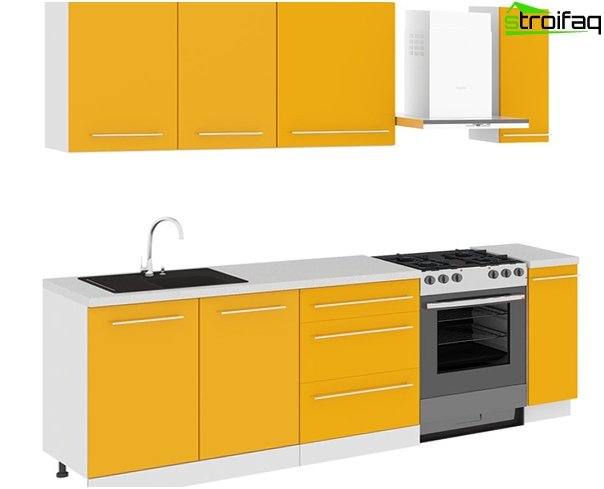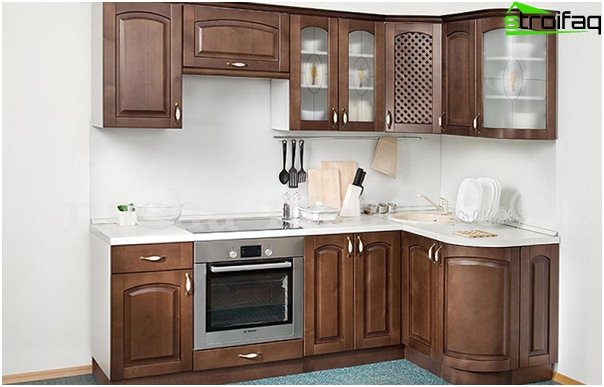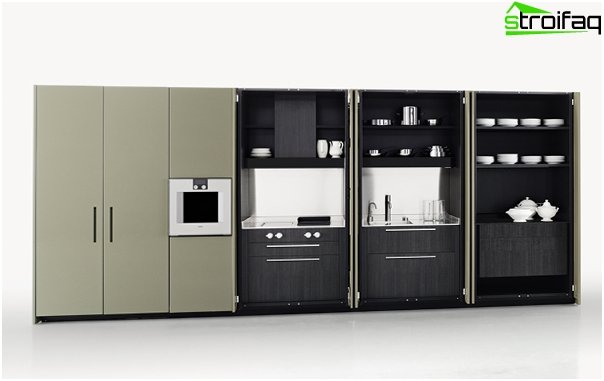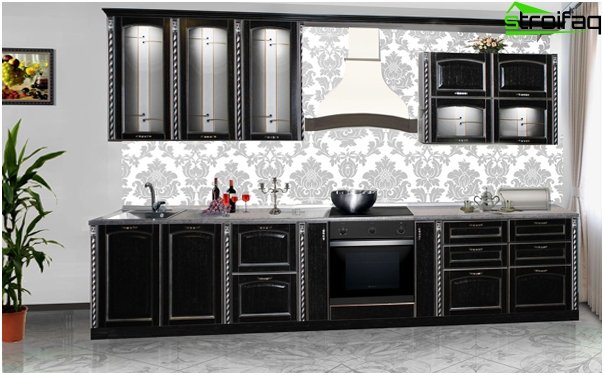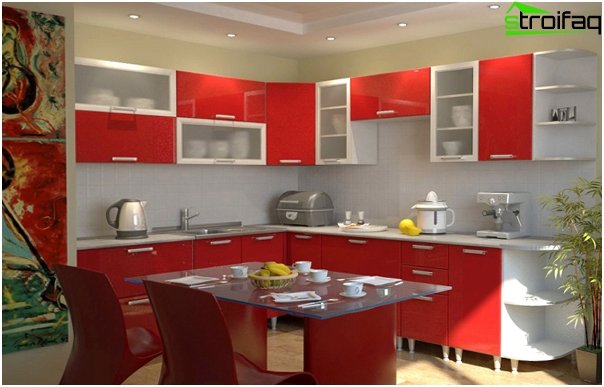 Layout of the kitchen
Linear
The linear layout assumes that all modules of the kitchen set are lined up in one strict line. It is very convenient for narrow and elongated kitchens. Moreover, with such a layout, not one person can work in the kitchen, but several at once (which will significantly save time and effort, for example, during the preparation of large family celebrations).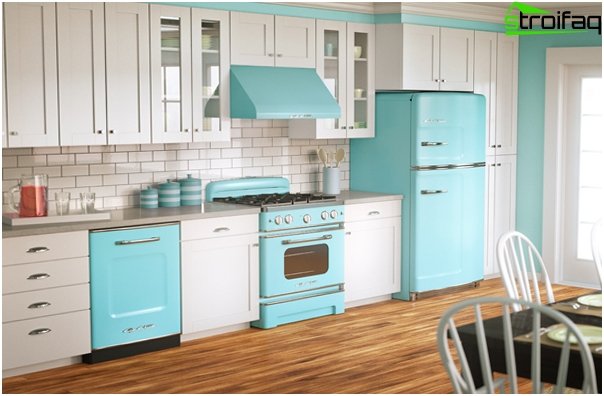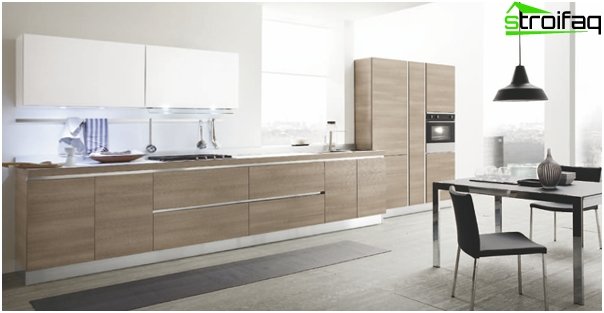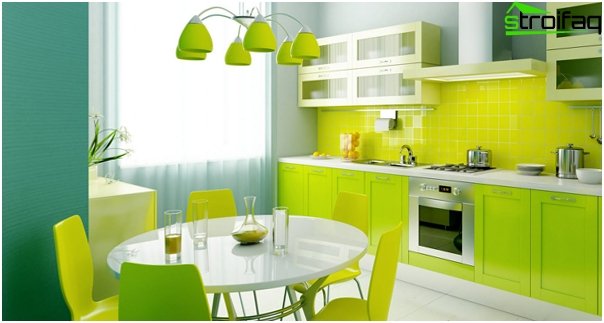 L-shaped
Corner Kitchen Sets very practical, because everything necessary for cooking (all functional areas) are located in close proximity to each other. In this case, the location of the doors and drawers is very important, because it is desirable that they interfere with each other as little as possible.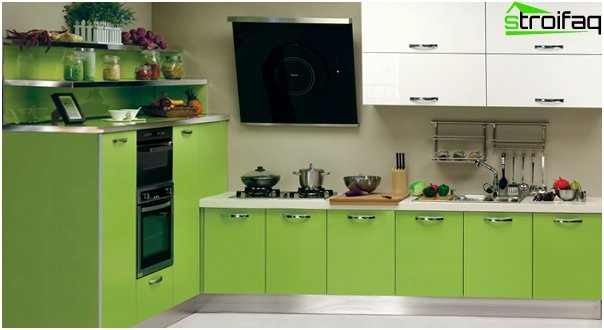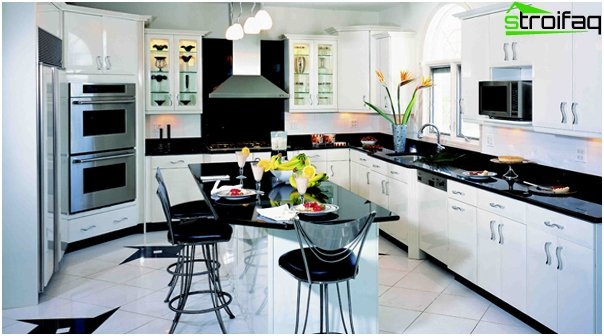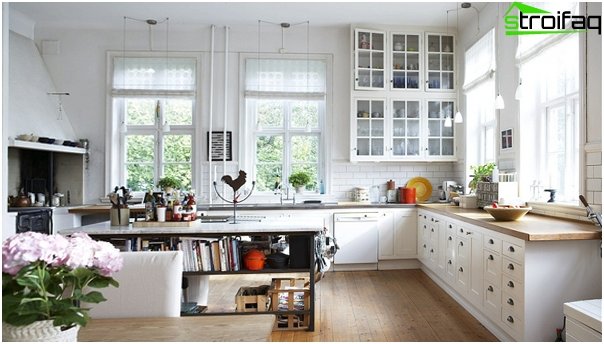 U-shaped
If your kitchen is wide enough, the corner kitchen set can be replaced with a U-shaped. Most likely kitchen corners and dining tables, but the kitchen itself will become an exceptionally functional work area.
With a U-shaped layout, it is desirable that the apron covers it completely, and not partially.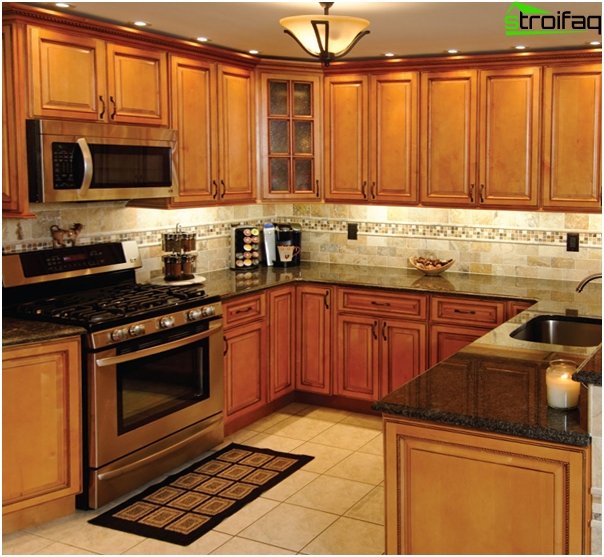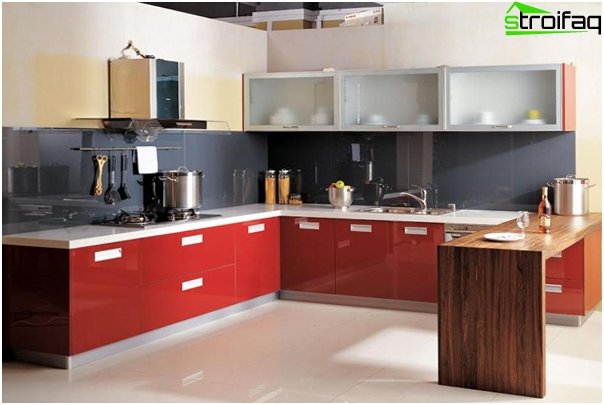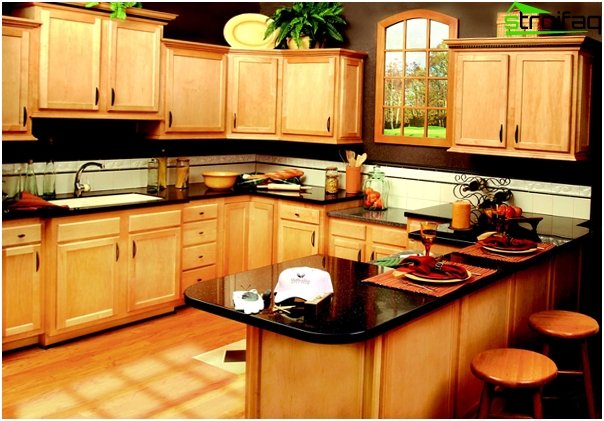 Island
The only layout option that categorically cannot be used for a small kitchen is an island layout. She needs space so that she can move freely from the "island" to the "island". And exactly which functional islands can stand out – see the photo below.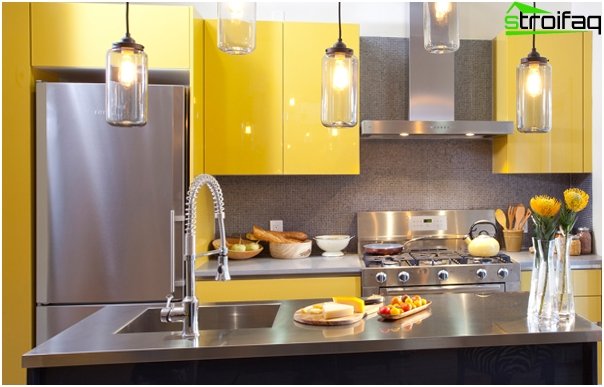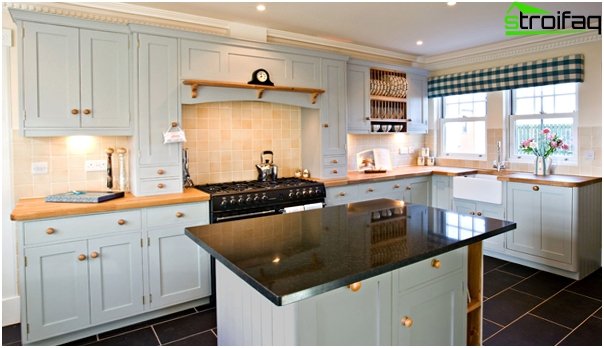 Technical equipment for the kitchen
Built-in appliances
Built-in appliances in the kitchen include:
Refrigerator
Oven
Dishwasher
Plate
Washer
All this can be hidden from the eyes of curious guests by elegant wardrobes from the general ensemble. However, it is best to make custom-made furniture for appliances and only after it is immediately available..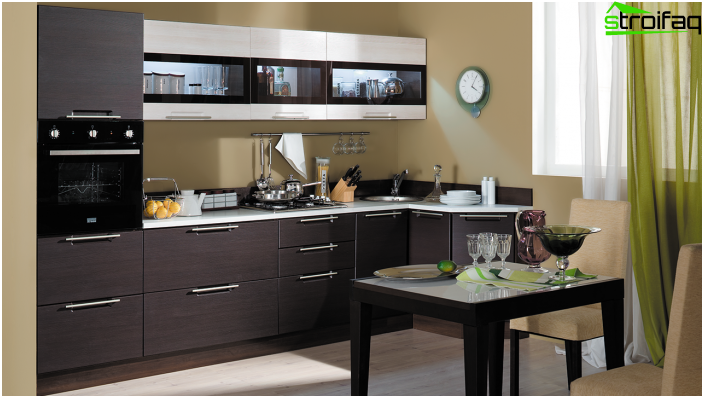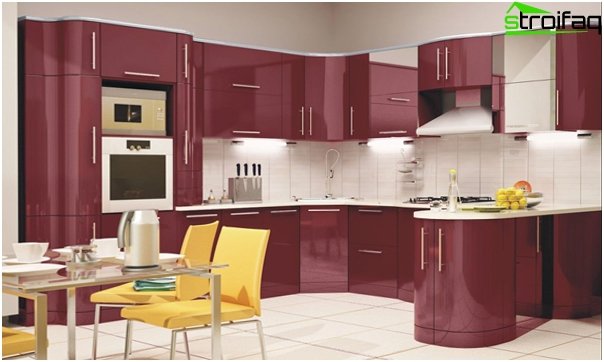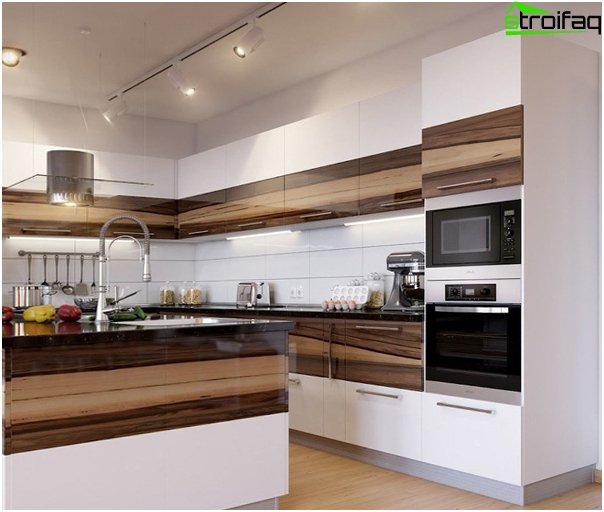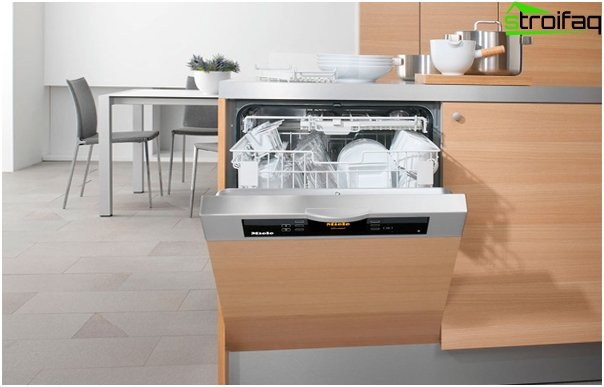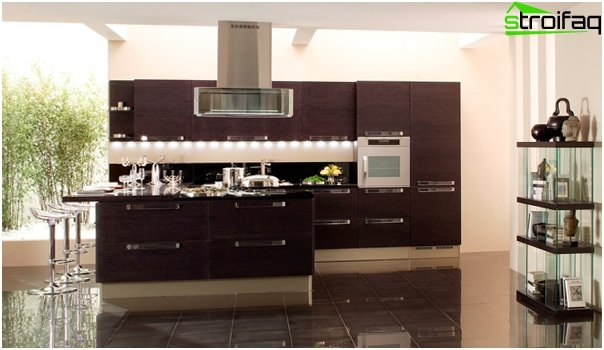 Cooker hood
In order for your kitchen to serve you as long as possible, it is advisable to equip it with an exhaust hood. Thanks to the hood, a minimal amount of grease and dirt will settle on the furniture. And to range hood did not stand out from the general ensemble – it can also be masked by hinged facades.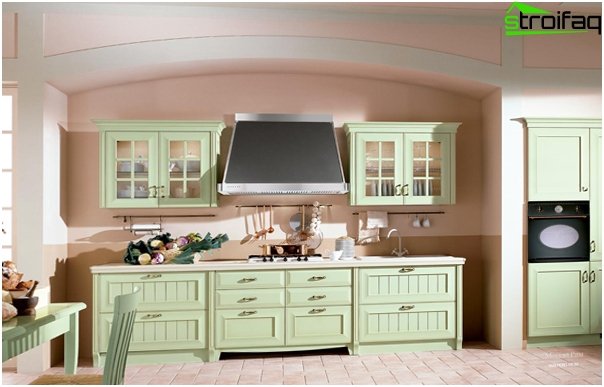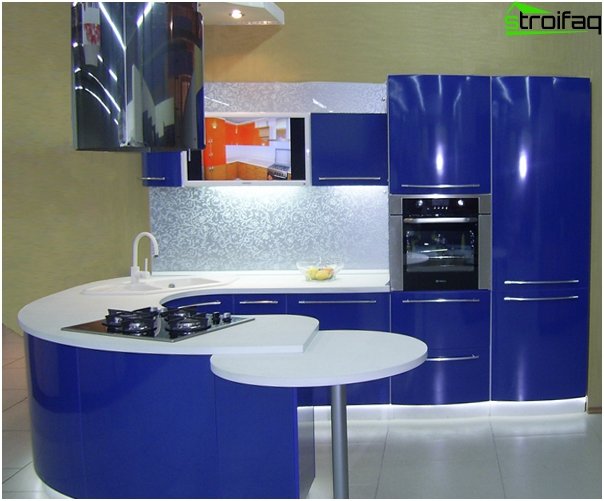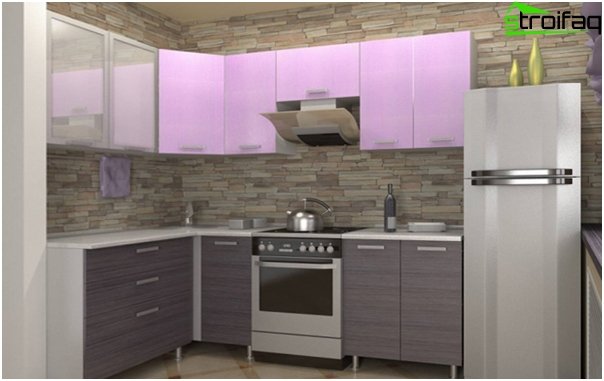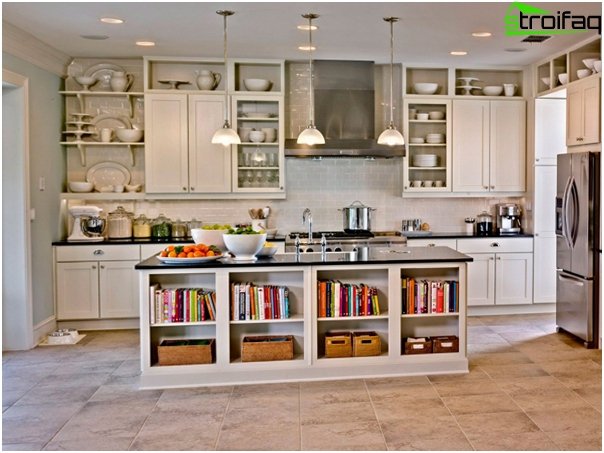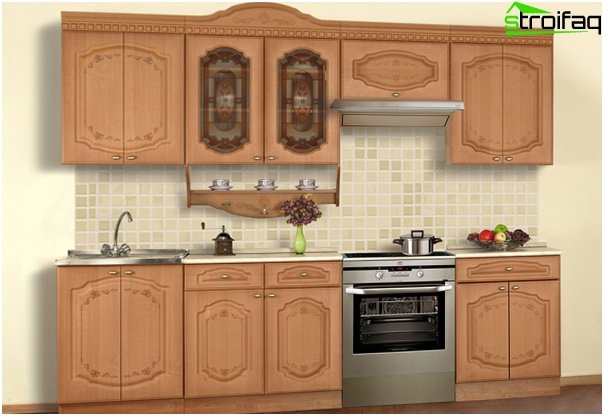 Filling drawers and cabinets
Special dividers, coasters and other "devices" that can be placed inside kitchen modules are most often not included in the package. Traditionally, kitchen modules are equipped only with bare shelves, and everything else has to be bought separately. Ideally, at the same time as the headset. To some extent, this fact is somewhat depressing. But on the other hand, you can always organize the storage space exactly as you personally need it.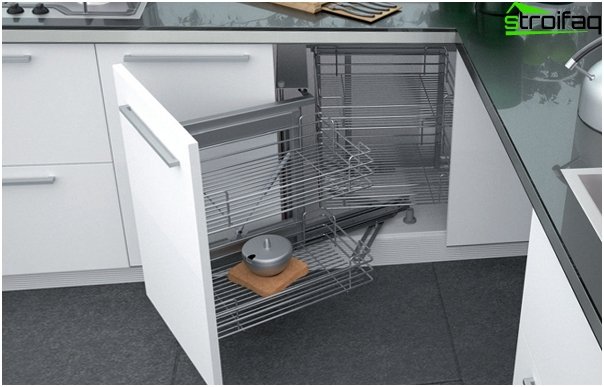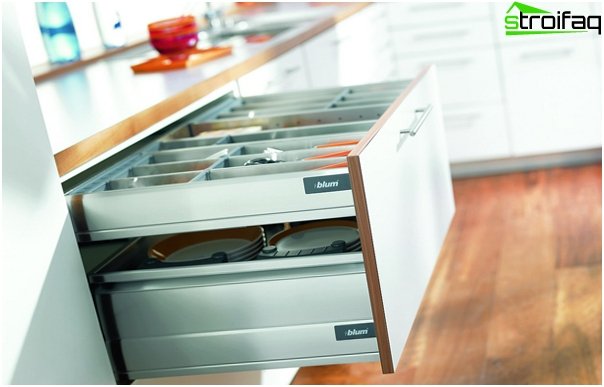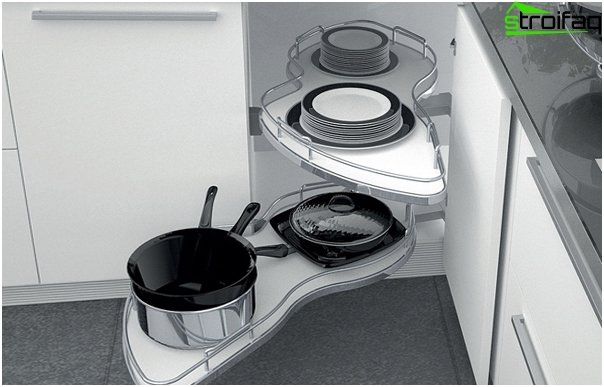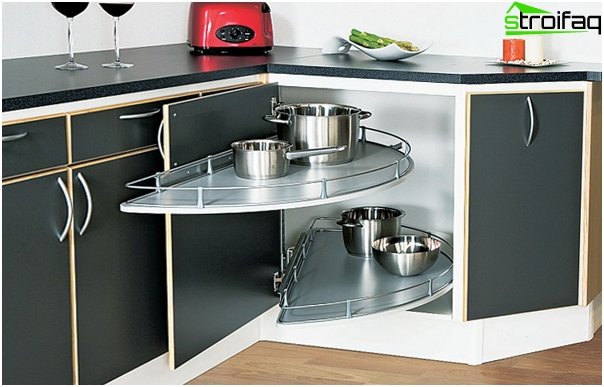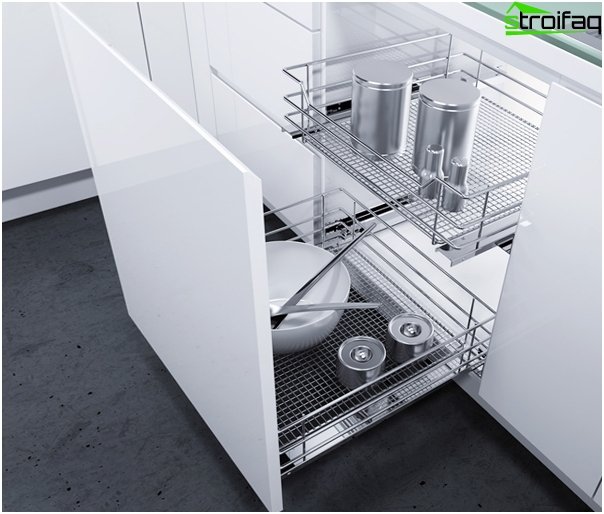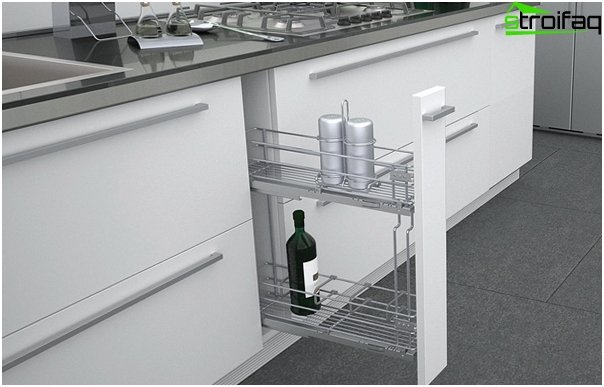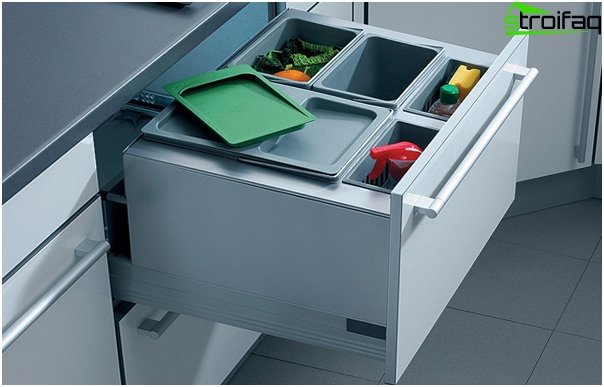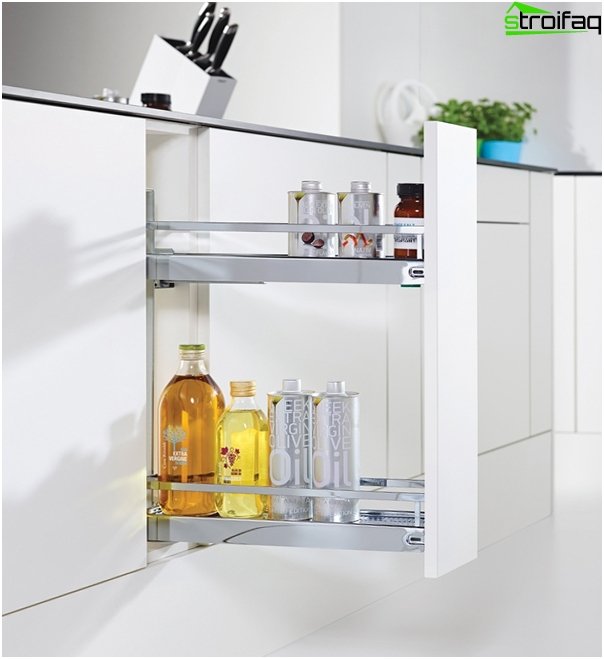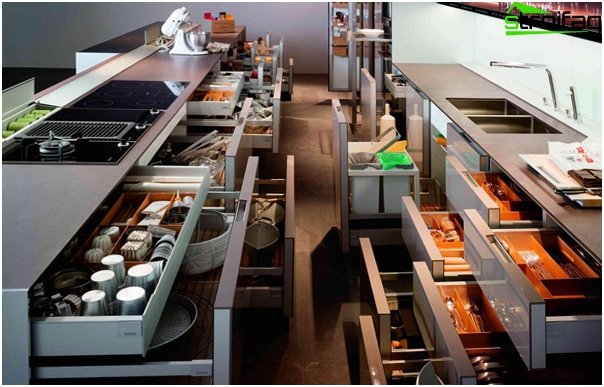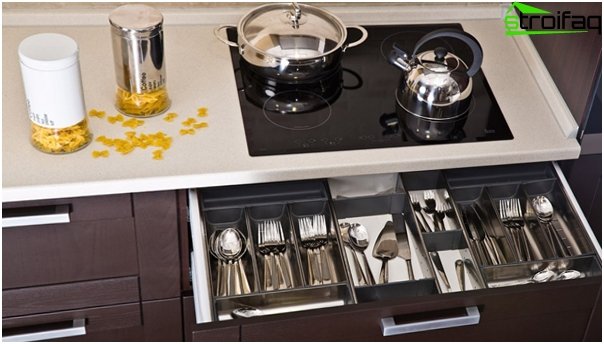 Complete kitchen in different rooms
5-6 square meters
In a kitchen of no more than six square meters, it is better not to clutter up the space with cabinets for appliances. It is also worth abandoning cabinets-columns in favor of hanging cabinets and a pair of cabinets in the bottom line.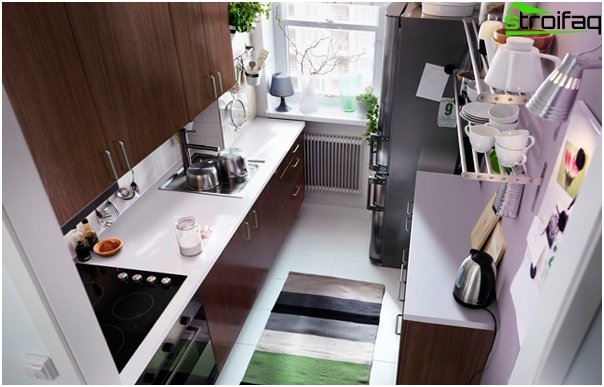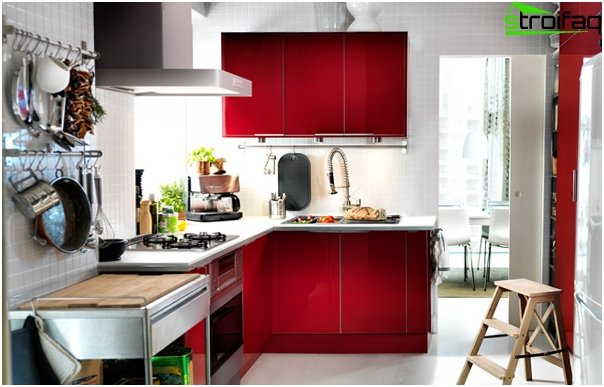 8-9 square meters
In a kitchen from eight to nine square meters, in addition to a linear kitchen set, it will look good corner or island, in which the dining area is separately highlighted. In this case, the kitchen will fulfill not only its intended purpose, but also serve as a small dining room or a place of friendly gatherings.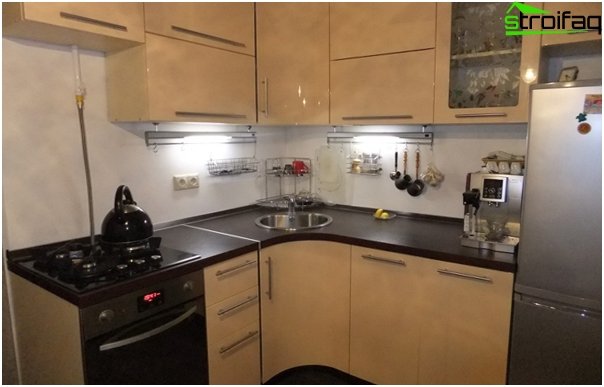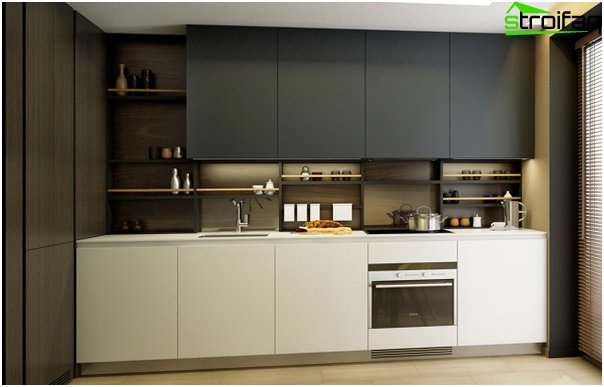 12-15 square meters
This space is enough to accommodate a kitchen set of any layout.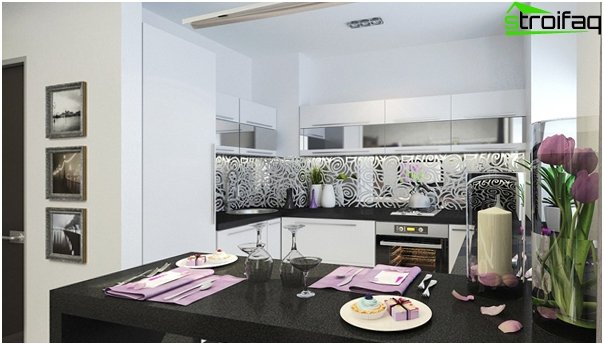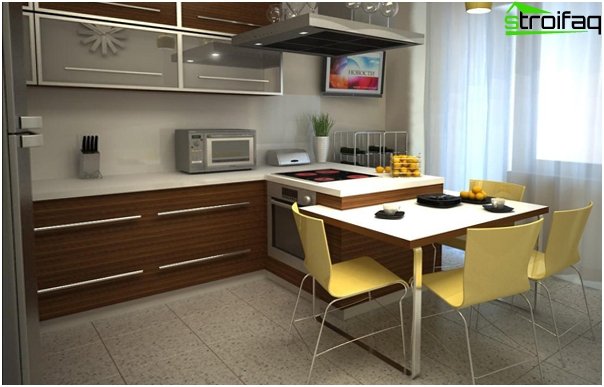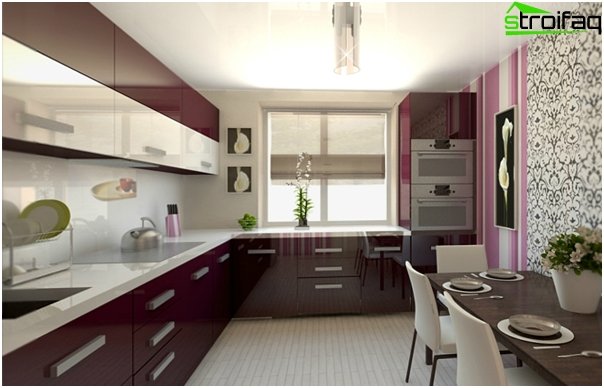 Possible styles
Minimalism
The fewer details, the better! The kitchen set in this case must include cabinets for built-in appliances. And the apron can take on the function of a bright and stylish accent. Recommended materials for kitchen furniture in the style of minimalism:
Glass
Metal
Tree (without decor)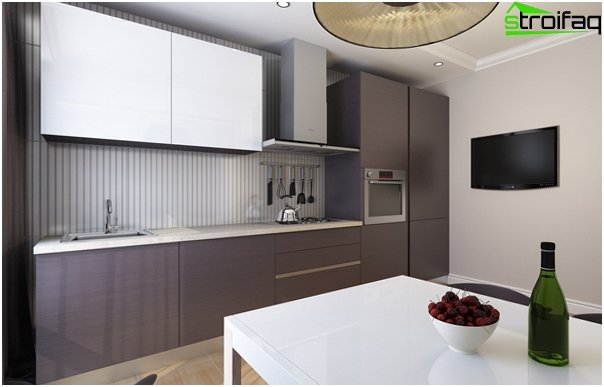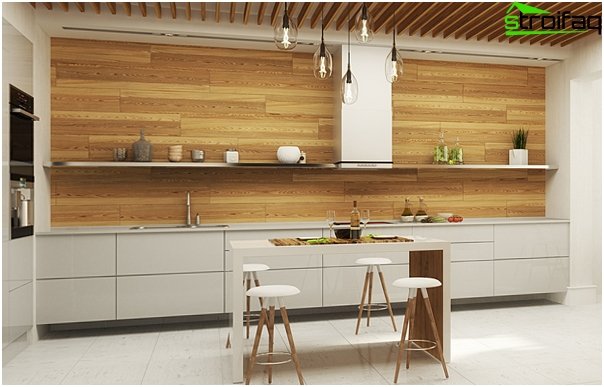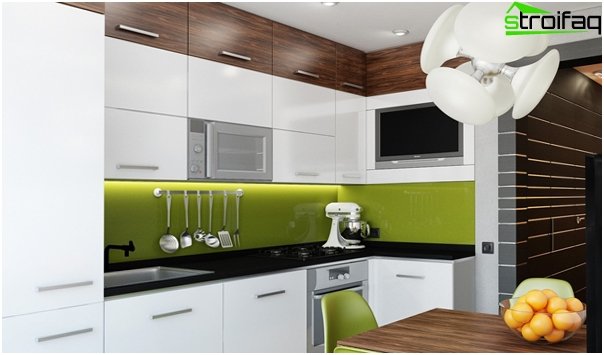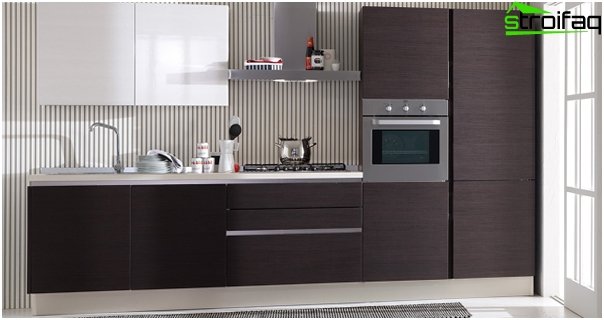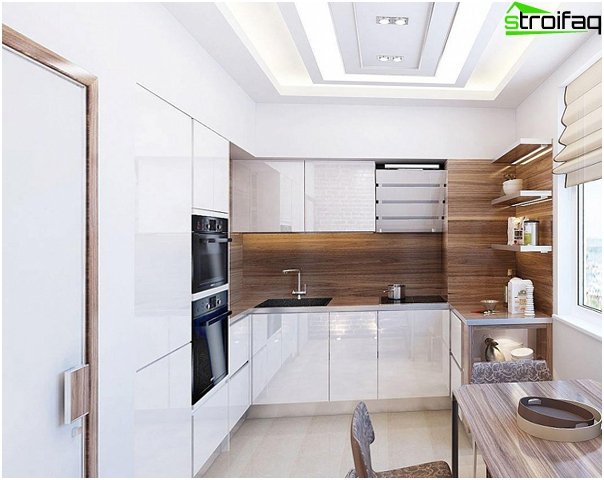 Retro
A kitchen set stylized as furniture of the last century is today one of the most sought-after trends. But everything should be in moderation! Including original parts.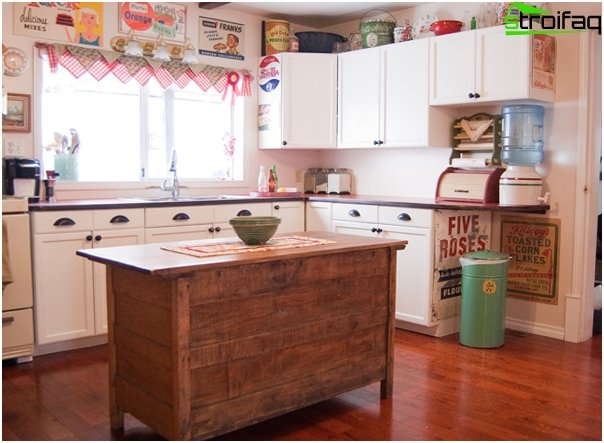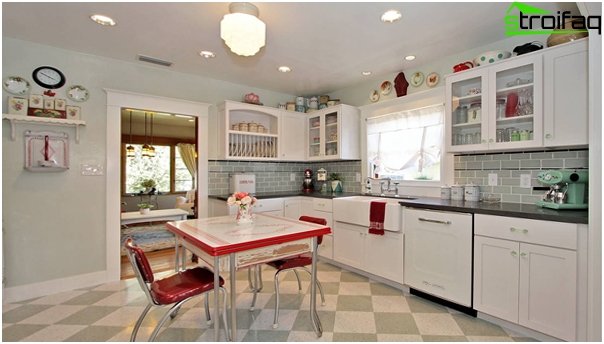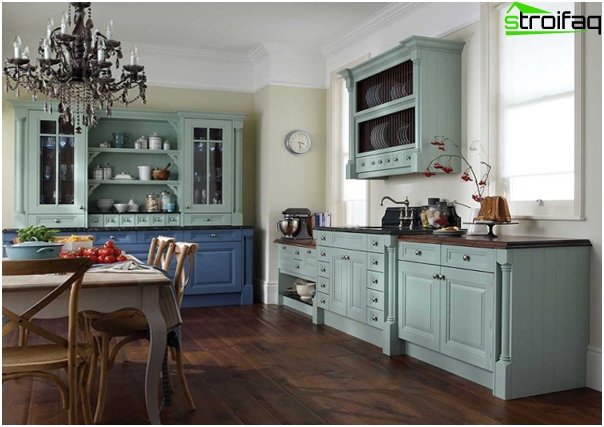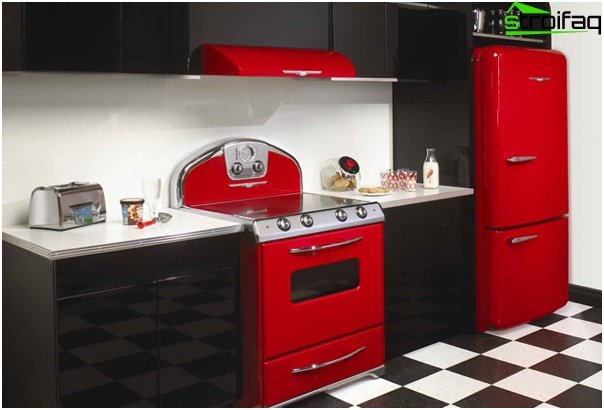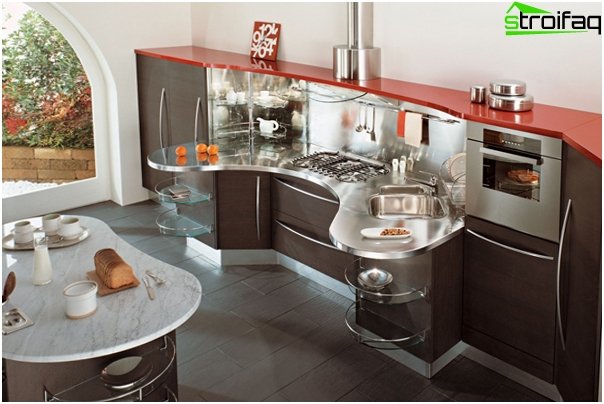 Country
For this style, wood will be the ideal material. It is better to abandon exotic woods in favor of those characteristic of your area..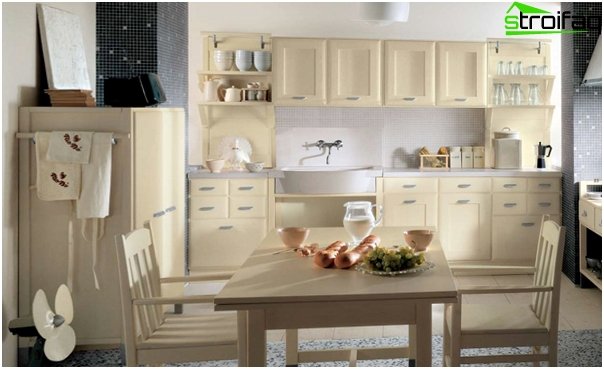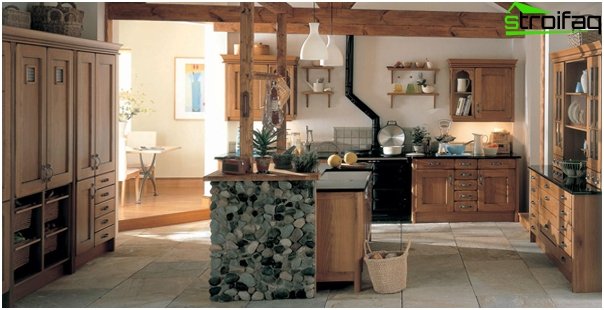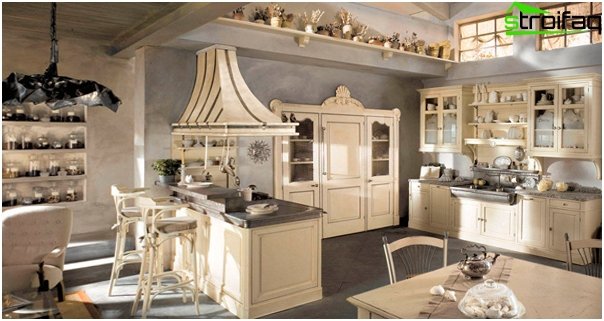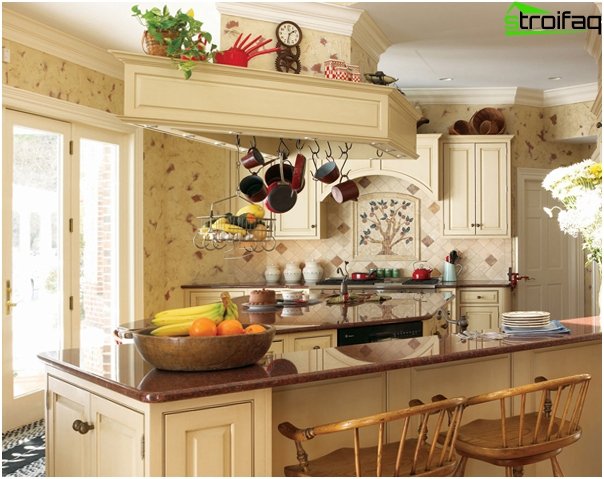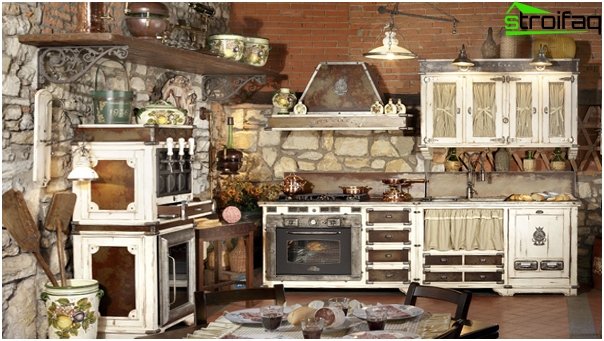 Ethnicity
And here it is just the opposite – the most exotic species of trees and rich bright colors will be appropriate. The main thing is to withstand everything in a single theme.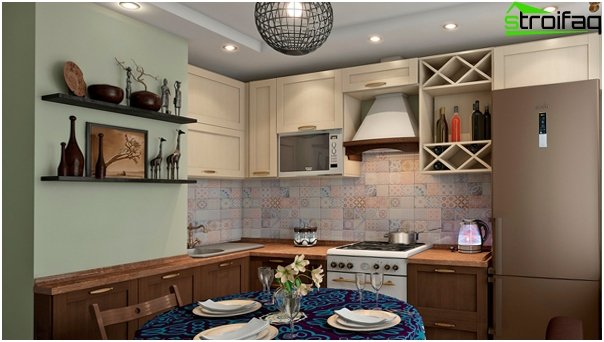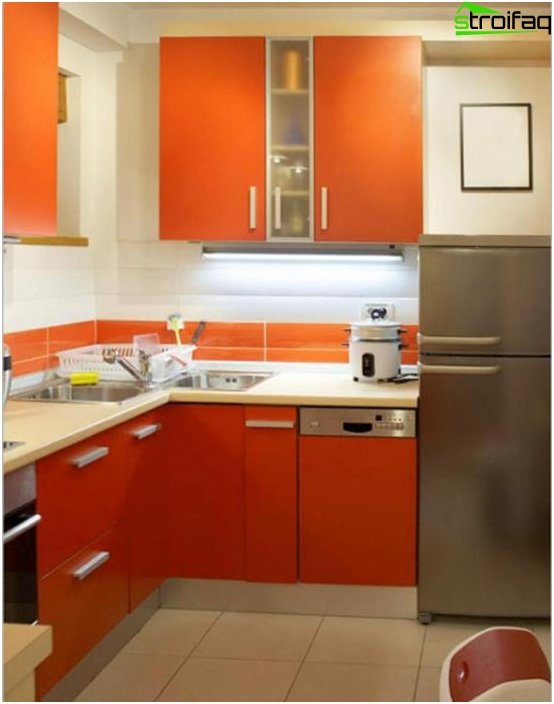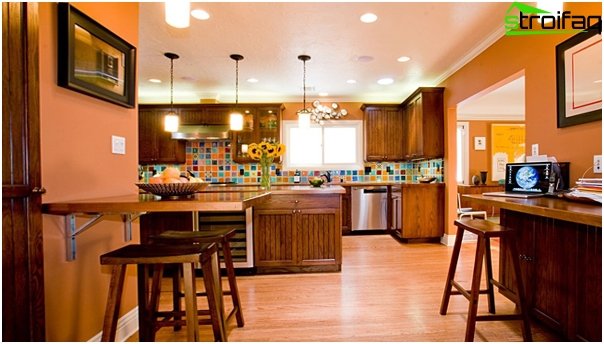 Kitchen set for a small kitchen
Choose furniture with rounded, flowing shapes..
Give preference to light materials.
Instead of hinged doors, it is better to use drawers and vertically opening "accordions".
Do not burden the kitchen with excess decor on the facades.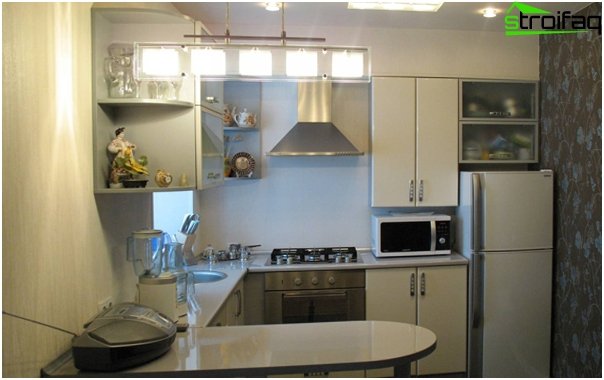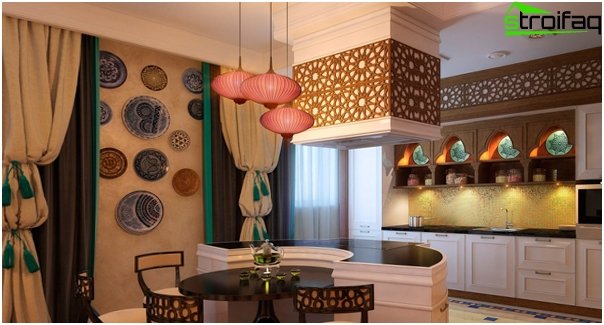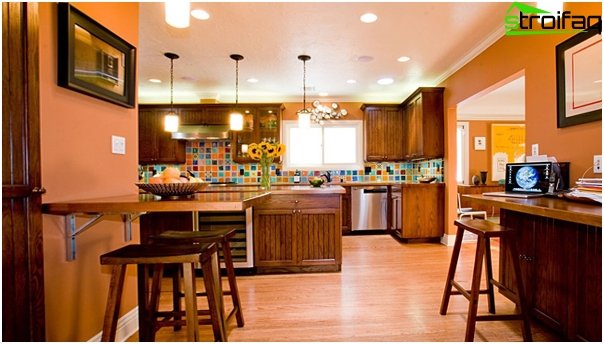 Custom made kitchen
Custom kitchens are an ideal solution for modern apartments. At the same time, it is not necessary to create a kitchen set "from scratch": many modern manufacturers offer to make a kitchen according to existing sketches, but with individual sizes.