Kitchen apron – 50 best photos! What to consider when choosing? Which material is best? Design options.
Tile is the most popular option for decorating the kitchen. Despite the functionality of this option, it can be quite expensive at a cost. Nevertheless, for decorating the walls in the working area, it is advisable to use durable and easy-to-clean materials to make a so-called "apron". Photos of interesting aprons in the interior of the kitchen are attached.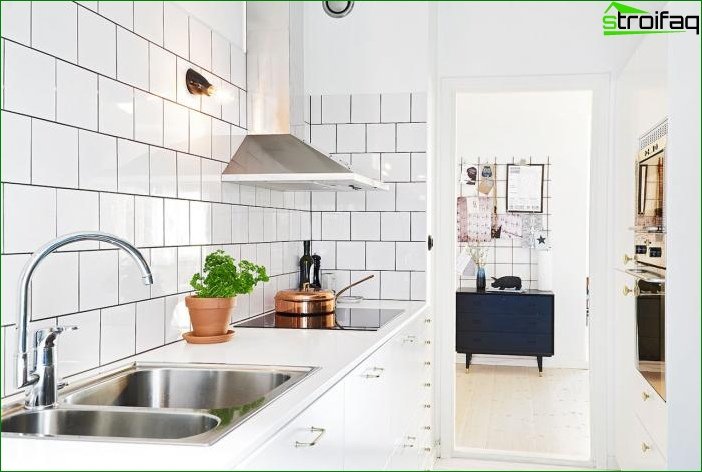 Content
General recommendations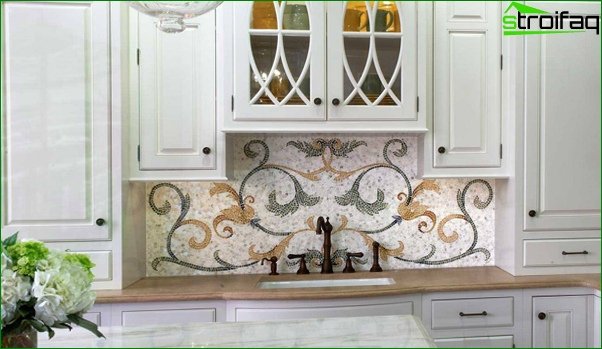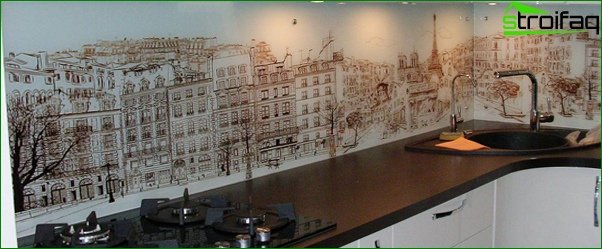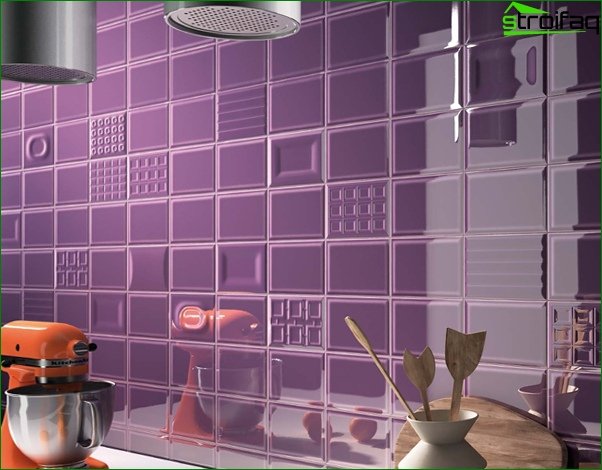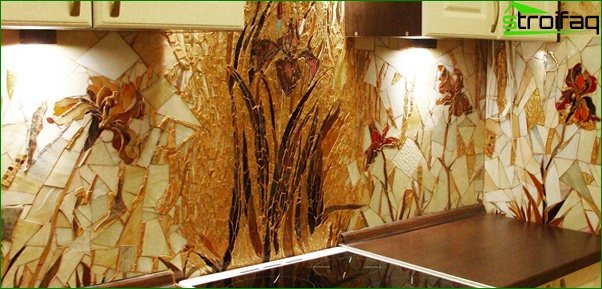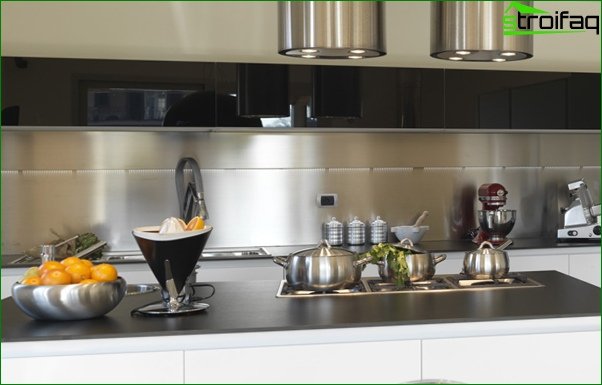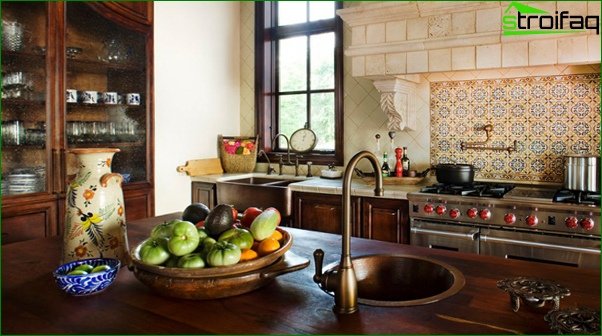 An apron is a space that is located directly above the work area. The working area includes:
Cutting table
Plate
Sink for washing dishes
It is here that the probability of wall contamination is the highest, because:
When cutting vegetables, fruits, meat, the spray flies in all directions.
During cooking, fat and soot are released, which settle on walls and other surfaces.
When washing dishes, water, detergents, and residues of oils and fats used during frying get on the walls..
So that all of the above does not spoil the look of your the kitchen, an apron is needed. In principle, it can be done around the perimeter of the entire kitchen. But if your budget allocated for the repair of the kitchen is very limited, it is advisable to protect at least these parts of the wall with an apron.
The apron should go slightly beyond the limits of the table, stove or sink for washing so that the walls are as protected as possible. If any of this is in the corner, it is advisable that the apron is also placed (at least a little) on the walls adjacent to the main wall. On average, it should protrude about 15-20 centimeters.
Care must be taken to the height of the apron. If hinged cabinets or a hood are placed above the working surfaces, then the apron should completely cover this distance, plus 5 centimeters behind the pieces of furniture (otherwise the joints between the furniture, the apron and the wallpaper will become a reserve of dirt, pathogenic bacteria and even cockroaches and ants!).
Experts recommend sealing the joint between the wall and the work table and the sink with an inclined baseboard, and treat the joints with a sealant (ideally, silicone). This will prevent pieces of food from falling onto the floor behind the work area and, and more importantly, water, which can cause furniture to rot..
If there is nothing above the working surface, then the height of the apron must be determined independently. It can be up to the ceiling, but not less than sixty centimeters.
If you have a gas stove, then the height of the apron above it should be from 75 centimeters!
Apron height

| | |
| --- | --- |
| Minimum Apron Height | 48-52 cm |
| Optimum Apron Height | 60-75 cm |
Choose material
For an apron to be a truly functional addition to your kitchen, it must:
Easy to wash
Do not spoil from exposure to water
Be as smooth as possible
Withstand temperature changes
Resistant to detergents
Have as few joints as possible
It is better not to use porous materials for an apron, as the existing pores will become an additional place for the accumulation of dirt!
In general, kitchen aprons are made from:
Ceramic tiles
Glass
Natural stone
Natural wood
Plastic
Now about each material is more similar.
Ceramic tile
A kitchen apron made of tiles is the most popular option. The most commonly used tiles are ceramic or small porcelain stoneware. This is due to several reasons:
Kitchen tile – An ideal combination of price and quality. Thanks to a wide range of tiles from different manufacturers, even with the most limited budget, you can choose a tile.
A wide selection of patterns, textures and colors make it possible to create a unique, original, special tile apron.
When laying tiles, you can adjust the size of the apron already in the process, making it higher or lower.
The undoubted advantage of the apron made of tiles is its durability, on average, about 20-25 years. However, if you get tired of it, changing it will not be so easy..
Tiles for the kitchen are easy to clean, which greatly simplifies the care of the apron.
Glazed tiles do not absorb moisture.
In addition to standard drawings, you can choose a spectacular tile with a photo or even make it custom.
Factory tile in the kitchen for an apron with a photo is stronger and better than custom-made.
However, there are some nuances of creating an apron from tiles:
Many joints between tiles, if improperly processed, can become a place of dirt and soot.
For an apron, the tile must be glazed, porous textures will not fit.
Without experience, you can hardly lay out beautiful tiles yourself. In addition, this process requires a number of special tools, which later may not be useful to you at all (all of them can be purchased in the catalog of the Leroy Merlin online store).
Laying tiles requires careful preparation of the wall, in particular – leveling.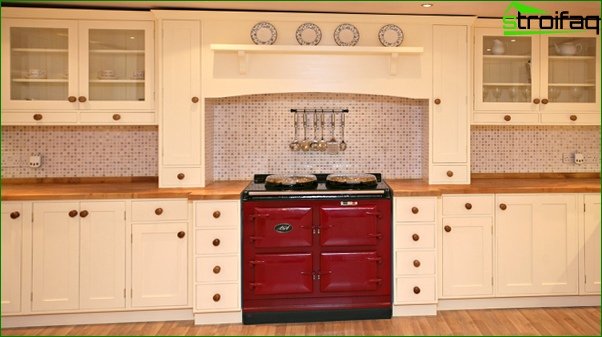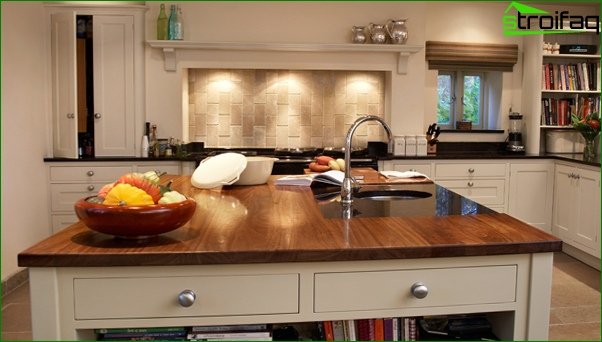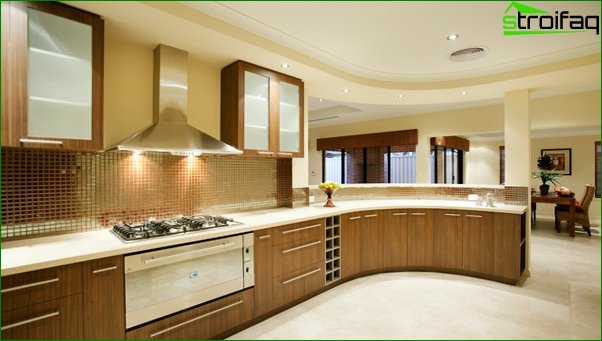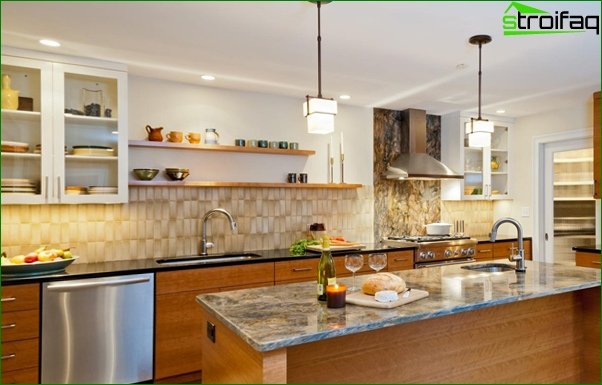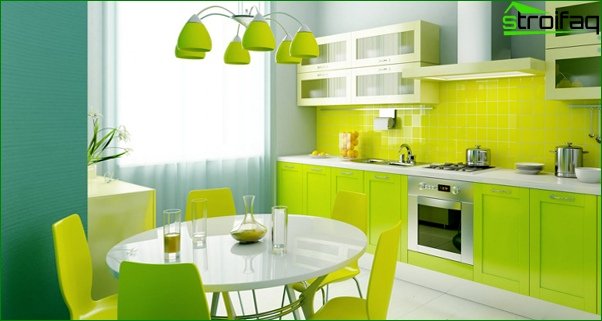 Glass
A glass apron can be made of glass tiles, however, a much more spectacular option is the so-called "skins" for the kitchen. They are a one-piece glass that is mounted on the wall with the help of special holders. Despite the price, which is strikingly higher, in comparison with the use of tiles for the same purposes, the undoubted advantages of a glass apron are:
A glass apron is as easy to clean as ceramic tiles.
There are no joints and pores in which dirt would accumulate.
The apron made of glass is easily mounted even after installing the kitchen set, so it is not necessary to wait for the next repair.
Installation is not dusty, dirt is practically absent.
There is no need to align the wall, as the apron is not attached to glue.
If you place lamps behind a glass apron, you get an original additional light source, with which it will be incredibly convenient to cook food.
Among the minuses, only the following can be noted:
Lime scatter from spray on glass is more noticeable than on tile.
Only a competent person should install a glass apron, otherwise there is a high risk of breaking the glass.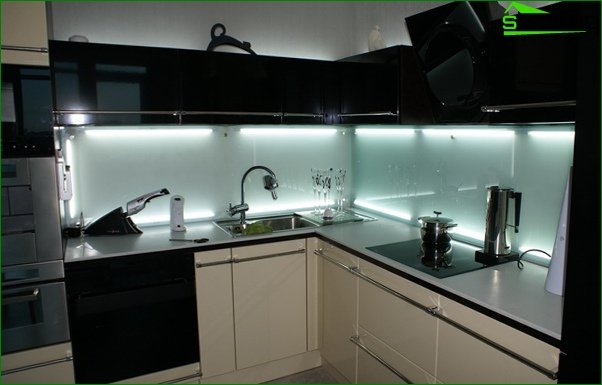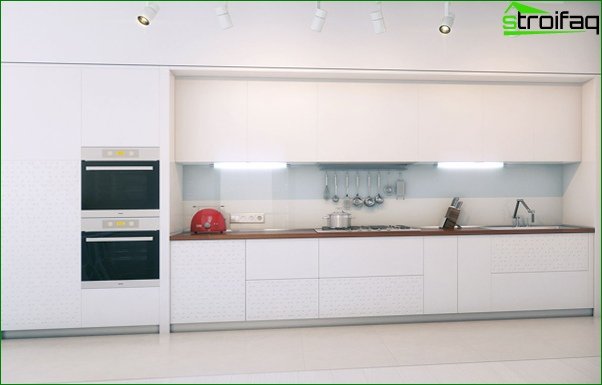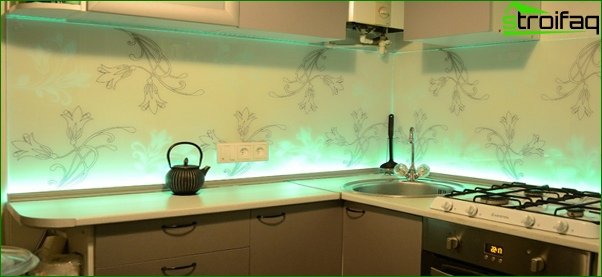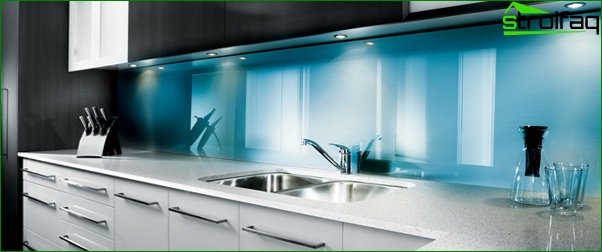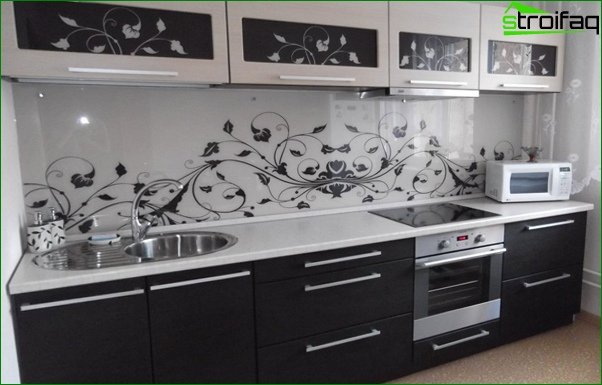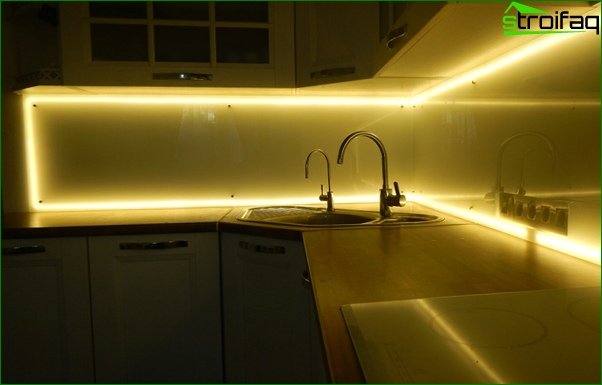 A natural stone
An apron made of natural stone will perfectly combine with a countertop made of the same material. However, this is the most expensive option for designing a kitchen apron. A stone apron is most often used to design a kitchen in the styles of loft, high-tech, country, less often – classic.
Natural stone is a very porous material, so its functionality is slightly worse than that of tile or glass.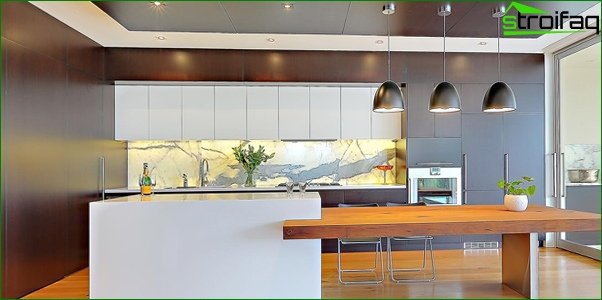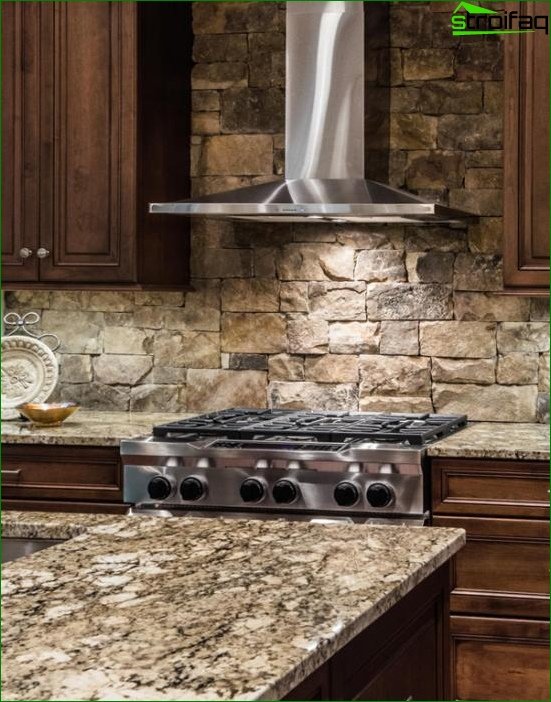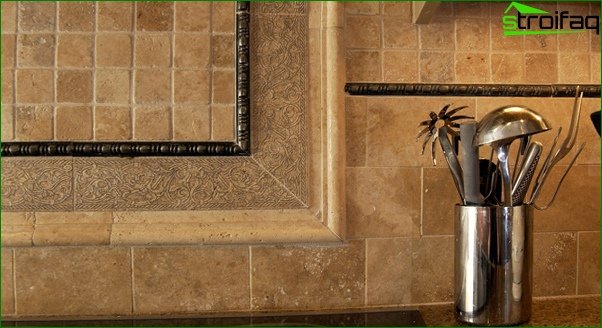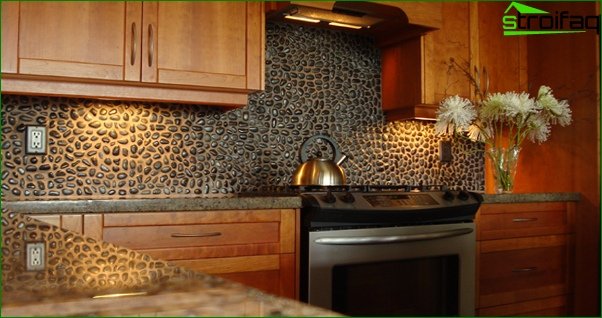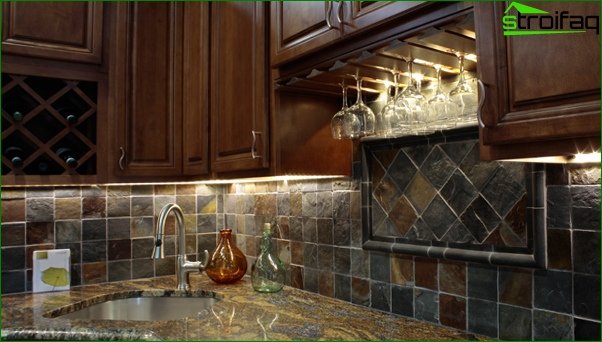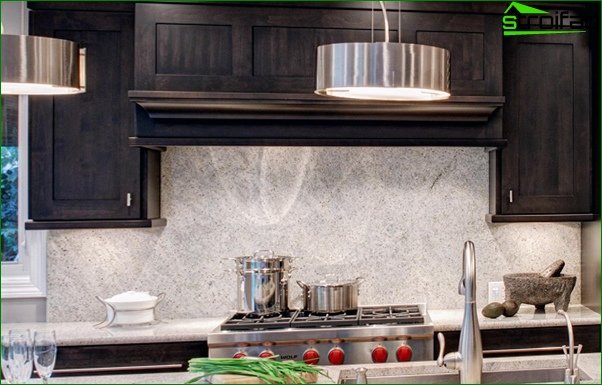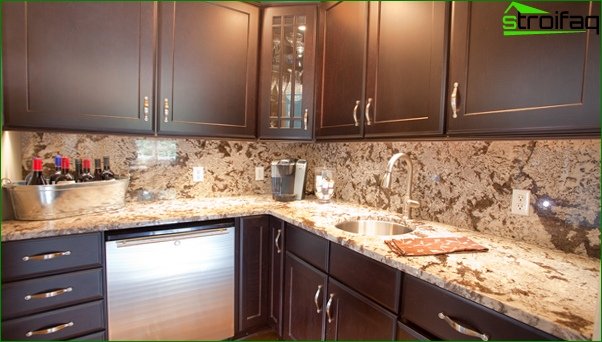 Natural wood
Wood is an ideal option for decorating a kitchen in a classic style. Wall panels for a kitchen made of wood do not have to be identical to the wood of the kitchen set, they may well be contrasting.
For a wooden apron to serve you for a long time, the tree must be carefully treated with water-repellent compounds. Otherwise, the wood will swell under the influence of moisture (especially near the sink) and begin to rot..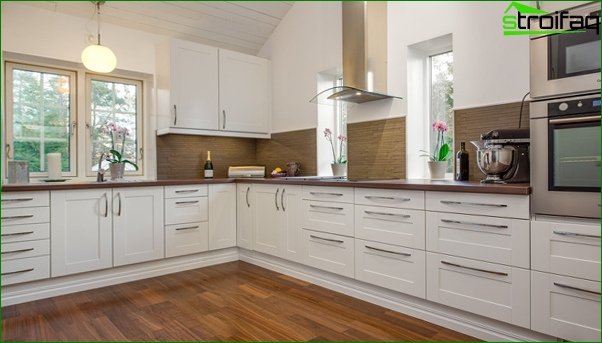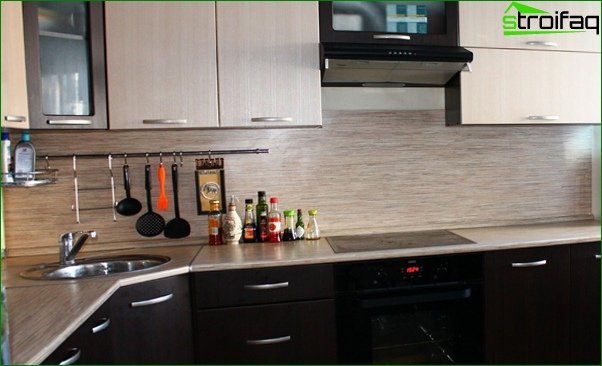 Plastic
Plastic wall panels are by far the cheapest option for decorating an apron. They are easily mounted manually, and the flexibility of plastic as a material allows you to give them any shape and color. Plastic panels are not afraid of water, they are quite easy and simple to wash, but it is better not to use them in the cooking zone, because plastic changes its color under the influence of high temperatures and can begin to melt (while emitting harmful to health couples).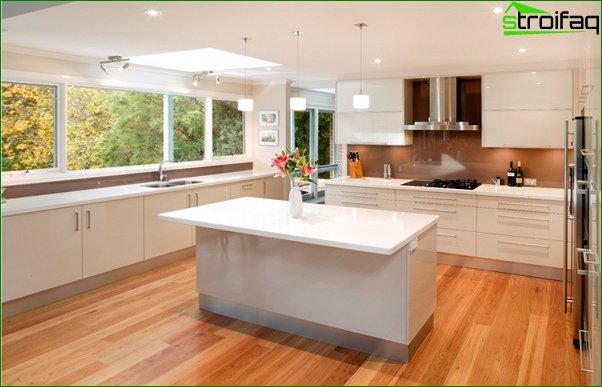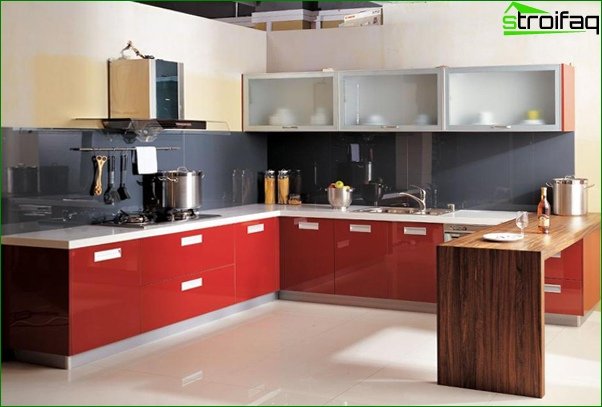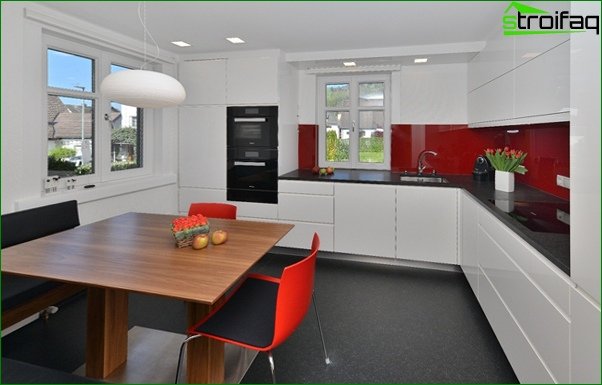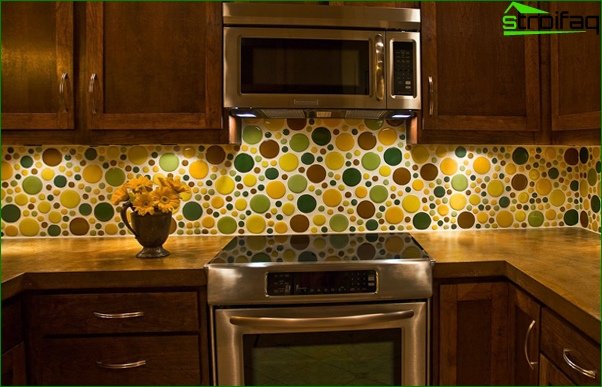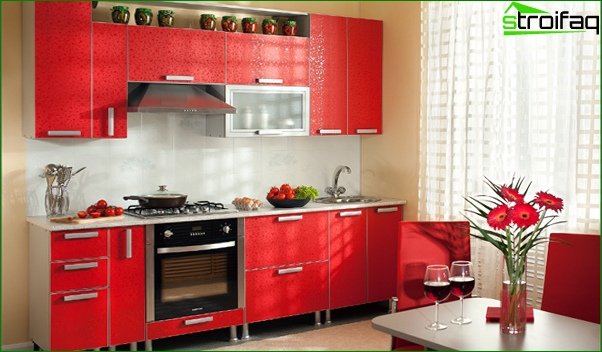 Estimated life of kitchen aprons made of different materials

| | |
| --- | --- |
| Tile | 15-20 years |
| Glass | 5-7 years old |
| A rock | 8-12 years old |
| Wood | 2-15 years |
| Plastic | 3-8 years old |
Color scheme
A kitchen apron can become both a wonderful backdrop for emphasizing the beauty and sophistication, richness and style of other kitchen interior items (for example, a kitchen set), and become an independent central element in the decor of the room.
If the budget allocated for the repair of the kitchen is very limited, then it may make sense to purchase inexpensive furniture and wallpaper for the walls, but allocate a slightly larger amount for an apron. It will be he who will become the main decoration of your kitchen and will attract the eyes of guests.
Tone apron with overall color
An apron in tone with a common color does not imply that the entire kitchen is made exclusively in one color. The apron can be in harmony either with the countertop (as it most often happens), or with household appliances, or with a furniture set, or with the main wall decoration. The main thing is that the apron is like a visual continuation of something in the kitchen. Such an apron is unlikely to be a decoration of the kitchen; rather, it will perform an exclusively protective function.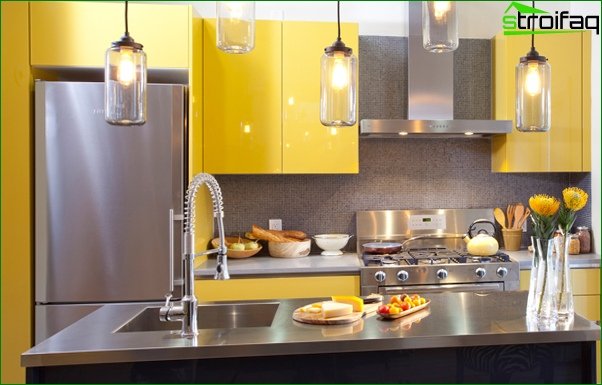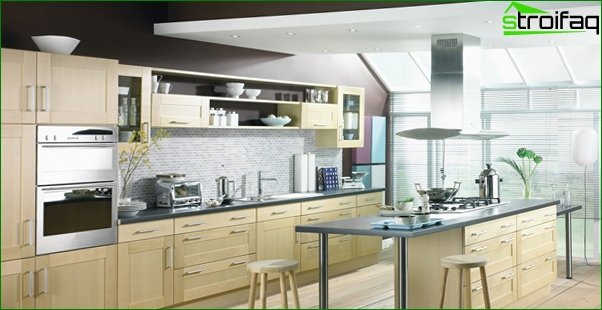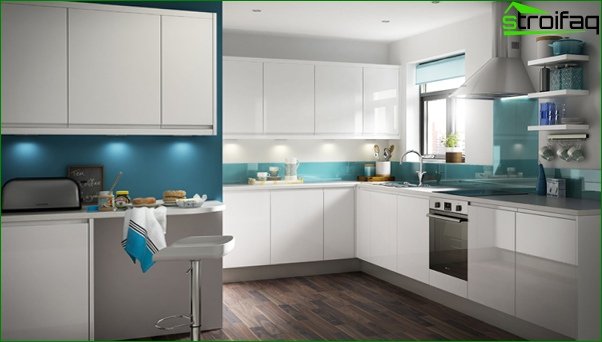 Contrast apron
A contrasting apron can become both an element that emphasizes other interior items of the kitchen, and its independent decoration, emphasizing all the attention.
Contrasting kitchen apron can be neutral shades. The most popular are white and all kinds of its shades (ivory, butter, with a blue tint), as they are combined with almost all shades of the palette. Beige and gray colors are also in demand..
A bright kitchen apron can be monophonic, or it can be with bright accents and inserts, drawings, borders and friezes (if we are talking about tiles).
Something must be combined with a bright kitchen apron, otherwise it will be knocked out of the general ensemble of the kitchen. It is easiest to use textile products for these purposes. For example, the tone of the apron may be curtains, napkins or upholstery of the kitchen sofa.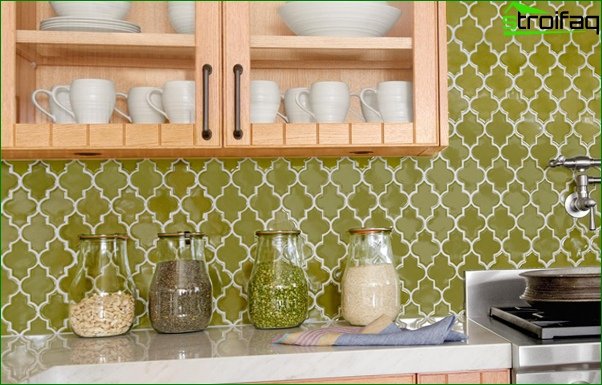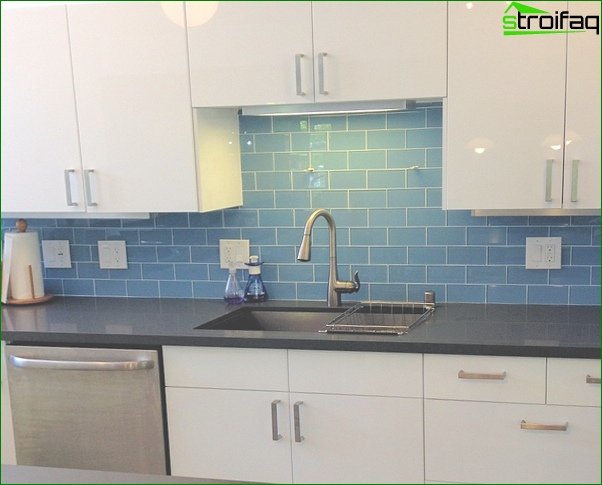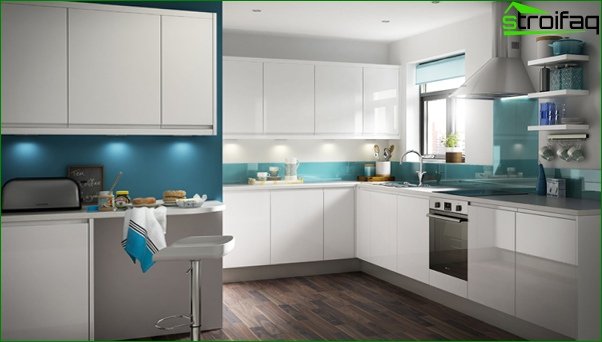 Photo printing on a kitchen apron
You can turn your kitchen into a real work of art using an apron using photo printing. It can be a photopanel from a tile, plastic panels with photographs, but skins are most often used for this. Due to the popularity of this way of decorating the kitchen, today you can find a million pictures on a variety of topics. But if the pictures in the image catalog do not suit you, you can well offer your own image (only it should be VERY good quality).
In addition to the apron, you can also order special decorative panels, countertops or doors, which will become its visual extension.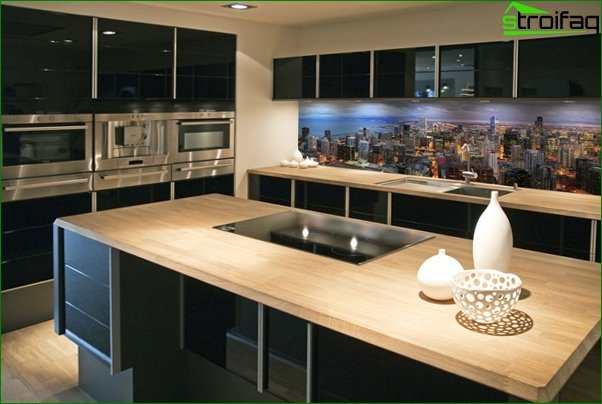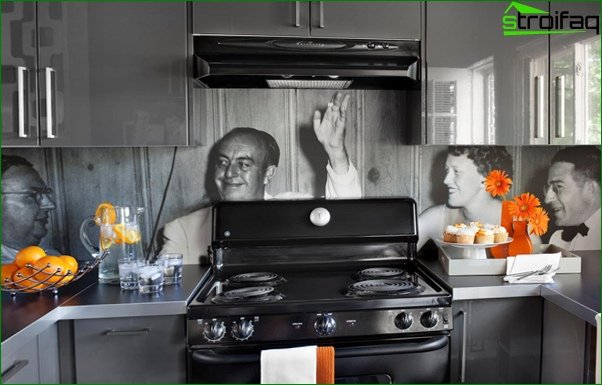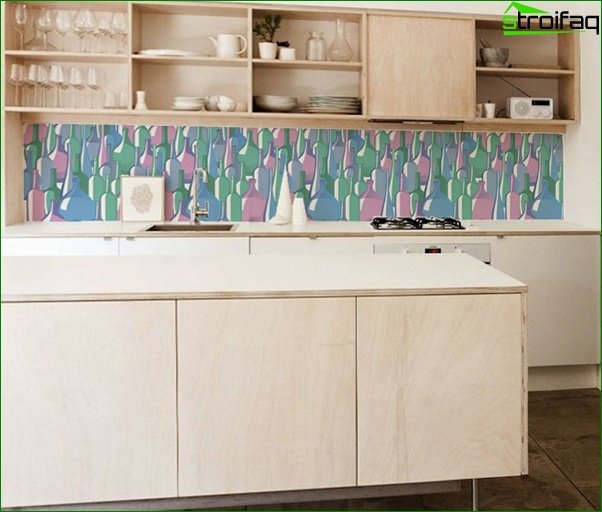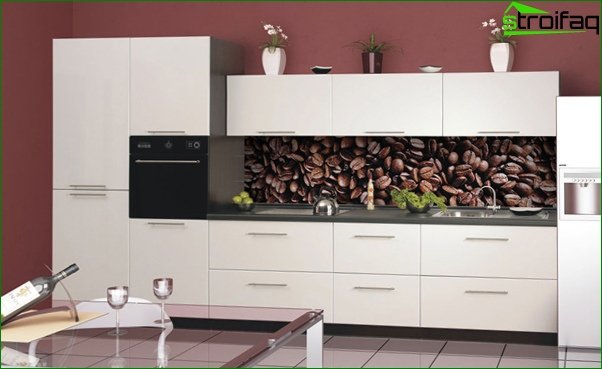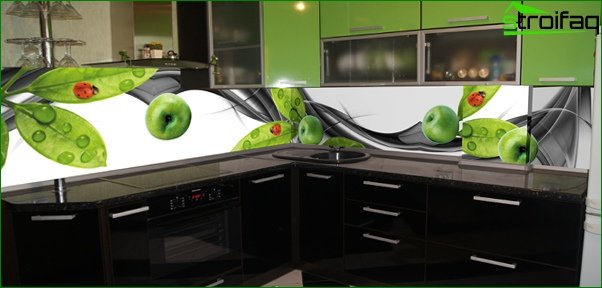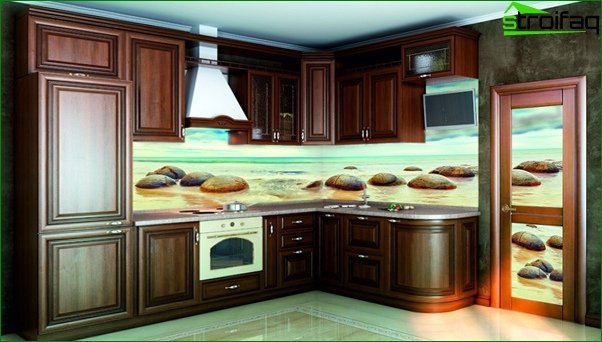 Do it yourself kitchen apron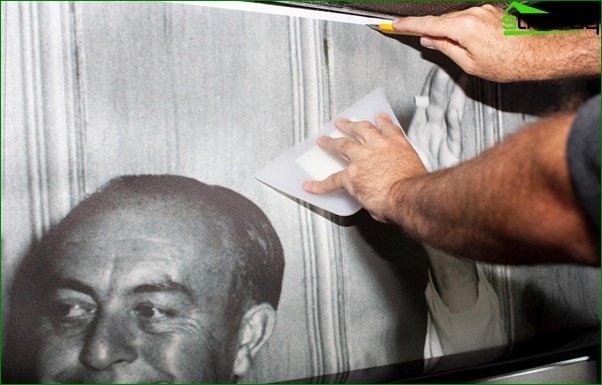 Even in tiny kitchenette You can create beauty and comfort with a kitchen apron. If you decide to do it yourself, then, first of all, you need to decide what materials your apron will be from.
The easiest way to install plastic panels or panels made of laminated MDF / particleboard. However, the life of such panels is not very long..
If you have already encountered tile laying and laid, for example, tiles for the bathroom, then you can experiment with this material. For lovers of vintage and the Soviet era, an original and stylish solution may be laying out mosaics from tiles of the time. However, it will be very important in this case to choose a high-quality water-repellent grout for joints.
Of course, the most beautiful solution for a kitchen apron will be glass. However, you need to work with this material extremely carefully, because the smallest blow can turn into chips, scratches, or even a completely broken sheet.
Glass mounts must be of the highest quality..
So that the glass does not deteriorate further from overloads, the places for installing the fastener must be leveled with a water level.
Even if it is not possible to order glass with photo printing, thanks to its transparency, you can place anything behind it. It can be posters of your favorite groups, murals, collages from photographs (only it is desirable to pre-paint the wall), and especially creative housewives can embroider a panel for the kitchen on the wall and install it behind glass. Also, glass can be painted with special stained-glass paints, but this is not very practical, since under the influence of temperature the paints can melt.