Content
What you need to know when buying tiles for the kitchen?
What types of tiles are?
Ceramic
Porcelain Tiles
Stone
Glass
Shape and installation method
Parquet laying
Diagonal masonry
Mosaic
Brick imitation
Stitching "seam to seam"
Zoning and combining
Apron design
Which tile is better to choose for the floor in the kitchen?
We lay the tiles with our own hands
To the walls
On the floor
What you need to know when buying tiles for the kitchen?
One of the advantages of using tiles in the kitchen is the long-term use of it. Tiles (whatever it was made of) are many times stronger than many other materials for decorating walls and floors. However, this can also become a significant drawback, because if a tile disagrees in a couple of years, then changing it will be much more problematic and expensive than, for example, re-sticking a wallpaper.
So, we outline the basic principles of buying tiles for the kitchen:
1. Tiles must be selected only after you have created a project for the future interior or at least a complete idea of ​​what result you expect to see in the end. If a kitchen set is already available (and you do not plan to update it), then the tile must be combined with it. Tile can be contrast, can be in tone furniture in the kitchen, it may be the same color, but a few tones darker or lighter – it all depends entirely on your taste. Particular attention should be paid to combining countertops with tiles..
Modern computer technology allows even a novice to create two-dimensional collages or full three-dimensional models of the repaired space. It is advisable to create collages from real photos of those items that you plan to place in your kitchen. This will allow you to visually, and not with the help of imagination, evaluate how much all this will combine and harmonize with each other. But be sure to remember that the accuracy of the transmission of shades directly depends on the monitor settings of your personal computer.
2. Never buy tiles to the exact bite! We are categorically against useless spending money on acquiring and places for storing kilograms of tile, which is located somewhere in the pantry as a dead weight and will only interfere. However, buying a meter-in-meter tile is also not worth it. No one is safe from force majeure. Wall tiles may crack during installation or may not be trimmed correctly, something heavy may fall down, causing floor tiles to crack, and maybe I will have to have wiring or a floor heating system and it will be necessary to disassemble the masonry – there are many options. And there's an almost negligible chance that you will be able to buy exactly the same tile as you were. Even if it is from the catalog, another production batch may differ in shade or size by several millimeters, which will be very striking. Therefore, it is necessary to purchase tiles with a small margin. Experts recommend calculating this stock as 10-15% of the total.
3. On the sites of many online stores of building and decoration materials, you can find such an additional service as "calculating the required number of tiles for repair." Why not trust the professionals? However, according to popular wisdom, trust, but check: it is possible that the number of tiles can be calculated with a large margin, which by the end you do not need at all. Moreover, it is extremely rare that such services are accompanied by special contracts and are of a purely advisory nature. Therefore, the online store has the full right not to accept extra boxes with tiles and any claims on your part.
4. Returning the tiles (not even to the online store, but the usual one) is a delicate matter. Since this is a finishing material that is sold by meters, even while maintaining the integrity of the packaging, the store may legally refuse to accept it back. The exception is decorative tiles and borders / friezes (which you can use to decorate the apron) if they are sold one at a time. That is why, if you are not confident in your calculations, it is worth discussing the possibility of returning the tiles in advance with the store manager.
5. The entire tile must be carefully inspected. Even the fact that outwardly the packaging may look intact and intact does not guarantee the absence of defective, broken tiles or chips with chips inside. Therefore, it is imperative that before you pick up the tile, do not hesitate to fully check it.
6. Never buy a tile of the first eye catching size! Even if you like the pattern, the choice of tile size should be approached especially carefully. The fact that large tiles will look bad in a small kitchen, and small mosaics visually narrows the space on the Internet, a lot has been written. But that's not the point. Due to the improperly selected size (especially if the tile is chosen for an apron), the tile will have to be cut, because of which the pattern will look very "not very", and a lot of the tile will simply be thrown into the trash, and you will spend your nerves on this process lot. Of course, you can adjust the placement of the tile using the width of the joints, but it is better to calculate using a tape measure what size of the tile for the floor and walls is ideal, without additional cropping and other.
In the stores of building and decoration materials, there are special crosses for laying tiles, which help to make all joints equally smooth. Their size can vary from a couple of millimeters to a centimeter.
7. When choosing a tile, consider not only its appearance, but also its functionality. If the main task of bathroom tiles is to withstand constant changes in temperature and a huge amount of moisture, then for kitchen tiles the main enemies are fat and soot. Despite the fact that the embossed tile is very beautiful, the dirt from the cooking process will be more difficult to wash off from it than with a regular smooth tile. In addition, the tile must be protected from chemicals so that its appearance does not deteriorate during cleaning. Typically, these types of tiles are labeled AA.
Tile lettering
| | |
| --- | --- |
| AA | Resistant to strong chemicals |
| AND | Resistant to chemicals of medium and low strength |
| IN | Low chemical resistance |
| FROM | Very low resistance to chemicals |
| ABOUT | Not resistant to chemicals |
Like bathroom tiles, kitchen tiles are exposed to water. And so that lime stains in water are less conspicuous, it is better to choose a matte surface instead of a glossy surface. At least where spray regularly gets.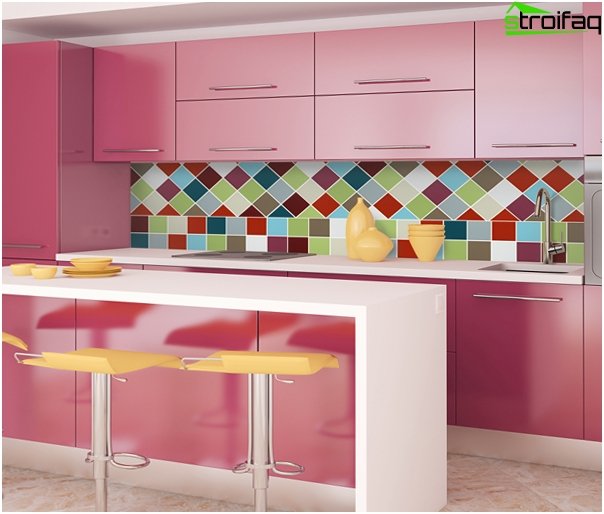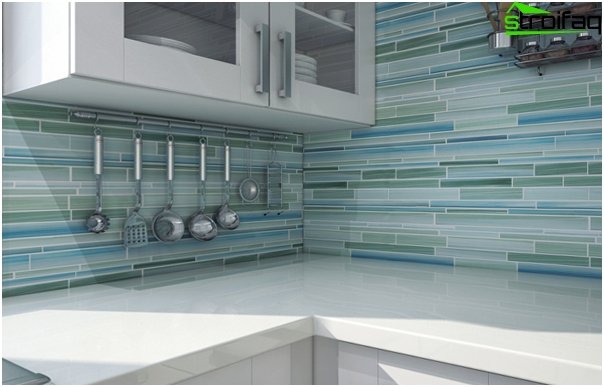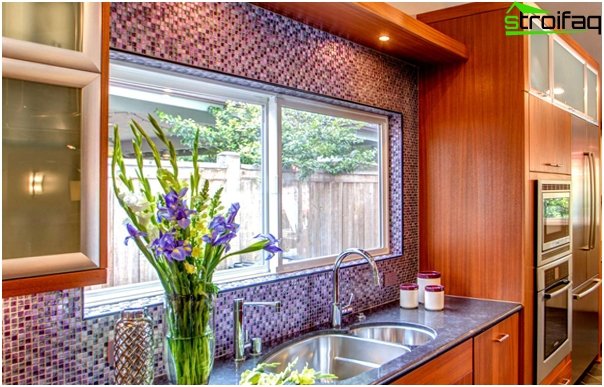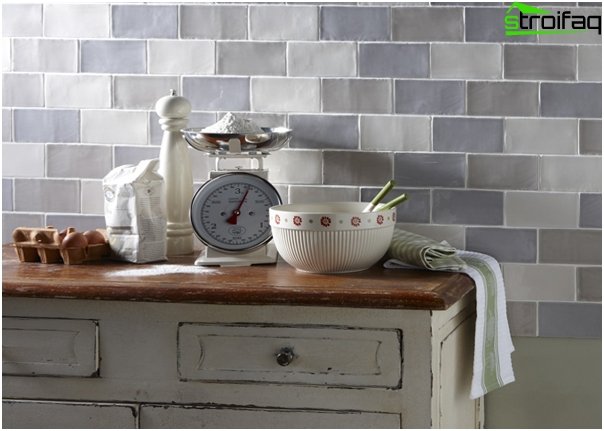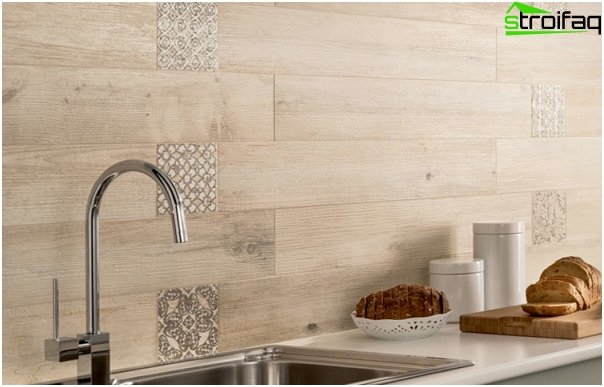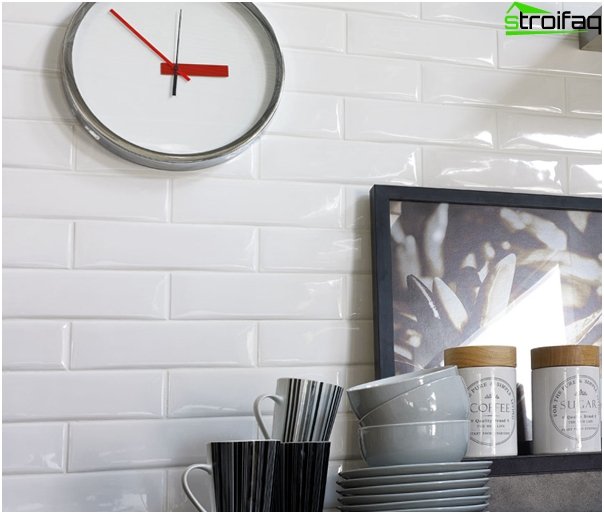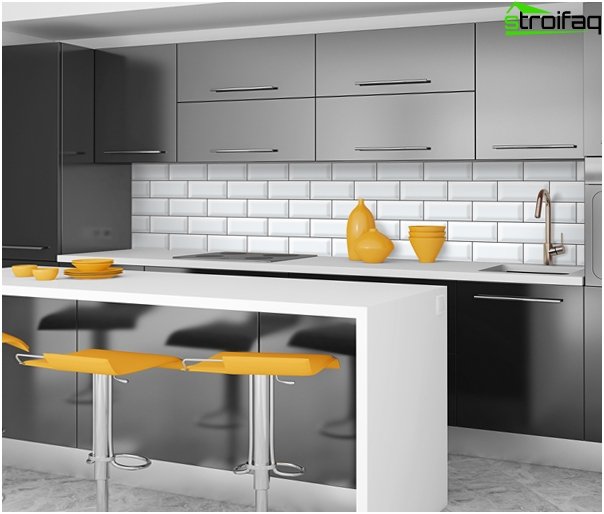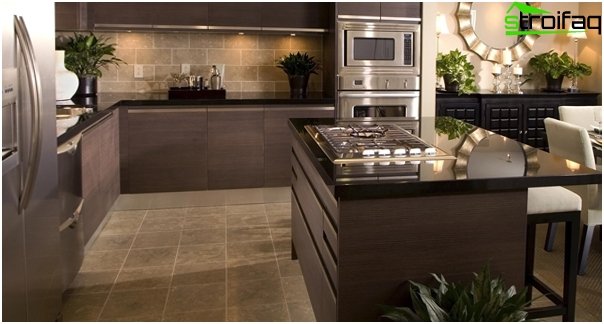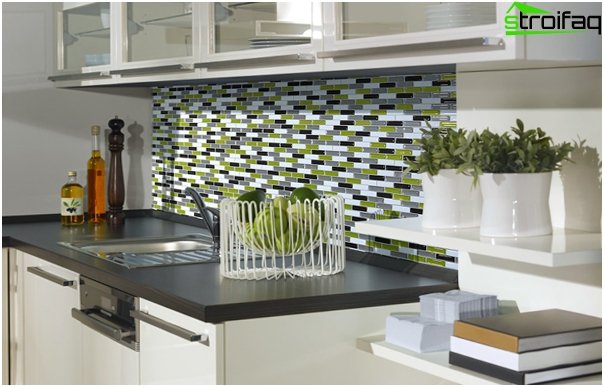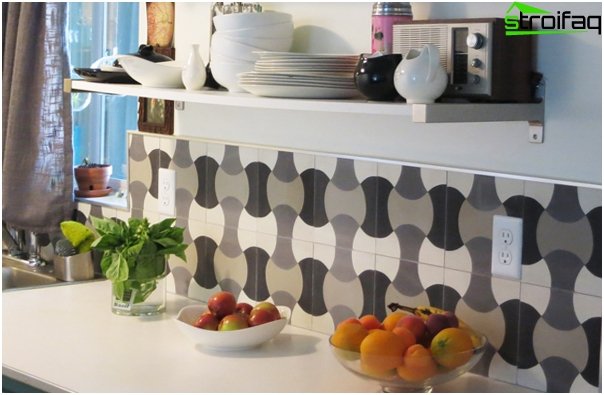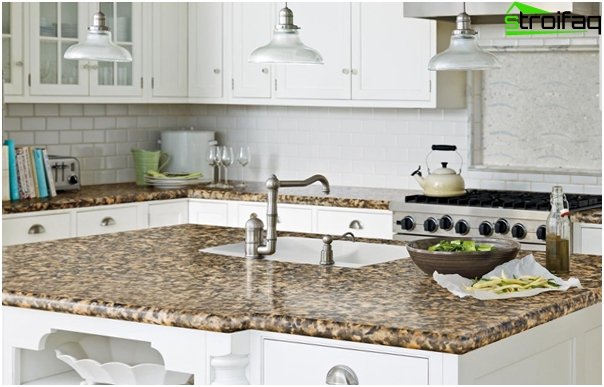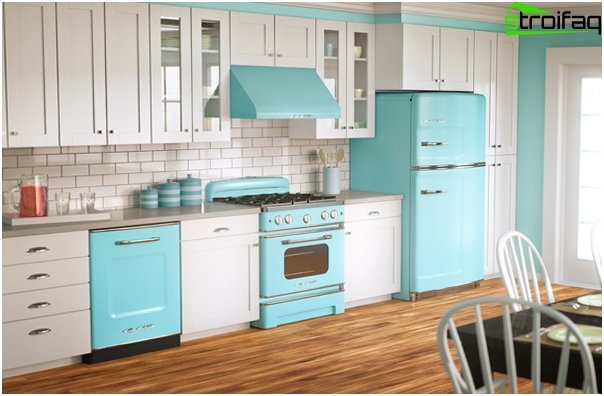 What types of tiles are?
Ceramic
The price of ceramic tiles is the most affordable, and the design is the most diverse. Ceramic tile is a mixture of sand, clay and minerals, which is burned and covered with glaze. It happens:
Such tiles can be combined with more expensive types of tiles. See our photos for examples..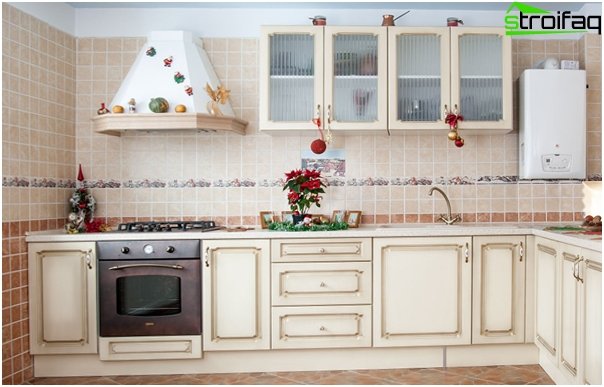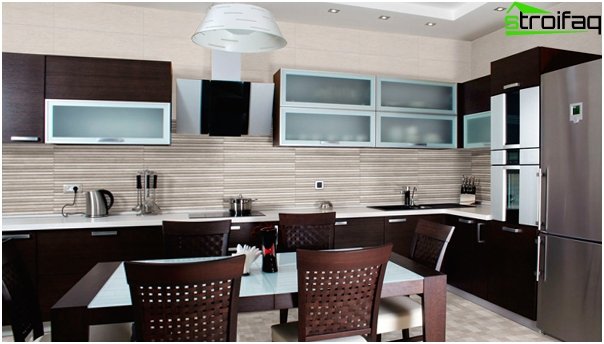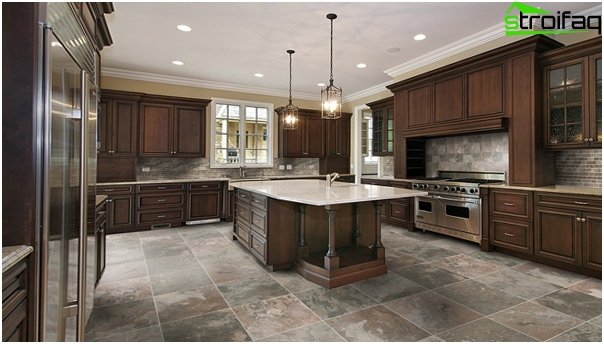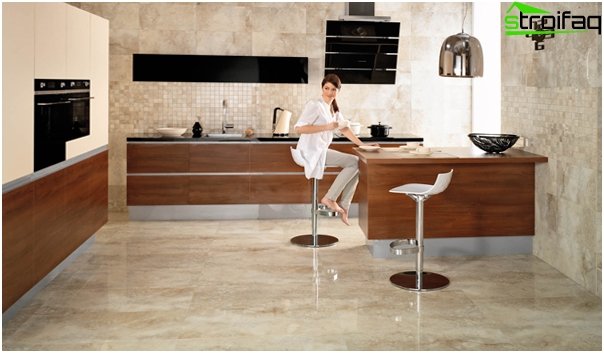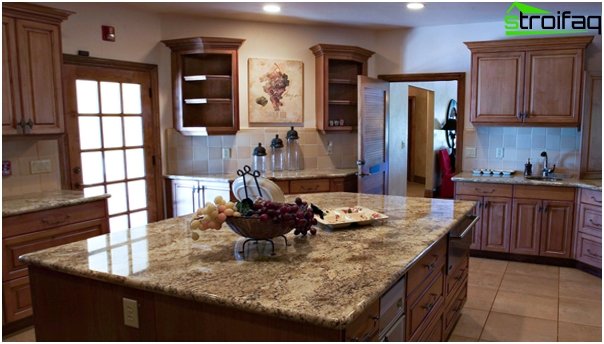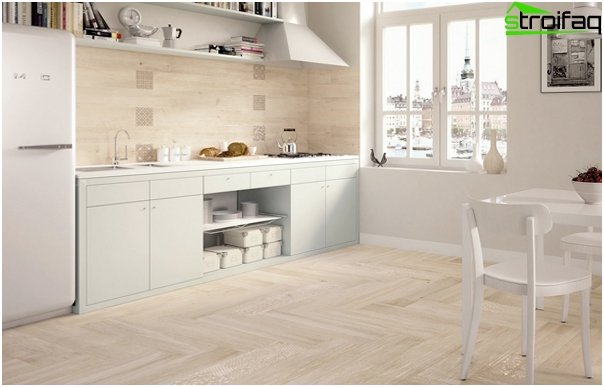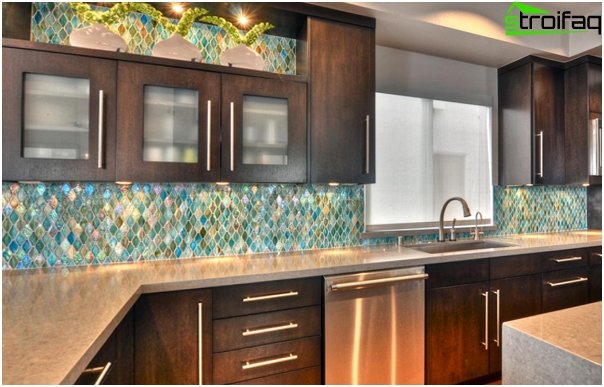 Porcelain Tiles
Porcelain tile is considered the most durable. It is made from a mixture akin to porcelain, but looks like a stone. Porcelain stoneware is ideally used for decorating the floor in the kitchen, because even if it is full, it will not only stand, but also retain its appearance. In addition, such a tile does not actually absorb water.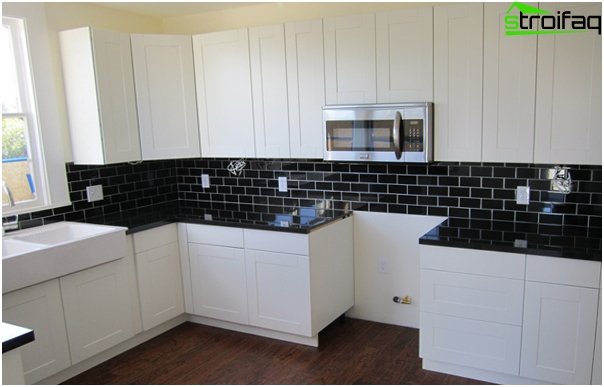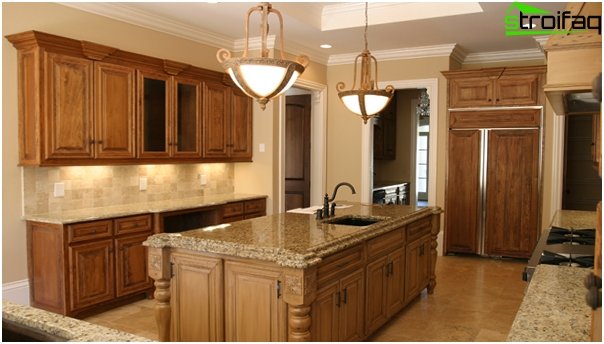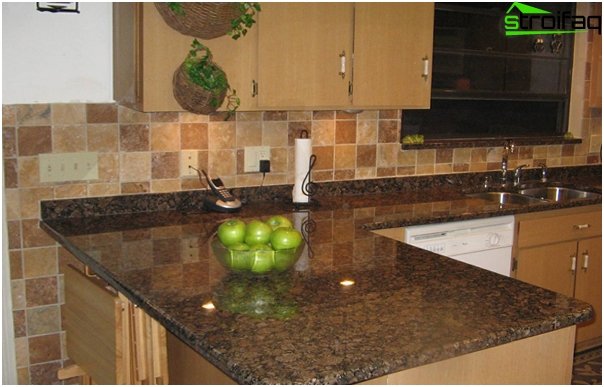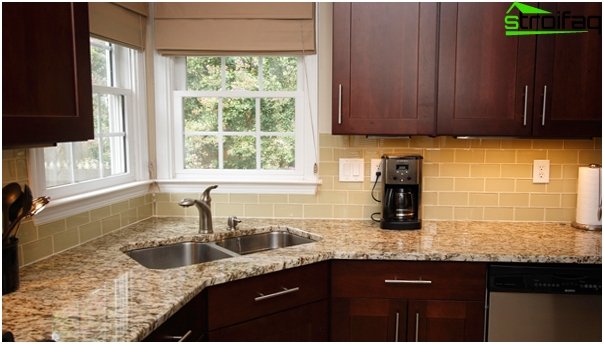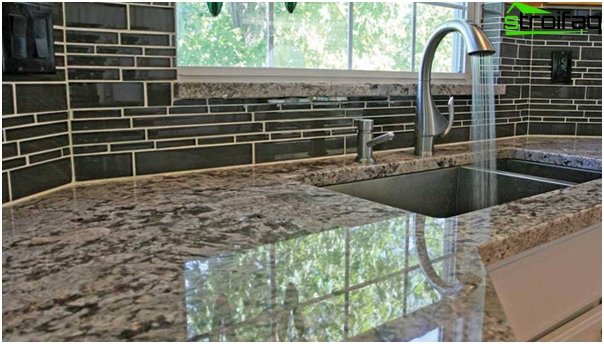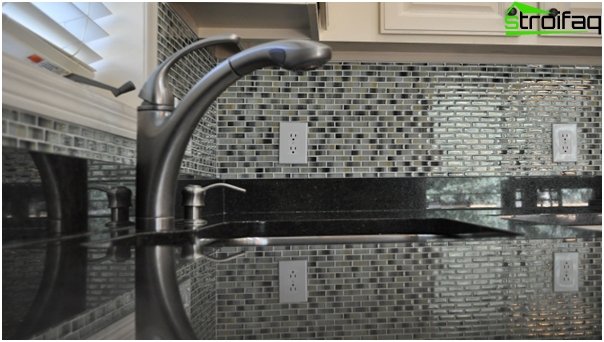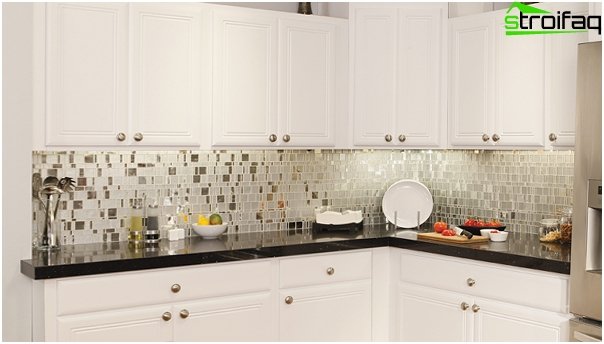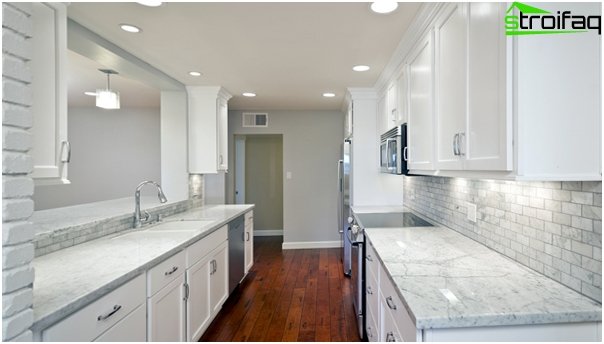 Stone
Stone tile – looks very stylish. But experts do not recommend fully decorating the kitchen with it. Since it is made of natural stone, stone tiles have a high texture, which visually narrows the space. It is enough to draw with its help one wall or some elements, such as an apron.
Stone can be made of cutting or dining tops. Tile for an apron, selected according to the drawing, color and texture like a countertop, will be its logical continuation and an original solution in the interior.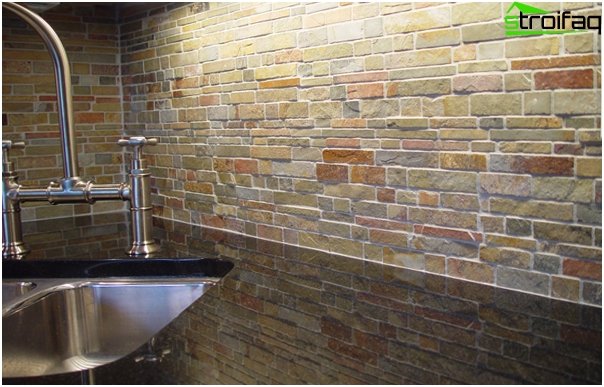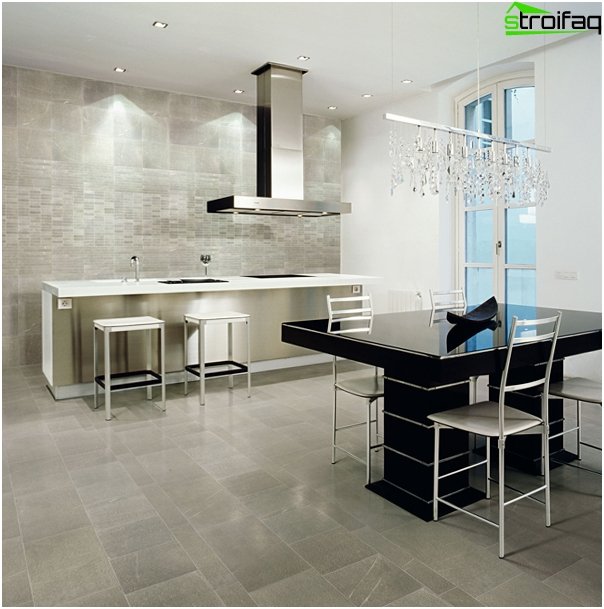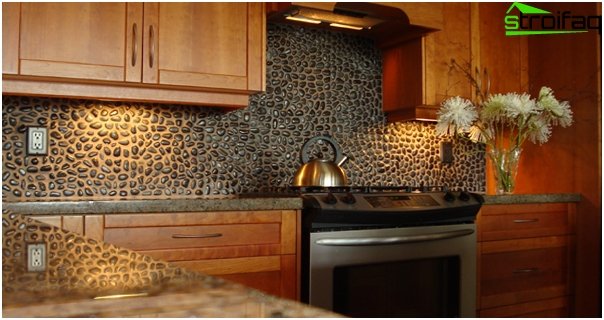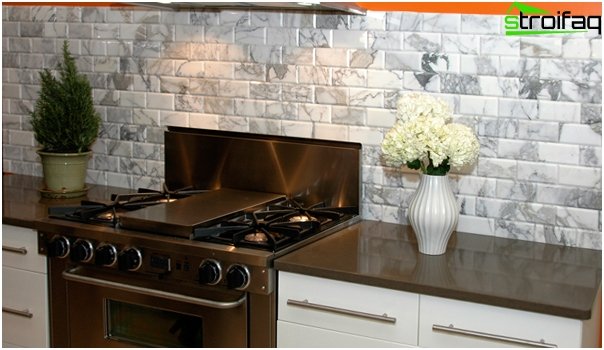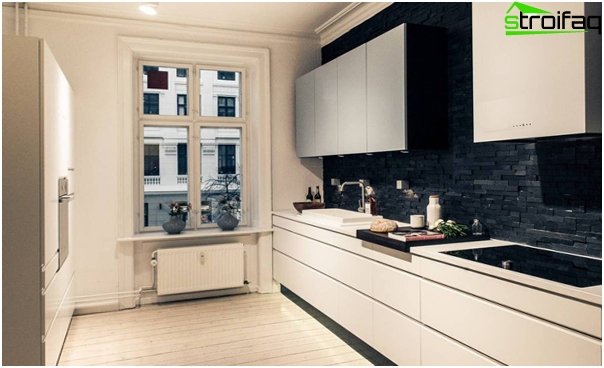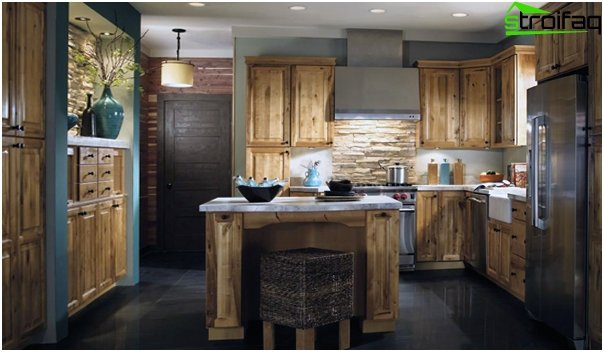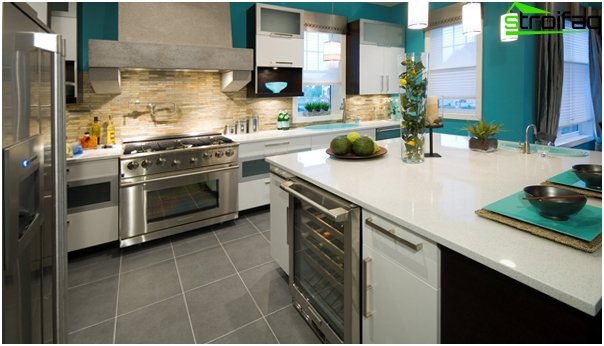 Glass
It is not difficult to guess that the glass tile is made of glass. She may be:
Glossy
Matte
Transparent
Color
Thanks to glare that spills over the surface of the glass tiles, your kitchen will always sparkle and shimmer. Such tiles do not require special cleaning, but periodically it should be wiped with special glass care products..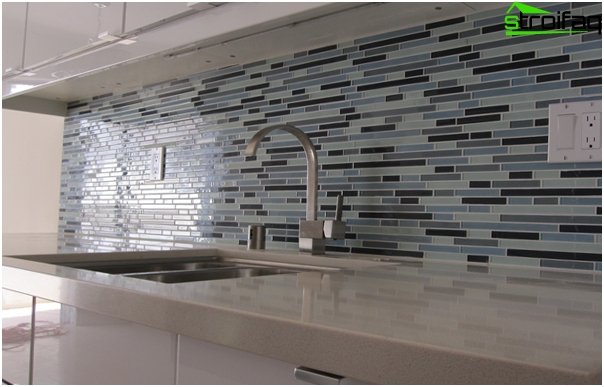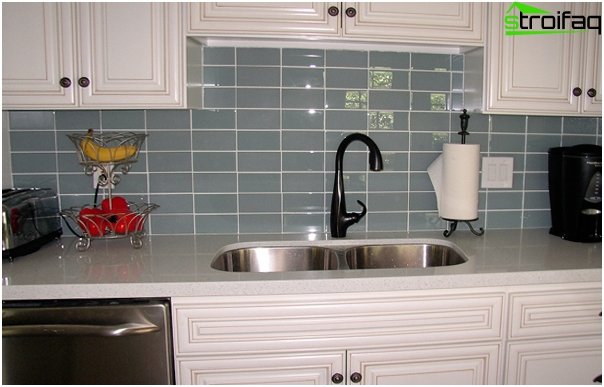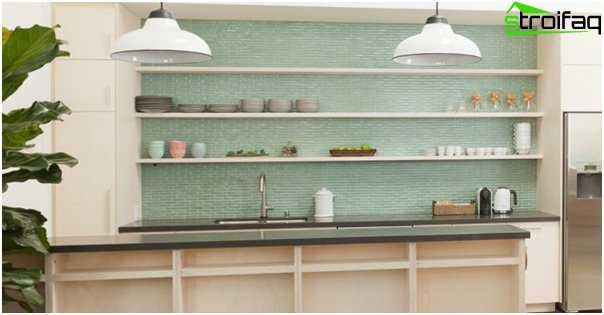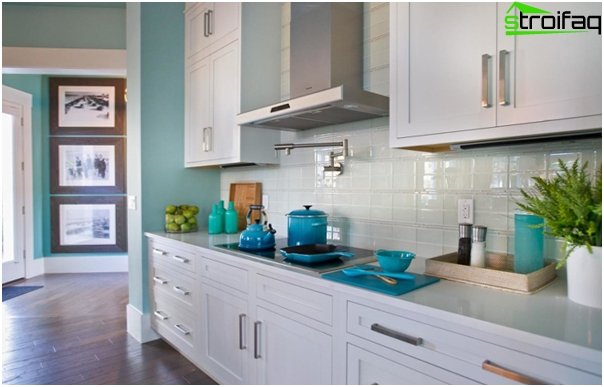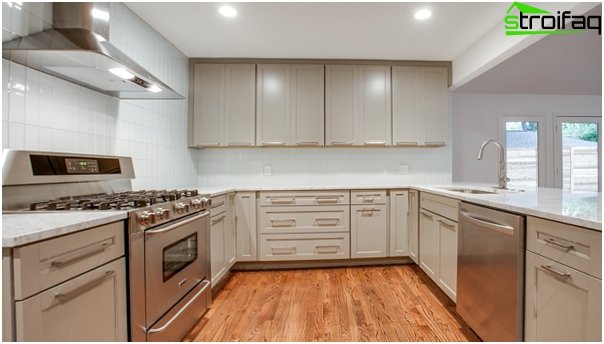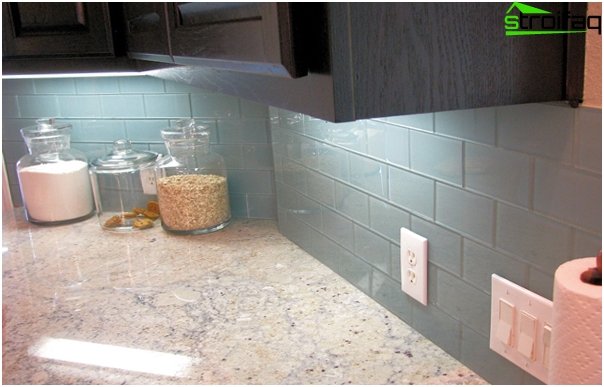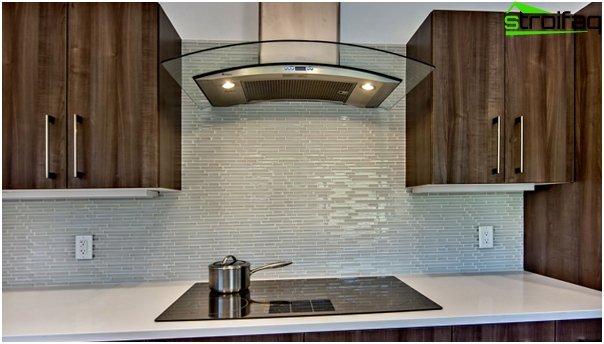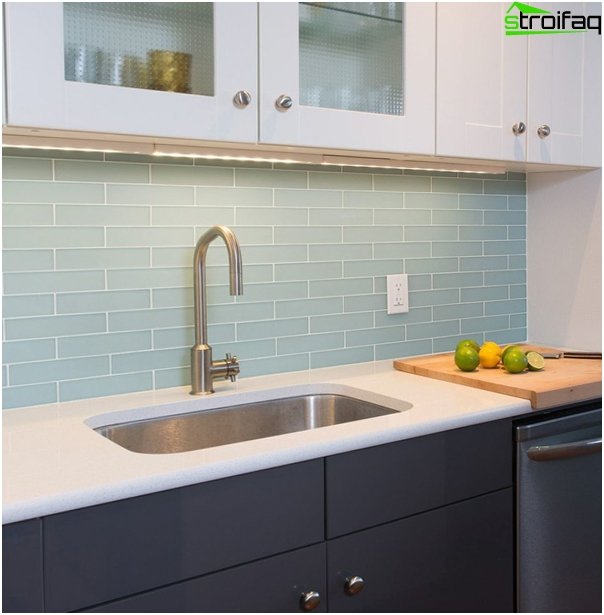 Shape and installation method
Parquet laying
Laying in the form of parquet is the laying out of long narrow tiles with a herringbone or pigtail (perpendicular to each other, upward angle). It looks rather unusual and interesting in the interior.
Since the aesthetic effect lies in the way of laying, it is better to choose a neutral, monophonic tile (without patterns). But nobody forbids you to combine several colors: the main thing is that the tiles are of the same series.
The inconvenience of laying is that you will definitely have to cut the tiles around the edges of the room. To simplify the task and save on materials – select square tiles to match and cut them diagonally.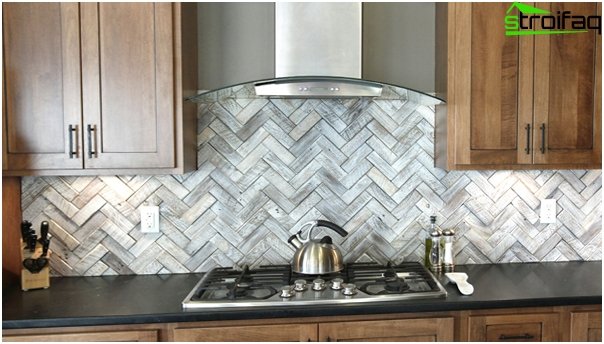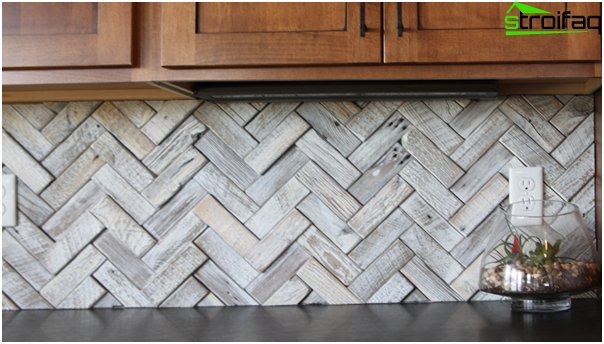 Diagonal masonry
When laying diagonally, tiles are placed diagonally. This way of laying floor tiles will visually expand the space. But on the walls the effect can turn out the opposite. The undoubted advantage is that due to the oblique lines the curvature of the walls is leveled. But you can't do without cutting plates.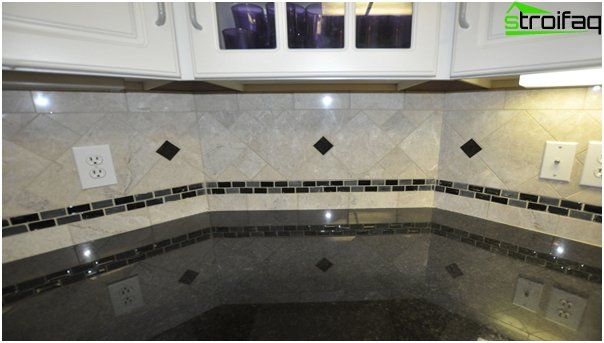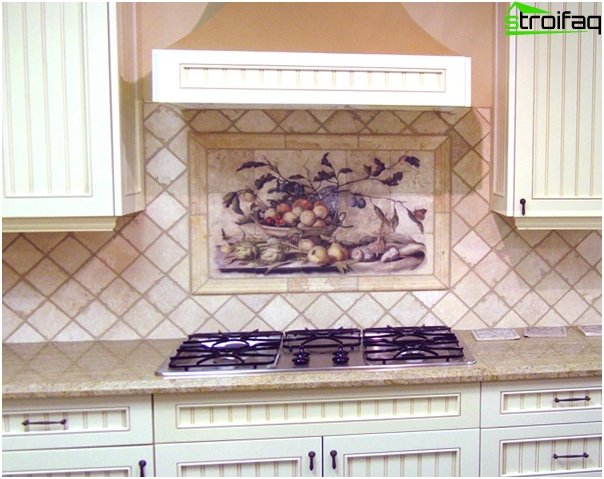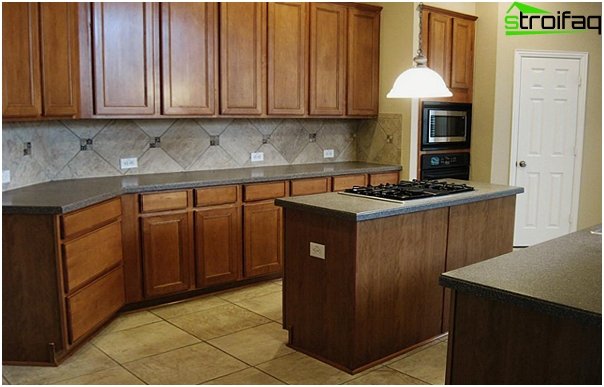 Mosaic
Mosaic can be laid out from small tiles, or you can purchase ready-made large tiles with a mosaic texture. Such tiles are easily adjusted to the required size without affecting the appearance. It is advisable to combine mosaic with medium or large tiles..
Since everything is vintage now in fashion, a mosaic of fragments or pieces of old Soviet tiles can become an original and stylish solution..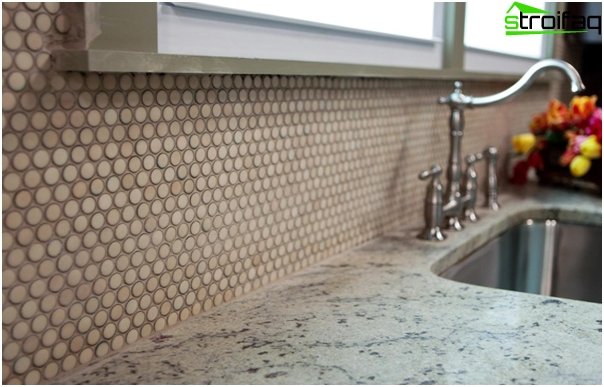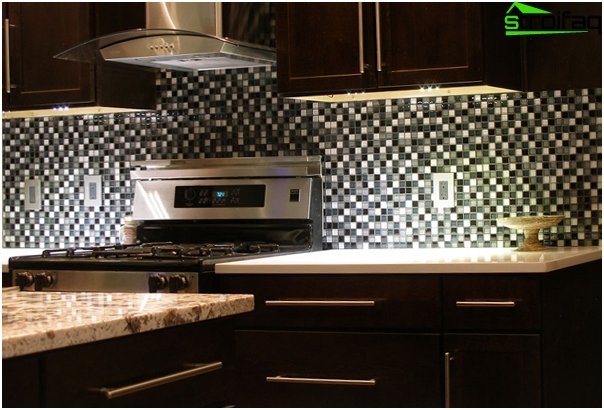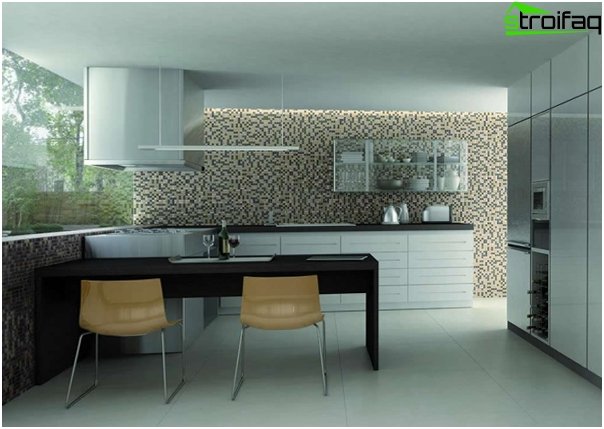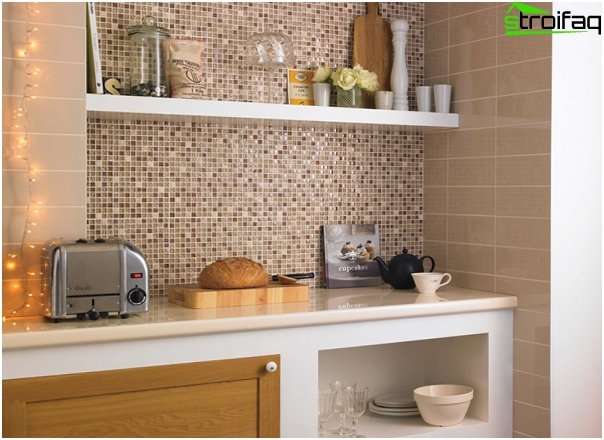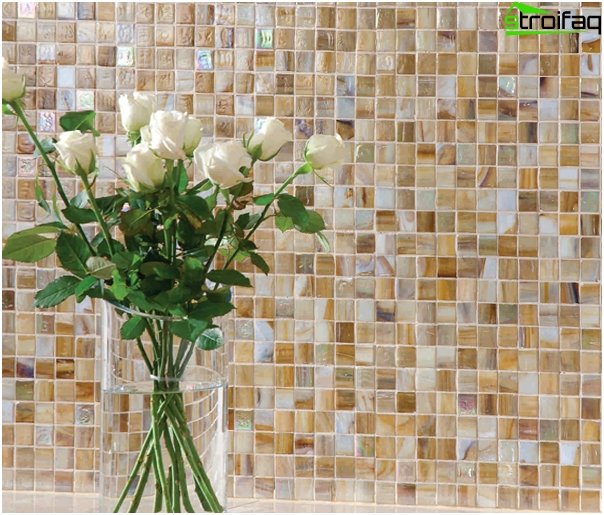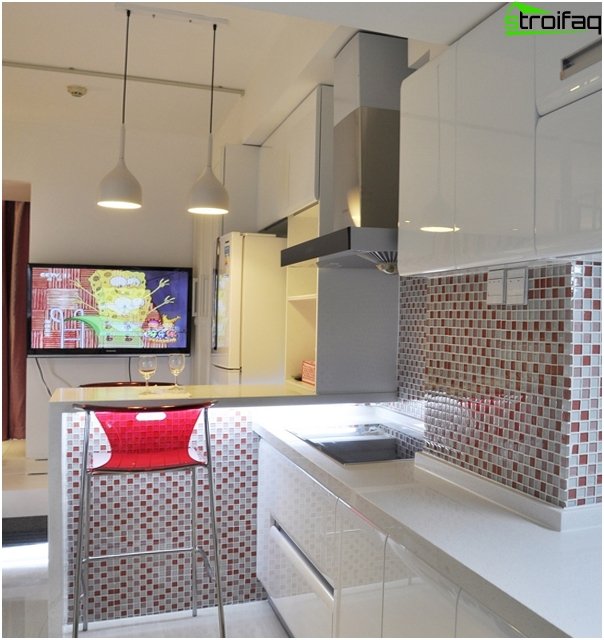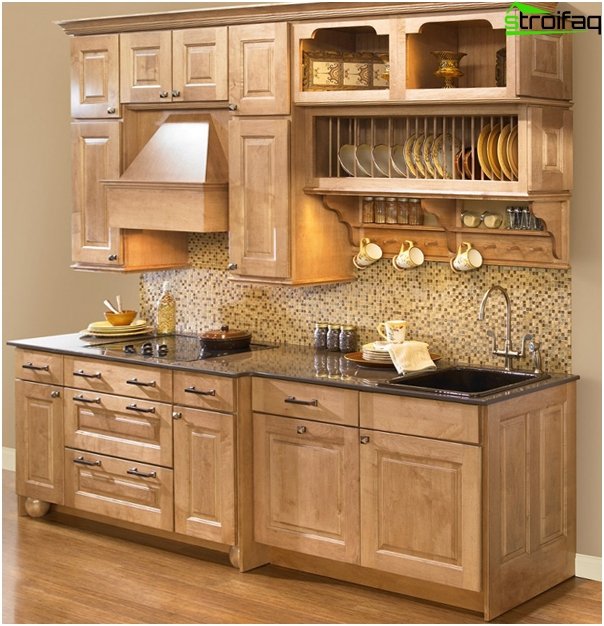 Brick imitation
Imitation of masonry or laying the tiles "in reverse" – a fairly popular option today. Smooth parallel lines will be either strictly horizontal or strictly vertical. Due to this, you can achieve different visual effects. And if you combine several colors – then also drawings.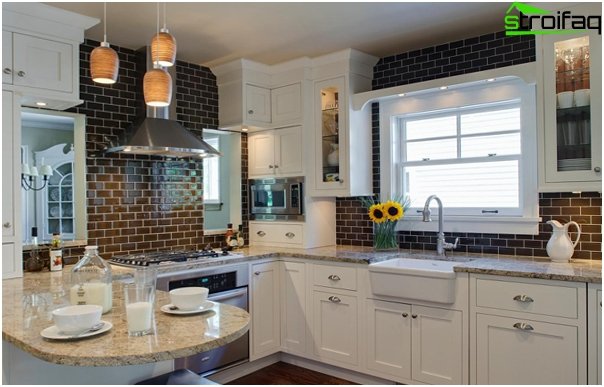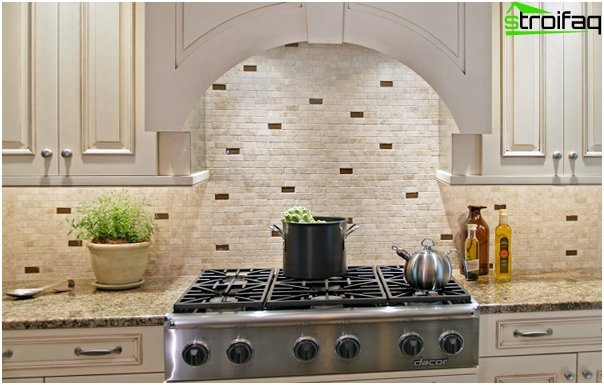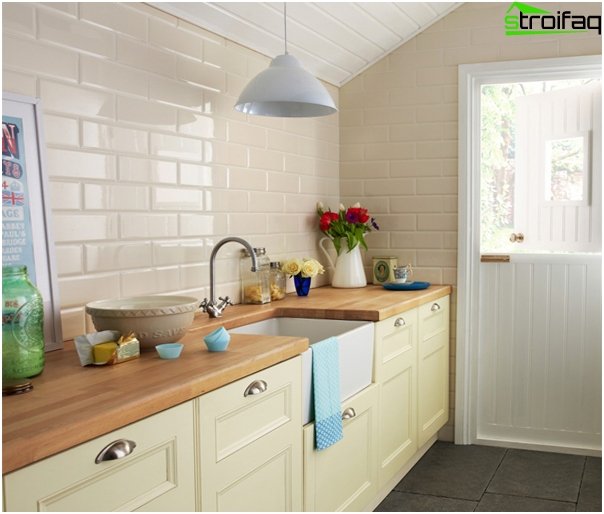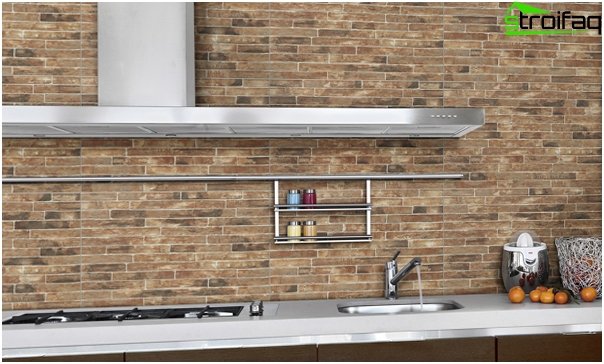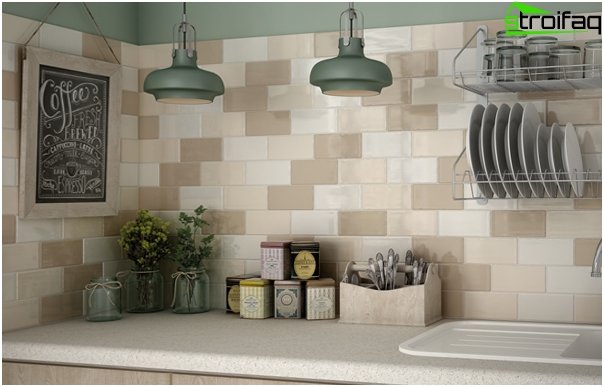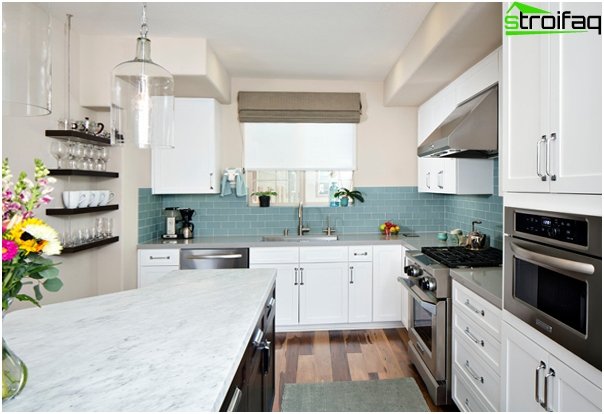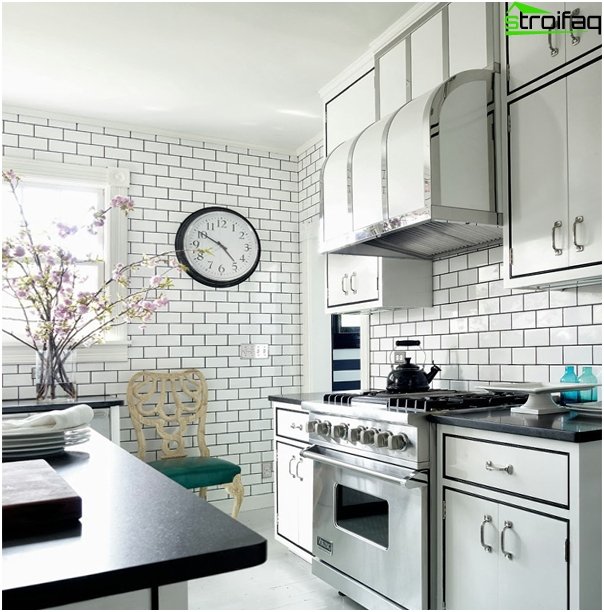 Stitching "seam to seam"
And of course, the standard "seam to seam" laying, which requires clear and even rows. If there are not many options for laying square tiles, then the rectangular can be oriented vertically (to visually raise the ceilings) or horizontally (to visually expand the kitchen).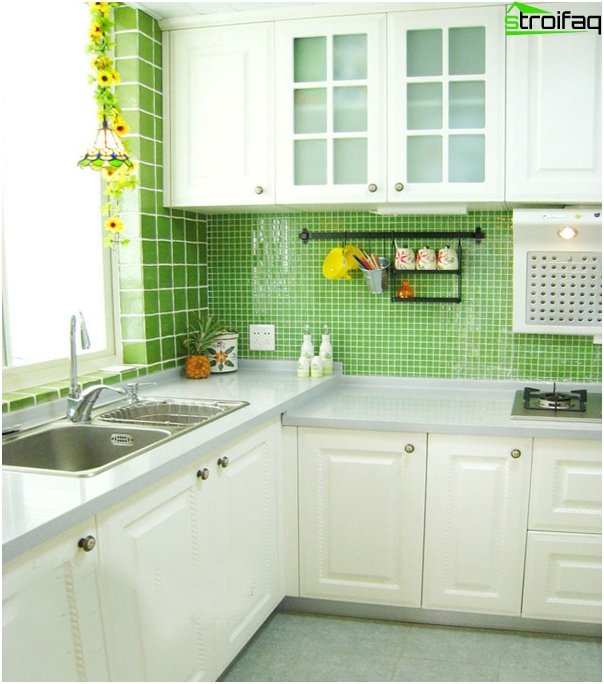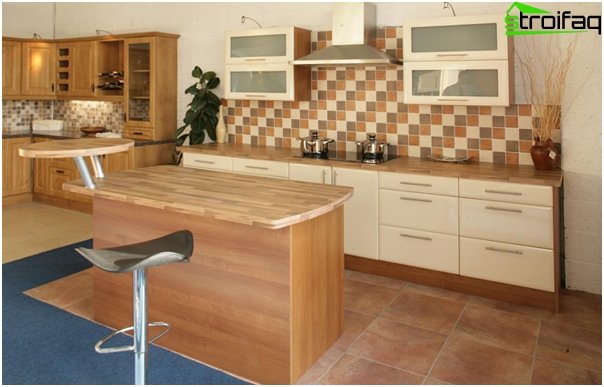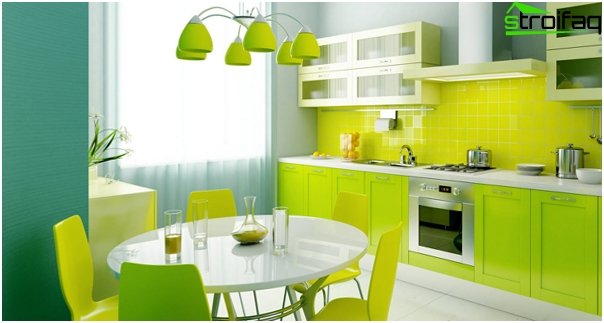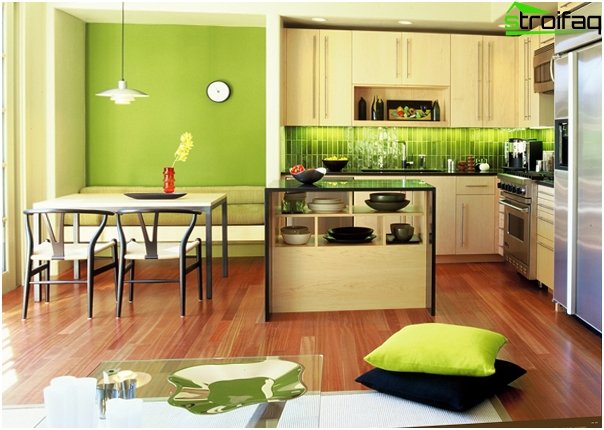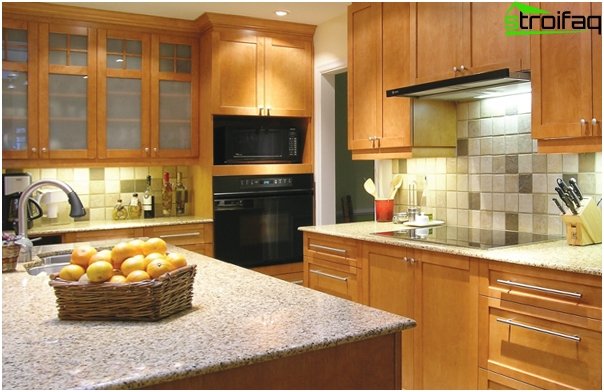 Zoning and combining
Since tile is not a cheap pleasure, it is quite acceptable to combine it in kitchen interior with other materials for decorating walls. This can be wallpaper, decorative putty, or simply painted walls. As a rule, the working area (apron) is decorated with tiles to make it easy to clean, and the rest of the space – with other materials. The combination may be:
Contrast (opposite colors, textures)
Identical (tone to tone, texture to texture)
Similar (similar colors, textures)
For plain wallpaper, it is better to choose a contrasting tile or tile with a pattern. For wallpaper with a pattern, the tile should be neutral. Read more about wallpaper for the kitchen.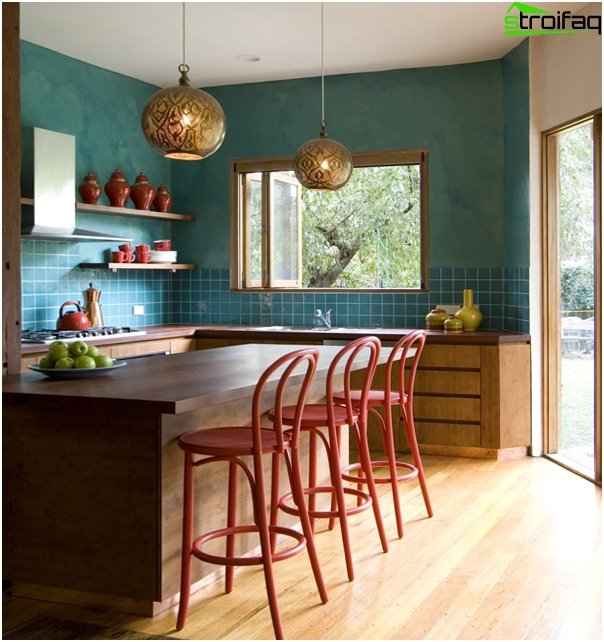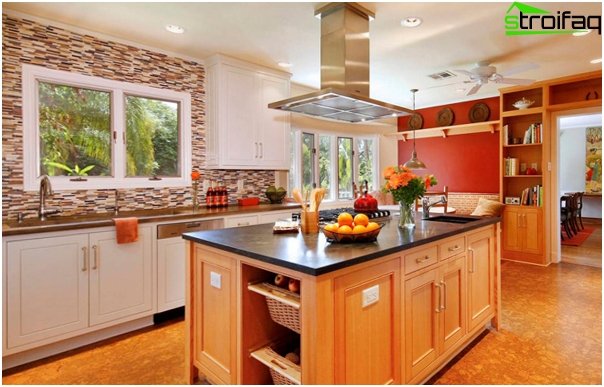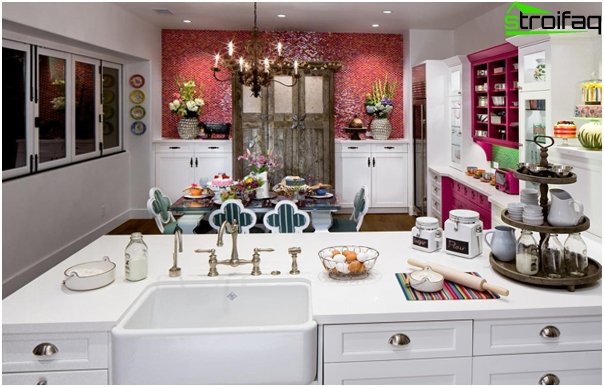 Apron design
Kitchen apron, located directly above the working area, accounted for exactly in the middle of the walls. Therefore, it can be bright and unusual. You can highlight it with a different color or another styling method, make accents using bright tiles or tiles of a non-standard shape and texture. You can also order special photo tiles. Their manufacturers not only offer a wide selection of drawings for every taste, but also "tailor" them to the size of your kitchen. However, you will have to carefully lay out such a tile, because all parts of the picture will be in only one copy.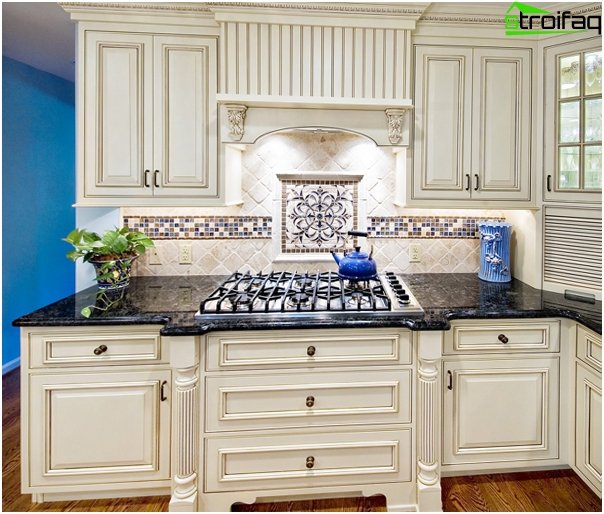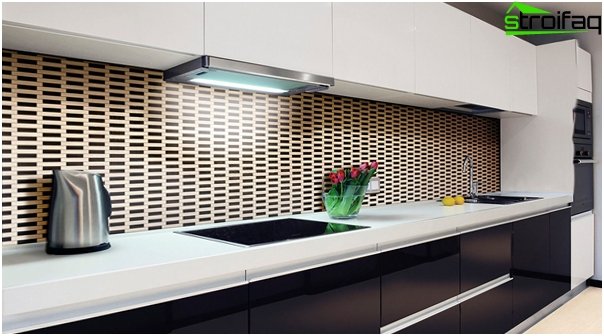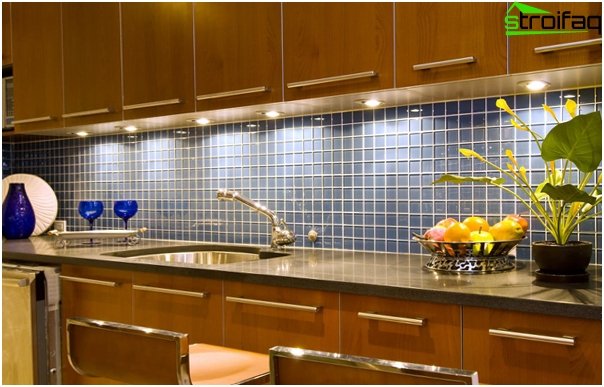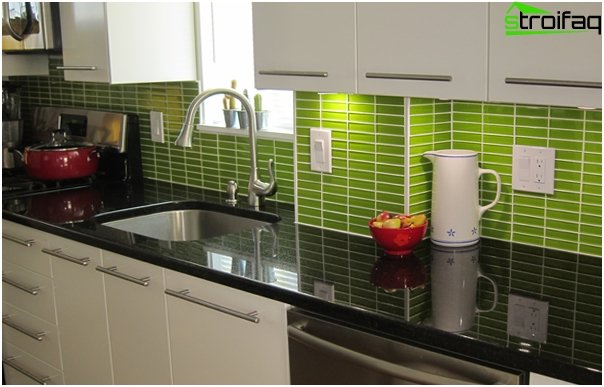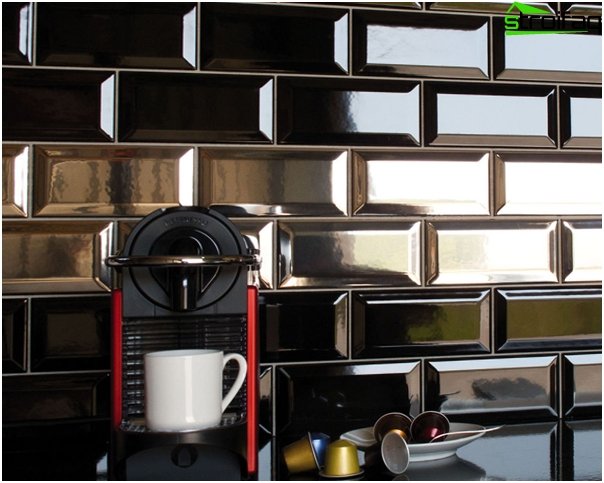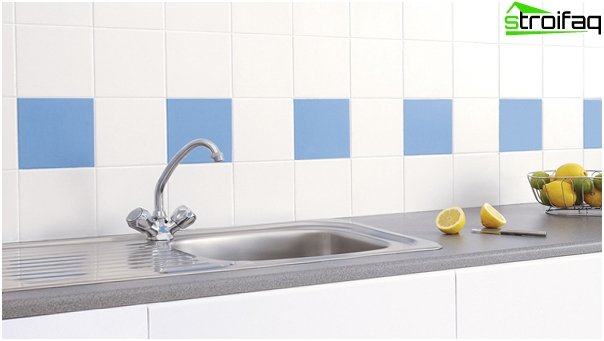 Which tile is better to choose for the floor in the kitchen?
Strong, as it will have a lot of weight.
Chemically resistant, as the floor in the kitchen will have to be washed with cleaning agents more often than in other rooms.
Resistant so that it does not lose its appearance.
Non-slip so that the spray near the sink does not end with injuries.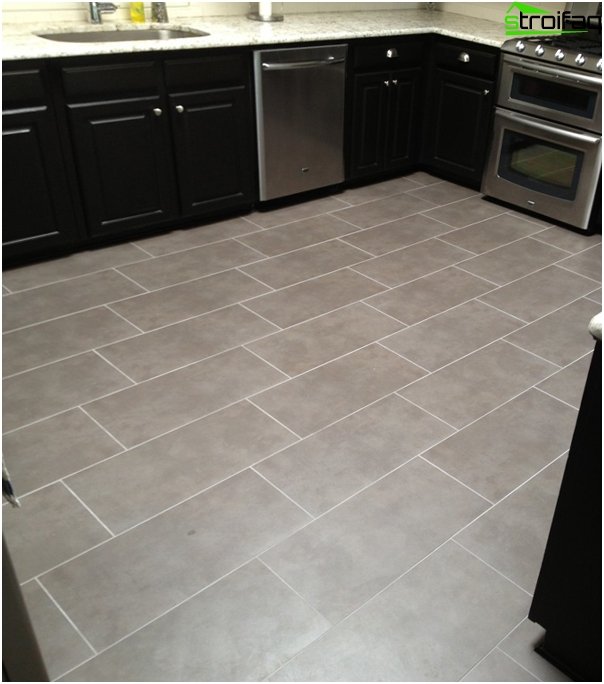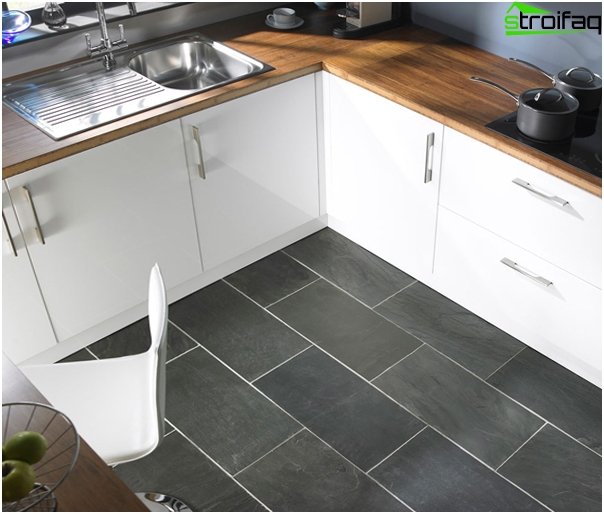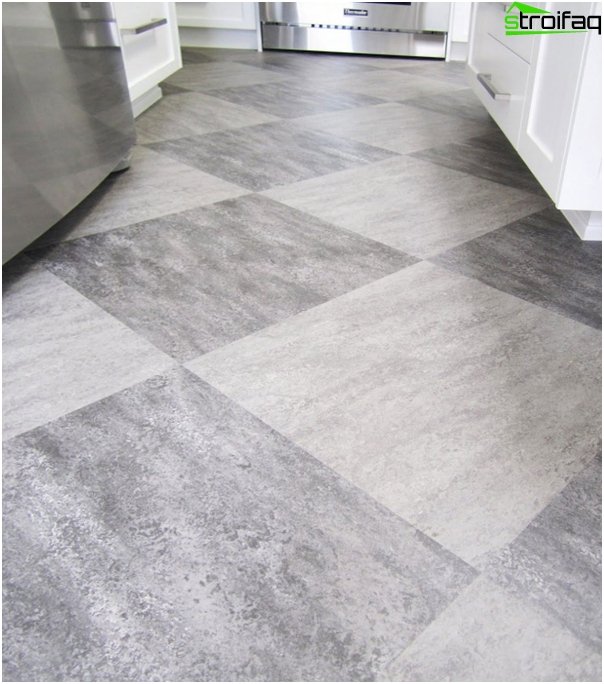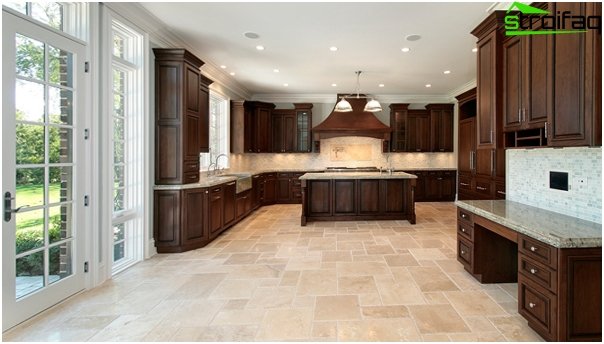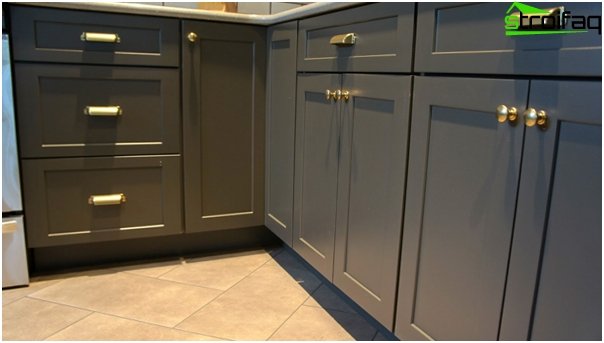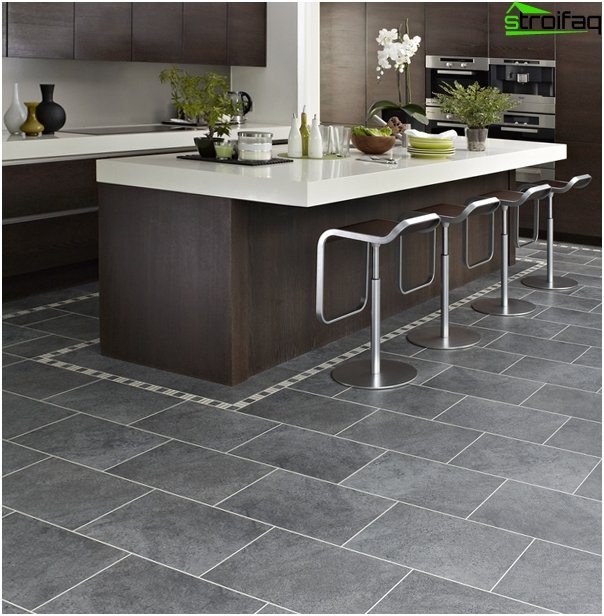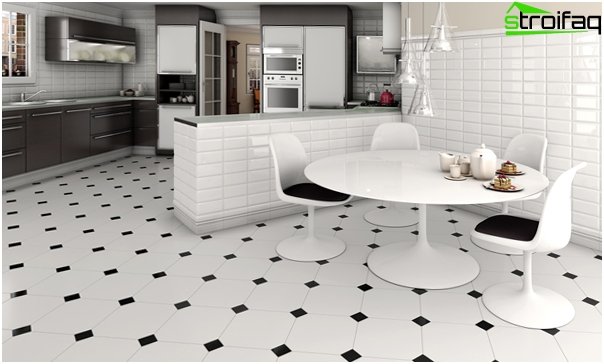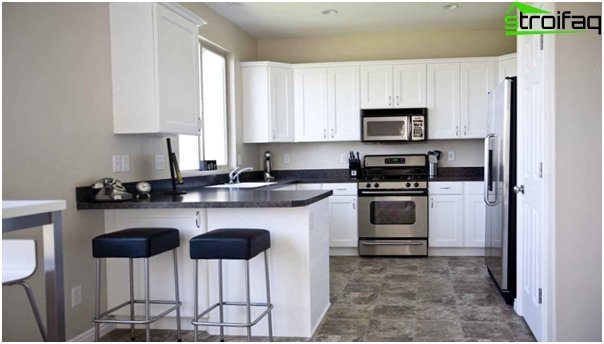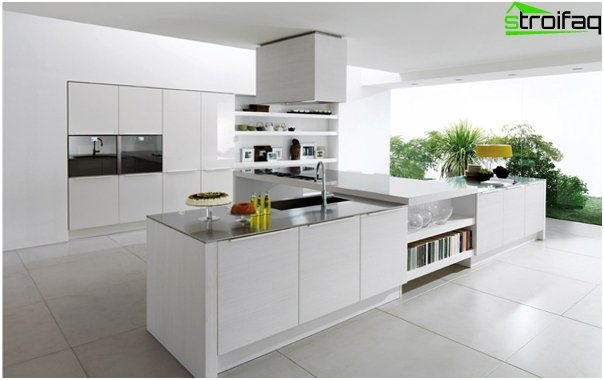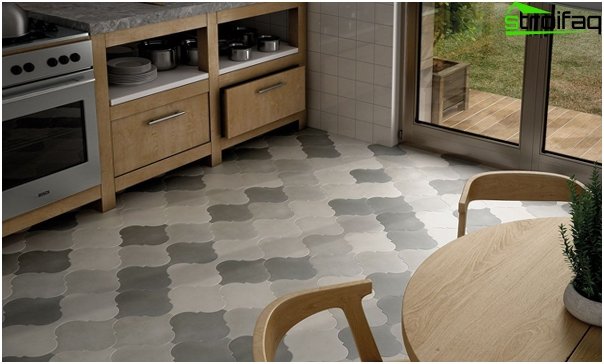 We lay the tiles with our own hands
To the walls
Thoroughly clean the walls of all coatings.
Apply axial marking depending on the method of laying and the size of the tiles (this will determine whether to cut the tiles and if so, place them below so that at the top, where you can see, there are integers).
According to the instructions, prepare the adhesive.
Apply it with a thin layer, make furrows (conveniently using a "notched" spatula).
Install the tile, pin down. Place crosses around to align the seams..
After drying, remove crosses, wipe seams with colored grout for seams.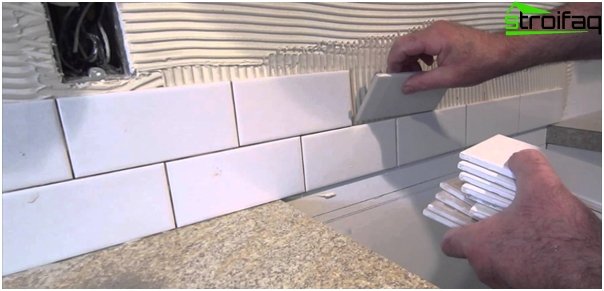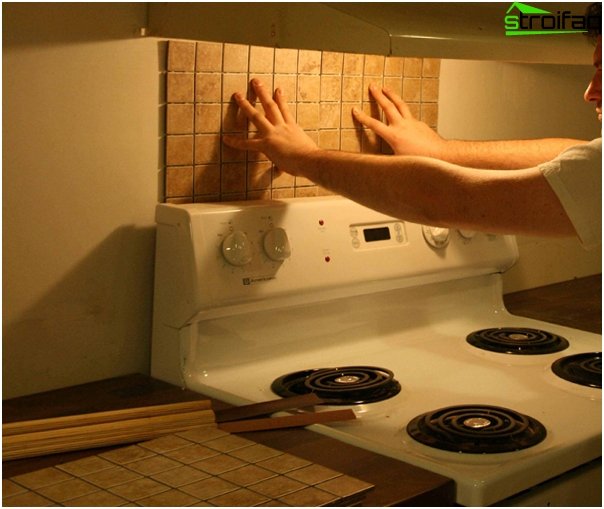 On the floor
Thoroughly clean all floors.
Make a floor screed.
Apply axial marking depending on the installation method and dimensions.
According to the instructions, prepare the adhesive.
Apply it in a thin layer, make furrows.
Install the tile, pin down. Place crosses around to align the seams..
After drying, remove crosses, wipe seams with colored grout for seams.
White seams on the floor look beautiful, but get dirty very quickly and lose their appearance.