Content
2020 General Design Trends
Design trends in different rooms
Kitchen Design
Living room design
Bedroom design
Bathroom and toilet design
The specifics of the design of various apartments
1 bedroom
2 bedroom
Khrushchev
Fashionable colors for the design of apartments
Bright hues
Dark tones
Natural tones
Modern ideas for decoration
Walls
The ceilings
Floors
Choose lighting
We select fashionable furniture
Cushioned furniture
Cabinet furniture
The most popular styles in 2020
Scandinavian style
Loft
Minimalism
2020 General Design Trends
As among the trends of fashionable clothes, in the world of interiors everyone will be able to find something for themselves. In general, all the variability of fashion for interior design is expressed in the presence of trends that set the tone for general trends in the creation of modern and fashionable interiors.
So, let's see what are the key trends in 2020?
1. Individualism, functionality, environmental friendliness. Right now, in 2020, as never before, an individual approach became popular in everything, including in the design of housing. Today, real consumer goods are not valued stamped in millions of copies, but the uniqueness, brightness, originality, and peculiarity of each person. Moreover, the emphasis is not on pretentiousness and extravagance, but directly on the functionality and usefulness for each person taken. The interiors of 2020 require not only imagination from designers, but also analytical thinking, so that, in the end, the design of the apartment fully and completely meets even the smallest needs of the client. And one of these needs, of course, is human health. Therefore, designers insist on the need to refuse to design premises of artificial materials of "dirty" production in favor of environmentally friendly, natural, natural.
2. The popularity of the Scandinavian style. The Scandinavian style, as the embodiment of functionality and environmental friendliness, naturally became one of the leading trends of 2020. Despite all its "severity" (in many ways, perhaps, imaginary), this style combines convenience and coziness, comfort and practicality.
The Scandinavian style is characterized by monotonous walls that are painted with pastel, almost imperceptible shades.
To create furniture and decor, only natural materials are used, mainly light wood.
A feature of the Scandinavian style is that, due to natural conditions and a very limited amount of sun during the year, any decor is almost completely absent on the windows. And if curtains for the hall may still be present, then in all other rooms, especially in the kitchen, they are not provided.
See also: Design of curtains for the hall – photo of the novelties of 2020
When designing an apartment in the Scandinavian style, details and accessories of bright saturated colors are practically not used..
Scandinavian-style furniture is characterized by the presence of many drawers, shelves and containers for storing all kinds of things.
3. 50 shades of white. The color palette is the foundation of any design. The general perception depends on how correctly the colors are chosen when decorating the interior. White color blends perfectly with all other rainbow colors. Moreover, if white acts as the base color in the interior design, you can achieve many visual effects, the most important of which is the visual expansion of the space and the lightening of the room. However, by no means pure white color fits perfectly in every apartment. In particular, in a dark room he will look gray. Therefore, one of the trends in 2020 was the use of various variations on the theme of white.
Experts recommend using warm shades of white as a base in a dark room in the northern part of the building and cold shades of white for decorating small rooms in the southern part.
Shades of white
Warm shades of white
Cold shades of white
Antique

Ivory

Almond

Linen

Biscuit

Shell

Smoky

White ghost

Honeydew

Snowy
4. Black and white. An alternative to using pure white can be a combination of black and white. This combination of colors fits perfectly into the room of any style:
Classical
High tech
Minimalism
Art Deco
It does not matter how "black-and-white" will appear in the interior – in the form of a geometrically perfect chessboard or asymmetric and flowing ornaments.
So that the presence of black in the interior does not affect your psychosomatic state, it is important to adhere to the golden rule of balance – black and white must balance each other. A mix of bright accents and details will help you to dilute black and white severity..
It is important to remember that a bold combination of these two colors does not accept "mixing" styles. The interior in such a range must be strictly designed in one style.
5. Tips from nature. If you are not a supporter of white or a combination of white with black and your soul craves brightness, freshness, saturation, then this 2020 trend is what you need! Its main idea is that nature itself has created incredible masterpieces of riot of colors, which only need to be transferred to your home. Simply put – use those color combinations that are found in nature:
Red and yellow, like a strawberry bed
Green with orange, like in an orange grove
Violet and pistachio, as in a flower pot with violets
Turquoise and white, like on the crest of a sea wave
Terracotta and gold, as in the autumn park
Look around, because all the beautiful is already around you! And what exactly will become your leitmotif and inspire you – decide for yourself.
6. Floridity of folklore. With what help to create coziness and a fairy tale in the house, if not with the help of ornate patterns and floral ornaments that are inherent in many peoples, in particular Slavs and gypsies. The monotony and dullness of the cities is depressing, therefore, at least in your own home, you should plunge into the atmosphere of rich colors. The main leitmotifs in such an interior should be flora and fauna.
Like no other interior, charming trinkets brought from different corners of the world, as well as handmade crafts called today the fashionable word "handmade" will fit here.
7. Industrial technicality. A chic solution for creative and a bit lazy natures – an industrial style. Arose at the beginning of the last century, today this direction has received a new round of development. His main idea is freedom and technicality. Within the framework of this style, it is not necessary to hide the various communications of your home, on the contrary, all the glands, pipes, masonry, counters can become a bright and unusual addition that sets the tone for the whole space.
Industrial style minimizes the use of accessories. But each of the details used must be impressive, special, exciting the imagination..
8. Second wind. The world has lost its value due to the fact that there are too many things. What do interior designers offer in 2020? Look back and … give a second life to things of past eras! This is not just a trend in creating interiors, by and large it is an almost established lifestyle, a conceptually new way of thinking. Sometimes a gray and unsightly thing can shine with new colors and completely transform the design of the bedroom. Even the old Soviet furniture, inherited from your grandmother, can be turned into a real masterpiece and the object of envy of all friends and acquaintances. In the end, updating a kitchen set can cost you less than making it to order.
9. Transparent ease of being. Or more simply, the use of transparent materials for the manufacture of furniture. It does not have to be fragile glass; modern furniture manufacturers offer many models of interior items made of transparent plastic or acrylic. Such designs visually significantly facilitate the interior and make it less bulky.
10. The inscriptions in the interior. If earlier graffiti was considered bad manners, today it is a fashionable trend. You can write anything and any way: from quotes to verses, from the traditional Russian alphabet to Arabic script and hieroglyphs.
Not only stylish, but unusual will be the creation of a "talking wall": paint one of the walls or part of it with the so-called slate paint. It can be written in chalk or charcoal (depending on the color). Thanks to this, you can leave charming messages in the morning for your soulmate.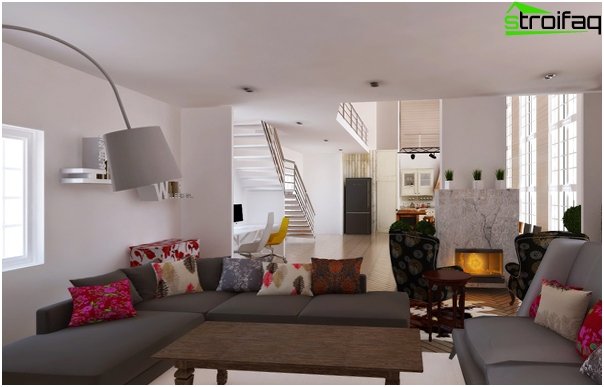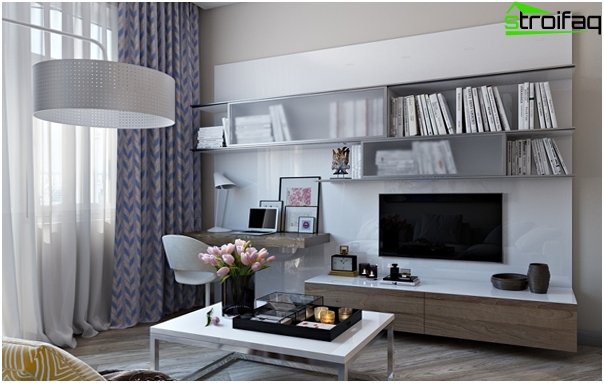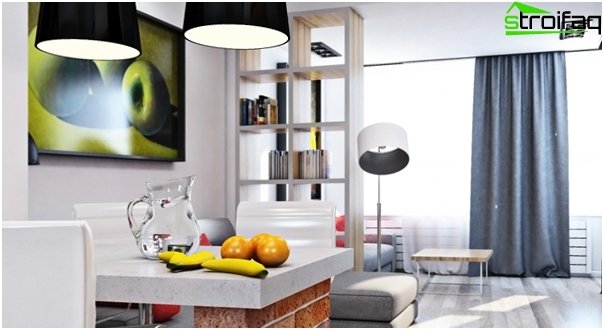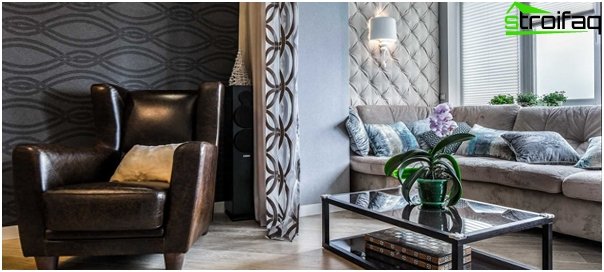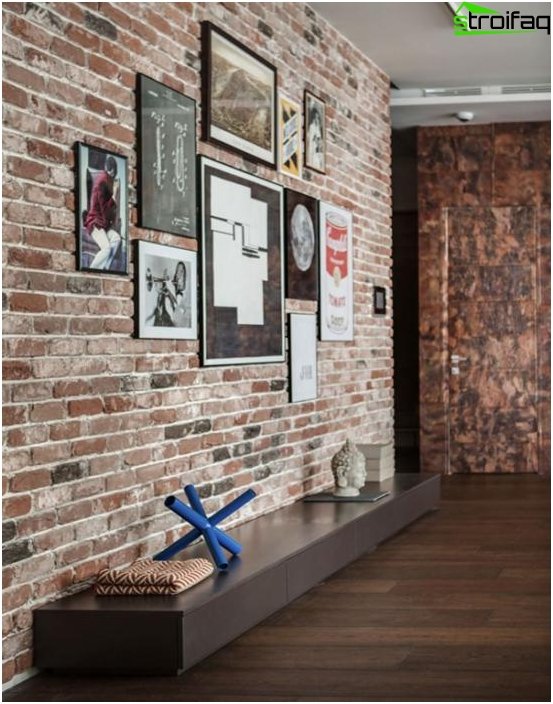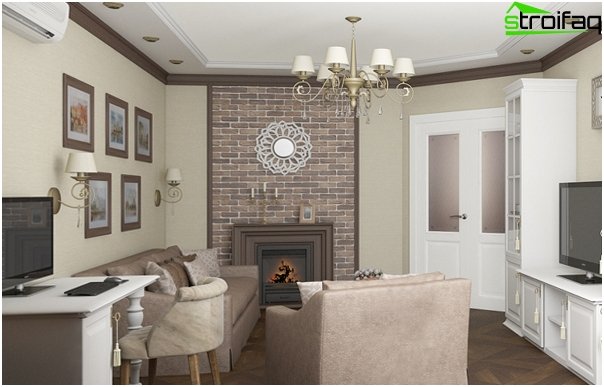 Design trends in different rooms
Kitchen Design
To decorate a stylish kitchen, in 2020, experts recommend:
Not afraid of bold color schemes.
Choose high-quality main lighting and be sure to supplement it with small local lamps in different functional areas.
To design kitchens in "industrial" styles: loft, industrial, techno.
Creating a modern kitchen design, choose only high-tech, high-quality and functional furniture made from natural materials.
Use vertical drawers.
Highlight the "islands" in the layout of the kitchen, not only in terms of their functional load, but also in terms of aesthetics. At least one island in your kitchen should have a purely contemplative function.
Prefer ceramic tiles for both wall and floor coverings.
Use brass kitchen utensils, which will act not only as cooking tools, but also as a stylish decoration of the kitchen.
To purchase a modern smart kitchen with many functions and tasks to be solved (for example, searching for recipes on the Internet and displaying them).
Read more: Kitchen Design: Fresh Ideas 2020.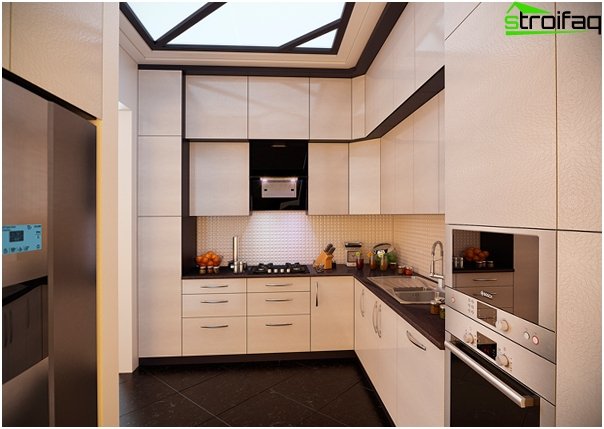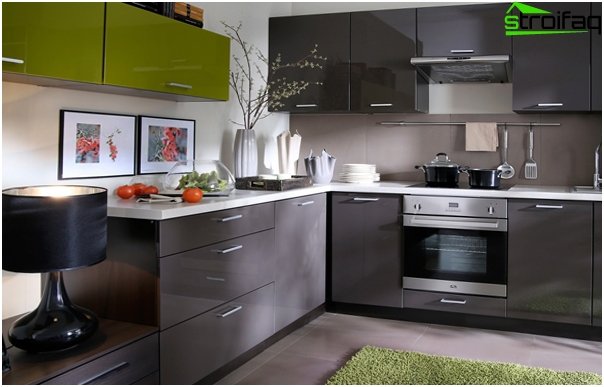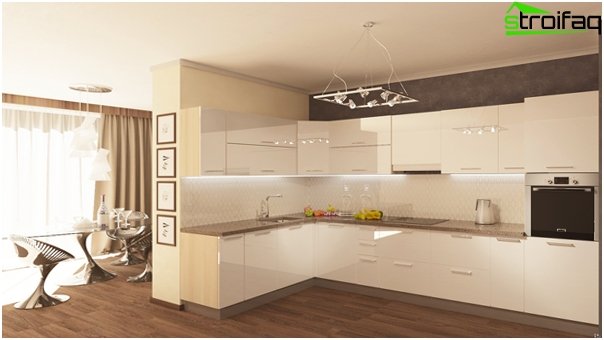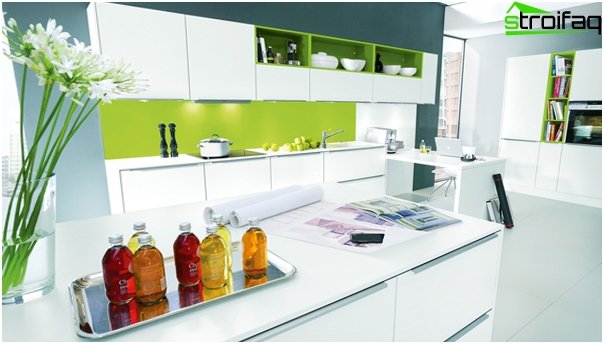 Living room design
2020 was marked for the design of the living room with such trends:
Light shades in the interior
As the accents are used "basic" colors – green, blue, yellow, red.
Avoiding overloaded parts in favor of practicality and convenience.
Use as leitmotifs of forms, colors, textures borrowed from wildlife.
The desire to make the living room not only visually, but also tactfully pleasant and comfortable.
More interesting ideas in our article on fashion trends in 2020 in the design of the living room, in general, and curtains for the living room, in particular.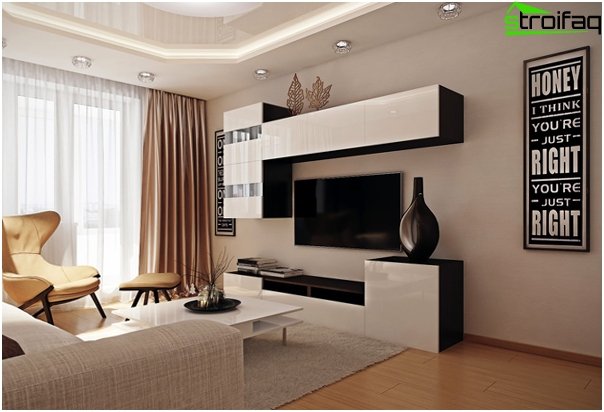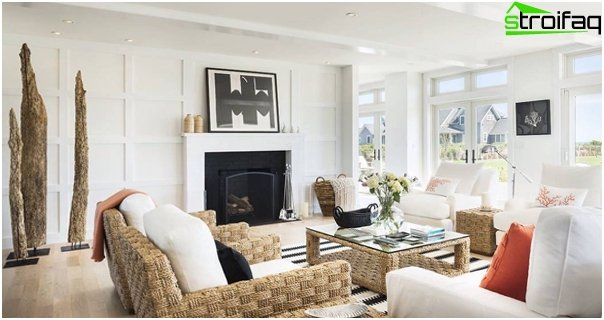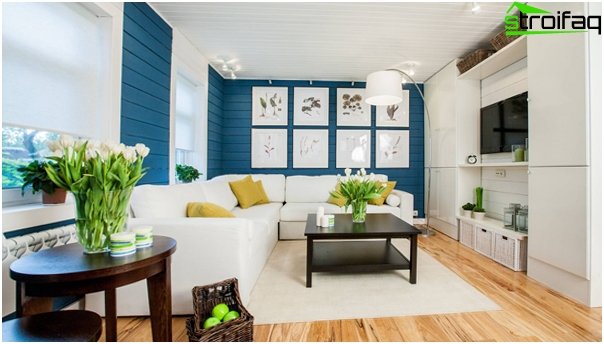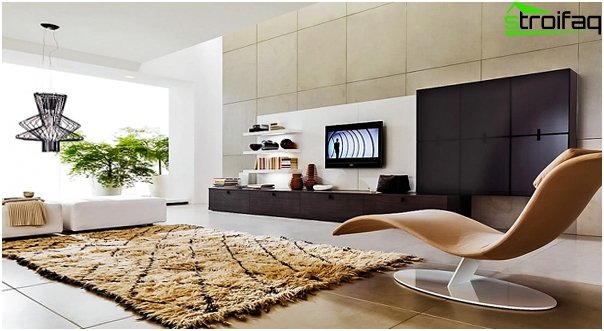 Related article: Living room furniture in a modern style
Bedroom design
Modern ideas for decorating the bedroom are as follows:
Pastel colors in the interior, the use of all shades of white in combination with gray and natural wood.
The dominance of the loft style in the design of the bedrooms. Brick walls wall decoration, and for bedrooms of more sensual natures – soft panels.
Bright, catchy, voluminous wall decorations.
Using all kinds of screens and partitions for zoning the bedroom.
The wealth of textiles and the abundance of textiles.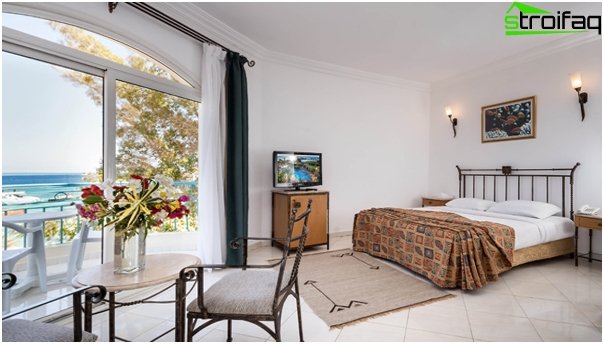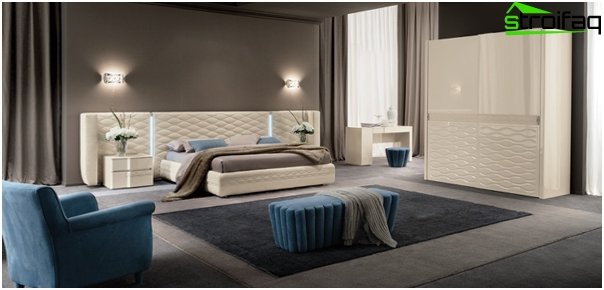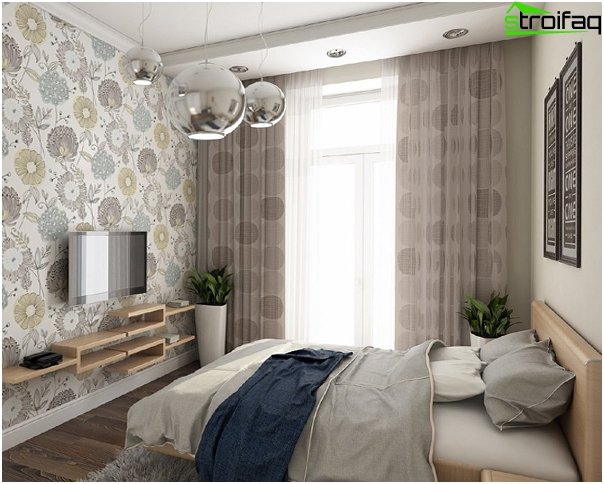 Read more about bedroom design trends for 2020..
Bathroom and toilet design
The novelties of 2020 for the design of the bathroom and toilet, presented at world exhibitions, gave rise to such trends in the world of interiors:
Copper elements instead of traditional cast iron and earthenware.
Brass hardware.
"Bathroom for receiving guests", which is not just a technical bathroom, but a full-fledged toilet room with furniture and decor typical of a living room or bedroom.
An individual approach to designing a bathroom design that meets specific tastes and meets even the most extraordinary interests of the owners.
Maximum comfort with a home spa.
Use of non-standard and atypical materials for the bathroom, such as wood.
Open storage areas.
Texture and embossment of vertical surfaces.
See more 2020 trendy bathtub design trends in our article..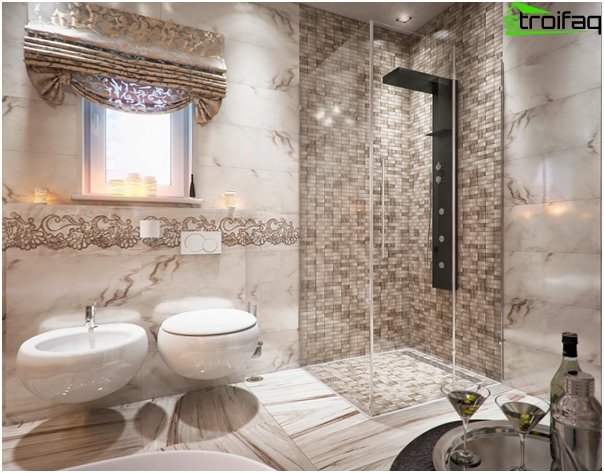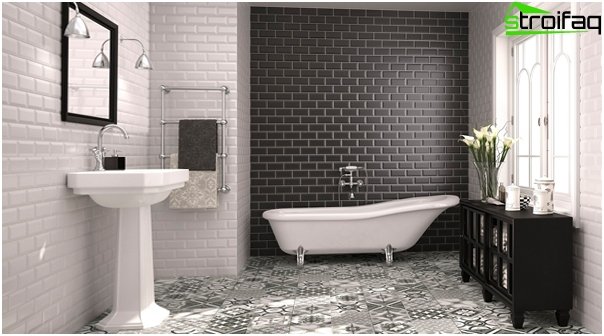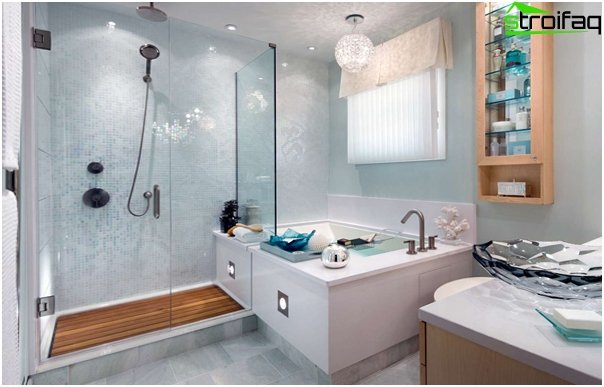 Read how to choose bathroom tiles.!
The specifics of the design of various apartments
1 bedroom
The fashion trend of 2020 was the design of one-room apartments as studio apartments, by combining the room and the kitchen. At the same time, the design of the hallway can be either a kind of "guide" to the general atmosphere of the studio's style, or it can be a separate island made in a completely different style or color..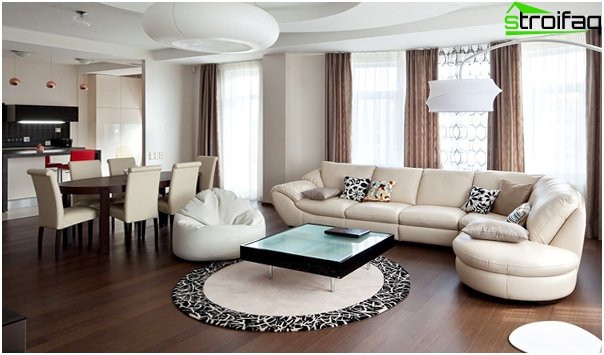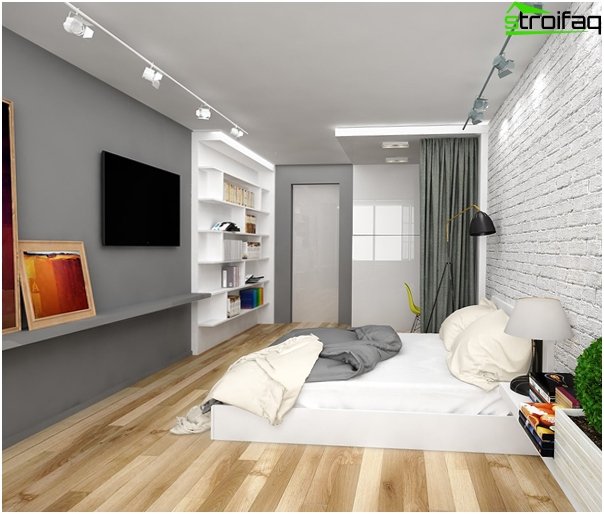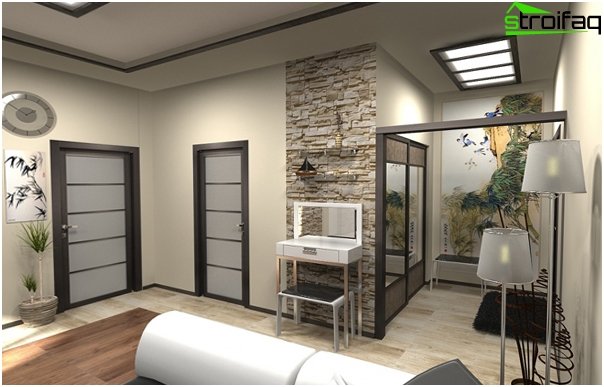 2 bedroom
The presence of two rooms is a necessary minimum not only for couples with children (so that one of the rooms serves as a nursery), but also, in principle, for any family in which more than one person lives. Indeed, one way or another, everyone needs an island of comfort and tranquility, personal space, so that relations bring joy to each other, and not become tense due to any trifle. And although walls in a prefabricated house are usually quite thin with poor sound insulation, an additional layer of drywall will help solve this problem. Yes, and the walls for painting or wallpapering do not have to align.
Apartment renovation, both 2-room and 3-room, in general, has enough in common. Remember that if you do not have interior doors and part of the room is visible from the next door, it will be better if the interiors of these rooms are combined and harmonious. In an apartment with interior doors, each room can be created according to an individual design project.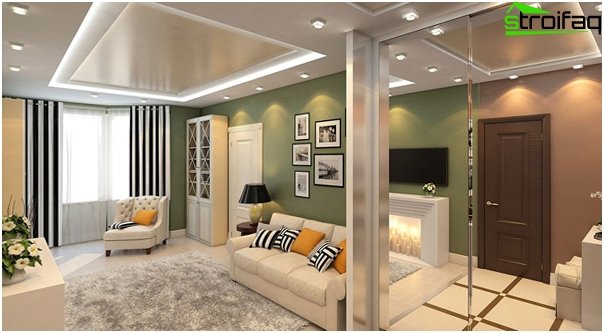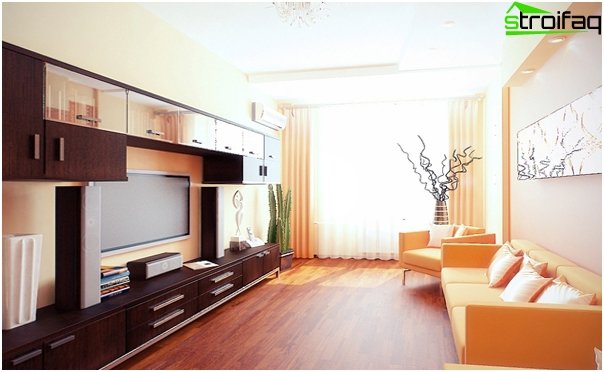 Khrushchev
Tiny apartments in Khrushchev require a particularly scrupulous approach to interior design. After all, any incorrectly selected part will not only interfere visually, but also physically. The design of the house in the private sector, where one room can be 25 square meters or 27 square meters gives room for imagination. In Hrushevka, all rooms are tiny and often poorly lit, so it's very important to consider these aspects.
Small kitchen design in Khrushchev, especially its functionality, depends on the correctness of the selected kitchen set.
We described the main trends of 2020 in interior design. But instead of reading a hundred times, it's better to look at the photo once. What you personally can see below.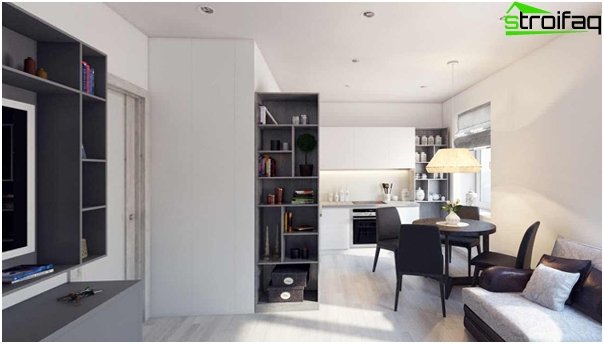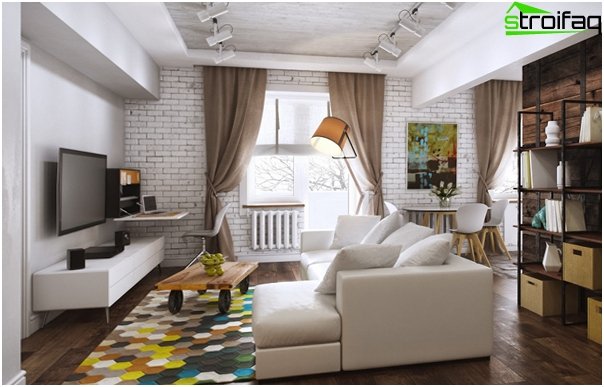 Fashionable colors for the design of apartments
Bright hues
Light shades in the interior – the main trend of 2020.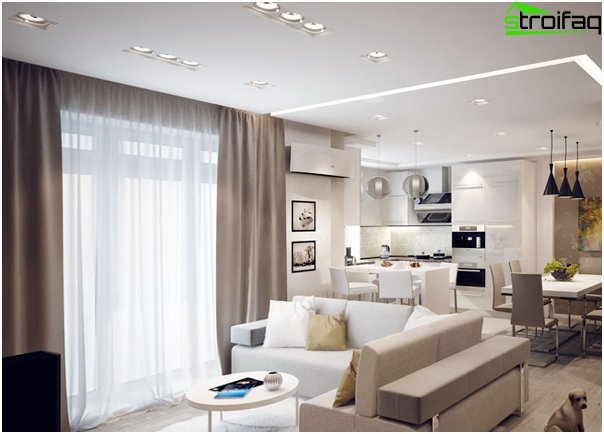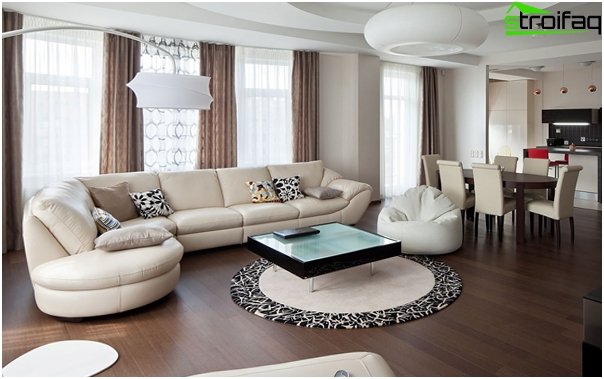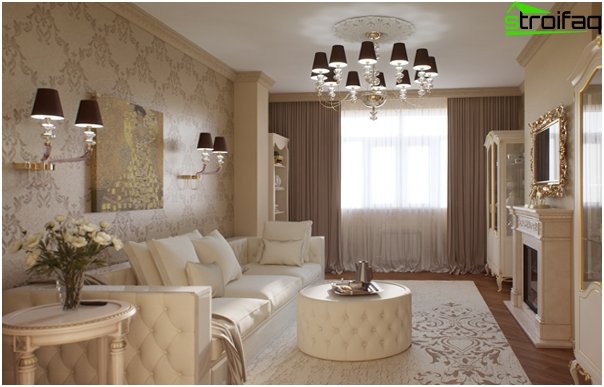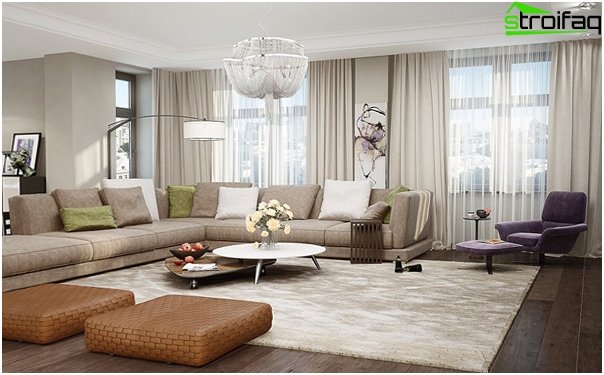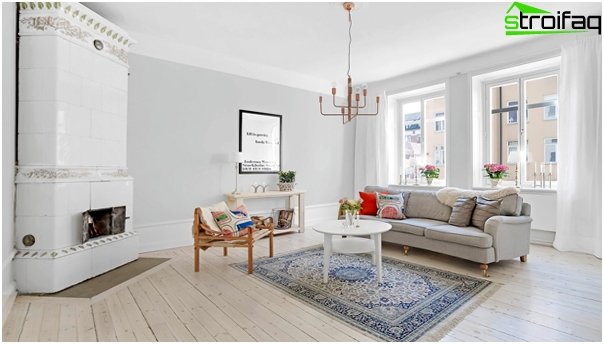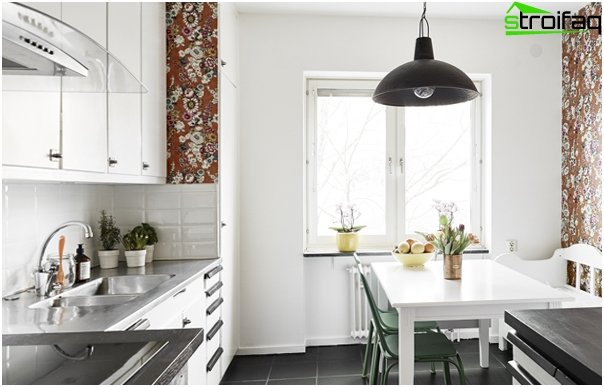 Dark tones
But for lovers of dark shades, designers have prepared many interesting solutions..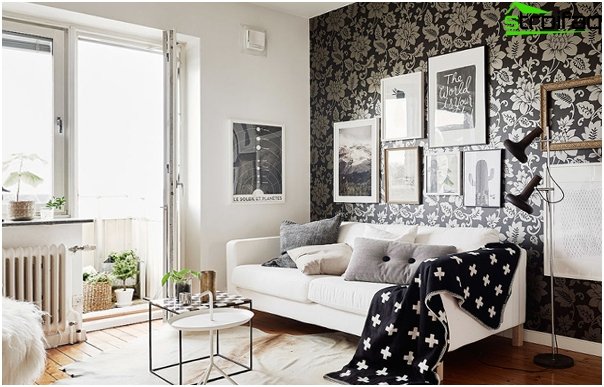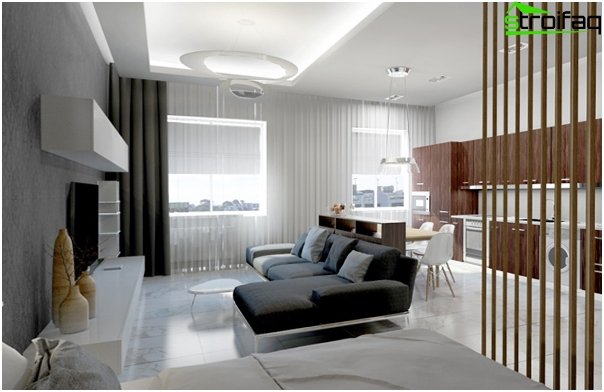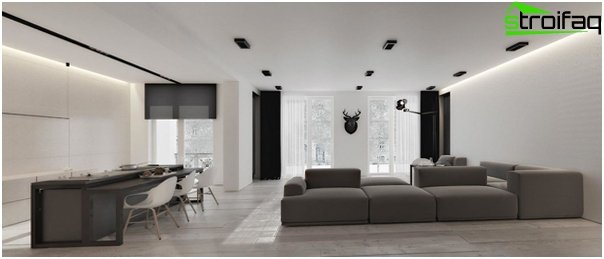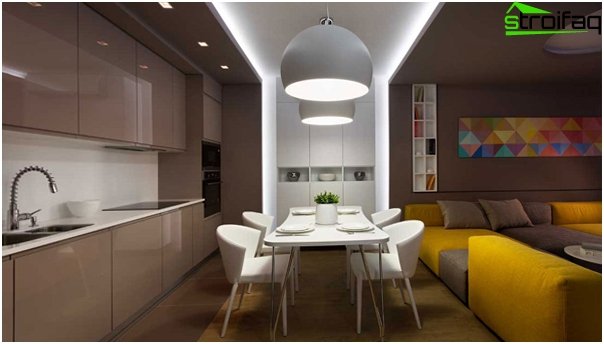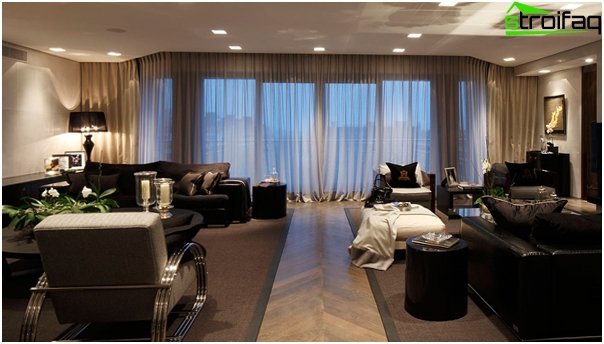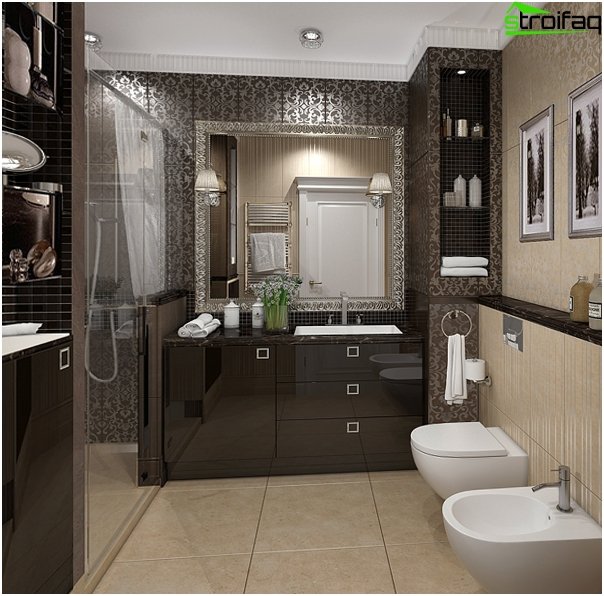 Natural tones
Environmental friendliness as a principle can be manifested not only in the materials used, but also in the color palette.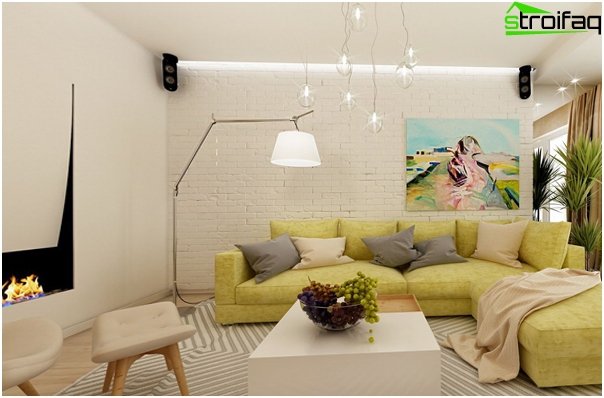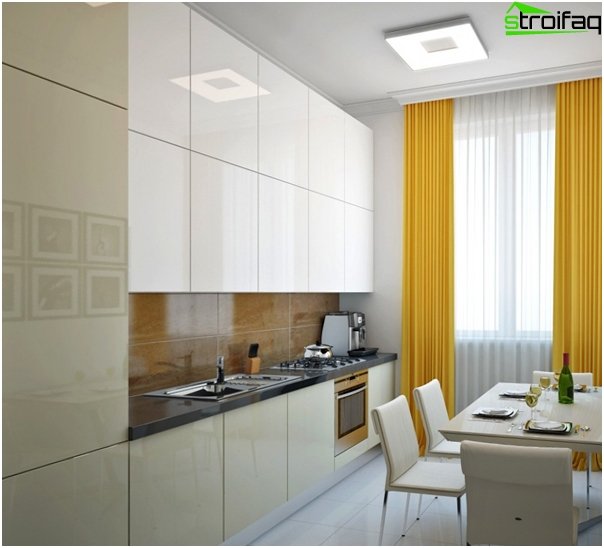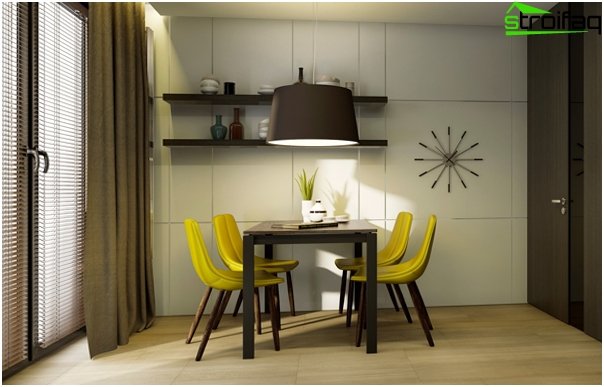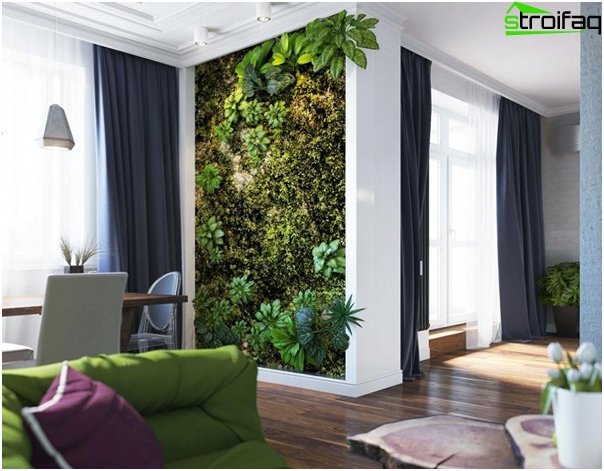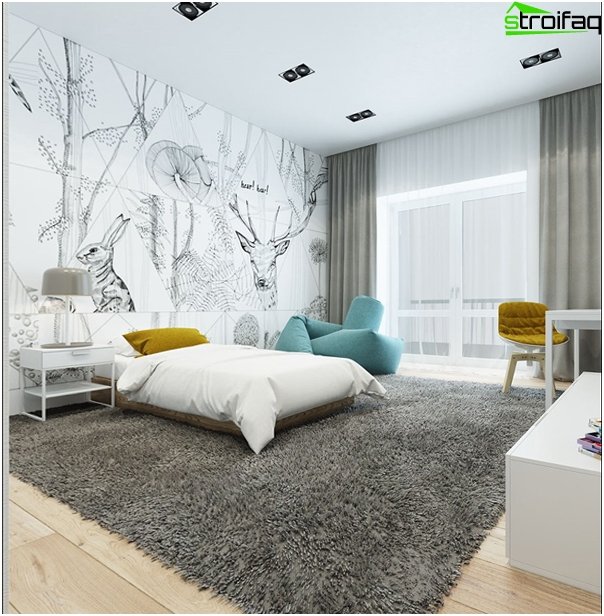 Modern ideas for decoration
Walls
The fashionable design of the walls of 2020 is notable for monotony, bed tones and bumps.
The ceilings
High ceilings, decorated with stunning chandeliers, have always been in fashion. This trend has not changed today..
Floors
Durability and durability of flooring – the main landmark of 2020 in the design of floors.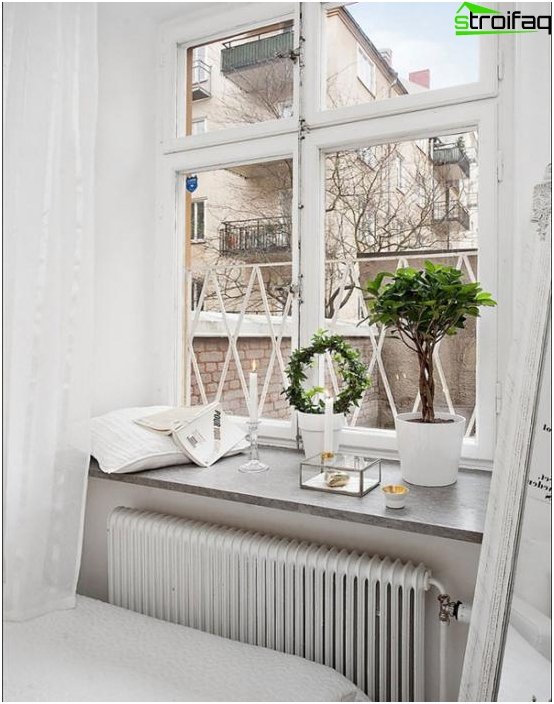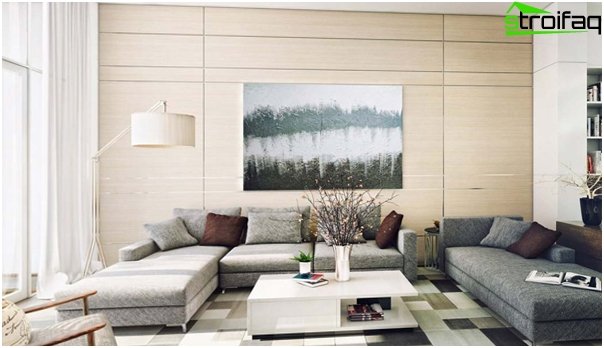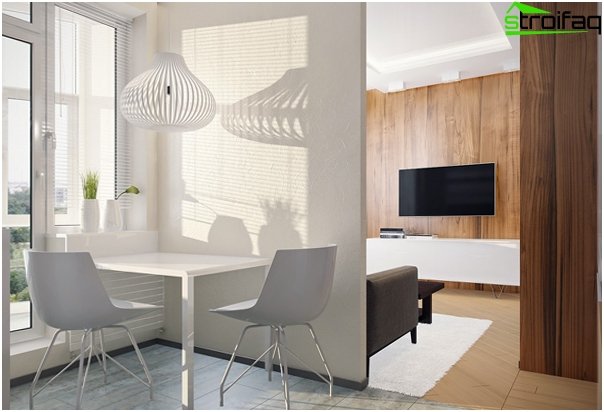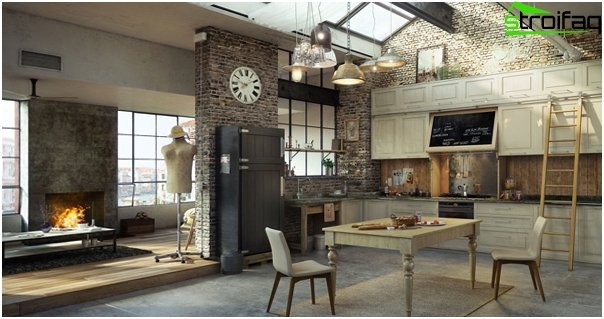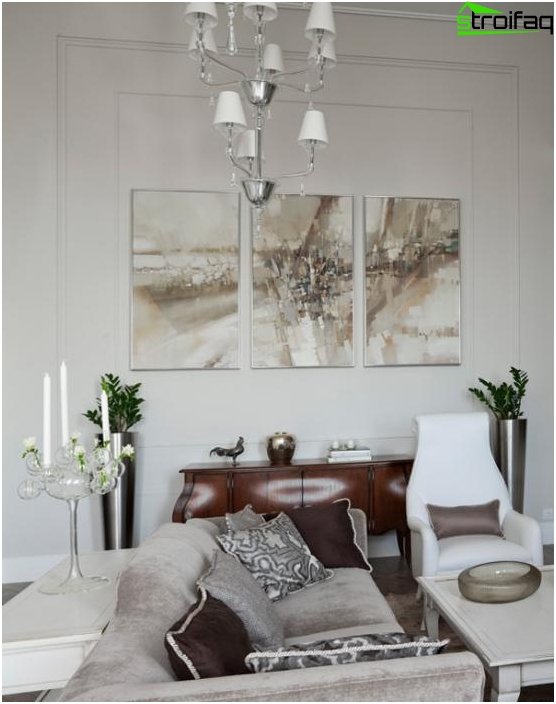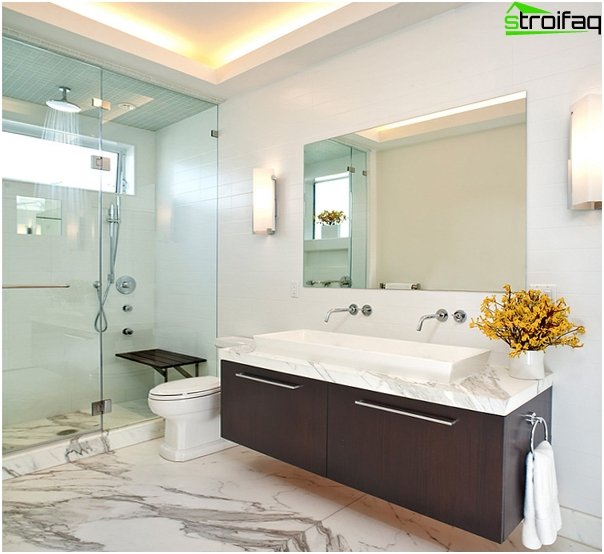 Choose lighting
If you do not have the opportunity to place a rich and beautiful chandelier in your house, you can completely replace it with simple and practical local lamps.
We select fashionable furniture
Cushioned furniture
Trendy upholstered furniture differs in streamlined silhouette and unusual frame materials (for example, glass or plastic).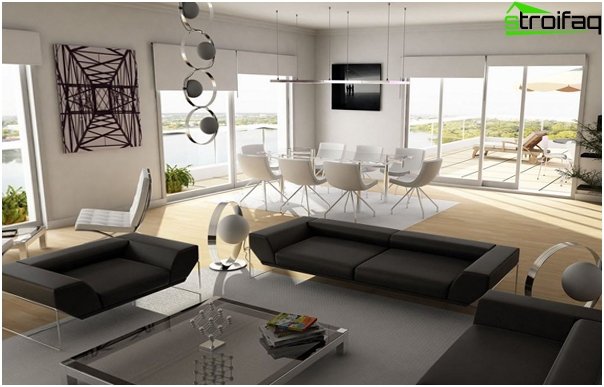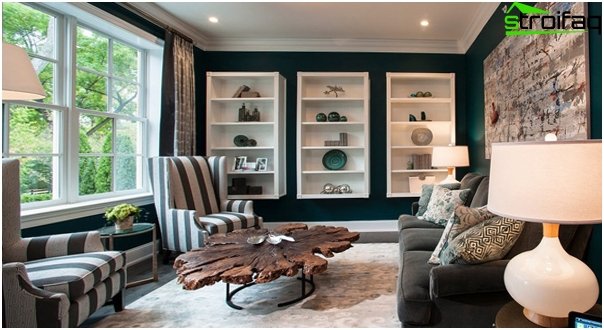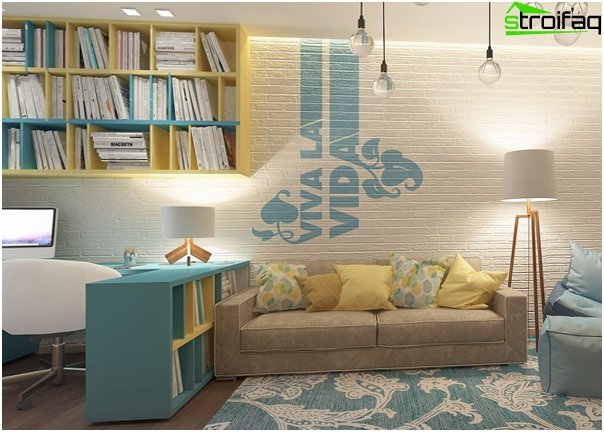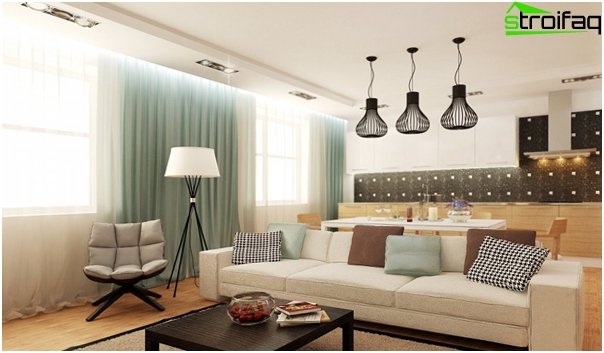 Cabinet furniture
This year's cabinet furniture certainly cannot be called boring! Unusual materials and forms to which confirmation.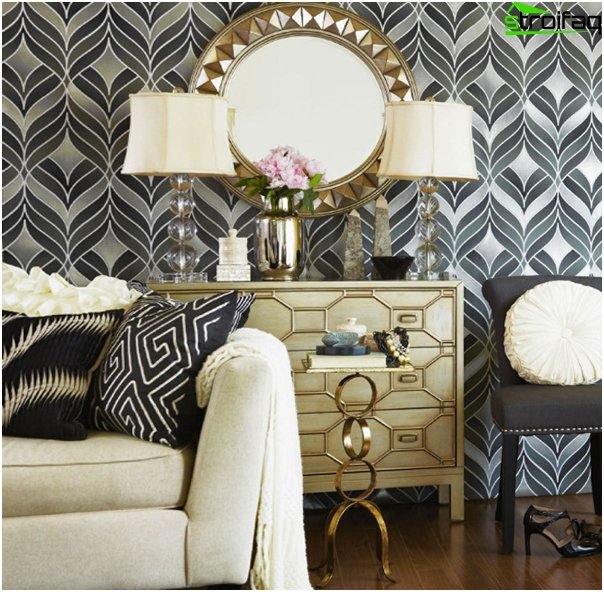 The most popular styles in 2020
Scandinavian style
Cold severity – this is how you can characterize the most popular style in the design of apartments in 2020.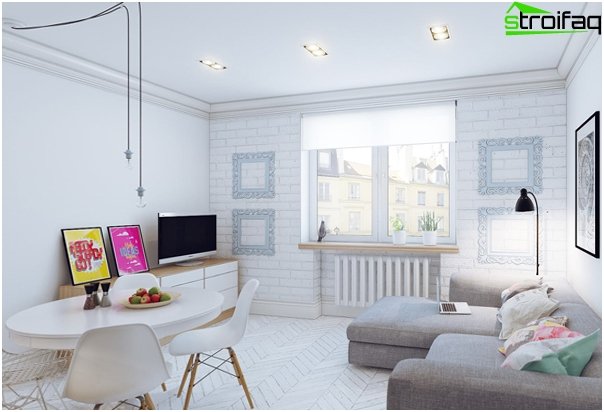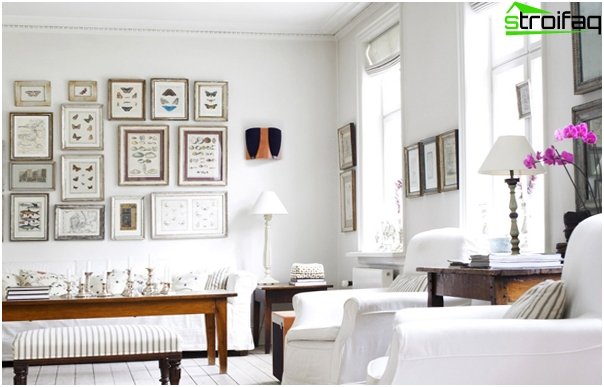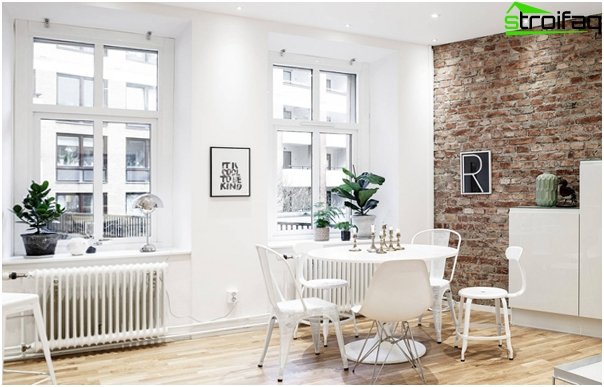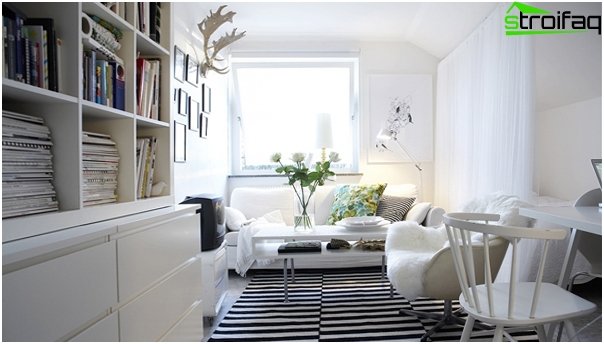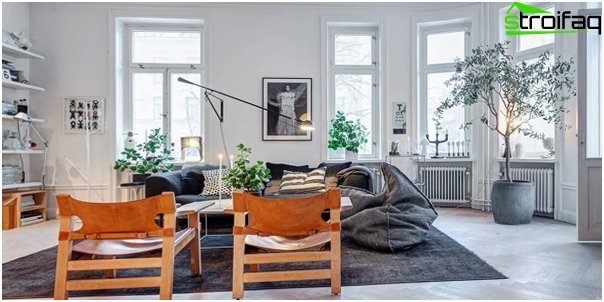 Loft
The combination of incongruous speaks for itself: stylish, extraordinary, impressive.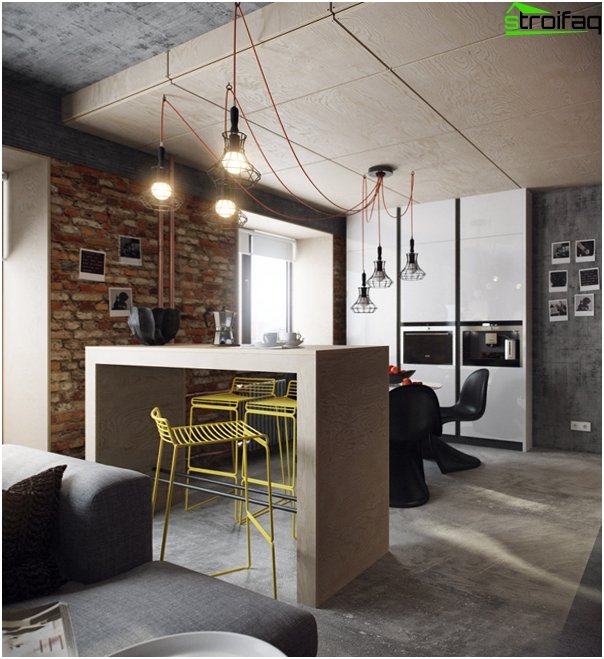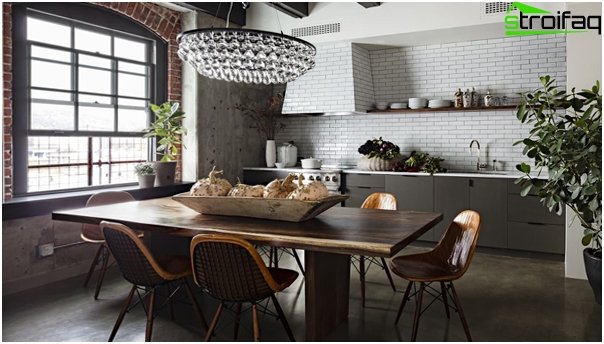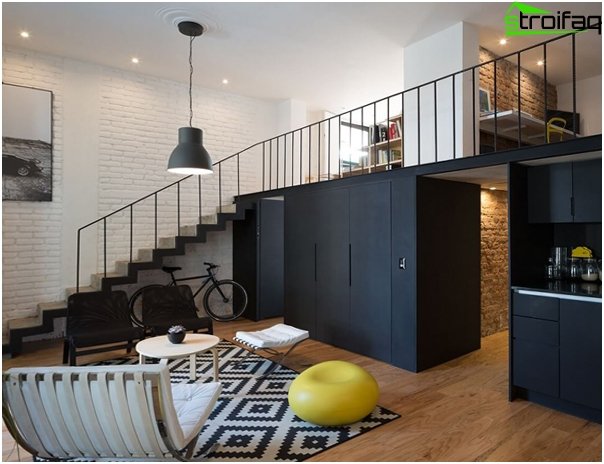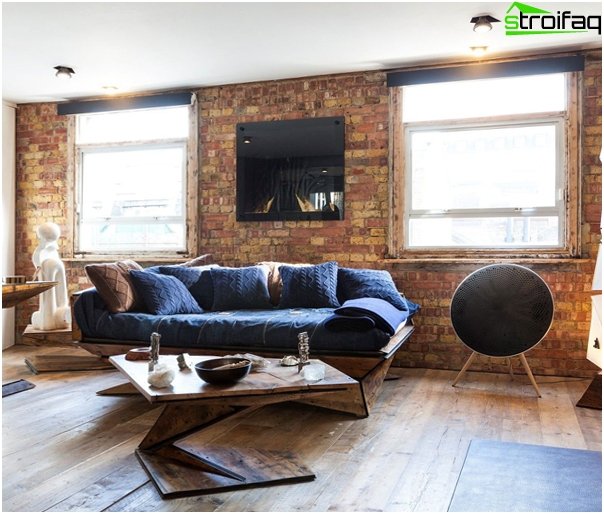 Minimalism
Nothing more, just strict functionality, practicality and utilitarianism.