How to design a room for girls, and how to make the interior of a bedroom for a boy. Selection of 100 best photos of the design of the children's room. Design Tips.
Decorating a room for your beloved child is a creative, interesting task, but at the same time very responsible! After all, a nursery is a place that will become for him a whole world for many years! Here he will grow, develop and play, learn new things and relax, rejoice and be sad. Consider what should be the design of the children's room on the photo-examples of finished projects.
Content
Performing repairs in the children's room, it is necessary to create a space that can combine everything the child needs and at the same time take into account the taste preferences of the parents, harmoniously combining with the interior of the whole house. In fact, it is much simpler than it might seem at first glance. Read on and you will learn how to gradually come up with and realize a real dream room for your child.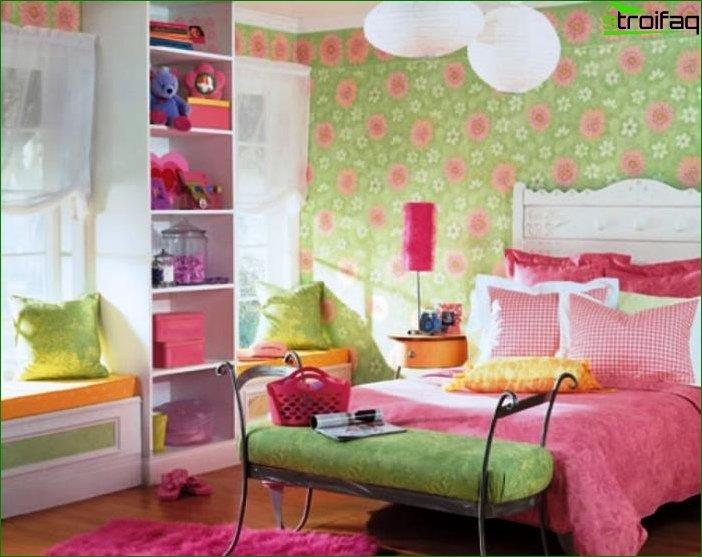 Room layout
When planning an apartment, if possible, it is better to choose the most SPACIOUS and WELL LIGHTED room for the nursery. For the development of the child is very important as much space and light. If the room has dark corners – immediately get rid of them and with the help of decor and lamps create a cheerful mood. The room should light!
In the nursery, as a rule, the space is divided into three main zones:
game room;
working;
resting / sleeping place.
There are several ways to visually separate these zones, which one to choose will depend on your financial capabilities and imagination. The easiest method is the use of different colors for each of them. Another popular option is construction of multilevel podiums.
Wall decoration should take into account the degree of activity of your child. Try to choose washable wallpapers or provide a separate place on the wall, pasted with a paper, where your young artist will be able to create his first masterpieces.
On the floor it is better to lay a non-marking coating. For a children's room, it is preferable to choose carpets with short nap – they will collect less dust and it is easier to care for them. Choose a warm carpet, because children often like to lie on the floor or play on it.
Thinking over the interior details, do not forget to also take into account that your baby is growing and constantly developing. So plan your space while looking at the future – will your child be comfortable in this room in 3-5 years??
note! If you want to achieve the "universality" of the interior, it is worth choosing strict pieces of furniture that will last a long time. And let the "childishness" of the room create decoration elements – curtains, bright pillows, child's drawings, funny illustrations and stickers, carpet, which can then be easily changed if necessary.
Design a room for a girl
Parents certainly want the best for their young princesses, so the question is bedroom decoration for a girl is always very exciting. How to cope with this task? Easy if you follow these guidelines.
When choosing a color scheme, forget about stereotypes! The room doesn't have to be pink at all! Pay attention also to the pleasant pastel shades of the color of baked milk, sky blue, light yellow, milk apricot … In this gamut, if necessary, you can easily add bright and cheerful decor elements in addition.
Remember that girls love beautiful compositions, complemented by interesting and cute accessories! Bows, hearts, stars, flowers, ruffles, soft toys … Add a chic falling canopy to the head of the bed, sketch mountains of cheerful pillows, exquisite wall stickers in the form of butterflies and bunnies, beautiful bedding … All details must be in harmony with the general style of the room!

Please note that girls love to decorate the room themselves! Empty walls will always make young inventors want to hang them with posters, photographs, postcards. Think about this point in advance: allocate space for a photo gallery, buy beautiful wall stickers, shelves, lamps. Leave room for children's creativity: for example, you can hang a special note board.

Think Artificial Feel Good: fixtures should be literally everywhere! Above the desk, over the bed, by the mirror, and if possible in the closet.
Girls just love wall inscriptions! You can put the name of the baby or her favorite characters from fairy tales on the wall with stencil paints. And teenage girls will prefer a motivating phrase, slogan or quote from a favorite book written on the wall.
Here are some interesting options on how to design a room for a girl.
Read more on how to do design of a children's room for a girl.
Princess Room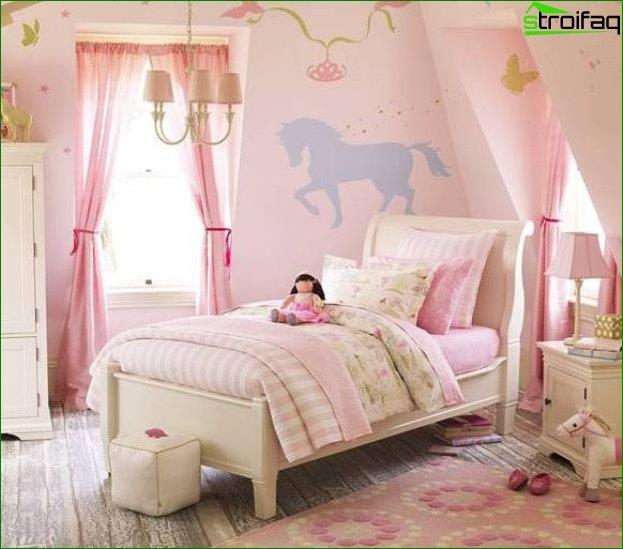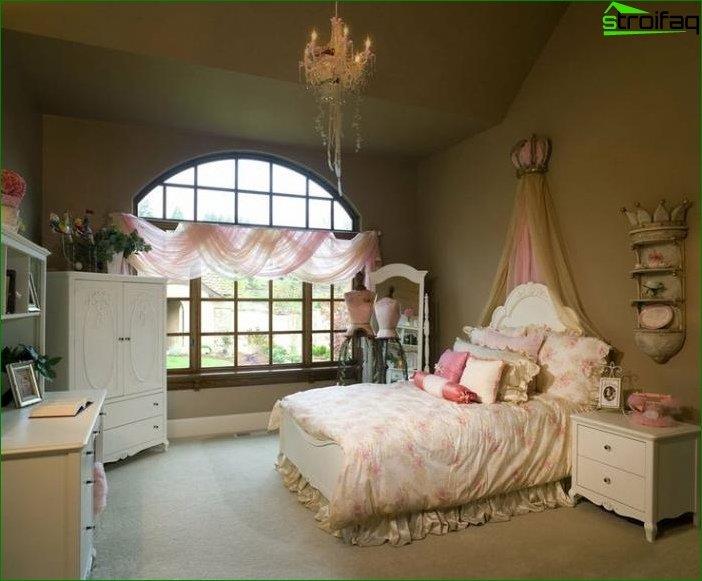 Paris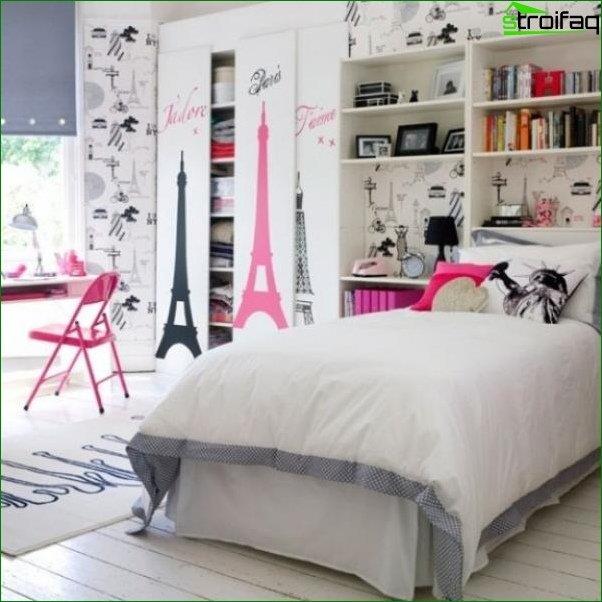 Fashion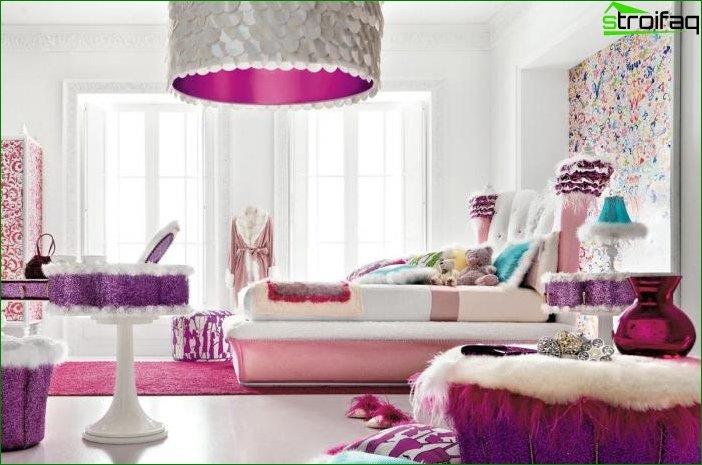 Design a room for a boy
In the boy's room there must be enough space for the manifestation of all his youthful enthusiasm, energy and indefatigable imagination! MODERN STYLE is best suited for designing a boy's corner. These are not romantic girls for you: it doesn't need beautiful accessories and elaborate furniture – functionality, practicality, technological innovations are much more important in the form of designer lighting on the ceiling …
Sailor's Room
If your child is a young pirate and a traveler, uninterruptedly reads about adventures and admires films about treasure hunts with admiration, this design option is right for him! Submarines, cabin ships, pirate flags will definitely not leave indifferent any young hero! Add as many accessories as possible to the marine interior: maps, ropes, a globe, flags of different countries, a helm watch. Instead of a regular toy box, make an antique chest!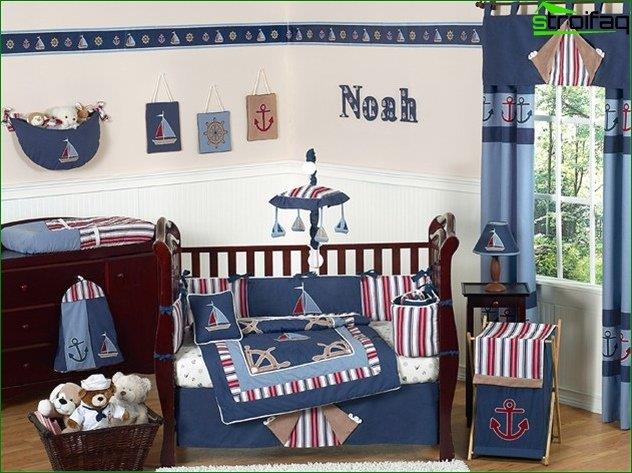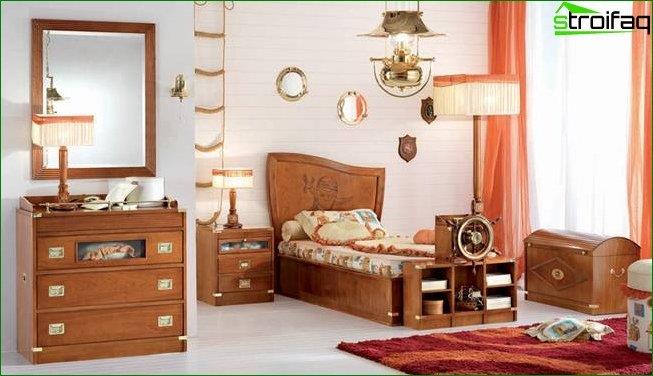 Technics
Which boy is not crazy about technology? Everyone has their own favorites: airplanes, cars, trains, tanks or spaceships … Choose a bed for your young inventor in the form of a car, a steam locomotive or any of his favorite miracle of technology, arrange different wooden models around the room, decorate the walls with bright posters – and a dream room is ready!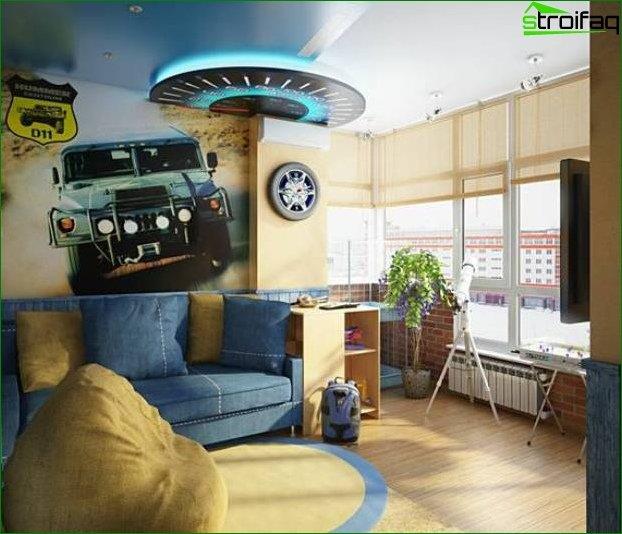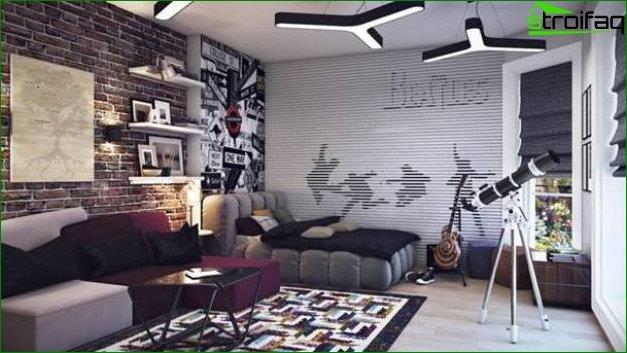 Sport
If your child is more interested in sports, let his room talk about it! Use a punching bag, diplomas and certificates of sports achievements, posters of famous football players as accessories and decoration elements … If the place allows, make the future champion a separate sports corner where he could train and warm up in his free time from games and studies.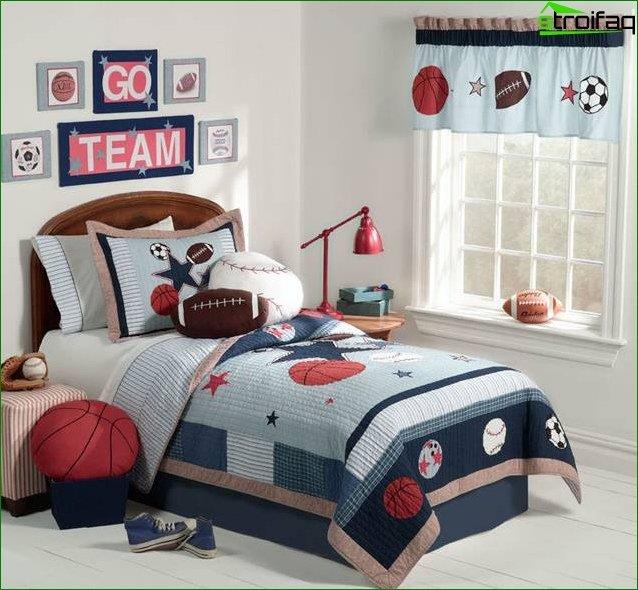 Room for two children
You probably already understood that the selection of the design of a children's room is not an easy task, because here you need to provide so many nuances! But if you have two children, which you need to settle in one room – the task of competent organization of space is complicated by half! You need to consider:
age and gender of each child;
interests, tastes of each and features of development;
the presence of all functional areas.
Everything is clear with interests and age, we'll talk in more detail about dividing into zones of a room where two children will live at once. For each of them you will need a separate sleeping and working place, but storage space and areas for games and creativity can be combined. It is important to combine all this in one room so that the interior does not look overloaded, and children still have free space for their activity.
IMPORTANT! Regardless of whether children are of the same gender or different, everyone needs their own separate corner in the room where you can lie down, play, dream. When dividing the space, try not to deprive any of the guys.
Here are options for putting all of the above tips into practice..
For two boys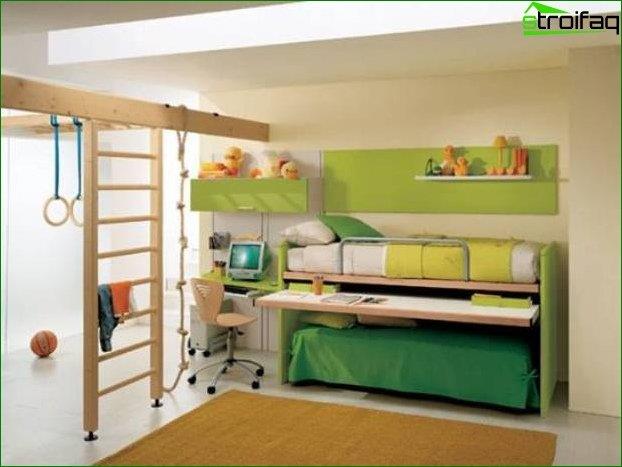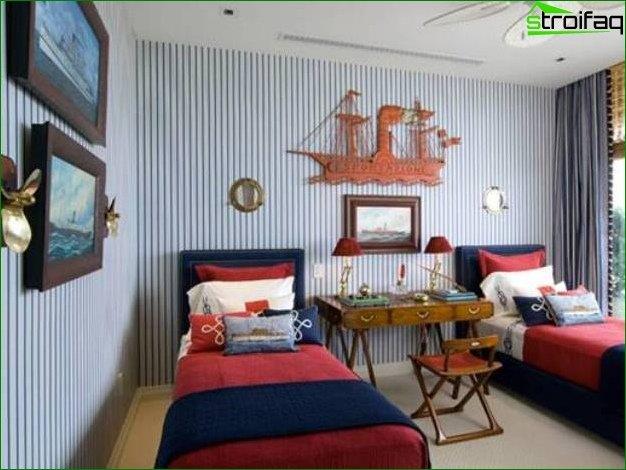 Read more about how to arrange a nursery for two boys.
For two girls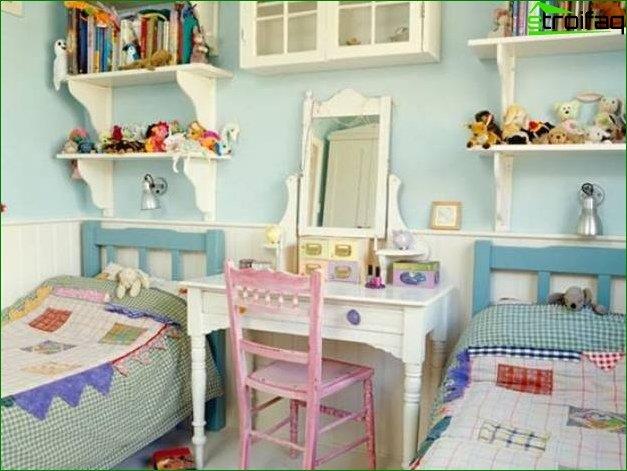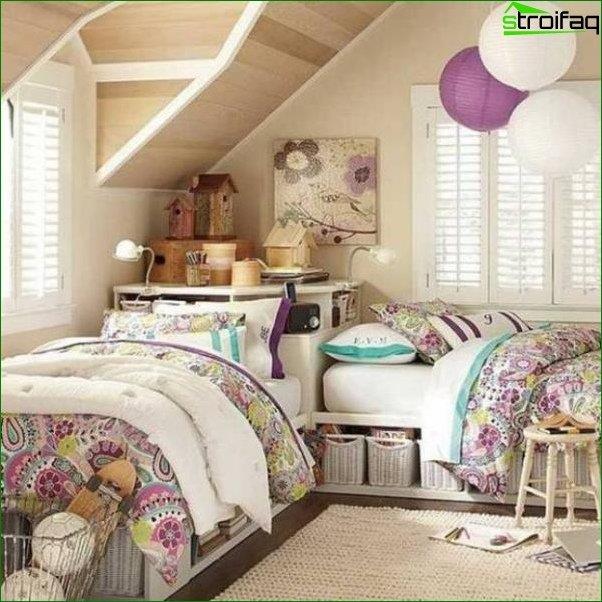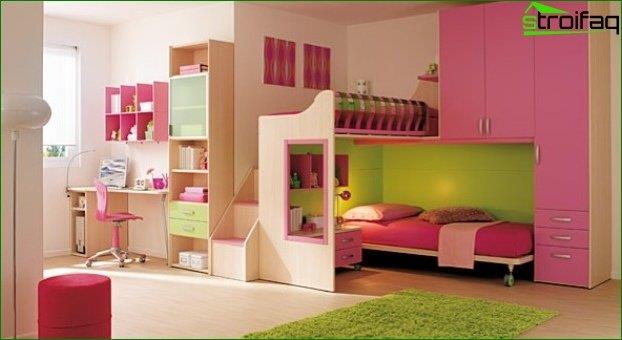 For boy and girl
To parents heterosexual children You need to approach this task especially creatively! After all, you will need to choose a solution that both the boy and the girl will like in their color scheme and style of design. Designers advise in this case to divide the room conditionally in two: it can be non-literal, but at least stylistically or using color. If the size of the room allows, you can even install a small partition.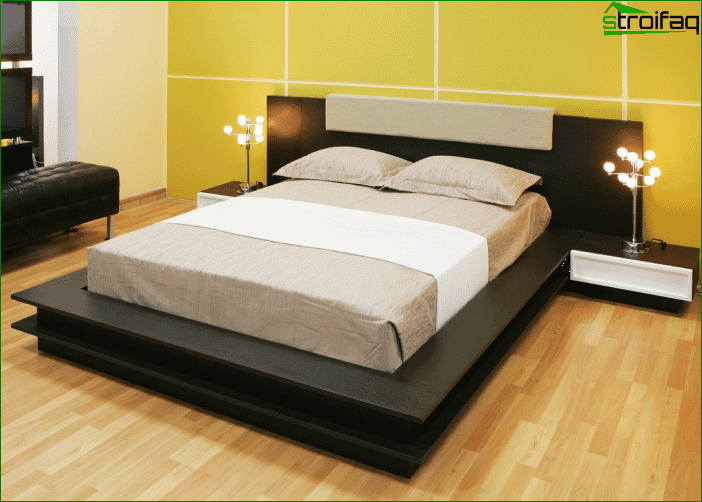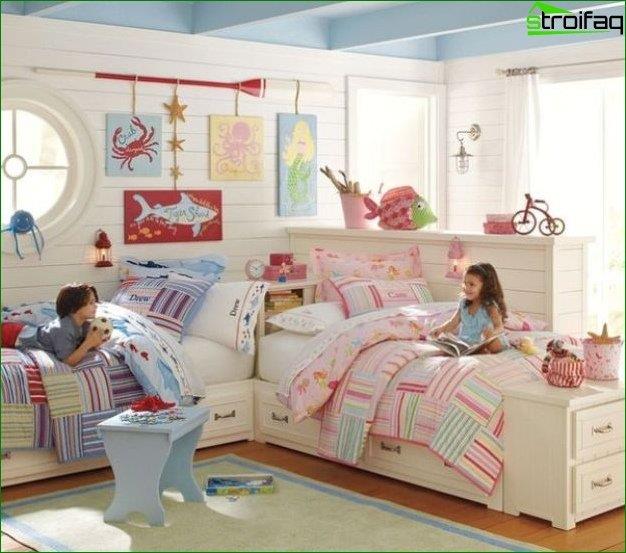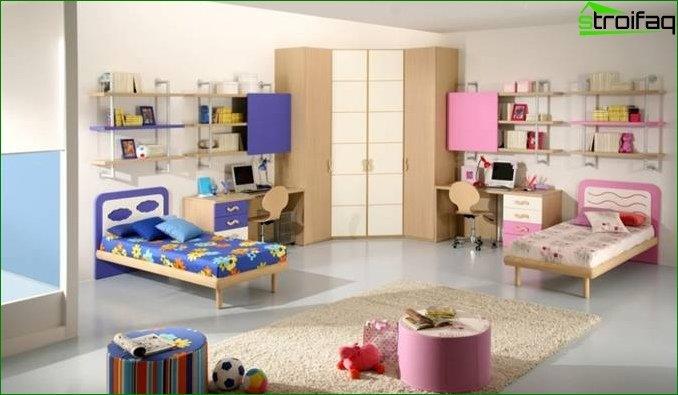 The choice of design depending on the age of the child
For a child 2-3 years old
At this age, the baby still can not choose which color of wallpaper he likes and which is not. But what exactly he likes is to run around the room and jump on the bed! Therefore, the main criterion in the organization of space for your little one is his safety! Make sure that the furniture is made of environmentally friendly materials, there are no sharp corners and drawers on it. Try to choose items that are inexpensive and easy to clean..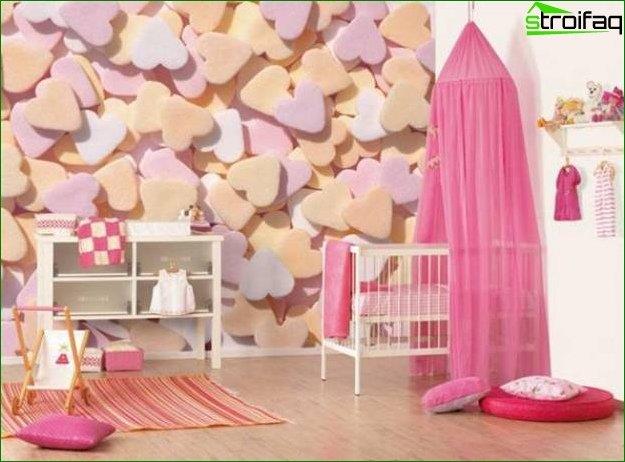 For a preschooler 4-7 years old
The room for the young ranger will be the whole world that he will comprehend! Here he will run, play, develop, receive guests, learn new things and make discoveries! Optional strict division into zones, even a table for classes can be equipped with toys and funny little things. Bright colors will cheer up and stimulate the child to activity, but it is better to use no more than 3 different shades in the interior so as not to overdo it.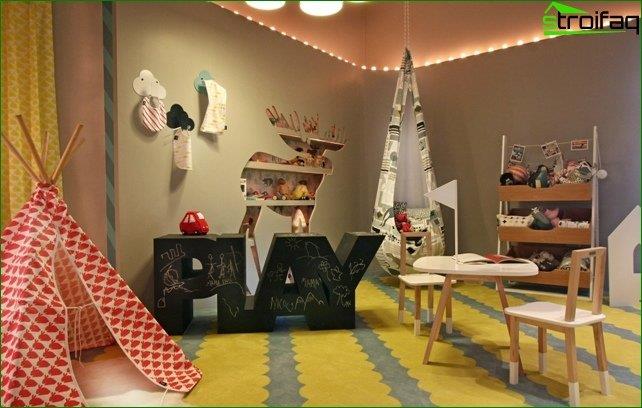 For students 9-12 years old
A child at this age already begins to feel adult and independent, the circle of his hobbies is constantly changing. Gradually "remove" from the room toys and other things from which your child has already grown. But before doing this, be sure to consult the owner of the room and at the same time discuss how he would like to see his room. Create a fresh interior in accordance with its new interests. Check out our article on choosing a desk for a student.
If your child draws a lot, be sure to hang on the walls of his work. On the walls you can also post any other crafts, diplomas, medals. It will be pleasant for you and the young genius.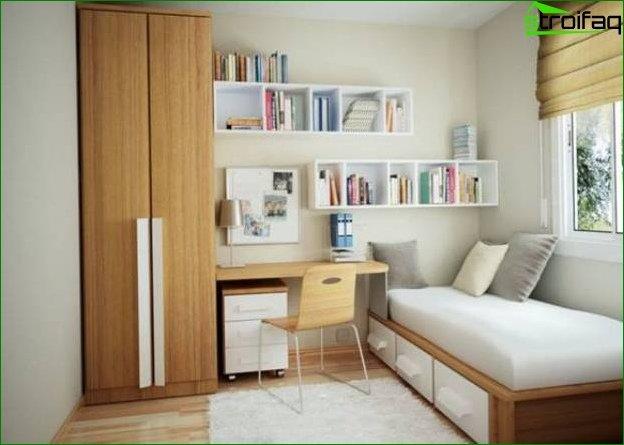 Design nursery for teens
This is the main period of the formation of personality, and the room should, first of all, correspond to age! Change a low chair to a higher one; instead of a crib, buy a sofa; if necessary, organize a workplace in the form of a large desk. Give your child complete independence in the choice of colors, furniture, carpet.
This room will serve him at the same time as a bedroom, and an office, and a living room, and a games room at the same time. Draw a plan in advance and use every square meter wisely so that the space is not overloaded. For a girl, provide a spacious dressing room with a large mirror, for a boy – a computer area for all his many equipment.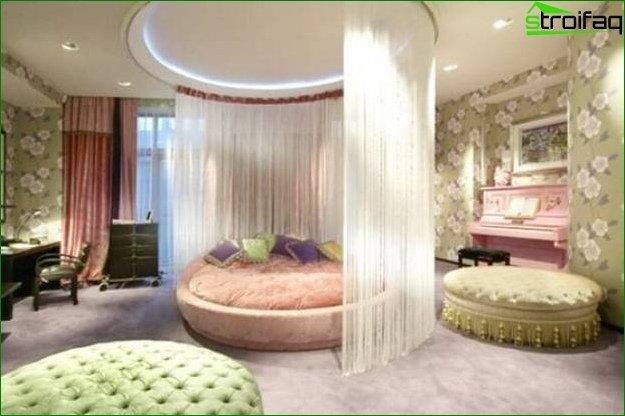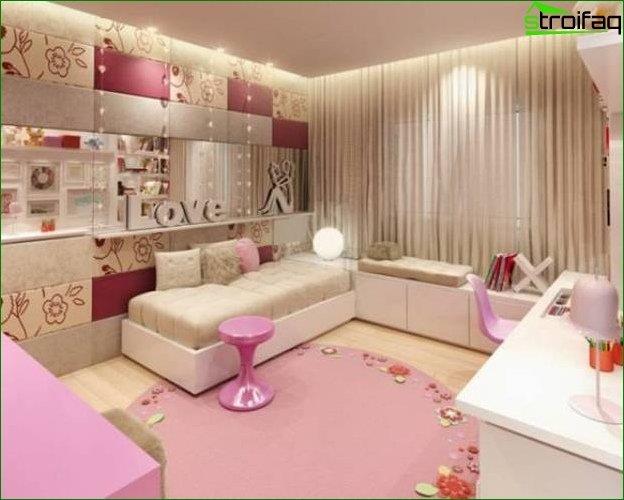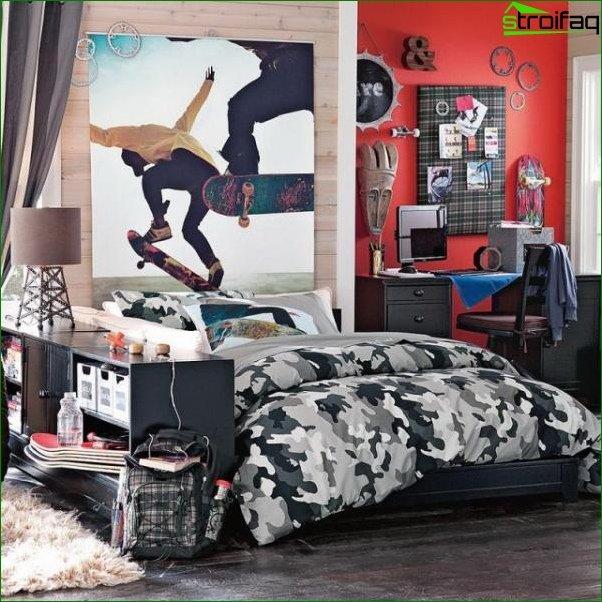 The styles of the children's room
Depending on the preferences of your child, his room can also be decorated in one of the following styles.
Classical
When choosing this style you need to be very careful. After all, as a rule, parents select children's furniture in a classic style, based on their own preferences, which may not always be to the taste of the children themselves. In this case, you need to look for "adult" models and beautiful design solutions that will not only look beautiful in the interior, but will also be simple in design and made of quality materials. The pomposity of the premises should not limit the child's movements, because, after all, this is his personal corner, and he should feel really at home, and not in the museum!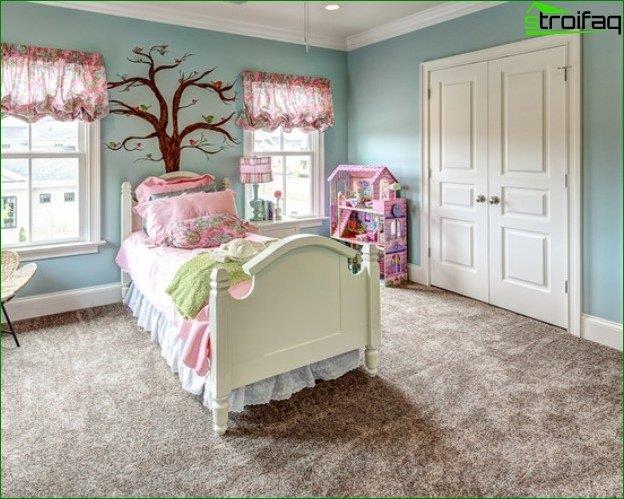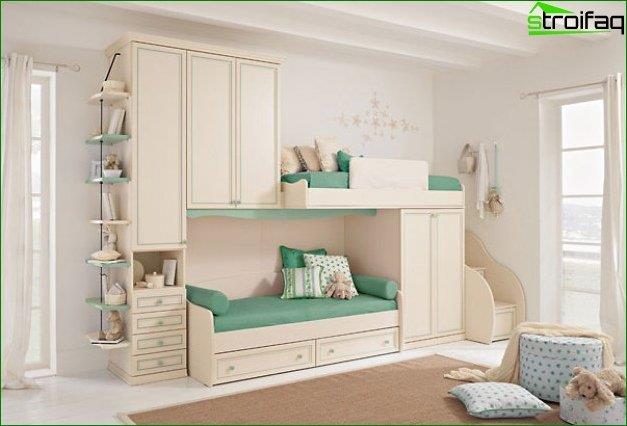 Modern
The children's room, made in a modern style, is always liked by both children and adolescents. And it does not require special expenses and needs only minimal decoration. The Art Nouveau style in the design of the nursery is, first of all, bright saturated colors, simple forms, the possibility of easy transformation (for example, a roll-out bed or an attic bed above the wardrobe). Such a creative will appeal to any child. In addition, it is practical, because such furniture is usually universal for any age..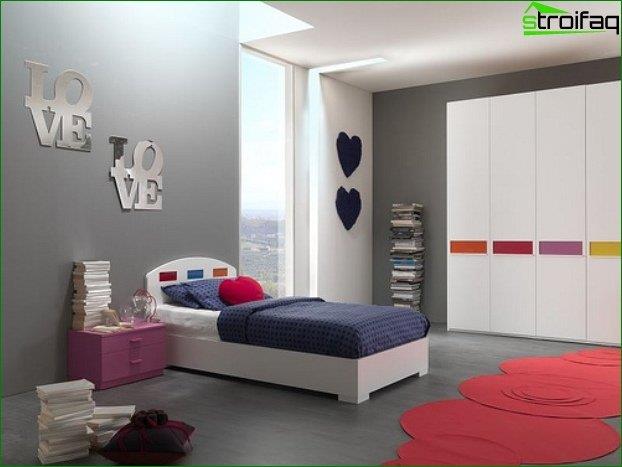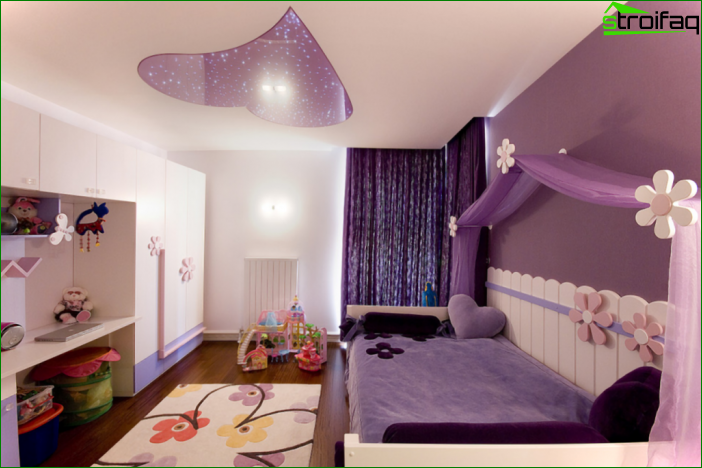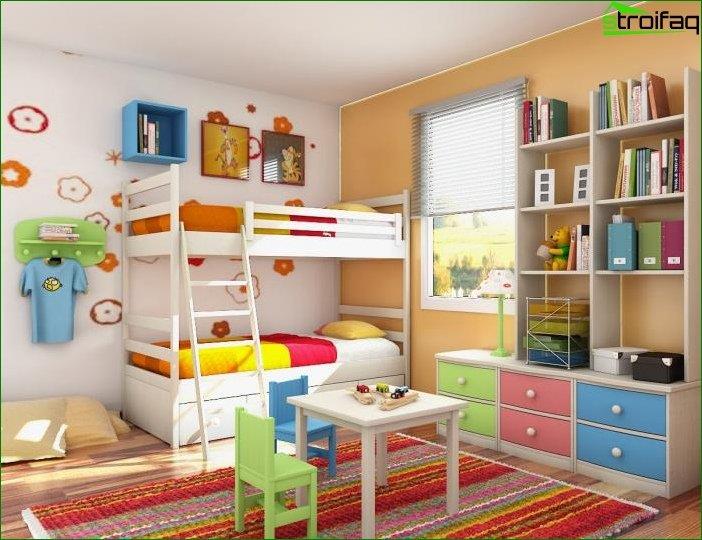 Minimalism
This style is just a godsend for the kids room! It's really not so important for the child what kind of table he has, what bed and the number of drawers in the closet, how much free space! Leave only the most necessary from furniture and give your child as much space as possible for games, space for imagination and creativity! Another main distinguishing feature of the style is light colors, which is beneficial for small rooms where pastel shades will visually increase the space. Bright accents are acceptable in the form of prints on wallpapers with funny animals, colorful pillows, toys or stickers.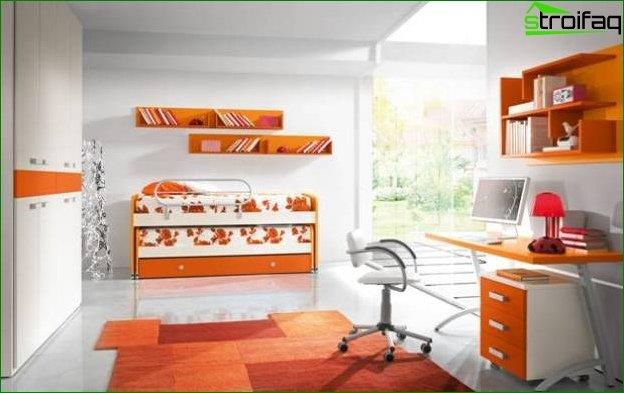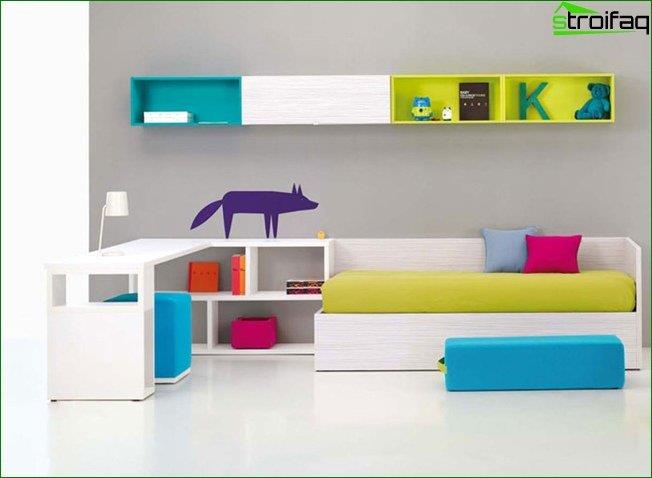 Ethnic style
The children's room, decorated in ethnic style, will look very original and exotic. In addition, this will allow the child to comprehend the culture of different countries without leaving his own room. The main thing is not to force this style on the child. This design option is suitable for children who are really fond of animals, the East or Africa and its inhabitants. A very exciting process is to pick up stylistic things with such a child for such an interior. And later, the owner of the room himself will be able to decorate it with his painted masterpieces.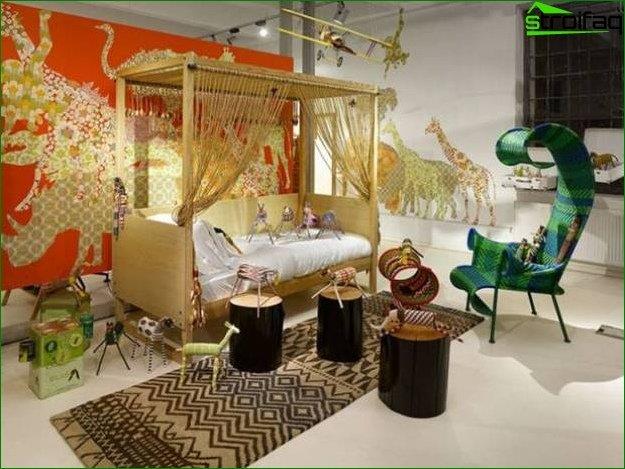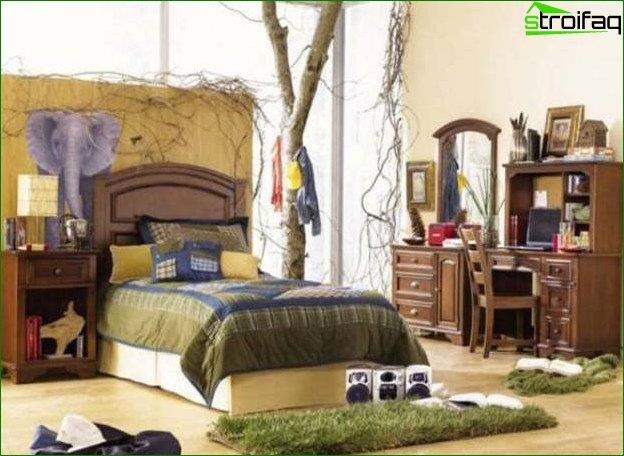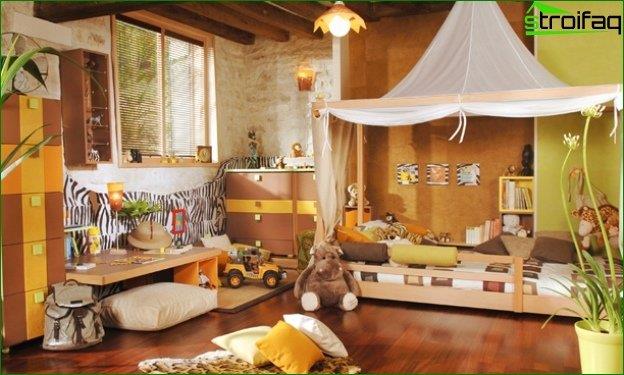 Country
This option is not often considered when designing a children's room, however, this does not detract from its undeniable advantages. Simplicity, and therefore cost-effectiveness, environmental friendliness, as well as a large number of ideas that can be implemented with it – these are just some of the advantages of the country direction. Rural motifs on the walls, antique furniture, grandmother's chest instead of a toy box, curtains, made from an old stale piece of fabric – a great opportunity for a family with a tight budget to tastefully decorate their child's room.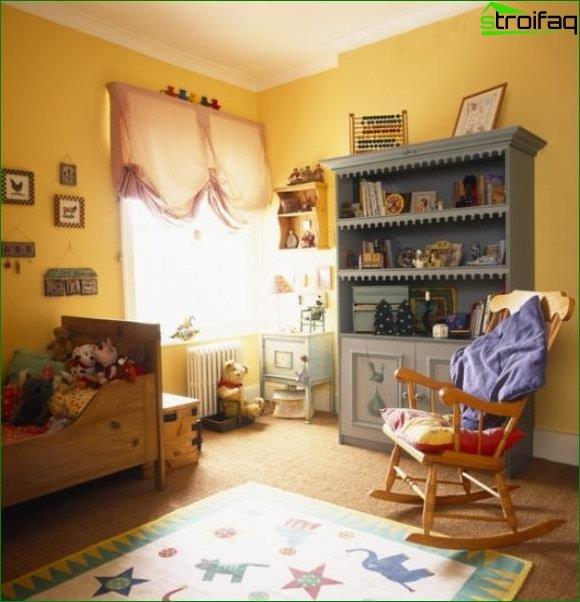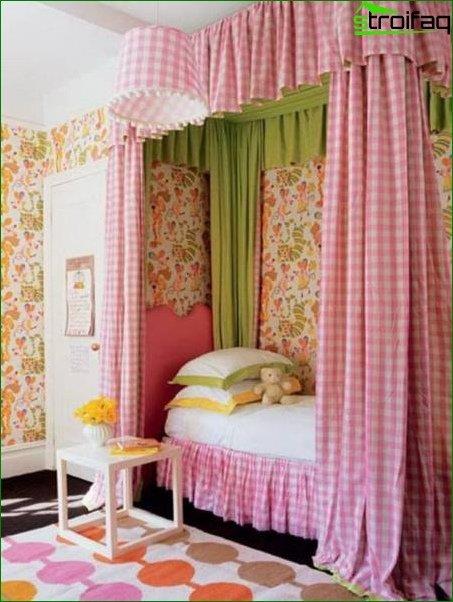 High tech
This is a fairly new direction in design; moreover, it is rarely used in children's interiors because of its "coldness". High-tech attributes are the availability of equipment, objects made of metal, plastic, glass, clear lines and shapes. It is not necessary to enter all the elements at the same time – just select one thing and based on this come up with your own interesting hi-tech decor.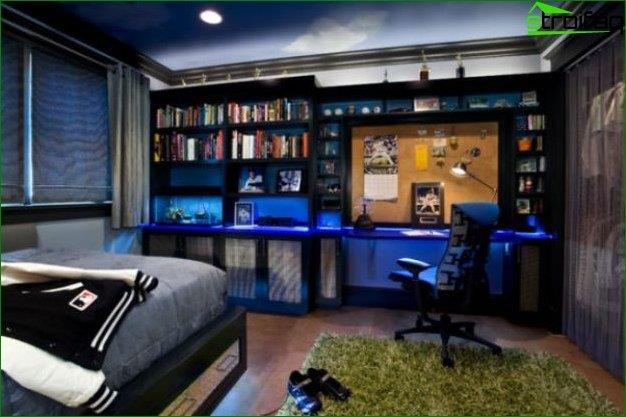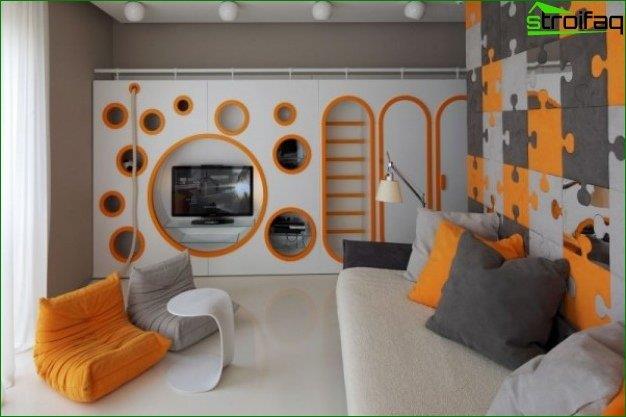 The choice of design depending on the size of the room
Children's design for a small apartment
The main point to consider is the very small size of the room. As a rule, this is a room of 7-8 square meters with a narrow shape. Definitely, the background of the walls should be light in order to visually expand the space. Bright tones will have to be left for accessories, even if it is paintings on the walls, colorful frames for photos, toys.
Choose convertible furniture with drawers and cabinets up to the ceiling, to make maximum use of space and save as much free space on the floor as possible.
With this layout, it's difficult to allocate enough space for a full desktop, but you can try. Use for this free space at the window, which is often empty unnecessarily. Another functional option – folding tabletop attached to the cabinet.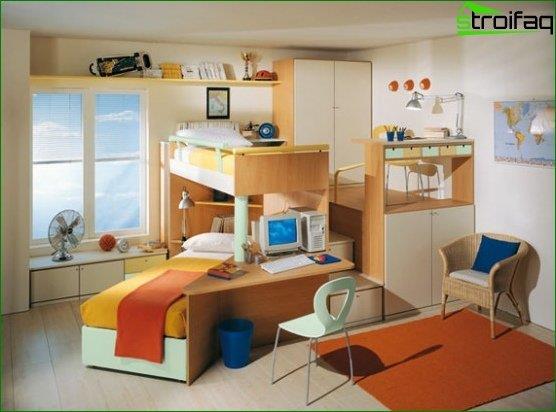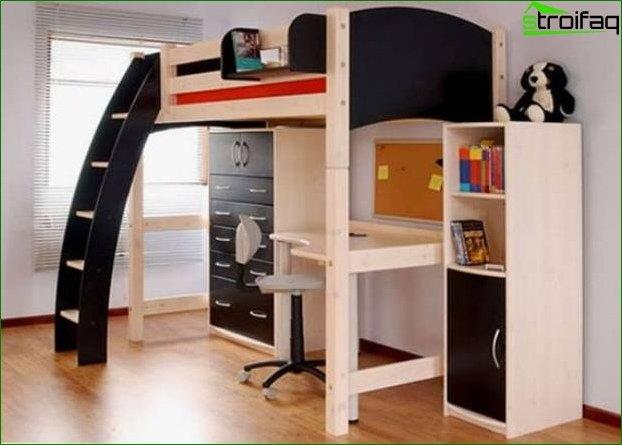 Medium size kids room
A children's area of ​​15-18 square meters is typical for most apartments in new buildings. Such a room is quite easy to organize and divide into zones. There is enough space for organizing a storage system, a good rest and study. Do not forget to think of separate lighting for each of the zones. Turn on your imagination and plan the room for your pleasure, because here nothing limits you!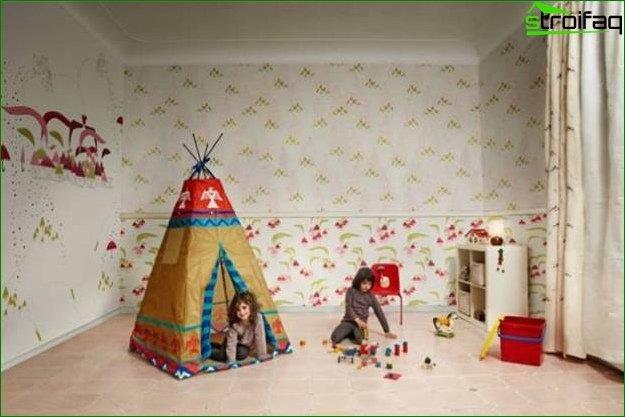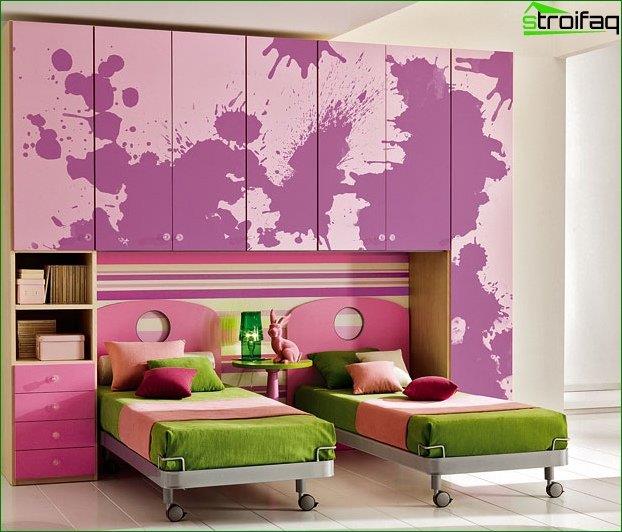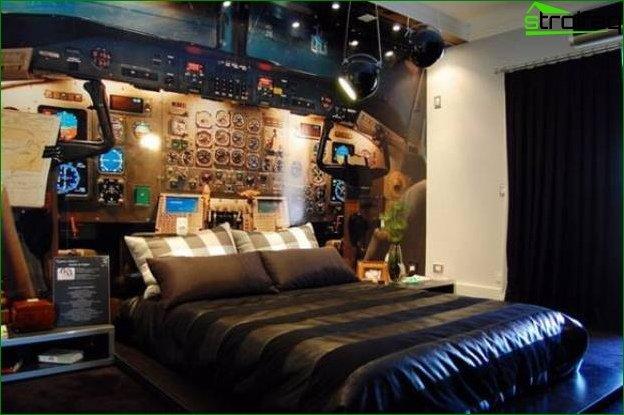 Design nursery for a large room
If the size of the room allows (from 20 square meters and above), then you can organize a children's amusement park, depending on the interests of your child! For the boy, a sports corner or a basketball court is suitable, and in the girl's room you can install a castle, carriage. Think about building a two-tiered game complex or building a refuge bed under the ceiling – this will undoubtedly become a favorite place for games not only for your child, but also for his many guests!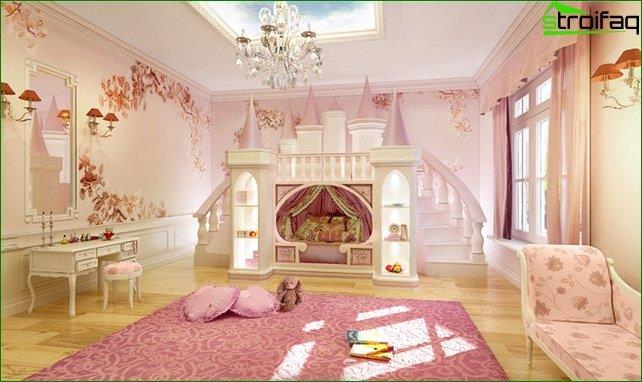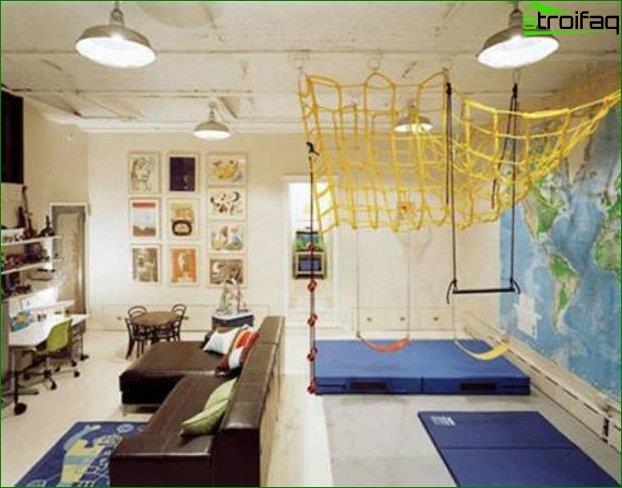 How to choose a wallpaper for the nursery?
The decisive value in the selection of wallpaper will be of color, because it is from him that the psychological and emotional state of the child is curled. Try not to take wallpapers of bright saturated colors: they will provoke nervousness and anxiety, it will be difficult to stay in such a room for a long time.
Colors in the design of the children's room
Color spectrum
Psychological impact
Yellow
Awakens the craving for learning and knowledge in children, helps to absorb information
Red
Encourages activity. Ideal for passive children. An abundance of red can also cause aggression..
Blue
It has a beneficial effect on the psyche of the child, calming him. Also develops imagination, helps in the assimilation of knowledge. An abundance of blue can cause depression.
Green
Allows you to get rid of negative emotions, uplifting. Arouses in the child a craving for exploring the world around.
Violet
Psychologists do not recommend using this color in the design of a nursery: it can tire and cause depression, inhibit the development of abilities.
Pink
Ideal gamut for a children's space. Raises the mood, calms, creates an atmosphere of comfort and coziness
Peach / apricot
Creates an atmosphere of warmth and comfort, inspires a child with safety, gives optimism
It is better to give preference to plain wallpaper or wallpaper with a restrained ornament, discreet patterns, prints with flowers and animals, cartoon characters. You can also combine plain and patterned wallpapers: it diversifies the environment and avoids congestion. Take into account the tastes and interests of the child – and you will definitely not be mistaken with the choice.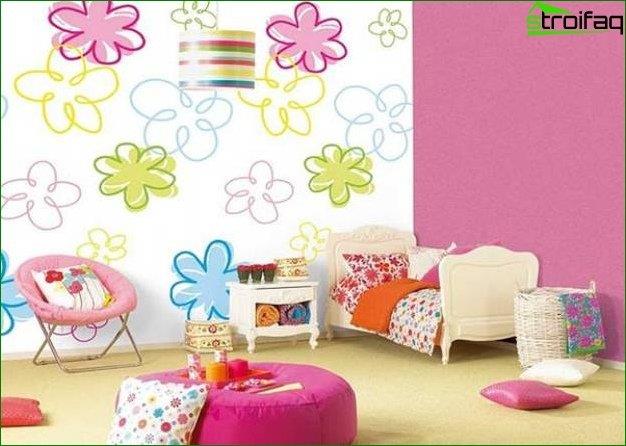 Curtains – continuation of the atmosphere of a fairy tale!
Curtains in a child's room have two important functions. On the one hand, they must let in a lot of light and not obscure the room, and on the other, reliably protect the baby's sleep in the dark. The combination of blackout curtains + tulle is best suited to solve these problems. Alternatively, it can also be blinds or roller blinds..
What else is important to consider when choosing curtains:
Material. It must be difficult to flammable, environmentally friendly, not requiring special care. Most often, cotton is preferred: it is dense, soft and collects little dust on itself..
Colour. If the interior of the room is bright and colorful, it is better to choose plain curtains. If the furniture and decoration of the room are pastel calm colors – on the curtains you can make an interesting bright accent.
Accessories. Do not forget about them! All kinds of holders in the form of butterflies, lambrequins, catches in the form of fairy-tale heroes corresponding to the theme of the interior can very well complement it.
If your child is very active and energetic, give preference to inexpensive curtains, in which case it would not be a pity to replace them with new ones..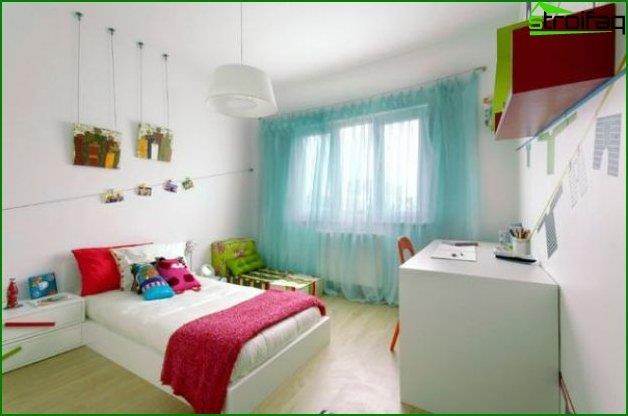 Do not forget to decorate the ceiling!
There are many interesting options. ceiling decoration: Wallpaper, paint, decorative panels, suspended or suspended ceilings. Turn on your imagination and add fabulousness: make a starry sky, decorate the ceiling with birds of paradise or gentle clouds … The modern market for decoration materials and photo wallpapers offers a huge scope for the embodiment of your craziest and most vivid fantasies!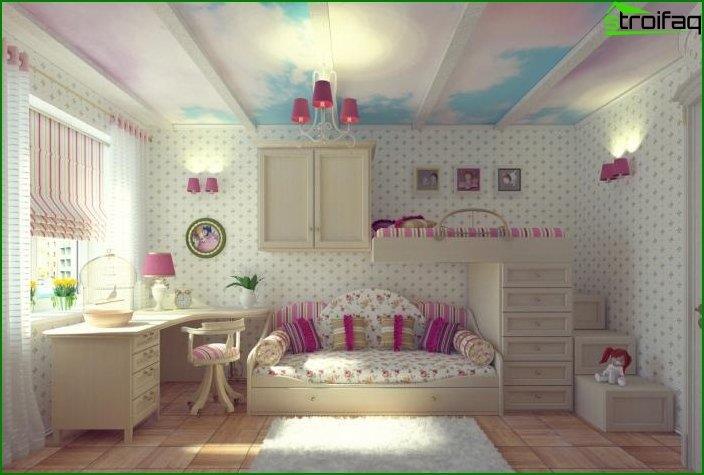 Furniture for the nursery – which is better?
For a children's room, it is worth choosing furniture made of solid wood. A cabinet made of expensive natural wood can and will look spectacular, but it will cost a lot of money. And it will be especially insulting when the appearance of this "work of art" is painted over by arts or deformed as a result of the vigorous activity of a young researcher. Therefore, it is recommended to choose models from veneered or laminated MDF and particleboard, which differ in a variety of all kinds of shades and textures for every taste. Colored plastic items work well.
Please note that children's furniture should also combine the following features.
Transformation. Children are often restless, and they can get bored with the design of a room very quickly. Well, if you have the ability to do permutations.
Mobility. Prefer furniture on wheels: it is mobile, convenient, and also a good opportunity for your young designer to take part in the process himself.
Safety. Pay particular attention to the absence of sharp corners! This will prevent possible injuries to the baby during active games. If there are any such ones, stick special fuses on them: this will make the child safer and calmer.
Storage space. Make sure your child has plenty of room to store his many treasures and toys. Pick up furniture with a variety of various drawers or buy him beautiful boxes. Not only the child will like this, but also you – after all, cleaning will now be much easier!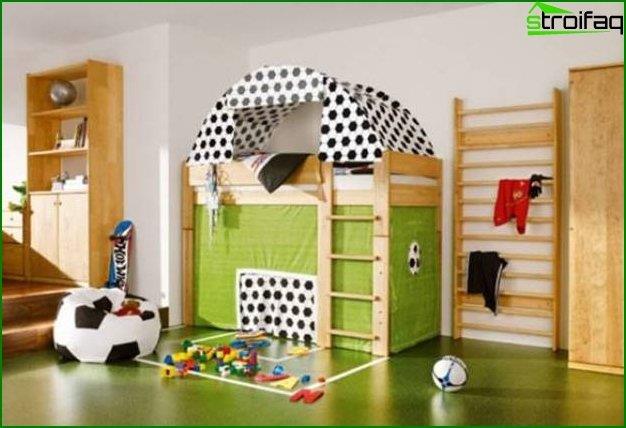 Choosing a bed in the nursery
When choosing cots in stores, their eyes just run wide! Salons are full of all kinds of models and modifications. When choosing a bed, the main thing to remember about three basic rules – environmental friendliness, functionality, safety. If your child is already old enough and independent – it is better to consult with him first, how he sees his berth.
In recent years, designer models of beds in the form of cars, ships, castles for princesses have enjoyed special love and popularity. It is fashionable, creative and at the same time practical. Such an object will combine several functions at once: a resting place, a storage place and at the same time a large toy and a place of active action. As a rule, such models are made of bulk plastic, which is beautiful and easy to maintain..
Many fans also have children's sofas. When choosing this piece of furniture, make sure that the material is soft to the touch and easy to clean. Give preference to pleasant tones: bright sharp colors can spoil the child's vision. For older children, older sofas and armchairs are suitable. Try to choose a medium-sized bed 190×90 cm – as they say, for growth. For happy owners of two children, a bunk bed is an excellent solution..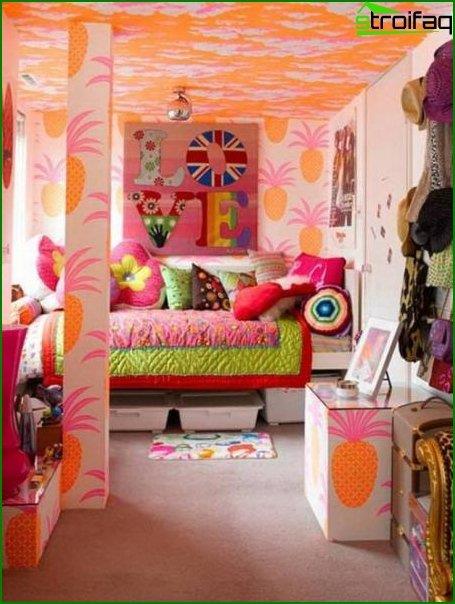 The right workplace for the child is the key to successful study!
It is much more pleasant to do if everything is organized in your place, so that it is comfortable and pleasant to be. Here are some important guidelines:
The table should correspond to the growth of the student. Choose models with the ability to adjust the height of the legs, and you do not have to update the work area every two years.
Position the table near the window to make the most of natural light. Artificial light – install the lamp on the left side of the table so that the light does not fall into the eyes of the child.
In addition to the table, do not forget to pick up a swivel chair with a wide comfortable back – this model is ideal for study.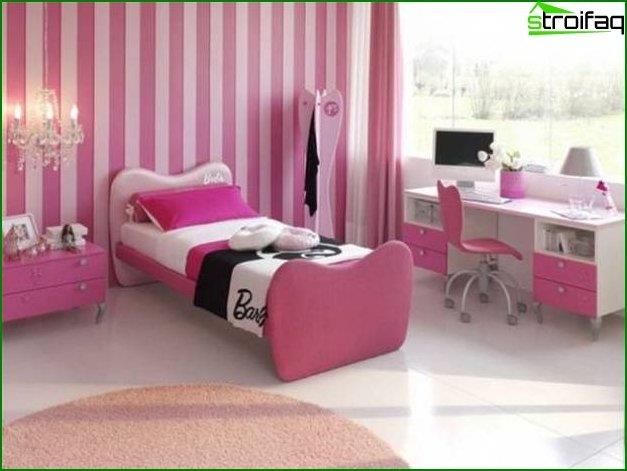 A few words about the repair: environmental friendliness and safety
When making repairs in a child's room, approach this matter with the utmost care and responsibility. Poor quality materials in the finish can cause childhood asthma, headache, frequent colds. Use only environmentally friendly and safe products that do not contain phenol, styrene, formaldehyde and other chemicals that can adversely affect the health of your children. Ask stores for materials specifically designed for children's rooms.
It is best if the floor in your nursery is wooden, and on top is covered with natural mastic based on beeswax or gum resin. Instead of vinyl wallpaper, choose paper: they "breathe" better and only glue them with paste or special glue. For wall painting, also use only certified paints for use in child care facilities..
When the repair in the nursery is over, wait at least two weeks before populating the baby. Even when using safe materials in work, it will take some time for all chemical odors to weaken and not cause malaise in the child.