TOP 100 best ideas for toilet design. The design of the toilet of any size in various styles and colors.
Creating a unique interior in the toilet or bathroom. Photos of the 2020 novelties for the individual design of your bathroom. Tips for choosing plumbing, materials for floors and walls, as well as colors and design of toilets of various sizes.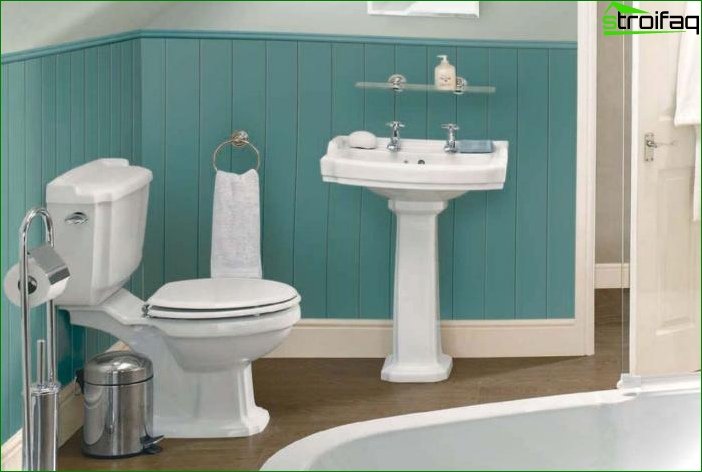 Content
How to choose materials for the design of the toilet?
When we hear about the interior decoration of a bathroom or toilet, the first thing that comes to our mind is tile (or ceramic tile). Many prefer to use it for facing these rooms. After all, it will become a universal solution to basic consumer needs:
moisture resistant (does not get wet);
practical (easy to clean and wash);
durable (does not lose its attractiveness and color over time);
a wide range of colors and textures;
with skillful combination is able to visually change the space of the room.
If you are not too conservative, then one can not be limited to one tile, there are many other beautiful and no less practical options.
Plastic panels will look just as good as tiles or porcelain. They also do not get wet and are easily cleaned of all kinds of contaminants without losing their appearance during their period of use. But if the area of ​​your toilet is small, we do not advise them to decorate the walls – during installation they use a crate that hides part of the space, which is not much in the toilet of a simple apartment.
The most budgetary and easiest way to arrange your bathroom will be wallpaper – it is beautiful and inexpensive. But they must be resistant to high humidity (there should be a corresponding note on the roll). The best option would be: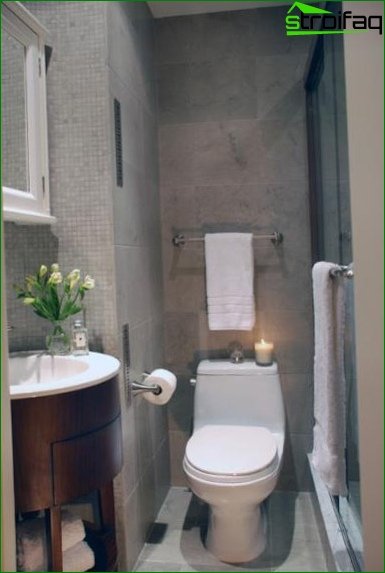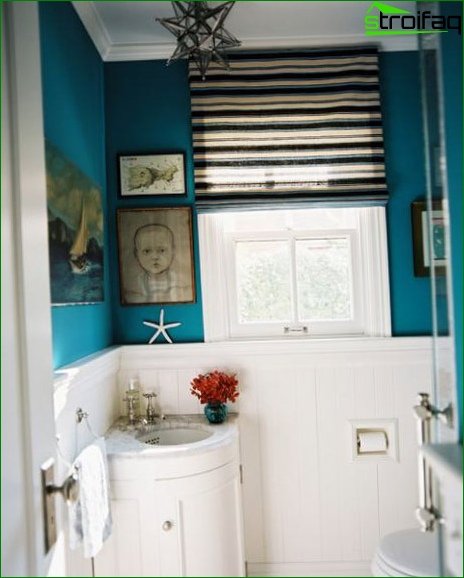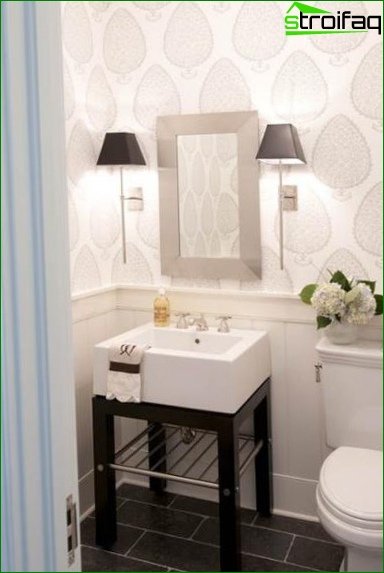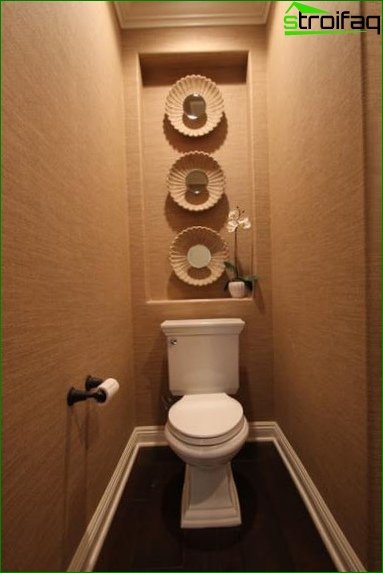 The latter appeared recently, but have already been successfully used in the design of premises. They are applied to the wall using a special roller; after hardening, they must be covered with a water-repellent solution. A wide selection of colors and shades will delight you.
Read also our article about choosing wallpaper!
"If you are not too conservative, then you can't stop at just one tile; there are many other beautiful and no less practical options."
Registration cost depending on the material

| | | | |
| --- | --- | --- | --- |
| Material | Tile or Porcelain Tile | Plastic panels | Wallpaper |
| Cost | High | Low | Average |
About the choice of plumbing and furniture
If your toilet not large, but you really want it to be cozy and comfortable, pay attention to the hanging design of the toilet. This ergonomically and externally reduces the footprint. If desired (again, if space allows), a small sink can be installed in the bathroom. In order not to highlight plumbing in the general background, which already cannot boast of large volumes, it is better to select it to match the walls – this will visually expand the surrounding area.
In order not to spoil the whole appearance, carefully consider how you will hide all the pipes and layering. As an option – leave small closing windows for them, providing for these small nuances when repairing the bathroom.
The best assistant in this will be gypsum boards. Their installation is uncomplicated, and it takes up little space, perfectly hiding the "unwanted structures" and available meters.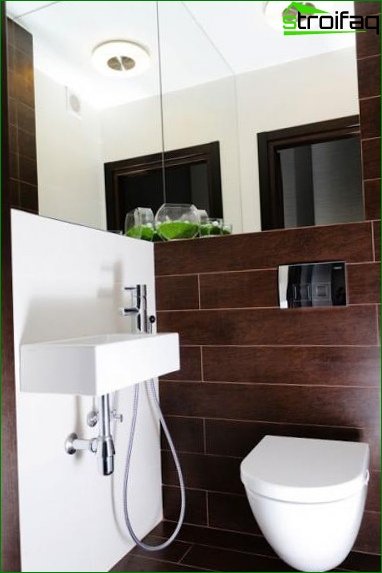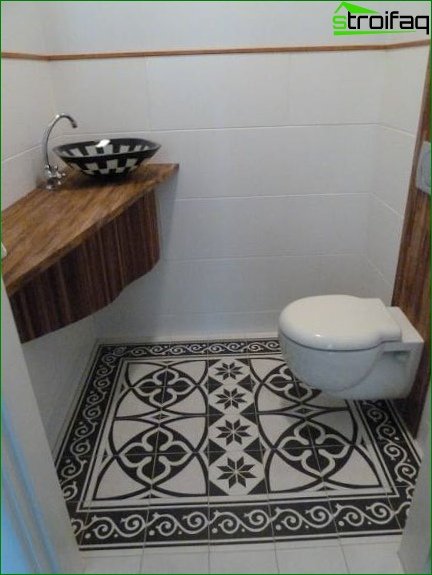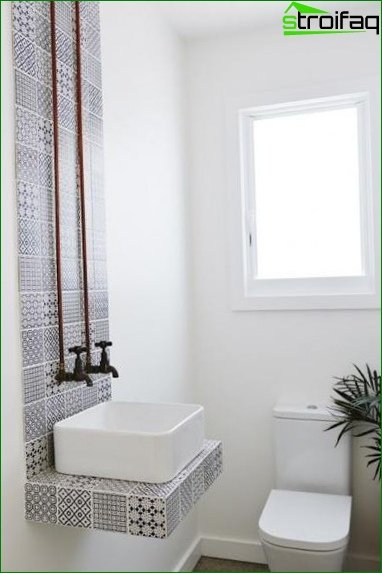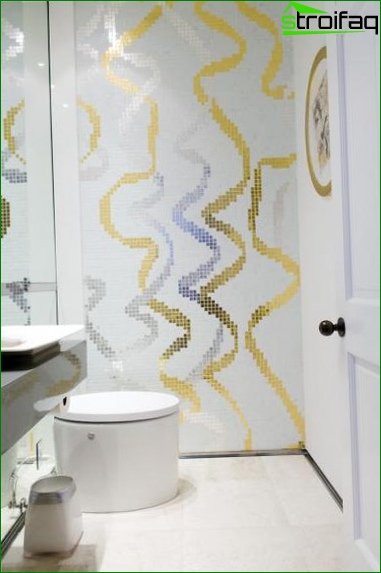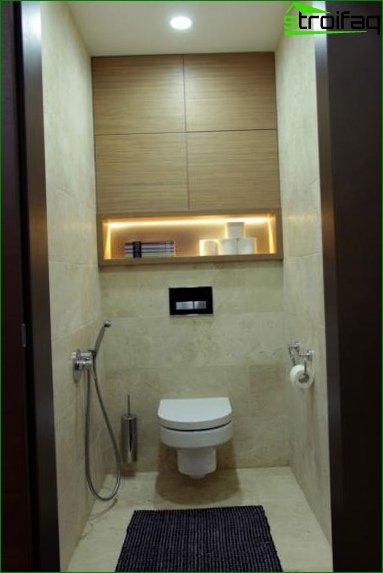 To increase the space in a small toilet, choose light-colored doors without any patterns, while glass inserts will not be superfluous. But the rug may interfere, it is better to make a "warm floor" – it will warm your feet on cold days, which will allow you to feel comfortable here. If the rug is already bought, then make sure that it is in the tone of the walls or floor and there are no signs on it.
No less impressive allows expand space and chrome fittings used in the interior design of the bathroom:
tap (if there is a sink);
toilet paper holder;
ruff and his stand;
door handles;
button on the toilet barrel and the like.
Having correctly selected all the components, you can easily expand a small toilet, making it a stylish and comfortable bathroom. But what to do with a large space? Believe me, many people have problems with this. One of the best solutions in this situation will be furniture – functional and, of course, necessary in such a room.
Related article: Bathroom Furniture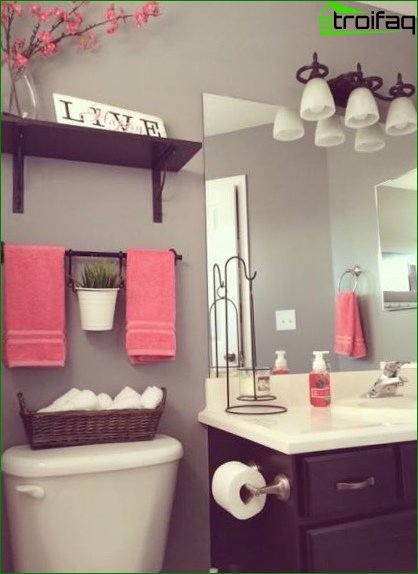 In order for your bathroom to acquire its own unique finished image, you have to make a lot of efforts for decoration and repair. But everything will be in vain, if you do not pay attention to the choice of furniture and other necessary accessories for this room. Choosing high-quality plumbing, finishing walls and floors, you can proceed with the selection of various shelves, cabinets and other functional interior items.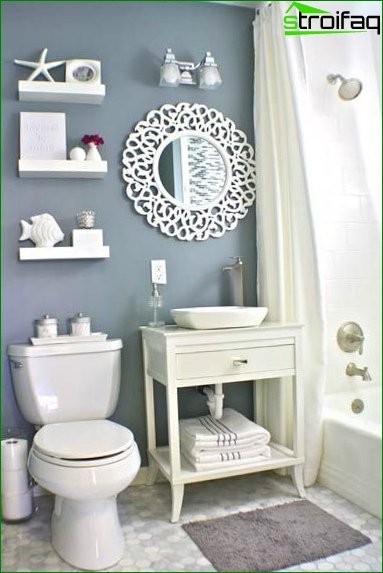 You may find it strange that we raised such a question – regarding the design of the toilet, but in reality – this is not just a room where you can meet your needs. Here you put yourself in order – washing your face in the morning, washing your hands before dinner or combing your hair and washing off your makeup before going to bed. But, if there are no mirrors, towels and shelves for everything you need, will you be able to do this? Probably not.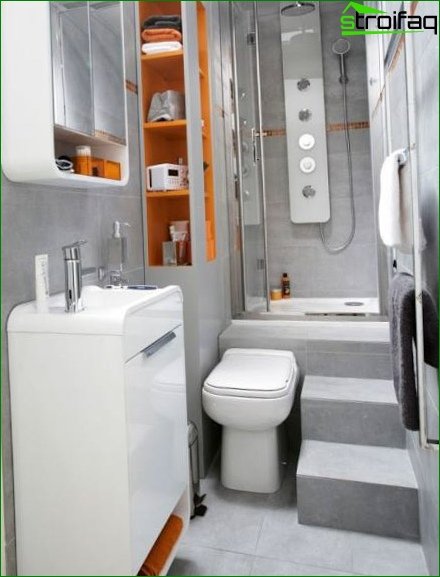 These premises are available in all public places (restaurants, hotels, offices), private houses and apartments are no exception. Most often, latrines are located on the ground floor, where it is most convenient for guests to visit them. But in any apartment, a small bathroom combined with a toilet (or both of these rooms separately) needs shelves for storing all these bottles and vials, household chemicals, air freshener and other.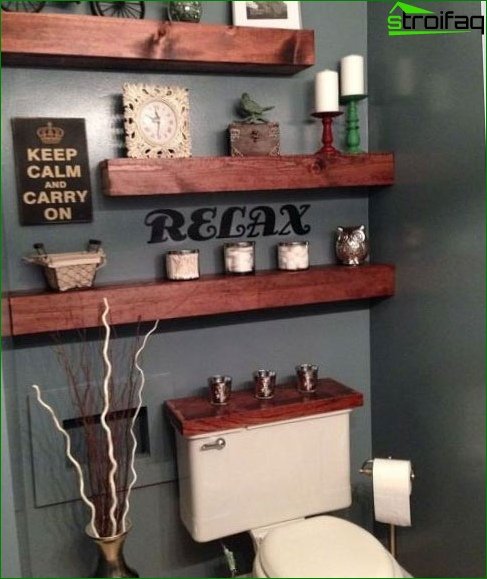 No less elegant and stylish look options where cabinets for all kinds of little things are hidden behind wall panels. From the first try it's not even possible to understand that behind the usual wall decoration there is an overall shelter for household needs. Such an interior, of course, remains holistic and neat..
Creating a finished image, pay particular attention to the selection of suitable accessories and accessories:
towel holders;
soap box;
stands for toothbrushes and fragrance;
toilet paper holder;
brush and stand under it.
"Undoubtedly, furniture should not stand out from the overall style of the bathroom."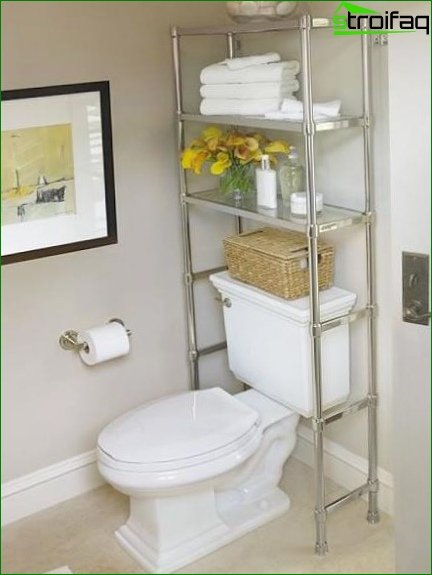 If you have such an opportunity, then order a shelving according to your individual sizes and install it behind the toilet. It will look like a cupboard and toilet bowl are one. This is convenient, because there is an additional place to store something.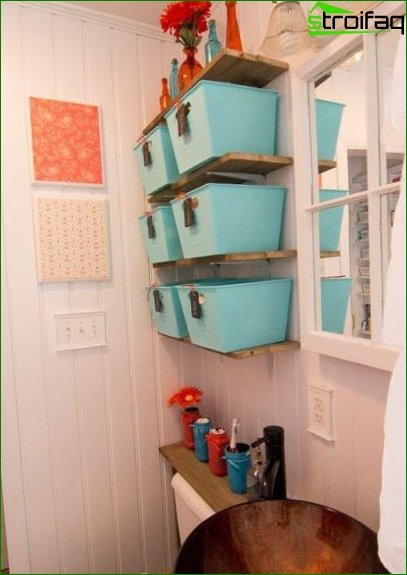 In addition to the "classic" accessories for the bathroom, all kinds of baskets and drawers for linen, bottles, towels are perfect. This will give the room a more comfortable, domesticated look..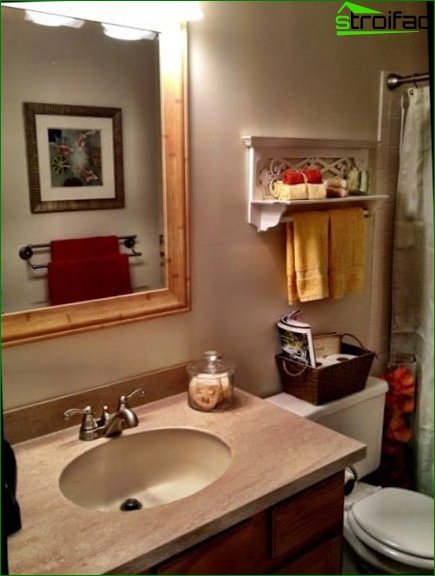 A great addition to the washbasin or sink built into the cabinet, which also serves as an additional place for storage, will be a large mirror, it will visually expand the space in a large but narrow room.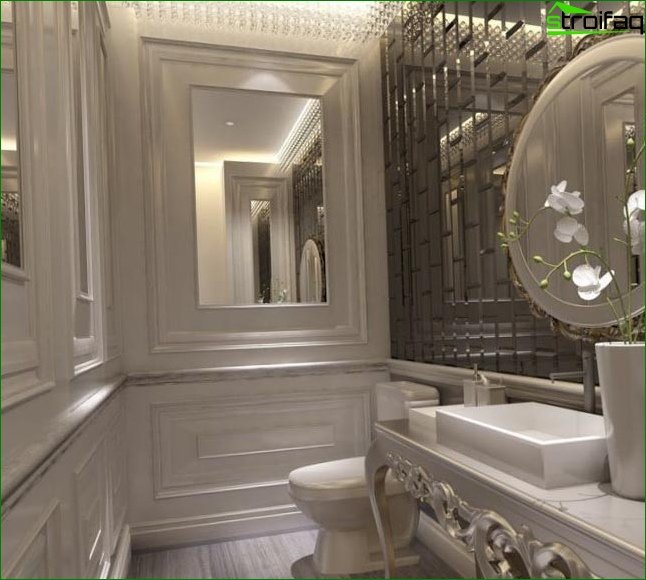 Undoubtedly, furniture should not stand out from the overall style of the bathroom. If you have a classic style, as well as retro or country, then prefer wooden furniture.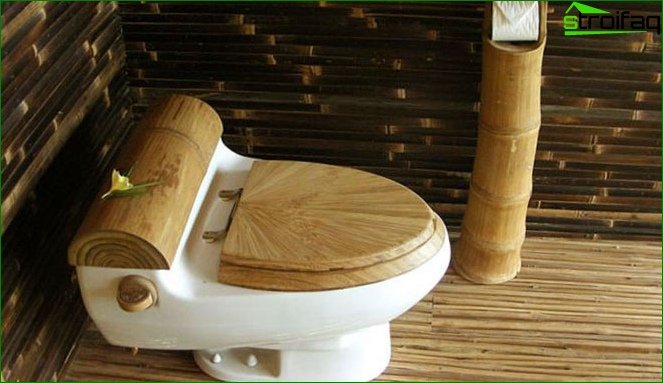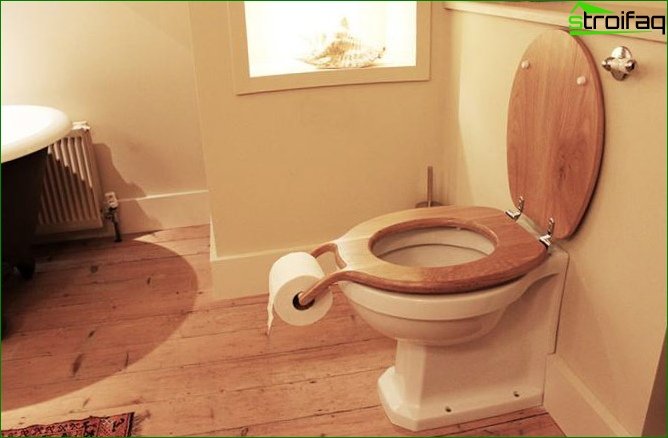 And if the entire bathroom is made in the style of Hi-Tech or modern – plastic, glass and metal will be more appropriate.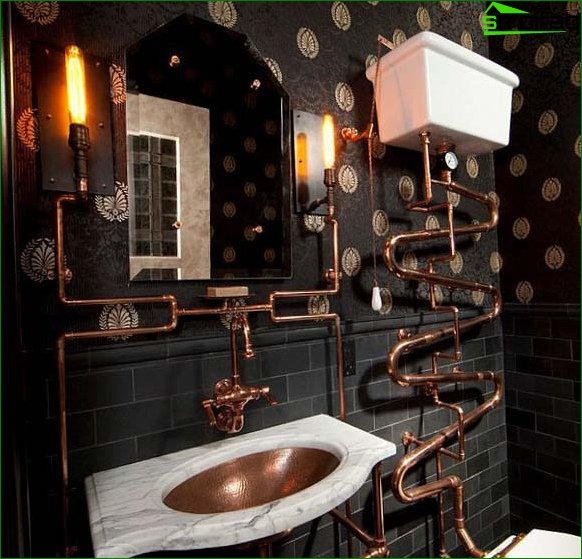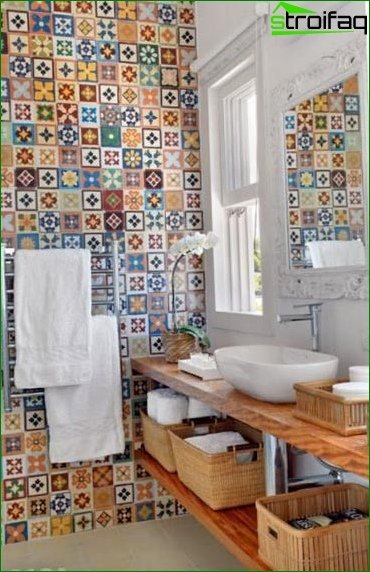 Color scheme for design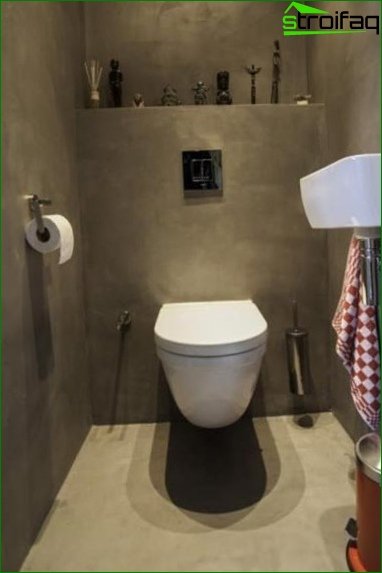 Finishing materials and furniture selection we examined. Now I propose to switch to visual correction of non-standard rooms of bathrooms. The main tool will be color. Varying certain shades, you can expand or narrow the available space.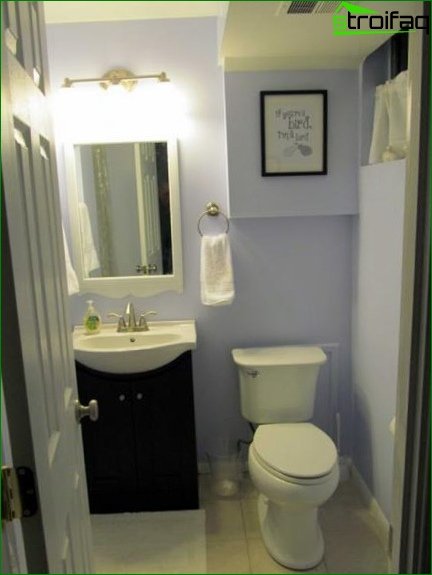 Using light colors or shades of the cold spectrum (white, silver, heavenly blue, romantically lilac, pale lemon, violet or pink), you can expand any room. Be sure to use this tip if you have a narrow toilet..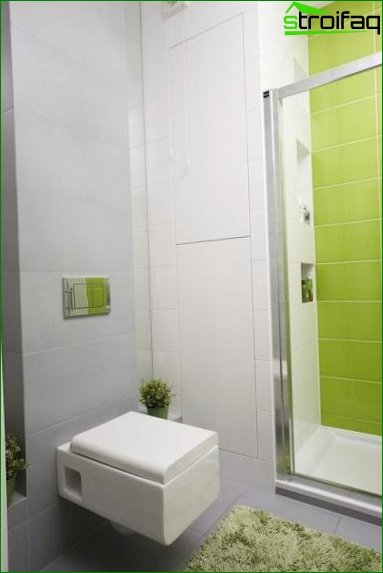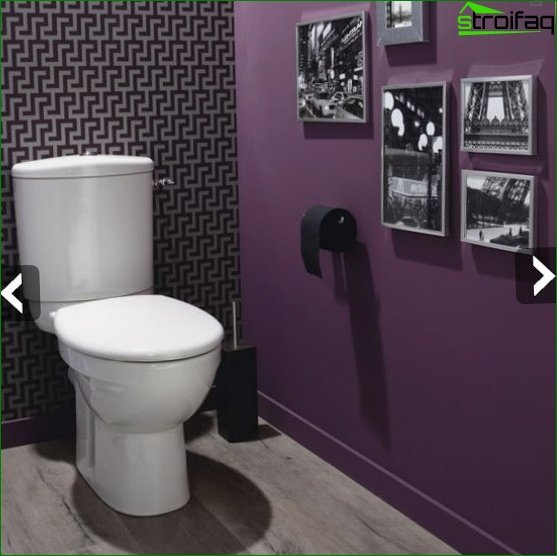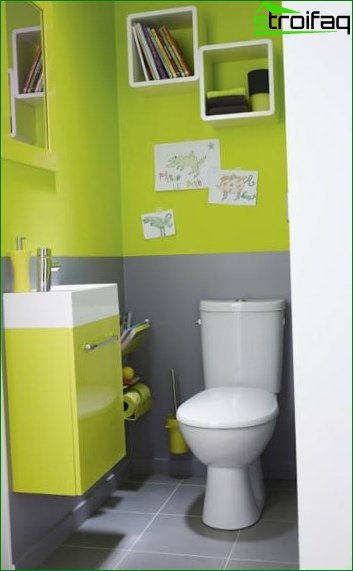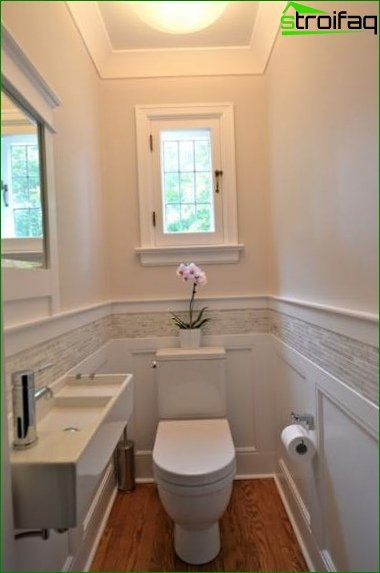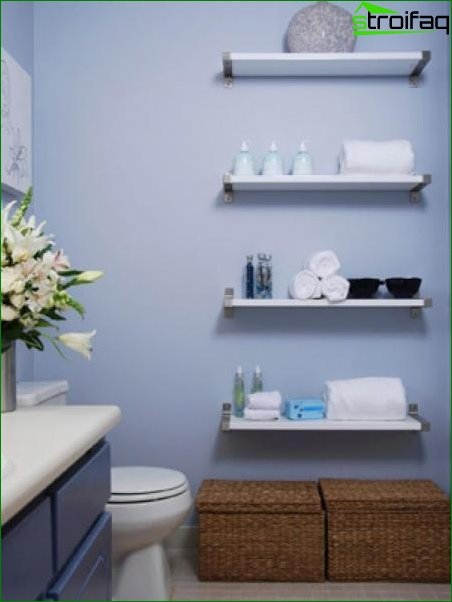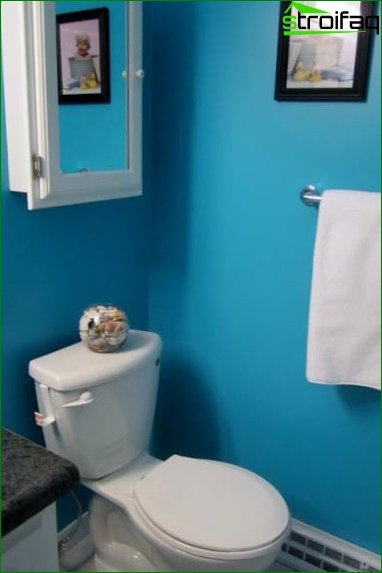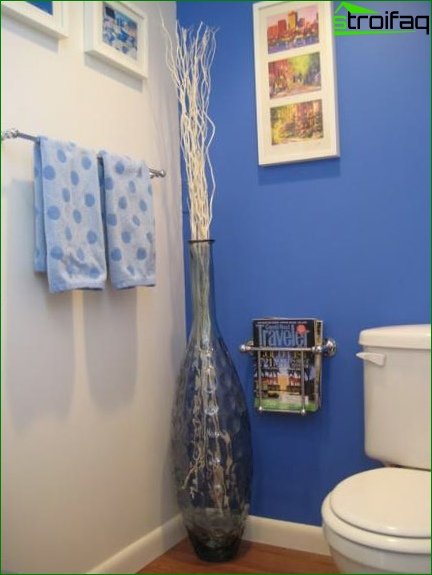 Be careful when using saturated and dark tones. Most modern design magazines offer to design the bathroom in a style that literally screams with its bright accents. But such a move can significantly narrow your toilet. If you do not want this, then avoid this choice..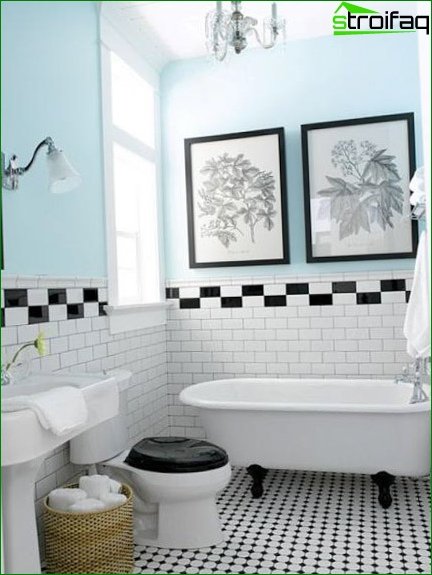 Most often, only a combined bathroom can boast of its spaciousness when the bathroom and toilet are combined. Less commonly, if this was already planned in a project during the construction of a private house. But the owners of the average apartments are faced with the crampedness of their toilets.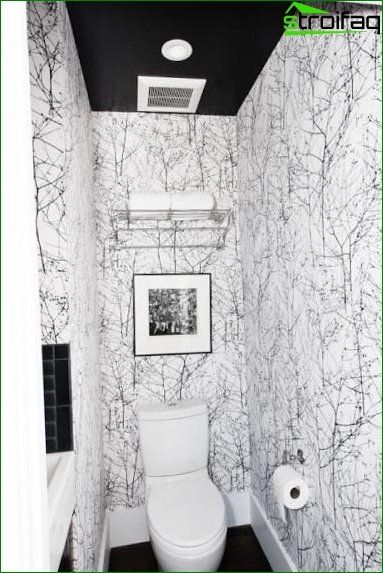 It is equally important when finishing the toilet room to take into account the pattern of the walls. If a large pattern is depicted on them or a massive mosaic is laid out, or even a volumetric photo in size, then for a clearer perception, a room with such a cladding should have an impressive size.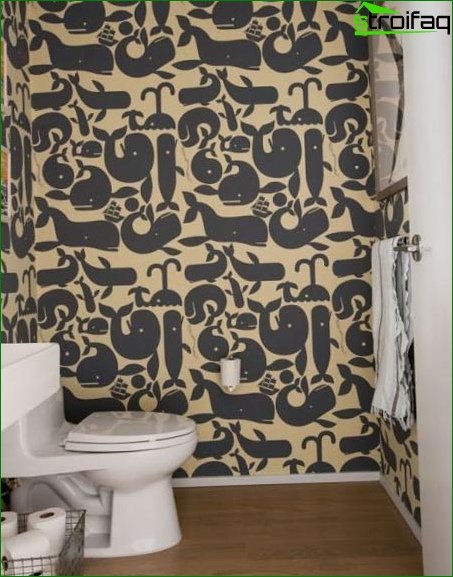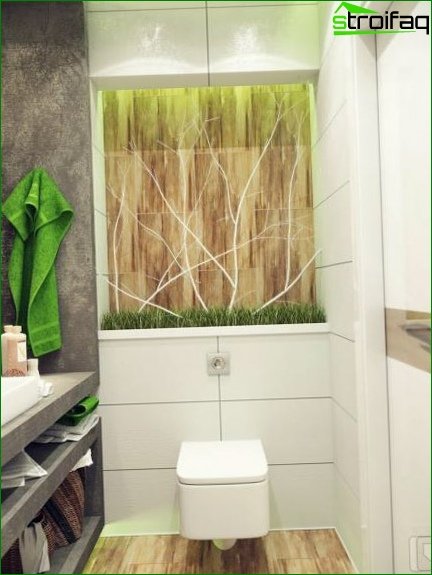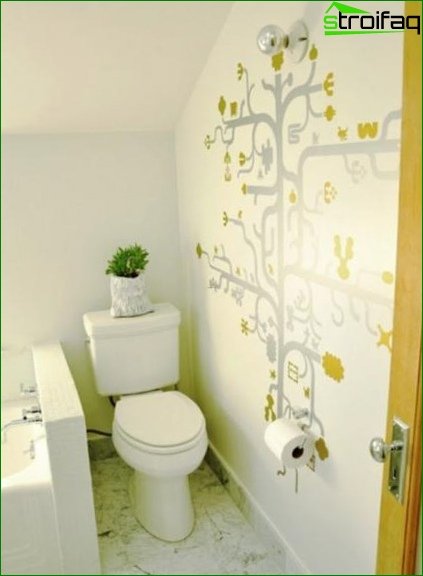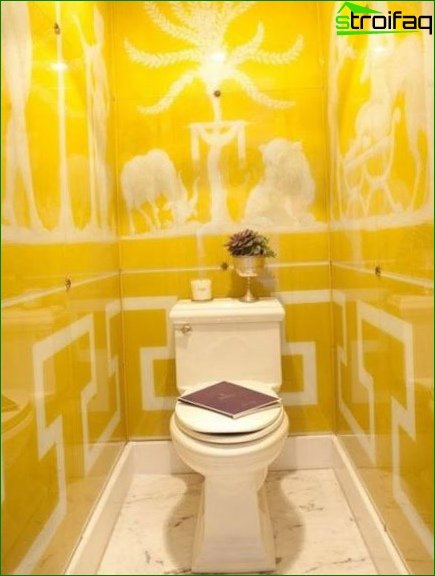 If you tiled the bathroom with a tile, then you will come to the rescue of its geometric shape, types of location, and a combination of each other. So, a rectangular tile should be located with the long side along a short wall, which will expand the narrow room. But if high ceilings are added to this, then you will need to make a tile border about half the distance between the ceiling and the floor. In this case, the bottom should be darker than the top or brighter.
However, with a low ceiling and sufficient width, it is better to make vertical inserts to choose a contrasting tile or bright pattern..
If you have enough finances for a narrow bathroom, then you can try to lay tiles diagonally not only on the floor, but also on the walls – this allows you to expand any space, but be prepared for high costs, because there will be many scraps.
| narrow down | expand |
| --- | --- |
| bright and dark colors | light and cold colors |
| horizontal lines with high ceilings | vertical lines at low ceilings |
Today, tiles have a huge variety of shapes and sizes, so keep in mind that excessively small or huge tiles in a small interior are unlikely to fit harmoniously. Therefore, be careful and, if this is not justified by the general idea, then you should exclude such a choice.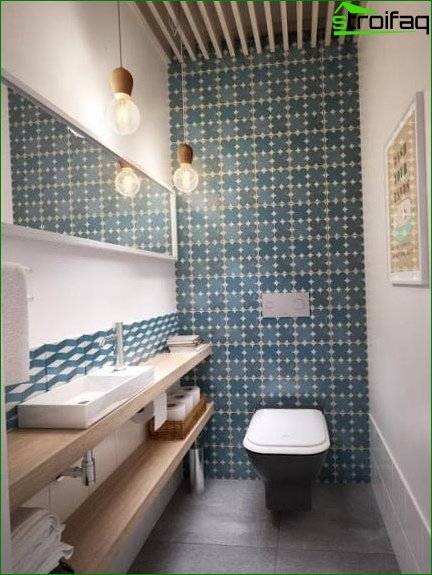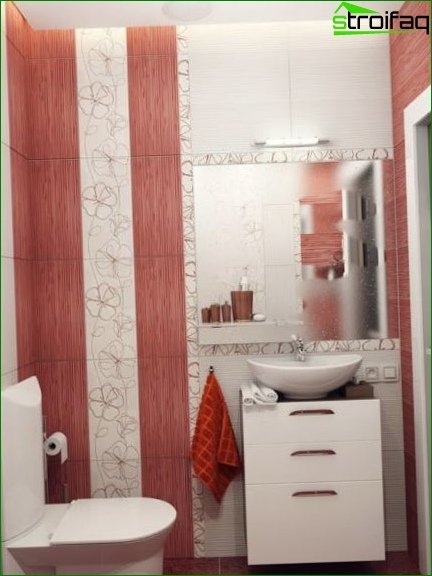 Toilet lighting
No matter how original and creative you design your toilet during the repair, it will be faded and unsympathetic without the right lighting. This is a whole science, but we will try to tell you about the most important.
"In any bathroom, not only large sconces located on the walls, but also the so-called spotlights under the ceiling or on the floor will look most advantageous."
In principle, here, as in any other room, you must certainly feel comfortable. People who think that you can do with one dimly lit light bulb will be wrong. When designing lighting, it is important to consider the size of the room, decoration materials and other design elements.
For example, for a small toilet, the lighting should be brighter so that the walls do not "press" on you. But the restroom in new buildings is mostly suitable for dim light. In any bathroom, not only large sconces located on the walls, but also the so-called spotlights under the ceiling or on the floor will look most advantageous.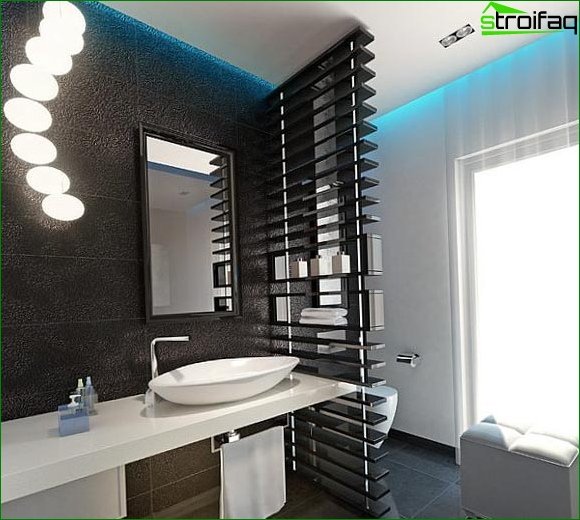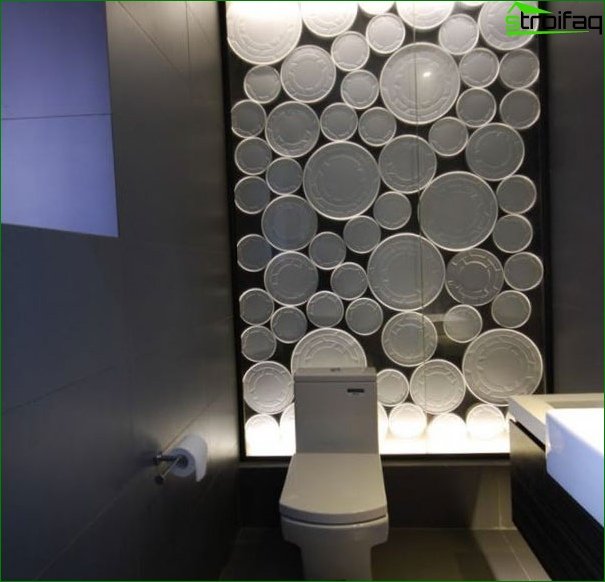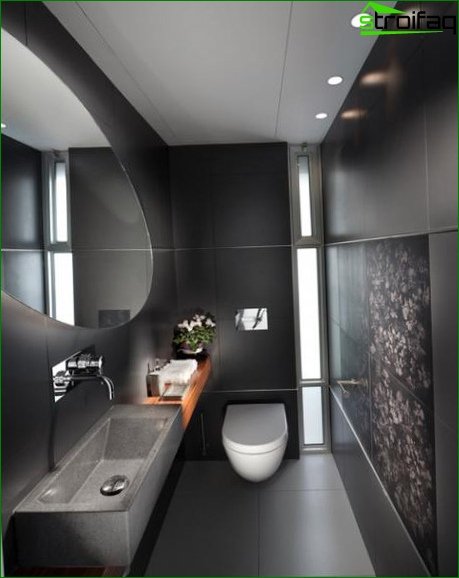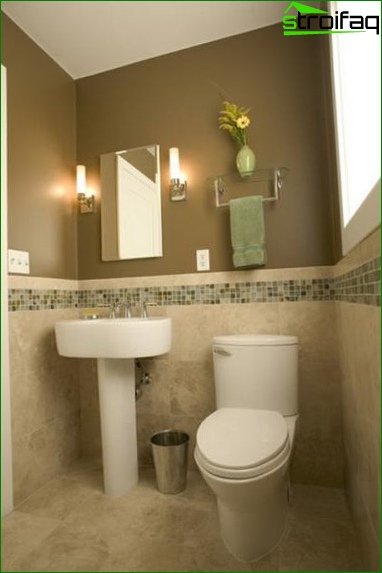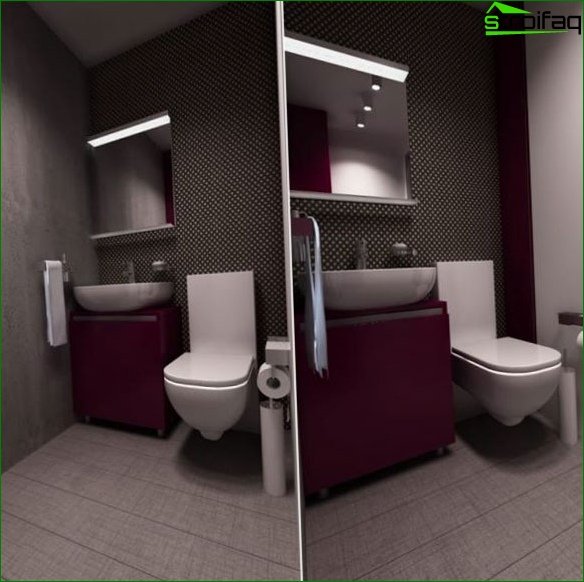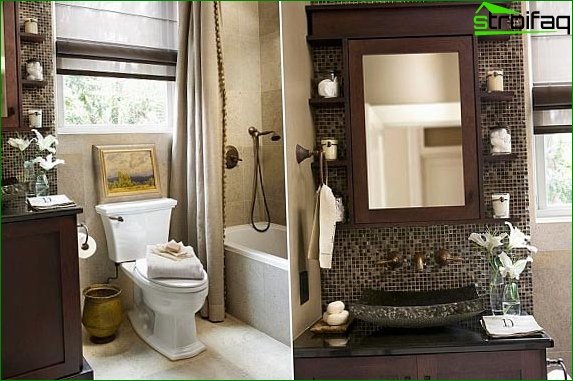 About the nuances of design depending on the size of the toilet
Toilet design 1.5 square meters
Sometimes, using the most ordinary objects, you can recreate an original and unique design, without making any great effort. In any case, you do not need to overload the already small bathroom with all kinds of souvenirs, vases and panels. Without them you can make this room cozy and beautiful..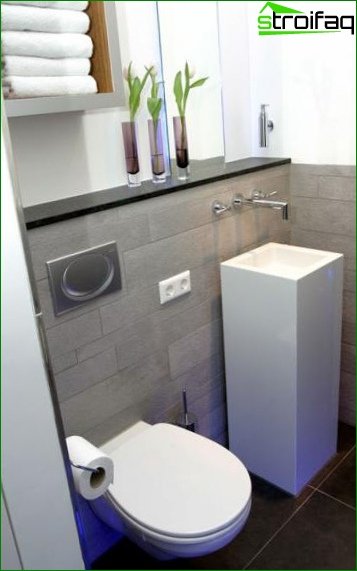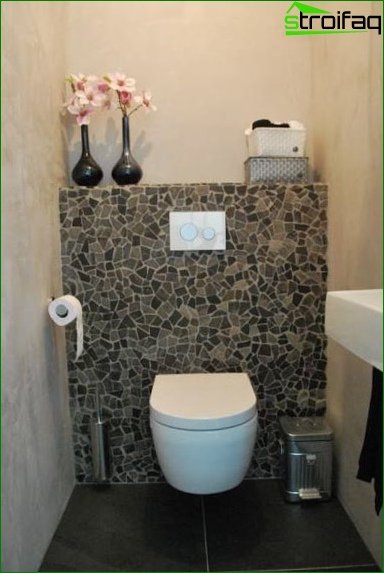 For several years now, ceramic tiles or granite and marble slabs have been used as the main material for decoration. And due to the fact that the bathroom in a simple apartment does not differ in large size, the main task of these materials is to maximize the space, varying the layout of the plates and the use of colors to enhance this effect. It is also important to choose plumbing in small sizes, or with a suspended structure.
Toilet design 2 square meters
The main idea is the most efficient use of a small space. The toilet, again, is better to choose a hanging. And if there will also be a tank built into the wall – great. This will greatly reduce the space occupied by plumbing..
A room with such an area can accommodate a modest wash basin. Both an angular model and a sink suspended from the wall are suitable, near which hooks for towels and a small mirror are located, giving additional space to the available space.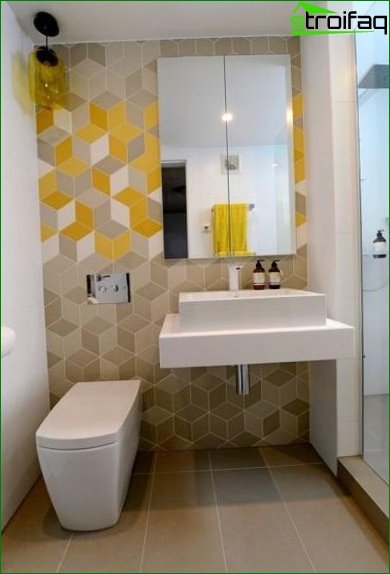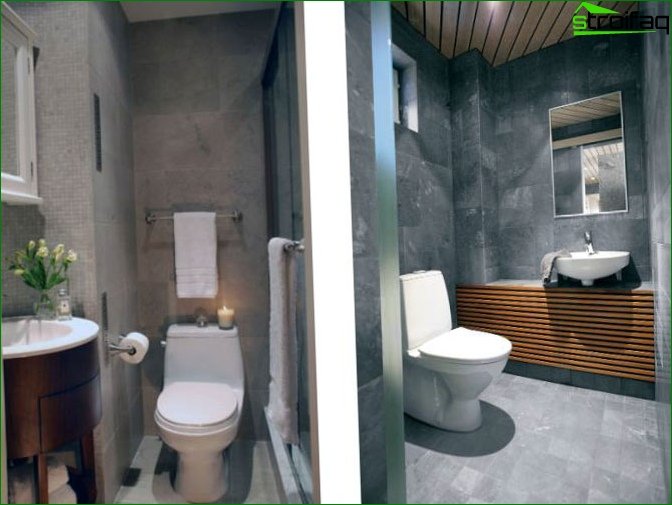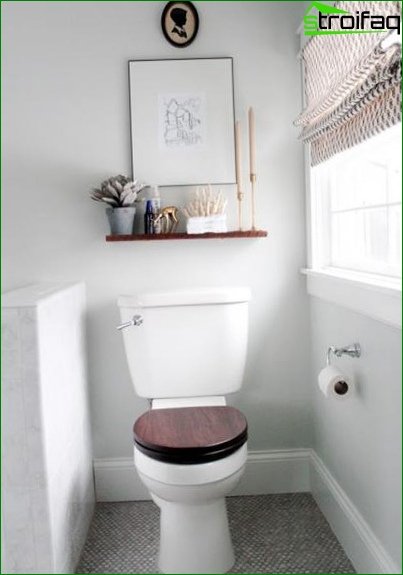 Suitable for wall decoration liquid wallpaper light shades or glossy tiles. When choosing a completely white color for the walls, do not forget to dilute it with several bright elements, so that the overall design does not turn out to be too faceless and faded.
Large Area Toilet Design
Having a large area of ​​the bathroom, I want to make it as beautiful and modern as possible so that it is convenient and comfortable to use, and its interior becomes not only practical, but also durable.
If your bathroom is combined, then not only the bath, but also the shower will fit perfectly into it. From household appliances in the interior, you can use a washing machine, which can be either built-in or located outside the walls and cabinets under the sink. It will perfectly complement the design of the room with all kinds of original decorations – vases, plates with drawings, photographs and the like..
If a very large space bothers you, you can finish the walls in dark colors, which will significantly narrow the space. Also, the presence of cabinets and nightstands will allow you to occupy empty places in the interior.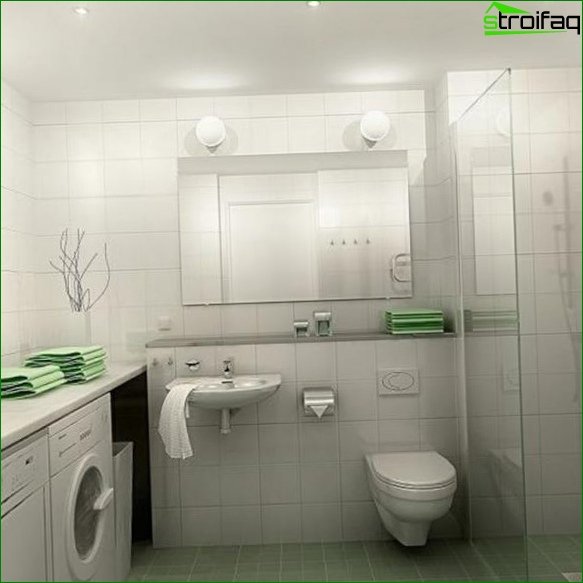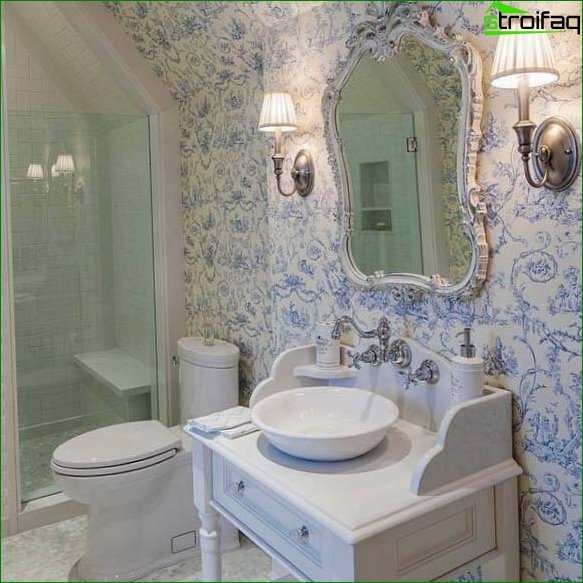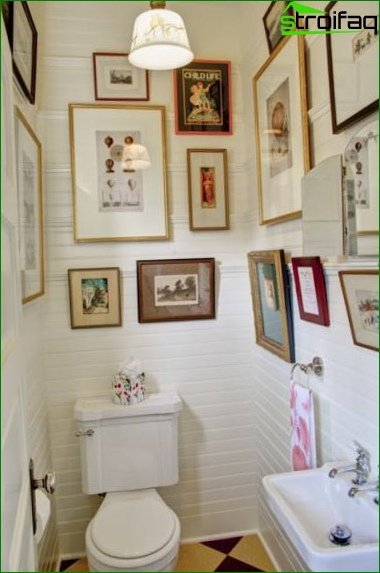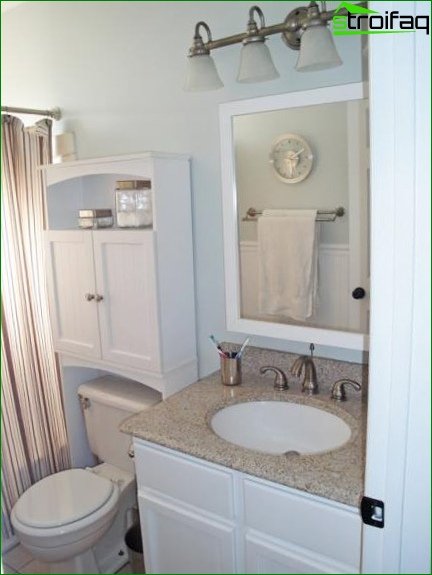 Techniques for visually increasing the toilet area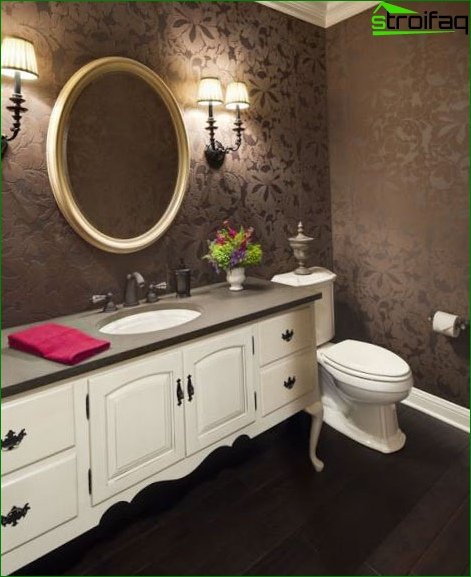 Large sconces should not be bright if the toilet has ample space.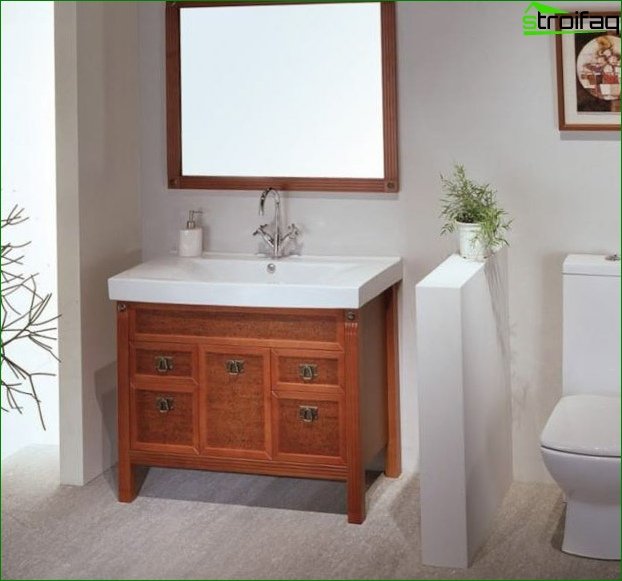 Knowing that your bathroom is not large, you can easily fix it by using mirrors and spotlights in the design of the walls. Stylish and correctly located, they visually expand a narrow room, help to recreate harmony in the general interior or in a specific part of it.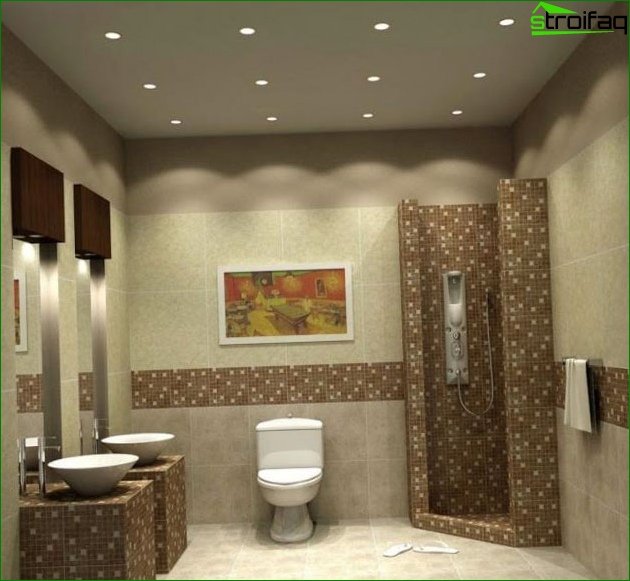 About the design of the combined toilet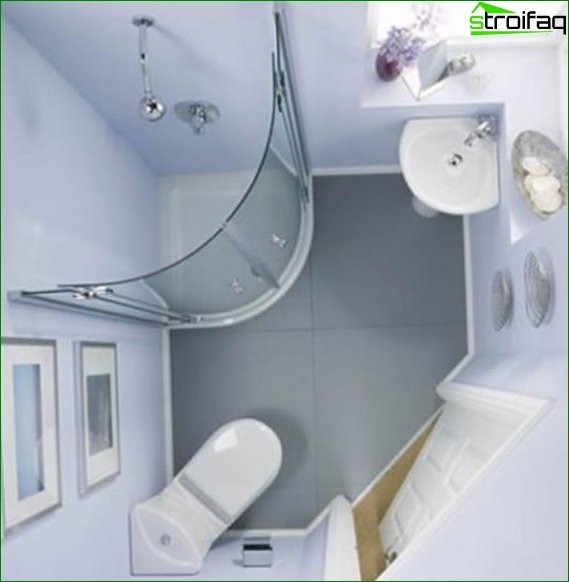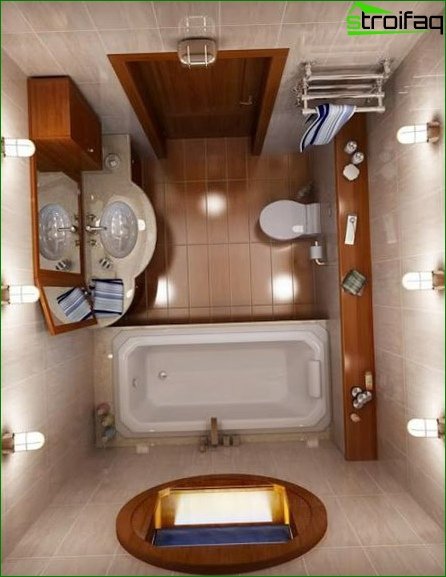 Read also our material about bathroom design, to find even more ideas for creating a unique design!
Toilet with sink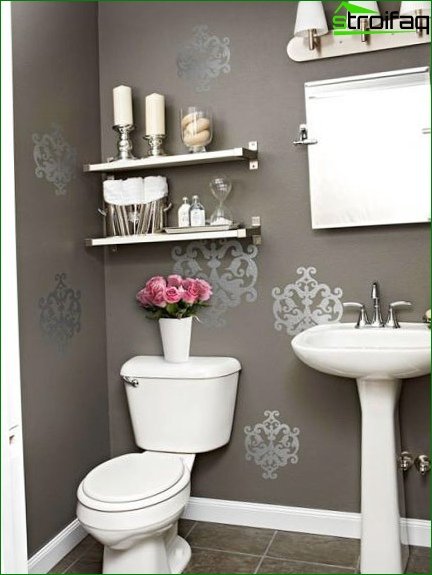 A similar design is applicable exclusively in small bathrooms. Where there is no way to arrange a lot of furniture and accessories. However, there is everything you need – a toilet, sink, mirror, several small shelves for small items and towel holders.
WC combined with bath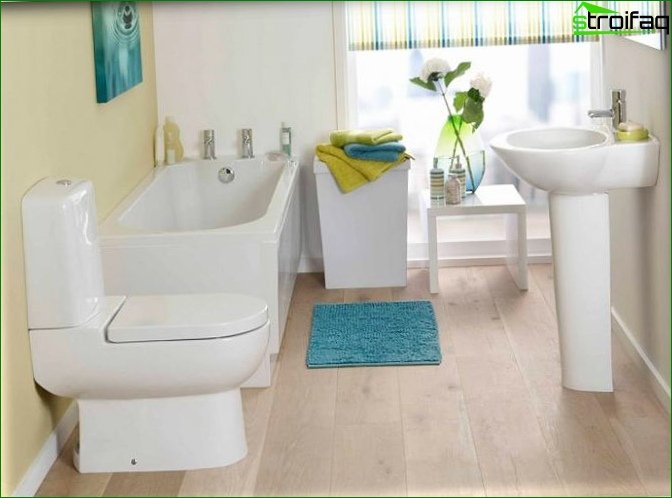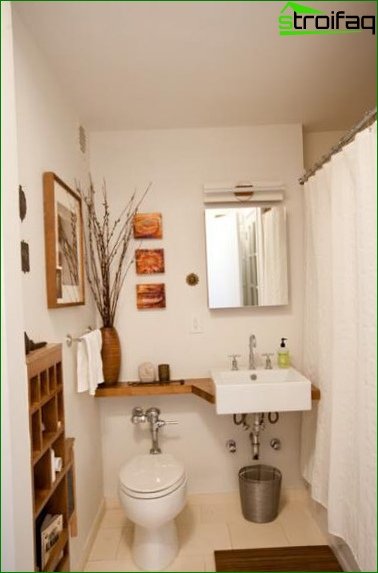 It is one of the common options. The combination of the bathroom with the toilet is carried out with only one purpose – to make the most of the available area. Such options have a lot of pluses and minuses, but mostly it concerns only the human factor (when there are a lot of people in the family).
Novelties of 2020 in the design of bathrooms
I propose to consider some of the most striking novelties in the design of the interior of the bathroom in 2020.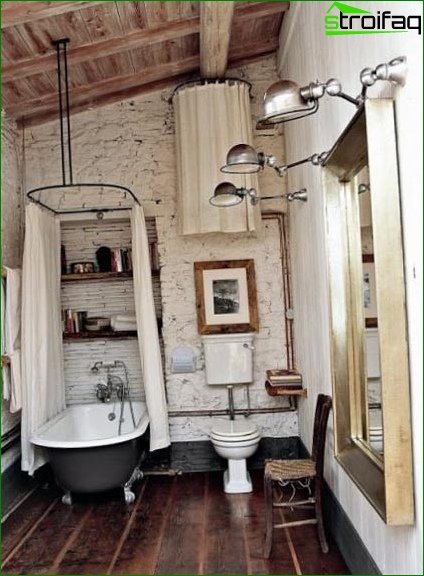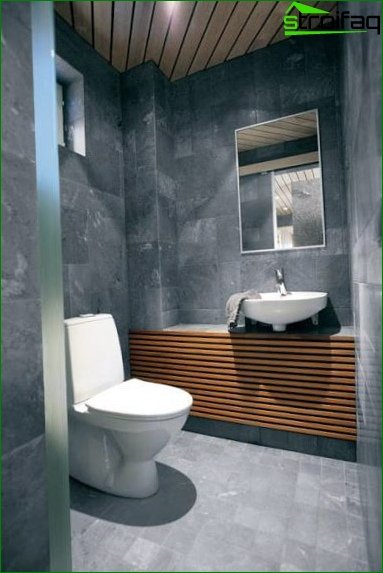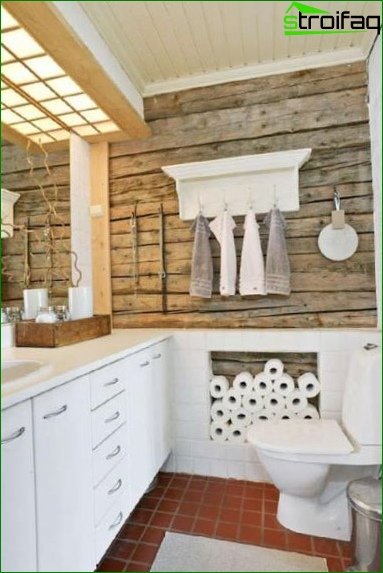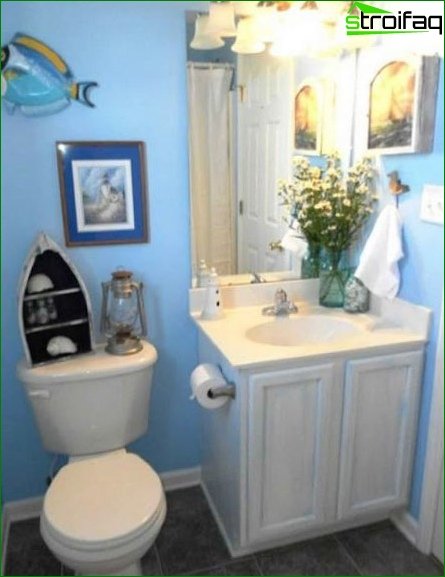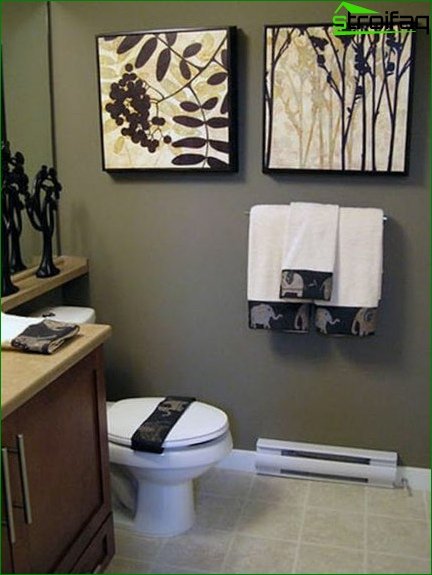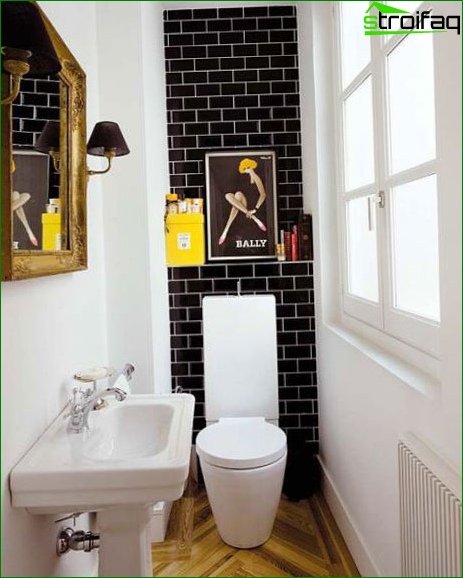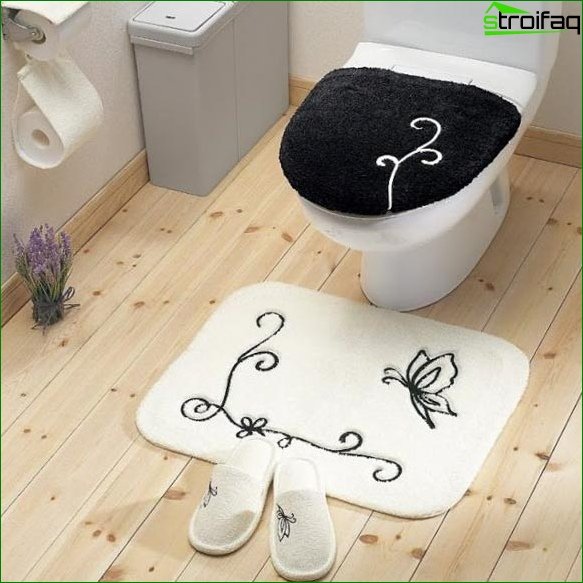 You can also see other options for the design of bathrooms and toilets..