The design of coffee houses affects the attendance of the institution, the appearance of which should interest coffee lovers at first sight. Read and see further – best examples.
The design of coffee houses creates the image of institutions and gives coffee lovers the opportunity to absorb delicious hot drinks in a cozy atmosphere. What could be better than starting the day with a cup of your favorite espresso or latte in a coffee shop, where the air is completely saturated with the aroma of crushed coffee beans, insinuating buzzing coffee machines and the non-trivial interior inspires fruitful activity?
Content: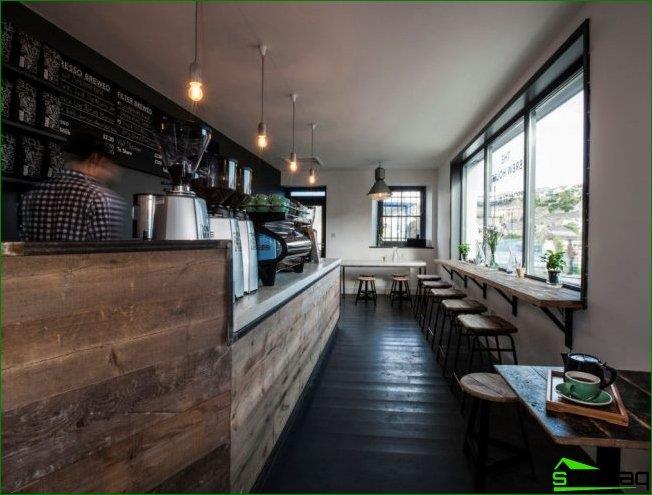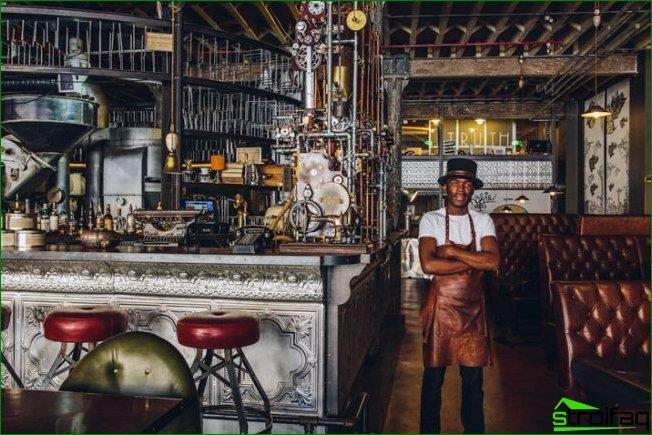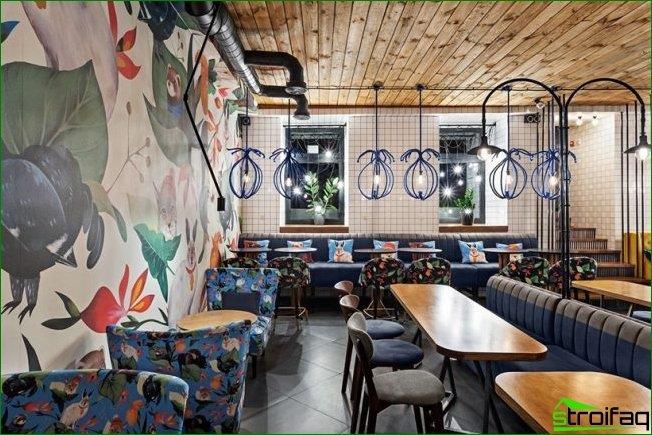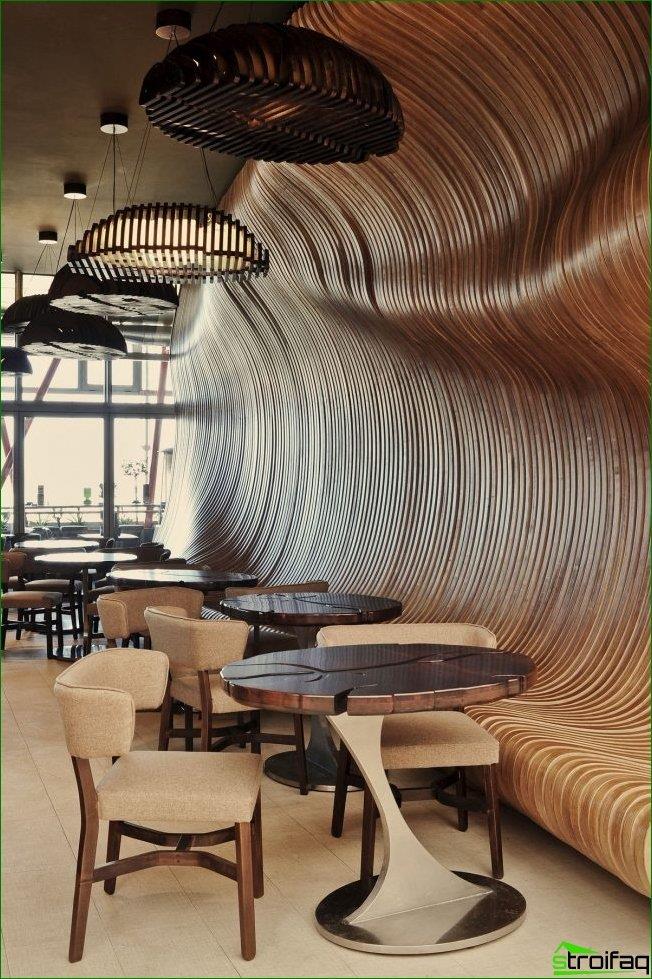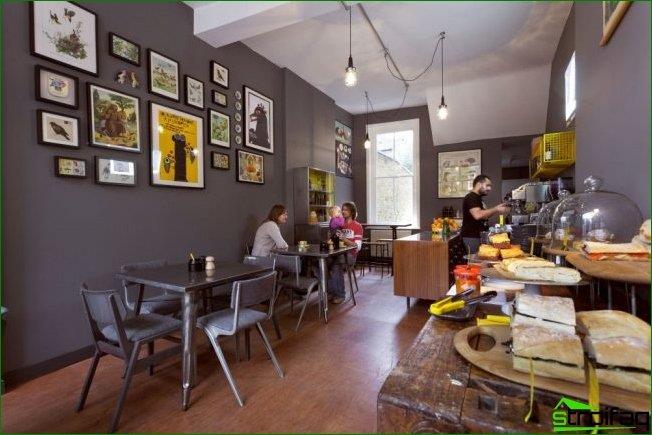 Coffee Shop Equipment Principles
To create an atmosphere in the institution that is conducive to a measured rest over a cup of coffee, it is important to focus on planning, zoning of space and creating a comfort zone for each visitor. Therefore, it is advisable to use the following design solutions:
Install

panoramic glazing

, overlooking the attractive urban landscape. It's important to decorate the territory adjacent to the establishment with spectacular decor items – tubs with exotic plants,

floor lamps

intricate shape,

flower pot

, decorative figures made of ceramics. Panoramic glazing will allow not only to observe passers-by, but also fill the coffee house with plenty of natural light, which will contribute to the visual expansion of small rooms.
Place dining groups at a distance from each other. For free communication and creating a comfort zone, you can

divide dining groups into partitions

, organically resonating with the type of decoration of walls, door or window openings.
Arrange lighting with the ability to adjust visitors. Lamps that can work in modes with different lighting intensities, with a remote control will allow customers to create their own

optimal lighting scenarios

above your placement. Fans of reading books or newspapers with a cup of coffee will be able to set a narrow light above the table, and those who decide to chat face-to-face in dim lights will be able to create an isolated romantic atmosphere in the coffee house.
Create an interior for a certain category of visitors. In the vicinity of an institution with a business center, most of the customers will be employees of nearby offices, and when located in a shopping center, they will be customers of shops and salons. Therefore, the style vector should be directed to the appropriate thematic design of the inner shell of the coffee shop. The classics of the interior genre used to design the establishment will satisfy the aesthetic tastes of office employees who have the opportunity to relax from the uniformly decorated workrooms. In coffee houses located next to shopping or entertainment centers, a children's room must be equipped and furniture for preschool children must be available. For a family vacation in a positive environment, coffee houses with walls decorated

slate board

, light letters and

colorful paintings

. A positive atmosphere in the institution is able to create

furniture with bright upholstery

against a neutral background of the walls trimmed with a plain paint of discreet color.
Choose furniture and finishing materials with excellent performance. Tables, armchairs, sofas, bar counter and chairs, floor coverings, doors with a high degree of wear resistance will not lose their original appearance for a long time, despite the high attendance of the establishment.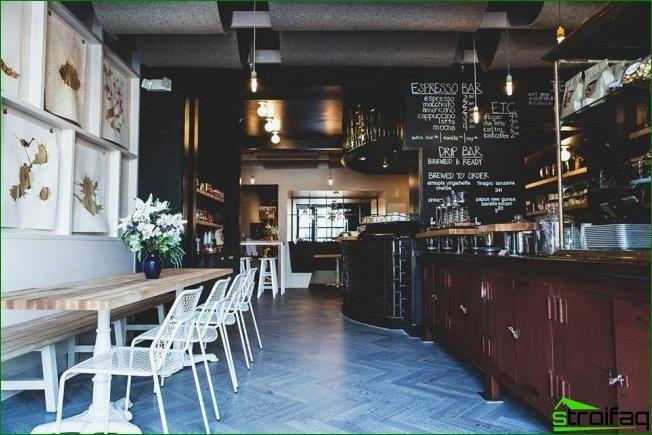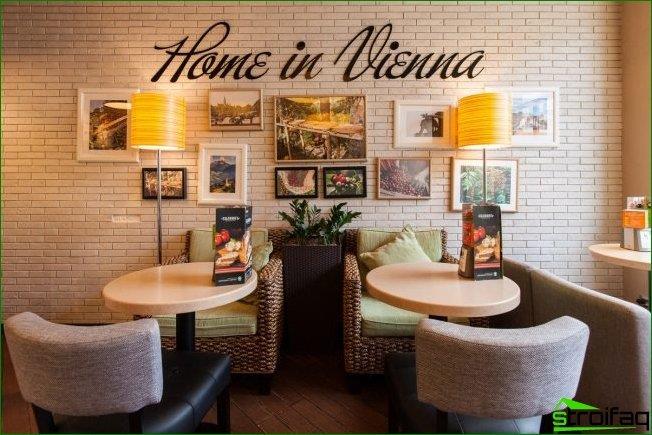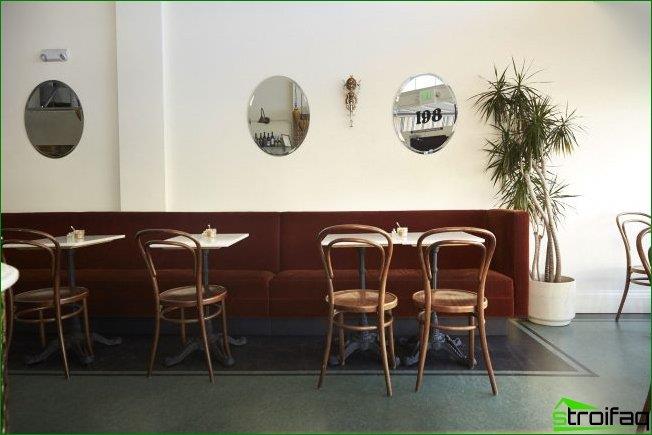 Tip! To create a memorable picture of the interior of a coffee shop, it is not necessary to use expensive items of decoration, furniture or decor. You can originally equip the hall of the institution with homemade furniture made of wooden pallets, lamps with multi-colored lampshades created from wire and colorful threads, stands for menus, napkins or toothpicks made of wood, decorated with thematic images using the technique of pyrography. Original interior items will create a unique atmosphere in the coffee house, fill it with notes of sophisticated simplicity and genuine naturalness..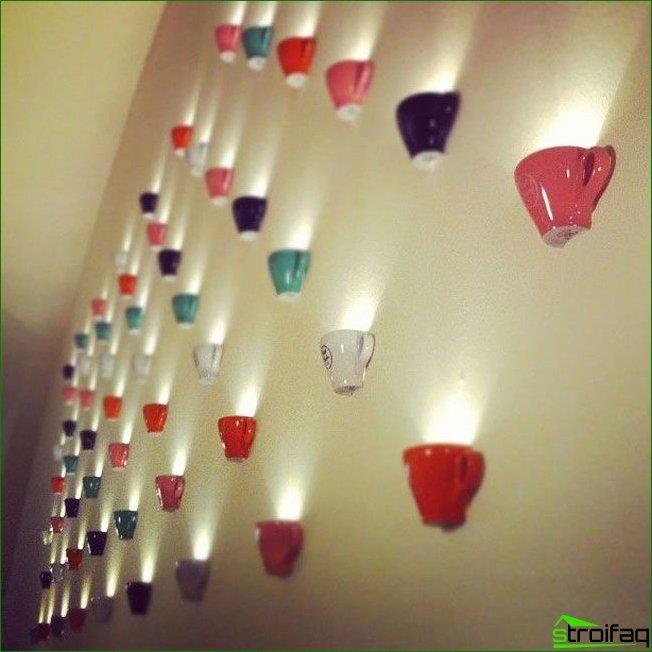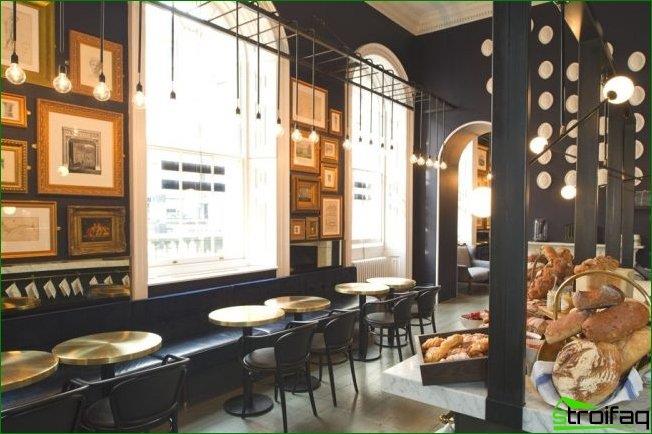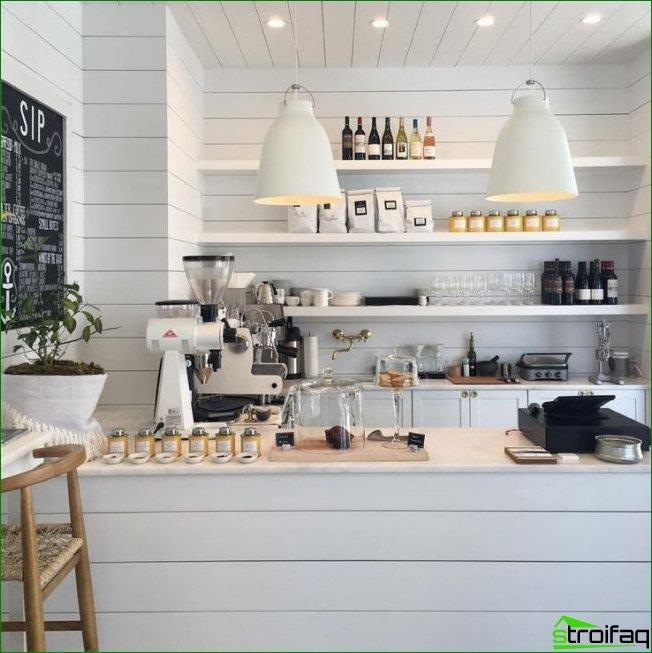 Classic in the interior of the coffee shop
The interior design of coffee houses can be executed in the genre of any stylistic direction, whether it is a strict classic or cozy at home shabby chic. Classic interior style, characterized by furniture made of precious wood tables, leather sofas with a capiton screed or Vienna chairs with high backs, it will create an elitist atmosphere where business partners can eat and continue business communication in an informal conversation outside of typical conference rooms.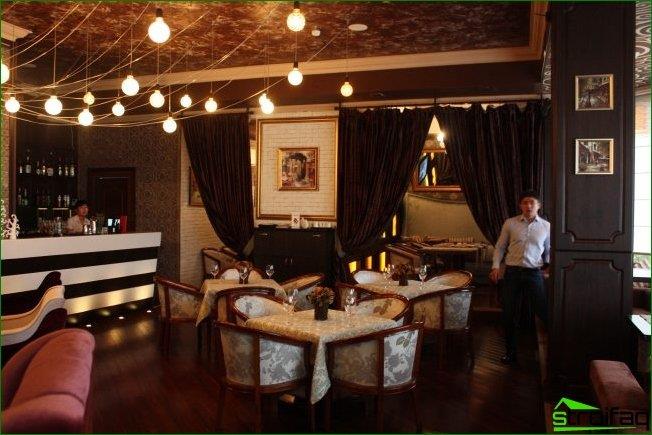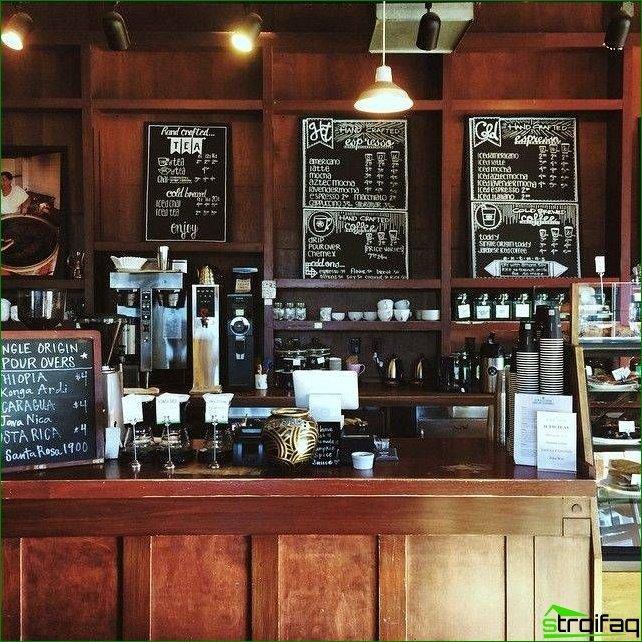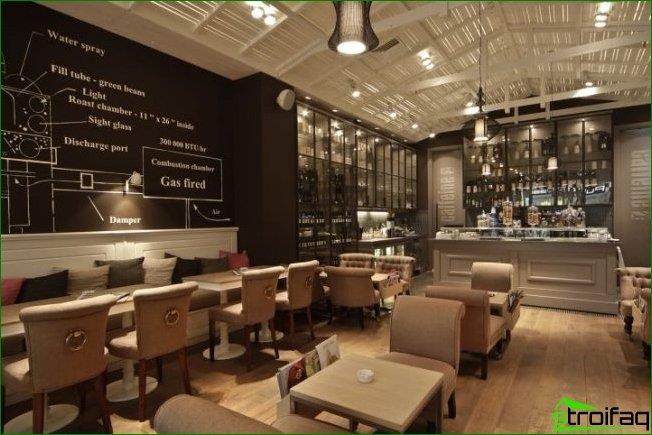 The classic welcomes the laconic forms of details of the decor, restrained color palette, subdued lighting and creativity shown in the decor of furniture, textiles and a few accessories. The main aesthetic reference point for a classically designed coffee house may be the predominance of exquisite fabrics in the interior: velvet curtains, glistening in the light, tablecloths from damask silk, woolen carpets – all this embodies the canons of a design concept that never goes out of style.
An elite snow-white bog oak showcase with glass shelves rotating around its axis demonstrating an assortment of coffee or desserts will organically look in the interior of the coffee shop.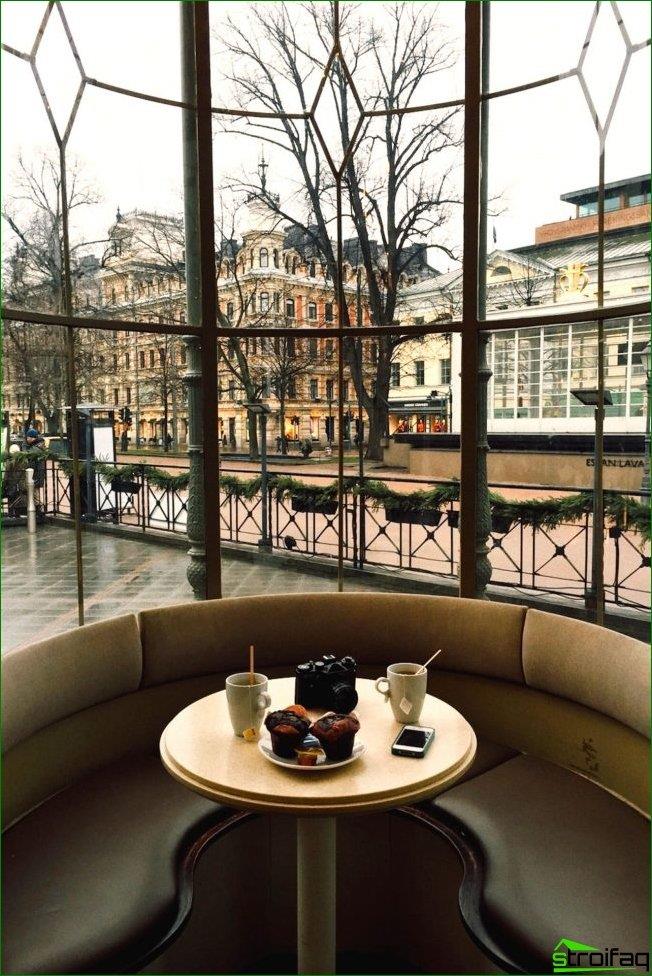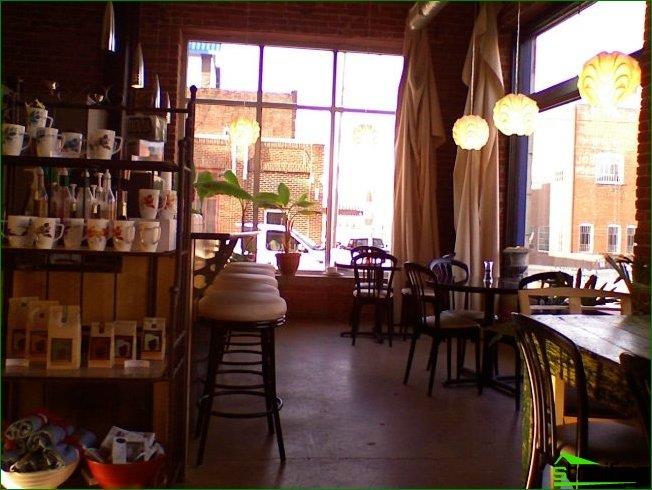 Coffee shop interior
Provence style
The Provencal sophistication, saturated with romanticism, in the interior of the coffee house will definitely appeal to couples in love and couples who prefer to organize meetings in institutions that visually remind of the unusual color of France with love pheromones floating in the air. To create the appropriate atmosphere, you need to select:
materials of light or pastel colors;
bleached furniture with obvious signs of aging;
vintage

lamps with forged lampshades

;
paintings and panels depicting the coast of the Mediterranean Sea or the Eiffel Tower;
ceramic

vases and flower pots

with the image

lavender

.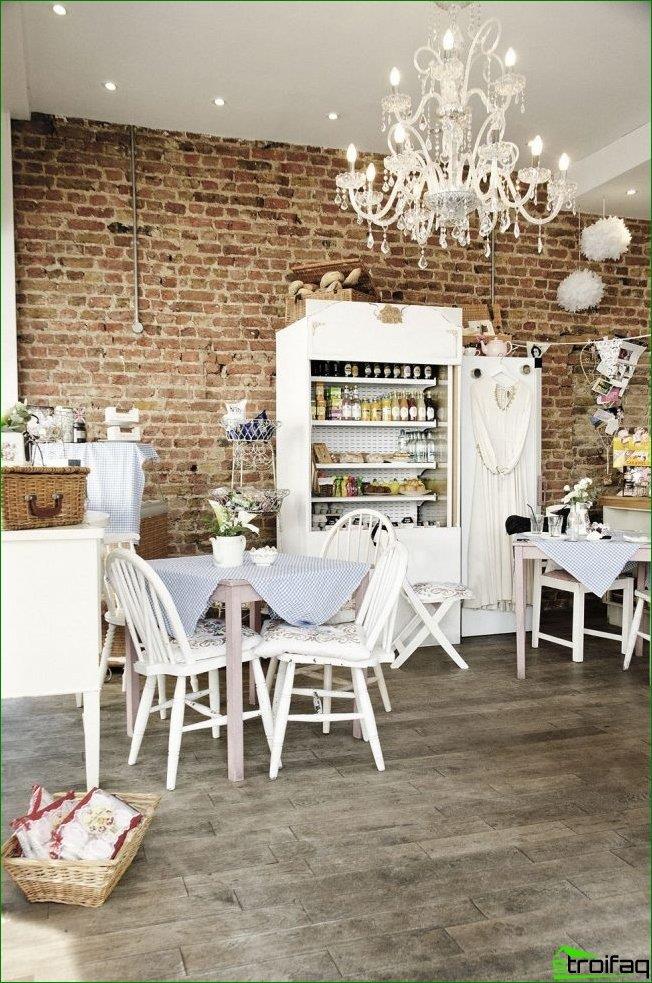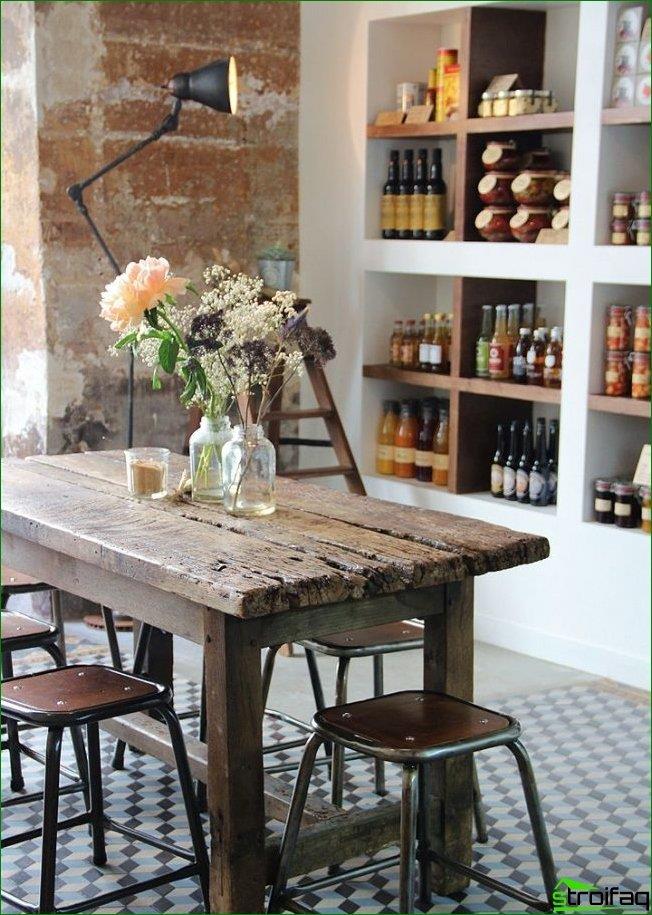 Be sure to have antique buffets with rare coffee sets from fine china. Home furnishings can remind visitors of childhood episodes when a caring grandmother put a samovar on a table during tea parties and poured tea for guests in a collection service. Antique cutlery, dishes from the flea market, handmade delicate napkins and heaters on teapots will create a matching Provence setting in coffee houses.
Tip! Provence is characterized by an abundance of flowers and decor items made from natural materials. Therefore, Provencal aesthetics should be represented by numerous mural with herbaria made from dried sprigs of lavender, upholstered furniture decorated with floral prints. It's important to decorate the premises of the coffee shop with various Topiary compositions using coffee beans. It can be trees with a spherical crown, cups and saucers, globes, hearts and other compositions decorated with coffee beans.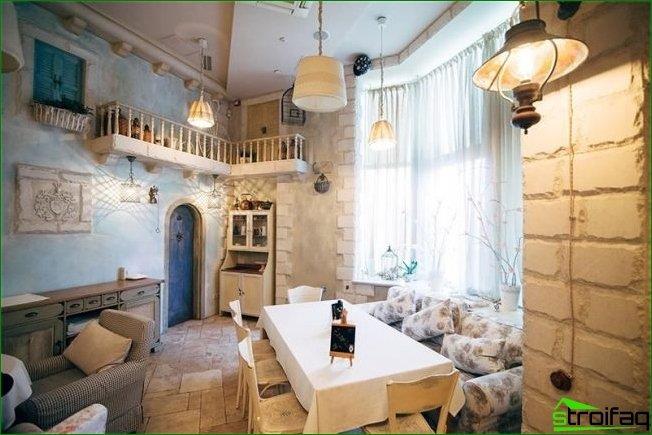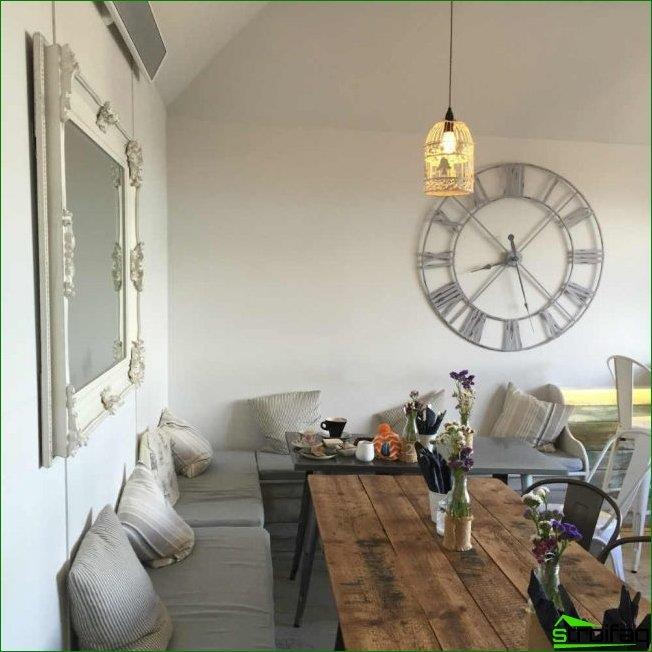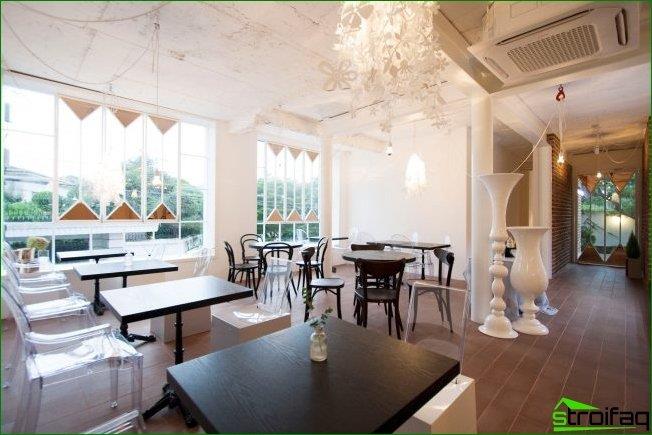 Coffee shop interior with aesthetics of modern design trends
Modern and Contemporary – Newfangled areas of interior design, often found in coffee houses. The concepts of these interior genres welcome the creation of amazing art objects, mesmerizing by the creative thinking of authors of design projects. The interior composition remembered by its original design can be composed of unique details of the decor:
intricate light installations, presented in the form of many turned upside down coffee cups and dessert spoons;
bright frameless armchairs;
low tables with an interesting shape of the tabletop in the form of a spring or with a transparent tabletop with multi-colored splashes in the form of coffee beans;
semicircular, asymmetric or curved

wall panels

;
sets of non-trivial dishes with positive inscriptions;

shelving

, lined with cans of coffee beans of different varieties, dried fruits or decorative bottles filled with multi-colored salt, millet, different types of peppers, cereals, fruits or vegetables, filled with a specialized preservative, creating a realistic home-like atmosphere in an institution.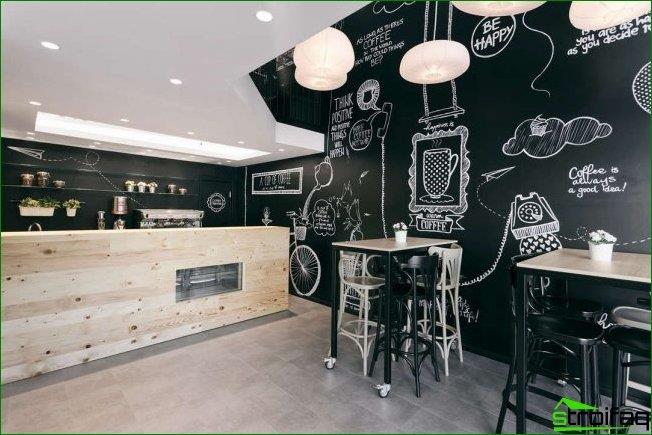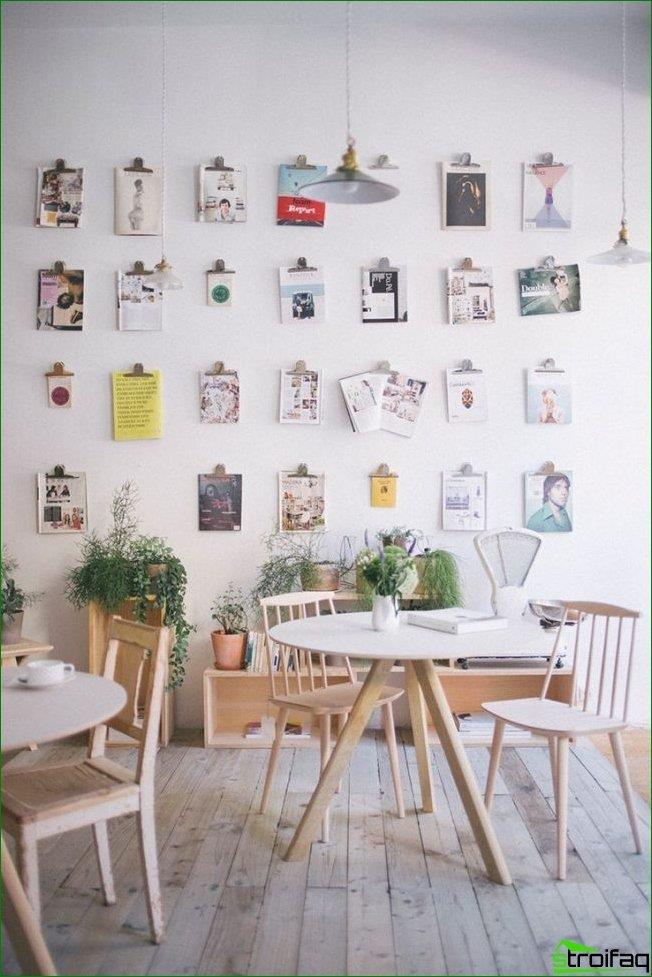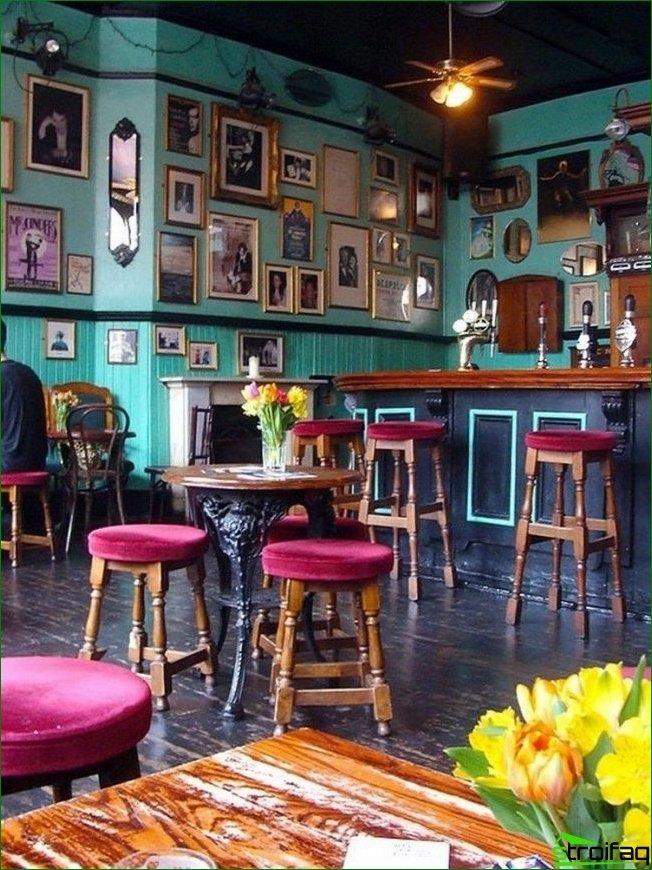 For wall decoration you can use graphite paint or wall panels that mimic the coating of a slate board, where employees of the institution will write the menu, wishes to customers, and visitors can show artistic abilities. Trendlettering is in fashion – decor of plain dark walls with white or multi-colored crayons. All kinds of coffee drinks, interesting facts about coffee houses, creative slogans and other inscriptions can be written in beautiful calligraphic handwriting on the walls of the institution..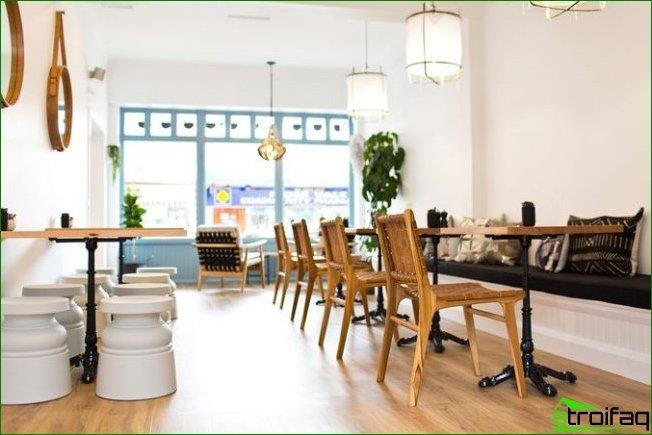 Many passers-by who are interested in the brightly decorated facade of the coffee house will definitely want to enjoy the taste of fragrant Americano or glass in an institution filled with designer furniture and decor items. Interior design should be a continuation of the exterior of the building. Therefore, it is important to maintain uniformity in the design of the exterior and interior of the institution. The connecting link can be colorful drawings on the external and internal walls of the institution, made in the technique of graffiti, unique street lamps and lighting equipment used to organize the lighting system of the hall. It can be lighting with shades, made in the shape of halves of coffee beans or cups.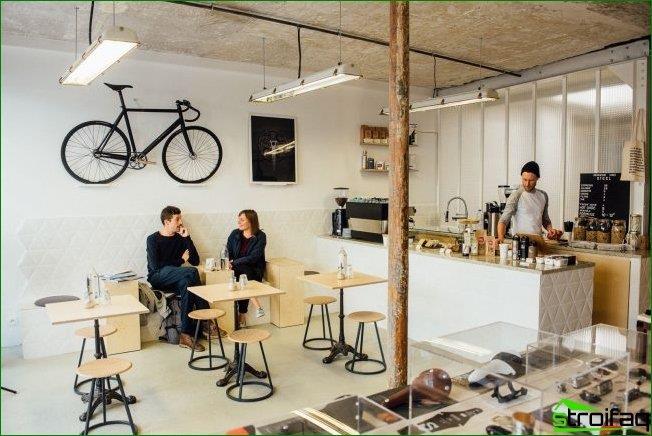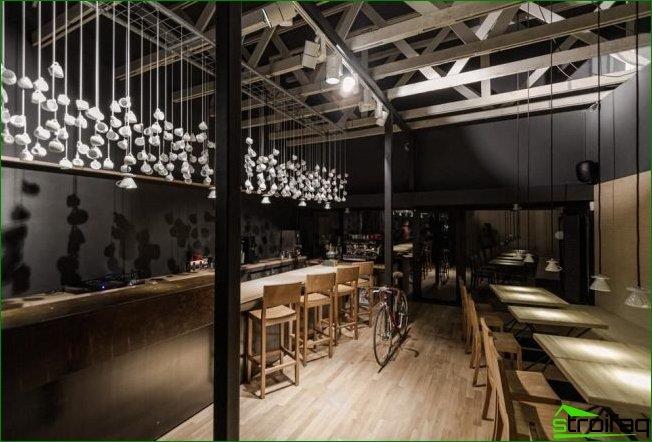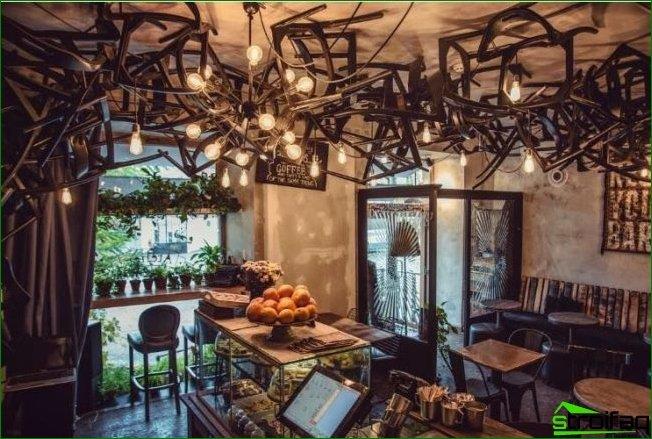 Coffee shop design and the ideas of iconic interior designers
Non-standard design solutions in the design of coffee houses magnetically attract curious visitors who are intrigued by an informal approach to the decoration of facades. Examples of iconic decorators who managed to hit the world with the creation of virtuoso art spaces will allow creating a special coffee house design. The presented photos of the original compositions may inspire you to create a no less spectacular interior of the coffee house.
As an example, an expert selection of projects is presented, the authors of which are winners of various world exhibitions, where cult representatives of design art participate:
In Panama, there is an eco-style coffee house. The main feature of the interior painting is the abundance of greenery, presented as a tree growing in the center of the hall, walls,

3D wallpaper

, imitating rocks covered with emerald moss. Natural themes continue with furniture sets with curved frames that perfectly replicate tree branches. The situation, as close as possible to the environment, will allow you to recharge with natural energy in the process of relaxing with a cup of coffee.
In one of the business centers of Melbourne, there is a coffee shop executed in monochrome tones with many LED installations acting as bright focal points. Catchy art objects are presented in the form of a galaxy of lamps with an asymmetric shape

lampshades

, light letters and furniture with integrated LED elements. In such an institution, not only strong coffee will be invigorated, but also bright installations with a dynamic visual effect.
In Kosovo you can visit an amazing coffee shop, the hall of which visually resembles a bag, where coffee beans are scattered in a chaotic manner. Semicircular wall panels with burlap texture, fixtures and countertops in the form of halves of coffee beans,

chocolate finish

, diluted with details of the setting with the color of baked milk, create a bewitching aura inherent in modern design trends.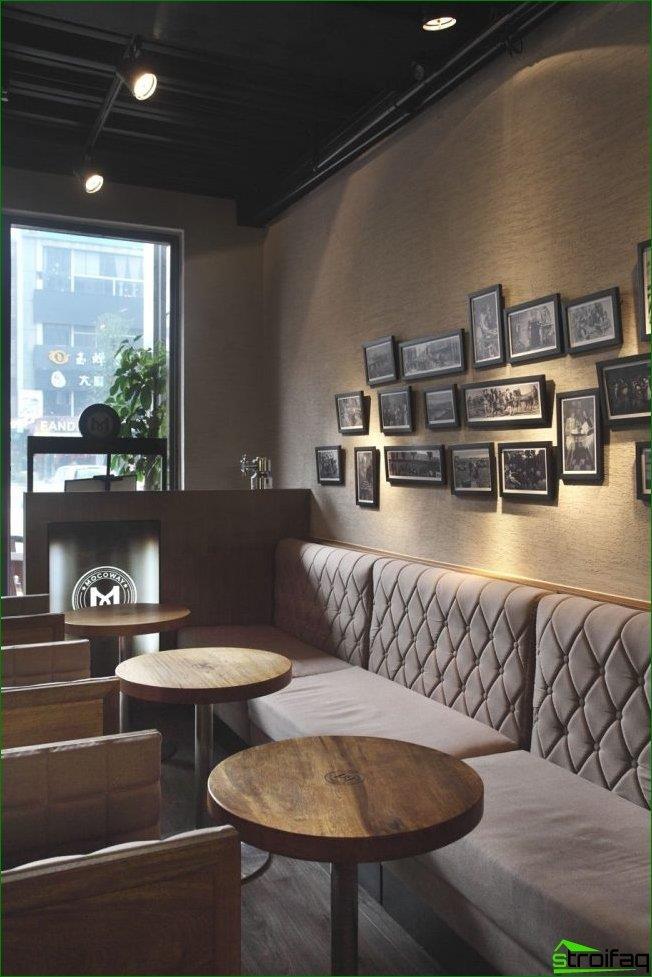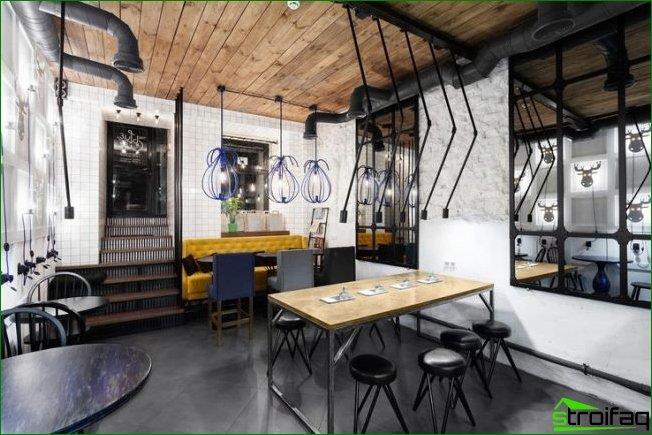 Interior stylists propose to equip the design of the mini-coffee shop with multi-seat sofas located along the perimeter of the walls and compact tables made of transparent plexiglass or plastic. Subtle furniture outlines visually expand the cramped space.
An effective method for modeling small space is installation of a mirror ceiling, wall panels or wall cladding with facet tiles. In a small coffee shop equipped with a large number of mirror elements, it is worth placing bright accents presented by laconic floor vases with decorative branches or colorful sofa cushions. For the convenience of accommodating visitors in mini-coffee houses, you can use mobile furniture on wheels with stoppers, making it easy to move dining groups depending on the number of customers. Many design variations have been created for the design of coffee houses, the photos of which will help you choose the perfect stylistic direction and planning solution.
Adhering to the principles of ergonomics, which determine the creation of comfortable conditions for coffee breaks, and using the creative ideas of venerable designers, you can create a unique coffee shop interior that charges you with a good mood, where visitors will definitely want to return again and again after one visit.