180 photo-ideas for room design for a teenager. Help in choosing the design of the bedroom for boys and girls in different styles.
Creating the interior of a room for a teenager is a task that not every designer can afford to solve, because the design of the room should appeal to both parents and growing rebels. But the solution to this problem will certainly never be boring. Do not believe? The photo below is proof of that!
Content
Features of the design of a teenage room
Adolescence is considered one of the most difficult in the development of personality. On the one hand, the younger generation begins to realize its independence, rebel and assert its rights, check the strength of parental prohibitions and push the boundaries of their own freedom. On the other hand, these are still children who are just learning to take responsibility for their actions and require your attention and care.
Need to update kids room, usually occurs in early school age. You can regularly make repairs in accordance with the age of your child, but if this is not possible, it makes sense to immediately create an interior designed for a teenager.
But even in the long run, you should not make the room "expensive and tasteful", but at the same time absolutely boring. The well-known youthful maximalism is manifested in everything: in behavior, in tastes, in preferences. Therefore, a teenage room can (and should!) Include the most incredible colors, textures, shapes!
A teenager will never rate a room based on a check issued!
Teen room – this is his personal space in which a young man has a rest, has fun, studies, communicates with friends. If you don't want your child to constantly look for a reason to run outside, make it as comfortable as possible in his corner.
Regardless of the layout options for your apartment, create the opportunity for your child to express themselves. Pay attention to his hobbies and hobbies, make the room in accordance with them, perhaps even thematic. Invite him to choose furniture for his room (of course, only from high-quality and reliable manufacturers, tested by time and friends) or a photo wallpaper pattern. And together with the girl you can sew curtains or decorative pillows with your own hands! So you not only teach her useful skills, but also get closer.
The design of the room for a teenager should not be deliberately theatrical, as for a baby.
Teenage room for a girl
Modern design solutions allow you to not be limited in creating a room for a girl pink color, bows and ruffles. Manufacturers of teenage furniture and home furnishings take into account the versatility of adolescents of our time and the fantastic variety of their hobbies. But what is better for your daughter, besides herself, even the most eminent designer will not tell you.
Any young lady (even if she is a convinced goth!) Has a lot of outfits. Therefore, there should be a lot of storage space, but the furniture should not clutter up the space. It will successfully fit into any interior:
wardrobe for dresses;
dresser for small clothes, linen;
drawers at the bottom of the shoe bed.
A girl is a future woman, so try to place a small dressing table in her room!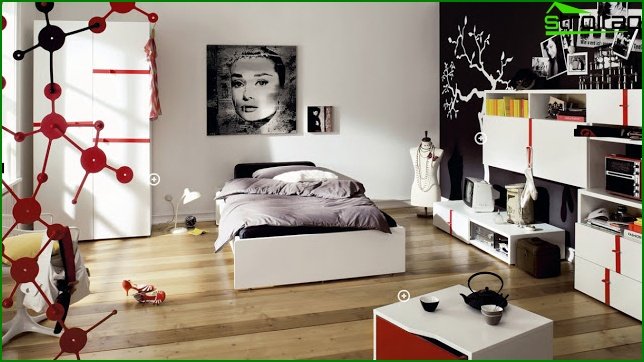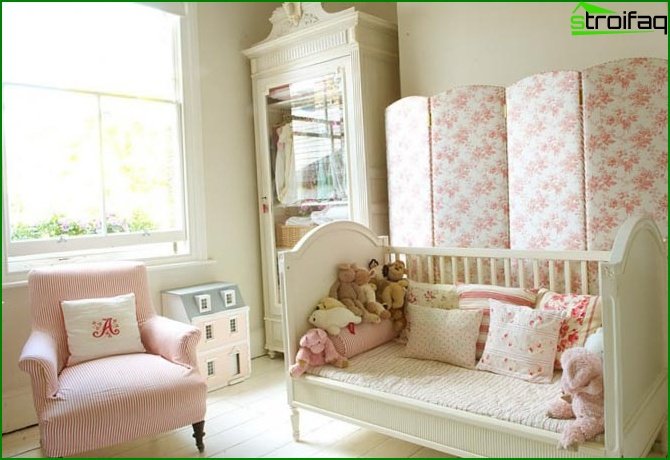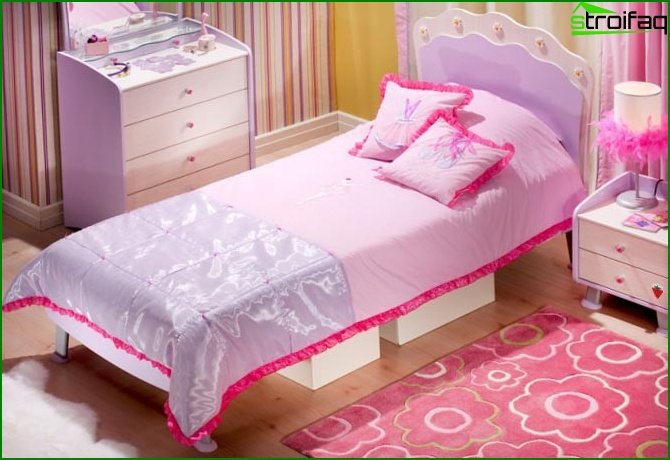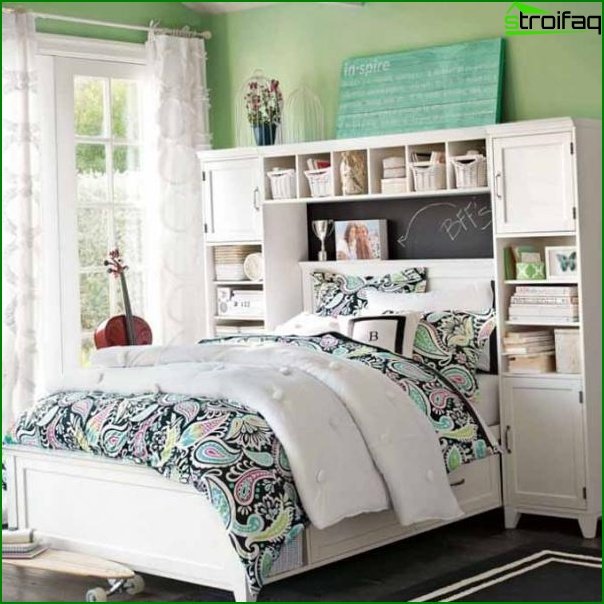 Teenage room for young men
It is very difficult to find at least one boy who does not have a hobby or hobby. And it is these interests that can become the basis for creating an interior in your son's room.
It can be anything! For example:
sport;
army;
music;
shipbuilding;
cinema art;
computer games;
chemistry etc.
Not sure which hobby is key? Defining it is very simple! What is the child ready to do day and night without being distracted? What topic does it react most vigorously, acutely, taking to heart? Here is the answer!
Regardless of what is the main "trick" in the interior of a teenage boy, there must be a place for a sports corner or a simulator in his room.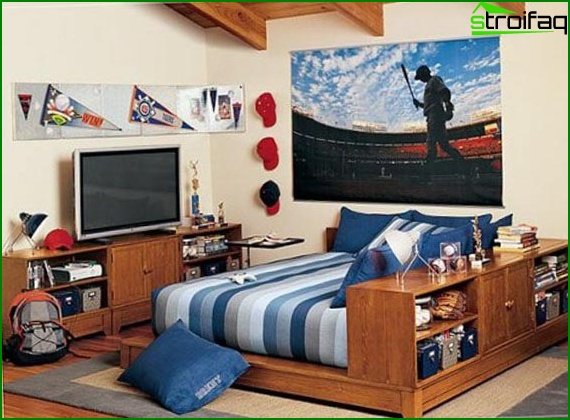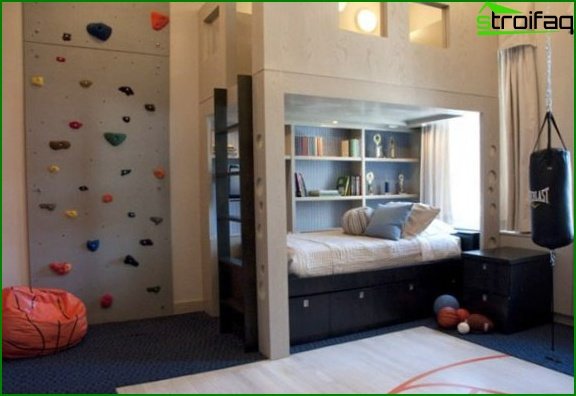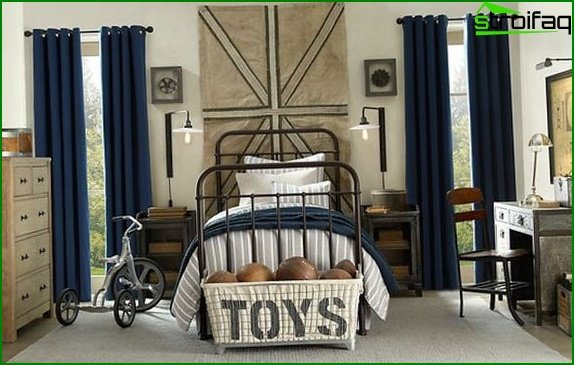 Room for two teens
If a two live in one room teenagers, it is necessary that they can go about their business without interfering with each other, but, at the same time, interacted with each other, were close.
It is very important that no one feels deprived of something, so everything should be equally and in abundance. This applies not only and not so much toys as furniture – comfortable beds, wardrobes with enough shelves, places to study and / or hobbies.
If the room is not very large, then some functional areas can be combined:
the sleeping area can be combined with a bunk bed;
the storage area of ​​things can be optimized by conditionally dividing one cabinet in half;
work zone for two children can be replaced with one long table.
For teens of different sexes, the room will likely have to be zoned. This does not mean that the room will look like torn in half. This impression can be completely avoided if the zones are made thematic, but sustained in the same style..
If you have children of the same sex living in one room, the room may be dedicated to one topic. But be sure to listen to both teenagers – the interior should be like and fit the tastes of each.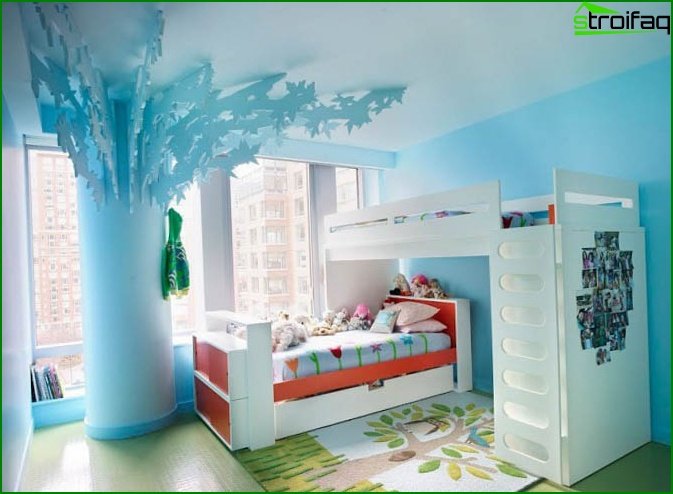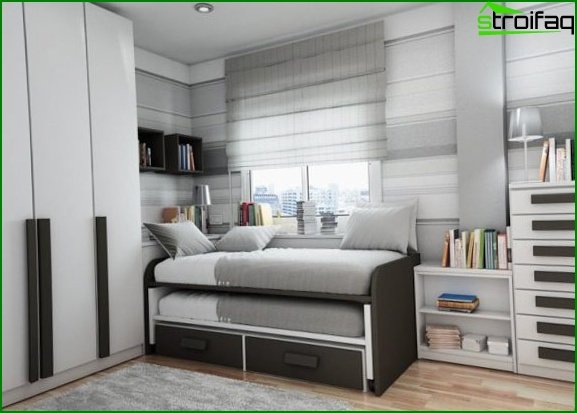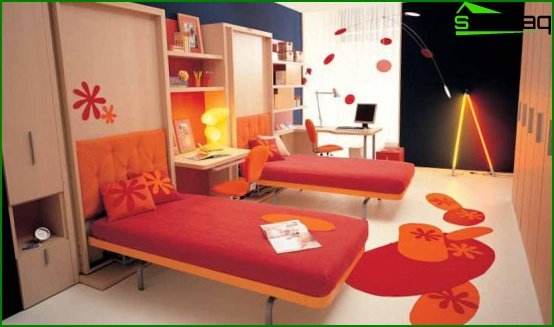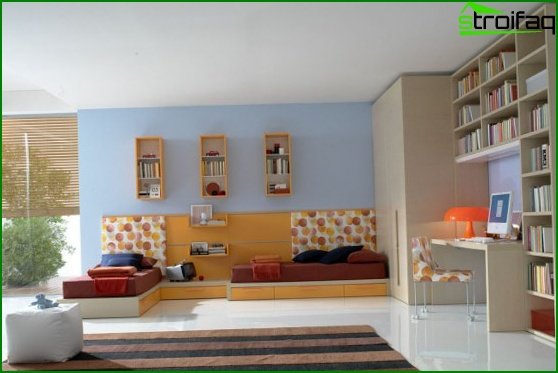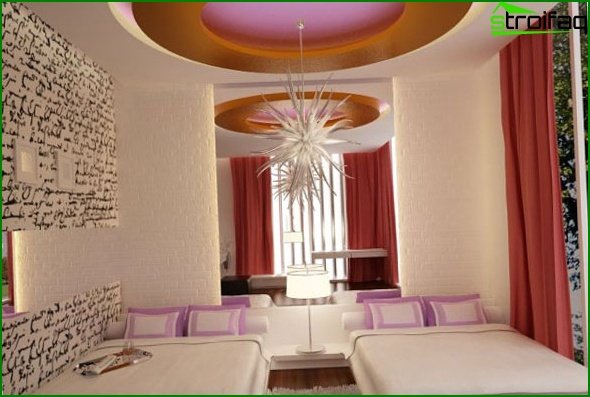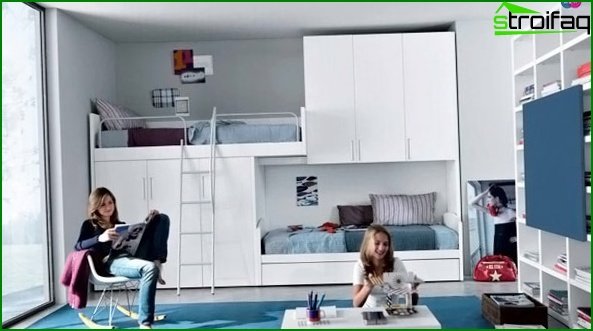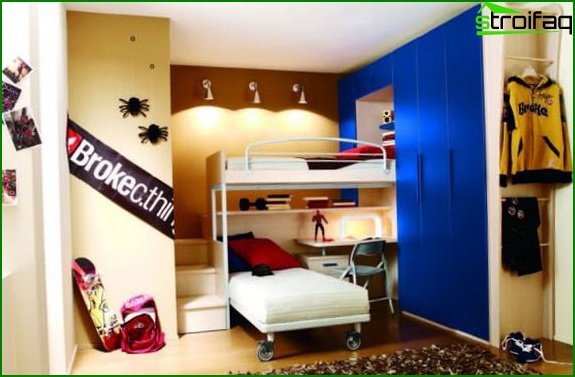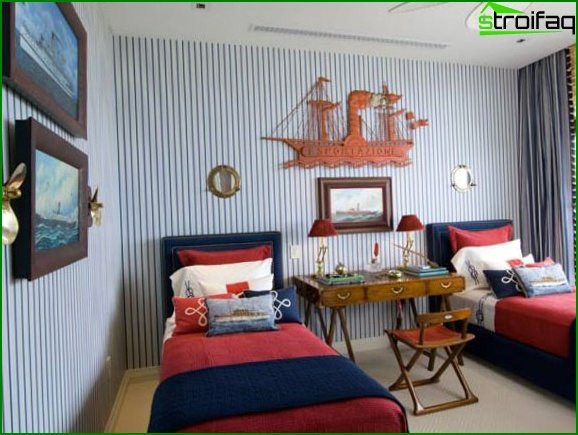 Age Accents
12-13 years old
This is the period of early adolescence, when the child is just beginning his path to independence. As a rule, at this age the child already has some kind of hobby, he does something in his free time from school, and he shows interest in something. And the sooner the child finds what he would like to do all his life, the faster he will be able to achieve something, the better the results will be. And you can help him in this, reflecting his hobbies in the interior and creating the most comfortable conditions for their development.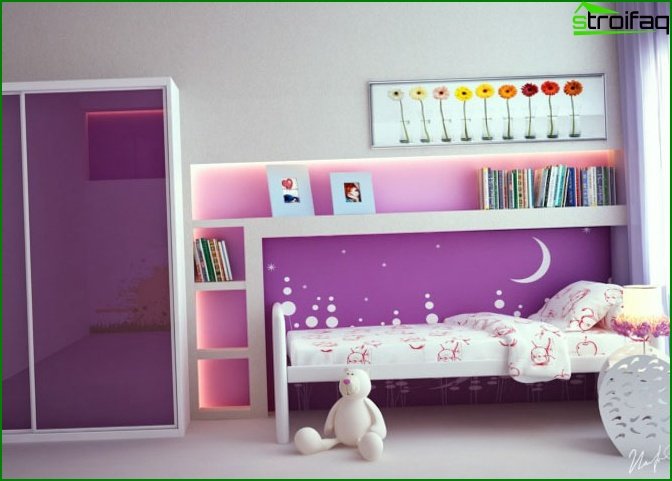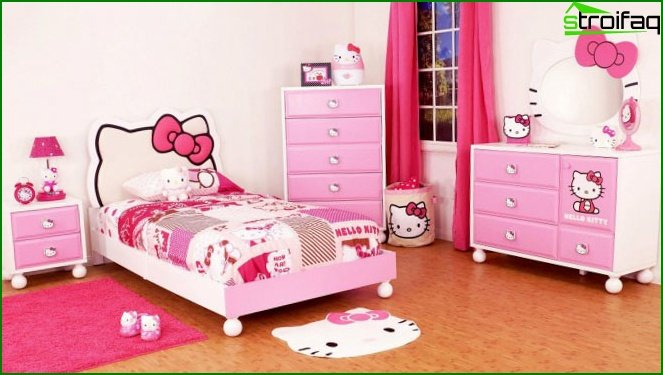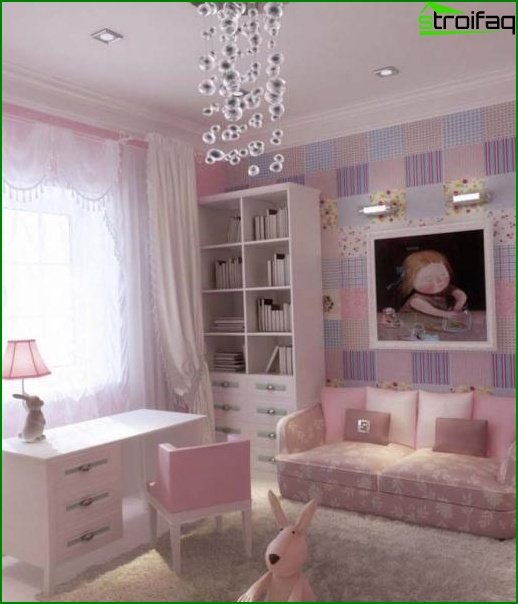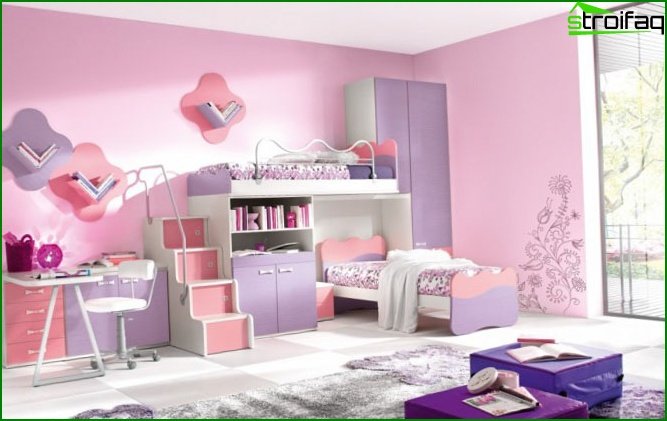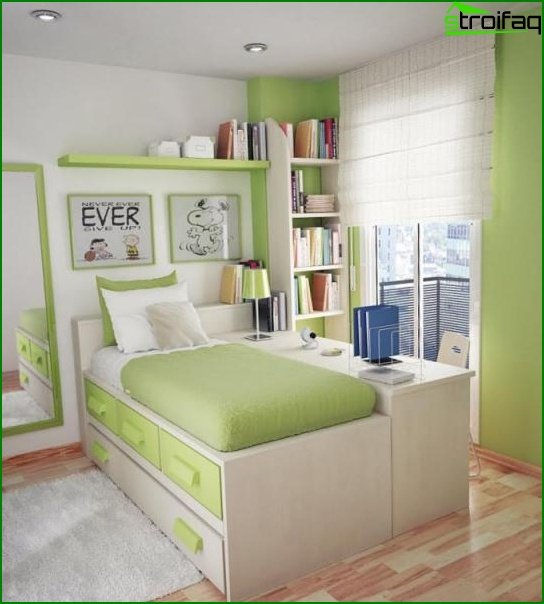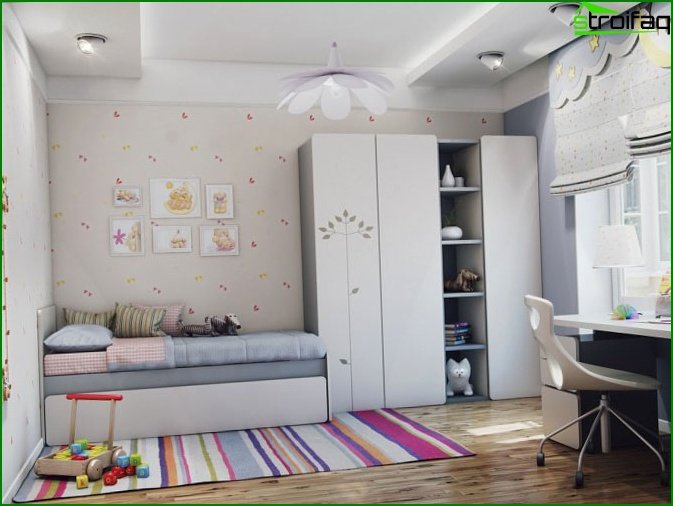 14-15 years old
At this age, teens tend to find idols, so it is very likely that a lot of posters, posters, and posters will appear in the room. In addition, this is the age when adolescents "bunch together" and join in various interest groups. Your child will be very grateful if all his friends can gather in his room!
If there is nowhere to put chairs in the room, they can be replaced with multi-colored pillows: it is convenient, original and folded takes up little space!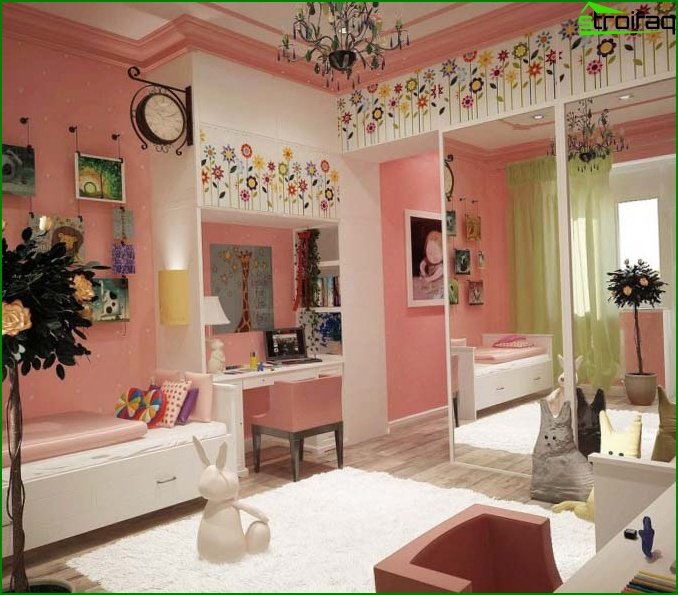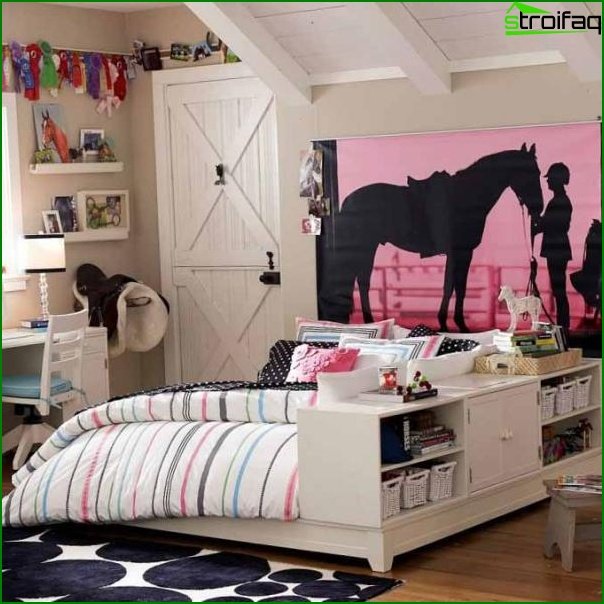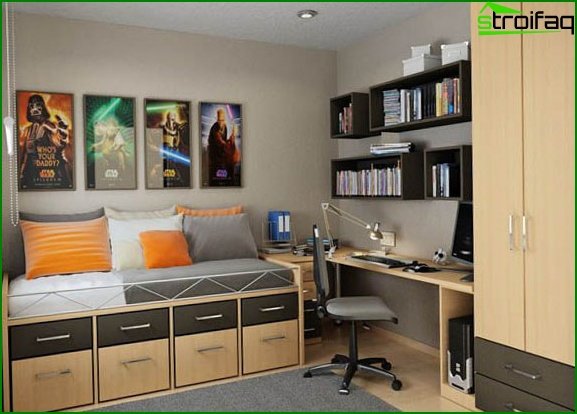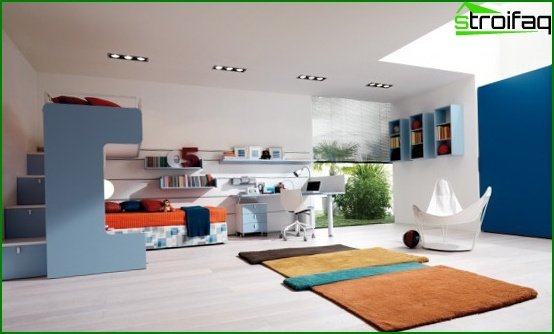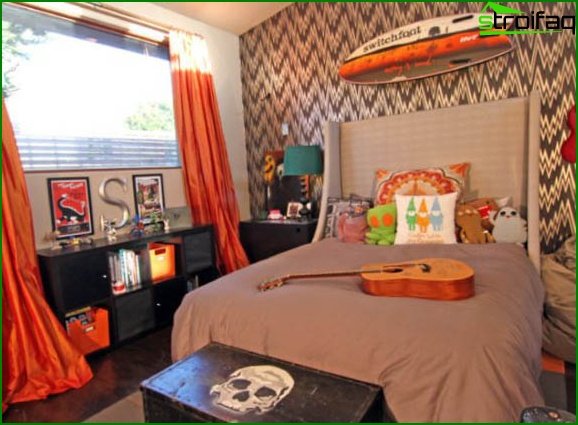 16 years
At the age of 16, a teenager not only has a hobby, but also certain achievements in it. This is a well-formed personality. At this age, a teenager can independently come up with what he wants to see in his room. Trust him!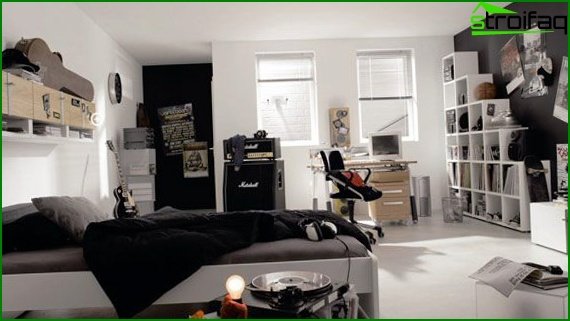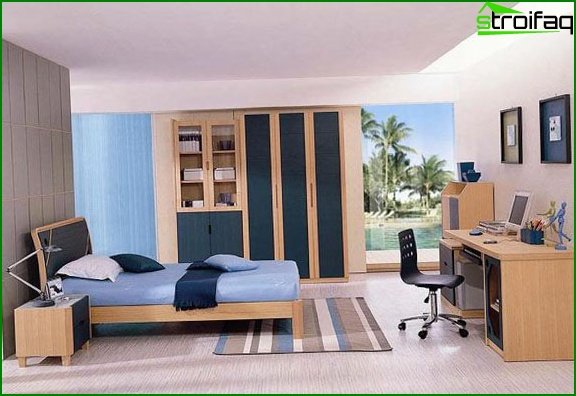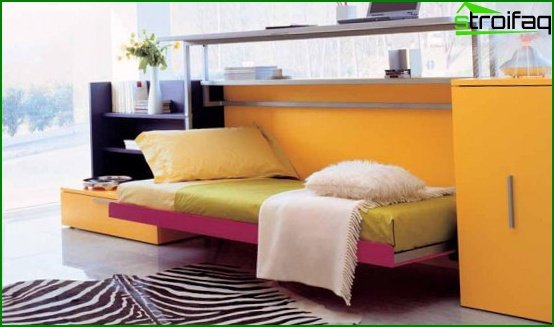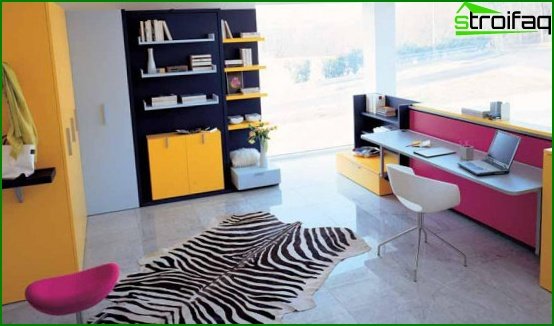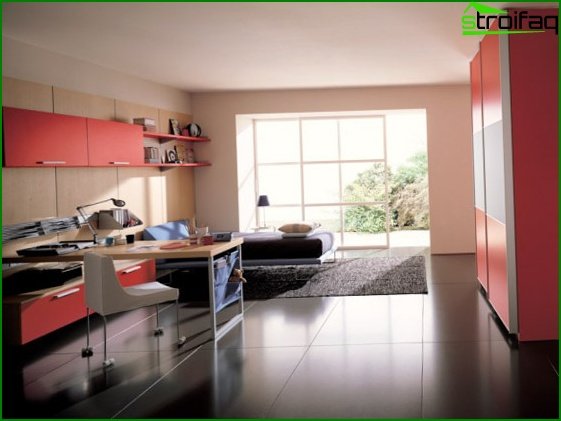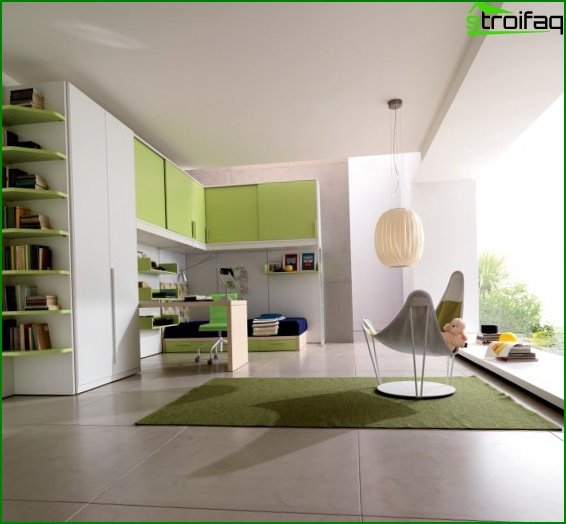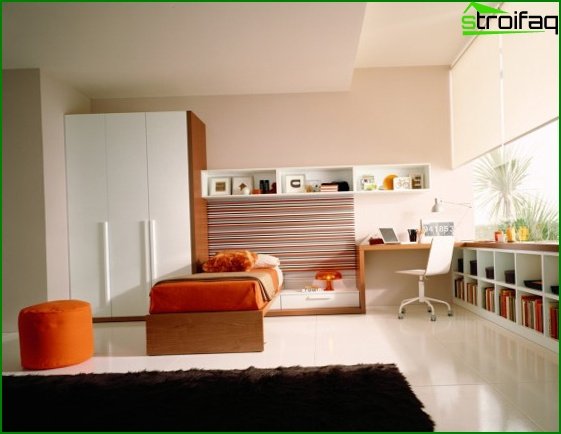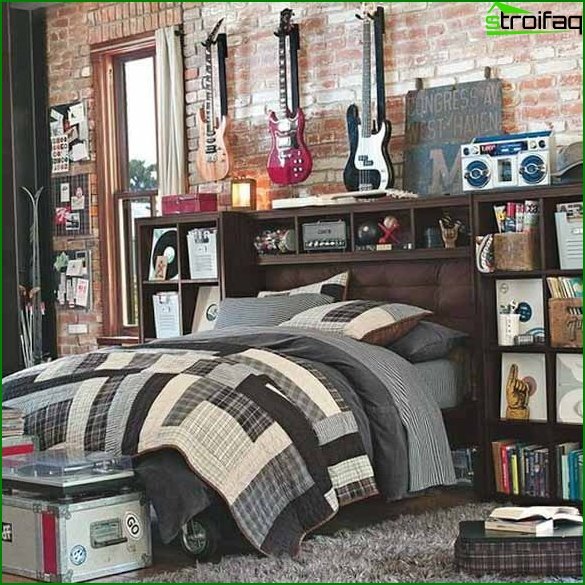 Priorities in the thematic design of the room depending on age

| | |
| --- | --- |
| 12-13 years old | Hobby |
| 14-15 years old | Idols |
| 16 years | Achievements |
Read about how to make out room for girls 10-12 years old.
Stylistic solutions for the teenage room
Classic style
Making a teenage room in a classic style is a good solution for girls. After all, every girl is a future hostess, who will create the comfort of a home. So why not instill a love of beauty in childhood?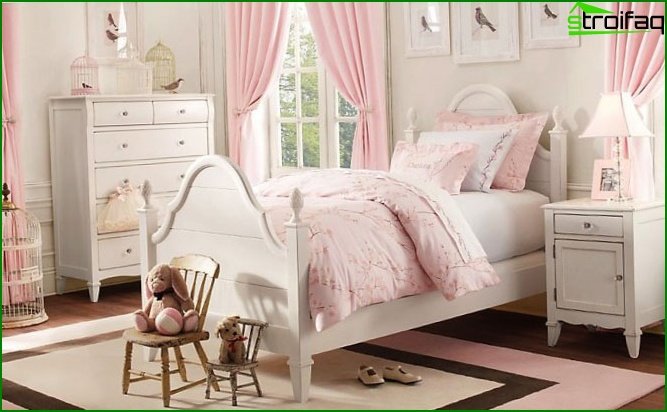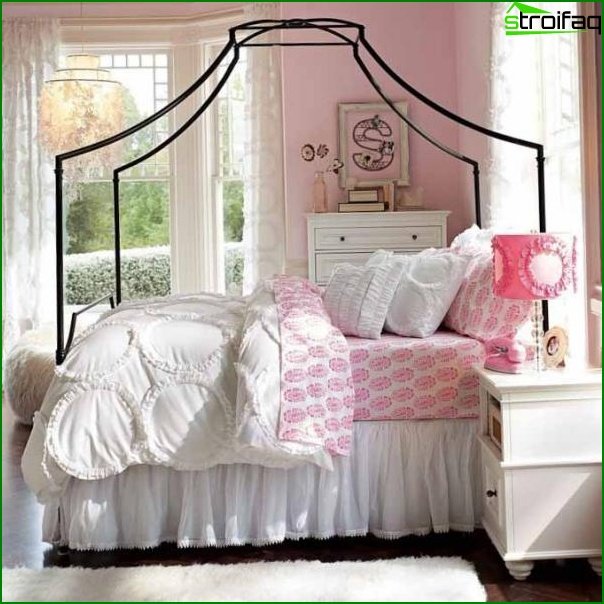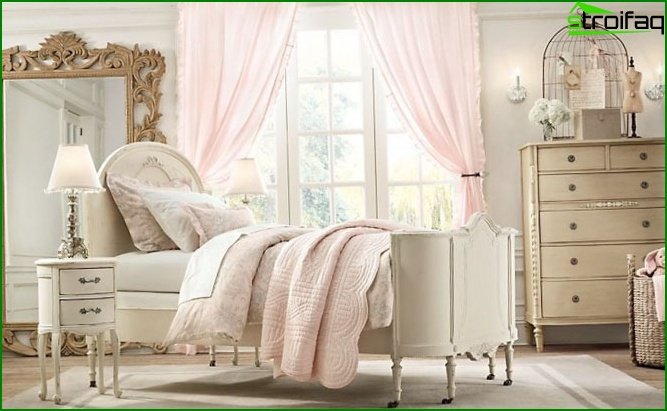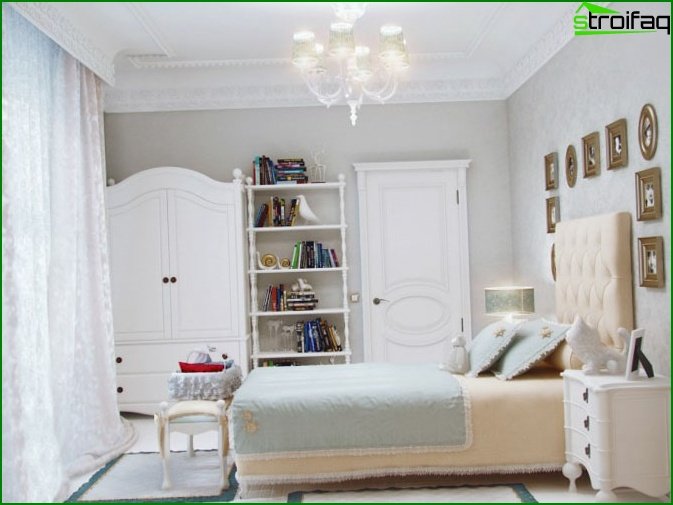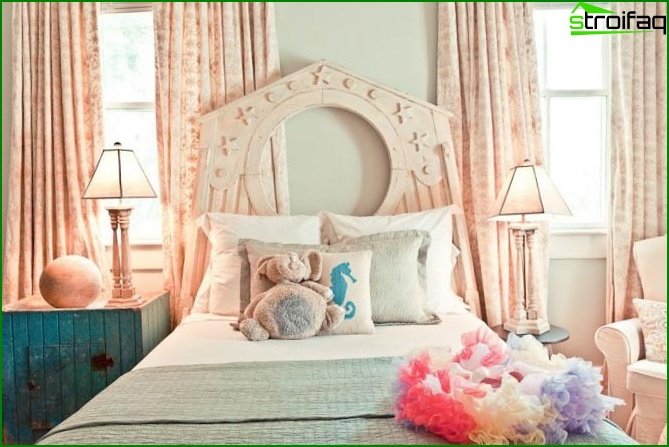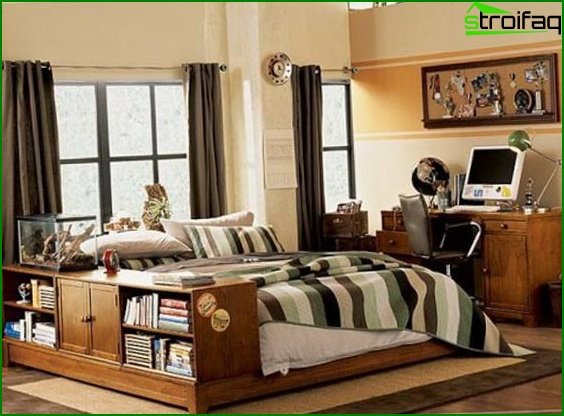 American style
Outwardly, the American style has a lot in common with the classics, but it is much more democratic. You can highlight the main distinguishing features of this style:
combining different zones in one room;
predominantly local lighting;
furniture of large sizes at a considerable distance;
the use of materials for "high cost".
This style will look great in spacious bright rooms. Like both boys and girls.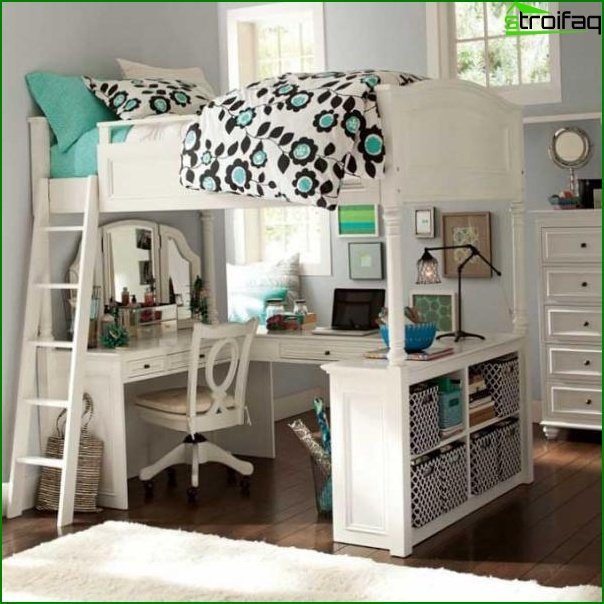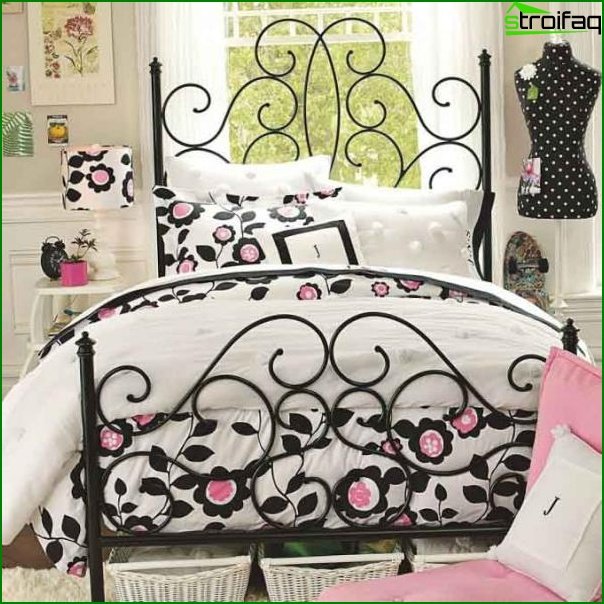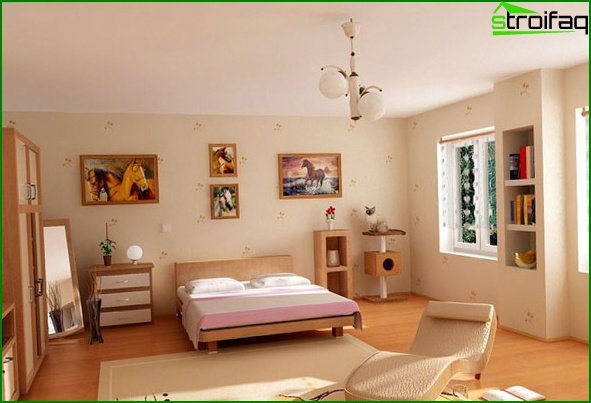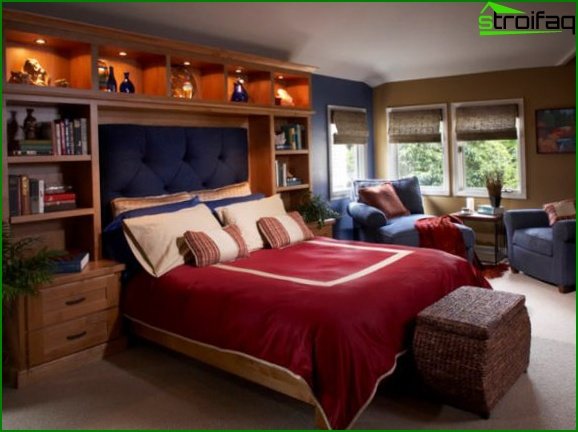 Minimalism
The main advantage of a minimalist style in the design of a teenage room is to minimize cleaning. This choice was also made from the point of view of safety – the fewer parts, especially beating, with sharp corners, heavy and unstable, the less likely the child is injured during the game. And although teenagers are already quite old, they are still children, so they are characterized by spontaneous fun and active pranks.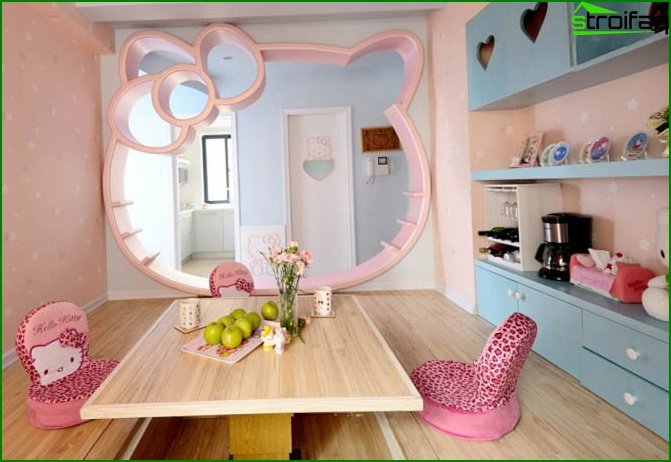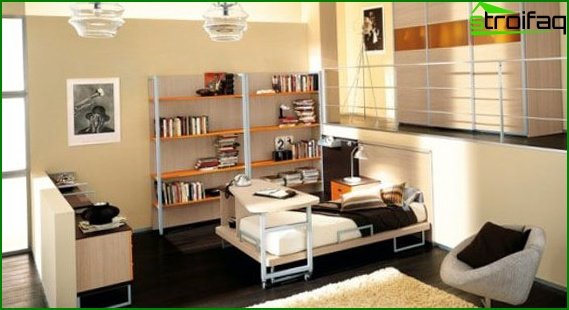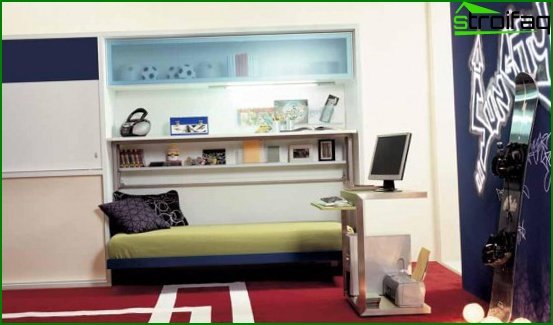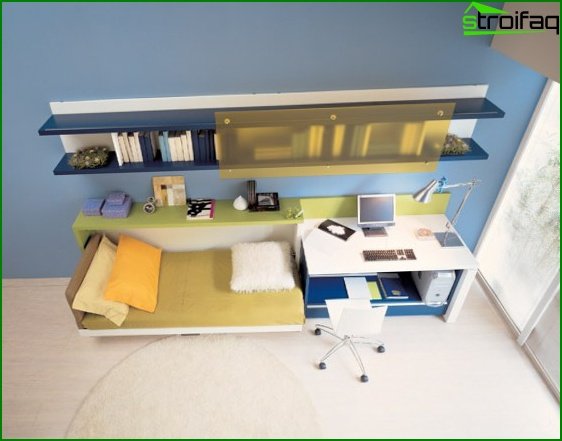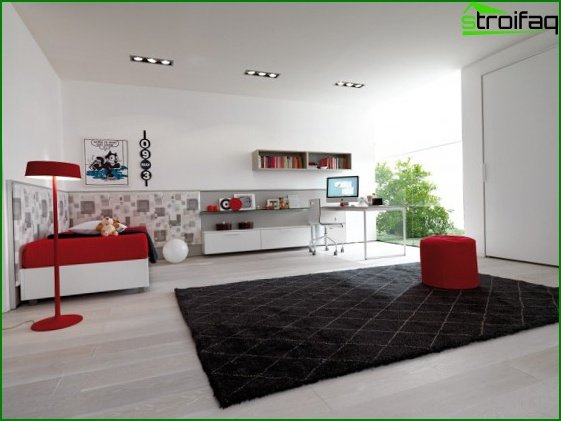 High tech
High-tech style, as a kind of minimalism, originated in the sixties and is the legacy of a whole literary generation of science fiction writers. Dreams of space exploration, flights in the universe, technology of the future – all this embodies high-tech.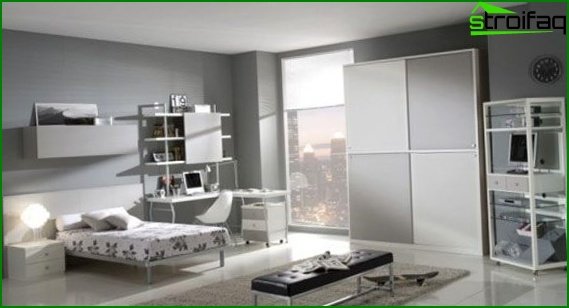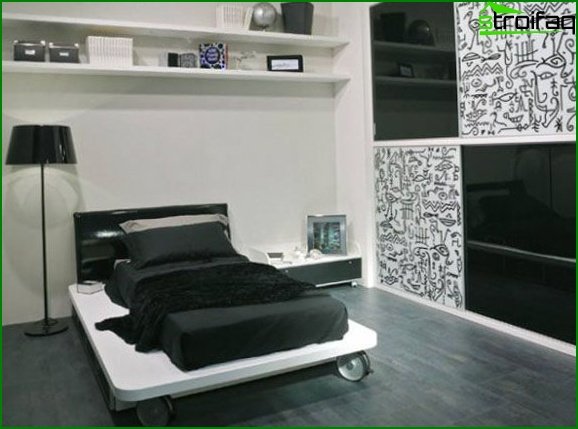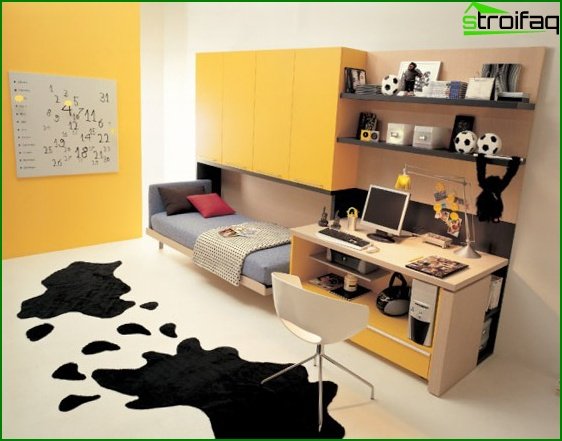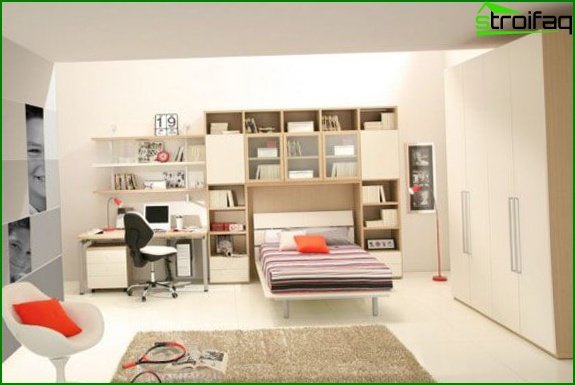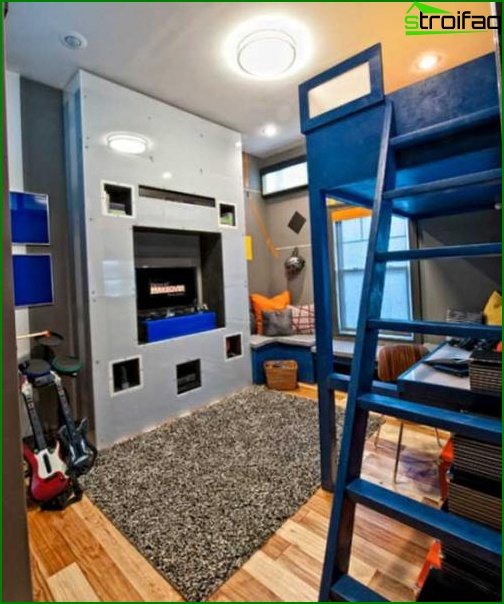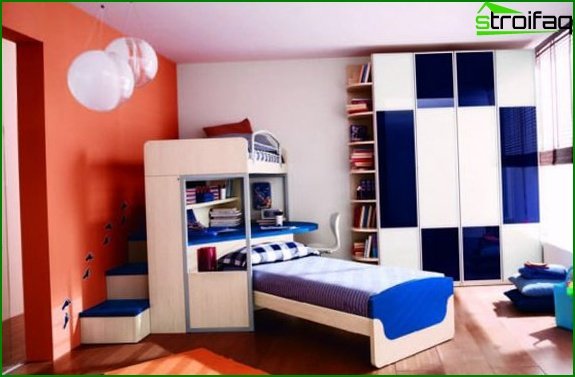 Loft
This style originated in the United States of America when workers began to be resettled in the factory and factory premises. That is why the loft is considered an offshoot of the industrial style of decoration. The combination of incongruous, old and new furniture, rough textures and original accessories – rebels who want to go beyond the generally accepted framework will appreciate it. But so that the room does not turn into a tasteless trash storage – everything should be in moderation.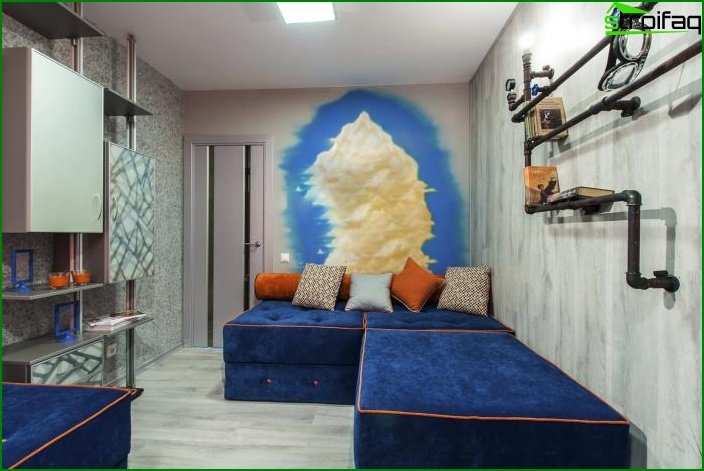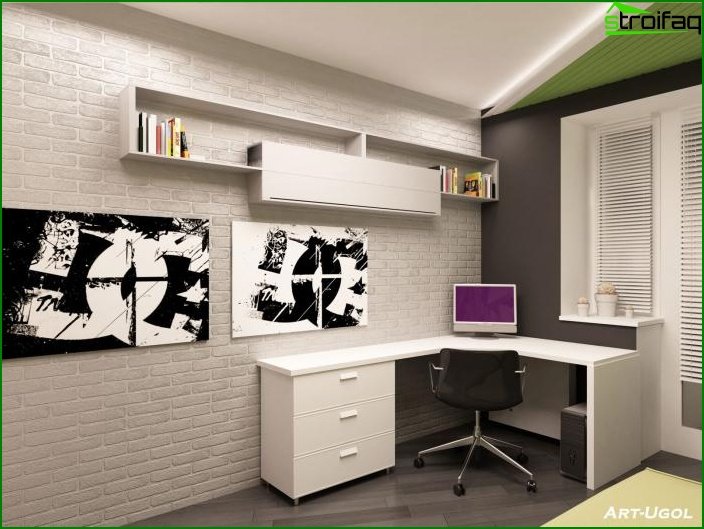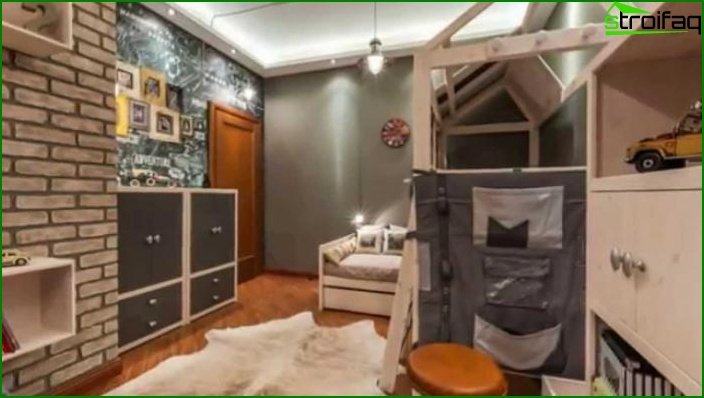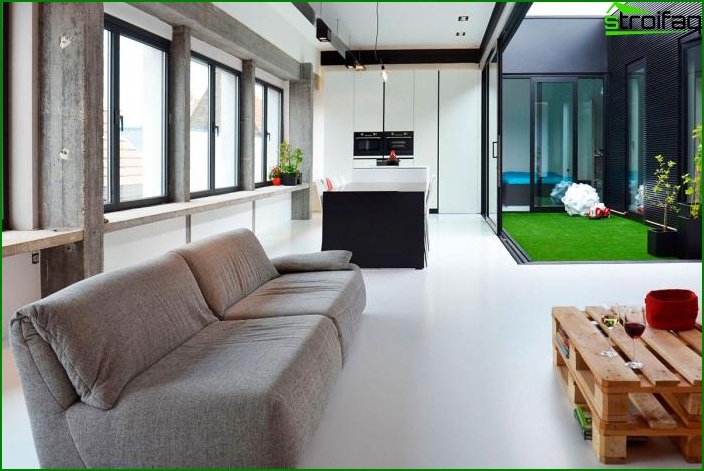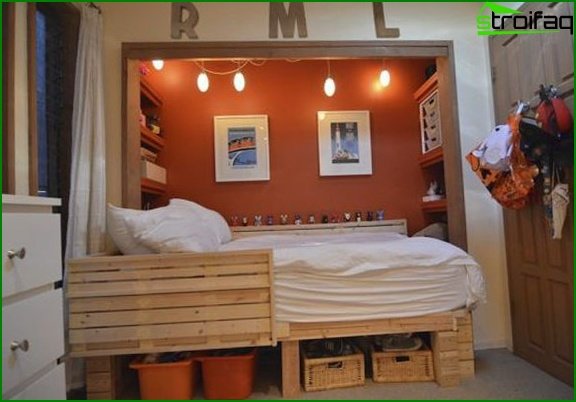 Teen Room Decoration
Which wallpaper to give preference?
The ones your child likes! If your tastes do not match, compromise by decorating and visually highlighting one wall. For this purpose, not only wallpaper with a bright and large pattern can be used, but also photo wallpaper or wallpaper for painting.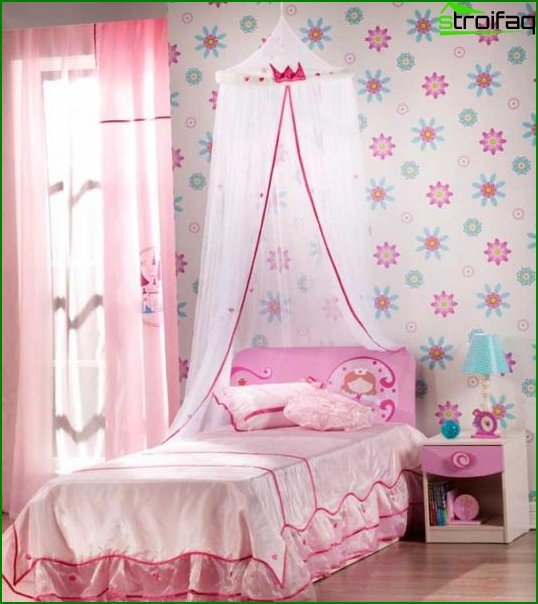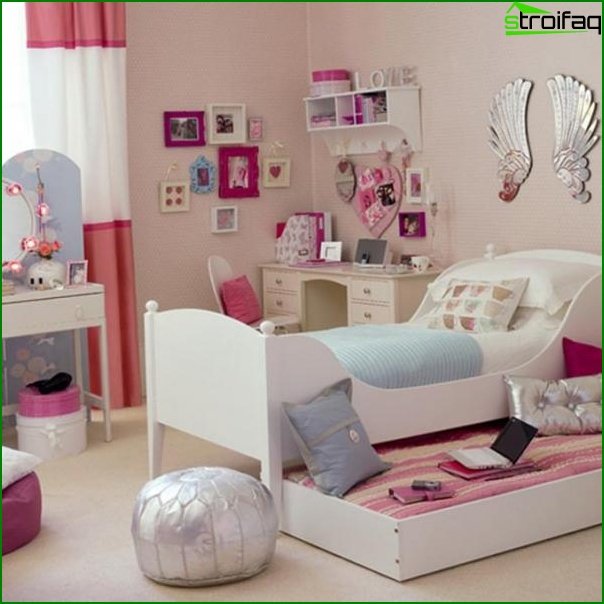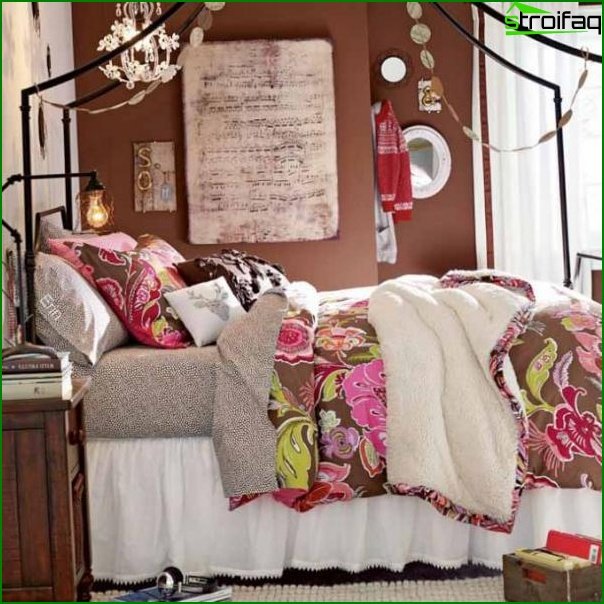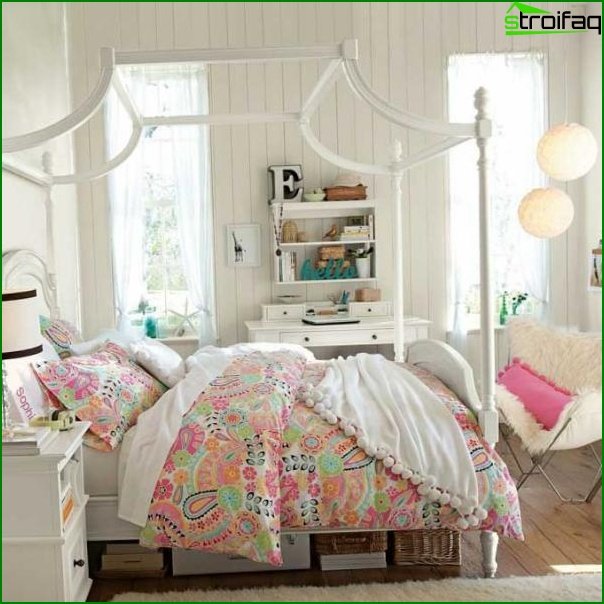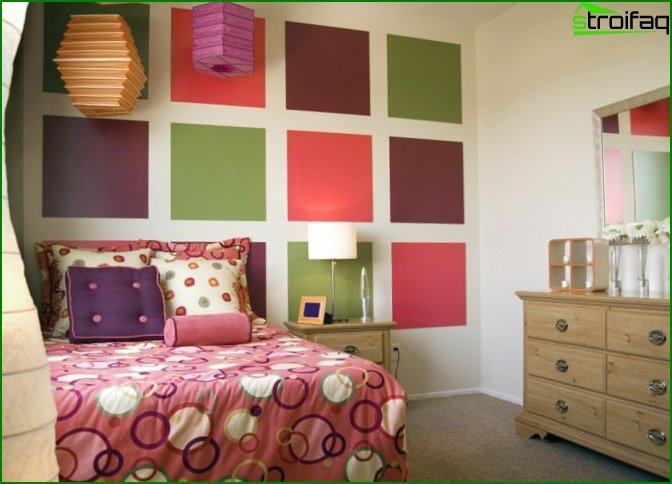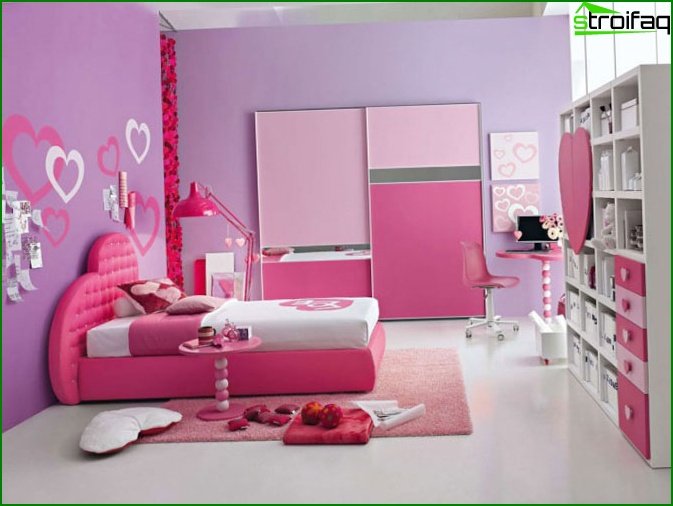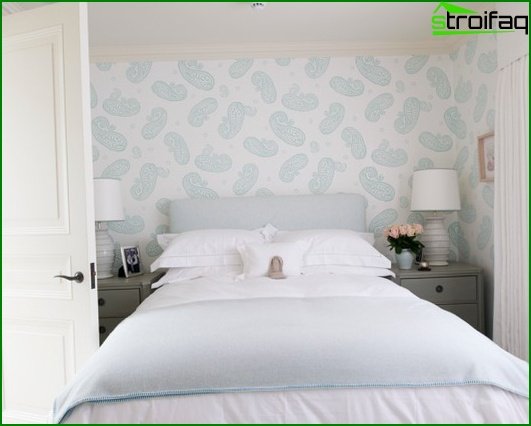 How to make a ceiling?
If the height of the room allows, then stretch ceilings or plasterboard ceilings will look great. In addition, this is another opportunity to install additional lighting..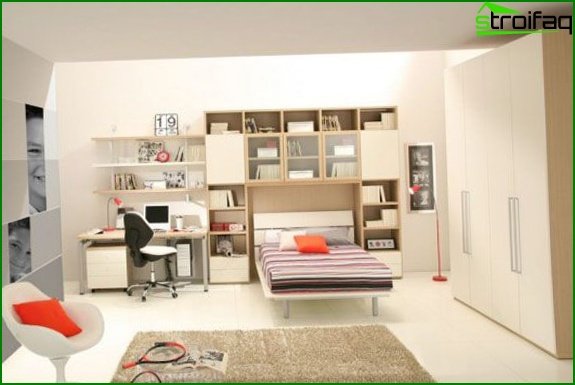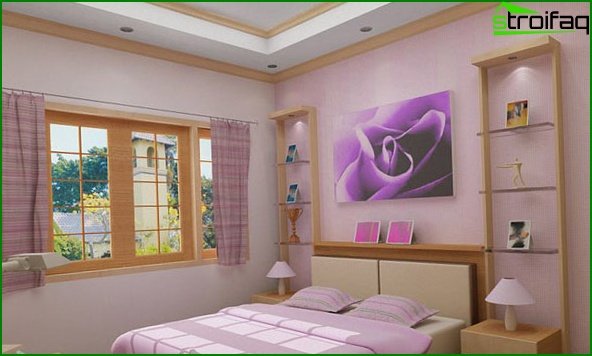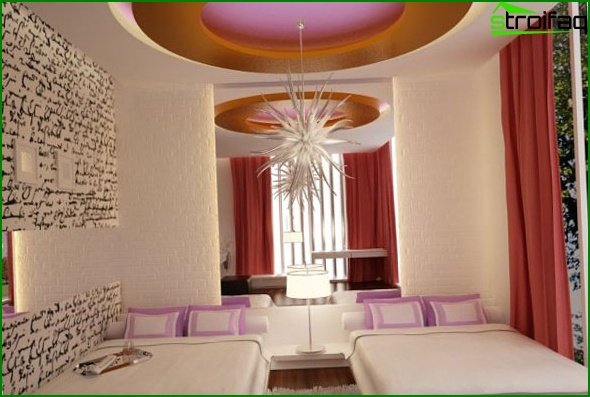 What flooring to choose?
The floor must be designed in accordance with the chosen style. It can be parquet for classics, linoleum for a loft, ceramic tiles for high-tech style. But the floor must be warm, so use special heating systems!
If a teenager is fond of kettlebells, then it is better to use a carpet as a coating for the floor, so as not to spoil its appearance. And the neighbors will be less indignant at the noise..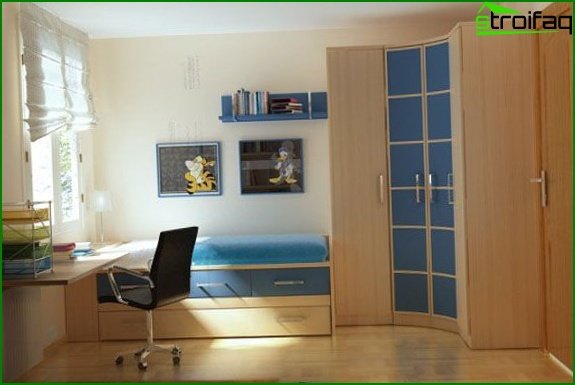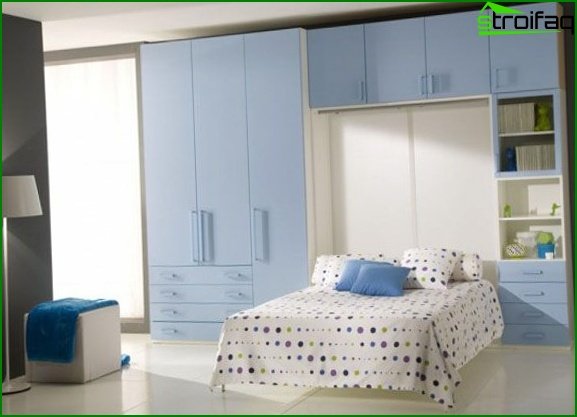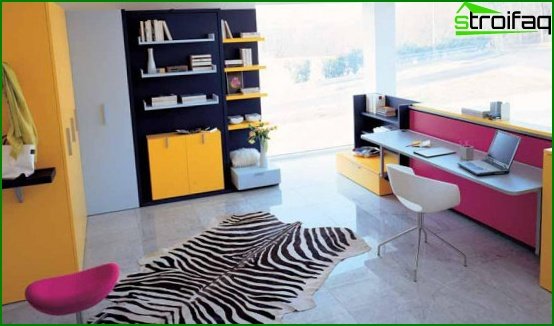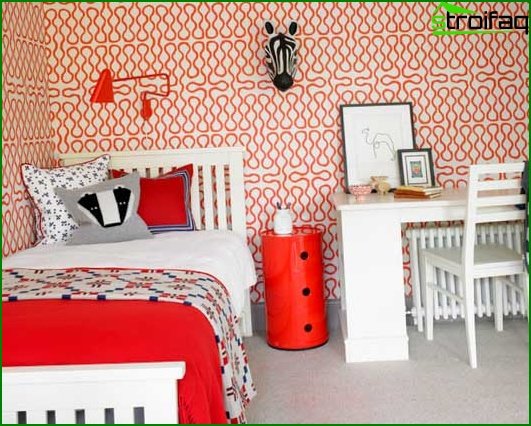 How to organize lighting?
There should be a lot of light in the teenage room. But for a good sleep, you need dense curtains. In addition to natural light, fixtures are mandatory. It is better to give preference to several local fixtures in different functional areas than to limit yourself to one chandelier.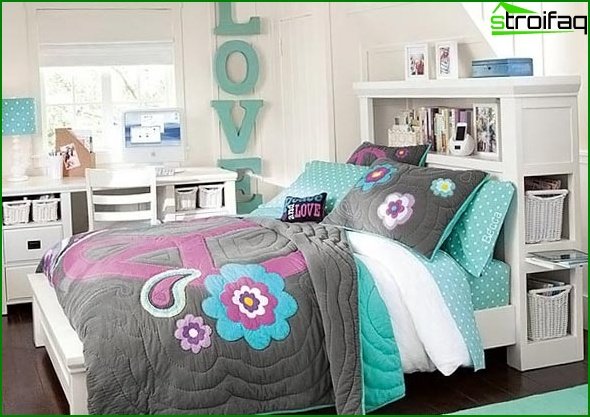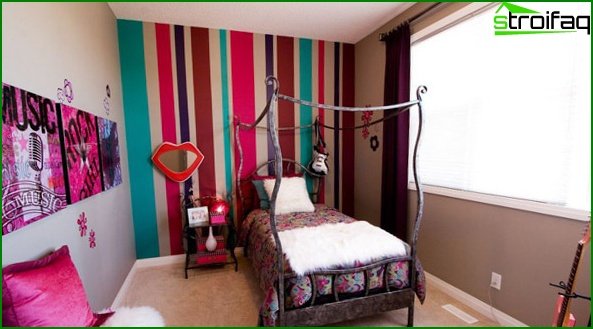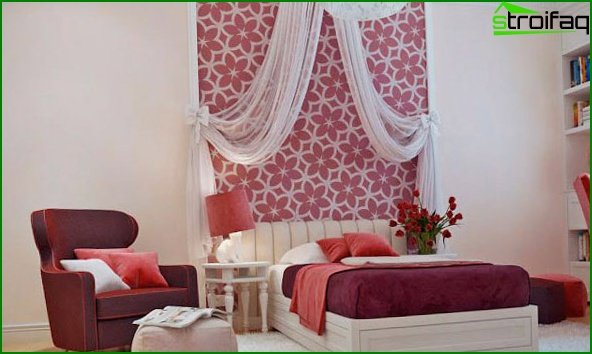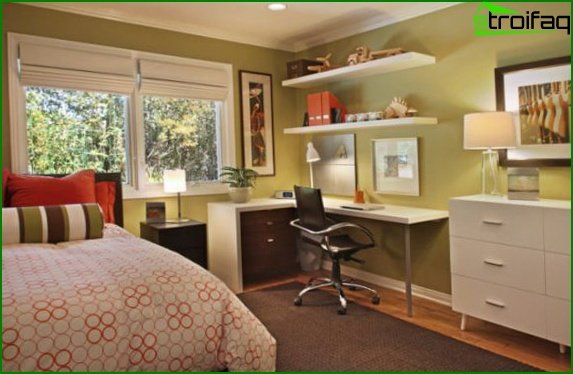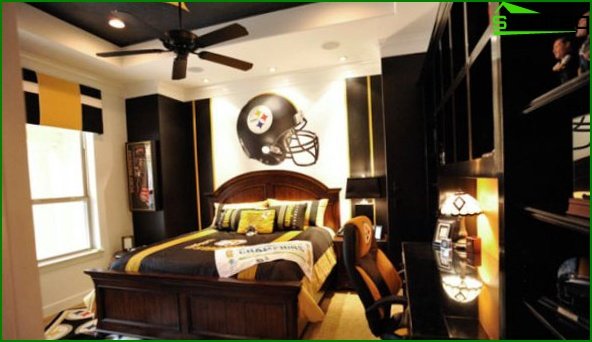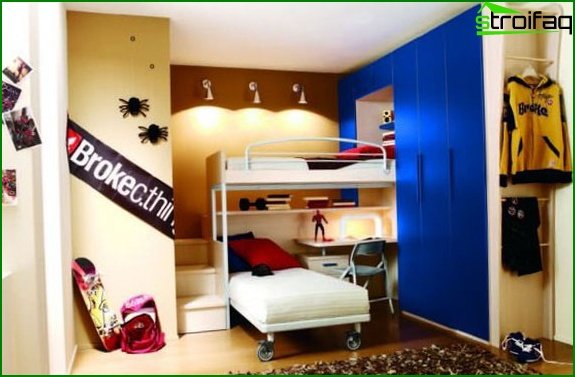 Zoning of a multifunctional children's room
Sleeping area
Quality sleep is the key to health. If there is not enough space for a bed, choose a quality orthopedic sofa. It is advisable to place it so that the sun does not shine in the eyes. Be sure to install a small nightlight at the head of the bed.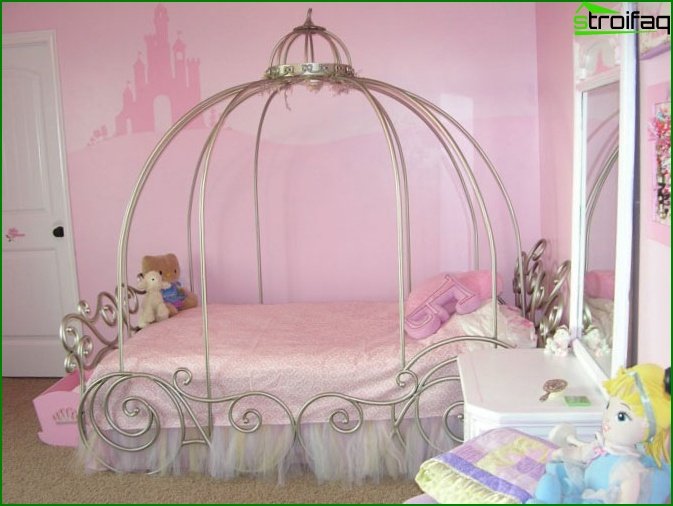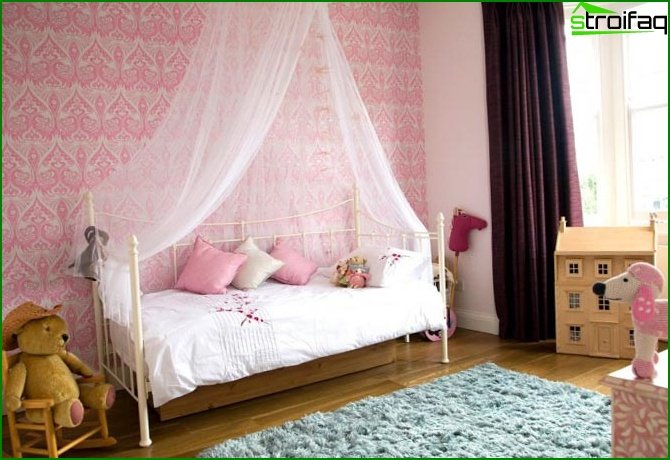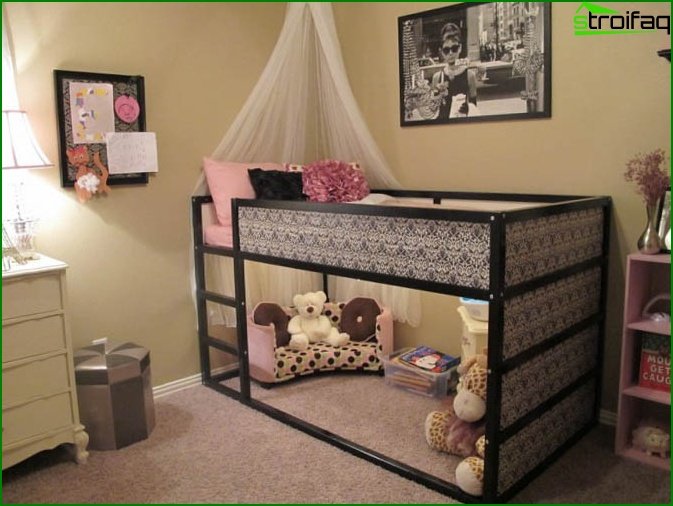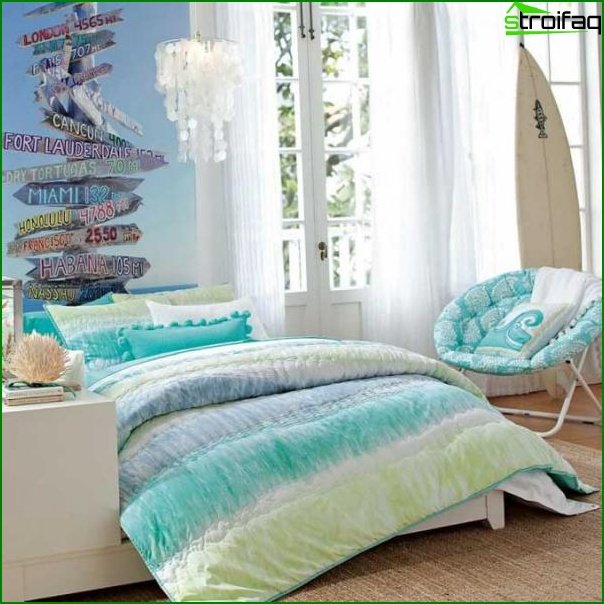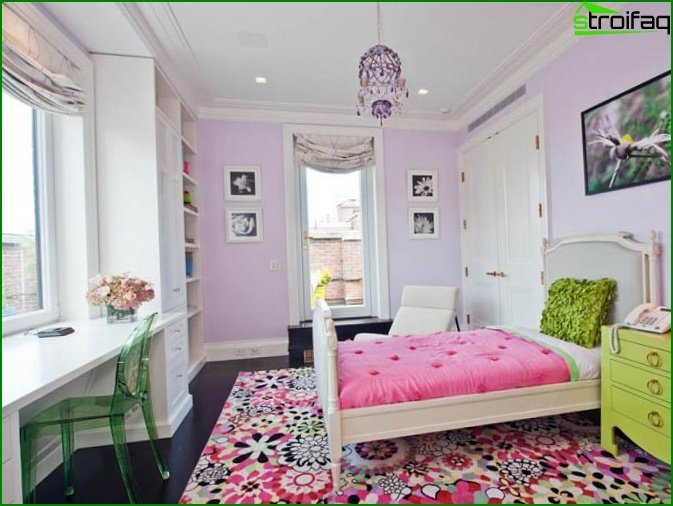 Study and hobby area
Here you must have a table at which the child will do homework or engage in their hobbies. Lighting should be bright but not harsh. It is better if the light source is directly or to the left of the child (for left-handed people – to the right).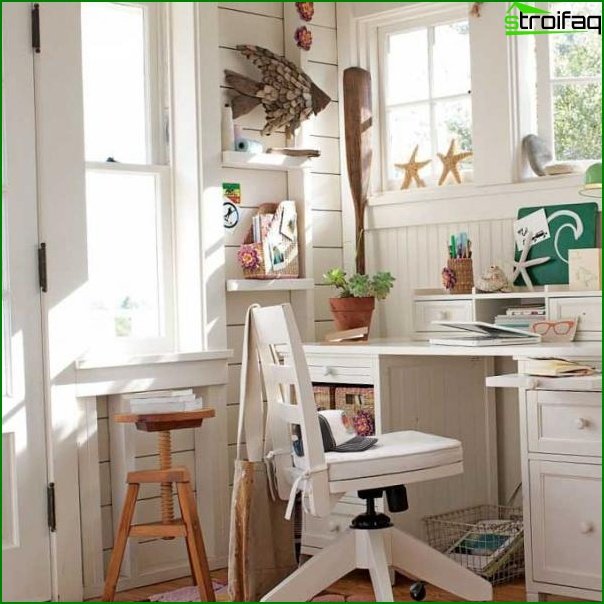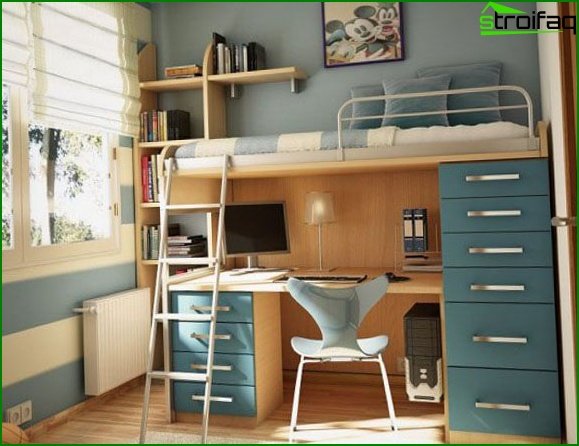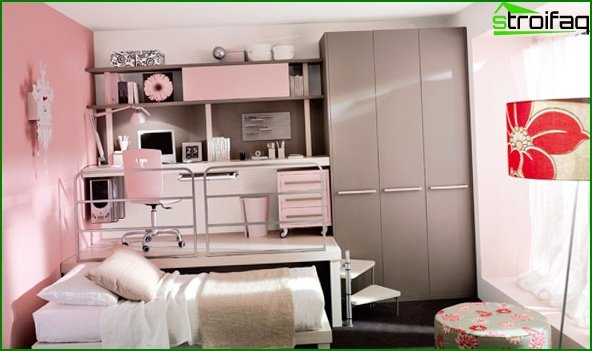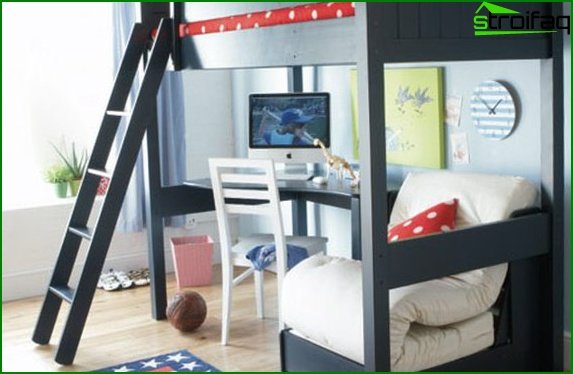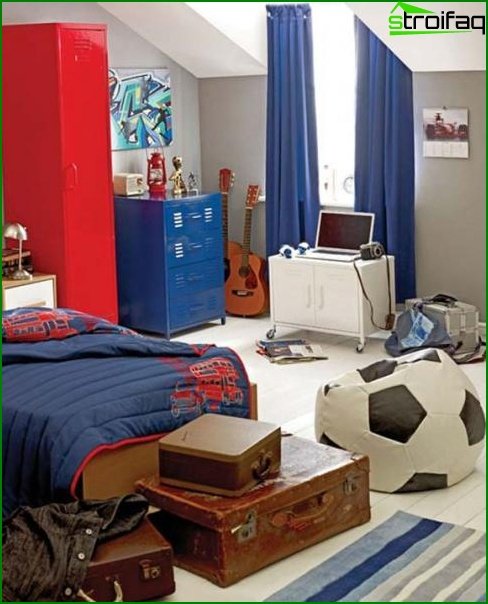 Storage area
Cabinets a lot does not happen. Especially in the girl's room. But if there is not much space, an ideal solution would be multifunctional furniture, for example, a bed with a built-in wardrobe or a chest of drawers for a bunk bed.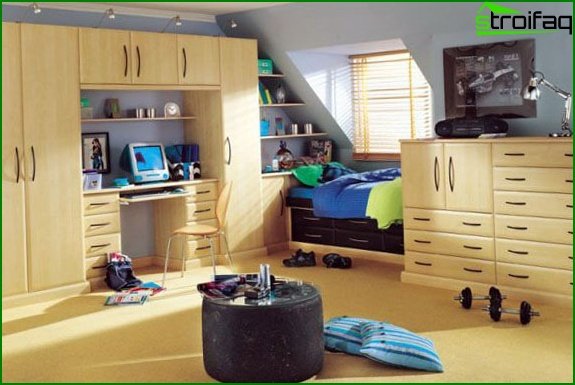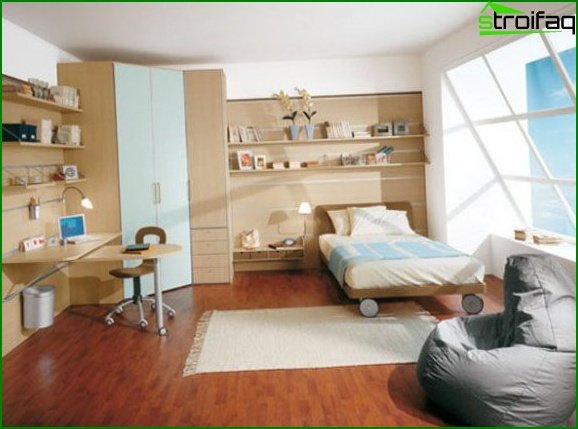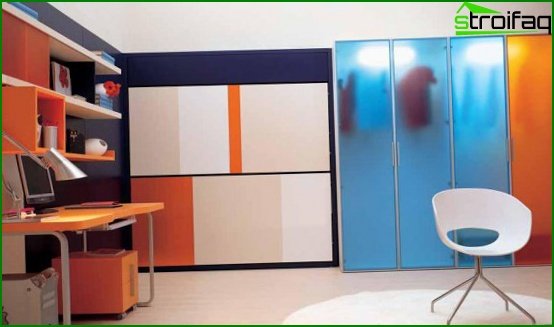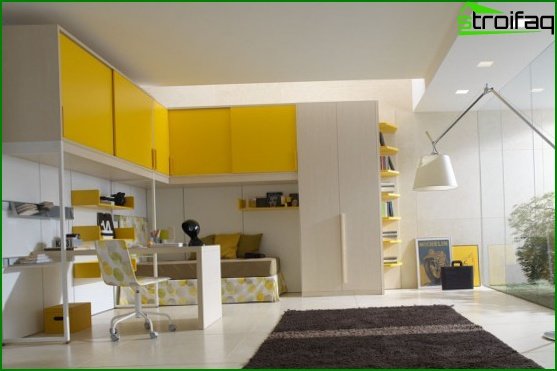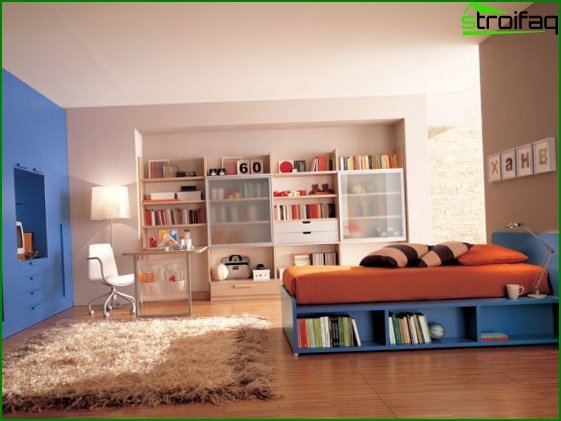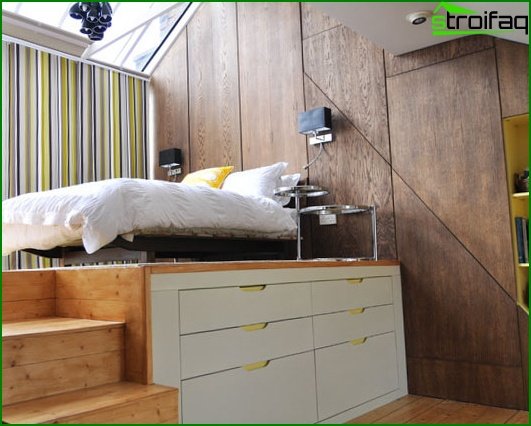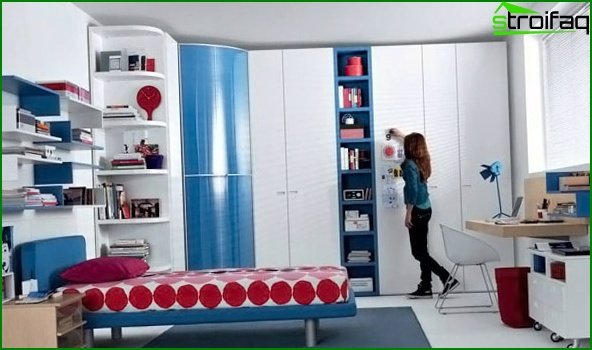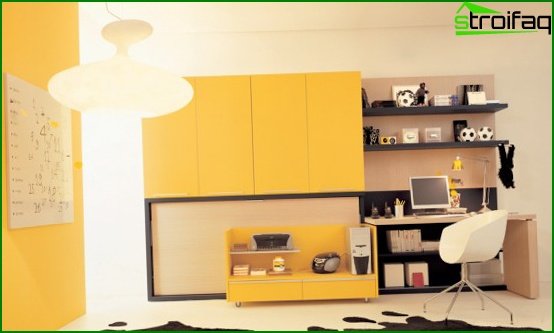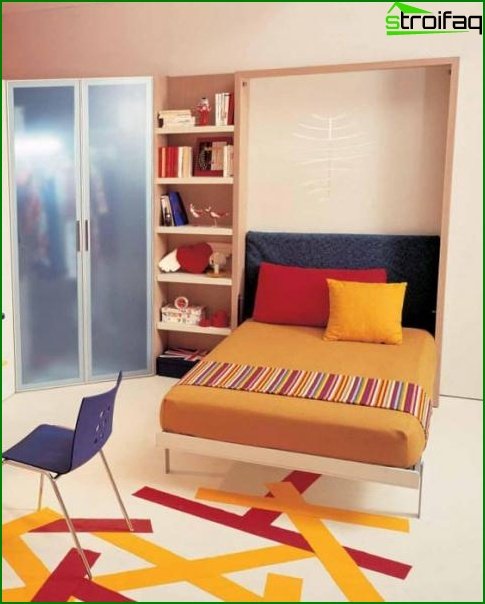 Photo gallery
And here are some more successful solutions for a teenage room.