How many types of wallpaper can be combined in the bedroom? All! More precisely a lot. More precisely, as much as you need to feel complete relaxation and inner harmony. One type of wallpaper The most obvious way to use one type of wallpaper in the bedroom is to completely glue all the walls with them. This is a good solution if:
The most popular material for decorating walls is wallpaper..
You want to know absolutely ALL the secrets of choosing wallpaper for your bedroom?
Then welcome to us!
The subtleties of using plain and combined wallpapers, 103 top modern ideas for decorating bedrooms with photo and 3D wallpapers, a complete guide on the types of wallpapers – read about all this in detail in our article.
Content
How many types of wallpaper can be combined in the bedroom?
All!
More precisely a lot.
More precisely, as much as you need to feel complete relaxation and inner harmony.
One kind of wallpaper
The most obvious way to use one type of wallpaper in the bedroom is to completely paste over all the walls..
This is a good solution if:
the room lacks catchy decor and the wallpaper only emphasizes and sets off the rest of the interior. For this, plain-colored wallpapers or wallpapers with fine patterns are perfect.
there are not enough interesting elements in the room or there is not enough space for their placement, and the walls become the main decoration of the bedroom. In this case, it is important to choose a wallpaper pattern that is ideal for your room (we will tell you more about the drawings on the wallpaper below).
But in 2020, designers recommend using one type of wallpaper in combination with other materials for decorating walls:
paint
decorative putty
decorative panels
As a rule, in this case, one accent wall is decorated with wallpaper. She may be at the head of the bed, but not necessarily.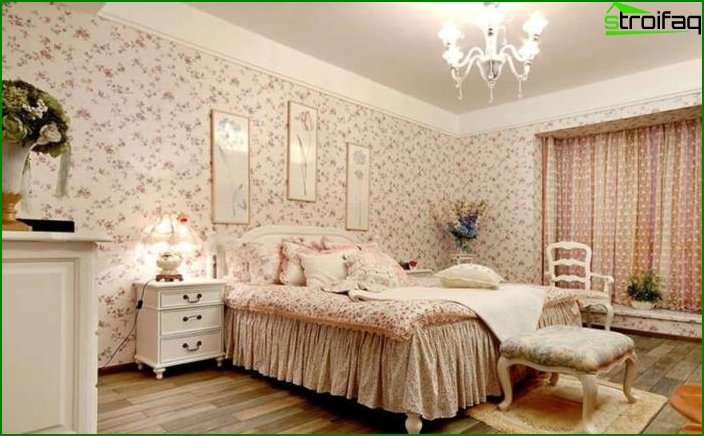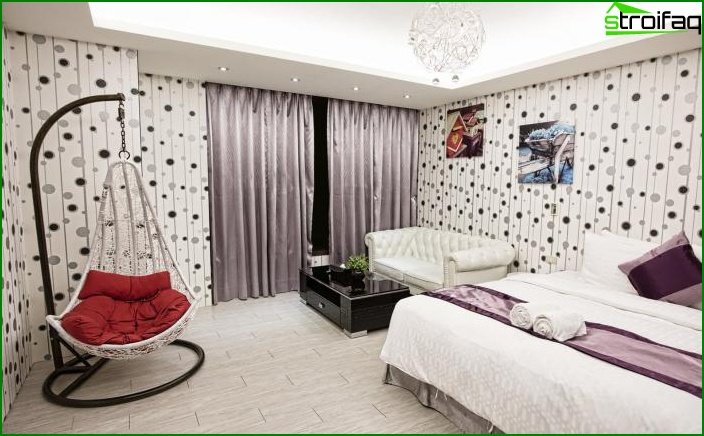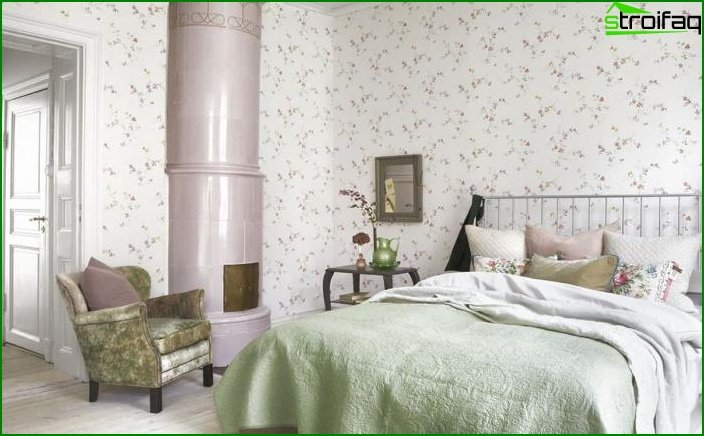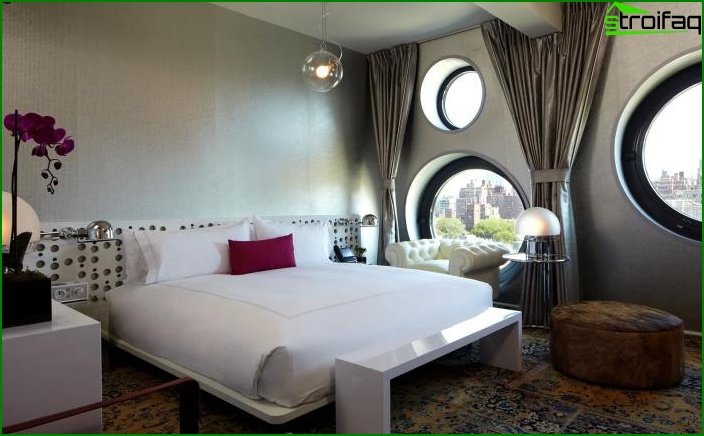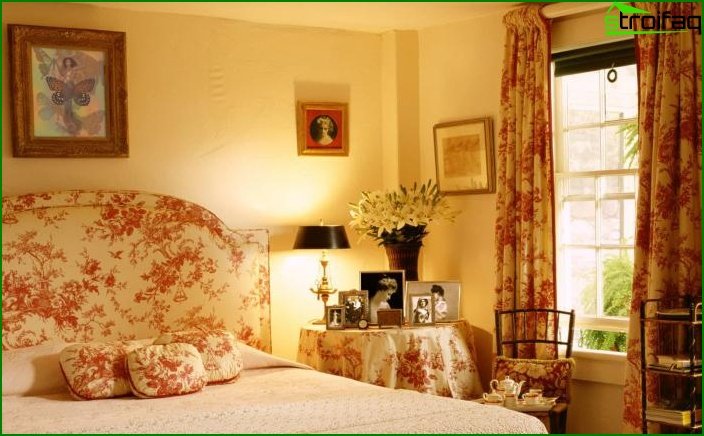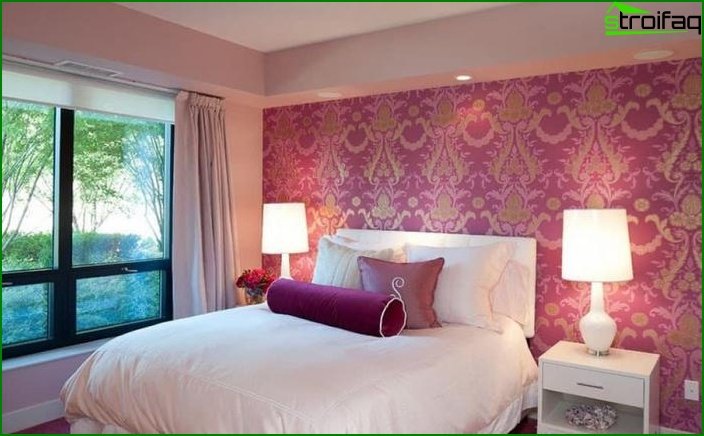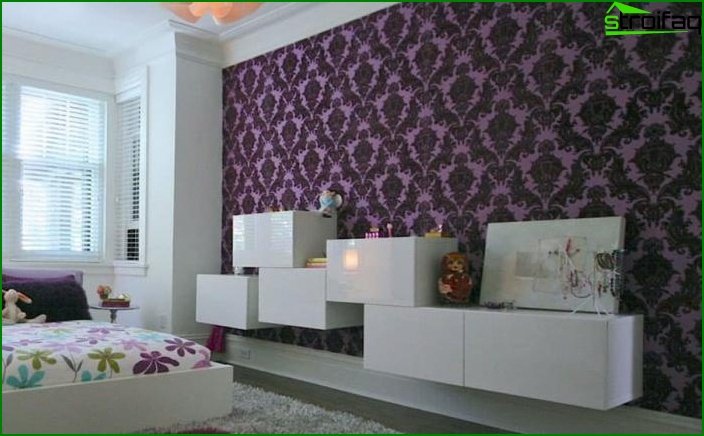 Bedroom Design 2020: Modern Wallpaper Ideas TWO Colors
The most popular bedroom decoration option in 2020 is the use of two types of wallpaper.
Wallpaper may vary by:
color (most often this refers to wallpaper for painting, which are colorized by the designer)
drawing
texture
The main task of using two types of wallpaper in the bedroom is to visually zonate the space of the room and make it layered.
What part in the bedroom would you like to highlight and why?
Should the walls with different wallpapers contrast or smoothly flow into each other?
Will the walls of your bedroom be decorated with something else or not?
Our selection of 8 interesting combinations of two types of wallpaper in the bedroom will help you decide on the answers to these questions..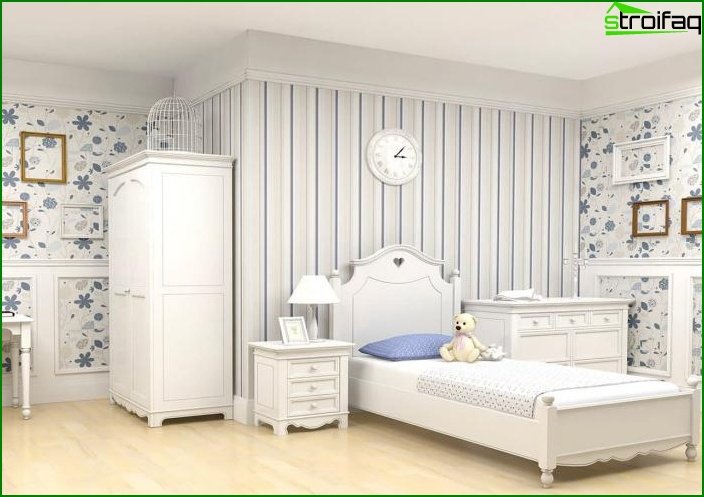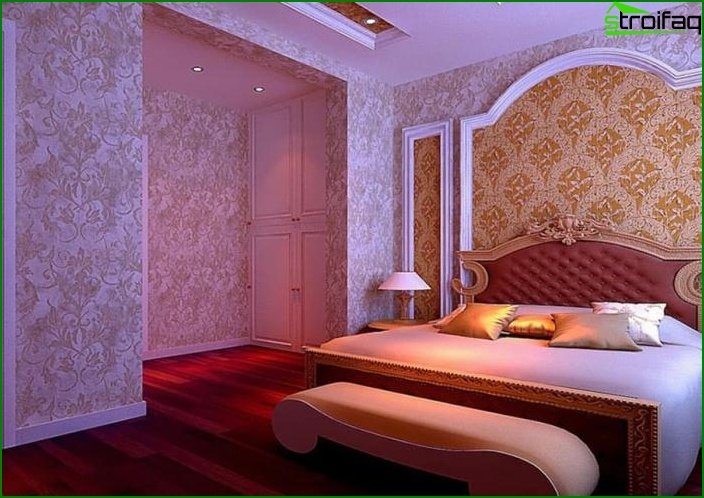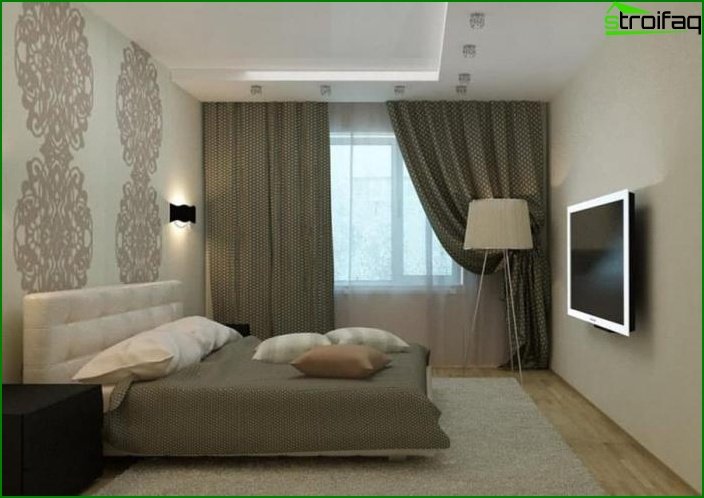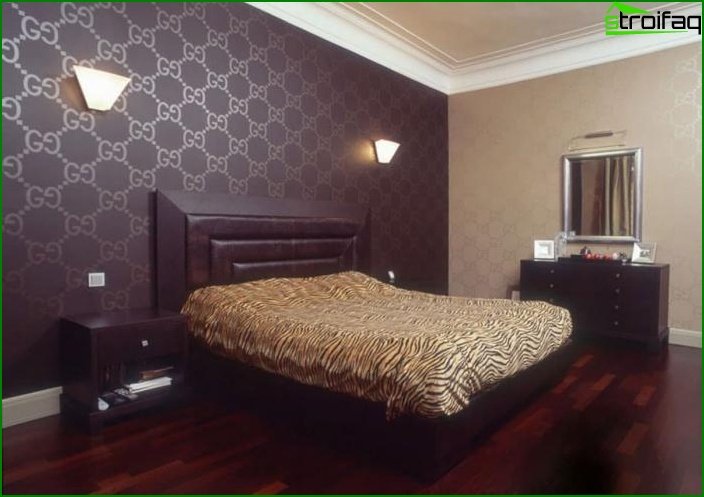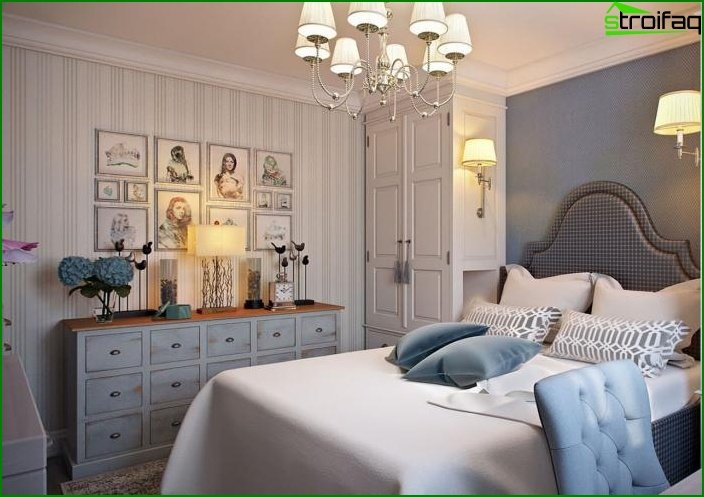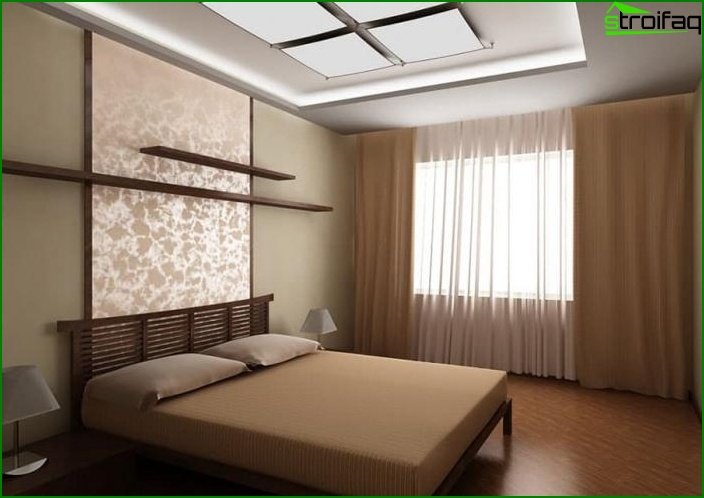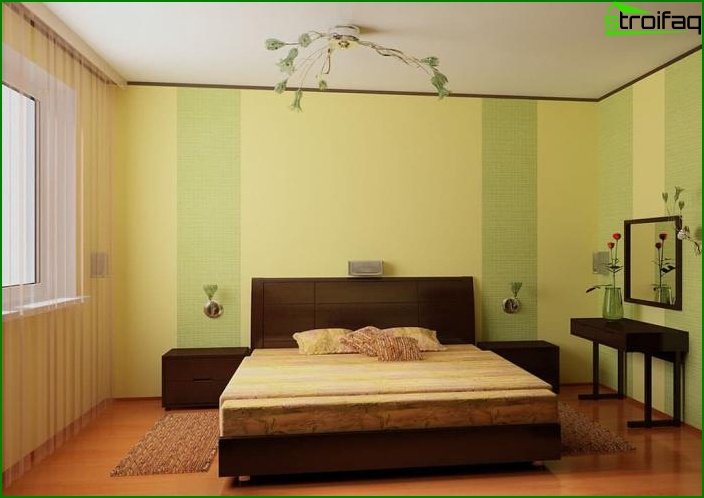 Very often, manufacturers of modern wallpapers specially produce collections with wallpapers that perfectly match each other in texture or color.
Three kinds of wallpaper
Three or more types of wallpaper should be used in the bedroom, if it is necessary to highlight several functional areas:
sleeping area
children's Corner
workplace
Combine contrasting colors very carefully.!
We talked about how to correctly combine shades in the interior (including 3 colors) on the first page.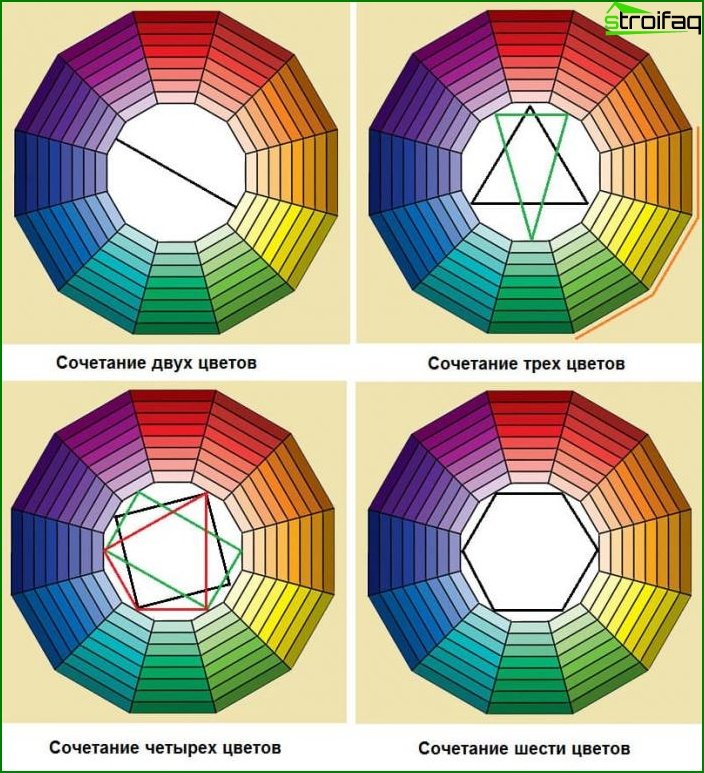 But more often in the interior of the bedroom different shades of the same color are used, smoothly turning into each other.
Another option is to combine wallpapers in which the same color is the base.
When combining three types of wallpaper in the bedroom interior, at least one of them should be neutral / plain. The universal color for tri-color combination is white.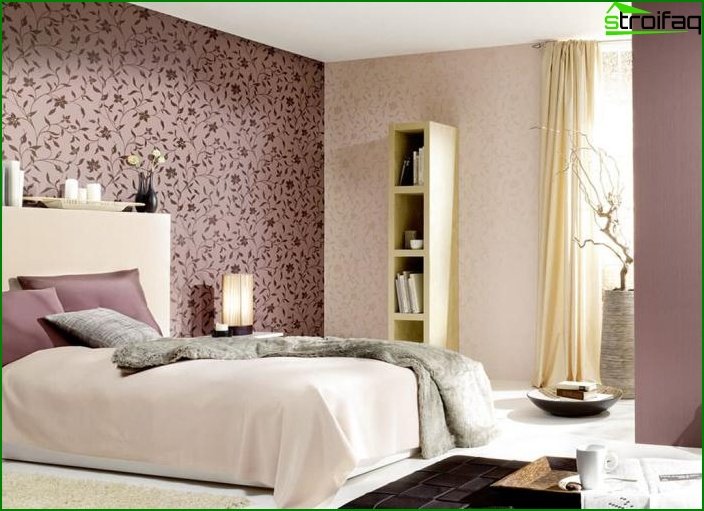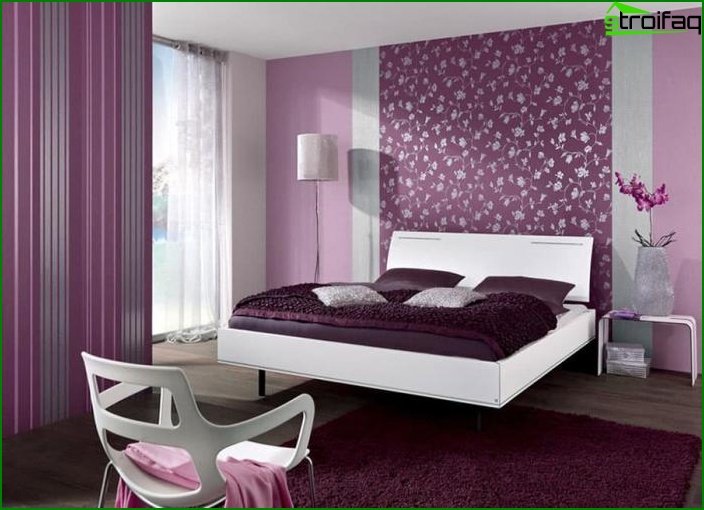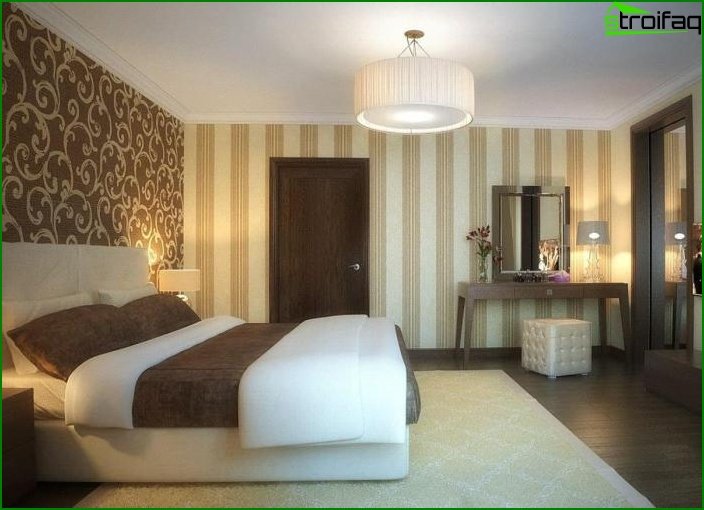 Wallpaper is one of the main materials for decorating walls.
With their help, you can achieve various visual effects, sometimes even more interesting than using ordinary paint.
Let's figure out what wallpapers are and how they can be used in the bedroom interior..
Top 7 types of wallpaper patterns
Plain wallpaper
Wallpaper without drawings and contrasting coatings are considered monophonic (even if there are some slight color variations, for example due to the texture of the canvas).
In modern interior design, plain wallpapers are used:
for painting, which allows you to combine colors at your discretion, but give the walls a uniform texture
in combination with other wallpapers (with large, bright, rich drawings)
Plain wallpaper is perfect for a bedroom with rich textile finishes and emphasizes unusual, catchy furniture. Otherwise, furniture, textiles and curtains will merge into one tasteless clumsy spot.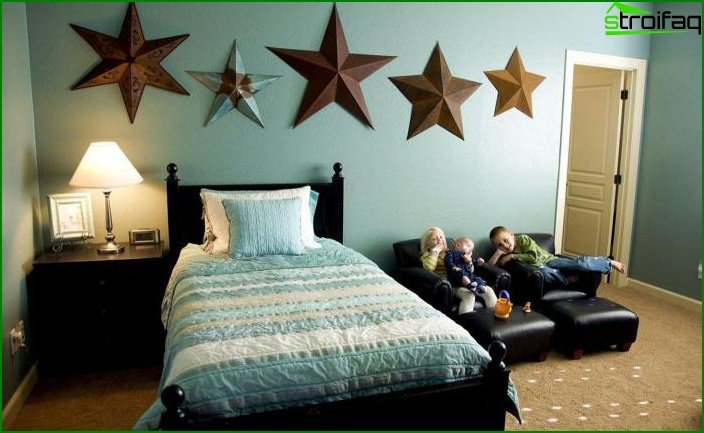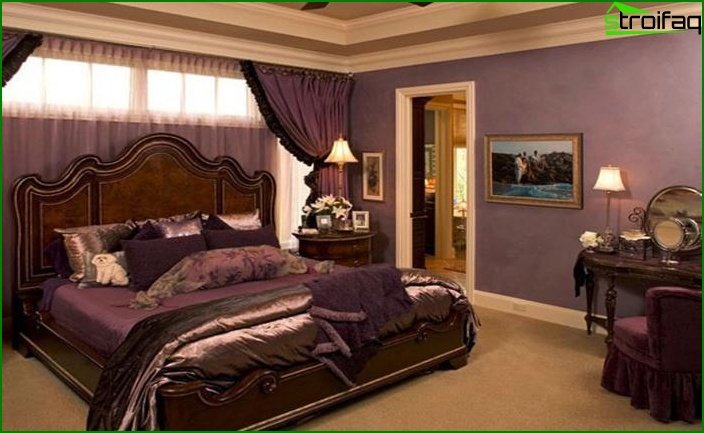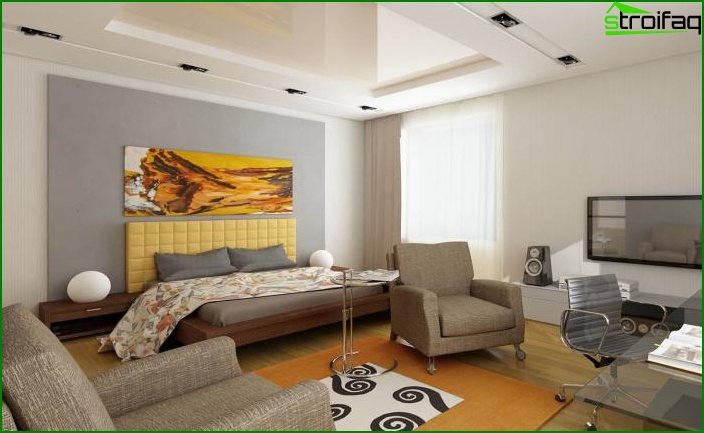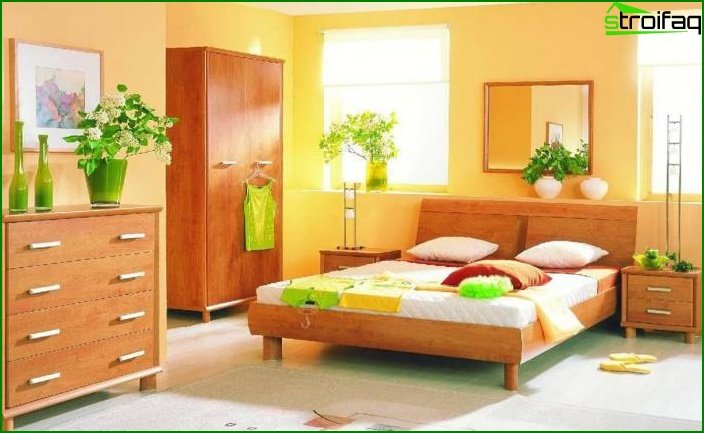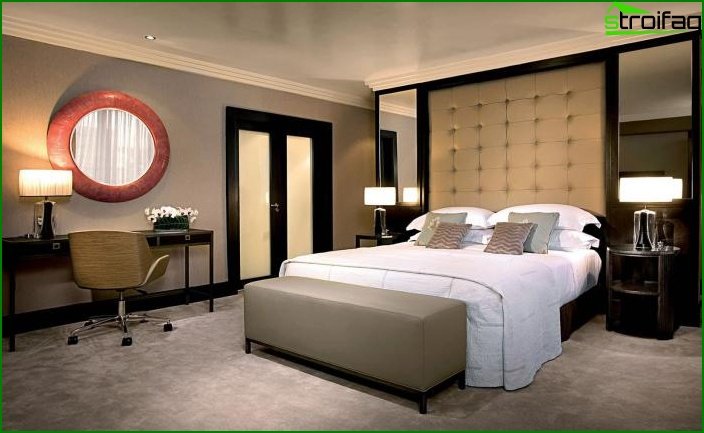 Do not like monotony? Then pay attention to the wallpaper with a fine pattern.
Fine wallpaper
A small pattern on the wallpaper gives the main color interesting additional shades, as if enveloping a background. Patterns can be either drawn or more textured – for example, in the form of spraying from foamed acrylic or the finest golden threads woven into a wallpaper.
A light drawing in cold colors will help you visually make the room more spacious and light. And vice versa – ornaments of dark tones of warm shades will attract more attention to the walls due to which the room may seem smaller.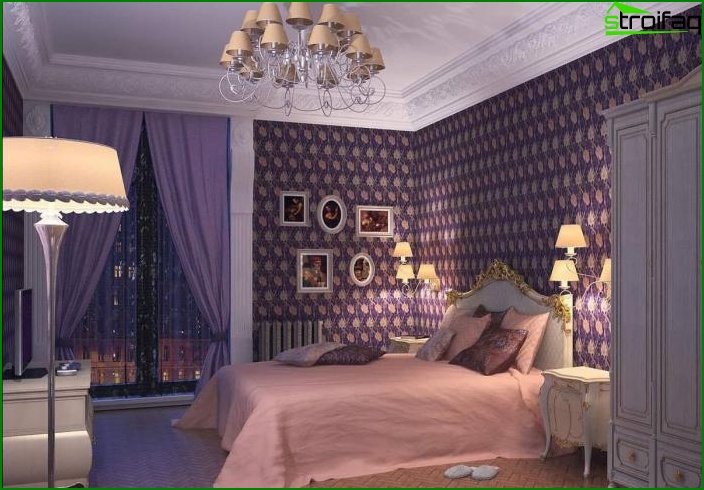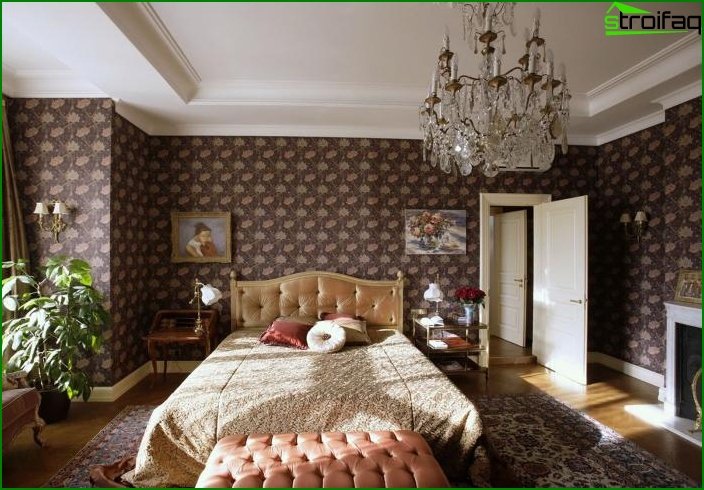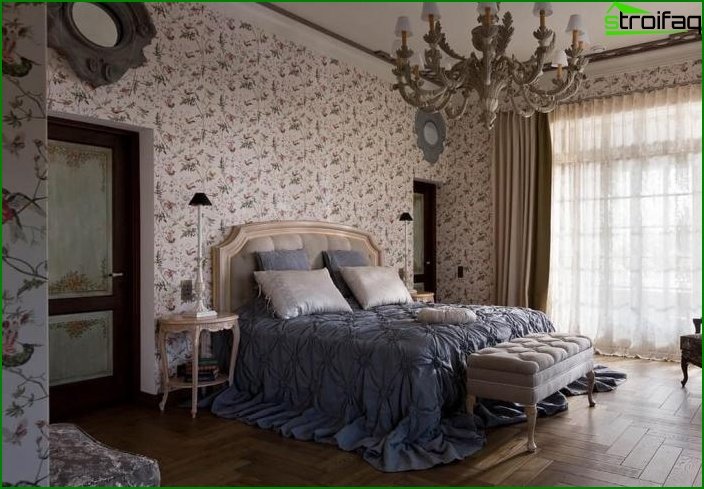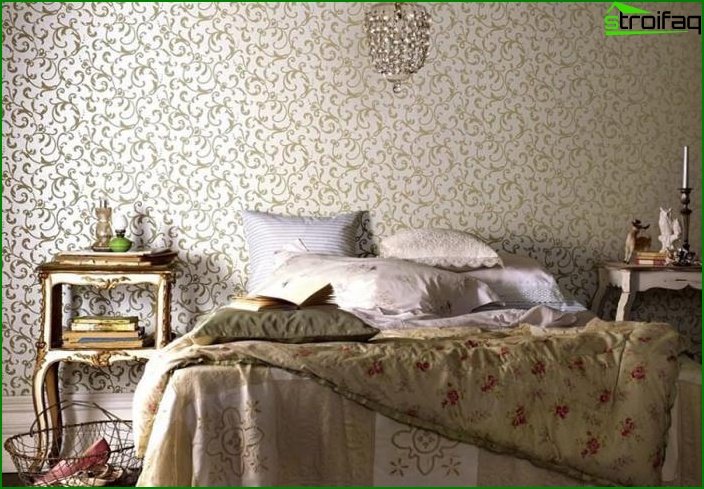 But the wallpaper doesn't have to be small.!
Large wallpaper
Wallpaper with a large pattern is very dynamic, striking. They will look good in large spacious bedrooms..
Why?
And remember the oil painting. In a literal sense. Nearby these are incomprehensible chaotic strokes, but it is worth moving away from the picture at least a couple of meters, as they are collected in a single plot with fairly clear outlines.
The same principle is in the perception of large prints – all their beauty can be appreciated only at a distance.
Using simple calculations, it can be calculated that 2 meters from each wall (if you are in the center of the room) is at least 4 X 4 meters, that is, as many as 16 squares.
If your bedroom is more modest in size, then wallpaper with a large pattern is better to use to design one, the farthest wall.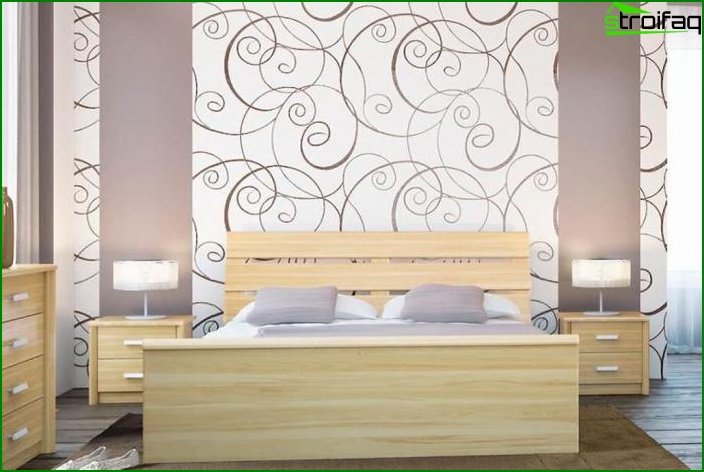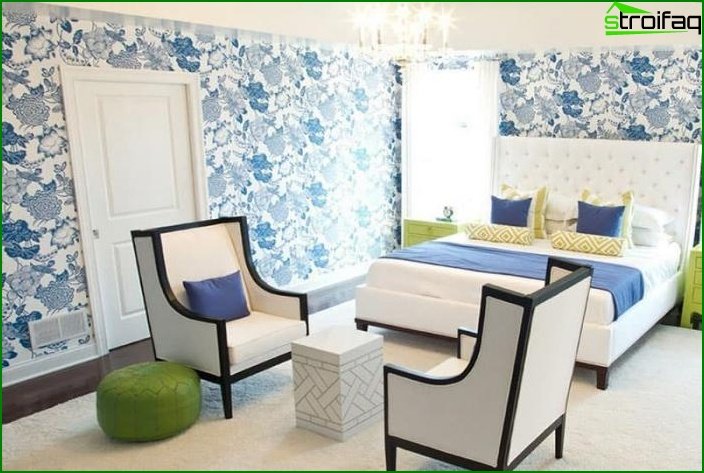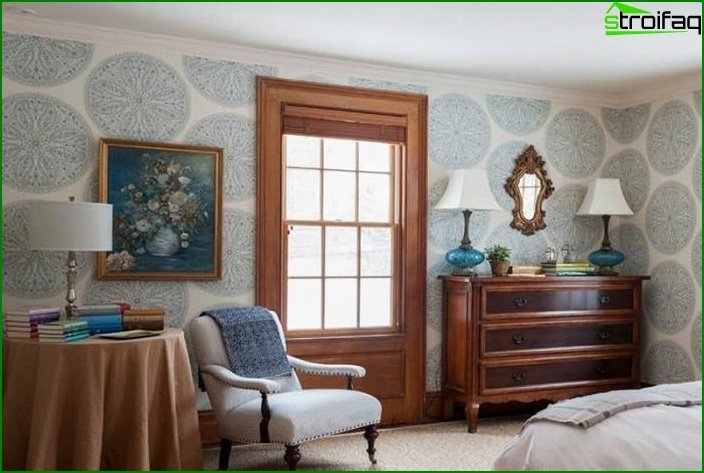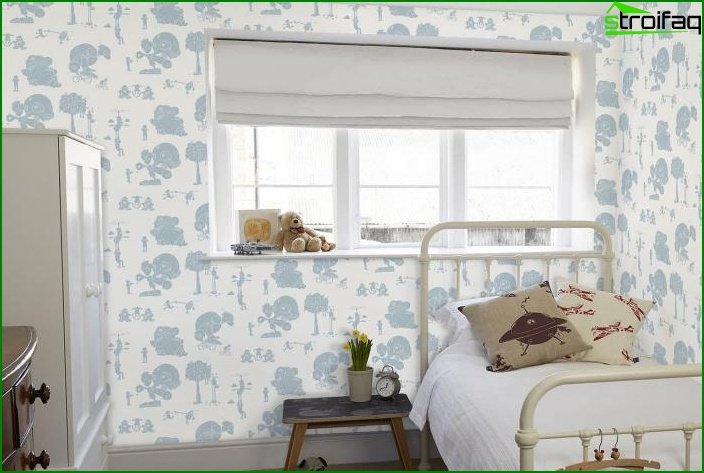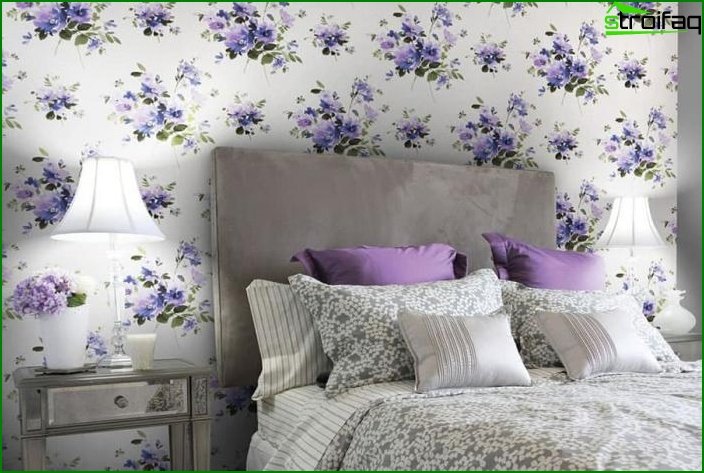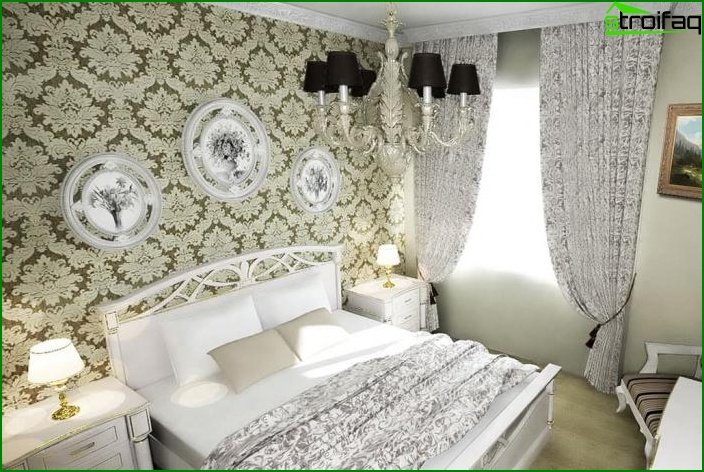 But what kind of print on the wallpaper to choose depends on the style of the bedroom as a whole.
The combination of wallpaper pattern and interior style

| | |
| --- | --- |
| Damascus, monograms | Oriental, modern |
| Flowers | Provence |
| Geometric figures | Modern, high tech, futurism |
A large elongated pattern visually makes your ceilings taller.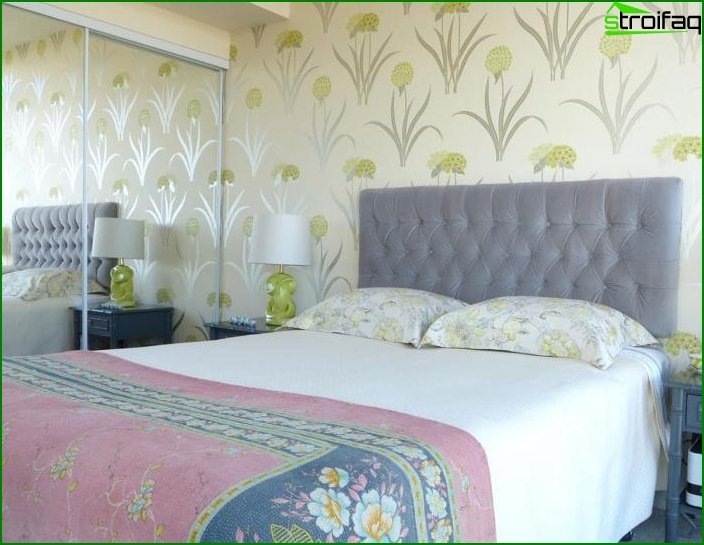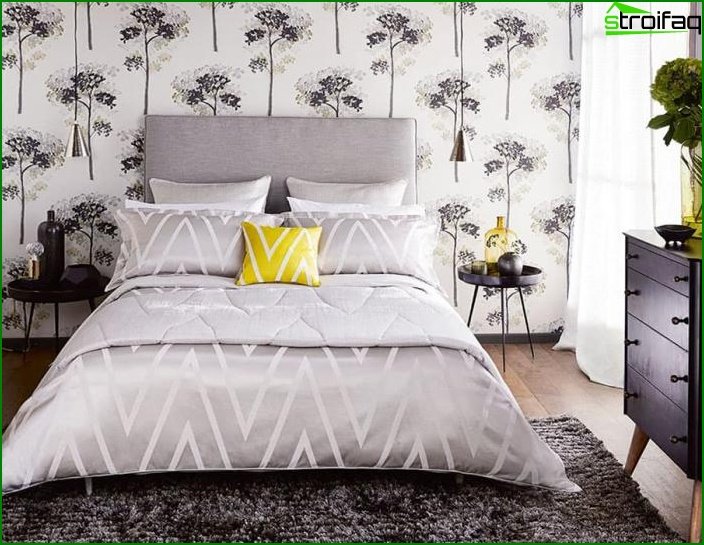 Geometric Wallpaper
The geometric print on the wallpaper creates a feeling of uninterrupted space, which looks very cool in the bedroom interior.
The main thing is to successfully choose the size of the picture – small for a small room and large for a large.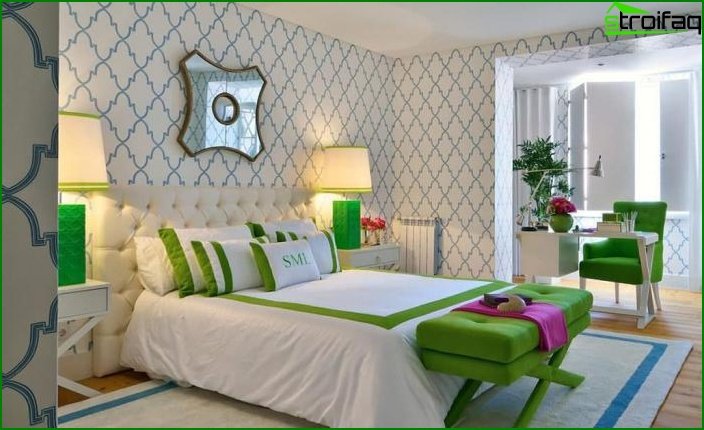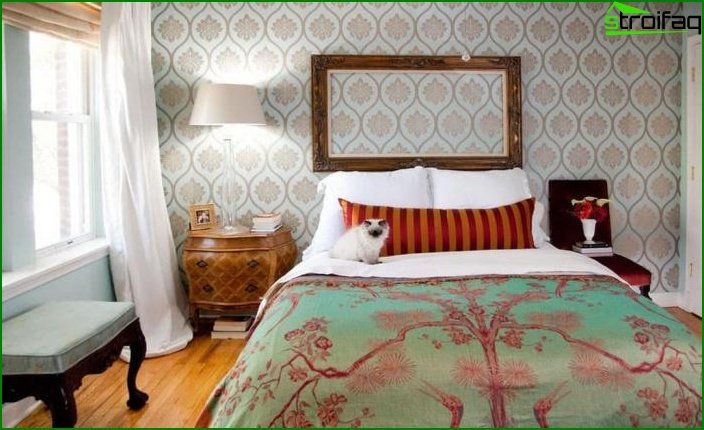 Striped wallpaper
Strips on the wallpaper, perhaps the most versatile assistant in creating visual effects in the interior.
Firstly, the stripes can be clear and contrasting shades, and can be smoothly flowing into each other a series of transitions from dark shades to light, which looks softer, but with all the visual effects.
Secondly, the bands are of different directions.
Vertical stripes
They will help visually raise the ceiling and make the room already.
Horizontal stripes
Opposite will make the space of your bedroom lower.
Diagonal stripes
They will set the perception of the directivity room, make it dynamic and impulsive.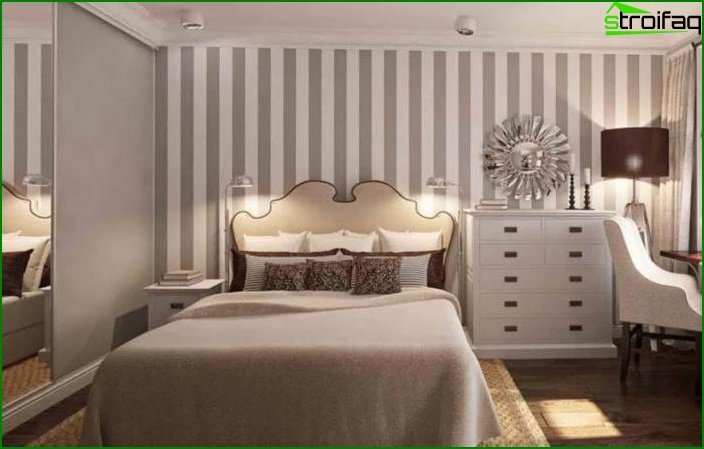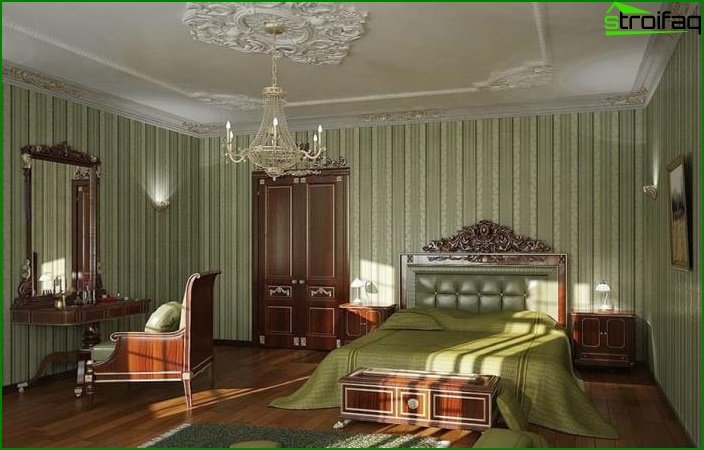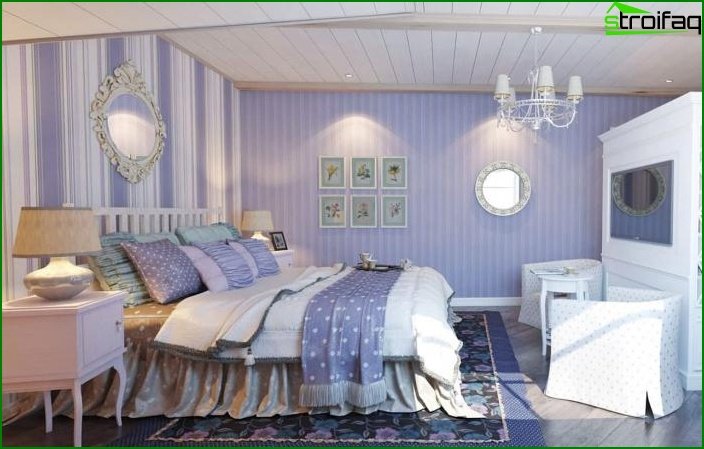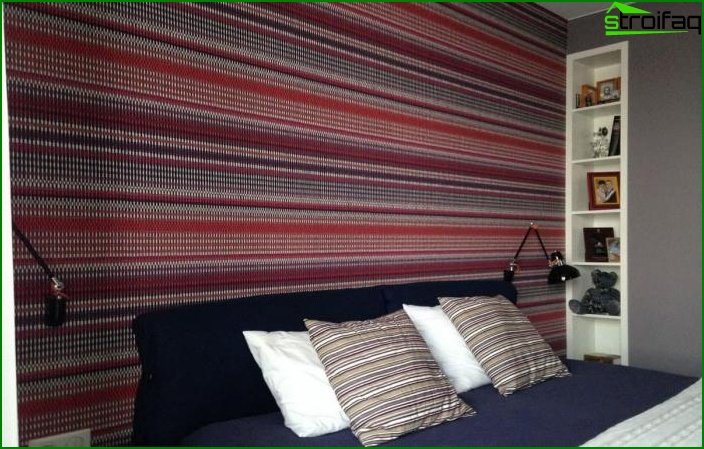 Textured Wallpaper
Of course, one of the main trends of 2020 is the use of a variety of textures – wood stone, brickwork, glass.
But not drawn!
Perhaps such wallpapers looked good and fashionable 20 years ago, but now this is an absolute relic of the past.
If you really want to decorate your bedroom with textures – use natural materials or at least their analogues.
Photowall-paper
Stunning Bedroom Interior Solution – Using Photo Wallpaper.
Wall murals are guaranteed to become accent!
Thanks to the perspective of the photos, a feeling of additional space is created (as with a mirror, only more interesting).
Modern technology allows you to make a canvas of any size with any image.
Lifehack: if the full-wall mural for you is too expensive, you can order a canvas in height equal to the height of your window. Place them on the same level – and voila! Another window appeared in your room!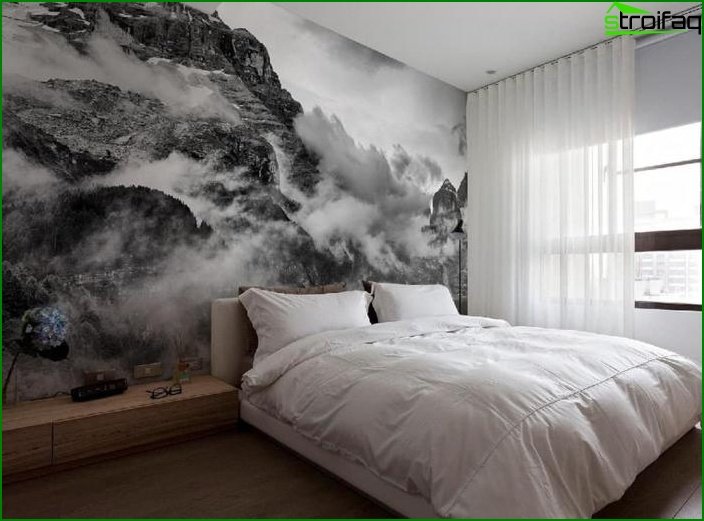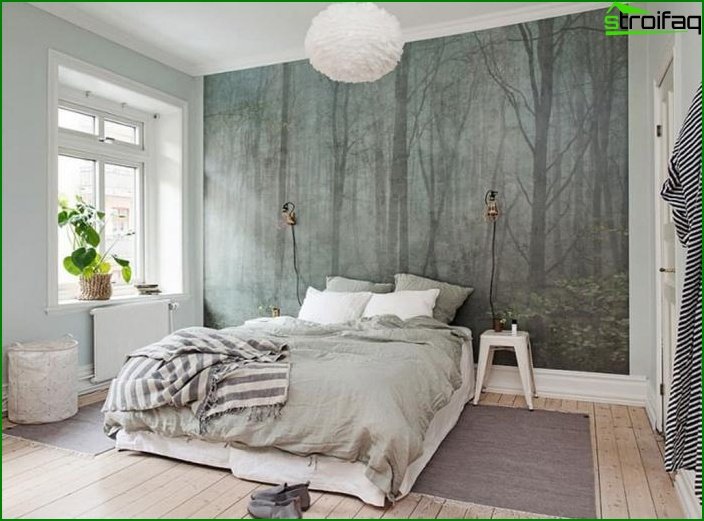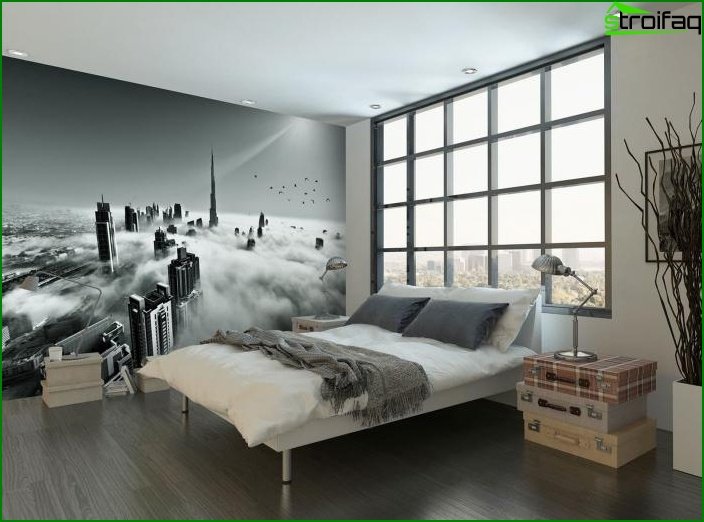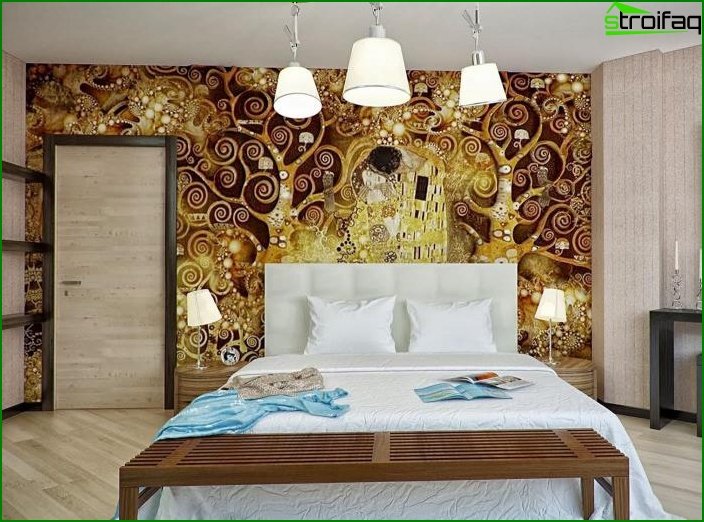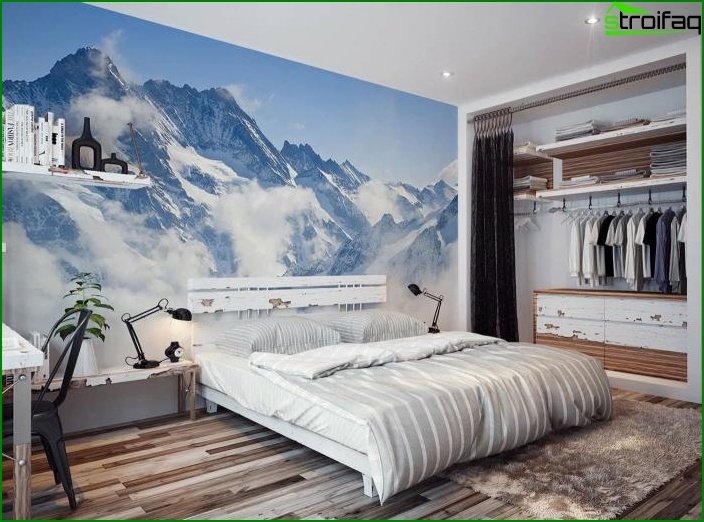 In addition to photos with a perspective (cities or landscapes) in 2020, 3D wallpapers became megapopular.
They differ from ordinary photowall-paper in images in the macro mode with the effect of three-dimensionality of space.
Take a look at how amazing they look in the bedroom interior.!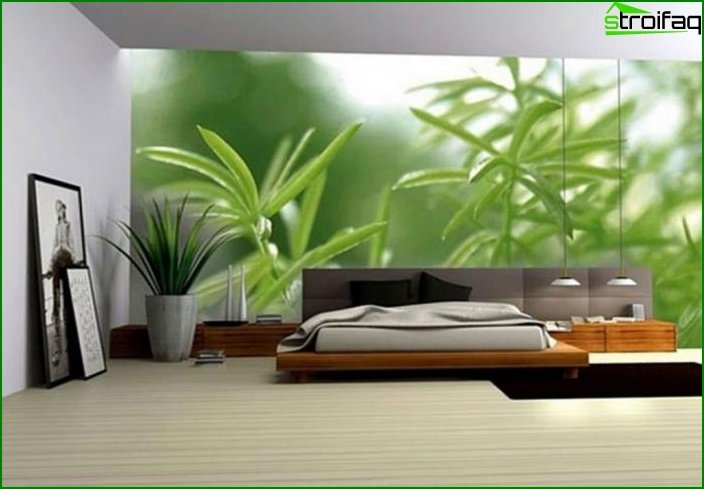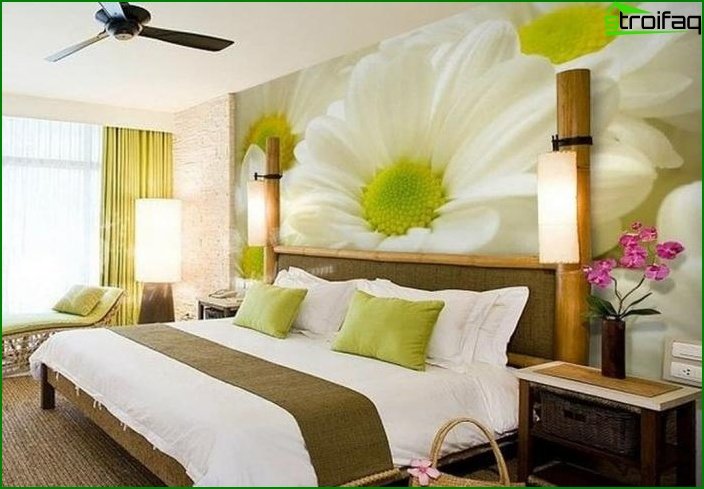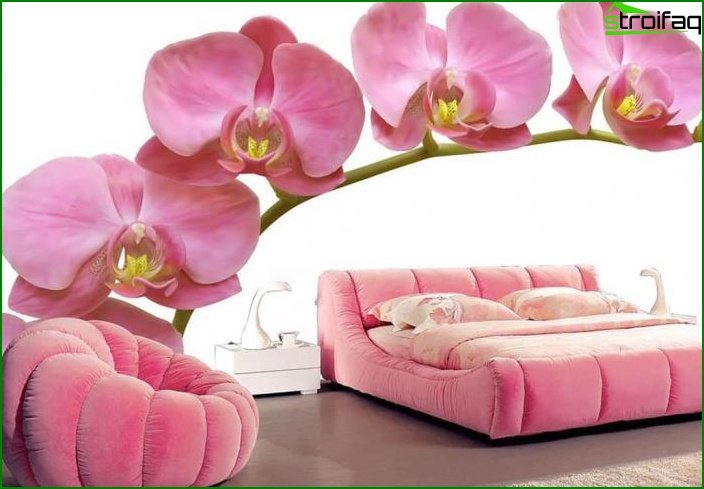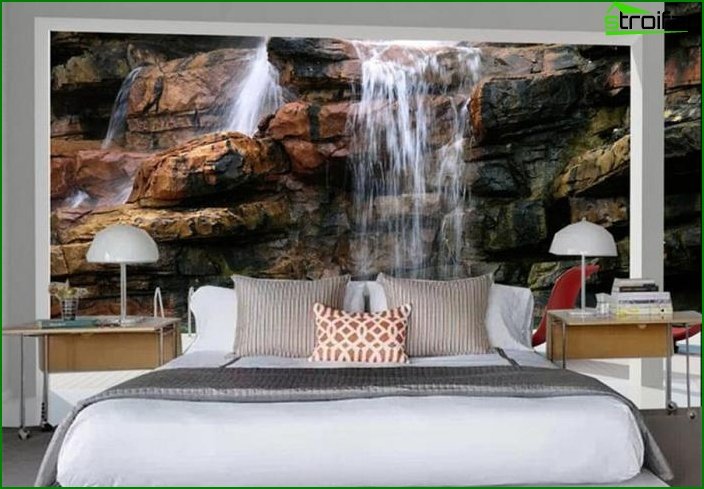 Well, finally, we will tell you what materials make wallpaper.
10 materials for making wallpapers
Paper
One of the most popular wall decoration options is paper wallpaper..
Wide range of colors
Easy to stick
Budget decoration for walls
But:
Easy to tear, deteriorate, lose their colors in the sun
Do not cover the roughness of the wall
Do not wash
Wallpaper with a single layer of cloth is called "simplex", and with a two-layer cloth – called "duplex".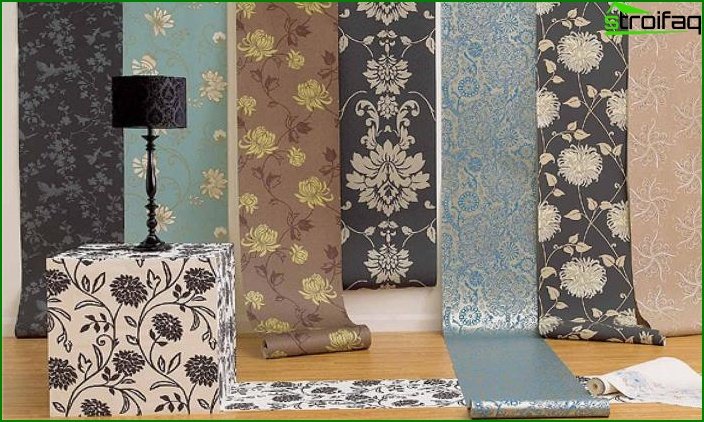 Non-woven
Made from long cellulose fibers with the addition of special adhesives.
Inexpensive
Wash themselves
Can be repainted several times
Cover the cracks on the walls
But
Low heat and sound insulation
Poor selection of drawings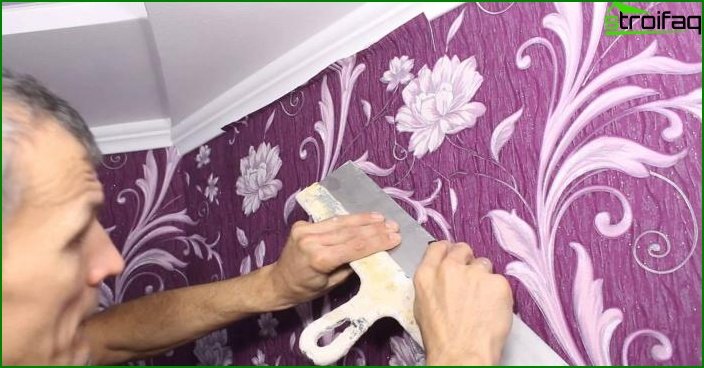 Acrylic
A compromise between paper and non-woven wallpaper.
Low price
Soft clean
Practical
But
Not designed for rooms with a high concentration of moisture.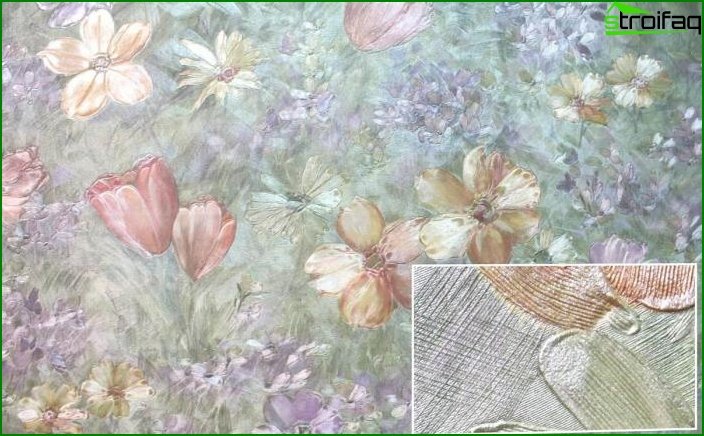 Vinyl
One of the strongest types of wallpaper. Especially popular with pet lovers..
Very durable
Moisture resistant
Hide significant wall roughness
But
Belong to the price category "above average"
Thick and heavy
Do not let air through
May give off a specific odor at first.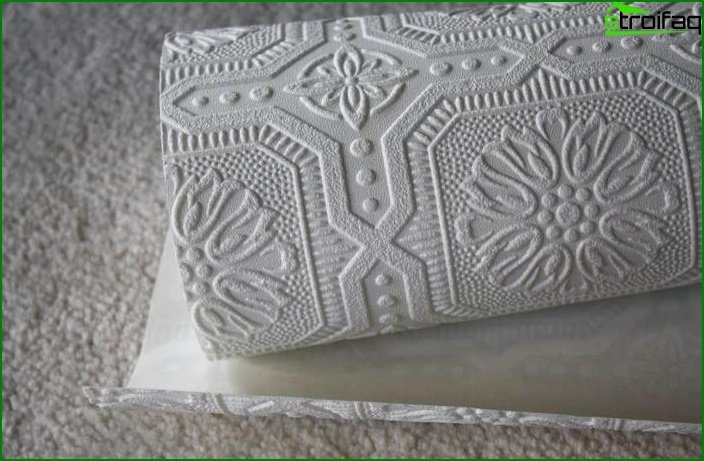 Fiberglass
The most durable wallpaper is fiberglass wallpaper. On such wallpaper, there will certainly not be any traces of the furniture standing next to them (such as on wallpaper with acrylic coating).
The most durable type of wallpaper
Cleanable
Not afraid of moisture and even fire
Completely hide cracks in the wall and bumps
But:
Requires thorough wall preparation and very strong adhesive
Inelastic
Removed from the wall with putty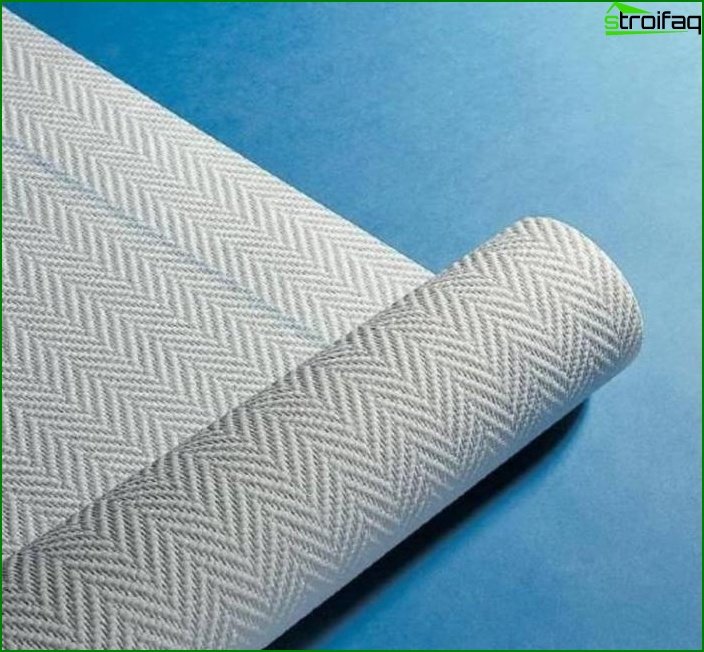 Textile
Fabric for wall decoration is used as long as paper. But textile wallpaper has always been a sign of wealth and wealth of the house, emphasizing its status, in contrast to paper.
Environmentally friendly material
Good air permeability
Amazing appearance
But
Quite expensive
Accumulate dust
Cleaned exclusively by dry method
Requires special skills for gluing
Metallic Wallpaper
What will look steeper in a hi-tech or futurism bedroom than metallic wallpapers?
Good thermal insulation
Practical
Wear resistant
Unusual look
But:
High price
They require a high-quality ventilation system in the room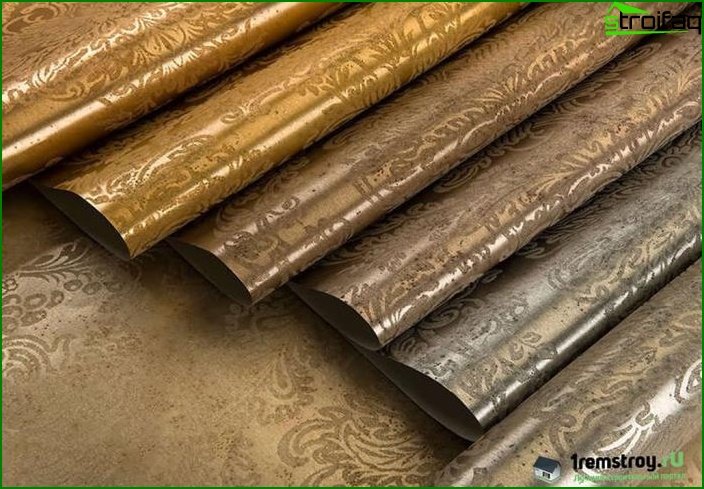 Liquid
Want to feel like a real artist? Then use liquid wallpaper!
Can be combined and combined in any way
Excellent sound and heat insulation
Pleasant to the touch
Do not fade in the sun
But
Accumulate dust
Hard to clean
Expensive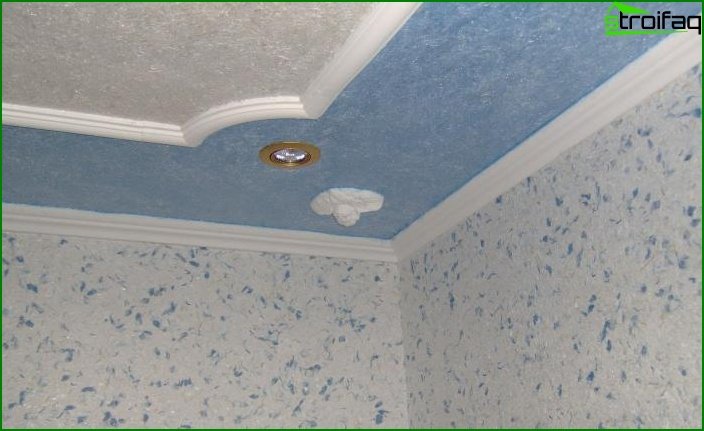 Quartz
The granular texture of quartz wallpaper has become a noteworthy novelty in the market of interior design. As a basis for these wallpapers, non-woven or paper is used, on which crumbs are applied: quartz sand, mica, granite.
Interesting appearance
Easy to repaint with latex paint.
Hide the flaws of the walls
Universal to use
But
Expensive
Special glue and wall preparation required
Vacuum cleaned only.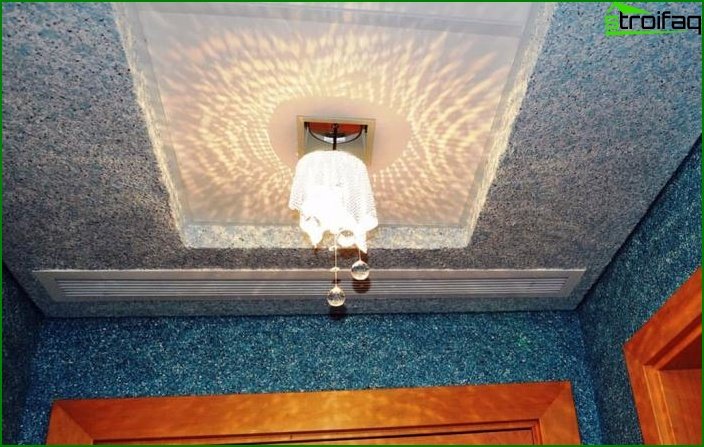 Cork, bamboo and other eco-friendly materials
The trend of recent years is the eco-style in interior design. And if you are his adherent – you can not do without wallpaper from eco-materials. The most popular of them are bamboo, but there are other options..
Eco friendly
Hypoallergenic
Antistatic
But
Used as a separate decorative element
Require opening with varnish or wax