Learn the secrets of the studio apartment design. Councils for the choice of interior design. TOP-100 best photos repair studio apartment.
How nice to create a design for your house! Even if it's a studio apartment, you can find many ideas for creating something special!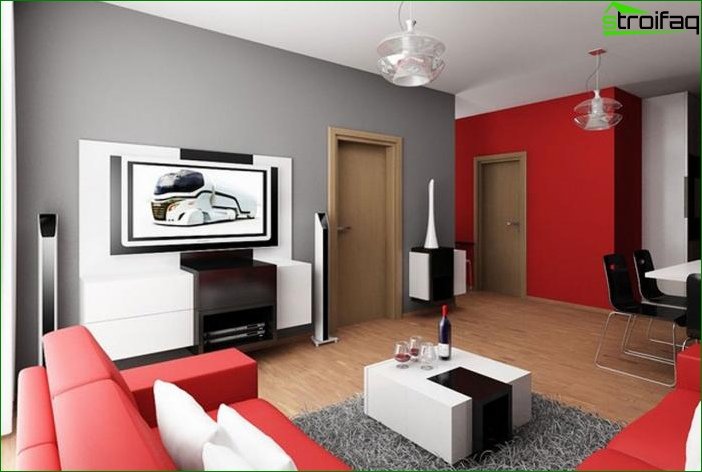 Content
Fashionable design for studio apartment
Studio - it's modern, economical and convenientKind of housing. This type of apartments was borrowed from Europe and America, where it was popular among young people and bohemians, in a word, people free from prejudices and extra money.
In Russia, they also appreciated the merits of studio apartments: they are good for young people who do not want to live with their parents.
It is important that due to the right Design, They become really comfortable for life and very attractive in appearance.
Why do some houses or apartments look likeHarmoniously, holistically, while others are ridiculous and uncomfortable? It all depends on whether a single style is maintained in the design of the room. If we want our apartment to look "delicious", reflect our inner world and passions, we must choose a style that will be to our liking. And in the future it is necessary to follow him in everything.
Many styles of architecture and artFormed the appropriate directions in the design. The most common steel loft, provence, high-tech, art deco, fusion, etc. They best fit into the shape of a modern apartment.
Loft
Loft in translation means "loft". The fact is that in America in the early 19th century. Workers to save on housing, settled on the upper floors or attics of factories and factories. They did not do any special repairs, just arranged furniture and lived. Brick walls, wooden floors, a mixed-clothes situation was also fond of the representatives of bohemia. Over time, all this was formed into a single style, which was called a loft. He has many admirers in the West, and gradually he enters our life.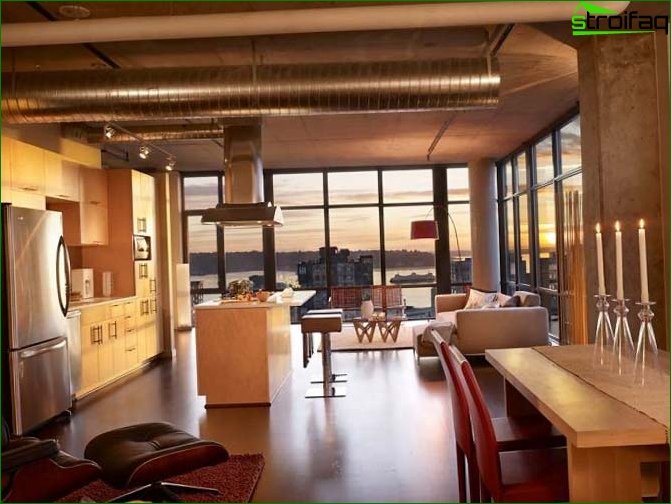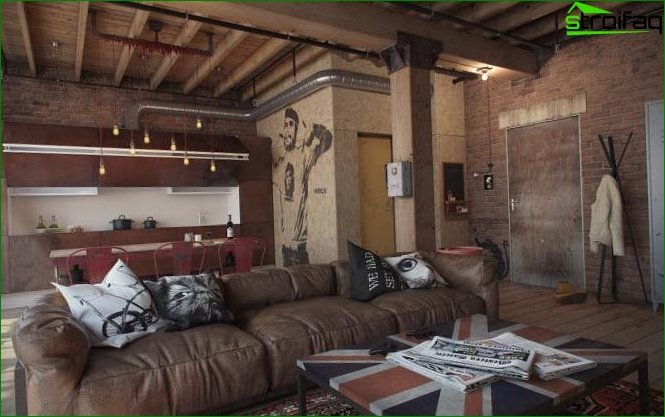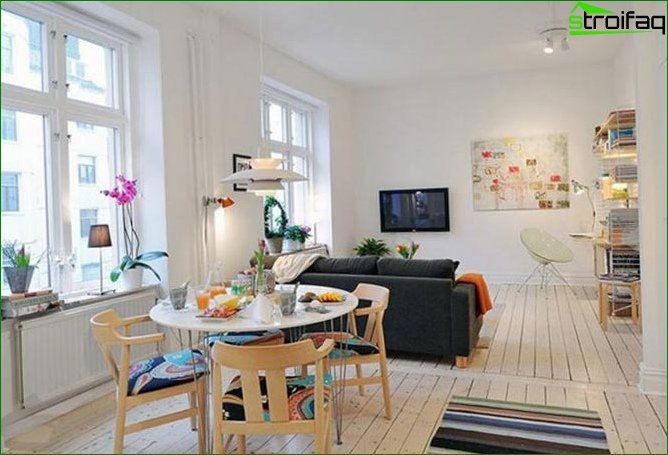 We can say that the loft is simply designed for studio apartment design. The desire for simplicity, a single free space are embodied in this style and coincide with the idea of ​​the studio.
Provence
Those who still love the traditional coziness, with colored curtains on the windows, with a lot of decorative ornaments, will most likely choose the style of Provence.
The name of one of the French provinces conveys an innocent simplicity, a village naivety in the desire to embellish the situation in all possible ways.
Patterns, ruches, carvings are the main design elements. Provence does not "save" on furniture. The bedside tables, dressers, dressing-tables and ottomans are generously placed in all corners. This style will appeal to romantic natures. It could well be embodied in a studio apartment belonging to a young girl who creates comfort with her own hands.
Such an environment is perfectly complemented by embroidery, decoupage, bound or sewn bedspreads and cloaks for furniture.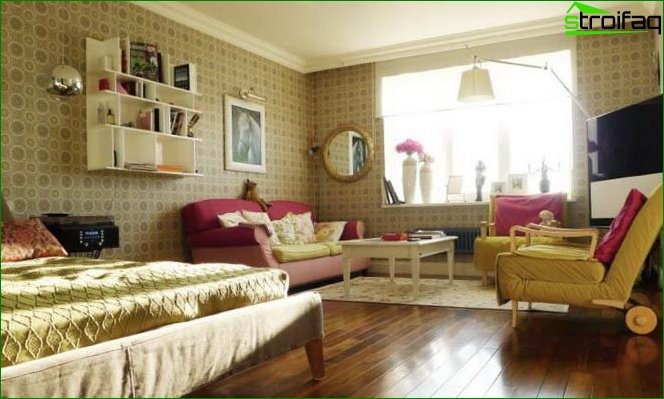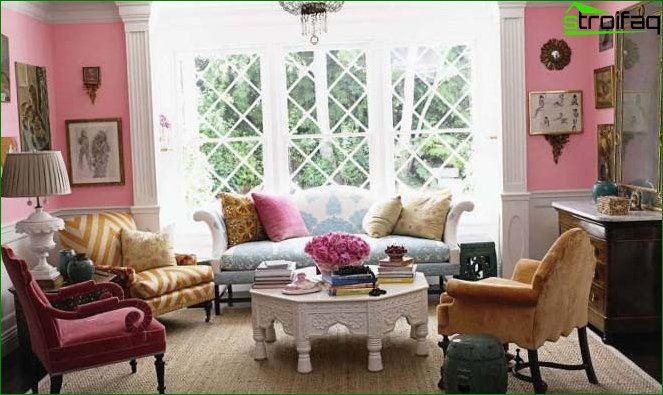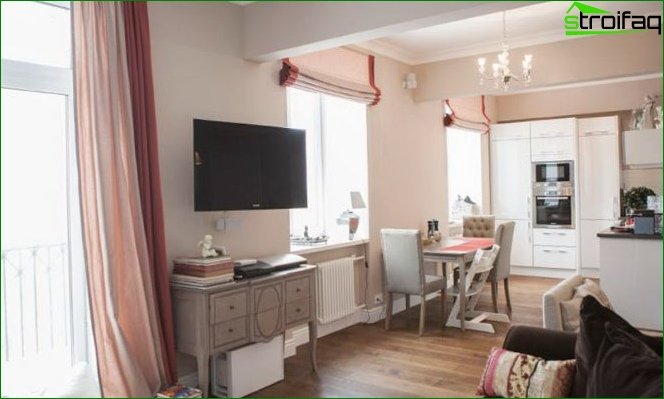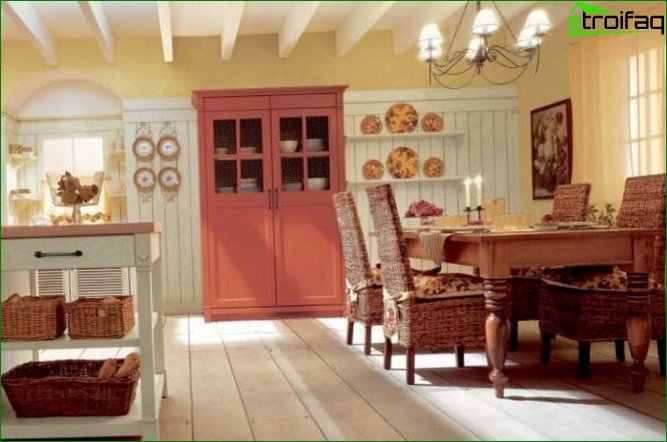 High tech
This style can be fully contrastedProvence. He does not tolerate decor, every detail of the situation has a specific function. The interior resembles a clear drawing, rather than an ordinary living room. Glass, metal and plastic prevail in the decoration, and the decoration can be a black and white photograph or an abstract drawing. Another beautiful element of the apartment interior in high-tech styles will be jalousie.
The color gamut of hi-tech style is more than neutral: Beige, gray, silvery, black and white tones play a leading role here. As an exception, you can add a bright spot in the form of a picture, a table or a table lamp, this will dilute the artificiality of the situation, add to it a spark of warmth and comfort.
In its pure form hi-tech denies any carpets, but inReal life is difficult to imagine an apartment, without any soft coating on the floor. Therefore, it is best to choose a plain rectangular carpet with a short pile. It will transform and "warm" the cold interior in the style of high-tech.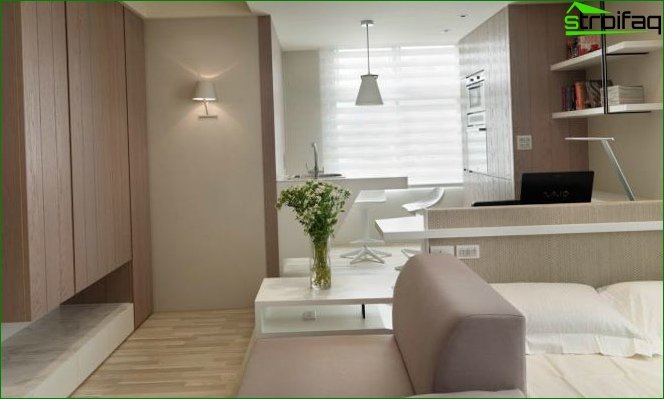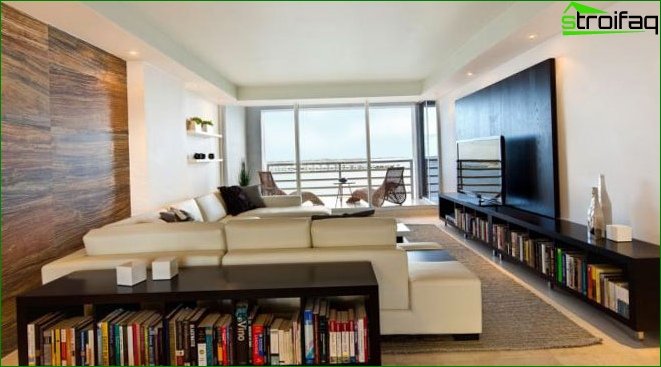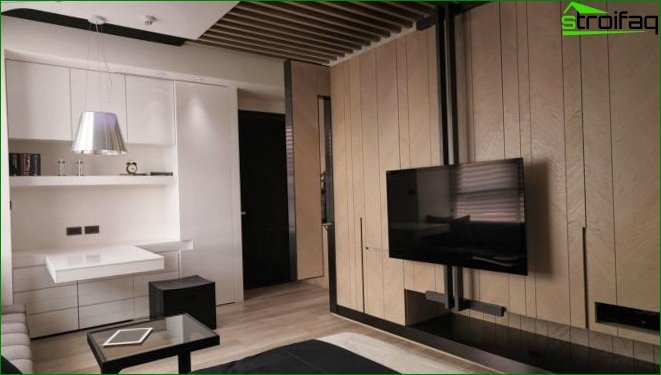 Art Deco
Art Deco is considered one of the most unusual and exquisite styles used in modern design. It became popular in the 20s of the XX century and was synonymous with luxury and glamor.
The main features of this style are expressed inThe prevalence of regular geometric patterns, zigzags, black and white tones, with the addition of emerald and sapphire color, as well as expensive natural materials in the form of leather, fur, velvet, satin, etc.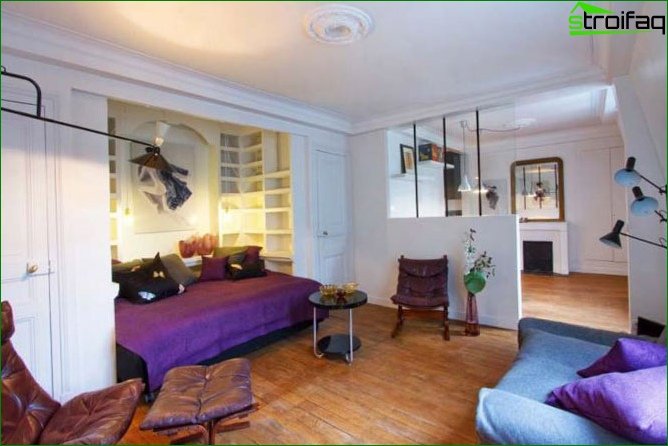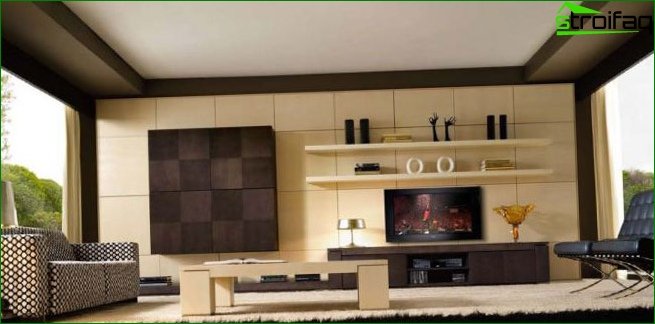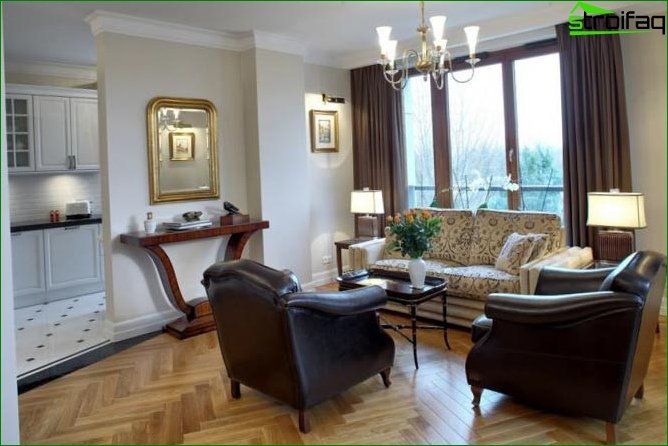 A lot of smart mirrors, glossy and glossy surfaces have become the hallmark of Art Deco. Repeat this style in the interior of an ordinary apartment is not easy, but the more interesting will be the work.
What can be borrowed for a studio apartment in this complex and challenging direction?
Of course, this is:
Beautiful spectacular mirrors;
Carpet with a geometric or zigzag pattern;
Bronze or ceramic figurines;
Black and white colors;
Leather or velvet furniture.
fusion
This is the most democratic and colorful design style. Everything is permissible in it, but it is most difficult to observe the measure.
Fusion is a mixture of all sorts of styles. We can choose high-tech elements, for example, a metal-covered TV stand, a rectangular beige transformer and exotic vases and animal figures, and a carpet of zebra hide on the floor, which will match the art-decor style. On the windows you can hang gentle Romantic curtains With drapery, suitable, rather, to the style of Provence.
Of course, we will take into account the common texture, color range and follow some basic direction. Otherwise, such a mix will look too ridiculous and destroy the overall style.
The advantage of fusion in exclusivity: each person can fantasize and add some new "notes" to the design, creating his own unique look of the house.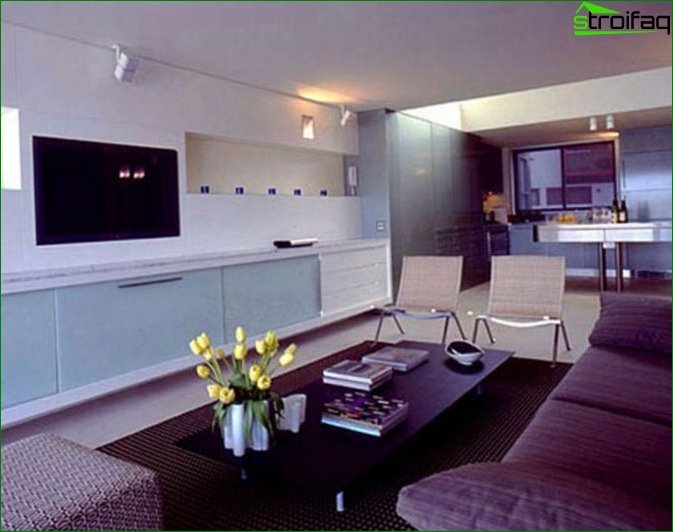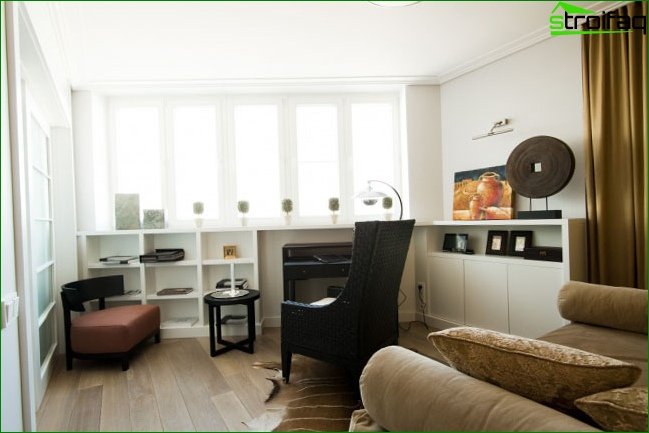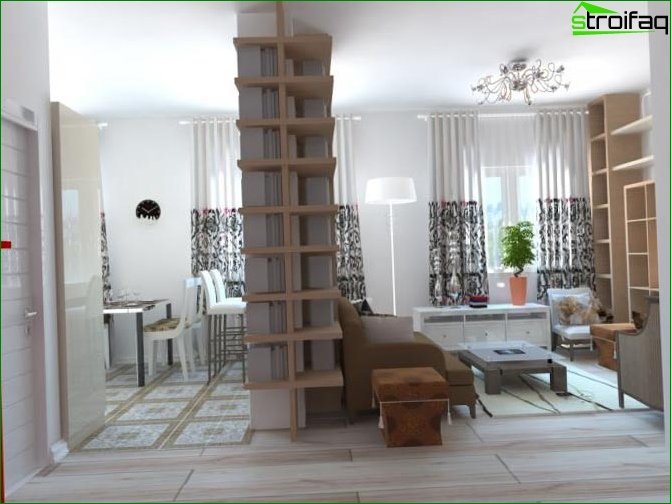 The main features of the considered styles
Window
Furniture
decoration
Provence
Curtains with flowers and patterns
Simple elegant
Decorations in a romantic and rustic style
Art Deco
Expensive drapes, plain or with a spectacular print
The elegant, made of expensive natural materials
Bronze, mromor, ceramic decorations
High tech
jalousie
Simple, multifunctional
Lack of decor
fusion
Any option
Any option
All possible ornaments
Loft
Wooden blinds or empty window
Vintage
Paintings, photos in a simple framework, antique lamps, watches
How to plan a studio setting
In one room we need to managePlace both a living room and a kitchen. In fact, it's not difficult. Much worse, if we already had a tiny kitchenette. In the studio, you can do as you like. And this is excellent!
How to arrange our home? Consider two ways of organizing space: kitchen-dining room and living room.
The first way
Think, what kind of apartment would we like to see? The emphasis can be made on the kitchen area and turn it into a dining room, leaving a small corner for a berth.
Choose a small but roomy headset,It is desirable that most of the cabinets were on top, and below the stove and countertop. We put a round table and a sofa. Complement the composition of several stylish stools. We separate the bed either with a screen or with an easy rack.
Basis of the interior:
Sofa in the dining area;
Stylish table;
Compact kitchen.
The second way
We will make the kitchen area almost invisible, it will be just a work area. Furniture is also maximally compact, but the colors are neutral, merging with the general background of walls and floor. Emphasis is made On the living room: A large TV, a sofa-transformer, which will serve as a partition between the two parts of the room, and a small table. We use bright tones or drawings.
In a small studio apartment we avoid unnecessary partitions, they should be barely noticeable.
In this video you can see examples of how you can plan a studio with a dedicated sleeping area.
Pay attention to our article about multifunction tables-transformers!
Kitchen in the studio apartment
Kitchen, of course, an important place in the house, but in the studio everything should be minimal. This also applies to household appliances and utensils. How to make sure that we do not have to force the kitchen area?
Refuse a large refrigerator in favor of a small (it can be put on the bedside table).
We will put a plate with two burners.
If you really need an oven, choose a small one.
We will buy a multivark (it will do without a lot of pots and pans).
All this is logical, because such an apartmentIs designed for one or two people, and you can not buy sets, sets of pots and stuff, which means you do not need to put a lot of nightstands and cabinets. The dining table can stand in the kitchen or in the room, as it will be convenient for the owners.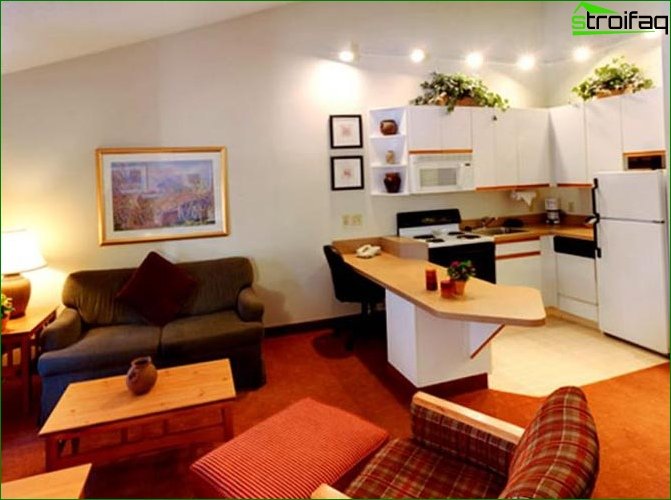 How to choose furniture
In a large apartment, we can supply anything, square meters will forgive us. However, the studio, even spacious, requires special conditions.
The main qualities of furniture:
Matching a single style;
Minimum number of elements;
Multifunctionality;
Monochrome.
It is better not to put pedestals and chests of drawers, butLimited to a built-in closet and a small bookshelf. The general style of furniture and design makes space one. Colorful furniture is good only with solid walls and ceiling.
You can try mixing styles, but neatly and insignificantly, because in a small room it will look pretentious and tasteless.
Design studio apartments of different sizes
Studio 20-30 square meters
We will pay special attention to the design and interior of a small studio, since it is difficult to cope with it.
In this apartment is not easy to turn around, because in this area is not only the kitchen, hallway and room, but also a bathroom. We'll get to work with him.
Bathroom and toilet design
"Design", of course, is strongly said for this place, but we have ...
To begin with we will make partitions (the best material will be advised by the master-finishers, they will do it).
Isolated bathroom Do senseless, so we put a toilet, a tiny shell and a compact Shower cabin. The walls can be decorated with decorative plaster,So as not to suffer from the tiles and not to cut the already tiny space. On the floor you still have to put tiles, and the ceiling can be simply painted.
Design of a room and kitchen
Next, we equip the remaining space. If the window is one, then we conditionally divide it in half: one part for kitchen, And the second for everything else. As we said, we need to save on everything. We get rid of everything that is unnecessary, so that the working area takes up very little space.
We select a folding table, for which one or two people can sit, and if necessary, more. Or Equip the bar, Where you can eat and treat guests every day.
In the living part we put a folding sofa andSmall arm-pouf. The TV can be hung on the wall. The main question is the placement of things. They have to have a lot, since the summer we do not all year round. The best option for this is a large corner cabinet next to the entrance. It is in these cabinets is very much. By the way, you need to look for a sofa with drawers to put blankets, pillows, bed-clothes and other things there.
What kind of design do we choose? In order not to overload the space, we will stop on the style of loft or hi-tech. Let's say we chose a loft.
Walls
If the house is brick, you can leave a small corner without plaster. It will look defiant and stylish. The rest of the wall space is white or beige.
In the panel house part of the wall can be laid out with a natural or artificial stone or create the effect of an old chunk of plaster. Of course, no wallpaper.
Floor
For a floor we choose a wooden covering or similar on appearance a laminate.
Window
To create a unified style it is better to give up plastic and put a wooden window. Curtains will be superfluous, and since empty windows in the evening will look uncomfortable, we hang wooden blinds.
Furniture
The sofa should be large, in a vintage style,A little shabby. If we furnish an apartment with old furniture, it will be perfect. Then we will get a real loft! He admits a variety of furniture, as if assembled from different apartments.
Shine
A lonely plafond on the chain is what you need for such an apartment. For better lighting, we use an old lamp in the hallway and an additional lamp in the kitchen.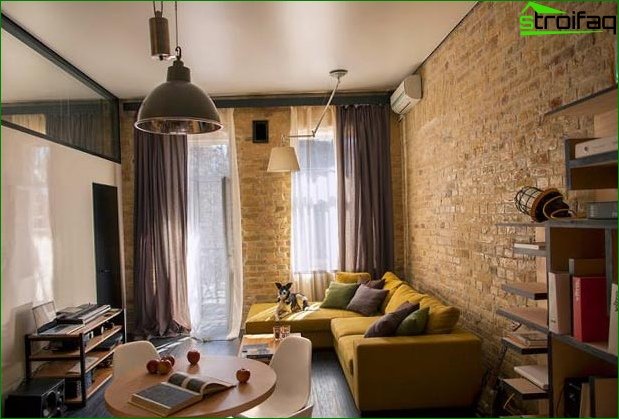 Design studio apartments 40-50 square meters
On such a square is not so closely. It is quite possible to equip a good kitchen and a living room. In this case, you can divide the apartment into parts using a partition of plasterboard, and get a corridor, a kitchen and a room.
If nevertheless we would like to keep free space, we will leave everything as it is, having delimited the apartment with design elements: a multilevel ceiling and a floor, color scale and lighting.
In a spacious studio you can apply styleProvence, Art Deco and Fusion. They give an opportunity to experiment with color and pattern of wallpaper, furniture and various decor. The main thing is that space allows all this to be realized.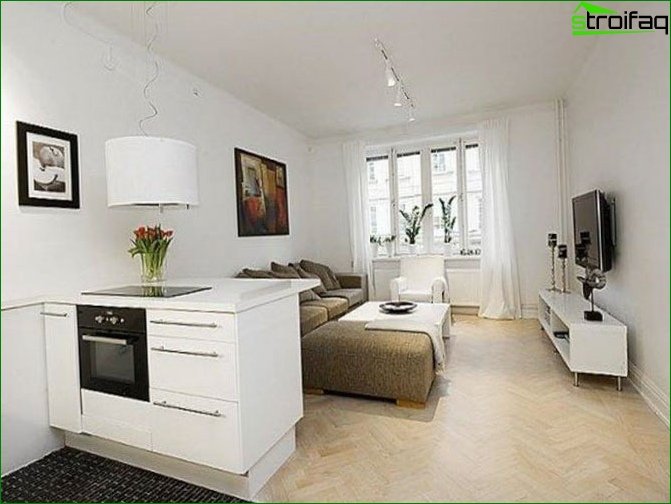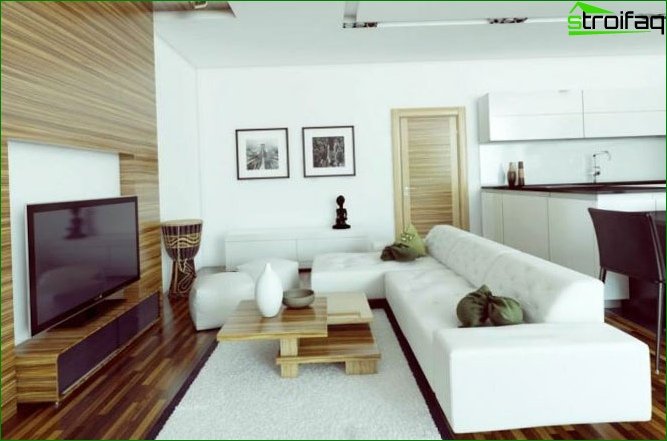 Design studio for a family with a child
To make living with the baby comfortable, you need to take into account a lot when planning a studio. Immediately determine the place where he will sleep, put toys and things.
A child like, if in his corner will be glued Cheerful wallpaper And a child's mat is laid out. For things you can put a chest of drawers, and for toys boxes.
Requirements for the children's area:
Good illumination,
Sufficient humidity (it is very harmful for a child to sleep in the battery),
Environmentally friendly materials.
If all the same allows the area, we will makePartition in the kitchen. So we can cook while the baby is sleeping. In the kitchen, you can hang a small TV to watch late at night or at a quiet hour.
Otherwise, the same tips apply: multifunctional roomy furniture, maximum free space (the child needs to run somewhere), modern lighting, soft colors.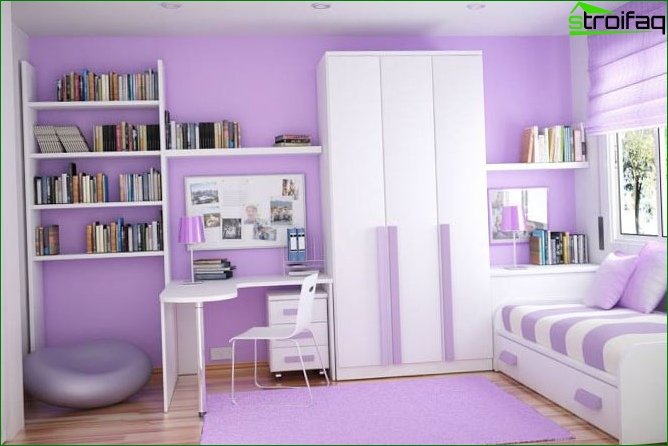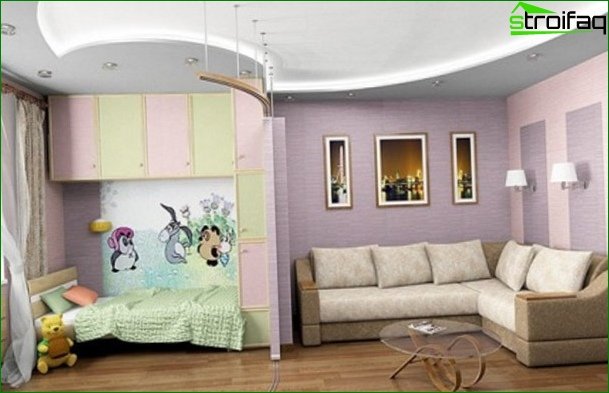 Look more Photos of children's rooms.
How to make repairs in the studio apartment
Most often we buy such an apartment in a new building and under self-repair. This makes it possible to do everything to your liking and desire.
Basic moments:
We prepare perfectly flat floor (it is necessary for any covering).
Align the walls.
Think about what material, we will make a partition for the bathroom, consider moisture resistance, noise insulation, strength).
We do not economize on the quality of materials.
From the correct repair depends on the harmonious design and interior of the apartment, so do not rush and chase for cheapness.