Find out how to design your 1-room apartment! TOP-50 best photos of one-room apartment design. How to equip the interior of a small apartment.
Places do not happen much! A large area is usually spent irrationally. And those of us who live in one-room small apartments, willy-nilly or not, get used to the fact that you need to use every centimeter of your home in the most thoughtful way. Consider the best ideas for the design of a one-bedroom apartment.
Content
Interior decoration of a small apartment
Most of us do not always succeedIndependently think over the interior of a one-room apartment correctly, often have to resort to the help of professional interior studios. Especially it concerns the development of projects, since it is very difficult to combine all functions in a small space. A small apartment should have a rest area, a working area, a place for meals, a children's area, and at the same time everyone in the small room should have free space !!! Not an easy task ... But I do not need to worry, I will give a lot of advice and rules for the arrangement and repair of a small apartment that will become the subject of admiration for others.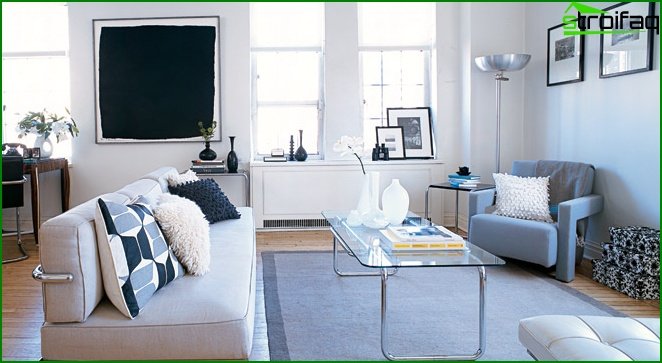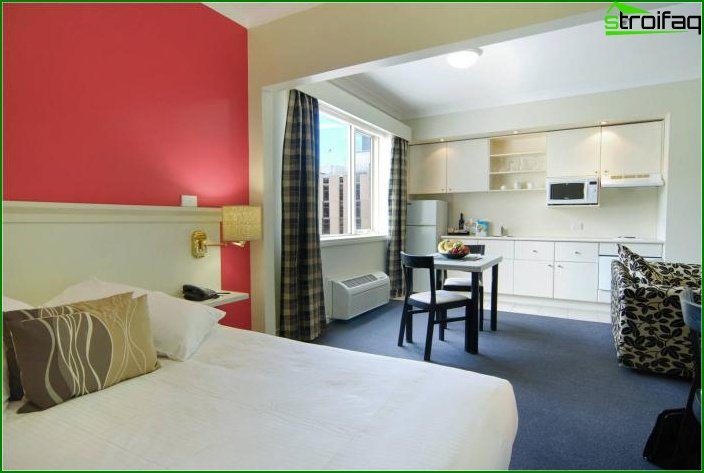 More about the interior of the kitchen-living room read here.
Design Tips
This section contains the most interesting design tips, which will greatly ease your headache about the interior in a small room. So, let's begin:
The best style for decorating a small apartment can be considered minimalism. And this does not mean at all that from furniture toThe house will only have a table and a sofa, and an even worse mattress on the floor. No, this does not apply to the direction of minimalism. Furniture really does not need much, but each object must combine several assignments at the same time. When choosing furniture, pay attention to the transforming objects. It can be a table that turns into an evening in bed. Or a sofa with a built-in table top instead of a coffee table. And of course, the ideal option for small apartments, will be the manufacture of furniture to order. This will significantly increase the free space, as the furniture will occupy only that part of the room that is needed.

The interior must be "airy" - we will definitely need a mirrorSurface, partitions made of thin translucent fabric or from frosted tempered glass. You need to zonirovat small area competently! If there is no need for partitions, we can distinguish the room when finishing. Only to combine finishing materials, too, should be correct. The floor can also be laid with different materials - for example, in the kitchen and in the hallway tile, And the guest area is separated by a laminate. It would be nice to lay a small rug in the "sleeping patch". This is one of the possible zoning options in the small-size. We still need to emphasize the different zones in the apartment with light, then the overall picture in the house will be accurate.

Dark shades or vice versa, too bright inA small apartment can not be used everywhere. Even if you really want to - you can and even need to do a couple of accents. Very unusual looks interior, in which the ceiling is made in a saturated dark color, and the walls and floor are made white. Or a more traditional option, when the opposite is true. The ceiling and walls are light or white, and the floor is made in dark colors. And of course, it's better to give preference to light shades.

If the apartment has non-load-bearing walls, whichCan be disassembled without permission, then this is best done. They cut the space, and make the small - even smaller. Apartments studio, maybe not all fit, but on an area of ​​36 squares is placed a bunch of useful items that, if properly arranged, will turn the apartment into 56 squares ... Only, unfortunately, visually.

In the Khrushchevs there is a tiny room -A magic pantry in which many still have different trash. Here it can be changed into a cabinet. And it can be not just a closet, but a complete storage system, if you approach the question wisely. Then in the room we no longer have to install a bulky box called a wardrobe! And here we have a couple more meters and will be free.

In apartments with high ceilings can be arranged Bed above the ground!!! And it's not a joke. Bed loft for adults and respectable uncles and aunts is quite appropriate. And for greater strength, the base of our nest can be made as an open or closed cabinet. But the frame must be strong, it is best to order such a miracle-nest in experienced furniture makers, who will calculate the load according to our size, I'm not afraid of this word.

To make our odnushki visually more spaciousWe must avoid the congestion of a single room - enough to buy figurines on trips! Windows should also not be overloaded with cloth, it is better to use thin veils or Roman curtains, Than lambrequins. From neighboring eyes, you can hide, if you install blinds On the glass of dense fabric. And by the way, I forgot to say about household appliances. Small apartments must have mobile equipment, more precisely the owners, that is, you and I, should have it. TV is better to install on the swing arm, and acoustics immediately mounted on the ceiling of the room.
A small one-room apartment should be functional and modern, grandmother's cabinets need to be cleaned, replacing it with transforming furniture items.
About the design of an apartment in a small apartment
Room, kitchen, hallway, bathroom with WC,A small storage room and a balcony if the floor is not the first - that's the whole space of a one-room Khrushchev in Moscow and other cities in the post-Soviet space. Total about 28 square meters, on which we must place everything necessary. I can already see the readers' eyes widening, and the dumb question - how?!? The organization of space in such apartments is on par with the functional. There is nothing impossible - and it really is.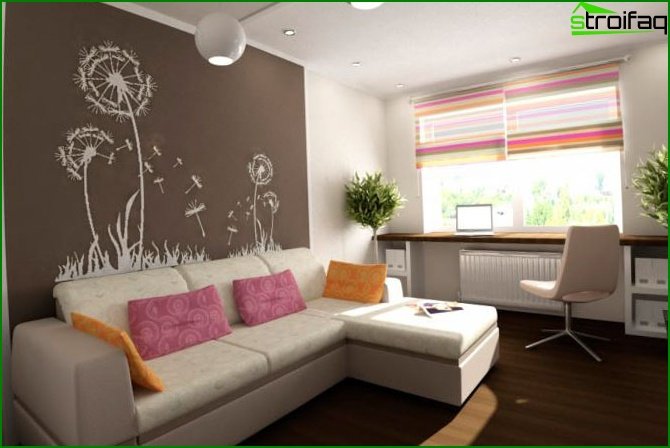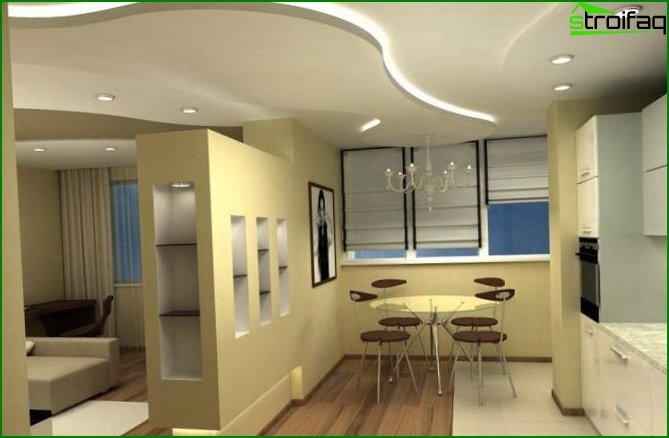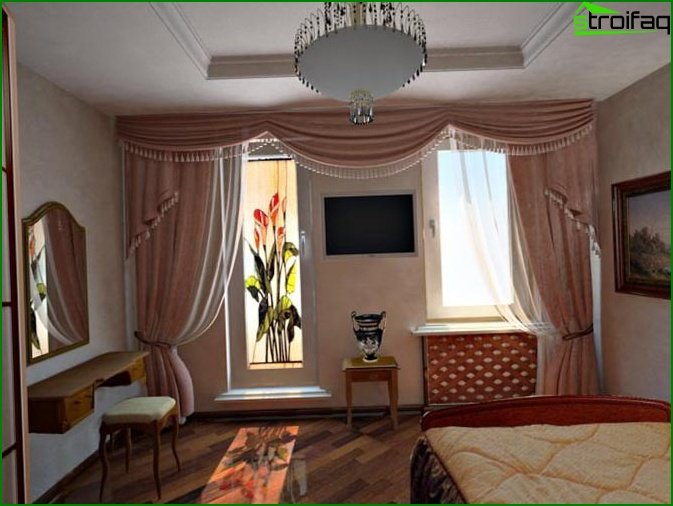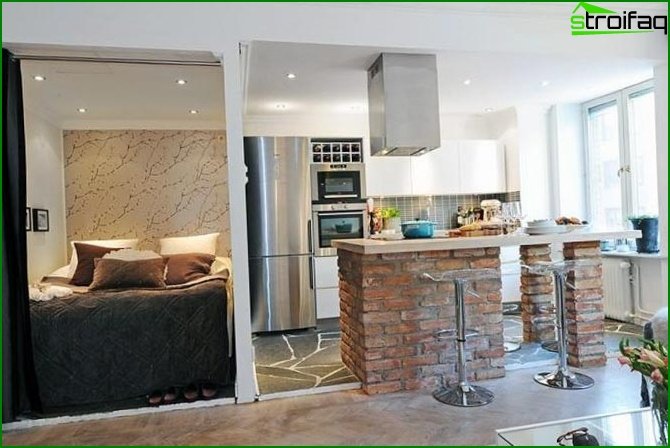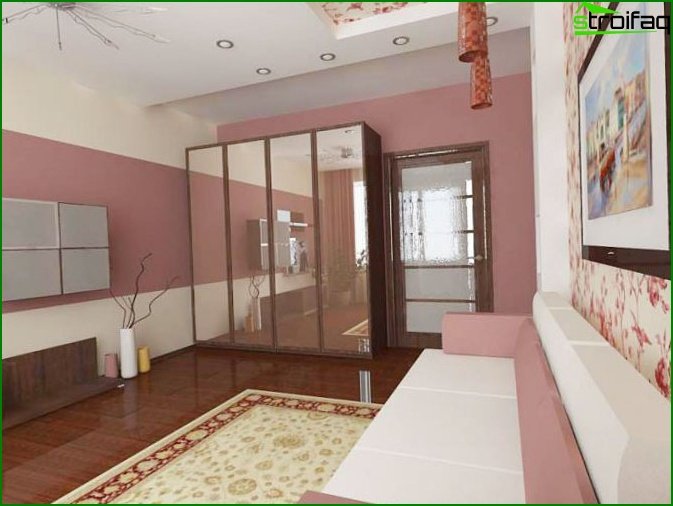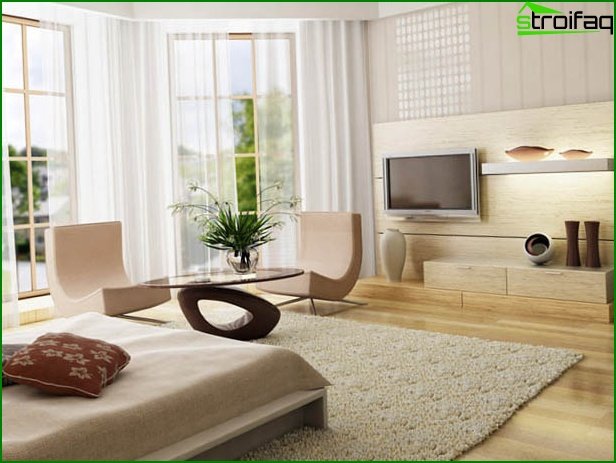 I'll start from the entrance. The first room - Hallway. Usually this is a narrow corridor, in which everything is complete, but there is nowhere to come. To make the hallway in Khrushchev spacious and at the same time retain the functions assigned to it, you can do so:
In the presence of an adjacent pantry, we transform it into a capacious cupboard, And on the wall of the hallway you can hang a couple of hooksFor everyday wear. Mirror visually expand the space, and before leaving the house it is convenient to use. You can install a narrow shoe with a seat on top or put pouffes with voids inside.
The geometry of the hallway in the Khrushchev can beDifferent. For elongated rooms, you can use a compact closet or corner cabinet. But a mirror, preferably high, should be in any house. But from the extra details (vases, shelves for small things, etc.) must be discarded. The premise is better to make light, and it concerns not only color of furnish of an entrance hall, but also illumination. It is most beneficial to install a light source near the mirror.
The second room, which needsRationalization, this is the Khrushchev kitchen. Usually six squares, we do not have the possibility to transfer communications (gas, sewage). Therefore, usually choose a set of furniture with built-in appliances. The dining area is best placed near the window, and the table can be attached to the wall and cleaned when necessary. A window sill must be used in the kitchen. And from it, if you install a wide window sill, you can make a table or additional workspace. The set is put on either 2 walls, or along one. The latter option has personally bored me for a long time.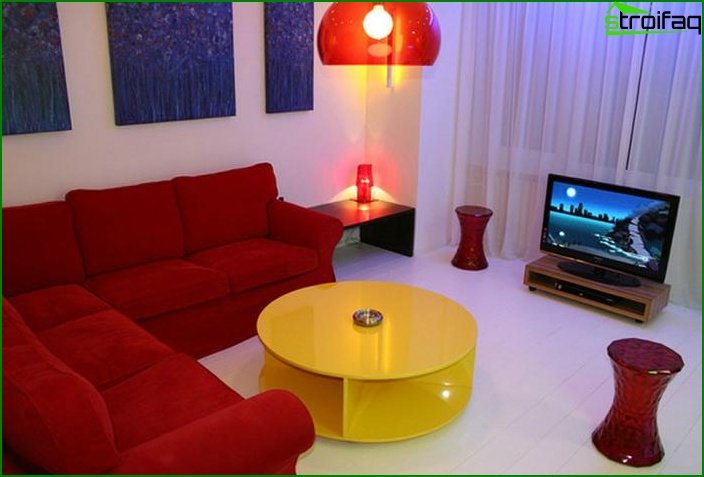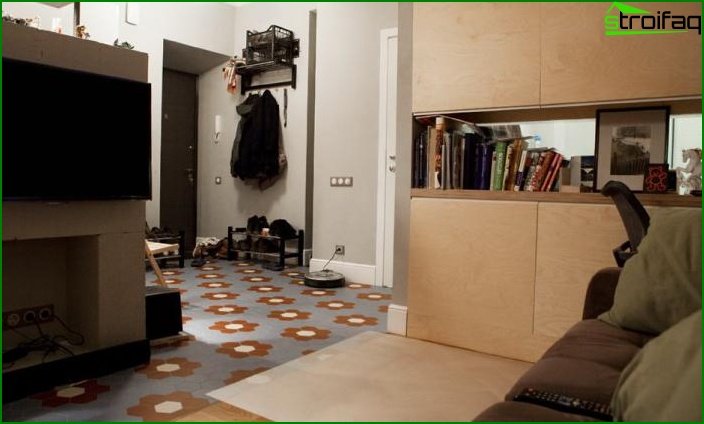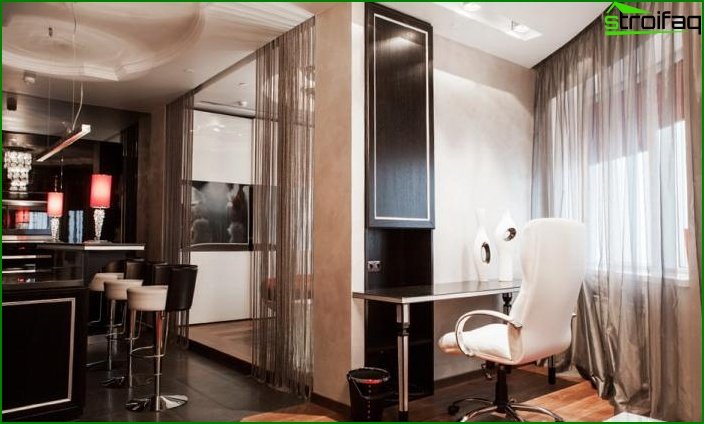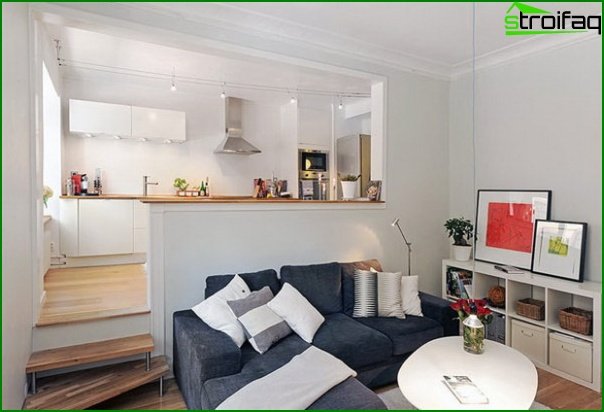 Finally, the most interesting - a living room in a one-room Khrushchev. The task can be in several directions:
Arrange the living room and bedroom.
Combine the work area with a seating area, a living room and nursery. This option is more complicated, and is relevant for family people.
For a room and The whole apartment It is preferable to choose a single style solution, but you can not refuse zoning. For small rooms and apartments It is better to choose minimalism, high-tech or Japanese style of interior design. Even the classic is suitable, but only in a compact version - small furniture, minimal amount of classical decor.
Colors in the room should not be much, fromDecorative coatings with a frequent fine pattern will have to be abandoned. You can focus on one wall, it can be a bright color, a pattern or a color-matching material of another texture. But always more organically look rooms with the same coverage, in which the zones are separated by light or air partitions. Many people like shelves up to the ceiling of an open type, and to me as well. The lower part can be closed with doors, but it is better to choose a level not more than 50 cm, and leave the rest as is.
Design of one-room apartments of various sizes
Here for you all the most interesting is collected, as for the design of a one-room apartment, plus photos of finished projects.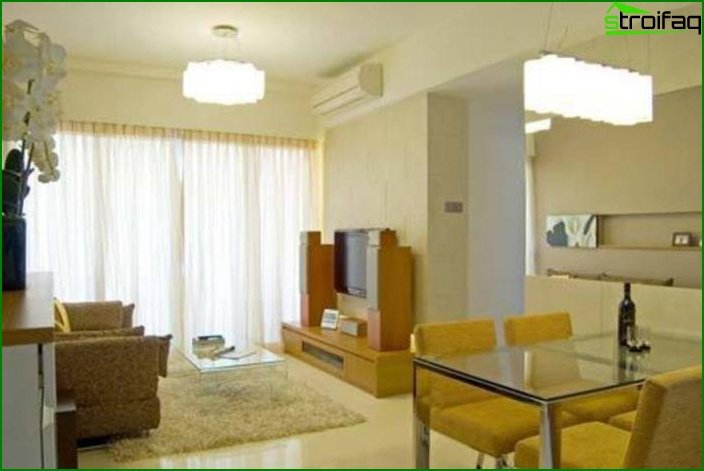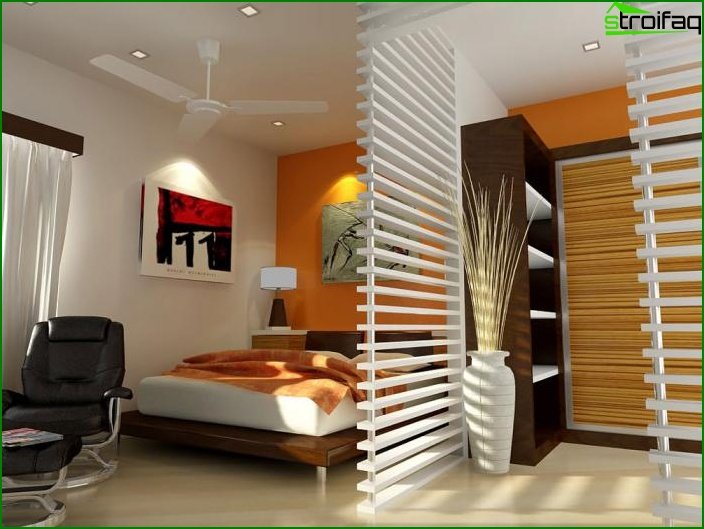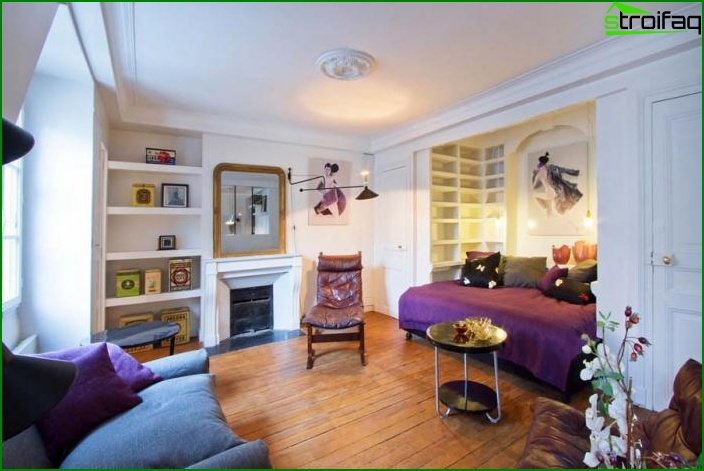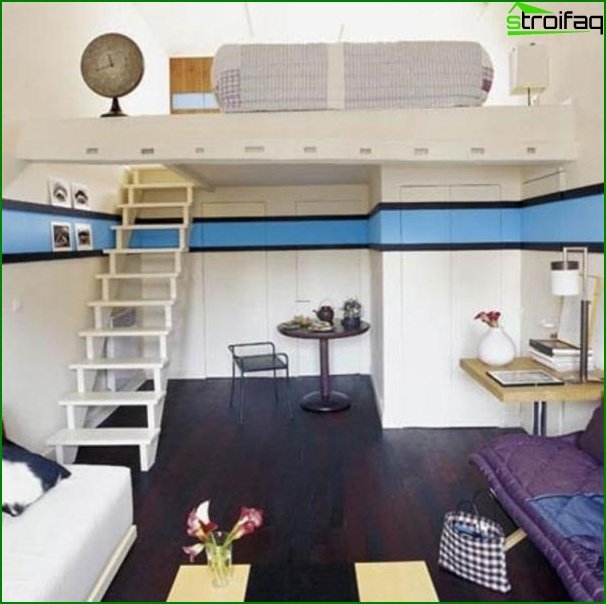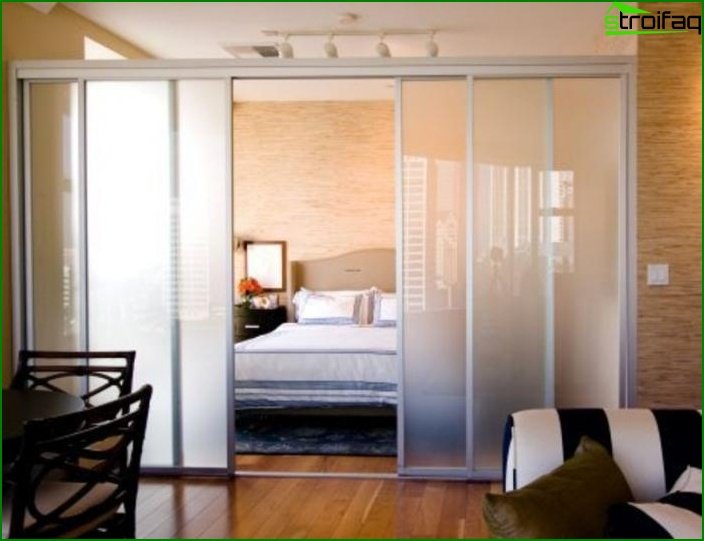 Apartment design 30 square meters
Apartment with such an area can be in the new(Studio) and in the old house. If you have purchased a new studio apartment, then it is very easy to arrange it. Here we have selected many options that will form the basis for your idea. The basic requirement for a small space of 30 squares is all the same functionality. We may not need much, but still there is that furniture that we can not do without.
| The most necessary things | Where can I install in the studio apartment? |
| --- | --- |
| Dinner Zone | She can To become a bar counter, Visually dividing the room into 2 parts. As a dining table you can use a table-transformer, with a small number of people it can be just a coffee table, and when necessary, it can be easily and quickly expanded. |
| Bedroom | A full berth on 30 squares can be separated by a partition or a screen, it is best to use the space rationally and to stay on the sofa-transformer. |
| Guest area | You can use soft pouffes as armchairs,Which do not take up much space. If the design is rigid, then you should choose those in which there is an additional compartment for storing small things. On the floor in the guest area is best to lay a small carpet, so it was more comfortable. TV should be placed on brackets, preferably circular, so that from the kitchen and from the rest of the place you can watch it calmly. Or buy the usual swivel brackets. |
| Work zone | I insist that the windowsills should beUsed in a new quality - you just need to install a new and wide window sill, and under it you can place narrow drawers. Nearby necessarily need the sockets, so when you need to repair this account. |
In new buildings, a loggia should be used wisely,For the beginning it is necessary to carry out works on warming, to establish heating (underfloor heating or battery) and to glaze if necessary, then it can be used all the year round. And this is at least 6 squares, on which you can safely make a study or move the dining area there. The kitchen will become more functional and spacious, as well as the remaining square meters.
Instead of one or more cumbersome cabinets withThings, it is better to make one multifunctional storage system of all things. A shelf for books and other small items can be hinged or narrow and high. In the second case, it is better to choose angular variants, they are much more spacious. The main rule for all furniture in an apartment of 30 squares is its multifunctionality. And for this, the furniture transformer is the best.
In older houses, the possibilities are slightly less, since balcony Not suitable for use as a dining roomOr cabinet. It can be put in order, a little warm, and organize a storage system there. But there you can not store clothes - in the winter it will damp. But different boxes, glass and plastic jars can be stored all year round. But in the old houses there is a pantry, which can reach 4 square meters in area. And on them it is easy to create a comfortable and spacious wardrobe in which both shoes and clothing can fit, and pickles can also be removed there.
The color solution of the apartments is 30 squares - brightWarm shades, it is allowed to use cold ones, but in such a house it will not be so comfortable and cozy. Of course, we still need to organize ourselves to get rid of everything that is unnecessary. The apartment, even if only 30 squares, should not be littered. Therefore minimalism - becomes a style not only of the interior, but also our own life credo.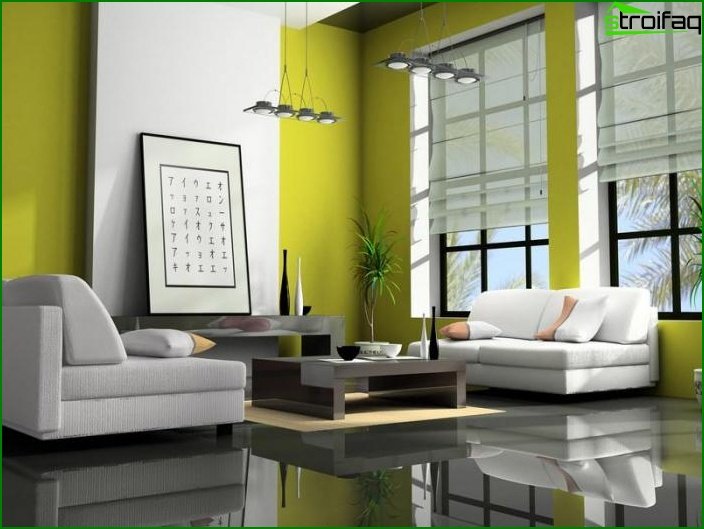 Design 1 room apartment 36 square meters
Planning small rooms must be doneThought out to trifles, all the above tips should be used on 36 squares. The main direction of the idea of ​​a one-room apartment of this size is the integrity of the whole space. Since there are not many doors in it, and this is to the great happiness of each of us, we must pay all attention to the combination of colors in space and the proper arrangement of furniture.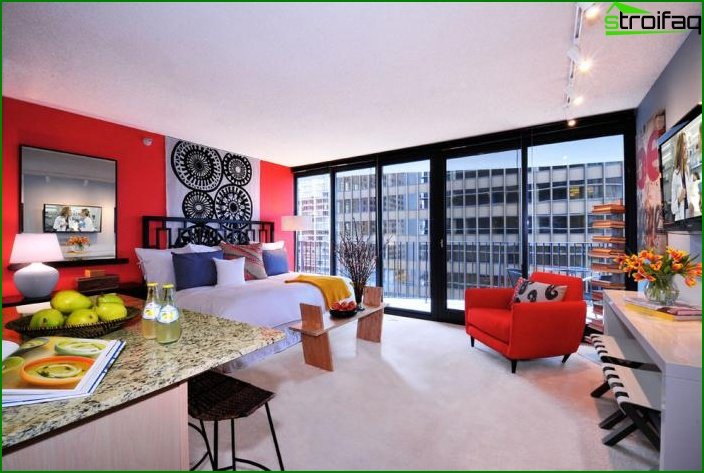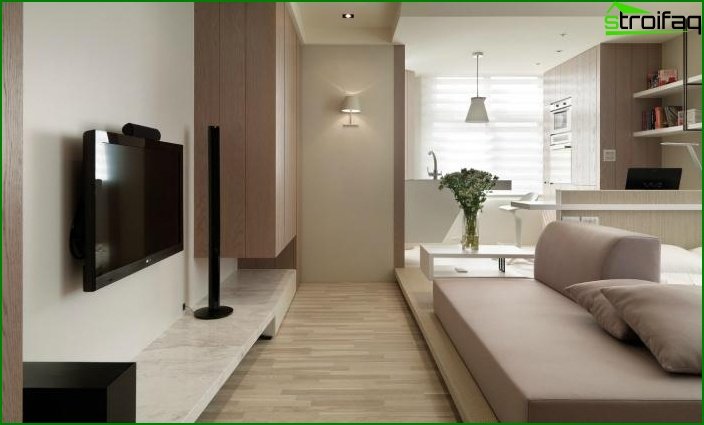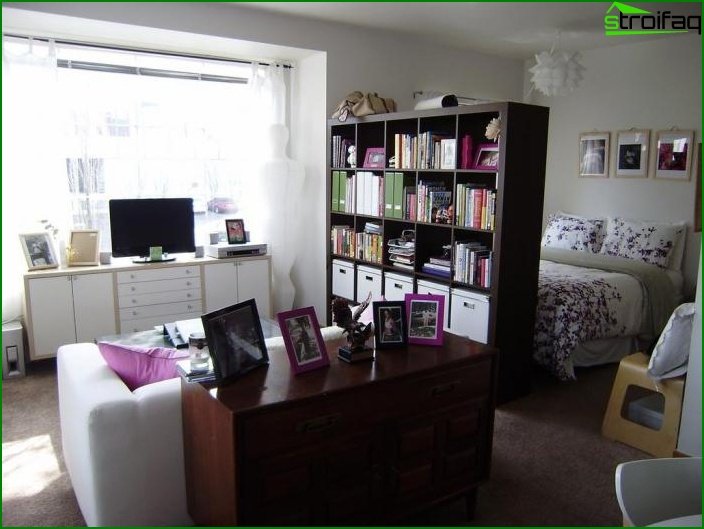 We must immediately determine the place in whichA spacious dressing room will be installed. It can be an artificially constructed niche or a former pantry. It is imperative to install the door-compartment, the swinging doors for small rooms are like death. Visually expand the space allows the installation of glass partitions, mirrors on the doors of the cabinet or simply on the wall opposite the illuminated areas. You can use light fabric curtains that will also cope with the zoning perfectly! Plasterboard structures should be as airy as possible, different slots, open shelves, additional built-in niche lighting, etc.
Kitchen on 36 squares in the area a little moreKhrushchev's 6 sq. M, so it can already be located perpendicular to 2 walls, and the window sill is made of the same material as the countertop. Artificial stone is perfect for this task - it can be installed without joints and give it any shape. The oven can be built at eye level, and above it a microwave built-in oven. Then in the suite on the bottom row and fit a dishwasher, and a washing machine.
More on the design of a small kitchen read here.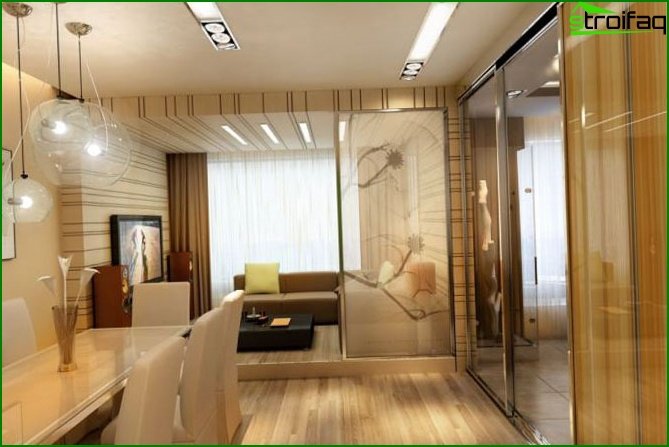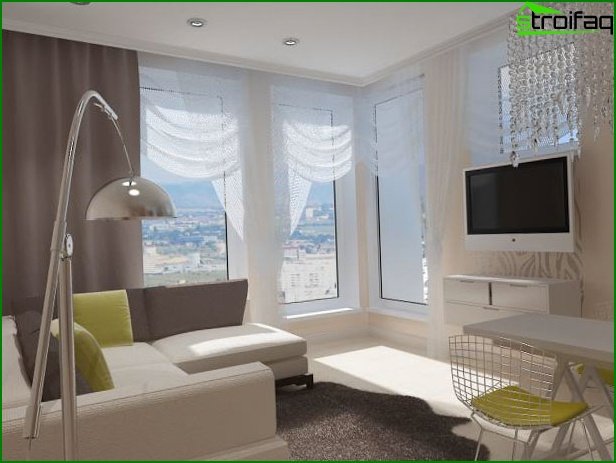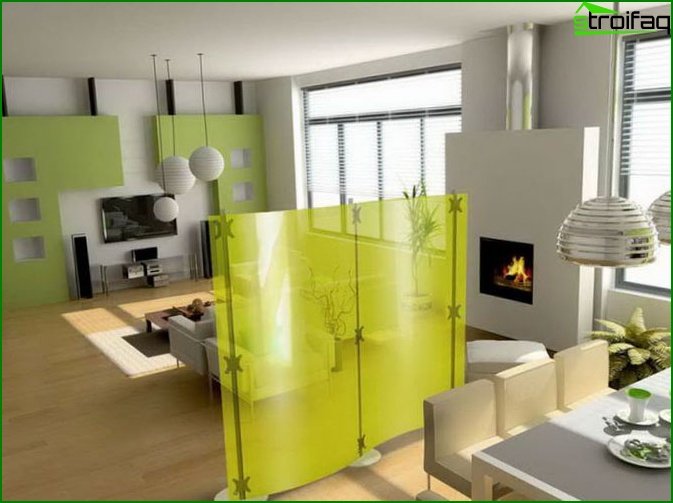 WC and Bathroom It is better to connect, if planning allows. Bearing walls of apartment buildings can not be touched. Increase the area is not necessary, it is better to install Shower cabin, Toilet and washbasin. A washing machine put in the kitchen in a set with built-in appliances. Or, leave in the same place.
Our room will combine severalAppointments - guest, recreation area and workspace. Furniture choose a compact, a sofa or a bed with boxes for clothes, puffs or chairs, too, it is better to take with storage compartments, the table is compact and transformable. At all Mobility of furniture and the ability to use it in several areas is a very important point in the purchase.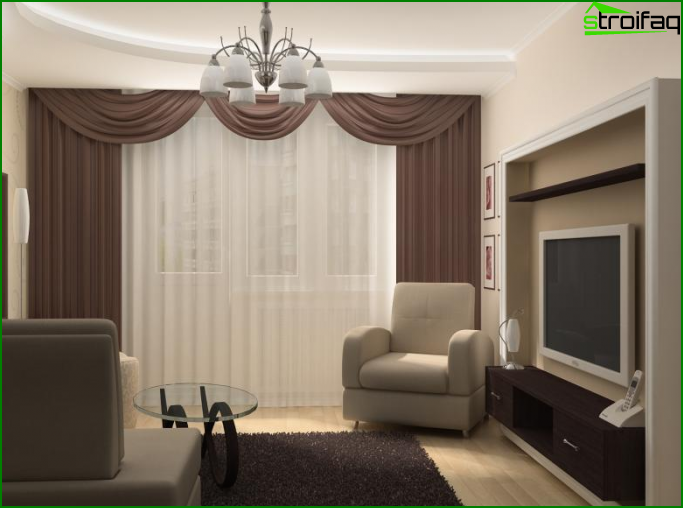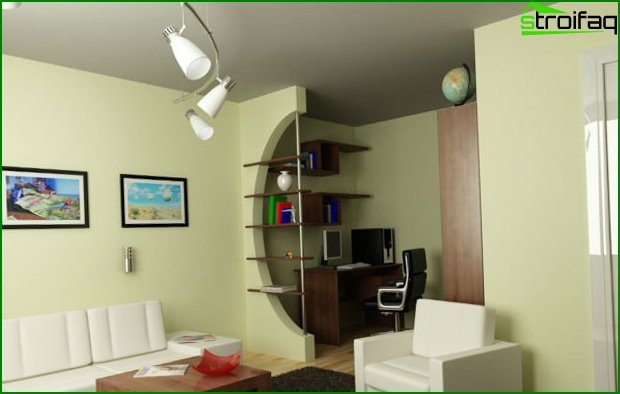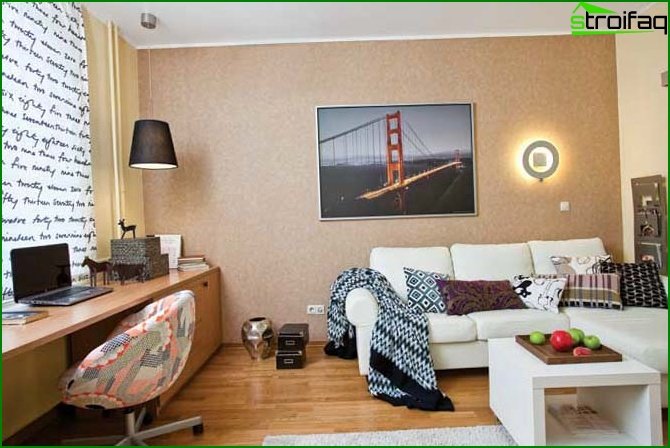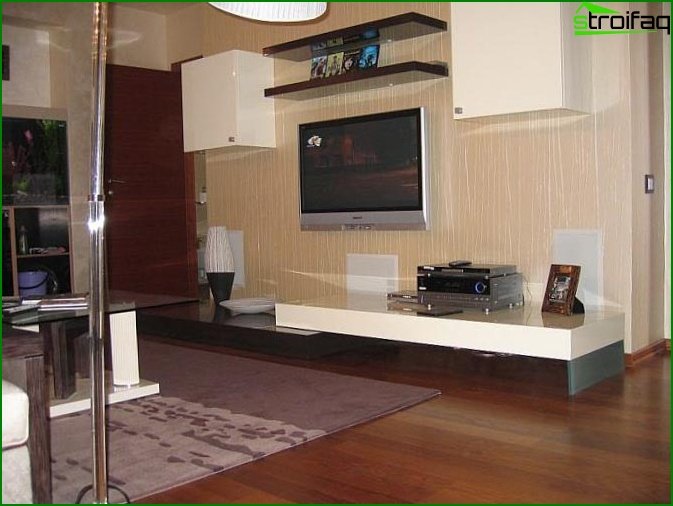 The interior should become cozy, functional andComfortable, so I would recommend that you buy only what you can really imagine in your apartment. And before buying it is better to already have some sort of a clear scheme of placing the items in the apartment in order to determine the desired size in advance. Internet help you!
Interior of the apartment with an area of ​​40 square meters
Area of ​​40 square meters is quite sufficientTo accommodate not only essentials and furniture. It can comfortably live 3-4 people (for example, a family with a child) and do not interfere with each other under their feet. Only now, all this will become possible, if we correctly arrange furniture and use every centimeter of the square wisely.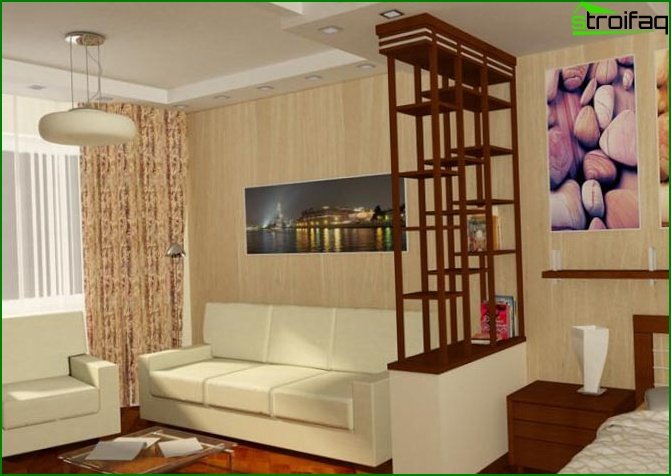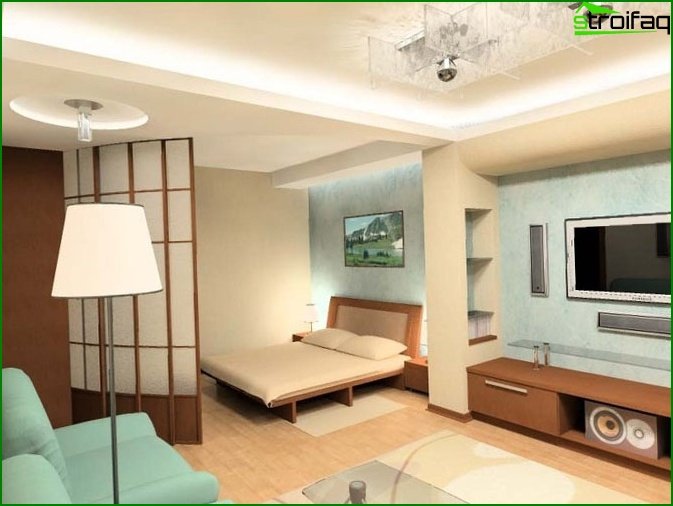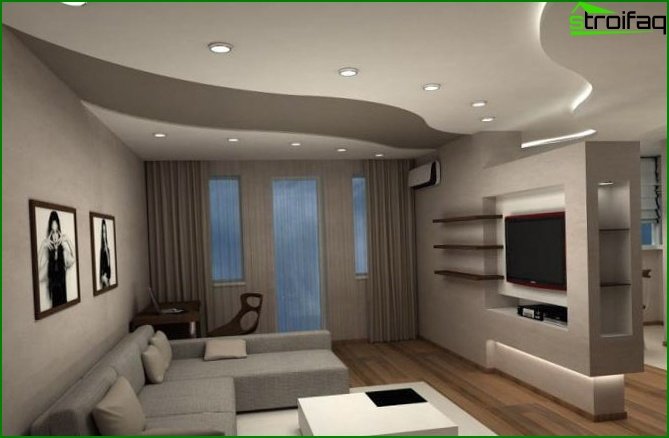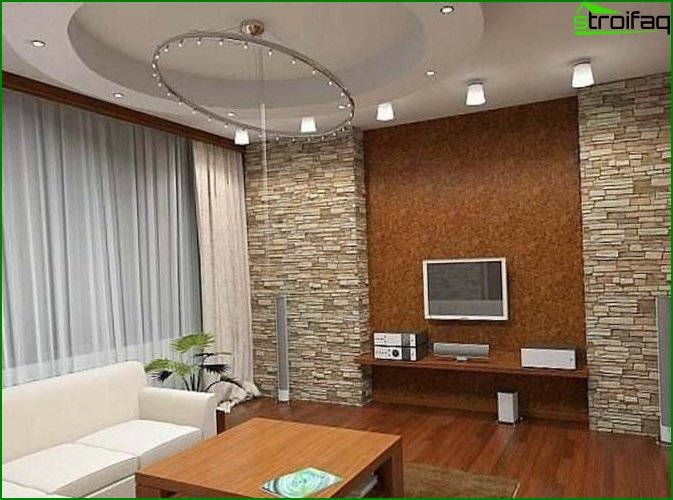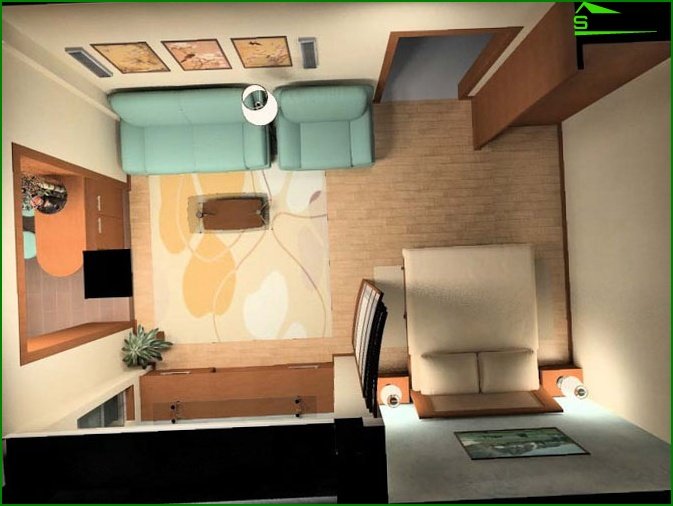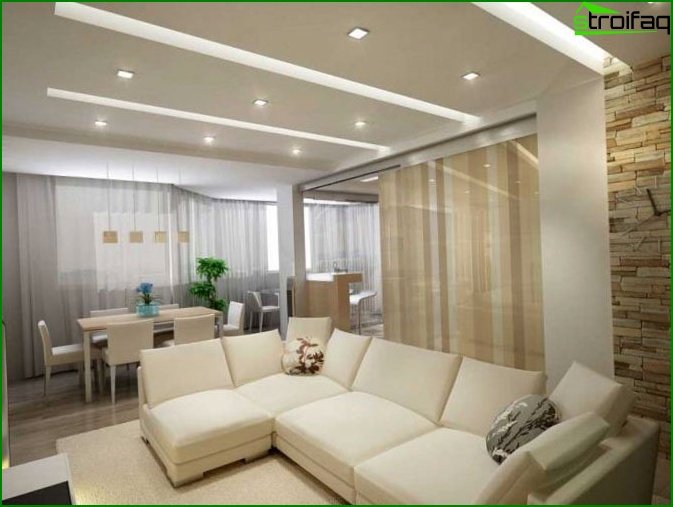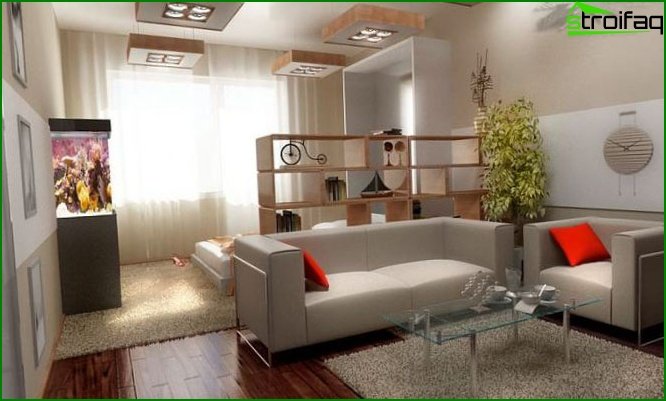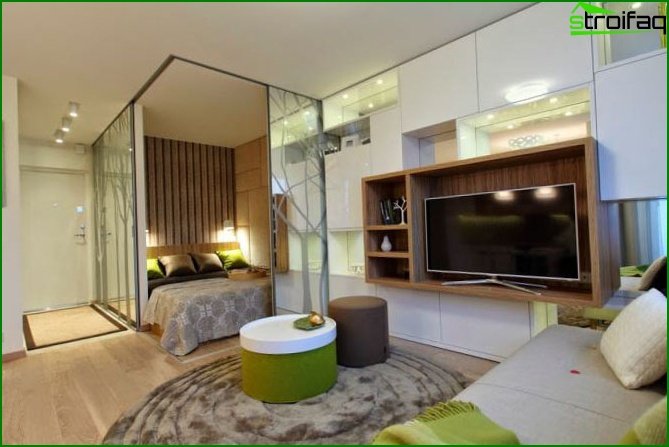 The first thing I want to dwell on is systemsStorage of things. Corner cabinets-coupe or full-walled high cabinet with sliding doors, this is the most suitable options for apartments of small area. The storage system can be located in the hallway, if its width is more than 300 cm, then there will be enough space for passage, and in such a locker there will be a lot, provided that it is made to order and its height corresponds to the height of the room. By the way, the level of the floor and ceiling throughout the apartment area should be the same. Then the idea of ​​an apartment will be the same, different zones are allocated with color-matched materials. Although it is possible to completely make the floor from one coating. Unless in a bathroom to lay a tile. Although it is much more practical if the tile will lie in the kitchen, and a part of the hallway near the front door can be paved with floor tiles. If it is decided to do so, then you need to monitor the level of the floor after finishing.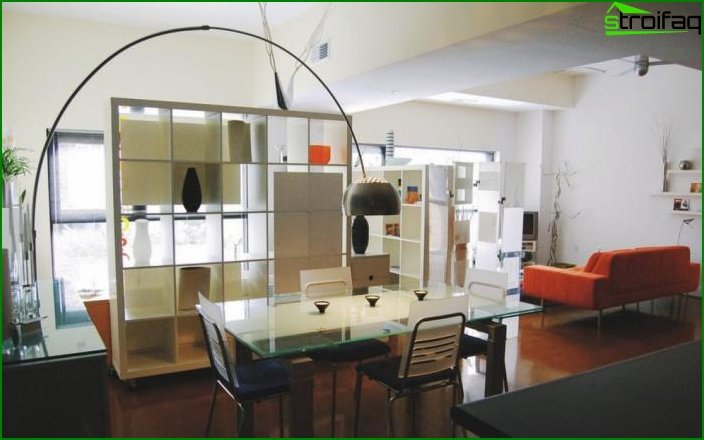 Doors should open compactly, so I would recommend using Sliding Or folding doors. Give up the swinging doors, they eat a lot of area, which is better to use more rationally.
Compact and functional furniture is the best friend of small apartments.
You can use folding or sliding(Sliding) furniture. If you make a podium on the floor, you can hide a bed or boxes for laundry, or you can buy a wardrobe or a transformer table that can easily be turned into a full bed if you turn it over. In general, any furniture transformer will be an excellent option for one-bedroom apartments. Children's bed is no exception - buy immediately the one in which there is at least a lower box for storing clothes or toys, or even better sliding beds that grow with the child.
Balcony or loggia You can at least turn into another "cabinet"Shelves on the sides, podium or similar solutions will remove all unnecessary from home, and free up another place under a small sofa for guests. Nearby you can put a stylish table, which will be the working area. And on the walls hang open shelves for small items.
One bedroom apartment of 46-50 square meters
As a one-room apartment up to 50 squareMeters to arrange several zones, and at the same time leave a maximum of free space? Of course, the ideal option is not the erection of walls, but their demolition. But most often, they are not already, because apartments with an area of ​​46 to 5 squares, often just go as studios. And zoning is still necessary, without it anywhere. You can not just put furniture in the room and consider this room comfortable. The area seems to be not small, for comparison, two-bedroom apartments in Khrushchev's five-story buildings have an area of ​​about 42 squares. But we have 50, which can not but rejoice.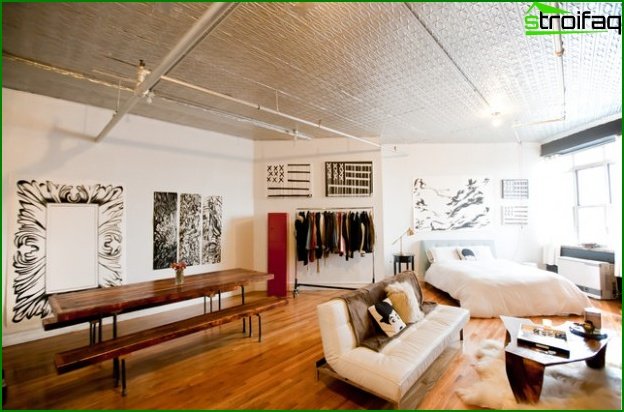 The tricks that are used for the design of smallApartments similar to each other - light colors, multi-level lighting, competent furniture layout, room functionality, well, then everything depends on the desire of the owner. This applies to the choice of stylistic direction, the designer must take into account the number of permanent residents and other nuances, so that as a result the project becomes comfortable for everyone.
Mirror and glass surfaces, airNiches and partitions, competently equipped storage system, thoughtful arrangement of household appliances in the kitchen and so on - all this is very important. Decor in a small apartment should not be everywhere, it is enough to put interesting objects in several places, and to clean all the small things in closed shelves. If you need a zone of sleep and rest, you can install a not very wide bed and fence it off from the rest of the area with a screen, partition, a structure of plasterboard sheets, plexiglas and other materials. If you need to install a baby bed, you can install it in the parents' sleeping area, while it is better not to hang a TV there. And install it in the guest area on the bracket in front of a small comfortable sofa, which, if necessary, can be expanded and used as a second berth.
Materials for finishing can be used any,But it is better to dwell on the combined collections. To, on the one hand, support the idea of ​​zoning, and on the other, do not spoil the general impression. Still, the interior should remain stylish and original, but without excess.
Interior of an apartment for a family with a child
An unambiguous answer to how correctlyTo arrange a one-room apartment for a family with a child, can not be given. Here a lot depends on the area of ​​the premises, and on the needs of each member of the family, and on the age of the child.
It is important to focus on the functionality of the wholeApartment space, no corner should not be wasted, but to make all furniture in one line along the wall, is also not rational. Therefore, for starters, we need to think about additional storage systems - you can make opening podiums, and on top to install a bed, a desk or something else. Beds-lofts for a child in a one-room apartment perfectly suited, especially if it has a mechanism with a roll-out table and a built-in wardrobe. So the child will have a corner, and a lot of space it does not take.
Speech about installing an adult bed inOne-room apartment can not even go. Adults will have to sleep on the couch. But they too are comfortable, and some models have an orthopedic mattress and a modest size.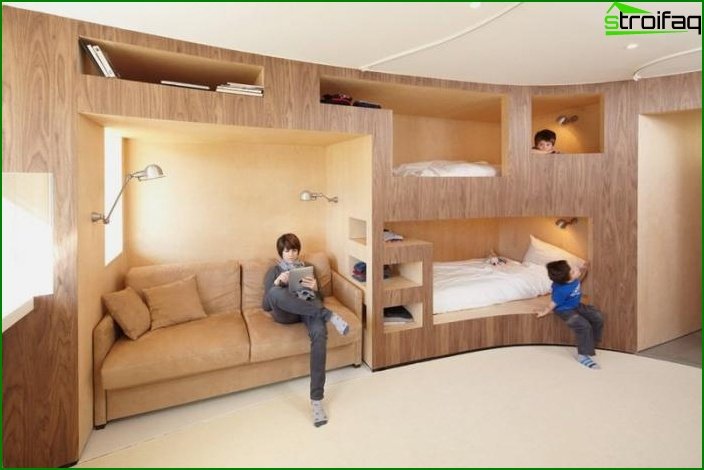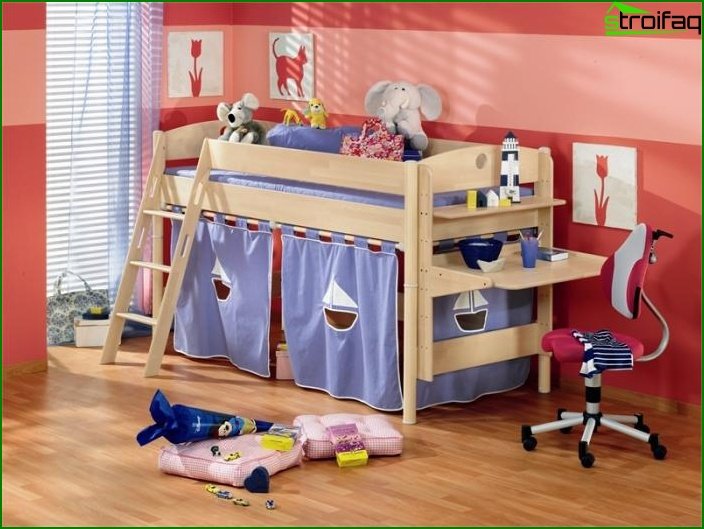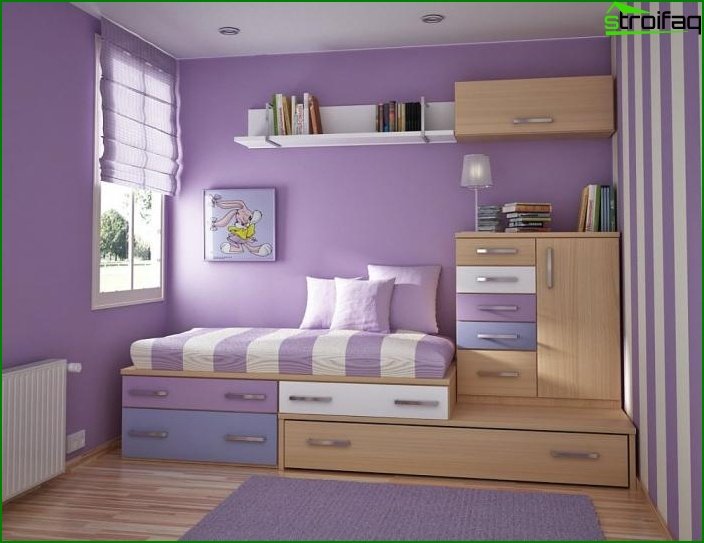 In the hallway or pantry again set the shelvesAnd make lighting so that you can easily navigate there. In general, the light in a small apartment should be installed in several levels, this will further delineate the space of the living room and highlight the zones. Doors in a small one-room apartment are better to use sliding, and if you want to install a swing, it should open to the wall. Only it is better to choose that canvas, which in color will be as close as possible to the decor of the walls, then it will not rush into the eyes and the room will not be visually reduced.
The bathroom is combined with the toilet, and in the kitchen Put the headset with built-in appliances. The refrigerator should be hidden behind the door of the cupboard, and the dining area made more compact - you can use puffs with opening seats, and instead of the back, hang a few soft decorative pads.
Photo projects of one-room apartments
Designers have prepared for you many ready-made options, the projects show the location of furniture and all areas are highlighted.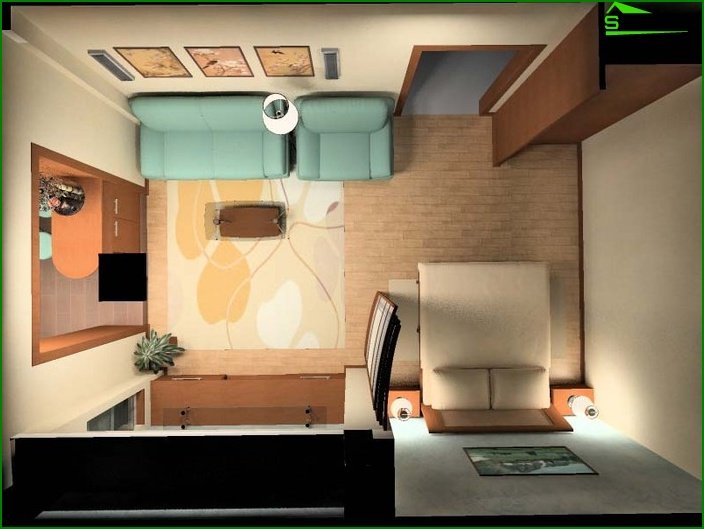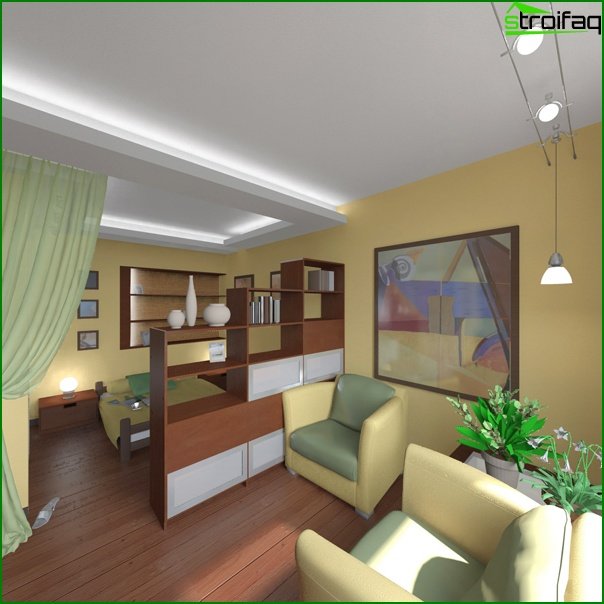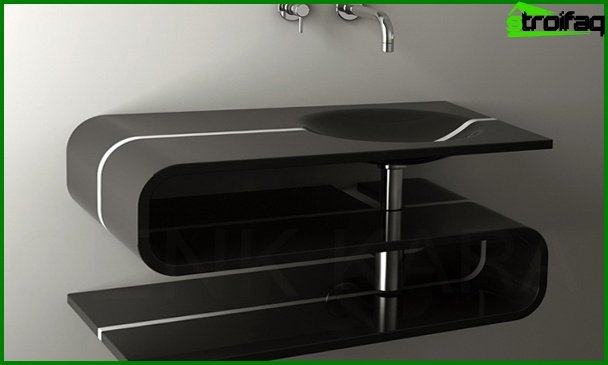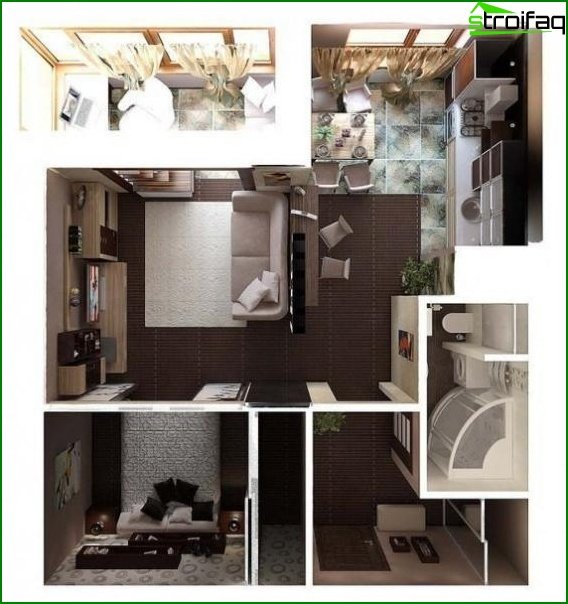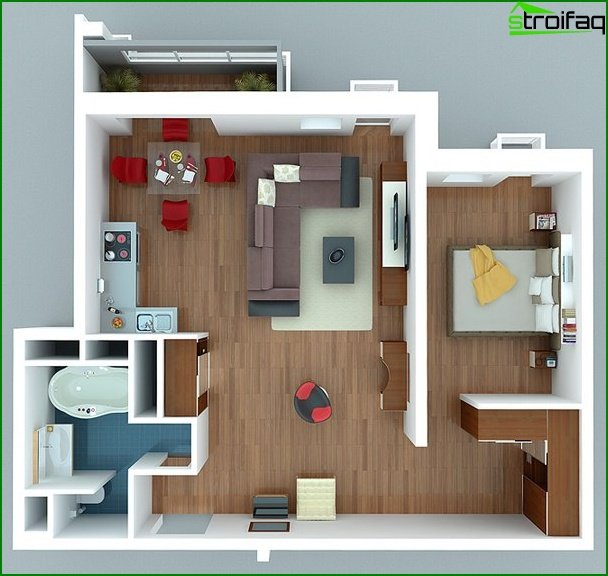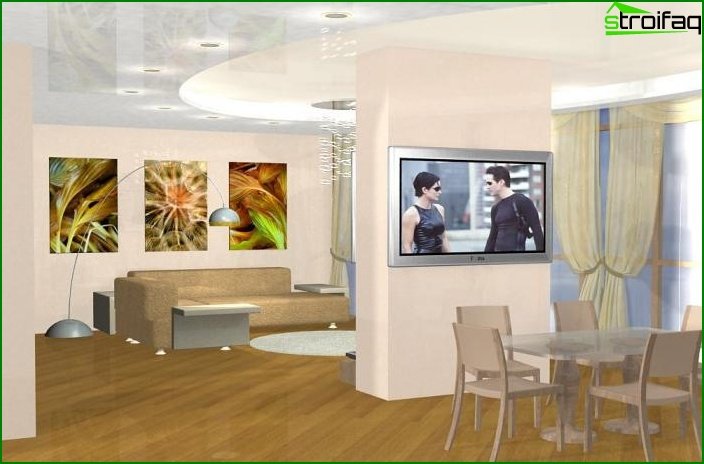 How to make repairs in the apartment correctly
To make a one-room apartment comfortable, cozy and functional, you need to do a lot of work on the preparation of the premises. A competent repair must be planned. And the repair stages are as follows:
Replacement of old communications Taking into account zoning - the sockets should be in the places where it's needed, not 3 meters before the devices, the same with the rest of the communications.
Alignment of a floor Taking into account the height of the finish finish (tile glue plus the thickness of the tile, the substrate under the laminate and the panel itself, etc.). The final level should coincide across the entire area of ​​the apartment.
In parallel, you can Install new windows And glaze the balcony, insulate the loggia.
The alignment of the walls And the construction of niches, partitions, if they are provided by our project. Then all this must be done, rubbed. The result is ideal walls.
We can Proceed to leveling the ceiling Or installation of a tension cloth. Or specially trained people will do it for you, resorting to the help of builders and finishers is especially beneficial if they make a comprehensive renovation of the entire apartment.
Next you can Embark on finishing.
Spring-cleaning.
And the most exciting stage, Arrangement of furniture And connection of all devices.
On this work can be considered complete, onWe will only have to put everything in order and enjoy the updated one-room apartment! And lastly, a couple of videos with interesting solutions for one-bedroom apartments.