How carefully dispose of square metersa small kitchen? To answer this question it is necessary to conduct a thorough pre-planning. Planning is never superfluous, especially with regard to small areas. So if you have planned to repair or replace the interior, have patience, attention and, of course, the advice of experts.
Tricks for a small kitchen
• The cooking surface of the plate should be not more than two burners.
• Pick up small Moika.
• Try to use household appliances built-in type.
• Sill is well suited for the creation of an additional working area.
• Use visuals, expanding the kitchen space: bright tone finish, mirrors and interior lighting furniture.
• Choose options with kitchen setslaid down maximum functionality: sliding doors, retractable holder for trash, multi drawers, folding table and so on.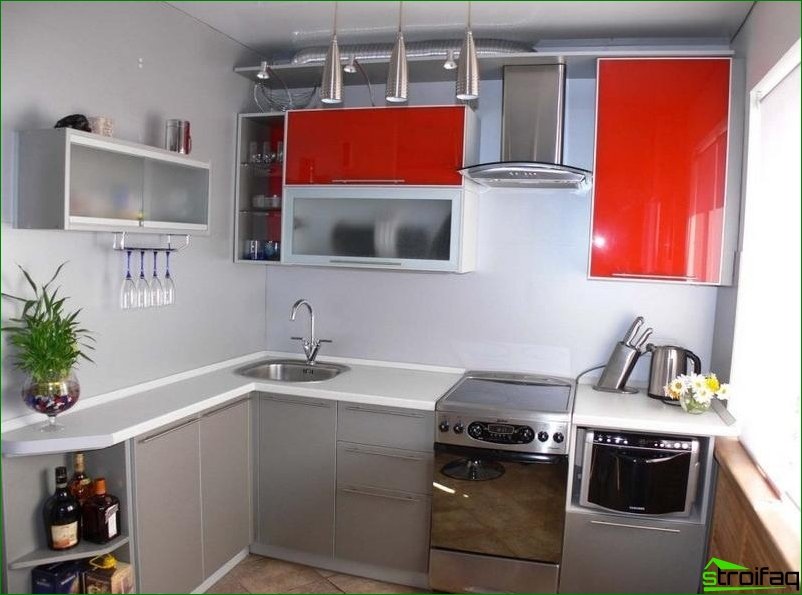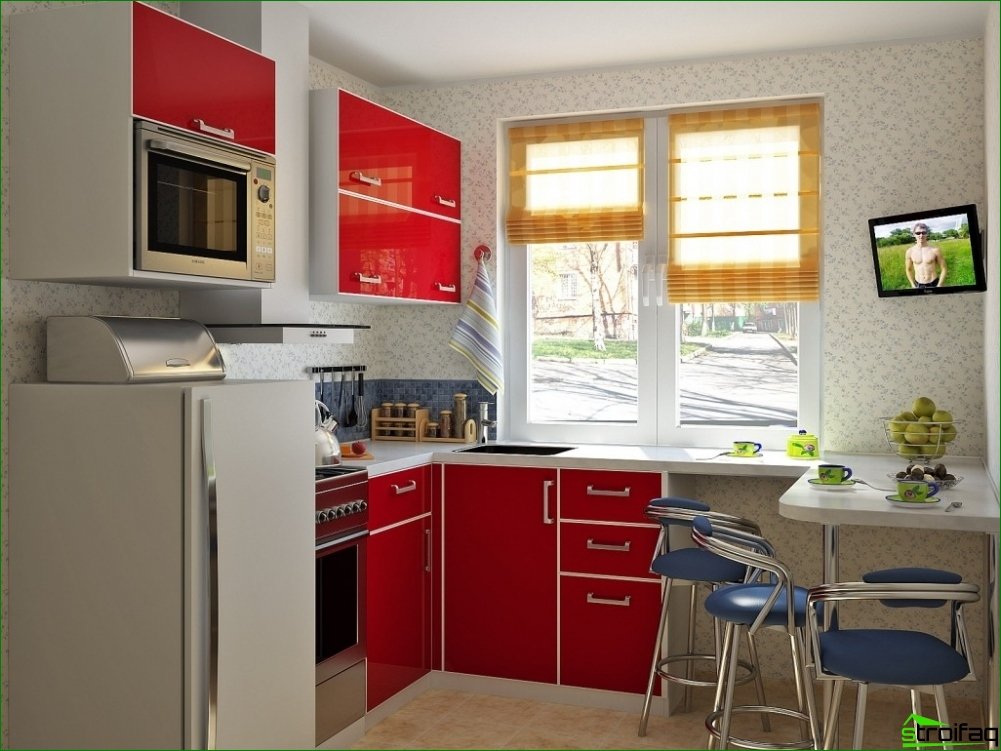 Corner kitchen
The limited size of the room does not allowpost Full kitchen along one wall. Therefore, in this situation there are two solutions: an extremely truncated versions of kitchen sets, consisting of two or three lockers and a small work surface or kitchen corner for a small kitchen. As regards the first decision, here everything is clear. But the second sentence of the angular modifications can be considered a little more detail.
Angle sets of kitchen furniture are L-shapedand U-shaped. U-shaped suite located along 3 walls and is not really suitable for small premises, as this form of "eats" a significant portion of the space and greatly reduces the comfort of staying in the room. But L-shaped version is perfectly suited to the limited space in size.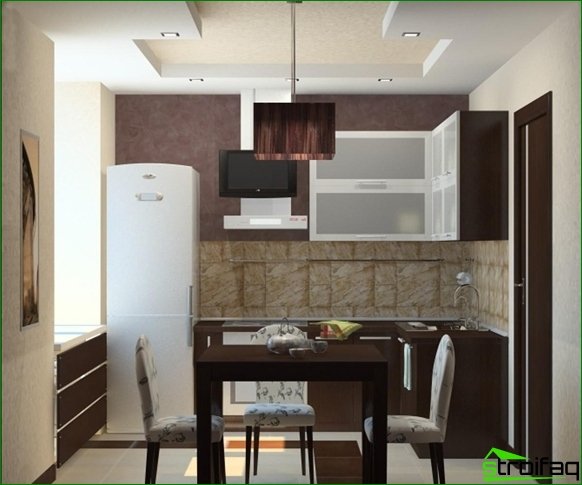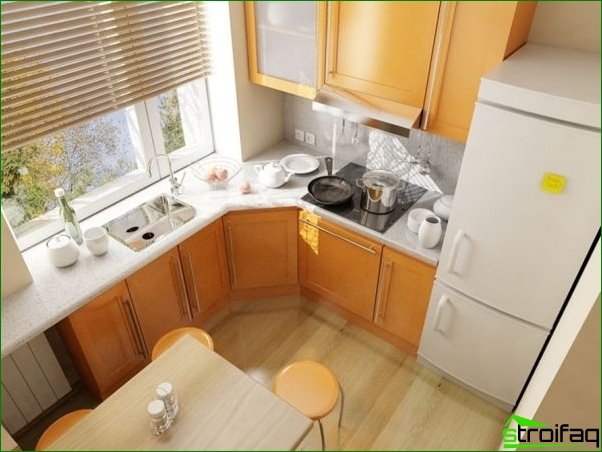 The main advantages of the angular variations include the following advantages:
• Ergonomics. T-shape will not make much fuss, since all the necessary boxes and offices are within walking distance - literally "at hand".
• Compact and efficient use of every centimeter of the kitchen.
• Possibility of customconfiguration. Corner kitchen, made on request, will take into account all the nuances of the current layout and change the internal filling the headset on your own. Moreover, to make custom-made furniture is not difficult. For example, the Muscovites dishes can be ordered without problems inexpensive, Moscow is able to surprise a variety of proposals.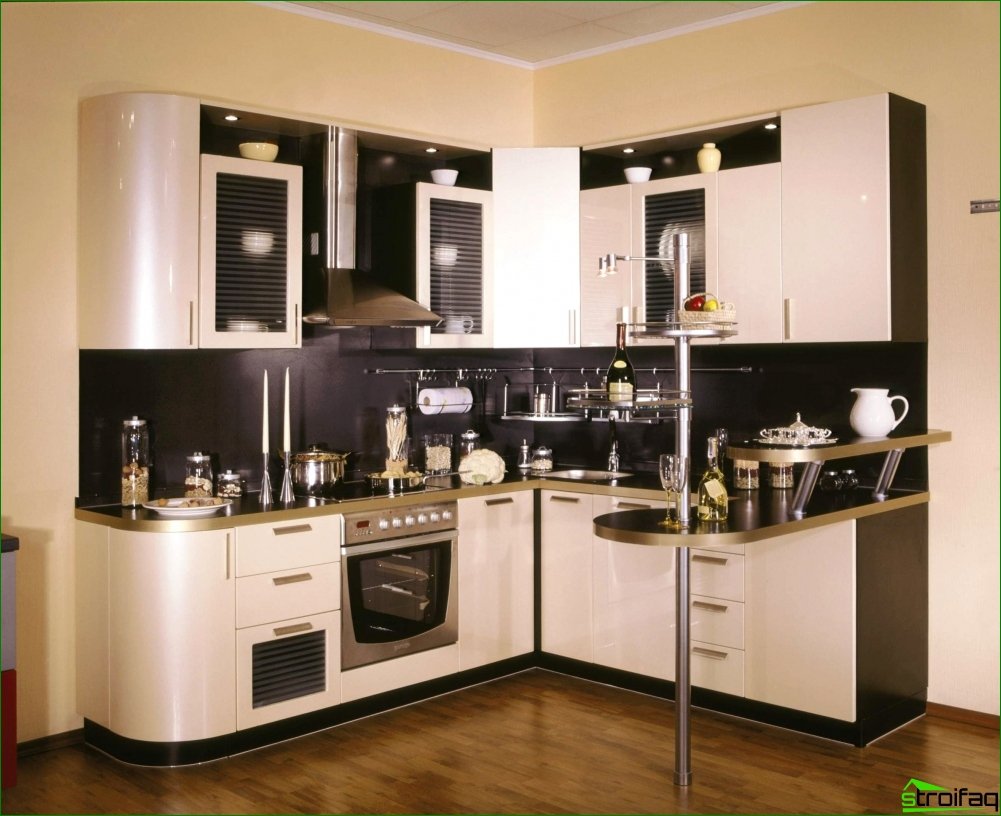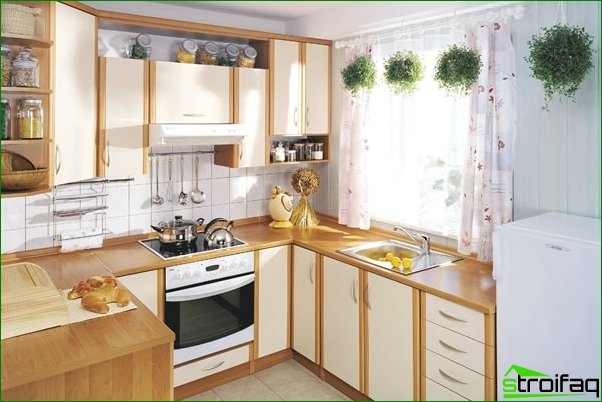 When ordering the kitchen, do not forget to think about the desiredconfiguration and internal arrangement of shelves, drawers and lighting. Be sure to invite a specialist to measure, as some features of planning can only observe a seasoned professional.