90 ideas for the design of a teenage boy's room with a photo. Design in different styles.
We make a bedroom for a teenage boy. Councils as a win-win to rebuild the children's room in a multipurpose room for the growing up son. Photogallery - 90 ideas with various designs of rooms in several variations of execution for each style of interior.
Content
Selecting the overall style of the room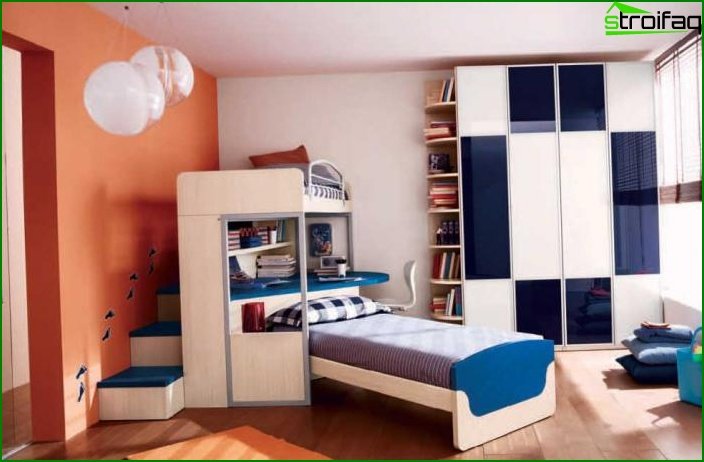 Still, it would seem, quite recently you broughtHis baby from the hospital, but now he goes to the middle classes. He has his hobbies, his first love. Friends come to him, and the guy is ashamed to invite them to him, because his room is more like a nursery. Do not forget that children grow up, and with them must change their room. After all, a teenager should be "in time" not only bed, but the whole room as a whole, reflecting his inner world.
Before you start repairing your child'sBy yourself, ask the young man to tell him what he wants himself. Do not try to do everything in your own way, because he is already a person and wants you to be considered with his opinion. Determined General style Future room, you can safely embark on the idea.
A room for a teenage boy:
Do not forget that children Grow, and with them must change and their room. After all, a teenager should be "in time" not only bed, but the whole room as a whole, reflecting his inner world.
Minimalism
If your boy is rather modest and does not likePiling up in space, ask him to make a bedroom in the style of minimalism. Now it is very popular. This interior allows you to express the creative ideas of your child, without deviating from the latest trends in fashion. The most important thing is that he himself will be able to pick up the colors and decorations he liked. Basically, nevertheless, young people prefer instead of traditional pastel shades of minimalism:
dark Grey;
black color;
Diluting "gray" with bright accents.
In order to design the room was more modern, use materials of various shapes and textures. So it is possible Paint one wall In a brighter color, connecting with her properly selected lighting and picking up all the necessary furniture (bed, computer table, built-in wardrobe).
As for the ceiling, it is best toMinimalism look stretch ceilings with several dotted LED lights - a kind of imitation of the starry sky. Glossy surfaces also look good, they seem to mirror the room in a mirror-smooth surface. But stylish and unusual accessories in the decor should not be much. A few items that clearly reflect the nature of the adolescent and his hobbies are enough. Ask your young talent what elements of decor you'd better add here, but do not criticize his choice. After all, first of all, this is his room.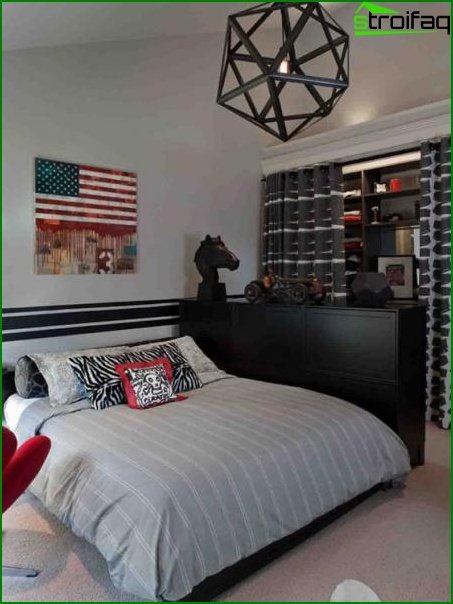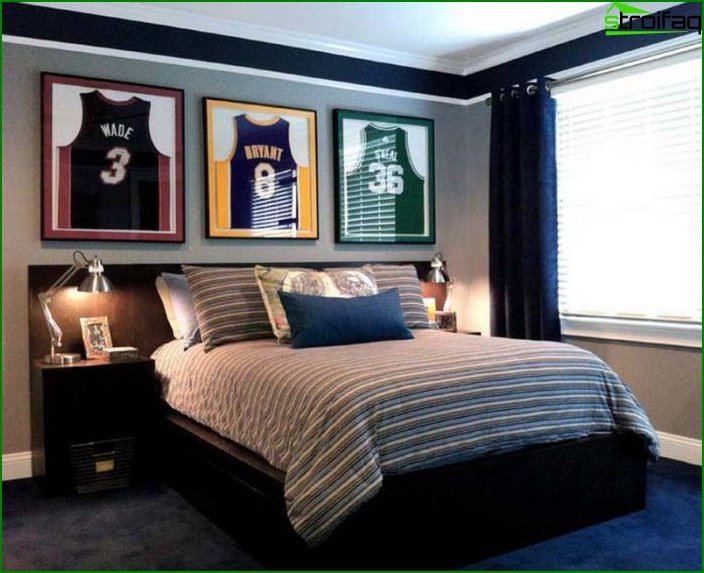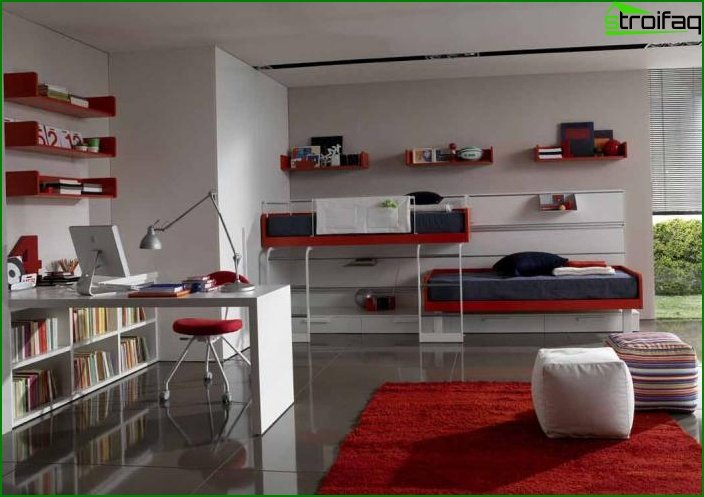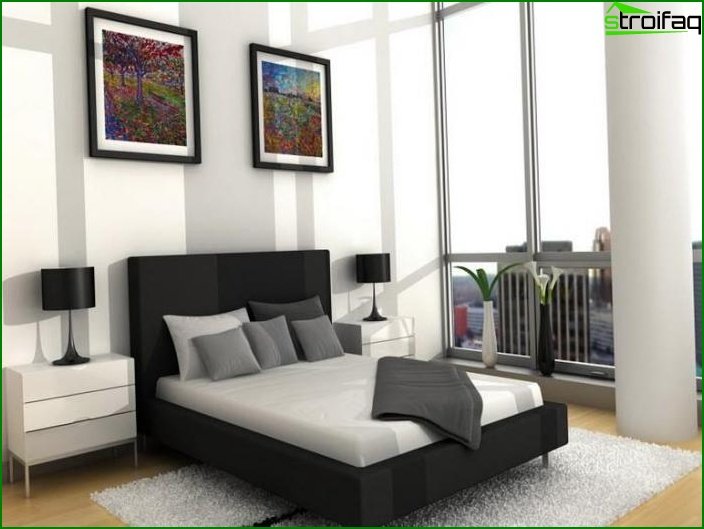 Loft
Style loft came to us from America fortiesYears of the last century. At that time, it was very popular to "domesticate" and live in unused and dilapidated buildings, including mini-factories and warehouses. Hence the specific "scenery" - ceiling beams, pipes, walls with brickwork or inaccurate finish of concrete. They gave the rooms a special hard romanticism, contrasting the "living" space from the general background of the factory building.
If you know that your son by nature isSuch - romantic and rude, such a "brutal", then we can confidently say that he will certainly like this style. The main idea of ​​the loft is an open space with a minimum of only the most necessary furniture. From materials it is preferable to choose:
Furniture can very well be soft and bright, all kinds of puffs are welcome. Such elements are able to give the teenager's room a special contrast, along with the "lack of care" of the walls.
Loft - is not only the style of sports guys, itAlso very suitable for musicians or artistically gifted young people. Dream with your child, reasoning how exactly he wants to decorate and complement the chosen interior.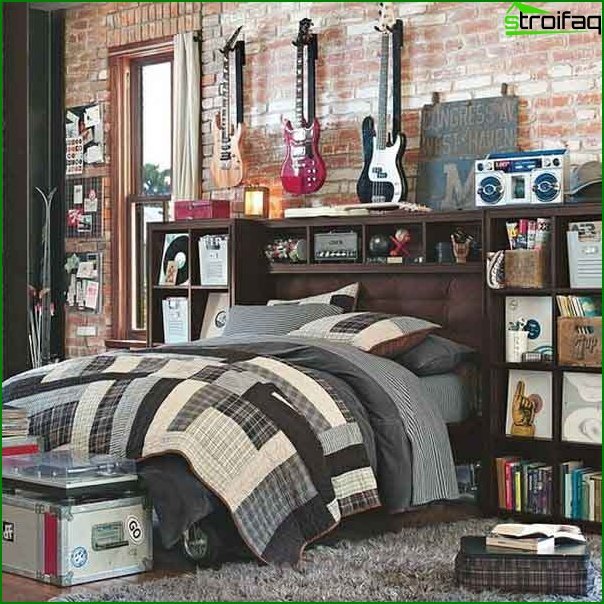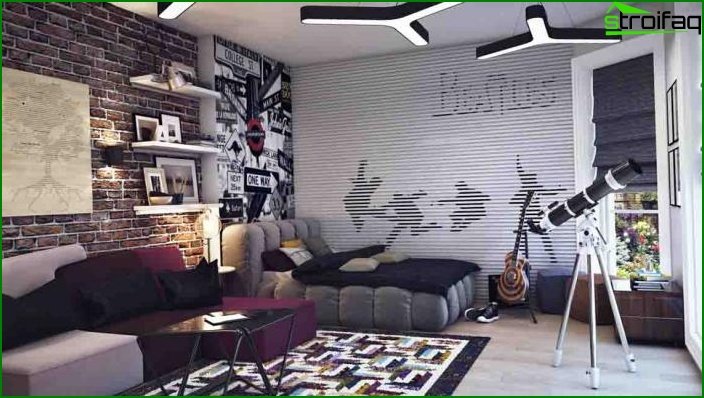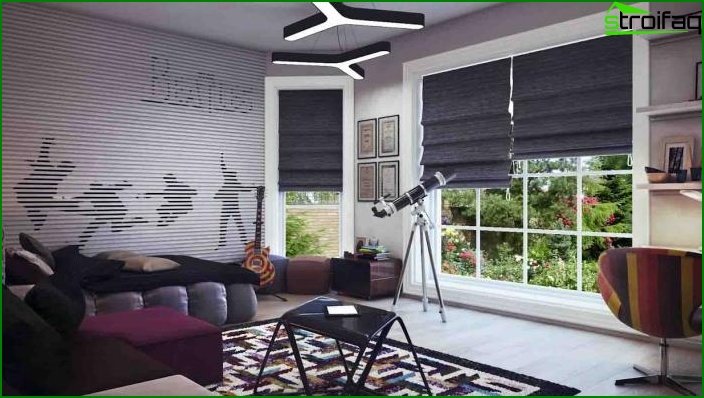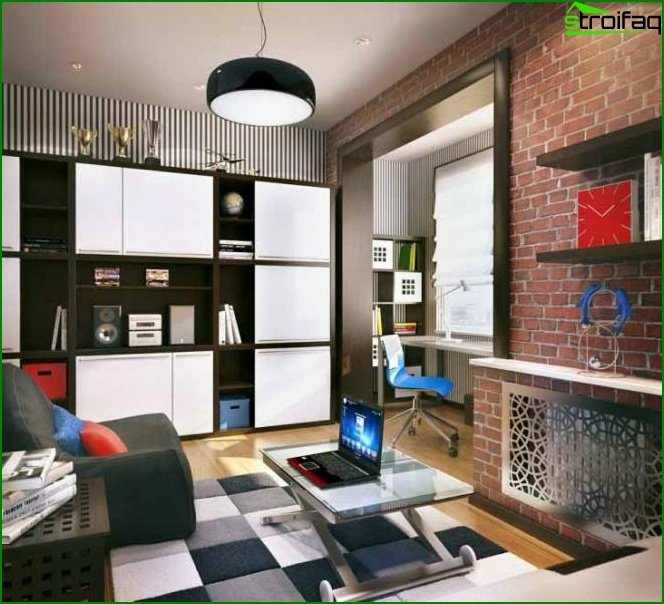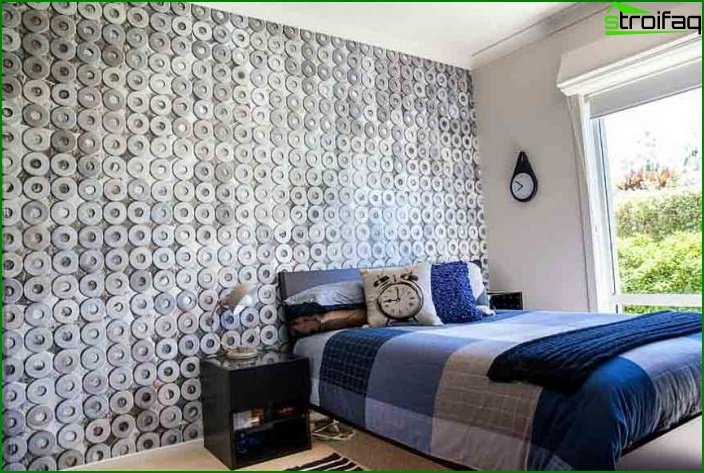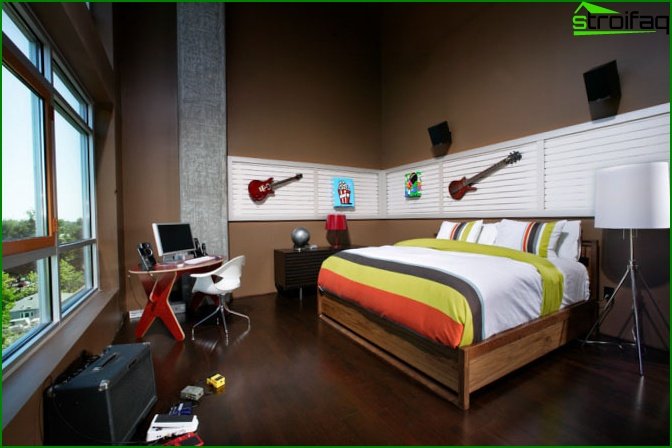 Modern style
Modern style, otherwise known as modern,Is best suited for decorating rooms of young people of all ages and inclinations. Against minimalism, here all kinds of accessories can be present in large numbers. They give your child a special character and mood.
Furniture should be selected in the same style, while it should be multifunctional and, at the same time, comfortable (transformer-bed, sliding table, moving doors on Cabinet).
The tone of style is mainly expressed in colors such as:
beige;
All the shades of pearls;
Brown and its derivatives;
silver;
smoky;
sand.
Contrast on the general background is added precisely brightAccents - pictures or photos within the framework, colored rugs and pillows-dumas, stylish elegant lamps or posters with your favorite actors and sportsmen. They can become the main highlight of your son's room.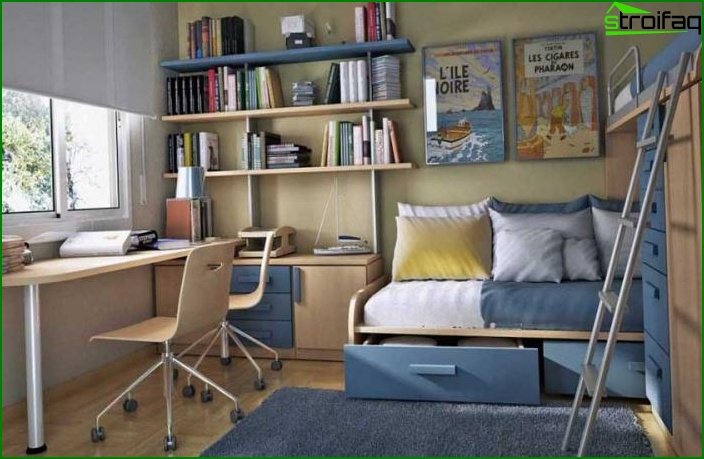 '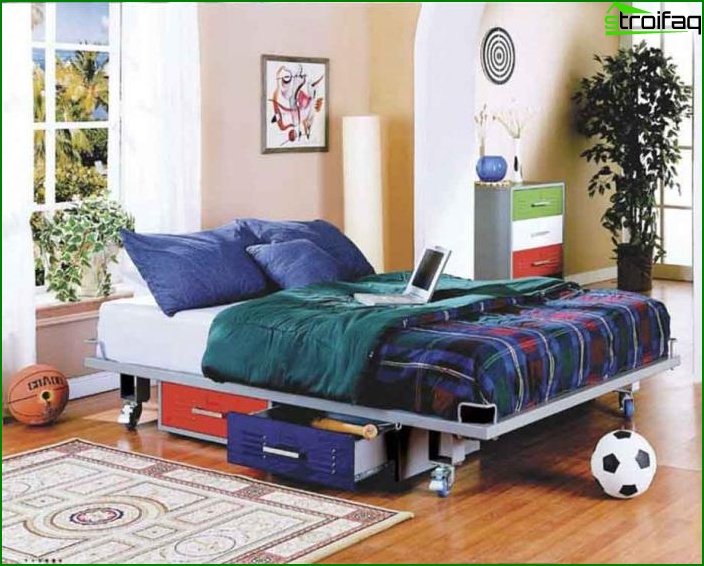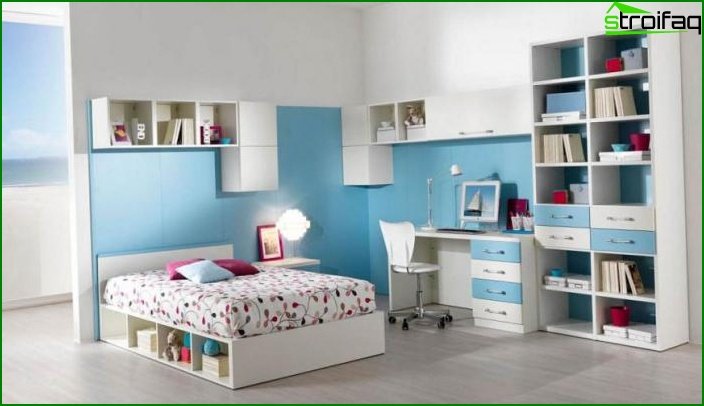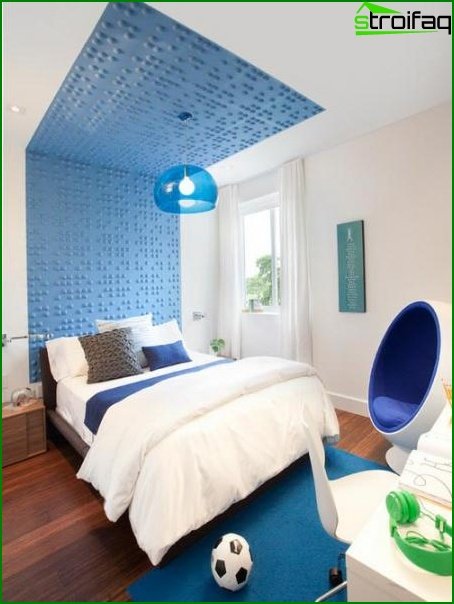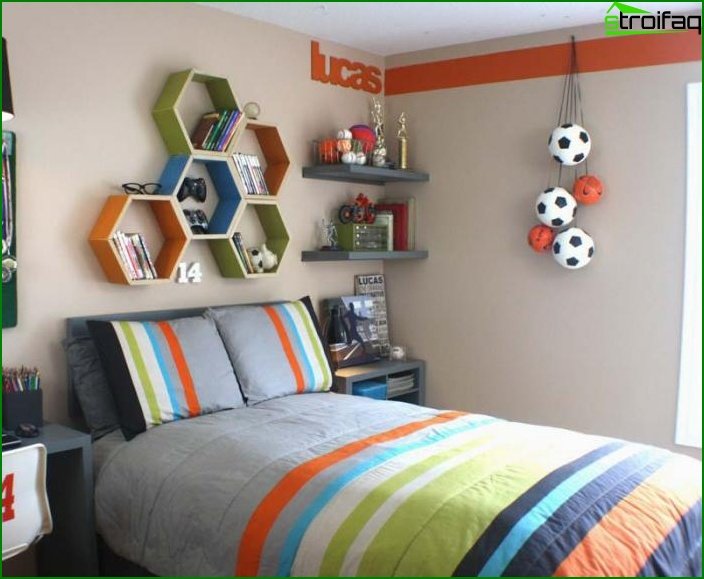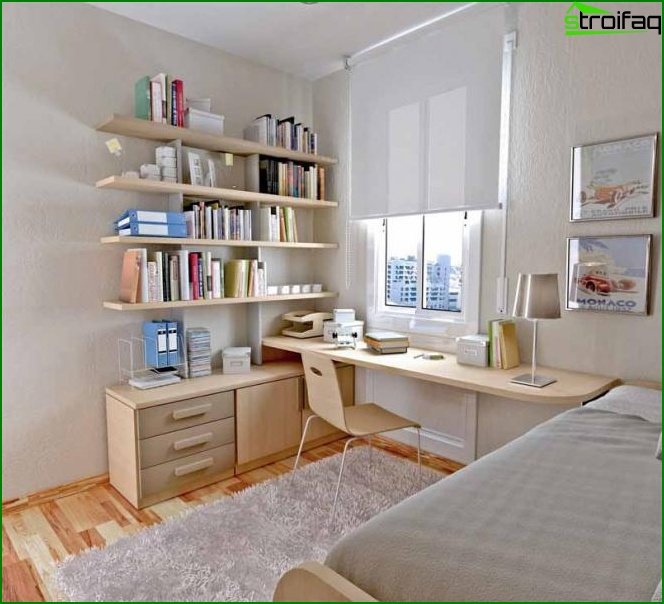 Sea style
BoysDrowned by sea adventures, of whichThey learned from books or films, will be delighted with the maritime style. There are a lot of "ship" attributes. It will not be bad to look, for example, a bunk bed or the division of the room into rest areas and for occupations in the form of small cabins. This style is more suitable when you have a small apartment and two boys of about the same age live in the room.
The color scheme, provides three options that are best combined with each other:
Cornflower blue, white and ebony;
White, mahogany and blue;
Golden, white, sky blue.
From the "ship attributes" are best suited:
Ropes;
Rope mesh;
Thick chains;
All kinds of metal objects (including the anchor);
Dark wood (an excellent option would be an artificially "aged" tree).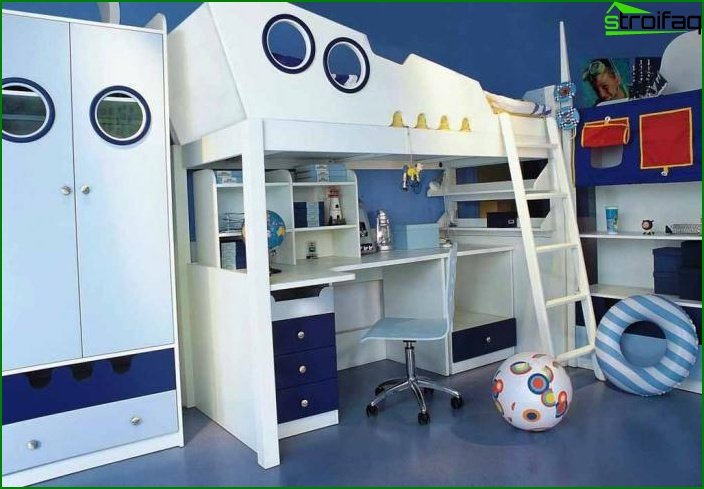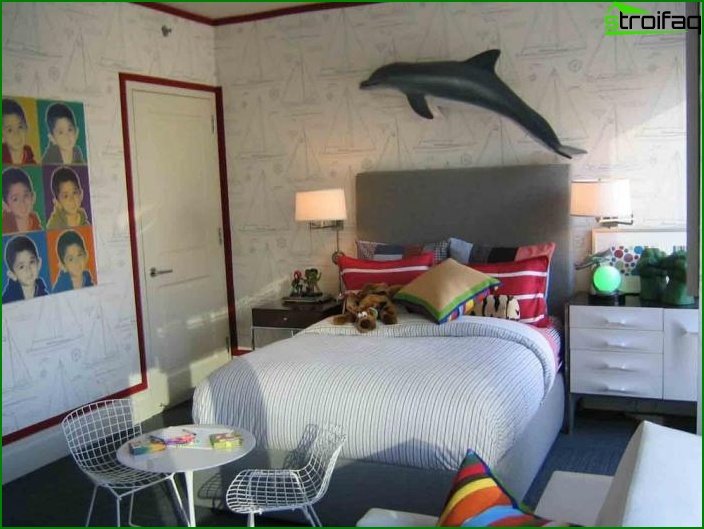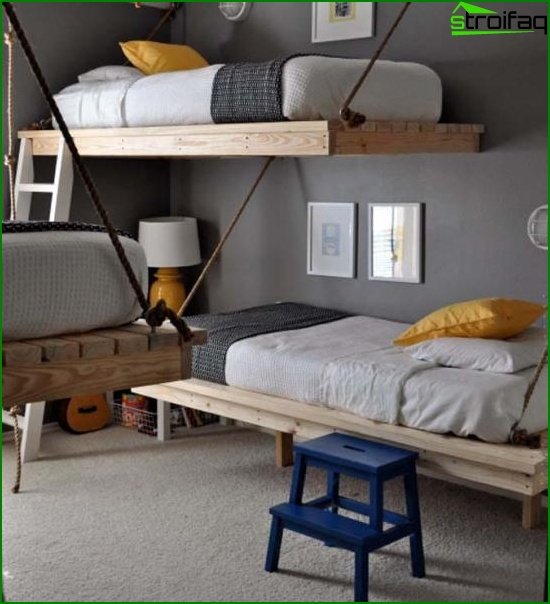 Hi-Tech
Initially, the Hi-Tech style was based on the ideaConquest of space, the emergence of new technologies. It combined minimalism and modern, but with a special purpose - the furniture had to be as functional as possible - that is, there were secret lockers, drawers and drawers everywhere. And it will appeal to most boys - they always have their little secrets from adults.
Hi-Tech style is laconic and unperturbed - noExtra elements of decor and furniture. It is very practical - the room is easy to keep clean and tidy. The walls sometimes have a smooth glossy surface, in principle, like furniture - everything is like on a spaceship. Of course, there are no restrictions on color solutions, but it is preferable to choose cold shades. At the same time, there should not be any drawings on textiles or on any other surfaces.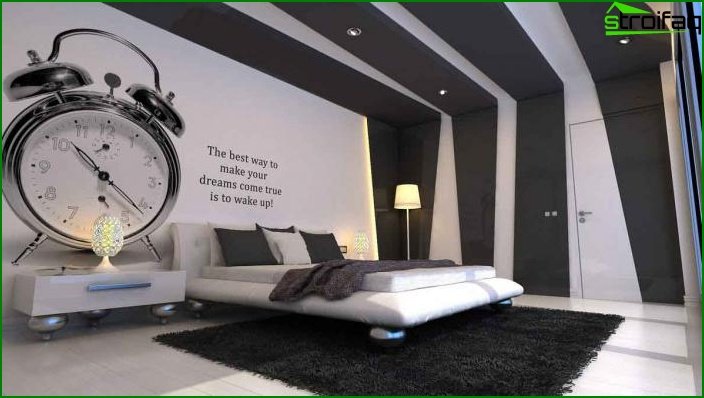 Harmoniously fit furniture that has clear linesForms with metal elements (accessories, legs, handle closets). More suitable will be metal shelving for books and everything necessary. Sports equipment will not become an extra addition. Such a style will suit both an athlete and typical "botanists" who do not accept when they are distracted by excess objects in the interior.
The choice of style by the nature of the boy-teenager

| | |
| --- | --- |
| Minimalism | Geek, technician |
| Loft | Sportsman, artist, musician |
| Modern style | Suitable for everyone |
| Sea style | Adventurer, traveler |
| Hi-Tech | Sportsman, computer technician, technician |
Multifunctional room and zoning space
If possible, buy such furniture, where the second tier bed, and on the first set of cabinets and shelves. Such complexes are very popular for small bedrooms of teenagers.
Sleeping area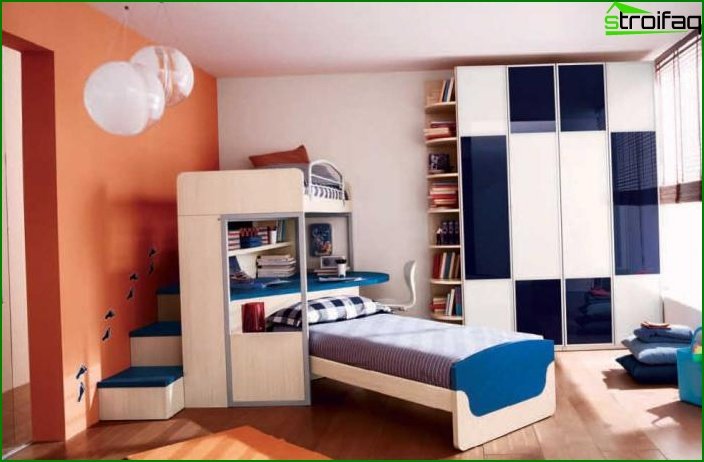 As a rule, this zone is bright A teenager's room Does not stand out. It should be absolutely functional - that is, choose furniture where the bed is pulled out, folded or located on the second tier. It takes less space and the child will be much more comfortable to study and practice his hobby. He will not be dragged once more to lie down and pobazdelnichat.
Learning zone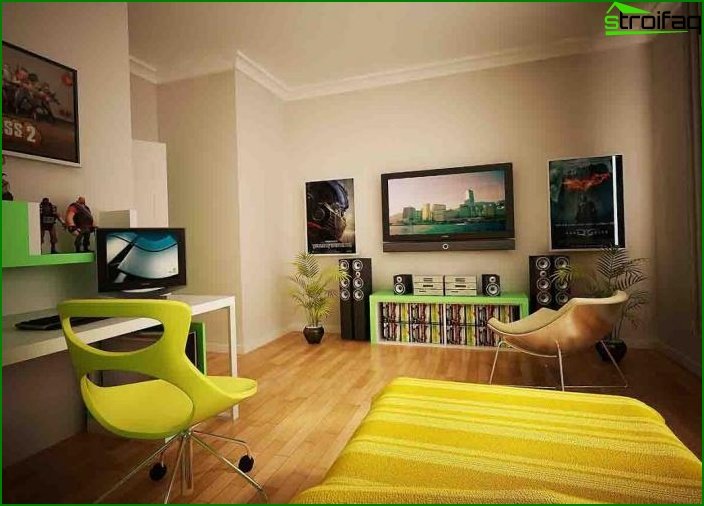 Training zone or otherwise referred to as a workerPlace, is intended for study and employment by the hobbies - the computer, modeling, assemblage of puzzles, drawing. There must certainly be good lighting and enough room for movement and thoughts.
Keeping things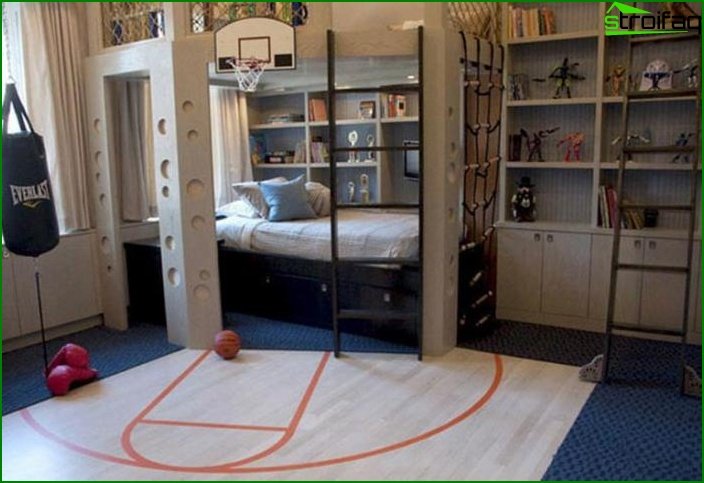 If possible, buy such furniture, where the second tier bed, and on the first set of cabinets and shelves. Such complexes are very popular for small bedrooms of teenagers.
Personal space / Hobby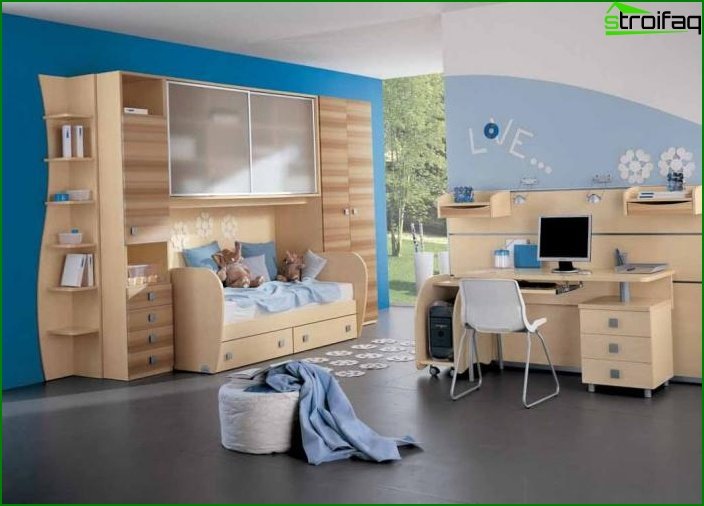 Personal space is very difficult to determine -Someone for him and enough pairs of meters (books, reading, computer), and someone - you need to take them and the entire room (sports equipment and projectiles, a music center and a synthesizer).
Choose a finish
The interior of the children's room is the original bedroom for a teenage boy:
Wallpaper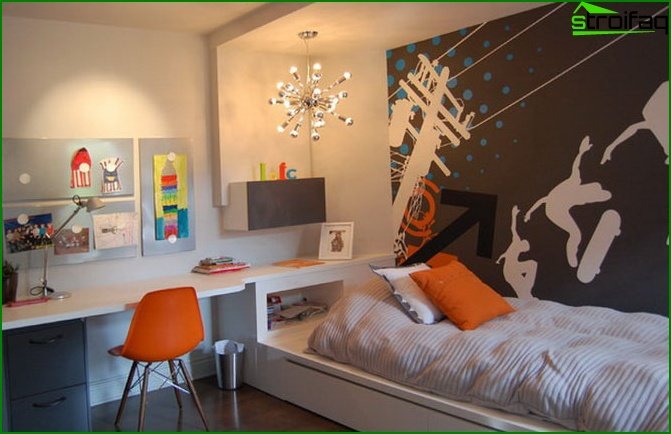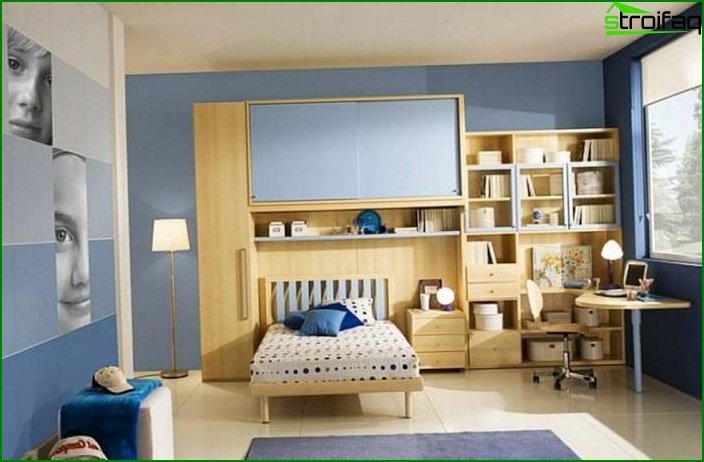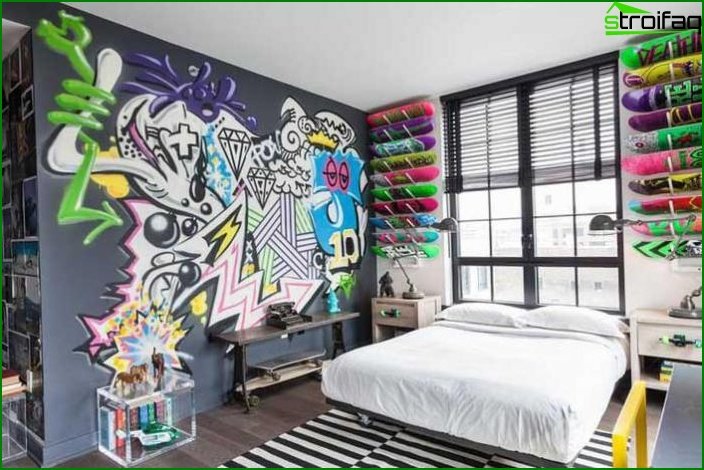 Do not forget about what style is chosen. Somewhere wallpaper May in principle not be appropriate, but somewhereBetter option than they did not find. Photo wallpapers can also be an excellent option for loft or sea style, but for Hi-Tech style they are not suitable and will be superfluous.
Read the article on how to correctly wallpapering!
Ceilings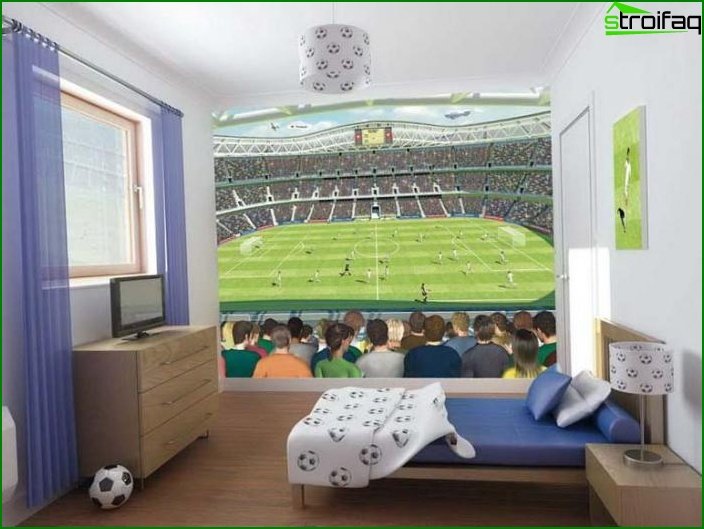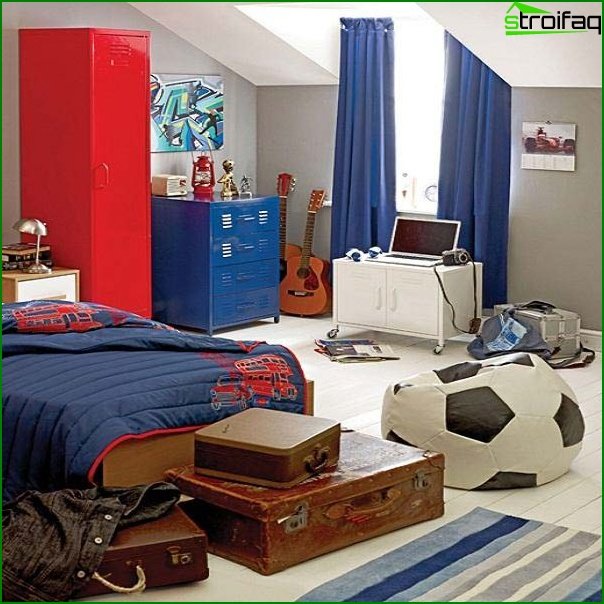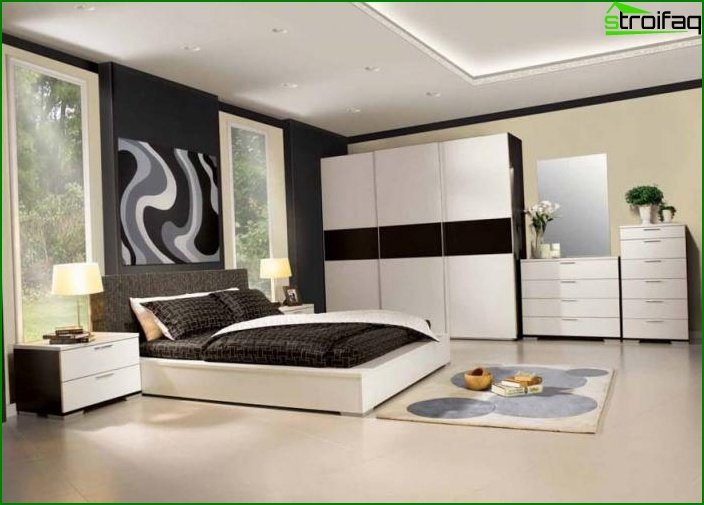 Of course, daisies and clouds are more for Girls. Boys prefer a more strict style - stretch ceilings, as mentioned earlier, will be the best option.
Finishing the floor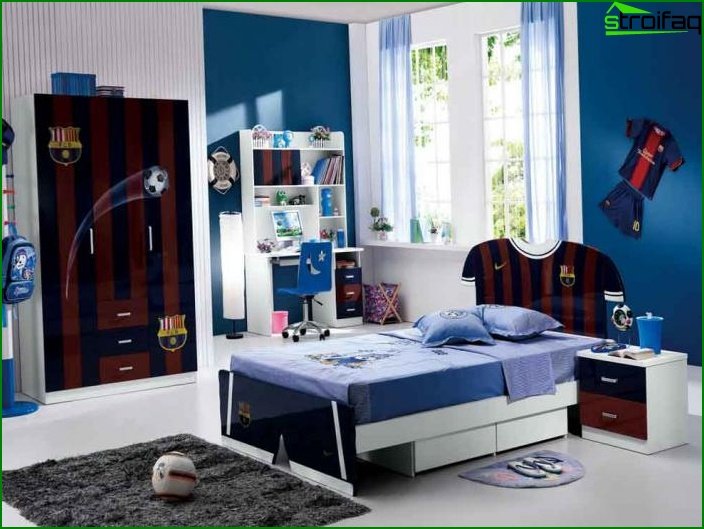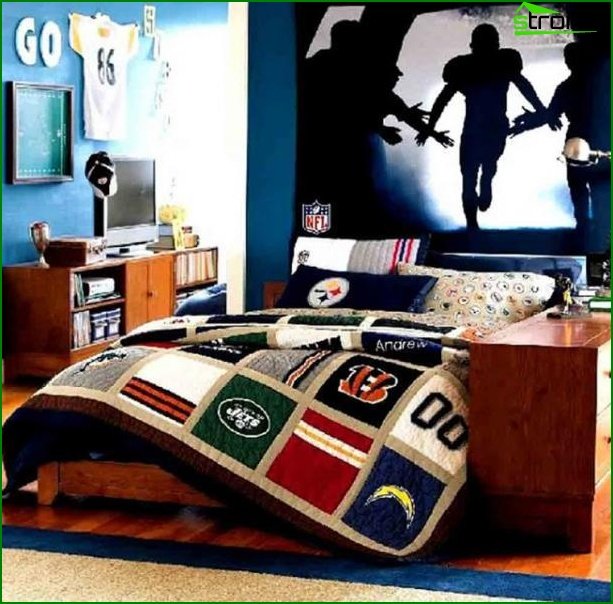 The choice of material for finishing the floor again depends onFrom the selected style. For example, for marine the parquet from dark wood reminding a deck of the ship is better approaches. But if your boy is an athlete, then it's better to choose a carpet. For the style Hi-Tech - porcelain tiles or tile. Universal can be - linoleum or laminate.
Choosing curtains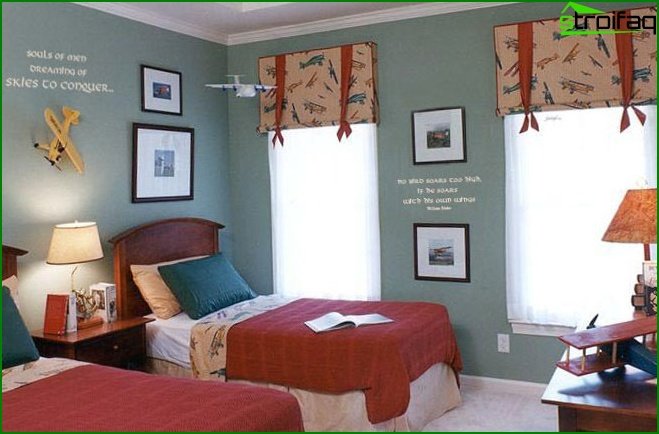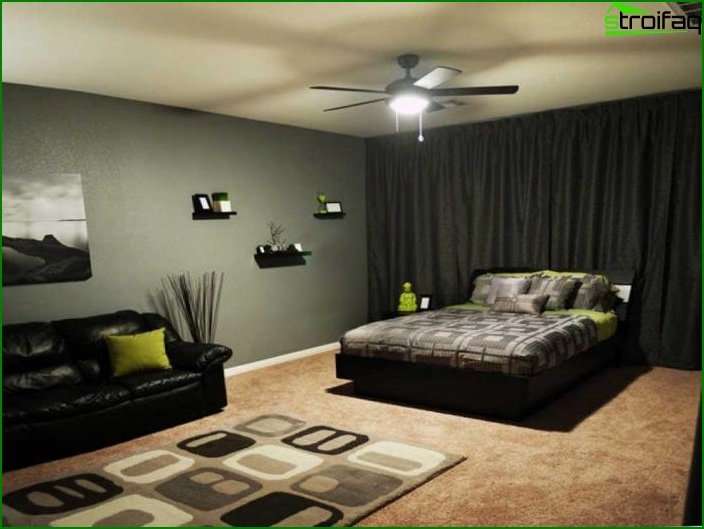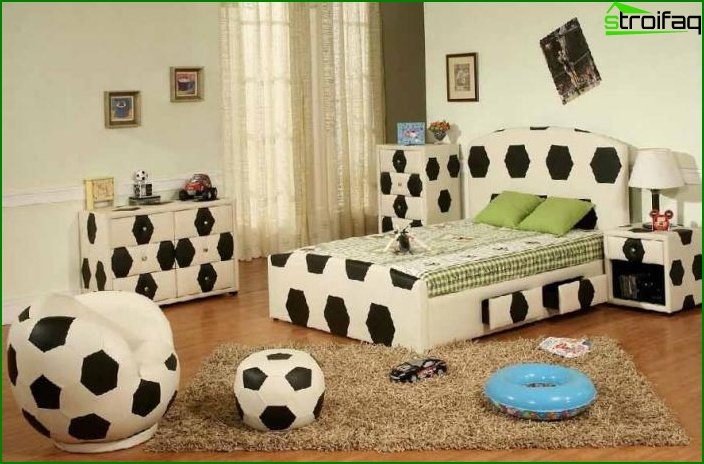 In this case, do not forget about the tight curtains or jalousie, Which are necessary in the hours of rest andAppeasement. On the color and arrangement of the slats (strips of which the blinds consist), consult your son. Perhaps he will suggest some interesting option that you both like.
Lighting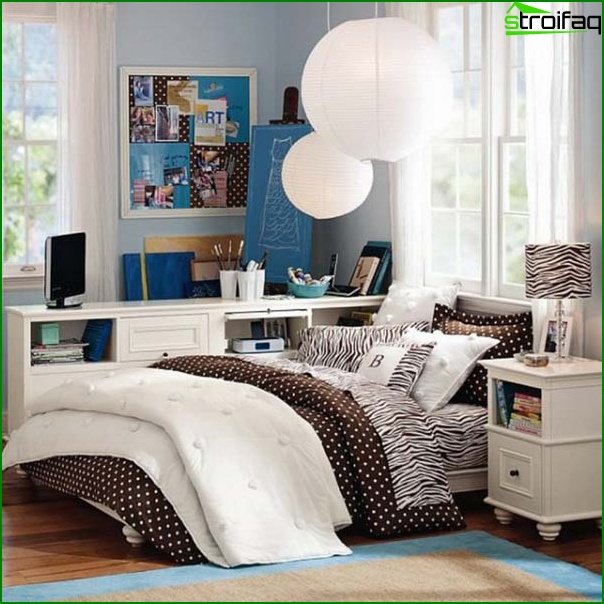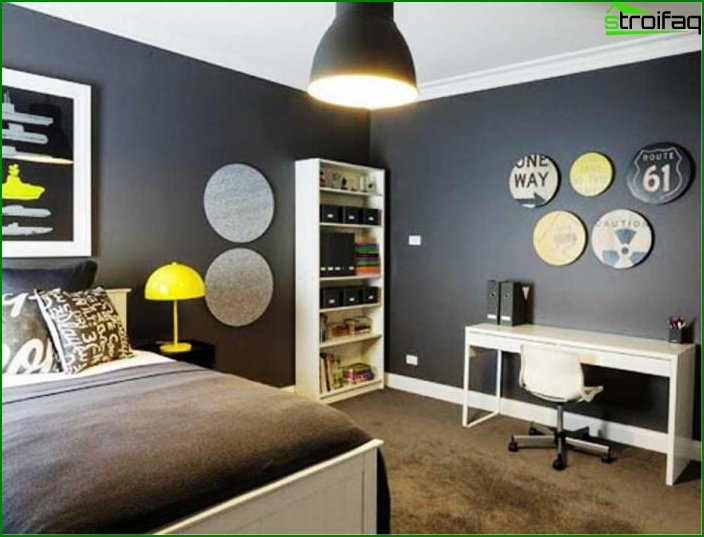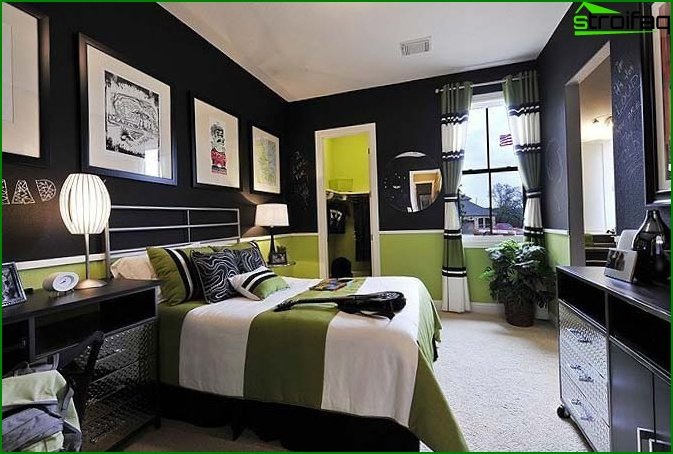 With lighting, you can skillfully zonifySpace in the bedroom of a teenage boy. A small spotlight near the bed, a stylish lamp at the armchair, a good table lamp. But without general scattered light, which mitigates the general atmosphere, there is no way to do it either.
Nuances of registration depending on the age of the boy
For example, if he likes to play the guitar, then it should be allocated the appropriate place on the wall. If a young man likes to read, offer to put the original bookshelf.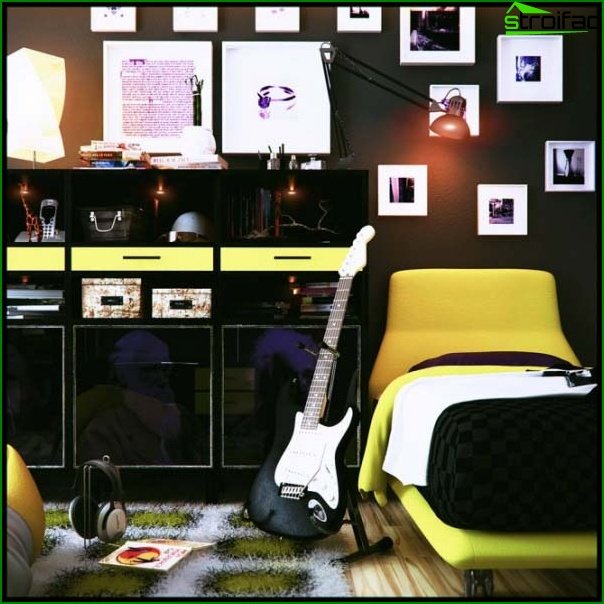 13-14 years old
By this age, your boy already hasSome established idea of ​​the world, he has his hobbies and favorite things. That's it from these hobbies and build on. Offer him to choose the style of the room, color solutions and furniture. He will be delighted. Perhaps this is his first serious choice in life. Treat this with understanding.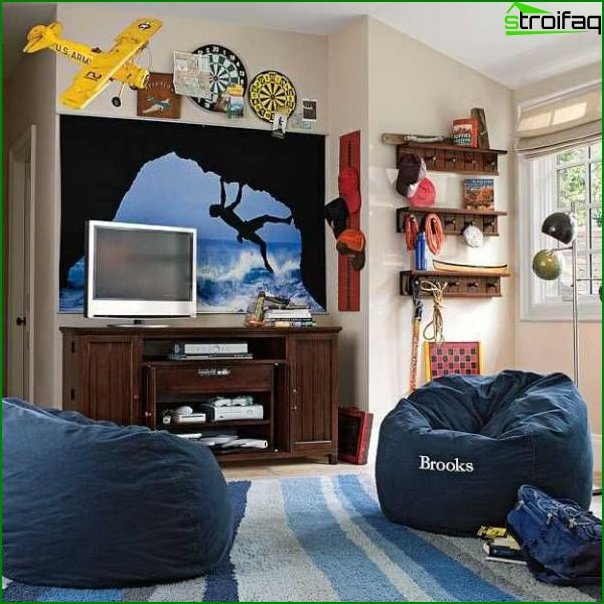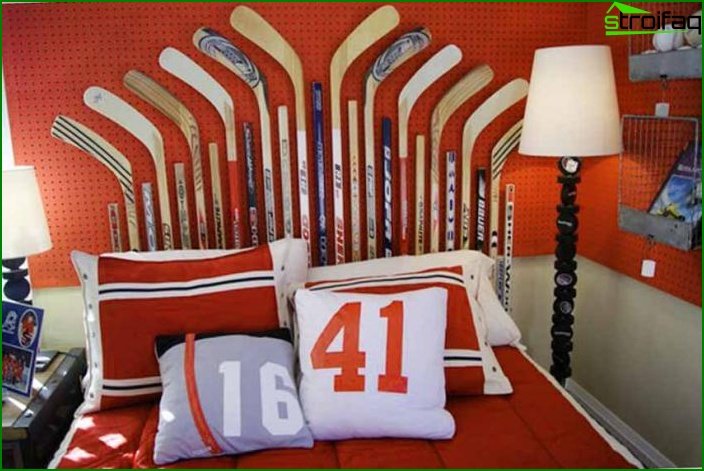 15-16 years old
And this time interval differs zealouslySearch for an idol, authority - the person who wants to admire. Be sure, the young man will want to have on his wall posters of your favorite football team or musical group. So do not try to spend money on expensive "solid" wallpaper. They do not need anything yet.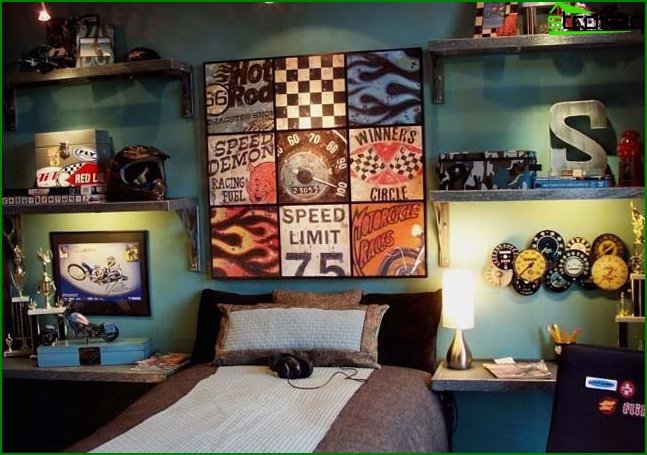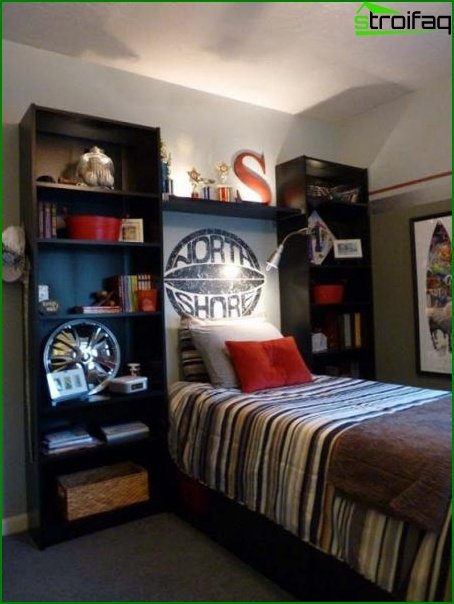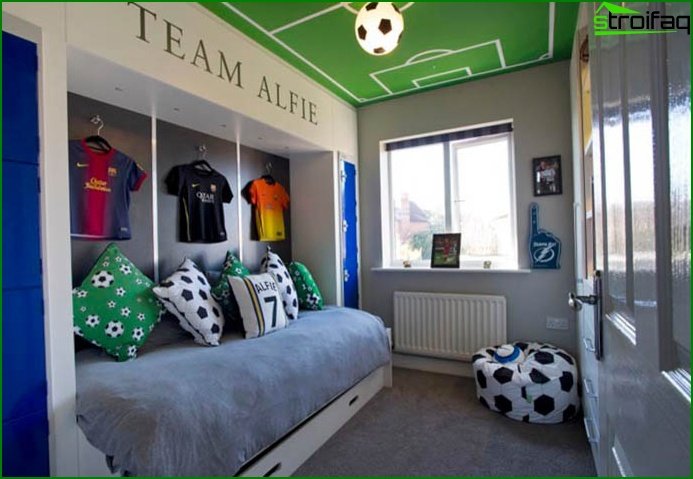 17-18 years old
Closer to adulthood, young people are already moreOr less determined with the main occupation in their life. So you can safely entrust him to make all the interior and design of your room yourself - it will become exactly what he wants it to be.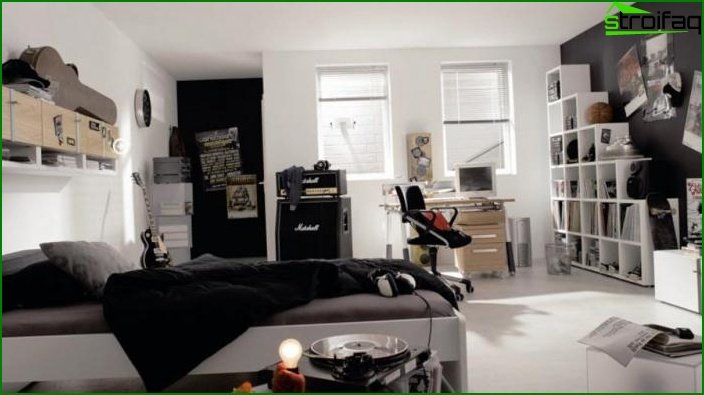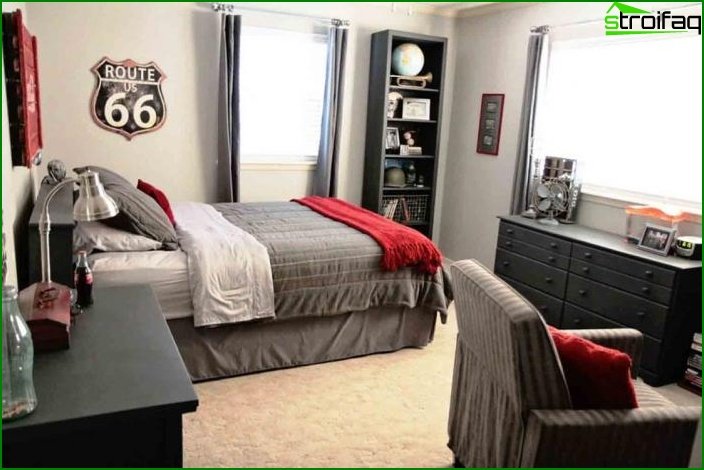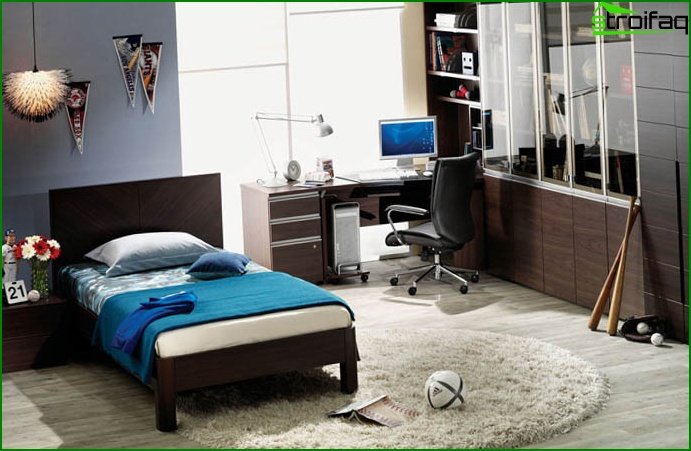 Registration of a small bedroom of 12 square meters for a boy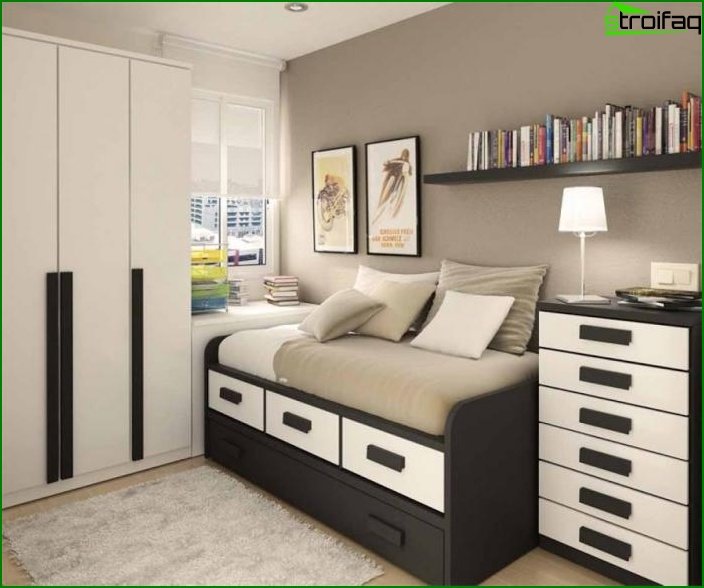 If the room of a teenage son has Area 3 to 4, Then the question arises: how much more compactPlace furniture so that the child is comfortable not only to sleep, but also to learn, and also to practice their favorite hobby. To do this, you need to optimize the entire space, namely:
Rest zone
Workplace
Space optimization

Bed-rack (transformer).
Or a compact sofa, instead of a spacious bed.
If there is a bed, then under it there should be capacious drawers.

Shelves should be placed above the table and on each side of it.
The working table and the bed above it are on the second tier.
First of all, it is worth paying attention to the maritime style - there you can constructively solve many issues with Small room area.
Decoration and decoration by own hands
All boys without exception have anyenthusiasm. It is not difficult to determine this. It does not matter how much time he pays to him and how much he is obsessed with it. The main thing is that his room can be decorated, based on this hobby. For example, if he likes to play the guitar, then it should be allocated the appropriate place on the wall. If a young man likes to read, offer to put the original bookshelf. The list goes on and on. The idea, we think, you understand. There are a lot of such individual elements of decor, or you can simply decorate the walls and shelves with the decorations and handicrafts of your child. Yet it will be creative and original.