TOP-100 ideas for decorating a room for a girl 10-12 years old. Selection of colors, layout options
Here you will find many original ideas and useful design tips for a children's room for a teenage girl of 10-12 years old.
Content
Children's for the girl is very important as for the future mistress, and not only because here she will learn order and accuracy. Registration of children's For a teenage girl - how for a woman to create coziness and comfort in her own family nest. This will teach her responsibility, will give an opportunity to express herself.
The main requirement for a child, in fact, is one- since it's about independence, let your child participate in its creation and make decisions. You can direct, use the advice of our article, but let your child's opinion here be more weighty than yours, then the room will turn out to be ideal.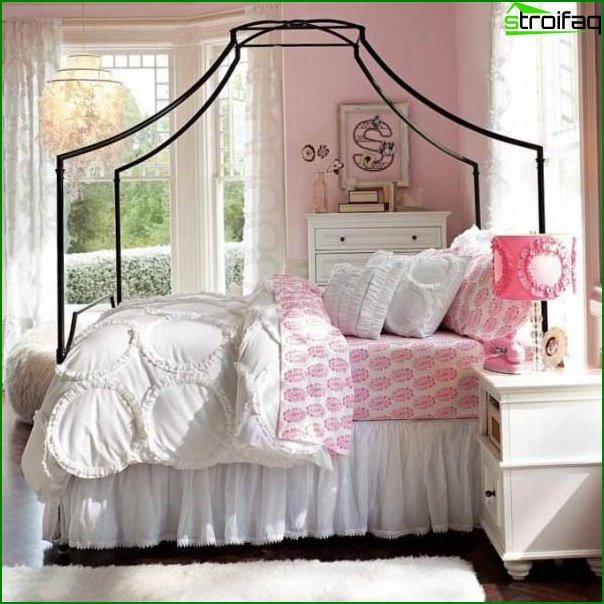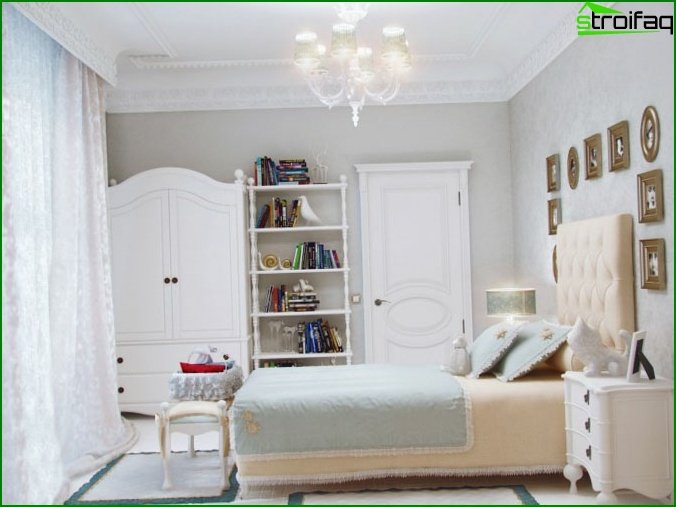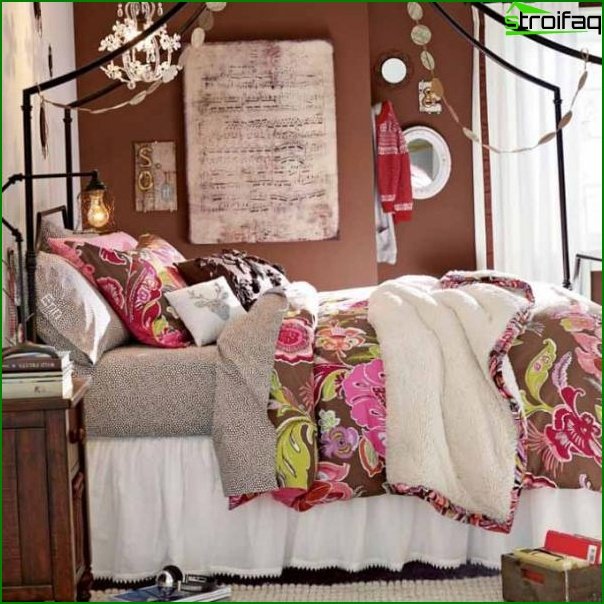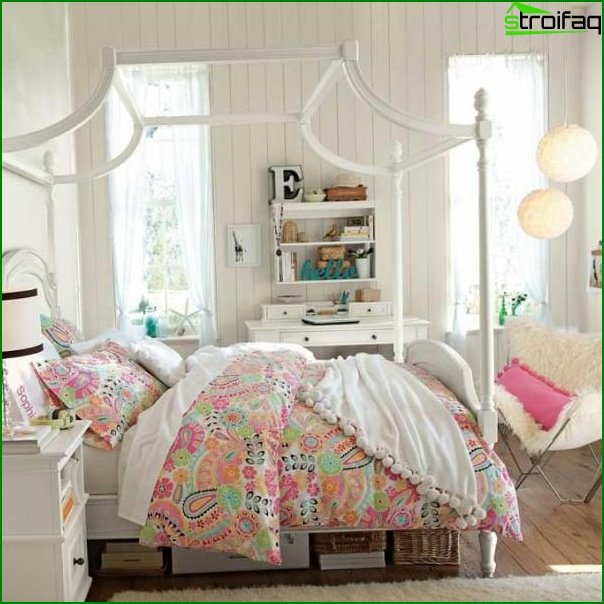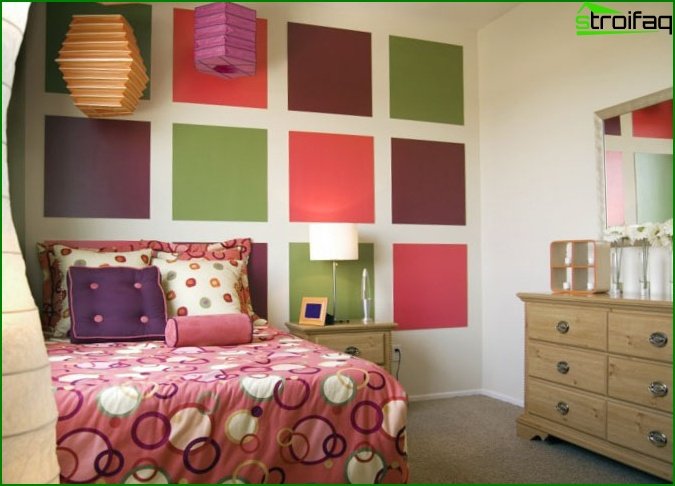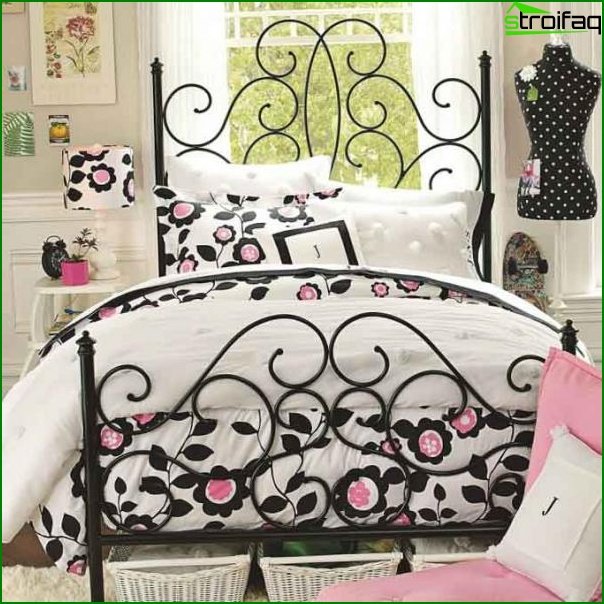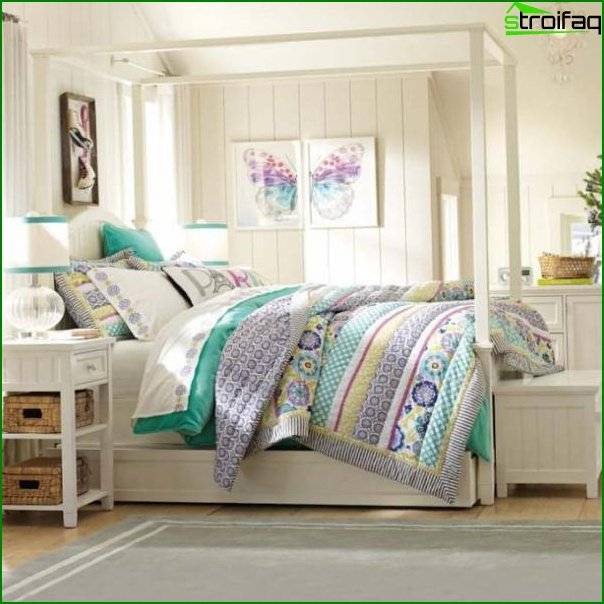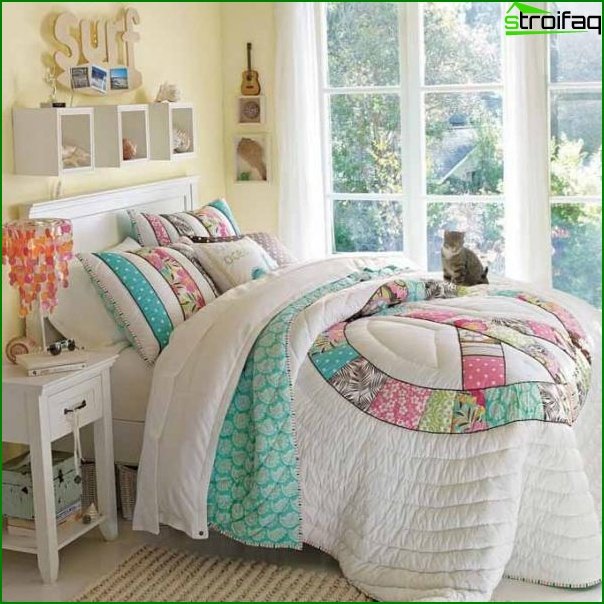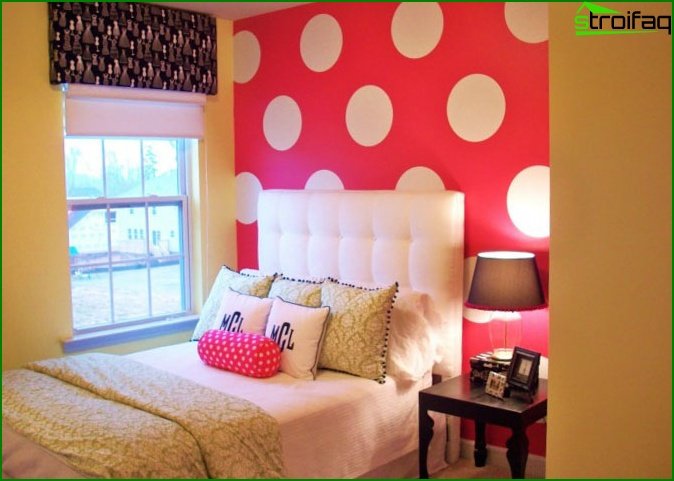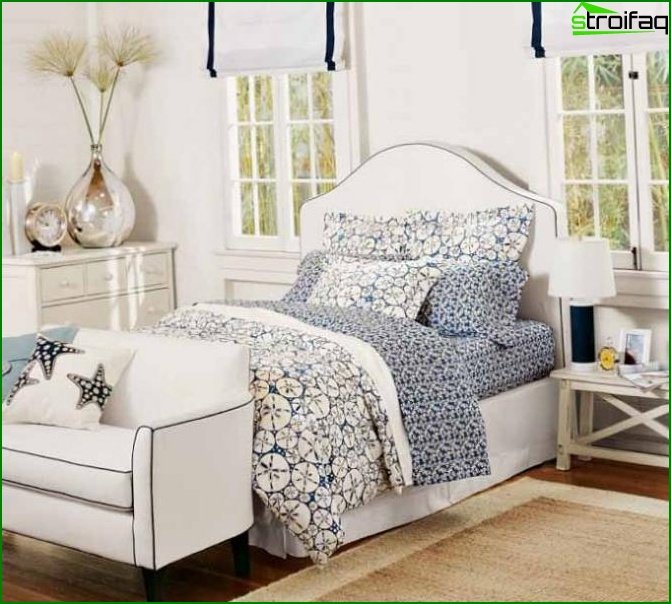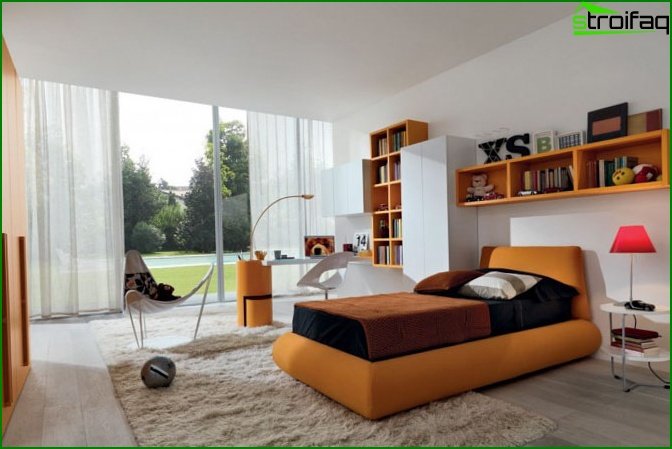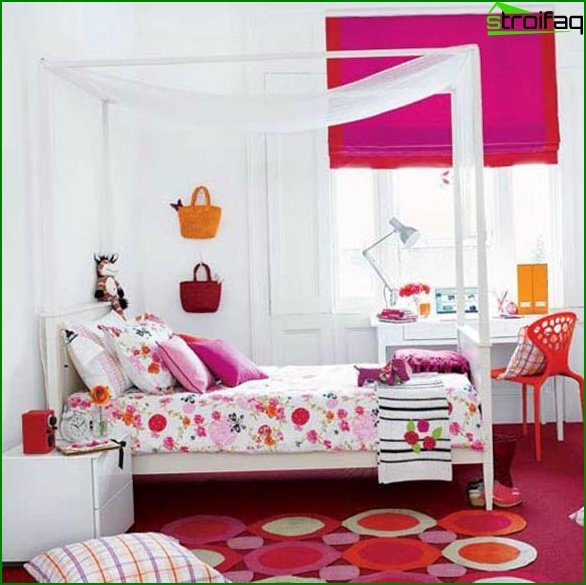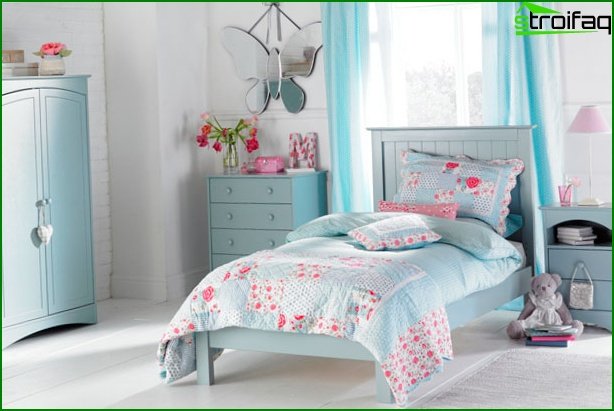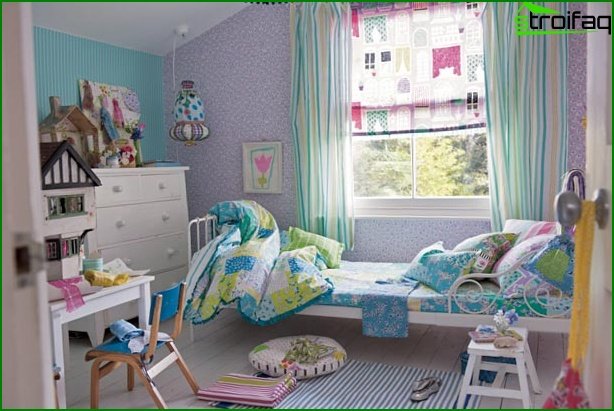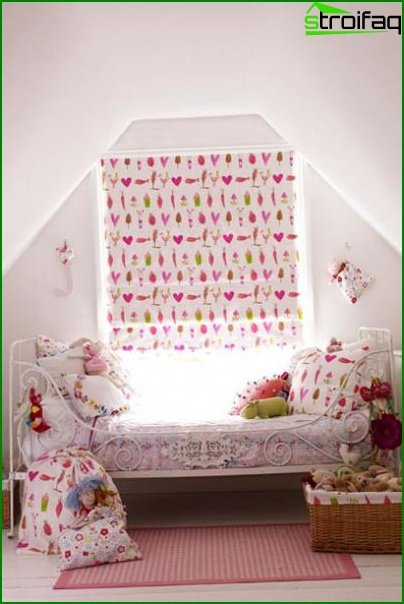 Read also about the design features Rooms for a boy-teenager.
The choice of colors
In order to choose the color of the room for the girl,Let us turn to the advice of psychologists. It is recommended that the children's room be decorated with colorful, but at the same time quiet, light tones, i.e. If it is yellow - it is better to choose gentle shades of lemon and light beige, if pink - then pastel, peach or dzheraldin.
If you want something more saturated in the interior,Focus on bright furniture and decorative details, and walls, ceiling and floor leave neutral shades. So the room will become more cozy, spacious and bright. But about what colors and colors children's room Use, it is better to consult your young hostess. We offer the following options.
Pink color
Traditionally baby for little girlsAre made in pink tones. Many will say: "Only without pink!" Yes, in pure form this color can turn out to be rather annoying and dark (especially for walls), and for older girls (10-12 years) it may seem too childish. Therefore, it is better to decorate a room with rich stylish shades of pink:
Peach;
Coral;
Lososiev;
Flicker-scarlet;
Pastel;
Light pink.
These shades are suitable for decorating children in the style of Paris or glamor.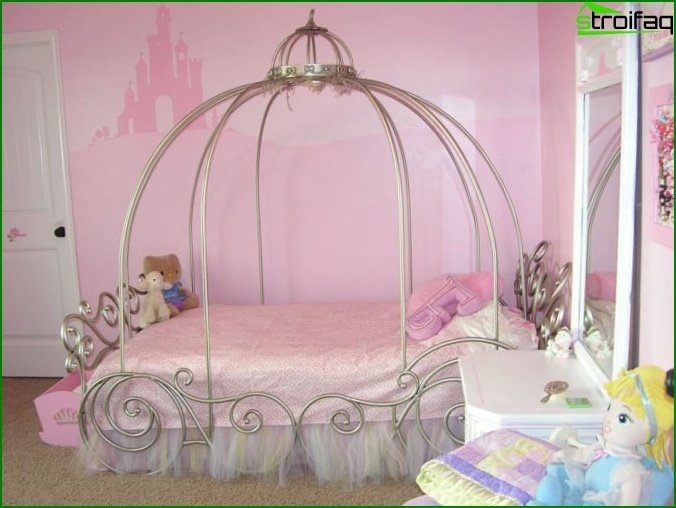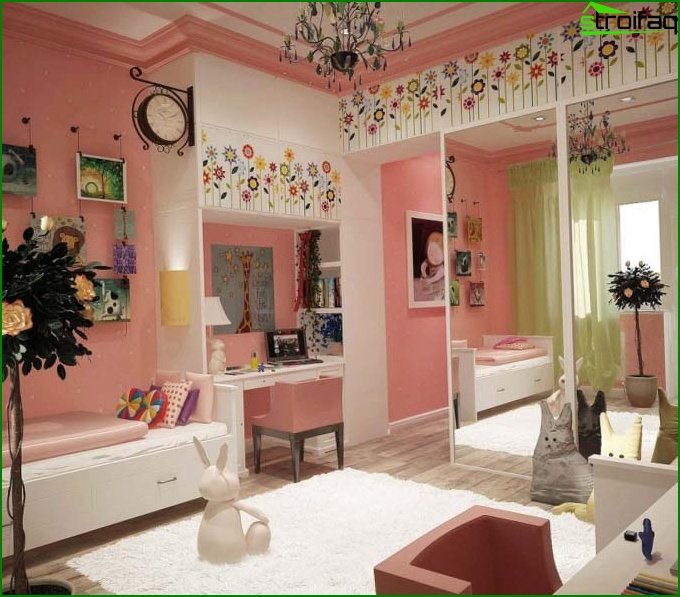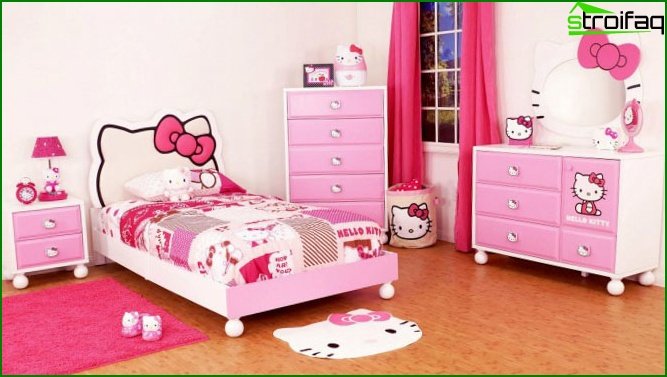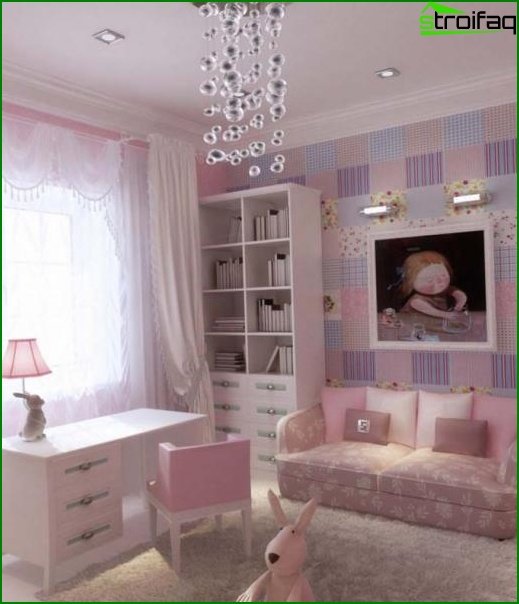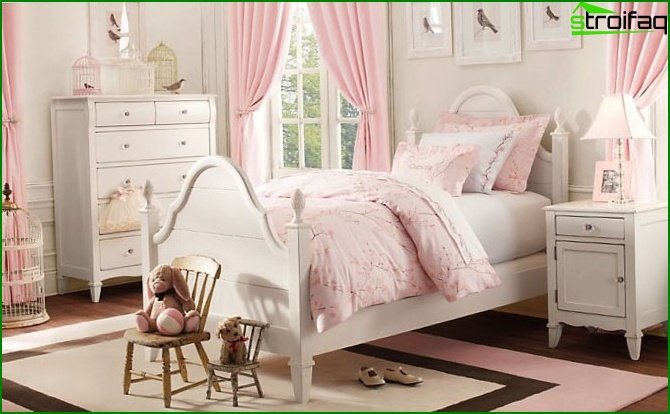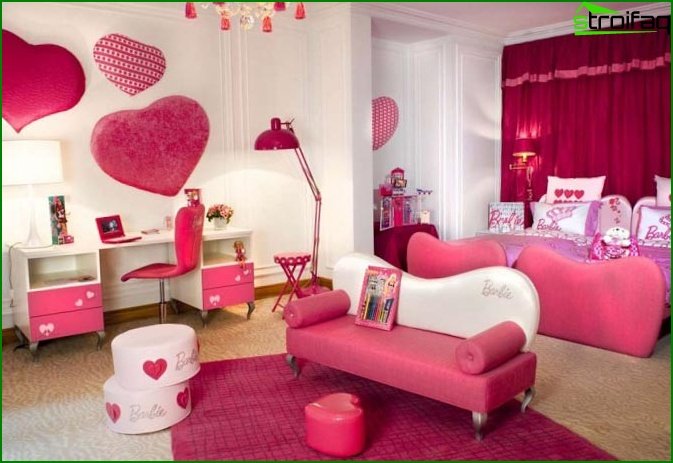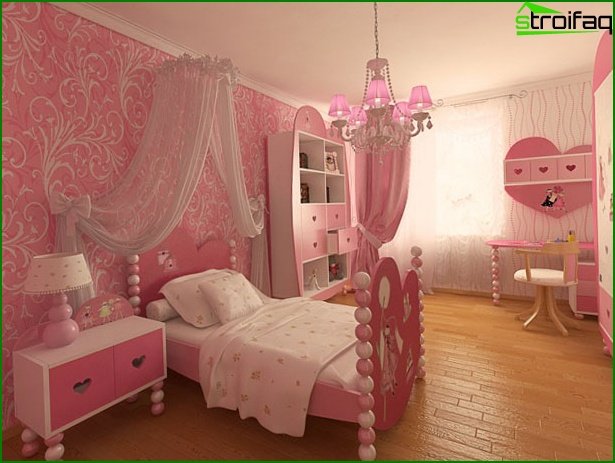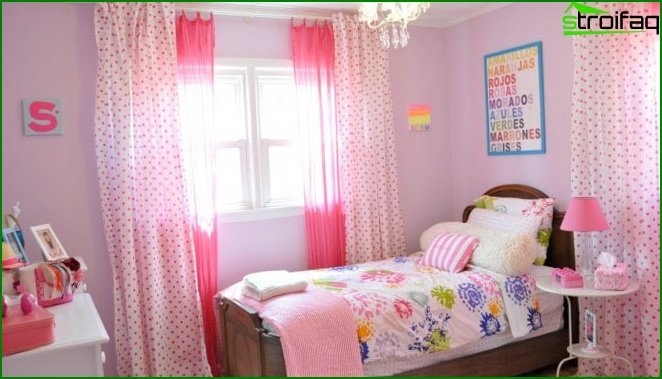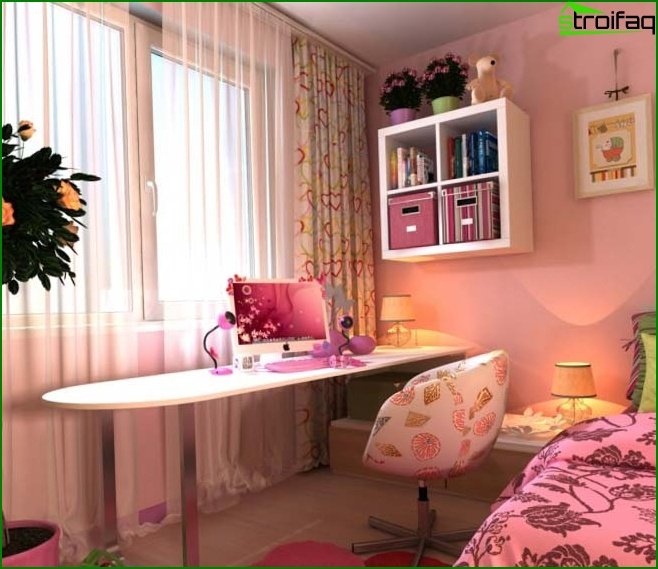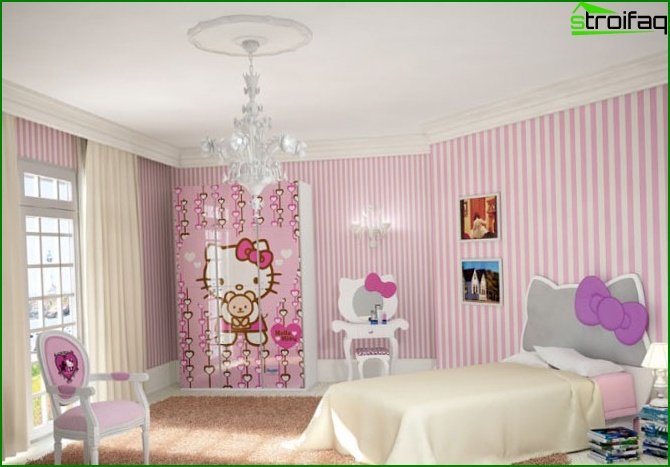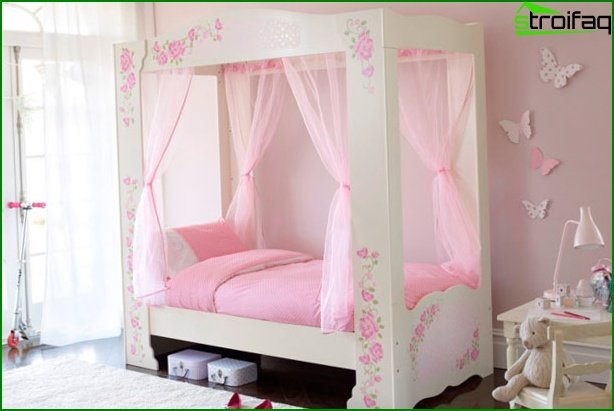 Purple Colour
Calm, light, cozy and fascinating color inInterior. Very soothing effect on perception. For well-lit rooms, cooler and more intense shades will do. In small, low-lighted rooms it is better to use warm muffled lilac tones. From the shades of lilac recommend:
Medium and light purple;
Violet;
Purple;
Lavender;
Amethyst.
It is interesting to see the contrast of pink and lilacShades with beige, white color, gentle shades of green and turquoise, rich chocolate color. Diversify the room can be bright elements in the tone of the walls - furniture, paintings, lamps, plum, neon and bright pink, crimson, fuchsia.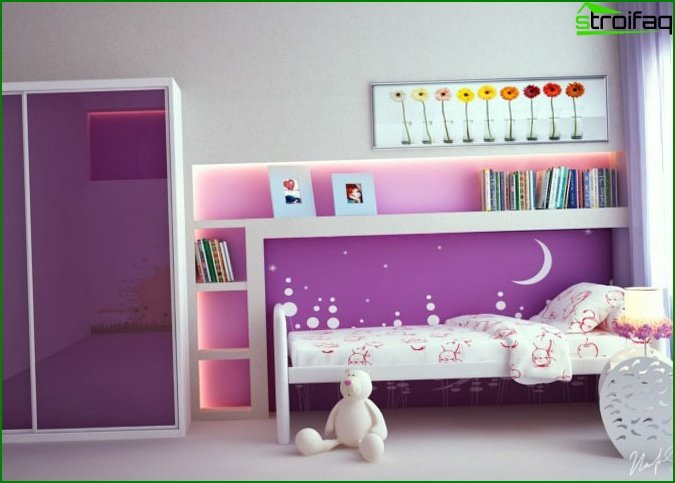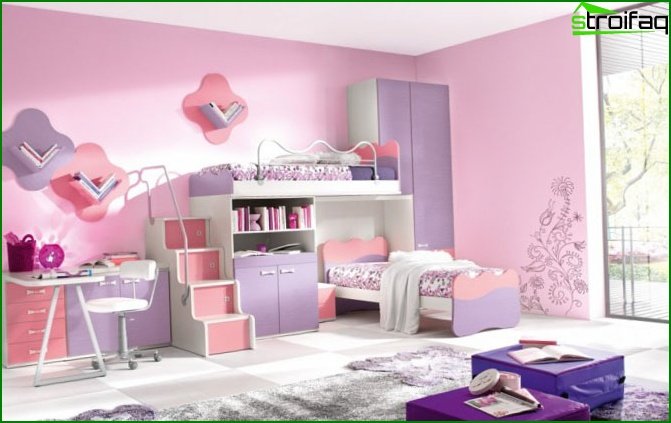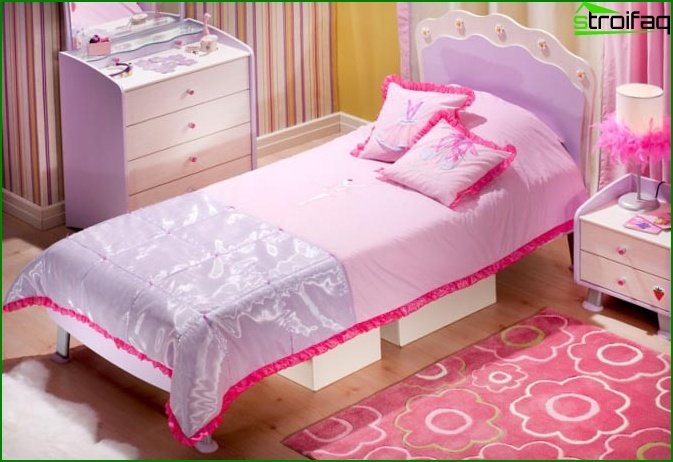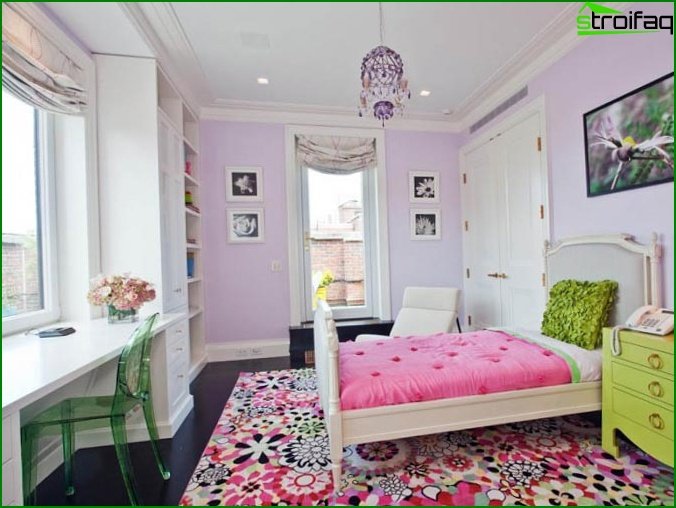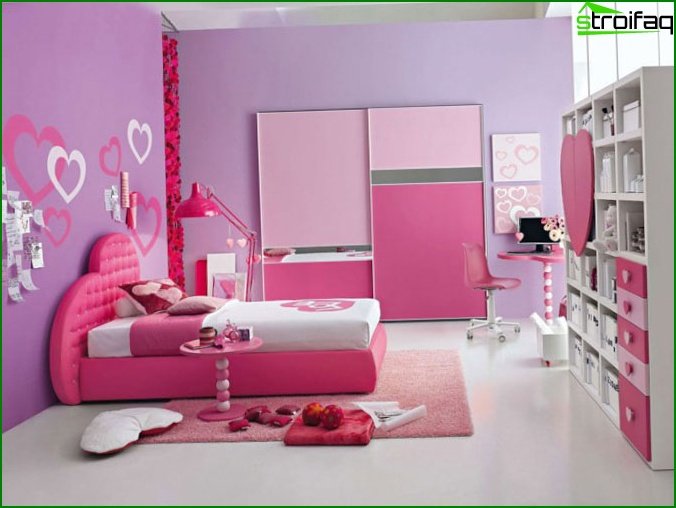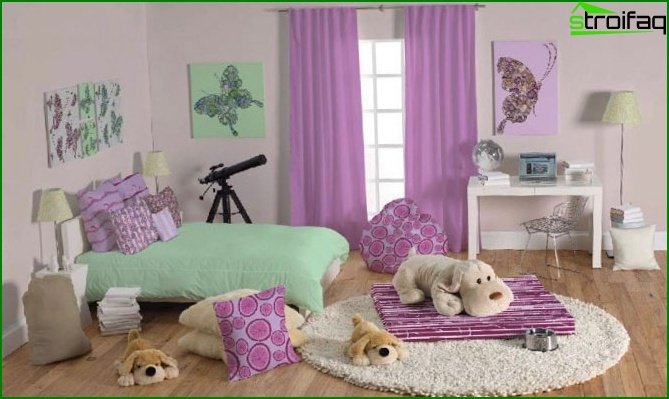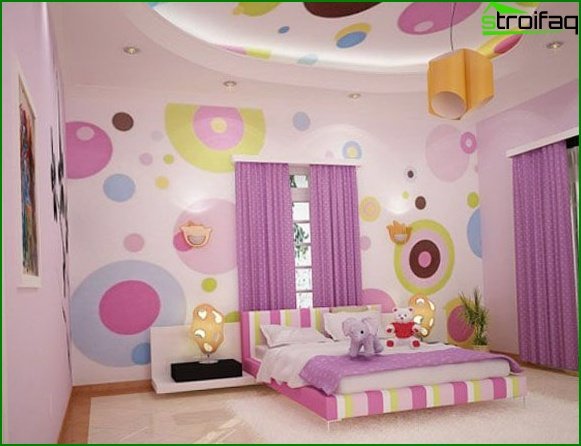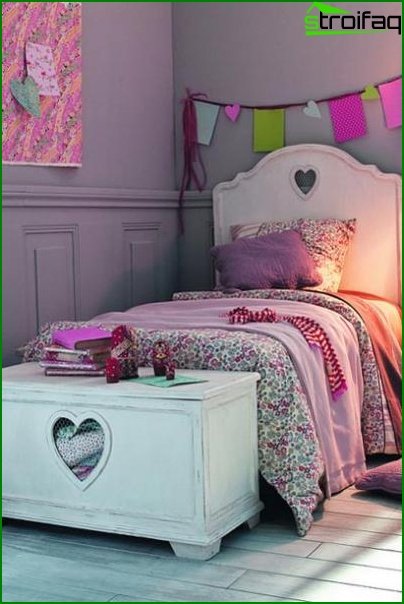 Green and yellow colors
Fresh and bright version of the girl's bedroom. These colors are not combined by chance, because they are very concisely combined in a natural way, and in different shades.
In order for the room not to work out too wellMotley and bothersome, use a combination of pastel shades of green and yellow. For example, green in herbal and mint tones, yellow - in golden, straw hues. To add light to the room, dilute them with the color of vanilla or champagne. Children's room for girls, Designed in this way, will resemble a sunny spring meadow dotted with dandelions.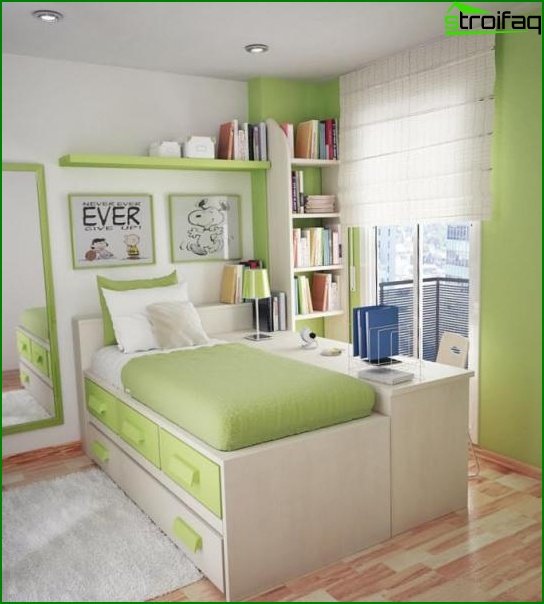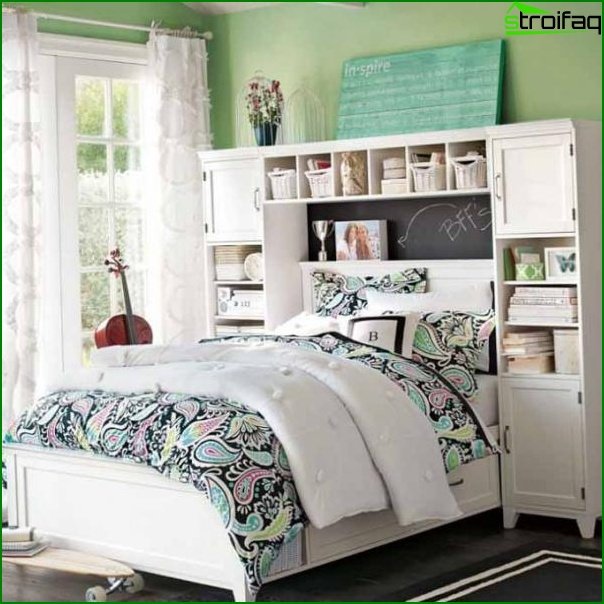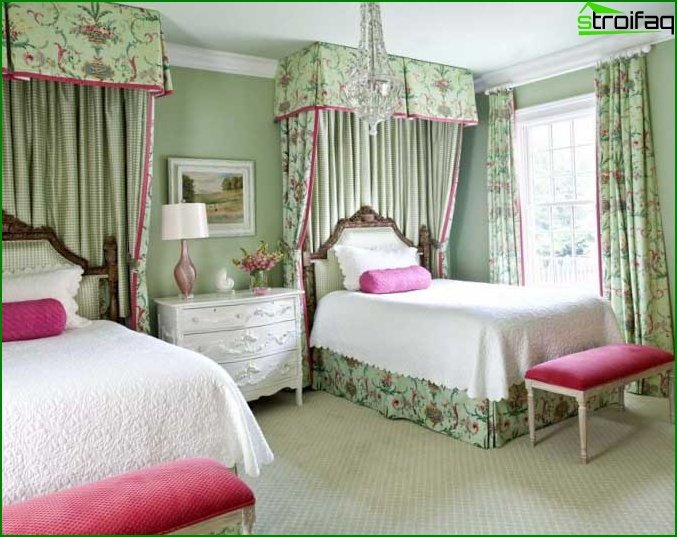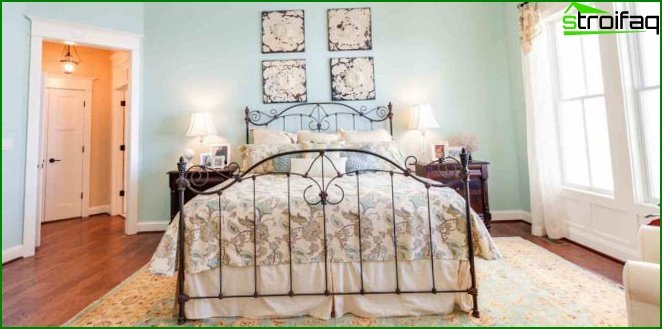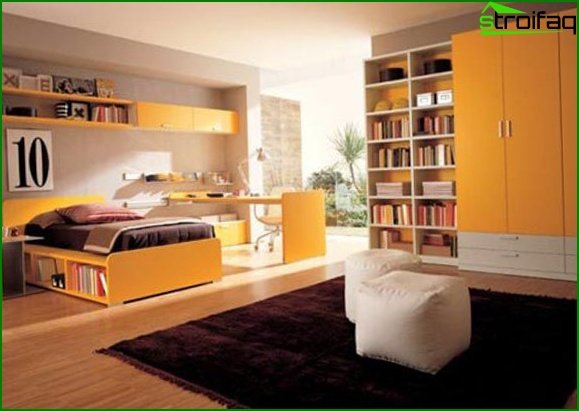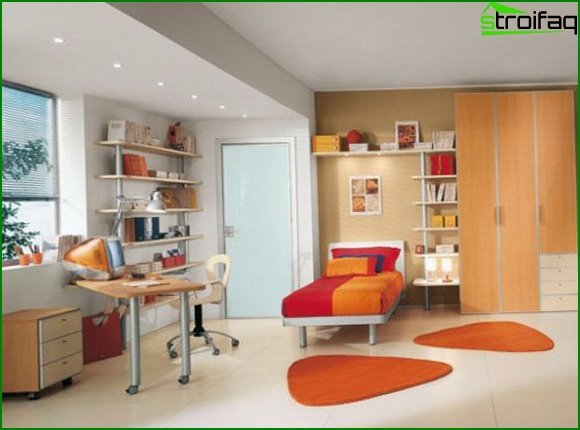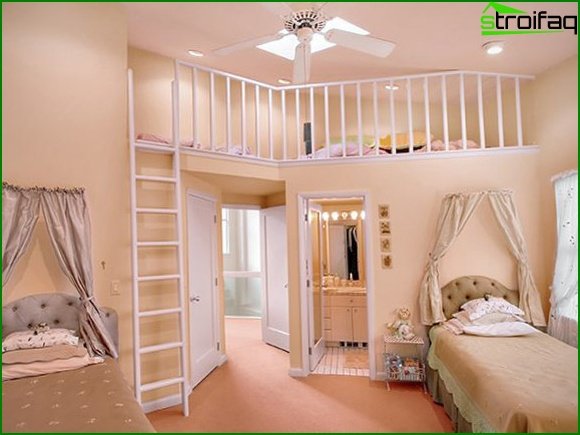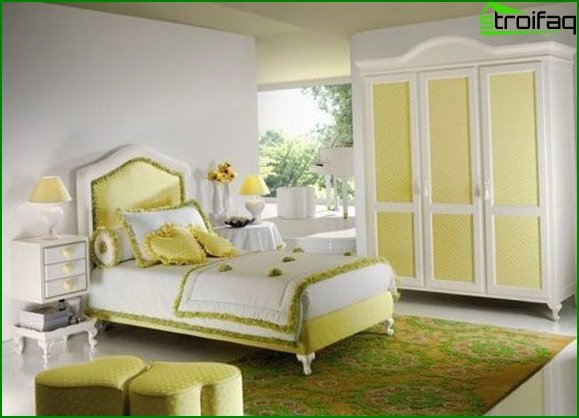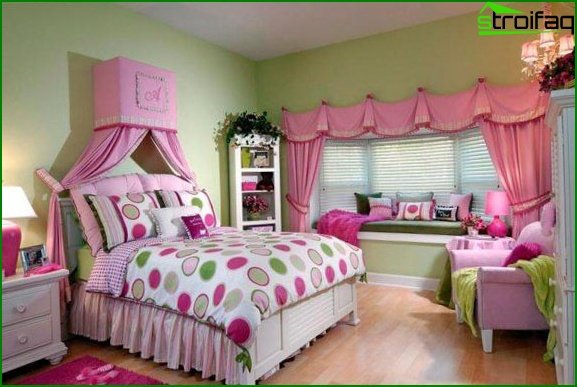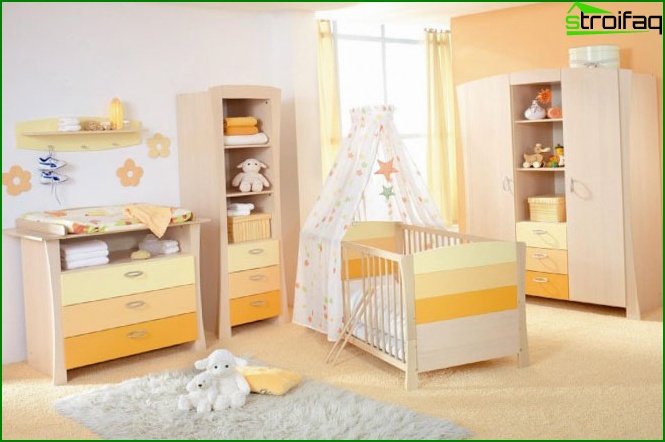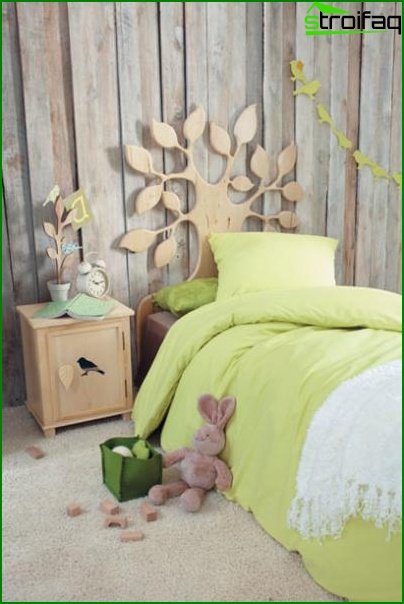 Light shades
Do not think that calm beige, golden,Cream tones are not suitable for a children's bedroom. Do not forget that your girlfriend is already a teenager and will soon become a girl. In such a color solution, the room will look a little a priori and, perhaps, your future hostess will be more comfortable to grow up here.
Light classic in various designs(Champagne, biscuit, cream, almond, golden, caramel, warm beige and many others) is a very practical design option, as, most likely, you do not have to redo the baby until your baby grows up.
A bright golden room is always a lot of light and space, as well as an unlimited opportunity in choosing accessories.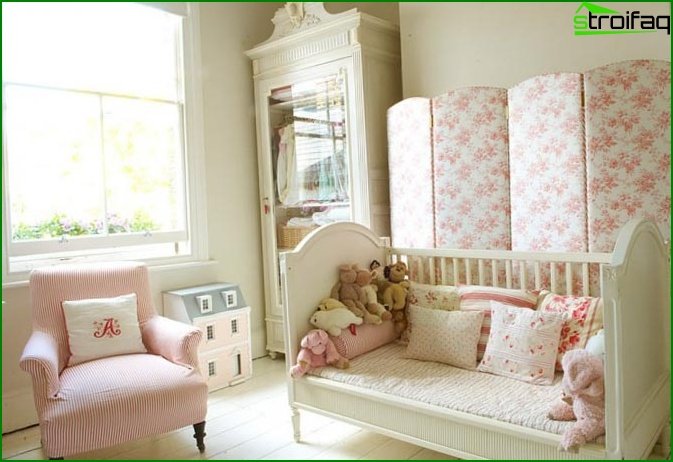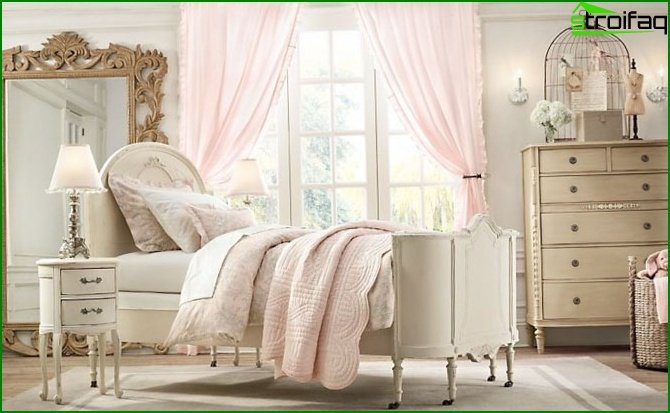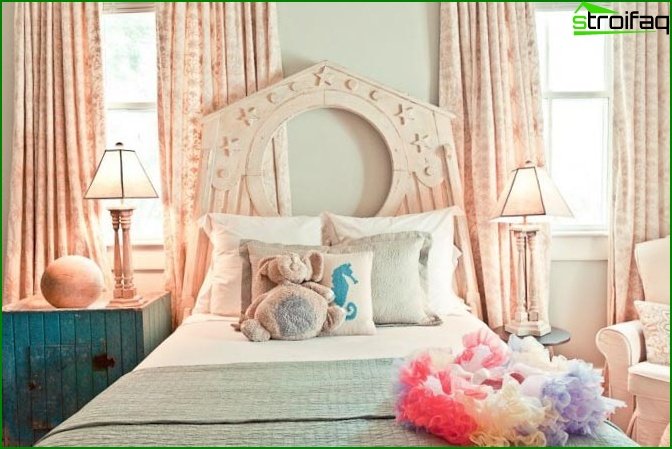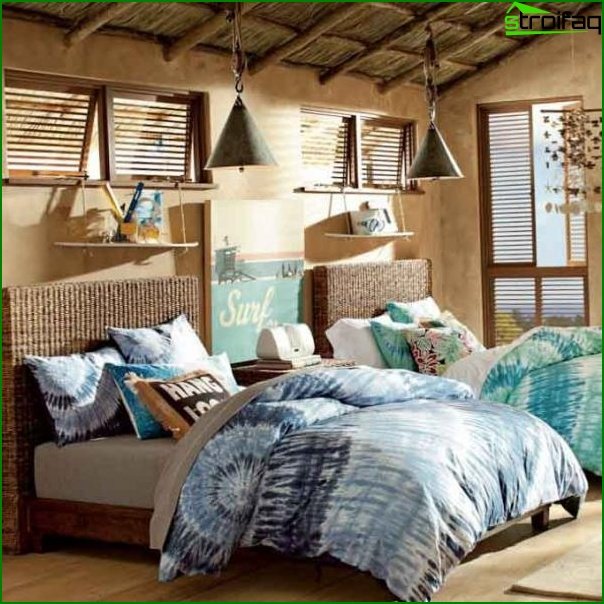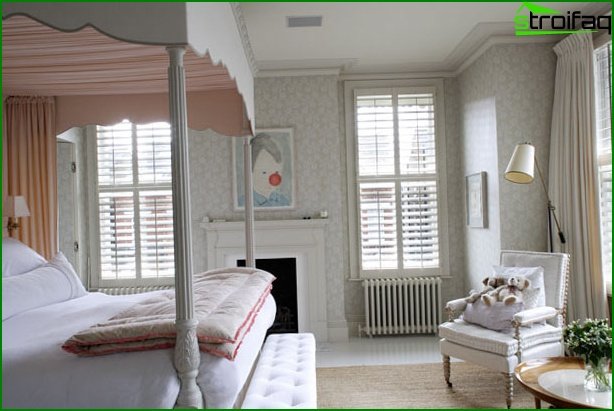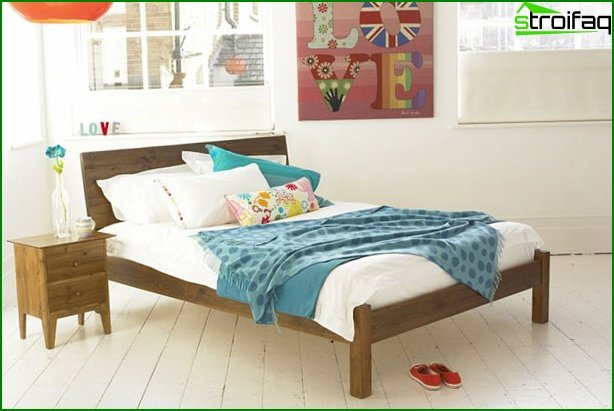 The combination of colors and shades

| | |
| --- | --- |
| Pink color | Light blue, gray-blue, turquoise, light green, pastel green, white, all light shades (cream, champagne, beige, etc.) |
| Purple Colour | Light blue, gray-blue, turquoise, light green, pastel green, white, all light shades (cream, champagne, beige, etc.) |
| Yellow and green | All light shades, white, orange, sand, ocher, pink. |
| Light shades (champagne, biscuit, cream, almonds, golden, caramel, warm beige and many others)? | All colors and shades |
Room decoration and choice of materials
If you have decided on the choice of colors, it's time to move on to choosing materials for decorating walls, ceiling and floor.
Selecting wallpaper
Room for girls Adolescent Do not necessarily have to be glued to bright wallpaper with cartoon characters. It is more reasonable to decorate the interior of a child "for growth", so wallpaper It is better to choose a single-color or with a small unobtrusive pattern, and contrast the interior with bright furniture and accessories.
And a few more ideas:
Two-color wallpaper can be used for zoning the room.
Vertical stripes and a small pattern on the wallpaper will visually expand the space.
Too frequent drawing or dark color throughoutPerimeter of the room is depressing. Therefore, if you want to use such wallpaper, it is better to single out one wall for them (for example, at the head of the bed).
If you have chosen some theme or plot, try to stick only to it, even in small things.
Finishing the ceiling
at Ceiling finishing It is better to give preference to natural, calm warm tones. With the help of the ceiling, you can significantly raise and expand the space.
For example, for Small room of 12 square meters One possible way to increaseSpace is a ceiling with a glossy surface or with a 3D 3D pattern. Stick wall-paper sky-blue with clouds, and with competent lighting, this effect will simply remove the ceiling.
Lighting
Proper lighting is very important, especially for a room with insufficient natural light, both in terms of design, and in terms of your girl's health.
If possible, put the maximum of the backlight onPerimeter of the entire ceiling, this will visually expand the space, and create sufficient room illumination. Add a few lights in the bedroom and work area.
Finishing the floor
Remember about safety! Floors should be quality and environmentally friendly, ideally, parquet board or laminate. And the minimum number of dust collectors - from the carpet is better to refuse, a maximum a small bed mat.
Zoning and planning of a nursery for a teenage girl
children's room Must necessarily have several important zones. It should have a wardrobe for numerous girls' clothes, a workplace with a computer, where you can do lessons or engage in creativity, a comfortable bed (for example, a cot with boards). It is not bad to put a dressing table with a mirror, where a young fashionista can guide a marathon. And all this should complete a small children's room, so much so that there is room for games and movement.
Let's talk first about how to logically divideRoom per zone. You can, of course, use screens or partitions, but a rare area will allow us to do this, especially if it is a small-sized Khrushchev. The most optimal option - the division of the room using wallpaper of different tones or colors.
Be careful in combinations of the palette! If you use a dark or bright tone, it is better for him to choose a lighter pastel shade. The freshness of light wallpaper can be diluted with a bright wall with an interesting picture of vinyl stickers or photo wallpapers.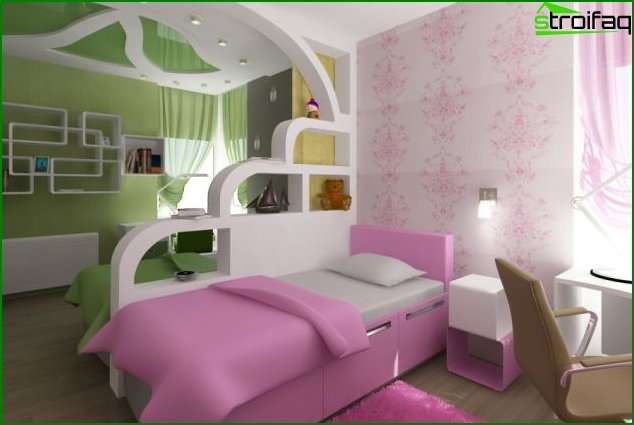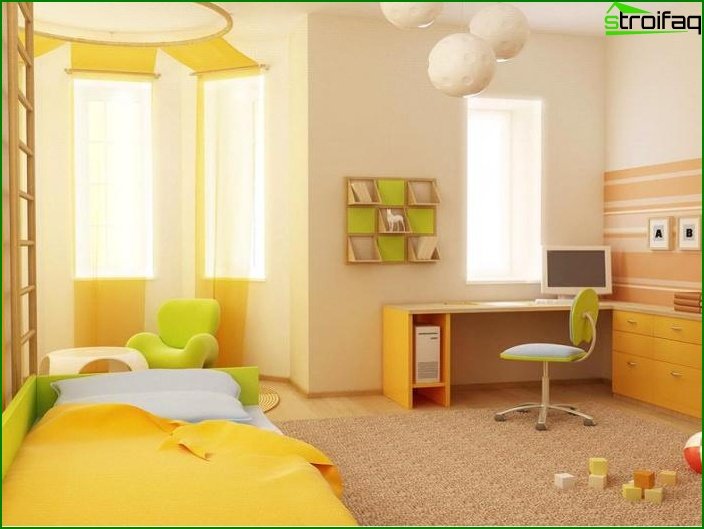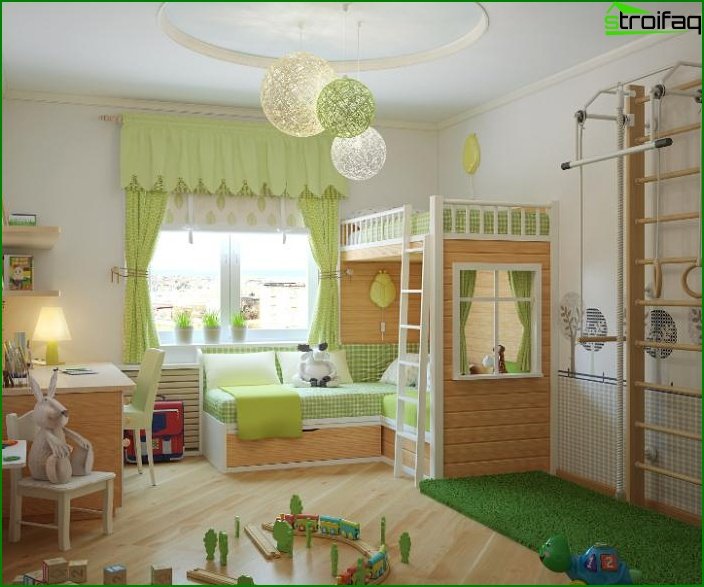 And now we'll figure out what should enter into each of the zones of the room.
sleeping area
The sleeping area includes a bed with a comfortable orthopedic mattress and, if space allows, a bedside table with a floor lamp and a mirror. At the foot of the bed you can lay a small pile mat.
In a small child's room is optimalTo combine a sleeping and working place or a bed and a wardrobe. This can be done with a housing set - a two-story structure with a bed on the second floor and a table on the first (loft beds), or a bed with cupboards, shelves, shelves attached to it and near it. There are even modular systems three in one - a bed, a wardrobe, a table.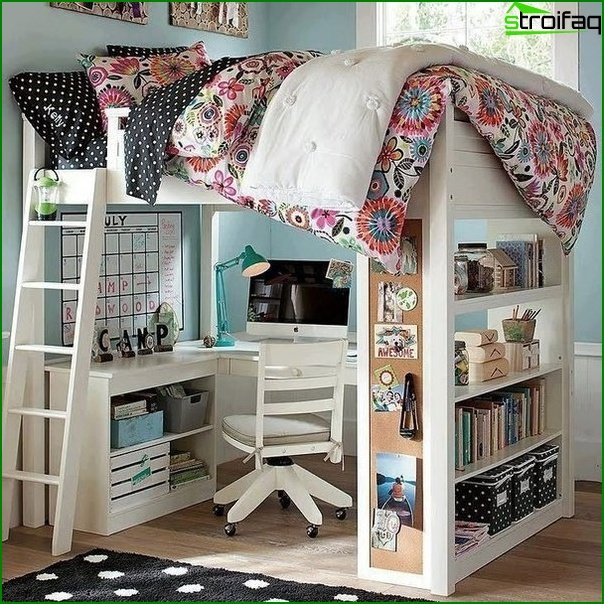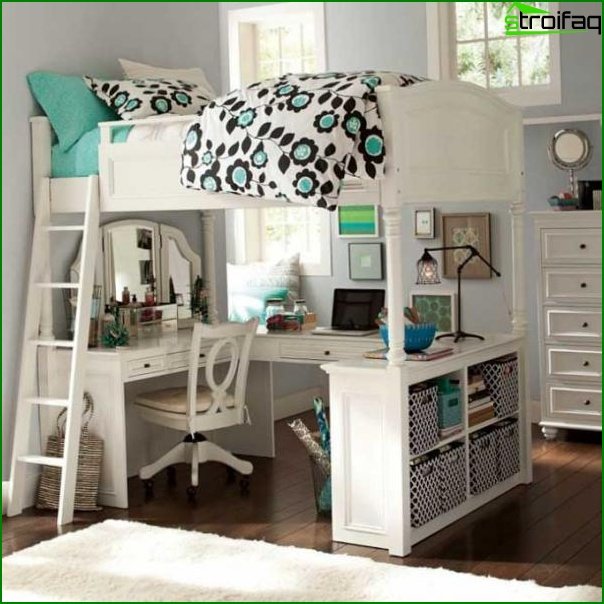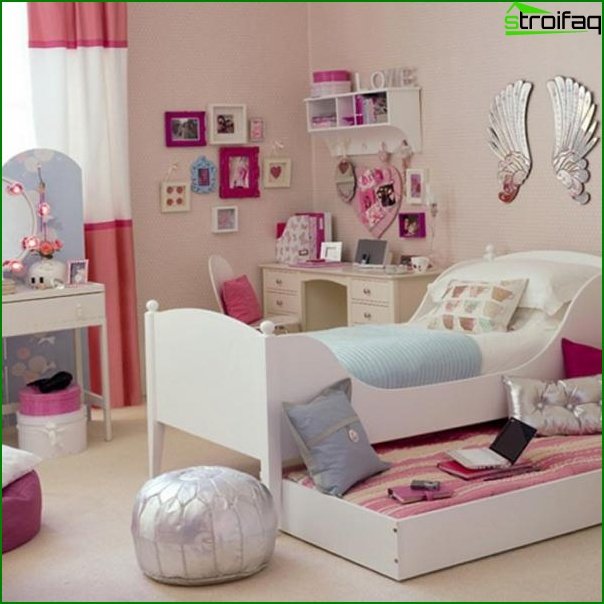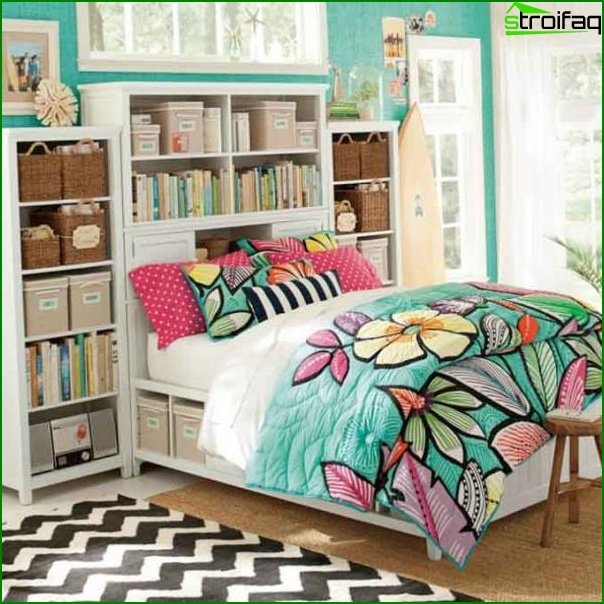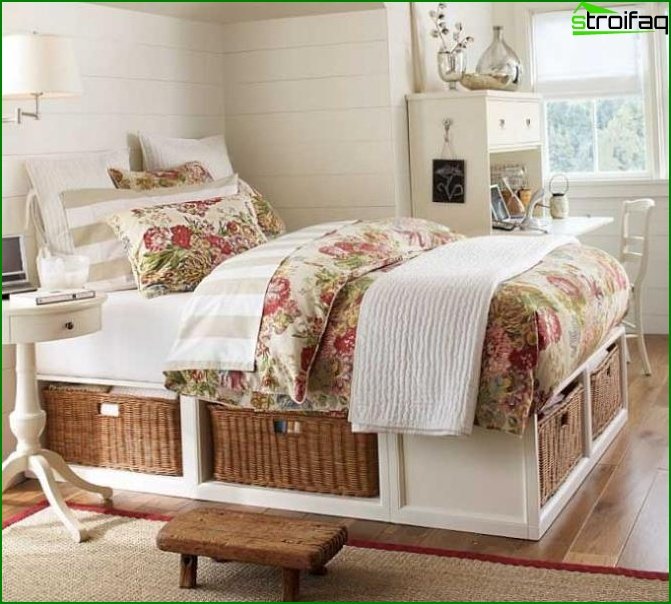 Work zone
It is best to place it near the window or provideGood artificial lighting in this area. It includes a computer or a desk, a chair, a computer, a small shelf for books, CDs and trivia. For storage of other things, a dressing room is suitable.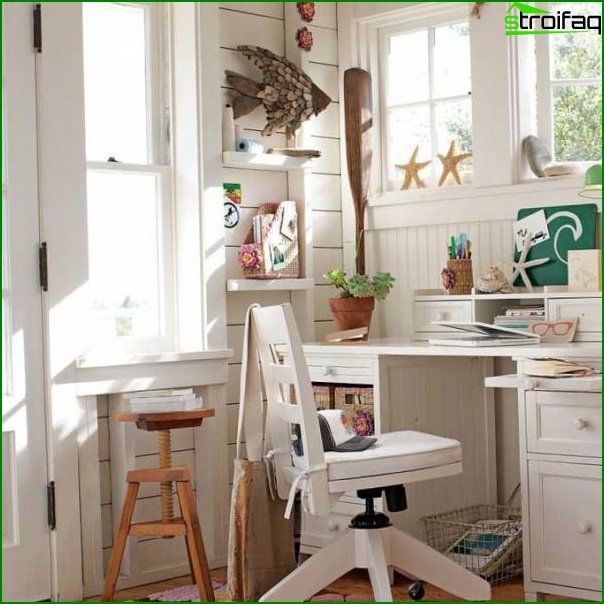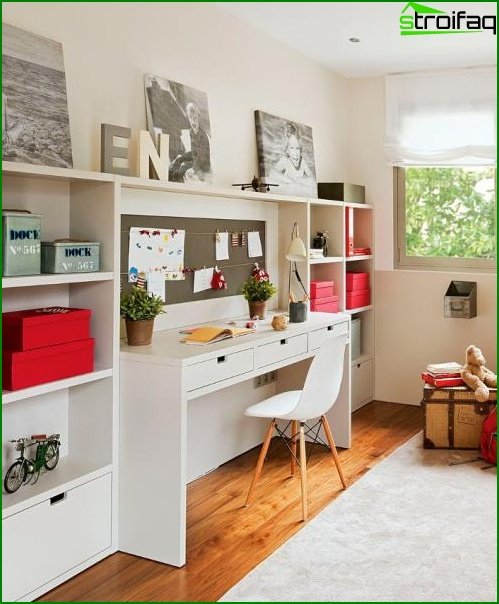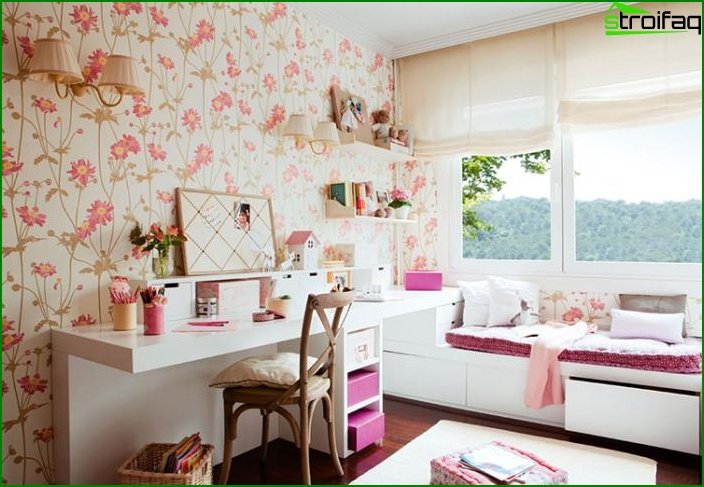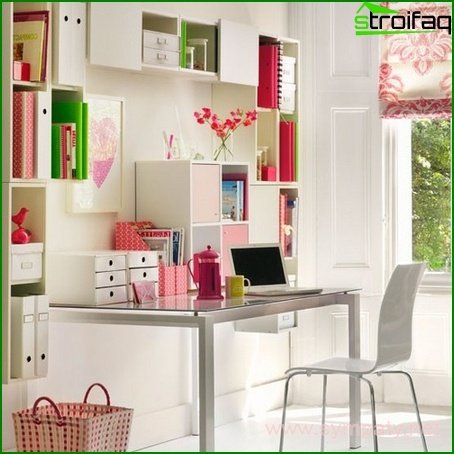 Storage Area
Of course, it involves convenient capaciousCabinet, not too high for the child to reach all the necessary things. If your child's space is limited, you can also resort to modular furniture sets and place some of the things (bedding, pajamas, towels) in special boxes under the bed.
Registration of a small bedroom and options for visual expansion
A small room is a big challenge forDesigners, especially when it comes to a children's room for a teenage girl. It is necessary to place mountains of maiden's clothing, toys, educational supplies, to allocate a place for sleep, study and creativity. And, of course, at the same time you do not want to stumble at every step and stumble upon furniture.
First of all, in a limited spaceTake care of functional furniture. Instead of a normal bed, put a bed with drawers and shelves, instead of a regular table - a computer desk with a bookshelf and a pull-out writing pad.
Visually expand the space help:
Light and cold shades of walls and ceilings, warm and bright colors steal space;
A fine wallpaper pattern and vertical stripes - extend and extend the room;
A lot of artificial light (from the point of view of safety, the illumination along the perimeter of the ceiling is ideal);
A large mirror - for a young fashionista just a necessary detail of the interior;
3D wallpaper or 3D ceiling will give the room a depth.
Do not forget that the proper arrangement of furnitureAffects the freedom of space. Use the niches and every free room in the room. High bulky furniture pushed into the background. Do not obstruct the window with heavy objects (cabinets, chests of drawers), do not block the light in the room.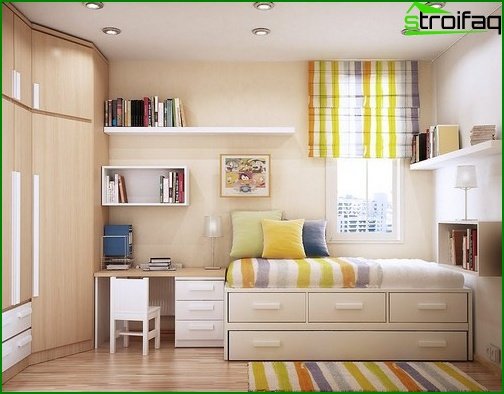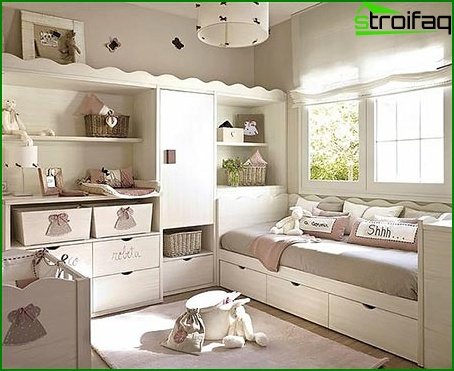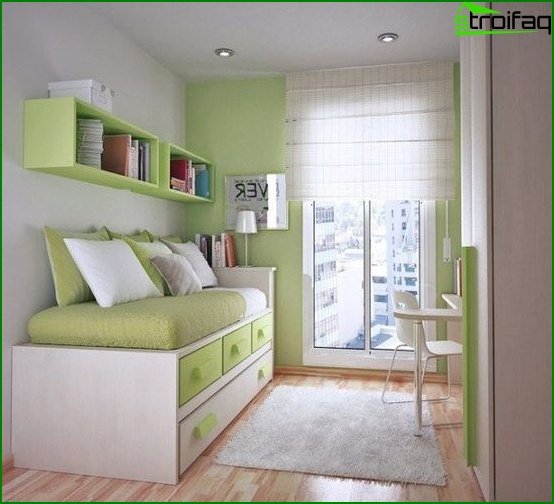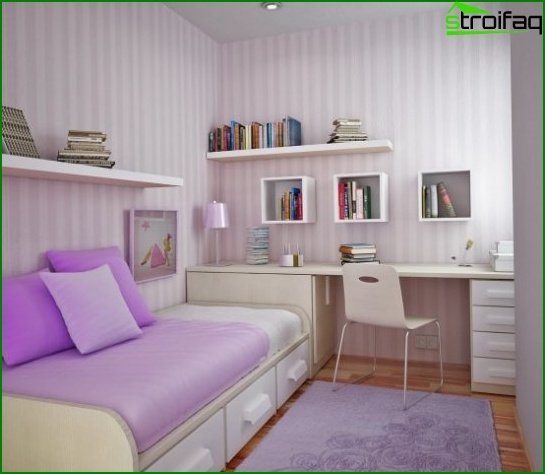 Decor elements are handmade for the girl's child's room
With the help of any useful and pleasant to the heart small things you can optimize the space, create a harmonious cozy atmosphere and add individuality to the interior.
Vinyl stickers - butterflies, flowers,Abstraction, inscriptions. They will help dilute the monotony if you are staying in a one-color room. With the help of stickers you can create an original collage from the photo, for example, in the form of a genealogical tree.
A collage of photographs or children's drawings - even though your girl is almost adult, she will be pleased to have in her own room such a memorable wall, inspiring new creativity.
Garlands of hearts, lanterns or pompons - will dilute any interior, add to it romanticism and airiness, what is necessary for a girl 10-12 years old.
Small original shelves at the head of the bed or in the work area - will save space in the room and rationally arrange books, toys and all sorts of trifles.
Flowers in flowerpots - maybe your girlfriend already wants to take care of someone and first of all she will be able to learn how to take care of plants, and they, in turn, will revitalize the atmosphere of the room.
Original fabric organizers for pins and rubber bands will help to restore order in accessories.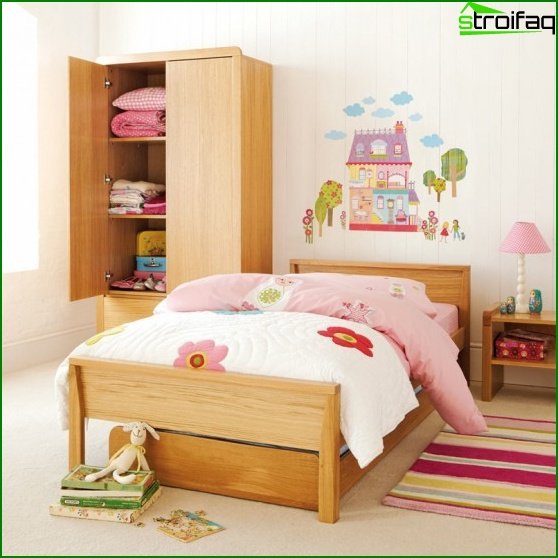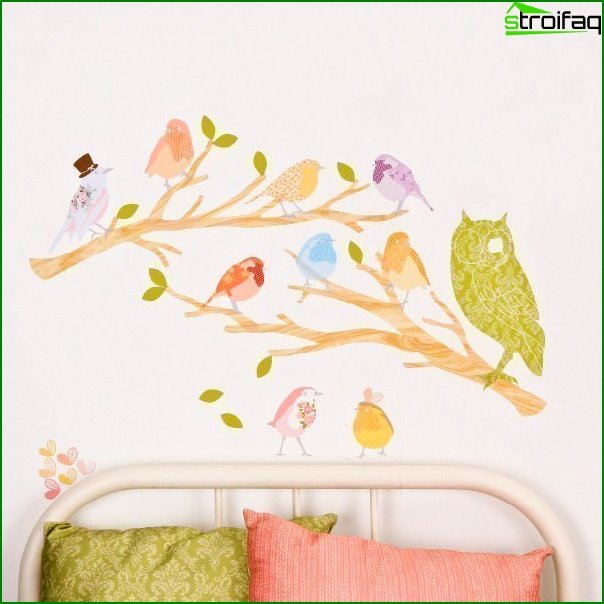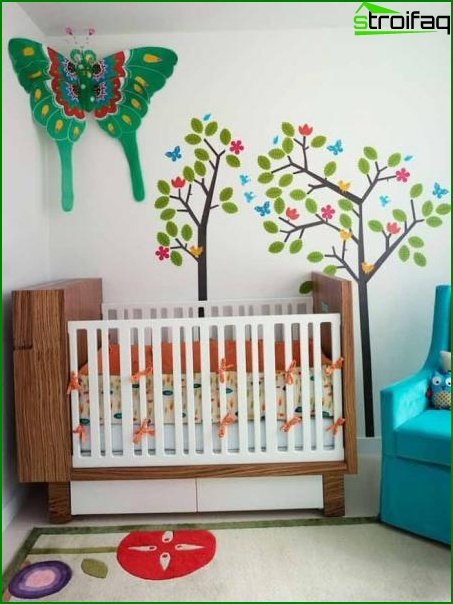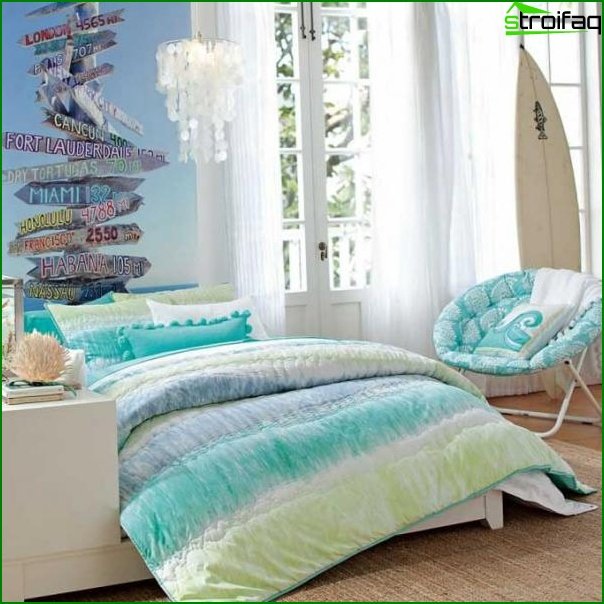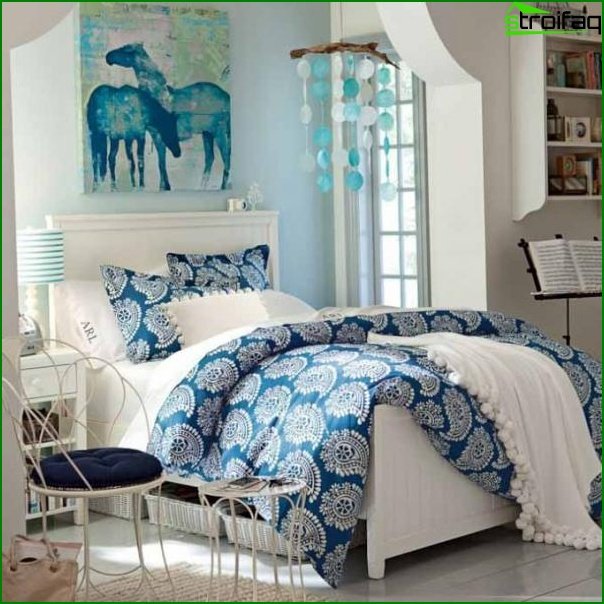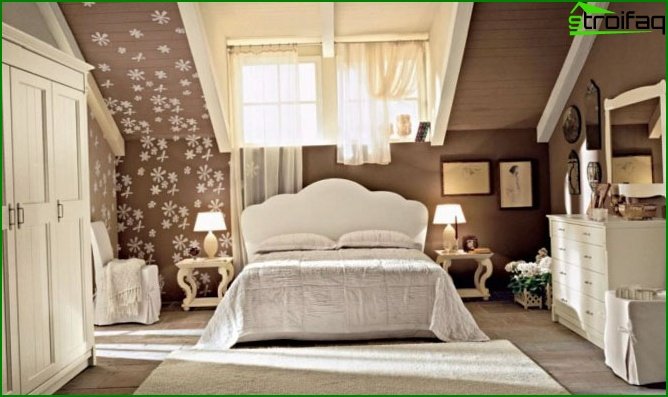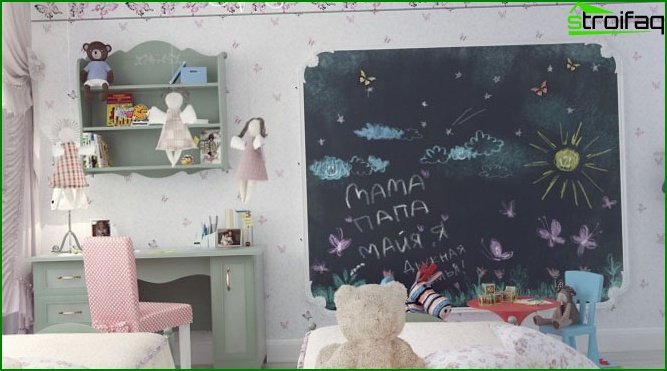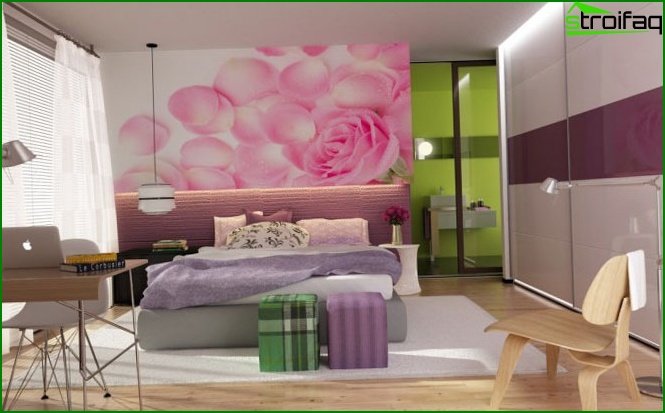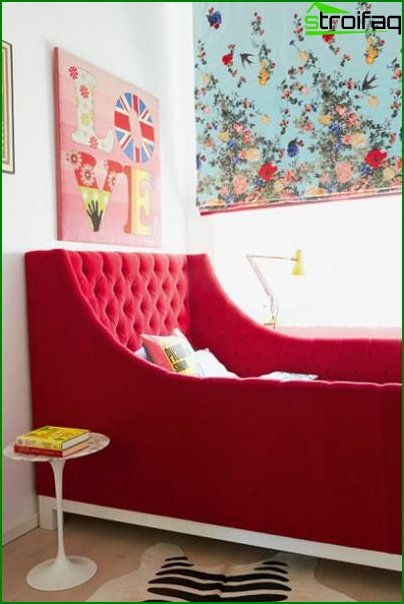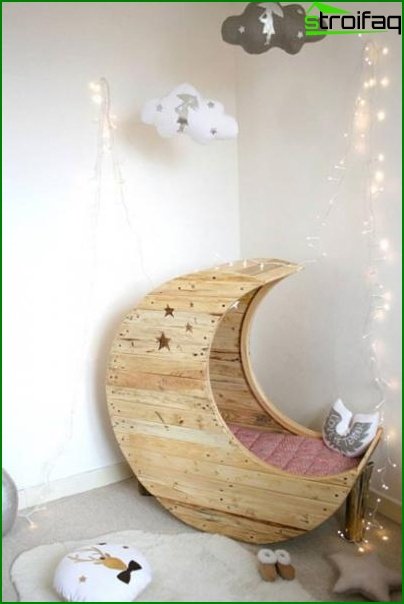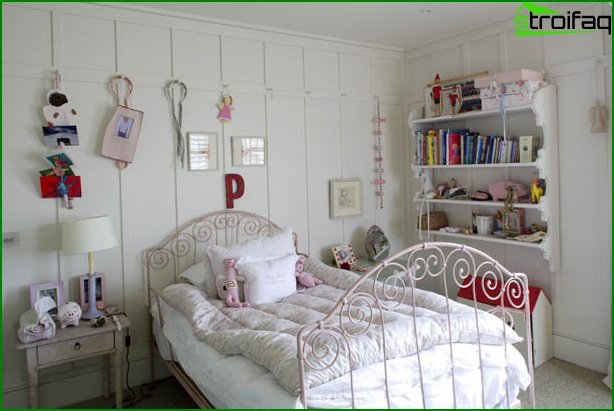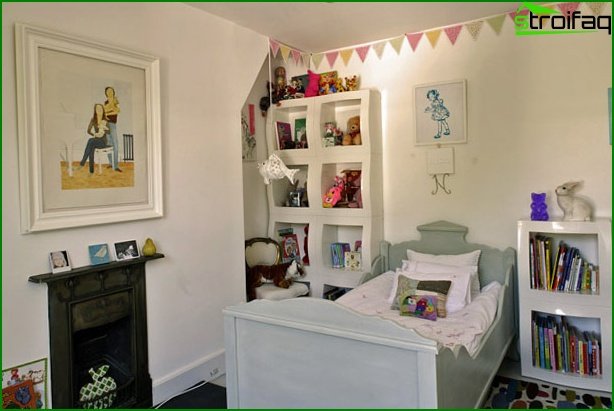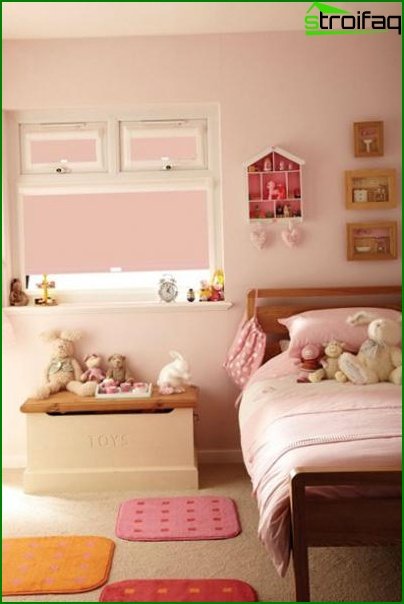 Several interesting ideas for children's interior for a teenage girl can also be found here.
Do not miss our article about design Rooms for two boys!