75 photo-ideas for the design of a room for children of opposite sex. Layout options. Help in the design of the nursery with their own hands.
We offer you a lot of photo ideas and design options for a children's bedroom for two children of different sexes
Content
Those parents who are fortunate to have two children,it is well known how important it is to maintain a private space delimited by each child, to avoid quarrels, conflicts and grievances between children. If there is an opportunity to highlight his room to each child, you will not touch this issue. But if the room alone, and children - two (especially if it's a brother and sister), you have to show all the imagination and patience to equally divide the room and highlight each their corner. Hopefully, these tips will help you resolve this serious problem.
Variants of planning and zoning for each child
So, we set up and decorate a room forChildren of different sexes. In addition to this criterion, we will rely on their age and preferences in the interior. Do not neglect the opinion of children in solving this issue, find out what colors he sees in his ideal room, what animated characters he likes. Children will tell you what a dream room should be. In the rest, direct them, following our advice.
You need to divide the room into 4 majorzones - a bedroom, study, games and storage space. If you doshkolyata, work area until they do not need, so more space is allocated to educational games, movement and sport. Students need more space in the training area - separate tables and be sure to separate computers, or quarrels and conflicts, you can not avoid. With children of different ages - more difficult here need and games, and a work area, and therefore more space.
Consider the various options for layout details.
sleeping area
Making bedrooms For children of different sexes is the most sensitive moment. There are two variants of planning:
Divide the room exactly in half, to no oneIt was hurt, with the help of a symbolic wall, or cabinet, boyish part of the issue in the same colors, girlish - in the other, to put two twin beds.
In case the room space does not allowrationally allocate the entire zone, put a two-story bed, having agreed in advance with the children, who in what tier will sleep. The difference emphasize using drawings on the walls, or using different colors of bedding, such as darker - for the boy, light - for girls. If the children are young and think over about the same age version of a bunk bed with additional game elements, it can bring together the interests of brothers and sisters.
Game Zone
On the motion of the game and need to leave a lot of space,especially if you - parents of young children. Boys definitely need to allocate space for exercise, ideally - a Swedish wall, takes up little space. Girls tend to be calmer and play area for them - a place where you can arrange a tea party with her dolls or read a book. It is best folding table suitable for this. His, by the way, will be able to use both of the child playing with a board game.
Learning zone
The training zone is required to create jobswith a separate computer for each child, otherwise you risk every night to separate brother and sister. You do not have to put two huge table, you can take advantage of modular systems (loft bed), where the bed is located on the 2nd tier and the bottom is located compact workstation.
If the area of ​​the room does not allow to put a 2-bed loft, set one long countertop, but to provide a complete training area both children.
Babies with a large difference in age may not need two tables, so divide the space so as to accommodate and educational place for the older child, and a playground for the younger.
Keeping things
The spacious wardrobe is needed, especiallygirls. To prevent conflict, divide the cabinet into two halves by means of different colors facades. Not bad to have as a basket or a chest of drawers for toys.
In a very small child would be enough to do bedside tables and built-in drawers bed, and the bulk of items placed in the closet in the hallway or main room.
And another tip for planning! Resort to blinds for the room zoning for two children. They can always push back if the kids want to play with and, on the contrary, draw, if someone wants to retire to his side of the room.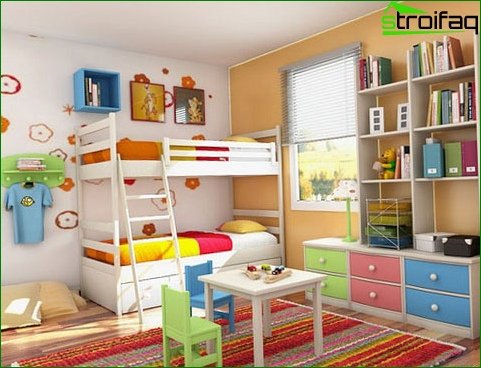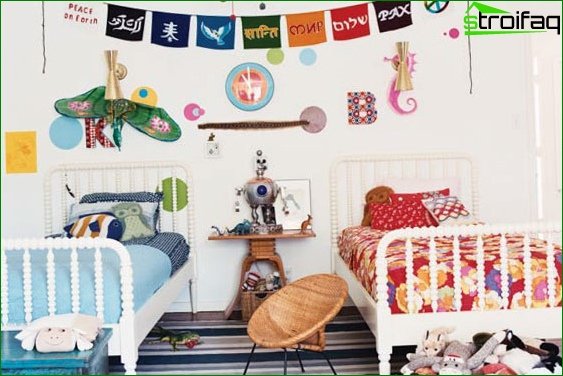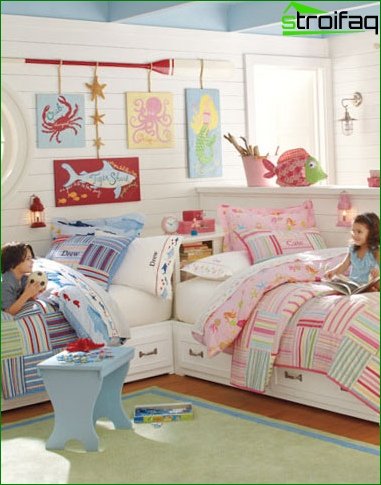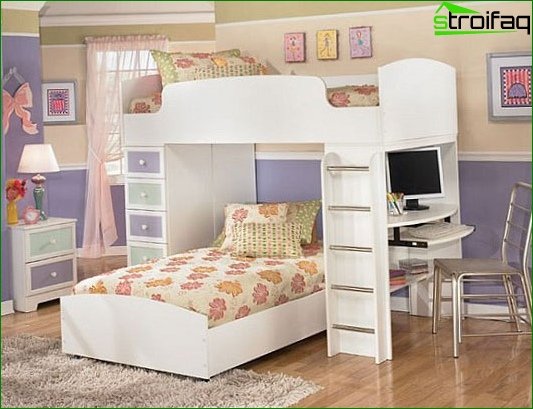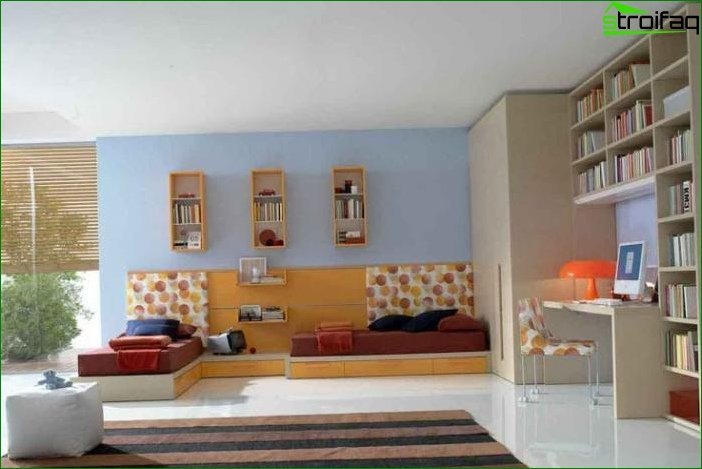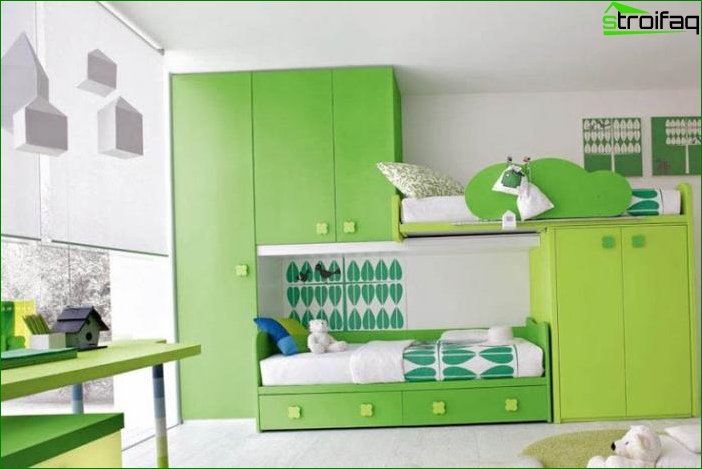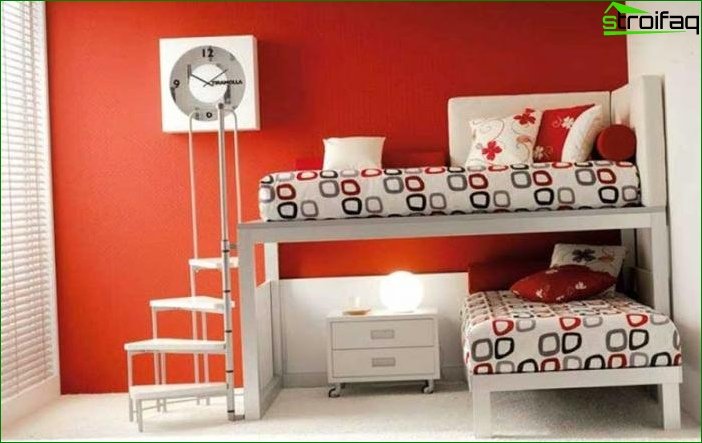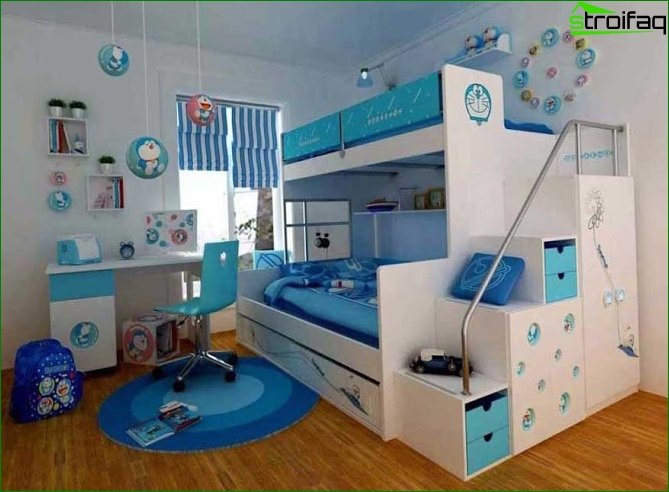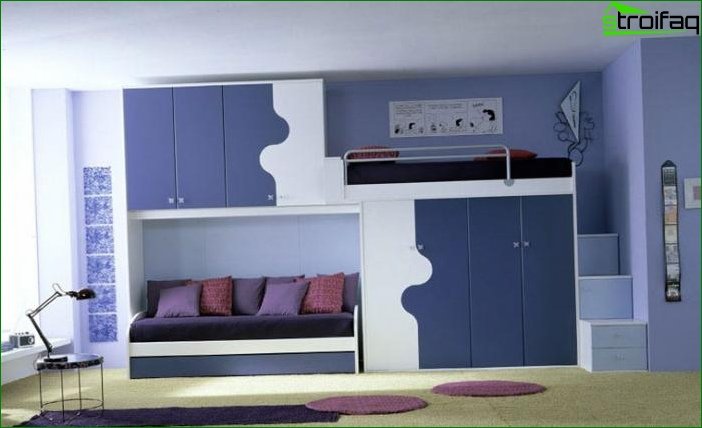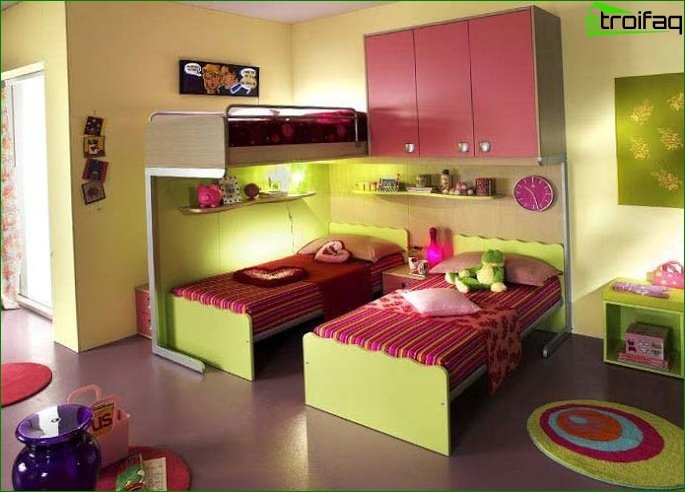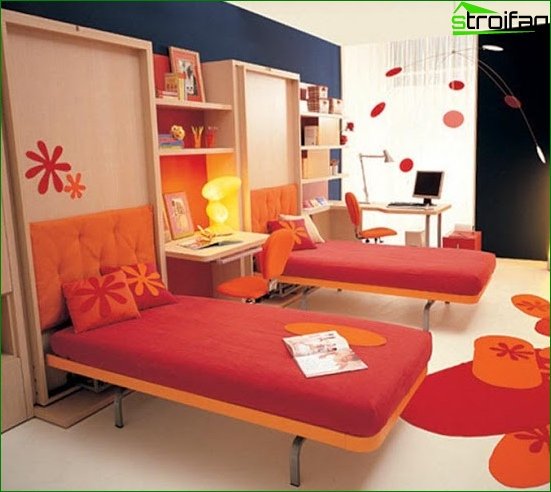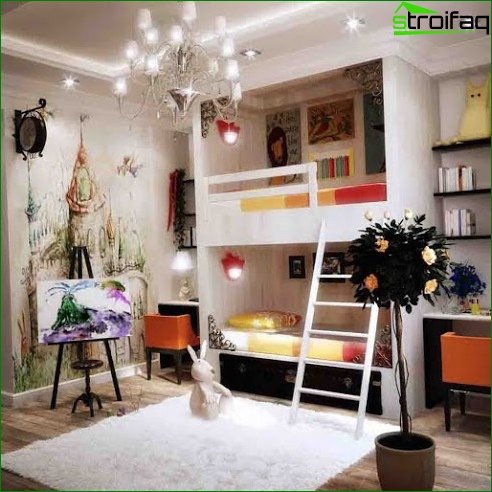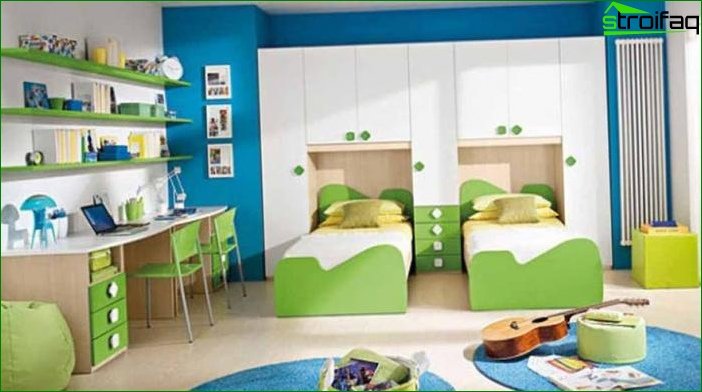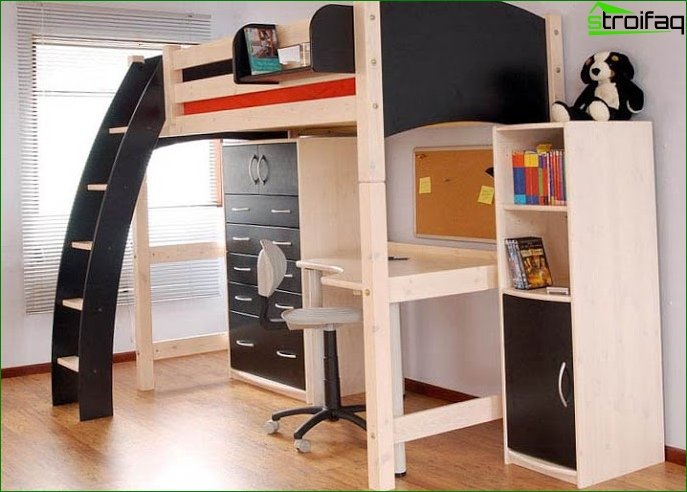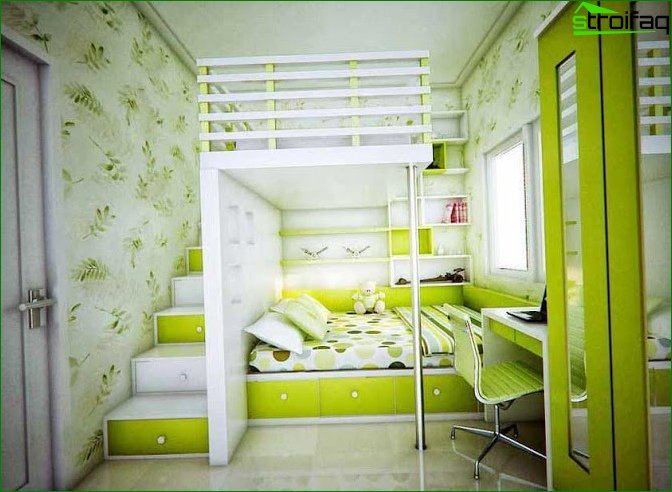 Choosing a color palette and zoning with its help
Zoning room for children of different sex withHelp color - one of the most successful and not bulky options for dividing the room into 2 parts. When choosing a color palette, remember that you should please both the boy and the girl. There should be no prevailing pink colors or dark shades, it is best to choose neutral or well-matched tones. More details about such design in table 1.
Variants of children's color design for children of different sexes
Color scheme
Decor
common topic
It is intended design of the room in the same stylewithout color separation of the room into parts. The subjects can be anything - cartoons, jungle, animals, etc., but only if the children have similar interests. Variants of the separation of the room into 2 parts. Choosing a color palette, remember that you need to please both boys and girls. There should be the prevailing pink colors or dark colors, it is best to choose a neutral or well together tone.
Monochrome design
Includes color zoning usingshades of one color. For example, shades of purple. For a boy darker plum or deep purple for girls are more bright and gentle - lilac, violet, fuchsia, etc.

Perfect execution of monochrome looks inneutral browns and beige colors. But that room was not fresh, they should be diluted with bright accessories - lamps, colorful furniture, textiles, toys.

contrast clearance
This combination of different colors and with it the division of room on the little girl and boy part:

Blue - yellow;
Green - pink;
Green - Purple;
Grey - lilac, etc.
Do not forget that the color zoning rooms - this is not only Wallpaper selection or the color of the walls, it is also a selection of textiles,bedding, furniture, accessories, carpets and more. If you have divided the room into 2 parts, try to pick up each half of the appropriate style accessories. Since the children's room will be comfortable and harmonious.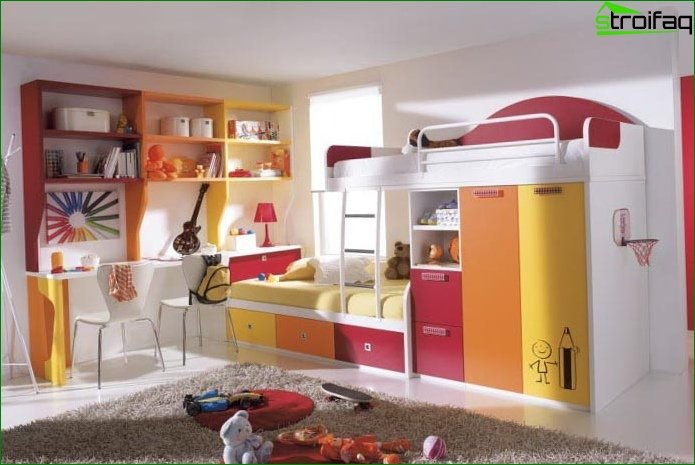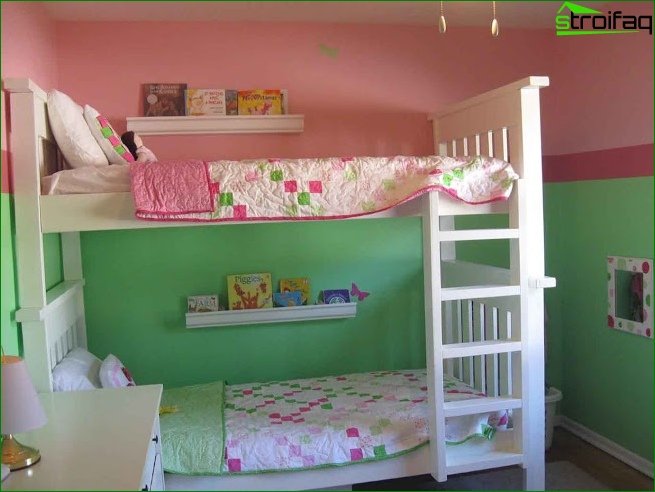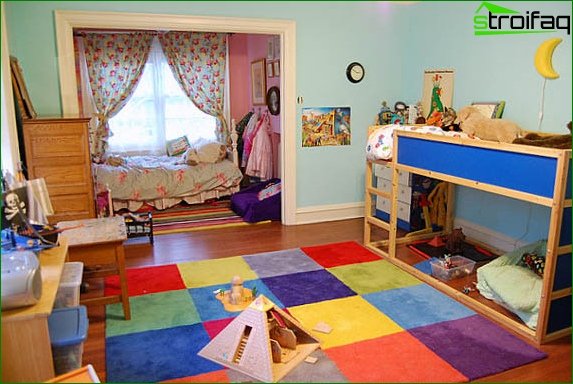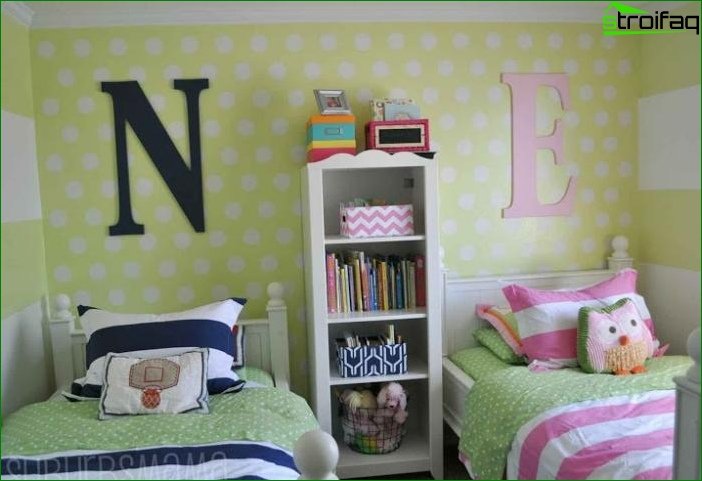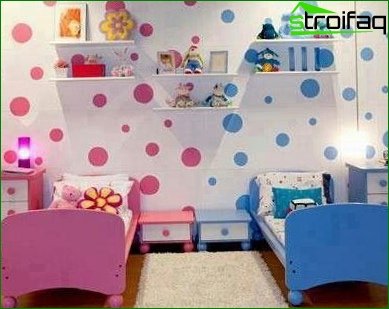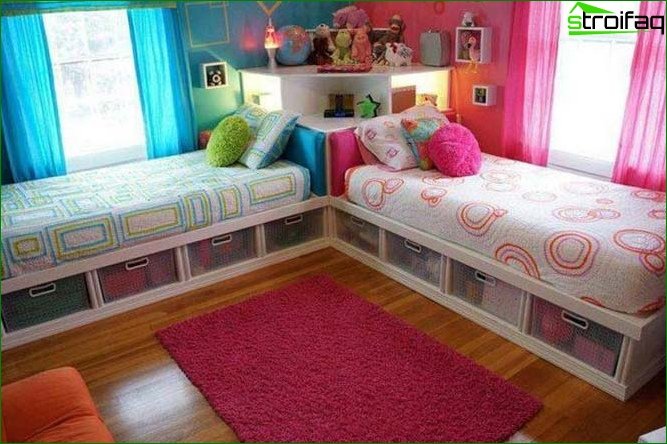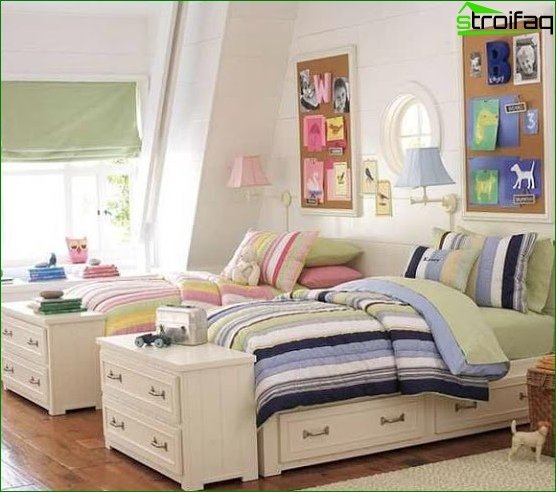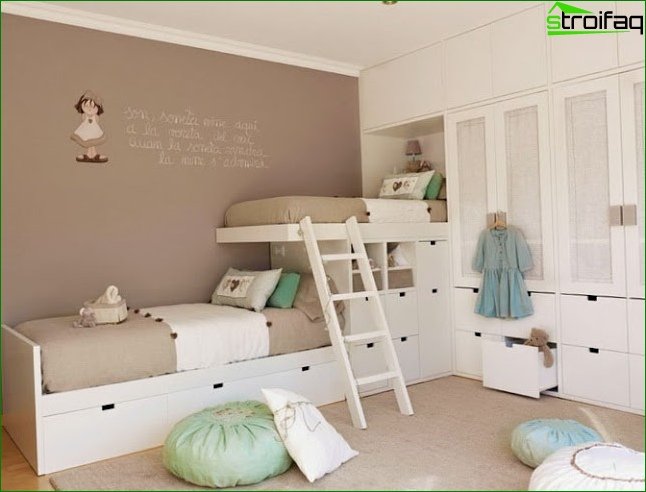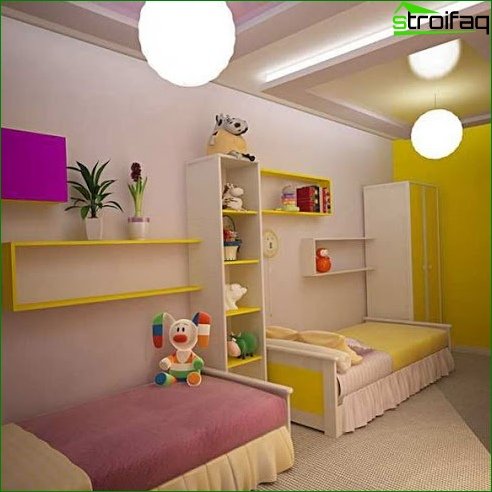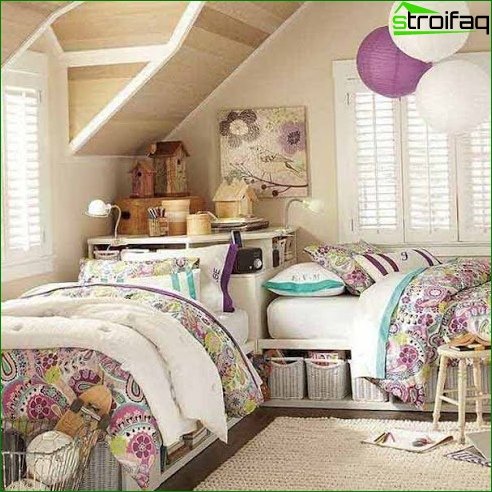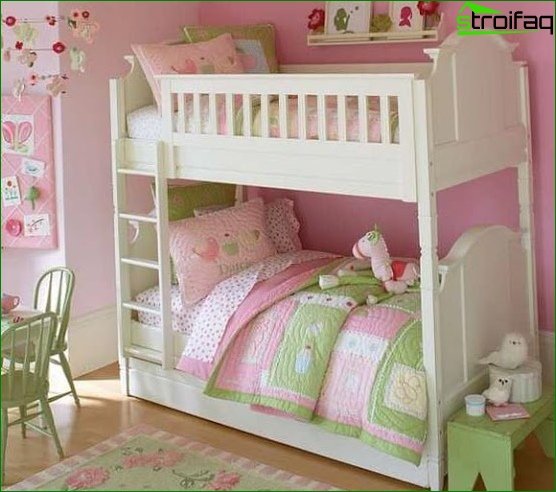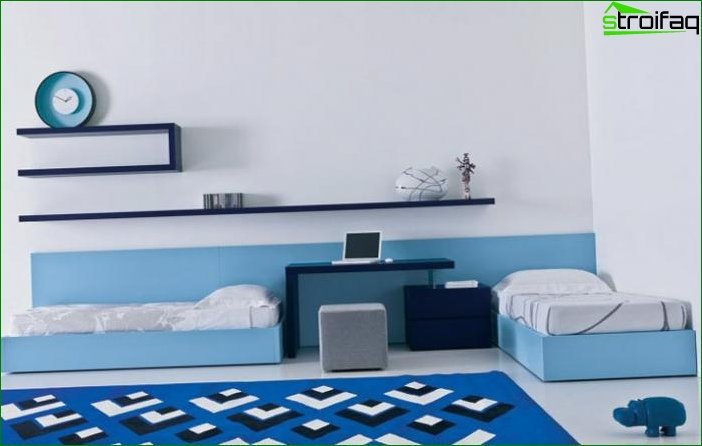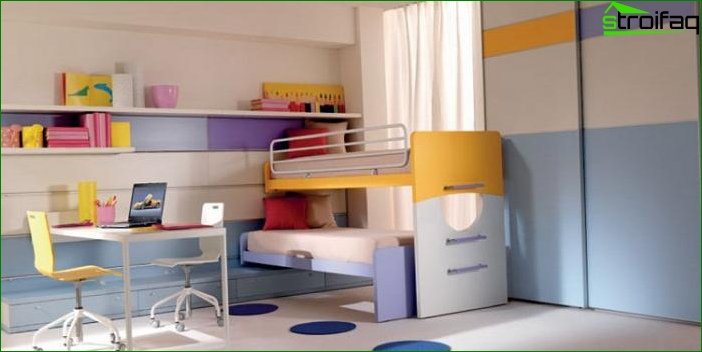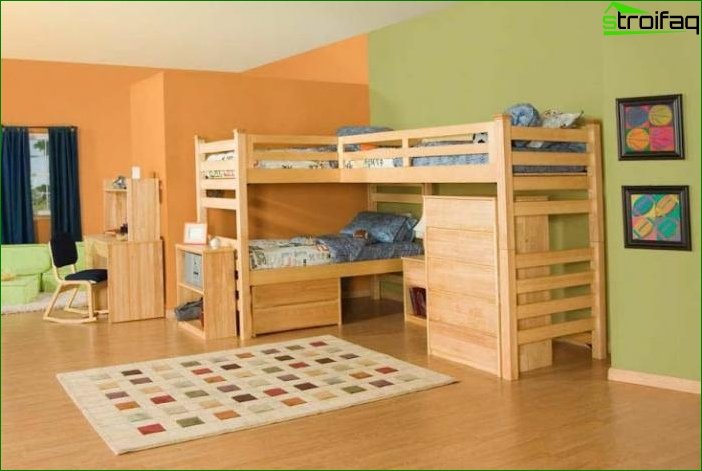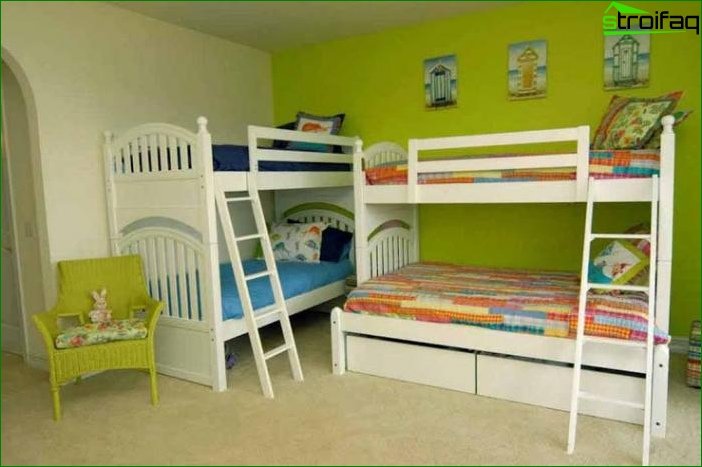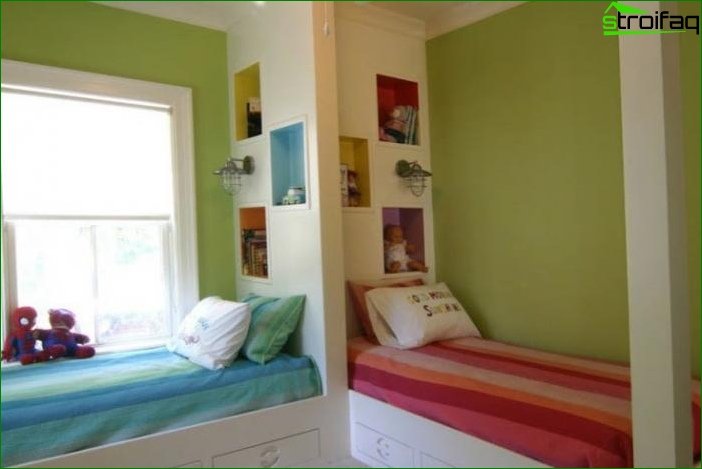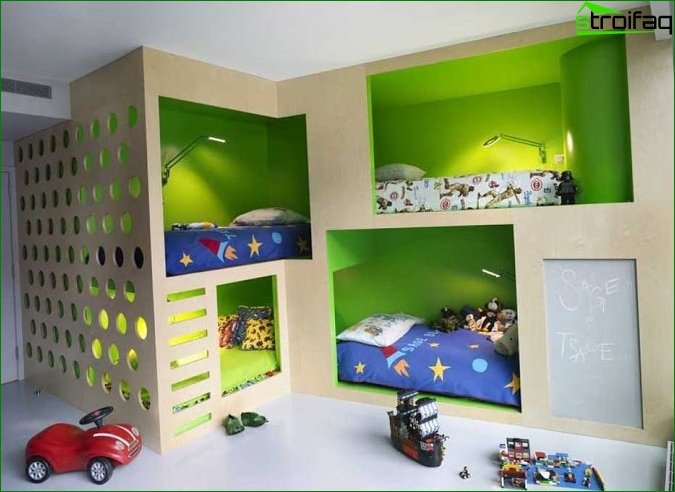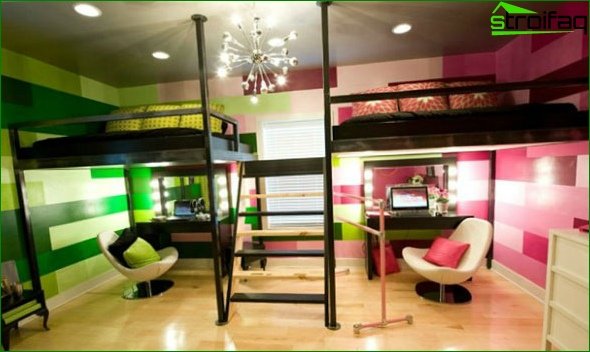 Choosing furniture
Using nursery For unisex children modular and cabinet furnitureGives an infinite number of options for placement and optimal use of space. If you want to create an equivalent room for your son and for your daughter, many options will come to your aid:
bunk beds;
retractable and withdrawable bed;
bed with shelves and built-in drawers and shelves under the podium;
loft beds with a work area on the first tier;
chair-bed;
storage racks, which can be used as partitions;
long countertop for two children, and much more.
If you have an extra penny, do not buyfinished furniture, better make it to order, taking into account the room space, children and your preferences. even the smallest child can be issued with a modular and furniture.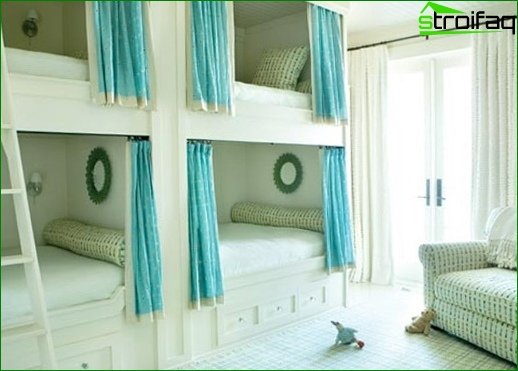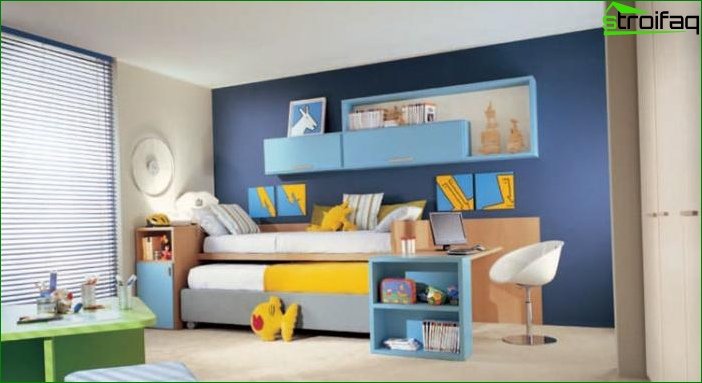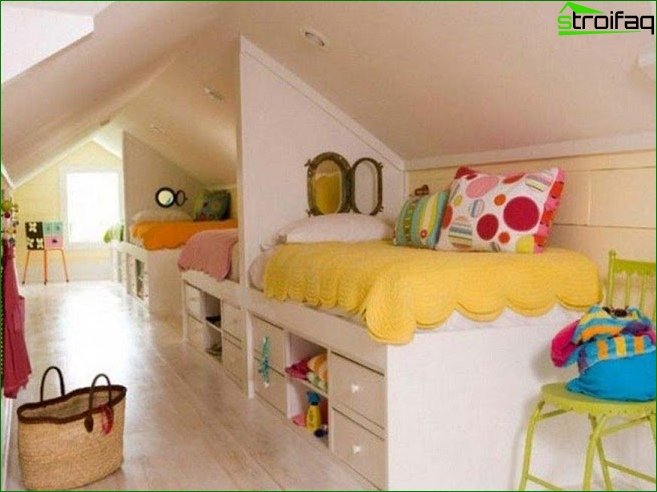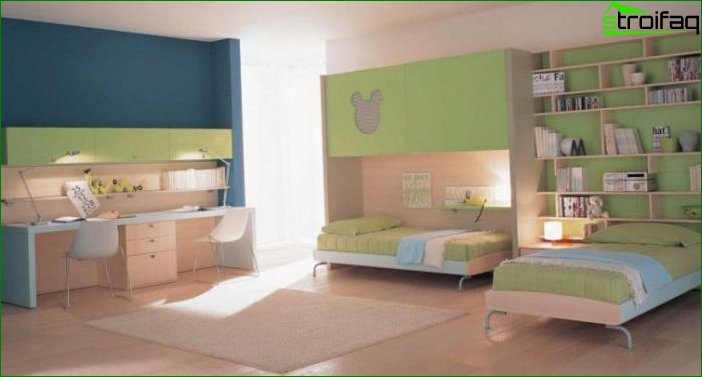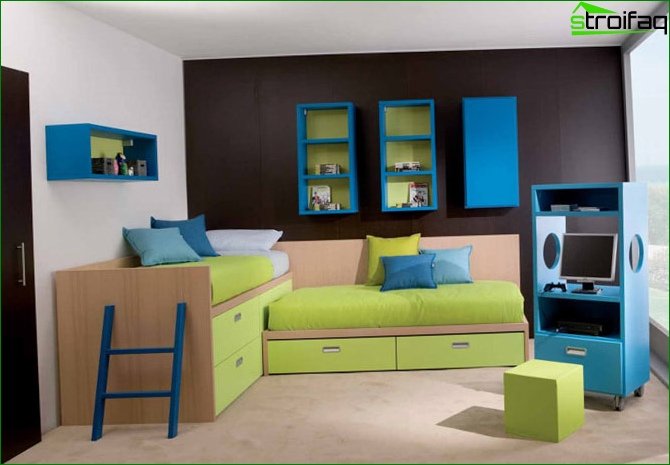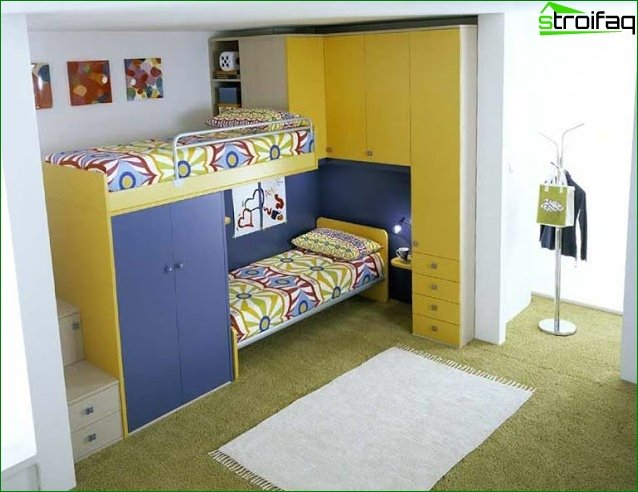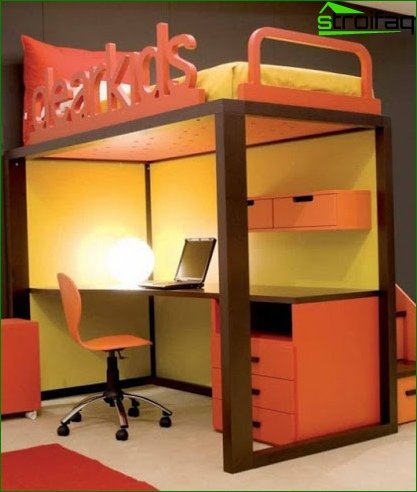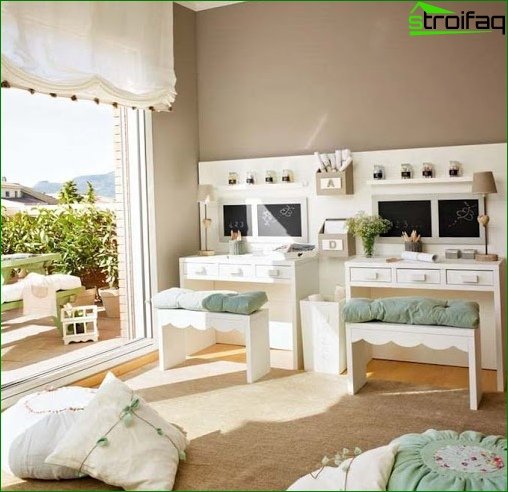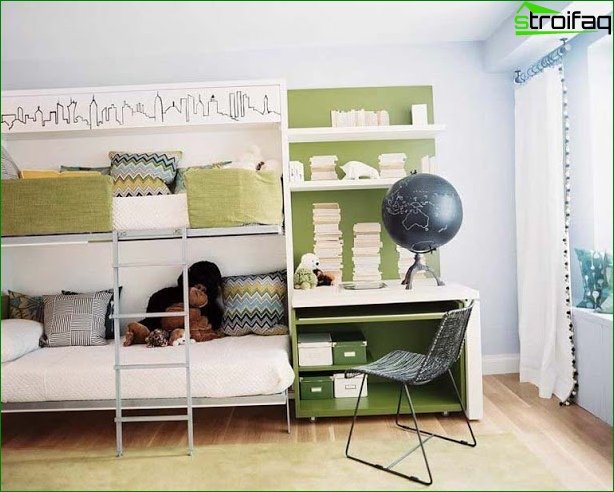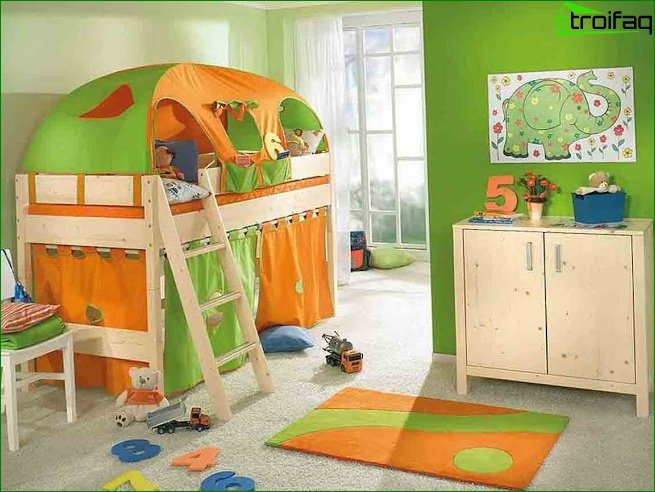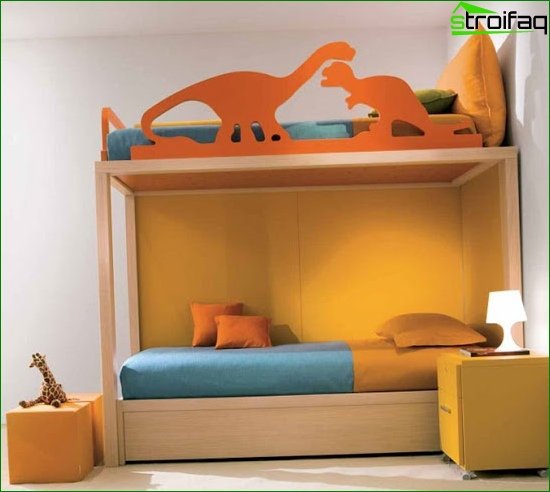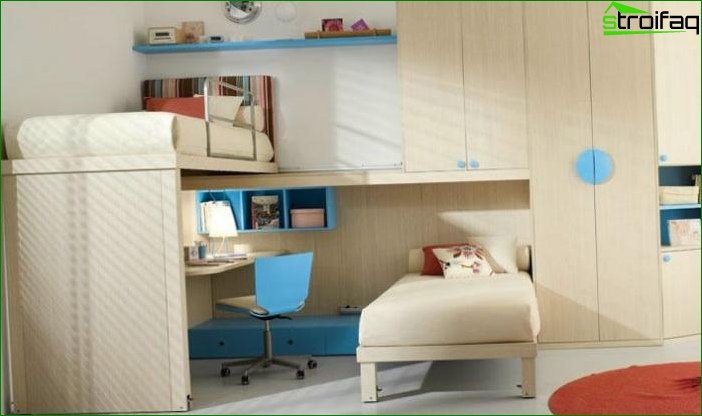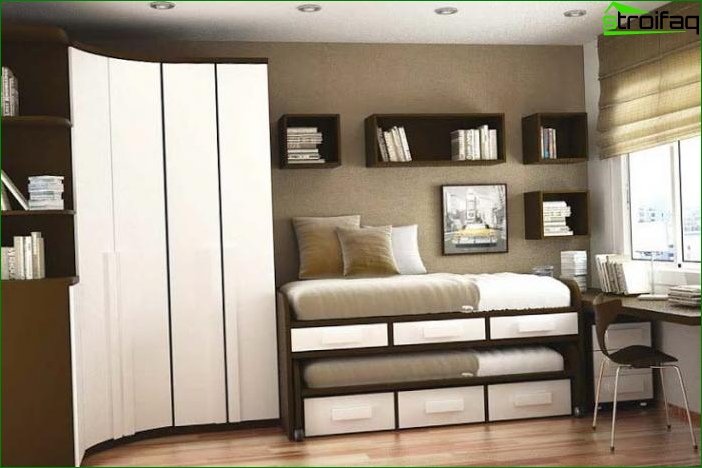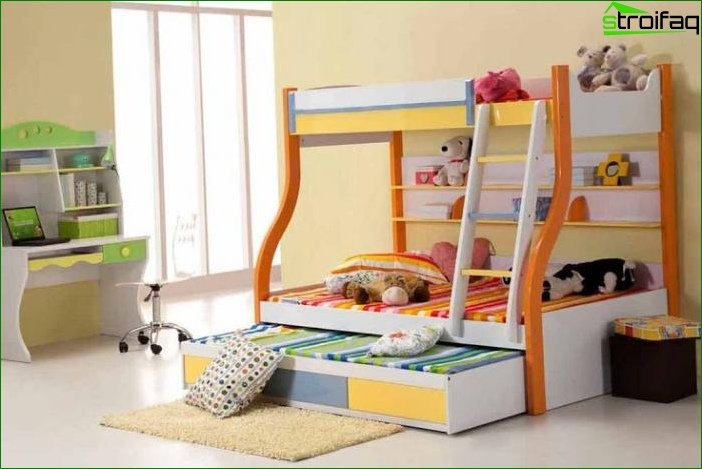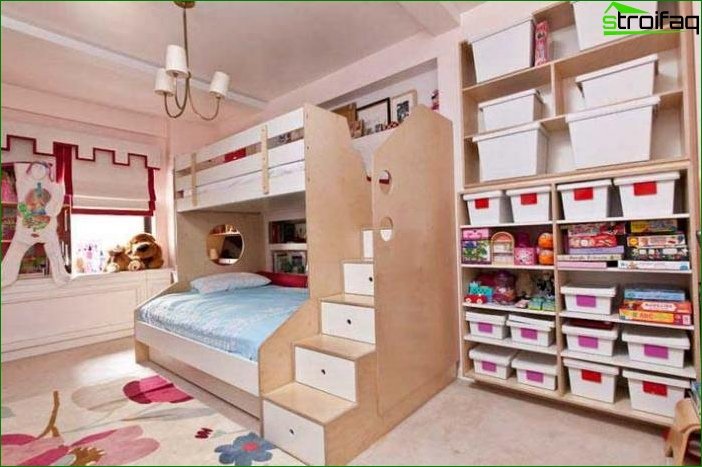 Nuances of design for buildings of different sizes
Design infant in a small apartment or a small room of 12 square meters
Here are a few profitable methods and organically arrange small 7-12 m square space in the children's Khrushchev or just a small room:
wall - light, cool shades less dark tones, wallpaper with vertical stripes;
ceiling - 3D drawings pale blue sky visually clean ceilings, good lighting around the perimeter;
furniture - bunk beds with built-in drawers, long or retractable worktop the window, folding furniture games - table, a playpen, etc.
Storage - shallow closet and a small chest of drawers for storage, use wall more to store toys, books, little things with the help of wall shelves.
storage racks, which can be used as partitions;
long countertop for two children, and much more.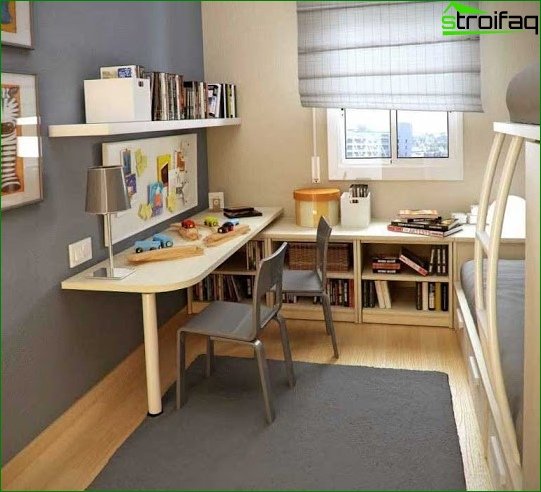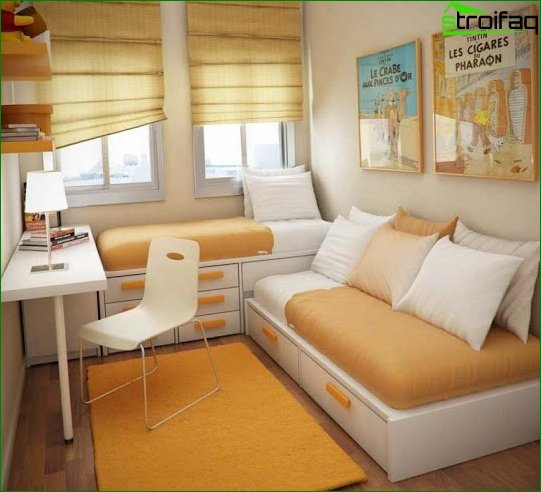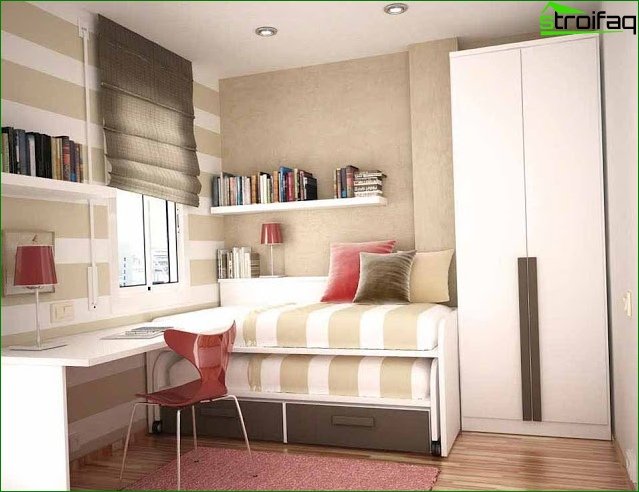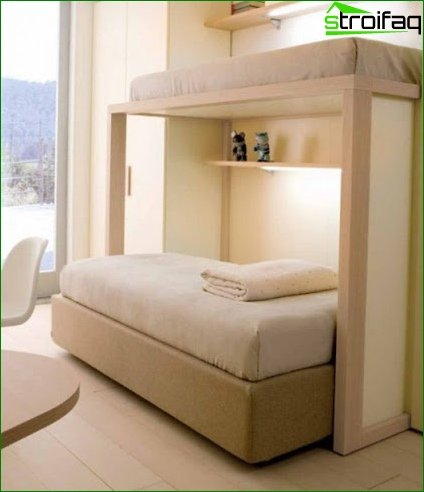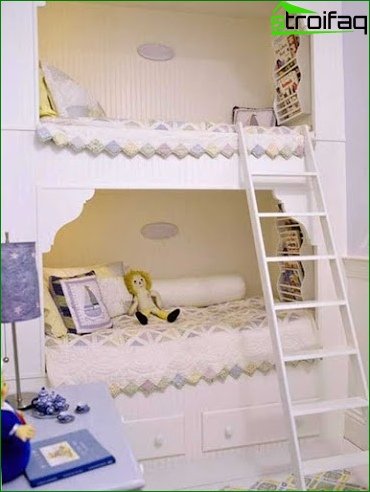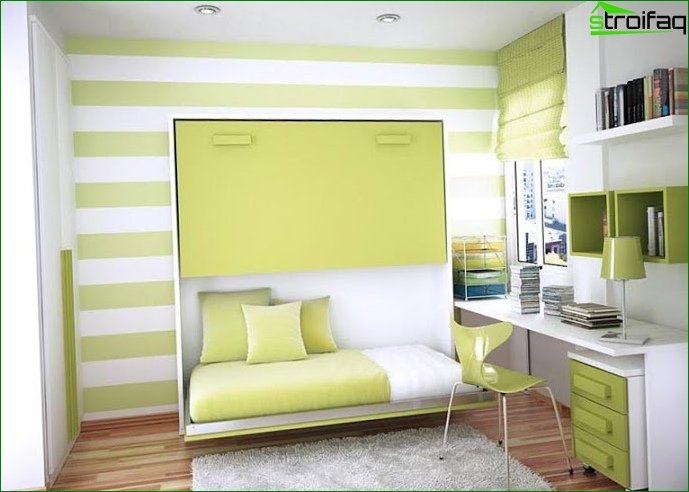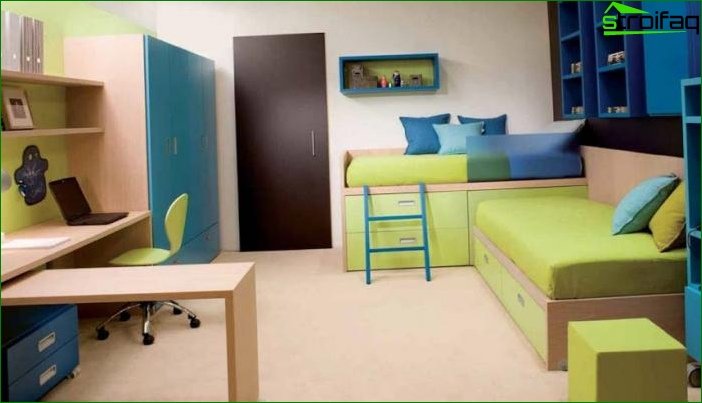 Design children's 16 square meters
design - possibility to divide the room into zones using different colors or fine not bulky partitions or curtains;
twin beds or loft beds with jobs in the first tier;
long countertop with two computers (or laptops) or a small separate tables;
small shallow cabinet, divided into 2 halves.
Design children's 18 square meters
In this area you can put a singlefurniture, spacious wardrobe, beds and much more. You can even create two separate parts of the room, blocking it in half the cabinet or rack. The main thing is that there is enough light for both halves. In general, the formulation of such a large room - it is a complete flight of your imagination.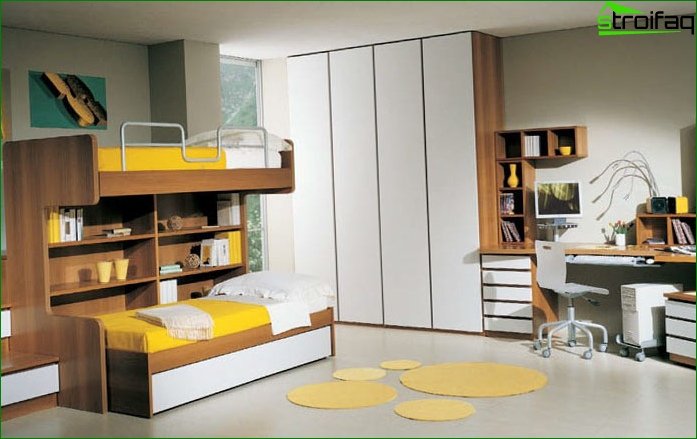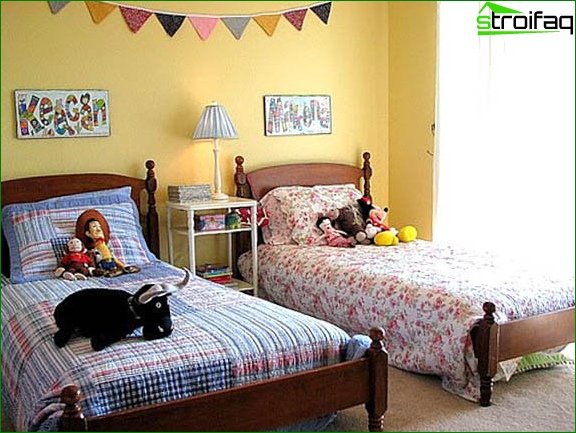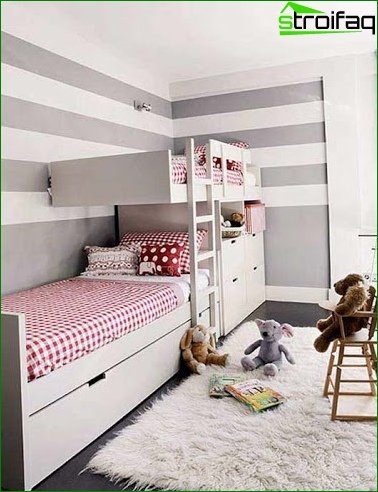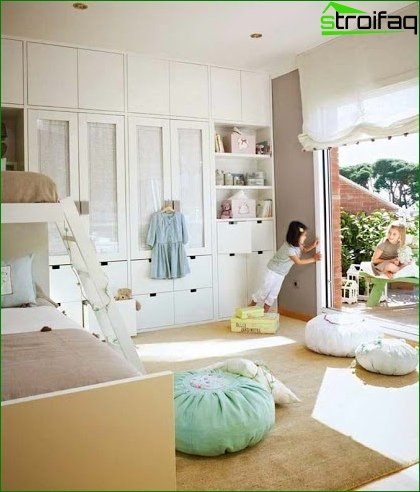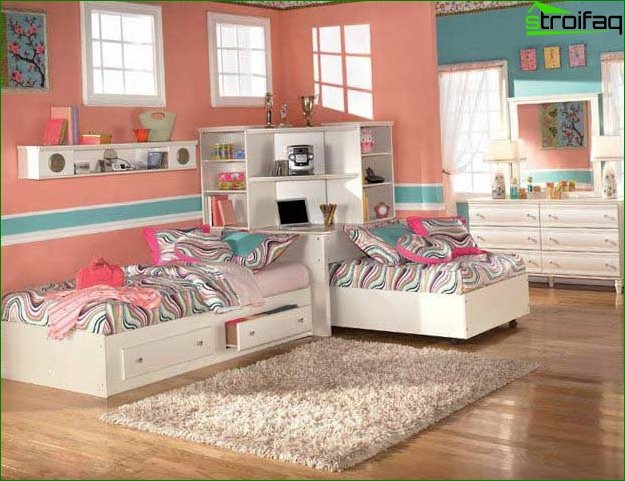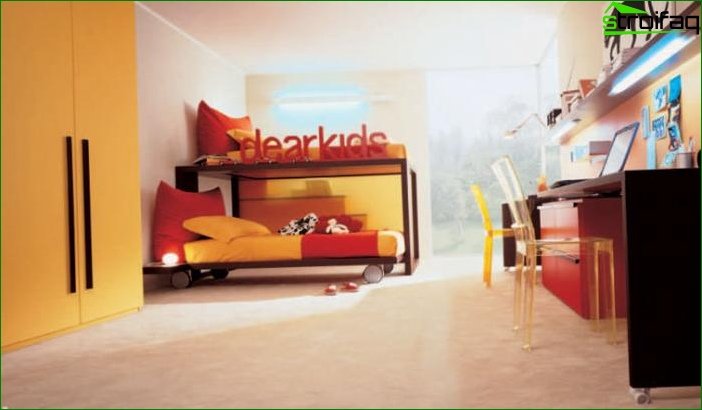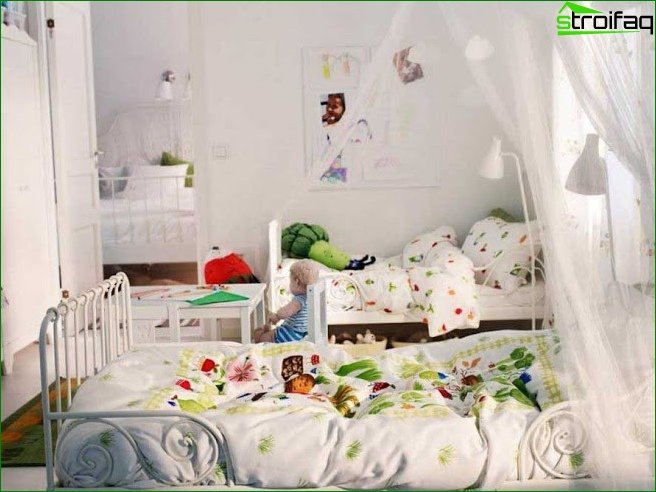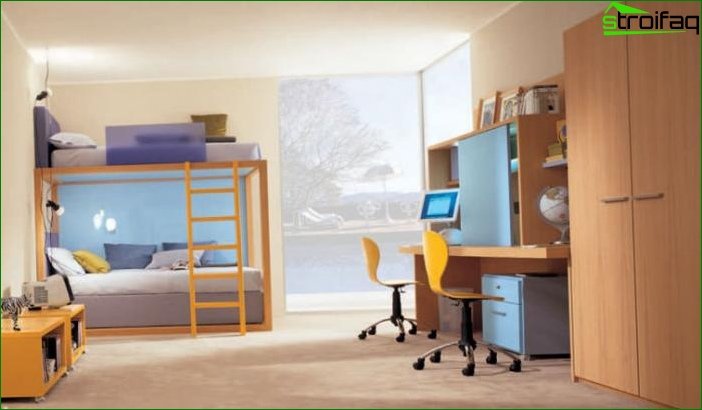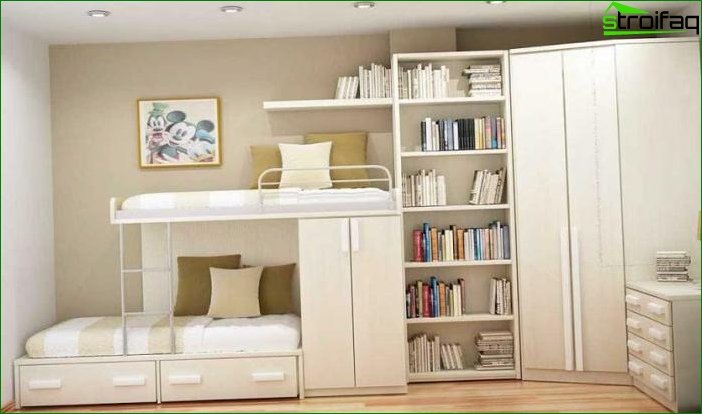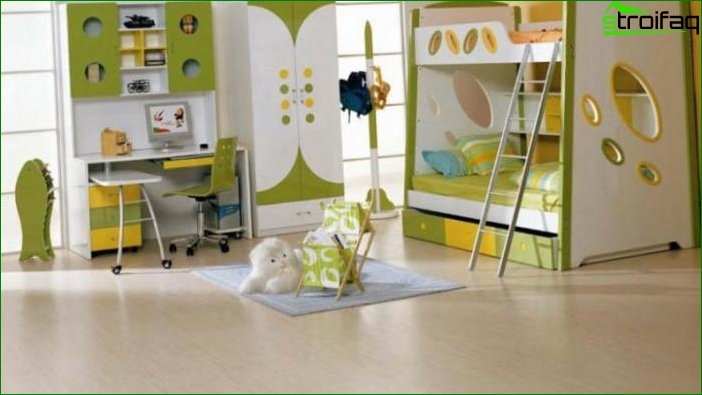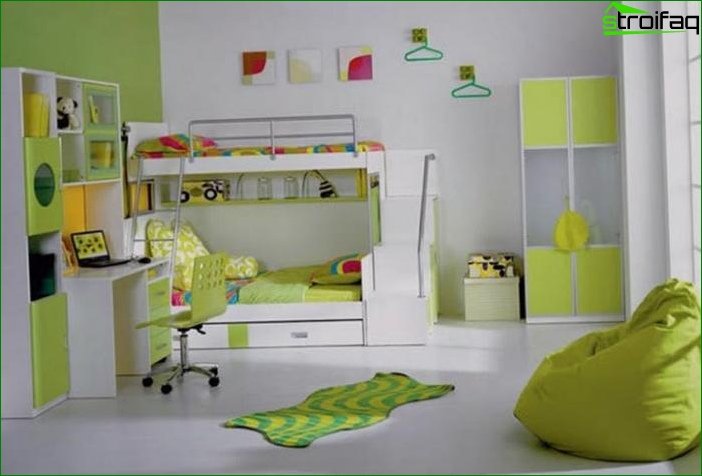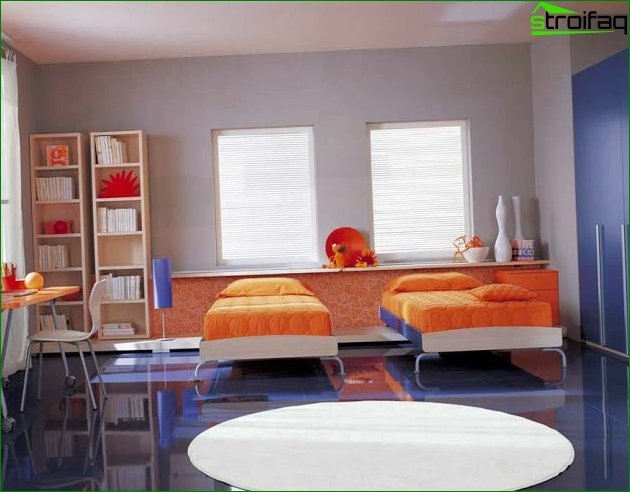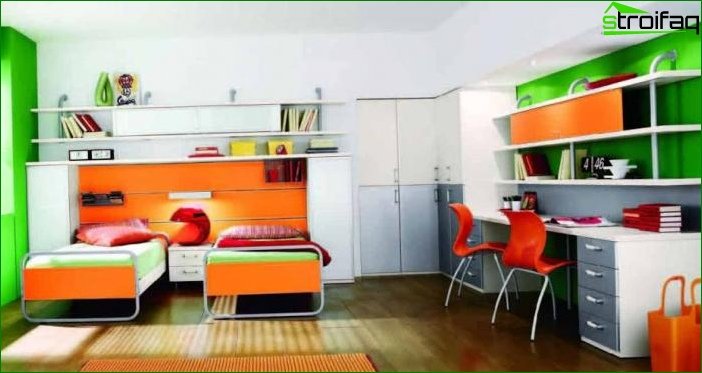 Children's tricks for children of different sexes with a big age difference
For children of different ages necessarily visuallydelineate space. If the room is small, it will be a thin partition or a screen in a large room, you can put a cupboard or shelf for dividing the room into two parts.
It is sure to be a different design of the room. Kids will suit bright, colorful wallpaper, vinyl wall stickers, applications, etc. A child older will feel more comfortable in a more serious, calm and "adult" side of the room.
Furniture is desirable to put a separate, especially the beds. If not enough space, use the pull-out or rollaway beds, chairs, sofas.
Save space in the room for storing things. Let roomy drawers and shelves will be built under the bed platform. Also engage the wall (wall shelves), so that the younger child was more of the floor space for games and movement.
Registration of a child for two children of different sex with their own hands
Create different interior detail theirhands - a flight for creativity and you and your children. Use the children's pictures, applications, picture collages, handmade garland of hearts, circles or flags, hand-made toys and other interior stuff, makes the room warm and cozy. Several ideas for design can be found here on the photo.