How to make room for the girls, and how to make the interior of the bedroom for the boy. Selection of the best photos of 100 children's room design. Tips from the designers.
Making an interior room for your favoritechild - a creative challenge, interesting, but also very responsible! After all, children - is a place that will be the whole world for many years for him! Here he will grow, develop and play, learn new things and relax, rejoice and grieve. Consider what should be the design of a child's room on a photo examples of finished projects.
Content
Carrying out repairs in the children's room, you need tocreate a space that would combine all the necessary child and at the same time will take into account the taste preferences of parents, harmoniously combined with the interior of the house. In fact, it is much easier than it might seem at first glance. Read on and you will learn how to gradually come up and realize this dream room for your child.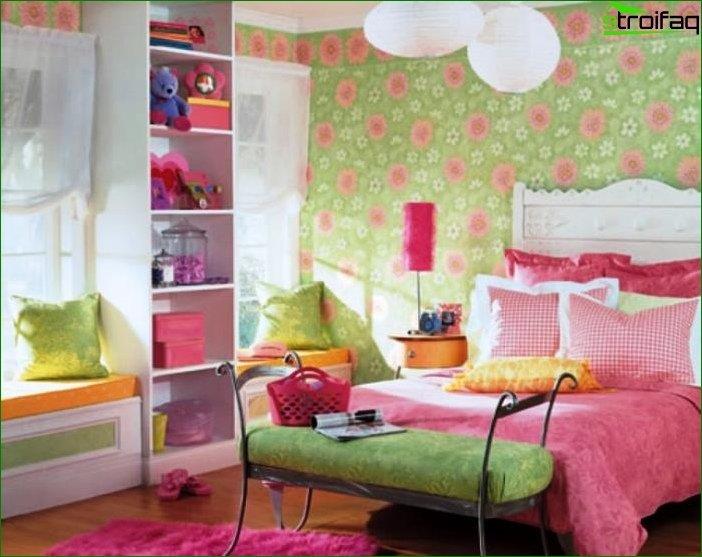 room Layout
When planning the apartment, if it is possible,better to choose for a child's most spacious and well lit room. For the development of the child is very important as much space and light. If the room has a dark corner - immediately get rid of them, and with the help of the decor and fixtures create a cheerful mood. The room should be light!
The child, as a rule, divide the space into three main areas:
games;
working;
a place of rest / sleep.
There are several ways the visual separation of these zones, which one to choose - will depend on your financial capabilities and imagination. The easiest method - Use different colors for each of them. Another popular option - construction of multi-level podiums.
Decorating the walls should take into account the degree of activityyour child. Try to choose washable wallpaper or there is a separate place on the wall, pasted Whatman, where your young artist will be able to create their first masterpieces.
On the floor is better to lay tend to accumulate grease coating. For a child's room is preferable to choose a carpet with a short nap - it will collect less dust and easier to care for them. Choose a warm rug, because children often like to lie on the floor and play on it.
Produmyvaya details of the interior, do not forget to alsobear in mind that your baby is growing and constantly evolving. So plan space, simultaneously peering future - comfortable if your child is in the room after 3-5 years?
note! If you want to achieve "universality"interior, should pick up the strict pieces of furniture that will last for a long time. A "childishness" premises let to create the elements of decor - curtains, bright cushions, baby pictures, illustrations, and fun stickers, carpeting, which can then easily be changed if necessary.
Room design for girls
Parents certainly want for their young princesses all the best, so the question Your bedroom for the girl is always very exciting. How to cope with this task? It is easy if you follow these guidelines.
When choosing a color scheme forget about stereotypes! The room does not necessarily have to be pink! Note also the nice pastel shades of warm milk, sky-blue, light yellow, apricot milk ... In such a scheme, if necessary, can easily be added and enter the bright cheerful decorations.
Remember that girls are very fond of beautiful compositions, Supplemented by interesting and cute accessories! Bows, hearts, stars, flowers, ruffles, soft toys ... Add to headboard chic flowing canopy outline the mountains cheerful pillows, exquisite wall stickers in the form of butterflies and bunnies, nice linens ... All items must be in harmony with the overall style of the room!

Note that girls love to make out the room for yourself! Blank walls will always arouse youngpridumschits desire to hang their posters, photographs, postcards. Consider this point beforehand: allocate space for galleries, buy a beautiful wall stickers, shelves, lamps. Leave room for children's creativity: for example, you can hang a special board for notes.

Thoroughly think through artificial sensationLuminaires must be literally everywhere! Above the desk, the bed, the mirror, and if possible in the closet.
Girls just love wall inscriptions! You can put on the wall paint stenciled the name of the baby or her favorite characters from fairy tales. And teenage girls prefer to be written on the wall motivating phrase, slogan or quote from a favorite book.
Here are a few interesting options, how to arrange the room for the girls.
Read more about how to make design children's room for girls.
Princess Room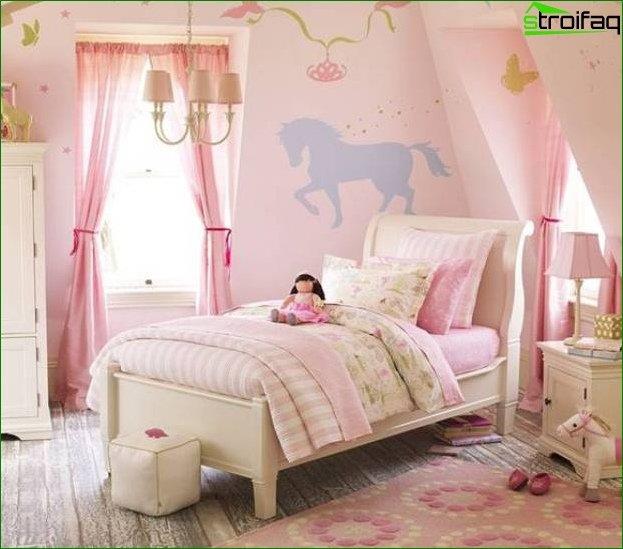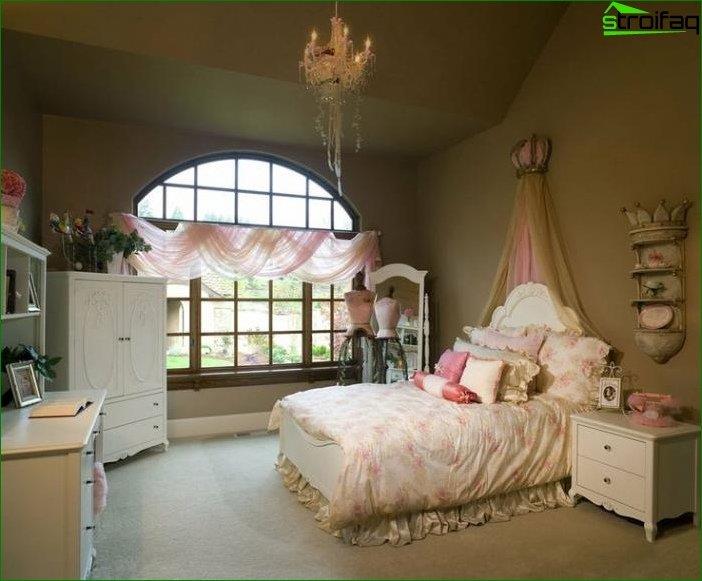 Paris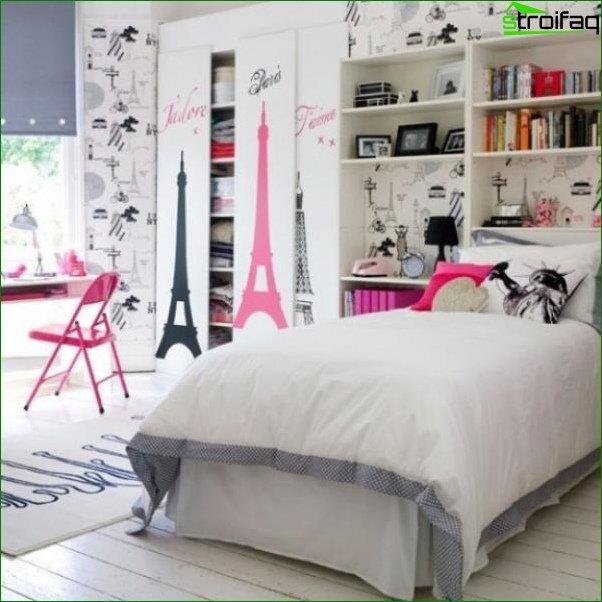 Fashion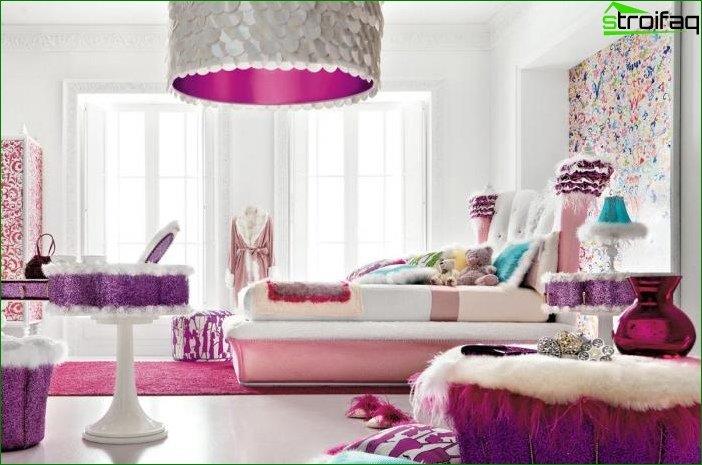 room design for a boy
The room boy must necessarily beenough space to display all his youthful enthusiasm, energy and irrepressible imagination! To design boyish corner is best suited a modern style. This is not a romantic girl: then you do not need to elaborate beautiful accessories and furniture - more important than functionality, usability, technological innovations in the form of designer lighting on the ceiling ...
sailor Room
If your child - a young buccaneer and explorer,uninterrupted reading about adventure and admiration watching films about a treasure hunt - a variant design exactly for him! Submarines, ships with cabins, pirate flags definitely will not leave indifferent any young hero! Add in the interior of the sea as much as possible accessory cards, ropes, globe, flags of different countries, clock wheel. Instead of the usual box for toys make antique chest!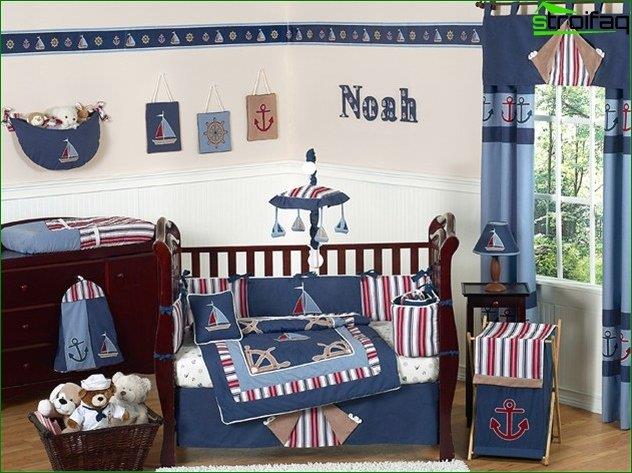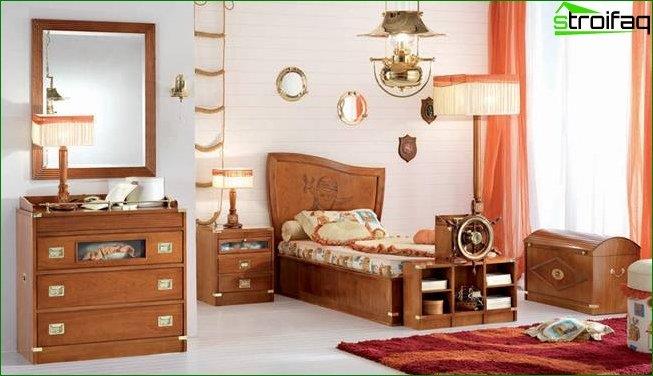 Equipment
What boy does not go crazy for the technique? Everyone has their own pets: airplanes, cars, trains, tanks or space ships ... Pick for your young inventor bed in the form of cars, the engine or any of his favorite miracle of technology, set up around the room a variety of wooden patterns, decorate the walls with bright posters - and the room dreams ready!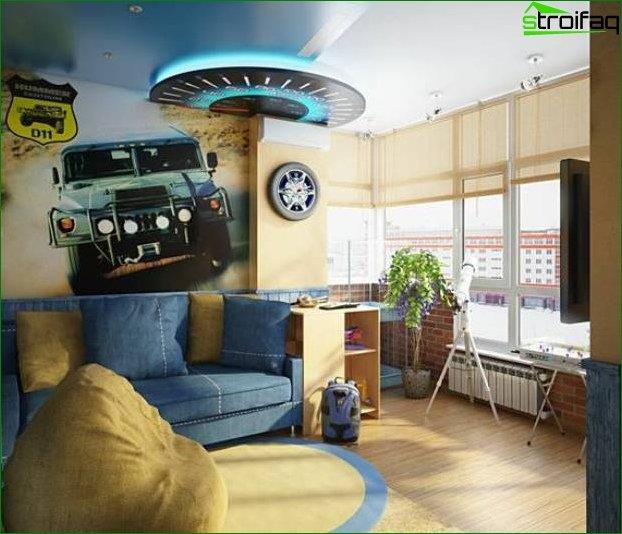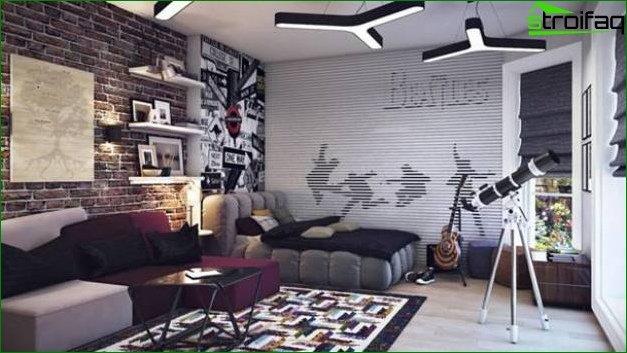 Sport
If your child is more than interested in sports,let his room talking about it! As accessories and decor elements using a punching bag, diplomas and certificates of achievements in sport, posters of famous soccer players ... If space allows, make a future champion separate sports area, where he could practice and warm-up games in their spare time and study.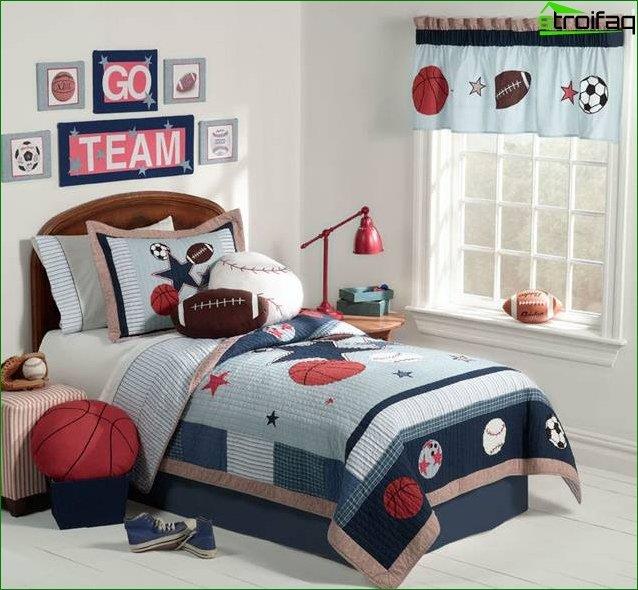 Room for two children
You've probably already realized that the selection of the children's room design - it is not simple, because there need to provide as many nuances! But if you two childrenWho need to settle in one room - a task complicated by the competent organization of space twice! You need to consider:
Age and gender of each child;
interests, tastes and peculiarities of each development;
availability of all functional areas.
With age, interests and everything is clear, moretalk about the division of the room area, where there will be live immediately two kids. For each of them you will need a separate bedroom and the workplace, but storage space and areas for games and work can be combined. It is important to combine it all in one room so that the interior does not look overloaded, and the children had space for the expression of their activity.
IMPORTANT! Regardless of whether one sex is children or different, each needs his own separate corner in the room where you can lie down, play, dream. When dividing up space, try not to deprive any of the guys.
Here are the options of how you can apply all of the above tips into practice.
For two boys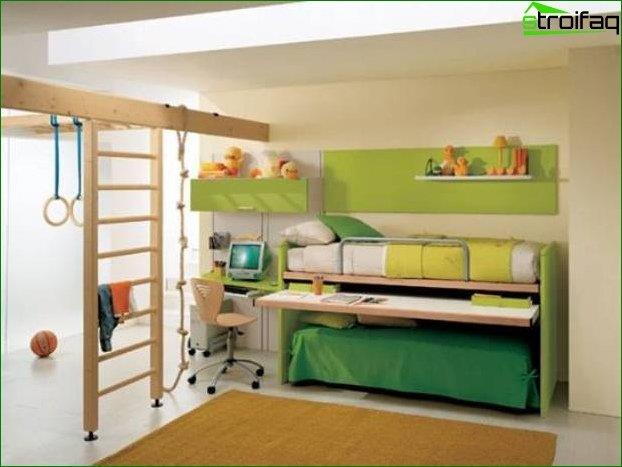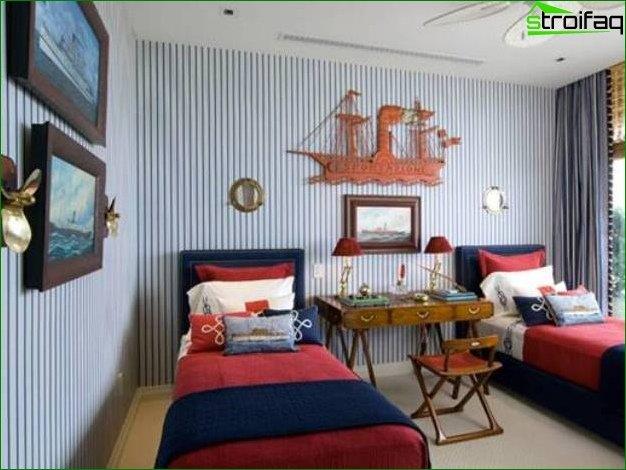 Read more how to decorate the nursery for two boys.
For two girls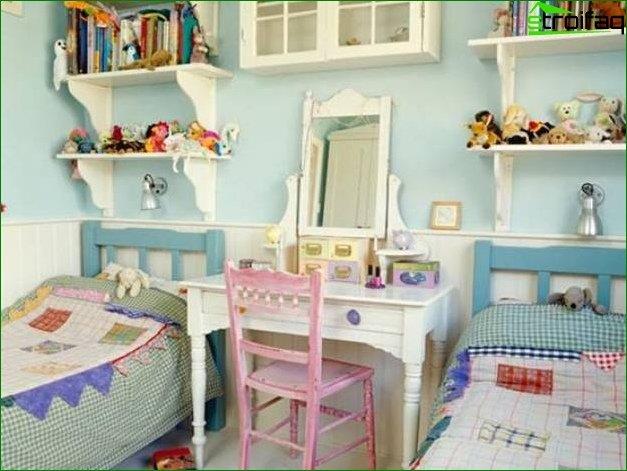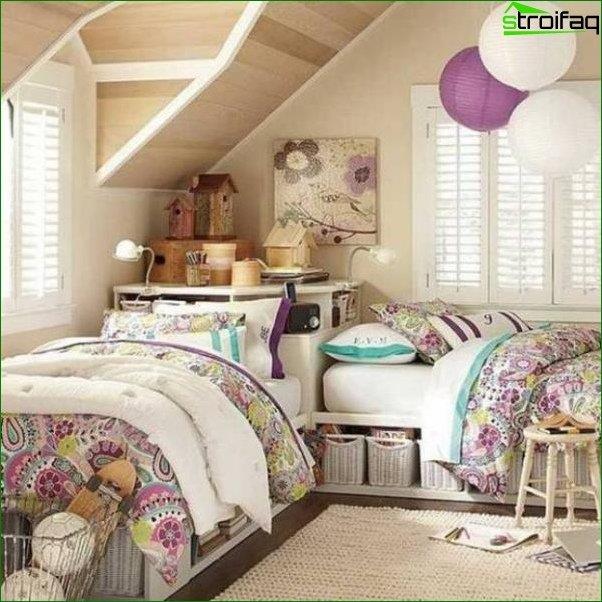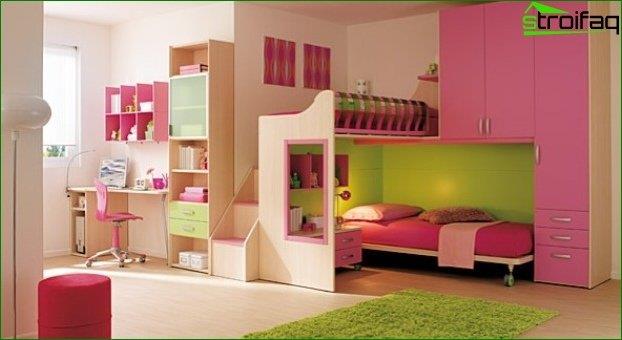 For boys and girls
Parents Heterosexual children you need to approach this task is particularly creative! After all, you will need to find a solution, which by its color scheme and style and design like a boy and a girl. Designers are advised in this case to divide the room into two parts conditionally: nonliteral possible, but at least stylistically or using color. If the room size allows, you can even install a small partition.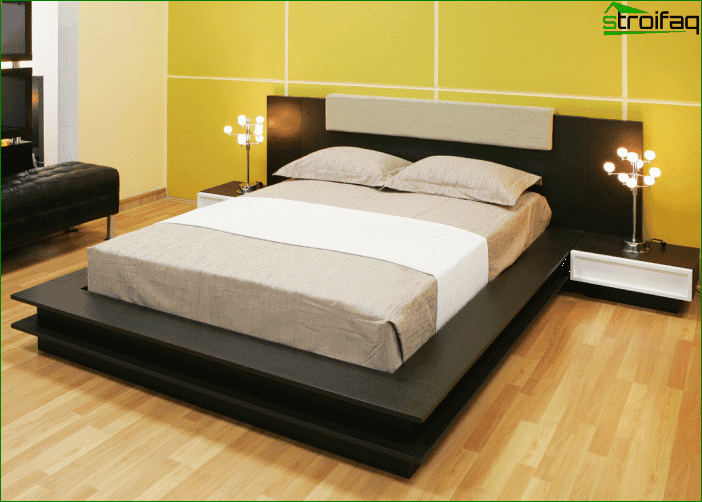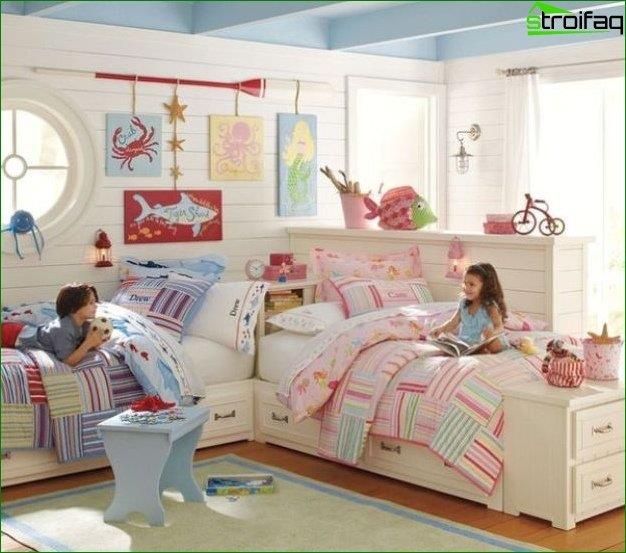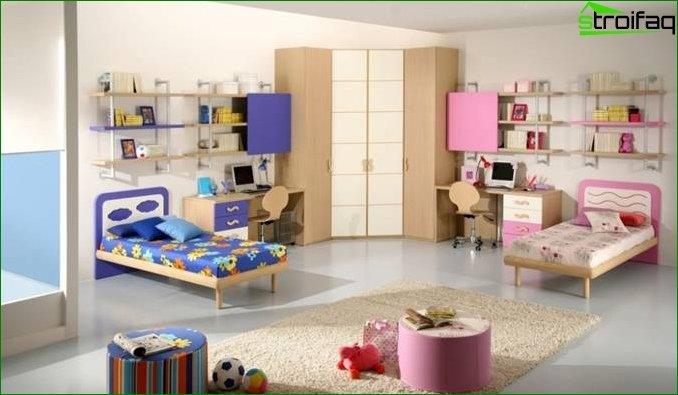 design choice depending on the child's age
For a child 2-3 years
At this age, the baby still can not choose himself,what color the wallpaper he likes and what not. But what exactly to his liking - a run around the room and jumping on the bed! Therefore, the main criterion in the organization of space for your toddler - its safety! Make sure that the furniture was made of environmentally friendly materials, on it there are no sharp corners and drawers. Try to choose low-cost and easy-to-clean items.
For preschoolers 4-7 years
Room for the young ranger will be the whole world,he will comprehend! Here it will run, play, develop, receive visitors, to learn new things and make discoveries! Optional strict zoning, even a table for classes can be furnished with toys and fun trivia. Bright colors will lift your mood and stimulate the child to be active, but it is better to use in the interior of no more than 3 different colors, so as not to overdo it.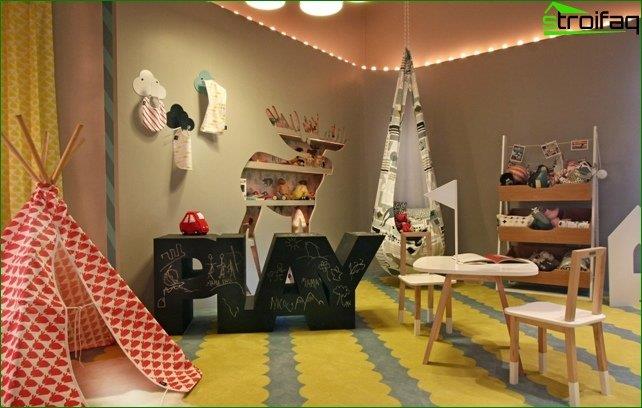 For schoolchildren 9-12 years
A child at this age is already beginning to themselvesfeel adult and independent, the range of his interests is constantly changing. Gradually, the "delete" from the room toys and other things of which your child has grown. But before doing so, be sure to consult the owner of the room, and at the same time discuss what he would like to see his room. Create a fresh interior in accordance with his new interests. Check out our article on selecting a desk for the student.
If your child draws a lot, be sure to hang on the wall of his work. On the walls you can also place any other crafts, awards, medals. It will be nice to you and the young genius.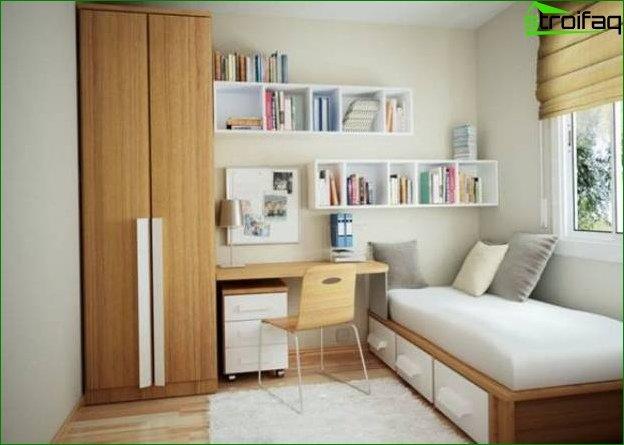 Designed for children's teen
This is the main period of formation of the person, androom should primarily be age-appropriate! Change the low chair to a higher rather than a baby cot buy a sofa, if necessary organize the workplace in the form of a large desk. Give your child a full autonomy in the choice of colors, furniture, carpet.
This room will serve him botha bedroom and an office, and a living room, and games room at the same time. In advance, draw a plan and a reasonable use every square meter of that space was not overloaded. For a girl has a spacious walk-in closet with a large mirror for the boy - the computer area for the whole of his large appliances.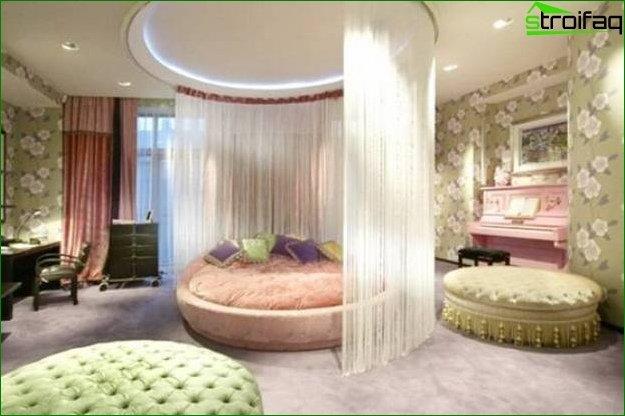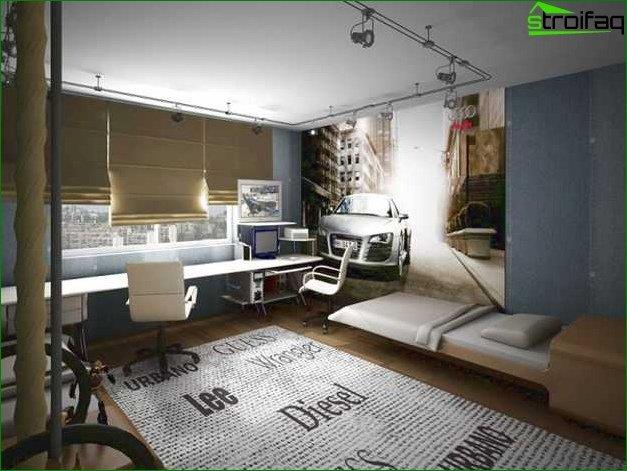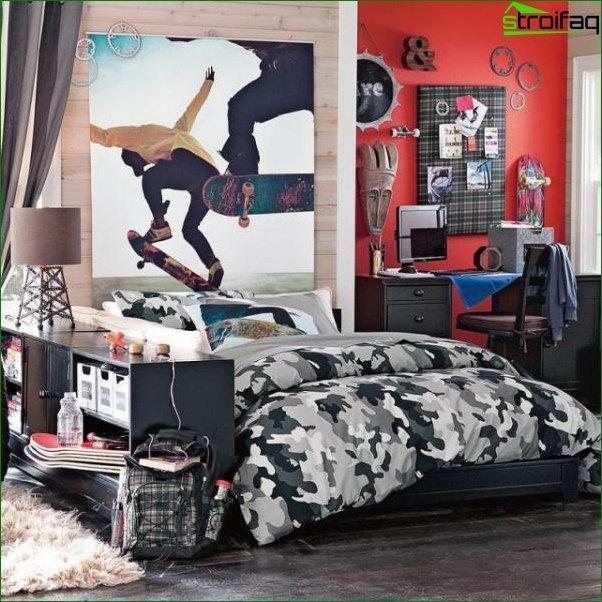 Styles children's room
Depending on your child's preferences of his room it can also be framed in one of the following styles.
Classical
If you choose this style must be veryattentive. After all, as a rule, the parents pick up children's furniture in the classic style, based on their own preferences, which may not always be to your taste by children. In this case, it is necessary to look for the "adult" models and beautiful designs that will not only look beautiful in the interior, but also be simple in design and made of quality materials. Pomposity premises should not restrict the child's movements, because, after all, is its own area, and it has to feel really at home rather than in a museum!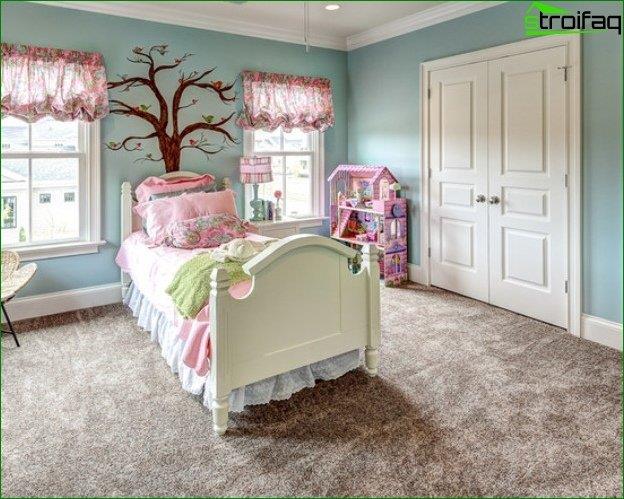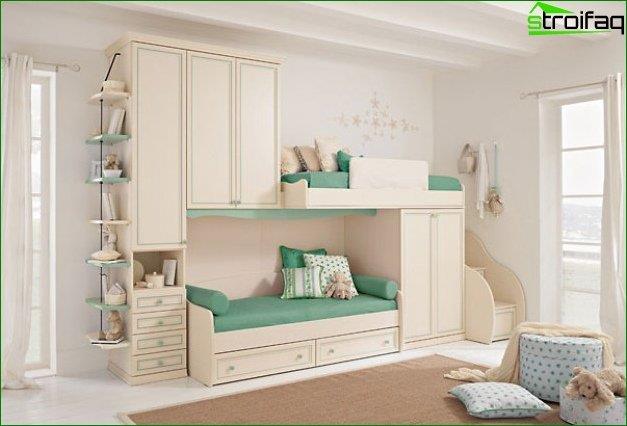 modern
Children's room, designed in a modern style,always like to children and adolescents. And it does not require extra costs and requires only minimal finishing. Art Nouveau design of child - is primarily a bright saturated colors, simple shapes for easy transformation (for example, roll out bed or loft bed above the cupboard). Such creativity will appeal to any child. In addition, it is practical, because such furniture, as a rule, is universal for all age groups.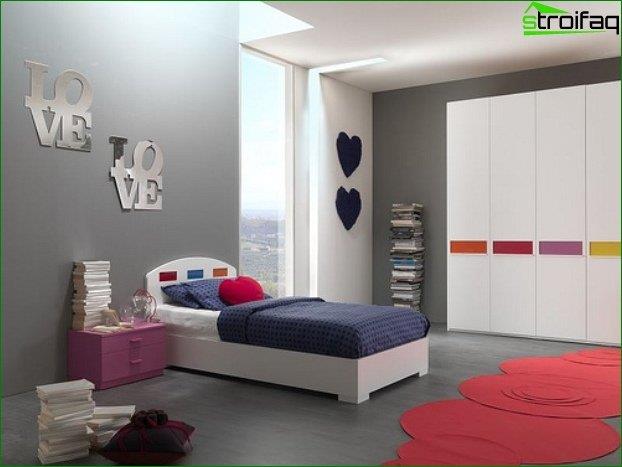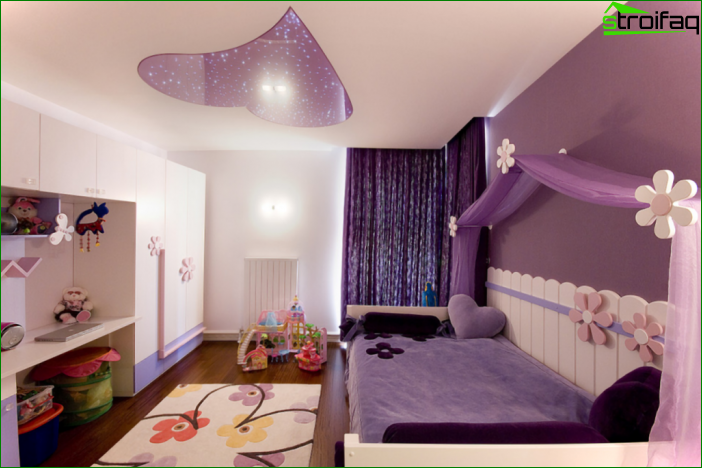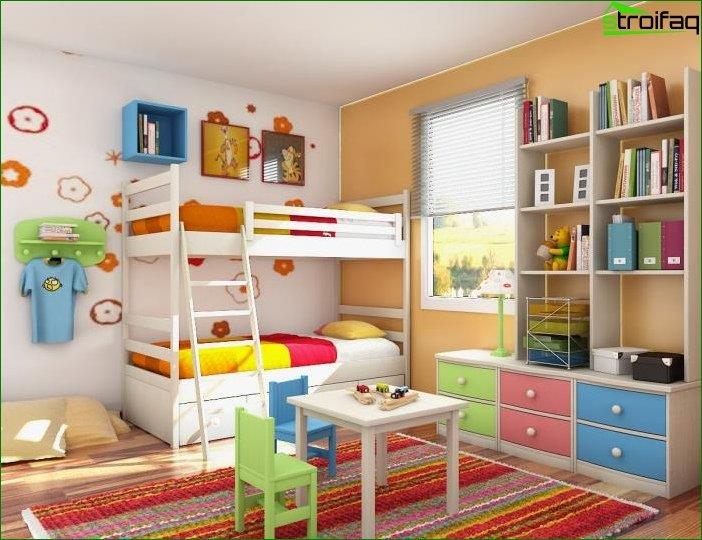 Minimalism
This style - just a godsend for a child's room! The child is not really so important, what his desk, some bed and the number of boxes in the closet, how much free space! Leave out only the most necessary furniture, and scroll to the child as much as possible locations for the games room for imagination and creativity! Another main feature of the style - bright colors, which is beneficial for small spaces, where pastel shades will increase the space visually. Bright accents in the form of prints allowed on the wallpaper with funny little animals, colorful pillows, toys or stickers.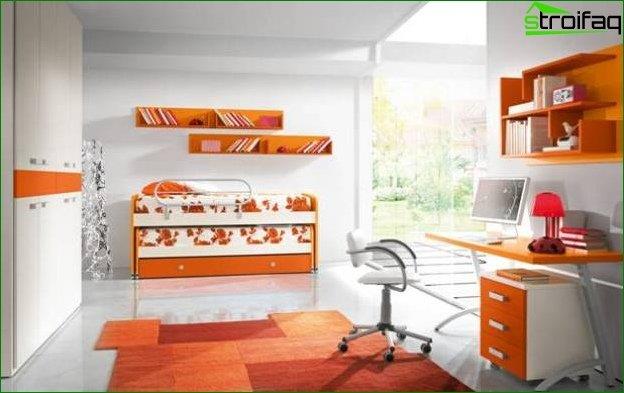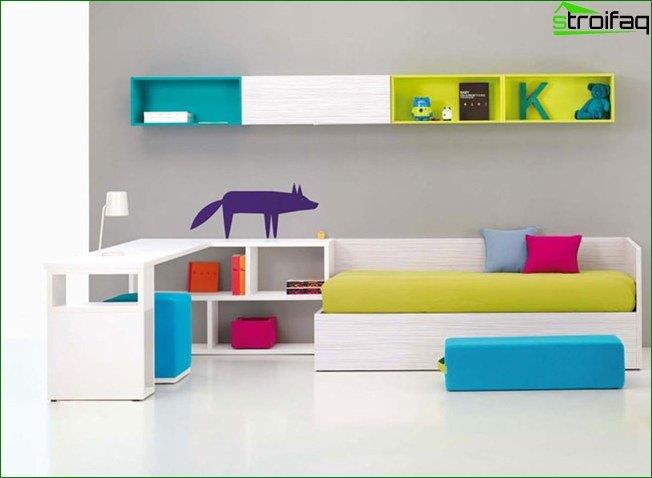 Ethno-style
Children's room, decorated in ethnic style, willlook very original and exotic. In addition, it will allow the child to comprehend the culture of different countries, from the comfort of their own room. The main thing is not to impose the style of a child by force. This design option is ideal for kids who are really fond of animals, East or Africa and its inhabitants. It is a fascinating process - with the child to pick up things for such a stylistic interior. A later owner of the room, and he will be able to decorate it with their own hand-drawn masterpieces.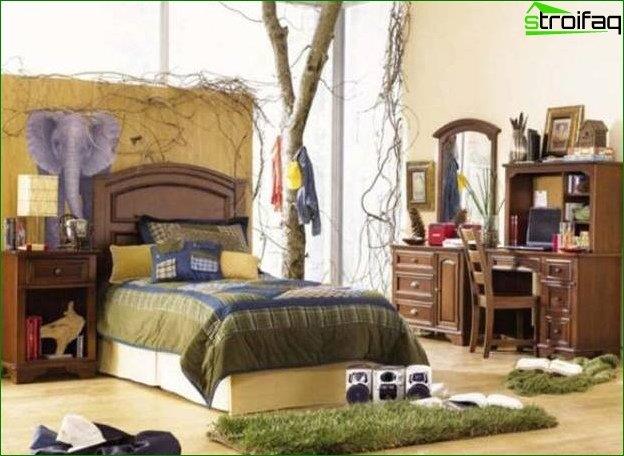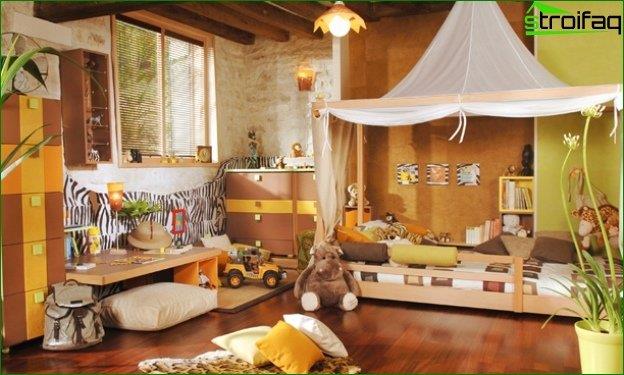 Country
This option when you make a child's roomnot often considered, however, this does not detract from its advantages. Simplicity, and therefore profitability, environmental friendliness, as well as a large number of ideas that can be implemented by means of it - these are just some of the advantages of country areas. Rural motifs on the walls, antique furniture, grandma's trunk instead of a box for toys, blindsMade from stale old piece of cloth - a great opportunity for a family on a tight budget tastefully arrange your child's room.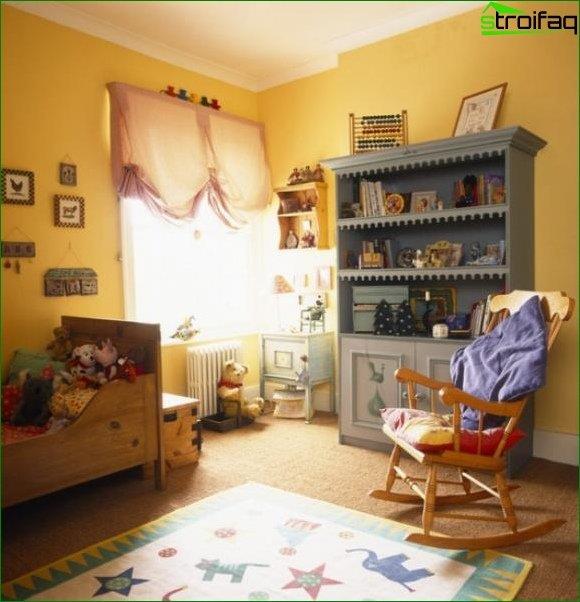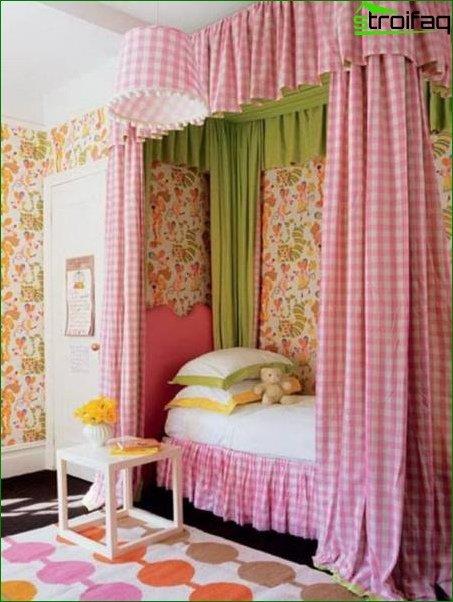 High tech
This is a fairly new trend in design toBesides his children rarely used in interiors due to its "coolness". The attributes are the presence of high-tech equipment, metal objects, plastic, glass, clean lines and shapes. Optionally enter all elements at the same time - just choose one thing, and on this basis to come up with your own interesting high-tech décor.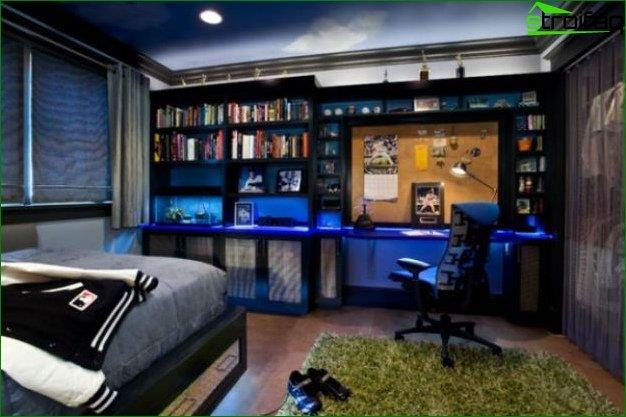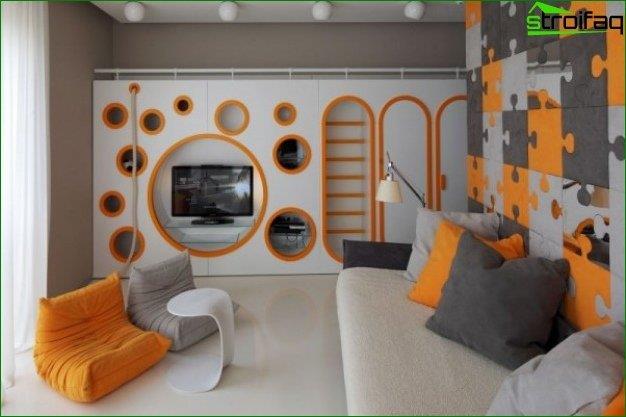 Selection of design, depending on the size of the room
Designed for children's small apartment
The main point that needs to be taken into account - a verysmall size premises. As a rule, it is a room of 7-8 square meters of narrow shape. Definitely wall background should be light to visually expand the space. Bright colors have to leave for the accessories, let it be paintings on the walls, colorful picture frames, toys.
Choose furniture-transformers with drawers and cabinets up to the ceilingTo use the maximum space and to save as much space on the floor.
Such planning is difficult to allocate enoughspace for a full-fledged desktop, but you can try. Use the space at the window, which is often empty unnecessarily. Another one functional version - hinged worktop attached to the cabinet.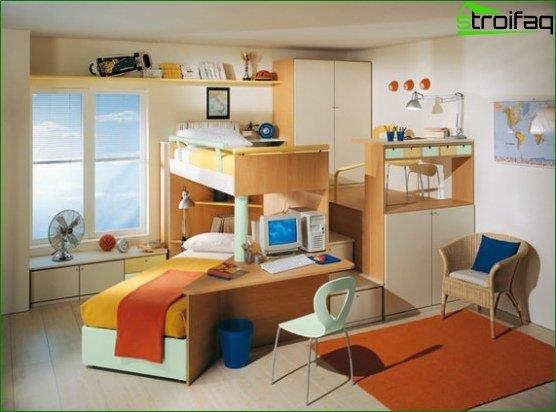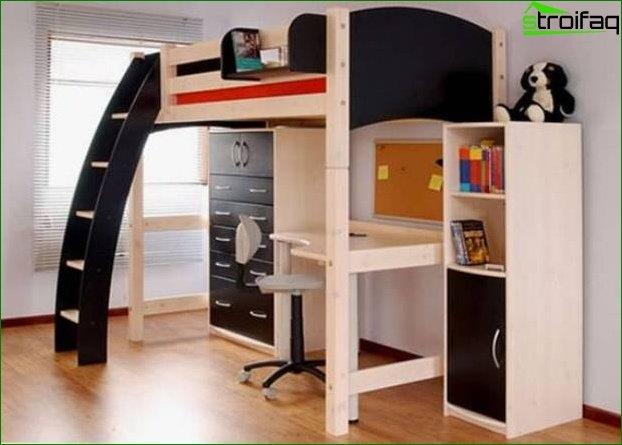 Children's Room of average size
The area of ​​15-18 square meters of children's typicalfor the majority of apartments in new buildings. This room is easy enough to organize and divide into zones. There is enough space for the organization of storage, recreation and study. Do not forget to consider separate coverage for each of the zones. Turn on your imagination and plan a room for fun, because here you do not limit!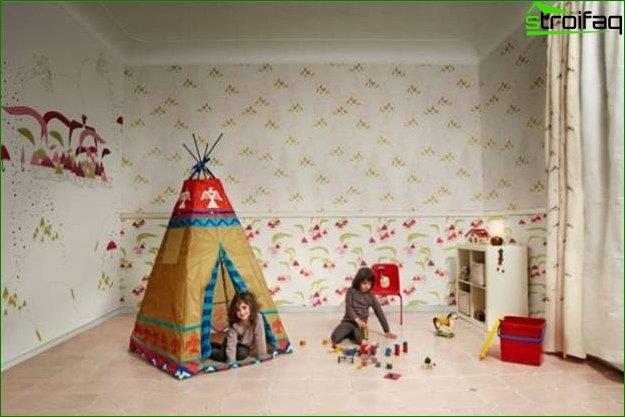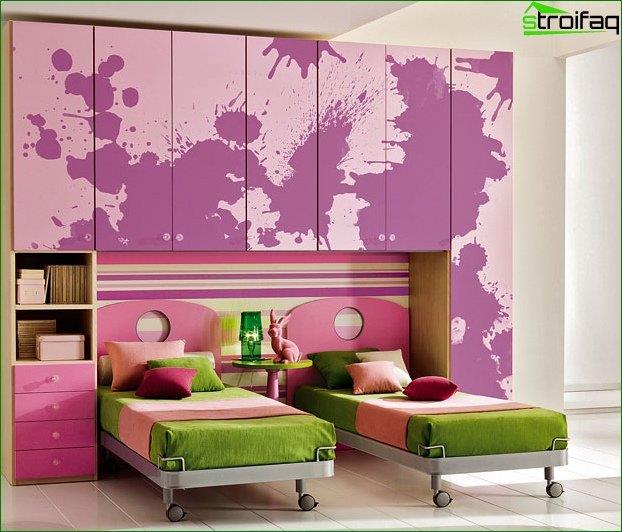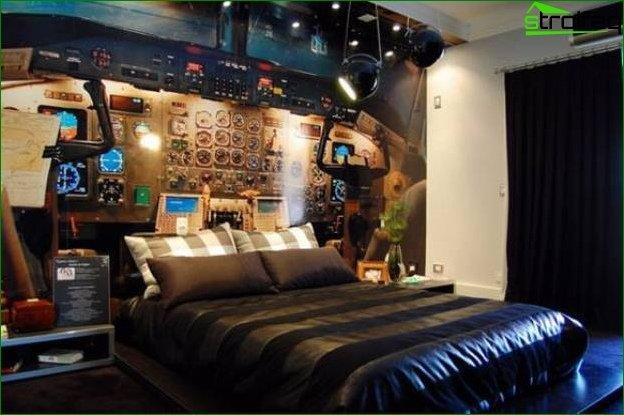 Design Children's room for a large
If the room size allows (from 20 squaremeters and above), it is possible to organize a children's amusement park, depending on your child's interests! For boys suit sports corner or a basketball court, and in the girls room, you can set the castle, carriage. Think also about the construction of a two-tier game complex or building-seekers bed under the ceiling - it is sure to become a favorite place for games not only your child, but also his many guests!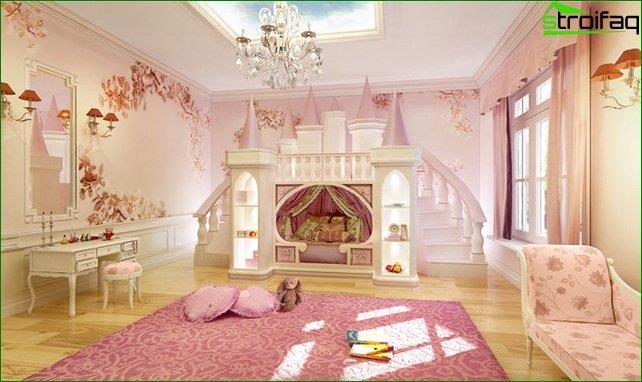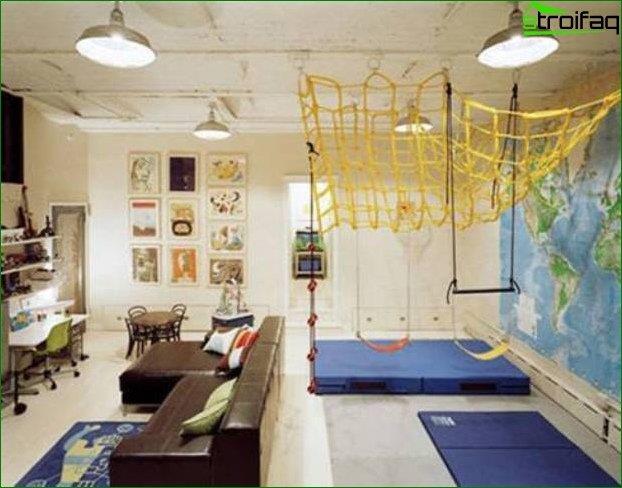 How to choose wallpaper for the nursery?
Decisive importance in the selection of wallpaper willhave color, because it is from him curled as psychological and emotional state of the child. Try not to take the wallpaper bright saturated colors, they will provoke nervousness and anxiety in this room will be difficult for a long time.
The colors in the design of a child's room
Color spectrum
Psychological impact
Yellow
Awakens in the kiddies craving for learning and knowledge, it helps to absorb information
Red
Compelled to activity. Ideal for passive children. The abundance of red may cause aggression.
Blue
It has a beneficial effect on the psyche of the child, soothing him. Also develops imagination and helps in the assimilation of knowledge. The abundance of blue can cause depression.
Green
Lets get rid of negative emotions, elevates mood. It awakens the child thrust to the study of the world around.
Purple
Psychologists are advised not to use this color in the design of child: he can bore and cause depression, suppress the development of abilities.
Pink
The ideal range for children's space. Uplifting, soothing, it creates an atmosphere of comfort and relaxation
Peach / Apricot
Creates an atmosphere of warmth and comfort, inspire child safety, gives optimism
It is better to give preference to self-colored wallpaper orwallpaper with restrained ornament, discreet patterns, prints of flowers and animals, cartoon characters. You can also combine with each other plain and risunchatye wallpaper: it diversifies the situation and to avoid congestion. Consider the tastes and interests of the child - and you will not go wrong with the choice.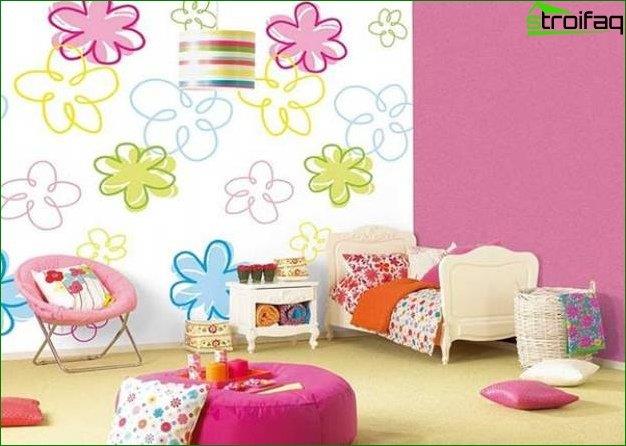 Curtains - the continuation of a fairy tale atmosphere!
Curtains in the baby's room are two important functions. On the one hand, they have to pass a lot of light and darken the room, and on the other - will protect your baby sleep at night. To solve these problems best suited combination of dense curtains + tulle. Alternatively, it may also be blind or blinds.
What else is important to take into account when choosing curtains:
Material. It must be hard flammable, environmentally friendly, requiring no special care. Most often, preference is given to cotton: it is dense, soft, and gathers himself a little dust.
Colour. If the room is bright and colorful interior, curtains better to choose plain. If the furniture and decoration of the room pastel quiet tones - on the curtains, you can make an interesting bright accent.
accessories. Do not forget about them! All kinds of holders in the form of butterflies, pelmets, picked up in the form of fairy-tale characters, corresponding to the interior theme may very well add to it.
If your child is distinguished by high activity and vigor, give preference to low-curtains, so that if something was not sorry to replace them with new ones.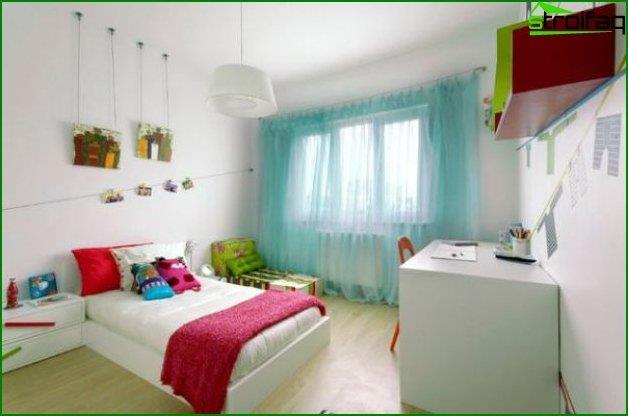 Do not forget to decorate the ceiling!
There are plenty of interesting options design ceiling: Wallpaper, paint, decorative panels, suspendedor ceilings. Turn imagination and add fabulousness: make a starry sky, decorate the ceiling of birds of paradise or gentle clouds ... The modern market of finishing materials and photowall offers huge scope for the realization of your wildest fantasies and bright!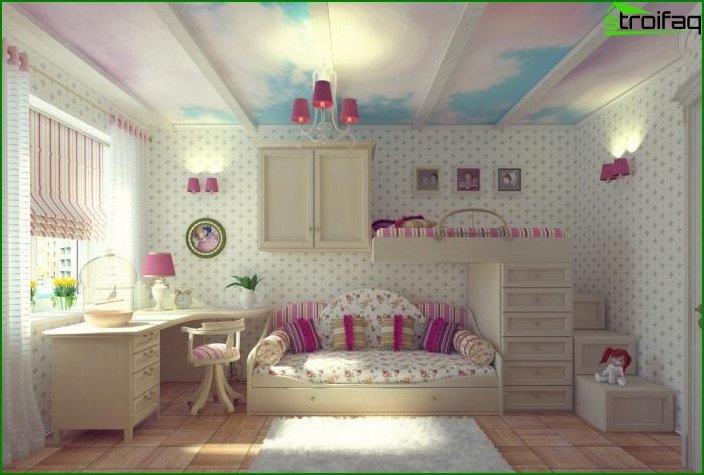 Furniture for children's - which is better?
For a child's room is to choose furnitureSolid wood. Wardrobe of expensive natural wood can be and will look spectacular, but it will cost a lot of money. And it will be especially hurt when the appearance of the "works of art" will be decked artistry or deformed as a result of active work of young researchers. Therefore it is recommended to choose the model of veneered or laminated MDF and chipboard, which differ in a variety of all kinds of colors and textures to suit all tastes. Good fit objects made of colored plastic.
Please note that children's furniture should also combine the following features.
Transformation. Children are often restless, and they can very quickly get bored room design. Well, if you have the opportunity to do permutation.
Mobility. Give preference to the furniture on wheels: This mobile, handy, as well as a good opportunity for your young designer to take part in the process.
Security. Pay particular attention to the absence of sharpcorners! This will prevent possible injury kid during active play. If any still there - stick them special fuses: and the child will be safer, and you calmer.
Storage areas. Make sure that the child has had a lot of spacefor the storage of its many treasures and toys. Pick furniture with a variety of all kinds of boxes, or buy him a beautiful box. It will appeal not only to the child, but also to you - after all to get out will now become much easier!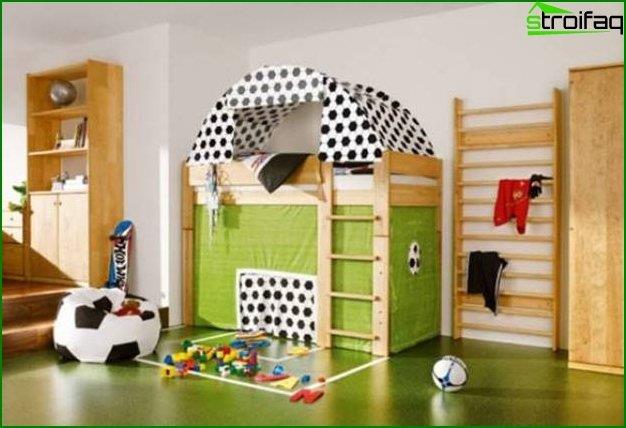 The choice of baby bed
When choosing for cots in the eyes of the shopsjust run away! Salons are full of all sorts of models and modifications. When choosing a bed thing to remember about the three basic rules - environmental friendliness, functionality, and security. If your child is old enough and independent - it is better to consult beforehand with him, how he sees his bed.
In recent years, a special love and popularityuse design patterns beds in the form of cars, ships, castles for princesses. It is fashionable, creative and at the same time practical. This subject will combine several functions: a place of rest, storage and big toy at the same time and place of action. Typically, these models are made from the bulk plastic, which is beautiful and easy to clean.
Many fans also have children's sofas. If you choose this piece of furniture, make sure that the material is soft to the touch and easy to clean. Prefer pleasant tones: bright sharp colors can spoil the view of the child. For children of school age will approach more adult sofas and armchairs. Try to choose a bed mid-size 190x90 cm - as they say, for growth. For the lucky owners of two children, the perfect solution would be a bunk bed.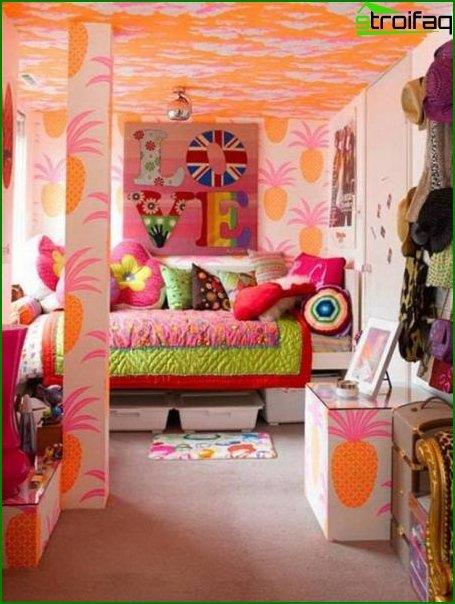 Proper workplace for the child - the key to successful training!
It is much nicer to deal with if your place, everything is organized so that it was comfortable and pleasant stay. Here are some important guidelines:
The table must conform to the growth of the student. Choose a model with adjustable height legs, and you do not have to update the work area every two years.
Place the table near the window, to use natural light as much as possible. Artificial light - lamp set on the left side of the table, so that the light did not fall into the eyes of a child.
In addition to the table, do not forget to pick up a swivel chair with good back support wide - this model is ideal for studying.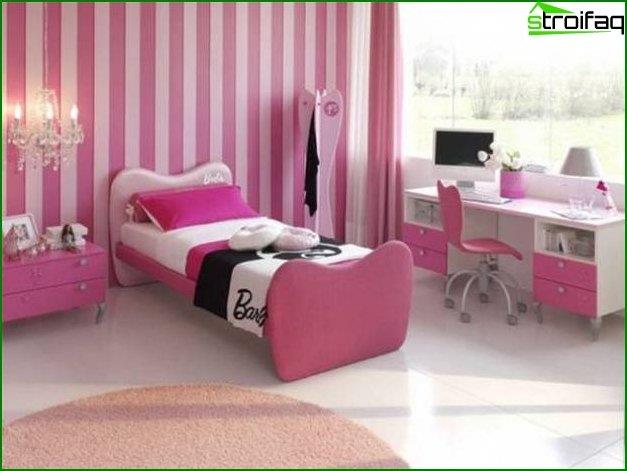 A few words about the repair: environmental friendliness and safety
Making repairs in the baby's room, go to thecase with maximum caution and responsibility. Poor quality cheap materials in the decoration can cause childhood asthma, headaches, frequent colds. Use only clean and safe that do not contain phenol, styrene, formaldehyde and other chemicals that may adversely affect the health of your children. Ask in store materials that are specifically designed for children's rooms.
Best of all, if the floor in your child willwood, and the top is covered with natural mastic based on beeswax and gum resins. Instead, choose a wallpaper vinyl paper: they are better "breathing" and their only glue the paste or a special adhesive. For painting walls and use only certified for use in children's paint facilities.
When the repairs in the children's end, although the waitleast two weeks before the baby to settle in. Even when using the safest materials, you will need some time to get all the chemical smells eroded and did not cause the child discomfort.