Children's design for two children. The subtleties of the design of the children's bedroom for both children of the same sex and for the opposite sex.
Children's bedroom for two children at once - clearthe need for modern apartments. But at the same time - this is a smart opportunity to organize communication, leisure, sports, entertainment and even a hobby in the same room so that not only physically, but spiritually the children were close to each other. And how to make the interior of the original without compromising functionality and safety - looking at our photos below.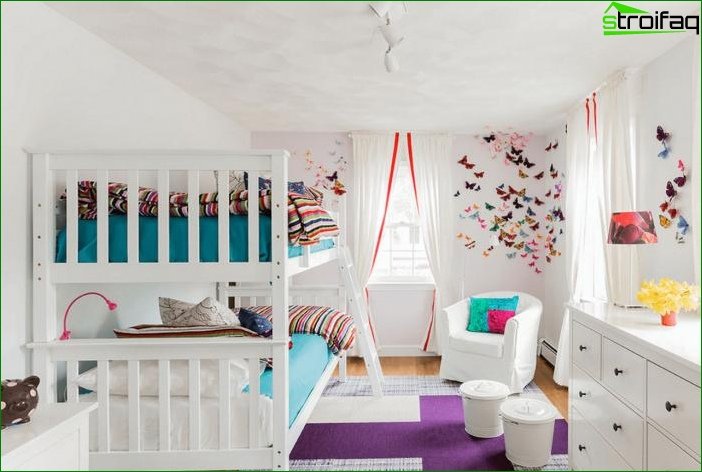 Content
Overall: recommendations for design of a children's bedroom
Correct bedroom / children especially should be:
safe;
functional
interesting.
Only then will you be able to provide their children with full development, both physical and moral.
Absolutely all materials, whether it be decorating the walls or furniture, materials for decoration of the ceiling, or textile products, the following requirements must be applied:
strength;
environmental friendliness;
no toxic impurities.
Here are just a mandatory minimum characteristics of materials for decoration of children's rooms, but you may well be supplemented on the basis of its own needs.
walls
Modern manufacturers of repair materials now offer a lot of various options for wall design in the children's bedroom.
For decoration and wall decoration you can use:
paints;
decorative filler;
panel, etc.
Selecting materials - be guidedOwn tastes, the peculiarities of planning your housing, the preferences of children. For example, when decorating a bedroom for two boys, the painted walls with decorative chrome panels will look good. But to create a girlish children's room in the style of Provence, it is better to give preference to wallpaper on a non-woven basis in pictures. Moreover, if there are different-sex children living in the same room, you can create additional visual separation of the space with different materials, for example, using brickwork in one half of the room and textile decorating the walls in the other.
In any case, keep in mind that the materials for the walls in the nursery should be as durable and easy to clean.
Fragile spraying vinyl wallpaper can easilydamaged during children's pranks and games, lose their appearance. Therefore, such wallpaper is better to use in the zone for sleeping area or storage space.
Finishing the floor
Making the floor completely depends on the style of the room to create a design. It may be:
linoleum;
parquet;
carpet;
ceramic tile;
laminate, etc.
Children love to play on the floor, so he must be warm all year round!
Natural materials for flooring,such as flooring, help to keep warm. But in principle, modern heating technologies will solve the problem of thermal insulation, even if you use a ceramic tile or mosaic.
One more important thing - sound insulation. If you are the happy owners of a private home, the disturbance from neighbors during noisy children's games you're probably safe. In the same apartment buildings, especially Khrushchev, football in the room or training with weights can be a significant obstacle in your dealings with welcoming neighbors. One solution to this problem - the use of carpet.
lighting Organization
First of all, the child's room need a gooddaylight. And it is the most optimal for the child's eyes, and beneficial for his state of mind and help you to save on electricity bills. But be sure to pick up your kids for the black-out curtains that will prevent the penetration of light into the room during sleep.
In the evening hours local need and additional lighting. You can hang out in the room a large chandelier, but it is better - to make in different areas of individual light points.
Near the beds every child is required to secure the small bedside lamp!
All the colors of the rainbow in the children's room
Many psychologists recommend using increating the interior of children's bedrooms all colors of the rainbow, but quiet tones. First of all, it concerns the registration of a place to sleep, where the child needs to relax and rest.
Anyway - all children are ill. And at high temperature bright colors near the intrusive bed, avant-garde forms and drawings may give rise to additional stress and fears. This color scheme is best used to create a play area.
Featured colors in children's bedroom
The base color
Featured shades
red
crimson

color watermelon pulp

Red tree

Orange
peach

apricot

yellow
oil color

solar

canary

green
olive

herbal

lime

blue
heavenly blue

sea ​​wave

bottle glass

blue
dark blue

indigo

purple
lilac

violaceous

amethyst
Choosing children's furniture
General requirements for children's furniture
Choose furniture according to your ageChildren. First, at each age there are specific needs. For example, for preschool children, the main thing is a comfortable bed and a huge space for games, while a schoolboy can not do without a desktop. And secondly, the psychologically comfortable for the child is furniture, which corresponds to its growth.
Children's furniture should be deprived of acute angles - only in this case the probability of injury will be significantly reduced.
Surfaces in the children's room are often dirty, so they should be easily washed and not spoil your appearance under the influence of water and cleaning products.
Furniture should be strong. Do not be lazy and take the time to review reviews about products from different manufacturers. Then you do not have to repair or buy new pieces of furniture after every childish prank
It is desirable that the furniture was light and mobile. This will allow children to change the situation without your help, depending on their moods or game conditions. Do you remember how you built a hut of chairs and bedspreads in your childhood? Do not deprive your children of this opportunity! And to the proceeds in this matter you will get a wide choice of modular furniture.
Where there are two daredevils, neverThere will be plenty of room. Therefore, try to give preference to modern multi-functional furniture, which solves several problems at once. For example, furniture items that combine a sleeping area, a wardrobe and / or a desk are very much in demand today.
Modern cabinet furniture, consisting of mobile modules, will allow you to radically change the situation without additional costs.
How to arrange a bed?
The easiest way to place beds inRoom for two children - put them side by side. Parallel, in series or perpendicular. Between the beds you can leave empty space, but it is better to place a nightstand, a chest of drawers or a shelf for common books.
Popular in terms of space savings inThe room is a bunk bed. One of the varieties of bunk beds is a bed with a pull-out bed. This option will fit perfectly into a room with low ceilings. And so that the kids do not quarrel, ask them to periodically change places.
A compromise option may be the use of beds with a built-in work space at the bottom. Unusually and functionally!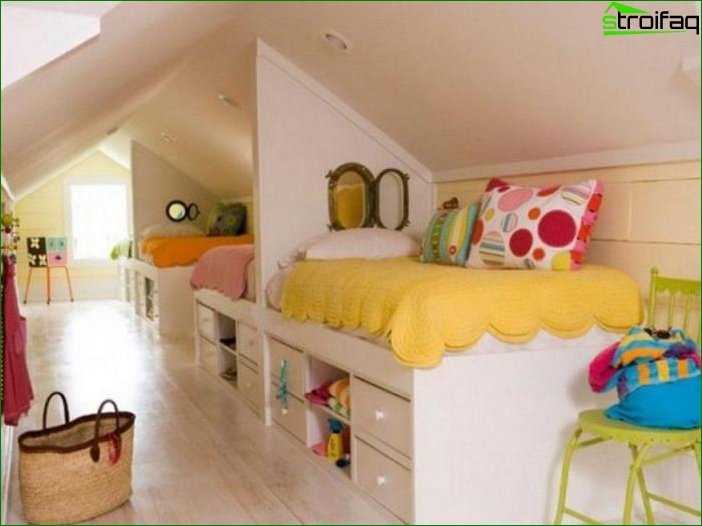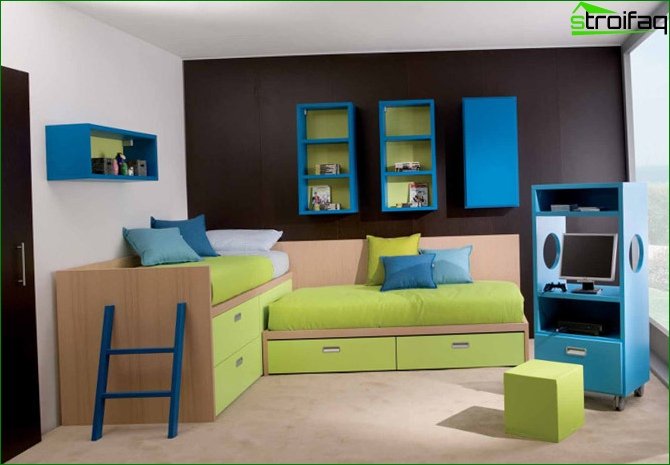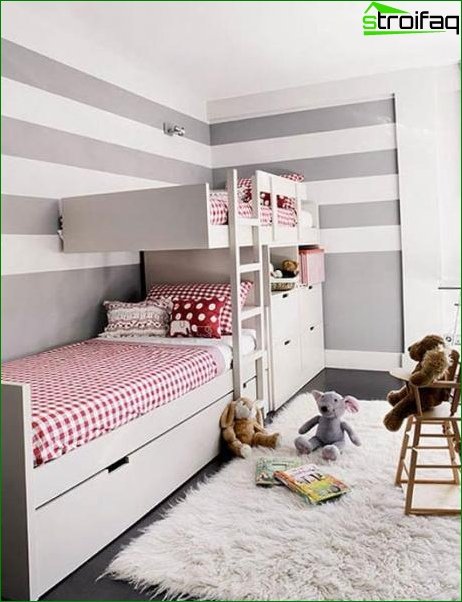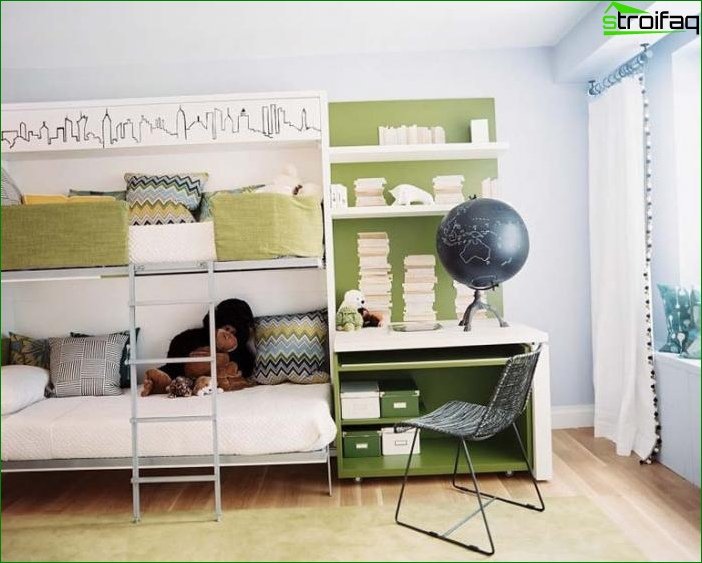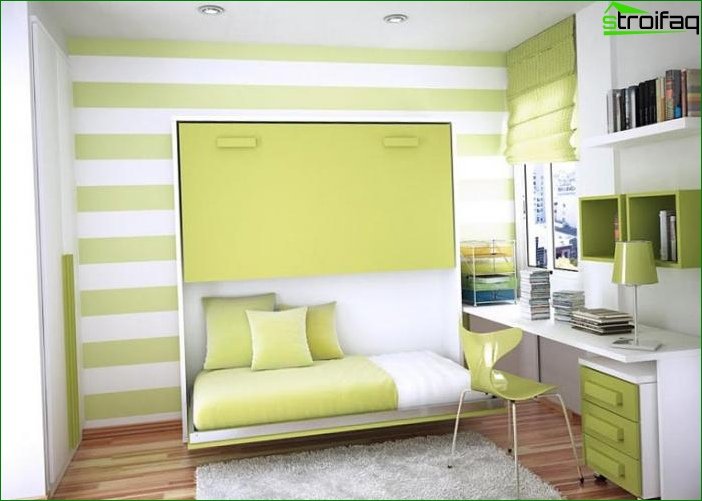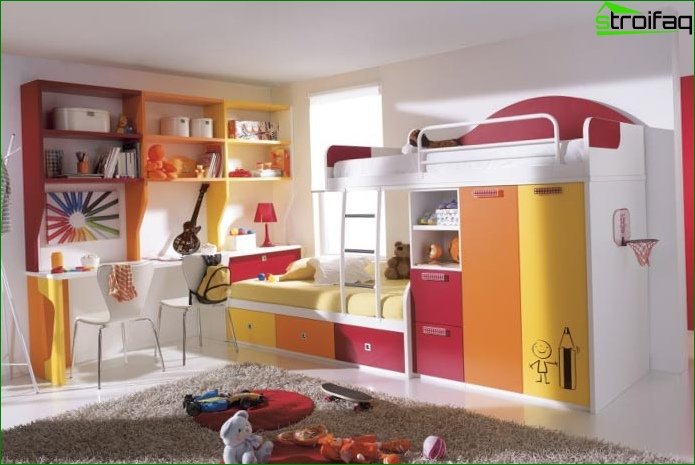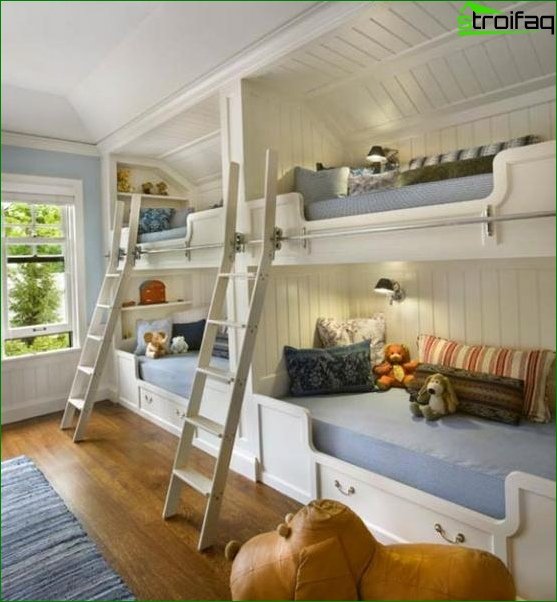 Zoning in the children's bedroom for two children
The zoning of a room into functional spaces is traditional. In the room of one child, this is usually a sleeping area, a storage area, a study area, a zone for games and hobbies.
In the nursery, where there are two children, there are different options for space planning.
First, you can make all of the listed zonesCommon to both kids. From a room for one child, this zoning differs only in that in some areas (for example, sleeping and training) there will be only two.
Secondly, it is possible to create separate zones for each child in which he can do business without interfering with his brother or sister. This is especially true For children of different sexes, Which do not coincide with hobbies, interests, games.
Thirdly, a compromise and gaining popularity today, when some functional areas in the children's room are separated (sleep, storage of things), and some are combined (for games).
sleeping area
This zone should combine comfort andconvenience. Give preference to relaxing, calm tones. Comfortable beds with orthopedic mattresses will guarantee the future healthy development of your children. Sleeping places must necessarily be of equal value, so that none of the children does not feel restrained.
Related article: Baby cot with boards.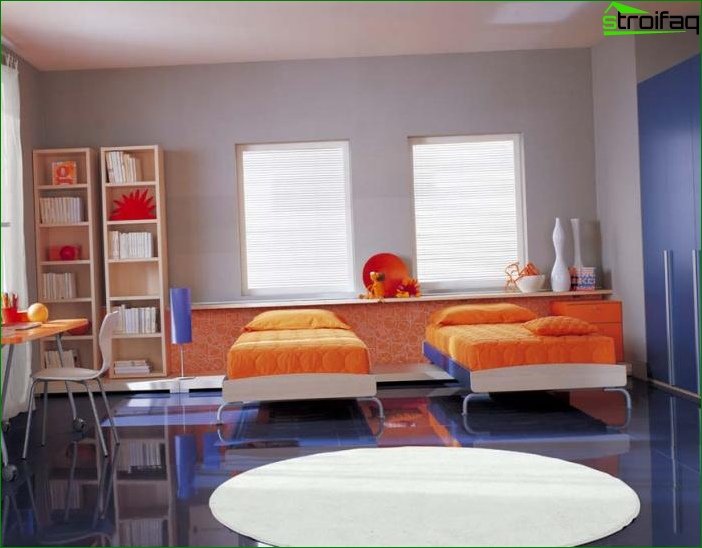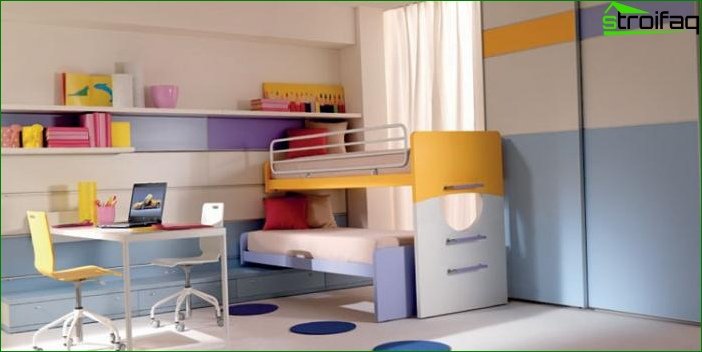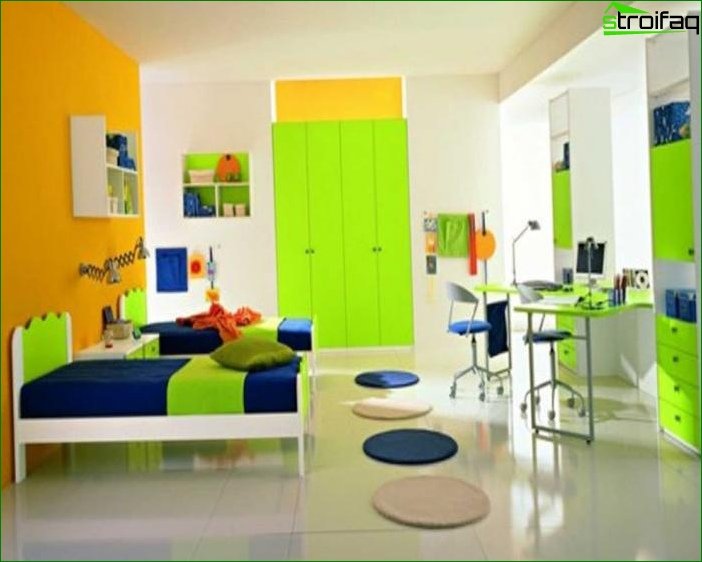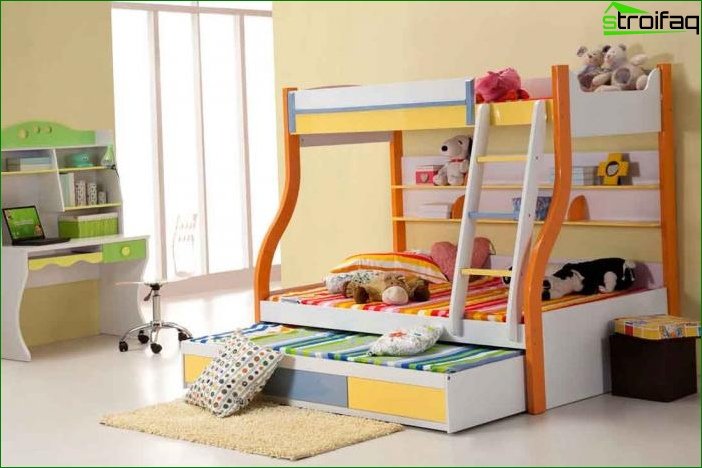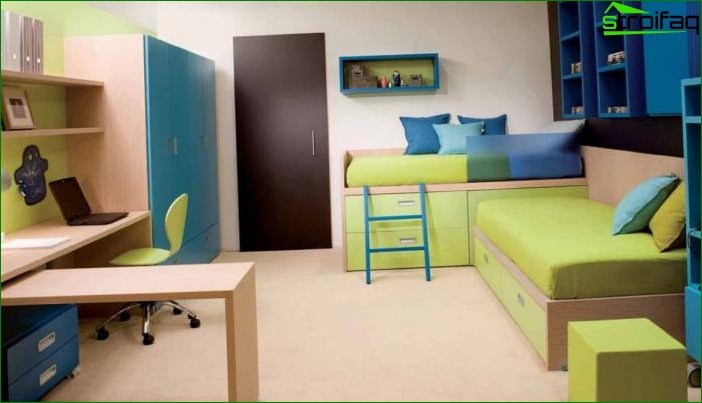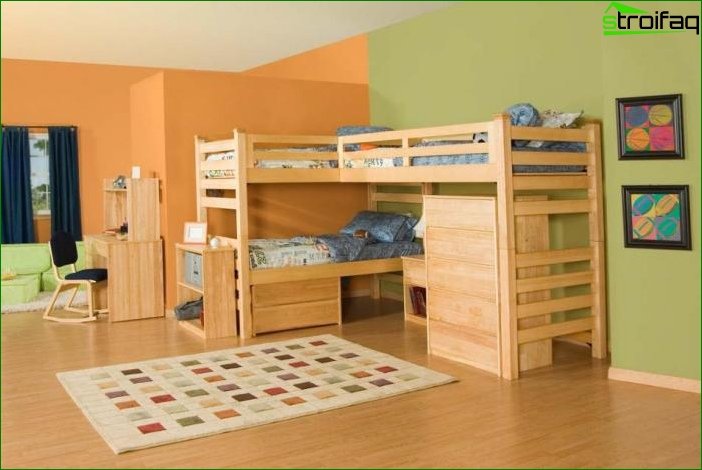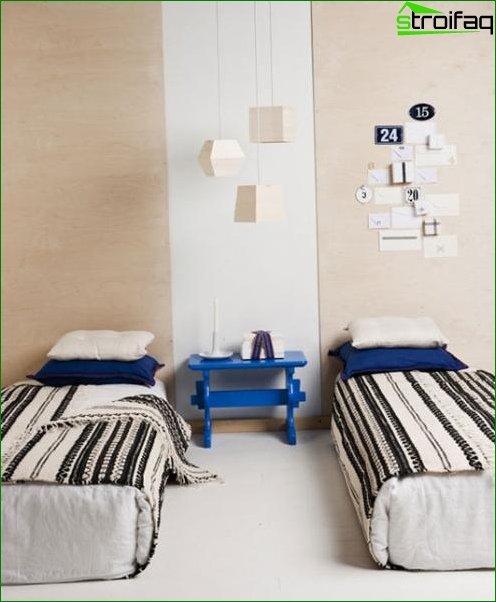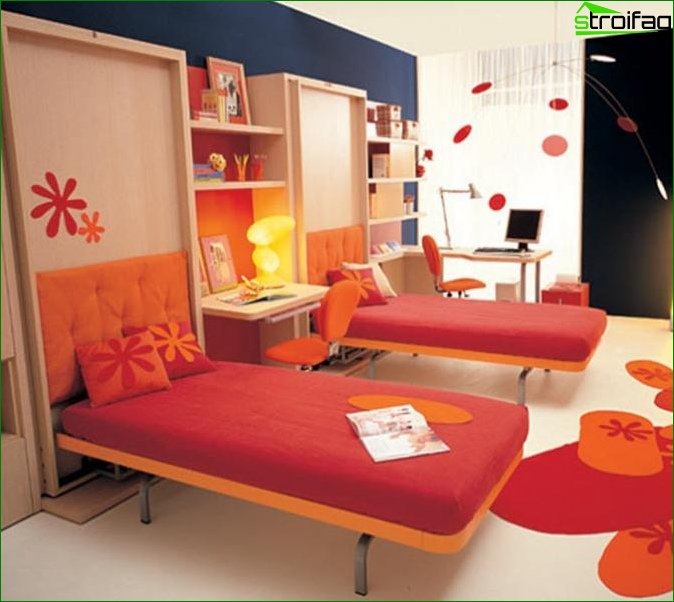 things storage area
In this zone, you can express your imagination by usingMultifunctional furniture (wardrobe-bed), baskets or multi-colored boxes. An interesting solution may be pouffes, on which you can not only sit, but also something in them to store, for example, toys. Be sure to allocate space for storing books, paints, disks, details for modeling - all that children are fond of.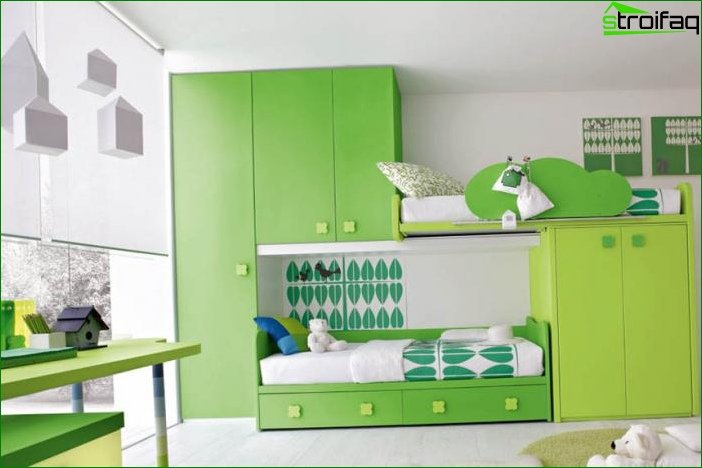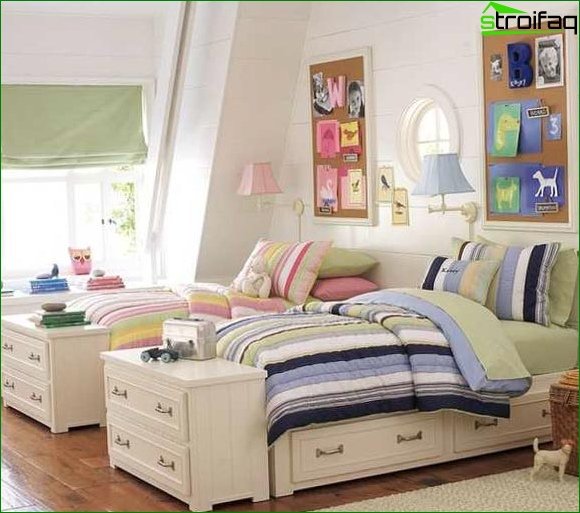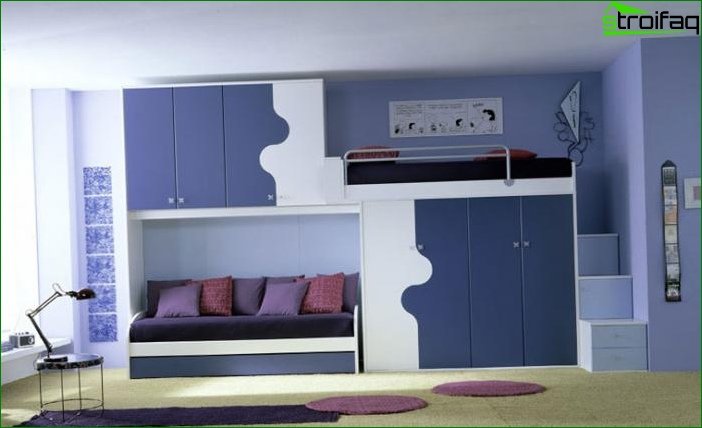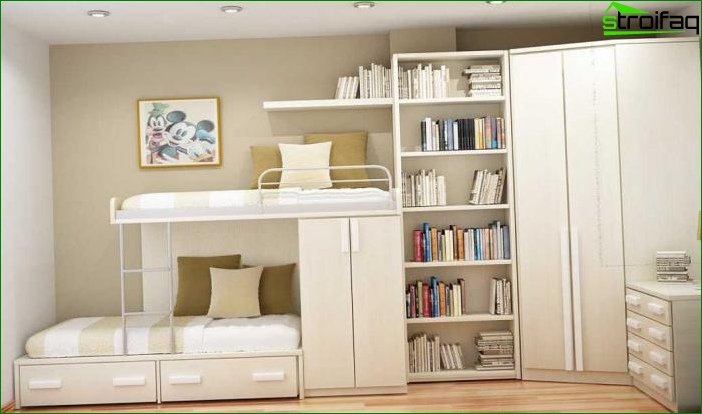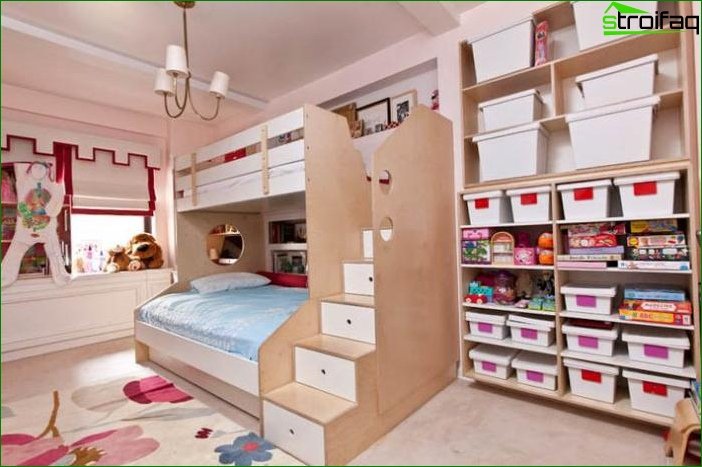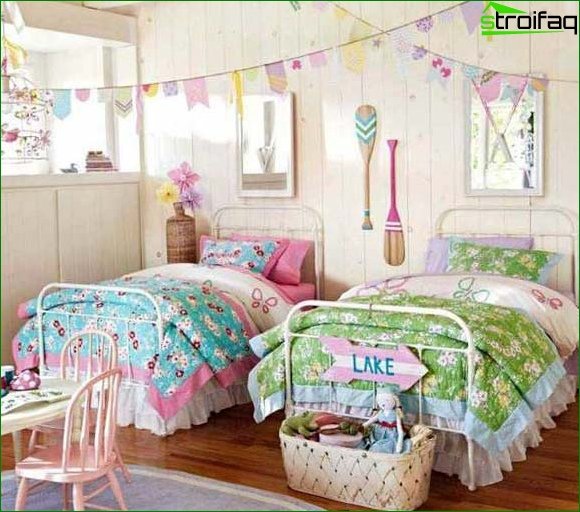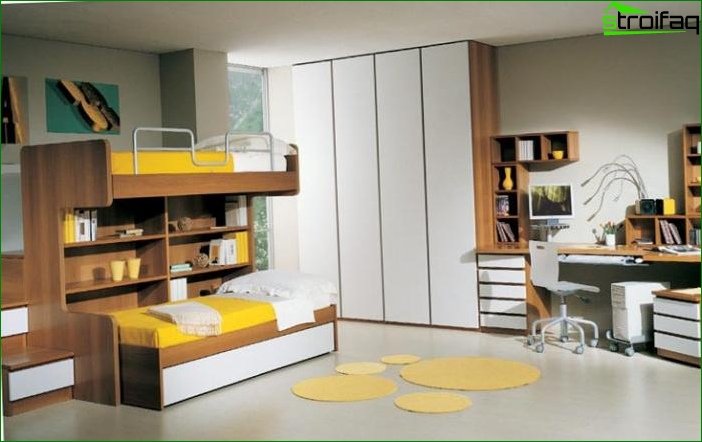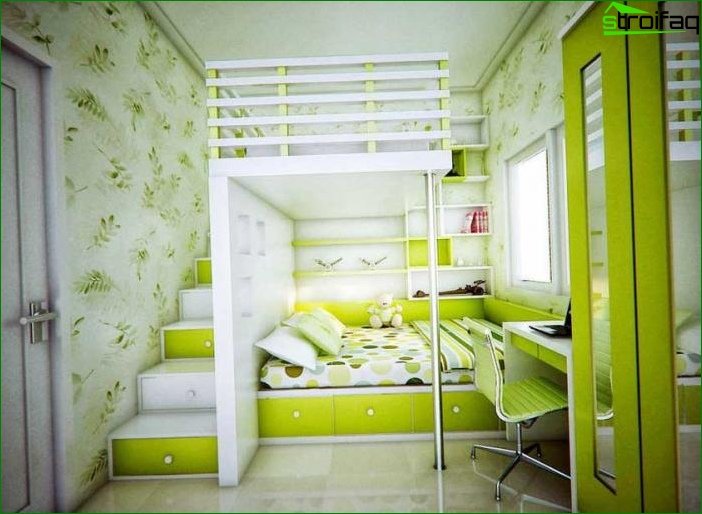 for study area
In this zone there should be a minimum of distractionsDetails. But all necessary notebooks, pens, textbooks should be at hand. For two children, you can make two separate tables and put a shelf between them, and you can select one long table and hang the shelves above it. Be sure to consult with specialists about lighting in the work area.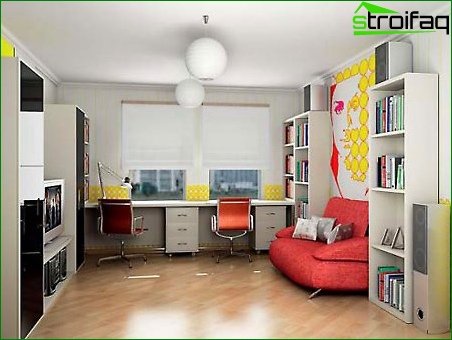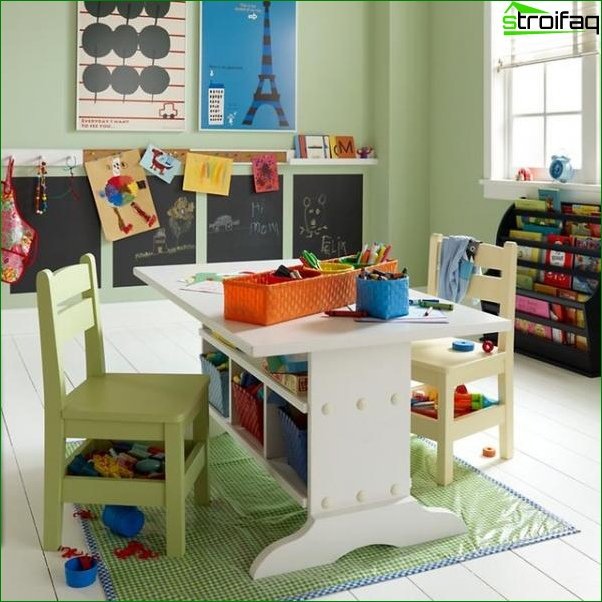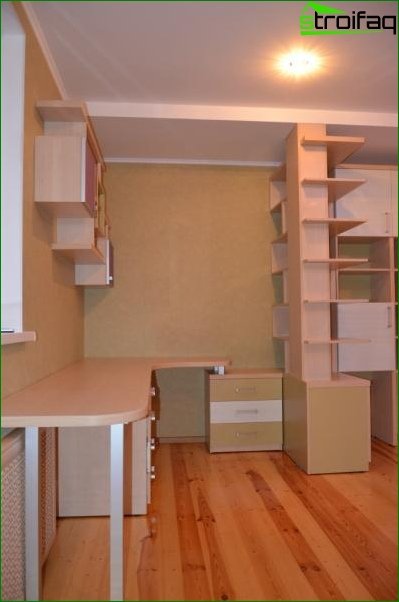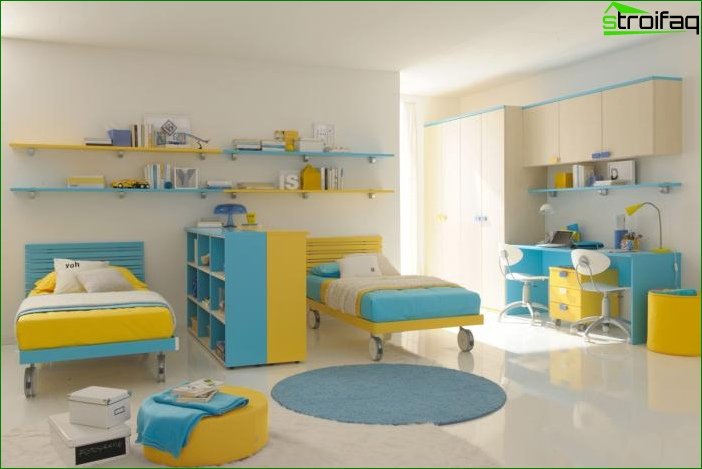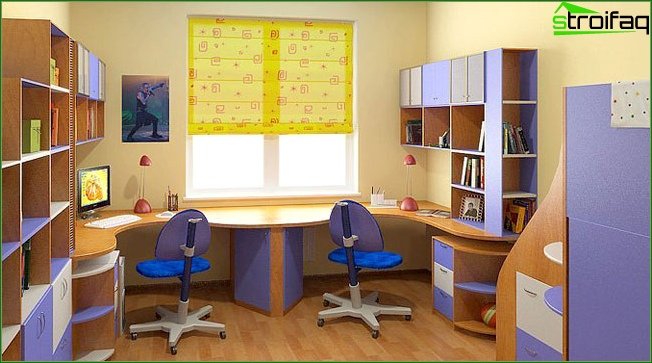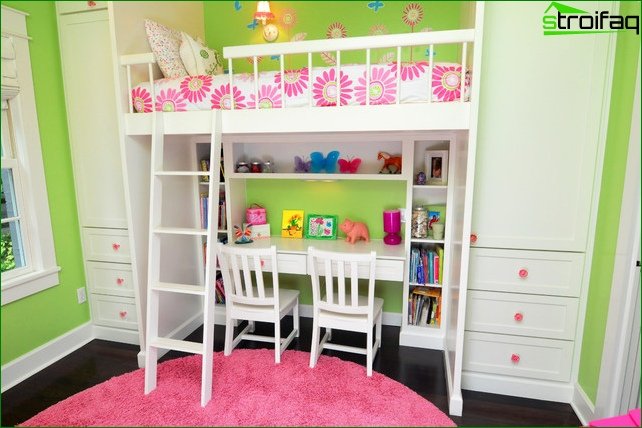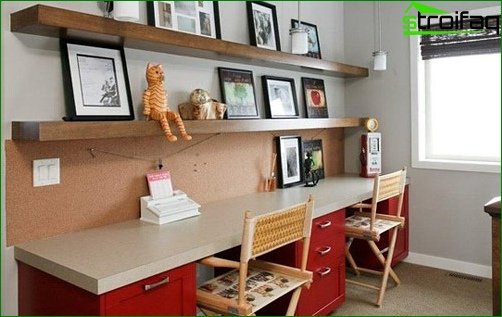 Zone entertainment, pranks and games
But here you can already give vent to fantasy! Rich colors, unusual shapes, various textures - everything will serve to the development of your children's imagination! Here it will be appropriate to look a small photo gallery or an exhibition of drawings of your offspring.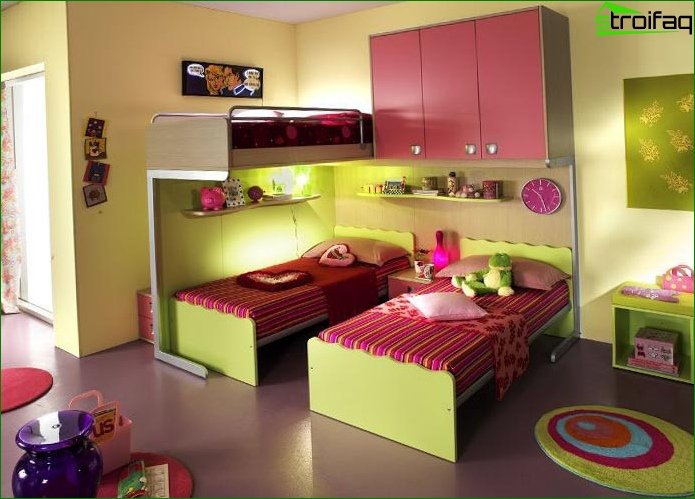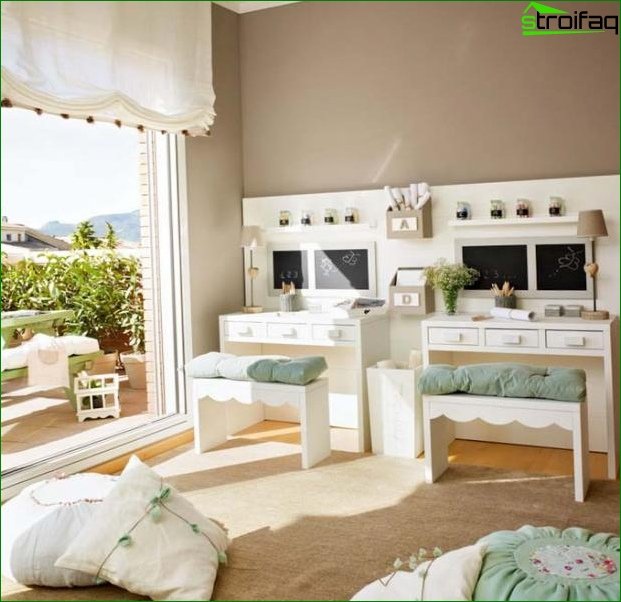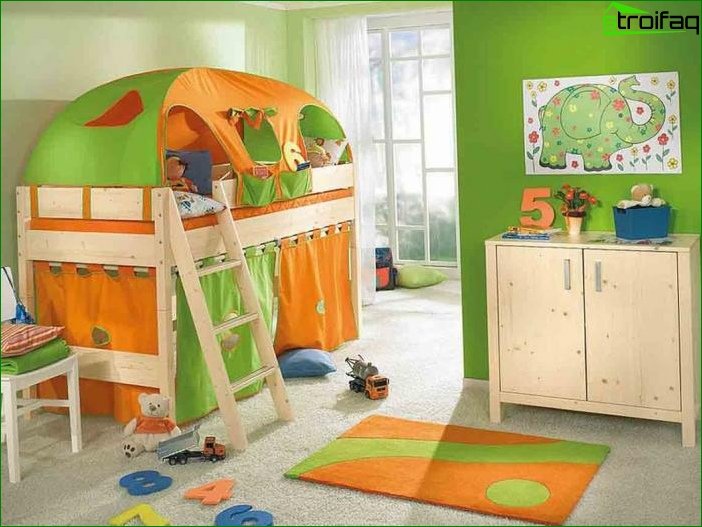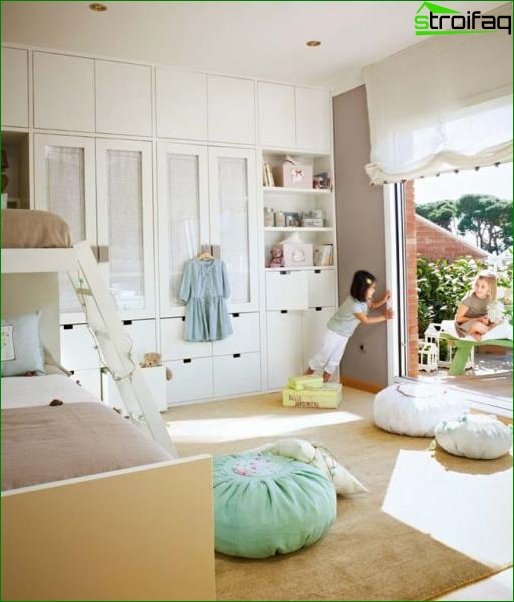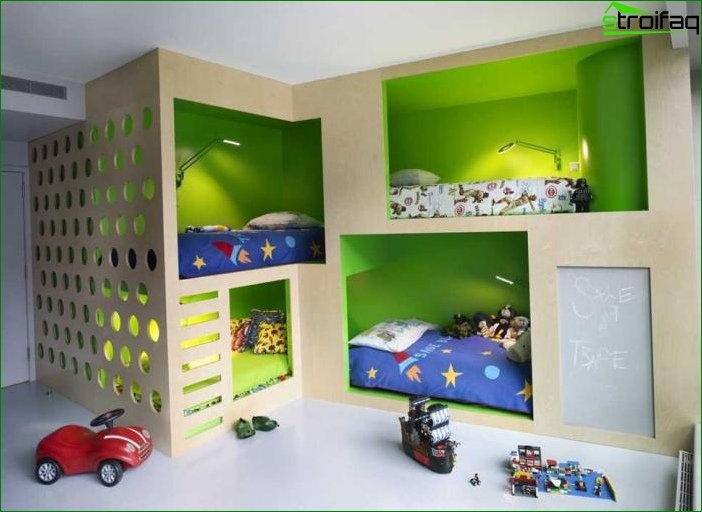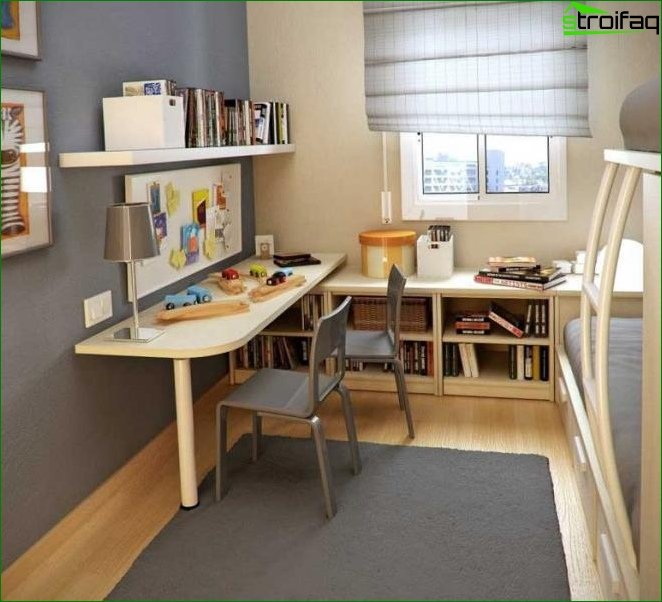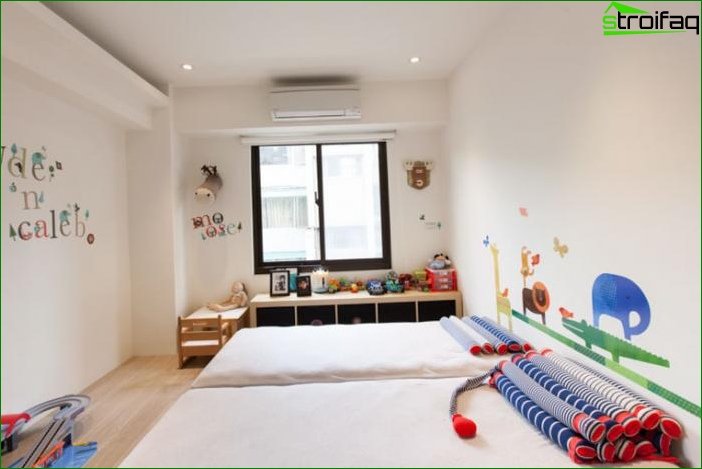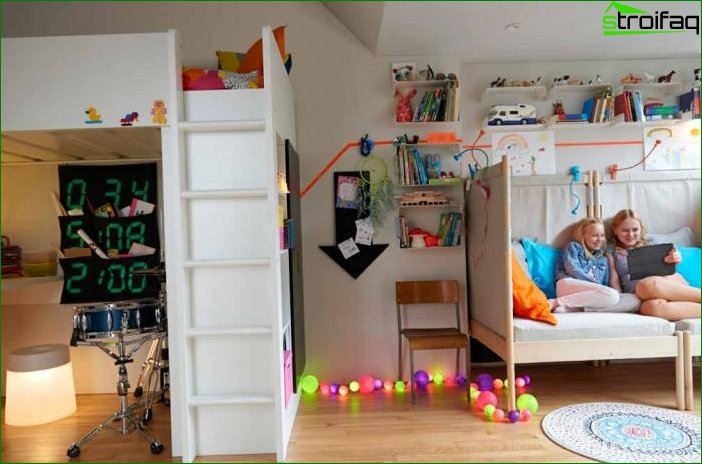 Miniature double bedroom
9 square meters
In a tiny bedroom it is very difficult to accommodateTwo children. But from any situation you can find a way out. For example, leave only a small chest of drawers for storing things, and take the cabinet out of the room. Here it will be appropriate to use a bunk bed. It is better to give up small accessories - decorate the interior in the style of minimalism.
11 square meters
Thanks to the wardrobe with mirrored doors, you canVisually expand the space of a small room. The training zone should be placed near the window. While the little ones are small, their cribs can be put in sequence one by one. But in the future, most likely, you will have to buy a bunk bed.
12 square meters
12 square meters is ample space for the free coexistence of two children. Here you can safely place not only two cribs, but also a small sports corner.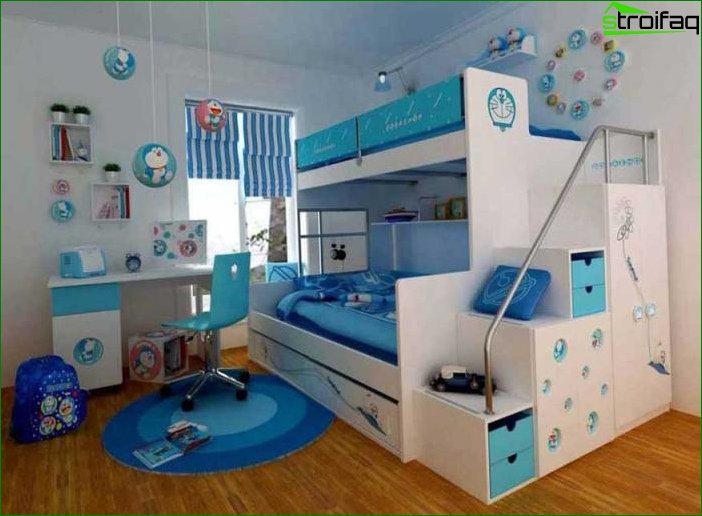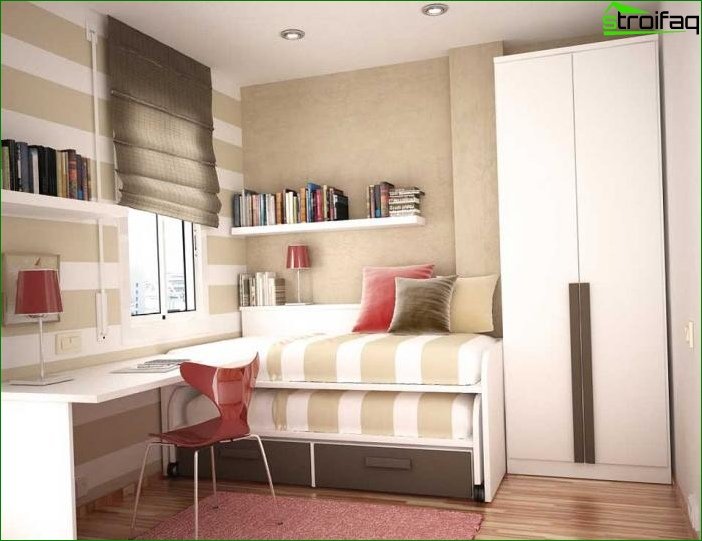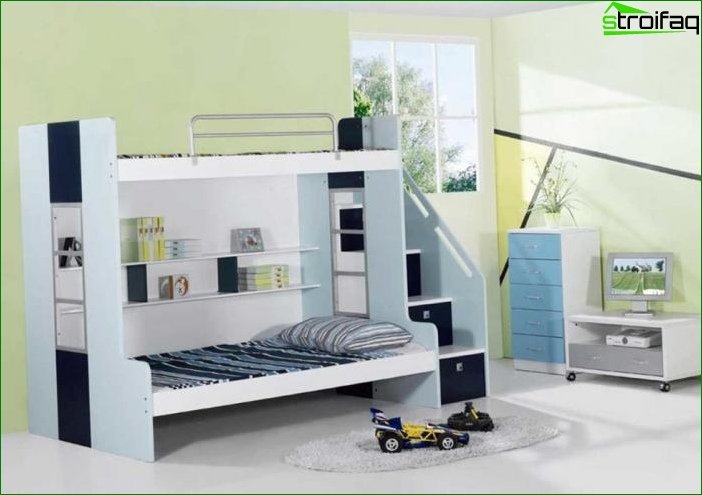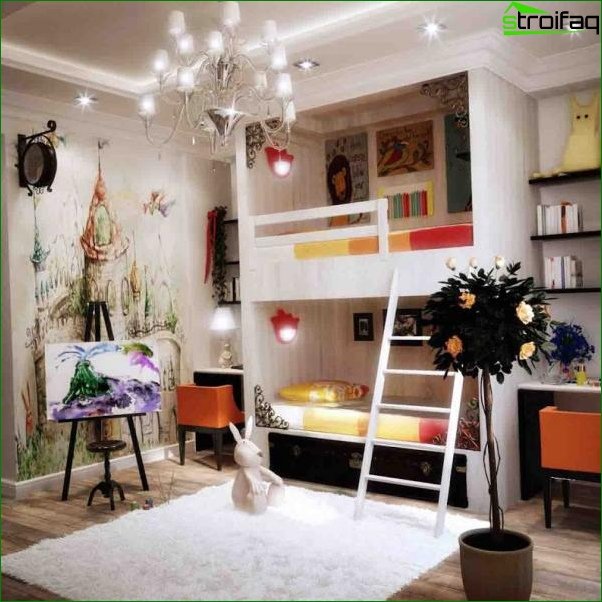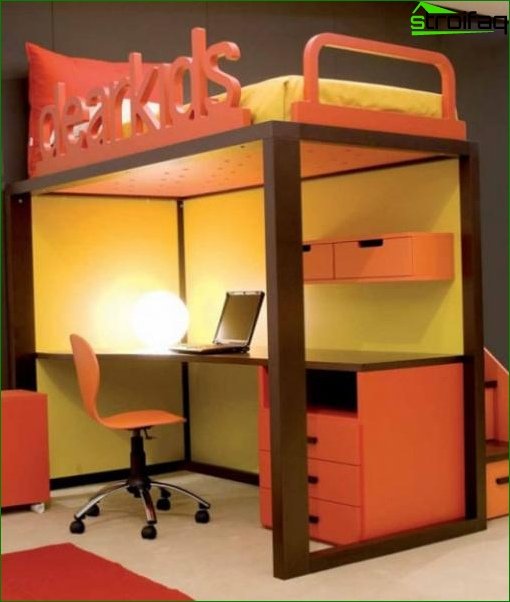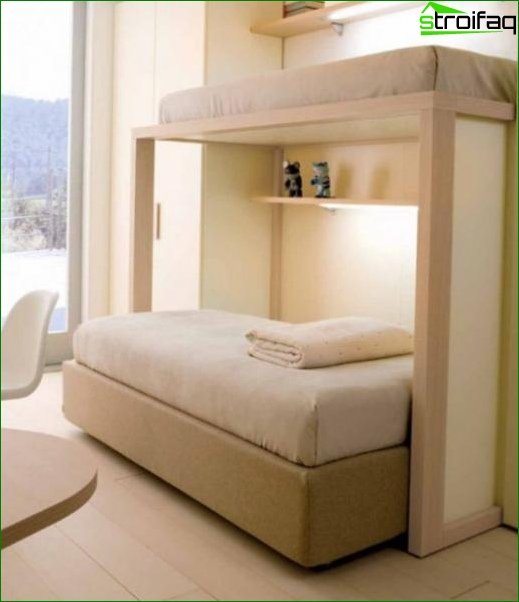 Features and nuances of rooms for children of different sexes, or children of different ages
Girl + Girl
Girls are romantic natures, for sureWill have to taste ruches, bows, soft toys, a lot of dolls and textiles. It is believed that the best color for decorating a girl's bedroom is pink. However, the pastel shades of lilac, beige, green will also look good. Girls love to do everything together, so the functional areas for them are quite acceptable to combine.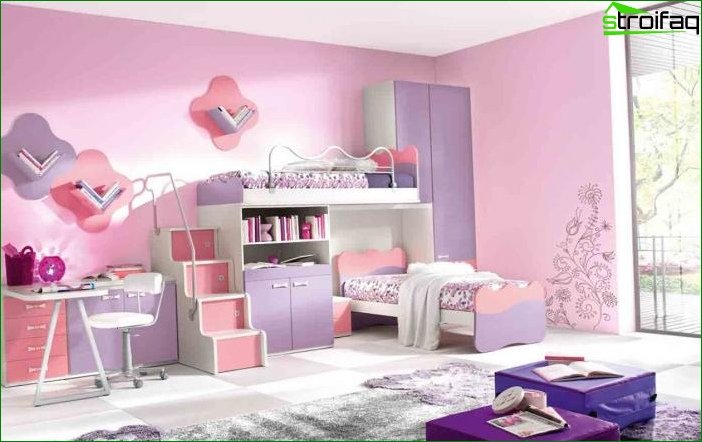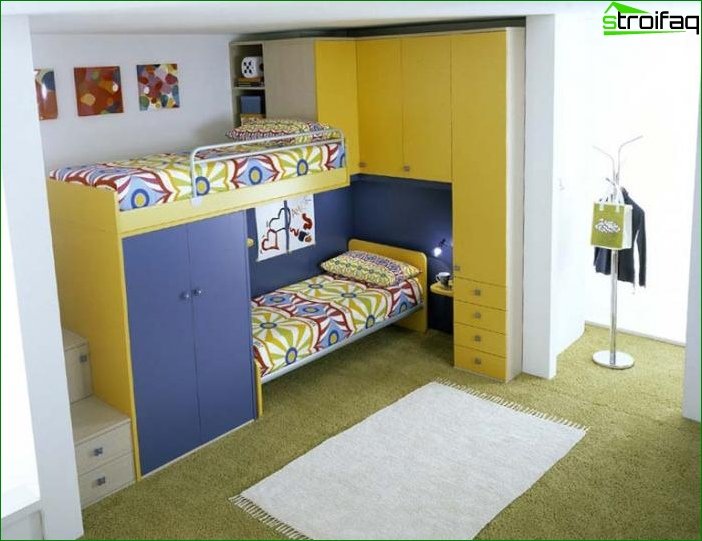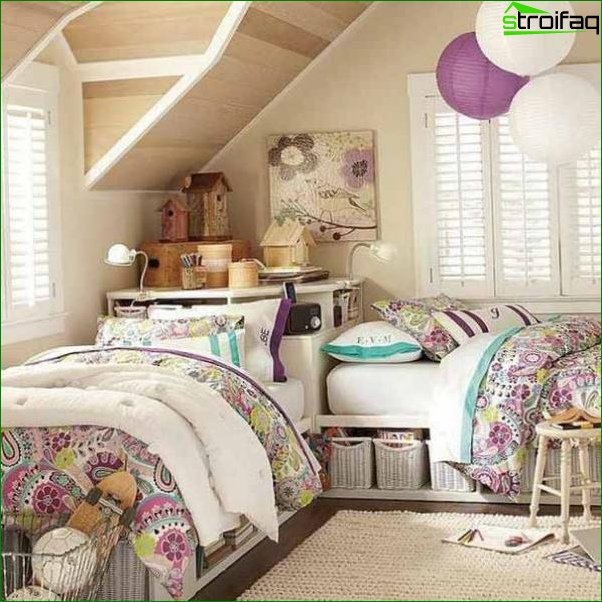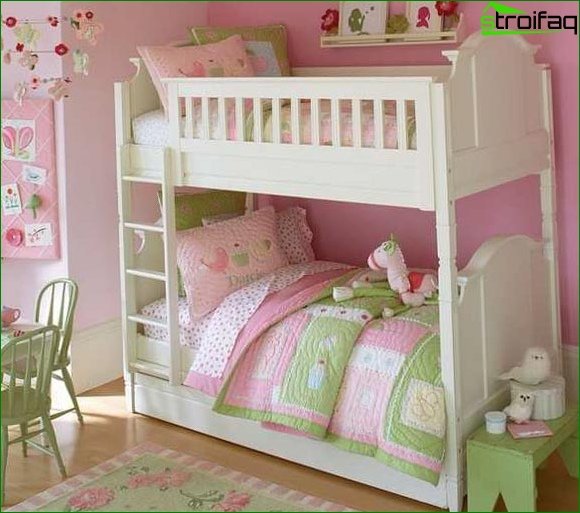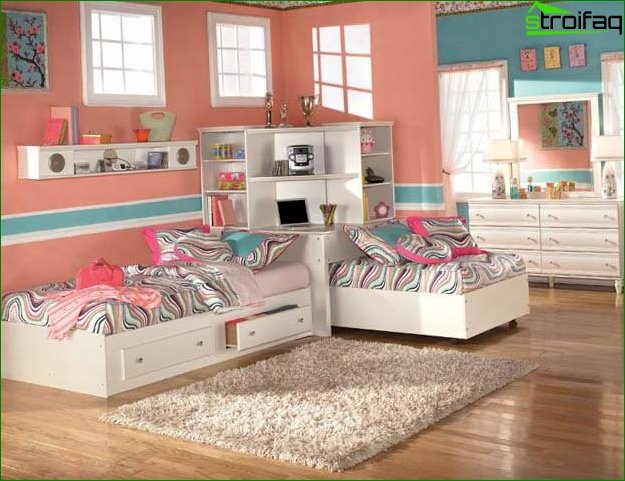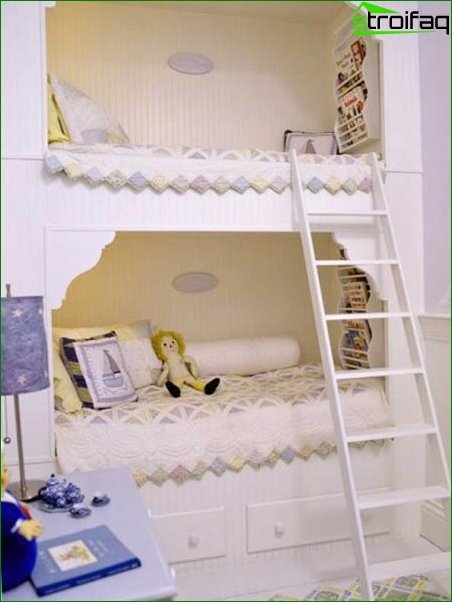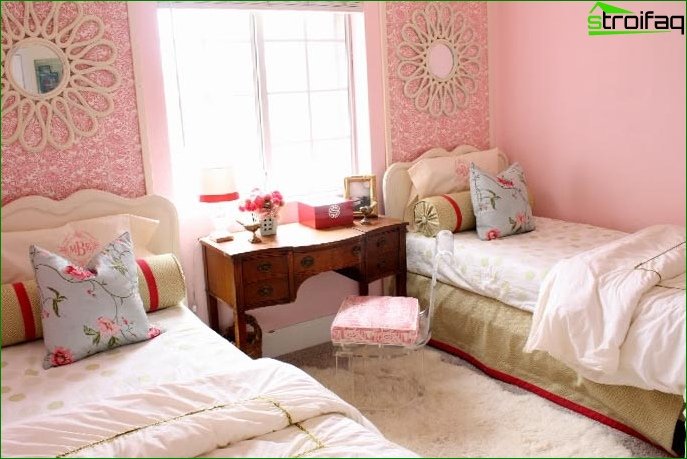 Boy + Boy
That the little tomboy lived in peace and harmonyIt is important to provide each with its own space. Do not forget about the location of the sports corner. As themes for registration can be used: a sea or space ship, a computer game, a safari.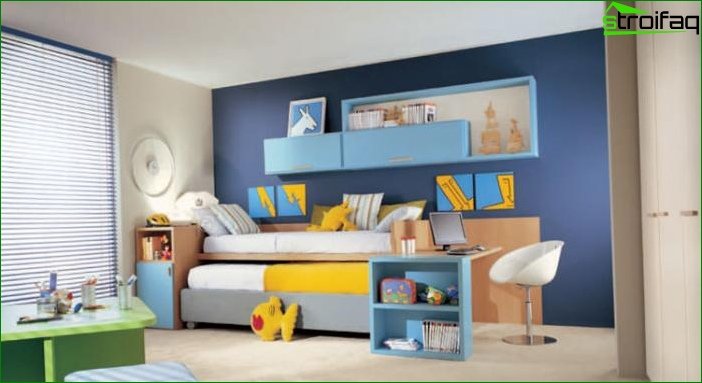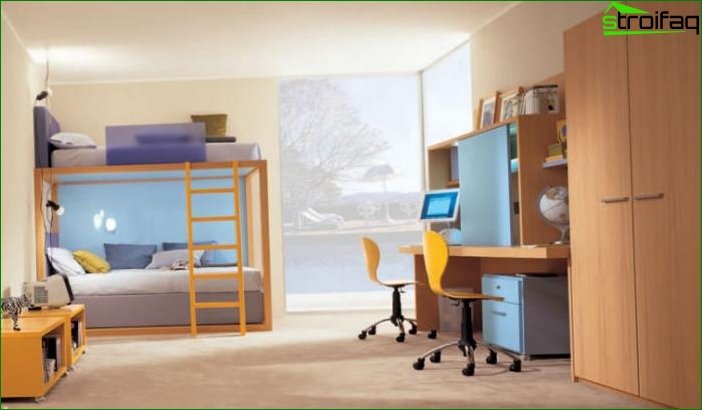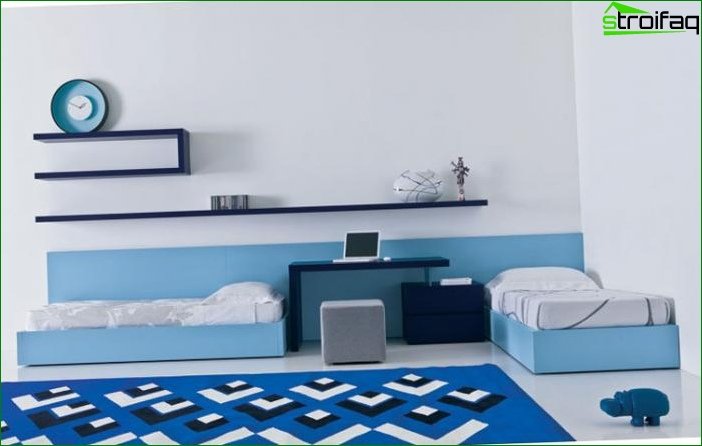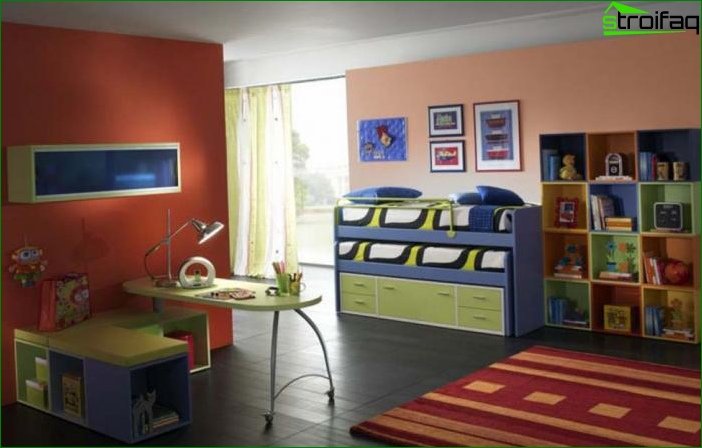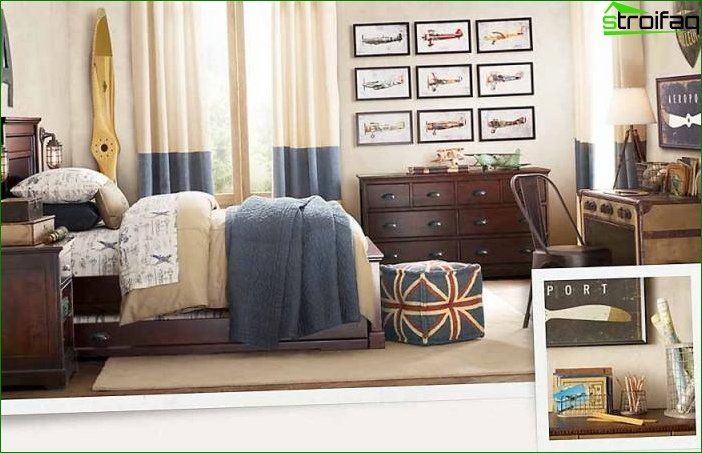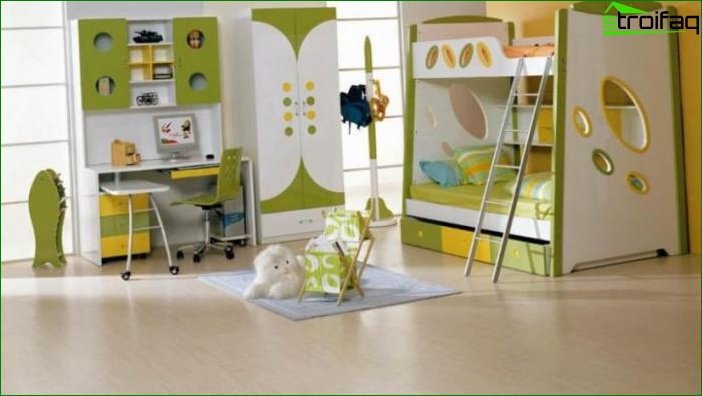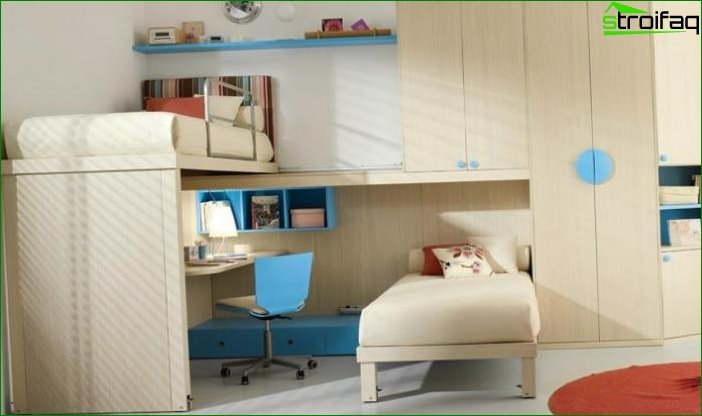 Girl + boy
At the same sex children very seldom coincide tastes andInterests, therefore it is desirable to make out a room taking into account the wishes of everyone. The ideal option is for each child to have a room of his own, but if this is not possible - consider where the children can safely change. Maybe it makes sense to hang it Curtain Or put a screen.
If you want to use different themes forDecorating the space of each child, but to arrange everything so that the interior looked solid - just stand it all in one style. For example, half for a girl zadekoriruyte as a beautiful castle, and for a boy - as a ship aboard his shores.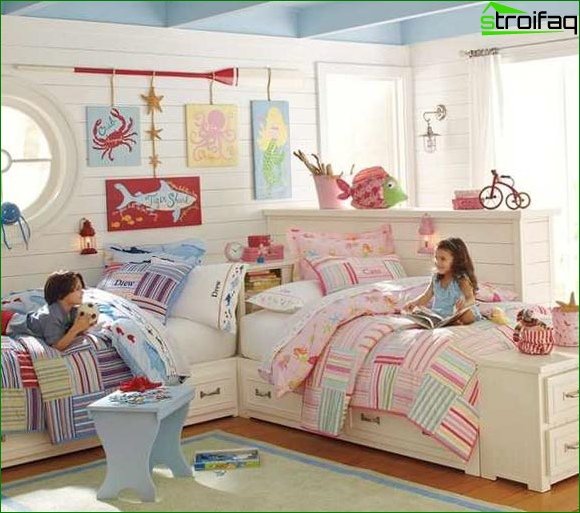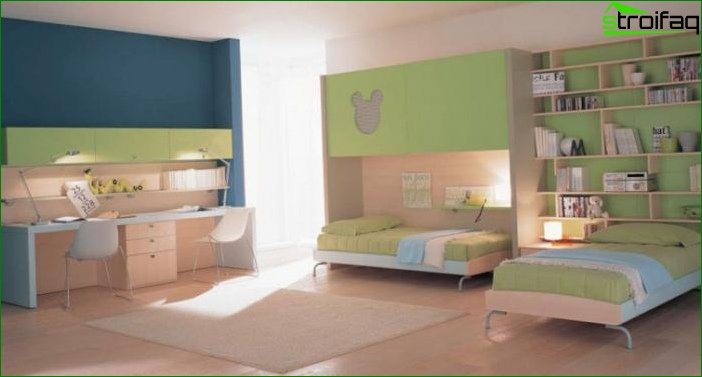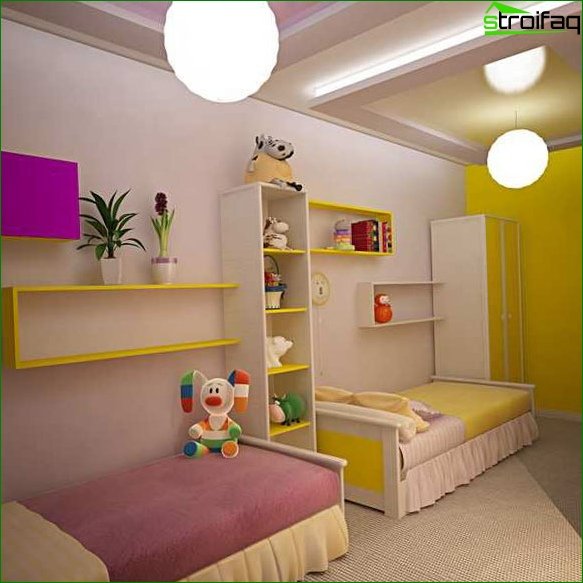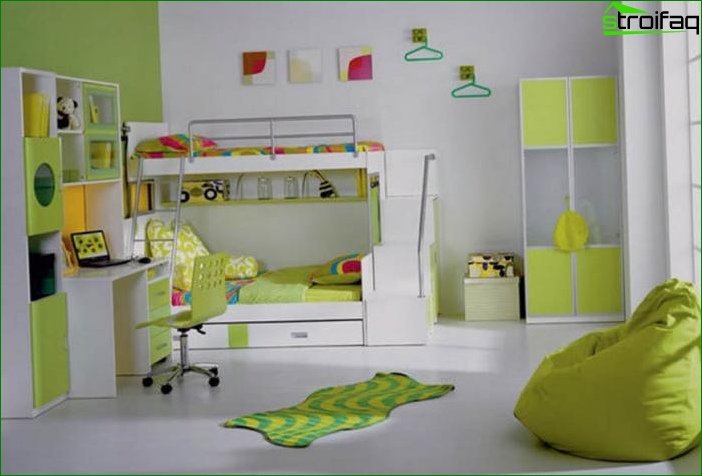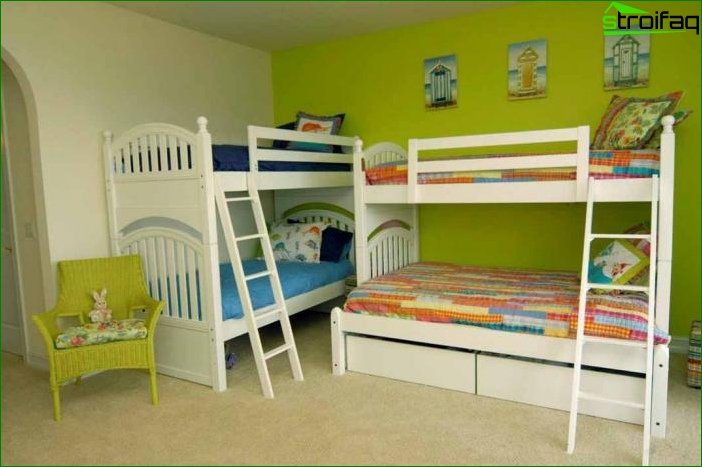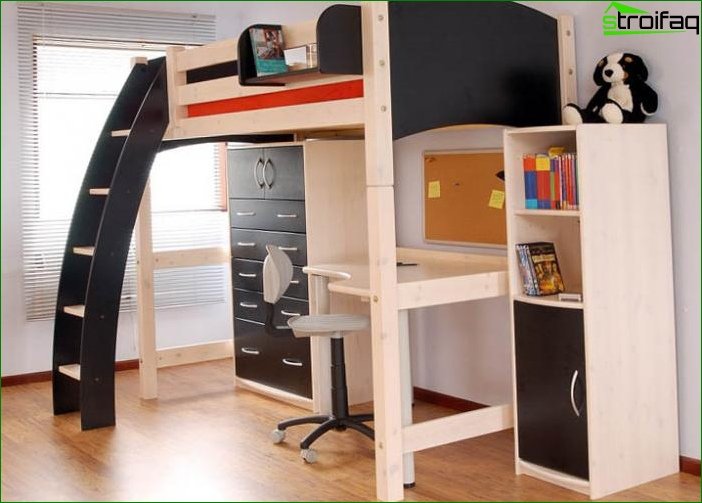 Age difference
Even if your children of the same sex are largeThe difference in ages, the most important is the healthy atmosphere in the family. Then the children will not only get along calmly, but they will also make friends. Create for everyone in the recreation area the conditions for practicing their hobbies - and the issue will be resolved. If the children are of different sexes, they will have to share their space a little. At least this is important in the issue of changing clothes.
Read about the design of the room for a teenager.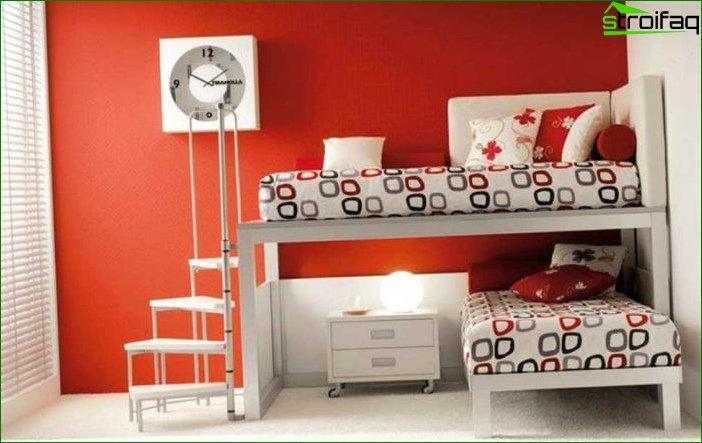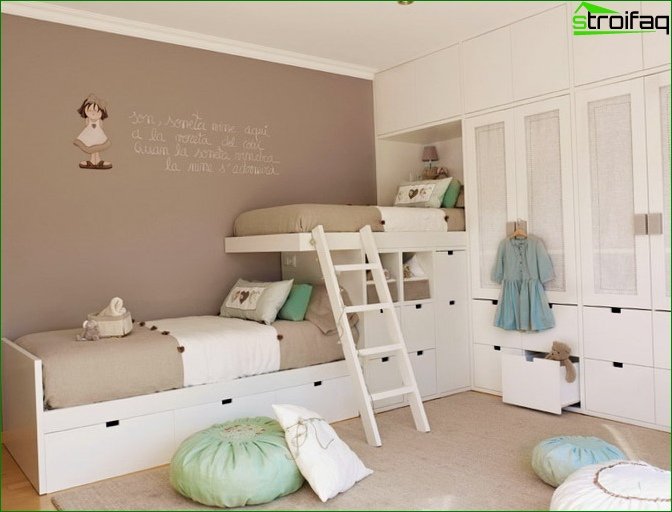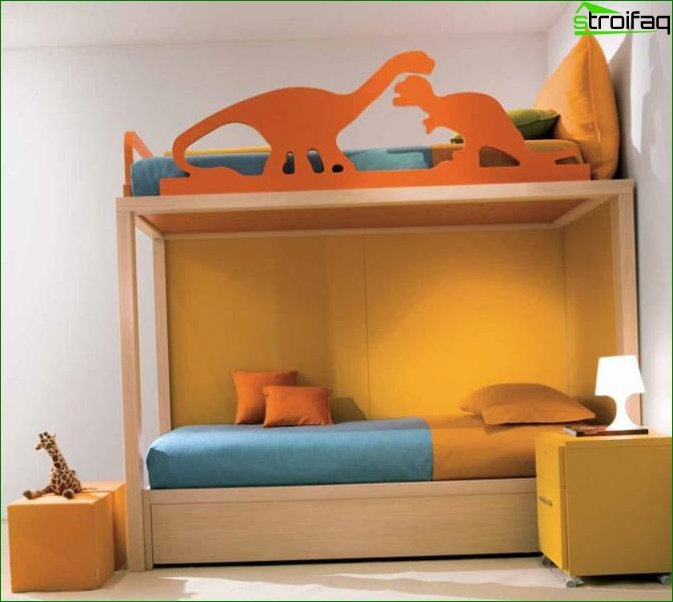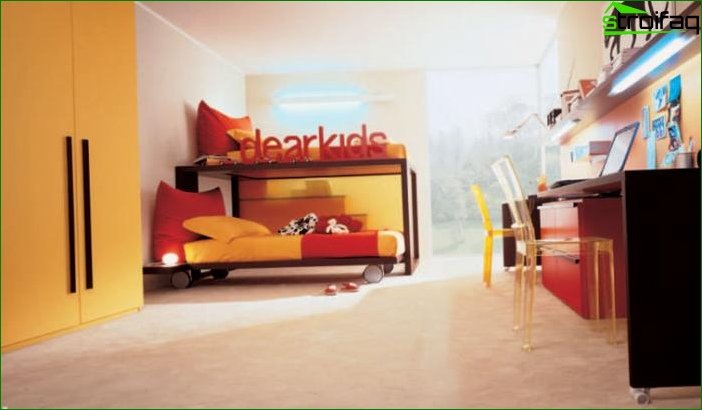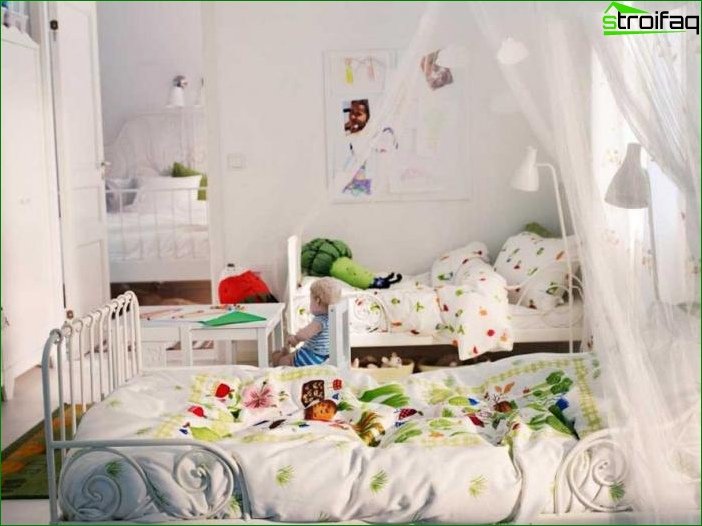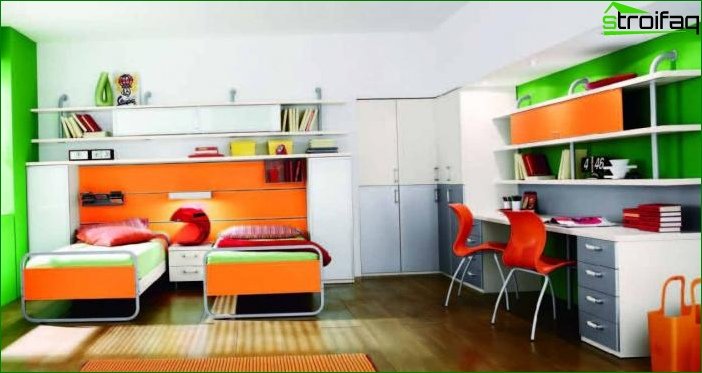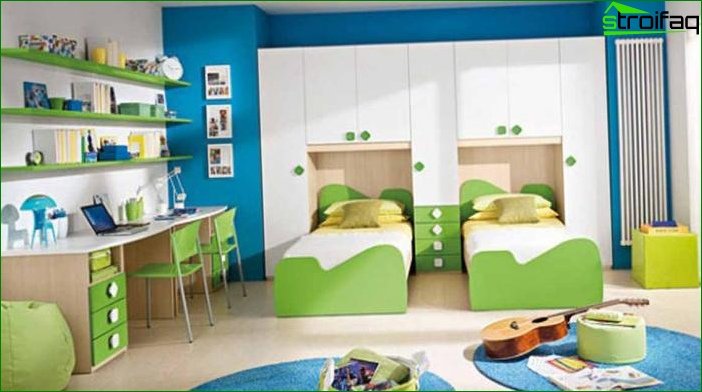 Well, the most important advice on all points - consult your children!