80 children's photo design ideas for two boys. Variants of zoning of premises of different areas. Projects for children of different age categories.
We will help you choose the design of a nursery for twoBoys. Here you will find many photos of amazing interiors of rooms of different layouts and squares, recommendations on how to divide the room into zones, and also learn how to design a room for children with a big age difference.
Content
If you asked the question "Do I need a nurseryRoom? ", Think first how important personal space is for you. Each of us has his own place, where his personal belongings lie, where you can do what you like and where you can relax a little from the household, read a book or just lie in silence. So does the child. Creating a personal space for him is a way of saying how much you love him, how you trust him and understand him.
It is especially difficult to single out a full personal place when you have Two boys, But at the same time it is extremely necessary toEach child felt a full-fledged personality. How to do it, how to delineate the space between the territory of one and the territory of another, and how to design a boy's room, we'll talk in this article.
Choice of finishes for children
Remember! In order for a child to feel really comfortable in his own room, he must also take part in creating her interior. You can prompt and guide, but the decisive opinion should remain for him. Listening to it and creating a children's room with your boys, you yourself will find yourself in the wonderful, fascinating magical world of childhood.
Choosing a color scheme
The choice of colors depends on the age of the child,Because at different times we perceive colors in different ways. For children under 3 years of age it is not recommended to resort to a bright palette in the interior, on the contrary, quiet pastel shades of bright colors are preferable. With age, you can change the interior in a more saturated combination, which cause more activity, desire for creativity, increase the severity of feelings.
Therefore, in a room for two boys, when oneOf them a newborn, will have to resort to the division of space - for the baby to decorate the interior in quiet tones, for the older boy - in a more saturated palette.
Now the color. Traditionally, boys' bedrooms are made in blue, blue, gray, green, brown, less often red is used, which is considered exciting, but in reasonable quantity it has a right to life. Classic black and white color is perfect for a room "for growth", but it will not be entirely appropriate if one of the children is not 3 years old. Rather, this is an option for two Adolescents. Below is a table of shades and their compatibility in the interior, as well as examples Children's For two boys.
Colour
Shades
Combination
Blue
Blue

Azure

Aquamarine

Cornflower

Heavenly

Sizy

Aquamarine

Mint

White

All light shades (beige, cream, sand)

Yellow

Apricot

Gray

Gray
Normal gray

Warm Gray

Cold gray

All light shades (beige, cream, sand)

Purple

Green

Red

Yellow

Blue

Green
Lime

Pistachio

Mint

Gray-green

Turquoise

Grassy

Tea tree

Gray

All light shades (beige, cream, sand)

Yellow

Purple

Chocolate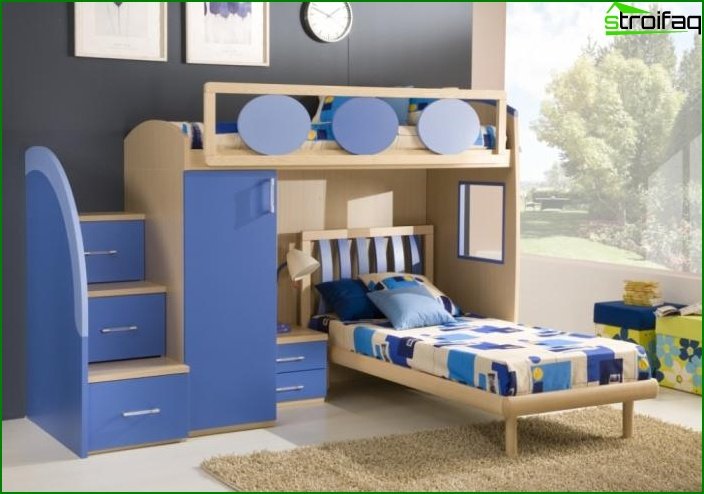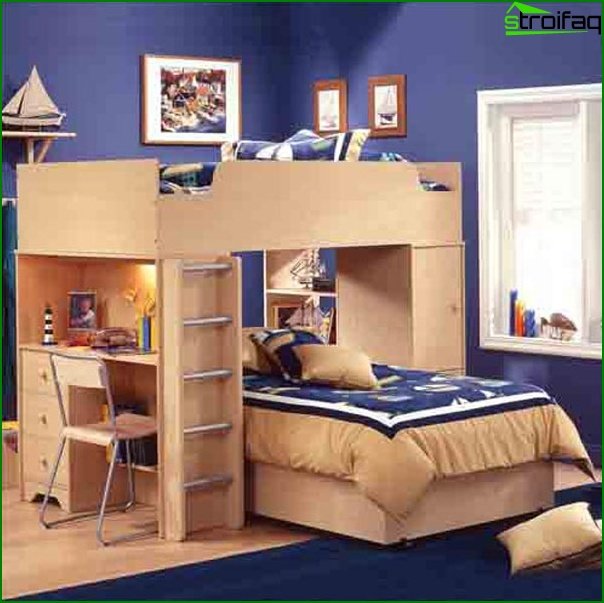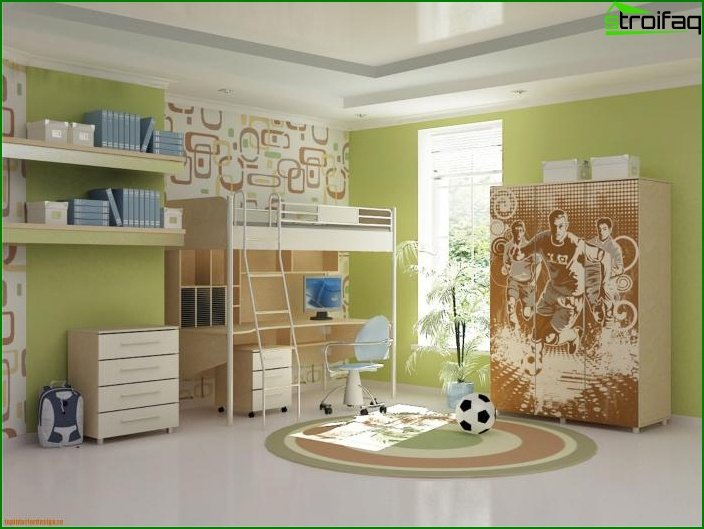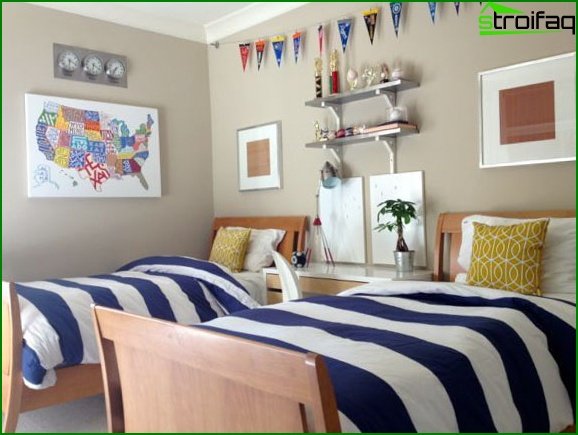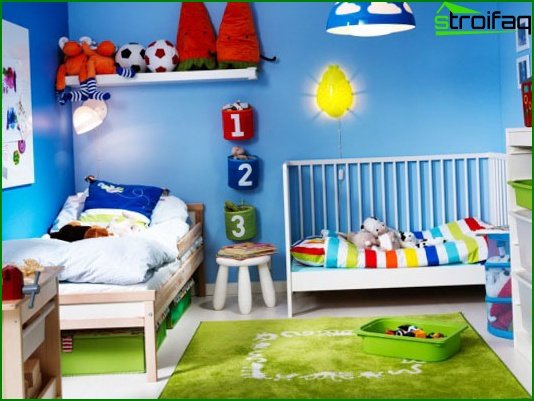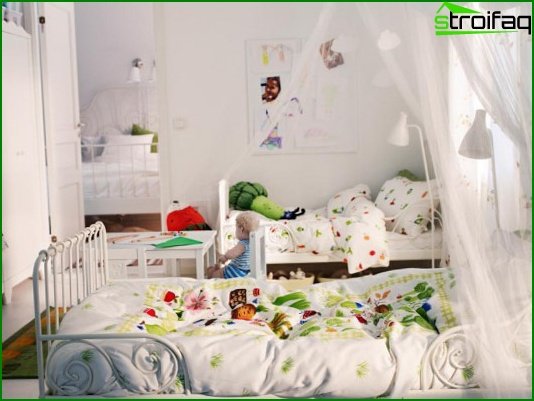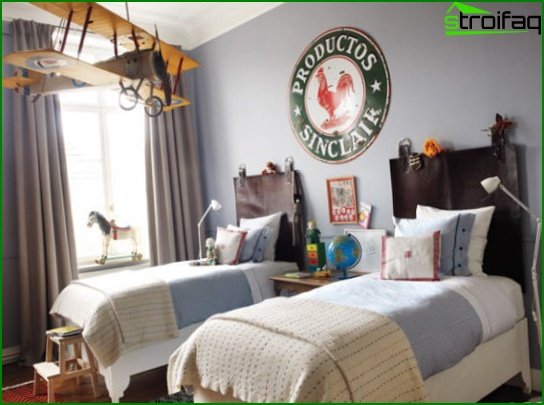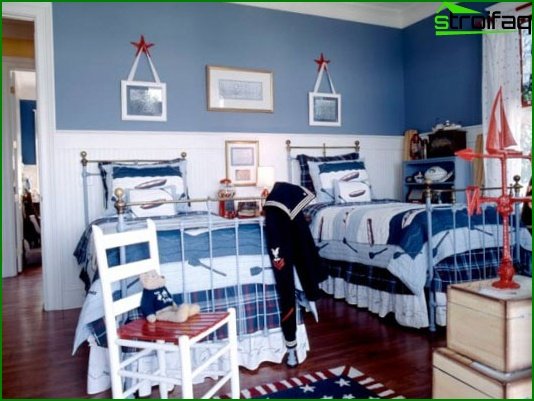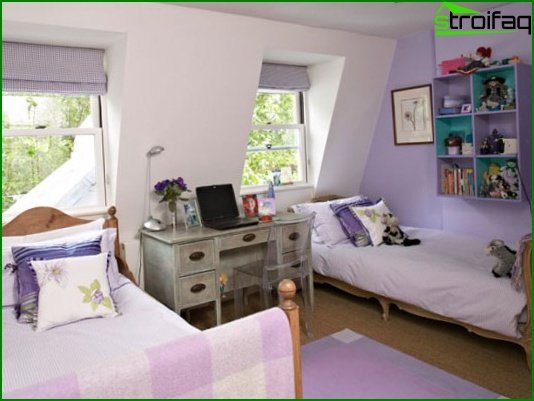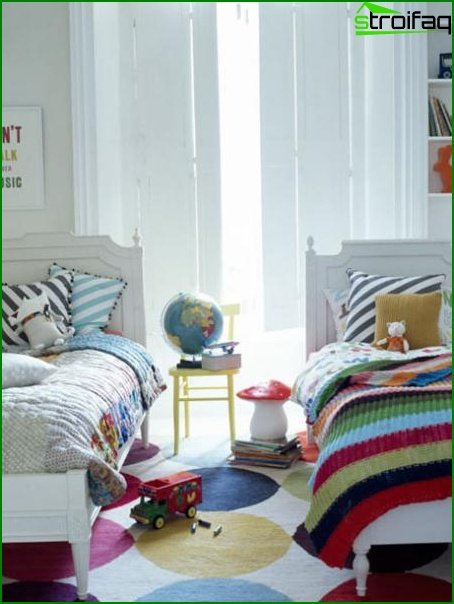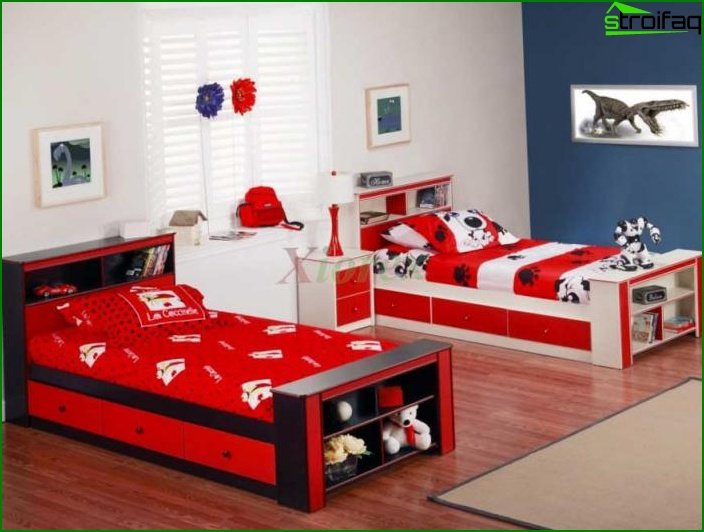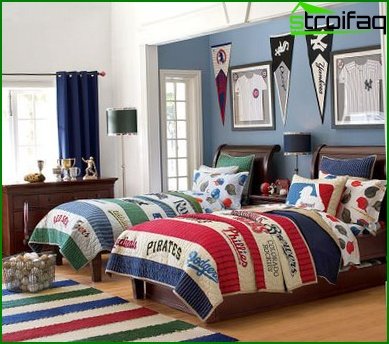 Select wallpaper
Having defined the colors of the future interior, we turn to Choosing wallpaper. There are several secrets that help to emphasize the merits of the room and hide its shortcomings:
A fine drawing and a strip on the wallpaper raises the ceiling and visually expands the space (ideal for a small bedroom);
Dark and bright colors narrow the space, soThey should be at least in the room. If you want to get a bright room, it's better to shade light wallpaper saturated with furniture and accessories or to highlight a bright color one wall (for example, at the head of the bed or as a partition between two halves of the room);
Use wall-papers, especially in small rooms such as Khrushchev. A deep 3D drawing will expand the spatial frames, diversify the interior and will surely please your boys.
Walls can also be used for creativity - allocate space for children's drawings (with the help of washable wallpaper) or glue a special vinyl chalk board.
We decorate the ceiling
Do not forget to use ceiling In the creation of the interior, it is very dependent on himAn aesthetic view of the room and the amount of space. Visually raise the ceiling, make it easier to air allows lighting on its edges or a 3D illustration - a blue or starry sky, space, etc.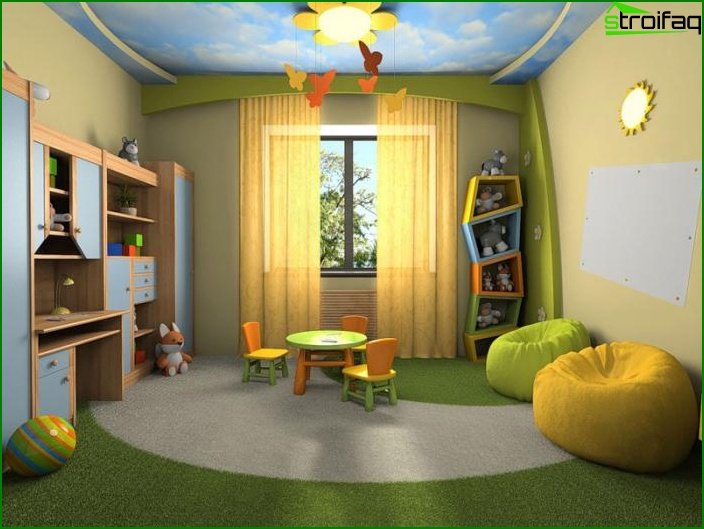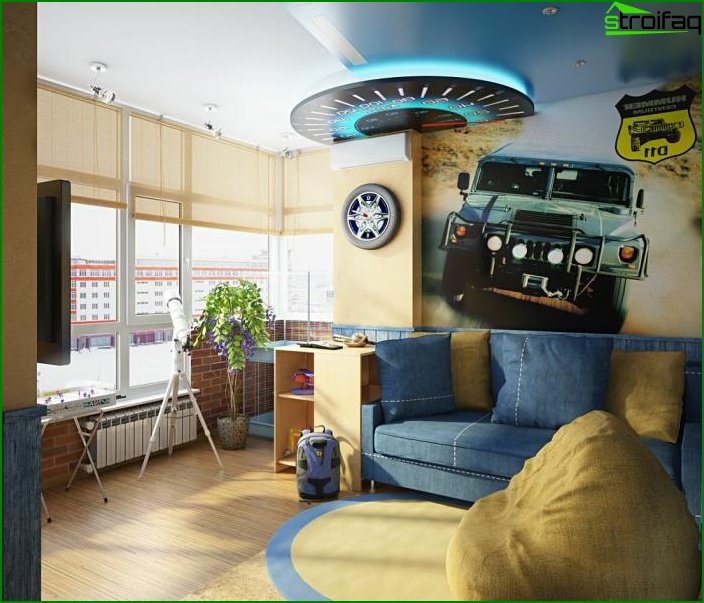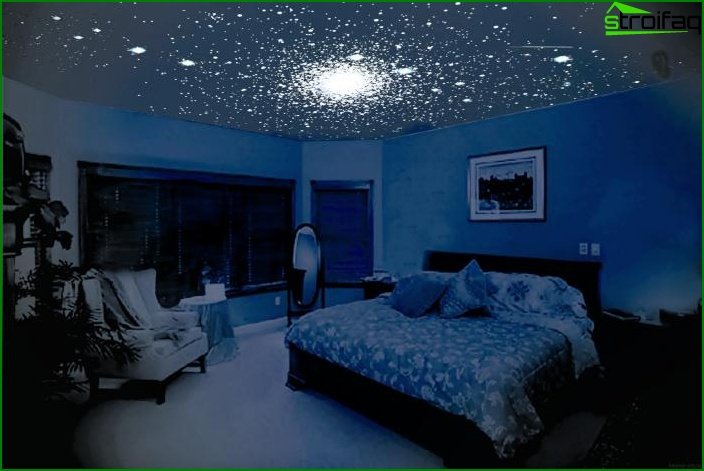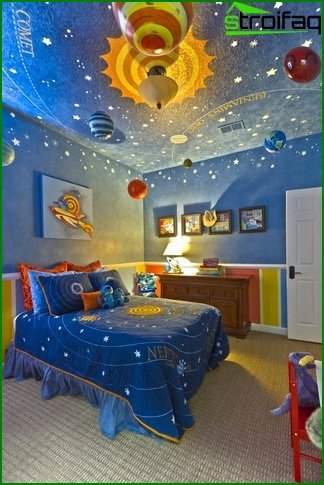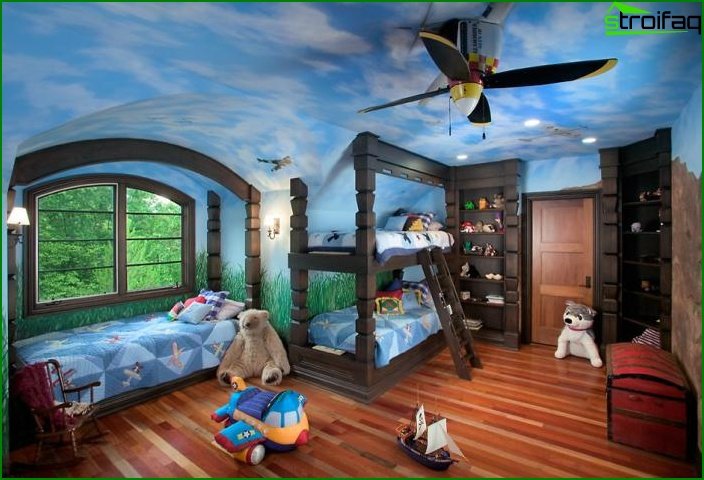 Zoning and selection of furniture for children
We create a children's bedroom for two boys,So you can not do without zoning. And the difficulty is that we not only have to divide the room into the main zones - sleeping, working, playing and storage, but also to divide these parts in half so that there is enough room for each boy. This can be done with the help of various tricky variations of modular and cabinet furniture.
sleeping area
The best option for creating a berthFor both boys in the small bedroom are bunk beds or roll-out beds. If the room allows you, you can put separate beds or cabinet furniture - a workplace + a loft bed. A budget option may be a chair bed or a folding sofa, but of course, it is better if your child sleeps on a comfortable bed with an orthopedic mattress. Examples of the design of beds you can see in our photo gallery below.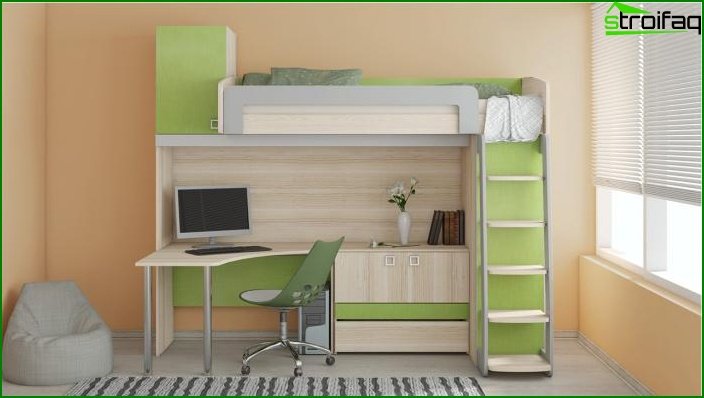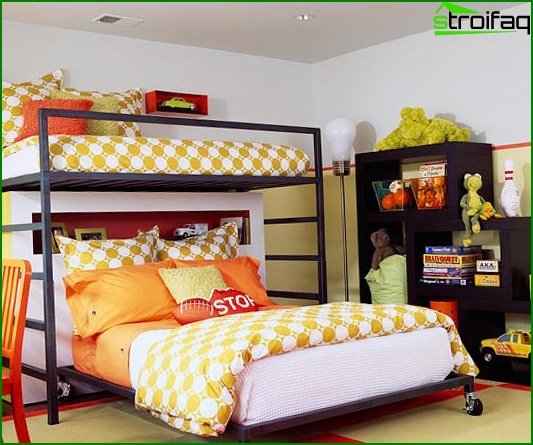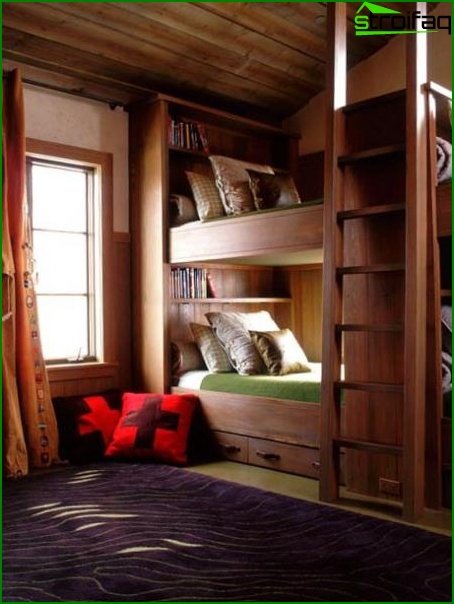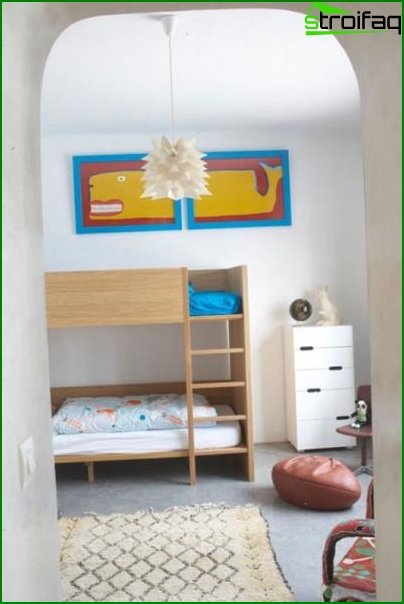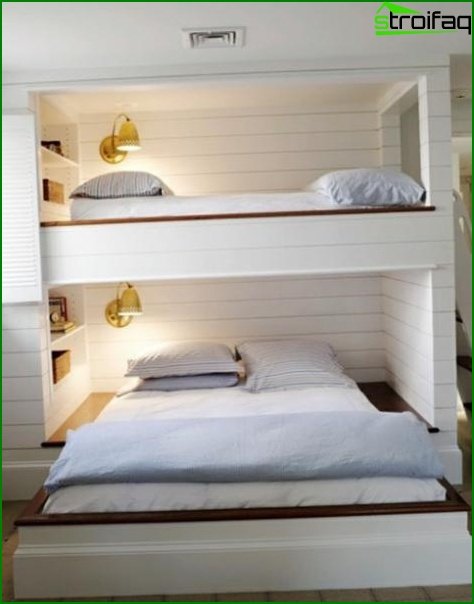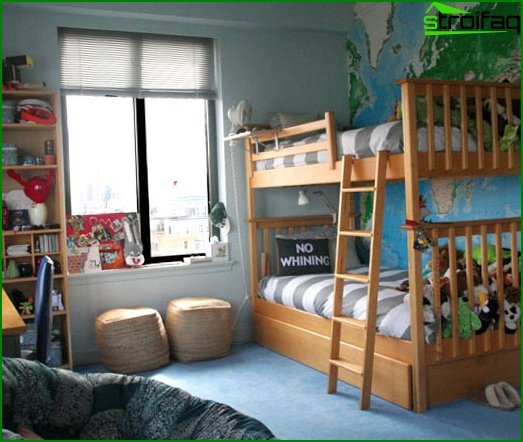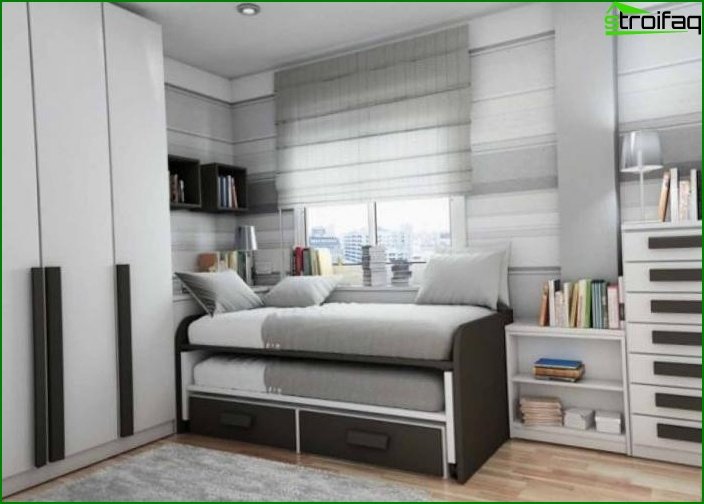 Game Zone
In the design of the game part of the room completelyRely on the opinion of your children. They will tell you what they want to see - a Swedish wall, a basketball ring, a hut and a tent or a drawing table. Be sure to place a chest or a box for storing toys in the playing area, so as not to bump into them on every corner of the room.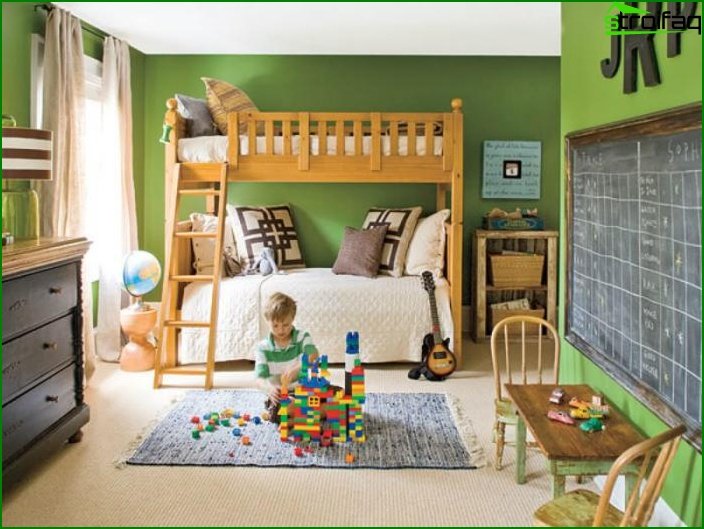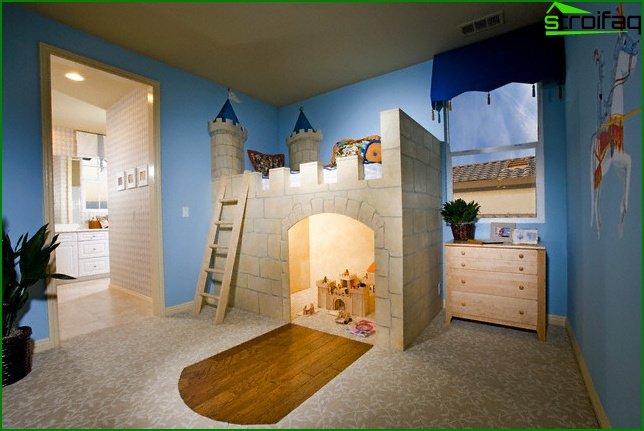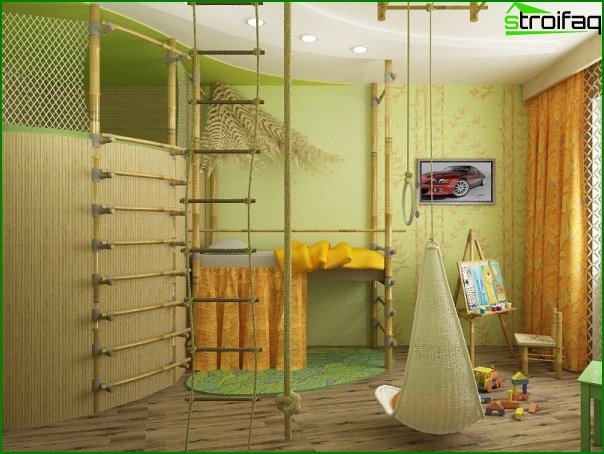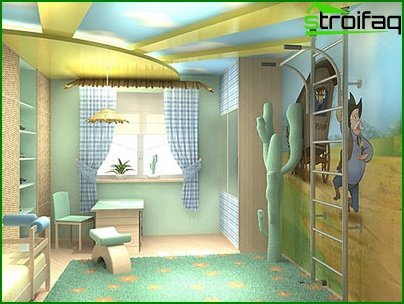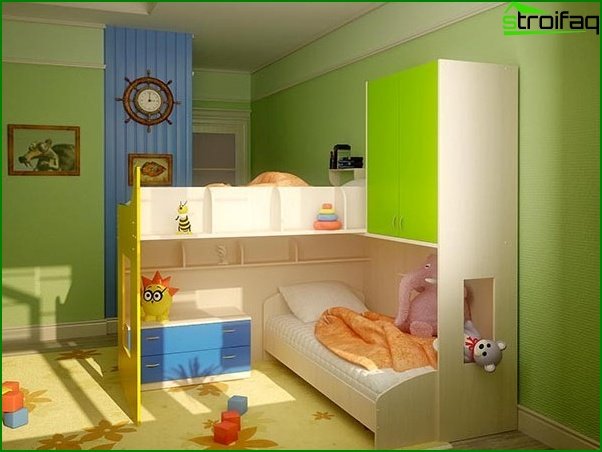 Learning zone
Registration of this zone, as well as sleepingDepends on the area of ​​the room. The main thing is that every child has a work place. If the area of ​​the room is large, you can put two separate tables, but more often the opposite, so it's okay if you put one long table, where, without interfering with each other, both boys can settle. Another compromise option of space saving are sliding tables that are assembled in case of uselessness. The main thing is that the workplace is well lit.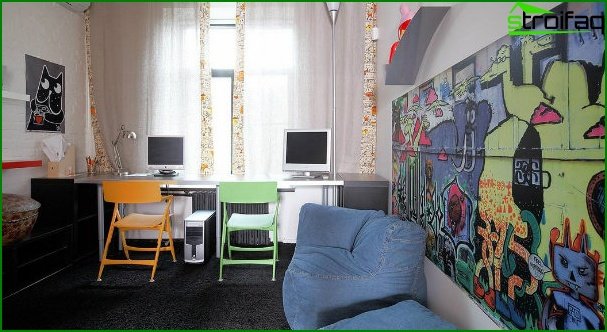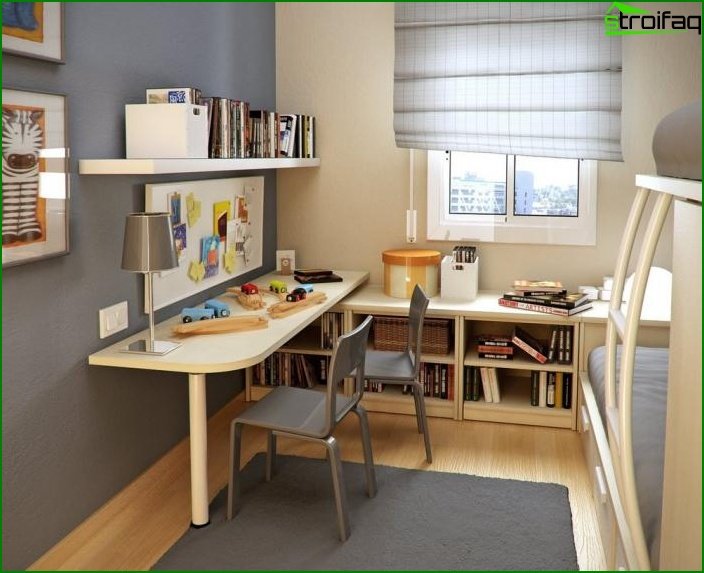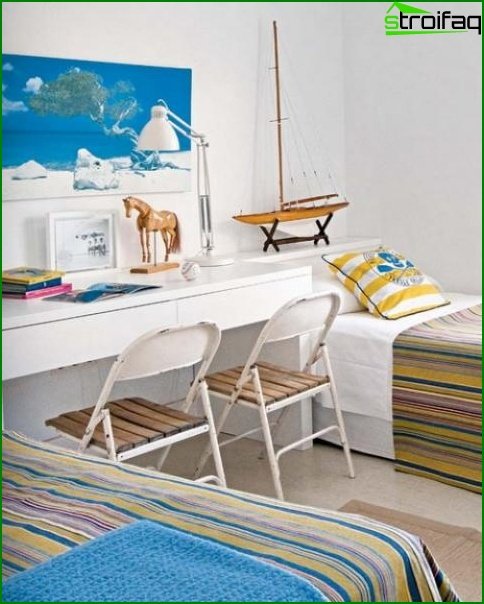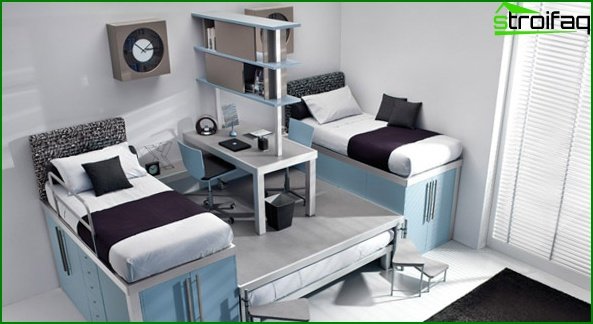 Keeping things
A wardrobe for two boys can be one, butThe place will be divided equally for both. Ideally, if the closet is bicuspid, where one half will belong to one boy, the other to the second. Alternatively, you can designate this separation in different colors.
Room layout depending on the area
Remember! Whatever the area of ​​the children's room, do not forget to use the walls and place under the furniture - shelves, shelves, laundry baskets, which can be put under the bed. The more you free up space, the more freedom your children will have for games and movement!
The layout of the room is 10-12 sq.m.
The organization of space in such a small room is best done two-level. The optimal set of furniture for this layout:
A bunk bed with stairs-boxes orRetractable cells under the lower bed for storage. Optimum, if the bed will stand perpendicular to the window, i.e. Scattered light. However, it should not block the entrance.
One common table with a long narrow table top,Wallboards, a rack and drawers, allowing to organize two workplaces at once. Comfortable adjustable chairs. We put it near the window or perpendicular to the window (it is considered that the workplace is more comfortable if you sit sideways to the door or back to the wall).
Small built-in wardrobe or chest of drawers for clothes. It is better to put it against the wall opposite the window.
Toy box. You can use puffs with an opening lid and storage space.
And, of course, no artificial partitions, cluttering up space. If you want to divide into a zone a room for boys, do it with different colors of walls.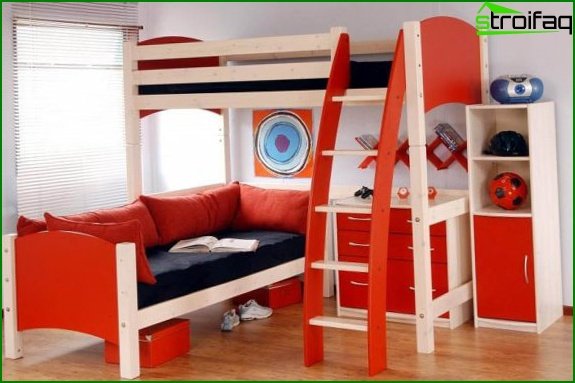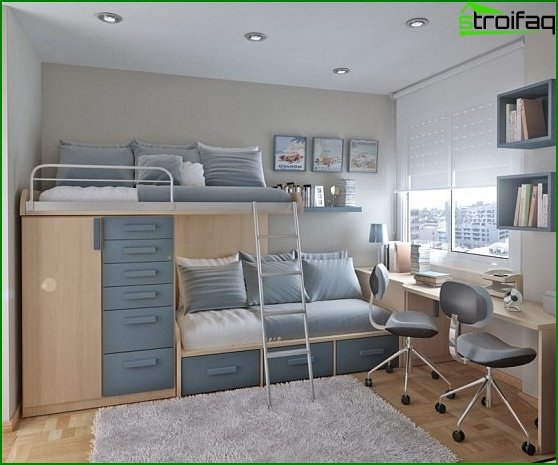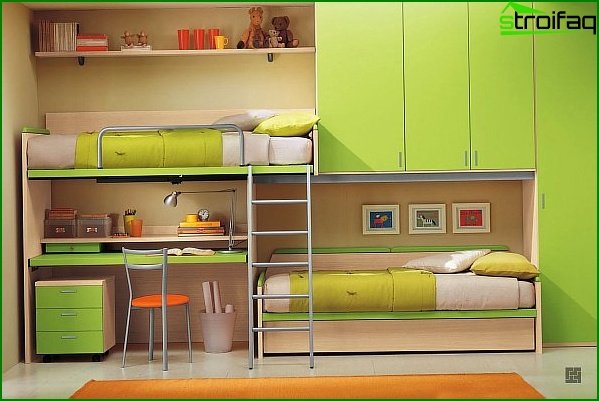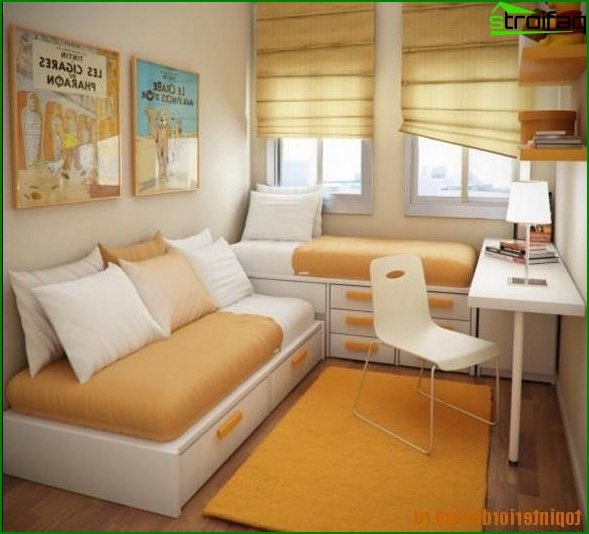 The layout for the room is 14 square meters
In this room, you can think about a separate layout and put:
Two separate beds or two modules from the workerTable and bed-loft. They can be placed along one wall, in parallel or perpendicular. The main thing is that they do not obstruct natural light;
Small separate tables at the window or perpendicular to it;
A spacious closet opposite the window;
Playing area - a Swedish wall or a small toy fortress.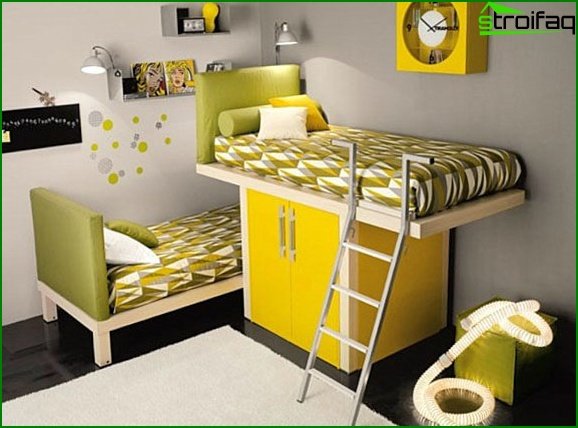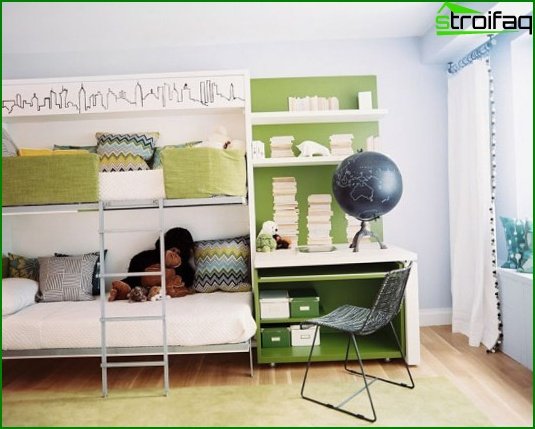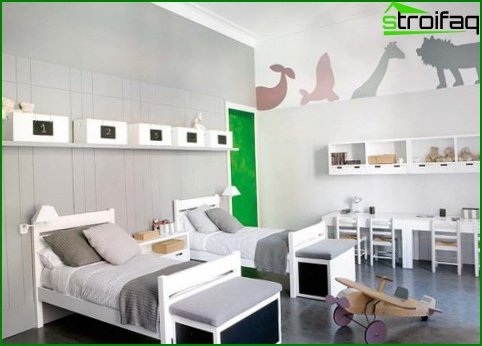 The layout of the room is 18 square meters
There is a place on such a square where you can make a fuss. With complete confidence, you can put not only a full-fledged separate furniture, but also divide the room into two zones, so that every boy feels comfortable on his own half. We offer the following zoning options:
Book shelves and shelving;
Screens and retractable partitions;
Cupboard;
Partition of plasterboard;
Sliding doors;
Naturally, this option is possible,Only if, after the reorganization of space, both halves remain well-lit natural light. If the illumination does not allow you to divide the room in half for two boys, select one of the zones, for example, sleeping in a less lit part of the room.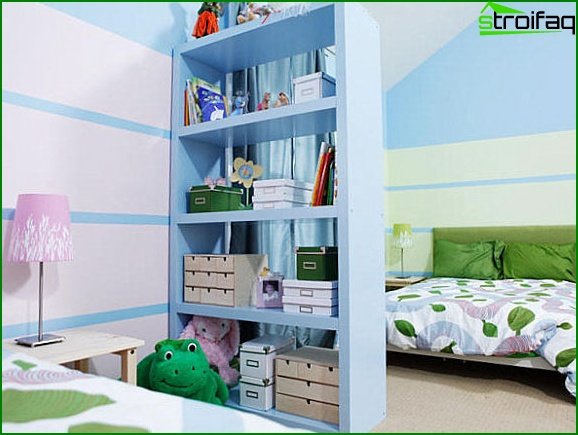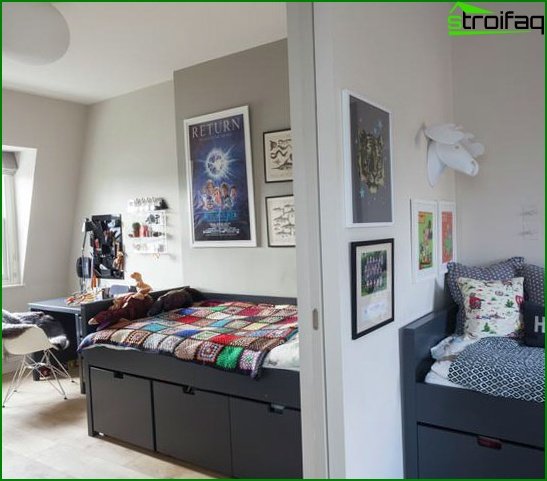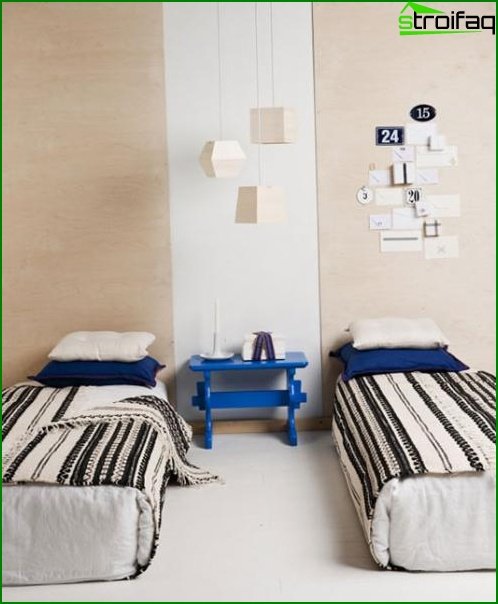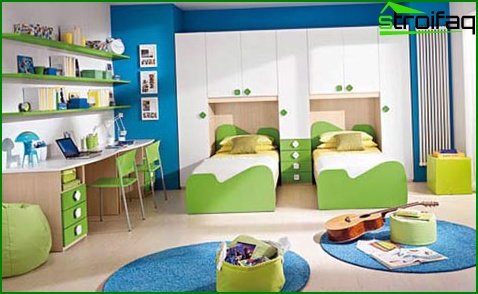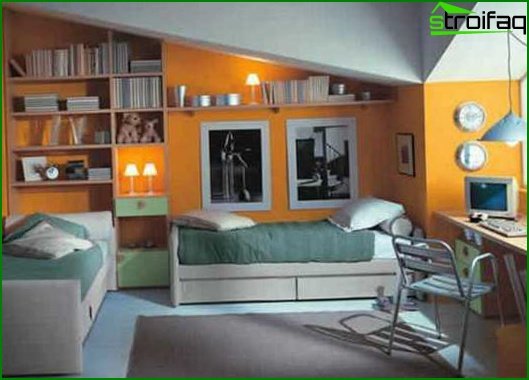 We make a room according to the age of the children
Baby room
Creating a room for kids, in the first place,Remember the safety. The floors on which the kids spend the most time, furniture that can be tested on the tooth - everything should be eco-friendly, safe and natural. No sharp corners, unreliable modules, open sockets and wiring. If you are installing any sports equipment, be sure to put the mats on.
Furniture should have a reasonable minimum - a bed and a cupboard (chest of drawers), leave the rest of the space for games, running around and other joys of kids.
Let in the room a lot of light, the walls are better to decorate in quiet pastel colors.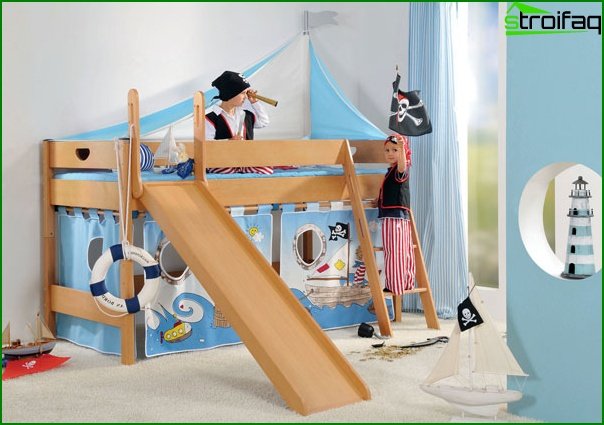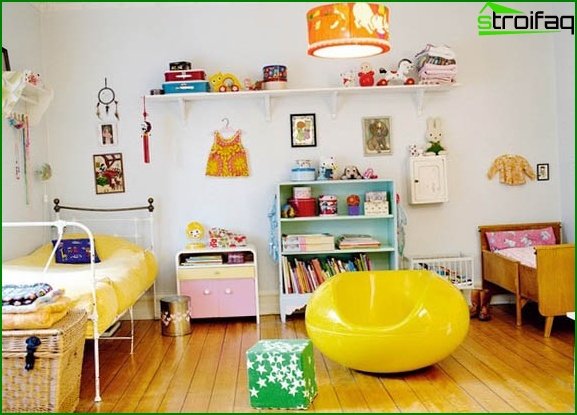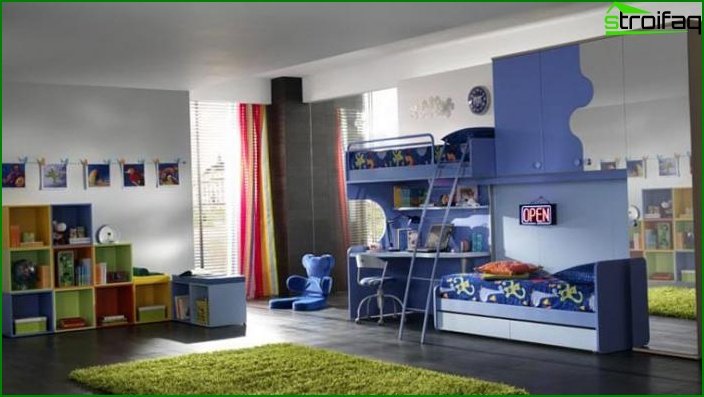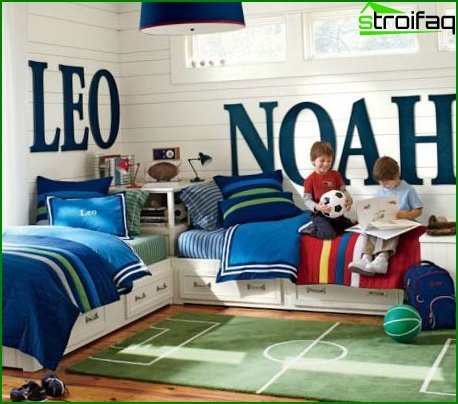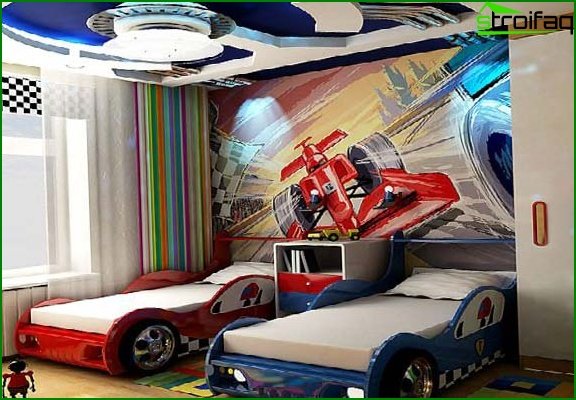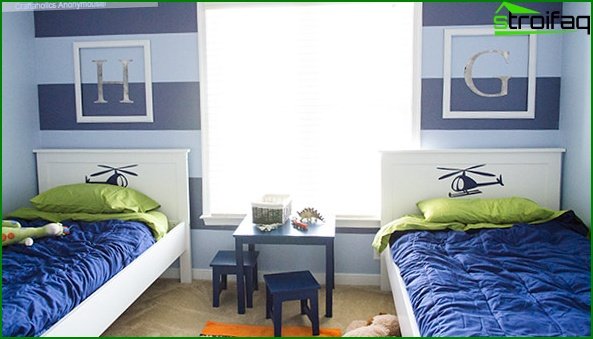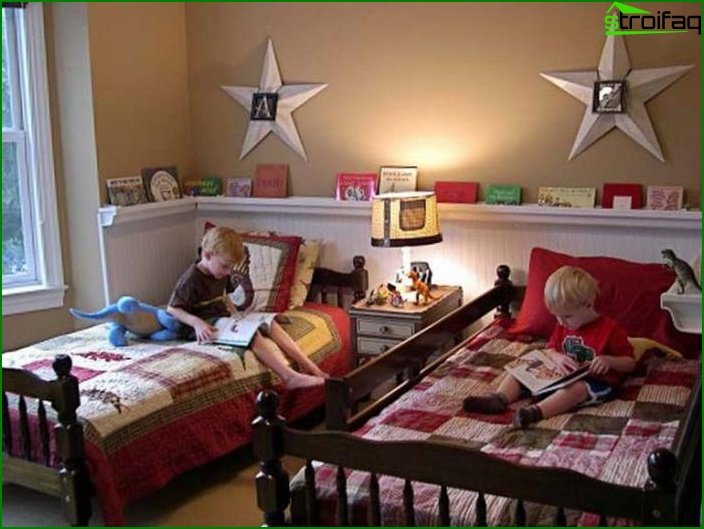 Room for schoolchildren
As the children grow, you will need to allocate spaceFor study, so take care of a comfortable roomy and well-lit table for both schoolchildren. Be sure to add a rack for books and stationery.
Colors can be used more saturated than for babies.
Teen Room
In fact, A room for teens Not much different from the room for schoolchildren, it is divided into the same zones, the only thing that in the interior design will be scheduled for more adult trends.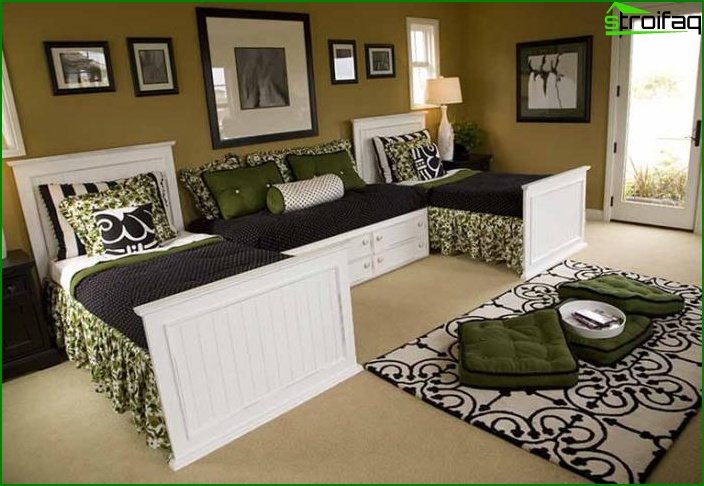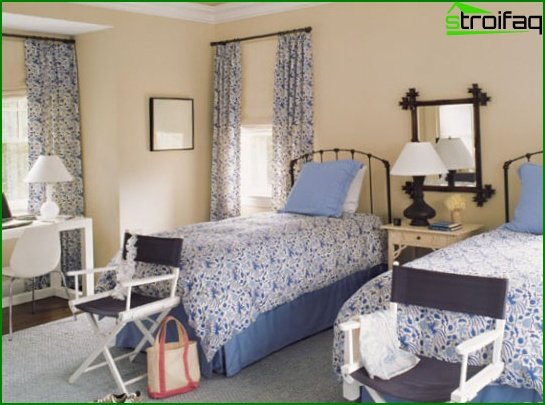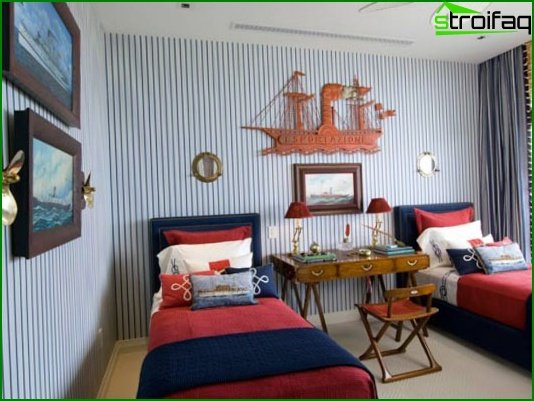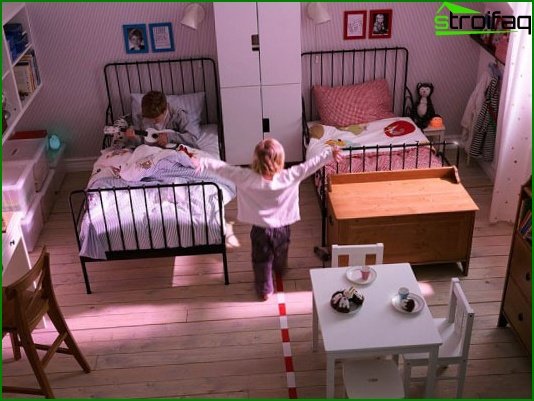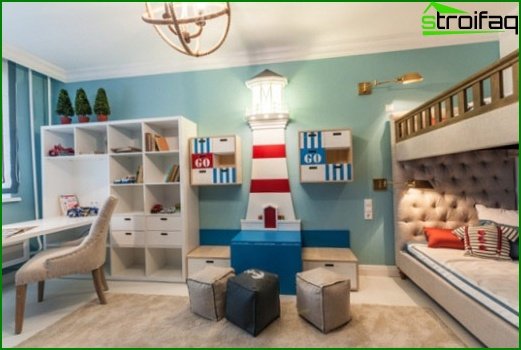 A room for children with a big age difference
A large age difference in children is an occasionDivide the room into two zones, because children have little common interests, and there must necessarily be a personal space for everyone. If space does not allow, you can combine a sleeping place in a bunk bed, but here the game for the kid and the training area for the teenager should not interfere with each other.
Find a lot of interesting children's decoration ideas for two boys here.
Read also our article about design For children of different sexes!