New items! 185 photo design of the living room 2017: modern ideas and real projects. Find out what styles and colors in the TREND for the living room interior.
So you want people to die at the entrance to your house!
The face of your apartment is the living room.
This is where you bring your guests, it is here that spend most of your time with friends.
We will help you achieve the wow effect when creatingInterior design of the living room, we will tell about the most trendy novelties of 2017 and how they work in the interior. We will show only the coolest design solutions for your room and discover the secrets of decorating the living rooms of different types.
Lajfaki, advice from world designers, lots of photos-all this is specially for you and right now!
Content
Let there be a color! Trendy color solutions for the living room
How does the interior design start?
Of course, with the definition of the color gamut in which it will be executed!
After all, even the most dizzy interior design of the living room will not please you, if you do not have a shower to the chosen colors.
The rainbow has only seven colors. But their shades - a dozen times more. And in each season, some of them become trend, and some - mauveton.
Especially for you we have prepared an overview of the most fashionable shades of 2017. And as you can beat them in the interior of the living room - look in our photo-selection.
White color
In 2016 the snow-white interior was one of the most popular trends in interior design.
Today, his "sterility" is recognized as uncomfortable, so designers recommend diluting the interior in white with bright accents.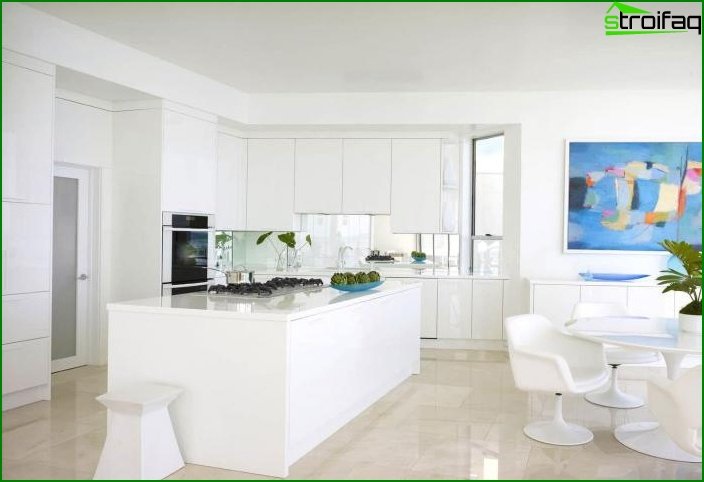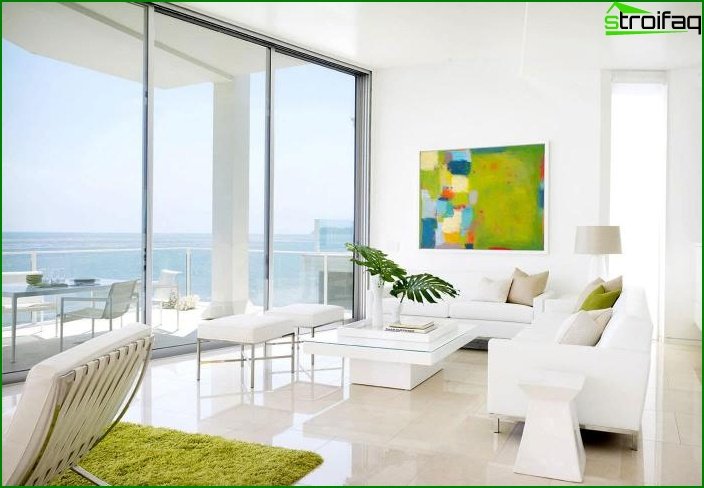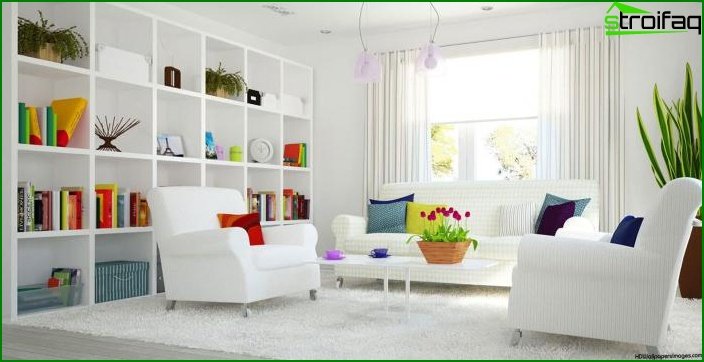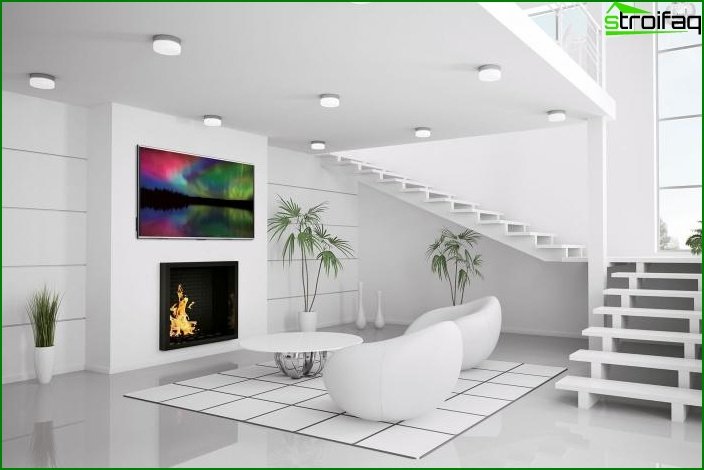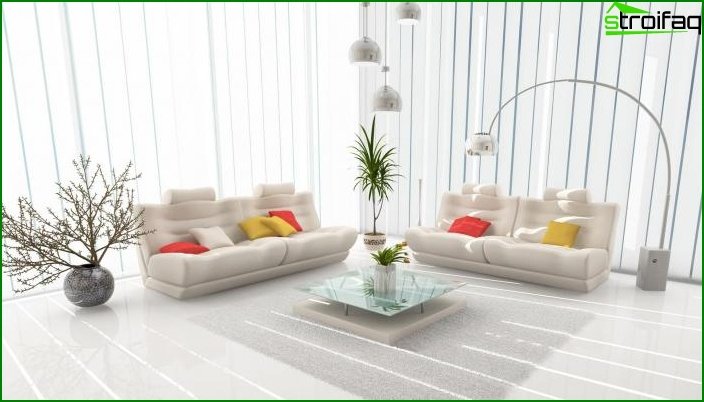 Black color
Antipodes of the living room in white are the living rooms made in black. Such living rooms look incredibly stylish, but they are suitable only for apartments or houses with spacious halls.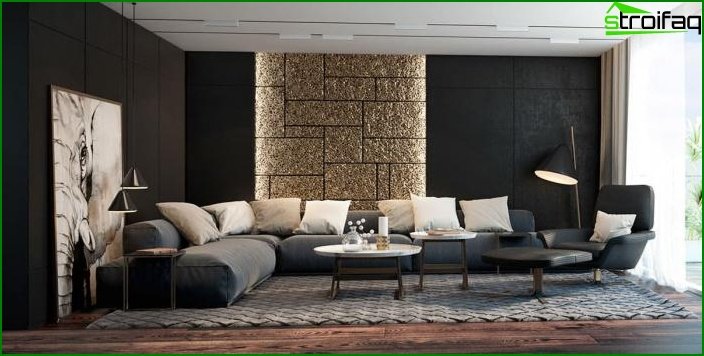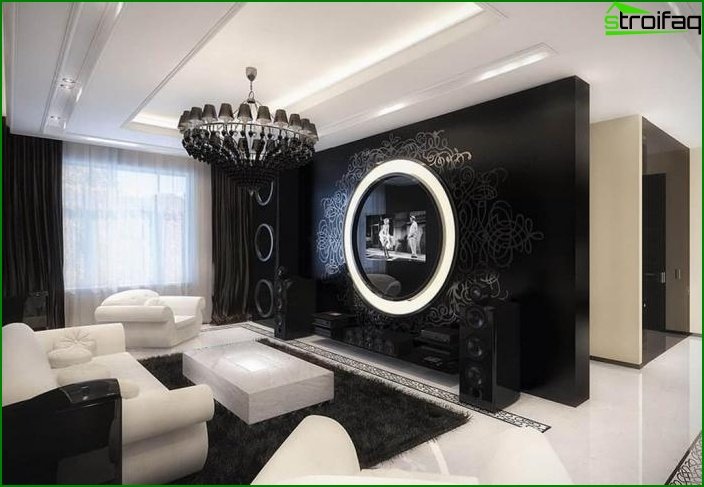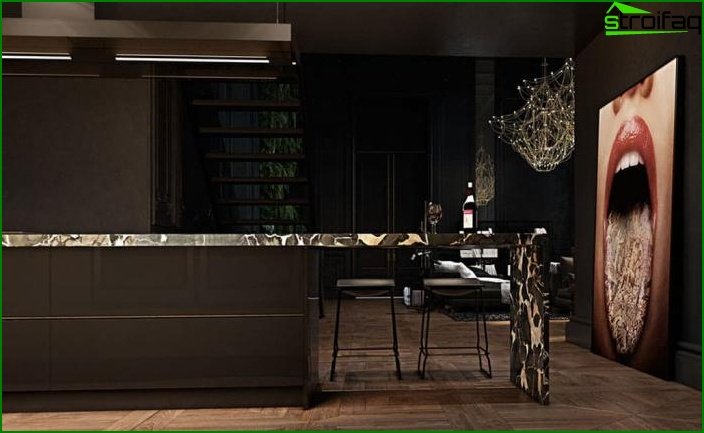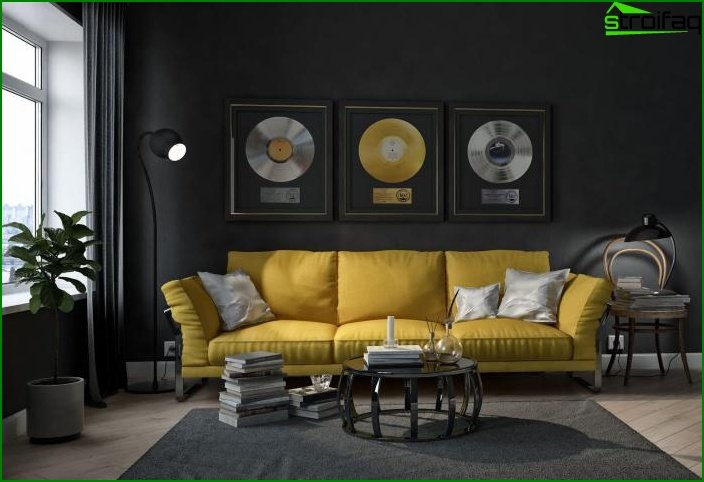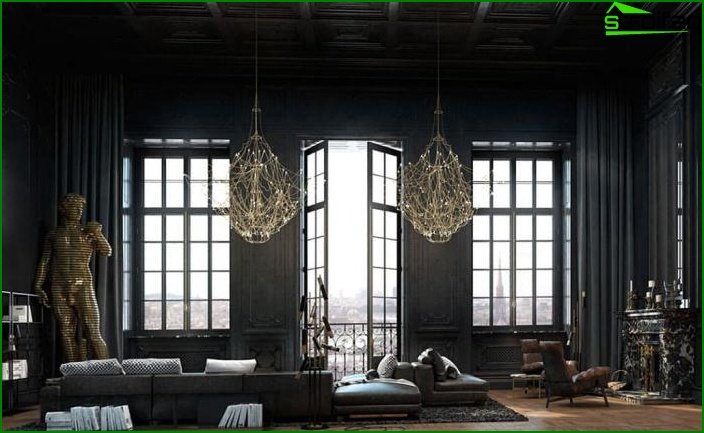 Green color
In the color of 2017, the Greenery shade was recognized - a juicy, saturated, dynamic herbaceous green color.
Greenery is the quintessence of the mood and aspirations of people from all over the world for movement, freedom, vivid impressions and natural naturalness.
Look at these photos. Like?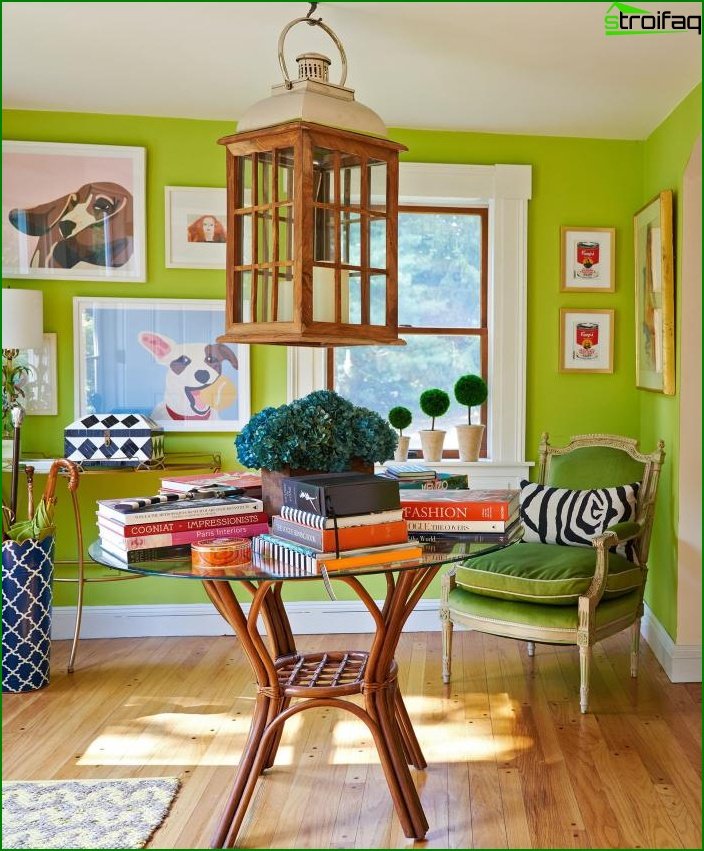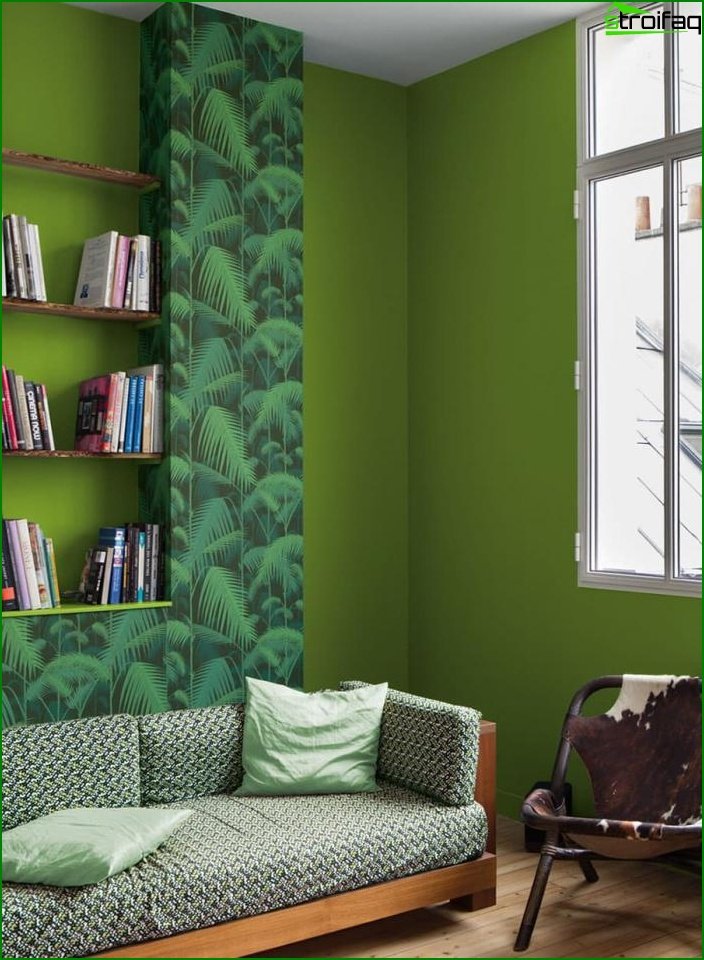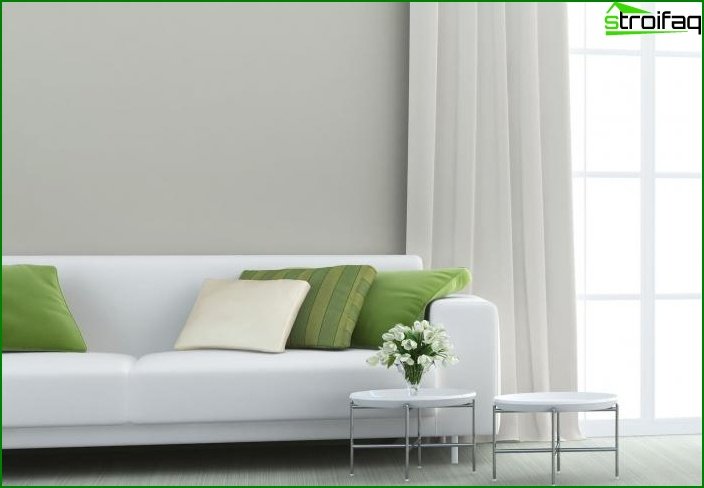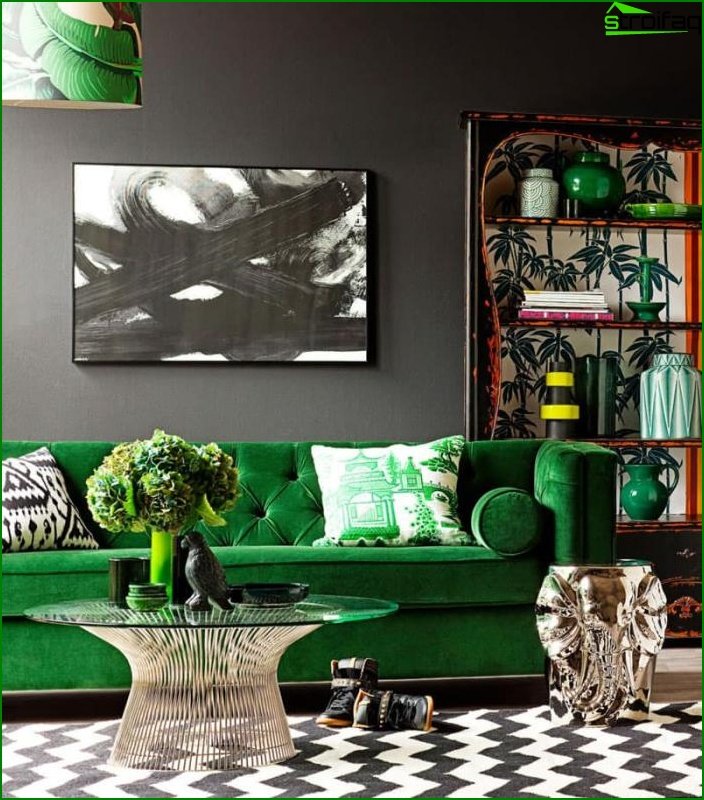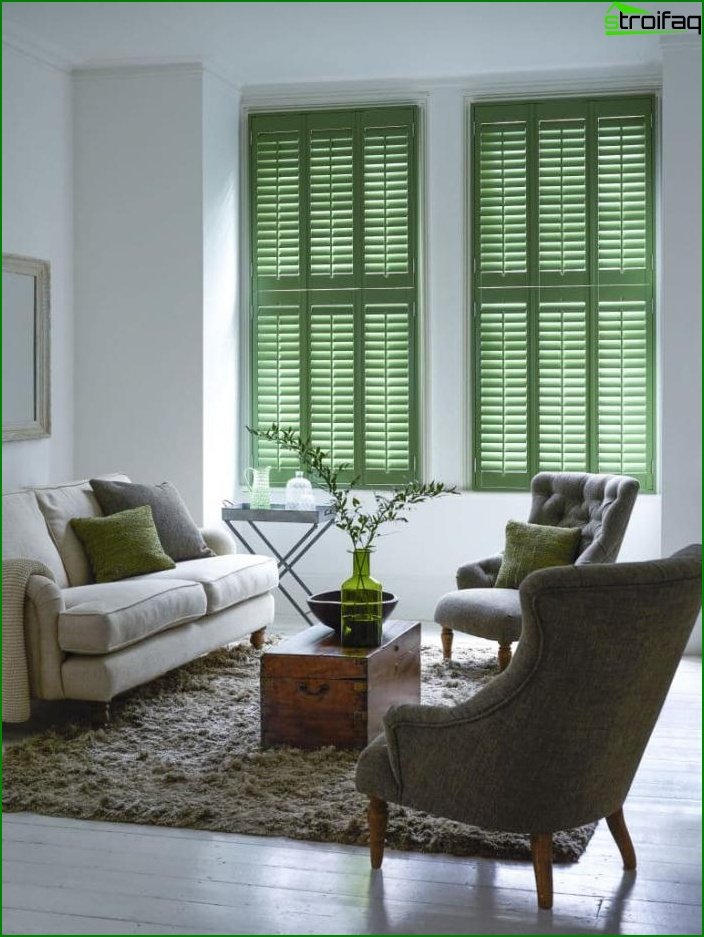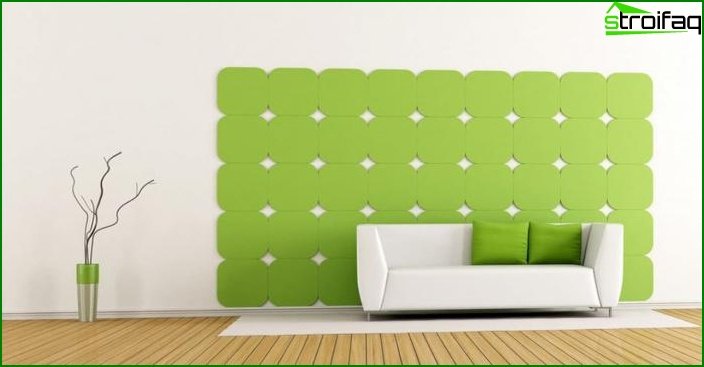 Another popular shade of green in 2017 will be a quieter and deeper shade of Lush Meadow (lush meadow).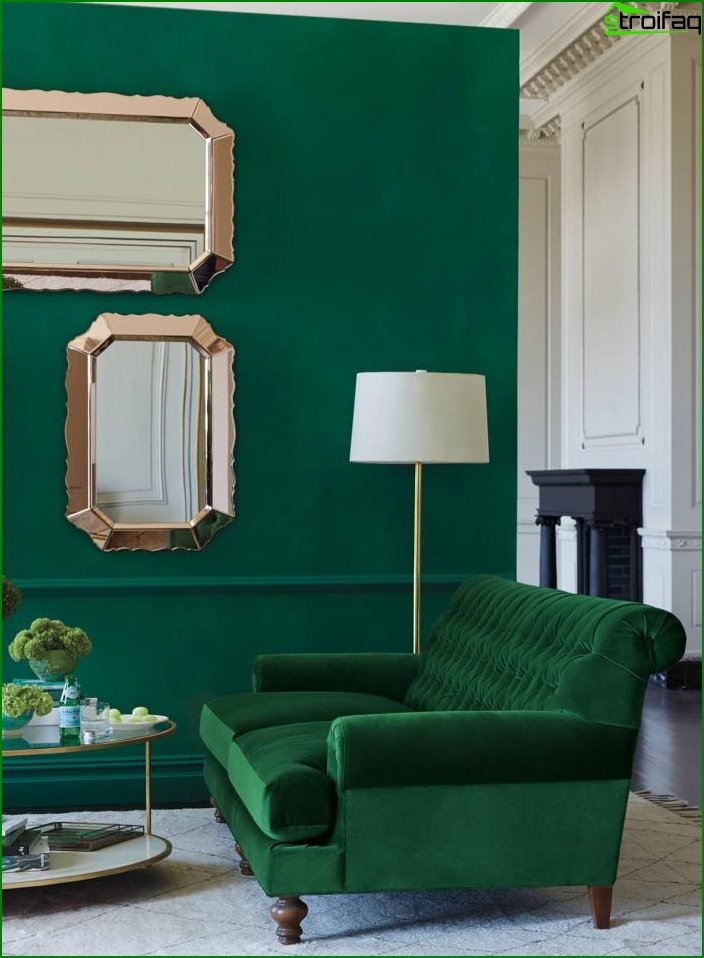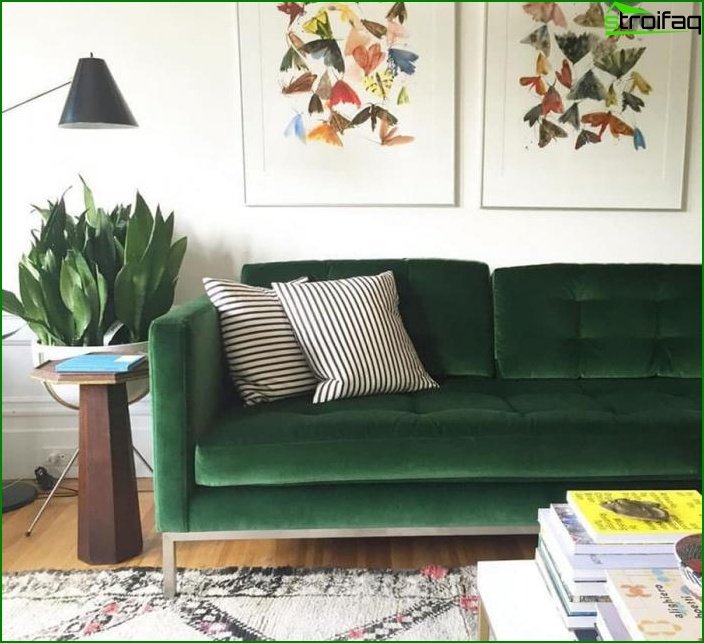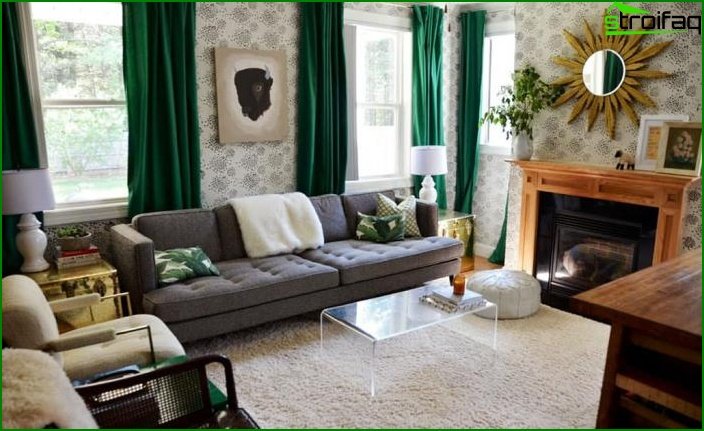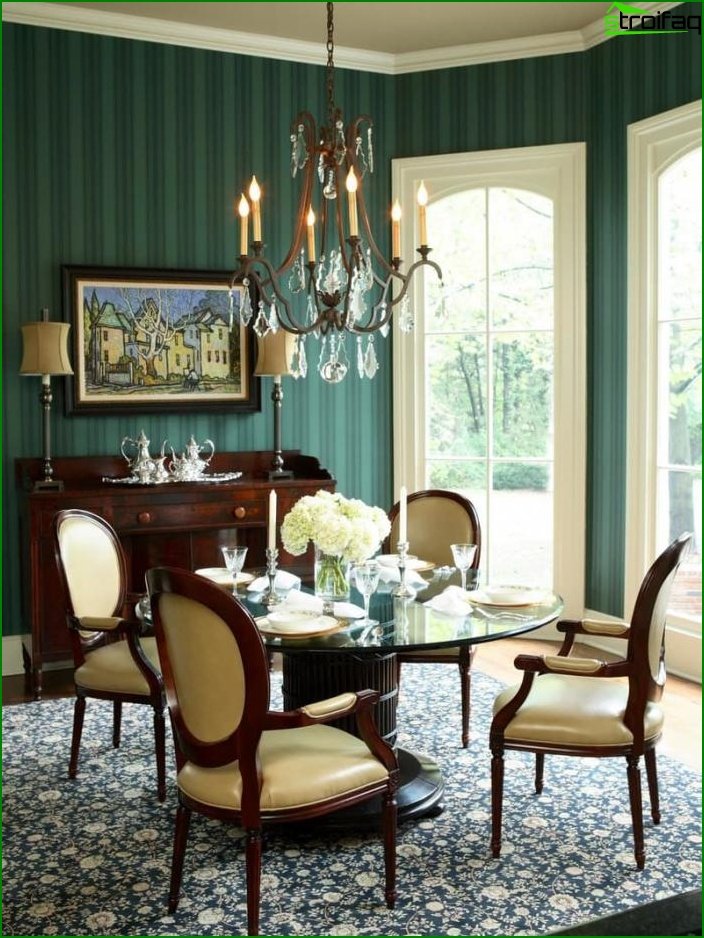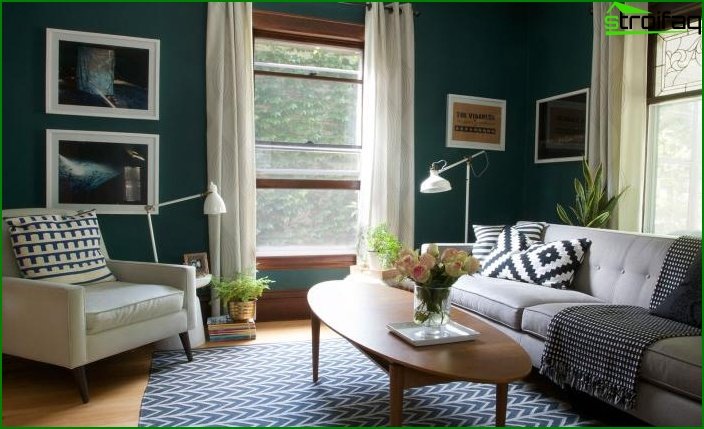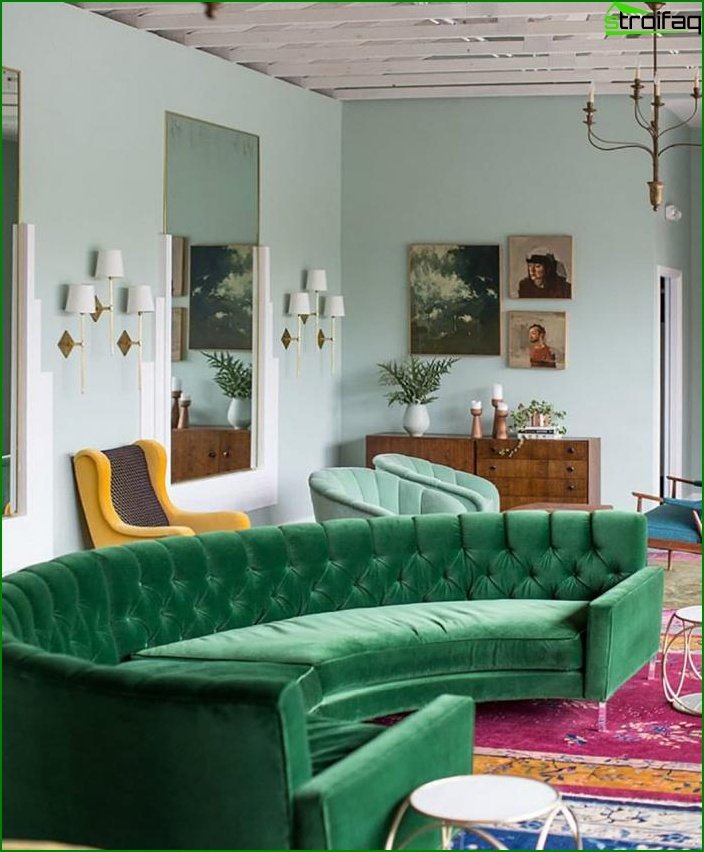 Blue colour
Blue is a new black one. If the living room in black for you is too bold idea - execute it in the shade of Riverside (coastal strip). The result will be no less interesting!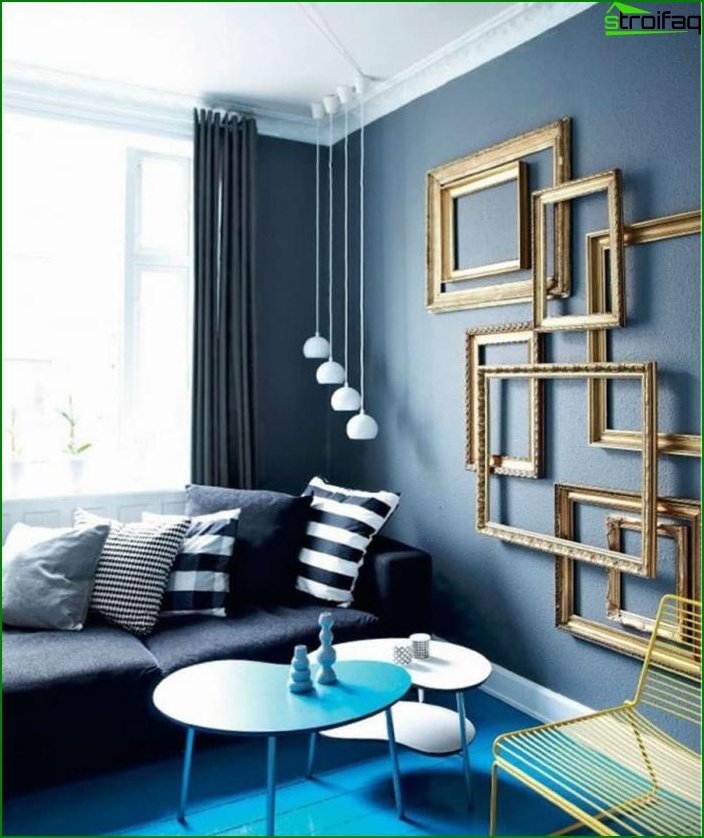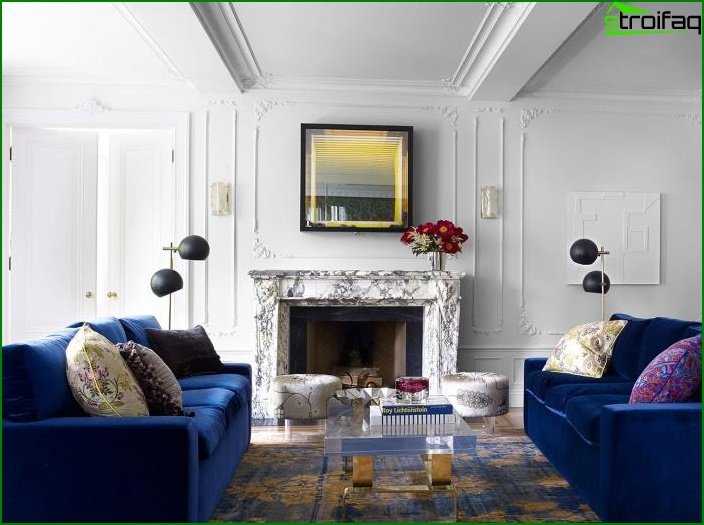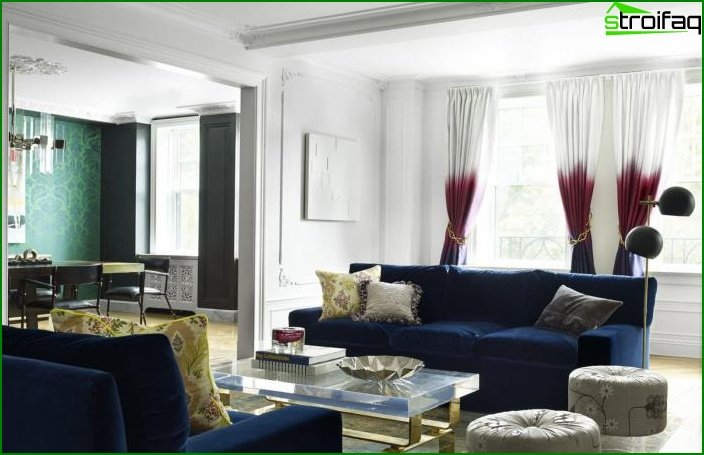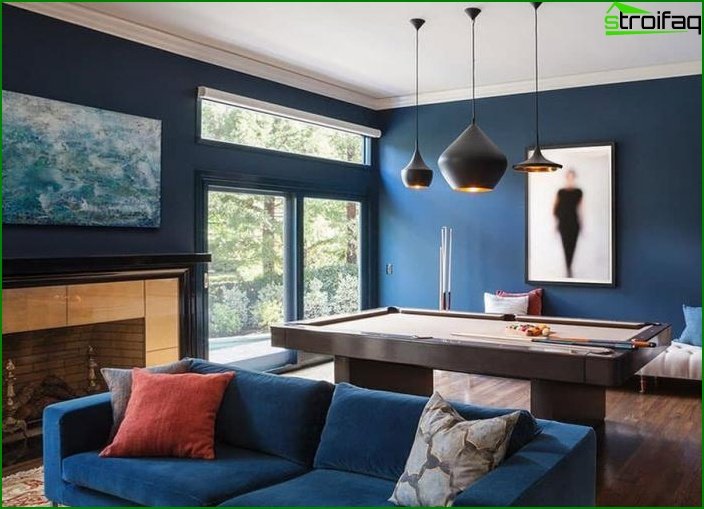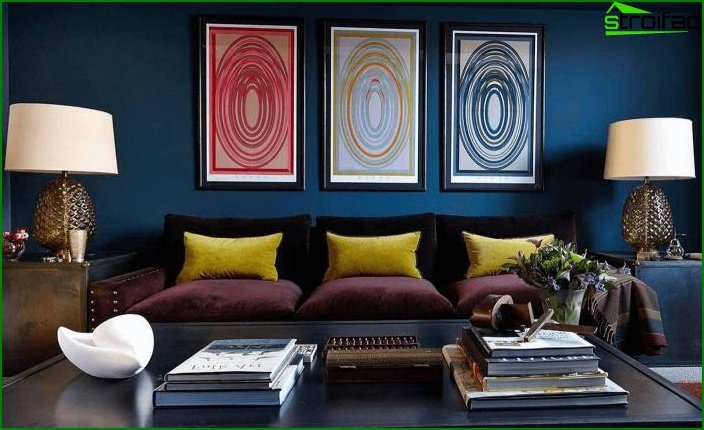 But for fans of light and light blue colors, designers offer to perform the interior of the living room in the shade of Airy Blue (airy blue).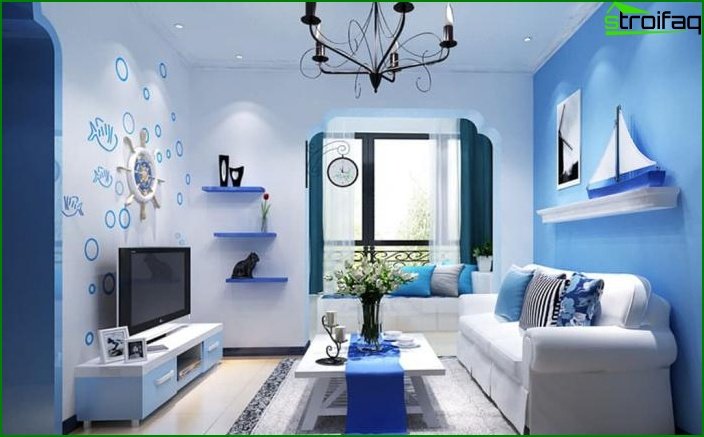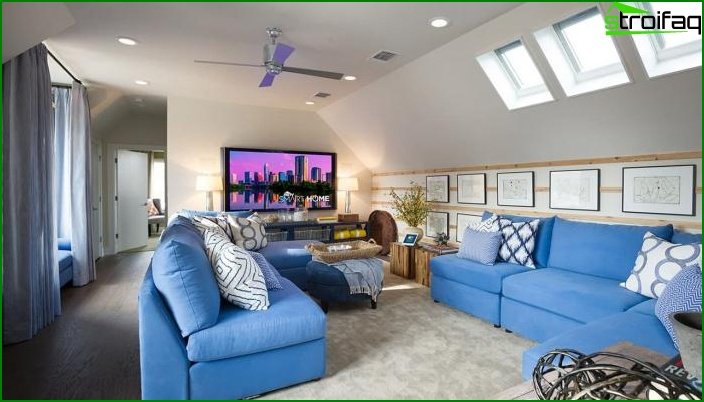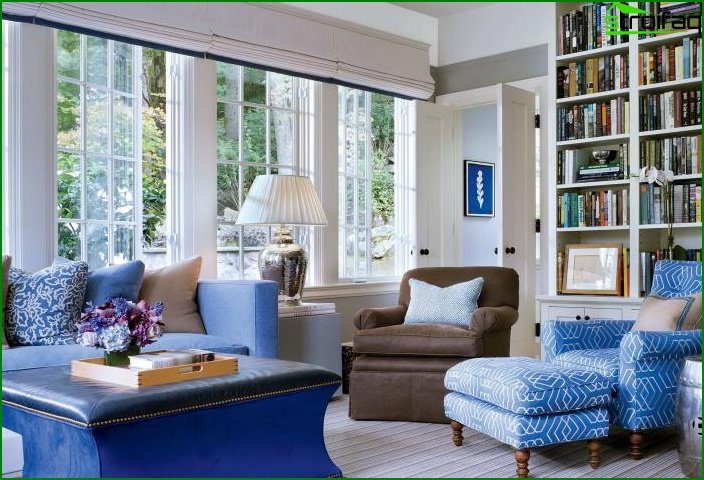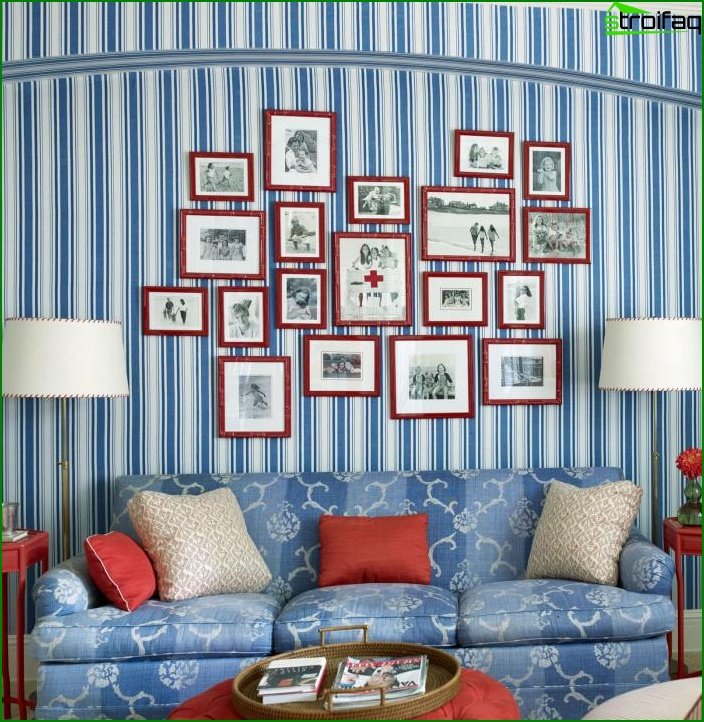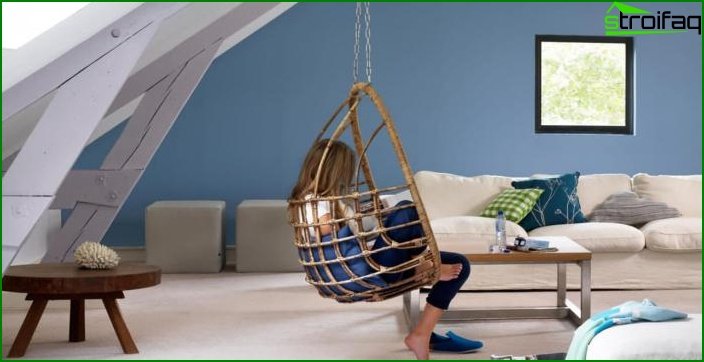 Red color
Aurora Red (bright red) - the most fashionable shade of red in 2017. Use it for individual interior elements or as the main color.
We authoritatively declare:
The red walls are beautiful and in practice!
Just look at how much expression, audacity, passion in the living rooms of red!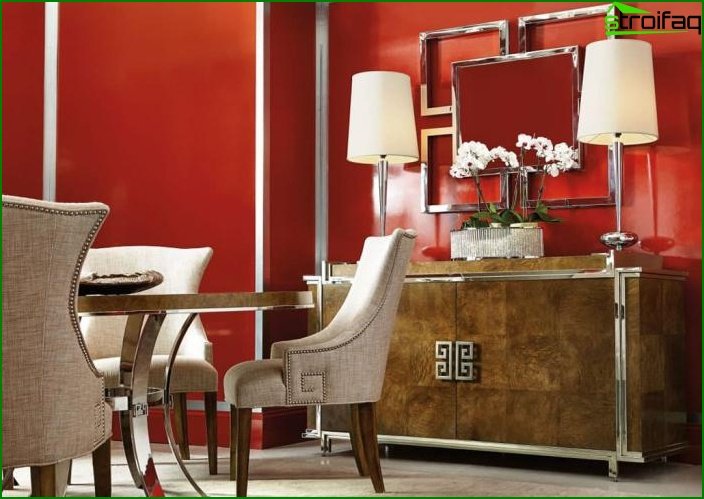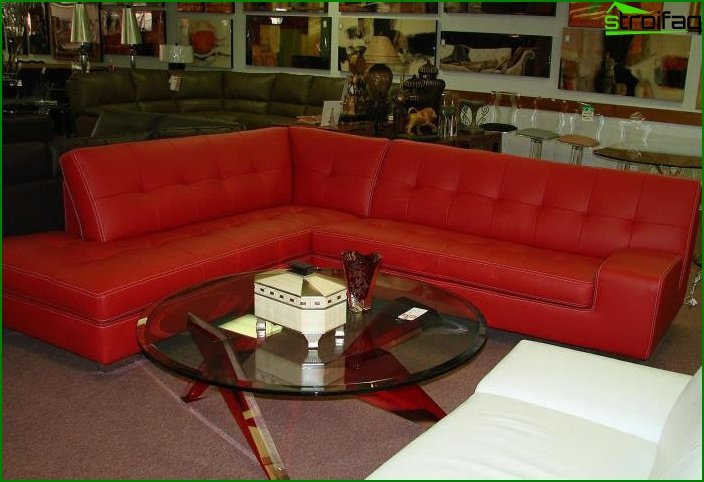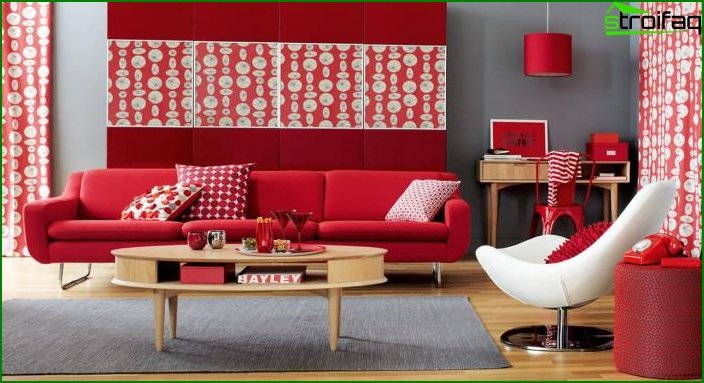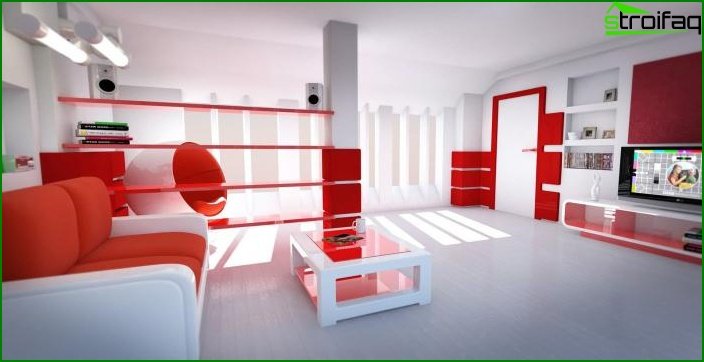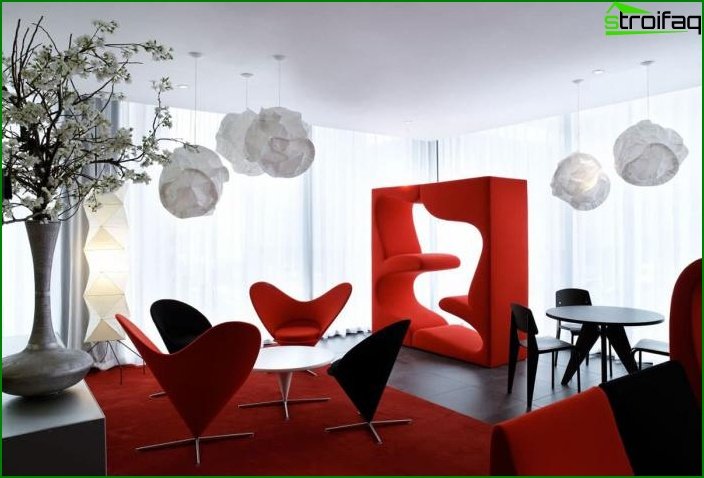 Beige color
Fashionable living room in beige in 2017 is a living room in the shade of Warm Taupe (warm gray-brown).
Soft, cozy, harmonious.
What else to add?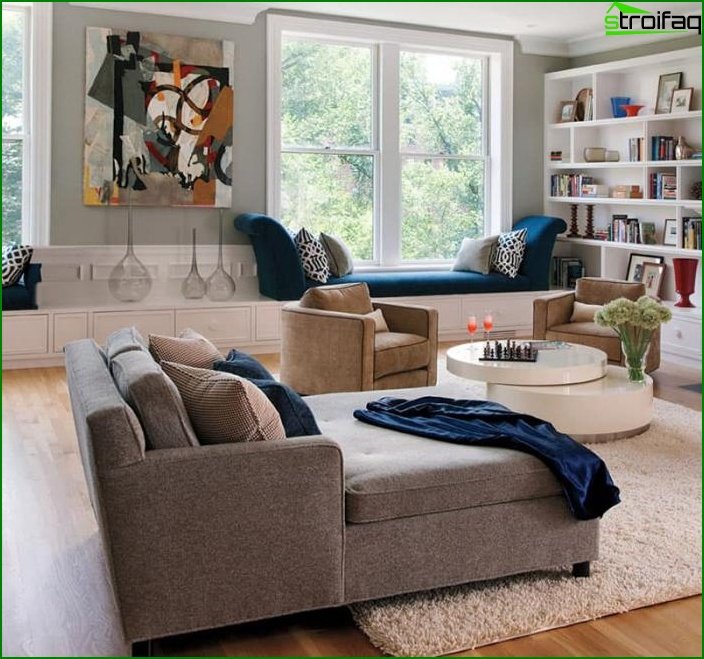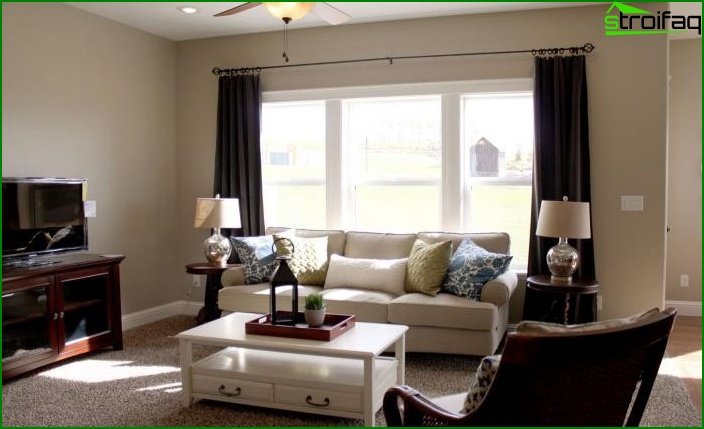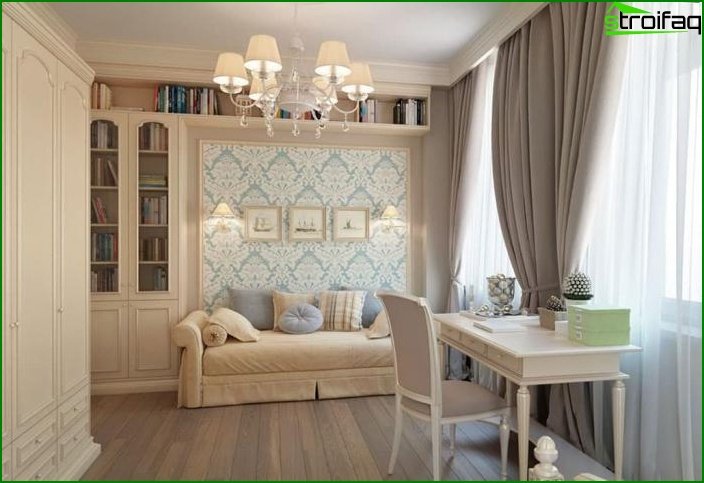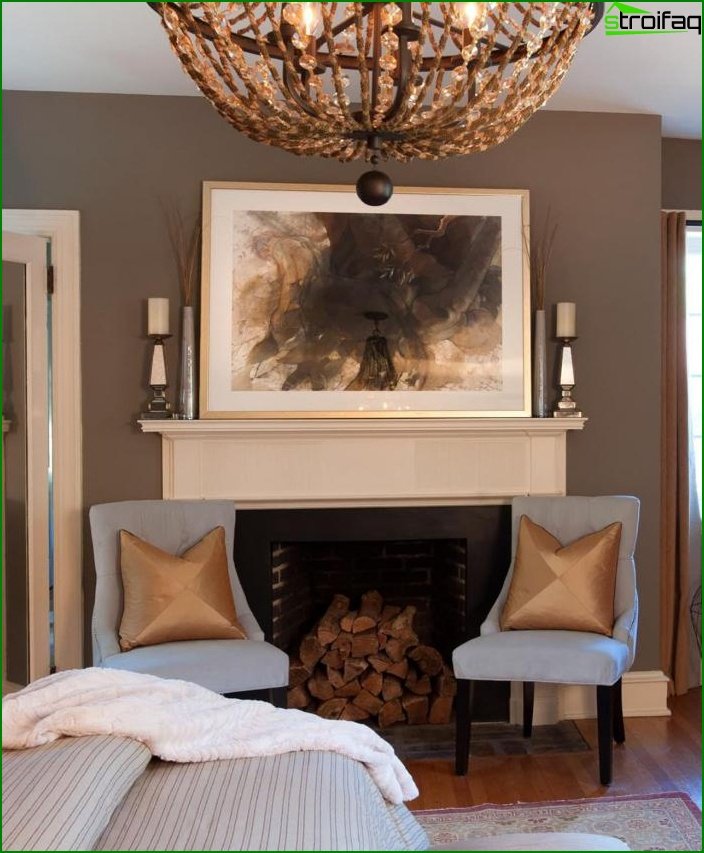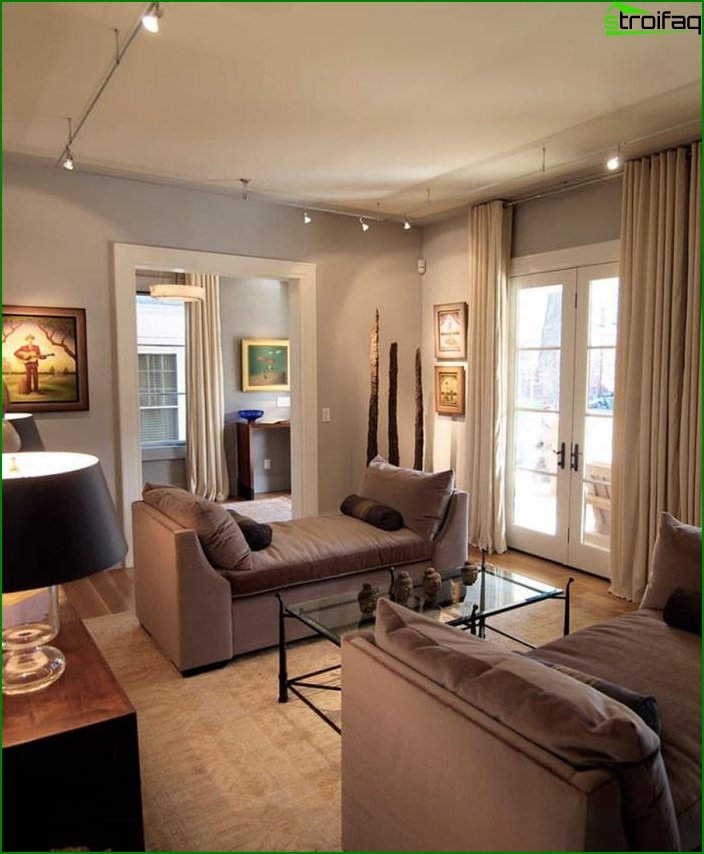 Grey Colour
Sharks of interior design unanimously recommend to use the Sharkskin shade for the interior of the living room. Gray color is a kind of alternative to the beige palette.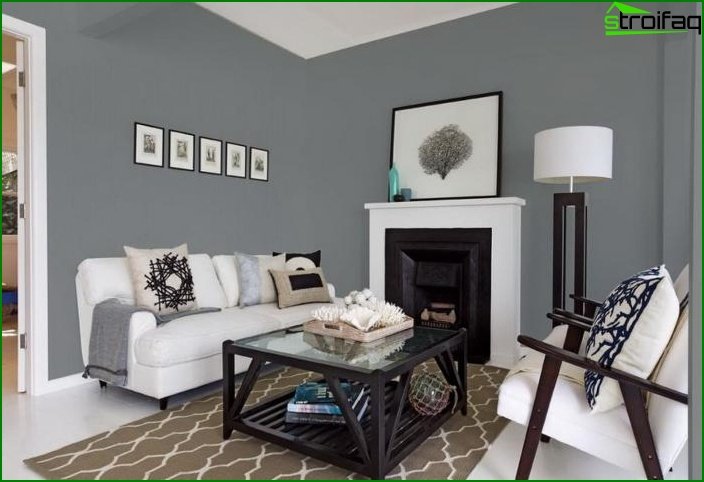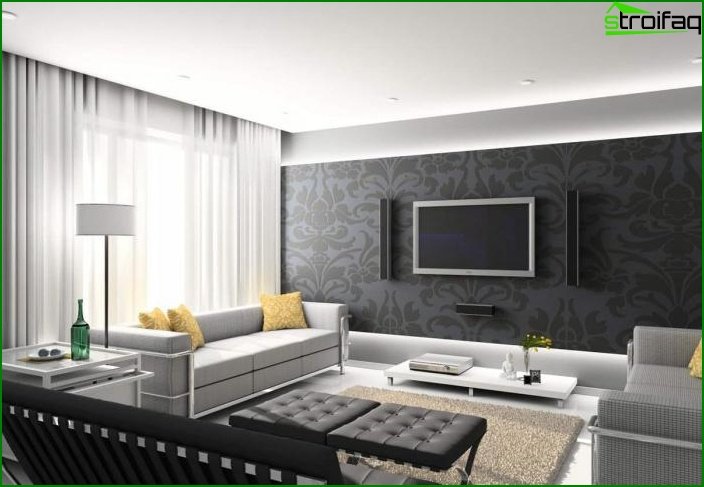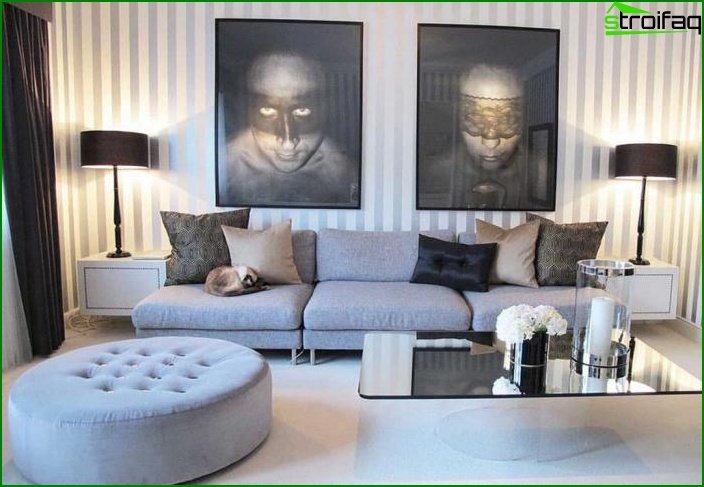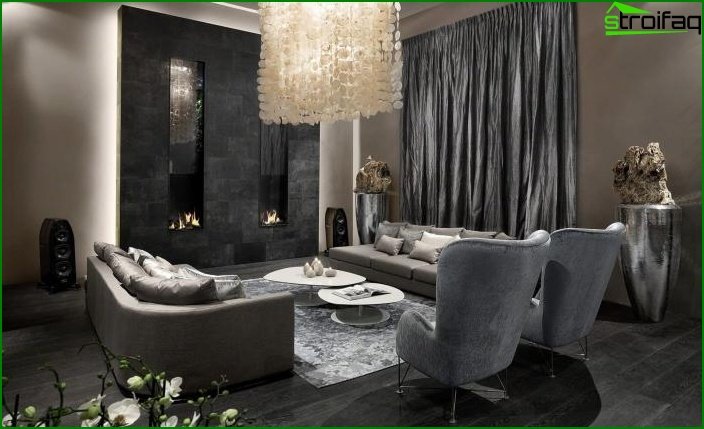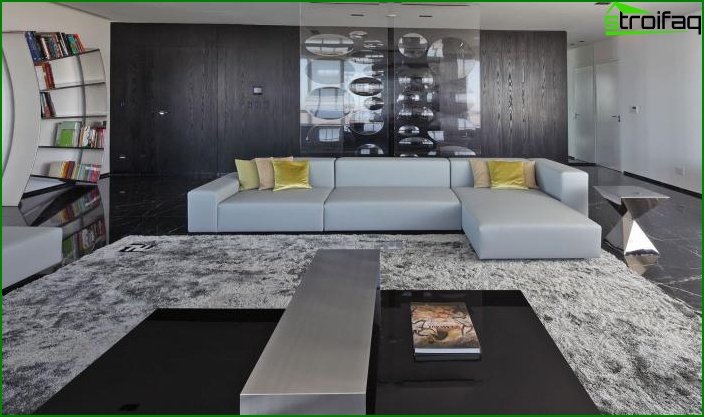 Brown color
A complex shade of brown Dusty Cedar (pinkCedar) is one of the most interesting trendy shades of 2017. He is very unusual in the interior of the living room and is perceived in completely different ways under different lighting conditions.
Do you like experimenting?
Then this is exactly what you need!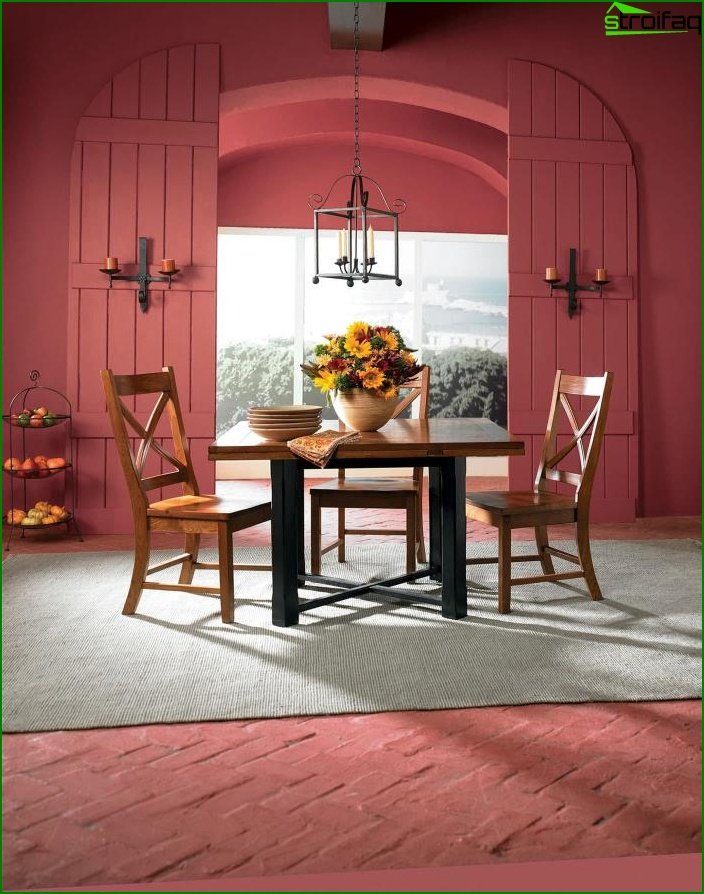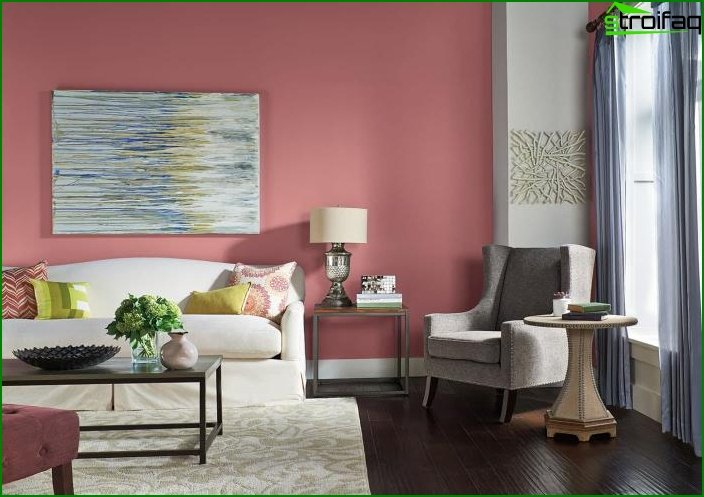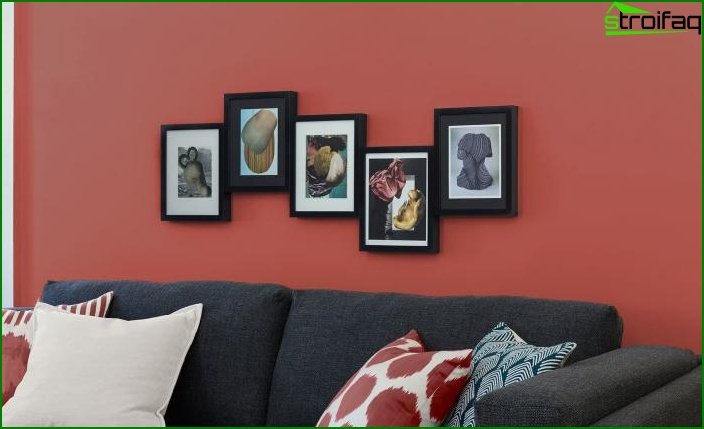 Also in the new season will be relevant Potter's Clay shade (pottery clay).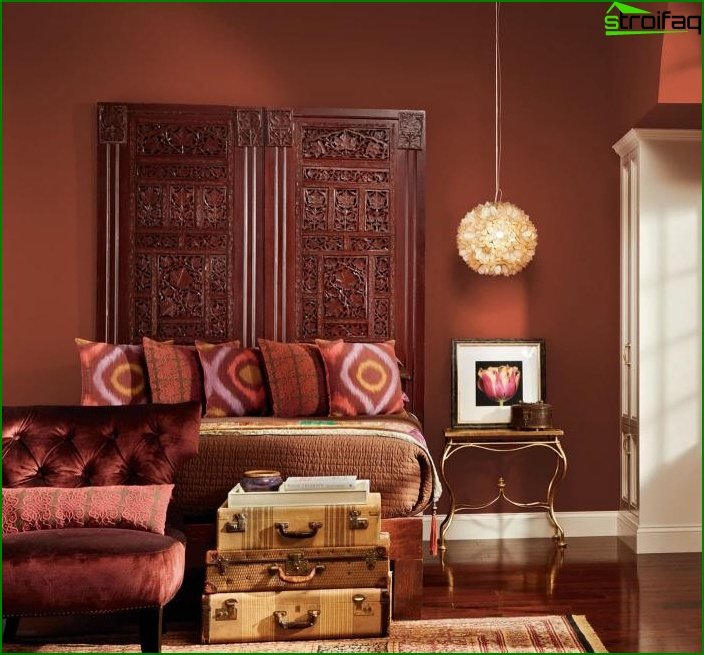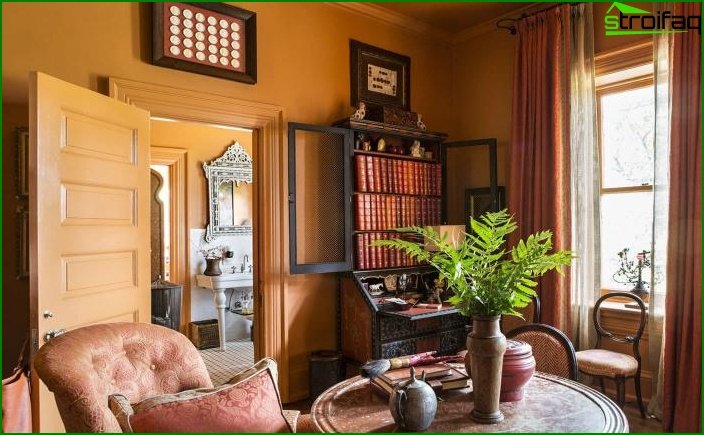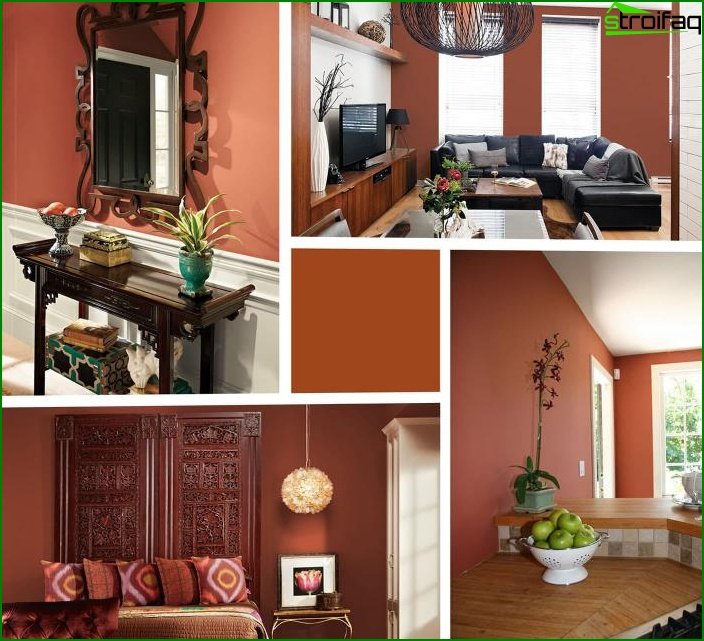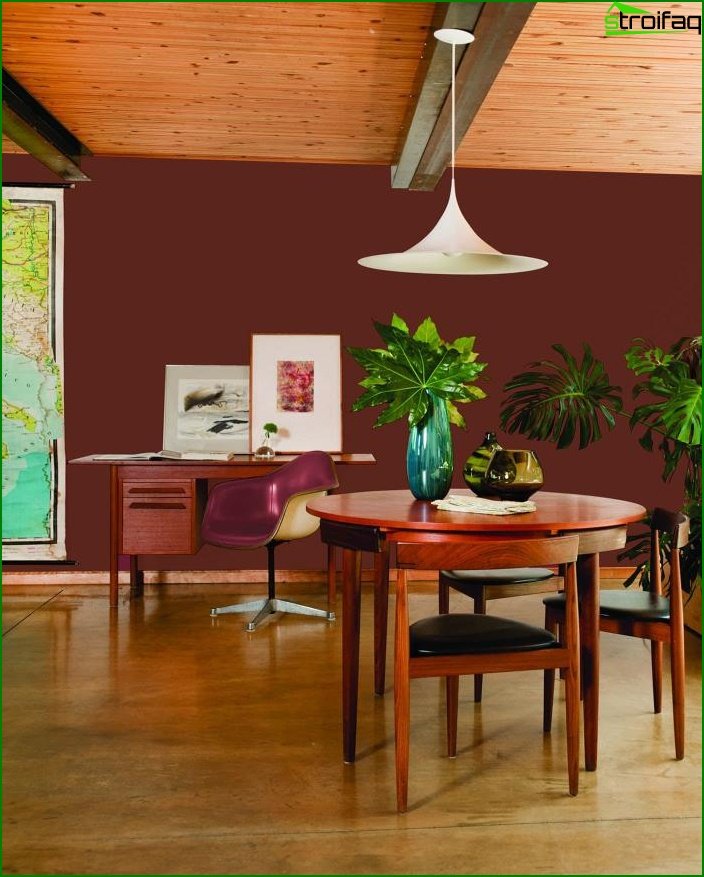 Purple
Explosive, phantasmagoric, bizarre - exactlySo you can describe the fashionable shade of 2017 Bodacious (purple-violet). Get rid of monotonous everyday life! Let your life play with new colors. At least in the living room.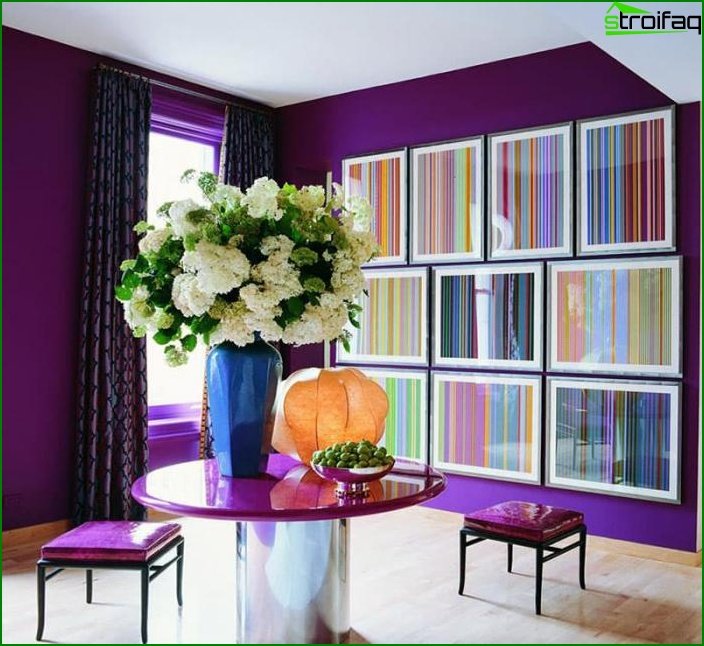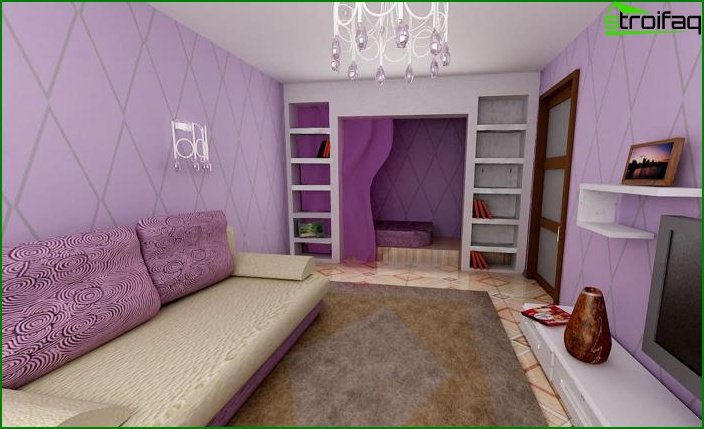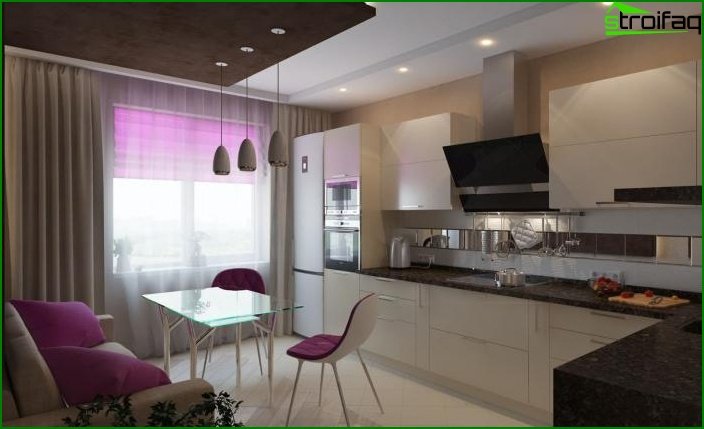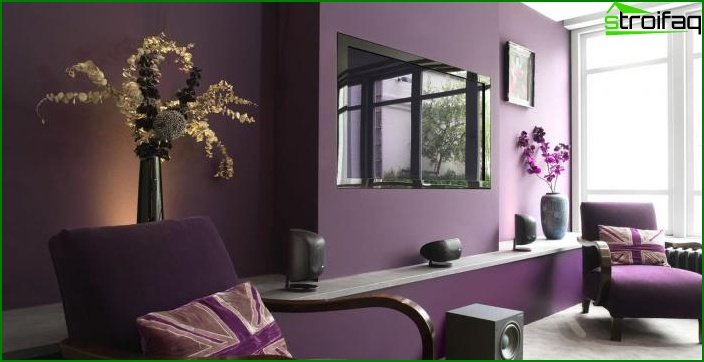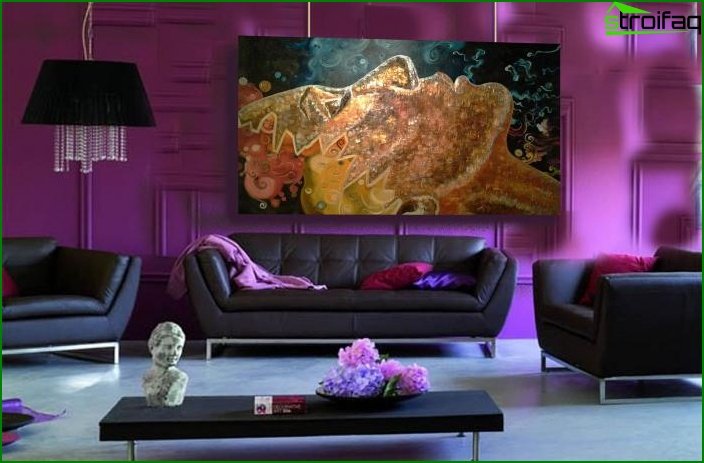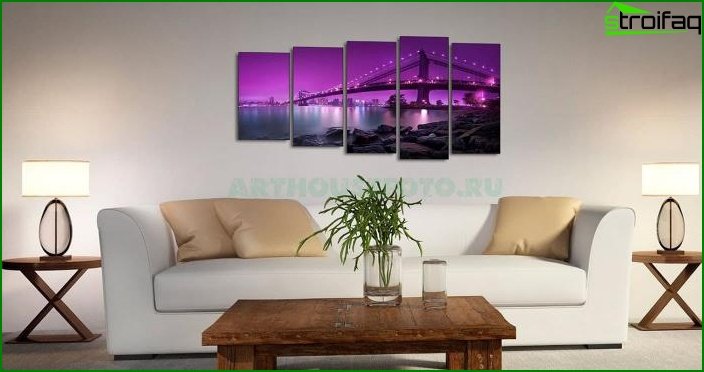 Yellow
Although we do not really use the yellowColor in the interior of the living room because of its frivolity, but the shade of Spicy Mustard (spicy mustard) completely breaks stereotypes. Look, how much drive in the living rooms, made in mustard tones!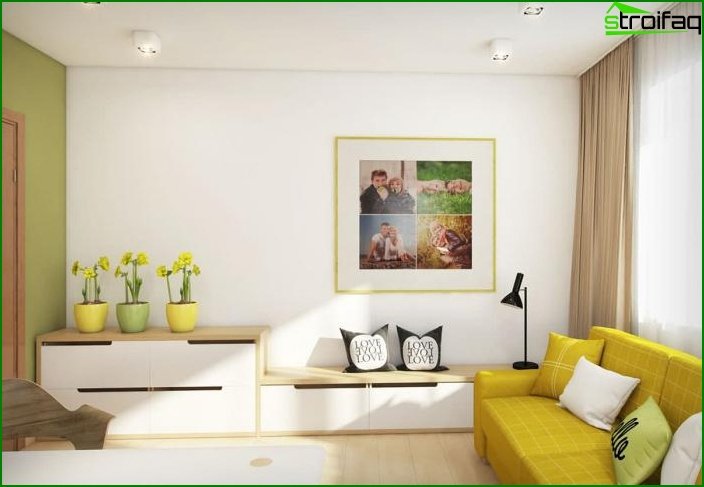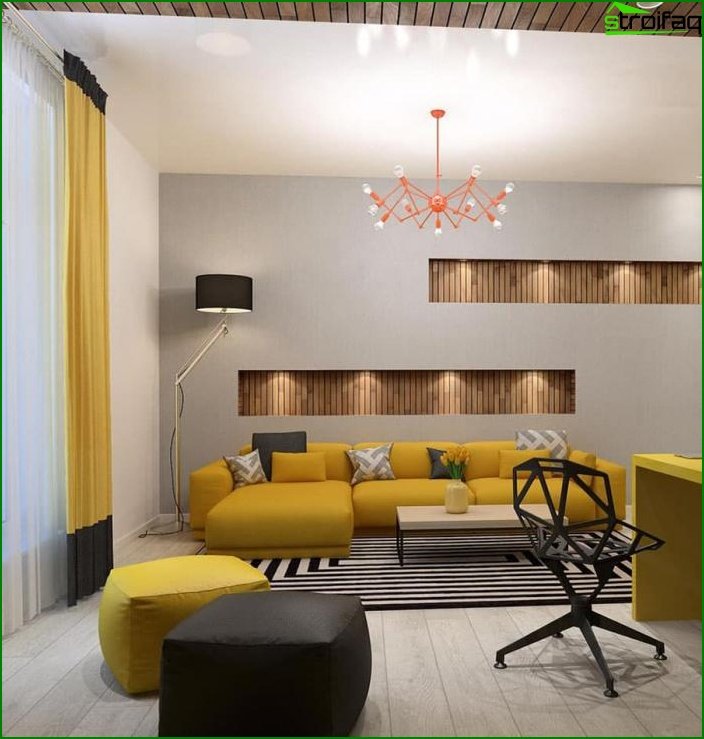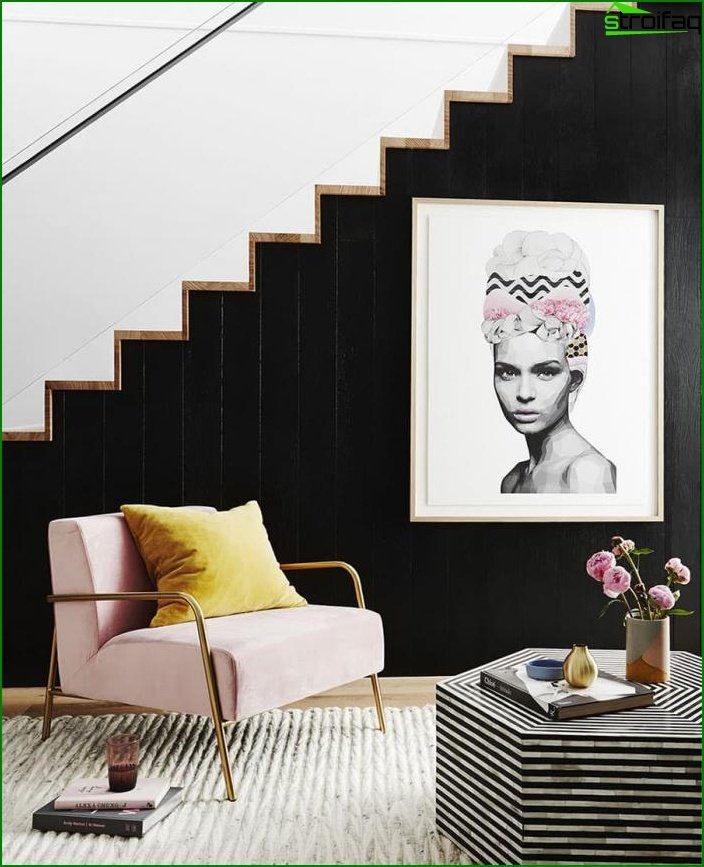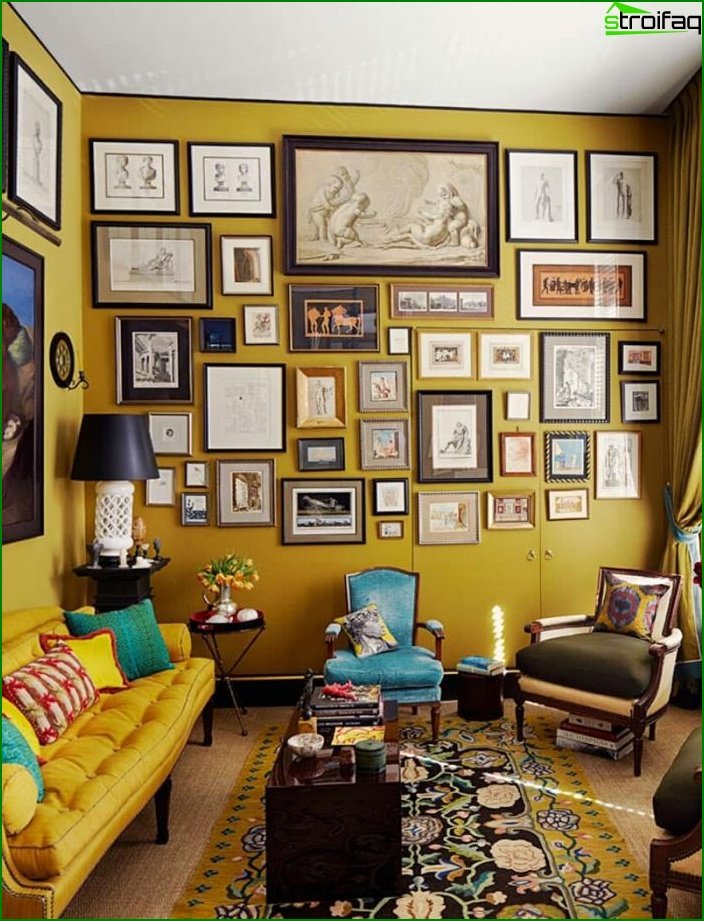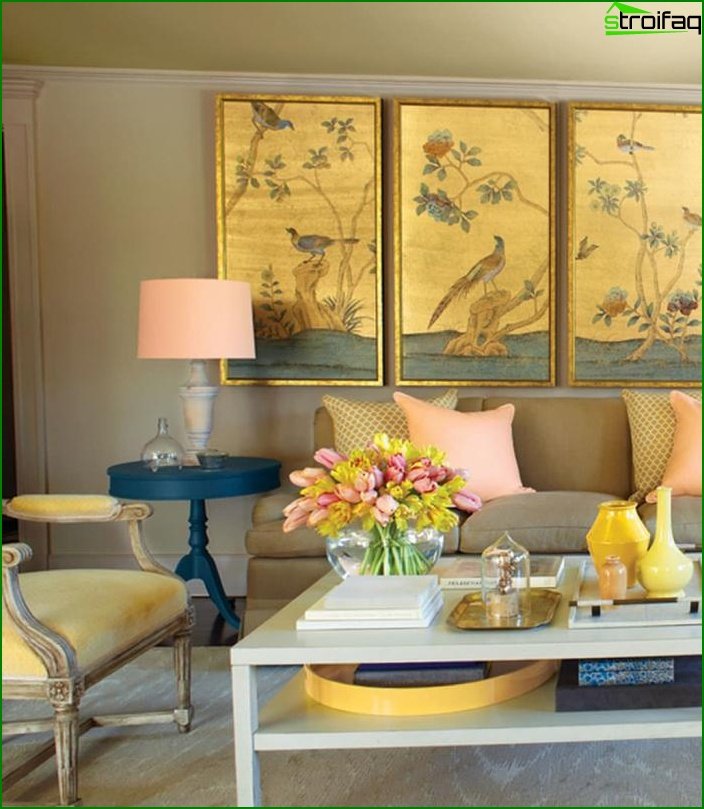 2017: time of stylish living rooms. Which to choose?
Beautiful living rooms are business cards of apartments and their owners.
The interior of the apartment will necessarily impress the surrounding people, if it will feel the style.
But which one to choose?
Living room in loft style
The loft style is easily recognized by the use of brickwork in the interior. And it is in it will be appropriate to look two trend materials this year - glass and stone.
Lots of glass and lots of stone!
The loft-style living room will be distinguished not so much by the color scheme as by the variety of textured materials. Color only shades the decor elements.
But unusual forms are exactly what is required. Buy a triangular sofa or table in the form of a polyhedron and they will become the center of your interior composition.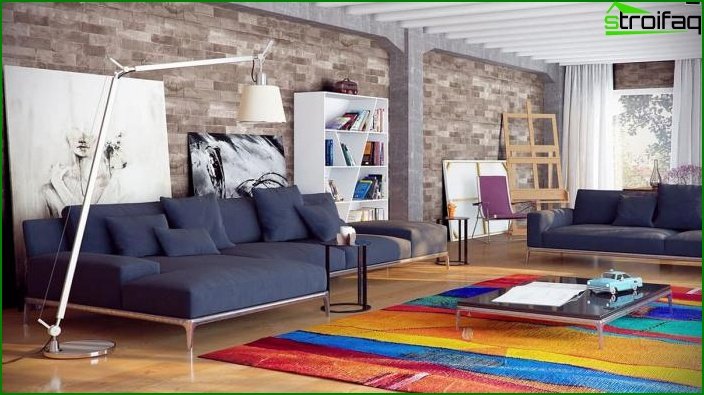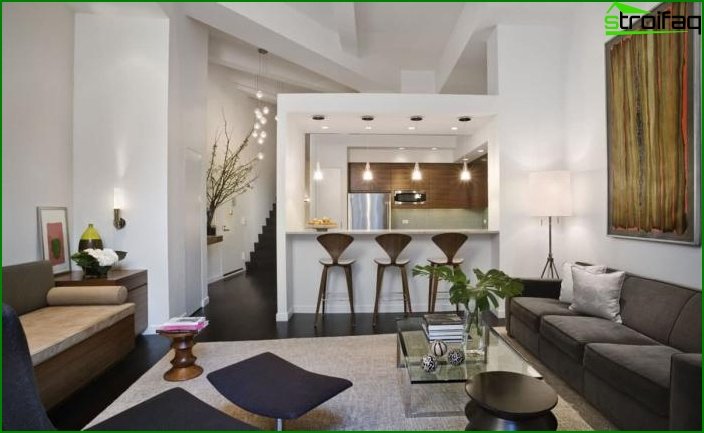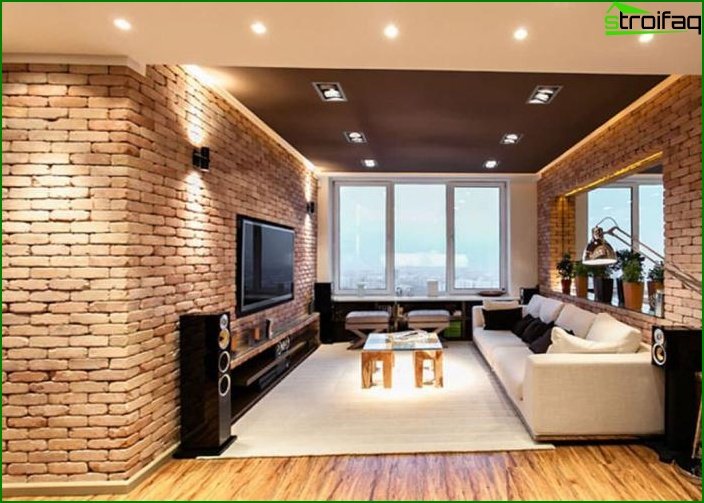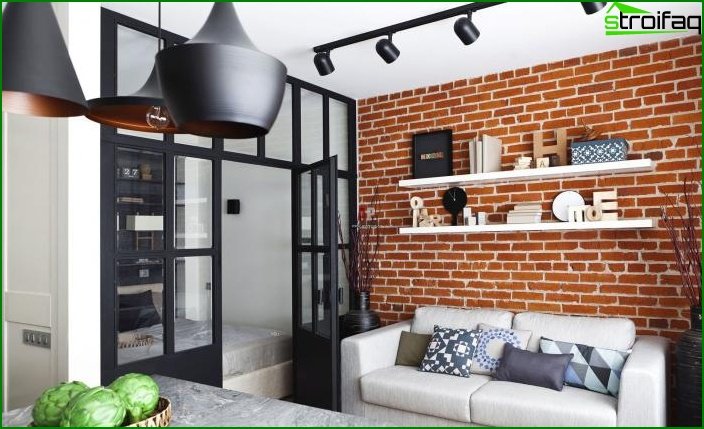 Living room in the style of Mediterranean minimalism
Minimalism is the ideal style for decorating a small apartment. The fewer details, the more freedom and freedom are felt.
But when the eye has nothing to catch on - it becomes boring.
Therefore, and appeared incompatible at first glance, the style of Mediterranean minimalism.
In it simple and even strict forms are supplemented with rich colors and bright prints.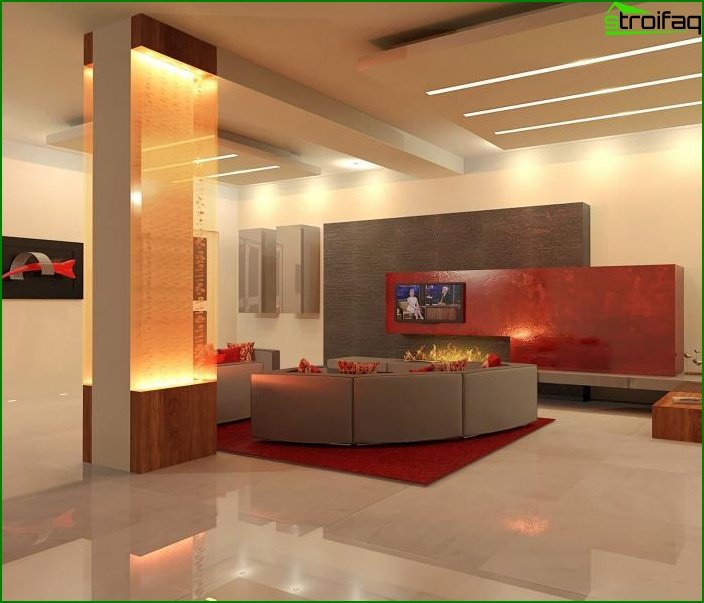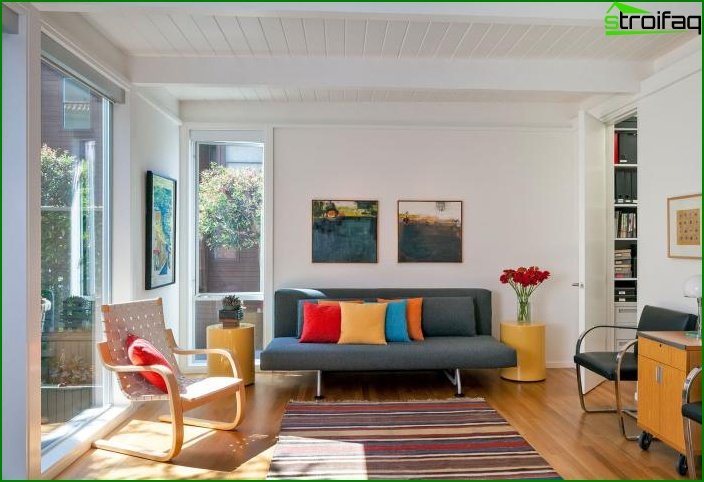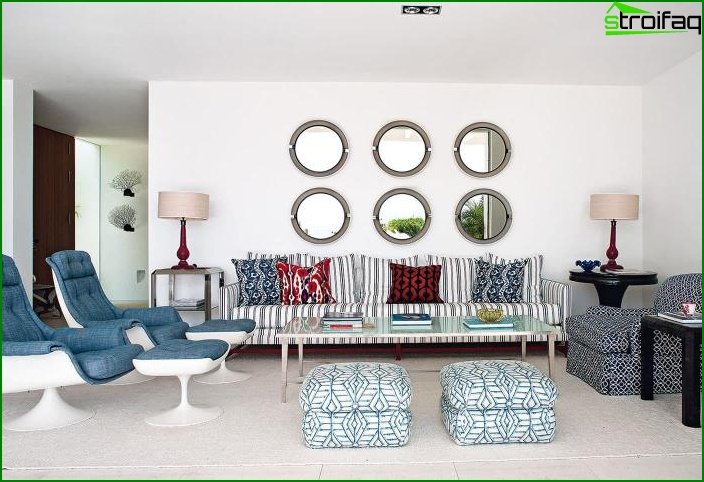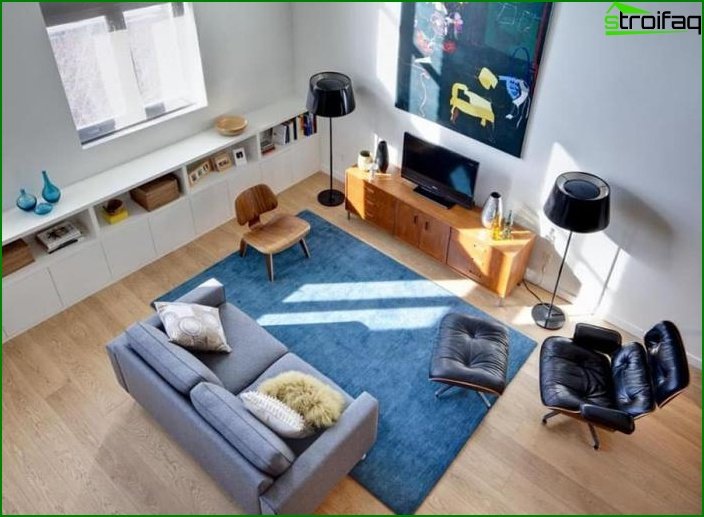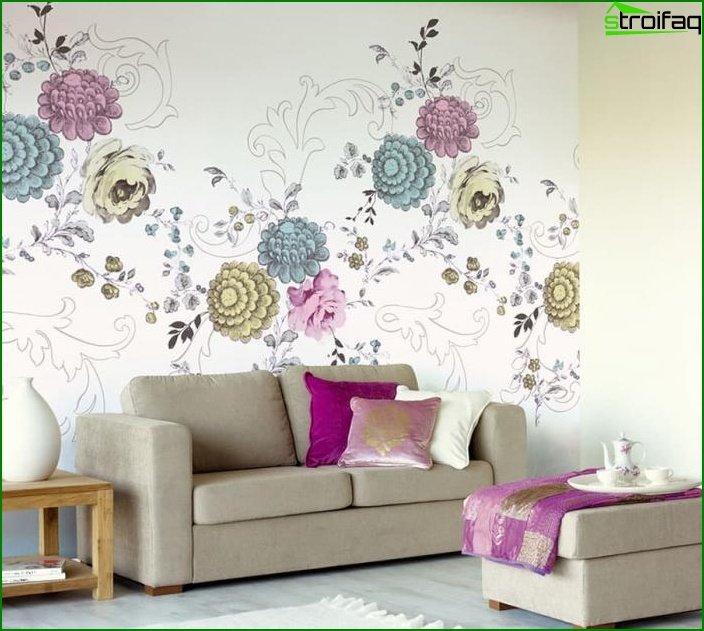 Living room in vintage retro style
Do you like to dream? If in childhood you were read by the novels of Jules Verne and Edgar Allan Poe, then the vintage retro style is exactly what you need!
In its own way, adventurous, inspiring to exploits and discoveries, this style is based on natural materials of natural shades.
For a vintage retro living room you will need curtains with lambrequins, massive wooden furniture and forged lamps.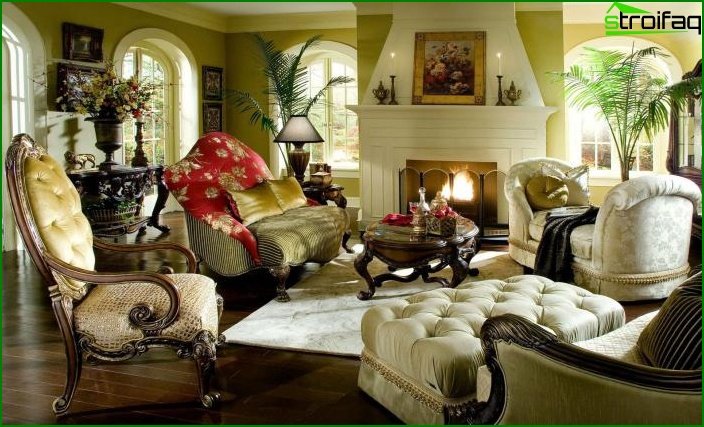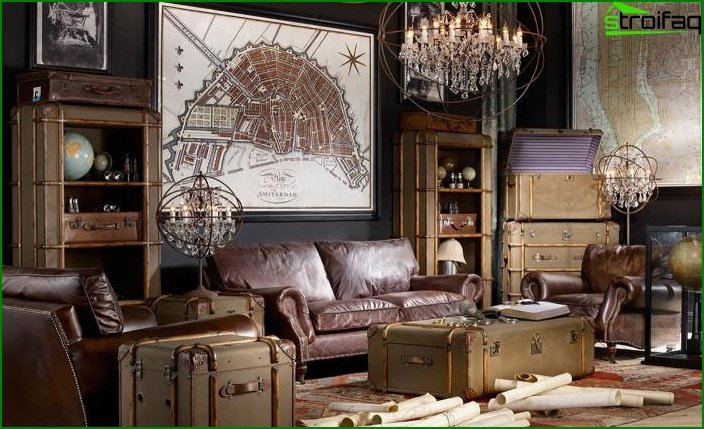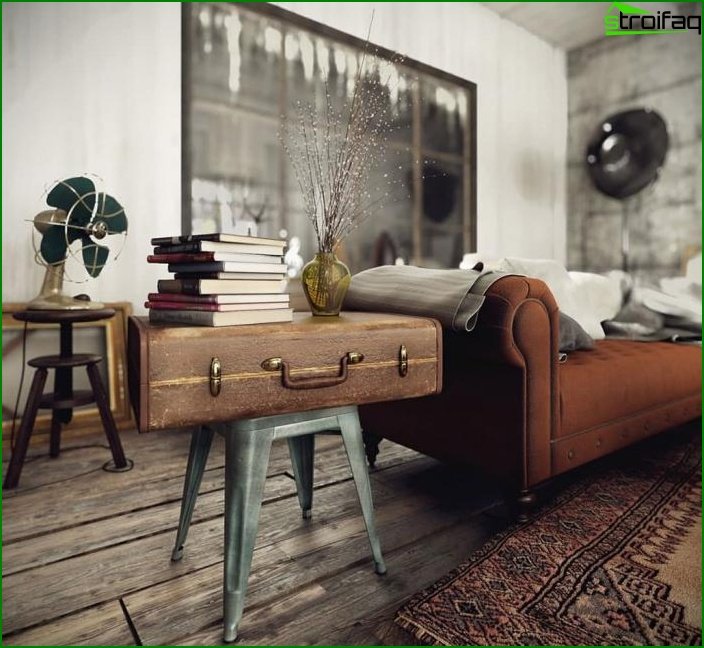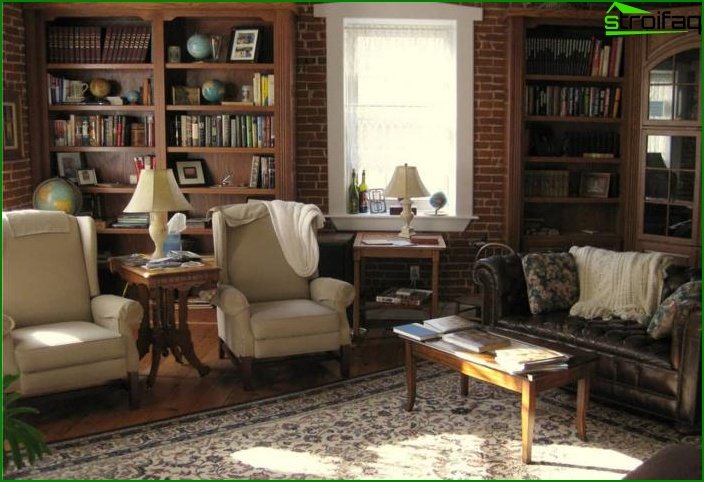 Living room in ethnic style
Another style, which is characterized by the use of natural materials - is ethnics.
For living rooms in this style, it is desirable to carefully select all the details.
The trend of 2017 is juicy colors and ornate ornaments, which are very typical for the culture of Asian countries.
For the living room in the style of the ethnician, designers recommend using short curtains.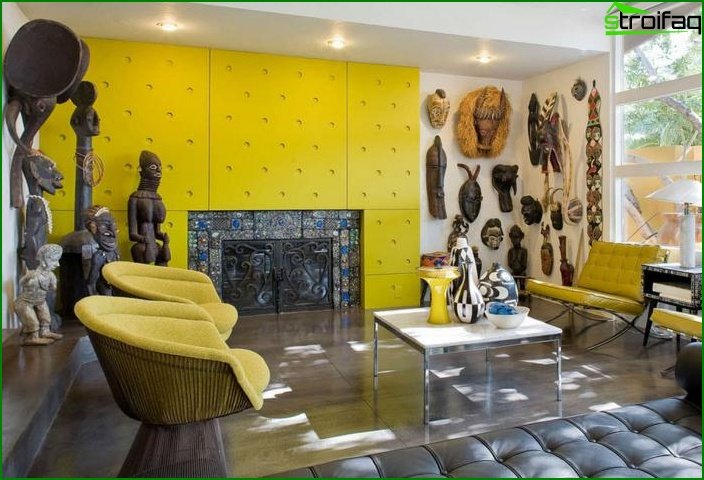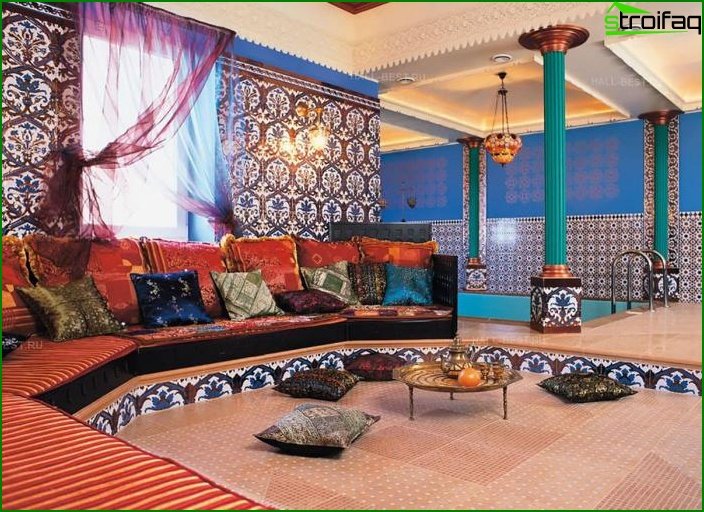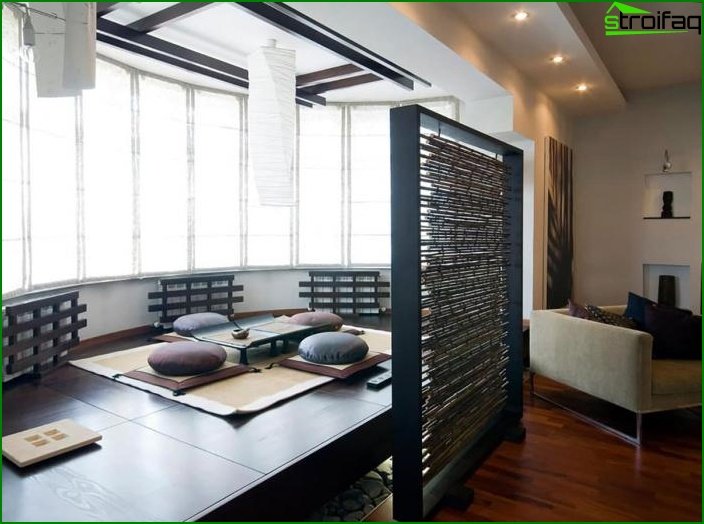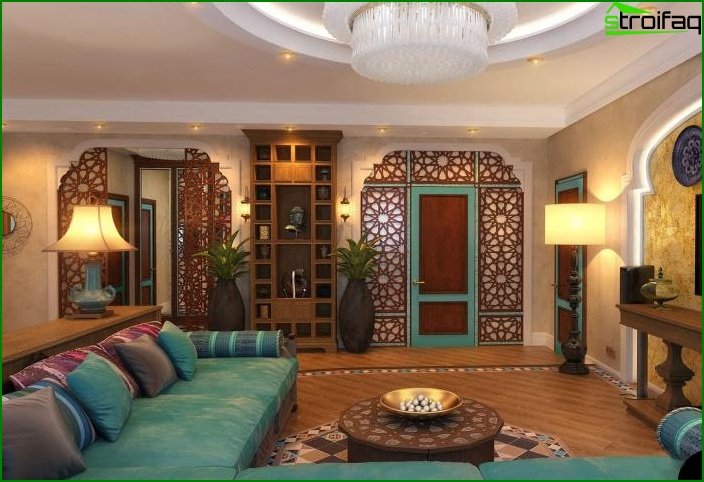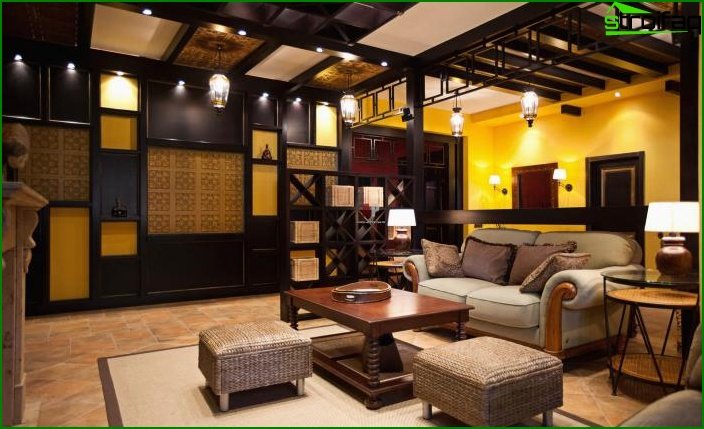 Living room in classic style
Restraint of shades, lines and forms - this is how you can describe the classic style of interior design apartments.
Classics are universal and relevant at all times. So if you are not used to chasing fashion, stay out of her power.
And if you want - you can always diversify the interior with unusual accessories.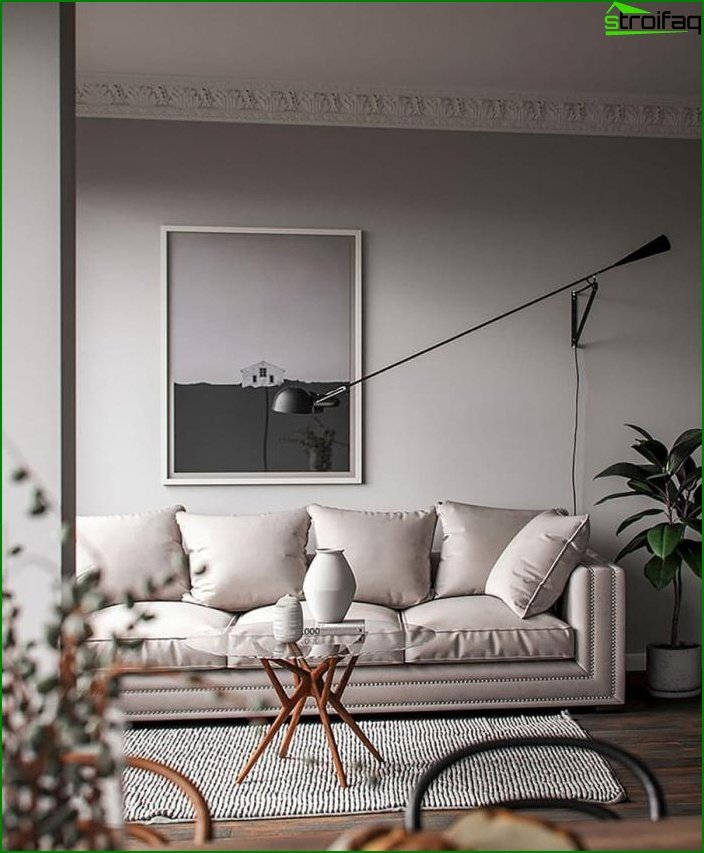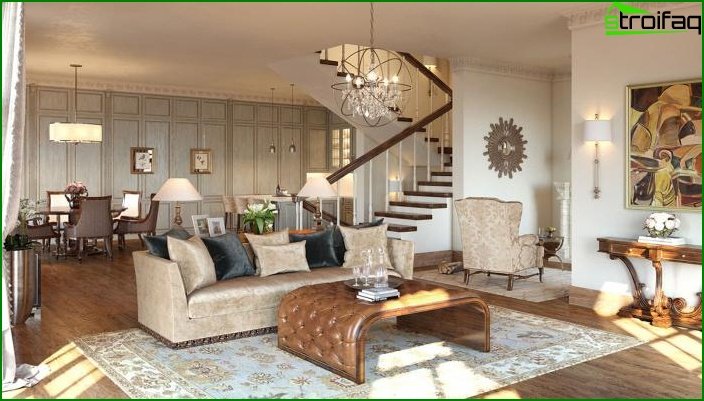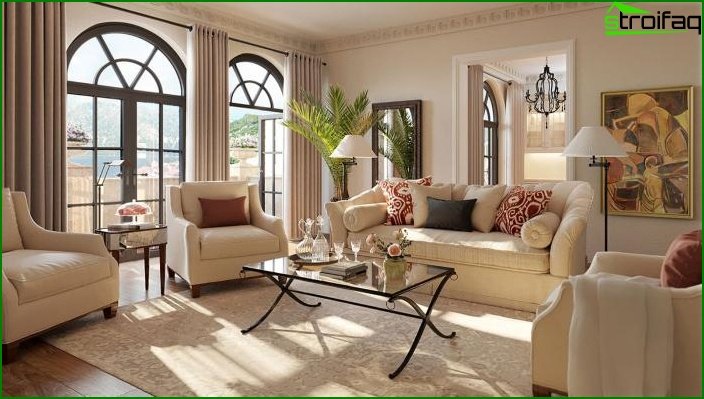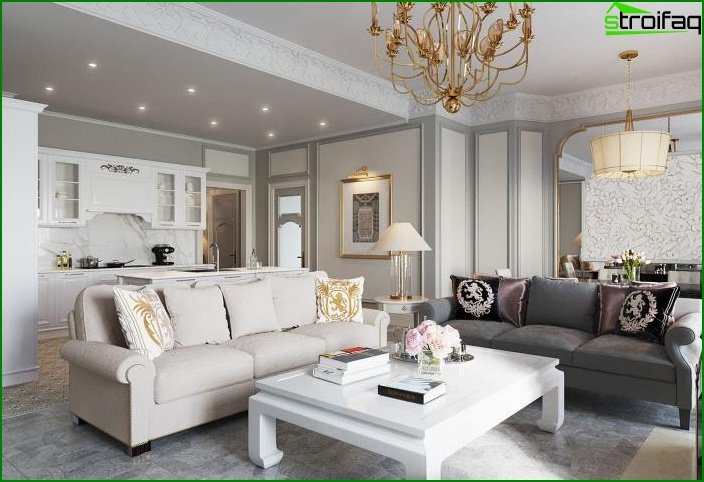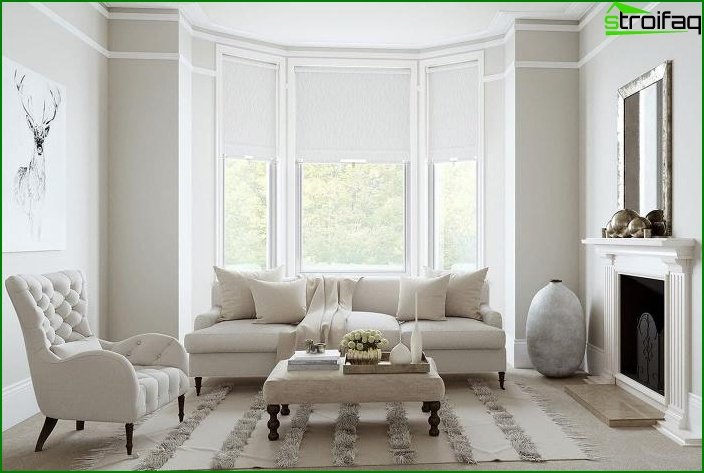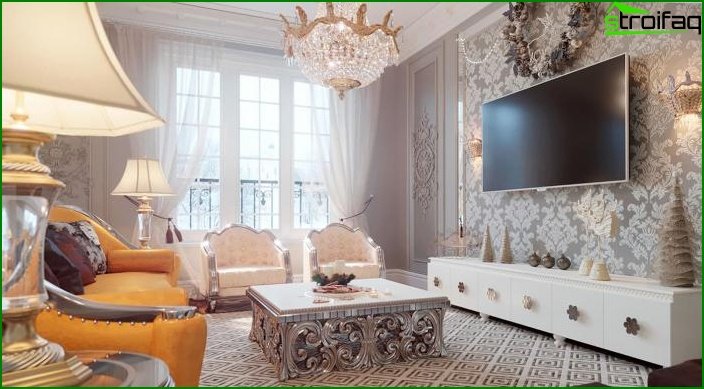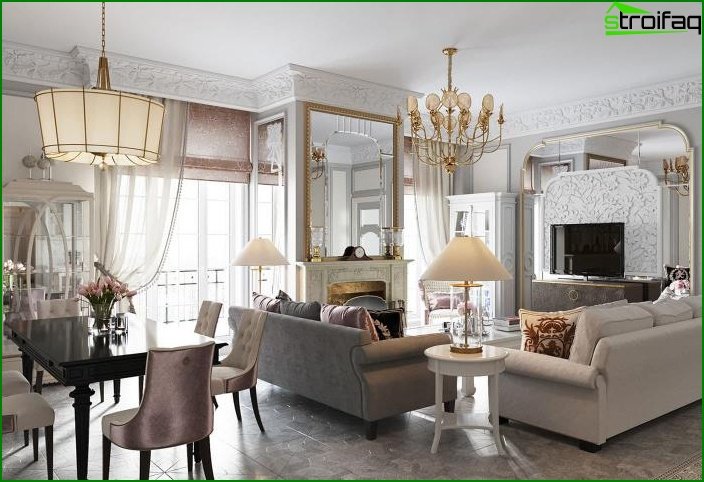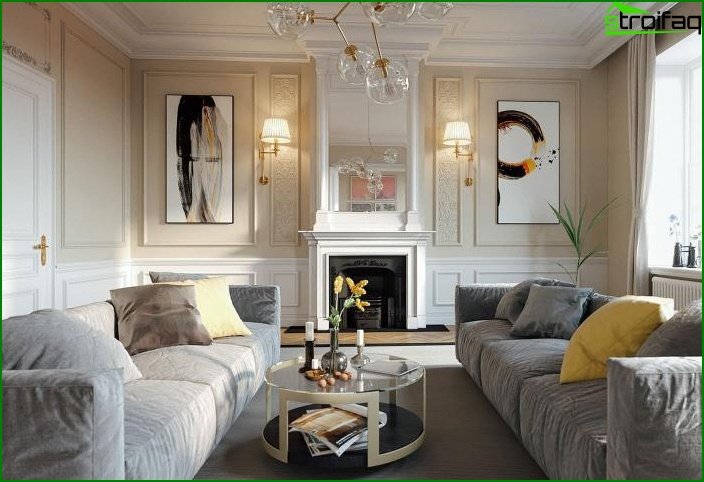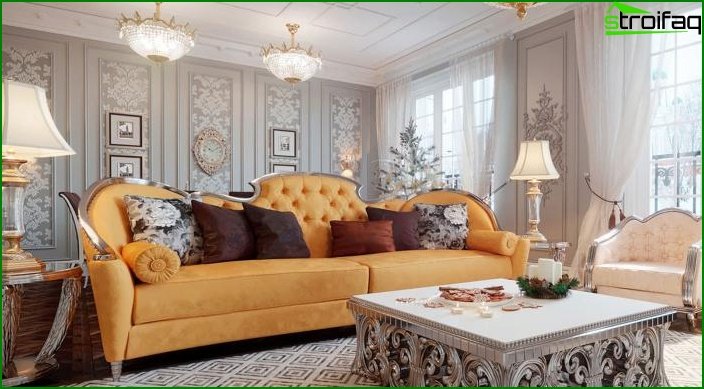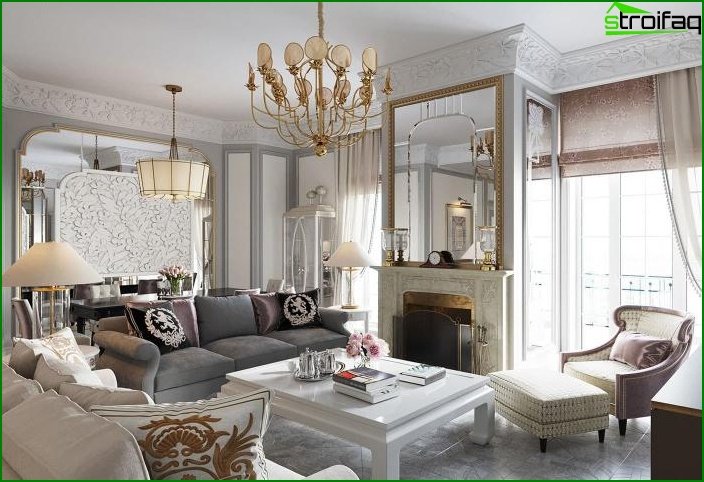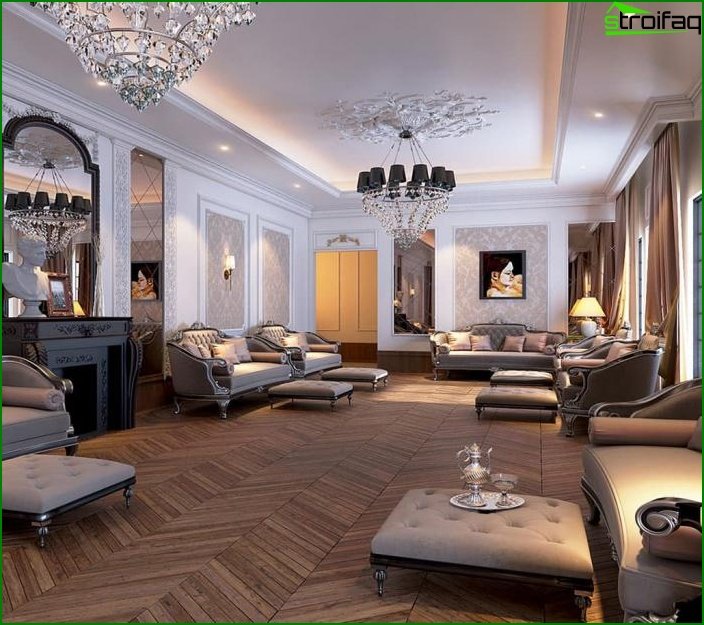 Living in a modern style
Industrial, pop art, minimalism, high-tech, fusion .... Modern styles can be enumerated indefinitely!
And each of them will have their own fans and hayters.
Combines all these styles in one family modernity: modern materials, modern technologies, modern textures, modern colors.
The last decade can be called "an eraSmooth surfaces ", which does not correspond to the concept of 2017 on the dominance of bulk textures. Therefore, designers recommend for all fans of modern style in the design of the living room a little to diversify its "touching" textures: velvet upholstery fabrics, knitted paths, relief walls.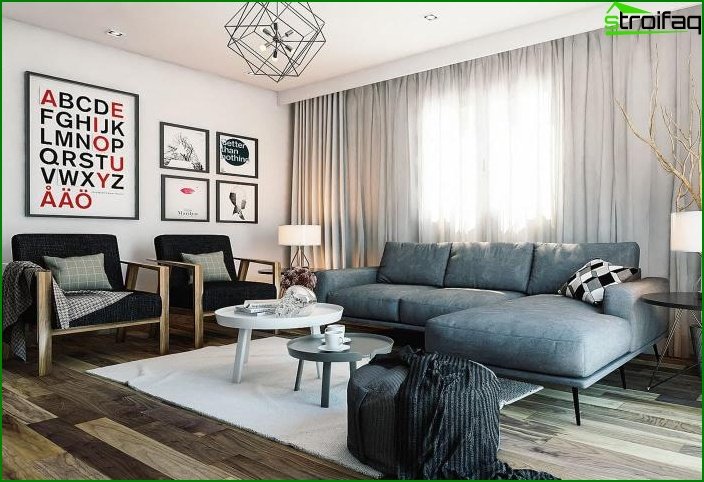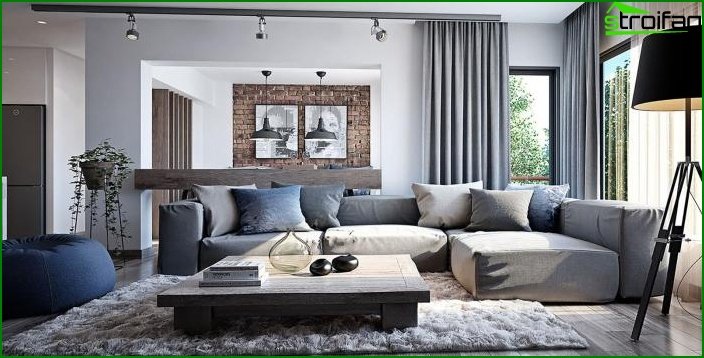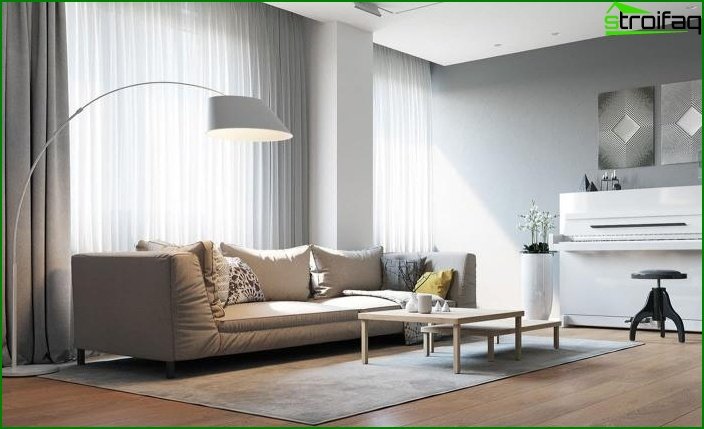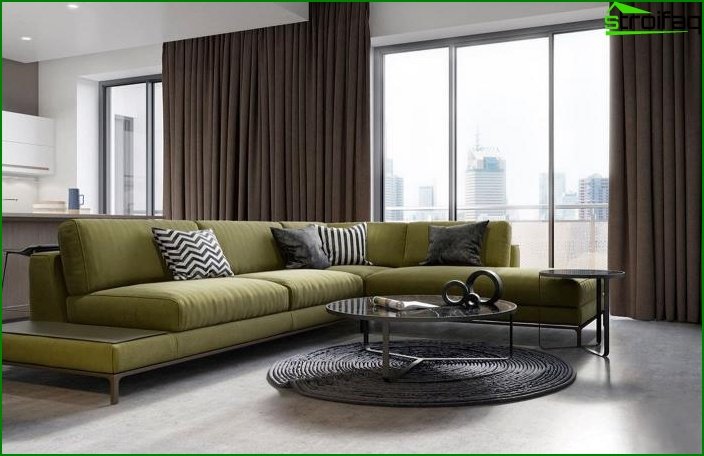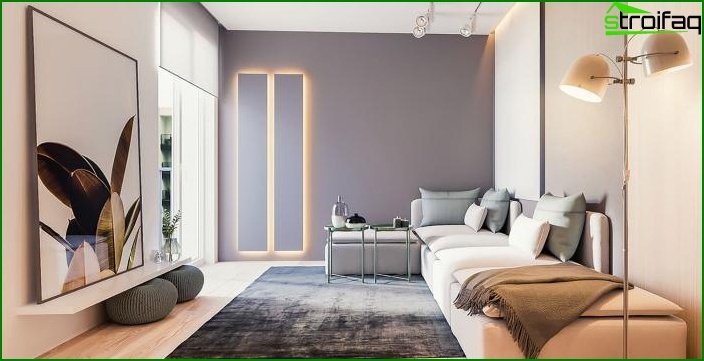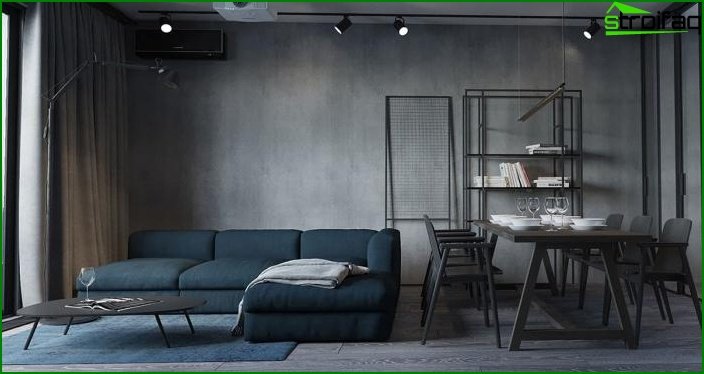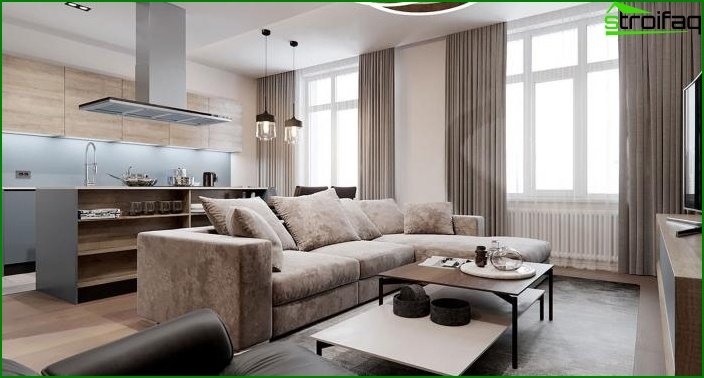 Read also: Modern ideas for the living room in the Art Nouveau style.
Fashionable living room furniture: the best modern ideas
Elegant sofas
In 2017, designers as never paid attention to the freedom of space in the interior.
Down with cumbersome and unwieldy headsets!
The trend of interior design this year are miniature sofas that do not take up much space.
Small sofas can be used in both a small living room and a large one, replacing the chairs with a second sofa.
To make soft furniture look interesting - choose textured upholstery fabrics: matting, jacquard, chenille and, of course, velvet. Especially velvet.
And one more Secret from designers: To visually make the space easier, use upholstered furniture on the legs.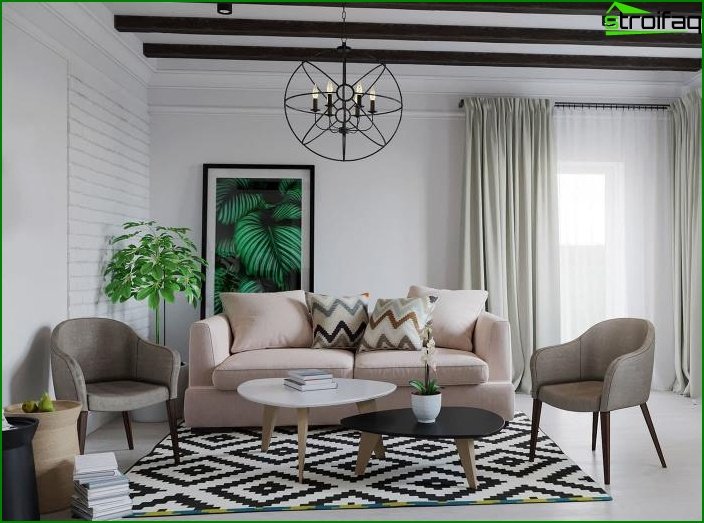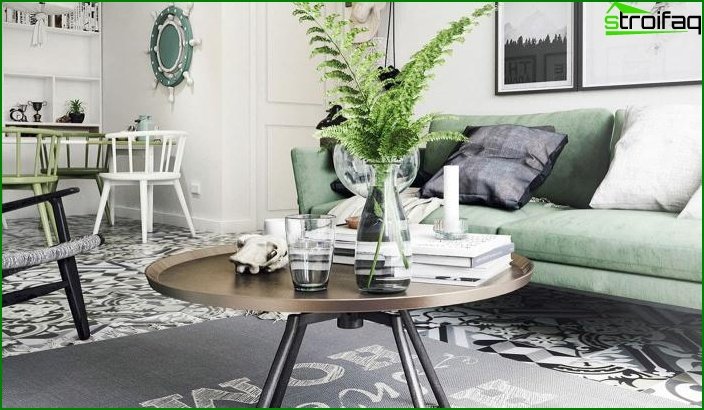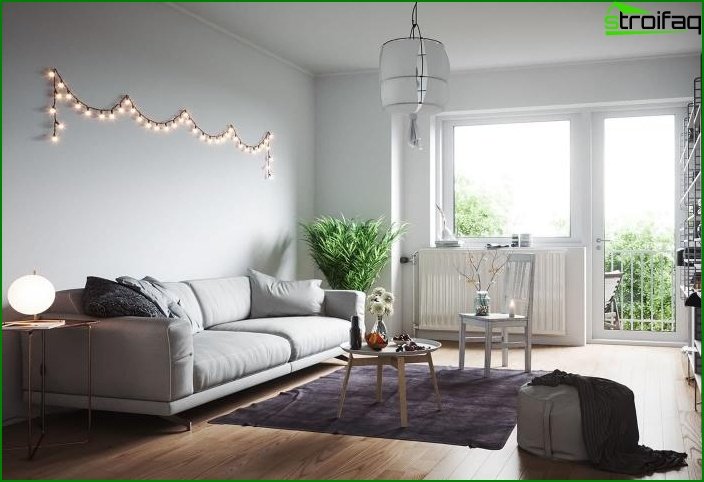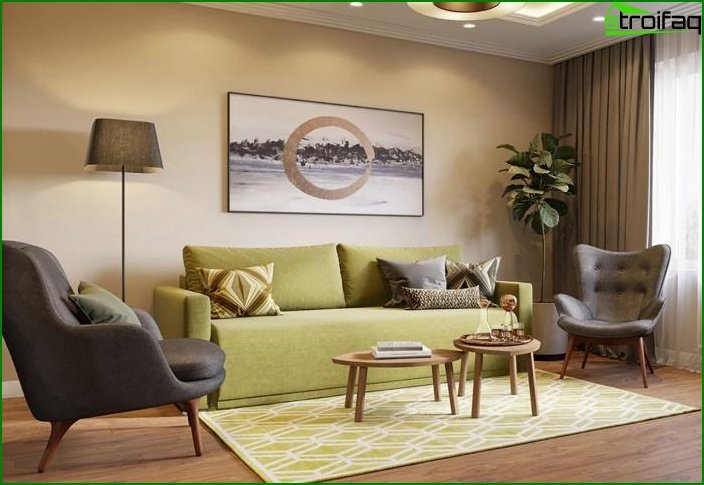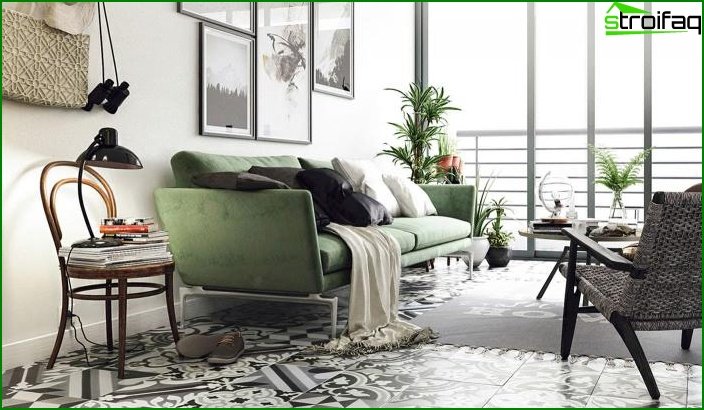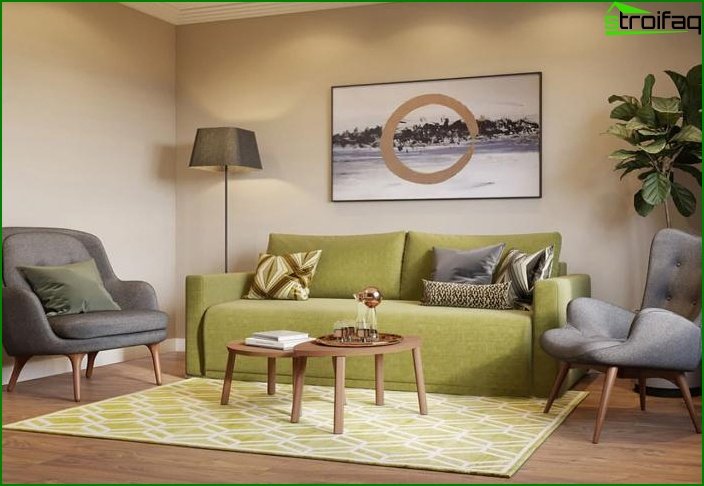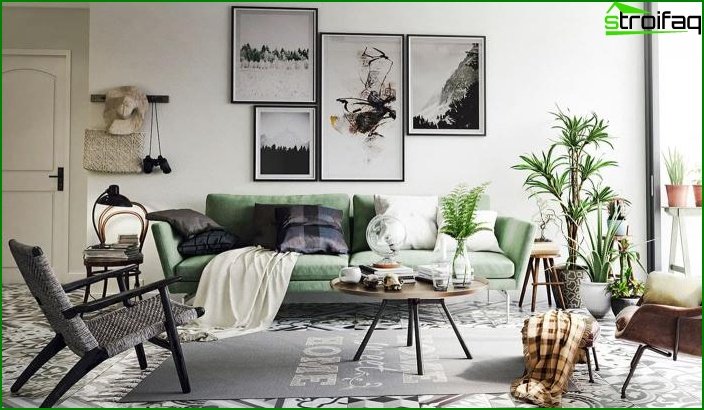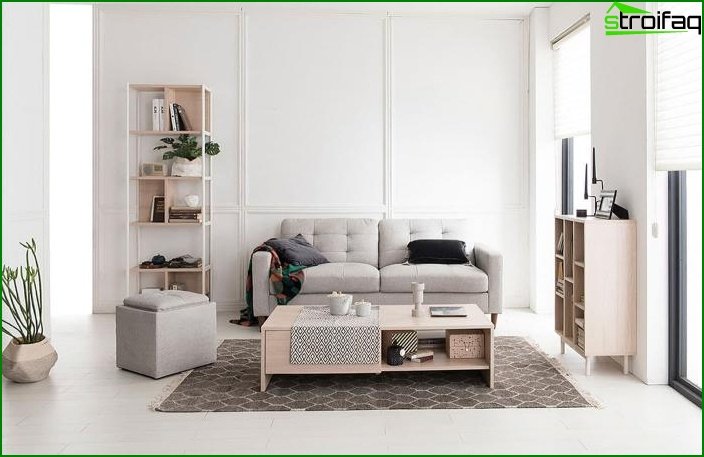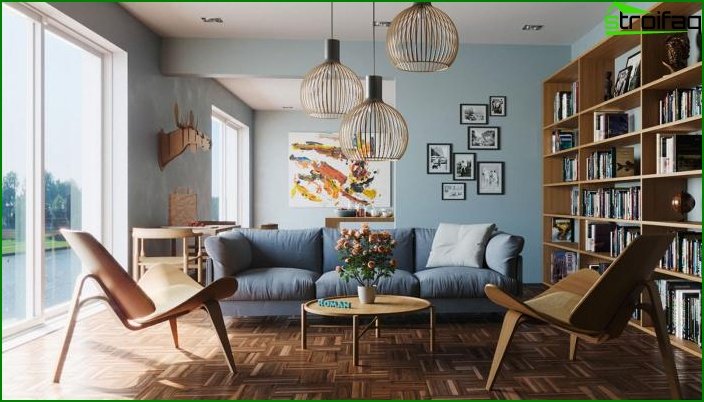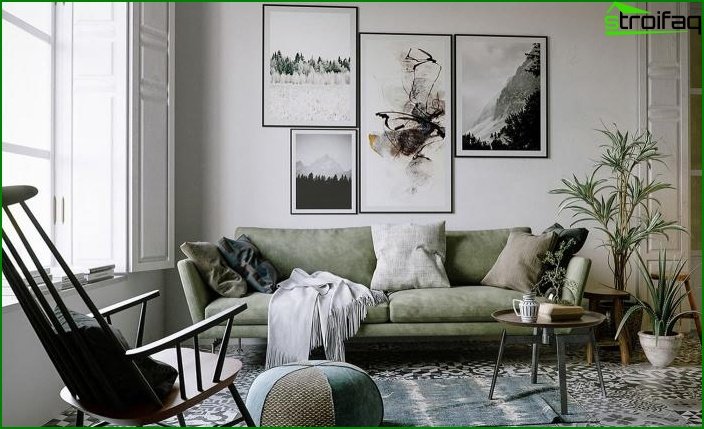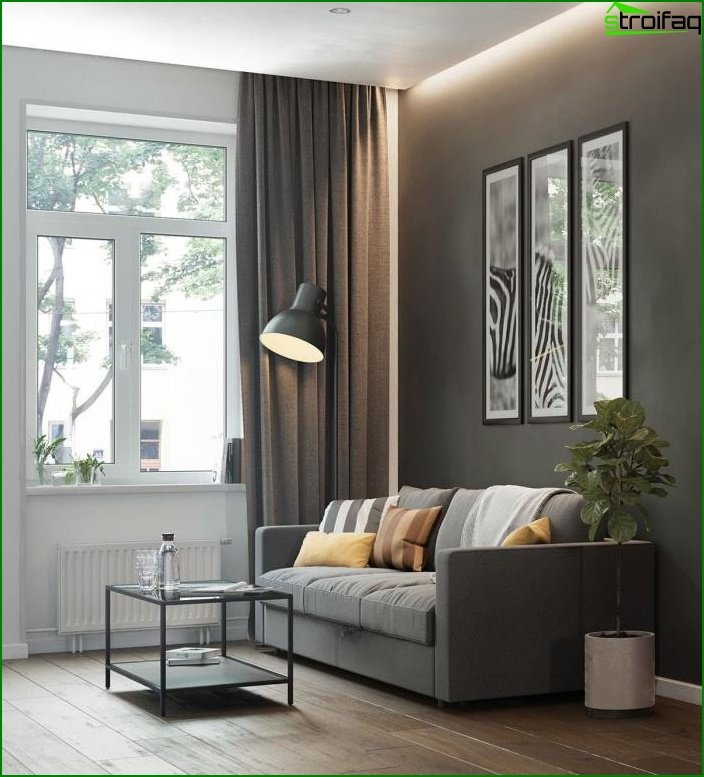 More Photo of living room furniture.
Eclectic sofas
A variety of patterns - one of the main trends in 2017. They are everywhere: on fabrics, on walls, on upholstered furniture.
If earlier used single-colored sofas with bright pillows, then today everything is exactly the opposite: patterned furniture with monophonic accessories.
The actual colors in this season are herbaceous greens, deep blue, warm gray-brown, bright red, mustard.
Such sofas will perfectly fit into the Mediterranean, ethnic and modern styles of interior design of the living room.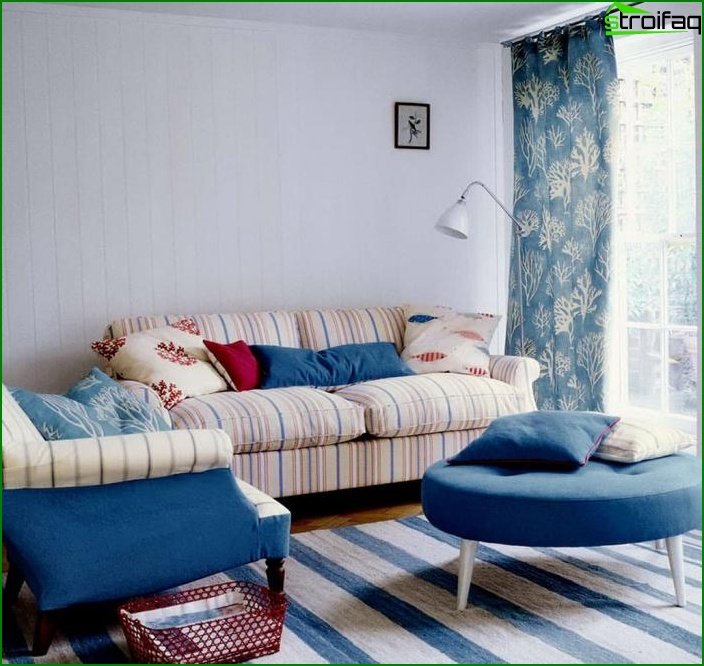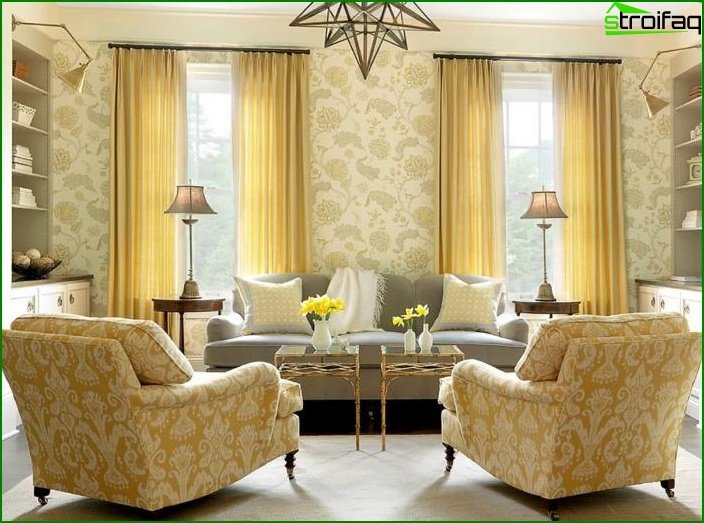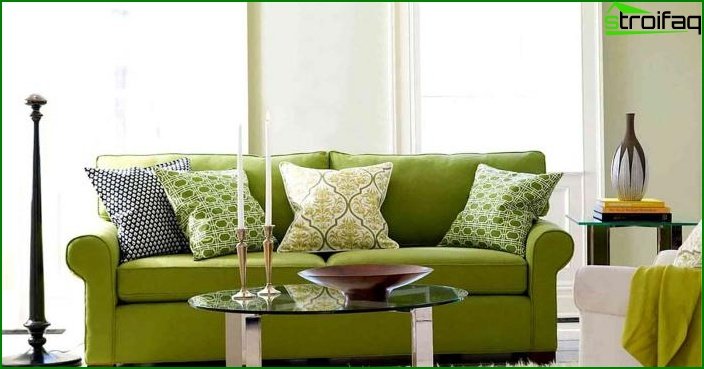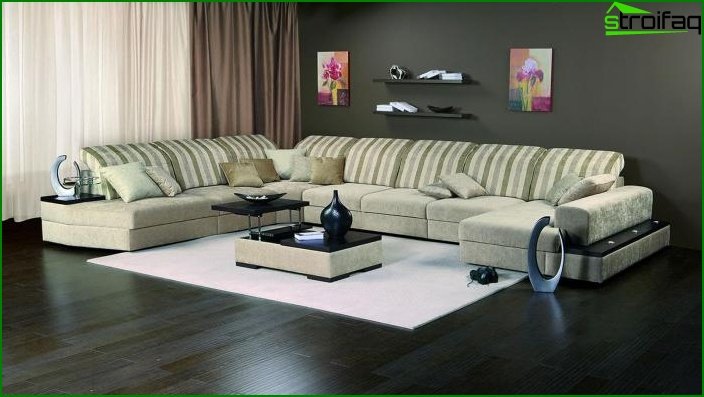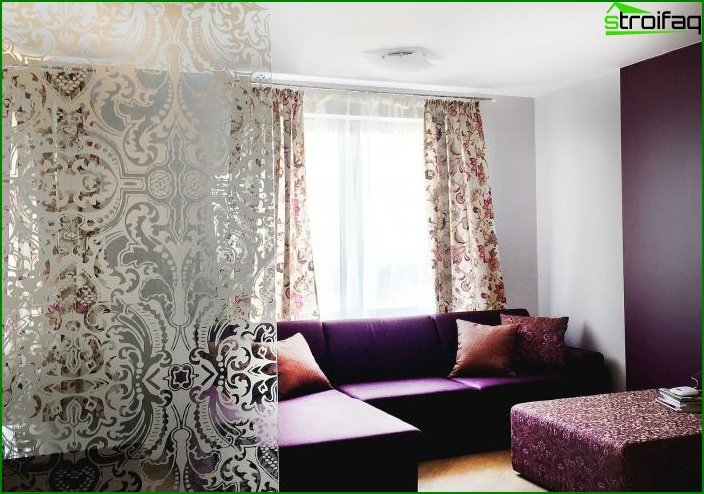 Knitted pouffes
A surprising contradiction: On the one hand hand made in the interior and all sorts of DIY-solutions have lost their relevance and are perceived as mauvais, and on the other - in the fashion unusual textures with a minimum amount of processing. For example - knitted puffs.
Knitted puffs are found today in the interior more often.
Unlike knitted products a la "grandmother psihanula" for their creation uses a special kind of knitting - with the help of hands. Not manual knitting, but the use of hands instead of spokes!
A knitted puff of juicy colors will dilute the monotony of even the most boring interior. Pouf more discreet color will be highlighted in the interior of its texture.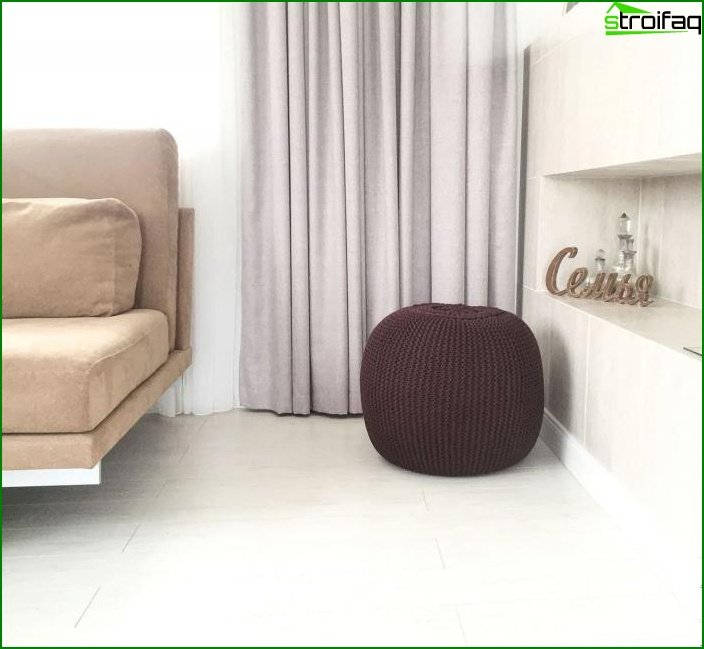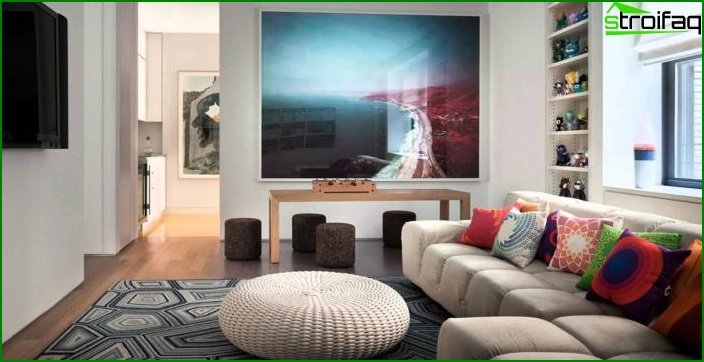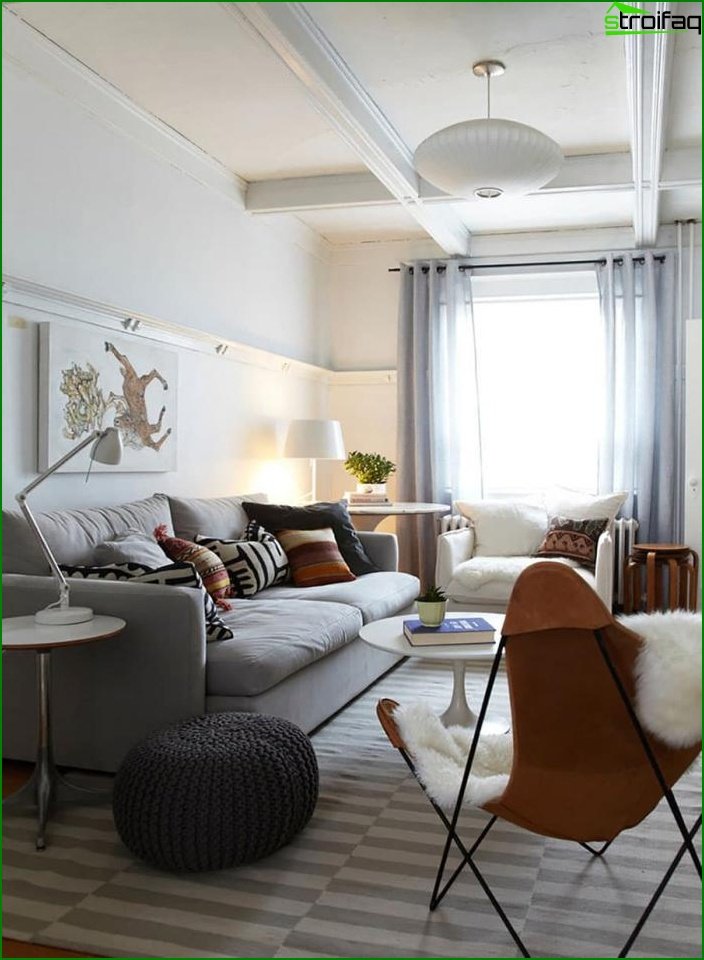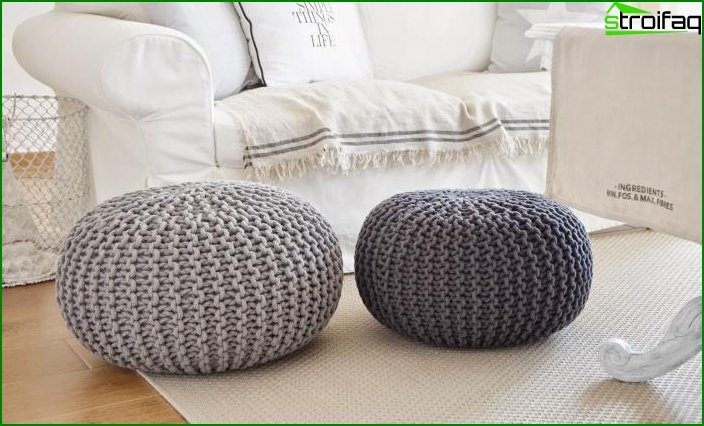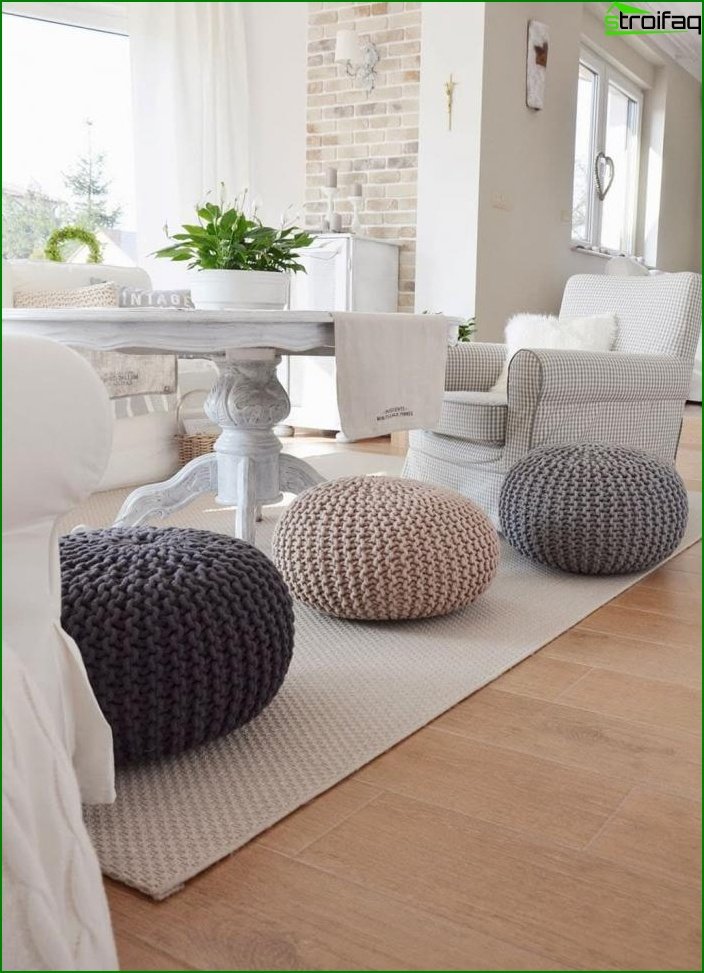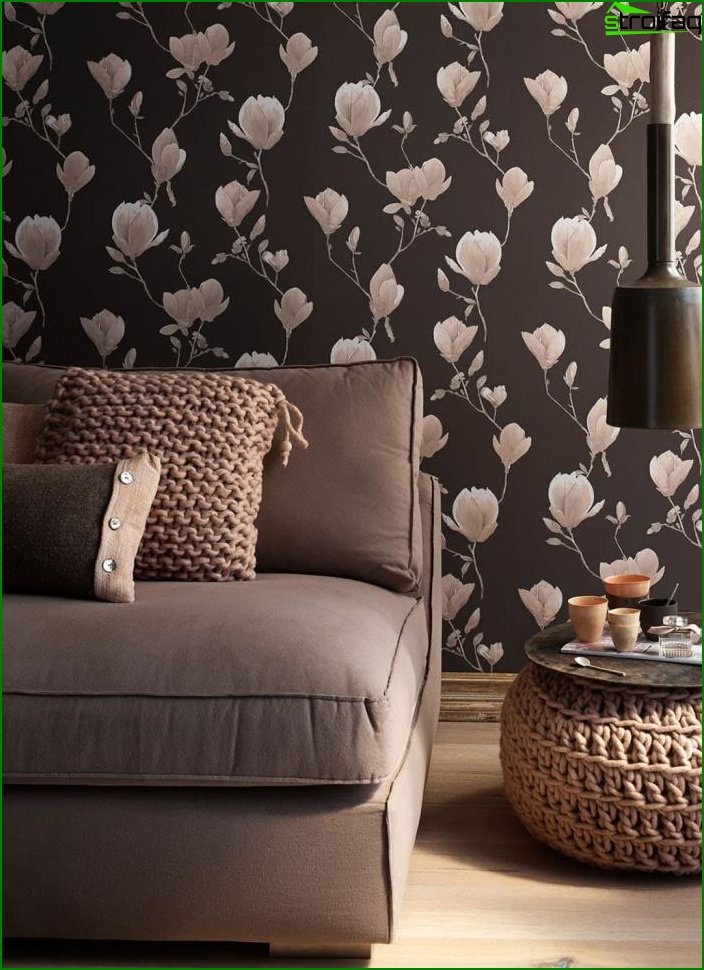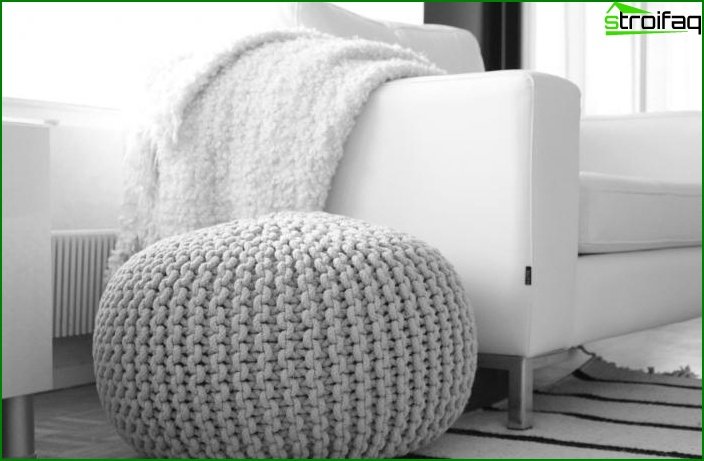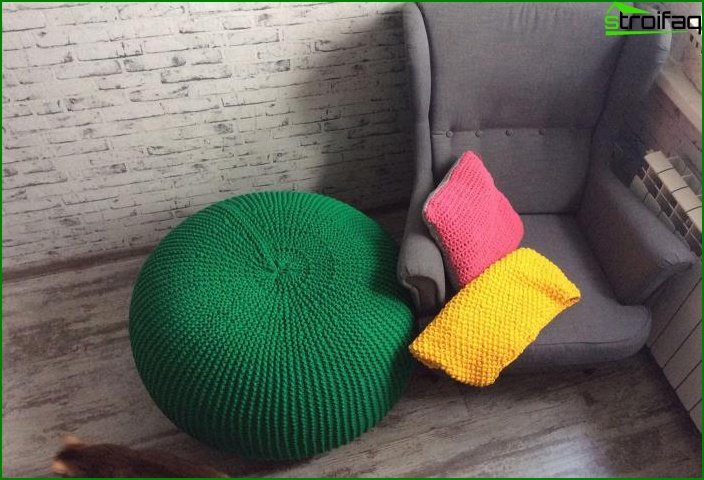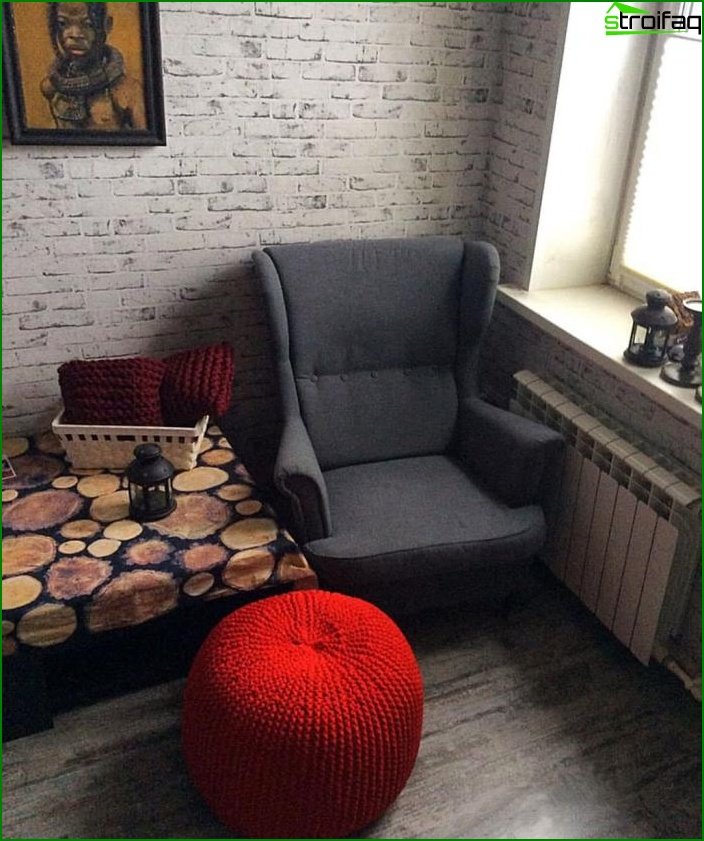 By the way, with the help of hands it is possible to connect not only the puff, but also the rug.
Open cabinets and shelves
A guest room is a resting place, not a warehouse for things. Therefore, there is no need to install complex closed storage systems in the living room.
The trend for the living room in 2017 will be light open shelves and racks.
But in the realities of the post-Soviet space withoutFashionable living room walls are unlikely to manage. To make your guest room both stylish and functional - use a combination of open and closed items.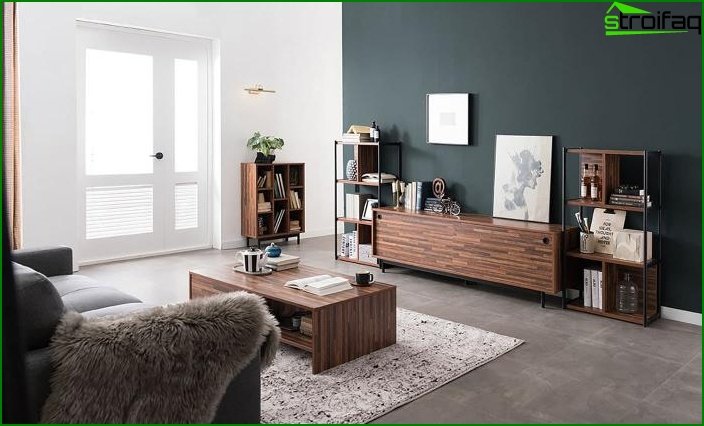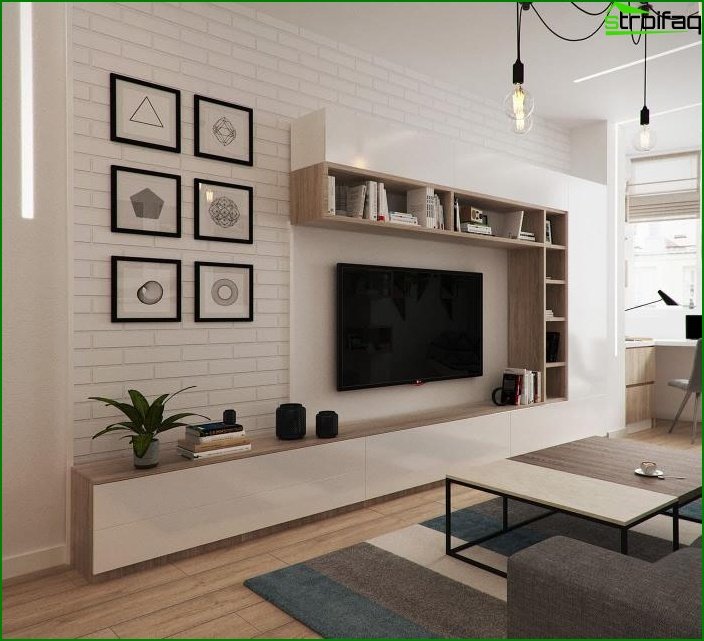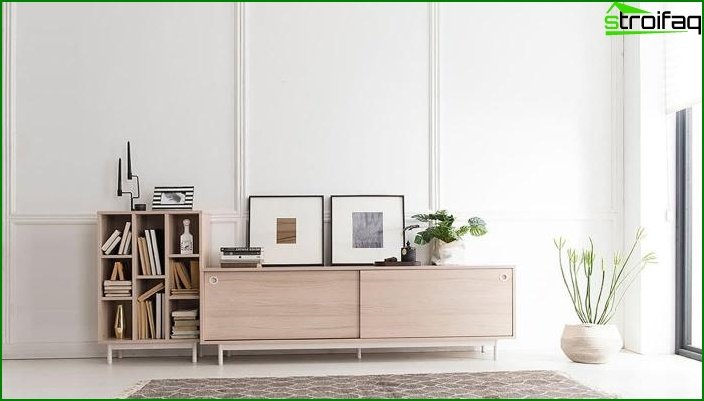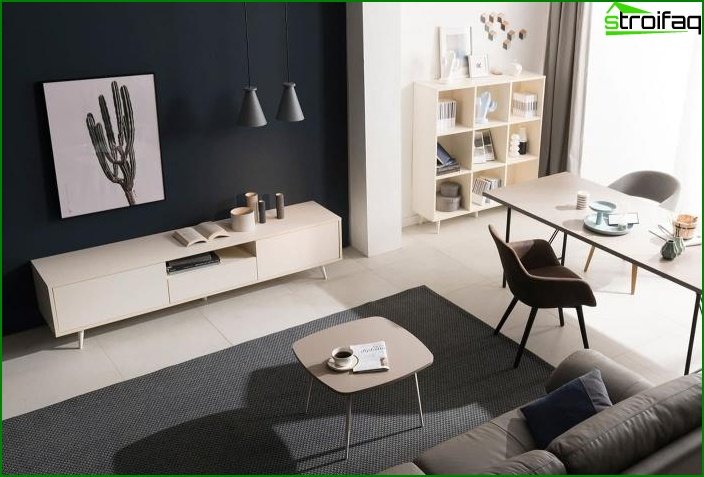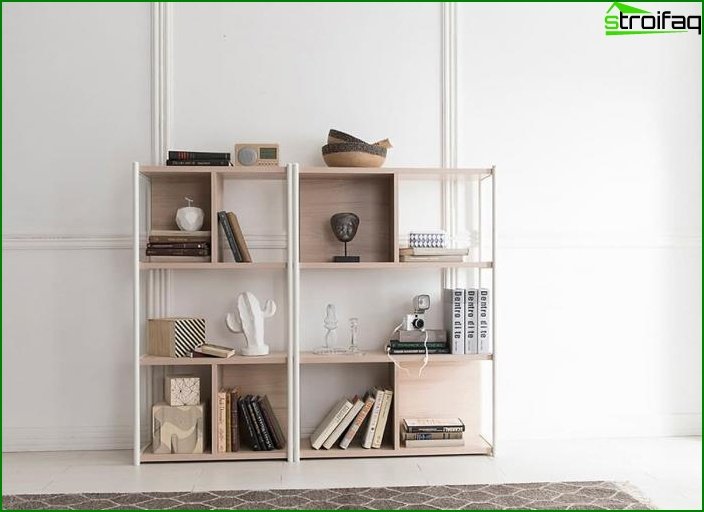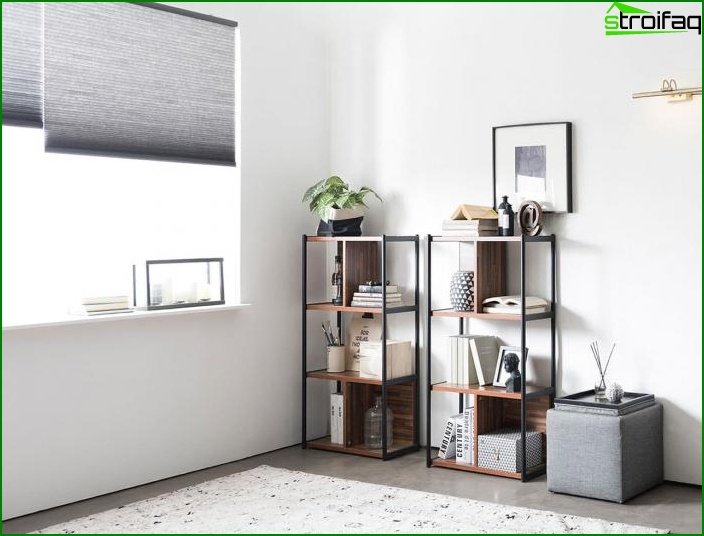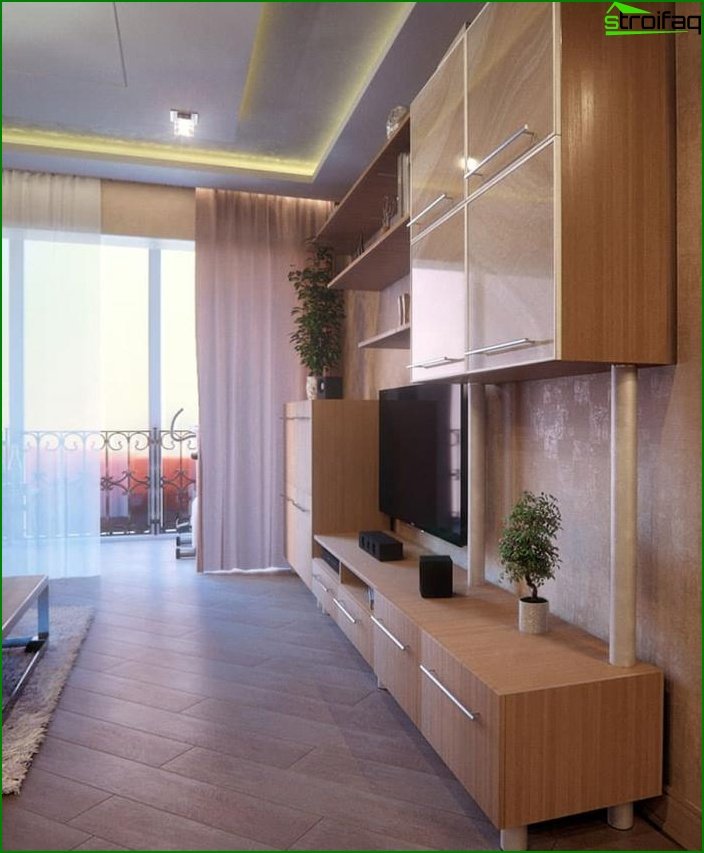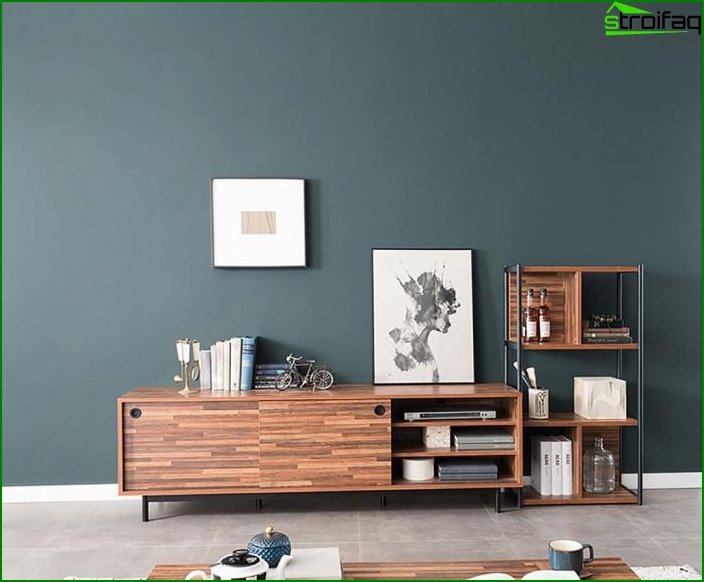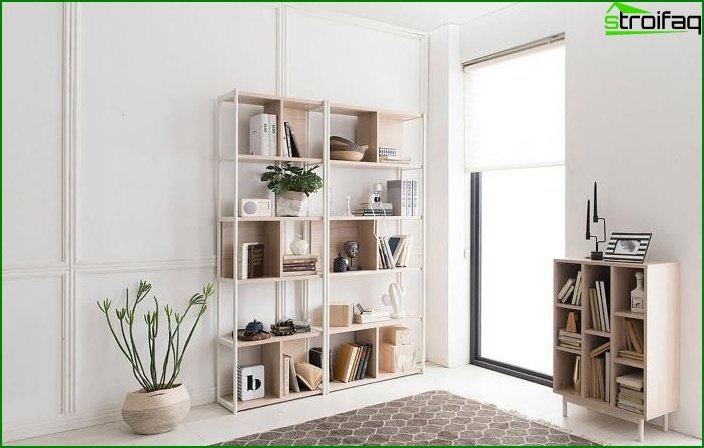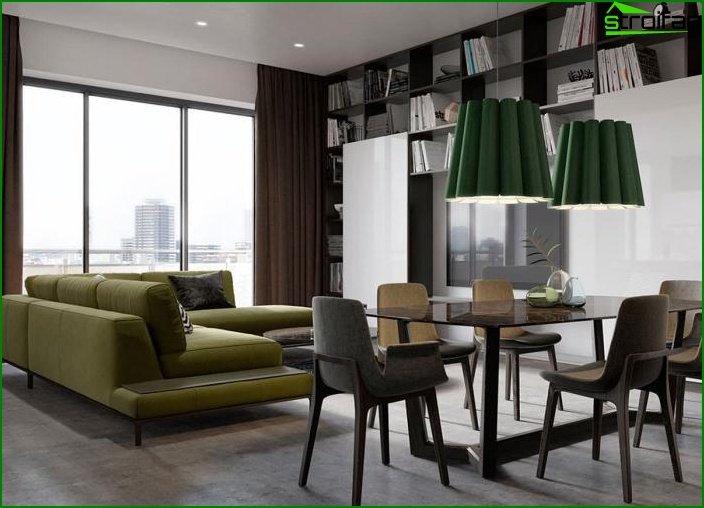 Modular furniture from IKEA
Transform space now easy! And IKEA proved it again! The new catalog of 2017 presents not only modular living rooms sets, but also modular sofas, which can be assembled in the most incredible variations.
Pleases and a variety of colors - from restrained pastel colors to rich and bright colors.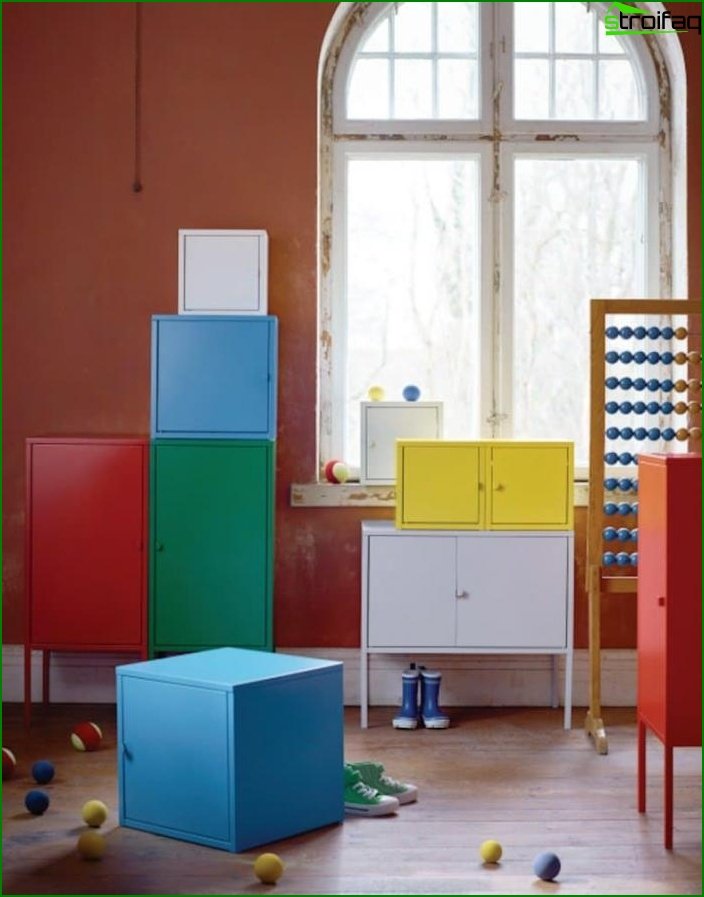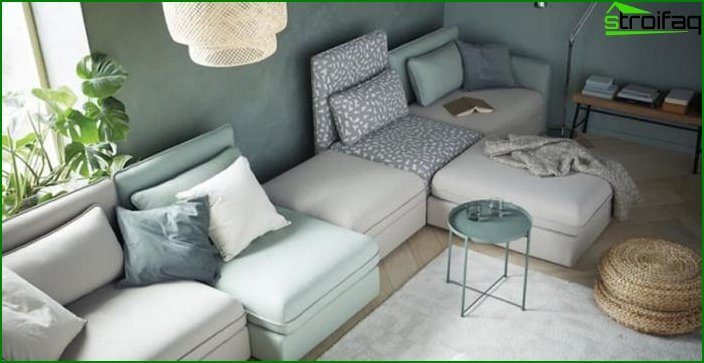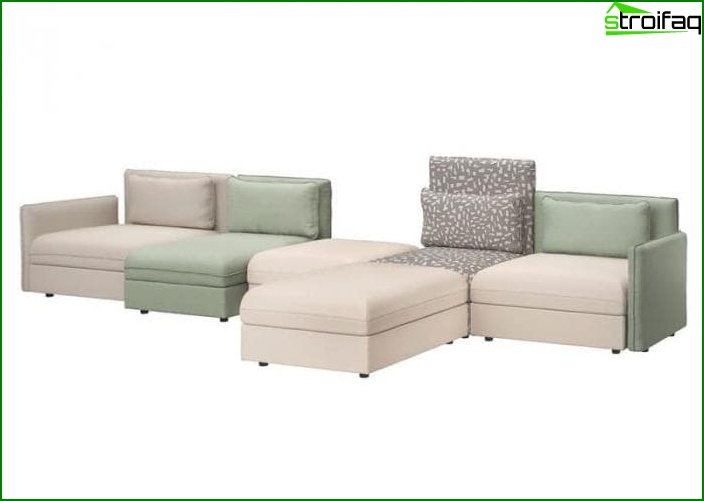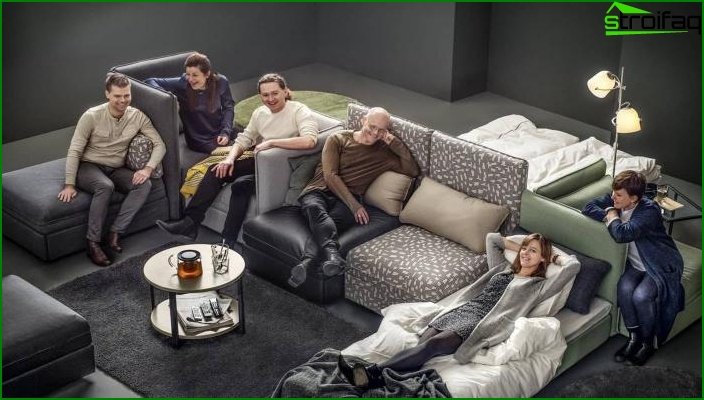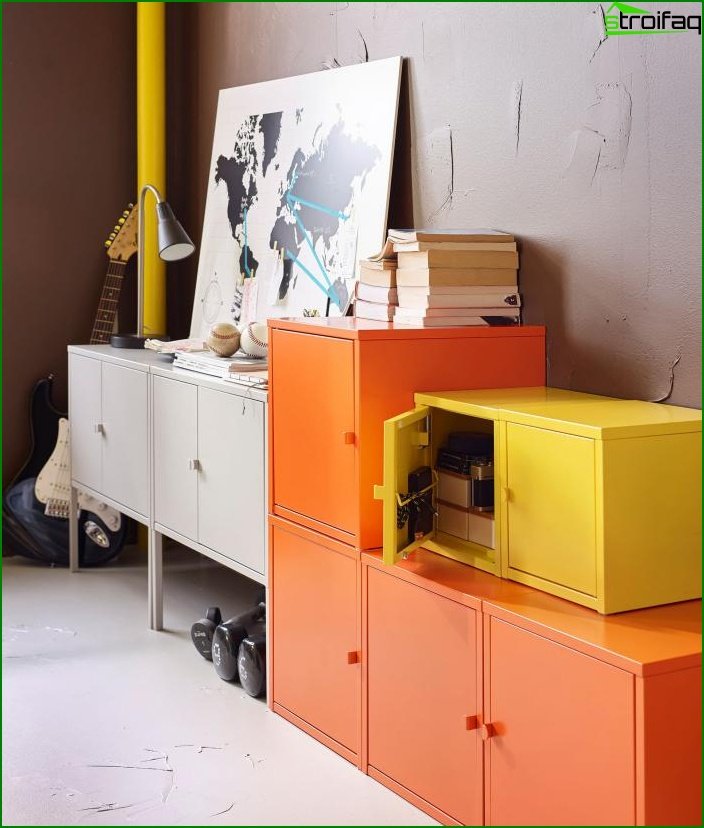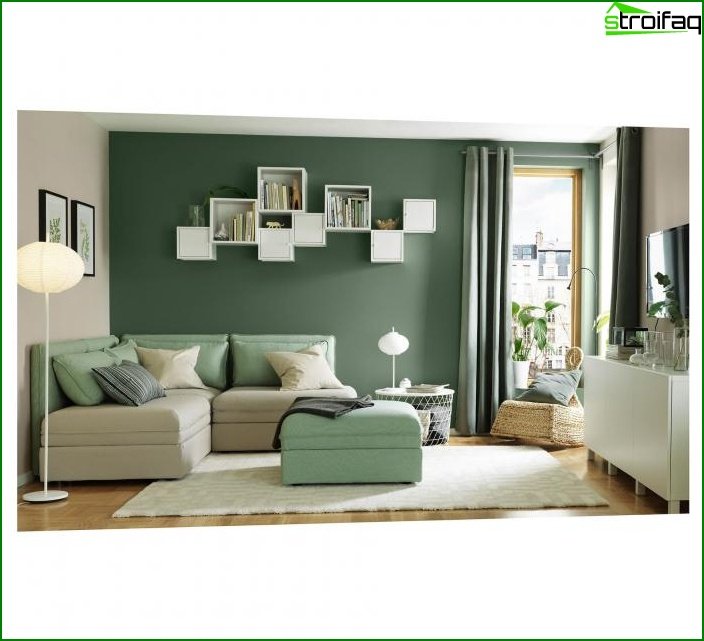 Add these curtains to the living room and create the interior of your dreams
A tissue cut can change lives.
Do not believe me?
Remember the young Assol!
To realize her dream in life, Gray needed some two thousand meters of red silk.
Without curtains, even the most stunning interior looks lifeless and uncomfortable.
In 2017 designers paid special attention toTextile products in the interior of the apartment. Among the huge number of trendy novelties, you are sure to find something that will make your living room stunning!
Smoky curtain: add to your living room lightness
In 2017, the curtains in the living room became light, transparent, airy, weightless, as if woven from the fog.
What used to be the usual tulle is now an independent element of decor.
If your living room catastrophically lacks light - use transparent or translucent fabrics in light colors for window decoration.
And how exciting through these curtains the lights of the evening city break through! ..
LifeFac: Since fabrics like organza or veils require careful treatment, give preference to the ceiling curtain instead of the usual one.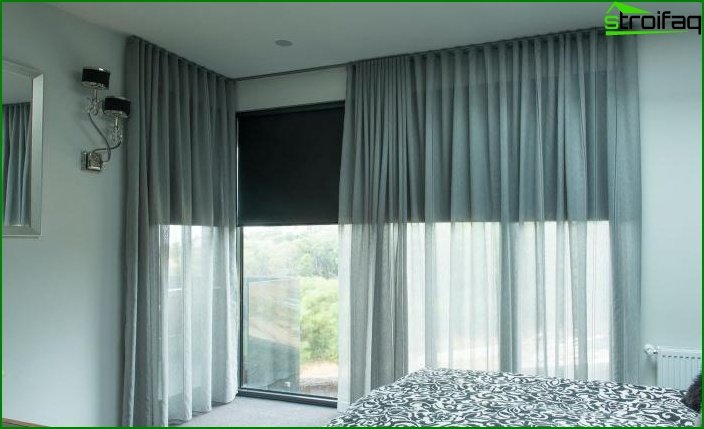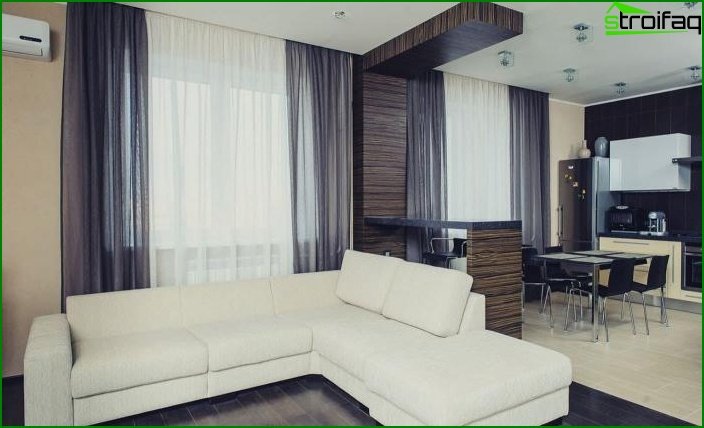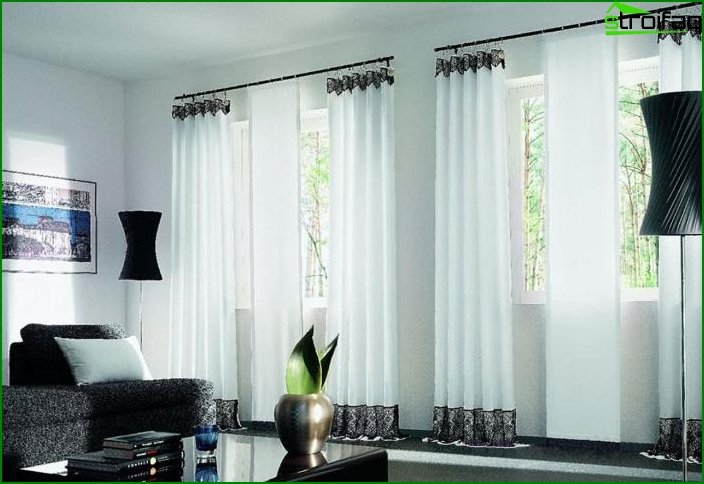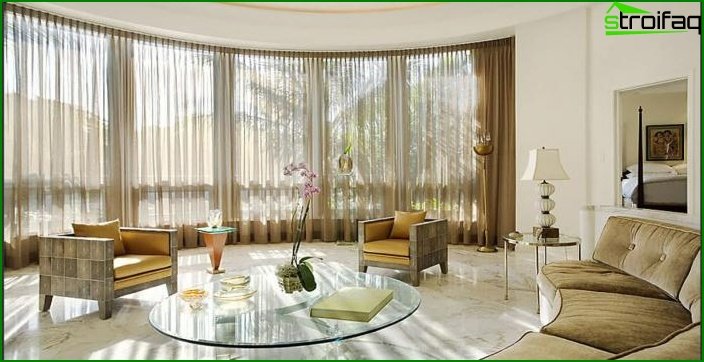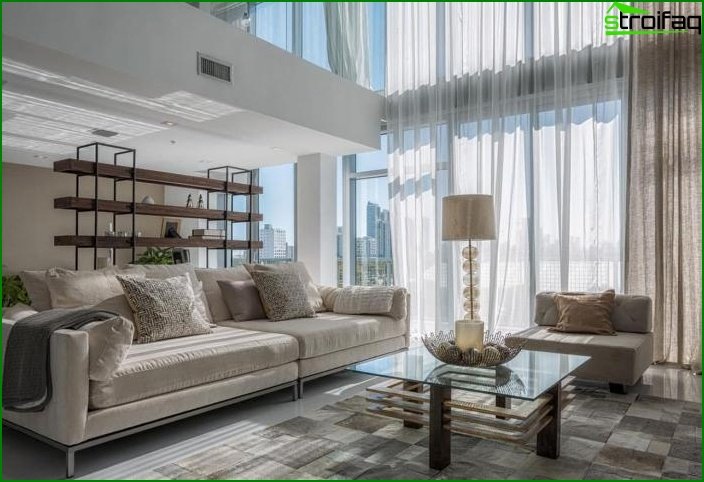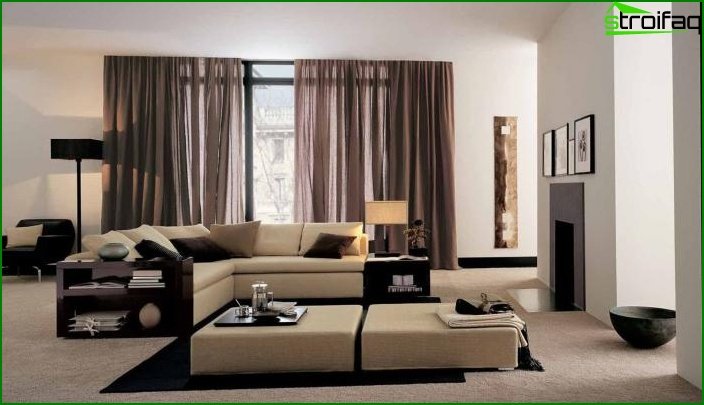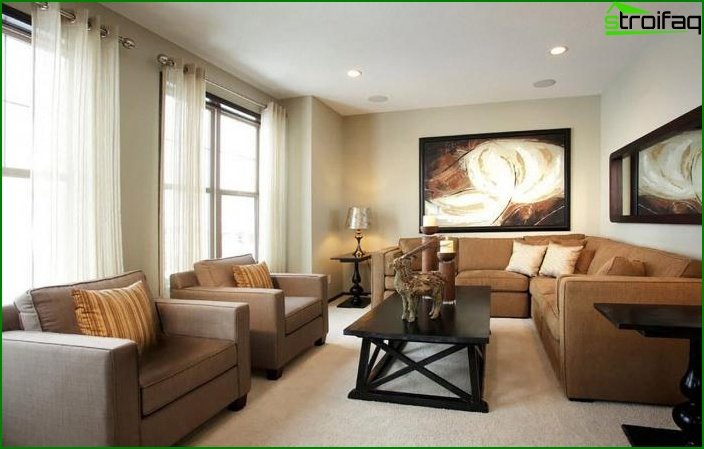 More photo curtains for the kitchen See here.
Stylish curtains with a geometric print - a choice of bold and strong
Saturated and bright geometric prints are a very bold trend of 2017.
Curtains with patterns will become a stylish and catchy accessory in your living room. But such curtains must be without lambrequins!
Especially if it's curtains for a living room with two windows.
Look at the photo ...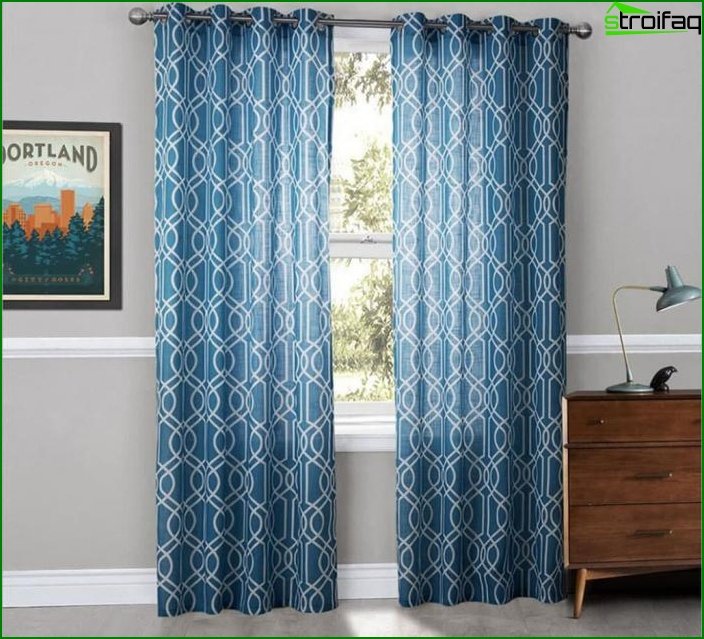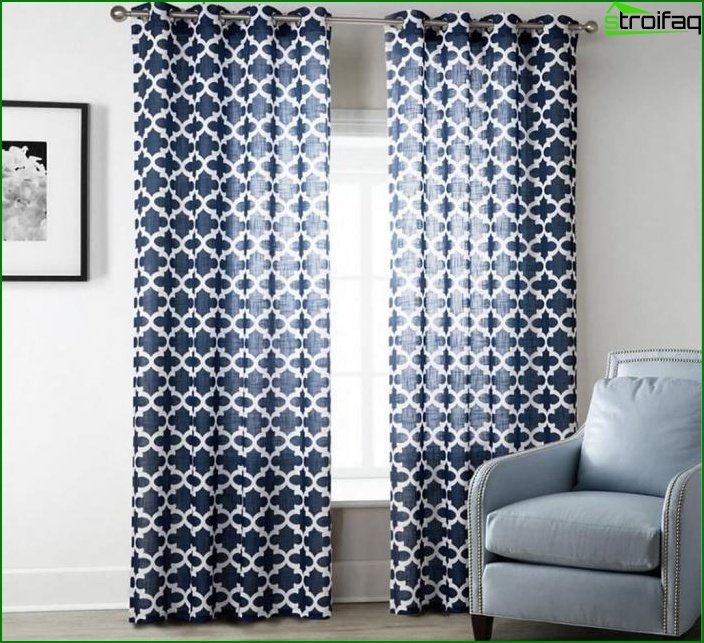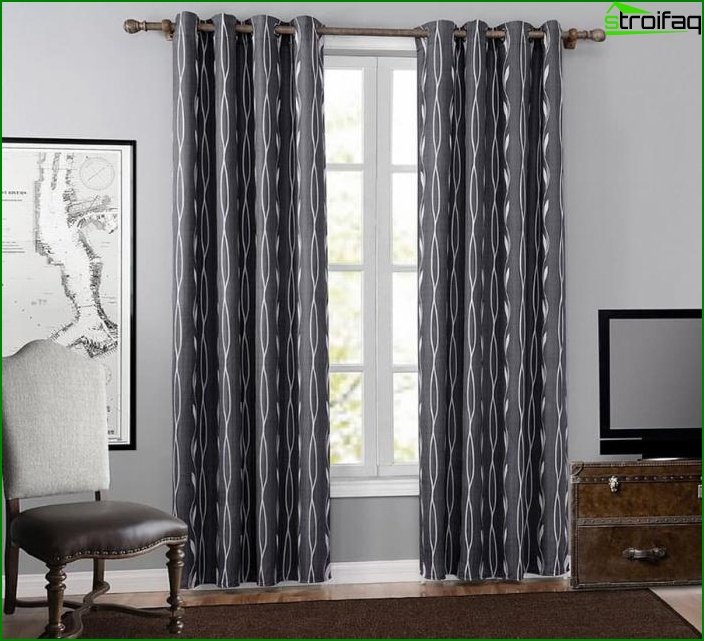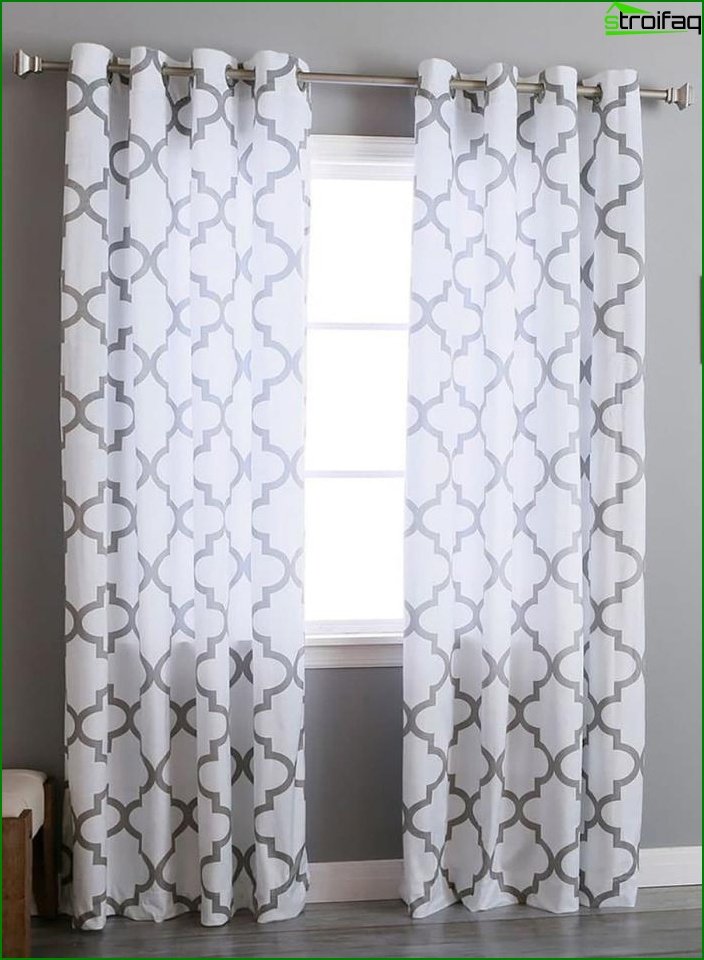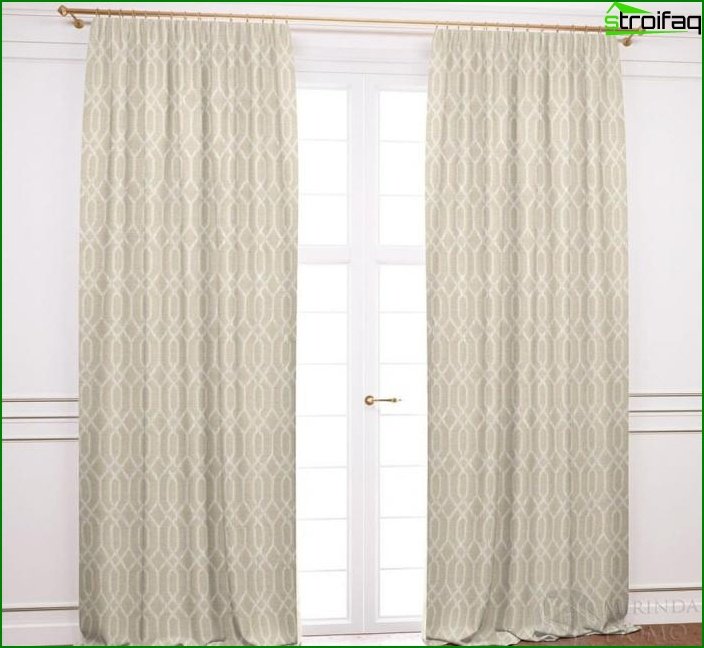 Chains and rings on your window: surprise everyone!
Do you consider curtains made of heavy velvet with a million draperies and ruches long obsolete dust collectors? Use a braided copper net instead!
Or glass beads.
Or letters.
In general, what is more like - then use! Originality is always in fashion.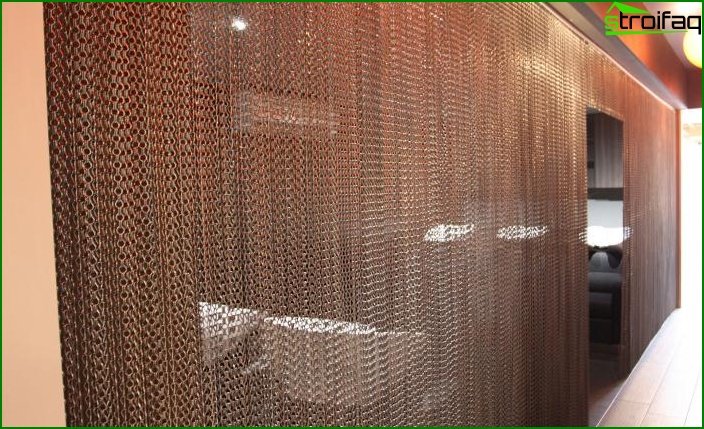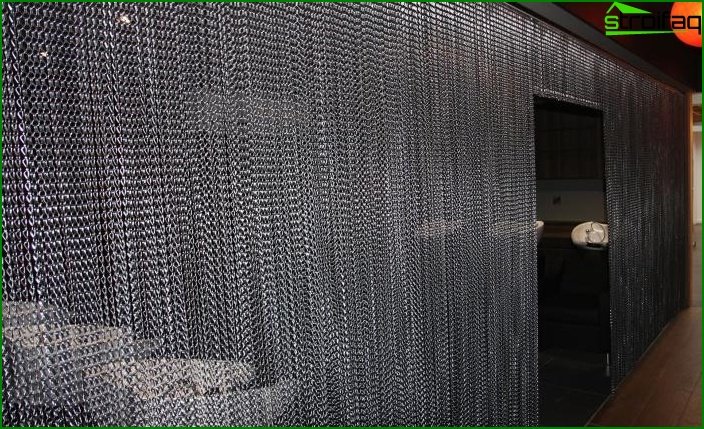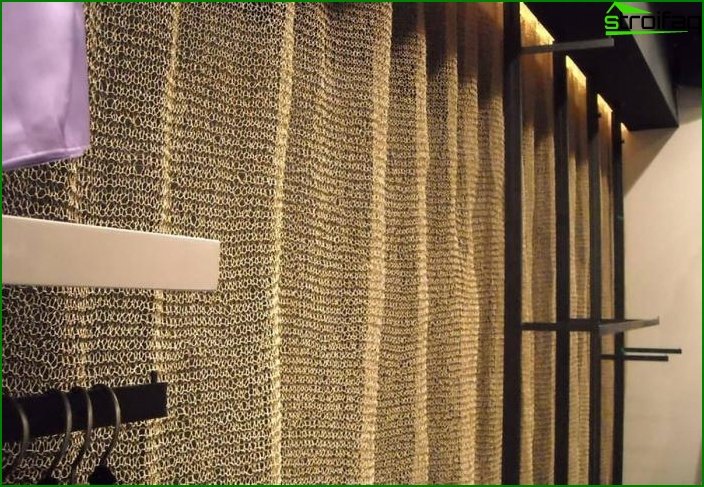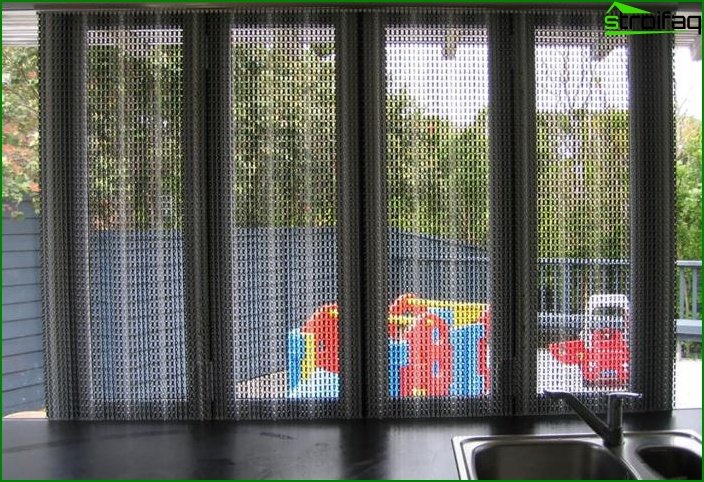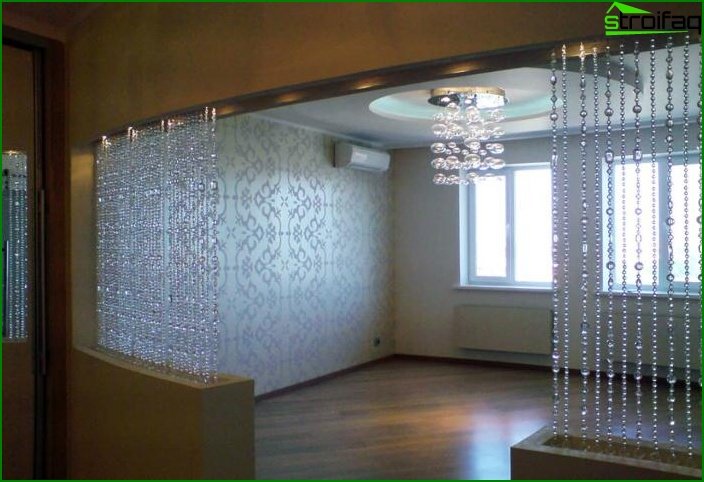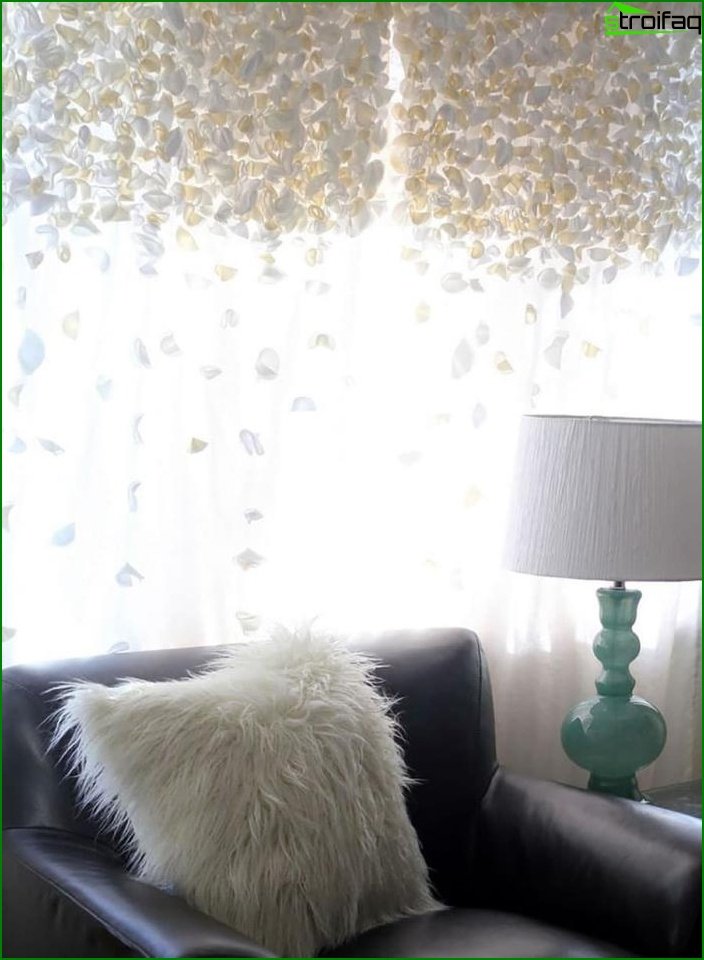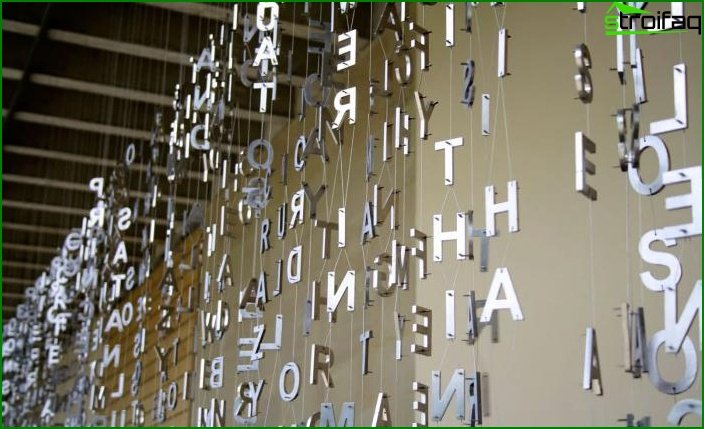 Little light in the living room? Hang the curtains!
A new direction in creating stylish interiors of the apartment is curtains with lighting. Now your window will always be light!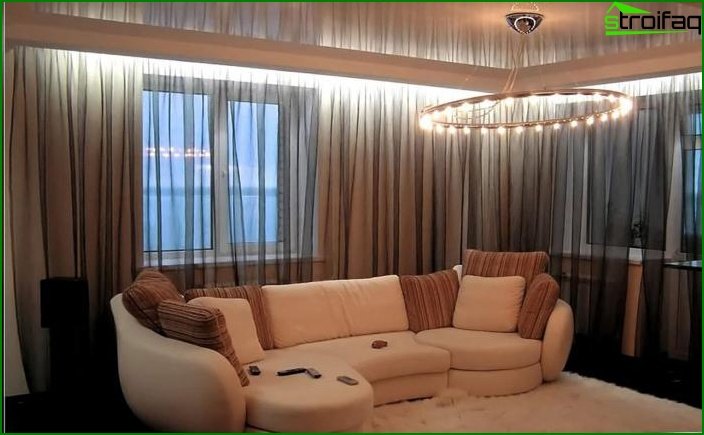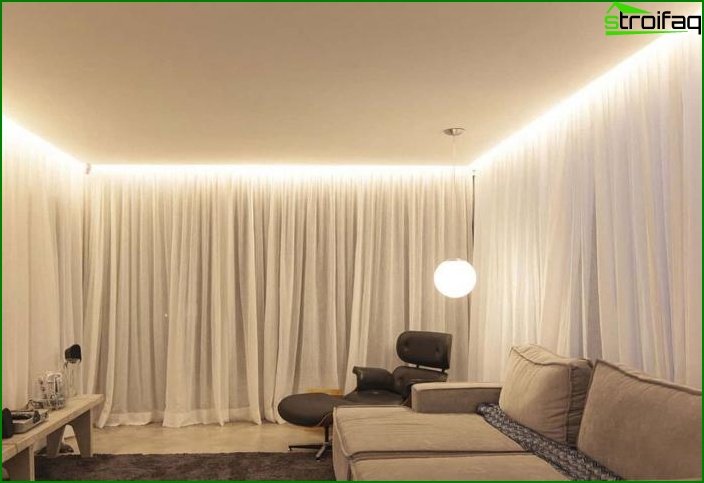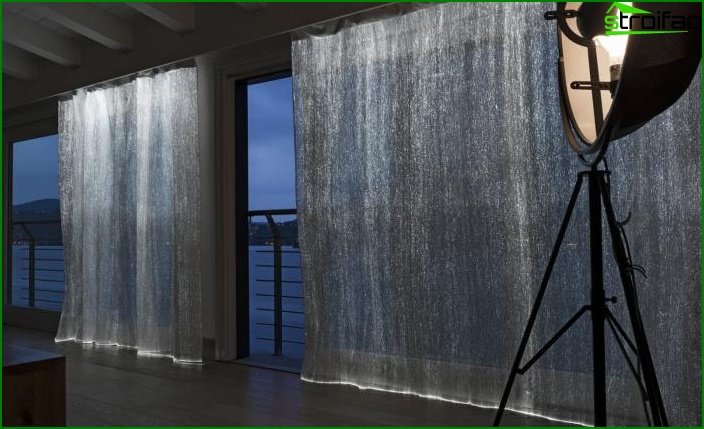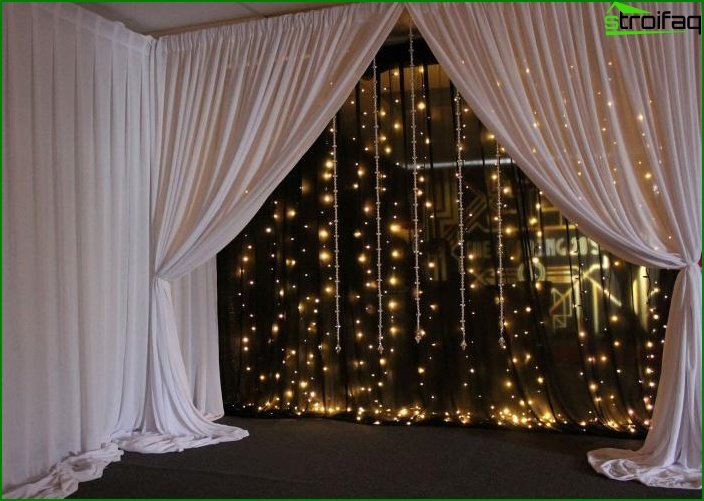 Fire! How the fireplace will transform your living room
The times when the fireplaces heated the rooms irretrievably sunk into oblivion. Like the postulate "fireplace = classic."
Ultra-modern fireplaces tightly occupied their niche in the interior of the living room. And both in a direct and figurative sense.
Do you want to impress your guests? Install the fireplace in the wall recess or use it as an element of the zoning space. The admiration and success of your living room are guaranteed!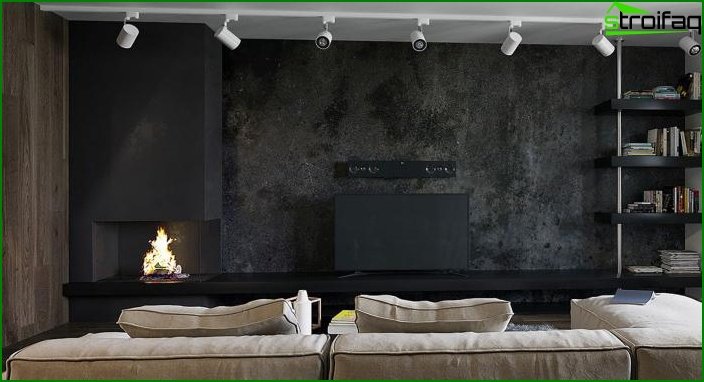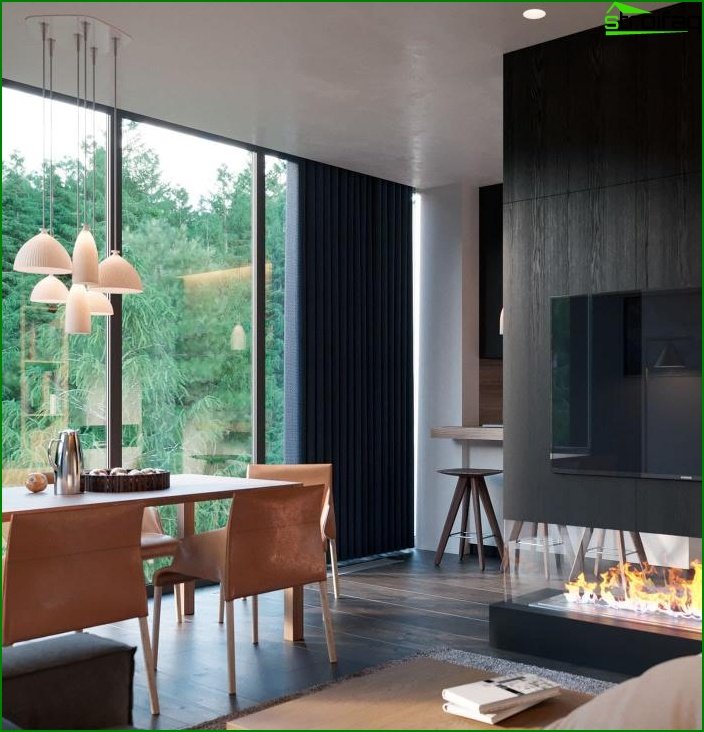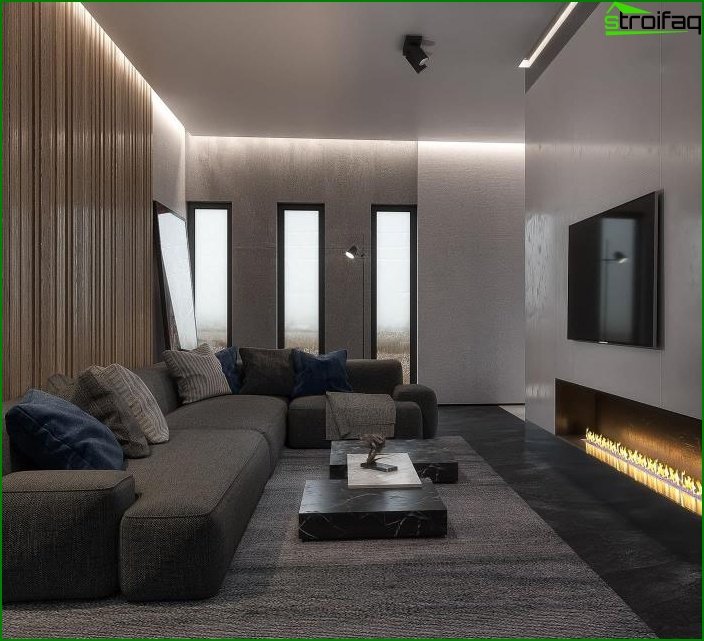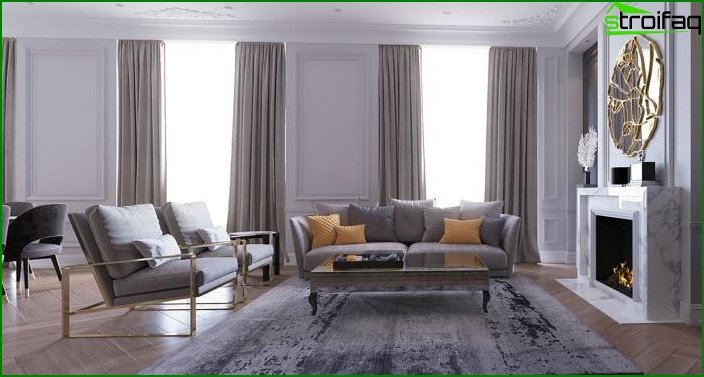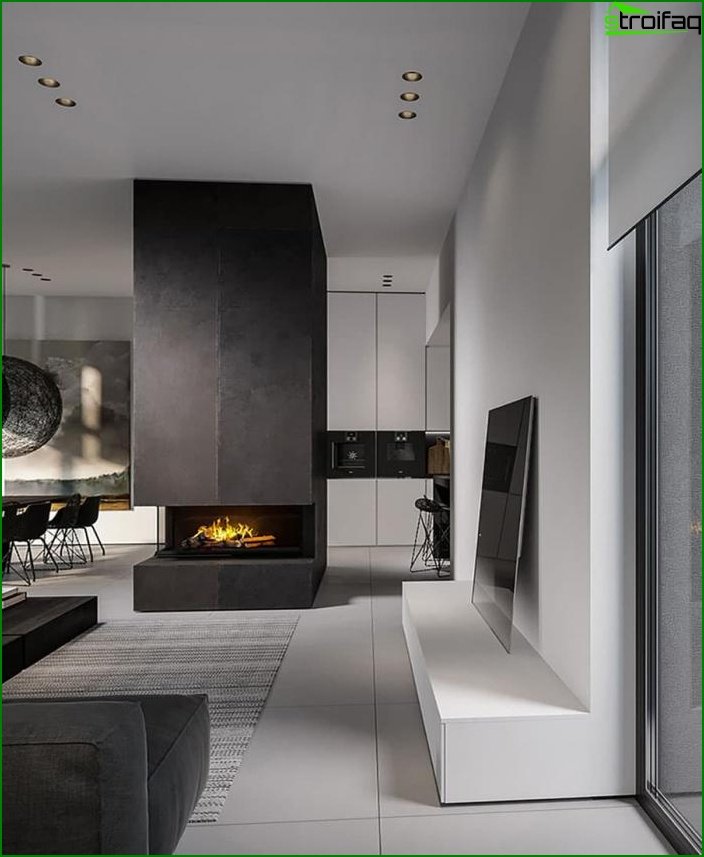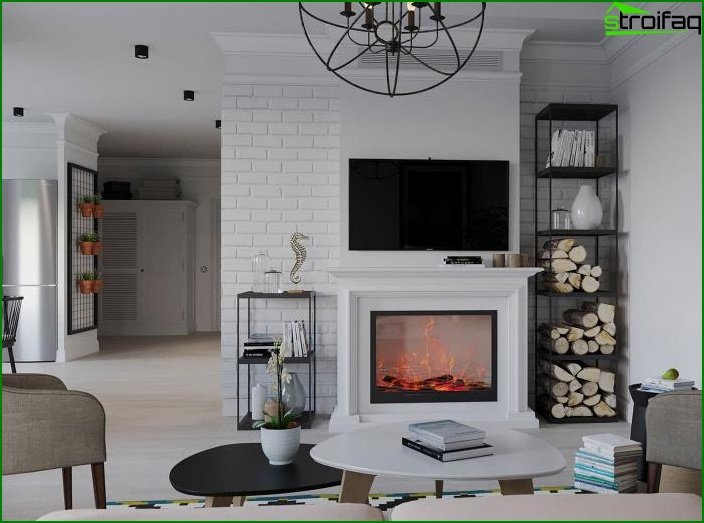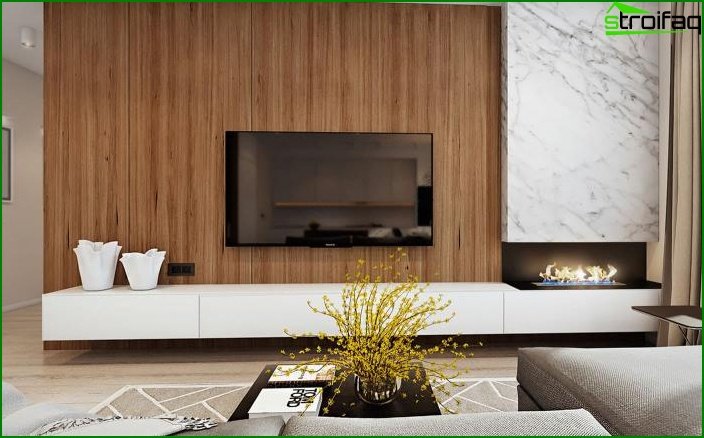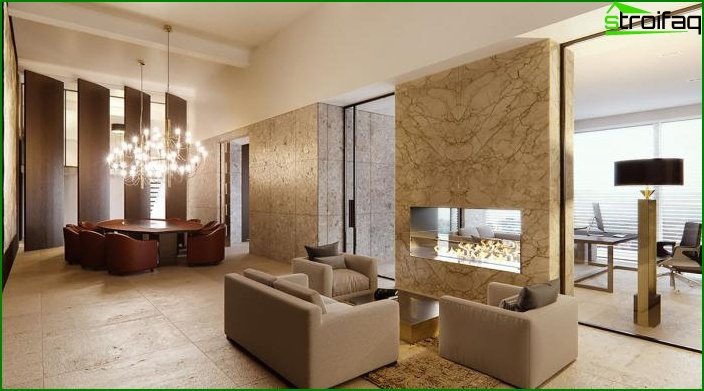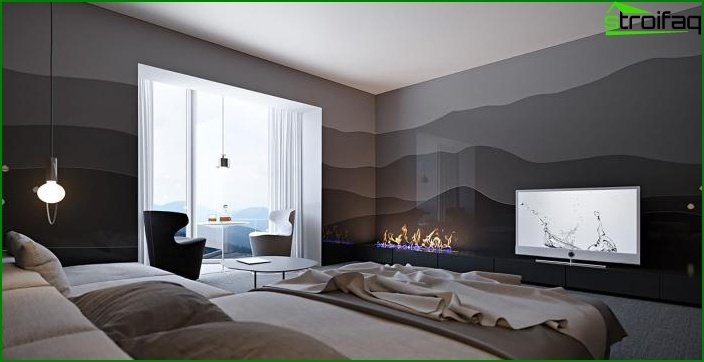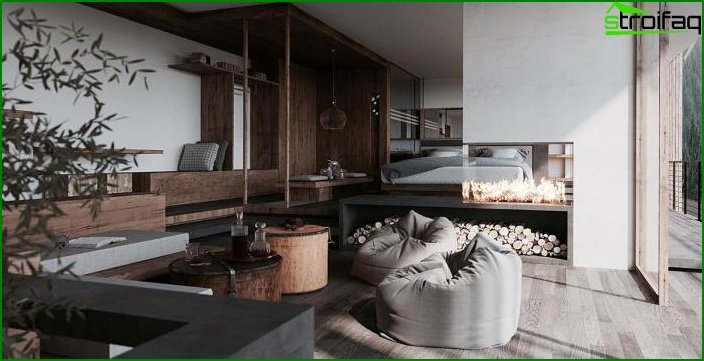 Wall decoration in the living room in 2017: novelties and trends
Traditional wallpaper of non-traditional flowers
Two colors wallpapers
The most Trendy wallpaper in 2017 - it's black and white. It's dynamic, it's stylish, it's defiant.
But two-tone wallpaper does not have to be contrasting colors, they can combine two related colors. Such wallpaper will look more balanced, but still unusual.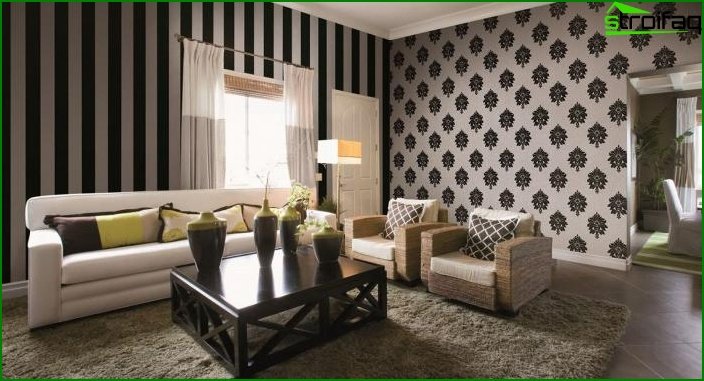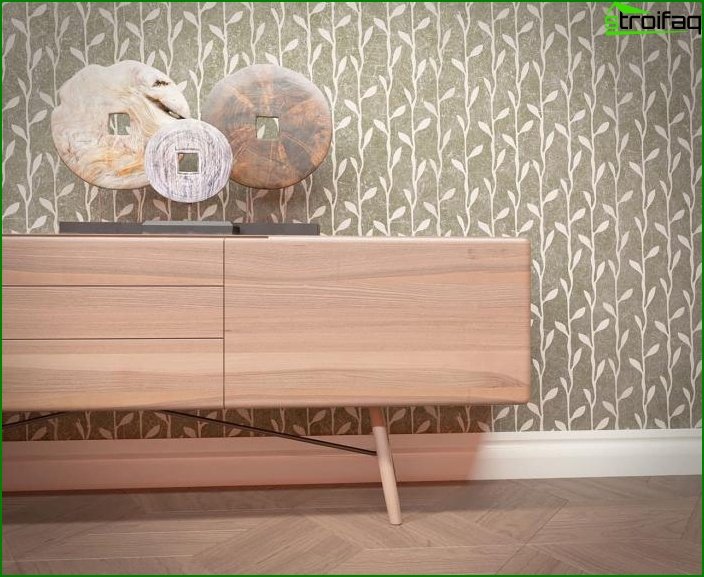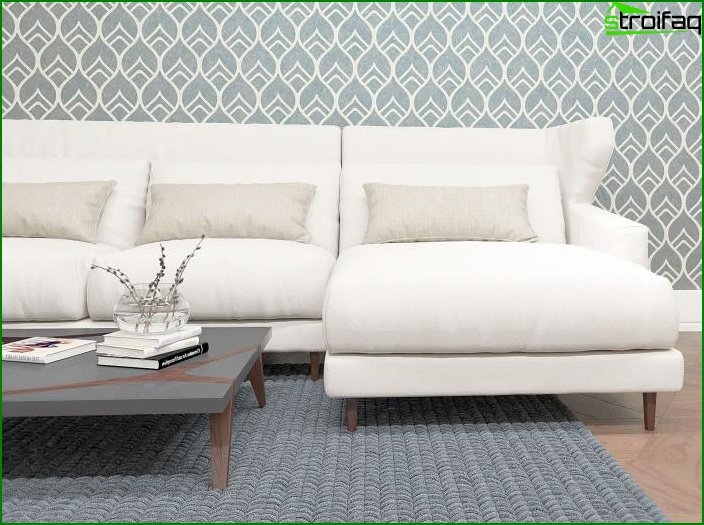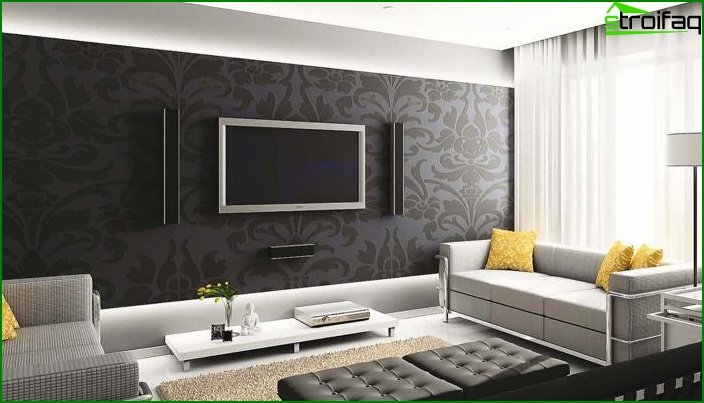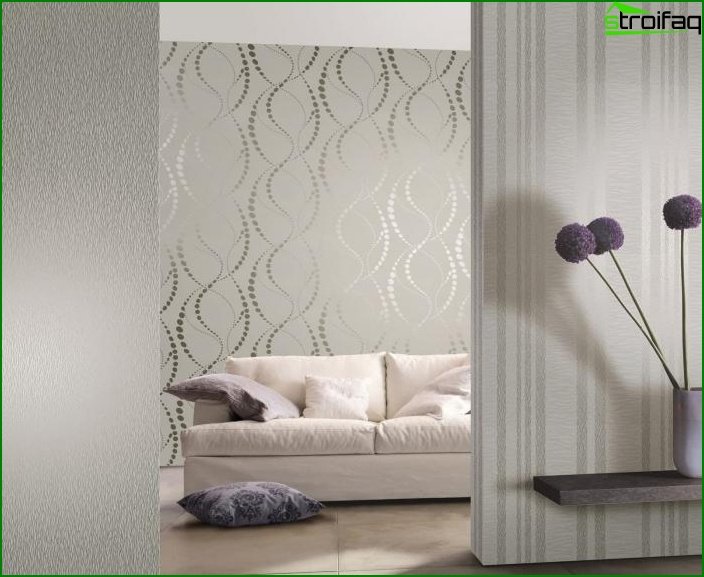 Black nights
In place of absolute white came a black color.
Black wallpapers look very exotic for our apartments.
If you are not sure of your decision to make a living room entirely in black - use a combination of wallpaper.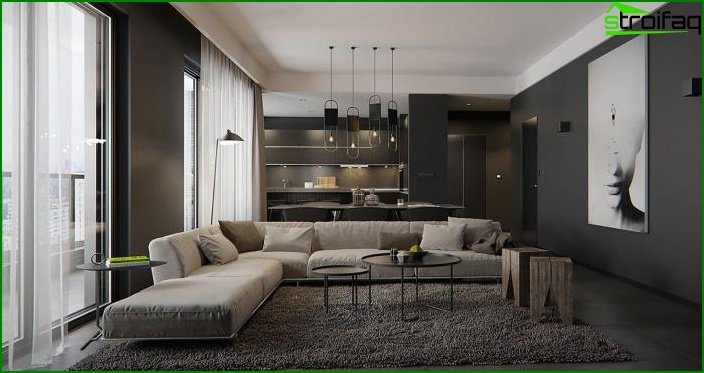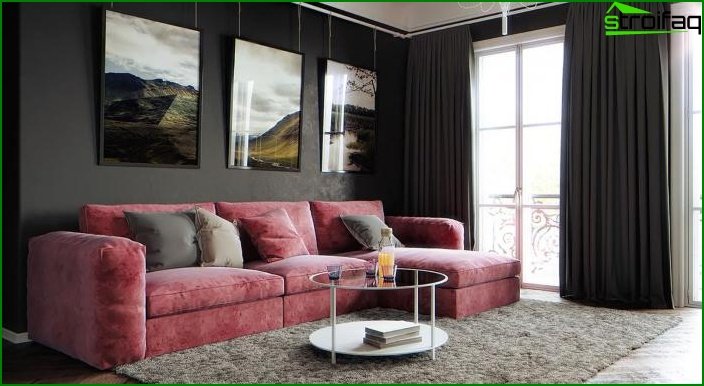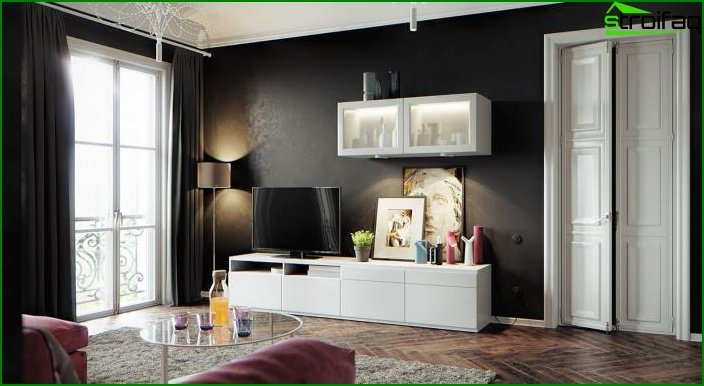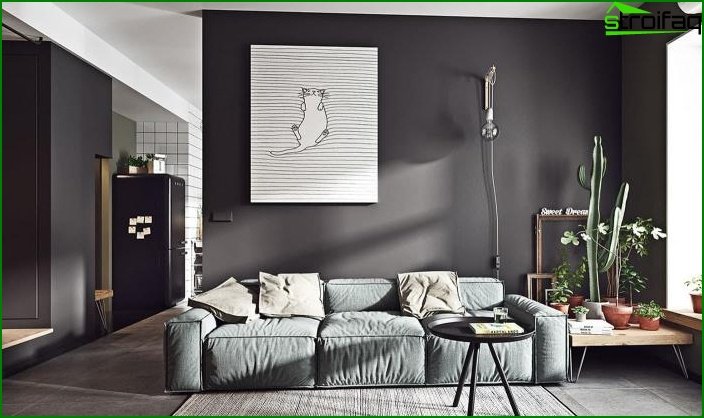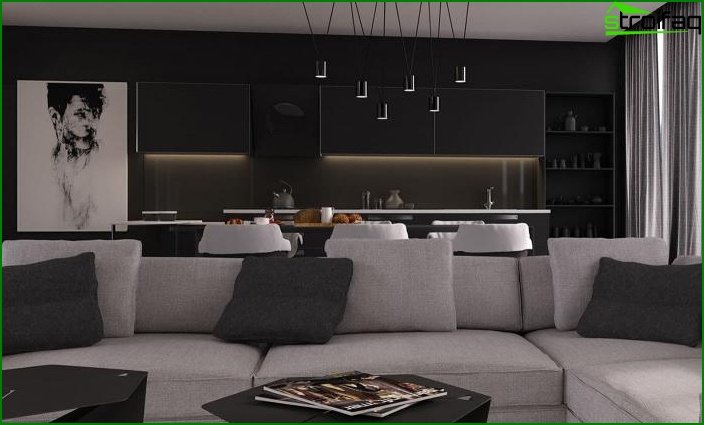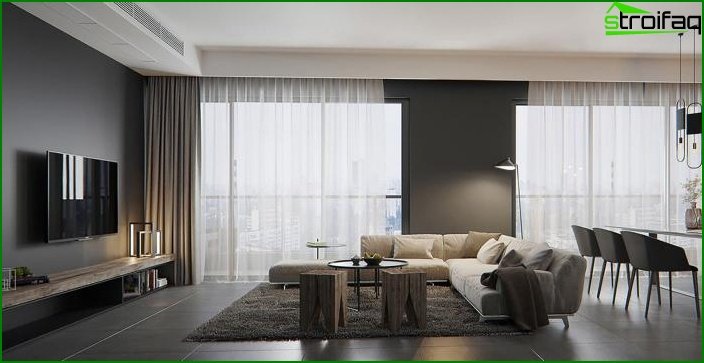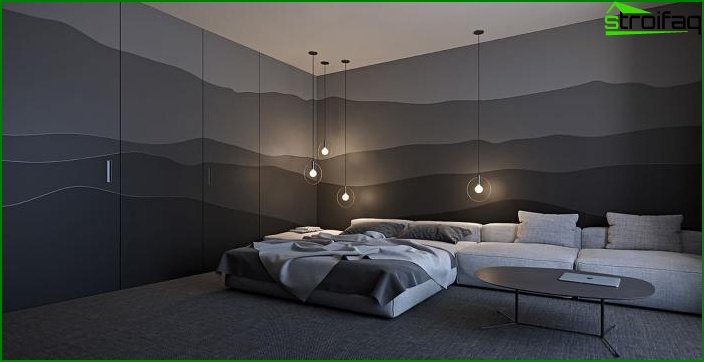 Strict Geometry
Geometric prints are reflected not only in textiles, but also in wallpaper.
The wallpaper with geometric patterns can be bright and saturated, and can be very discreet shades.
Which ones to choose depends on what kind of result you expect.
In the interior of a small living room, large and catchy ornaments will squeeze the space. But in a spacious room they will look very profitable.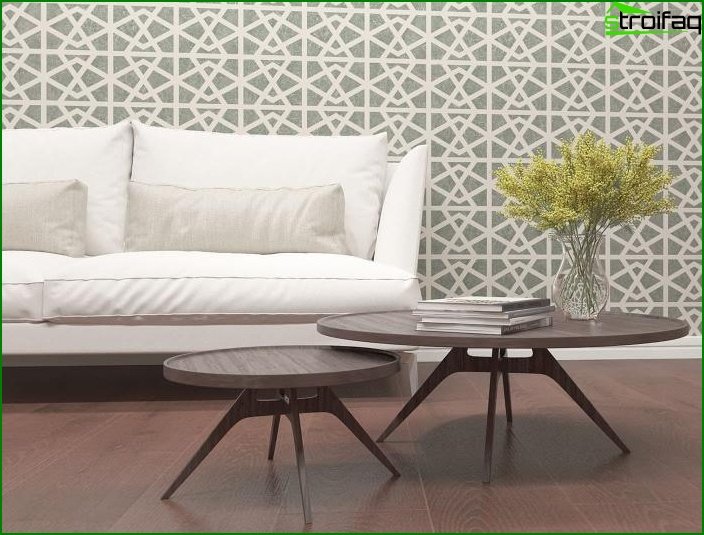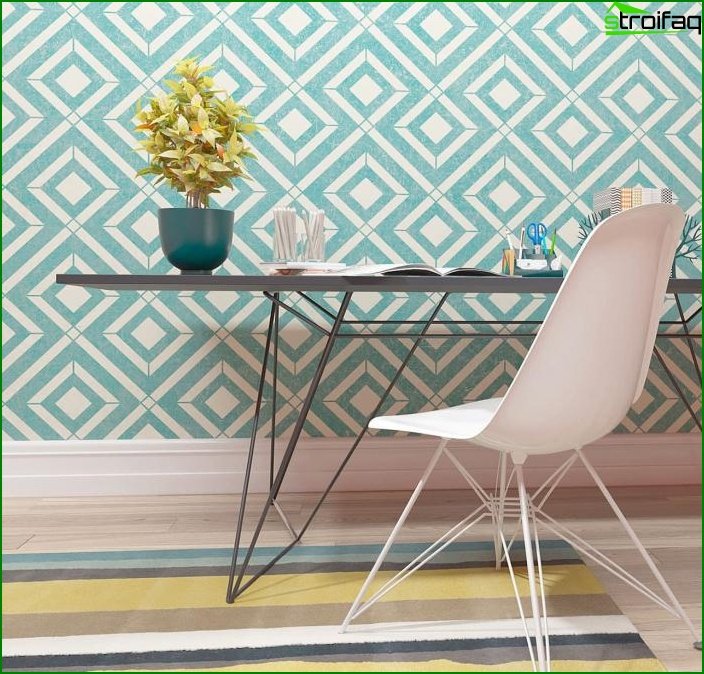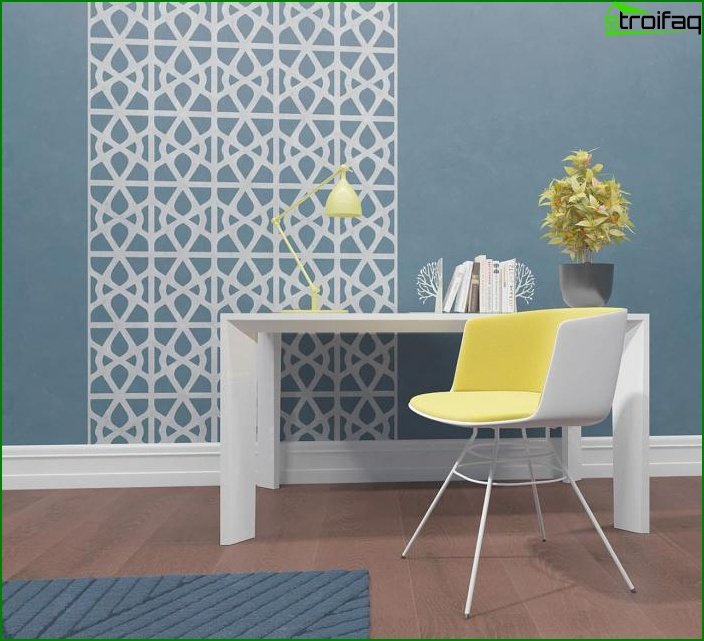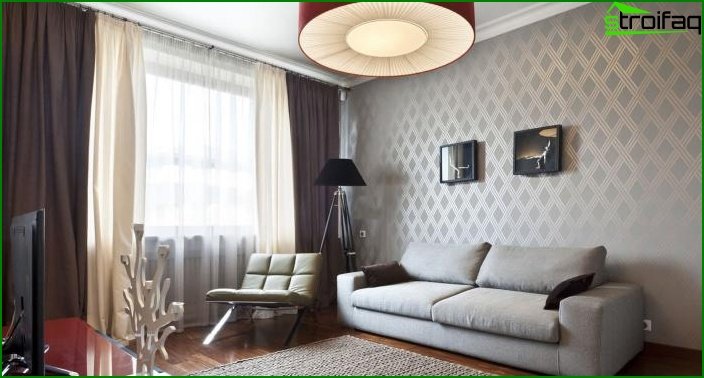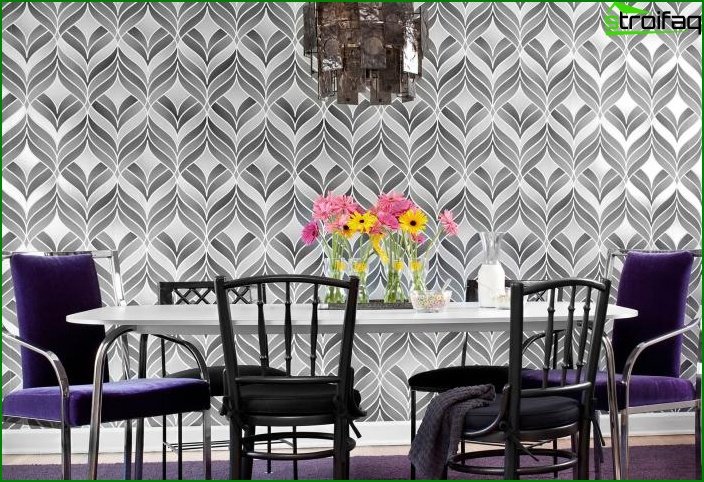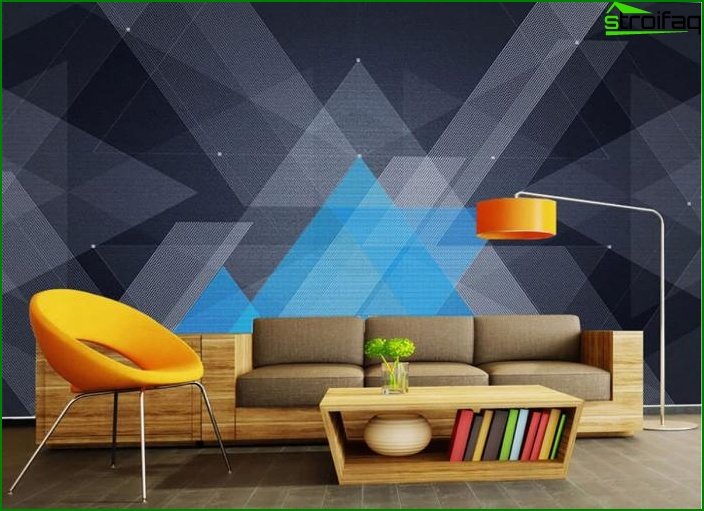 Decorative panels
In 2017, not the color solutions for the living room, but the textural ones, came to the fore.
If you want your guest room to look as interesting as possible - use decorative panels to decorate the walls.
Brick masonry will fit perfectly into the loft style. In addition, the color of unbaked clay is included in the TOP-10 fashion shades of this season.
Very cool will look panels made of natural stone or wood. Here the main secret trending - as little as possible processing. The more naturally the material looks, the better.
With the help of decorative panels you can draw up individual zones in your living room.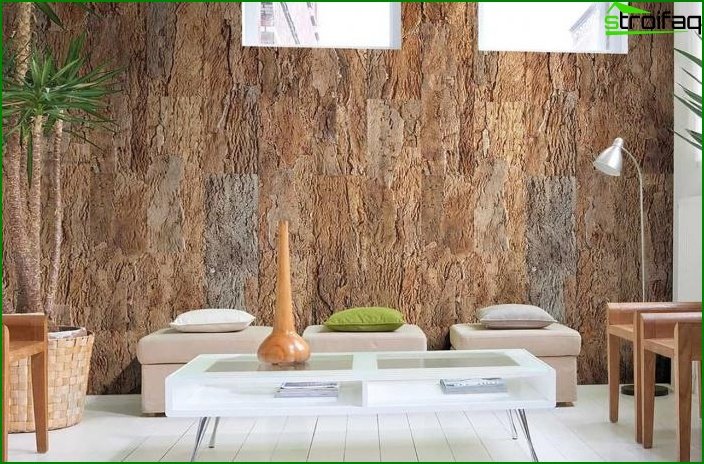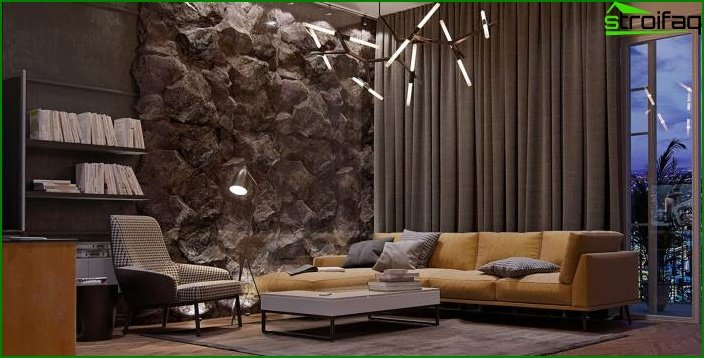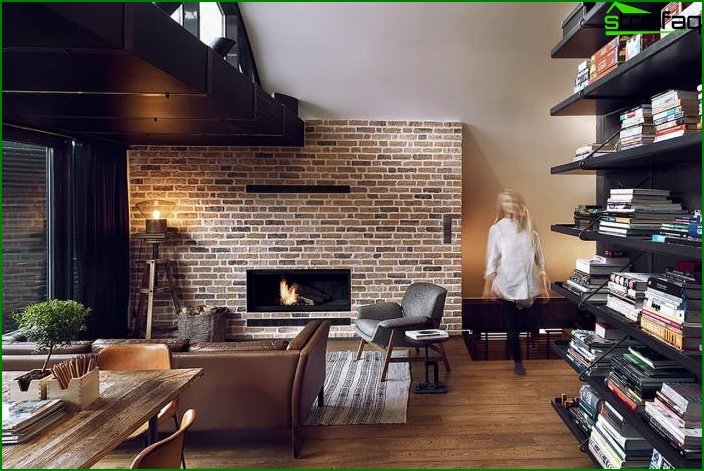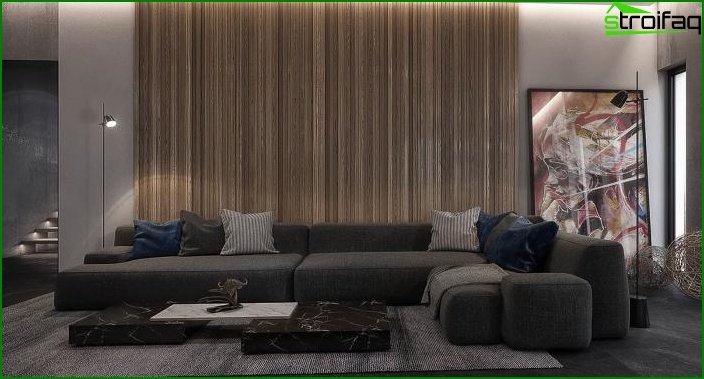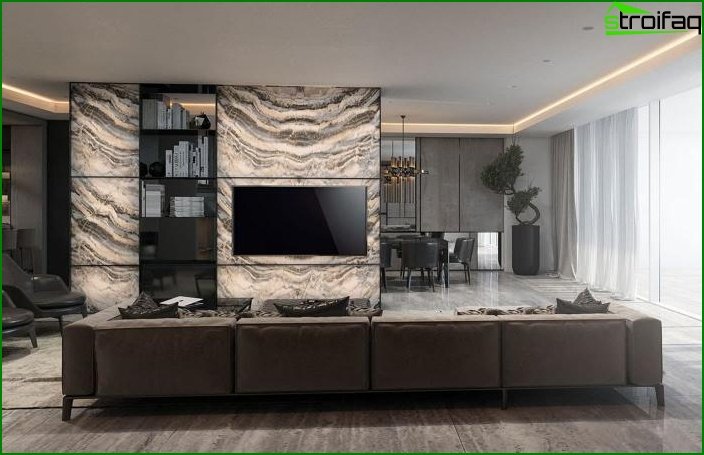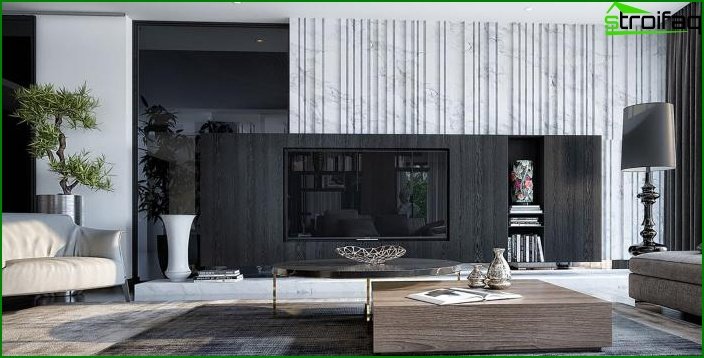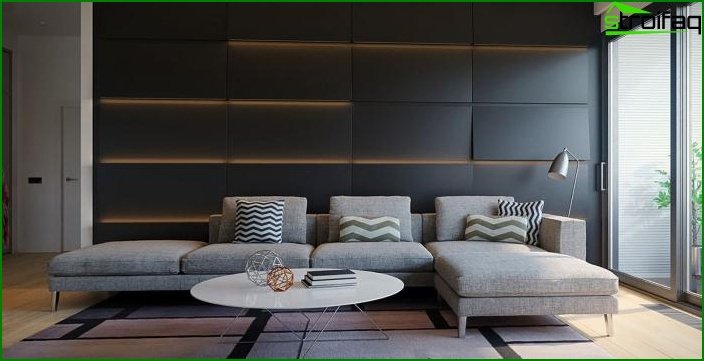 Solutions with putty
The surest way to show your creative nature when creating a living room interior is to use decorative shpaklevku for decoration of walls.
This material allows even in the most inexpressive room to create real masterpieces.
Whether it's modern or the style of Empire, Ethnic or hi-tech - absolutely for each of them there is an idea that can be realized with the help of decorative putty.
There are a lot of ways to work with it, but in this case it is better to trust professionals. So you are guaranteed to be delighted with the result.
And remember: everything is good in moderation! Of the four walls masterpiece should be one, the rest - it is beneficial to emphasize it.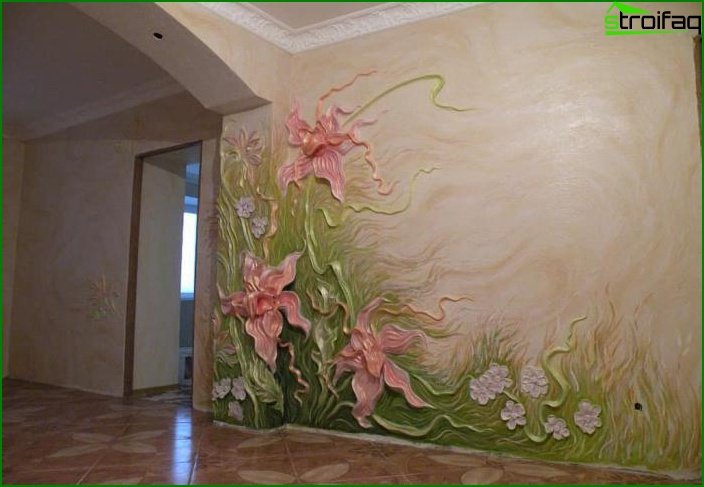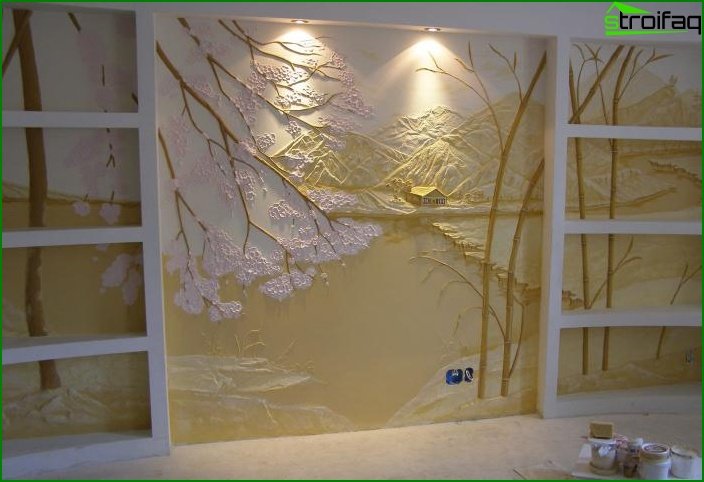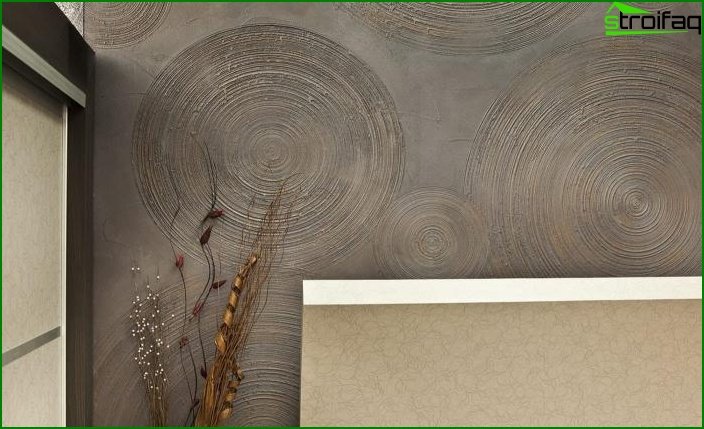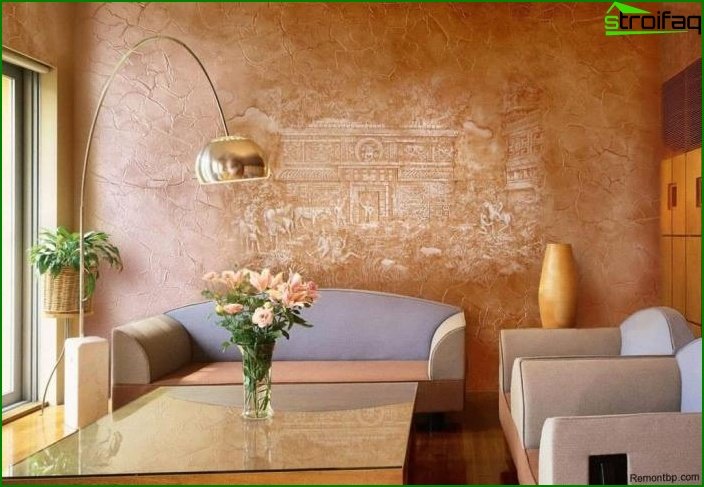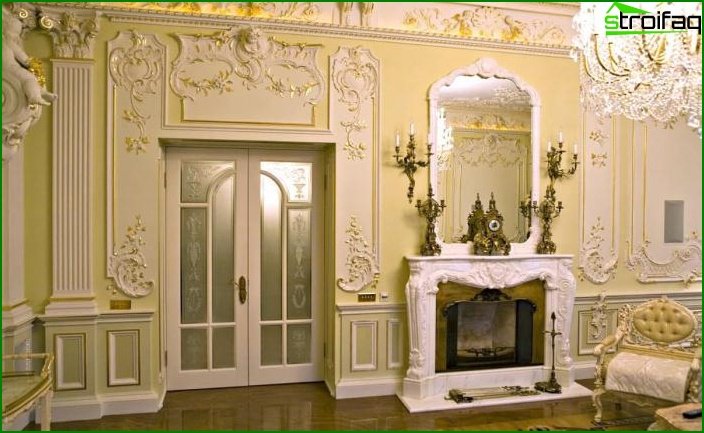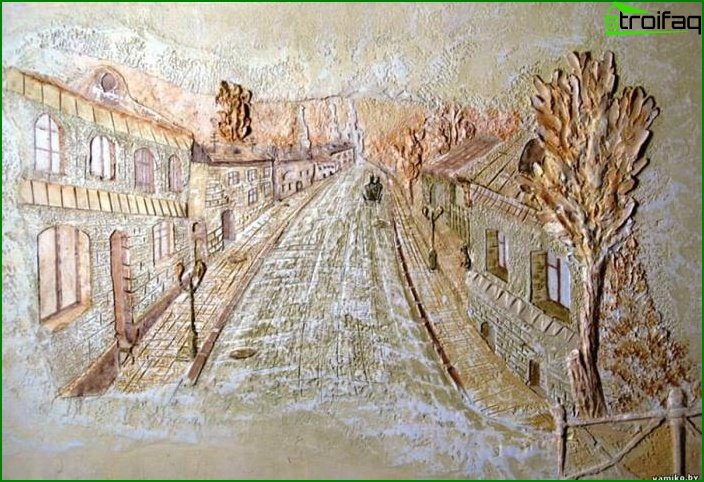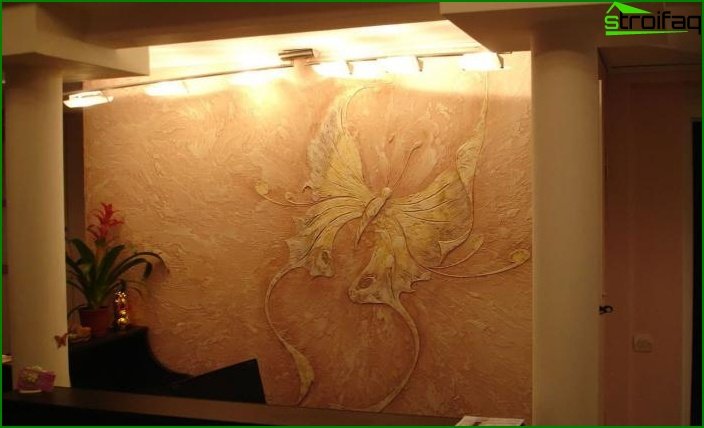 Secrets of decorating living rooms of different types
Small living room (up to 18 square meters)
Making a small living room is not an easy task. Always.
After all, I want everything to be functional, but at the same time cozy and beautiful, stylish and impressive.
Traditionally, small living rooms are executed in bright colors, but in 2017 designers suggest solving the problem of a close space with the help of an abundance of mirrors.
Design a small room with modular living rooms - so you will have the opportunity not only to select the elements that you really need, but also to place and at your discretion.
Decorative accessories in the living room up to 20 square meters are best kept to a minimum. But to choose beautiful curtains is important.
And in any case, do not overload the ceiling of a small living room with multi-level structures!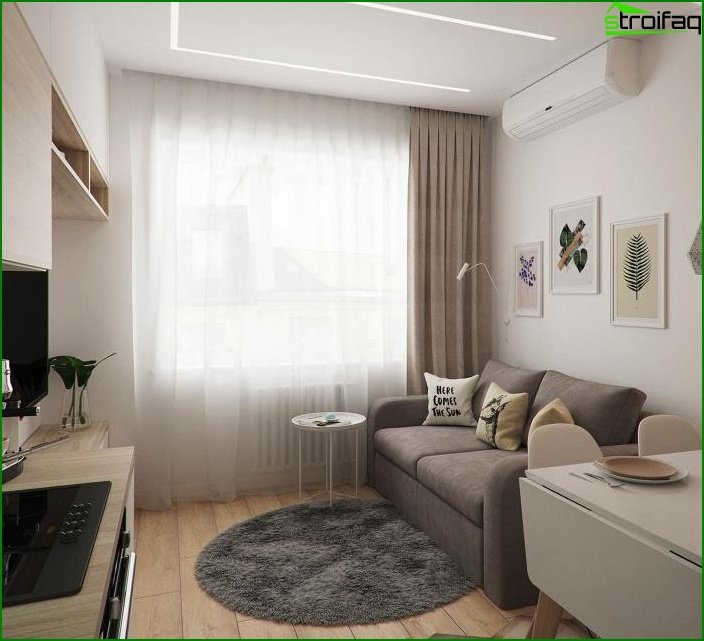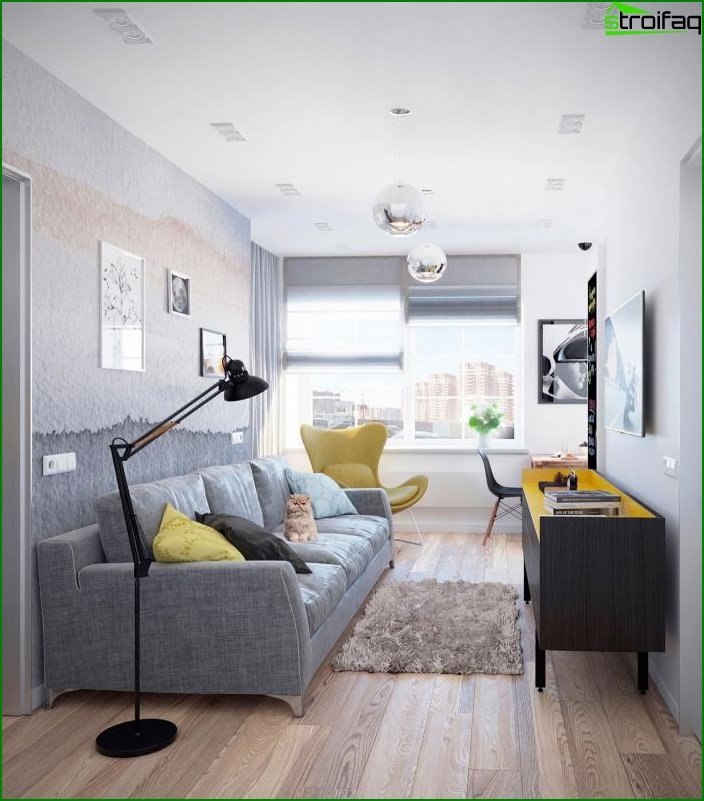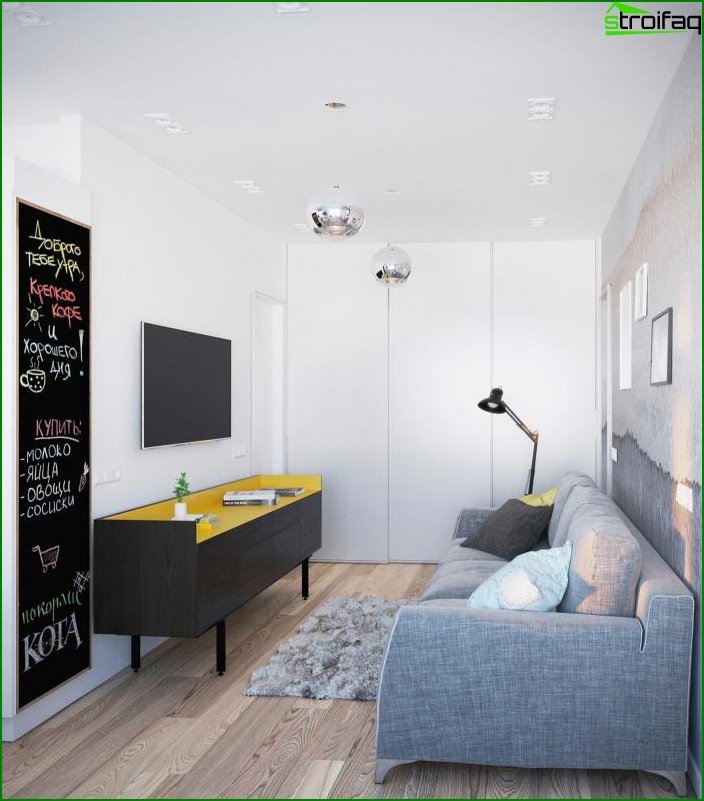 Large living room (20 and more square meters)
A spacious guest room is the dream of any mistress!
But to make it refined and beautiful you will need no less skill than with the design of a small living room.
When creating an interior spacious living room you can use 2-3 sofas or one corner. Large ornaments will look good.
Pay special attention to lighting: since the area of ​​the room is large, one ceiling chandelier will not be enough, you will definitely need local lighting in different parts of the living room.
Stunningly stylish look in a spacious guest room multi-level stretch ceilings.
For the floor of a large living room, use carpeting. But try not to choose the wall-to-wall carpets - better one or two small carpets in the center of the room.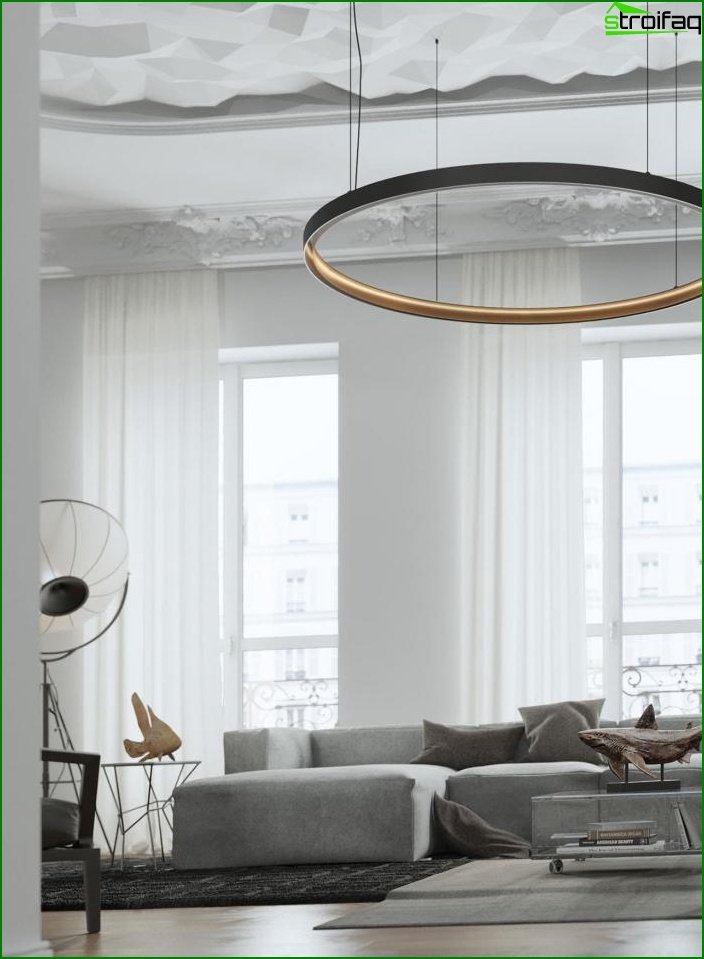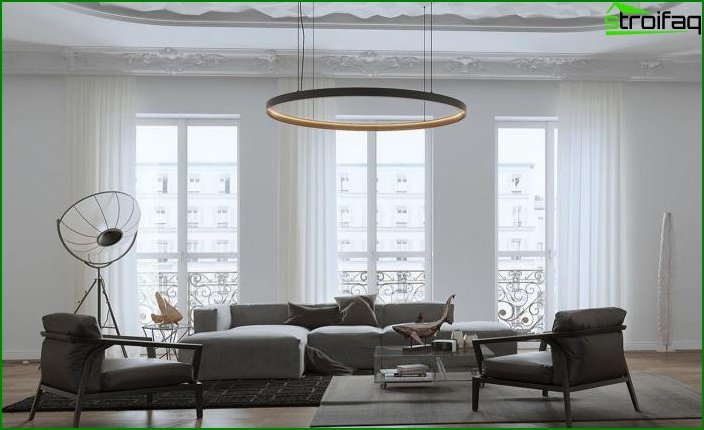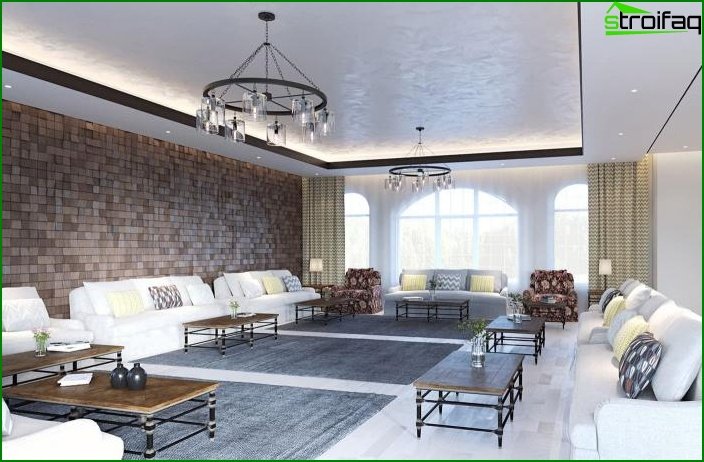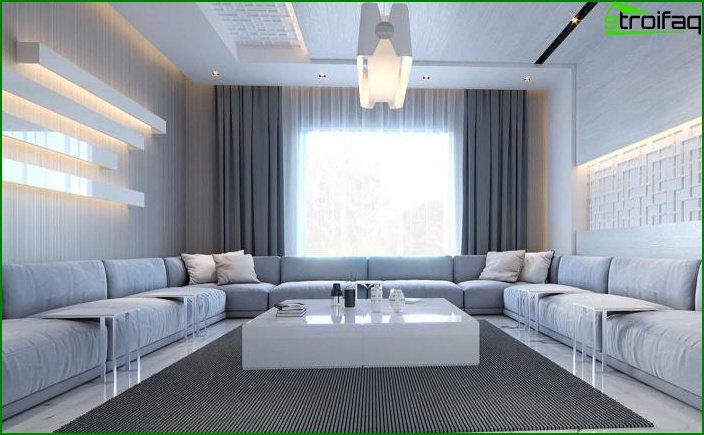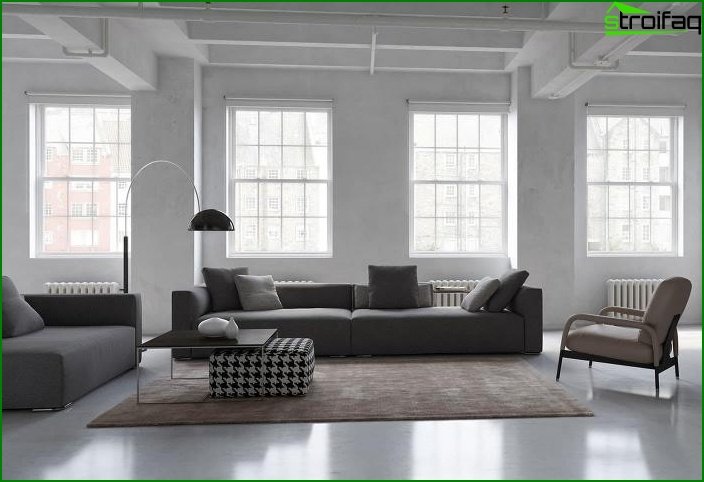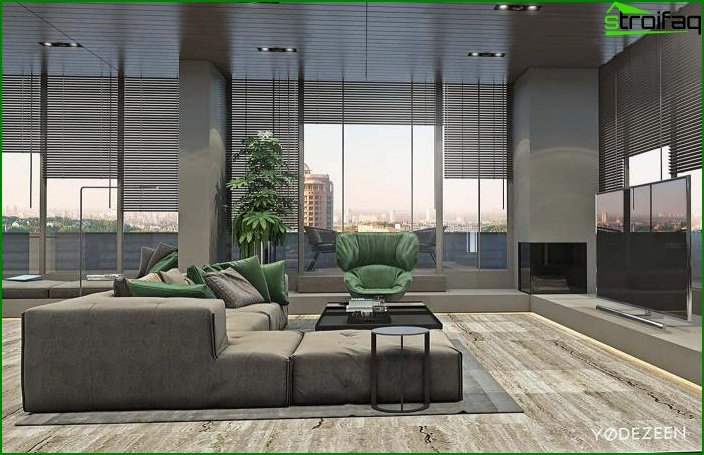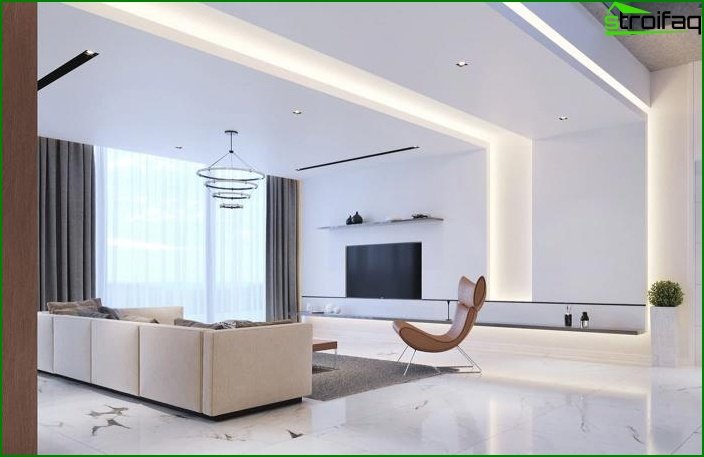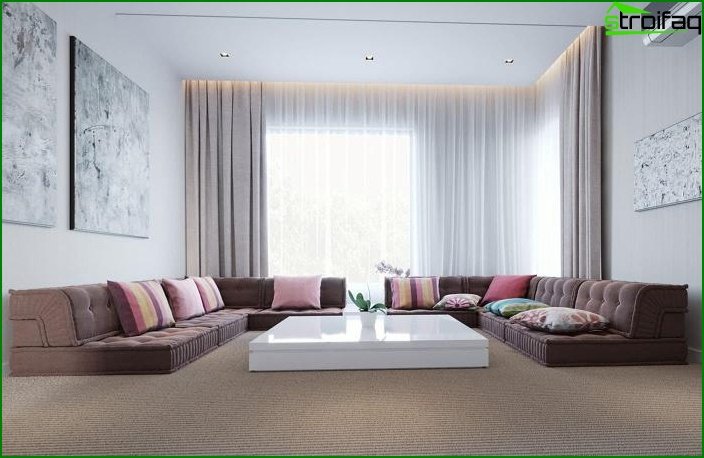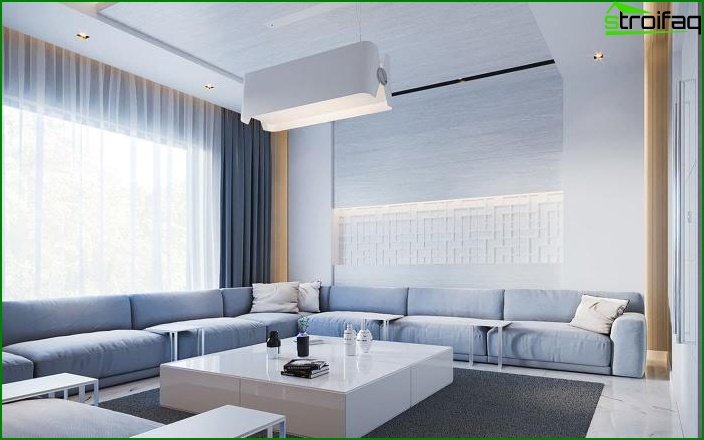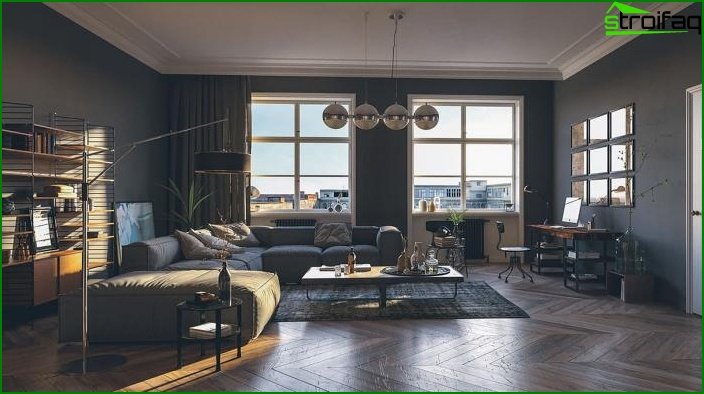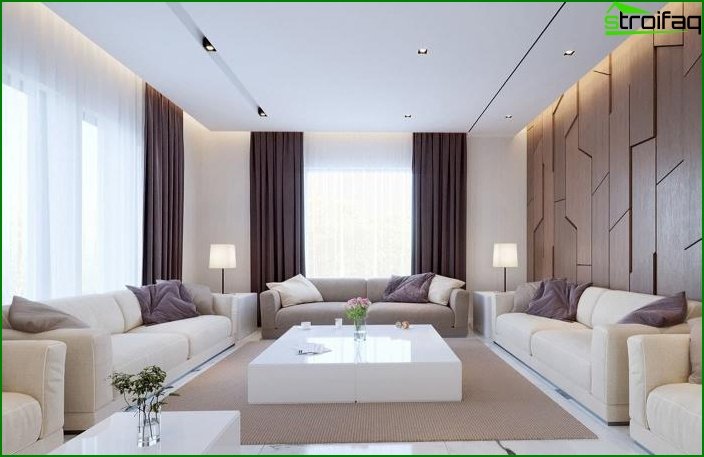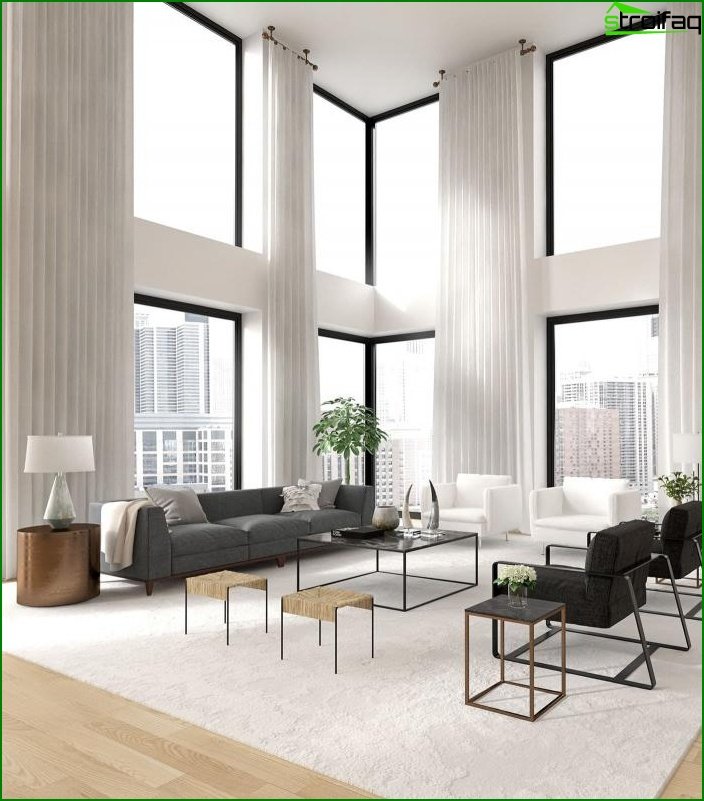 Living room-kitchen
The layout of the apartment, when the living room is combined with the kitchen - is not uncommon today. Therefore, the options for its design in the global interior design industry is presented today a great many.
In 2017, the main trend of creating the interior of the united rooms were decorative partitions: glass, metal, wood, and even brickwork.
First of all, they will help to separate your reception area from noise and smells from the cooking area.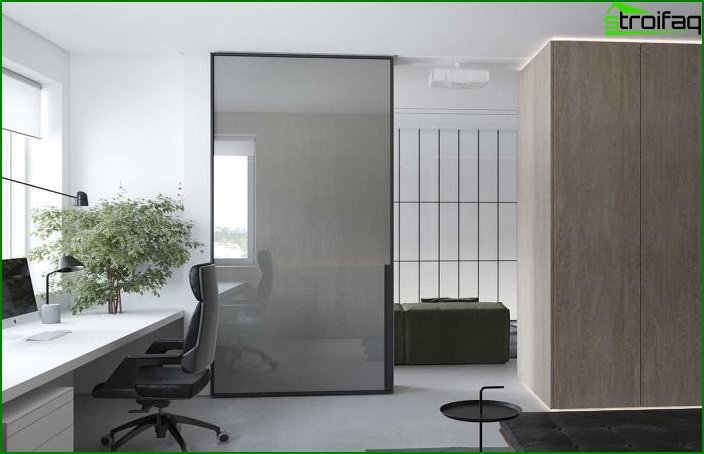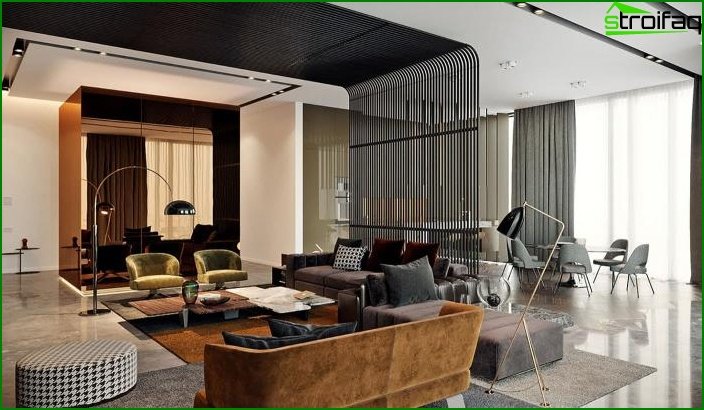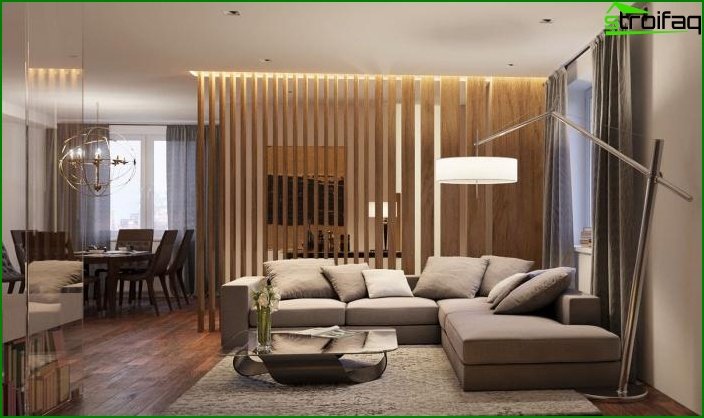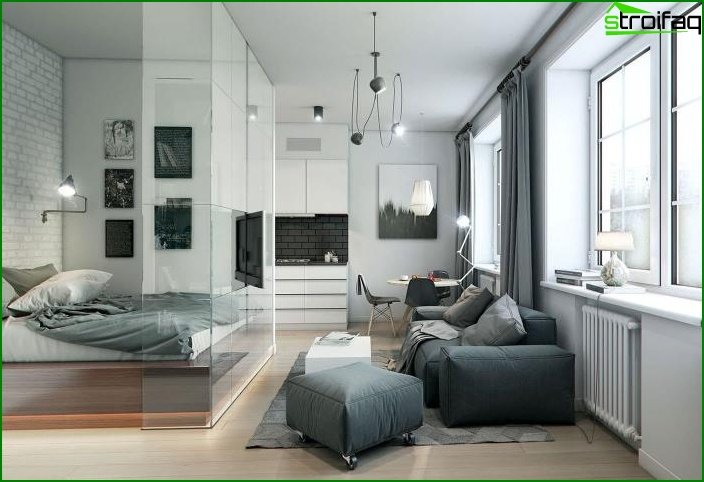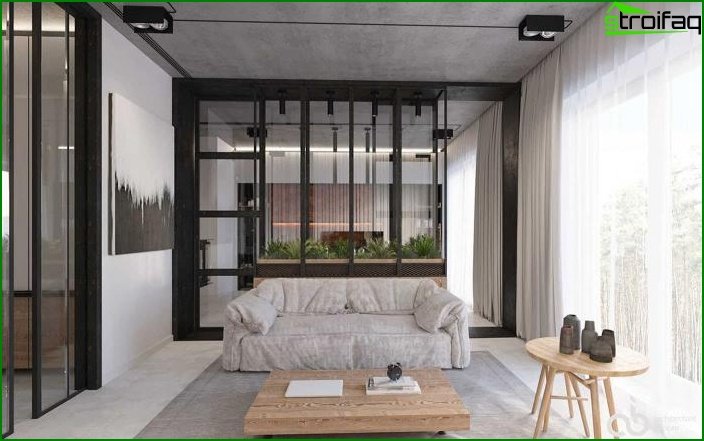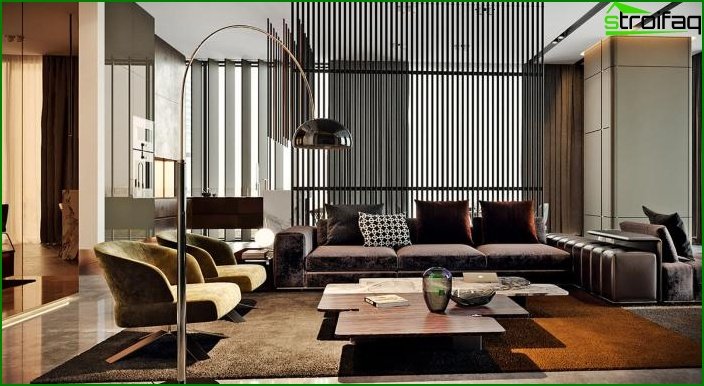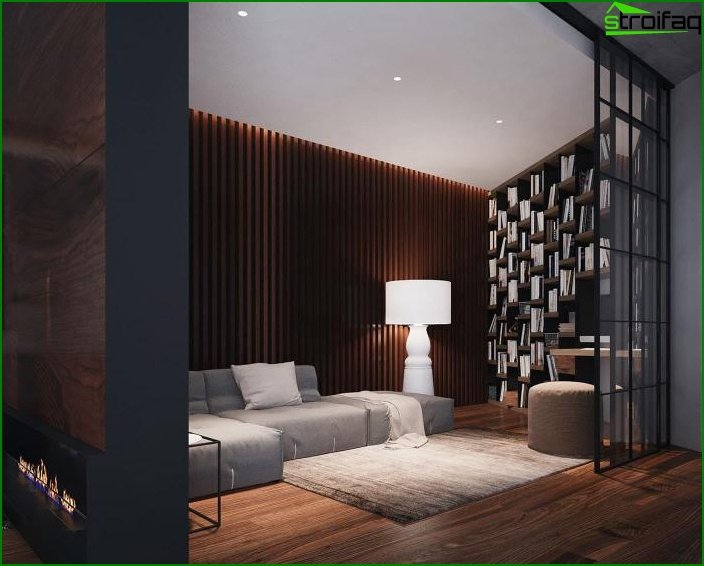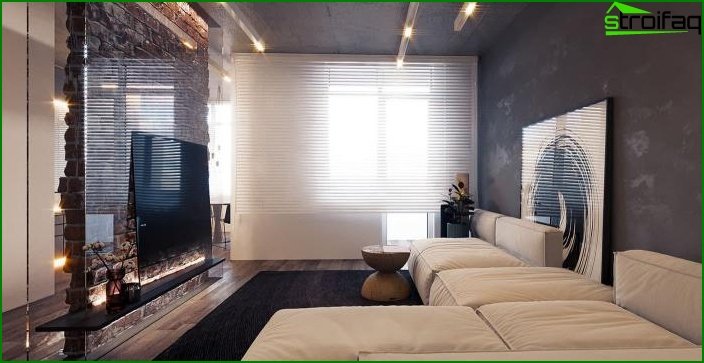 Living-bedroom
The main task that is worth while creating the interior design of the bedroom living room is that in the daytime the room should look neat and tidy, and at night - cozy and even intimate.
How to achieve this effect? With the help of ultra-modern designs of sofas-transformers!
Today you can find a sofa bed for every taste: it can fall from the wall or leave a niche hidden in the wall - choose depending on the layout and capabilities of your room.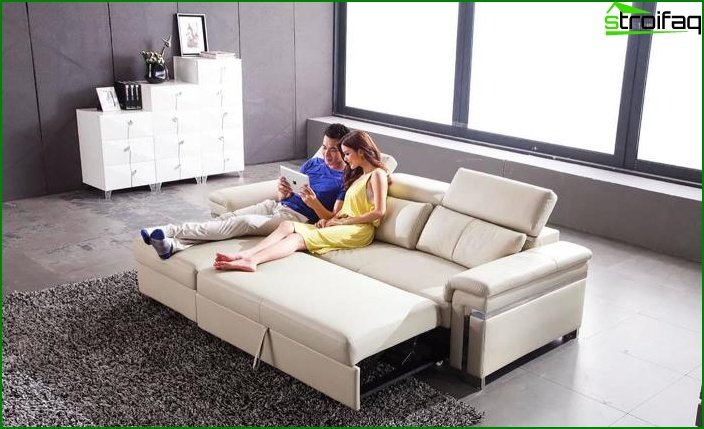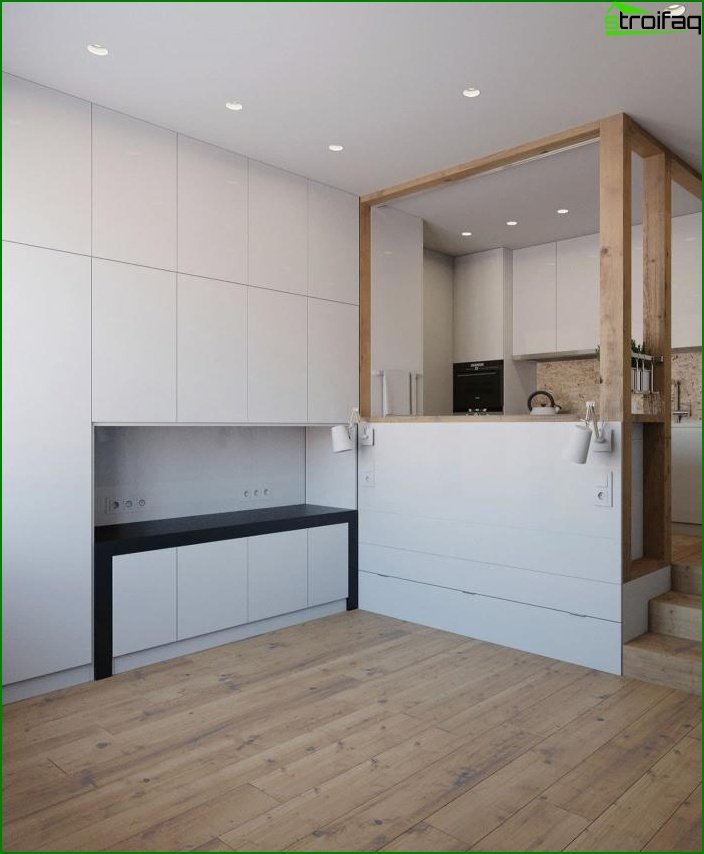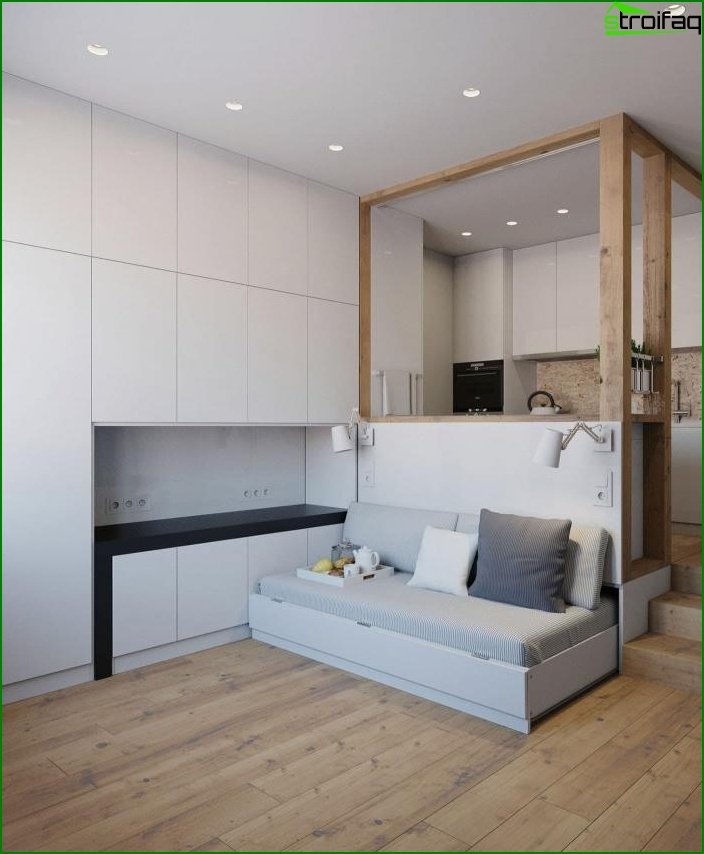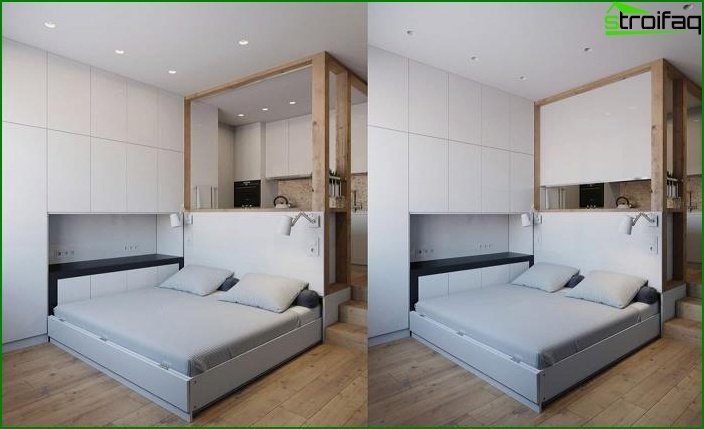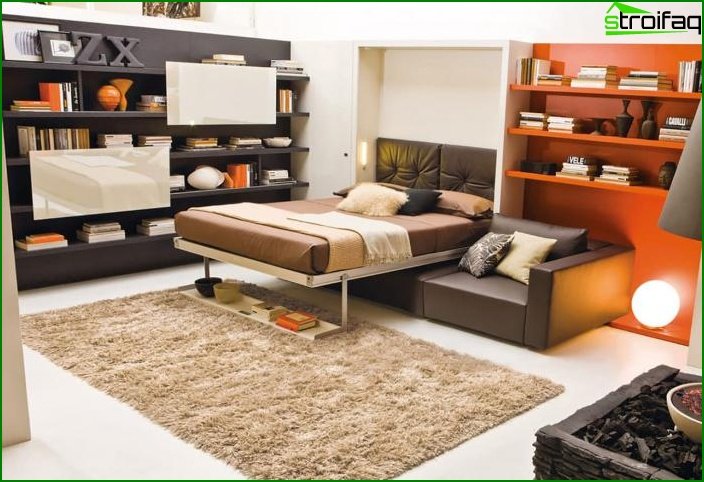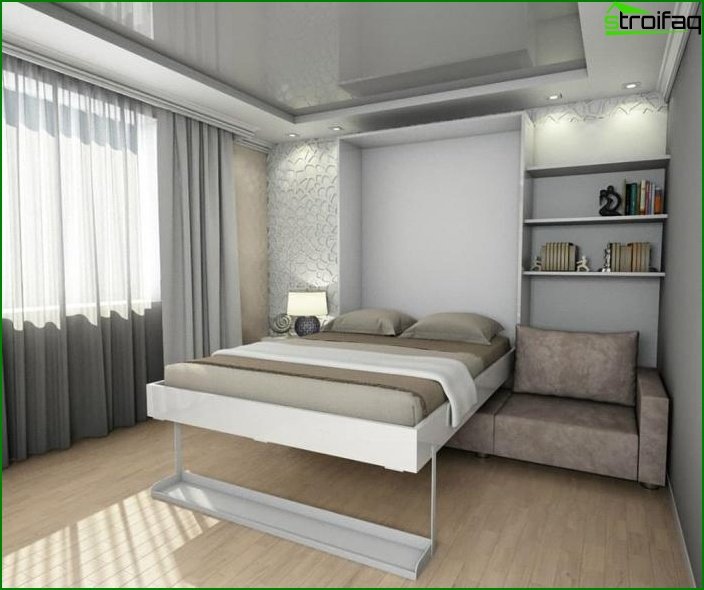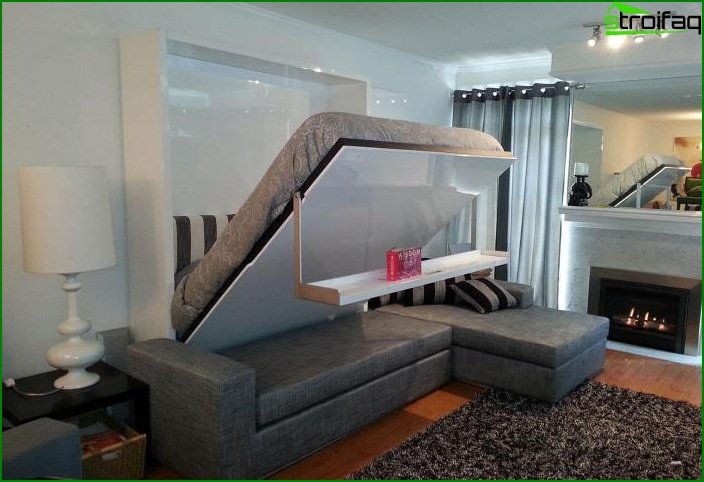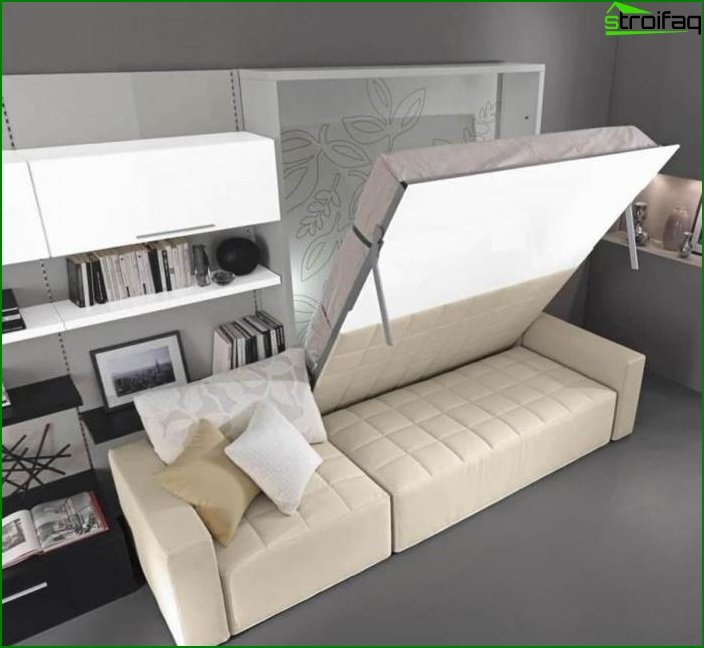 If you like traditional beds, then for sure you will like the taste of decorative partitions for zoning space.
A bold and simultaneously functional solution will be luminous partitions or partitions with illumination, which at night can be used as an additional source of light.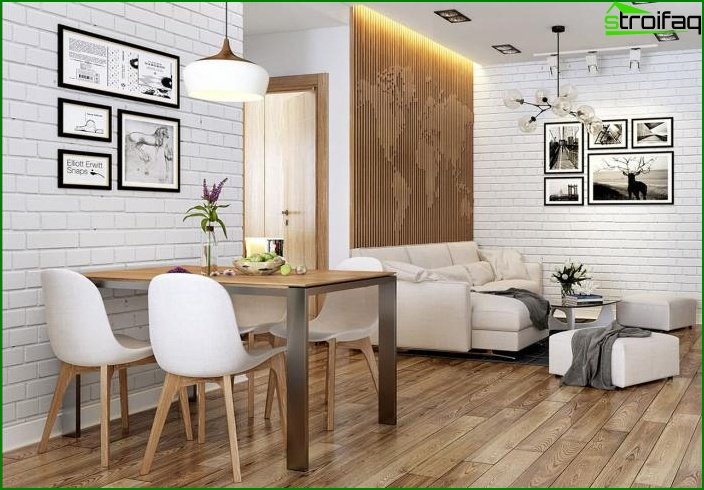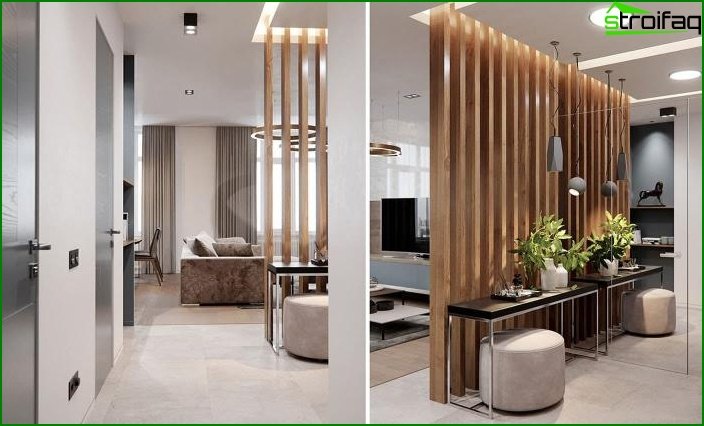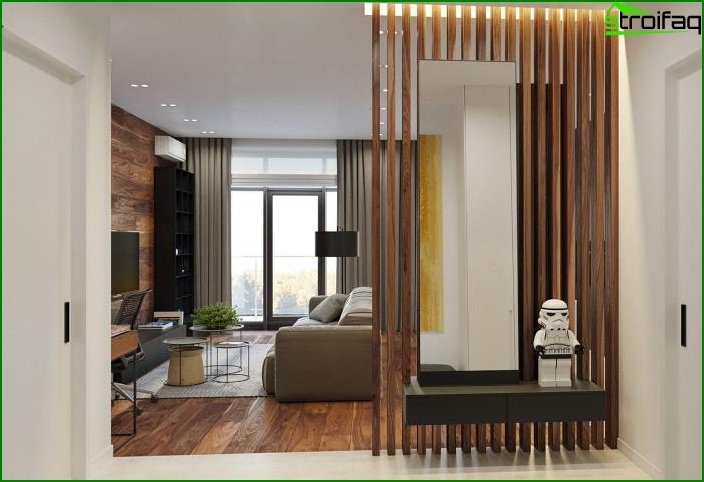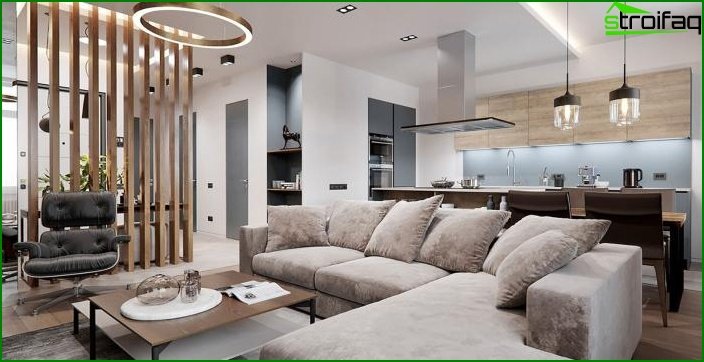 On the next page you will find the real treasury of secrets about .... What do you think about what?
About that, which we seldom pay attention to, but without which the complete image of your living room is impossible.
About that, not less important, than the sustained style and correctly chosen color scale.
About what can radically change the perception of any room.
The fact that the sky is always above us.
Guessed? Correctly! We have prepared for you the coolest ideas for decorating ceilings and lighting in the living room!
Quickly click on the next page!