What is the best tile or linoleum
According to statistics, the most popular floor coveringin Russia - linoleum. It is cheap, beautiful, quite durable and easy to care for. Ceramic tiles also occupies only third place, giving a prestigious second laminate. It would seem that the ideal coating with excellent performance and high strength, but for some reason the buyer preferring less reliable linoleum. What does this show? What is hidden behind a huge success and that the linoleum tile or linoleum is better? Let's find out!
Content
Linoleum: advantages and disadvantages
Features floor tiles
Linoleum: advantages and disadvantages
Linoleum - floor covering is manufacturedof polyvinyl chloride. It is heterogeneous and homogeneous. The first consists of several layers: the bottom - a basis that can be made of jute, felt, polyester and PVC, several middle layers of fiberglass and foam vinyl and top - transparent, heavy-duty from the same vinyl.
The advantages of linoleum are:
an abundance of colors and designs. In any store offers more than 20 different variants of the floor covering: flowery, polka dots, with geometric shapes, with and without patterns, marble, wood, tiles, etc.
low price. It should be quite inexpensive linoleum, at least the lower threshold price starts from 120 rubles per meter.
ease of installation. Bed linoleum can even the most distant from the world of repair people. What is easier - a bed, he cuts off the excess, fixed with special glue or nails, and voila - the floor is ready! Beautiful, fresh, original!
easy care. No special cleaning products for the care of linoleum is not required - it is enough to wash with warm water and powder.
softness. Paul, the laid linoleum, characterized by resilient and springy. It is soft enough, so to speak, and durable.
durability. Commercial linoleum designed to vysokoposeschaemyh places can serve for decades, with its appearance will not change. Naturally, semi-commercial and household linoleum, can not boast of such results, but with proper care and careful handling, they also can be used for many years.
Have linoleum and disadvantages:
burning in the sun. If the room is a lot of sun, the floor will quickly begin to lose their color that is sure to affect his appearance.
weak resistance to mechanical stress. Fallen knife or fork, table legs, thin heels - all of which can cause damage your linoleum.
instability to various spots. Fat, acetone and other troubles very badly washed away from the surface of the PVC coating, however, if an instant to react, the spot appears.
intolerance to high and low temperatures.
"Fear" of chemicals. Some aggressive detergents can damage the linoleum, leaving indelible stains on it, divorce, and even bald spots.
Features floor tiles
Ceramic tiles - is a finishing material,which is indispensable in areas with high traffic. It is durable, durable, comfortable with the high and low temperatures, and very beautiful. Let us dwell on its merits and demerits.
The advantages of ceramic tiles:
a huge range. In stores you can see not only the synthetic ceramic tile, and granite, tile and sandstone, and marble products. In addition, it can be glossy with a shiny surface, matte, with a picture or without a stone, wood, metal, in general, the choice worthy to pay attention to yourself.
high resistance to temperature extremes. This quality allows the tiles to lay it not only indoors, but also outside.
moisture resistance. Water - the main enemy of many floor coverings, but not ceramic tiles - it is absolutely easy can transfer any flood.
resistance to chemical agents and stains. Caring for floor tiles is easy and simple - she is not afraid of no chemicals, and stains for it is not a problem.
high "immunity" to abrasion.
durability. Pottery can serve for decades, and its appearance will always be on top.
Now consider the disadvantages. Thus, ceramic tile:
tough. The surface of the floor tiles hard, falling on the floor this could lead to injury.
cold. Warm cool pieces of pottery can only using floor heating system, which is placed directly under the floor.
expensive. Indeed, to buy floor tiles will have to pay a fortune. It is because of the quality, expensive material, instead of cheap fake from China.
difficult in the installation. The process of mounting tiled floor rather laborious and complicated. Independently put granite or ceramic tile, of course, possible, but only a professional can guarantee the quality. We'll have to shell out money even for professional work.
slippery. Many types of ceramic tiles have a smooth, slippery surface, which can cause a fall. But some manufacturers have already paid attention to this problem and create products that have a special coating that allows you to feel confident, even if water is poured on the floor.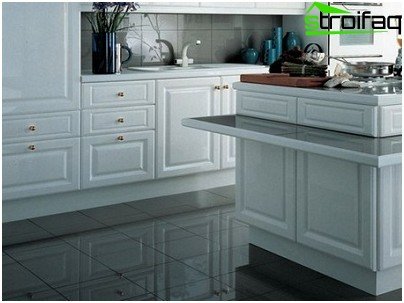 Summarizing all the above, it can bethe following conclusion: the linoleum and ceramic tiles are suitable for laying in the kitchen. But ... Linoleum pretty quickly "fail", because any failure falling knife or fork can end in tears for him. The same applies to the spots - they are in the kitchen is more than enough: boiling oil, which fell sandwich, spilled juice or coffee - all of which can cause damage to the appearance of the coating.
Now tiles. This finishing material is ideal for the kitchen in terms of pyatnoustoychivosti, and he will stand and the physical impact by kitchen utensils and furniture. That's just you need to buy a tile with a matte, slightly rough surface as glossy, slippery products may cause accidental drops.
It turns out that the best tile linoleum. It is stronger and more durable, more reliable and easier to maintain. But that's not to say that the lay linoleum in the kitchen can not. It is possible, why not! Just have a hundred times to be careful and cautious.
Is it possible at all to come up with an original interior design, and using tiles and linoleum. This kitchen will be one in a million!
In any case, whatever floor covering youchosen, it still requires careful handling and care. Even MPE granite or marble will lose its noble appearance, if it is not periodically be cleaned. Take care of your house, and he will respond to you in return.