Content
Types of blinds for the kitchen

Vertical
Horizontal
Rolling
Blinds

Blinds in the kitchen: the existing materials

fabric blinds
Wooden blinds
Plastic shutters

The choice of colors
What are the styles of interior fit kitchen blinds?
Tips for choosing blinds
Blinds for plastic windows
Custom Shutters
Price blinds for the kitchen
Where to buy blinds?
Photo ideas for the kitchen blinds
Types of blinds for the kitchen
Every housewife dreams to her kitchen was the most convenient issued under itsneeds, but it remained cozy and unique. What to do? Add flavor to the interior of the help window blinds. They are much more practical than conventional curtains, and regularly provide the necessary protection from direct sunlight.
Today the choice among a wide variety of materials and models can be confusing anyone. Let's take a closer look at what types of blinds are there?
"Every housewife dreams that her kitchen was the most convenient issued under its needs, but it remained cozy and unique. Add flavor to the interior help the blinds on the windows. "
Vertical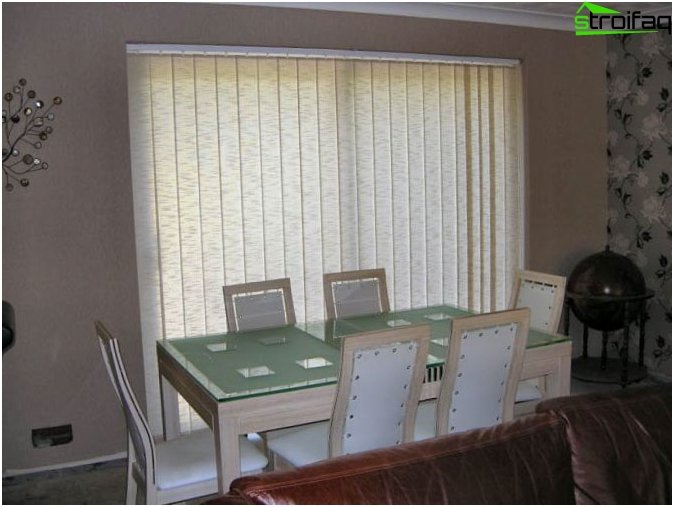 Venetian blind consisting of vertical slats (strips of fabric, plastic or any other material), reminiscent of the classic curtains or blinds. It is a kind of reflection of the office style,which has recently become increasingly penetrate into the interior during the design of private homes and apartments. Most models can adjust the vertical position of the slats that completely changes the atmosphere of the room - visually stretch the walls, the windows of which they are located, thereby raising the ceiling.
If skillfully use the knowledge about the properties ofa variety of materials, colors and shapes shutters (setting them a wave, a crescent or a bevel), you can dramatically change the appearance of not only the window openings, but the entire room as a whole, creating uniqueness in every stroke. I need to tell you about their advantages and disadvantages.
PROS:
increased resistance to moist air;
suitable for all dishes, regardless of their size;
visually raise the ceiling is low;
They look perfectly in combination with different types of curtains and small curtain;
they can be fixed at different heights, giving individual form;
installed on any type of windows (regardless of their manufacture material - wood, plastic);
fabric from which performed slats, treated with a special solution, which prevents burning in the sun, as well as enhancing the stability to wet and settling of dust;
on the lamellae of this type of blinds you can make photo printing (looks very impressive and gives a special comfort).
MINUSES:
complicates the use of sill (not put the house plants);
It does not allow to clear them quickly, taking a lot of time and effort;
during windy weather it is better not to open the window (slats are entangled and can break).
Vertical blinds are usually made ofdifferent types of tissue - from the air lace up tightly woven cloth that dyed resistant dyes, followed by a turn anti-static and bactericidal treatment. These blinds are suitable for a more rigorous style, emphasizing the asceticism of the house owner.
Horizontal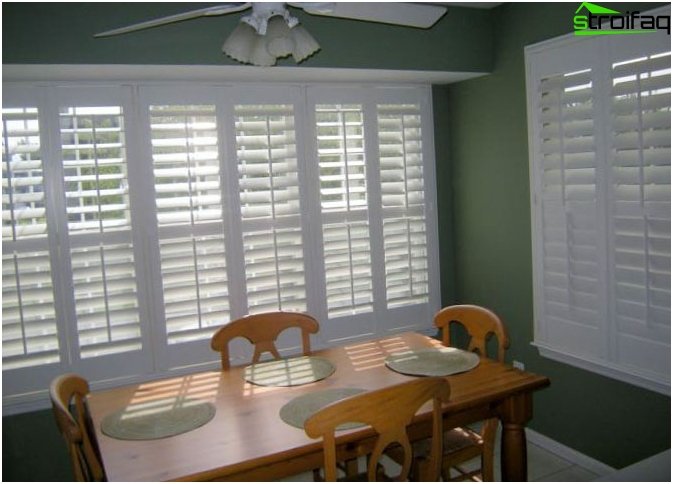 Horizontal blinds were most popular inall times. After all, they make it possible to completely prevent the penetration of sunlight, or adjust it on your own. It is believed that they were the progenitors of all the blinds in the world.
It is difficult to imagine the diversity amongmaterials of this type which is manufactured. Among them, plastic, and bamboo, and can be seen even from aluminum and other metals. At this point, that your darling wish, every kind of models in its excellent and elegant.
PROS:
small-sized;
practicality;
easy to adjust the lighting;
a wide range of materials for their production (from solid to plastic and flexible);
It looks great in small kitchens;
among the extensive range of colors;
large variety of different slat widths.
MINUSES:
Cleaning frequency (delayed dust);
slats 2 meters in length sag under its own weight.
If you prefer throughout the interior of itshome Hi-Tech style and minimalism, then the best option would be exactly horizontal blinds. They are practical, compact and able to look decent even on small screens, visually expanding them and the space around them. But do not neglect the shutters and fabric, in this case, they make the kitchen more domesticated and comfortable, especially when combined with the air curtains and lambrequins. Discover also other subtleties of the design rooms.
Rolling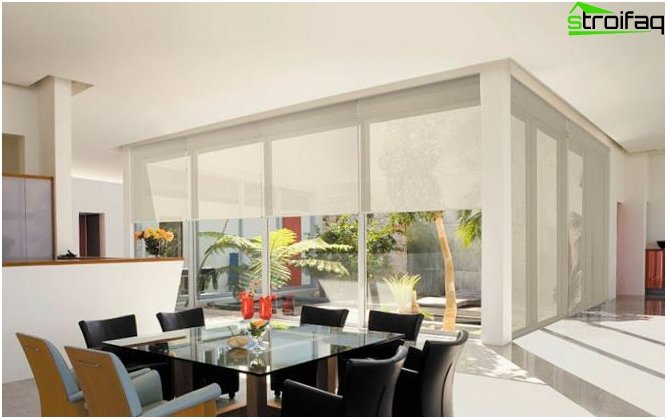 Rolling blinds consist primarily of singlesmooth fabric, fold into a neat roll. Their main advantage can be considered free photo printing application or various motives, emphasizing the overall style kitchen. I propose to consider all the positive aspects of this sub-blinds, as well as negative, in order to clarify the whole picture.
PROS:
It looks especially stylish and elegant, if there are on the surface of a drawing;
dense fabric, perfect hiding your kitchen from the sun;
the right choice when design of the kitchen in the eastern or minimalist style.
MINUSES:
difficult to be cleaned of soot and grease;
can not be washed, only chemical cleaning;
quickly impregnated with "cooking flavor";
some furniture is made of flimsy plastic;
if you set the frame, and not on the user's profile, then not be able to open the window.
Best of all roller blinds are suitable for kitchens in the eastern style, with beautifully combined with tulle or organza to create a fabulous holiday setting.
Blinds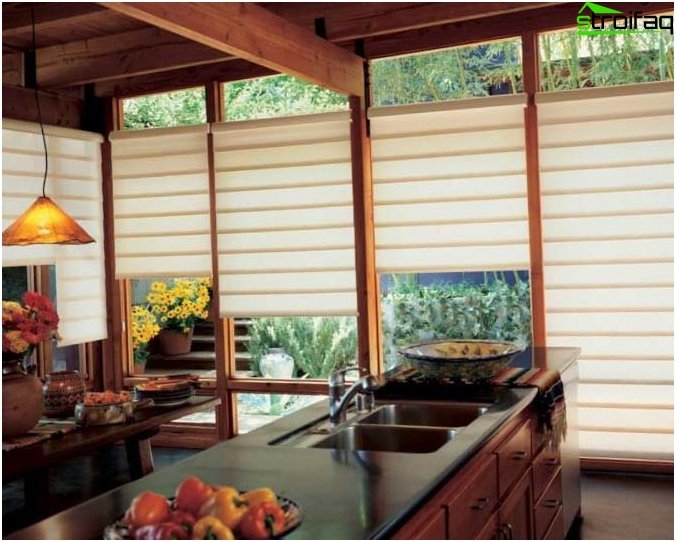 With Pleated blinds can be emphasizedelegance almost any style elegance by their solid construction. They are remarkably fit perfectly into any design, giving the image a sense of completeness premises. Pleated original and look very pale compared to conventional curtains or other kind of blinds. But you can choose and more vivid colors to highlight accents window openings.
PROS:
can be used for roof windows as well - French, panoramic and ceiling;
well will look in the windows of all sizes;
a wide choice among the colors and forms of execution (both vertical and horizontal);
perform not so much decorative as functional role;
They have a solid shape "bunching" made of plastic or fabric.
MINUSES:
horizontal blinds pleated dust to accumulate in itself;
some fixing of plastic can be fragile.
Pleated blinds - it's completely separateview, unlike the others. They are unusual shift up, down or sideways, and their design may be made based on the individual design of the walls and the furniture chosen. "Cellular" motif or "rainbow" perfectly fit into any modern interior.
Blinds in the kitchen: the existing materials
What only do blinds - plastic, all kinds of varieties of fabrics, metals, wood and bamboo. Let's see what kind of materials are selected modern designers.
fabric blinds
A few years ago, many creatorsInterior in his house tried to choose blinds in aluminum, wood or plastic, but today things have changed. The slats of the tissue adequately included on its pedestal and founded a long time. This type of material is characterized by its moisture resistance, thanks to the processing of specialized formulations and repel dust and other contaminants due to anti-static treatment.
But rub a smudge on the slats themselves are notrecommended, it is better to unhook them from the weights, twisted together into rolls and place in a liquid with a soapy solution. After a while, when the dirt would go gently rinse each of the slats and directly wet hang back, hooking sinker.
If your blinds are made of glass fiber,they will not only be practical when cleaning (wipe with a damp sponge is enough), but also to keep your home safe, because they are heat-resistant and will not spread fire in case of fire.
Blinds fabric can give your interiorcomfort and aesthetic perfection of the image, but they do have one small negative - they are extremely vertical. This is more than compensated by the variety of colors, textures and images on them. The main materials of steel flax, cotton, jute and fiberglass.
"A few years ago, many creatorsInterior in his house tried to choose blinds in aluminum, wood or plastic, but today things have changed. The slats of the tissue adequately included on its pedestal and founded a long time. "
Wooden blinds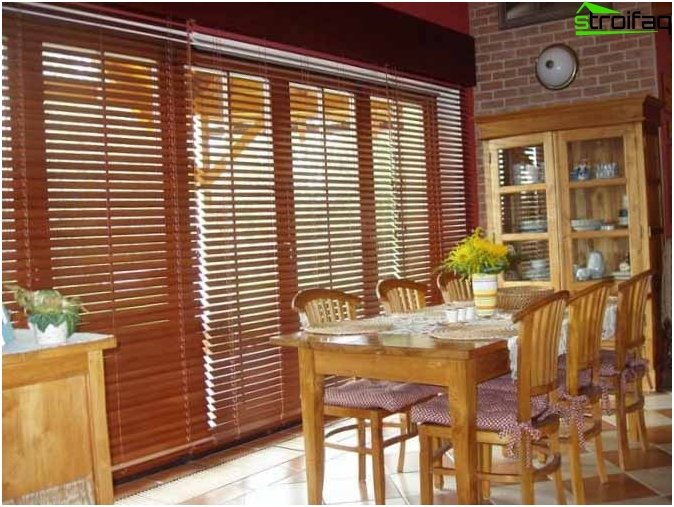 In the XVIII century, in Western Europe, blindspredominantly made from different types of wood. But now everything is completely different ... They have become a luxury than an everyday kind of blinds, because of their high cost material. One can endlessly describe the beneficial properties of the wood, but I will focus on the most important - products made of it are not only beautiful and pleasant to the touch, but also eco-friendly. They bring a unique feeling of warmth and coziness to any interior, regardless of the overall style. A more harmonious look in a country style.
Plastic shutters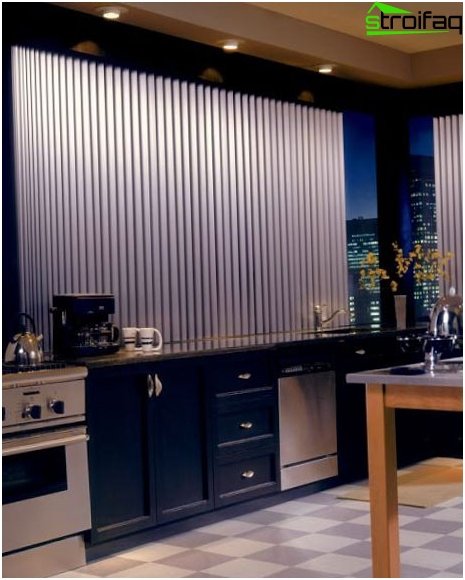 This type of blinds is the mosta budget option. But there is plenty to choose from - the cheaper models are short-lived, they quickly fade in the sun and deformed, that is not true of expensive. By paying a little more, you will see their unpretentiousness - dirt and smells will not touch them, they will serve you for years, carefully keeping the comfort and style of your kitchen.
The choice of colors
When you register window blinds openings, it is necessaryIt takes into account not only the material from which they are made, but also in combination with texture colors. Your taste preferences come to the fore, but they must not be contrary to the basic direction of style. For example, if your kitchen is located on the north side of the building, it is best to prefer warm colors (yellow, beige, cinnamon), and if the south - then cold (turquoise, all shades of blue and green).
"For example, if your kitchen is located on thethe north side of the building, it is best to prefer warm colors (yellow, beige, cinnamon), and if the south - then cold (turquoise, all shades of blue and green). "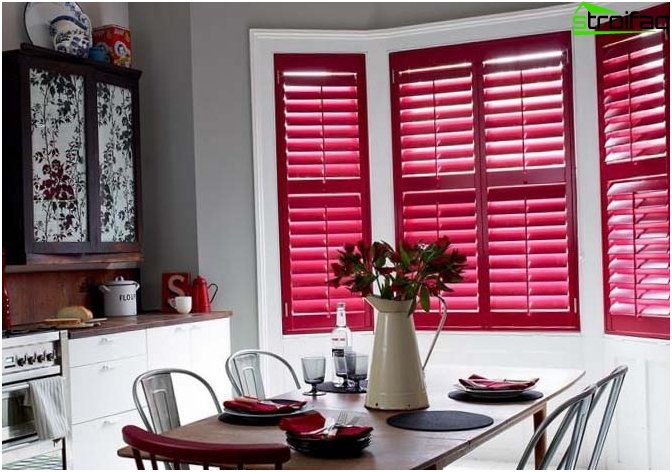 If the scale of your kitchen allows you to turnfantasy, then you can safely experiment with design in contrasting colors, it would be totally out of place in a small room. Also do not forget that bright (fire) the paint can "stir up" the appetite, pay special attention to all the shades of red, yellow and orange.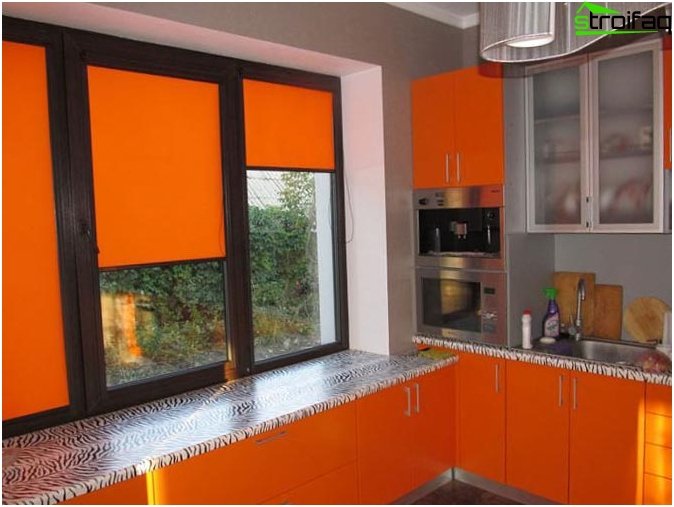 It is important that the blinds are not only looked harmoniously with all the interior kitchen, but also loved you and all homemade.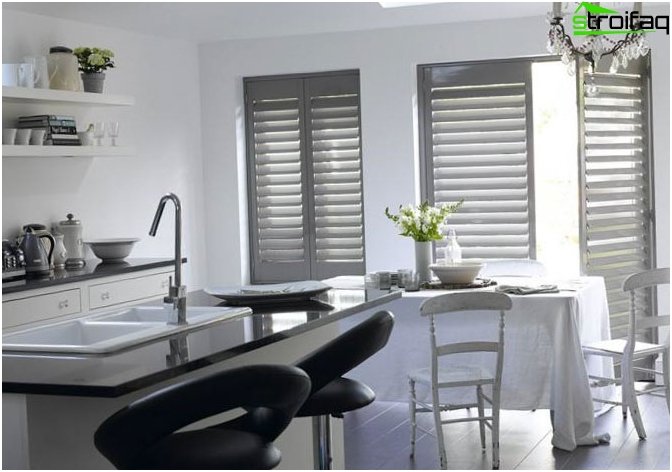 Also, the blinds can be chosen, relying on the tone of furniture (it should be the perfect fusion of colors) or on the basis of the color of the walls solutions (selected tone or darker, or lighter).
What are the styles of interior fit kitchen blinds?
The principal can be considered Hi-Tech, oriental style and country. They are most harmoniously with the blinds of any kind. It is necessary to add a few touches in the form of organza, tulle or several small curtains with lambrequins and your kitchen will shine in all its glory. A little thought, you are sure to be able to realize all your ideas into reality, stressing the unusual name of your interior in any bright accent.
Tips for choosing blinds
blinds main function remainsProtection from direct sunlight and from the prying eyes of neighbors. But this is not all of their functions, there is also the aesthetic direction - they should not be "out of this world." So if food not great, Stop your choice on a light-colored blinds that have slats narrow horizontal or vertical wide - they will expand the space around them visually.
Blinds for plastic windows
Custom Shutters
Most people tend not to buy ready-madeblinds (standard sizes for standard windows), and make them to order in size. This is especially important if your windows in the kitchen are in the form an arch or triangle, in this case it is better to trust the person who will perform all the necessary measurements and detailed advise you on all available issues.
Initially, he will find out the width and height of eachwindow will ask you which method of attachment you have selected (on the ceiling, opening the windows or on the frame). It should also consider how your shutters to be opened in the future, that is not contrary to the natural opening of the window.
Price blinds for the kitchen
Price level depends not only on the ratio of "price per square meter", but also the material of which are performed by slat blinds.
The cost of the blinds depending on the material
Material production
the cloth
plastic
tree
Cost of material
medium
economy
high
Where to buy blinds?
The best option would be to order the blinds at oncetogether with windows. If you initially did not use such a proposal, then order them from our proven experts. On our site you can not only view a gallery of photos, but also offer us to execute the order according to your drawings or pictures.
Photo ideas for the kitchen blinds