Content
Functional kitchen
Options for planning and design of the kitchen area of ​​10 square meters
Kitchen Design 10 square meters with balcony

plan kitchen with balcony
Renovated kitchen with balcony

Repair of typical dishes
With the right approach to zoning and design kitchen of 10 square meters can not be just a "technical room", but a favorite holiday destination.
After all, think. In the kitchen, every one of us spends a minimum of 2-3 hours a day. Why not combine business with pleasure, and do repair and design of the kitchen so to spend there time it was not just necessarily need, but nice?
Functional kitchen
Still kitchen - a room in the first placefunctional. Sofa corner or chair out of it can be removed painlessly. Stove, refrigerator and work desk - that's what makes the kitchen useful and justify its existence in the apartment.
If you think about it, why do we actually Kitchenette:
to store kitchen equipment and products;
store ready meals;
cook (and therefore, there must also be a microwave, stove, oven and other technical equipment);
breakfast, lunch and dinner, we also usually in the kitchen;
in the kitchen, we wash up all that time to get dirty in the process of cooking and eating.
Kitchen features dictated by the required setinterior. The bachelor apartment, for example, a large dining table - an obvious exaggeration. And for families with children need not only a table, but also plenty of lockers, where he settled blender, mixer, juicer - little things, without which it is difficult to prepare a full baby food. And instead of open shelves only have to use a lockable cabinets (up to their child also gets, but my mother at least will have a chance to come running at the noise of slamming doors).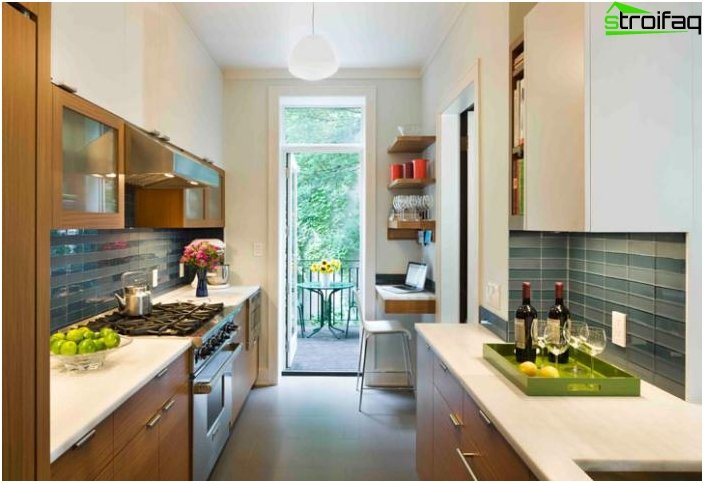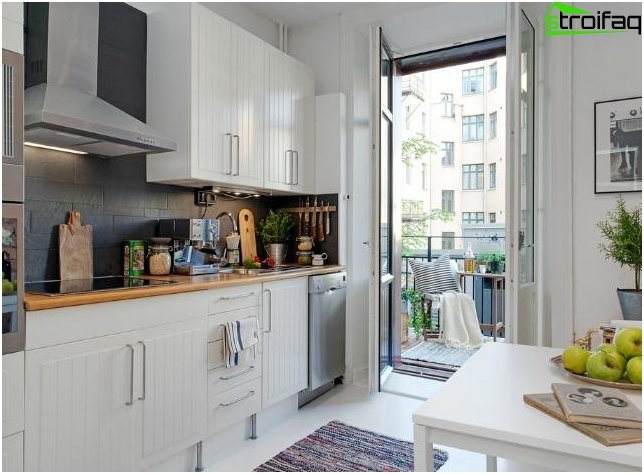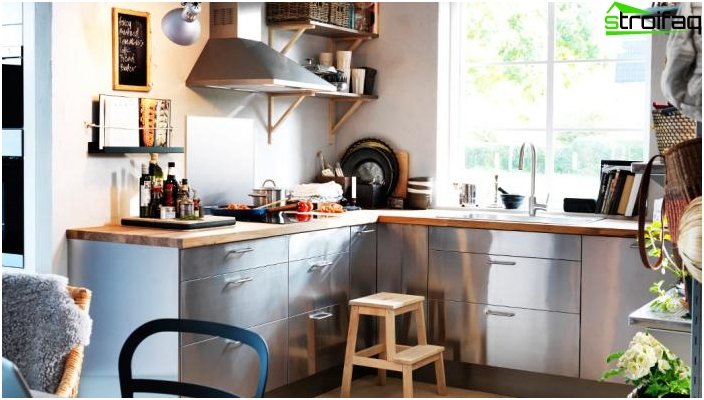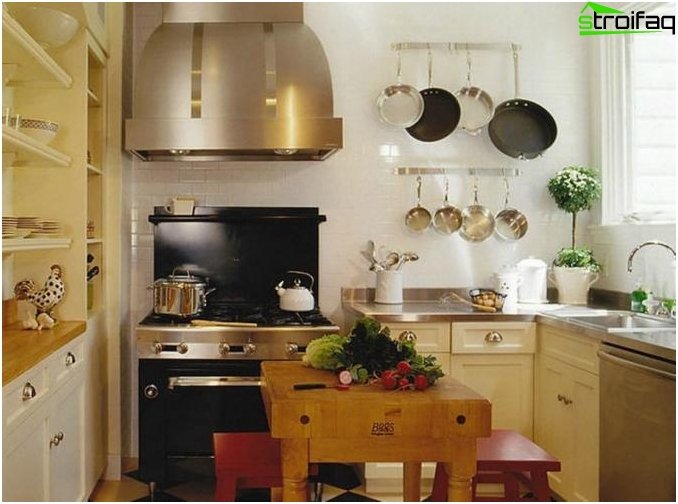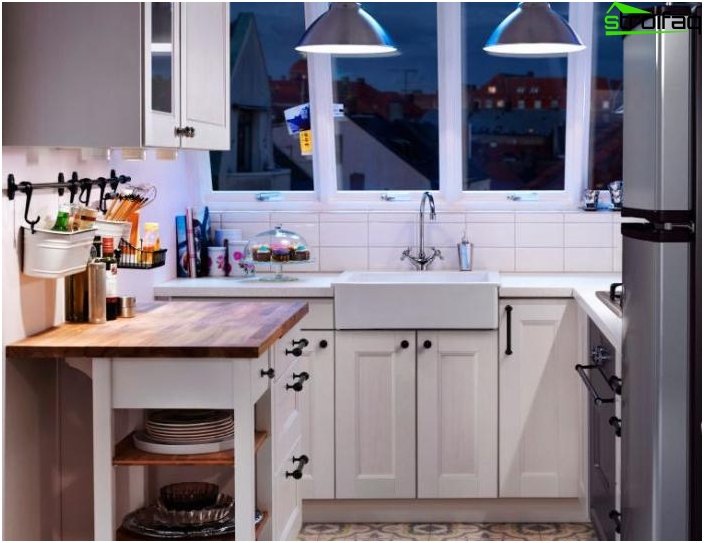 See more photos of kitchen design.
refrigerator size and the table, the number of chairs (they and taken most of the space!), even the number of the burners on the stove - it all depends on how many people live in the apartment.
Kitchen design should be functional

The functionality of the kitchen
Items that need to be taken into account in the design of
Storage (utensils, equipment, food)
Cabinets, shelves, "island", refrigerator
Cooking food
Stove, oven, microwave (optional - mixer, blender, food processor, etc.)
Cleaning
Sink, cupboard for storage of household chemicals (required - apart from the food)
Options for planning and design of the kitchen area of ​​10 square meters
But whoever used the kitchen furniture should always be comfortable and quite compact. Fortunately, on 10 square meters can be placed furniture, as your heart desires.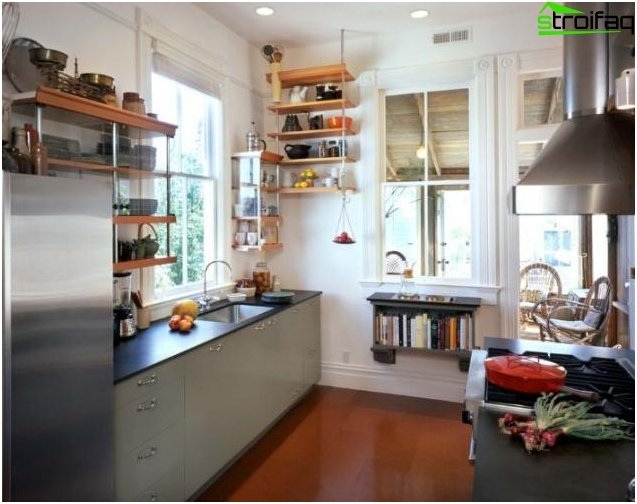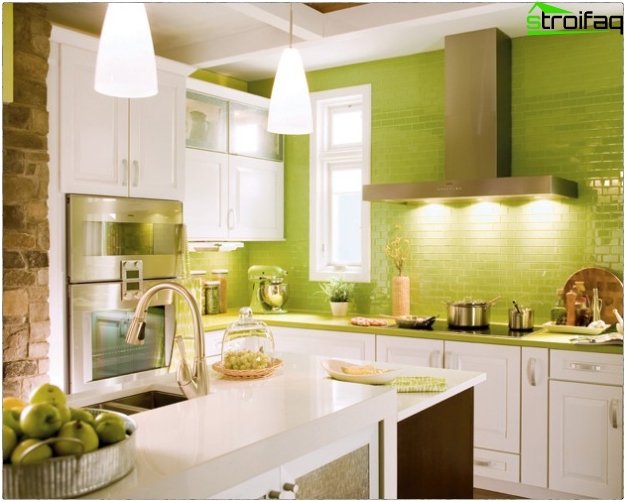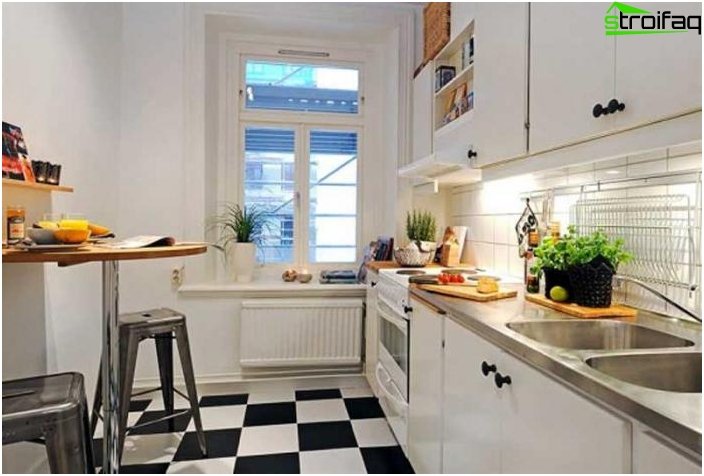 Typical schemes of placement of working surfaces, cabinets and equipment are as follows:
letter "G" (G-shaped layout);
line (furniture along one wall);
corner;
the island (the desktop is usually in the center).
Owners kitchen 10 sq m - the lucky ones. They are available stylish, convenient and fashionable solution with a desk-island.
Kitchen island - a powerful half-board, half-rack. The island is equipped with shelves or drawers, where it is convenient to store utensils or non-perishable foods.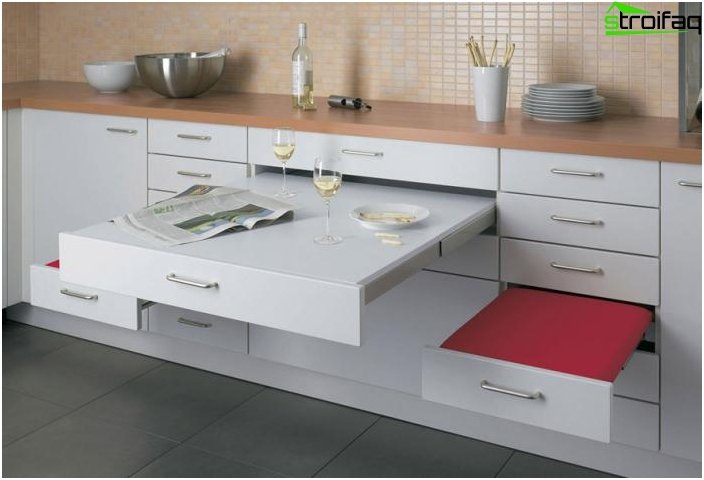 The main island charm is that it does not havefixed location. In fact, this is a big kitchen cabinet on wheels. I moved the wall - was a wardrobe, a work surface and a little bit of space in the center of the kitchen. He advanced to the middle, put a chair - and the dining table is ready for the whole family. An ingenious invention! With regret, the island looks organically only in medium and large kitchens. Just in the space of 10 sq.
If a small kitchen requires mandatoryplacement of furniture in a row along the wall, the owners of the kitchen 10 sq m can afford to show imagination. Any of the standard models of furniture arrangement will naturally look in the middle of the kitchen. This means that the design and style of restrictions virtually non-existent. Ideal white kitchen in a minimalist style? Perfectly. Variegated kitchen in "boho" style? Places enough, the room will not look cluttered, and the bright parts do not become one big mess of colors.
In the kitchen equipment should not forgetclassic rule "work triangle" of the plate, sink and refrigerator. Between these functional points we spend the most time preparing. Access to each of the items should be simple, easy and desirable - does not require additional displacement. Step right, step left, turn - the best scheme for the placement of elements in the triangle.
Optimal is considered to be an angular layout. It saves the maximum amount of space, furniture and appliances are located compactly next to each other, everything is literally "at hand". In addition, the remaining untapped workplace can be turned into a place for recreation - to put sofas, floor lamp and a coffee table. Since the functional part of the kitchen is made a separate zone - you can not worry about that at the time of cooking you will pour boiling water or accidentally chews.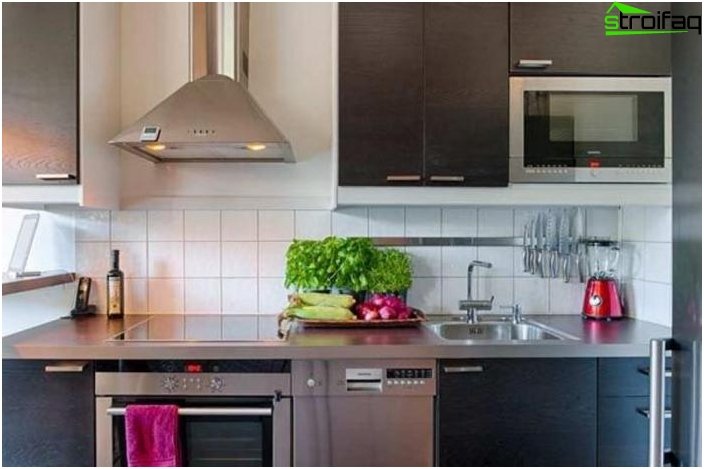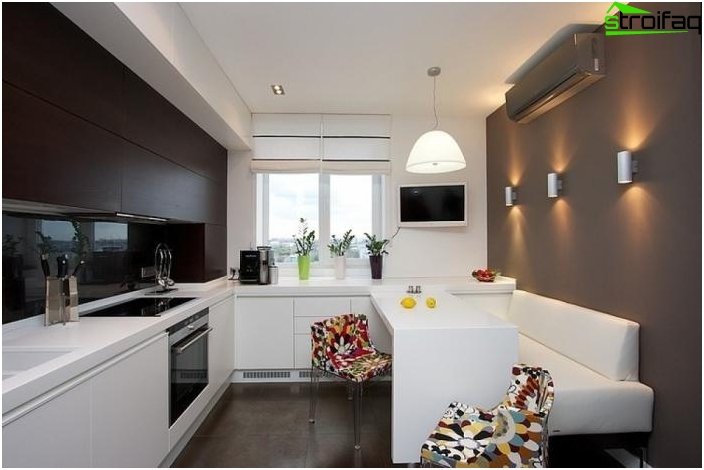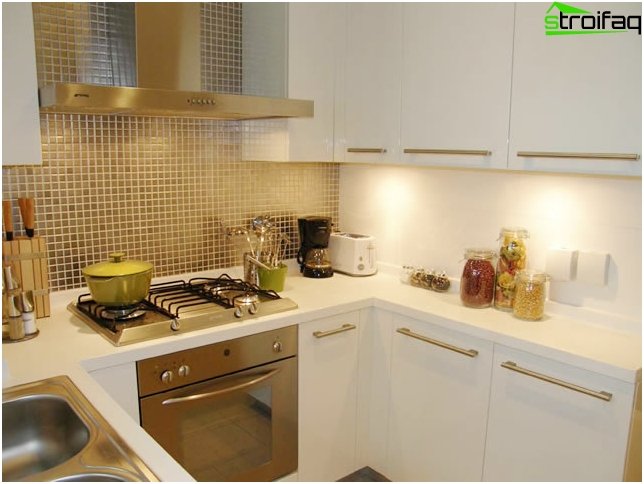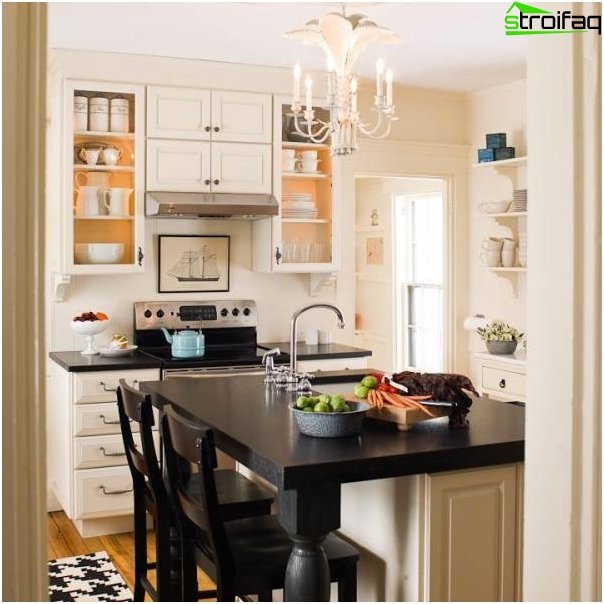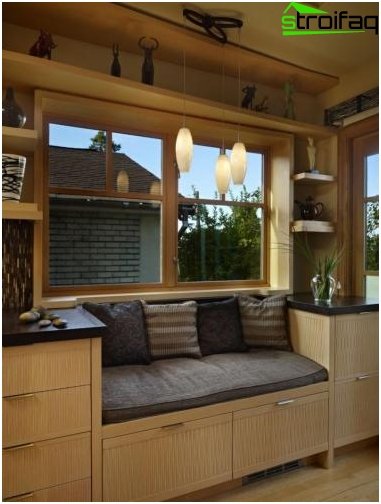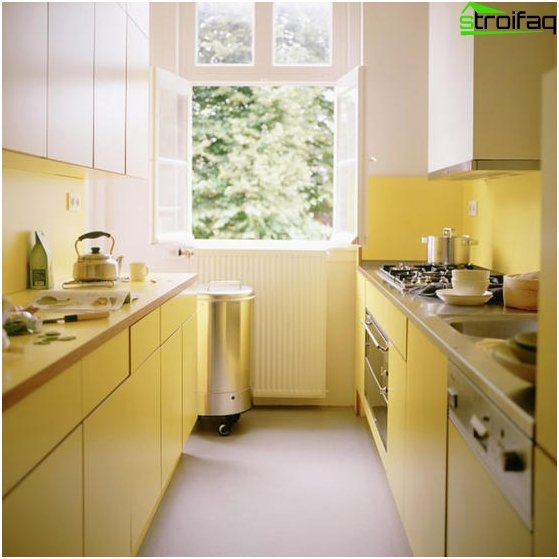 Kitchen Design 10 square meters with balcony
Some short-sighted people regard balconyor loggia adjacent to the kitchen as an unfortunate misunderstanding. Whether there is additional footage, or they do not - nepoymi what to do semi-premise. That wasted a precious area under conservation banks, skiing and other stuff nobody wanted - the old-fashioned.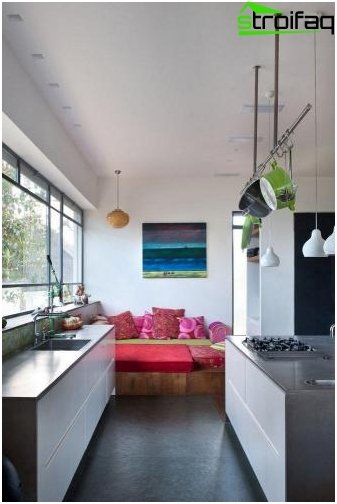 Glazed balcony or loggia can be a continuation of a full kitchen - or the very comfortable living room, a bar and an office for which the kitchen itself has no place.
The first and obvious solution - build onbalcony lockers for small items and products that are used in the kitchen rarely. An important point that will make from the balcony is not a warehouse, and a full living space - the choice of a suitable size for furniture.
Under standard sizes terrace suitable furniture,which is used for cafes with outdoor terraces. You can cheat and equipped loggia cabinets for bathrooms. They are usually compact, quite narrow and at the same time easy to use.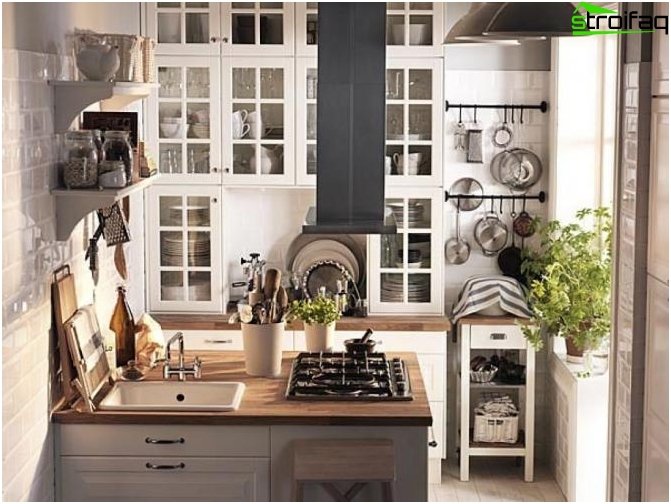 Ideal, which will create abalcony inviting atmosphere and the most convenient plan the space - individual order furniture. Cabinets and shelves for the order will cost about the same as standard versions "of the store." But the problem with extra or missing 5 centimeters in depth or width does not arise.
plan kitchen with balcony
A more sophisticated version of the equipment or loggiathe balcony adjoining the kitchen - "blurring boundaries". Demolition of walls between the kitchen and the "outside world" will require repairs and additional costs, but the seating area will be available and a full-fledged part of the apartment. No more incomprehensible "appendix" process and uncertain destination - there are 3-5 meters, which can be used just as you want, and not the "as received".
Beautiful opportunity - to arrange for wallsdoors and windows full height. Especially if the balcony on the top floor overlooking the city. So the kitchen will receive more light, and a small "terrace" is a bar, a library, or a personal office, which did not penetrate the cooking smells.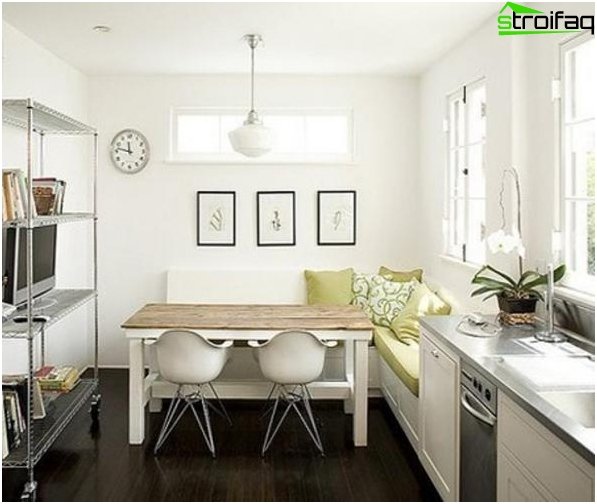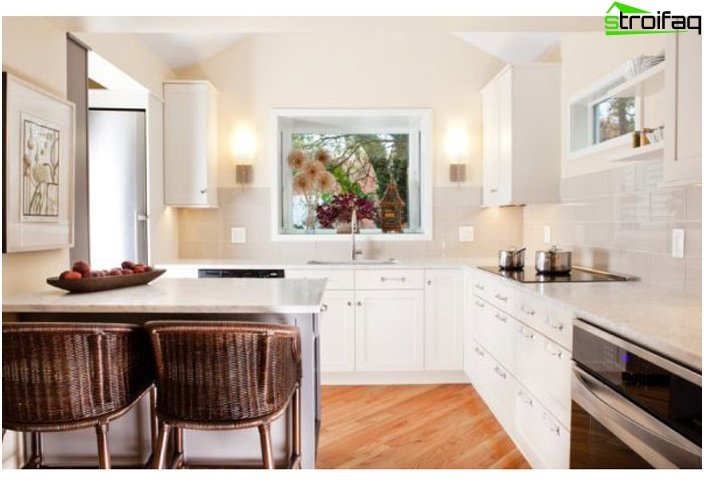 Bar on the balcony next to the kitchen - beautifulthe option of using a loggia for singles, young couples, or a hospitable people who love to sit with friends over a glass of wine. In modern high-rises can not worry about that passersby will observe your party. The rest of the balcony-Kitchen Mini-bar not far behind the terraces of restaurants on the roofs of business centers.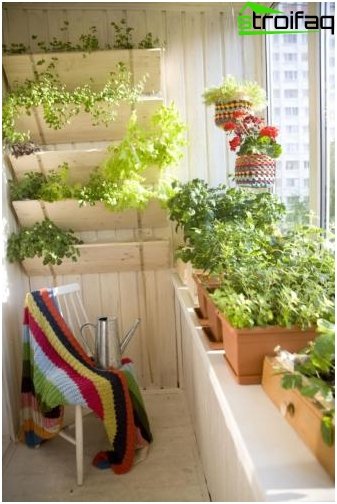 Another possibility is to use the balcony to good use -turn it into a "winter garden". Incidentally, lettuce, dill or basil can be grown not only in suburban gardens. A multi-colored peppers in a pot - a popular decorative element. Thickets of living plants on the balcony does not necessarily hold in the palm trees or climbing vines. Grapes provide the same decorative effect.
Renovated kitchen with balcony
To comfortably and enjoy spending time on the balcony at any time of the year (we still do not always sunny California), you need to take care of two things:
glaze a balcony (loggia with problems a little less - it has already trimmed)
warm room (snow swept balcony - it's beautiful, but too cold)
On the walls and the floor grid is laid layervapor barrier on top - a layer of insulation and waterproofing film. No gaps should not be - all joints are additionally treated with a sealant or a special assembly foam.
Do not skimp on quality! Believe me, to improve and to patch up "a quick" balcony will not work. It is necessary to dismantle the entire structure and actually carry out all the repairs again. This is not only a certain amount of money - it's the dust, the dirt, the time spent and the inevitable "oh, we have a little bit in the kitchen wallpaper stripped" from the builders.
Oddly isolates balcony, still it will be morecool than the same kitchen. To keep warm, you can equip a warm floor. Or do more economical oil cooler, which will be included as necessary.
The kitchen does not always fit in perfectly with a balcony. The projections and the level difference like a window sill, you can successfully beat the design, making eye-catching window ledge in the bar or a work table.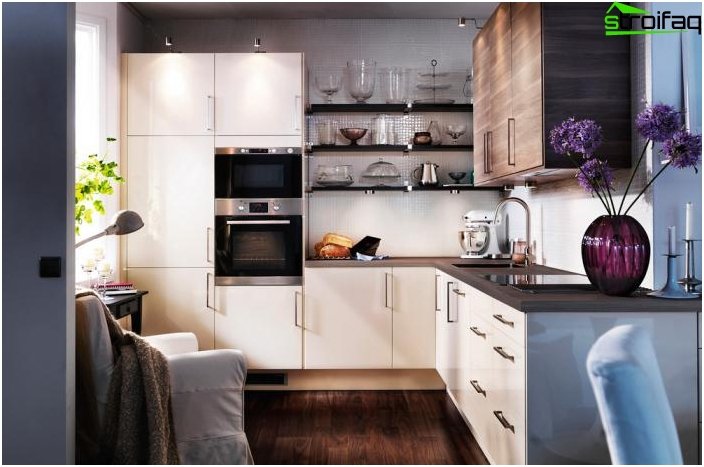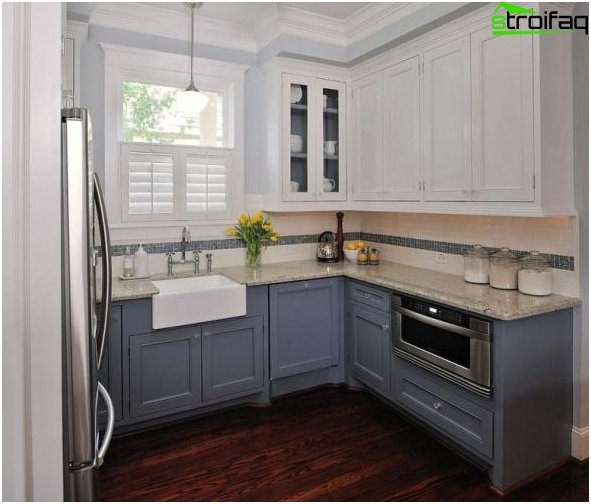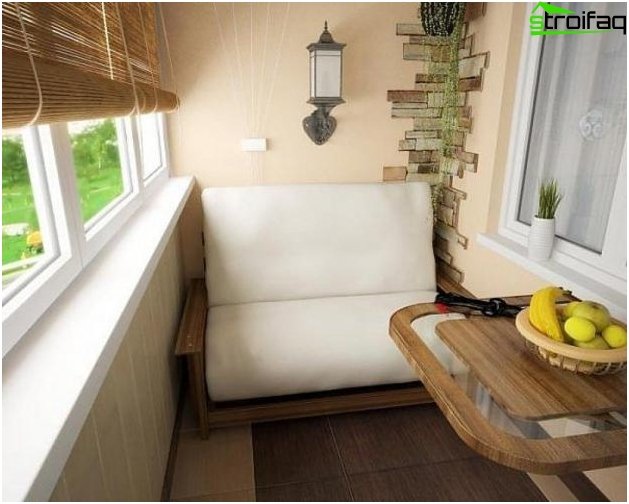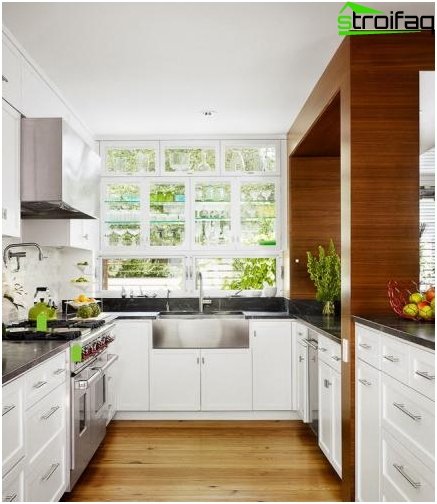 Repair of typical dishes
The rest of the kitchen - a space whereIt should always be clean, provided that it always someone trying namusorit or oneself dirty. Splashes of fat, sauce drops, enraged mixer, which is sprayed dough - how to maintain cleanliness in such conditions?
"Dangers" must be taken into account at the stage of repair. The walls, floor (preferably the ceiling) and the furniture must be made of materials that are easy to wash. Absolutely everything we pans with non-stick coating, but the purity of the whole kitchen somehow overlooked by many. Is not it strange?
The best materials for finishing dishes - laminate,terracotta or washable wallpaper. Painting - also a good solution. But note that it will inevitably absorb a certain amount of "chemically active substances" like the same vegetable oil, and in a few years will have to carry out repeated repair.
To save the kitchen longer in perfect condition - put a high-quality extract. And do not forget to include it during cooking.
And finally, check with a few interesting design of a kitchen with an area of ​​10 square meters.