Content
Features a living room-kitchen
How to choose the right design?

Kitchen interior design studio
Design living room with kitchen

How to choose furniture and appliances for the kitchen and living room?
Creation of a living room kitchen in a country house
The style of kitchen-living room space
Location of kitchen furniture
Living room-kitchen - new and modern solution to the design of the house. You can create an original interior Regardless of the size of the room, which is not only beautiful, but also practical.
Features a living room-kitchen
Today more and more popular it becomes a new phenomenon in the interior - the combination of kitchen and living room. This solution is suited not only for smaller spaces, but also for rooms with a large area.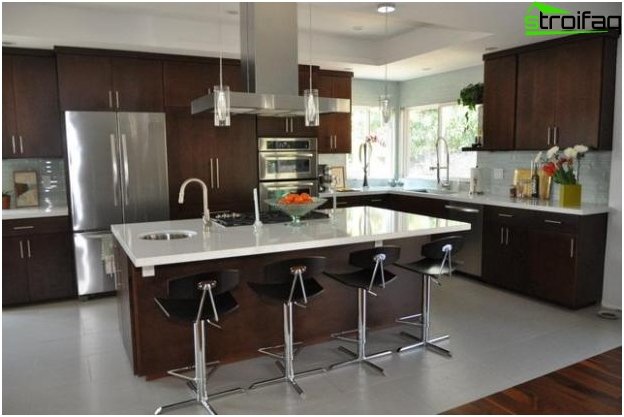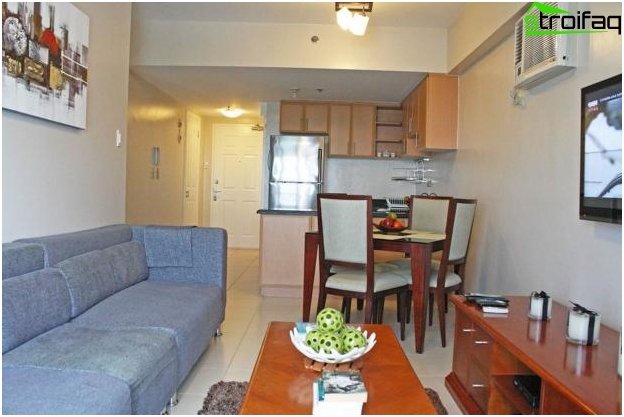 Living room-kitchen has many advantages that will satisfy any one owner:
ease of cooking and organizing events, because there is no need to carry food from one room to another;
visual increase in space: more space and light;
the ability to receive visitors, to watch children and cook meals at the same time.
Through proper planning, the room will bevery beautiful, stylish, original and practical to use, but will need to pay more attention to cleaning. You should also buy a good hood, all unpleasant odors during cooking is easy to disappear and not become so themselves addition to the interior.
Read more about kitchen design read here.
How to choose the right design?
To the room was beautiful and comfortable, you need to very carefully think through every detail:
visual style;
the presence of bright accents;
furniture design;
decorative elements.
When choosing the style of decoration for the room, it should bepay special attention to zoning kitchen and living room. Dividing the space into zones, can be much faster to do the cleaning, to keep order, to rest. All space must be filled perfectly. To make it easier to mentally divide the room can be used:
different in texture materials and coatings;
different finish ceilings;
the bar;
podiums;
falshsteny;
furniture;
contrasts.
The entire interior is to be harmonious, that there was a sense of integrity and completeness. Each room in the house should be welcoming and comfortable for living and holidays.
Kitchen interior design studio
Pursuing design house, many peopleprefer to choose classic colors and shades. The best design variants are considered neutral, cool shades. With the help of black and brown space can be narrowed, but using the white color, it is possible to significantly expand.
The green color in the kitchen helps to relax andcalm their nerves. This shade will look great in the living room, if its design to use a different color, but in the interior to make a few accents.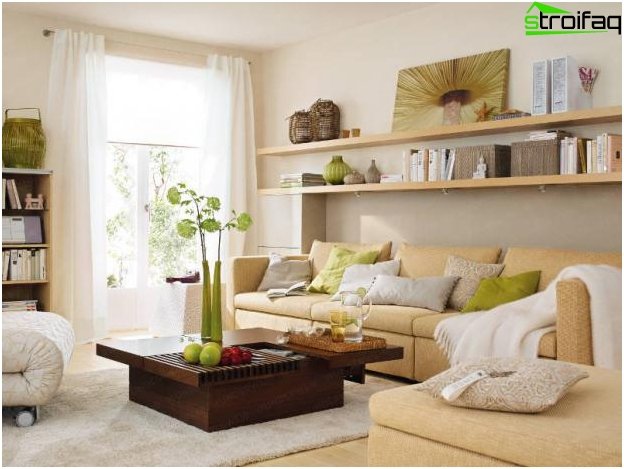 Every little detail will make the interior moreperfect and interesting. Today, every day becoming increasingly popular natural wood furniture. It gives the whole room a home warm and cozy.
Projecting accommodation Furniture in the kitchenIt is necessary to do everything to make itthe most comfortable and convenient. It is best to use a compact, small furniture for small spaces or place it in a large room in the form of islands. Be sure you want to divide the room into zones - cooking and eating, as well as the living room, where you can relax with friends and family. All items, including furniture, should be in harmony with each other. You can use different lighting options, which give the room warmth and comfort. Appliances, utensils, cooker hood is best to focus in the kitchen area, it was convenient to prepare.
Learn more about small kitchens read here.
Design living room with kitchen
Living room - a place where a lot of heldtime, so it should be comfortable. Lighting is better to use a little bit muffled, dull. Spotlights will add warmth and comfort room.
If in the living room-kitchen cooking area all installed properly, then the part where the family has a rest and receive guests can experiment in different ways to put the furniture.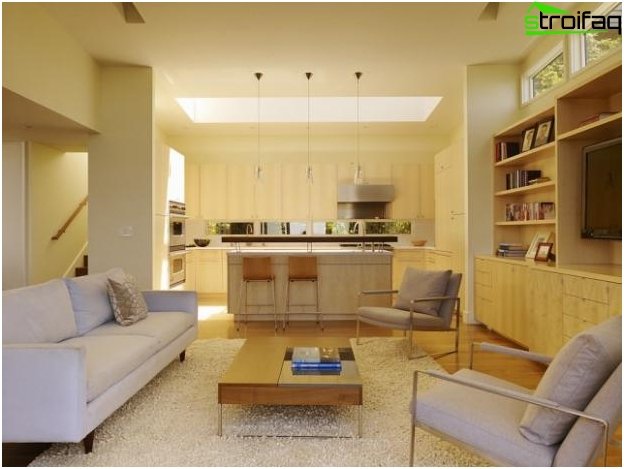 Options for placement of furniture a lot, justyou must choose the option that is most suitable family. To make room, you can use a variety of floor coverings, soft furnishings. In contrast to the practical kitchen furniture, all can be used in the living room that you need for a good rest.
Choosing a color scheme for the kitchen, you must consider:
shades of the furniture and its form;
lighting features;
living destination.
If small children, for whom hard in the familykeep track of, it is best to choose practical furniture in dark colors, which can be very quickly cleaned if necessary. If the furniture bright colors, it will give the room warmth and visually increase the room.
In the living room, you can use different flooring - parquet, carpet, laminate, tile. It is best used in the kitchen and living room are different coatings. Kitchen is very practical tileWhich can be easily and quickly wash, and to divide the room into zones, in the living room, you can put parquet, which looks nice.
In the photo below you can see an example of how you can completely transform a room, if you choose the right solution.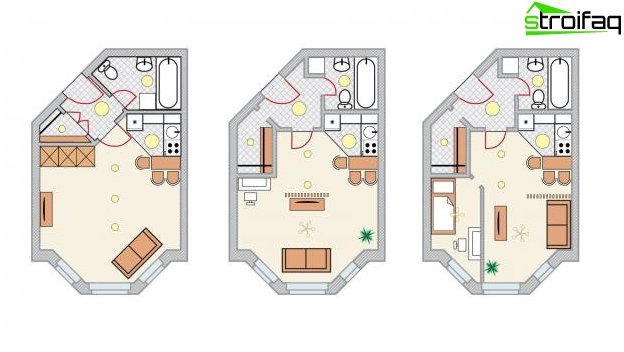 The desire of man to perfection, givesthe ability to create original solutions planning. If the room layout, you need to pay special attention to suspended ceilings. Today there are a huge number of colors and materials.
You can create multi-level ceilings, whichDivide the room into several zones. Spotlights will look great on a glossy surface that visually make the room bigger and brighter.
How to choose furniture and appliances for the kitchen and living room?
The main requirement for the furniture in the combined living room-kitchen is the presence of harmony and practicality. Upholstered furniture, kitchen corner, bar can be different in color, but they should complement each other in harmony, making a home atmosphere, warm.
Choosing a product, you should pay attention to their practicality and protection from moisture and steam. When choosing furniture, you should not forget about the technology, without which it is impossible to do: refrigerator, stove, extract, Microwave. Pick up any items to be individually, depending on how often and for what purpose the family enjoys the food.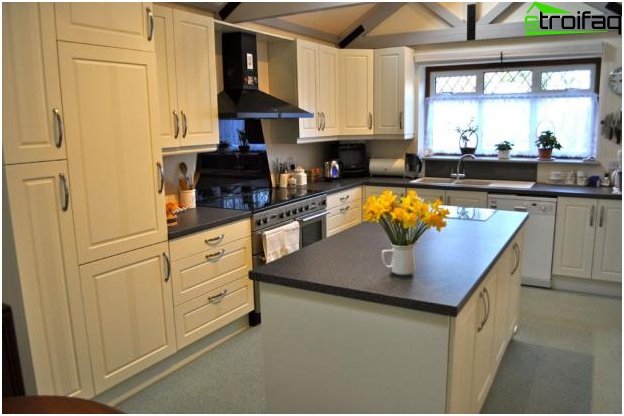 In the rare case when people almostuse the kitchen, you can do minimal technique, so as not to burden it with unnecessary things. If the host or hostess can not imagine life without preparing homemade food, you need to create the most comfortable and practical kitchen.
The living can not do without the soft and hullfurniture. It is best to place it so that you can easily and quickly do the cleaning. To the room was more practical, you can use modern solutions such as multi-functional furniture.
Read more about the interior odnokomnotnoy apartments.
Creation of a living room kitchen in a country house
The presence of a country house - a real joy for the hosts. Large and spacious kitchen, beautiful living room where you can take a huge number of guests, to arrange a nice holiday.
Thanks to the huge space, you can create a unique interior, which will be very difficult and at the same time interesting. High ceilings give the room volume, fill it with air and freedom.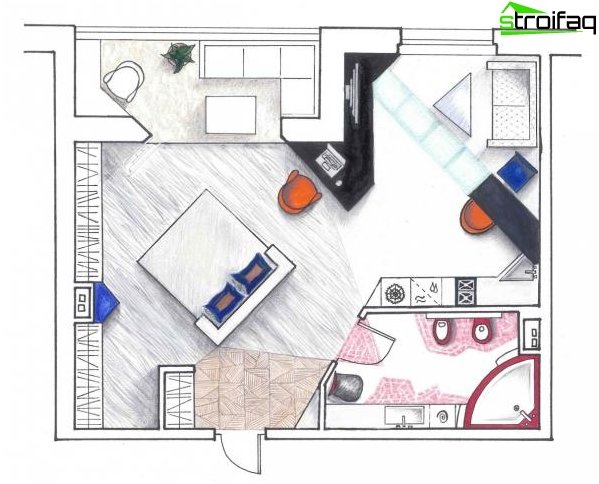 Using the interior bar and otherdecorative objects, finishing of various materials a person can create a room with a number of areas. The interior is colorful, multi-level, all the elements are in one piece, but at the same time they do not blend in on the background of each other.
The country house has a lot of design options-the living room kitchen with the help of:
multi-level structures;
false walls;
different colors and elements;
textiles;
zoning.
Due to the vast area in a kitchen can not only put the bar, but the dining table where the whole family and friends to gather.
The room must be a comfort, all things must bein its place, so they can be easily and quickly find when needed. Furniture can choose not only the angle but also the island type, when the working zone will be created in the form of a small island on the background of the entire room.
In areas with a large area without zoning is simply impossible to do. Interior living room with open plan kitchen in a large country house can be very different: classical and modern.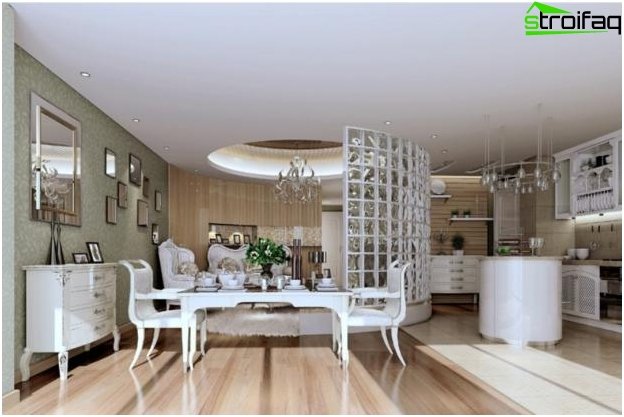 Classical interior is very nicelook at the background of bright lights crystal chandeliers and spotlights. For lovers of modern styles have a huge number of different options that will look very nice in the house.
By decorating the room, it should not be forgotten thatmoderation - is the mother of good taste. Room oversaturated colors and details, you can achieve a totally different result. And a stylish, modern bathroom will become a tasteless and vulgar.
The style of kitchen-living room space
Choosing interior for the room, it should beIt focuses not only on its preferences, but also on what style decorated the other rooms of an apartment or house. If the entire interior is classic, the living room-kitchen in the style of hi-tech will look ridiculous on its background.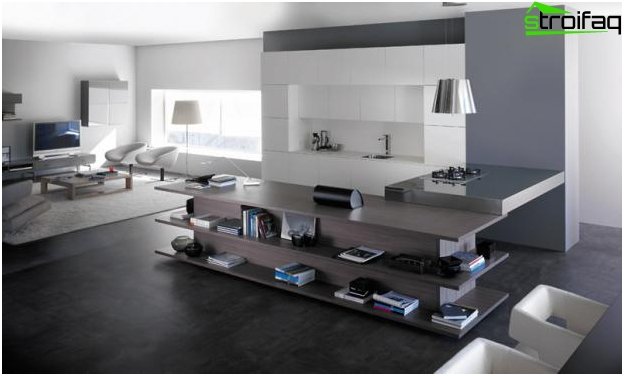 The most popular styles are classic and neoclassic. Practicality, harmony, modern, attractive appearance suitable for almost everyone.
For people with active and modern lifeposition who are not afraid of experiments suitable high-tech style. It is exclusive, vibrant, diverse, and can not go unnoticed. The most modern accessories, materials, bright saturated colors, original forms are not suitable for everyone, so such an interior suitable for the most creative individuals.
Location of kitchen furniture
Catching up on the living room-kitchen project, particular attention should be paid to the location of the kitchen units. If it is properly selected and installed, then the room will be a lot of useful space.
Furniture can be installed:
island;
in a row;
in two rows;
L-shaped;
U-shaped.
Single or more T-shaped arrangement - the mostThe best option for a small kitchen. For a room with medium and large area you can use the two-lane and U-shaped solution. Island style will look great in a country house, especially if it is a little room, but they are great. To separate the kitchen from the living room to make the room comfortable and practical - the dream of every housewife.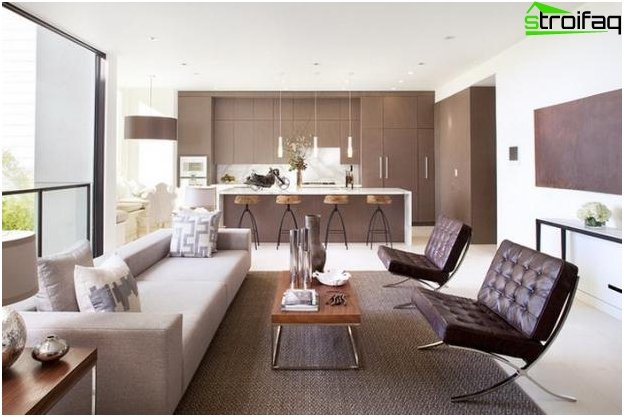 There are plenty of ideas and styles. To select the most suitable option, on our website you can see pictures of various interiors and choose the best ideas. As we reflect on the creation of a living room-kitchen, keep in mind that every day will have to find time for cleaning of the premises.
To unwanted, unpleasant odors do not spoila good impression on the situation, apartments, special attention should be paid to ventilation and exhaustion. A powerful technique allows you to quickly get rid of unwanted flavors that accompany cooking.
Living room-kitchen with each passing day it becomespopular because of its practicality and originality. Choosing the right solution for your home, you should familiarize yourself with the many options and focus on the fact that most will suit you and your family. Here are collected the best photos of the interiors that help make the right decision for the decoration of the house.