Content
Kitchen projects depending on the area facilities

Design for the kitchen corner of the room with 6 square meters. m
Design corner kitchen for room area of ​​10 square meters
Design corner kitchen for room area of ​​12 square meters. m

We select the design style

Classic style
modern
Provence
Scandinavian style
Art Deco

Popular colors

Yellow
Eggplant
Blue
Green
White

Corner kitchen with breakfast bar
What to choose for the kitchen-living room
But what to choose for Khrushchev
Corner kitchen with access to the balcony
How to pick up the furniture in the kitchen corner

Corner sofa kitchen - the best solution!
Selecting the kitchen table model

What is the ceiling in the kitchen corner
How to organize a renovation in the kitchen
Kitchen projects depending on the area facilities
Design for the kitchen corner of the room with 6 square meters. m
small kitchen layout deserves specialattention. It should be well thought out everything to fit everything you need in a small area. Most often used in the kitchens of modern design: the abundance of modern compact cabinets help hide all kitchen utensils, and their glossy facades is easy to wash. Plate, shell and placed refrigerator, typically in a line, leaving free a narrow portion near a corner 350 cm.
If your refrigerator and stove will be located close to each other, keep in mind that the minimum distance between them should be about 15-20 cm.
Here are a few tricks that will help you save space in the kitchen:
Extra shelves and hooks on the walls;
use the window sill as a work area;
buying a compact stove and oven (45 cm);
tall and narrow hanging cabinets;
choice of opening up the cabinet door or furniture use blinds.
Prefer bright glossy facades, and countertops, choose furniture made of translucent materials: it will help you to visually enlarge the dimensions of the room and add a light.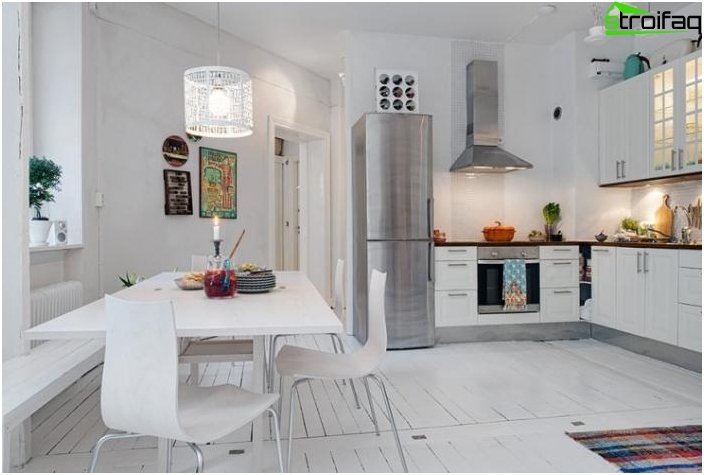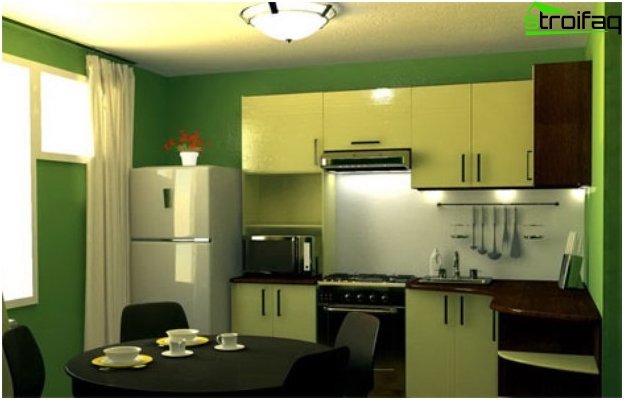 Design corner kitchen for room area of ​​10 square meters
Corner suite - one of the most practical options for placement of furniture to a kitchen. Apron It will take up little space and still havespace for one or two additional cabinets. In order not to overload the interior, better to use the built in wardrobes. Among the owners of medium-sized kitchen in high demand built worktops in a bar. Corner table top can also be set in the window area.
Kitchen, usually divided into two functional areas. The first - a plate with placed on it hoodThe second - a sink and countertop. If your family more than three people, a dining area would be more appropriate to place in the next room.
To use the maximum floor area,on the fridge, you can install shelves or wall cabinet with drop-down door. If your kitchen with low ceilings - originally set up to order a ceiling.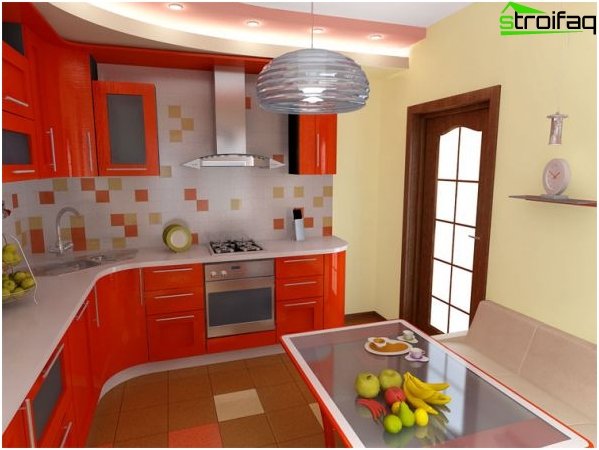 See more photo kitchen of 10 square meters.
Design corner kitchen for room area of ​​12 square meters. m
You can congratulate the owners of a largecuisine: here you can not only organize the practical working space, but also give free rein to their imagination and to realize any design ideas.
Most rooms of rectangular shapesuitable L-shaped arrangement of furniture, but the kitchen is preferable to the square layout of the letter U, which uses just three walls. Installing furniture along adjacent long and short wall, you will have more space for the organization of the working surfaces. Try refrigerator, sink and stove placed close to each other, in order to minimize unnecessary movement around the kitchen.
Room area makes the addition of accommodation dining and working areas, arrange seating area for receiving guests, and thus relieve the living room.
This additional relaxation area might look like:
an extra set of table and chairs;
Soft sofas corner for family gatherings;
sofa or couch for guests.
If your kitchen is 12 square meters. m. there is a loggia or a balcony, it will be more profitable to combine it with the room. Arrange furniture in the form of the letter T, and on-site lodge organize a dining area.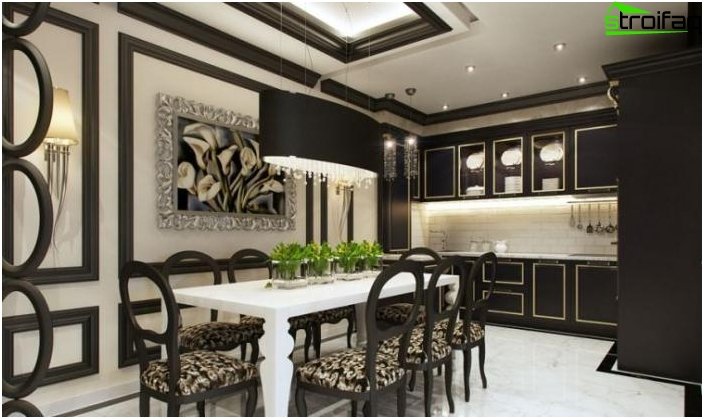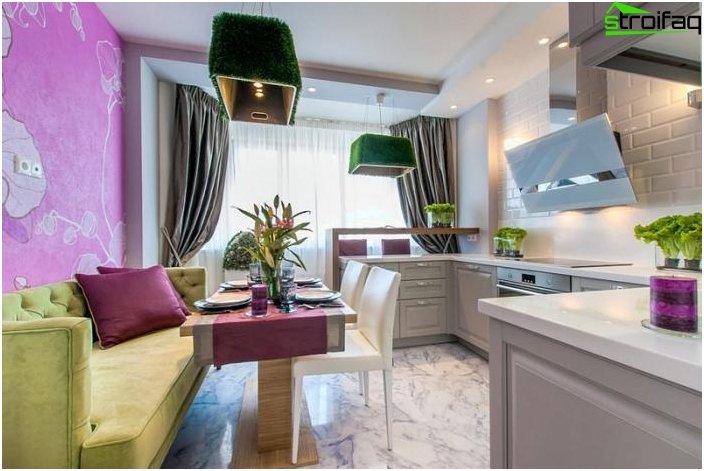 We select the design style
Classic style
Classic cuisine made from the cornerwood. The decoration of the headset used bright, natural colors: champagne, cream, cream, beige, white ash, birch, bleached oak. Shells made from these trees except chic look in the interior, are still the most durable and guarantee a long product life. Furniture made of dark wood and heavier visually narrows the space, therefore only permitted in large kitchens.
Add zero-gravity and levity classical interior, you can use inserts made of glass, which will look elegant and create the effect of contrast against the background of strict headset.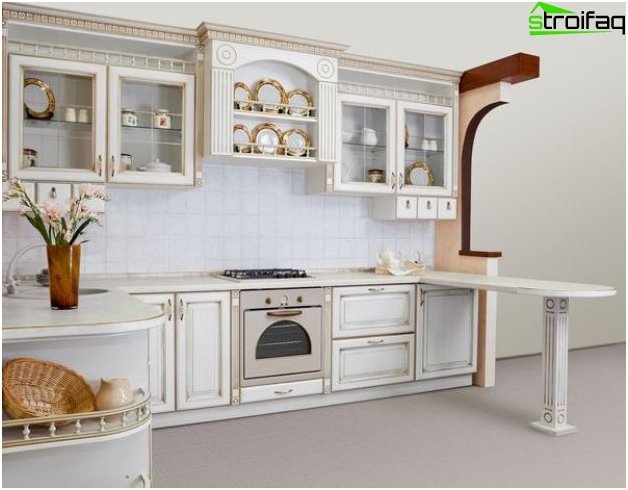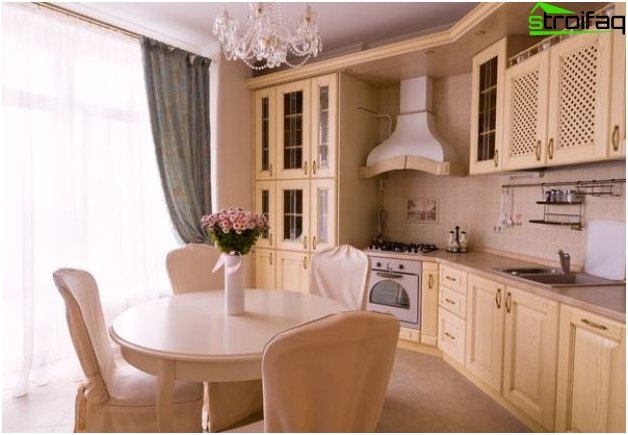 modern
Corner kitchen, made in the Art Nouveau style,different from the rest of its rigor lines, ergonomics, functionality, lots of metal finishing. In today's headset is no place pretentiousness and unnecessary decorative elements, which makes them easy to use and allows you to combine almost any interior. The kitchen in the style of Art Nouveau advantageous all furniture will look yellow, blue, green or red.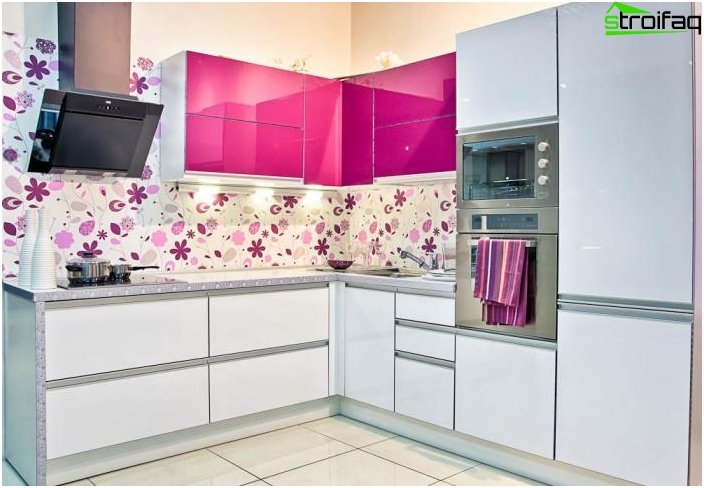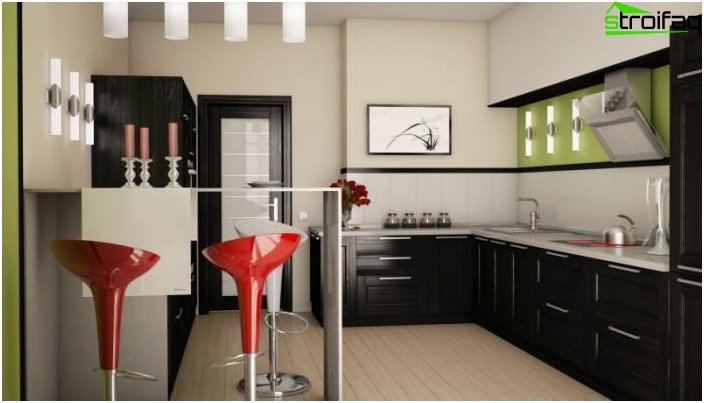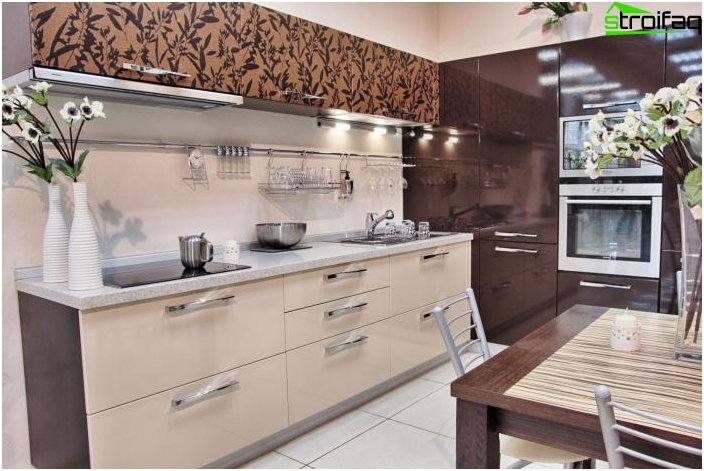 Provence
This style captivates its elegant simplicity, raw, and casual romantic French flavor. Corner Kitchen in the style of Provence It involves the use of mutednatural colors (wheat, sand, olive, mustard, beige, lavender, pale turquoise) and natural finish (metal, stone, wood, rough plaster, ceramics). All these colors look good on the background of the white walls, but other interesting combinations.
In the kitchen of Provence can also be used furniture, and a dark palette, but in this case the rest of the kitchen interior should be kept in a warm, sunny colors.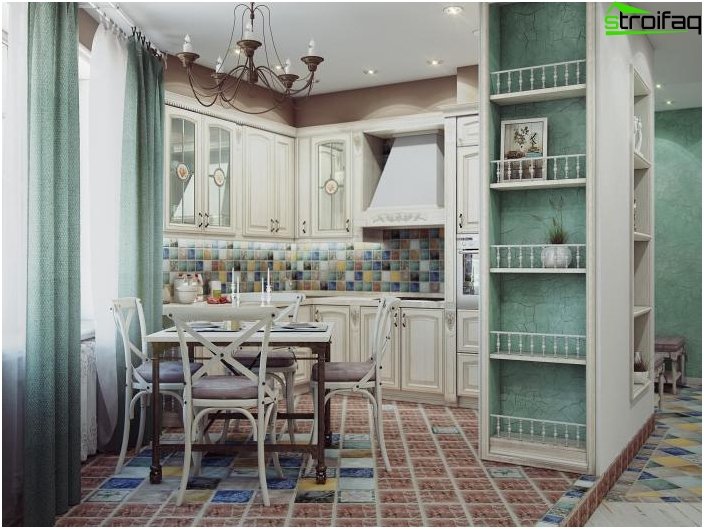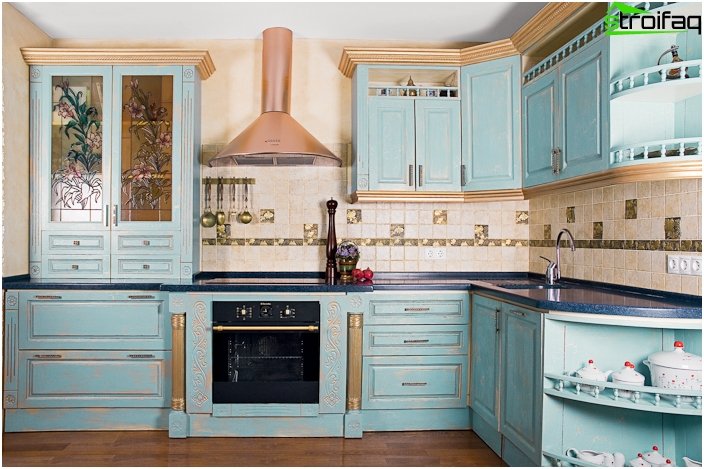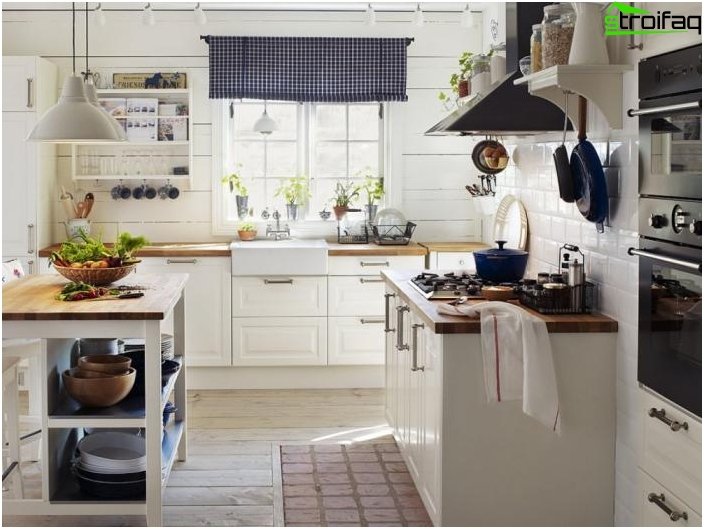 Scandinavian style
Corner kitchen Scandinavian style with its well thought-out functionality will appeal to owners small kitchens. All the furniture is strictly rectangular shapes without decorative elements and made of natural materials.
The color scheme of the interior dominated by light colors: beige, white, light terracotta, as well as all sorts of shades of gray, turquoise, amber-yellow, light brown, sand color.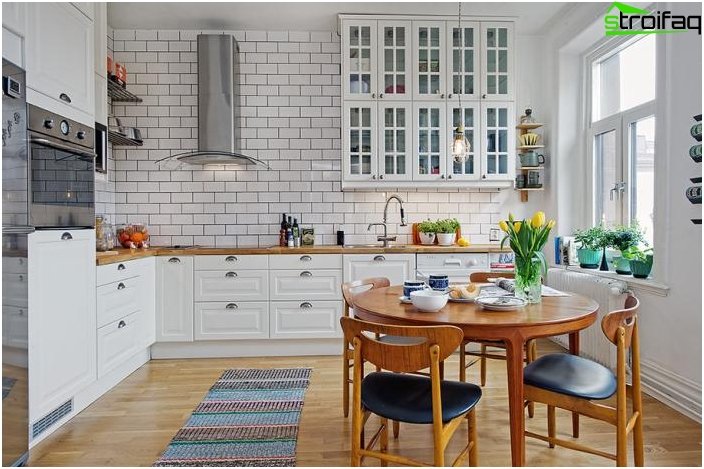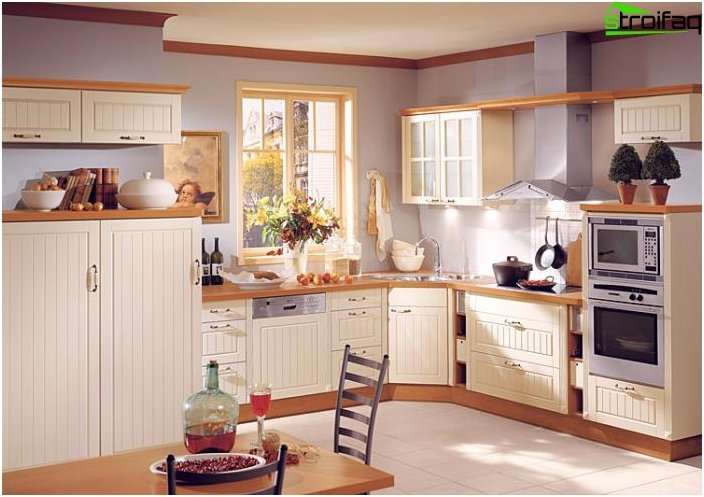 Art Deco
The corner kitchen in the style of Art Deco lookroyally gorgeous and literally dazzle with its magnificent appearance! Exclusivity, expression, chic, whimsical patterns, mirror - it's art deco! Stylized set has strict geometrically correct shape and is made mainly of fine wood.
For the kitchen corner following shades fit in the style of Art Deco:
cream, sand, milky beige;
gold or silver;
purple, lilac;
burgundy, terracotta, red;
White and black;
ocher, brown the whole gamut.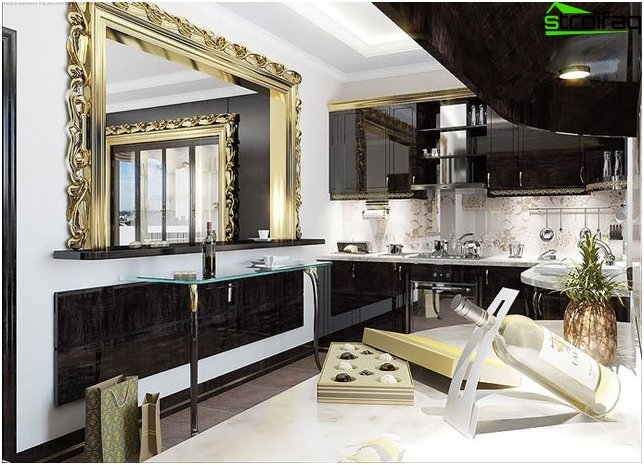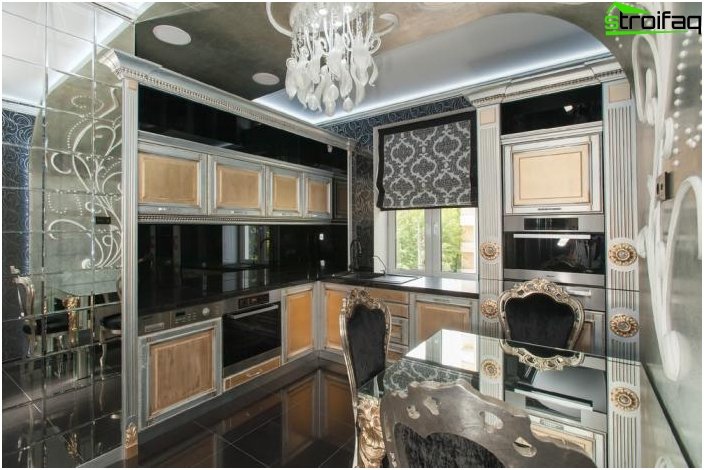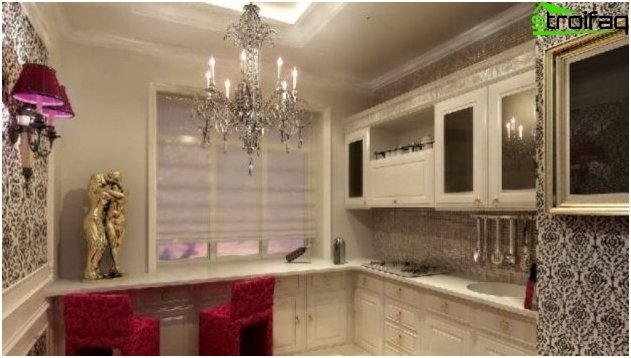 Popular colors
Yellow
Stay on this automatically increases the kitchenmood and charges the cheerfulness! Preferring corner kitchen is yellow, you can expand the space visually. Yellow suite is best combined with light blue, black, gray, purple flowers in the interior.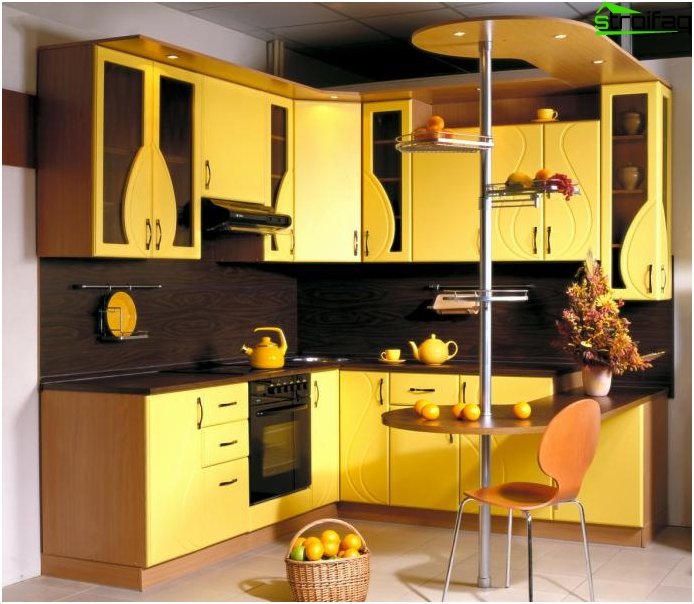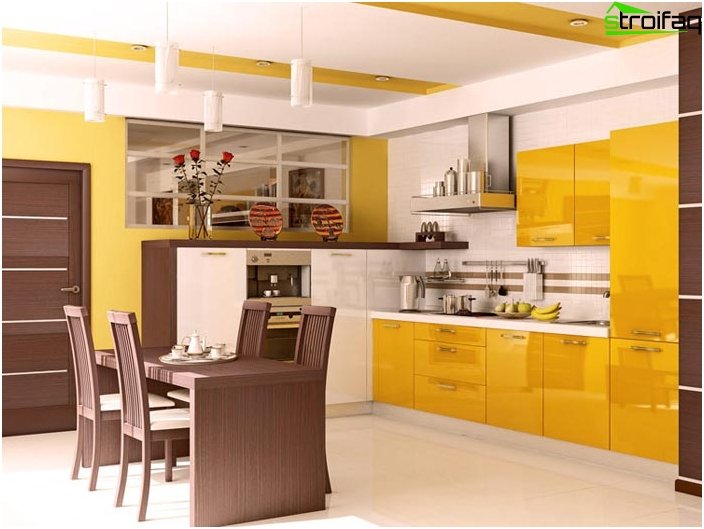 Eggplant
With gourmet corner kitchen "eggplant" colorwell it will look green, beige, yellow, golden-brown color of the interior. Beautiful interior will also with a combination of blue and purple headset and decorative elements made in lemon, honey-yellow, olive, cream, gray tones.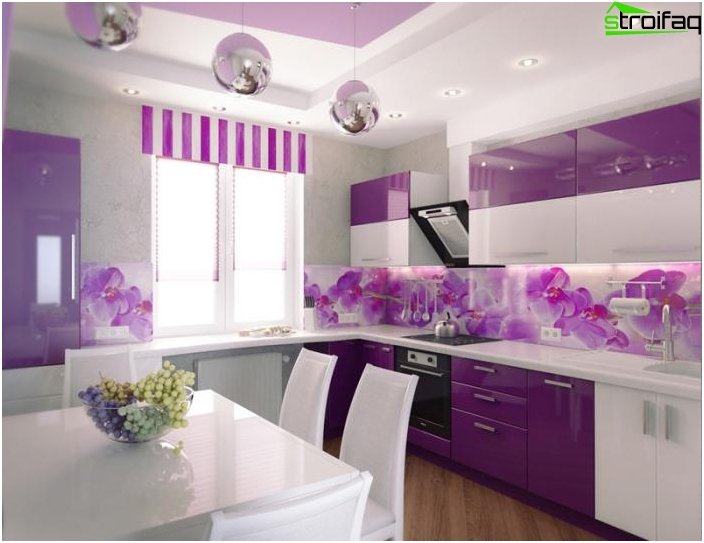 Blue
Corner kitchen blue palette create an interior that will give calm and harmony. For this headset in addition suit red, gray, pink, yellow, white, orange.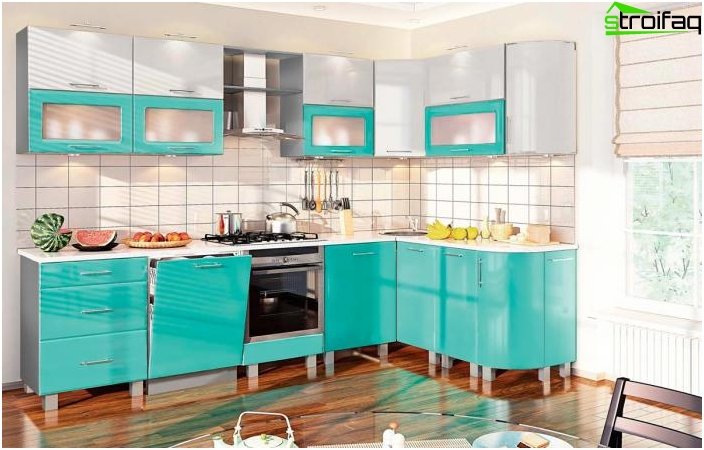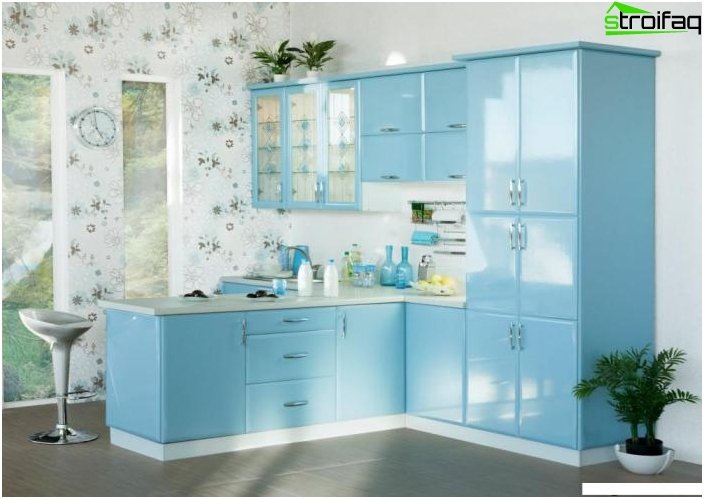 Green
Green kitchen set It will look good in combination with a golden-brown, light beige, yellow and black.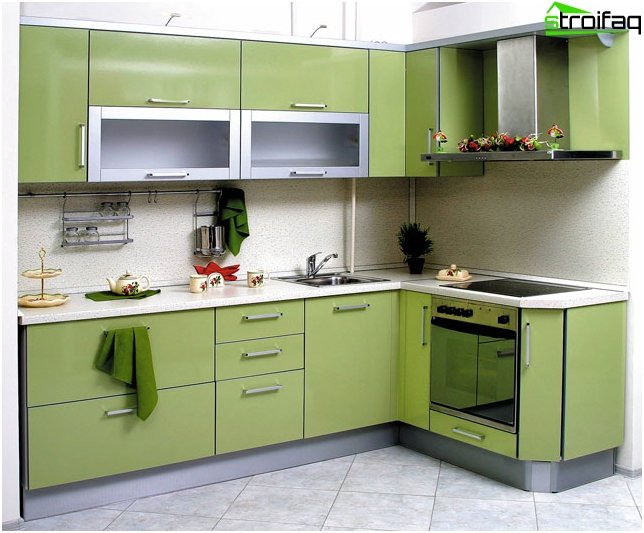 White
Colour-favorite among lovers of the classics. White kitchen corner fit literally everything, but the best thing would look with red, blue or black trim elements.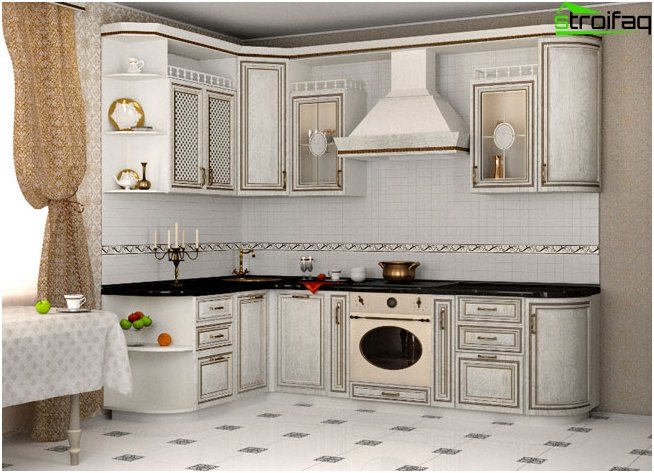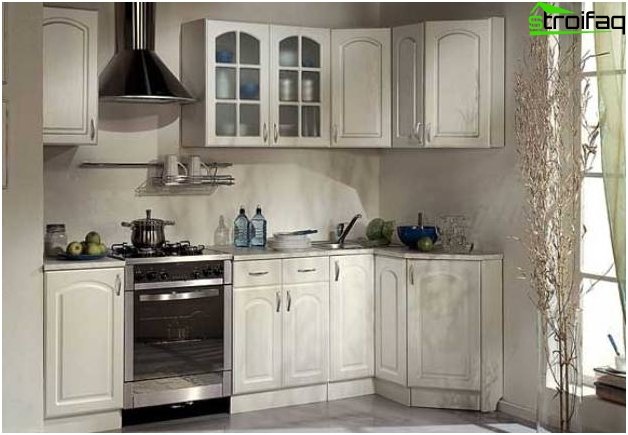 Corner kitchen with breakfast bar
This effectively transforms the unusual detailKitchen interior, making it a fashionable and creative. This adds an element of interior freedom, looseness, creates an atmosphere of fun and ease. Many manufacturers make the final corner kitchen with built-in bar, giving a headset at the same time refined and finished look. The reception is considered a full-fledged subject of kitchen furniture and is a narrow high table adjacent to a window or wall.
Advantages corner kitchen with breakfast bar:
It saves space;
adds zest to the interior;
suitable for any style;
relevant for any kitchen area;
well it complements, and sometimes completely replaces kitchen table.
In the kitchen, a large bar area can also serve as a tool to divide the space into functional zones.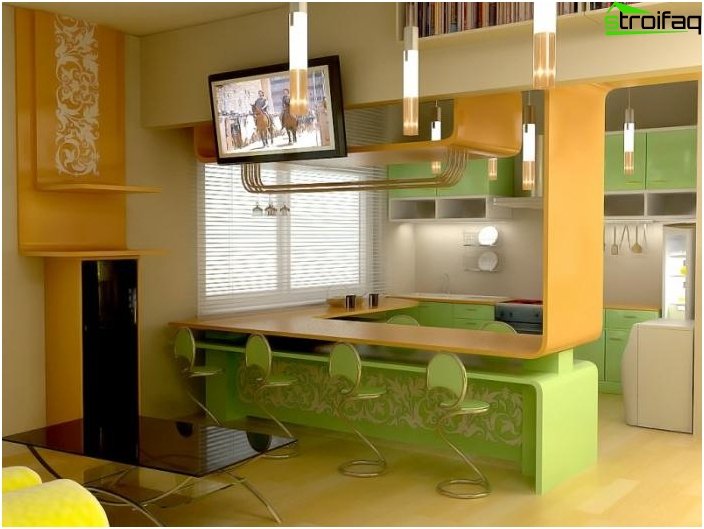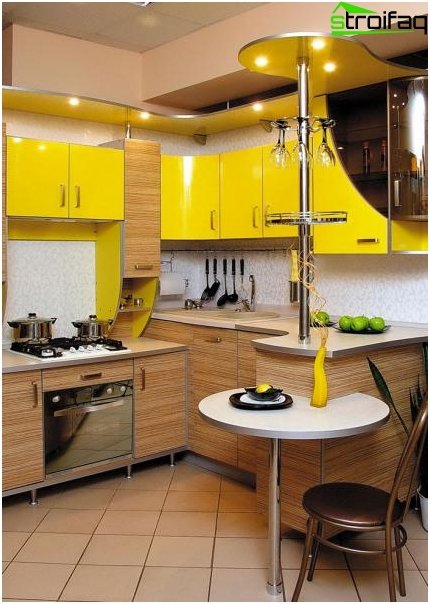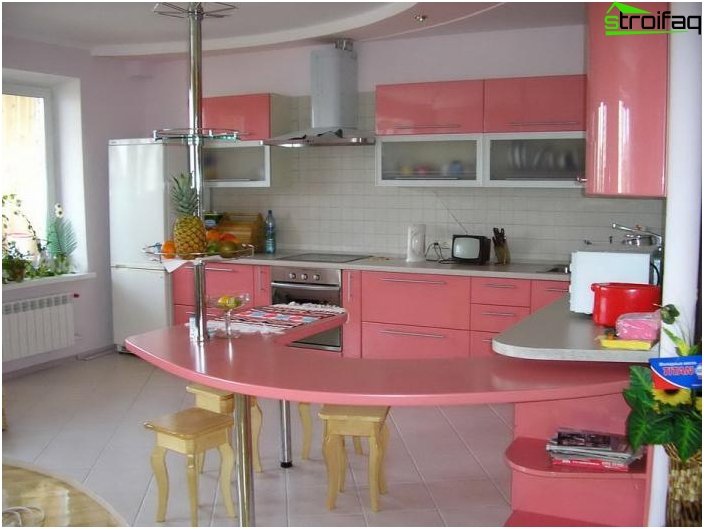 What to choose for the kitchen-living room
For the open-plan kitchen with living room, cornersuite - the ideal plan. The kitchen is a breakfast bar or a small partition should certainly be supplemented, which will serve as the delimiter between the two rooms.
The kitchen-living room will look greatfrosted glass or furniture with glossy shiny facades. Note that the color of dining furniture in the living room and countertops in the kitchen have to be the same - only the interior will look spectacular.
For a spacious kitchen-living room in a private home is allowed the use of two or three dominant colors.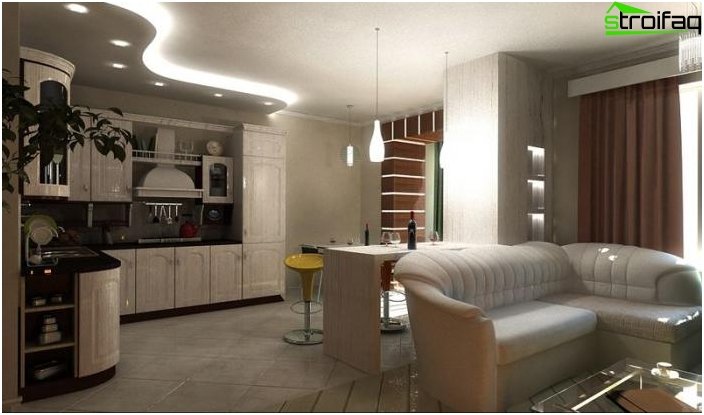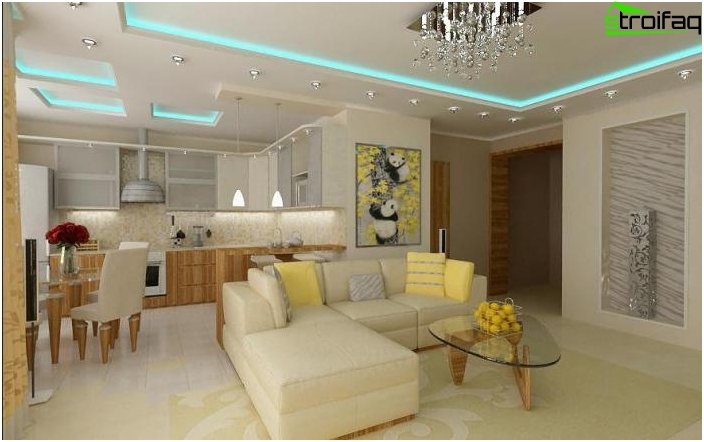 See more photo kitchen-living room design.
But what to choose for Khrushchev
Multi-corner kitchen, thanksits graceful curves, a perfect fit into the interior of a small kitchen! It is necessary to place the sink or desk area in the corner, and the kitchen will be more free space. Corner suite is convenient because it forms a kind of "work triangle" (stove + sink + working surface), which will focus all you need for cooking. The most optimum variant of placing this triangle - the window, a sink or counter top, located in the corner.
Recommendations on the organization plan kitchen corner in the Khrushchev:
Leave the working space between the stove and sink;
Pick up the slab into two ring stove;
set the compact car wash without additional surfaces;
maximally engage the space under the ceiling, install wall cabinets;
microwave hide in one of these cabinets;
ideal - built-in refrigerator;
try using a folding table.
Modern kitchen corner - it's convenientmultifunctional models of which can be combined in a large amount of storage space. Numerous drawers and pull-out the so-called "carousel" unload space of unnecessary items and frees up more space in the kitchen.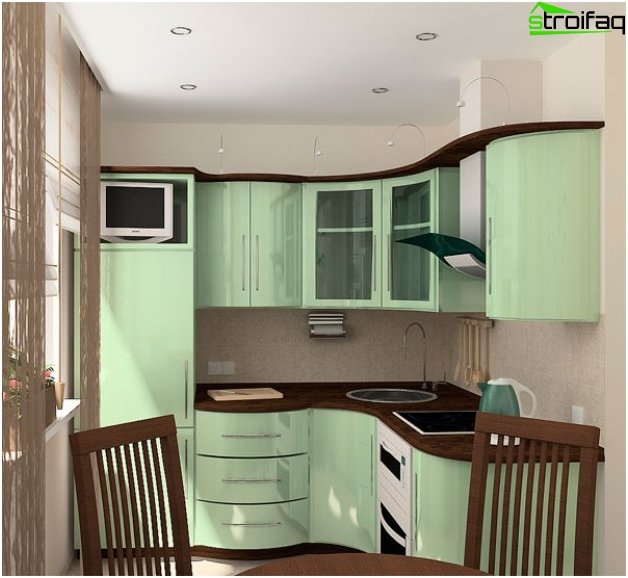 Corner kitchen with access to the balcony
Difficulties in planning related to a small area, are irrelevant for the lucky owners of open plan kitchen balcony. These rooms have a large number oflight and allow to choose the interior virtually any available layout. Free space on the balcony can be used as a work area by placing a corner suite there, or put to bed with a table and make a holiday destination.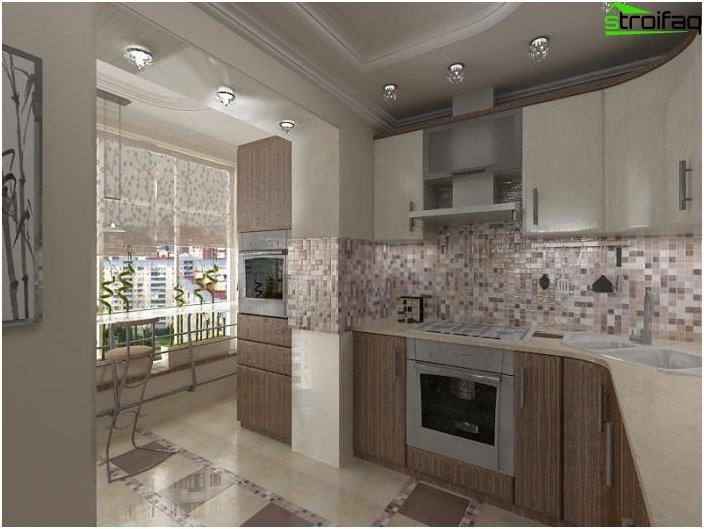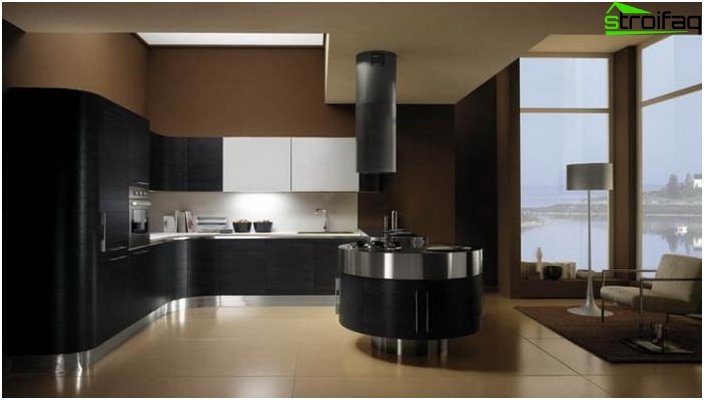 How to pick up the furniture in the kitchen corner
Before ordering furniture primarily drawby hand or in a special program pre-placement project, guided by main principles: user-friendliness and functionality. Choose furniture that will successfully fit into a room, and at the same time will not interfere with other subjects.
Corner sofa kitchen - the best solution!
When planning each space is importantcentimeter, so leave empty corners simply unreasonable! Place there a beautiful and cozy sofa area and move it to the table - is significantly relieve the food center and frees a lot of space.
Here are some advantages of a corner of the sofa:
It provides comfort;
increases the number of seats;
no need to buy additional chairs;
universal design (no need to select the color of the cabinets).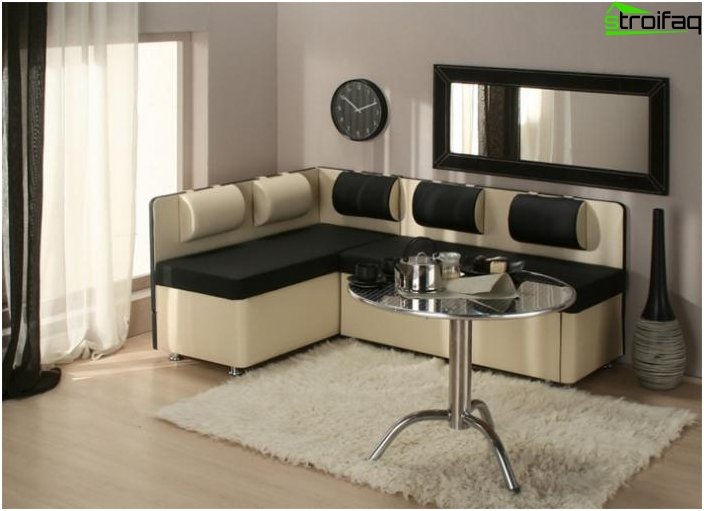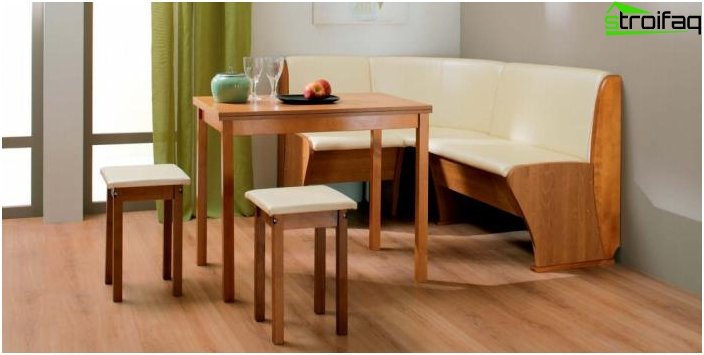 Selecting the kitchen table model
The main requirement to be met dinner tableIs practicality! Choose furniture made of environmentally friendly materials: it must be accompanied by specific documents that you must provide any manufacturer.
Variety table Key Benefits
| | |
| --- | --- |
| Table transformer | Optimum functional option for a small kitchen |
| Table-book | A practical option for both small and large kitchen. Tables can easily be transformed to the desired size, depending on the case |
| Corner table | Suitable for one or a couple of people. It saves space in the kitchen |
| Folding table | Practical and ergonomic, it is often used in the Khrushchev and communal. When a table you do not need, he just leans back completely and does not take place |
| Glass table | Originally it looks and is suitable for any style. Practical, easy to use, visually expands the space |
| Wooden table | Classical, combines convenience and reliability, a wide range of beautiful models and practicality |
| A table with a stone countertop | Durable and dolgosluzhaschy. Able to decorate the original interior of the kitchen |
| Table with tiles | Reliable and practical. This furniture is resistant to moisture and high temperatures |
When calculating the size of the table to buy, keep in mind,that every person who sits behind him, for convenience should be given at least 60 cm The more -. the freer and more comfortable will you and your guests.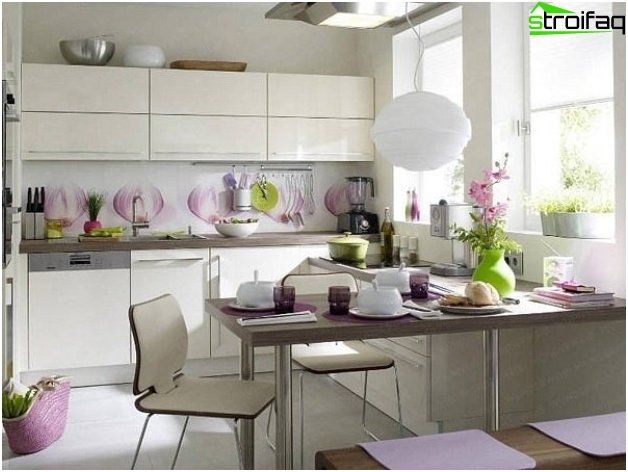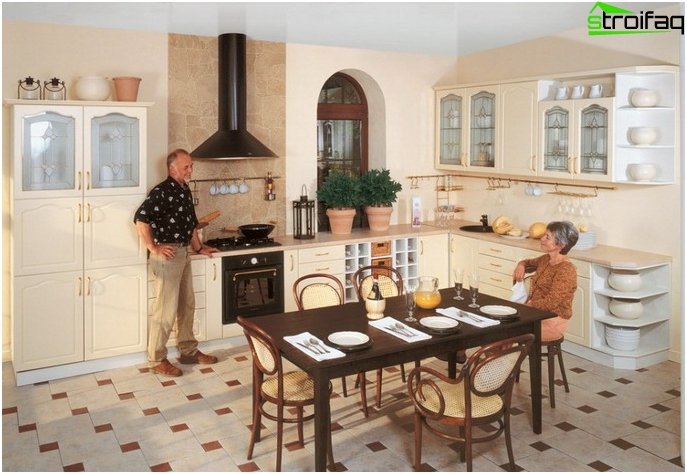 What is the ceiling in the kitchen corner
Designers unanimously recommended for projectscorner kitchen manufacturing multilevel tension ceilings of plasterboard: they will look unusual, giving the flavor of the room, and at the same time visually increase the space. Undulating ceiling will help to smooth the severity of geometric shapes cuisine. In the design of the ceiling is preferable to choose the white, pale blue, and in general, any bright colors.
Using the split-level ceilings, the kitchen can be divided into working and dining area. This will also help to recessed lighting in the zones.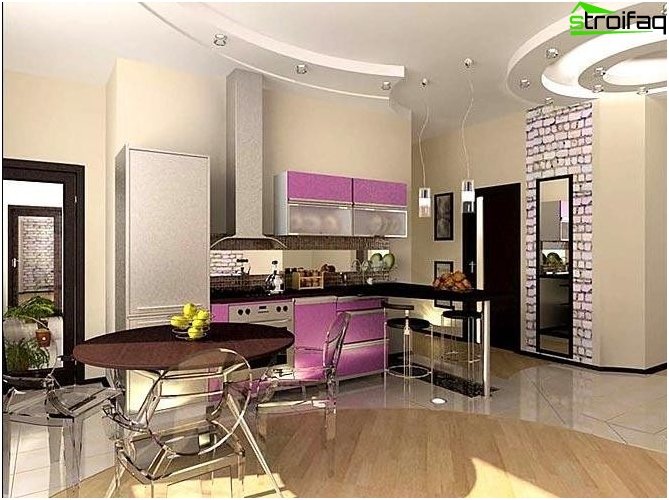 How to organize a renovation in the kitchen
Repairs in the kitchen is deservedly considered one of thethe most time-consuming and costly. The main difficulty lies in the fact that at the time of finishing the room, it will be necessary to turn off the stove and water, without which it is almost impossible to survive in the conditions of modern life.
Algorithm for repairs in the kitchen:
Clear the room of all furniture. If you plan to change the windows in the kitchen - better to start the whole repair with this.
, It is recommended to carefully calculate allmake a preliminary draft future kitchen in which to plan your stove, sink, dishwasher and other appliances. Decide on the location of outlets and lighting - this is important!
Measure the height and length of the walls to calculate the dimensions of the future furniture.
Replace the pipe. Typically, this is done at the same time throughout the apartment: in the toilet and in the bathtub.
Change the battery with a new one or find a way to ennoble and decorate the old style for the new interior. When replacing you need to install an aluminum radiator.
According to your project dishes, lay the wires and sockets to do.
Now that all technical issues have been resolved, we can bring new furniture, installed set and decorate the interior! Your dream kitchen is ready!