To the wall did not look simply and sadly,they necessarily decorate something original. No need to go out and spend money on the purchase of a masterpiece by an unknown author, it is better to roll up their sleeves and do something very exclusive.
Three-dimensional panels
or tube is needed for its production ofpaper towels or toilet paper. They are cut into small cylinders, in the desired color paint, glue transparent sheets in various patterns, and then attached to the wall.
Another option would decoration drawing floral ornaments with paper molds for cupcakes in two sizes large and bright buttons. The plastic sheet is used as a canvas.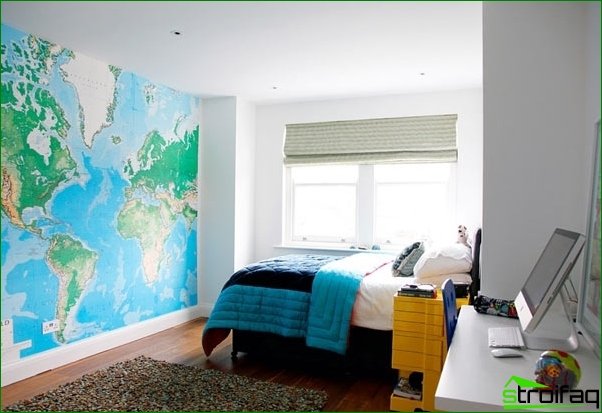 Kaleidoscope
Using several different kinds of wallpaper with geometric patterns, creating a fun installation and place it on the wall in front of a massive wooden table, on which weighs a spherical lampshade.
geography lessons
If you cut a map of the world for a fewrectangles of different sizes, each put in a fine frame for paintings hang on the wall and connected to each other, we get not only an unusual interior design living room, but also can improve your geographical knowledge.
The original panel
To add a bit of softness and comfort to the room, the walls of which are painted a monochromatic paint, it will be good to make some sections of the paper wallpaper reminiscent of the panel.
The work is quite simple and requires no special skills, and the effect is striking. On the walls are fixed wallpaper and decorate the edge of the ceiling molding.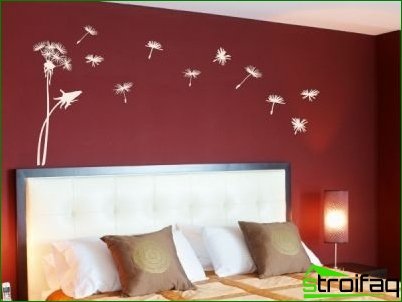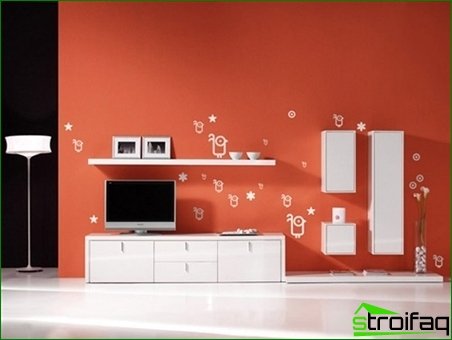 A masterpiece in half an hour
Create an exclusive fabric that existsOnly a single copy can be less than one hour. To do this, take a canvas cover it with tape at random locations, thus forming a geometric pattern.
Then paint all acrylic paint when it dries out a bit - remove the adhesive tape. If used in the dyeing several contrasting colors, we get the original painting for the living room.
Collection of postcards
We note a very interesting point. Anyone who as a child was collecting all sorts of cards and keep them, can become the owner of a unique decoration for her room. Stick them all one by one on the board base, and you get a one-of-a-kind installation. Instead of cards you can use family photos of several generations.