Kitchen - it is not just a room where we prepare andWe eat, but also a place where all family members to spend time together, such as watching TV or discuss the previous day with a cup of tea. Therefore it is very important to create a pleasant atmosphere here. Think through everything you need - the color of the walls and textiles, light dishes and, of course, furniture. The greatest attention should be paid to the choice of table and chairs. How to choose furniture to order? How to make sure that everyone feels comfortable in the kitchen?
The main points to consider when choosing a table and chairs for the kitchen:
• size of the room;
• design and overall mood of the kitchen;
• materials and form;
• colors;
• combination of practicality and convenience.
Today, the shop windows are full of varietyfurniture, you can choose any color and form. In order not to get lost in the store before going to decide exactly what you're looking for, and our simple tips will help you. But if you are really want something original kitchen is custom made is the best solution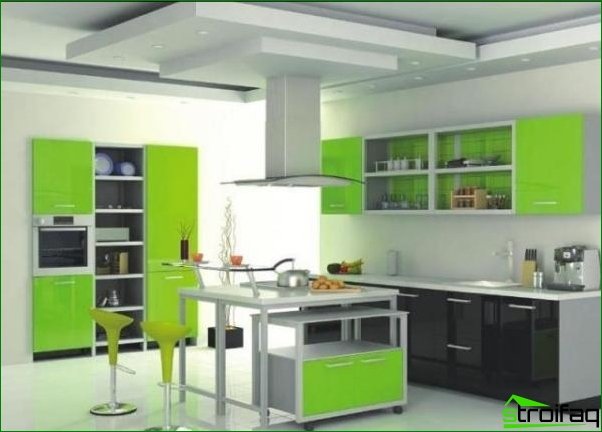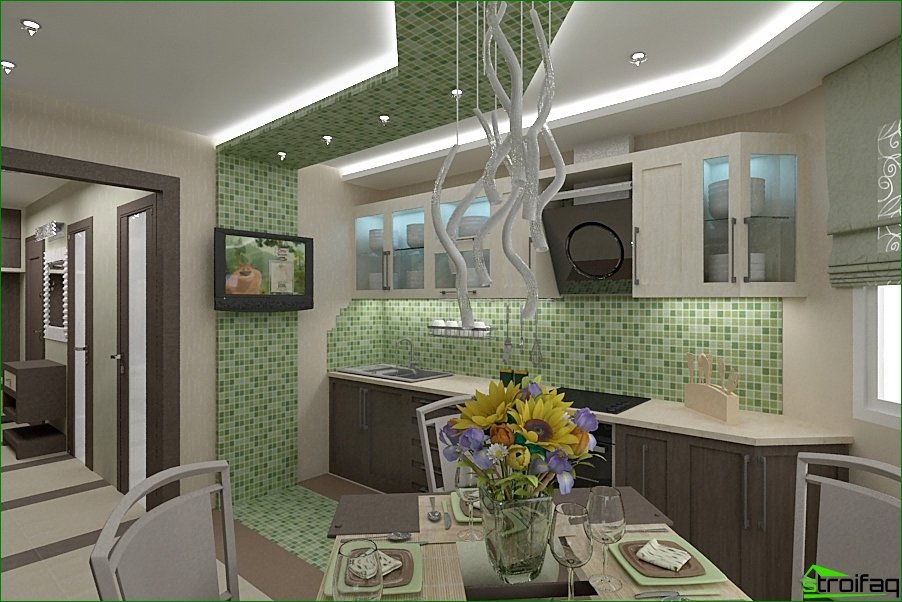 materials
To start with the choice of material, fromwhich will be made your furniture if you give preference to wood, plastic, glass or metal, depends entirely on the taste preferences as well as your budget.
If you have a priority and practicalityreliability, choose a table and chairs made of solid wood or veneer. Care products made from these materials has its own peculiarities: it is not necessary to wipe them with a wet cloth strongly, especially the veneer, as it refers to the lacquered surface. Be careful, and if used properly, your table will delight you with many, many years.
Glass table top - it's not uncommon formodern kitchens, they look very stylish, fill the room with additional light. By the way, do not be afraid that this table will last for long, glass tabletops are made from which is very durable and can withstand heavy loads.
To give your kitchen style, you canuse of forged furniture. Especially luxurious look forged tables with glass tops. Metal Chairs advantageous to look if the skin is used for leather or expensive textiles.
If you choose a table and chairs for the countrysidekitchen, the use of wicker furniture is very appropriate. It is very advantageous to look in a cottage interior, besides this furniture is not very heavy, so you can easily bring it into the garden for a family feast in the open air.
Once you have decided on the choice of material, it's time to think about the shape and design.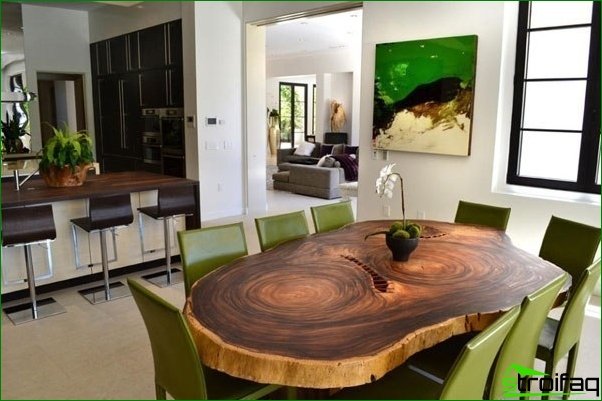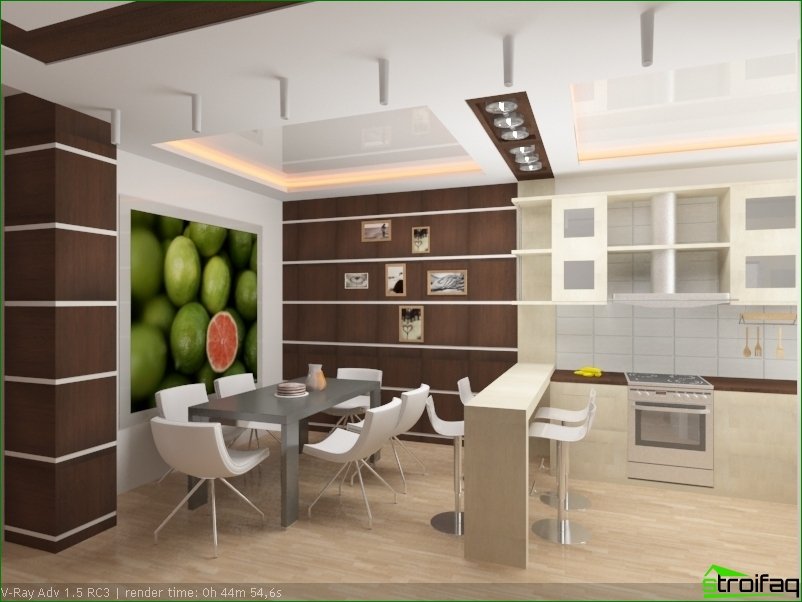 Table
Table - is the heart of the kitchen. When it is selected should be guided by the size of your kitchen and in a number of places you need to accommodate all family members, if necessary - and guests.
If you have a lot of free space, thenproblems with the choice of a suitable table should arise. You can choose a spacious rectangular table, which was a big friendly company will be able to stay. Oval tables look very elegant and suitable for everyday use and for celebrations. Round Table - a symbol of family harmony and well-being, for it is so nice to spend time with family and close friends. Oval and round tables also have to choose the families who have small children, since they do not have sharp edges, which means that your child can not accidentally hurt.
Much more difficult to choose a table for a small kitchen,but do not despair, there is a solution. If you are a small family (up to 3 people), the table size 120h75 cm - this is what you need. Folding table will help to save space in a small kitchen, and expand it and to bring guests if necessary.
If the day everyone is busy with their chores and dinner outside the home, and the whole family gathers for dinner only, then think about how to place the table is not in the kitchen and in the living room.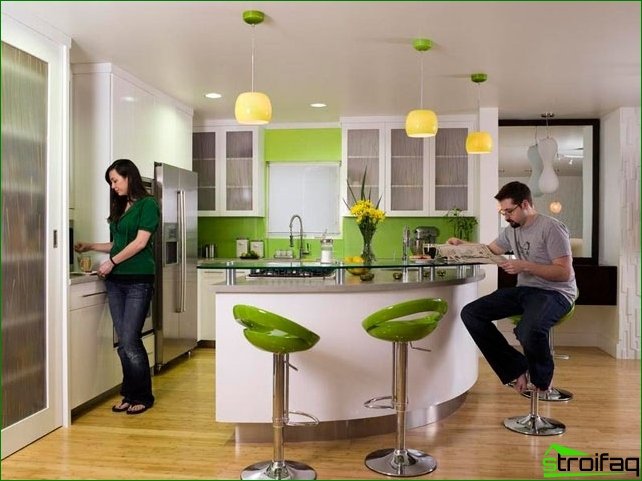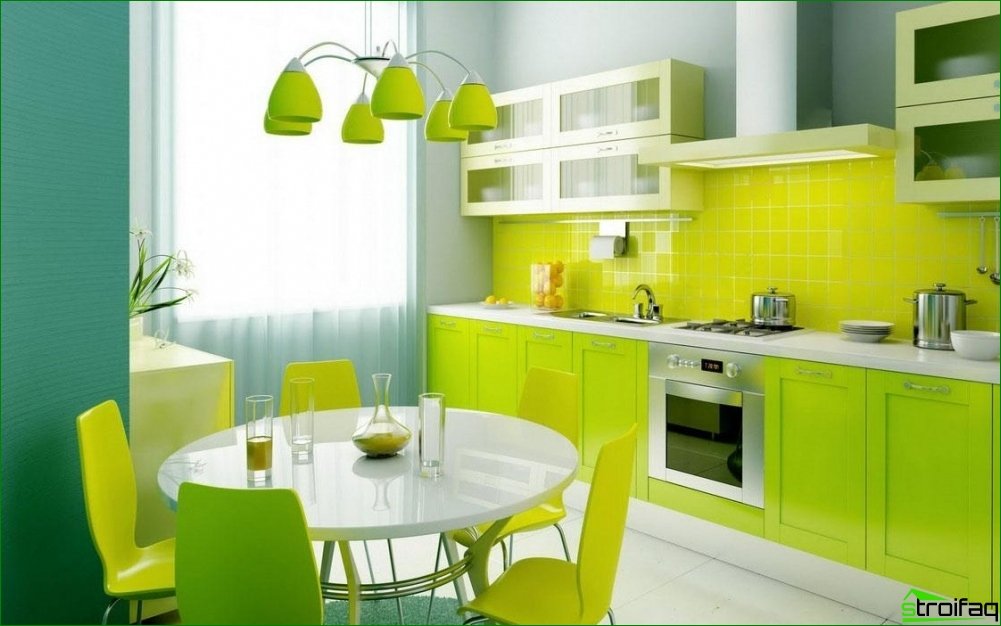 Chairs
The choice of chairs for the kitchen, as well as tables, veryimportant. They need to be comfortable, durable, and combined with the rest of the furniture. That's why we recommend you to select chairs once you have selected your table. This will help you avoid unpleasant surprises, for example, it may be that the chairs will not fit in height, you will agree, it is not very comfortable at all times to bend to the plate, if the chair is too high.
As for appearance, the chairs with backssuitable for kitchens large and medium sizes. If you have enough free space, then buy stools, which can be removed under the table, or folding chairs. Another option, which has recently been in demand - it is invisible chairs, they are made of durable transparent plastic. This option is ideal for small kitchens, as these chairs do not clutter up the space.
As you can see, the options are many. Стоит только немного проявить фантазию, и вы сможете найти именно то, что нужно вам.