TOP-120 photo for a modern bedroom design. Tendencies of 2017 in the choice of color, general style, decoration and furniture. Features of creating multi-functional bedrooms.
The coming year always carries in itself something new,Fresh, interesting. This applies not only to everyday life, but also to interior design. 2017 gives an opportunity to take a fresh look at the place of your rest and relaxation - the bedroom. On the novelties and trends in the design of the bedroom read in this article, and the attached photos let them become a source of your inspiration.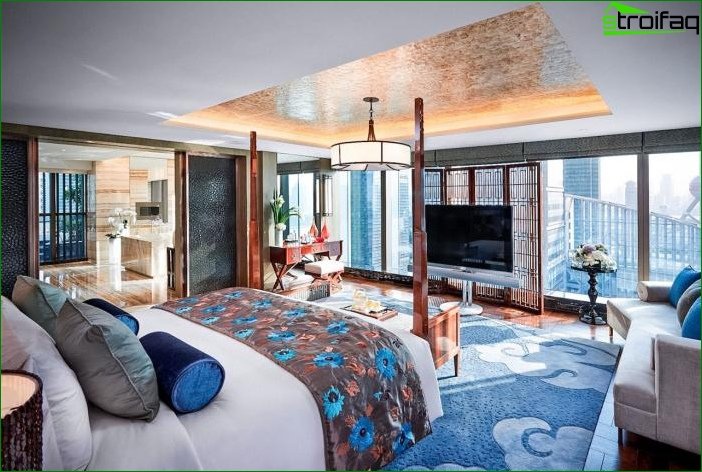 Content
Bedroom - the most intimate space in everythingYour home, whether it's a modest little apartment or a luxurious three-story mansion. That is why it is important to design it completely and completely in accordance with your desires and needs. For someone it is critically important to be able to relax and completely immerse yourself in a sweet bliss after a hard day's work. For someone, the main task is to create a bedroom design in which every morning will begin with inspiration, a charge of vigor and energy. Well, for someone, the bedroom becomes not just a place of sleep, but the abode of love and passion. All this in their recommendations for the upcoming 2017-year took into account the world's leading interior designers. In what trends will be relevant and what new items should pay attention, let's understand below.
Tendencies in the choice of color
Neutral colors (white, gray, black)
In contrast to the design of the living room, where the riot of colorsEmphasizes the eccentricity and taste of its owners, the bedrooms are decorated in a more calm, enveloping, neutral tones. Traditionally, for these purposes, a variety of shades of beige are used. But in 2017, these colors go to the past, yielding to the palm of primacy snow-white interiors.
White - the perfect color for the design of a small bedroom.
White color is quite versatile and, inThe same time, with a multifaceted color. It can be used in almost any room. However, for those who believe that white is not very practical in everyday life, designers suggest combining it with gray (steel) shades and black. In what proportions to combine - it's up to you. In small spaces it is enough to confine yourself to dark furniture or textiles, and wallpaper for the bedroom, flooring, ceilings to make white.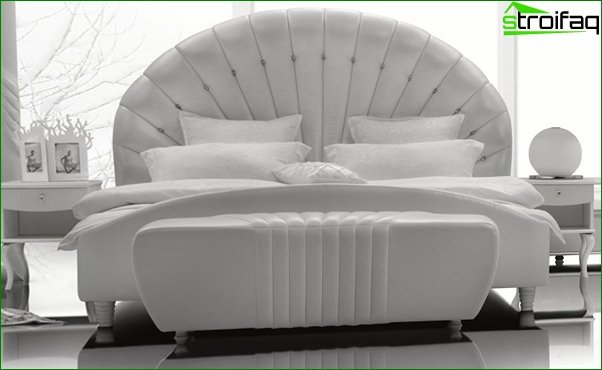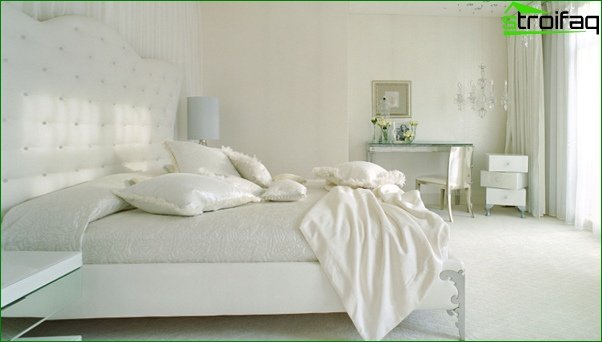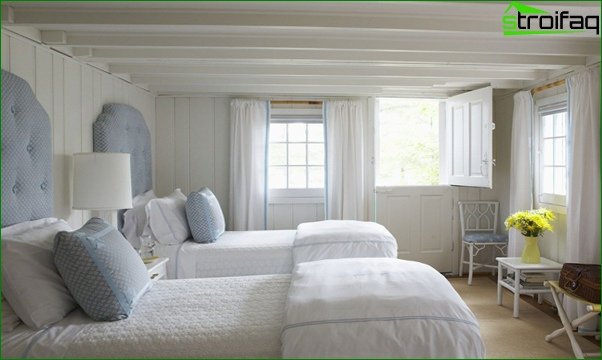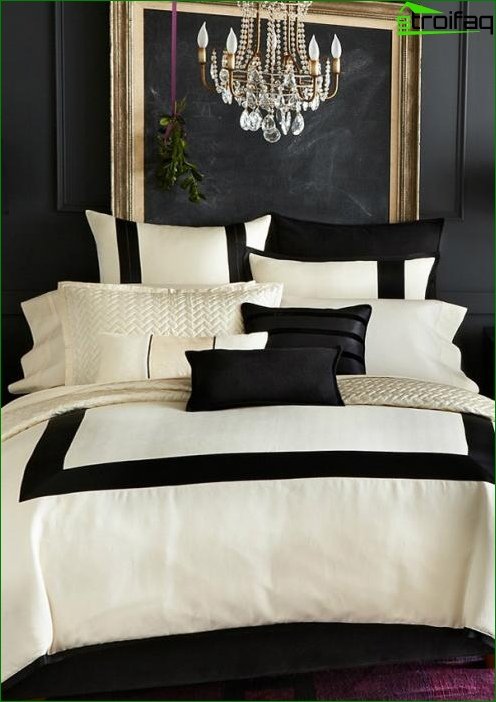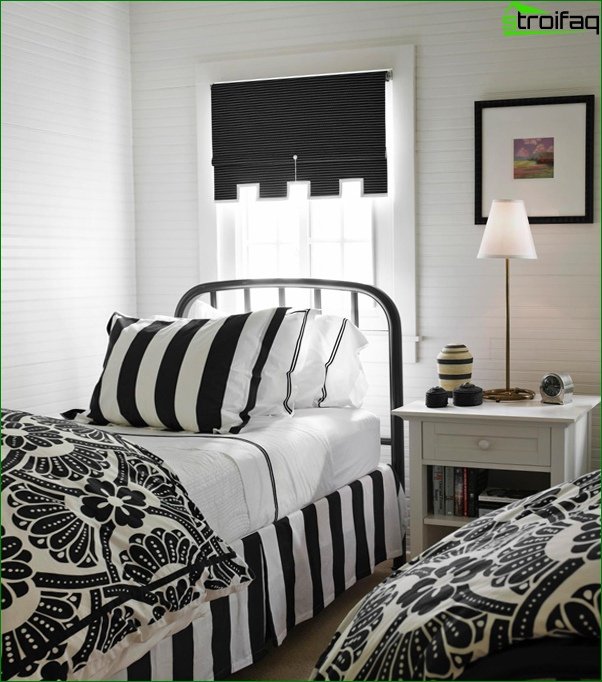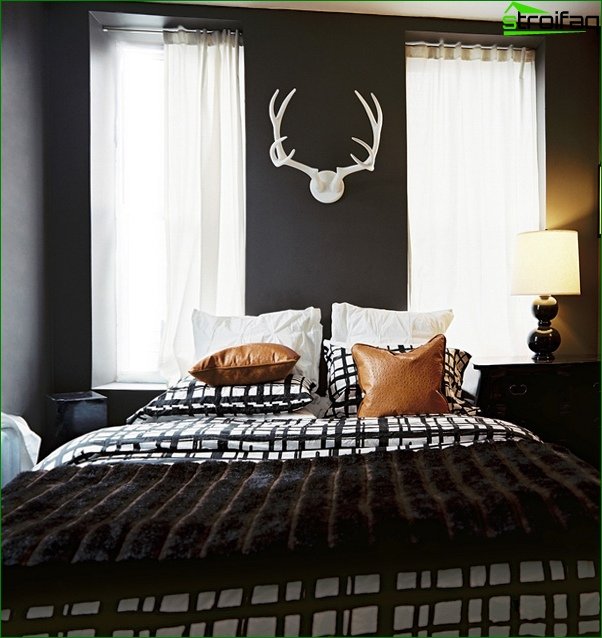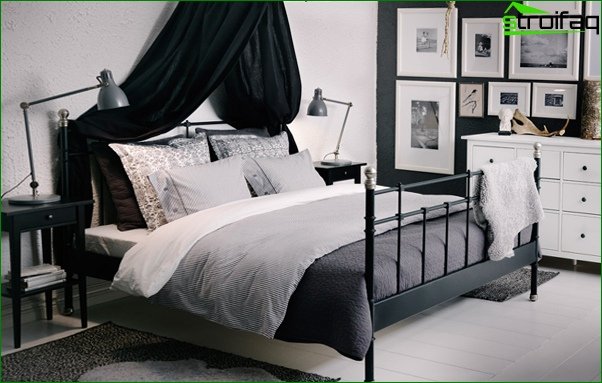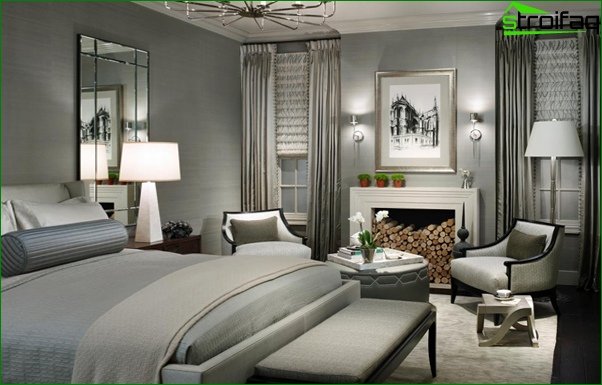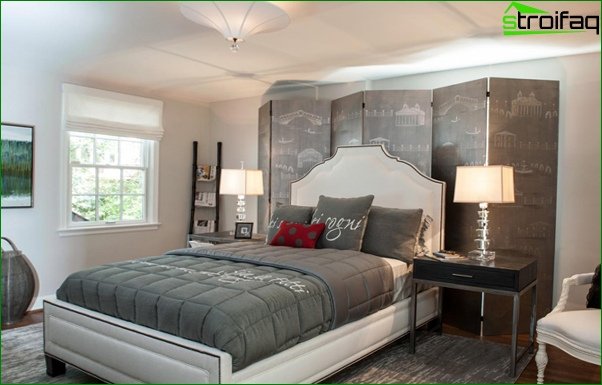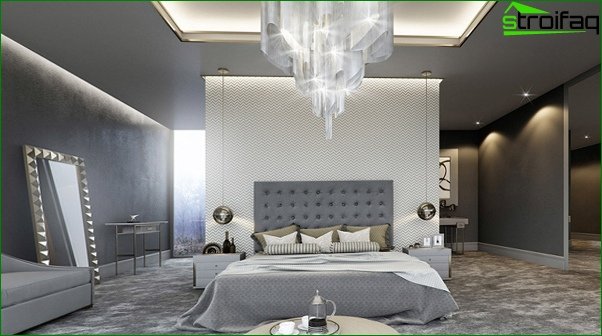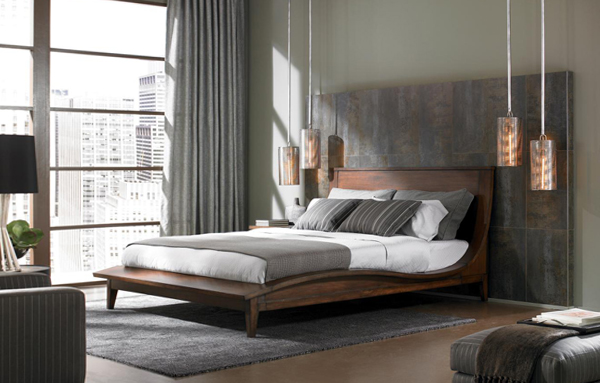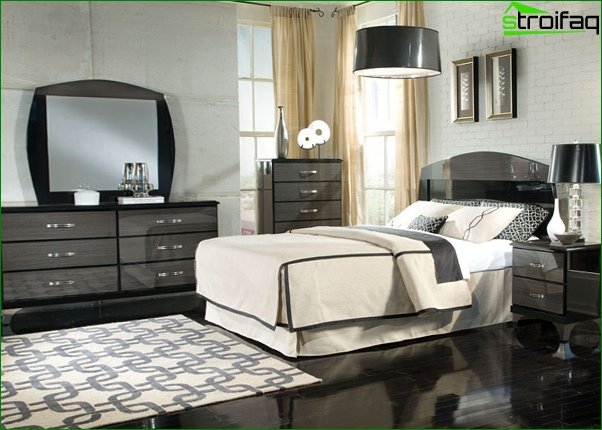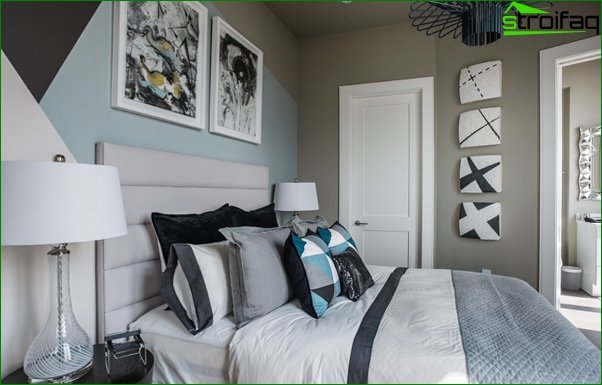 Color Accents
Alternative option (for those who are thirstyImpressions and positive in the morning) can be a combination of a white bedroom with bright and stylish accents. The easiest way to do this is by using textiles of saturated colors.
If your bedroom is located on the north orWest side of the house, where there are so few sun rays, pay attention to warm colors: yellow, red, orange. Conversely, if you decorate a room on the south or east side of a building where the sun is abundant, you can use colder colors such as lilac, blue, blue, emerald.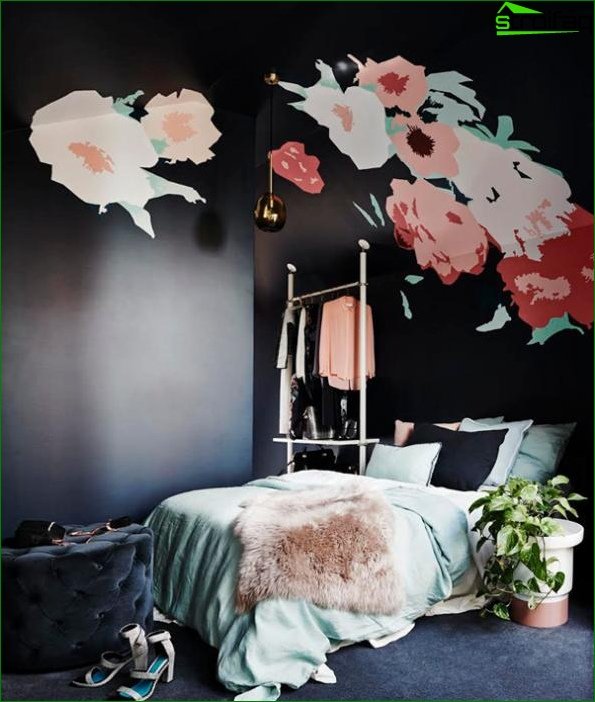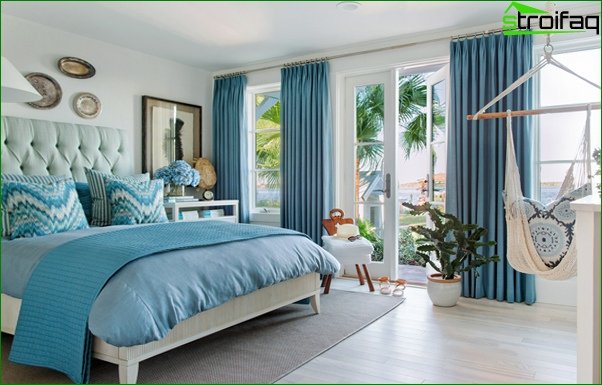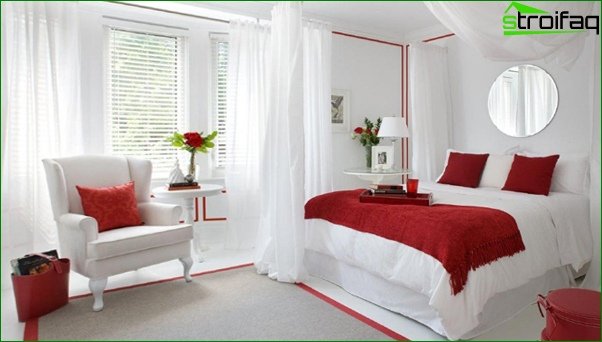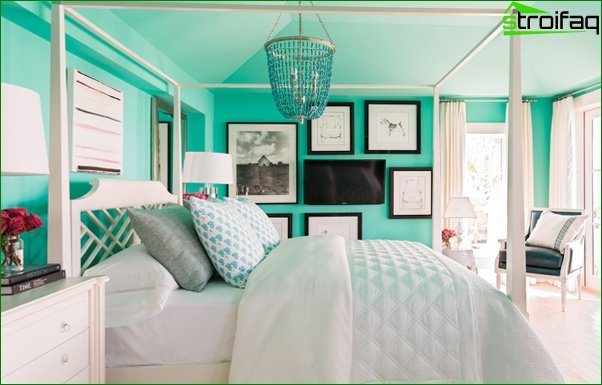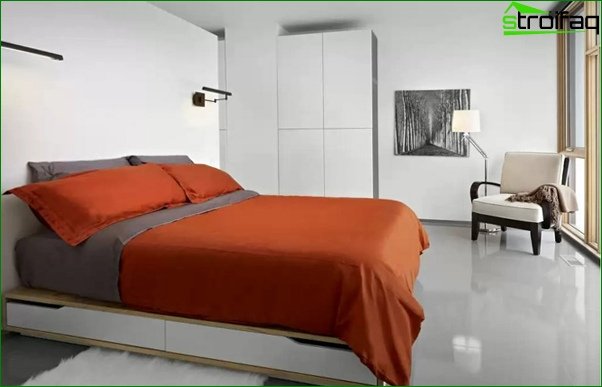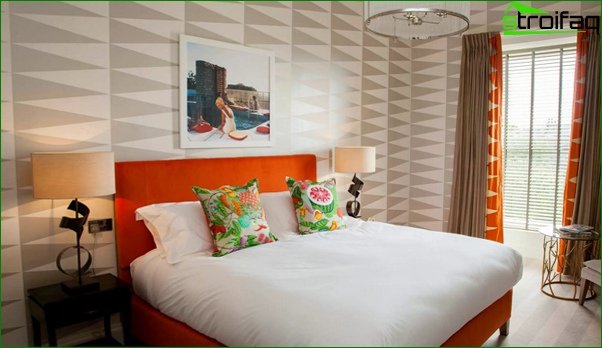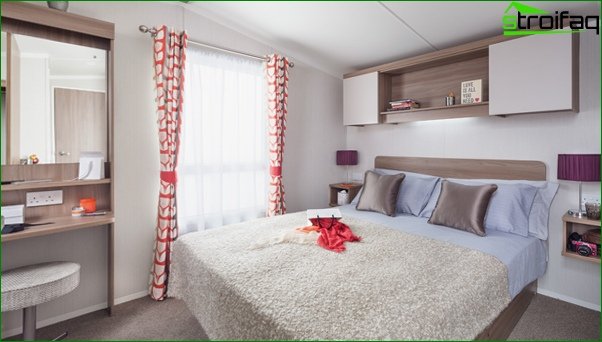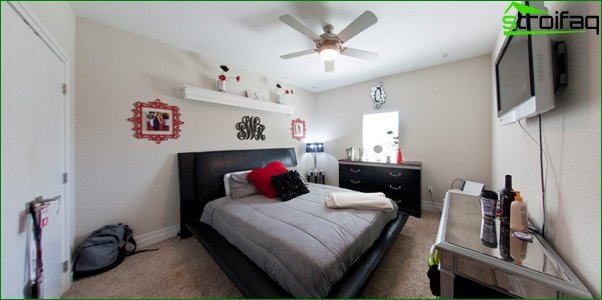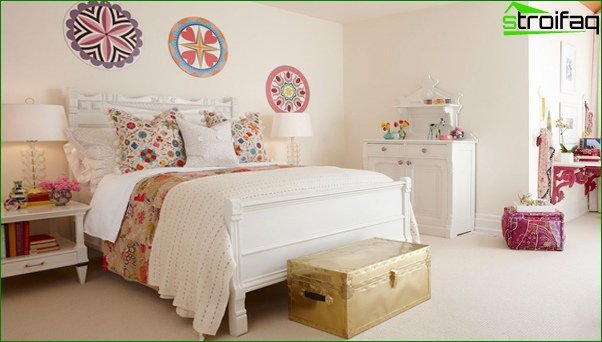 Natural tones
Striving for environmental friendliness, naturalness,Harmony with nature is also reflected in modern ideas for decorating bedrooms. To this end, designers recommend using natural wood. It does not have to be furniture of natural wood shades, the main trend in the design of bedrooms in the coming year is the finish of the walls with untreated wooden panels. If you want to use white as the base color, then it will be enough to decorate the wall with the wooden panels at the head of the bed.
Thanks to the capabilities of the modernProduction of facing materials, you can not limit your imagination to the shades of traditional wood furniture for furniture production, but to give preference to more exotic varieties. This gives scope for flying fantasy, not only in the issue of color design of the bedroom, but also in the matter of choosing a style. So, for example, bamboo is amazingly fit into the bedroom in the oriental style, and the mahogany is suitable for creating an interior with Cuban motifs.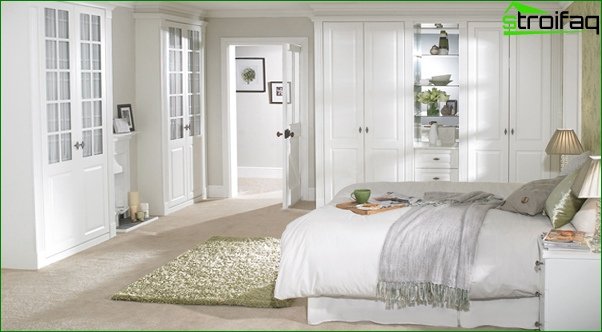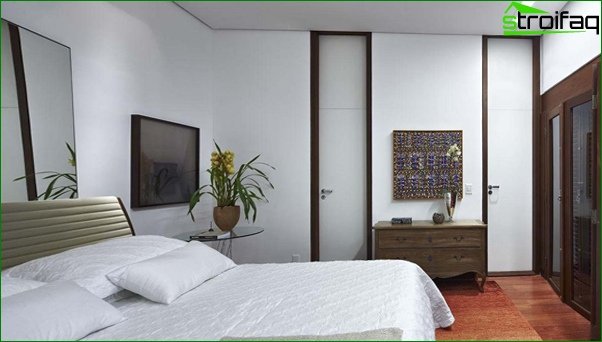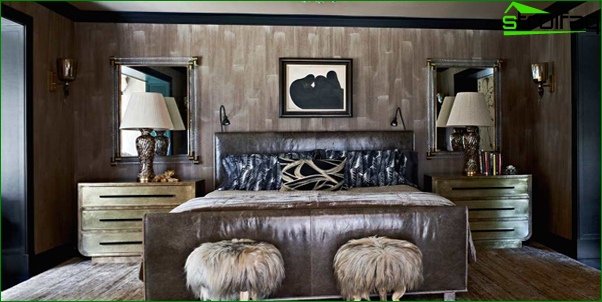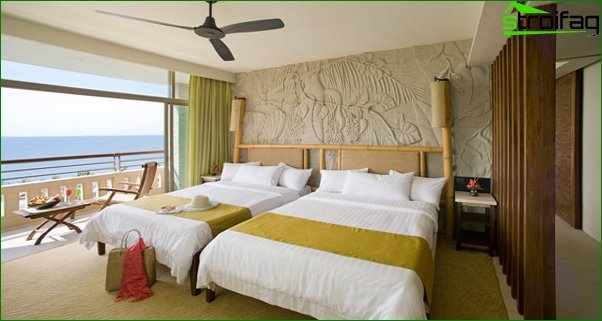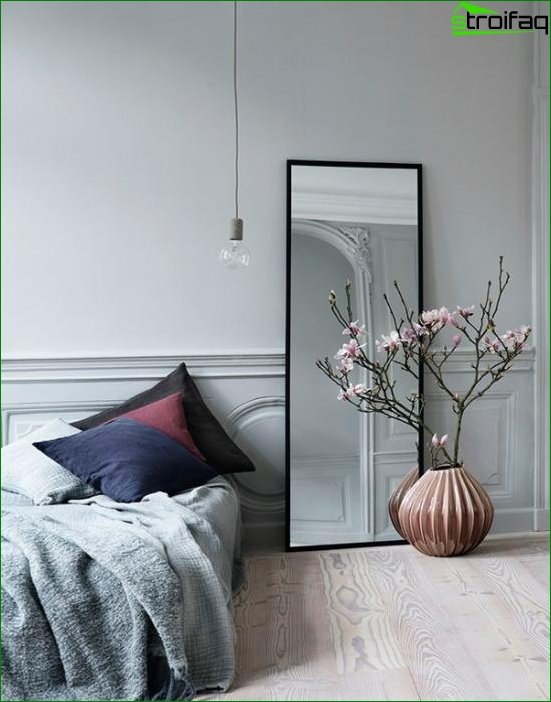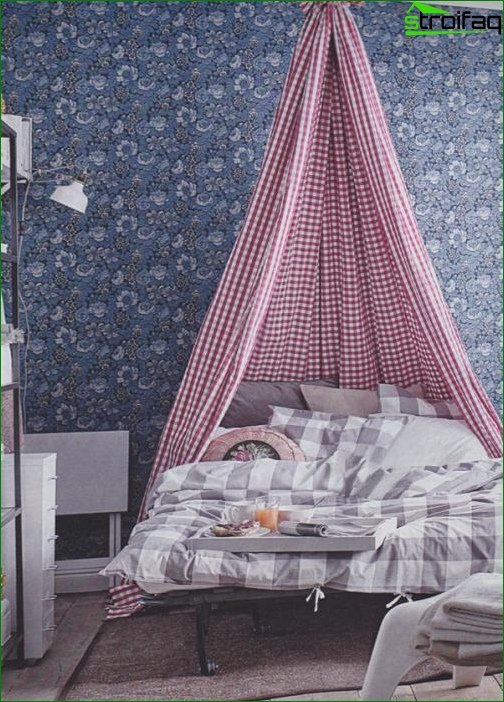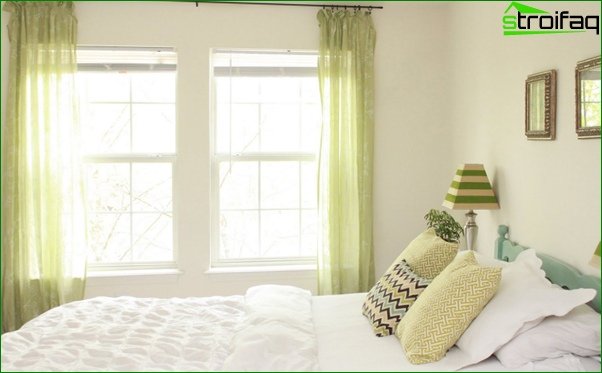 Trends in finishing in 2017
Walls
To decorate the walls in the bedrooms next yearExperts recommend using all the possibilities of combining materials and colors. This will help to emphasize the non-standard geometry of space, to diversify the interior, to give it originality and extravagance. And the main trend, as already mentioned, is the creation of an accent wall at the head of the bed. The fact that the choice fell on this wall is not accidental. After all, because most of your time in the bedroom you spend in a dream (that is, without seeing the wall behind your pillow) is less likely that its bright and unusual design will irritate you. Therefore, you can safely use contrasting saturated colors, including black.
If the accent wall is painted with a specialPaint, on which you can write with chalk, charcoal or even felt-tip pens, it will not only be a stylish design solution, but also a functional surface for love messages to your second half.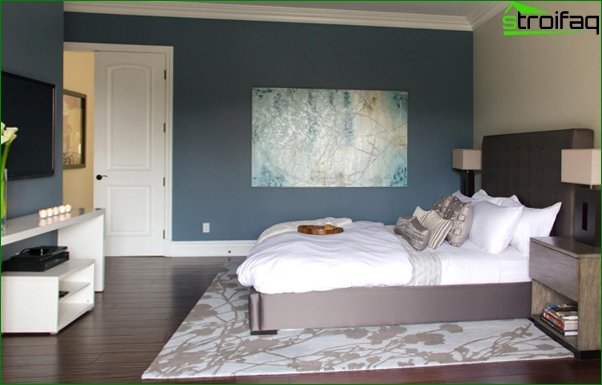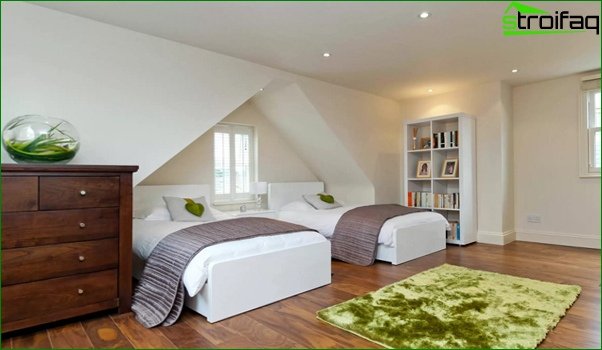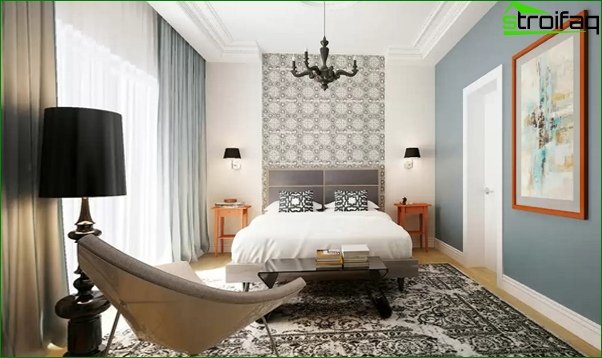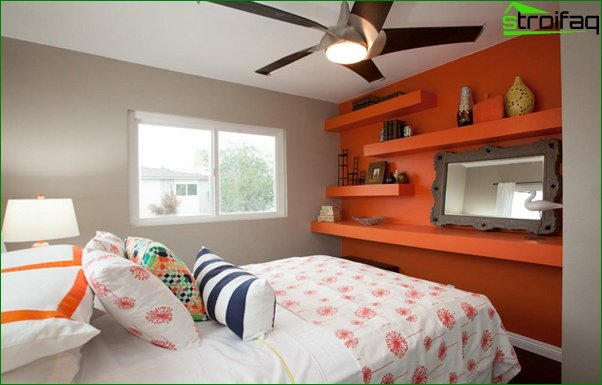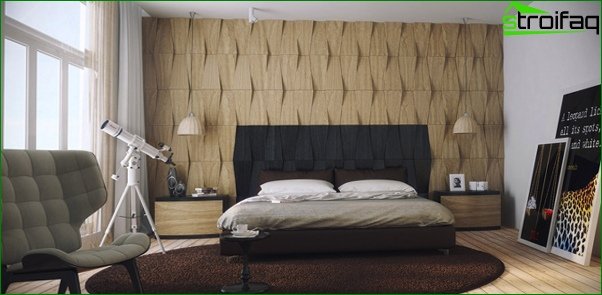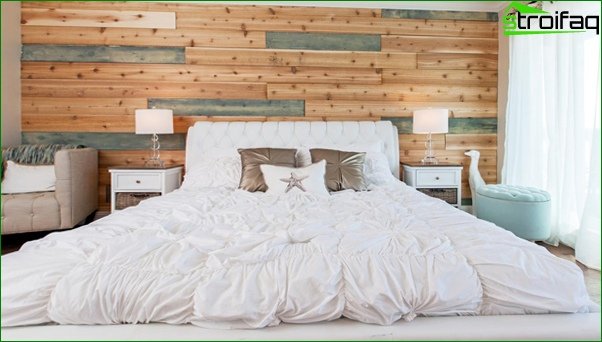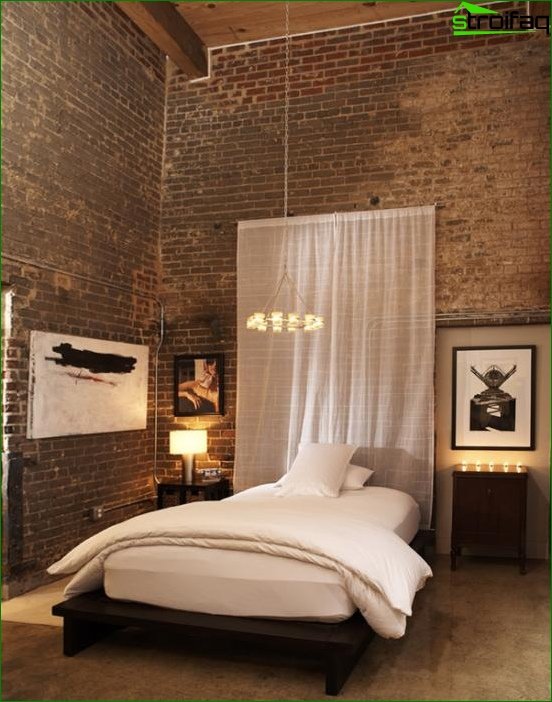 Ceilings
For Decoration of ceilings In the bedrooms next year, experts recommend using materials such as:
Tile
Wood panels and beams
Stretch constructions
The main purpose of using these materials -Walk away from the boring, monotonous, monotonicity of even monochrome rectangles above your head, giving preference to multi-level texture structures. It is not only the creation of different ceiling levels, but also the placement of ceiling structures at an angle or curved lines (as in the photo).
Tiles can be used to decorate the ceilingNot only in the design of the kitchen, but also in the bedroom. This is especially true for rooms with low ceilings, where other structures will look unnecessarily cumbersome.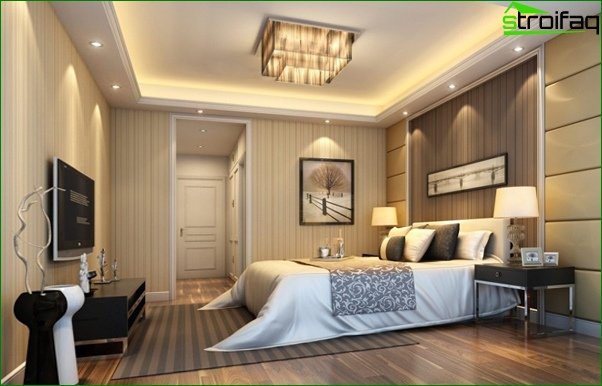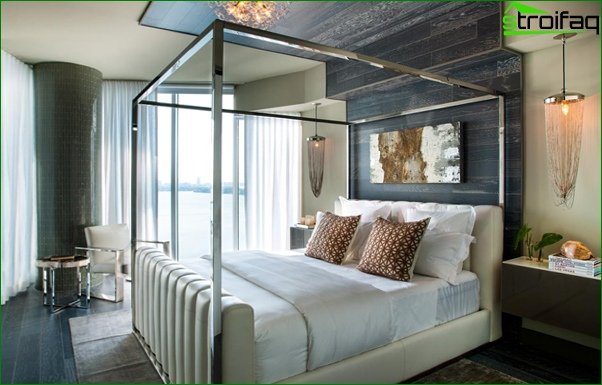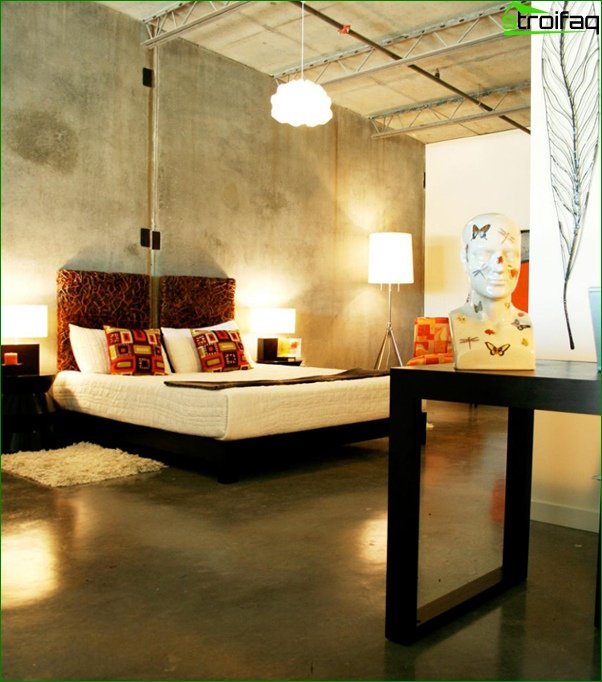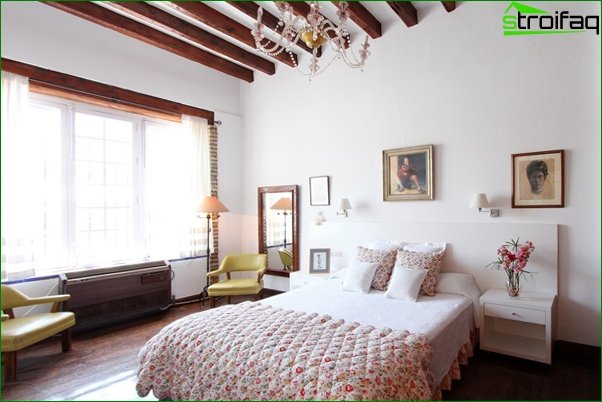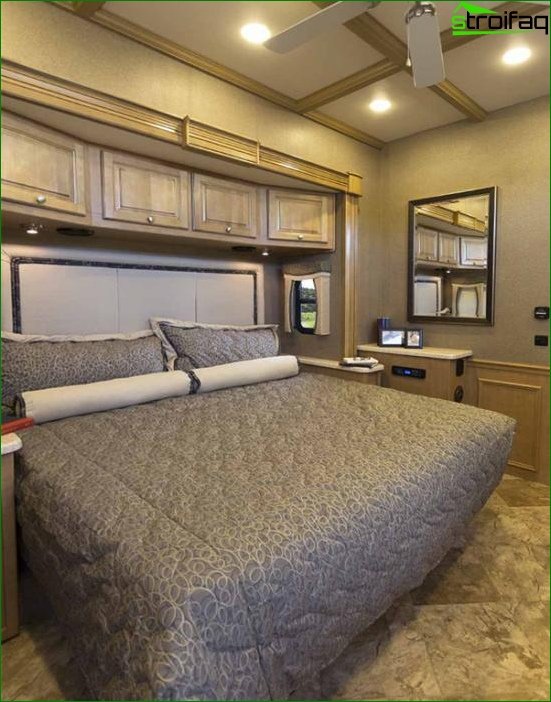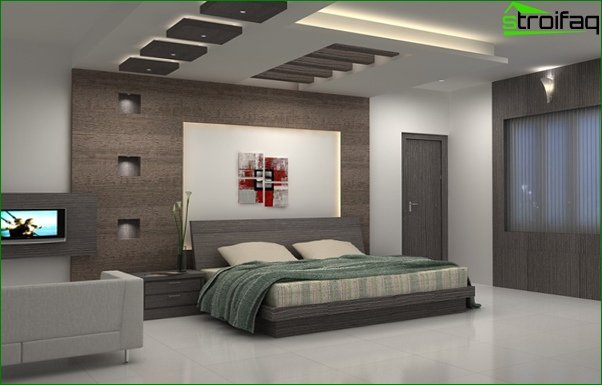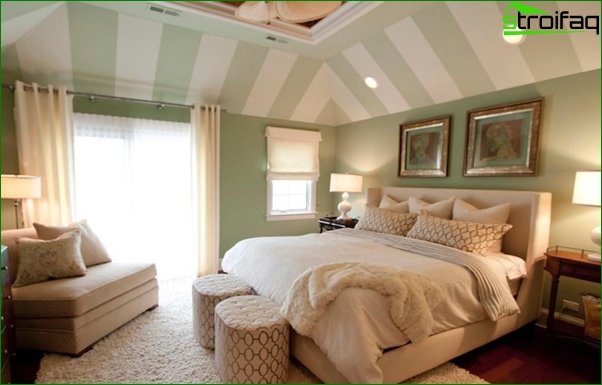 Flooring
In 2017 ode designers recommend making floors inThe bedroom is bright, almost white. This will visually expand the space and harmoniously fit into the overall trend of the white bedroom. The material for decoration is a tree.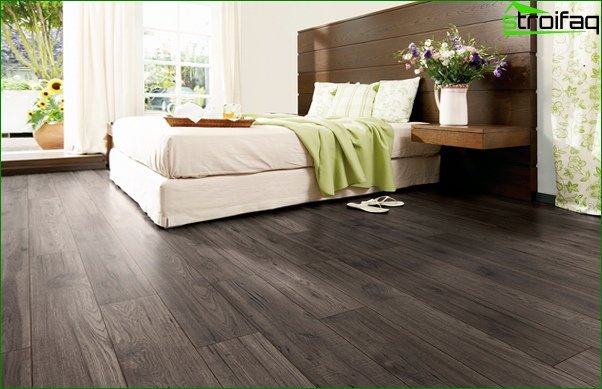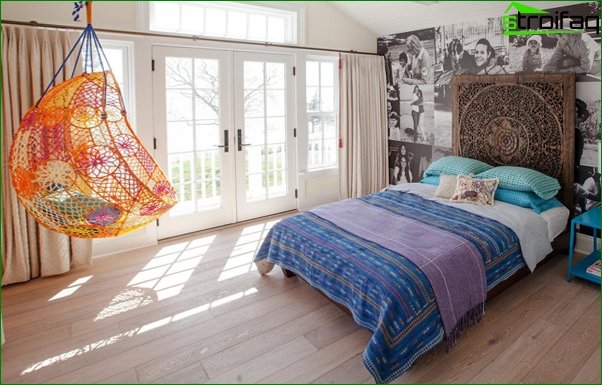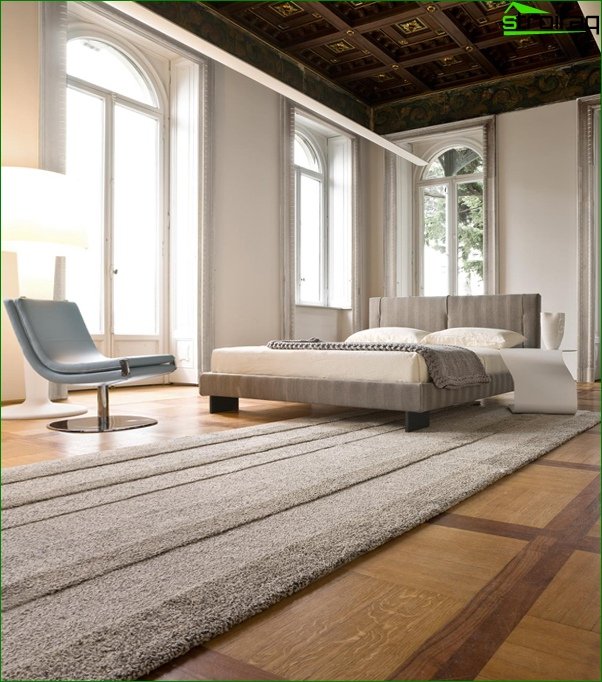 Trends in style
Classical
Classic style - the basis of the basics of designInterior at all times. This style is perfect for decorating a bedroom of calm, self-assured natures, not inclined to adventures. In order to see the classic bedroom in 2017, specialists recommend to give preference to forged decor elements, as well as furniture, which is encrusted with white silver. Furniture is desirable to choose from natural wood of light breeds or more budgetary, but similar on appearance, models from DSP or MDF.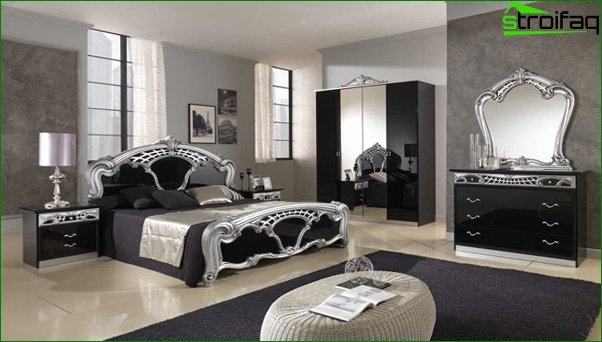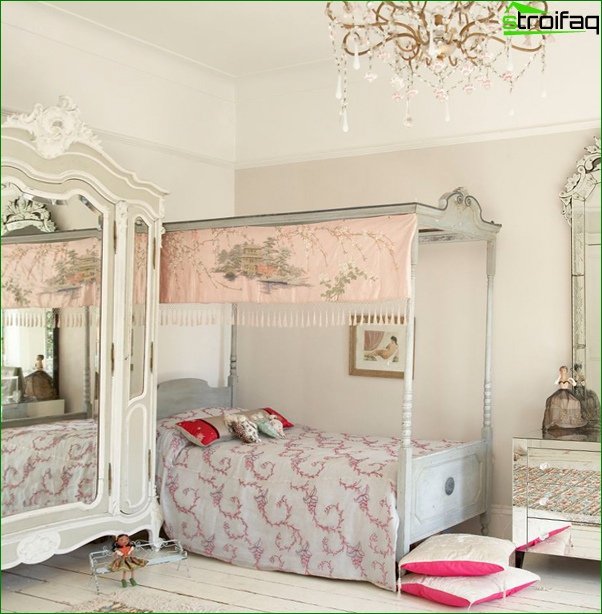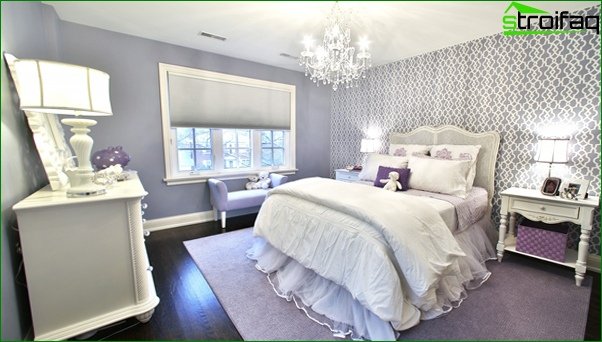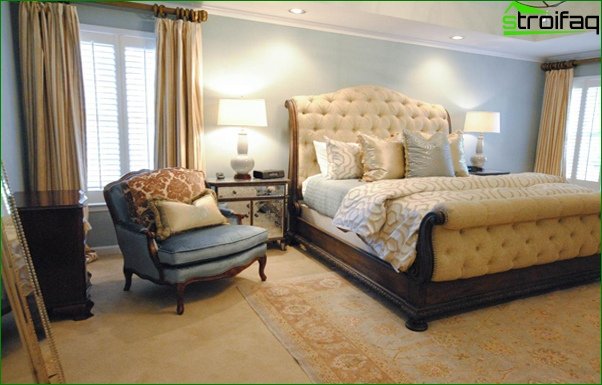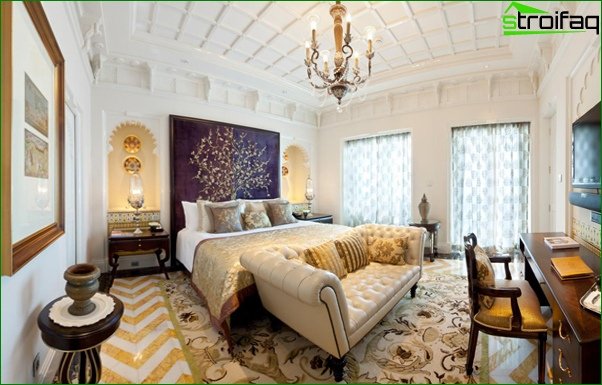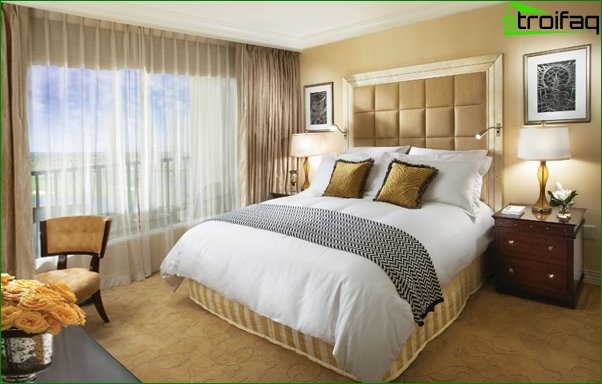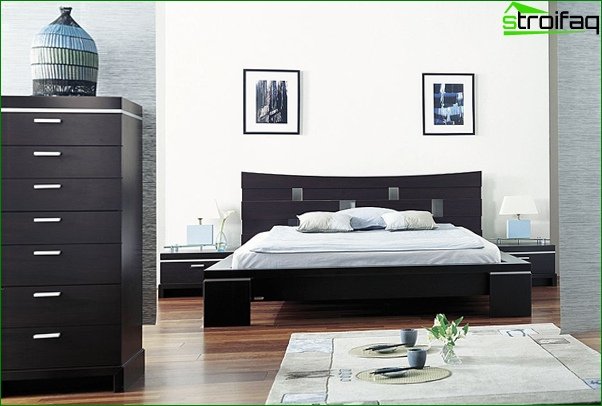 modern
The Art Nouveau style in many respects echoesClassical style, but its distinctive feature is the florid forms, the asymmetry of the lines, the smooth and curved transitions. Here, natural materials, such as:
Although the finish of natural stone is traditionallyIt is considered more appropriate for design of a bathroom, you can easily make an accent wall from a stone of dark tones or use it to finish some part of it.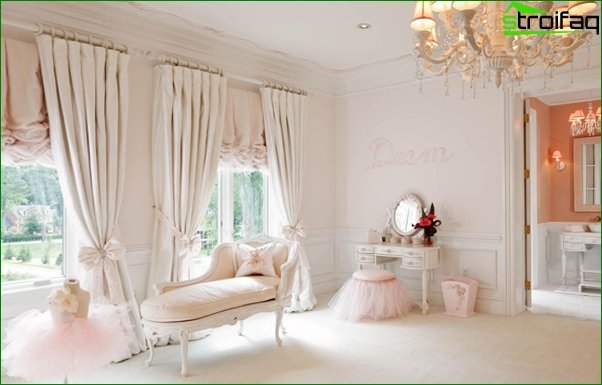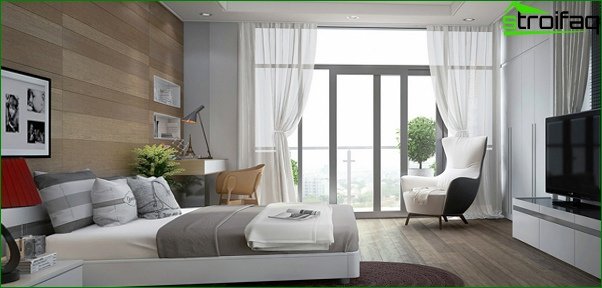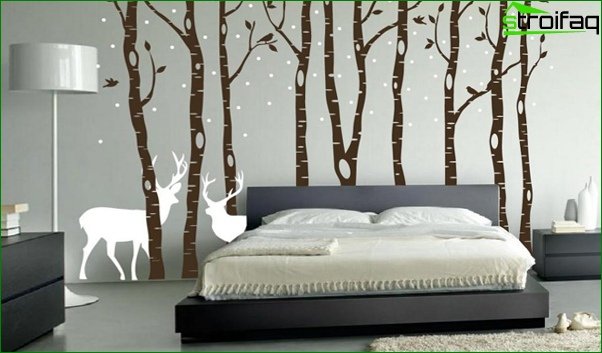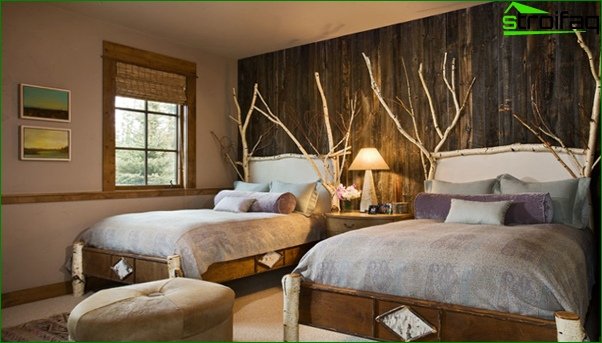 Minimalism
Actual for the decoration of bedrooms in 2017Will become a minimalist style. The virgin white color is the most advantageous in this style, as there are practically no details and accents distracting from its beauty and versatility. And the tendency to combine white with shades of gray and black will make your bedroom not only stylish, but also practical.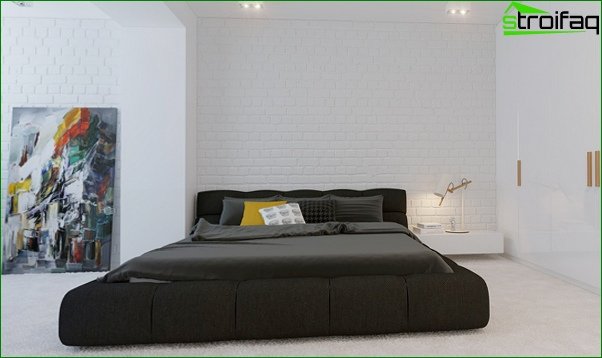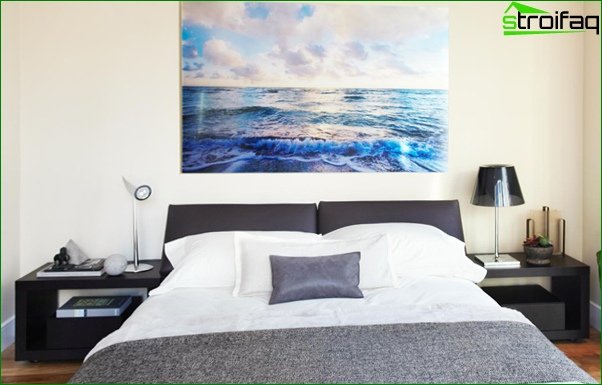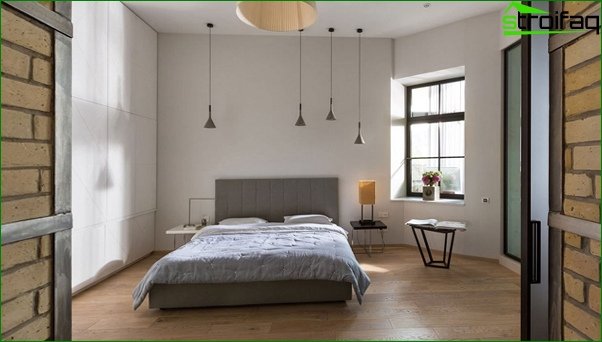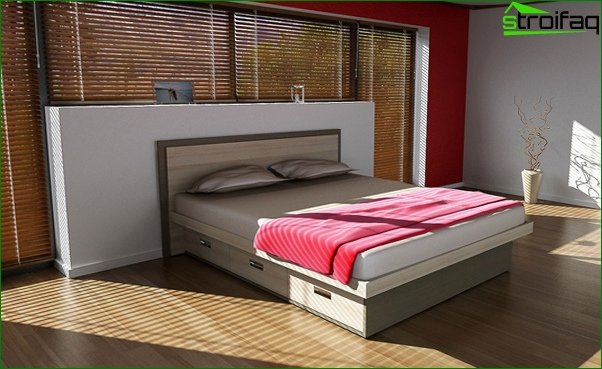 High tech
The abundance of chrome surfaces, eleganceGeometric shapes and the severity of high-tech is also one of the leading trends in the design of bedrooms in the coming season. Moreover, the dominance of white as a universal reflective color will maximize the benefits of using additional local luminaires in such a bedroom, making it unusual, interesting, stunning. After all, what can be more attractive, spilling over your bedroom reflections of local lamps and nightlights?
To add your bedroom futurism,Use multi-colored local lamps. Strict in the afternoon, in the evening, your bedroom will literally play with new colors, and if necessary - create a fantasy atmosphere of an intimate semi-darkness.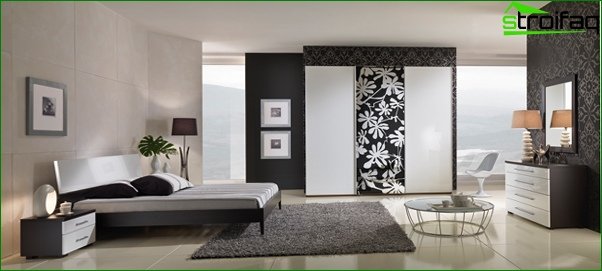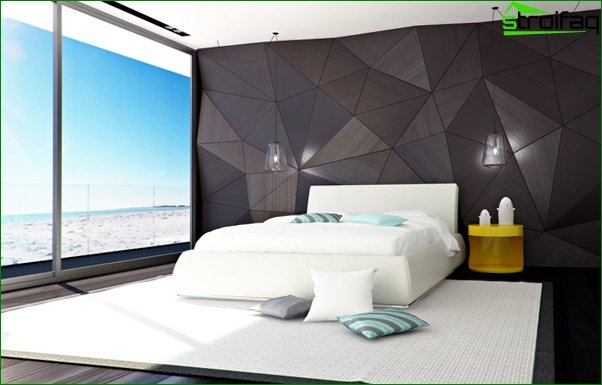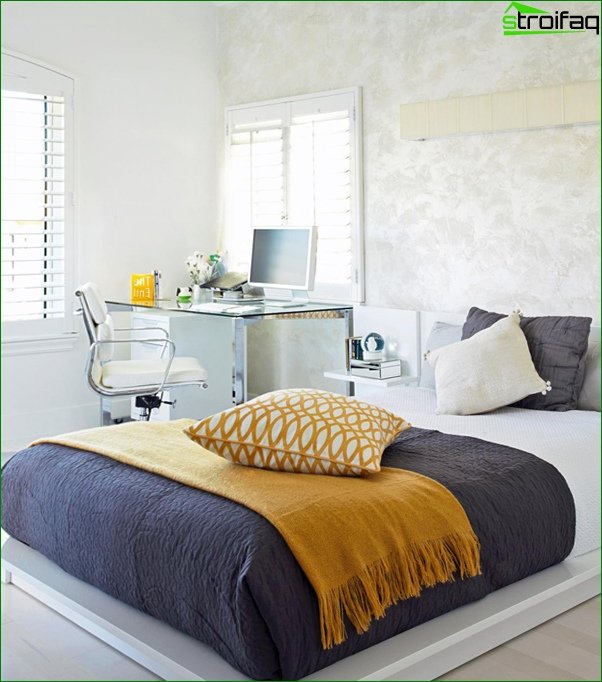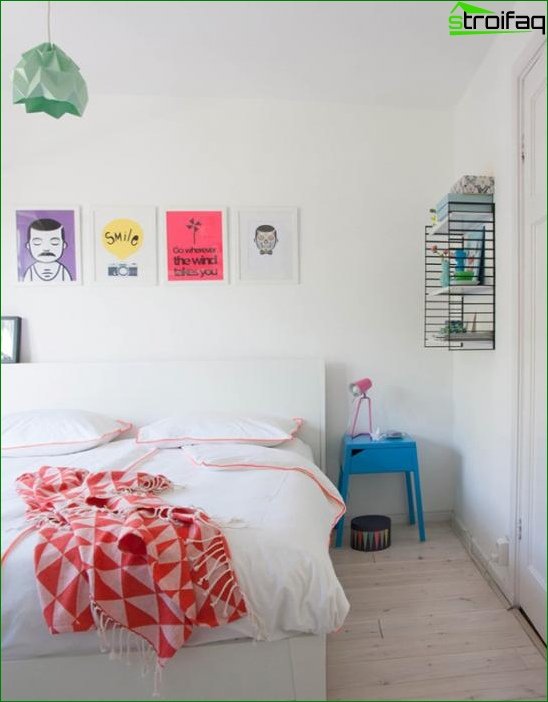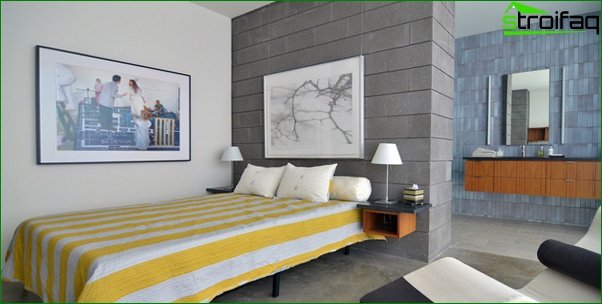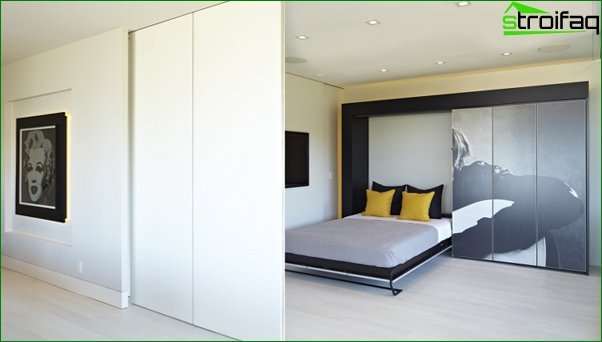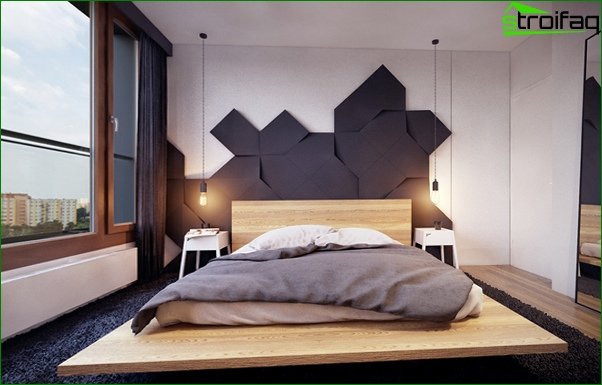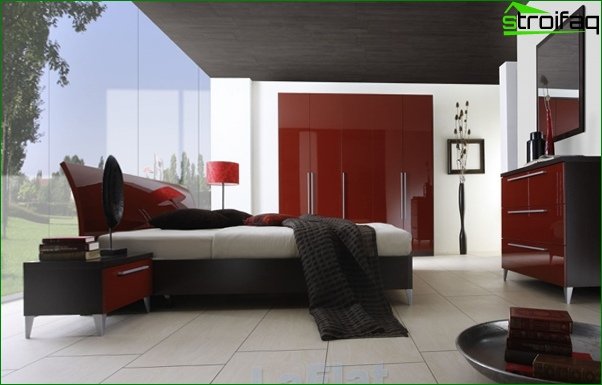 Oriental
Oriental style is unique in its kind. It combines greatness, luxury, wealth with conciseness, rigor, grace, refinement. Depending on the materials used, you can give the interior of your bedroom ethnic notes. For example:
Rice paper for room design with Japanese motifs
Bamboo panels and silk for design of a room in Chinese style
Inlay with gold and precious stones for Indian-style room design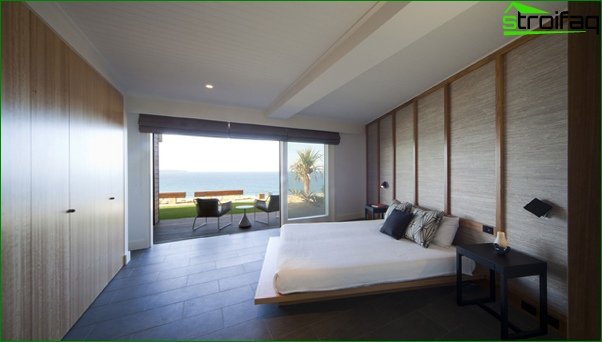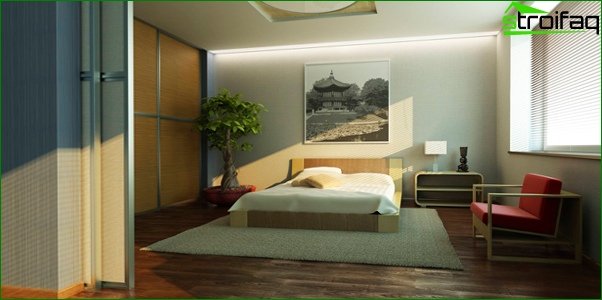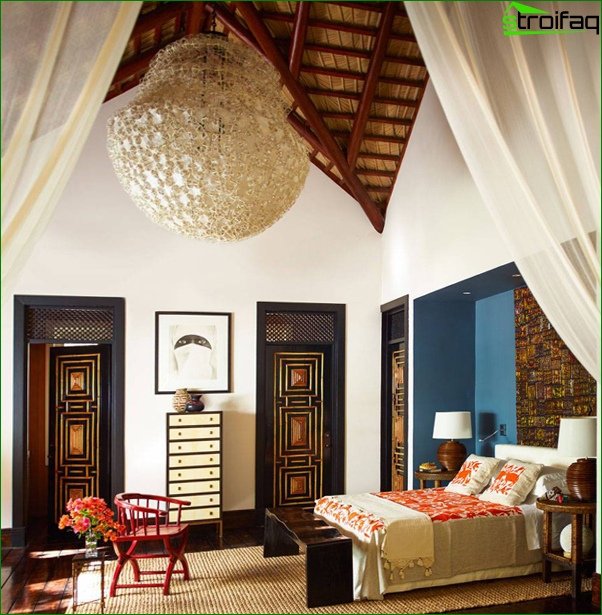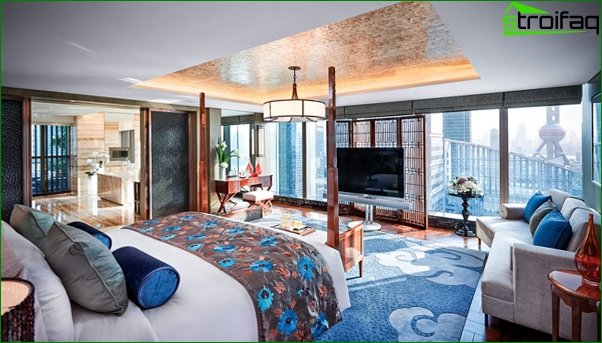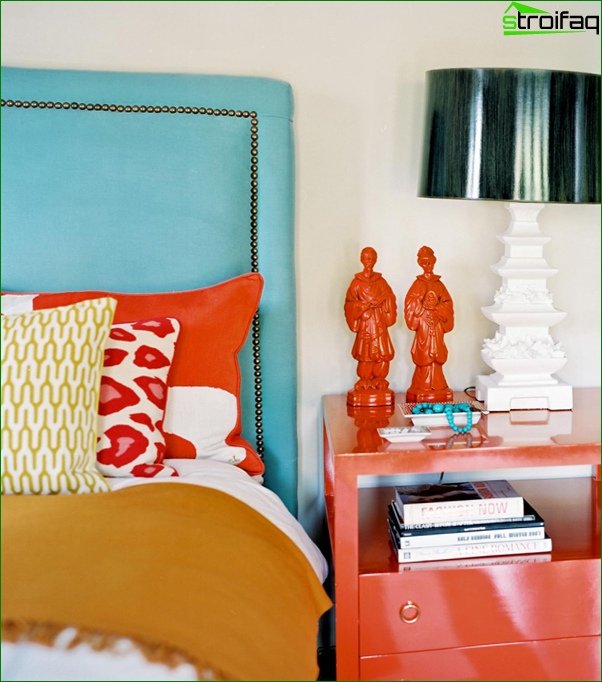 Trends in choosing furniture
Sleeping area
A bed is the heart of your bedroom. In contrast to the design of the hall, where a sofa (as a kind of sleeper) can be completely absent, a sleeping room without a place for sleep can not be imagined. Modern masters of the furniture industry offer such a wide and rich assortment of beds that even a sophisticated customer who is experienced in the repair issue can capture the spirit from diversity.
What kind of models can not be seen today even in the simplest furniture store:
Wooden monumental
Forged on graceful legs
Suspended
Absolutely soft
Glass
And this is only talking about the materials from which the beds are made, not to mention the quirky and non-standard forms!
According to forecasts of specialists, especially popular in2017 will enjoy absolutely soft beds with bright upholstery of saturated colors. Such a bed will not only be a functional element, but also a striking detail of the interior.
And for fans of exotic designers at allOffer to abandon the bed, preferring the location of a spacious orthopedic mattress right on the floor. This will allow you not only to save money on purchasing a full-fledged sleeping place, but also to beat it as an original design decision. Such organization of a bed will be appropriate in bedrooms in the style of minimalism and (especially!) In rooms in the oriental style. However, remember, sleep right on the floor does not suit everyone. Due to the age characteristics of the body and the state of health, a bed without a bed is more suitable for decorating youth bedrooms than for sleeping rooms of elderly people. Although all this is purely individual.
To decorate a bedroom with a classic style orStyle Art Nouveau designers recommend using sofas or beds of rounded, smoothly overlapping lines. It will be a good idea to combine combining overflowing beds and a couple of bedside tables made in the same style.
An unusual option is to useTextile head of the bed, which smoothly passes into the accent wall and even the ceiling. This way of decorating a bedroom is recommended not only by designers, but also by psychologists, to create a bedroom of particularly impressionable natures, for which the feeling of comfort and own security is extremely important.
To install a hanging bed you need a reliable ceiling! Therefore, if you really dream about such a model of a bed, it is better to abandon the tensioning structures in the design of the ceiling.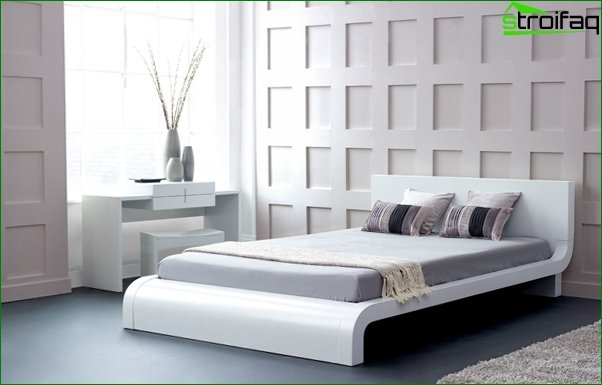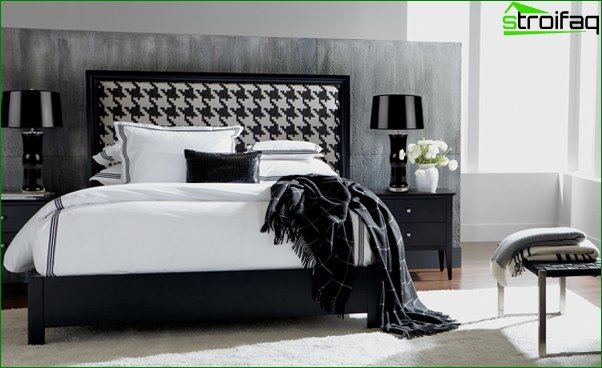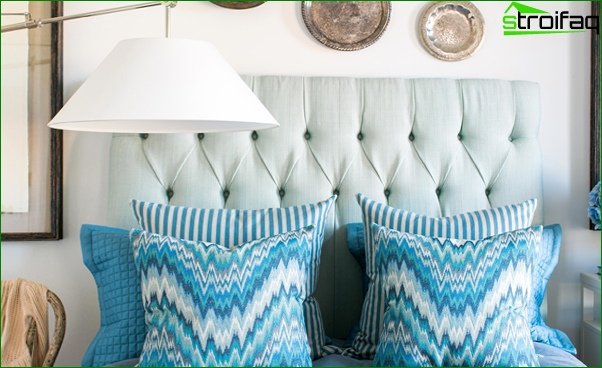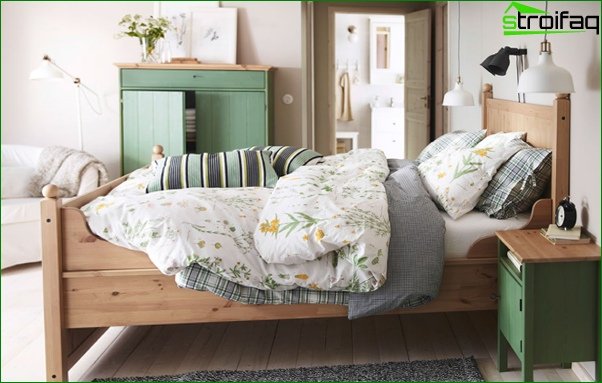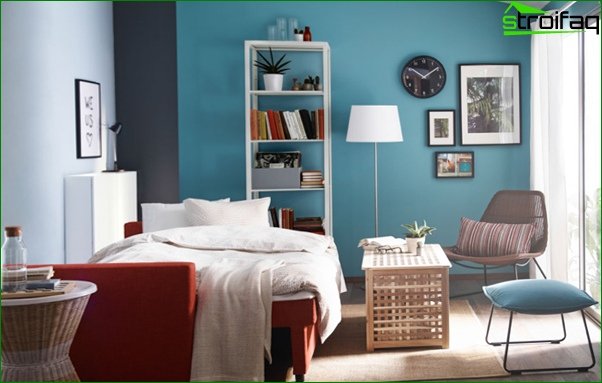 storage system
The most important trend in the design of the bedroom in 2017 inStorage systems is almost complete replacement of external hardware internal. Despite the seemingly impractical nature of this kind of furniture, due to the fact that it opens with a touch of light, modern storage systems are close to perfection. No more torn and stretched out about the handle of the furniture of clothes! And what to say about the beauty of perfectly smooth facades.
The mandatory element of the storage system in theDesigners consider high-end drawers with many drawers as modern designers. It is here that it will be convenient to store not only bed linen, but also small details of the wardrobe - from underwear to t-shirts and sweaters, which are not recommended for hanging on hangers.
Another important element in your bedroom is to become a closet. It is best to give preference to models in the entire wall with smooth tinted glass doors.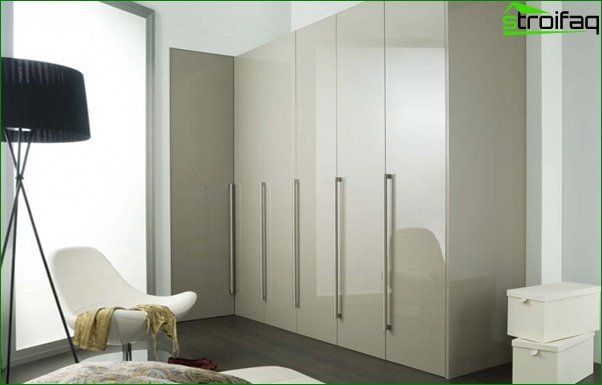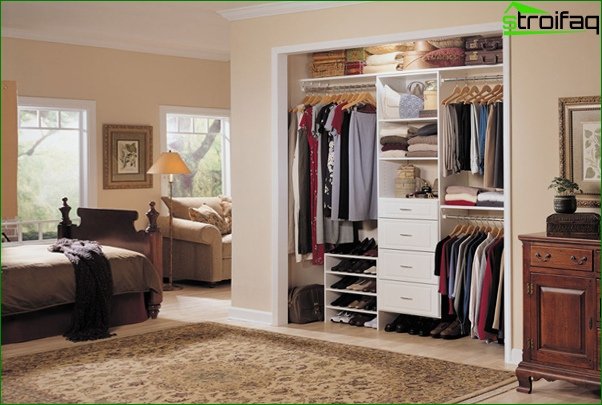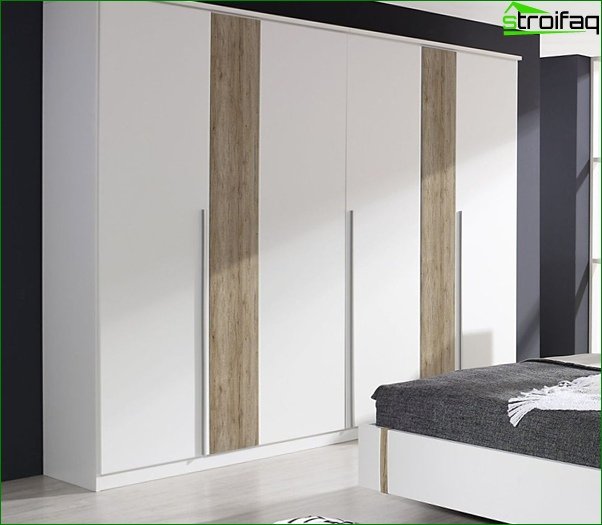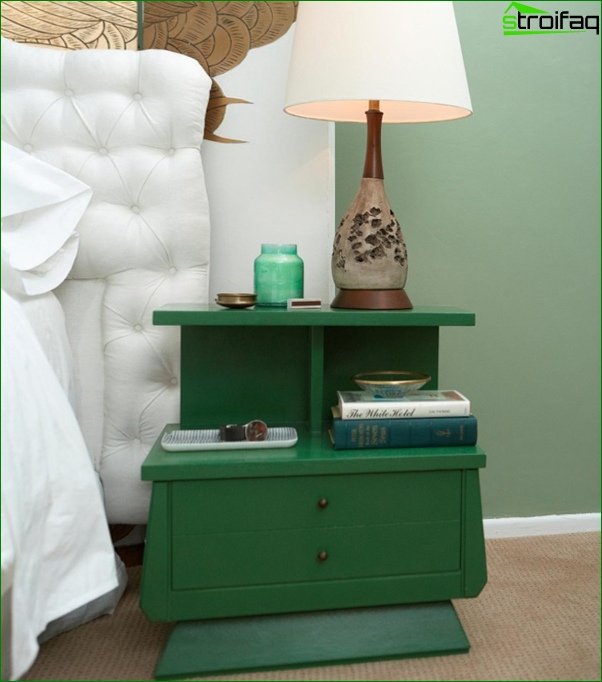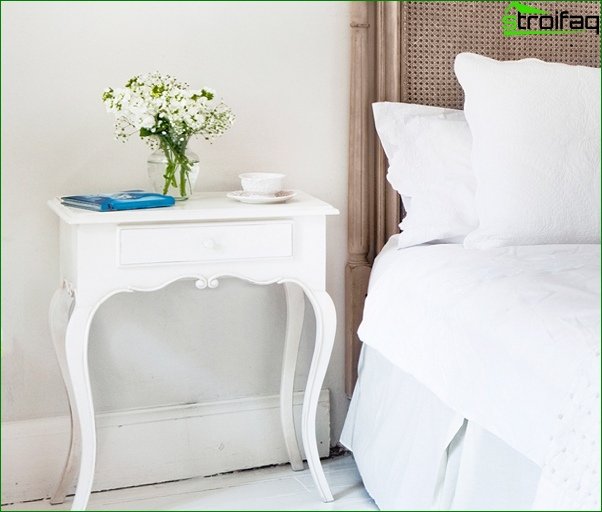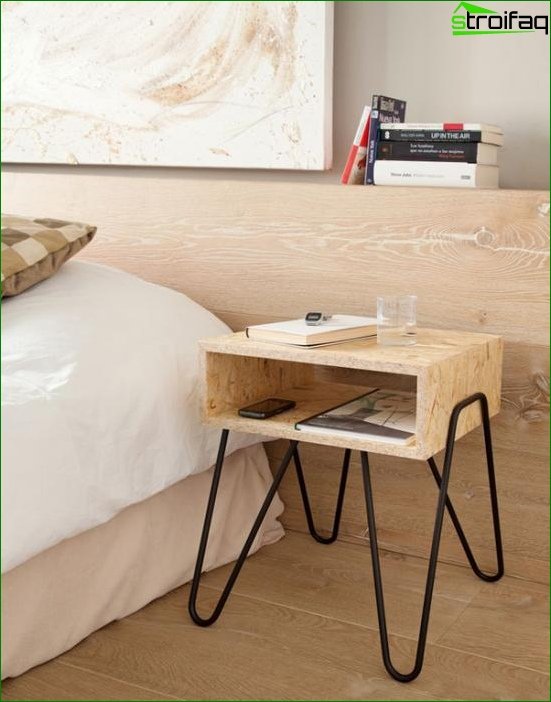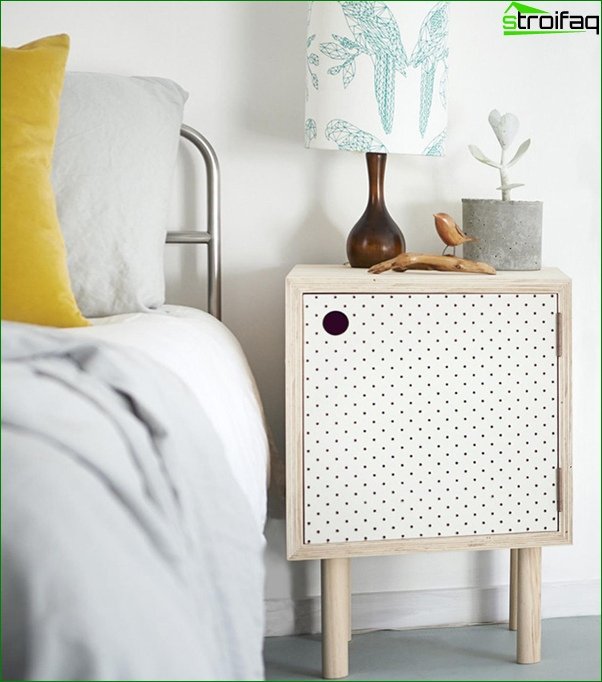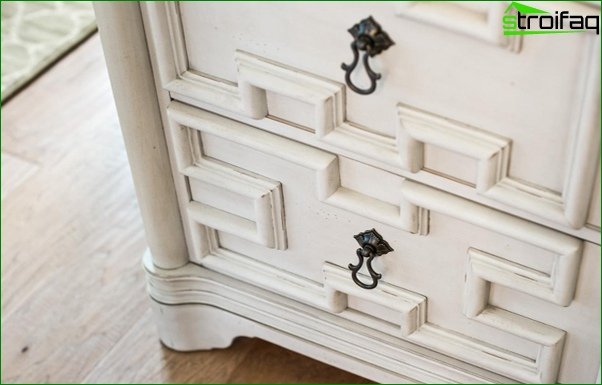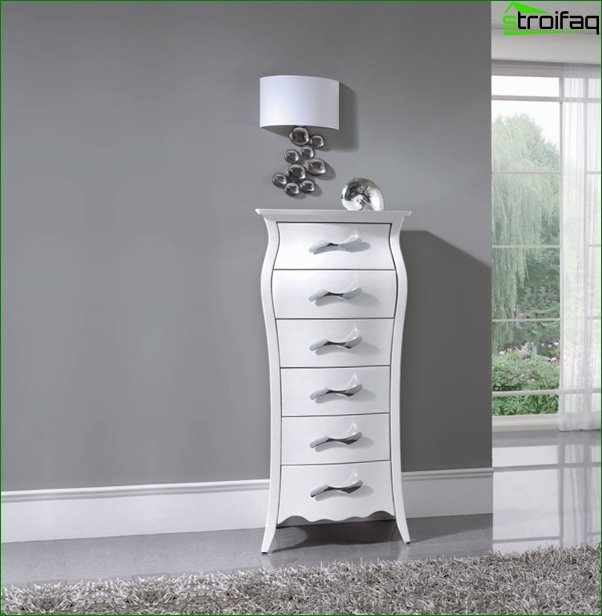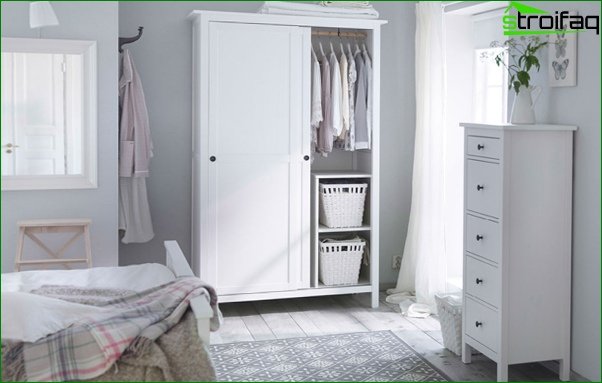 Cushioned furniture
If the dimensions of your bedroom allow, then you can easily place in it a few pieces of soft furniture:
Диванчикк
Sofu
Armchair
Ottoman
It is very important that the soft furniture is in harmony with theSleeping place. Therefore, if you have a bed with a soft headboard, it is desirable that the rest of the soft furniture combined with it (at least) in color or technique.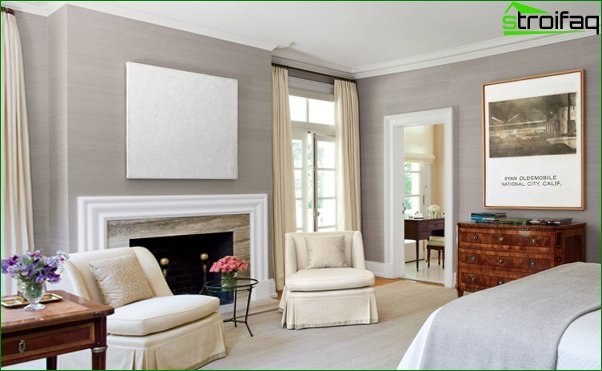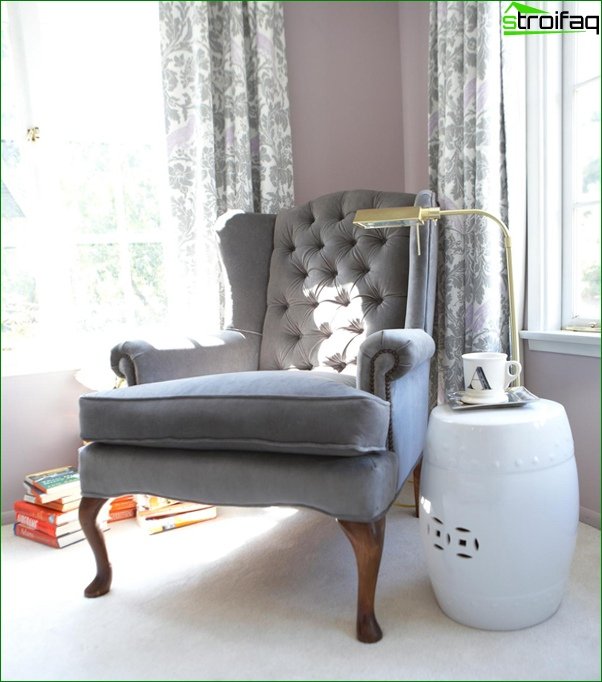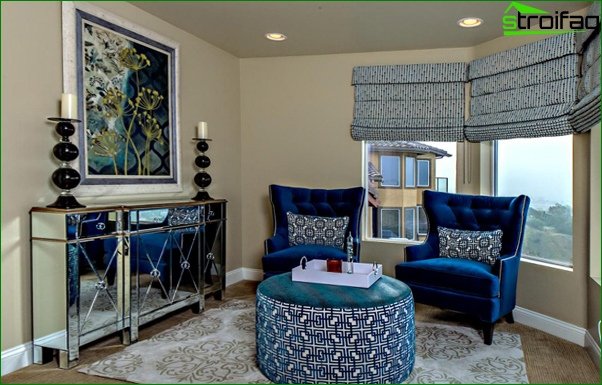 Trends in decoration
The bedroom of 2017 can not be imagined withoutTextile decor elements! Even if you design a bedroom in the style of minimalism or hi-tech, in order to be in a trend, you will need accents from the fabric. These can be curtains, pillows or a bright plaid. Pillows made in patchwork style or decorated with hand embroidery will look stylish and original.