Upholstered furniture - the best photo options. How to choose a sofa and armchairs? What other interesting items of upholstered furniture can be found in stores? About everything - in our article! Sections: - a choice of upholstered furniture in different rooms, then we consider in more detail soft furniture for the living room, since it is there that it is used most often
Interesting versions of upholstered furniture for the living room. Photo of stylish interiors using upholstered furniture.
Content
Upholstered furniture is not just a functional element of your interior, it is that zest that gives it a special charm softness, comfort. What could be better than, after an uncomfortable and tough Office furniture, Plunge into the bliss of relaxation and relaxation of a deep home chair under a warm cashmere plaid?
What it is necessary to know, so that the soft furniture of your house becomes a reliable friend, instead of bringing a headache and a dubious sense of comfort from month to month? Let's understand.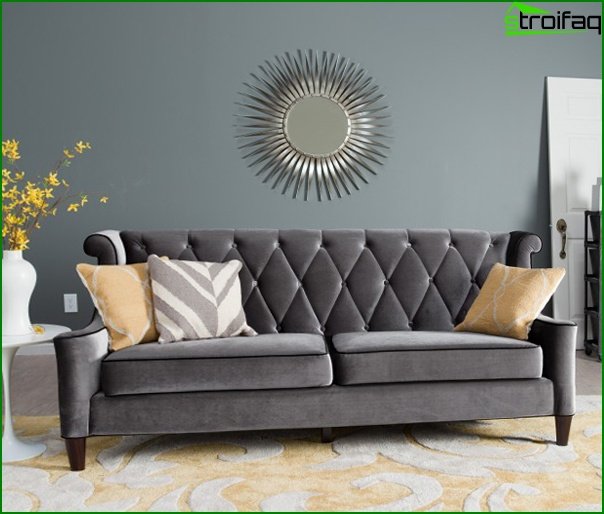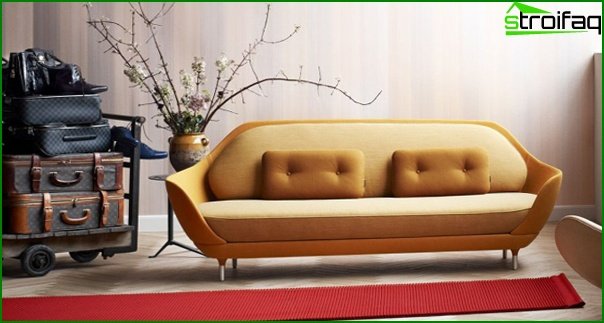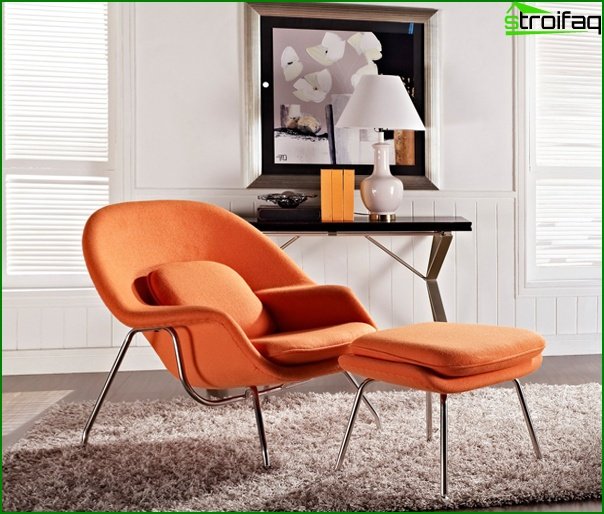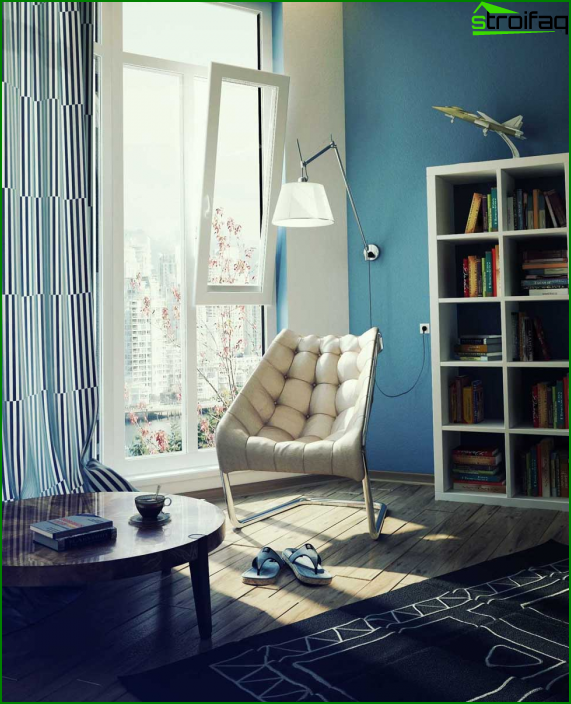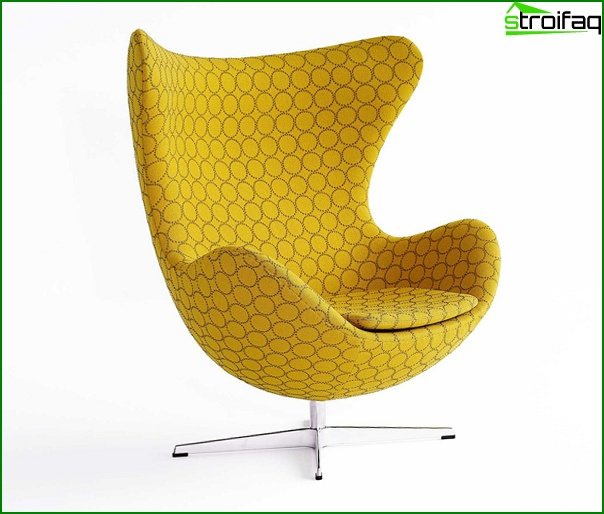 The choice of upholstered furniture in different rooms
Upholstered furniture in the kitchen
Kitchen - a very specific space in anyLiving quarters. On the one hand, it must be functional and practical, since it is the kitchen that yields to the greatest number of impacts of various kinds:
Temperature differences
High humidity
Fat and soot settling on walls and furniture
Dirt from food
However, on the other hand, every hostess wantsCreate a warm and pleasant atmosphere in the kitchen. Only in this case, and evening gatherings in the kitchen will be fun, and the process of cooking will be pleasant and comfortable.
Functionality of the kitchen can impart quality Kitchen sets, But with the provision of comfort will help soft furniture.
Typically, upholstered furniture in the kitchen interior is represented by a sofa, more rarely - chairs.
To the kitchen sofa nebyli terrible everydayContamination in the form of spilled milk or spattered vegetable oil, its upholstery should be easy to clean. Best for these purposes is suitable upholstery made of genuine leather or leatherette.
So that the crib does not accumulate under the couch orOther accidentally fallen pieces of food (which may cause ants or cockroaches to divorce in the kitchen), prefer a sofa on the legs or a snug base.
It is desirable that the upholstery of chairs or stools be made of the same upholstery fabric as the sofa.
Diversify the kitchen interior with pillows. So that they do not look ridiculous, pick up the curtains that harmonize with the pillowcases.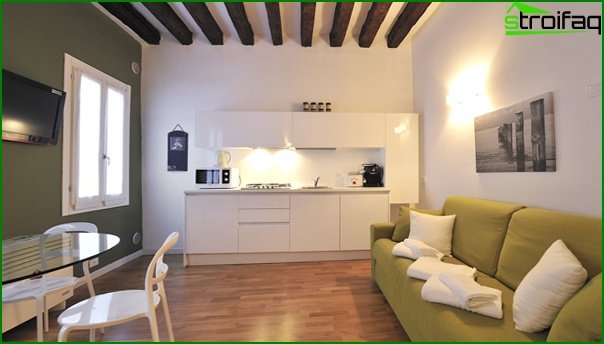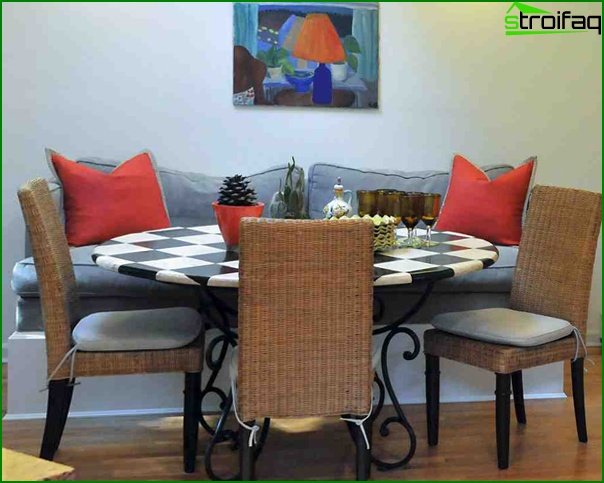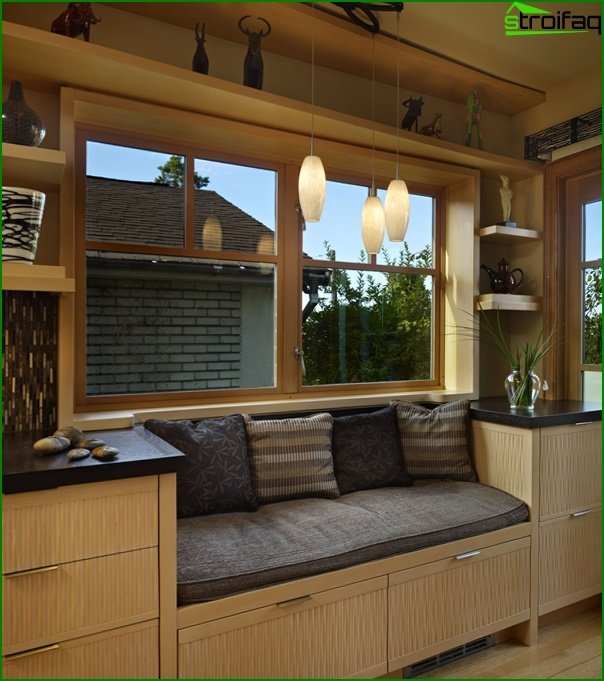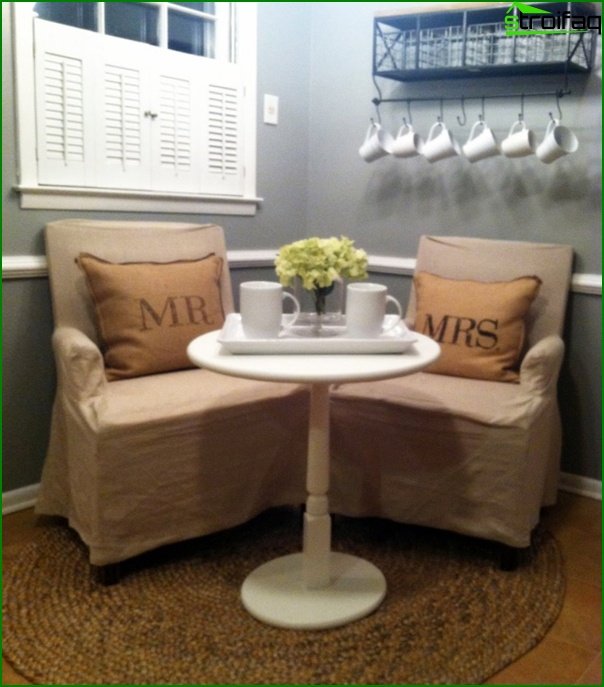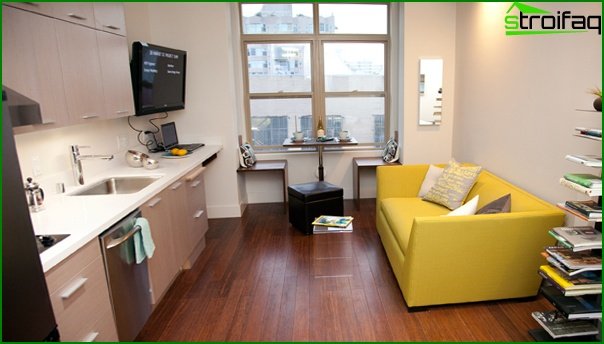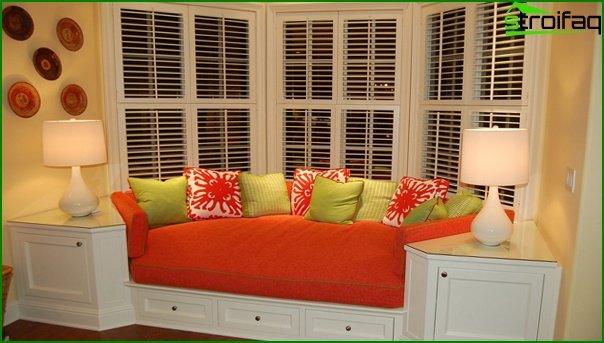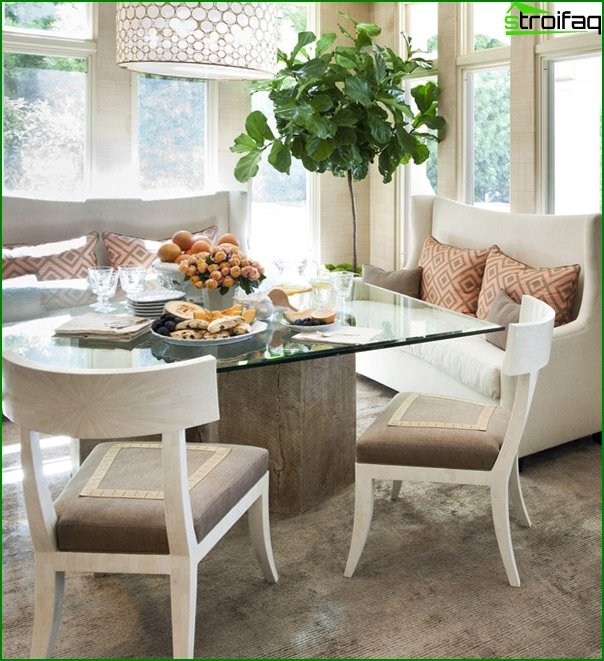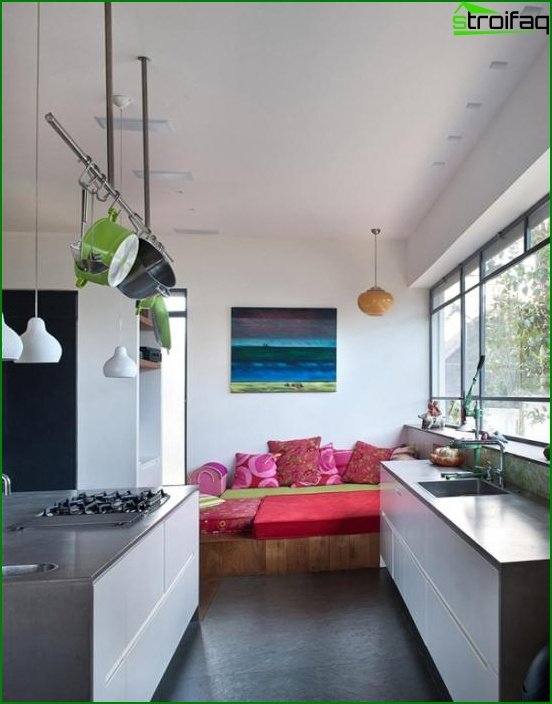 Upholstered furniture in the bedroom
Bedroom - a place to relax. It would seem that here as never would be useful soft furniture. In the bedroom can be used:
Sofa
Armchairs
Ottomans
Sofa
The sofa is very convenient from the point of view that itCan serve both as a place for daytime gatherings, and as a bed (if it is laid out). However, if the size of your bedroom allows, it is better to give preference to a full bed. Then you can pick up a mattress suitable for you stiffness (and if necessary change it will be much cheaper than a sofa), and the bedroom will acquire a more sacred and intimate character.
On the armchair or sofa near the floor lamp in the evening, you canTo read the book, but specialists do not recommend cluttering up their space especially since the main task of the bedroom is sleep and relaxation, and not sit-rounds. In principle, for these purposes it will be enough to limit one puff.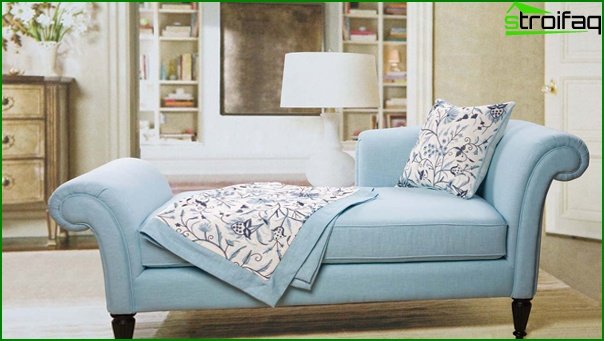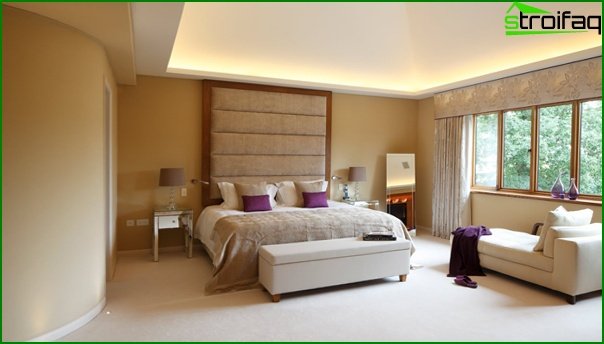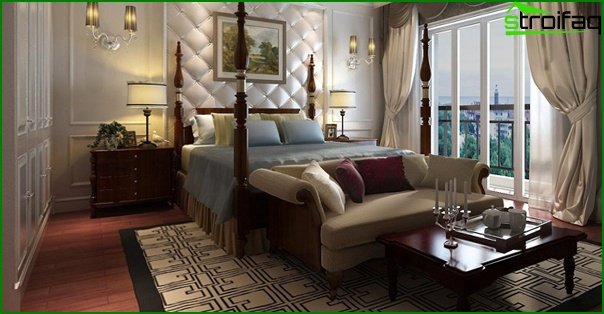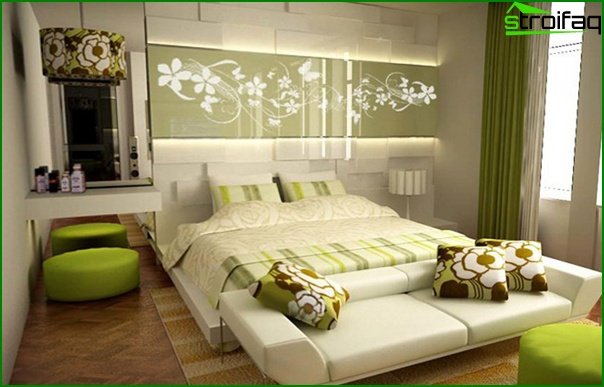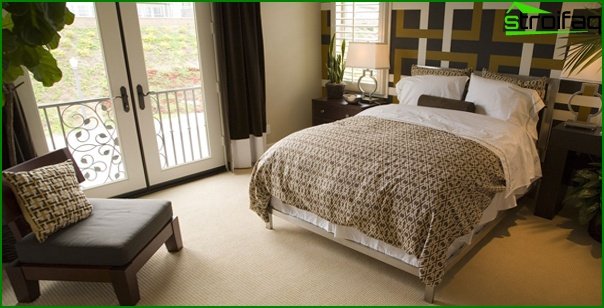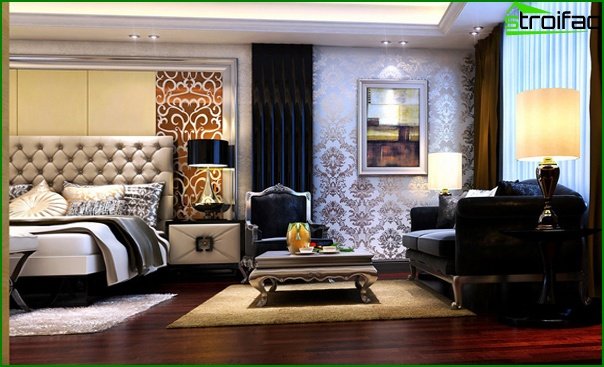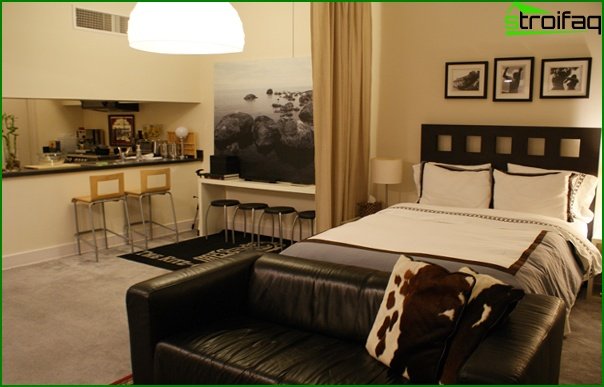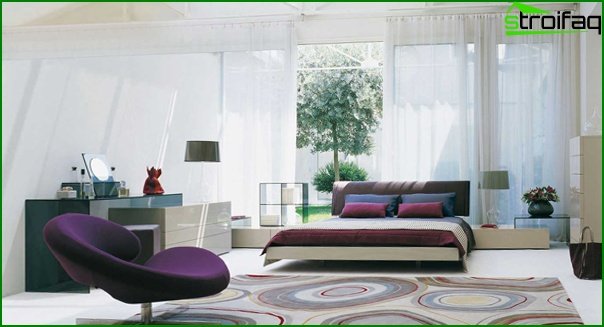 Upholstered furniture in the living room
Living room Is designed to receive guests. And it is here that it is important to place as many friends and family as possible with maximum comfort. Therefore, as in no other room, soft furniture will be relevant and relevant.
What kind of soft furniture The choice for a living room depends on its size. If the room is very tiny and even the cabinet furniture fits in it with difficulty, it will be best to confine oneself to a pair of armchairs. But the standard set is:
Sofa
Two armchairs
Ottoman
However, you can always choose a suite for the hall at your discretion, for example, place one large corner sofa or two small ones instead of a sofa and armchairs.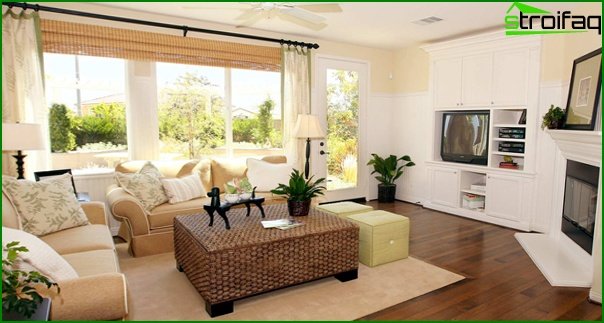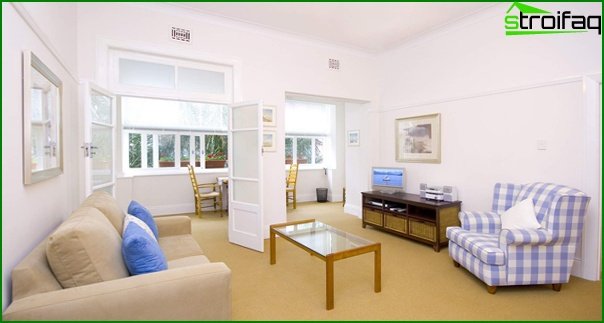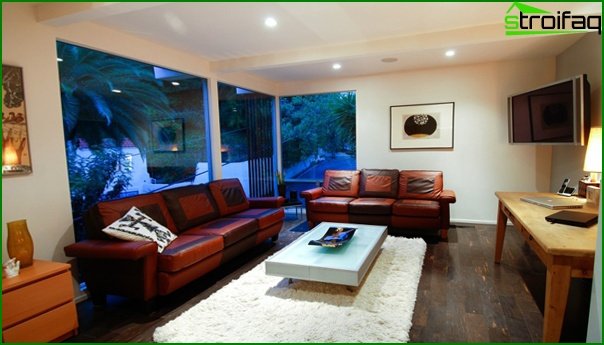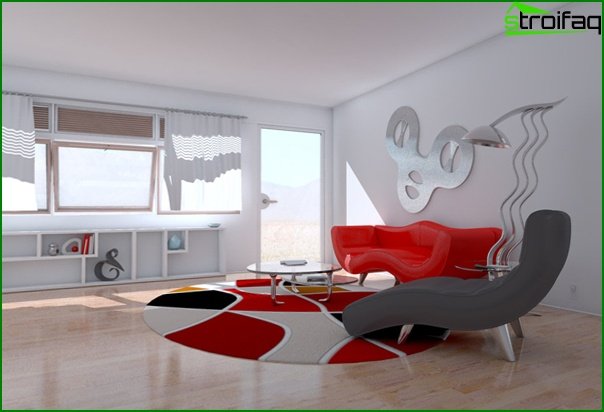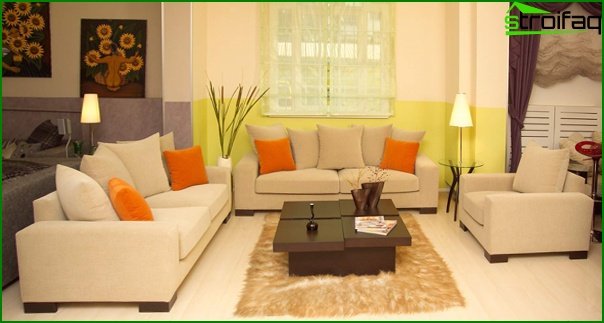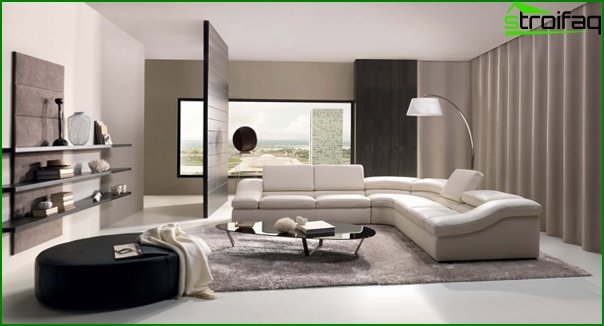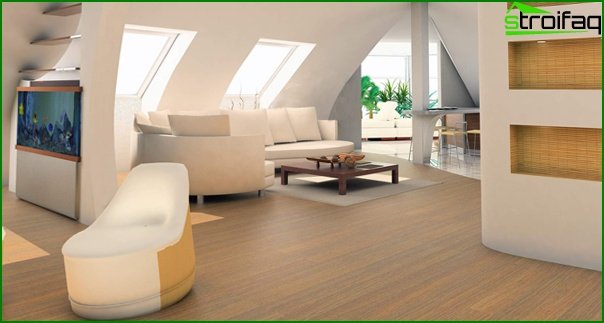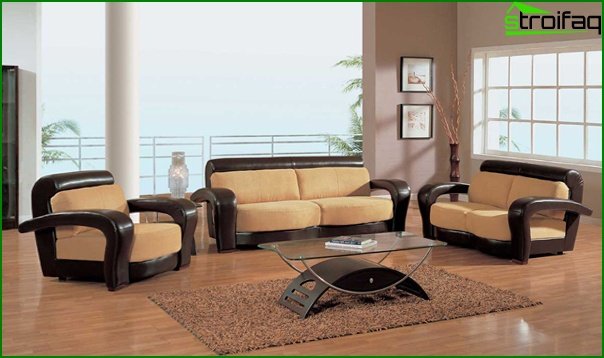 We select a soft sofa
Classic sofa
Despite the name - a classic sofa - thisThe subject does not necessarily have to be made in a classical style, it may well be in modern style, and in high-tech styles, and in the style of a she-chic. In this case it is understood that this is an ordinary, straight, not versed sofa.
Most often these are low sofas. They can be on legs or without them.
Furniture on the legs visually makes furniture easier and more elegant.
Classic sofas necessarily have a backrest and armrests. However, they can be performed in different ways:
Solid material covered with upholstery fabric
Frame soft construction
Soft rollers or cushions instead of the backrest and armrests
Armrests with wooden panels on top can beUse as a mini-table or stand, which is very important for small living rooms. However, to ensure that these armrests do not leave bruises on your feet with each landing "just past", choose models with rounded smooth ends instead of strict perpendicular lines.
No less important is also the color of the sofa. The color of the sofas should be selected not only in accordance with the chosen style of the drawing room, but also in accordance with the dimensions of the living room. So, for example, in a small room a dark sofa will look too cumbersome. Light upholstery fabrics, although they look stylish, but very impractical. Therefore, experts recommend choosing a sofa for a small living room of light, but neutral tones. In this case, the fabric should be either in a fine pattern or pattern, so that the spots are less noticeable, or very textured (such as jacquard).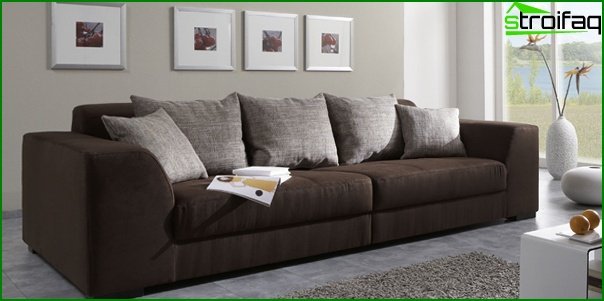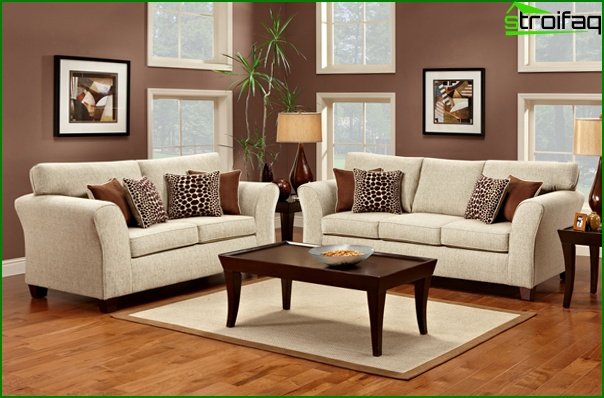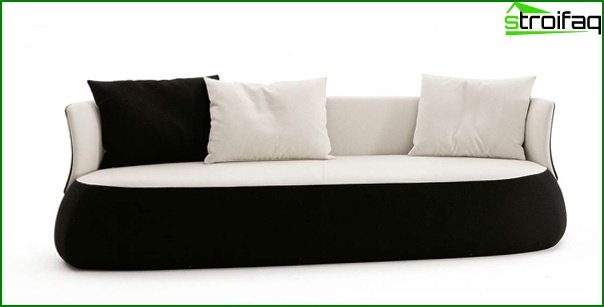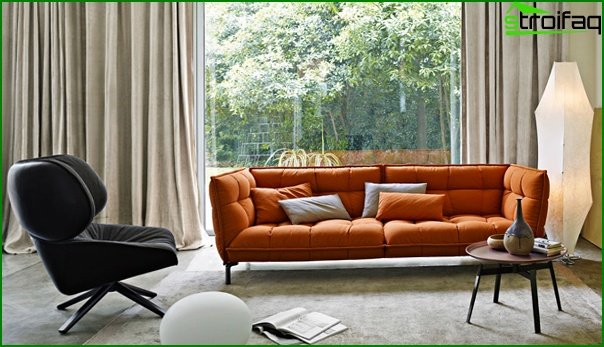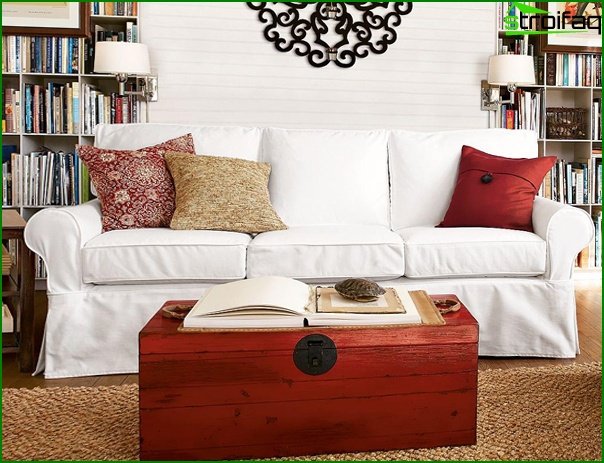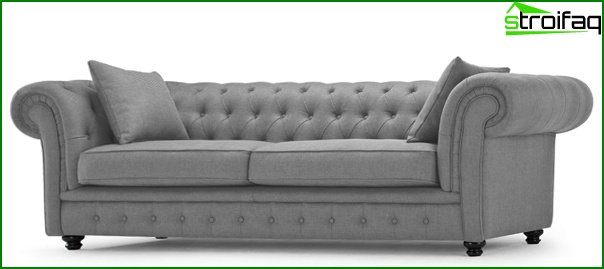 Corner Sofa
Corner sofas are very interesting solutions for interior decoration, but because of their impressive dimensions they are suitable only for sufficiently spacious rooms.
With the help of a corner sofa you can not onlyPlace a significant number of guests at the table (avoiding the need to purchase additional chairs or chairs), but also use it as an original partition if necessary to zonate the living room (for example, if you have studio apartment Or in one room two function spaces are combined).
If the corner sofa is big enough, if necessary two people can sleep on it, without interfering with each other.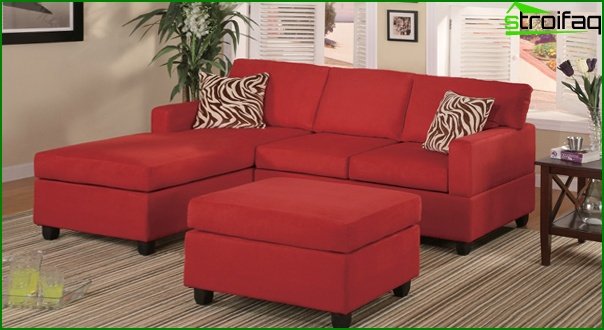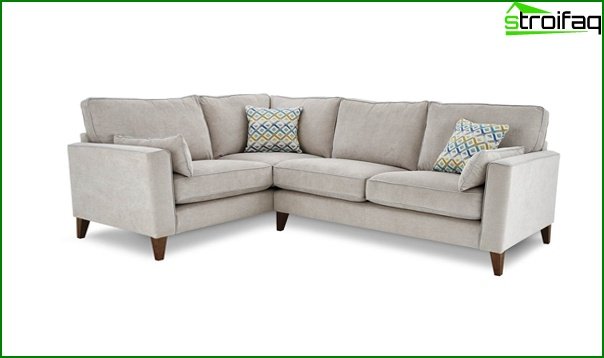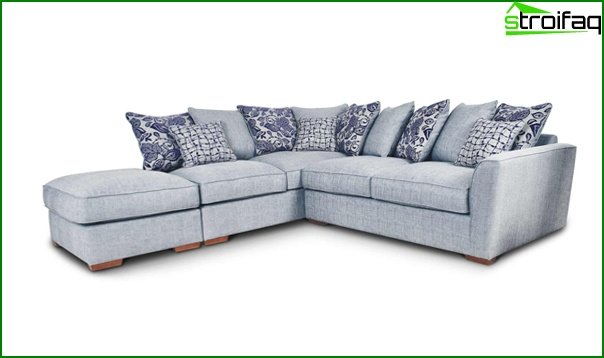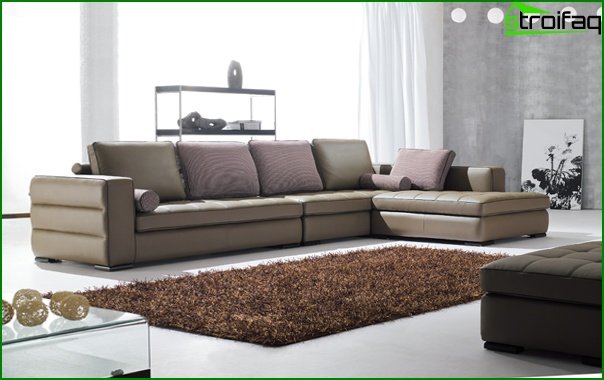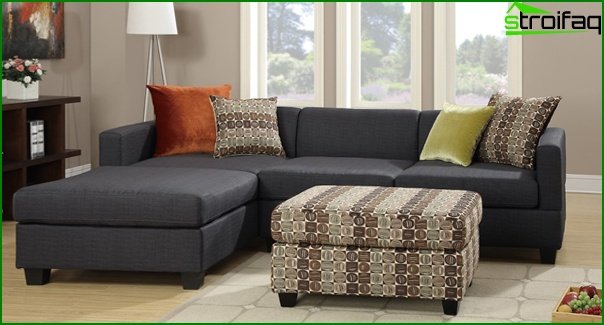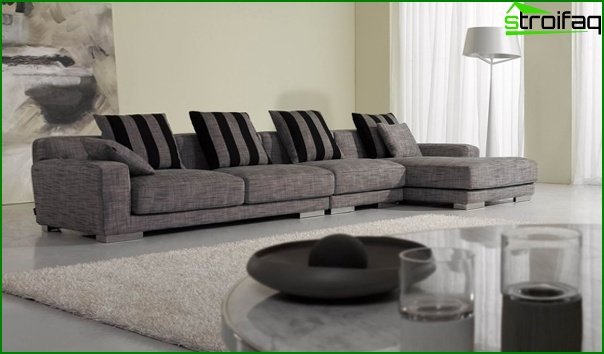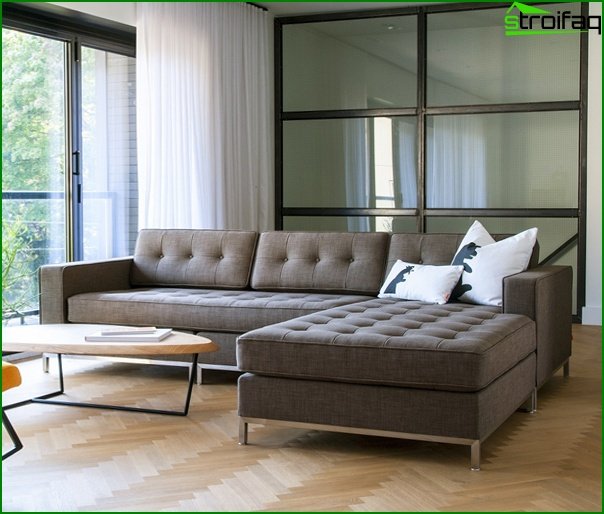 Sofa bed
Very often the living room simultaneously acts andBedroom for the owners, so in the daytime you need a place for rest and reception of guests, and in the night - a comfortable and spacious bed. Ideal solution in this case can become sofas with a bed.
Choosing a sofa bed, it is very important to think over the nuances of planning:
Around the folding sofa is necessaryThe space where he will "unfold". If there is any furniture in front of the sofa, for example a coffee table, it will always be inconvenient to move it and, in the end, it will irritate you.
If two people are sleeping on the couch, then everyoneThe occupant must have free access to his half of the couch. Otherwise, you will simply interfere with each other during sleep, if one of you needs to visit the lavatory at night or just go to bed later.
There are many variations of the mechanisms of folding sofa beds, the most common among which are the following:
Eurobook. Comfortable, but very bulky sofa, since the length of the sleeper is the same as the length of the sofa in the assembled form. This type of sofa is suitable for an elongated room.
Accordion. This model of sofas suggests decomposing the sofa according to the accordion principle. The lower part then leaves on the wheels until the seat and back are at the same horizontal level. The undoubted advantage of this sofa is that it can be quite narrow.
Click-clack. Advanced eurobook, which allows you to fix the back of the sofa in an intermediate (inclined state).
Aleko. A mechanism in which the lower part of the sofa does not move out, but unfolds forward. A huge role in this model of the sofa is the quality of the legs.
To ensure that your sofa has served you for a long time, it should have only the highest quality fittings!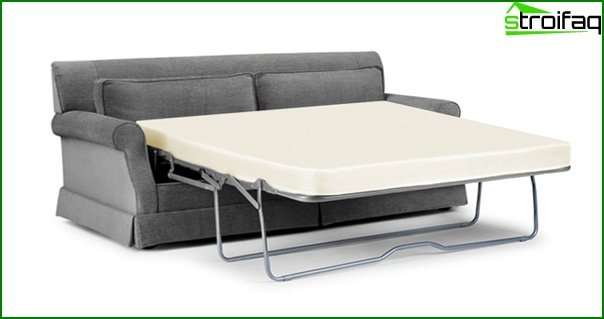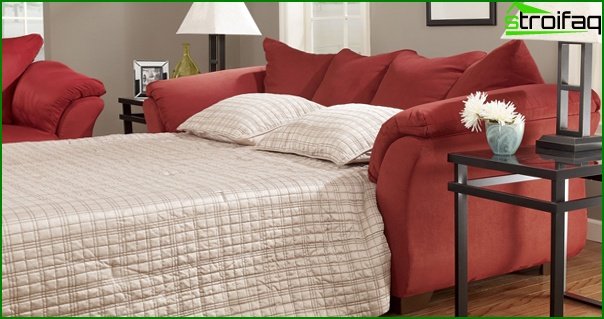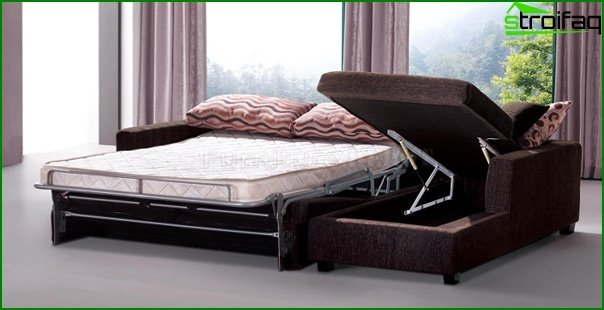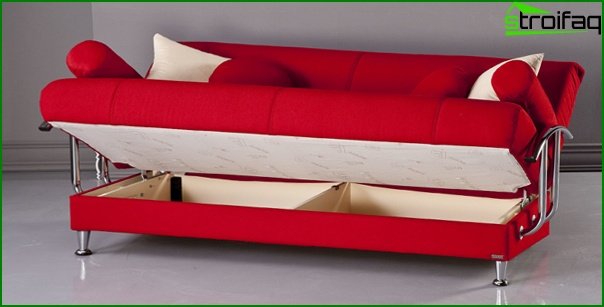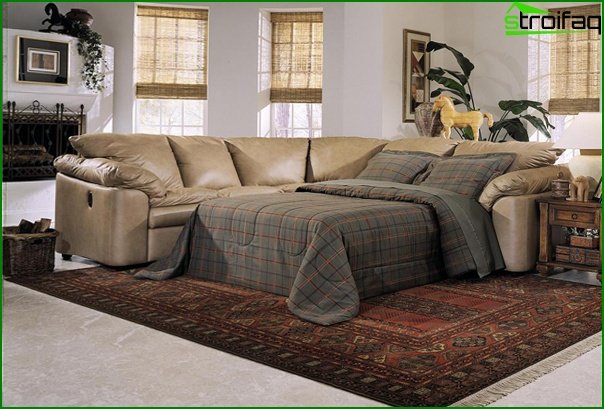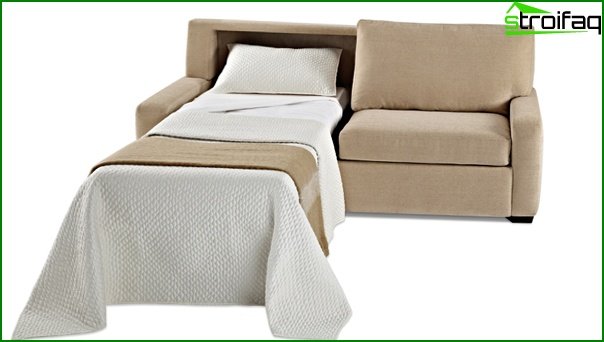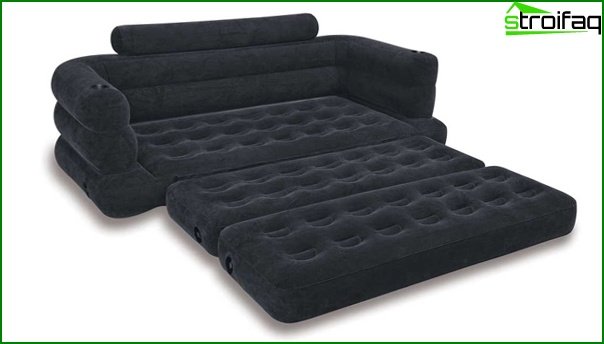 Sofa-transformer
Transformers sofas - the invention is relatively recent. These sofas come in two main types:
Modular sofas. In this case, thanks to the presence of two or more mobile modules, you can transform the sofa at your discretion.
Full-scale transformers. Such sofas, by means of simple movements, completely change their design in a matter of minutes. Especially popular are the sofas, which from a simple classic sofa turn into a bunk bed.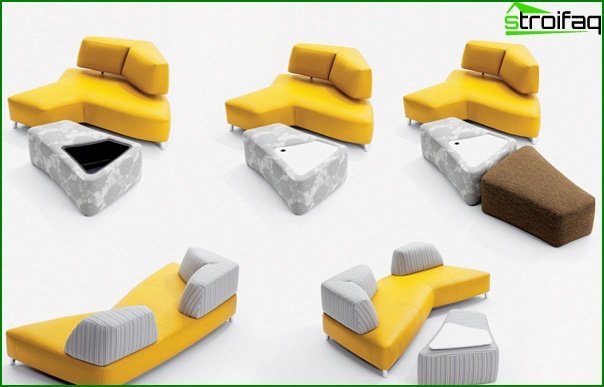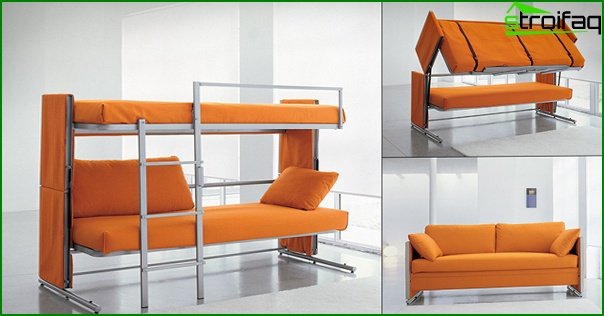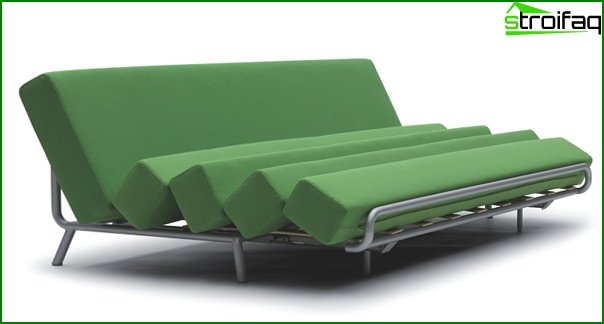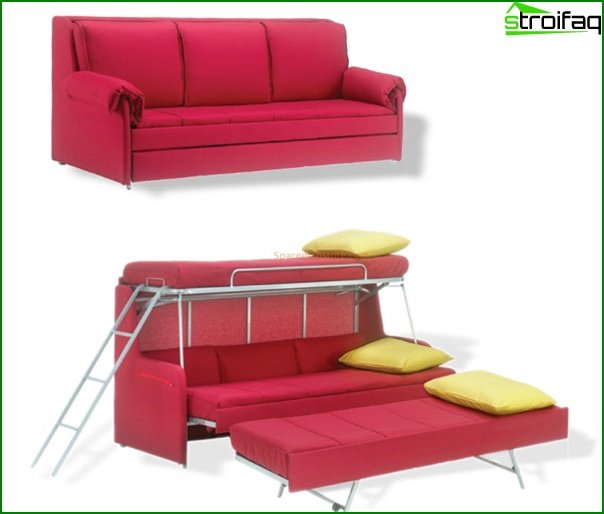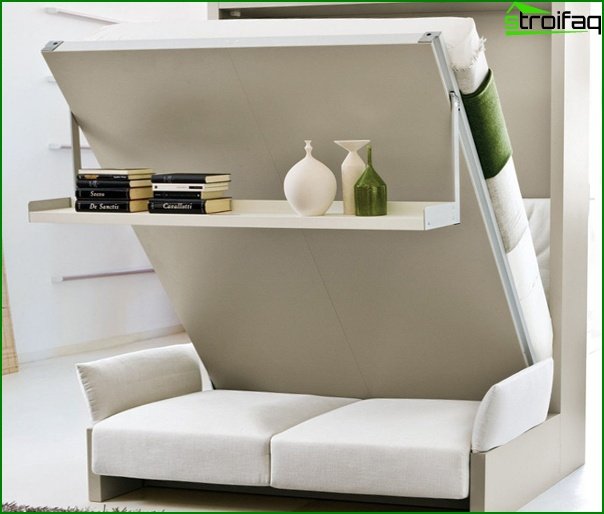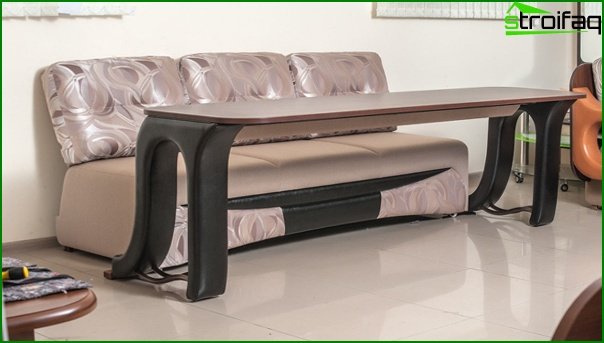 Choice of chair
Classic armchair
A classic armchair is a chair on legs, withHigh backrest and armrests. As a rule, the range of upholstered furniture includes not only sofas, but also suitable armchairs, so that you can create a set.
The chair should not be very deep, otherwise it will be inconvenient to sit on it. Optimum depth of sitting is from fifty to sixty centimeters.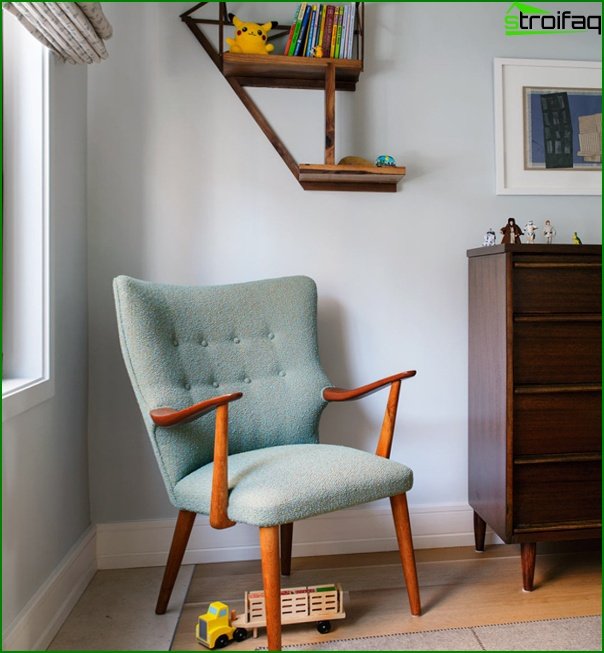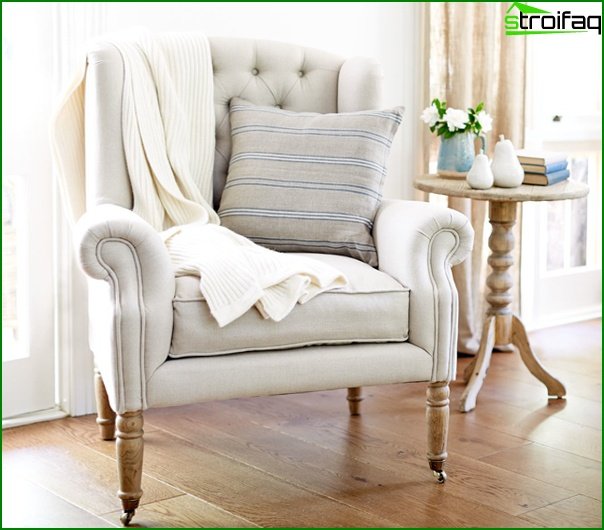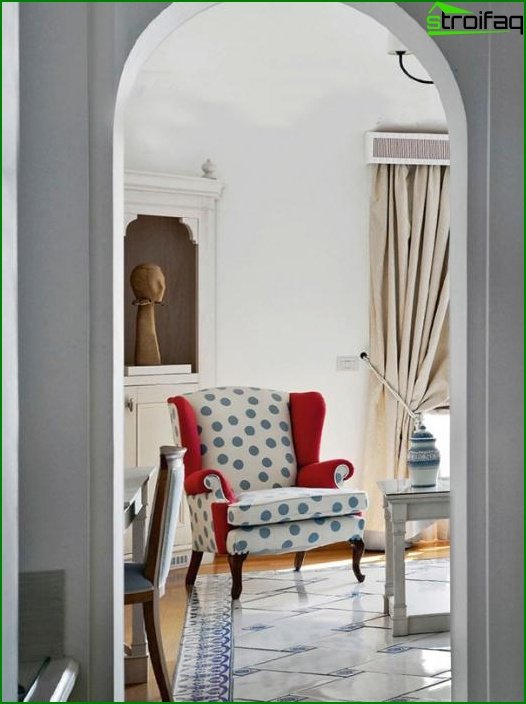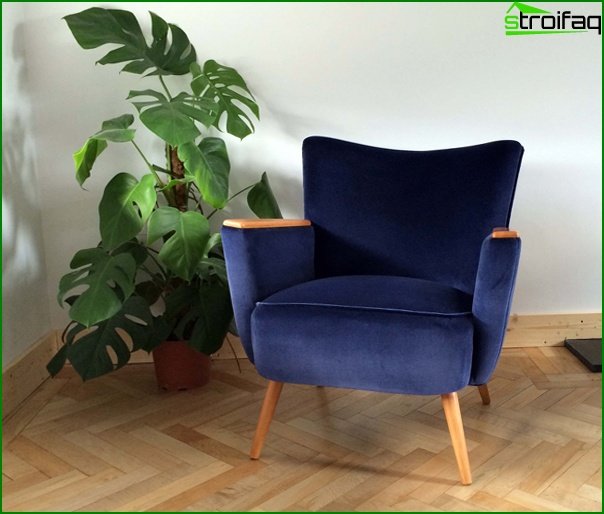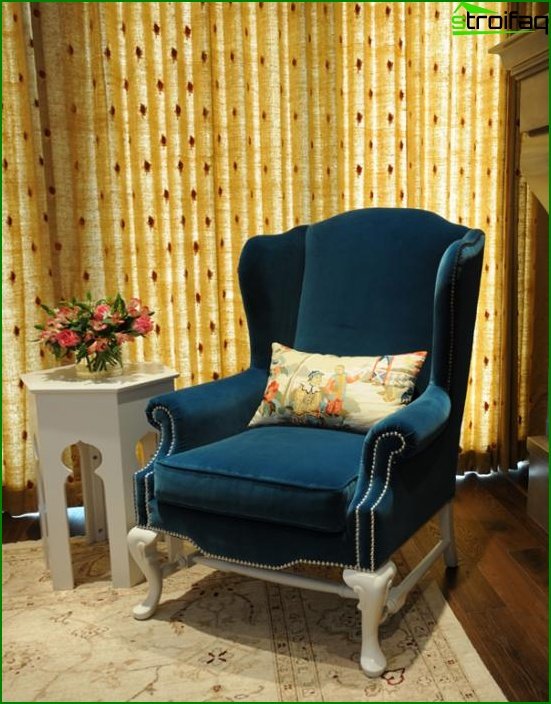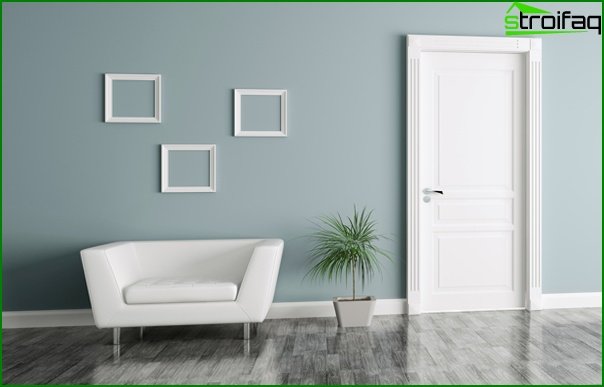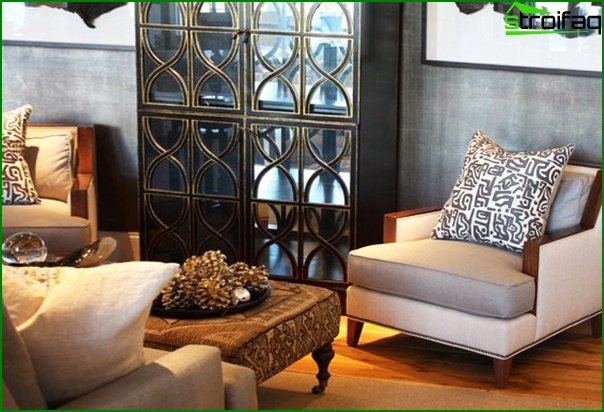 Rocking chair
This chair will not just be your favorite placeRecreation, but also a stylish and original element of the interior. Significant minus - to seat the guests in such chairs is not very convenient (especially during the feast). And the room with a lot of rocking chairs will look, at least, strange. Designers believe that the rocking chairs (as well as the central accents in principle) can not be much, therefore it is allowed to place one (two - in extreme cases!) Of such interior items.
Stylish and unordinary will look like a living room withA separate rest zone exclusively for the owners, in which there would be a rocking chair. This can be a zone near the fireplace (a classic option), but in a city apartment it can easily be replaced by an aquarium with a backlight or floor lamp.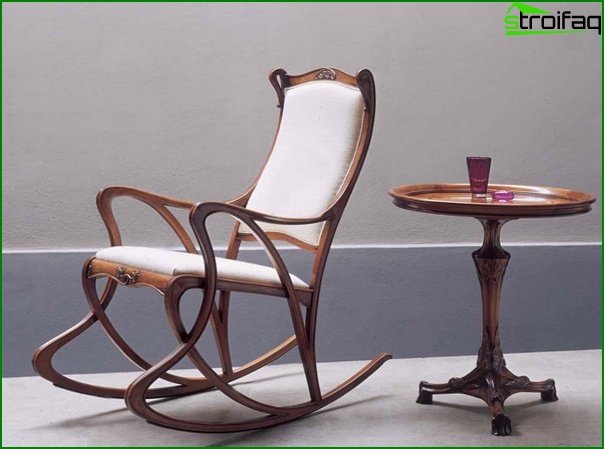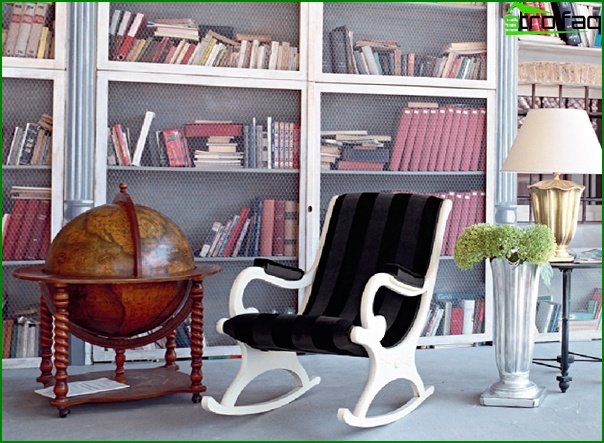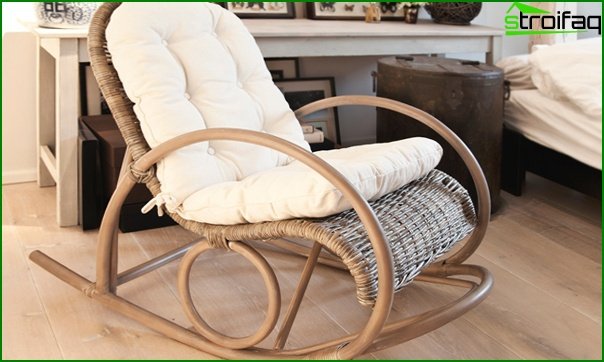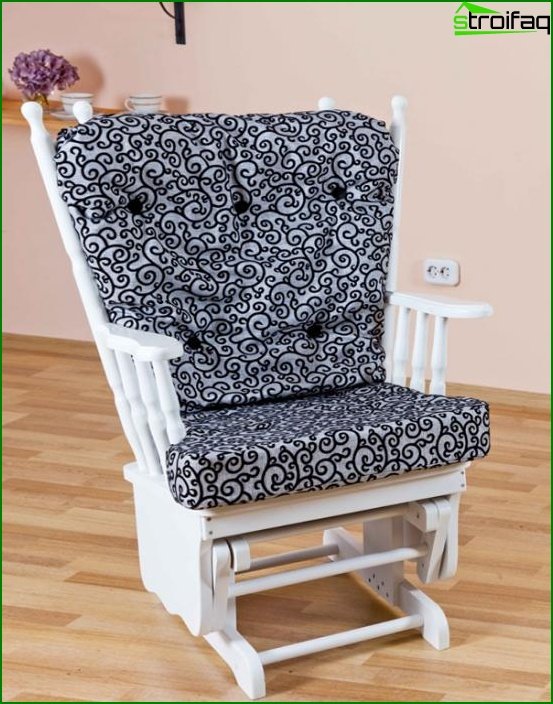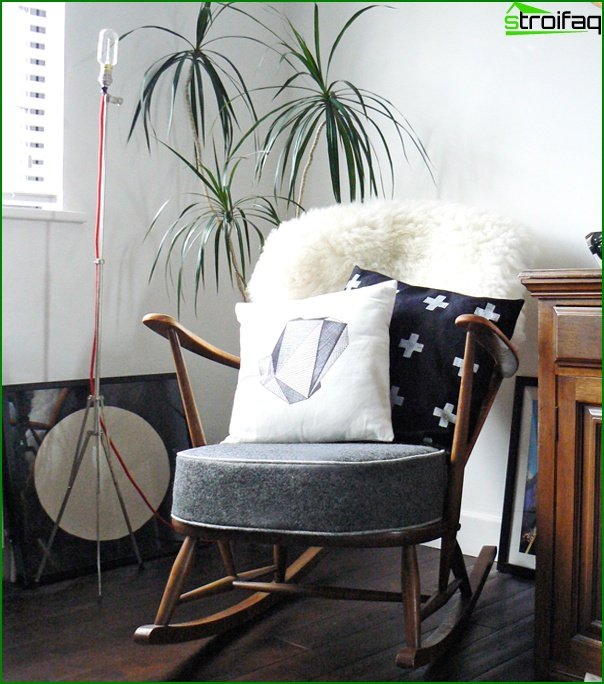 Massage chair
Massage chair in the interior looks veryExotic. In many respects - because of their size and device. In our opinion, this chair is more appropriate in the bedroom than in the living room, since its main purpose is still massage and relaxation (which is quite intimate), rather than complementing the style of the interior. The best massage chair will fit in Modern style of room decoration.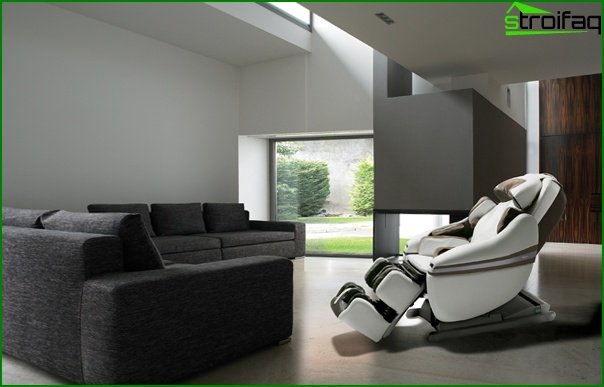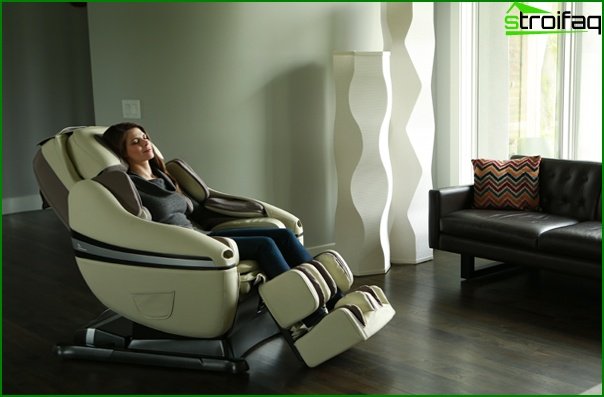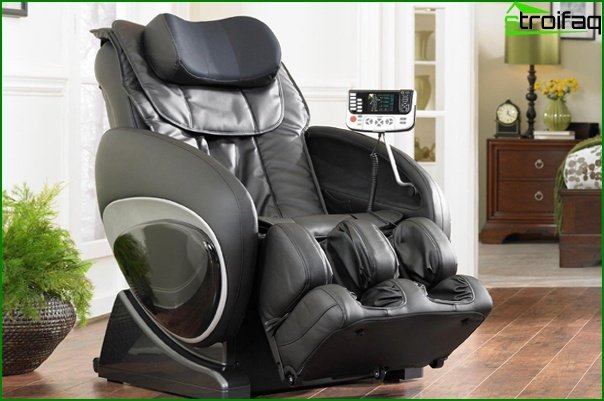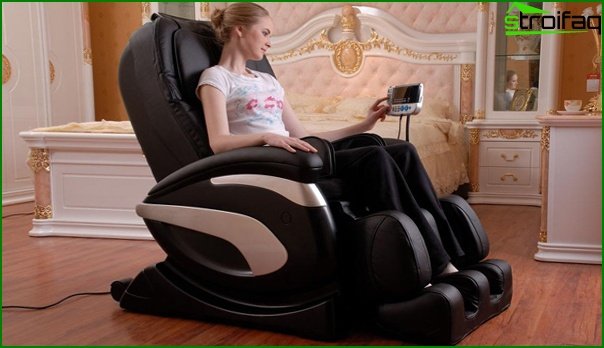 Armchair-bed
If you have an acute problem of combiningA living room and a bedroom (which is very important for one-bedroom apartments), or one of your friends often stays at your house, then you can use a chair-bed. Such chairs are laid out on the same principle as the sofas. Depending on the dimensions, the child's bed can be conveniently located on the chair-bed, as well as the adult.
Sofa bed in unfolded form

| | |
| --- | --- |
| Child's armchair-bed | 120-160 cm |
| Adult chair-bed | 160-210 cm |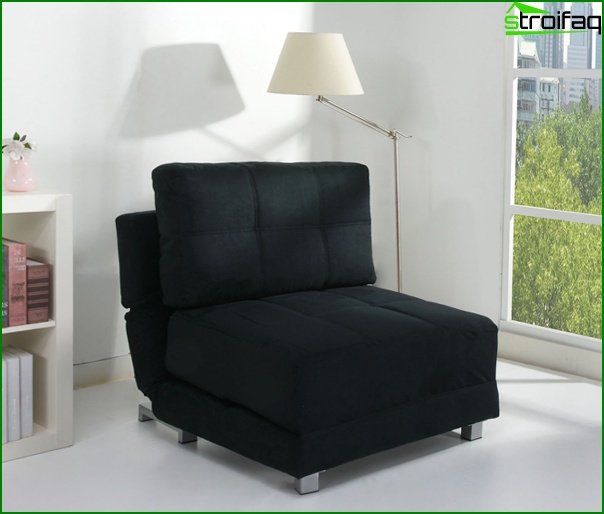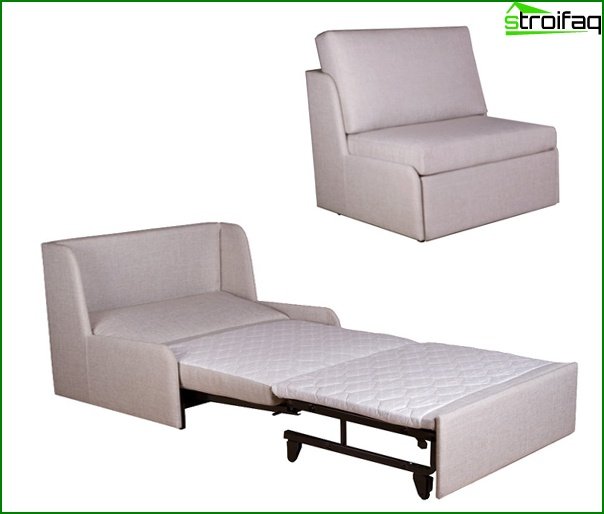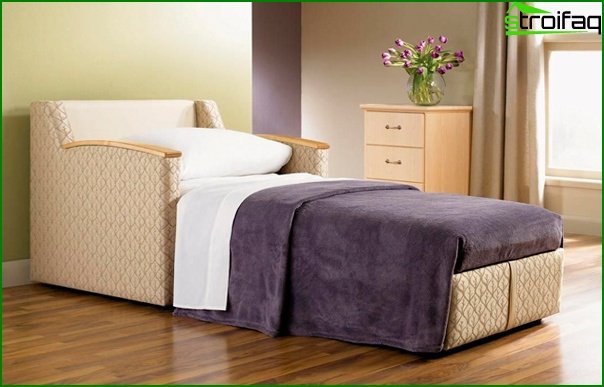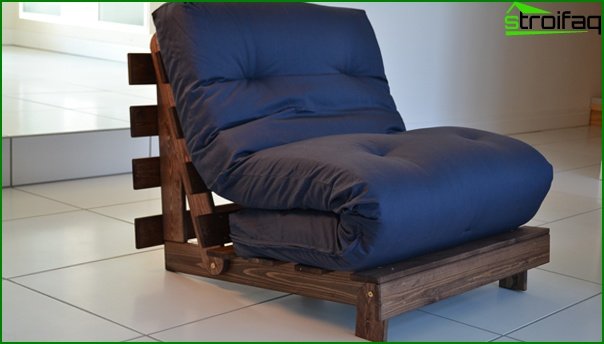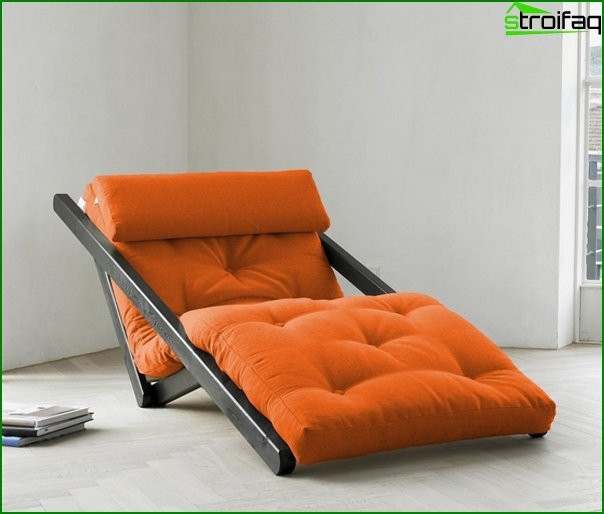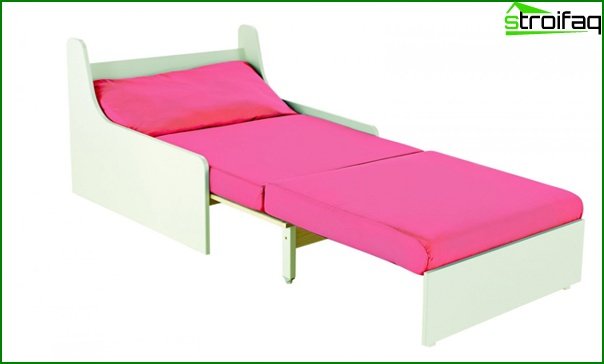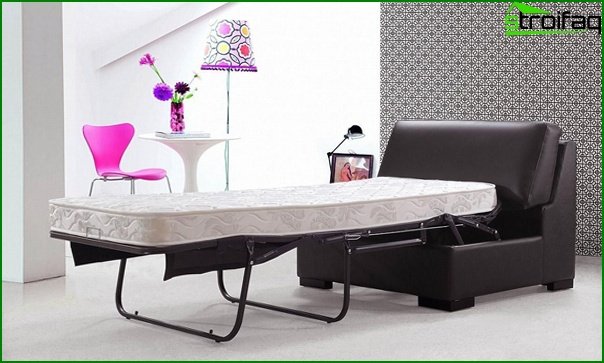 Other interesting versions of upholstered furniture
Ottoman
Ottomans - a very versatile invention. An ottoman can be used:
As a footrest for more complete relaxation
As an extra seat
How to Mobile Sofa Module
It is best to use ottomans on wheels, since then they can be moved and rearranged without any special effort.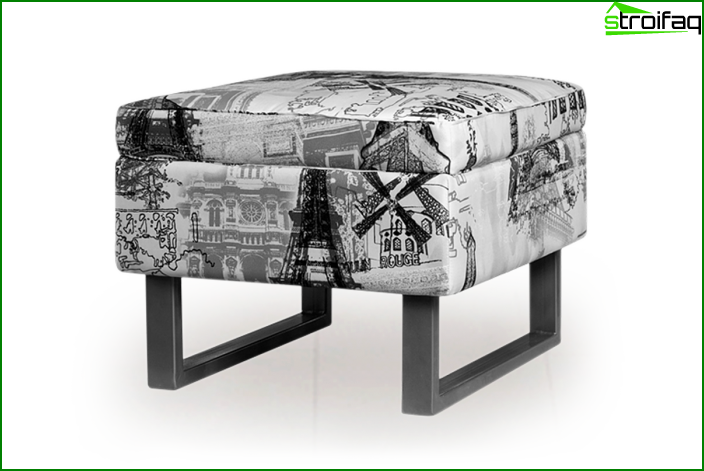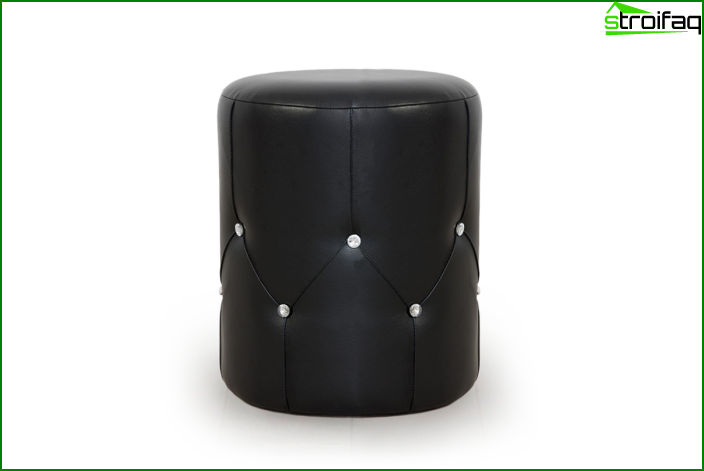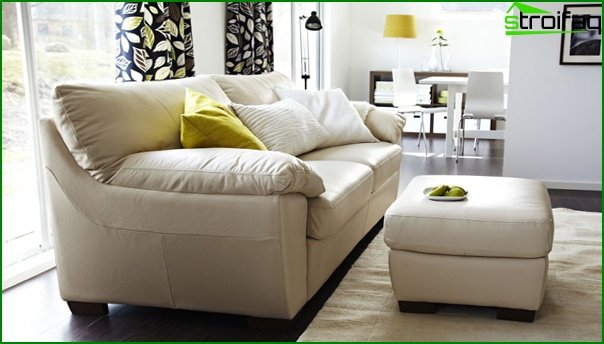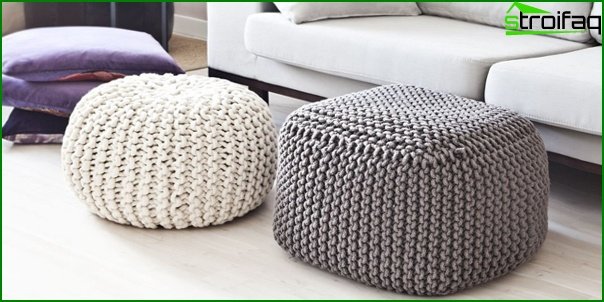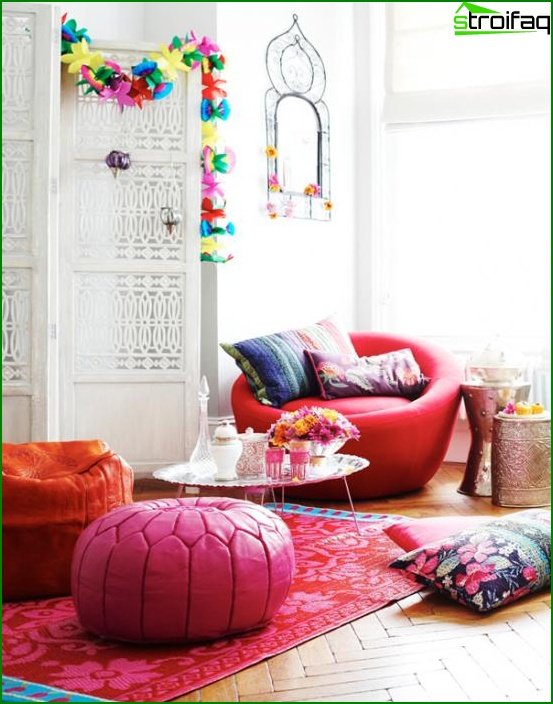 Ottoman
Ottoman or sofa with rollers instead of armrests - not standard by today's standards, the interior. Modern factories of upholstered furniture, as a rule, make ottomans in styles:
Classic
Chebby Chic
Art Deco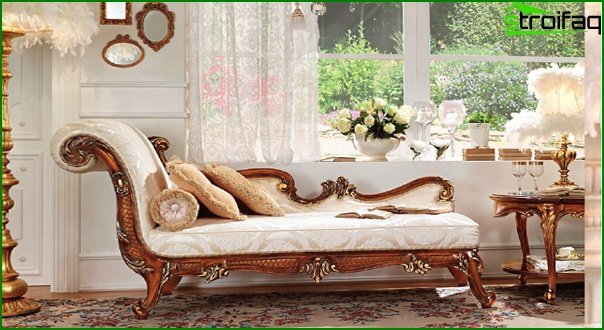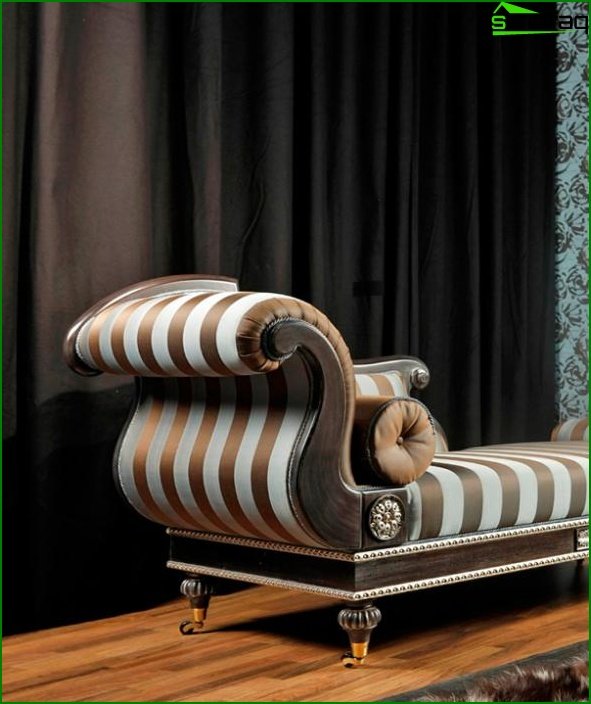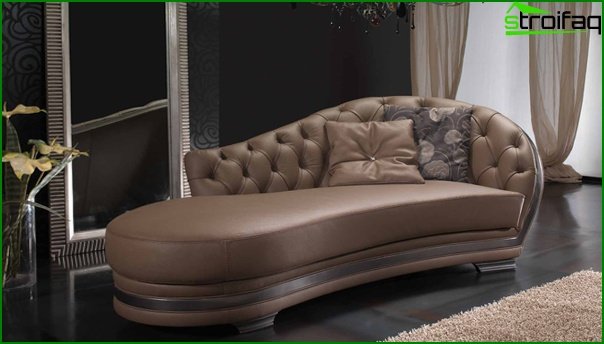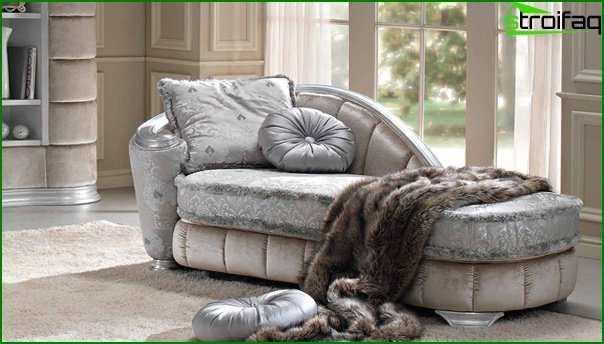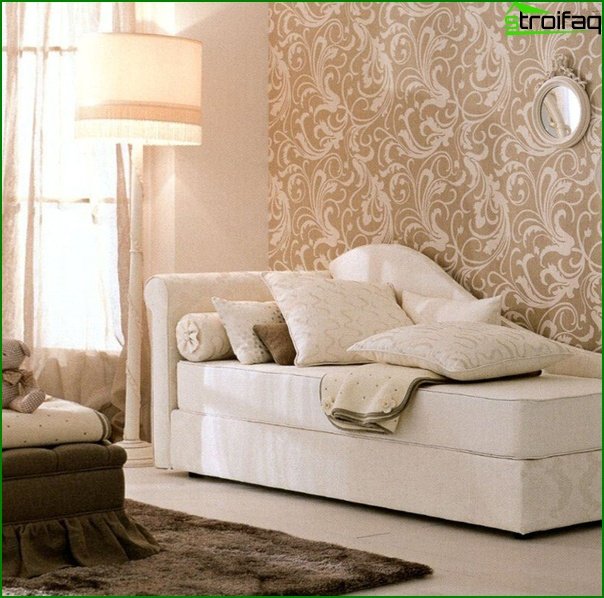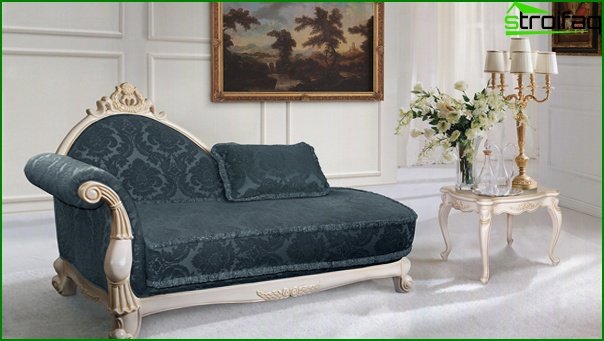 Couch
An alternative to an ottoman can be a couch. In this case, it is not important to have a backrest or armrests. They can either be present or not. It is important that the couch is quite long, so it can be used as an extra bed.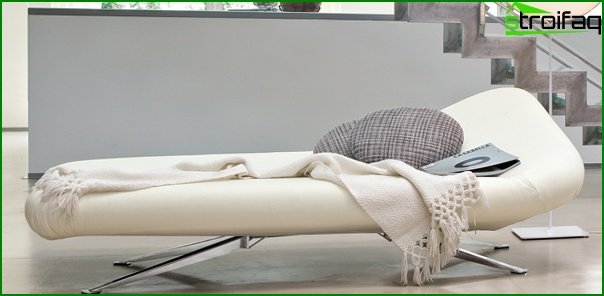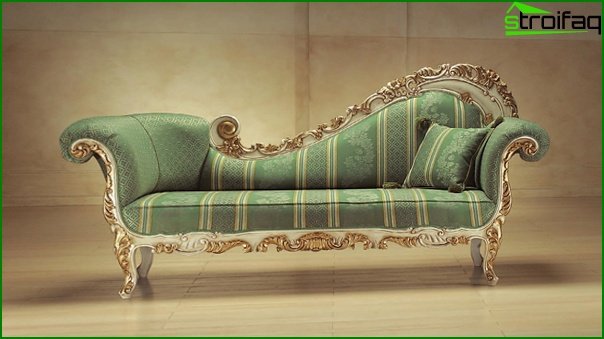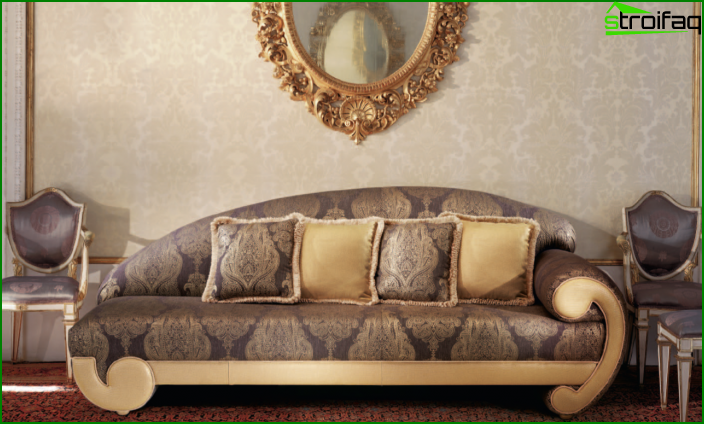 Fashion Trends
Do not know what would you like to see your living room? Do you doubt whether it is worth using upholstered furniture? Then be inspired by our photos!
The price of soft furniture in online stores is always slightly lower than in conventional stationary furniture stores.