huge represented on the market todayset of chandeliers. How to determine which is suitable for your kitchen to become a harmonious complement the overall style and at the same time, highlight, showing good taste of the owners. First of all, when choosing a chandelier for your kitchen, remember that the model and size lamp, as well as the number of lamps in it must comply with the appointment, which will serve as a chandelier in the kitchen - it is a main source of light, or simply an element of decor. Do not forget also about the working and kitchen lighting. You also need to take into account the dimensions of the kitchen, namely floor space and ceiling height. Kitchen with a small area and low ceiling is better to choose the most compact chandelier (the best option is a small lamp with a lampshade or a chandelier - a plate).
If you - the owner of the kitchen with a dedicated dining roomarea, rational will purchase large chandeliers, which are best placed above the dining table, and small lamps to ensure illumination of the work area or the bar. Very convenient for the kitchen lighting - the studio also chandeliers with two groups of lamps having autonomous inclusion: aimed in different directions lamps help you to achieve an optimum level of both general and local lighting.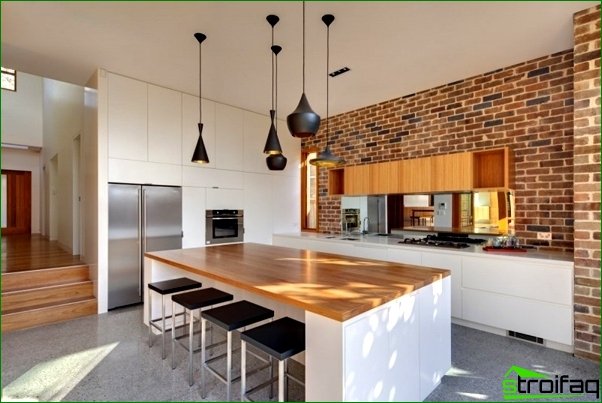 It is also one of the main requirements in the designcuisine is a mix of chandeliers from the color scheme and overall style of the room. So, for the kitchen, made in classic style, perfect for a traditional chandelier with shades or chandeliers.
Kitchen in the Art Nouveau style is appropriate to buycreative chandelier from ultramodern material having an unusual color and shape, for example, in the form of a sphere, cube, cylinder. If you choose for your kitchen design style "country", it perfectly complements wrought iron chandelier with artificially aged surface, such as a copper or bronze.
To complete the harmonious design of the kitchen inethnic style will become the best acquisition related fixtures, for example, a variety of shades of rice paper Japanese-style, a different kind of oriental lamps, for example, Moroccan lanterns, or model, decorated with mosaics of colored glass.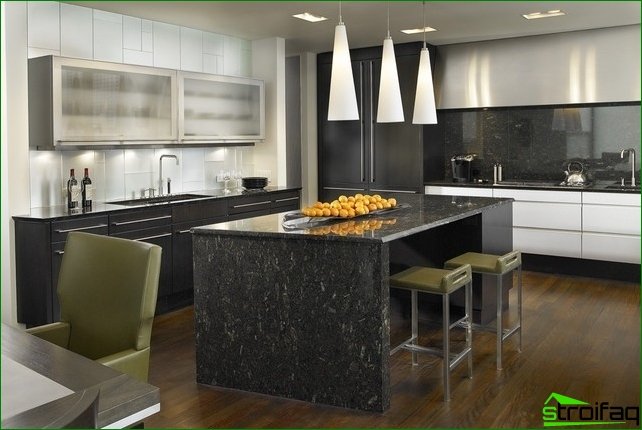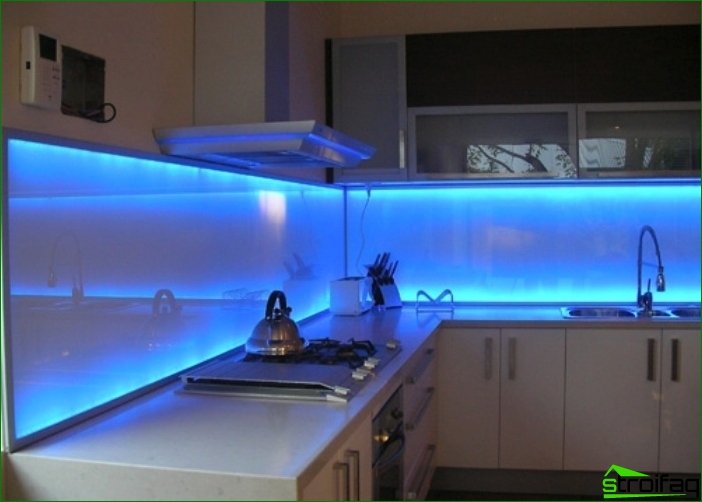 By selecting the color and the material from which ismade chandelier for the kitchen, it should also take into account the overall color scheme of the interior in the room - in the first place is the kitchen set or a dining group.
However, according to designers, modernfashion trends, such as the style of fusion and eclecticism, provide an opportunity to show boundless imagination in the kitchen design, using its design mix of different styles above. Playing on contrasts, the combination of incongruous (eg, high-tech style and classics) will allow you to achieve an unusual decorative effect and create in your kitchen a unique and modern interior.