Diamond blades are the elements thatneeded for the diamond cutting different hard materials. Their main purpose - is to work with stone, concrete and reinforced concrete. Diamond cutting is itself a complex technical process and is used when working with materials such as granite, asphalt and stone.
Diamond blade for concrete may differ from similar products that are targeted to work with other materials.
manufacturing Features
There are special forms whichartificial diamonds are pressed, and then turns the metal binder. To obtain such a disc for cutting certain materials, it is necessary to use different diamonds, size and concentration, as well as the shape of the segments
Bundle is an important function in the disc,it helps to ensure that the diamond grains are held and help this samozatochivatsya equipment. From proportions ligament components it depends on how the disc will serve a long time, and it is defined by its purpose.
All diamond hardware - this sophisticated equipment for the production of which requires precise compliance with the rules and requirements that not every manufacturer under the force.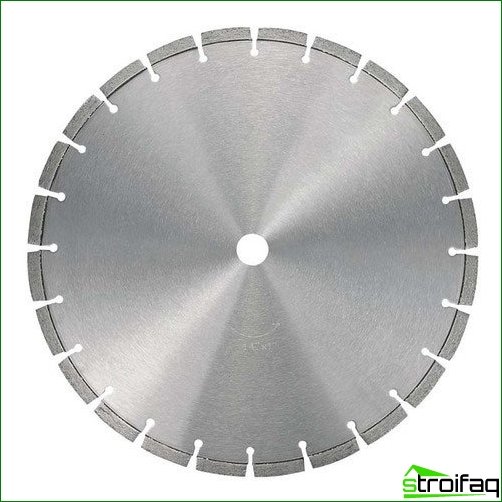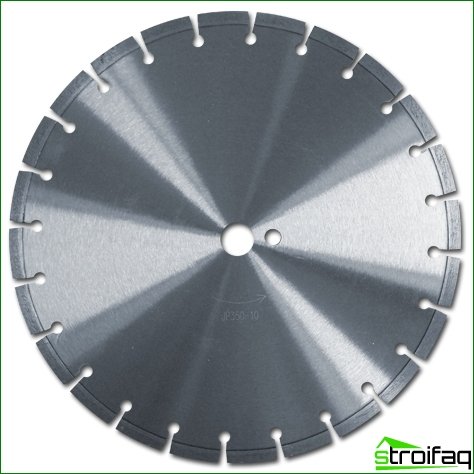 How to choose?
It is important to decide before you buy a CD withso what kind of material it is cutting. If needed for structural concrete diamond discs, it is necessary to pay attention to the diameter, as in the segment slightly grinds and absolutely no effect on the penetration of the element to the material that is cut.
You also need to know which tool is at workIt will be used - machine, manual Power cutters or wall saws. It is important to take into account the capacity of the equipment and the speed of rotation of the diamond technology.
If you intend to cut different kinds of stones, then under every kind of need to purchase a separate disk or is there an option to buy a universal diamond equipment.
The choice of the cutting disc depends on the depthcutting, for example, concrete. But it is important to remember the allowable diameter of the circle, which is allowed to use specific equipment. It can not exceed, otherwise there is a risk of changes in line speed and operating trauma.
By choosing this technique, it is equally important to consider the shape of the teeth. And not always segment elevation ensures disc durability, it is more dependent on the concentration of diamond and a binder.